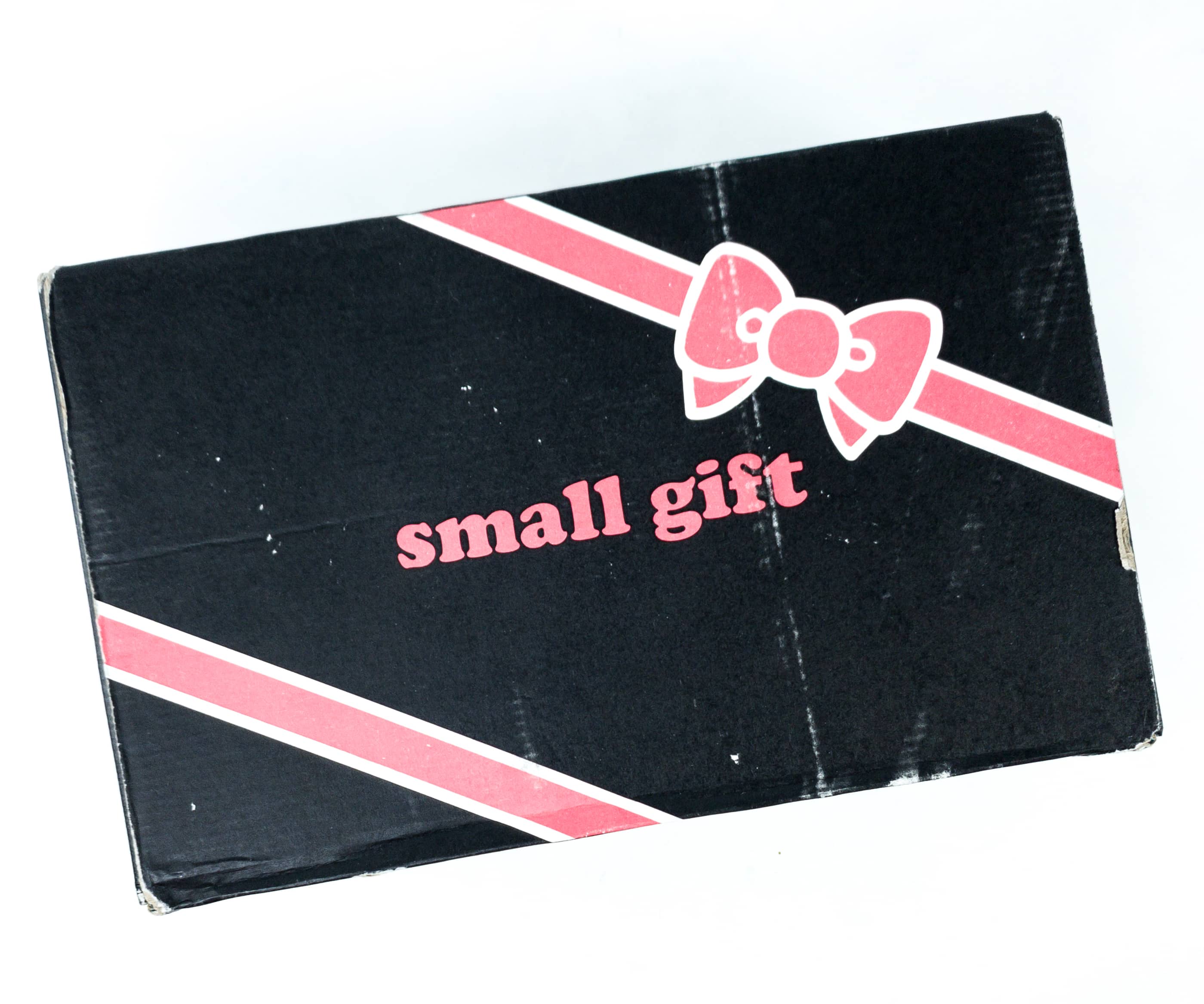 Sanrio Hello Kitty and Friends, formerly Sanrio Small Gift Crate, is a kawaii subscription box from Loot Crate featuring the cutest and the most likable Sanrio characters. The subscription costs $39.99 per quarter + shipping, and you'll get a mystery box filled with super cute items. If you grew up collecting Hello Kitty, Bad Badtz Maru, My Melody, or have more recently fallen in love with newer characters like Gudetama, then you'll definitely love this subscription!
DEAL: Save 15% on any subscription when you use this link and coupon code HELLOSUBSCRIPTION15.
NOTE: All of Loot Crate subscription boxes are experiencing substantial delays. If you subscribe now you run the risk of never receiving boxes. Only subscribe if you are ok with that risk.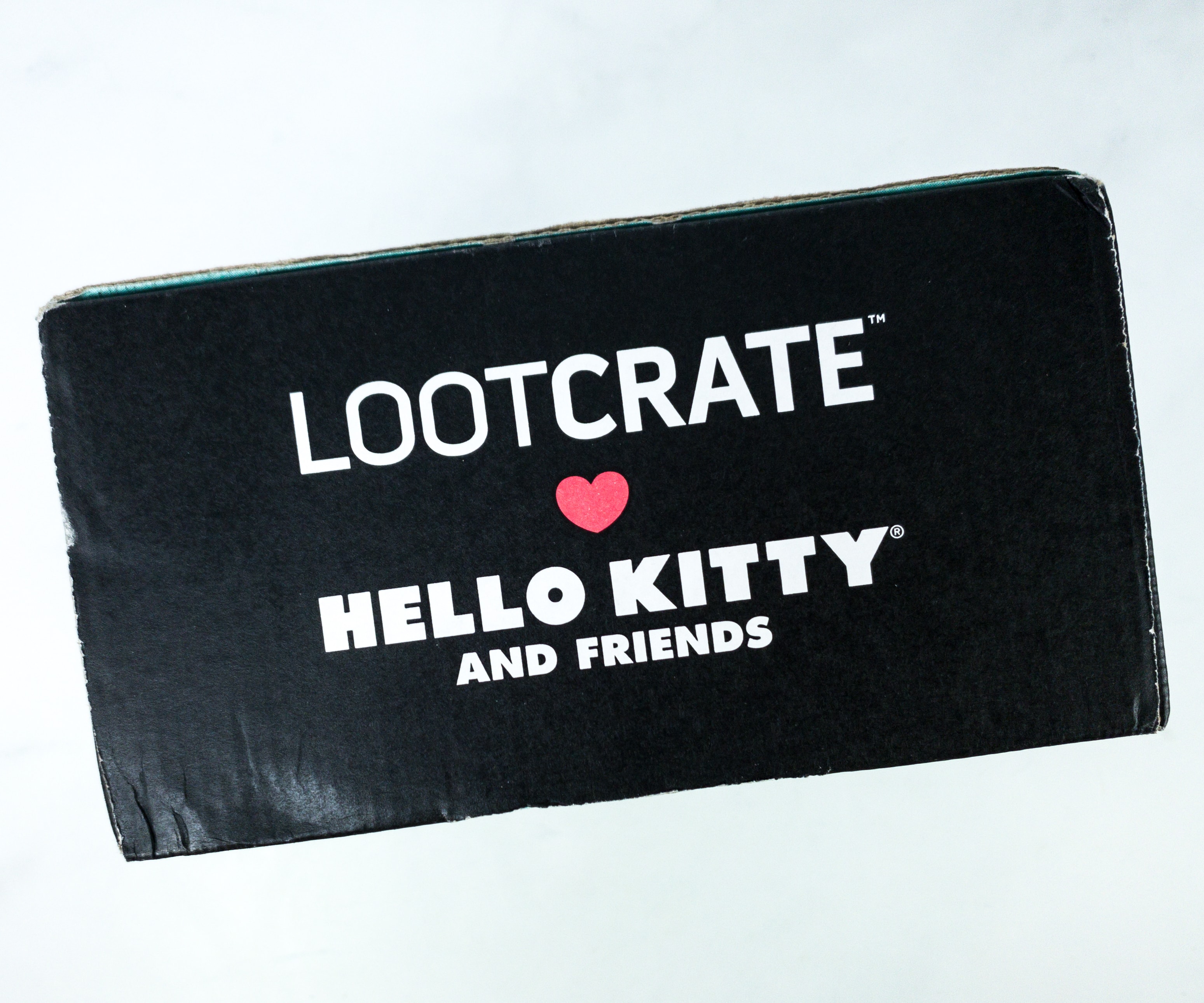 Just looking at the box makes us feel happy and excited!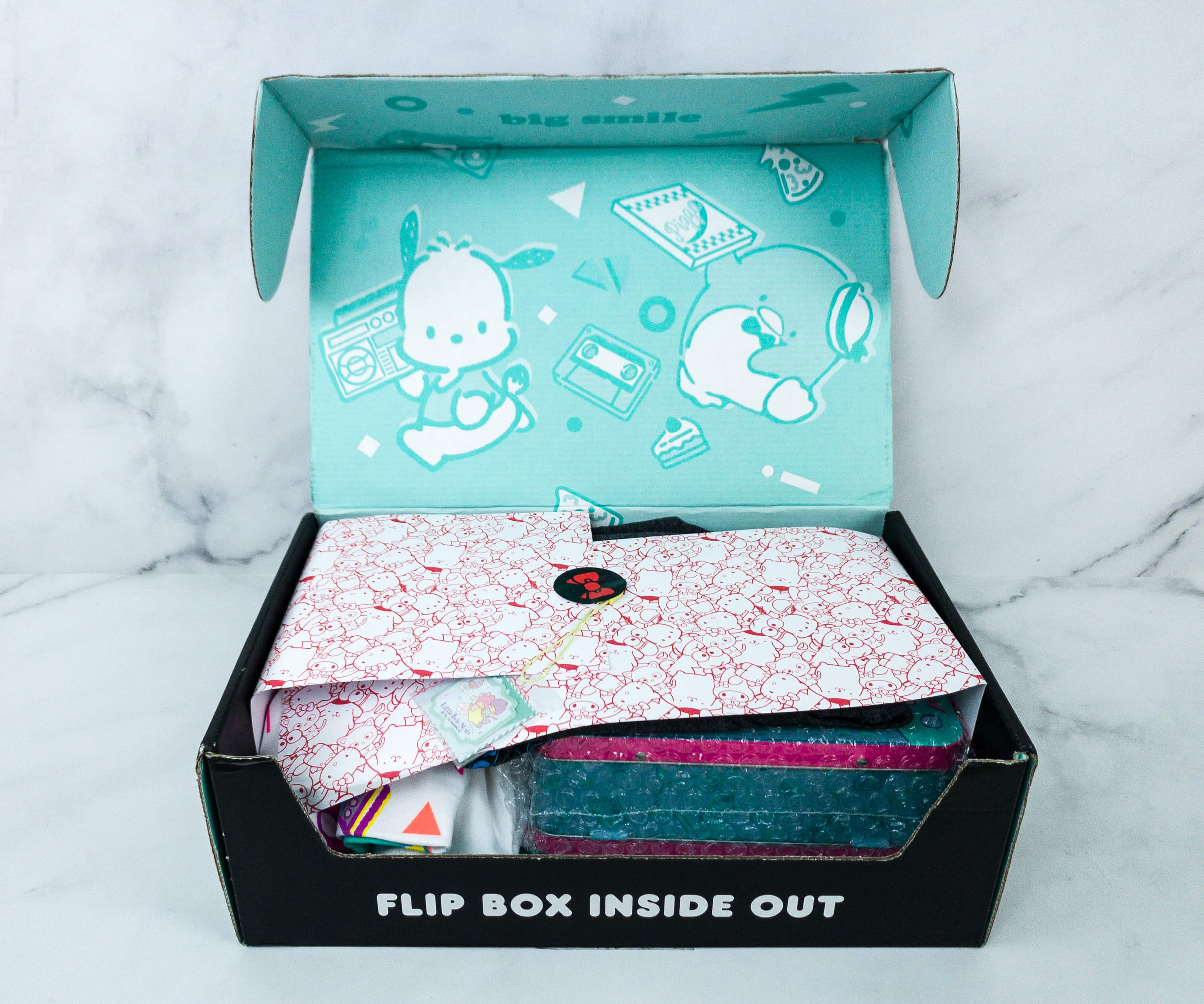 The items were wrapped in Sanrio paper with Hello Kitty's ribbon as the sticker.
The whole Sanrio gang is here!
Can't wait to see everything! The box is full to the brim!
The Summer 2019 theme is RETRO REWIND!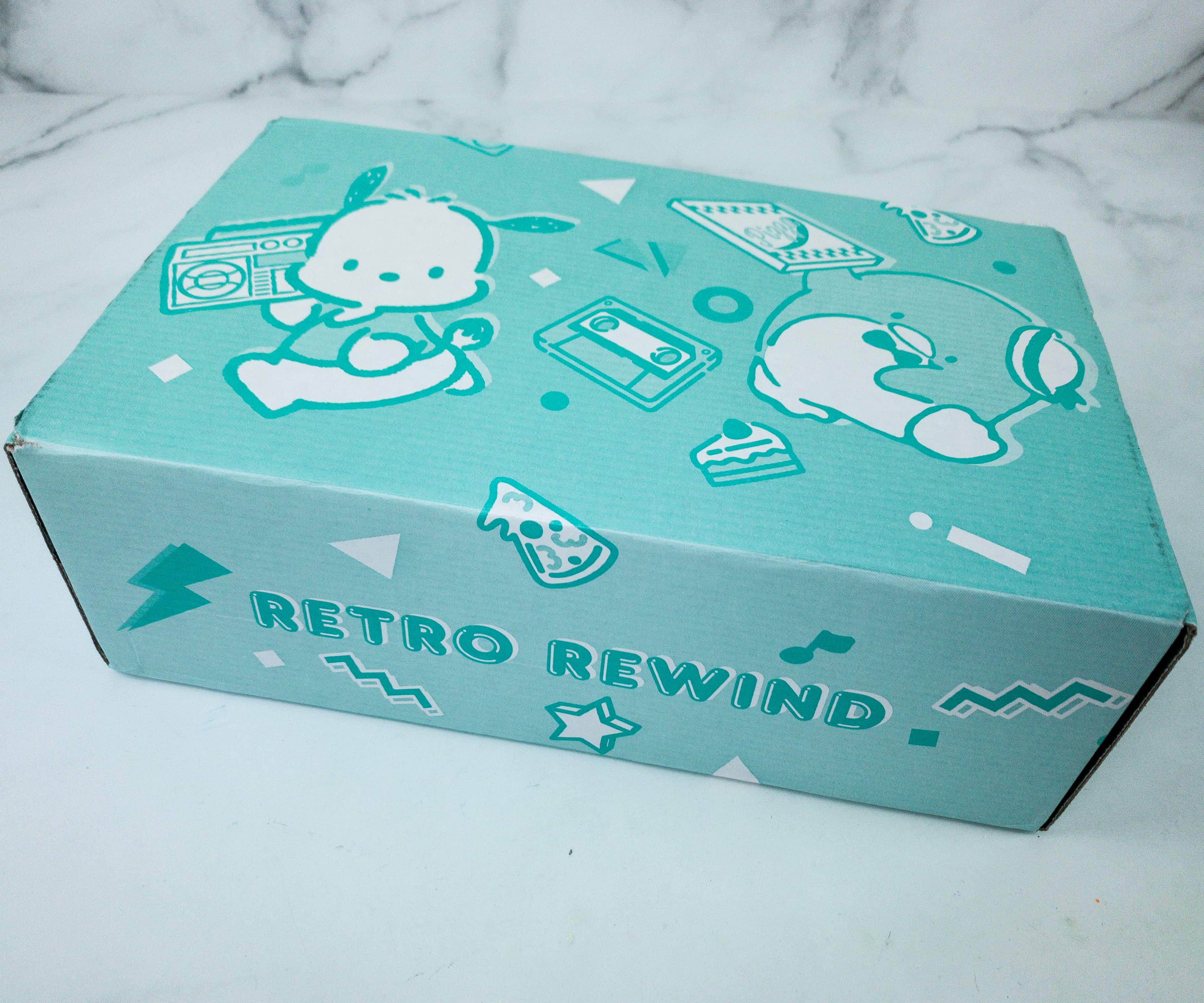 You can flip the box inside out and turn it into a retro-themed one!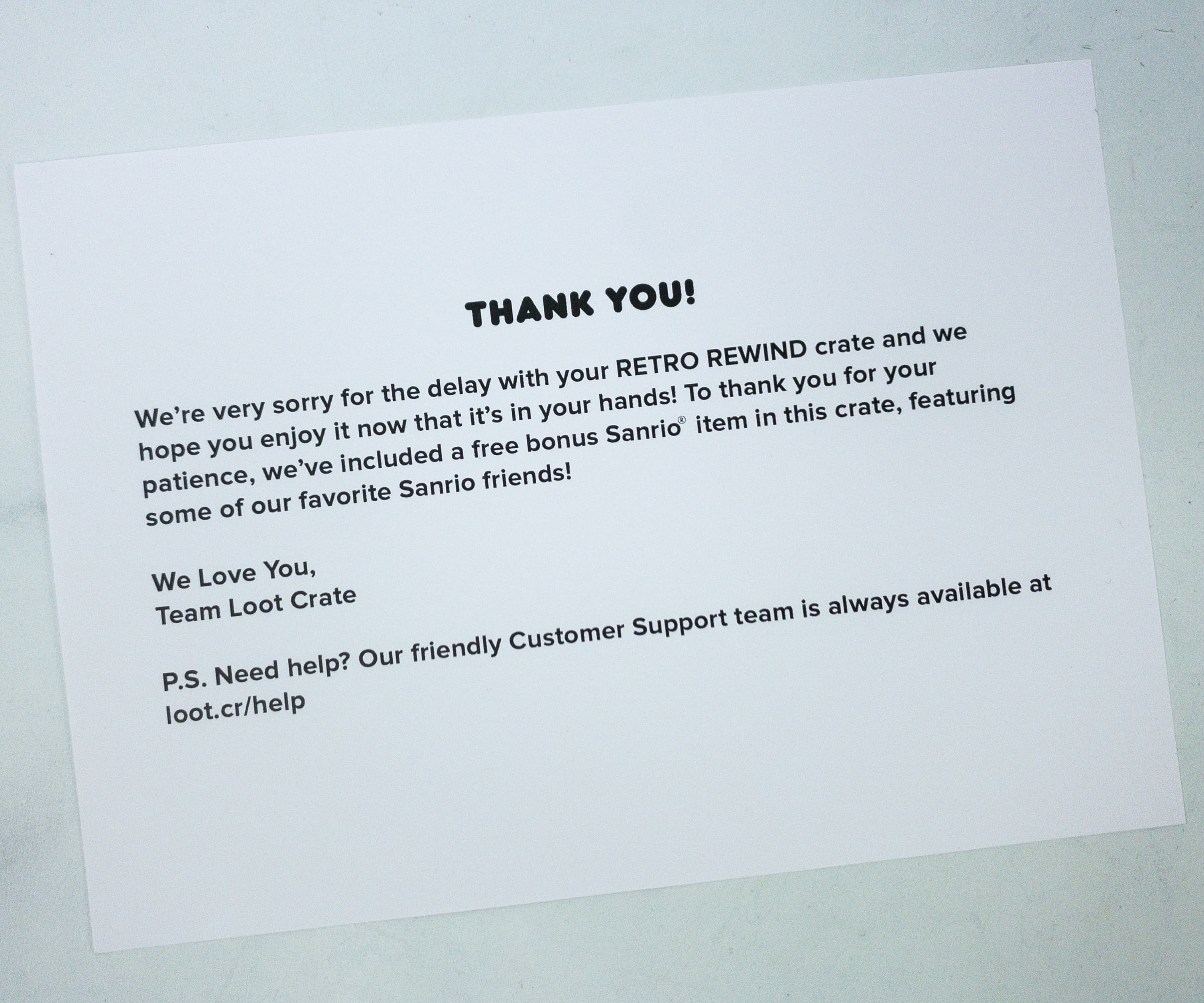 There's a note where Team Loot Crate apologized for the box's delay.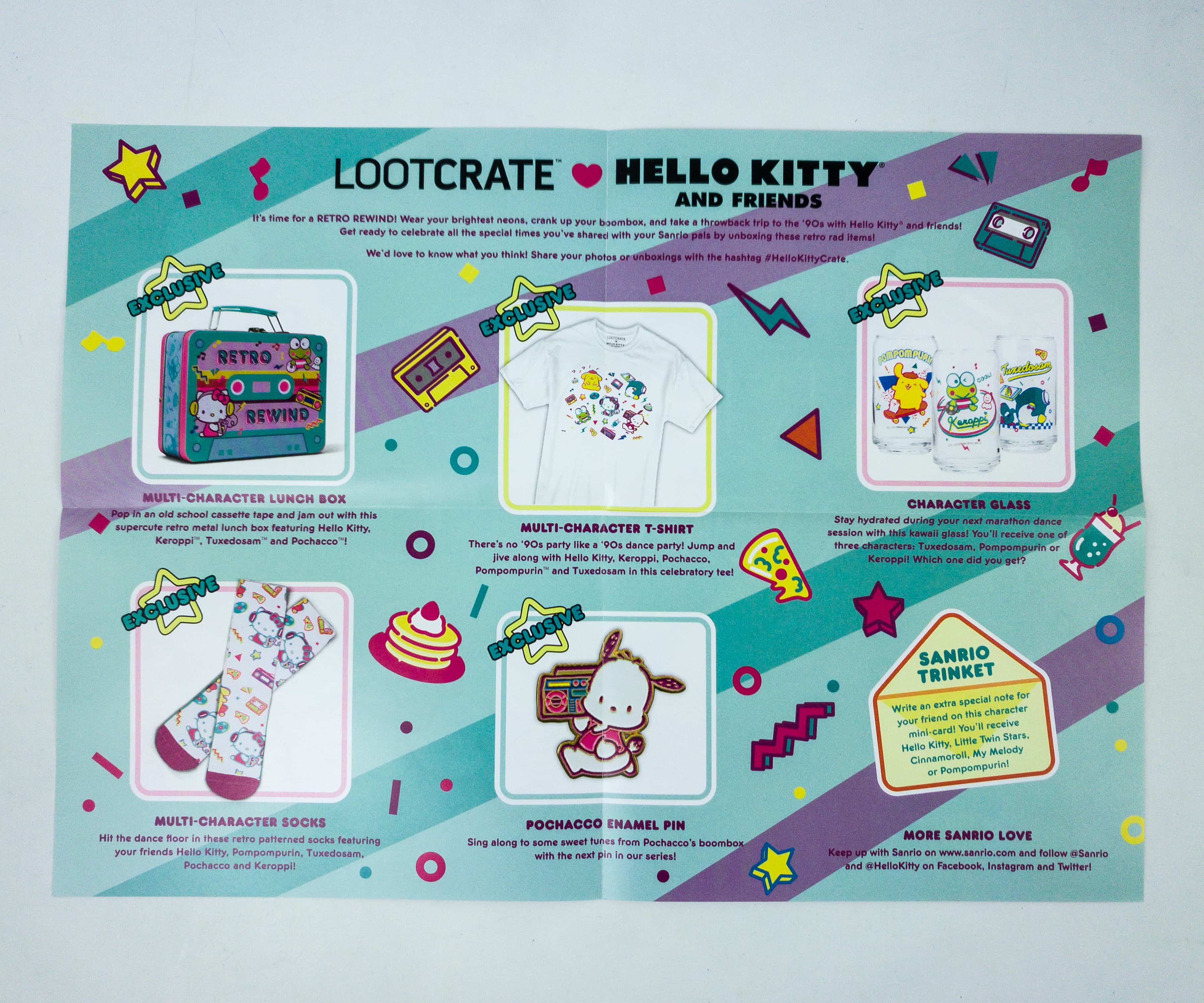 This cute information sheet provides item descriptions, as well as more information from Sanrio.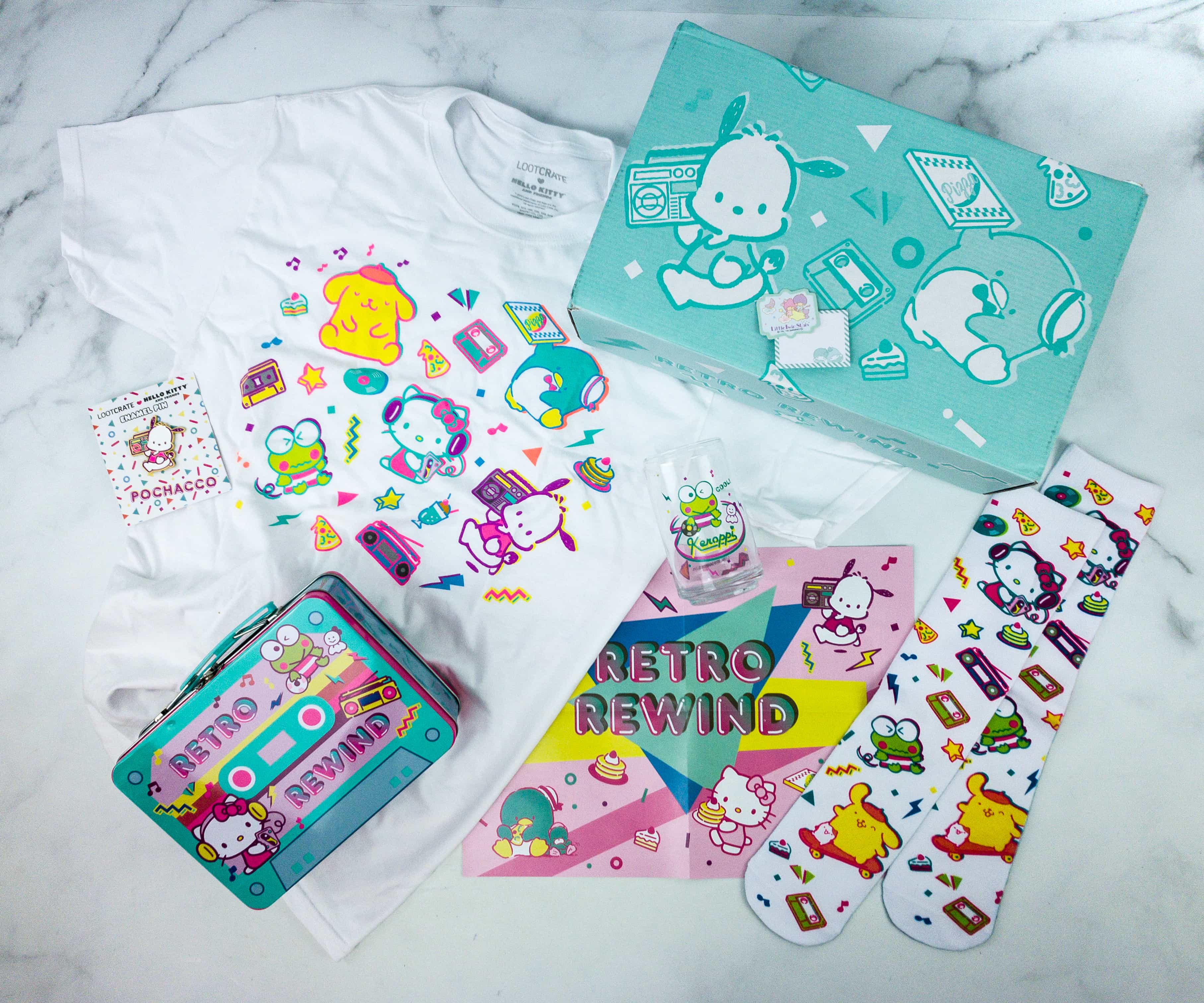 Everything in the Summer 2019 Box!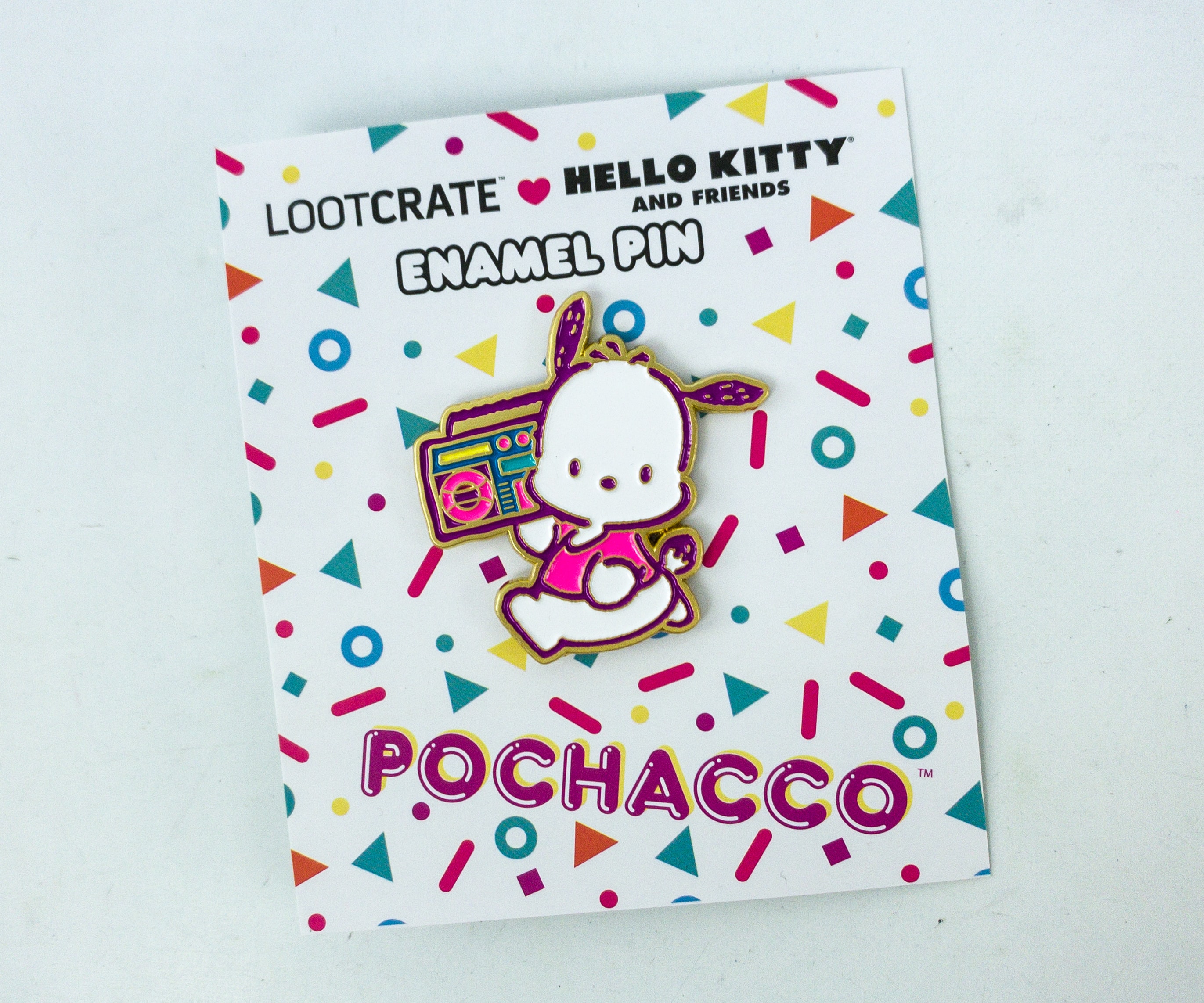 Pochacco Enamel Pin. This quarter's enamel pin features Pochacco, the lovable white pup with cute black ears!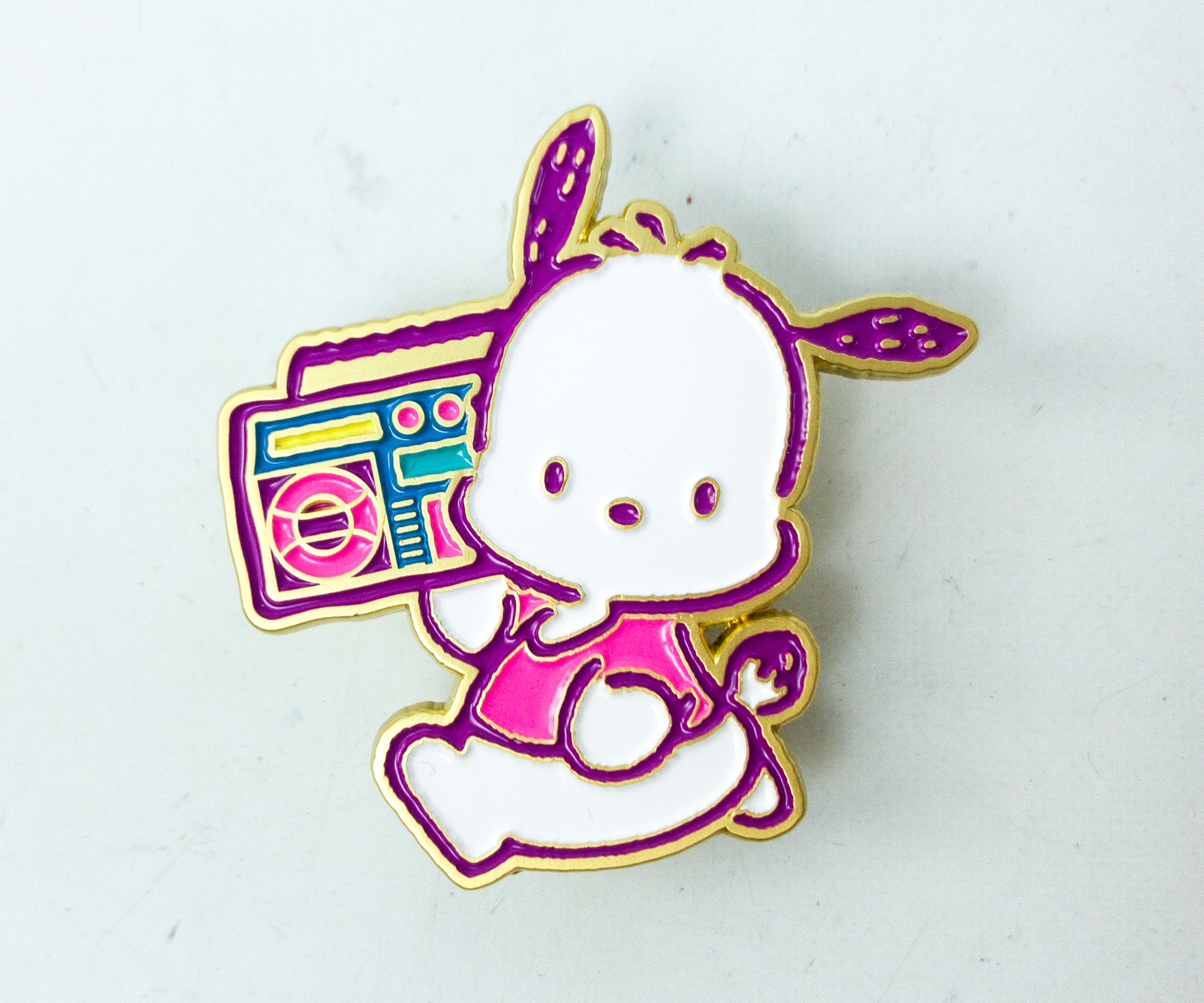 Pochacco here looks fun and colorful. He's even carrying his own boombox!
Sanrio Trinket: Character Mini-card. This quarter's Sanrio Trinket is a character mini-card. You can get 1 out of 5 designs: Hello Kitty, Pompompurin, Little Twin Stars, My Melody, and Cinnamoroll!
I got the adorable twins Kiki and Lala! The mini-card can be used as a gift tag. Aside from including the names of the receiver and where the gift came from, you can also write a short and sweet note to make the gift a little more special!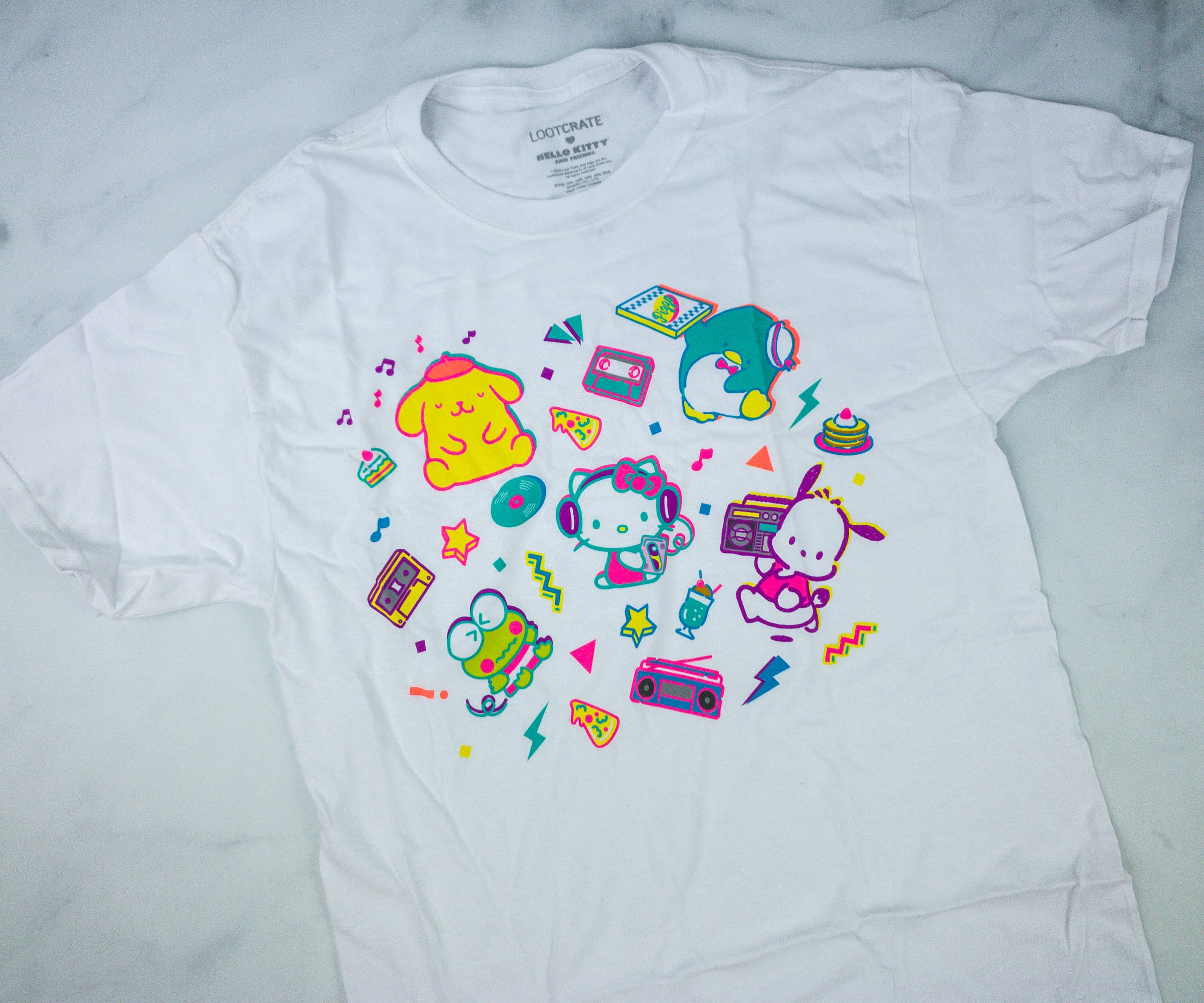 Multi-Character T-Shirt. The shirt is not just a fun and colorful one, but it's actually a celebratory shirt that features the fun times a.k.a. the 90s!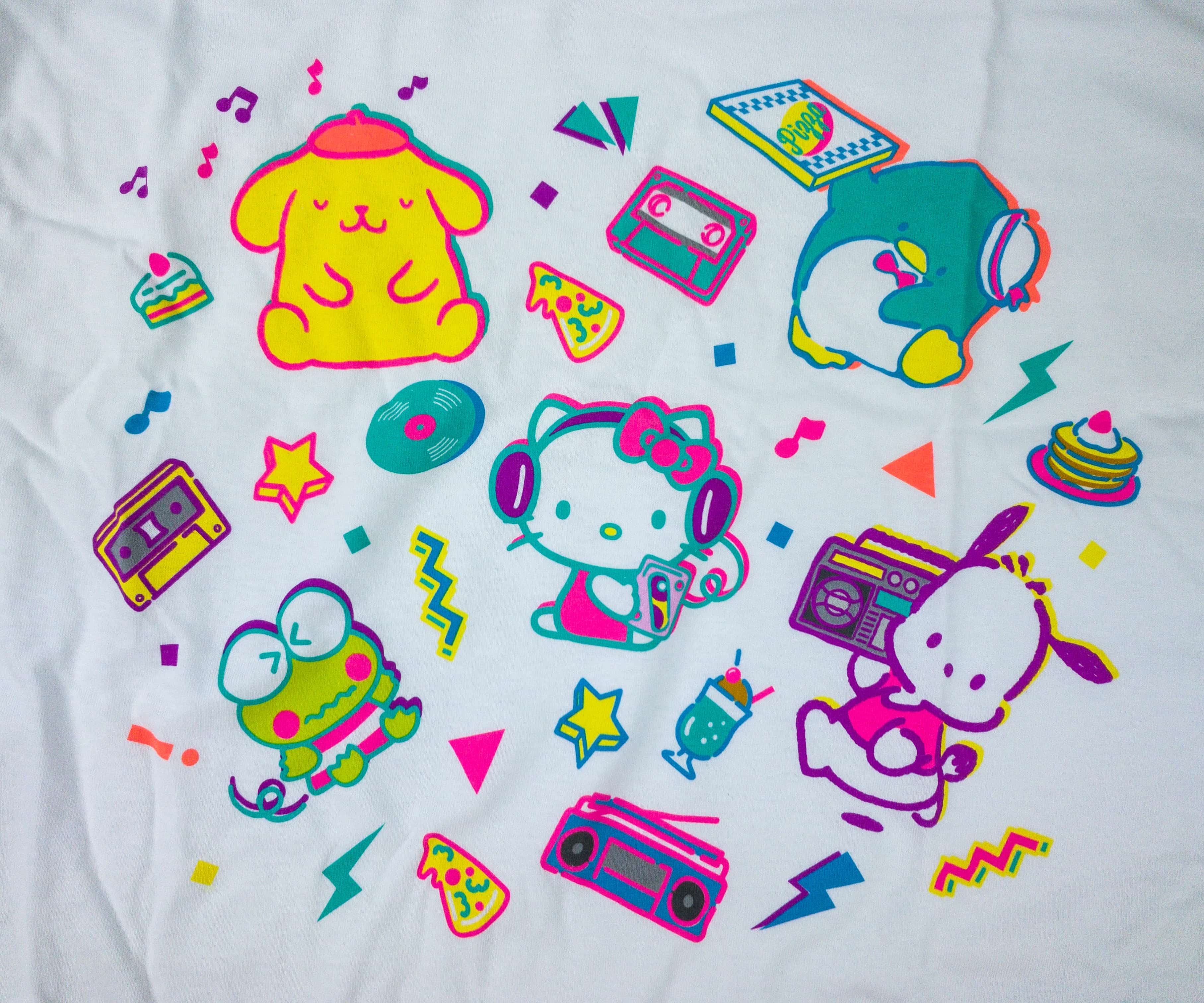 The white shirt shows the gang enjoying the fun stuff from the 90s! It's a music party filled with delicious milkshakes and pancakes. It has Hello Kitty, Pochacco, Keroppi, Tuxedosam, and Pompompurin having a good time!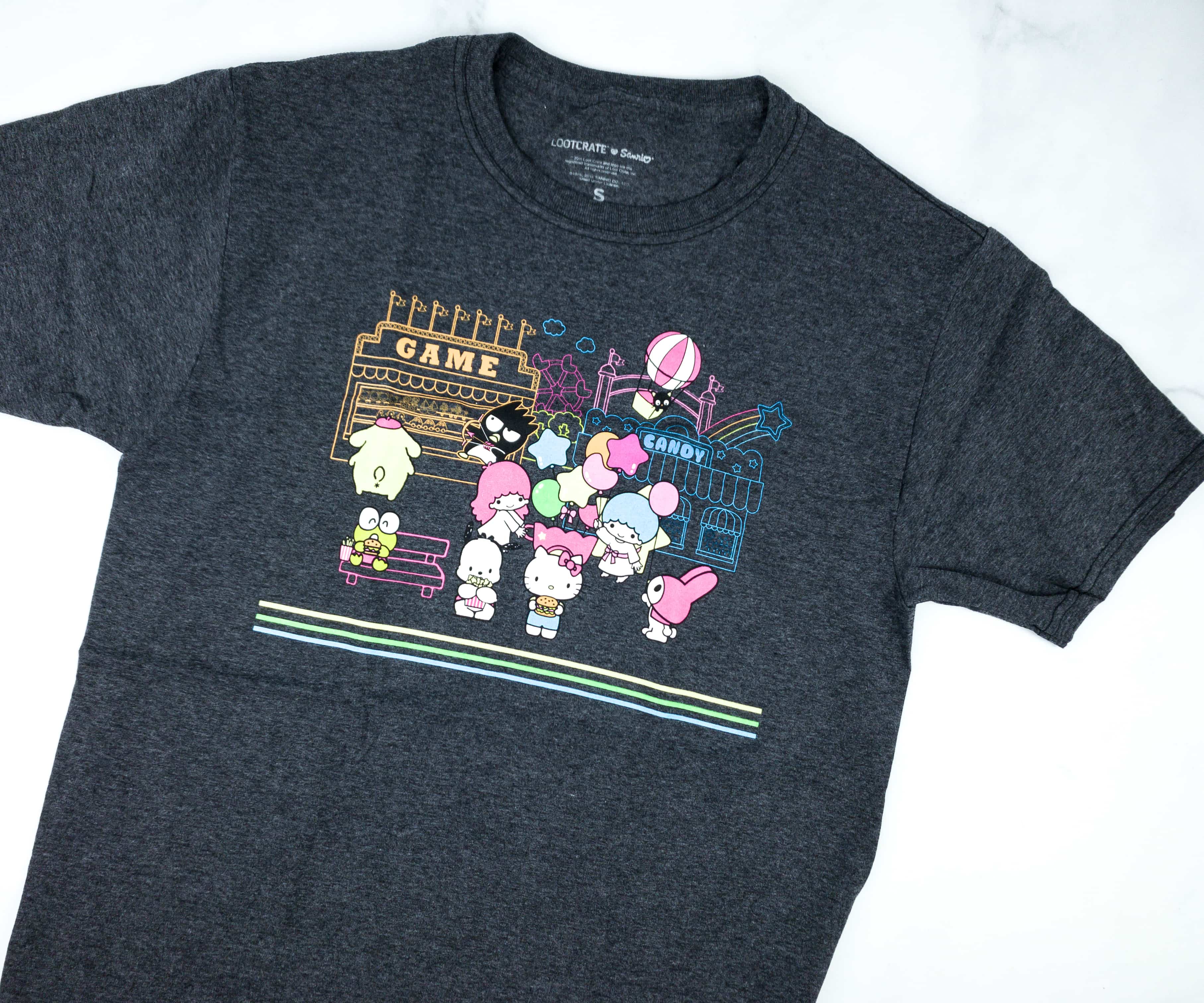 Bonus Item: Multi-Character T-Shirt. To show their gratitude for our patience on waiting for the box's arrival, Team Loot Crate included another cool shirt in the box. It features the Sanrio gang enjoying in an Amusement Park! I got the same shirt from the Fall 2018 box.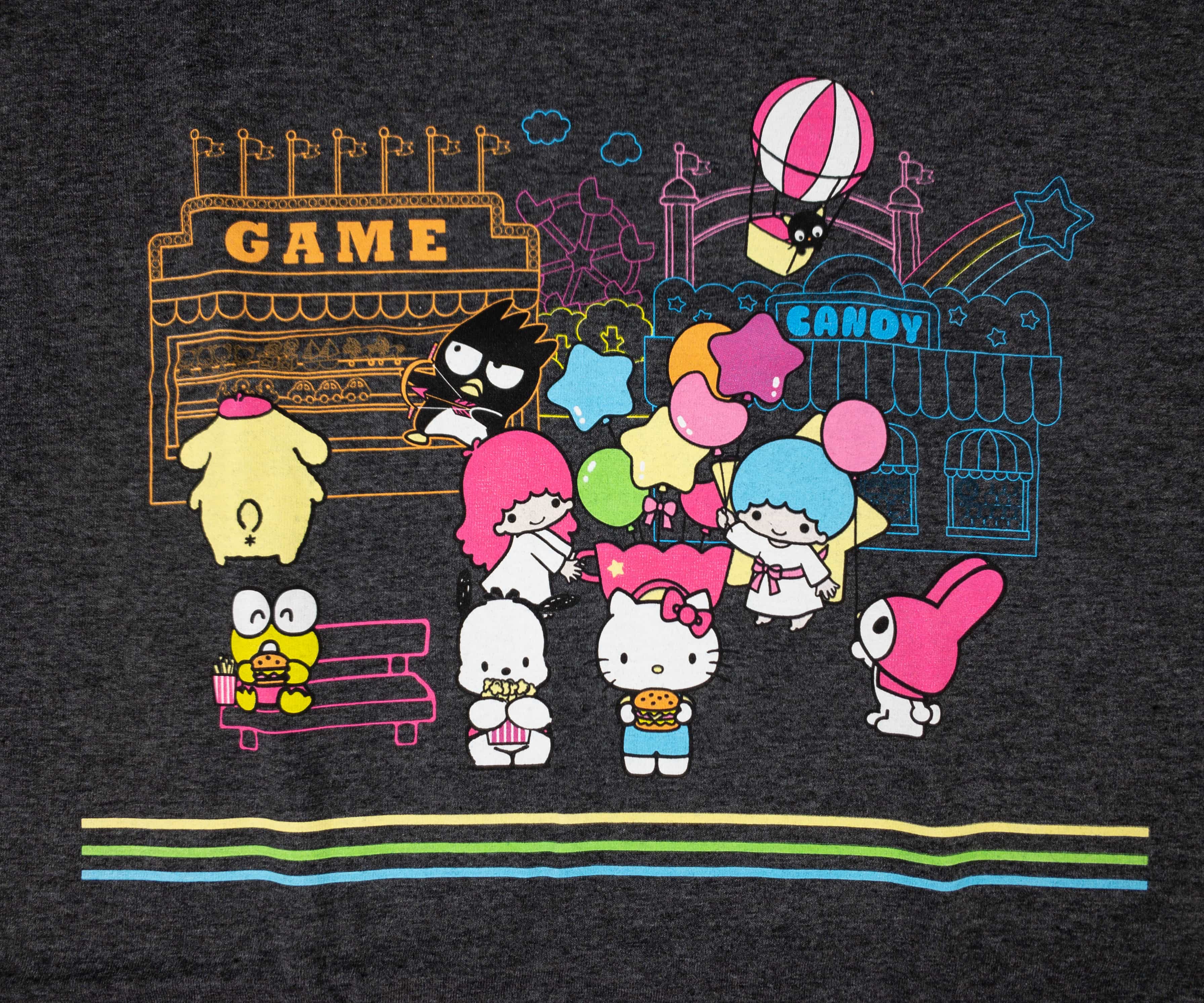 The dark gray shirt has Hello Kitty and Keroppi enjoying some juicy burgers, Pochacco holding a bucket of popcorn, The twins Kiki and Lala, and My Melody having fun with various shapes of balloons, Badtz Maru and Pompompurin enjoying an archery game!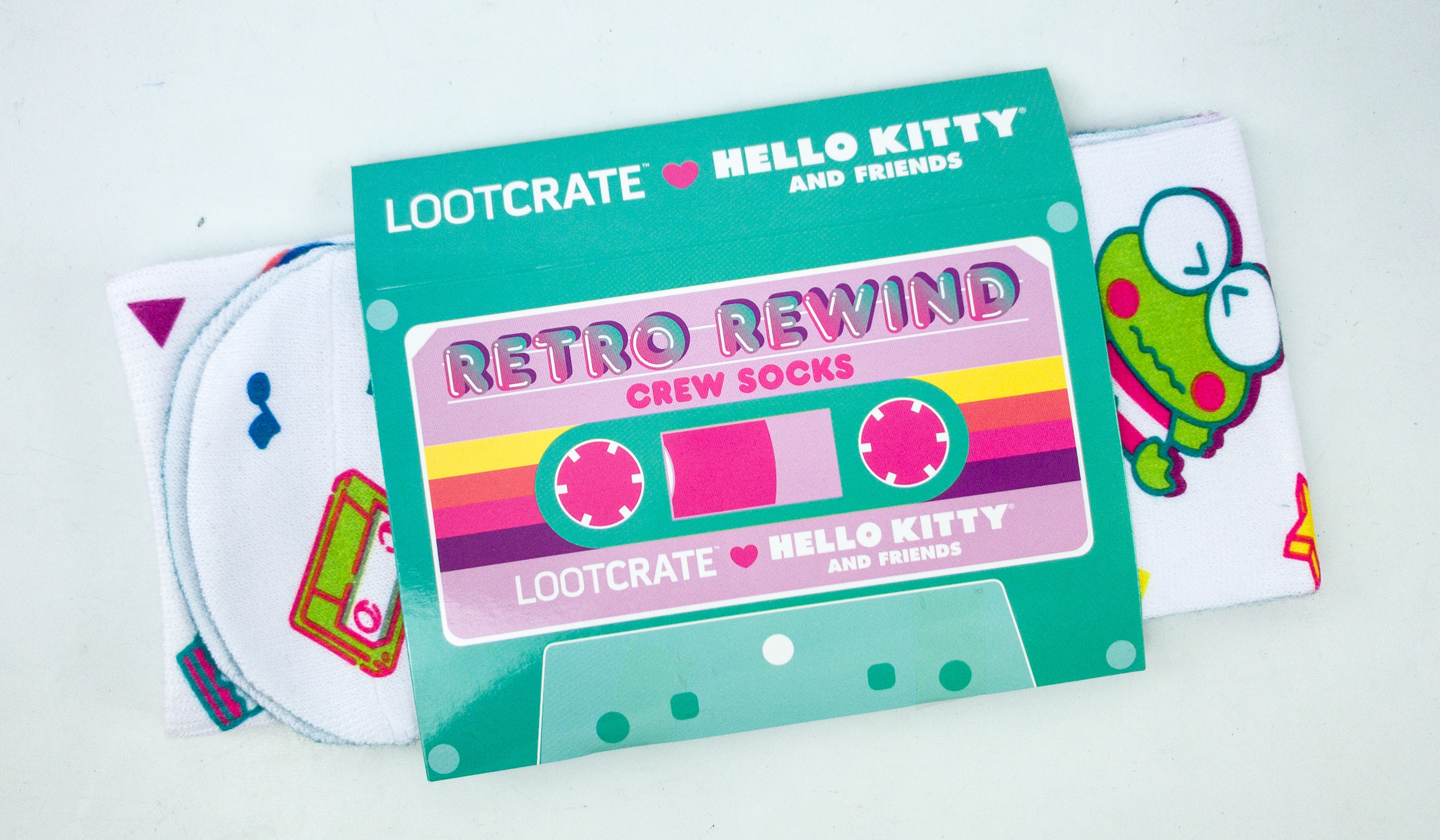 Multi-Character Socks. I really love how they packaged this fresh pair of socks. The carton is designed like a classic cassette tape!
The socks have almost the same prints and retro patterns as the multi-character white shirt. The sock's soles are in blue green and filled with different shapes in different colors, making them stand out from the rest of the socks.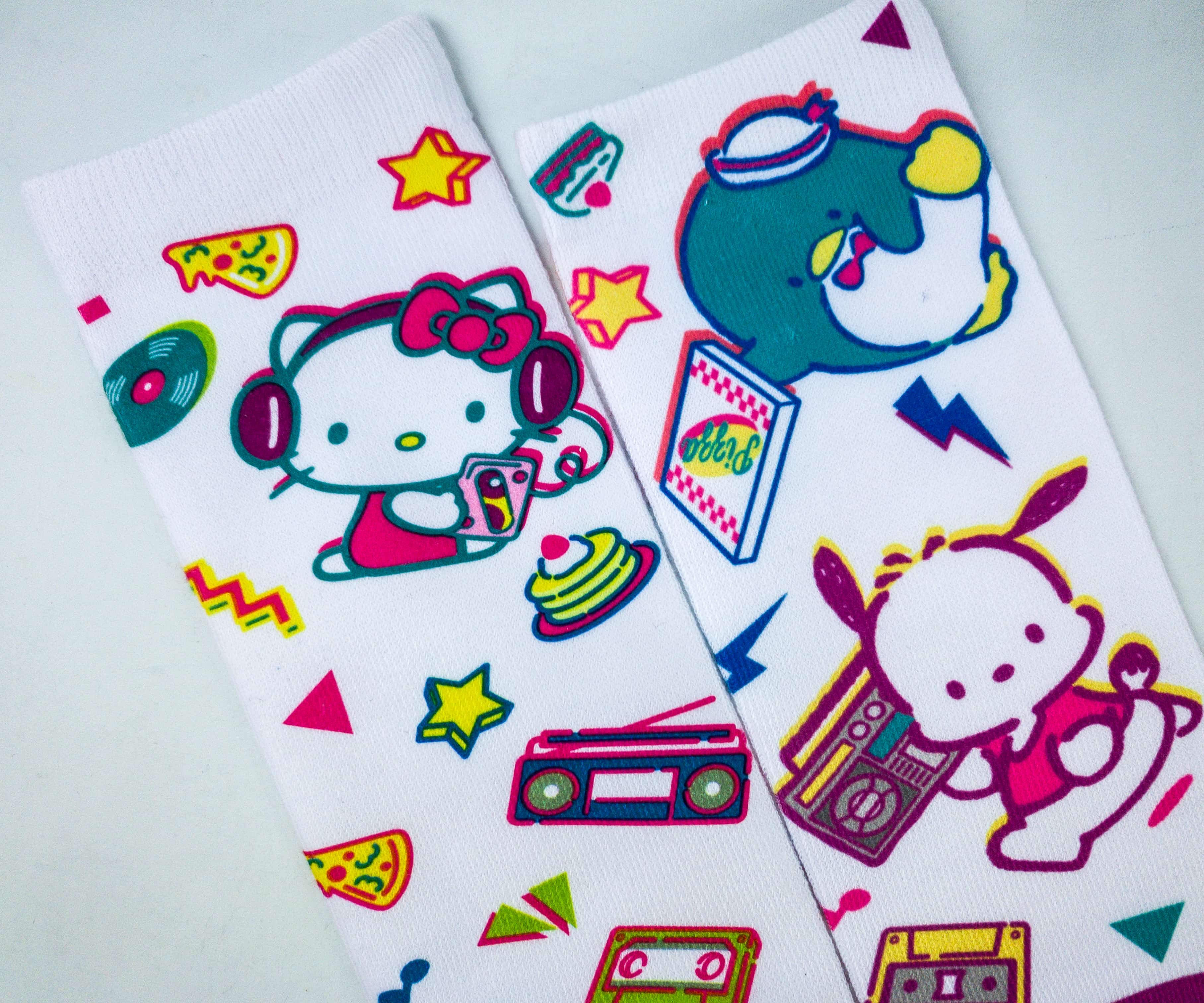 The gang is almost complete on this one! There's Hello Kitty using a portable cassette player, Pochacco with a boombox, and Tuxedosam holding a box of pizza! They're ready to party!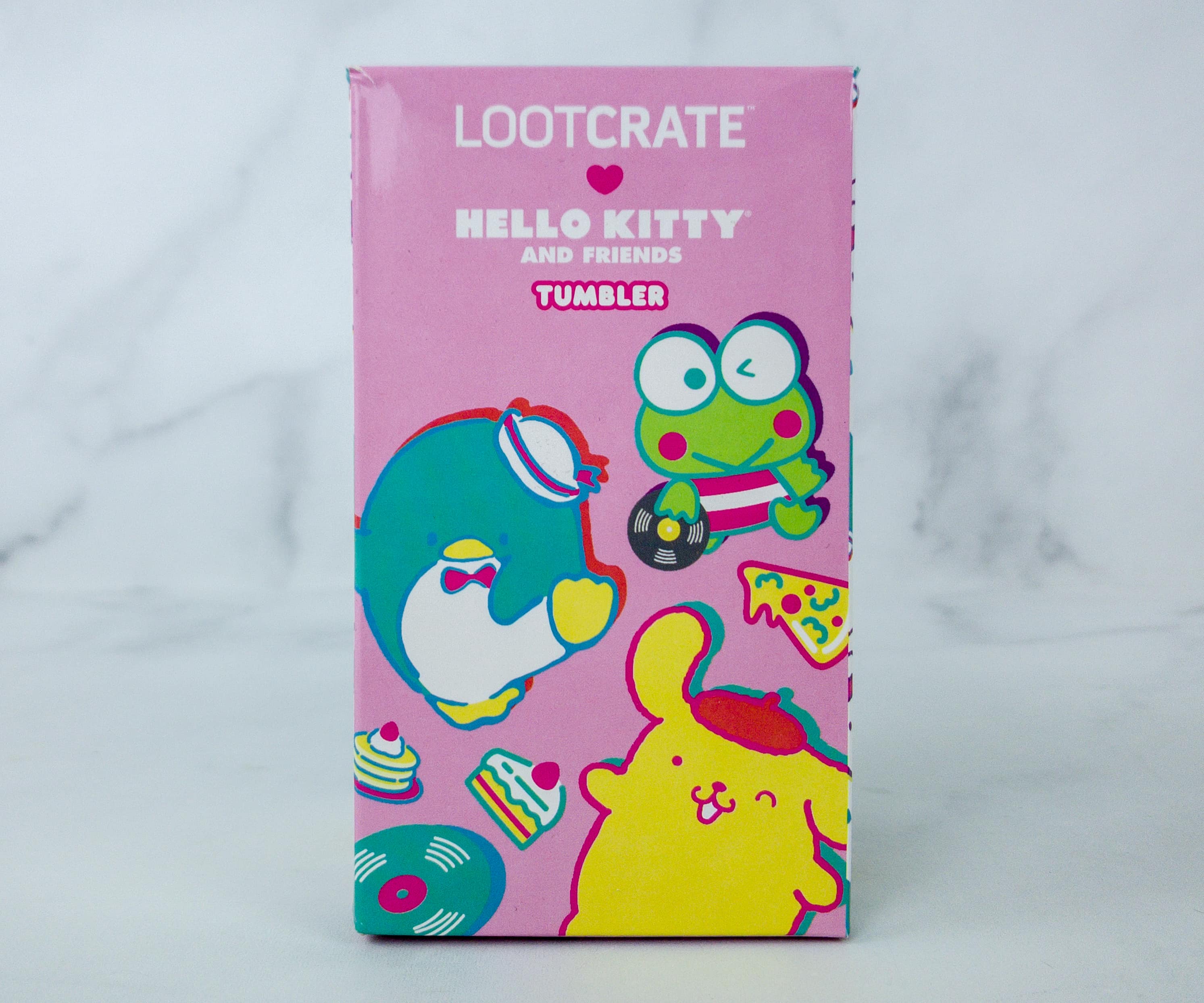 Character Glass. To help us stay hydrated and refreshed after a retro dance party, they included a Sanrio tumbler in the box!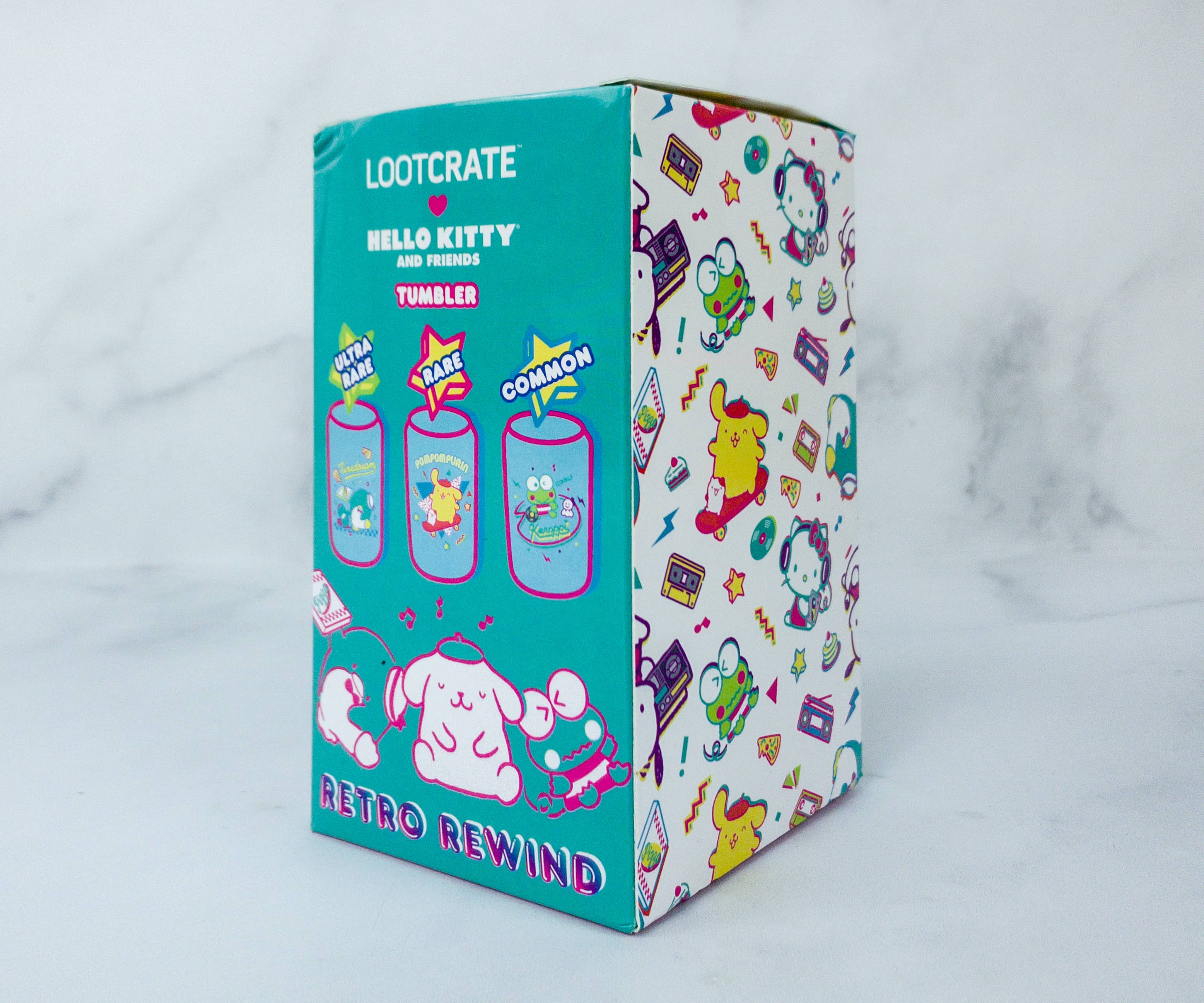 Subscribers can get an ultra-rare Tuxedosam, a rare Pompompurin, or a common Keroppi tumbler!
I got the common Keroppi-designed glass. It's cute and I am excited to fill it up with ice-cold drinks!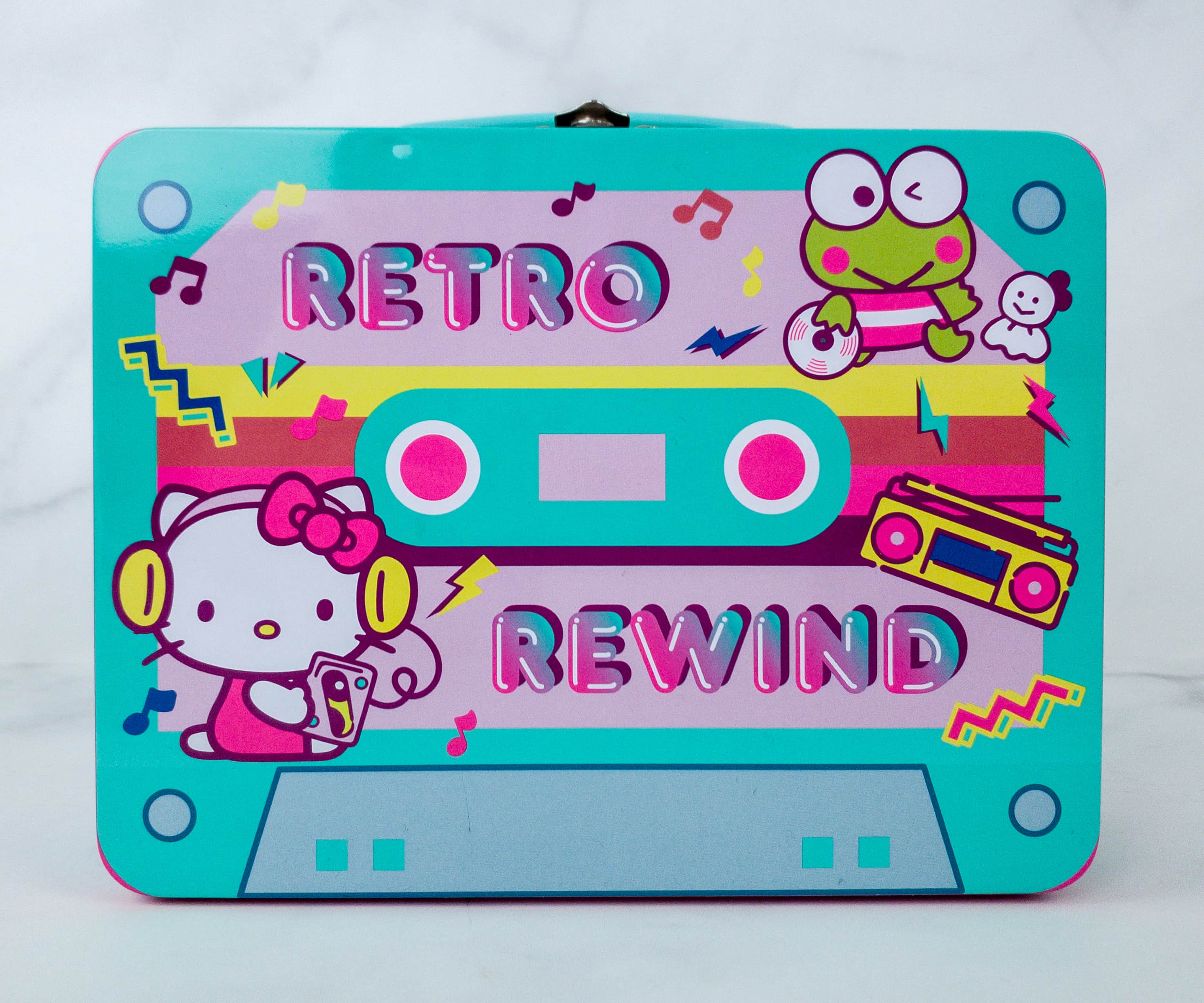 Multi-Character Lunch Box. This reminds me of lunch breaks and amazing 90s pop music! This side has Hello Kitty listening to music with a portable cassette player, while Keroppi is ready to play a record!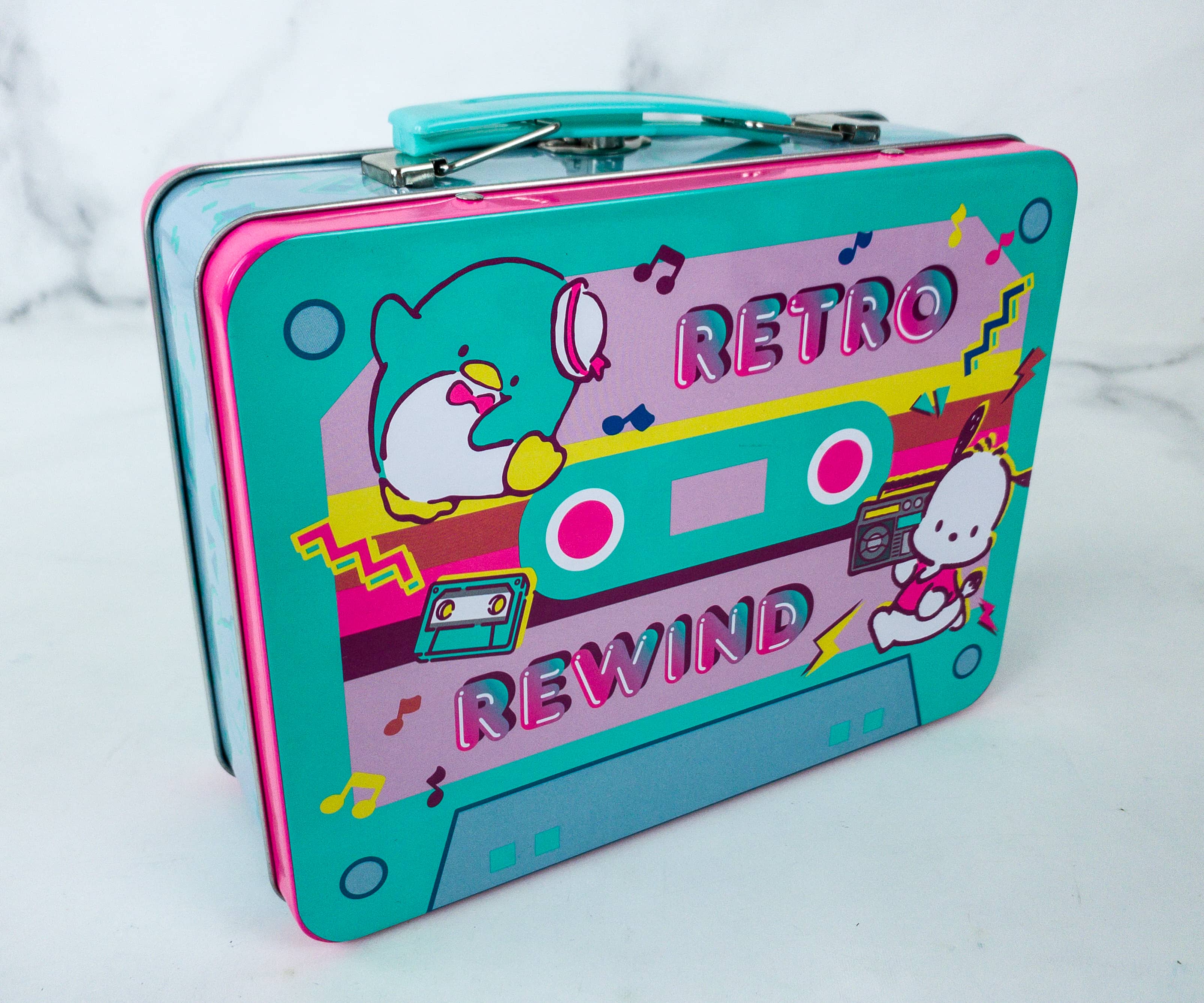 The other side features a dancing Tuxedosam and Pochacco carrying a boombox!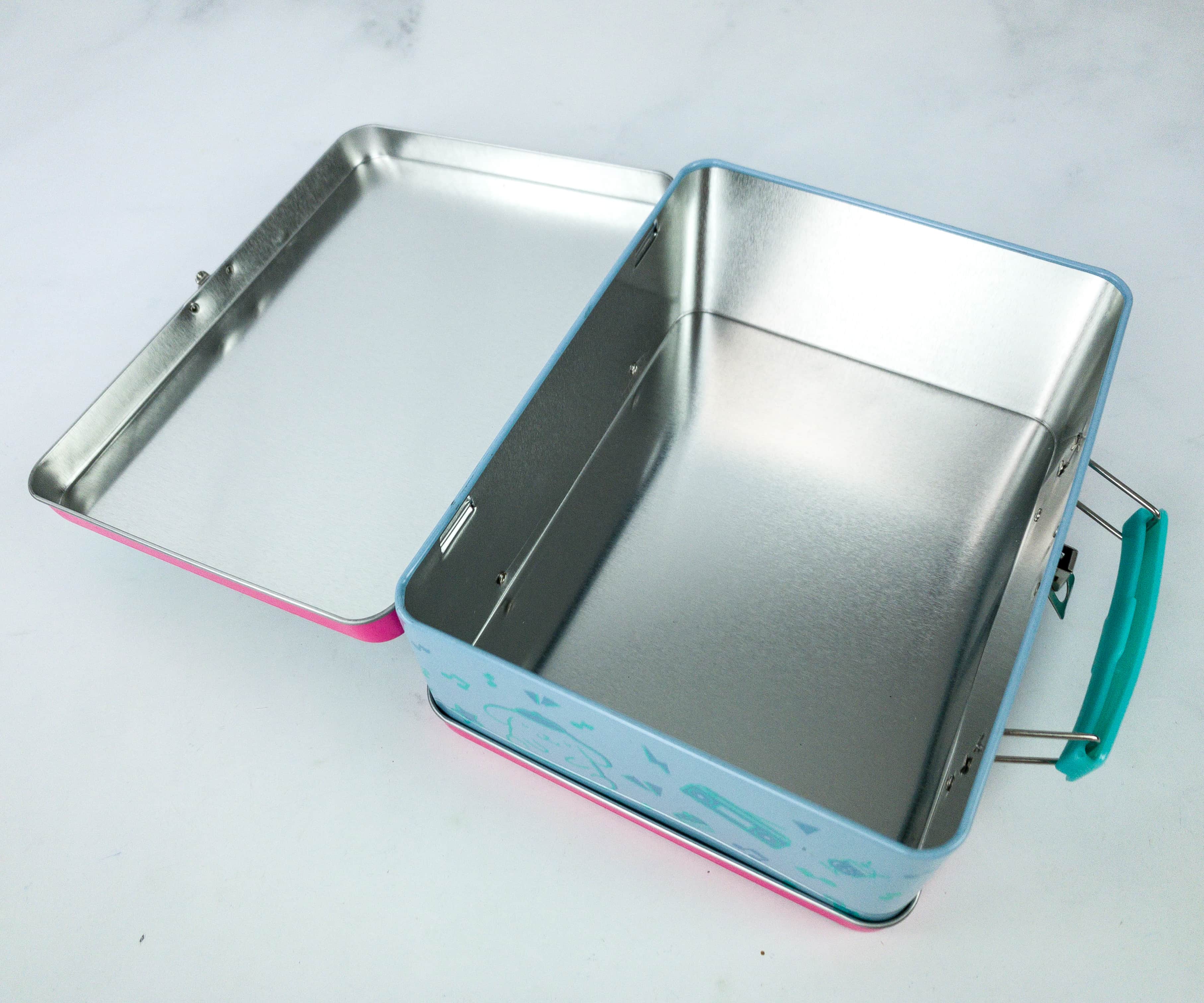 The metal lunch box is not only the perfect containment for snacks and meals on school days, but now, it can also be used to keep trinkets and important items like pieces of jewelry, make-up, and accessories!
This box always sweeps me off my feet with all the lovable, cute, and amazing characters from Sanrio! Who wouldn't love the jolly and fun characters like Hello Kitty, Pompompurin, Gudetama, My Melody, Little Twin Stars, Pochacco, and the rest of the gang? I love the retro-theme this quarter, it reminds me so much of the good old days. My favorites are the shirt and socks. They're perfect together and the retro designs are just on point. I also like the inclusion of the metal lunch box, which I can use to store snacks and even other important items and trinkets! Everything is so kawaii, and the box never fails to make me smile from ear to ear! If not for the late shipment, I would've given this box five stars. I hope they can finally catch-up with their delivery schedules! Speaking of – they just moved this box to bimonthly, which was really a surprise!
What did you think of the Summer 2019 Sanrio Hello Kitty and Friends Crate?
Visit Hello Kitty and Friends to subscribe or find out more!