Fresh Fiction Box Not To Miss is a monthly book subscription that sends 5-7 new release books for $25.95. Shipping is free to the U.S. and extra to Canada. You can choose from a 1 or 3 month plan and both plans auto renew. Alternatively, you can also buy a one-time box from their online shop. They send 3-5 new release print books and codes for some downloadable ebooks! Most of the books will be from the romance genre but they may occasionally send mystery, erotica, YA, and paranormal books too.
DEAL: Save $3 on your first Fresh Fiction Not To Miss box with coupon code HELLO.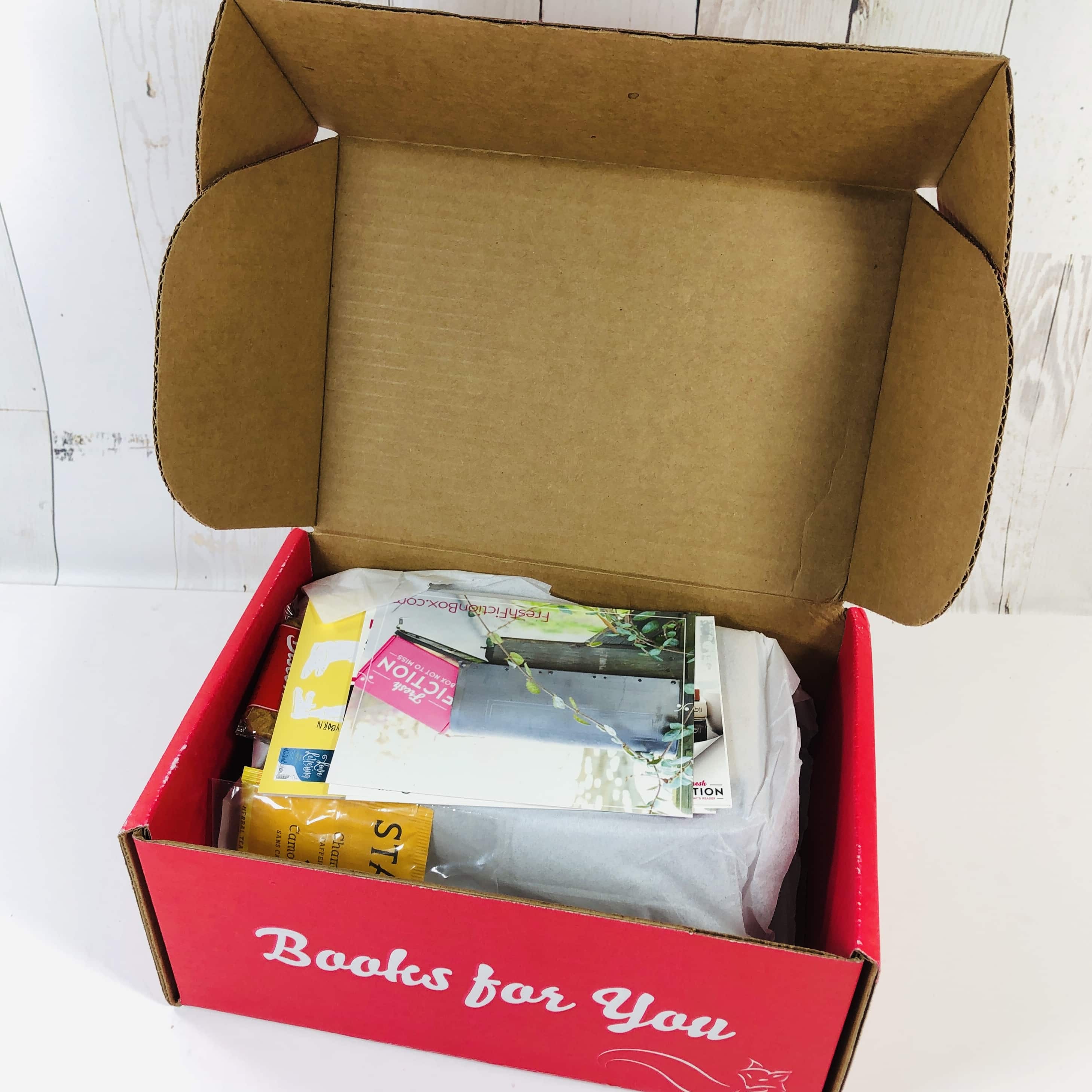 First look!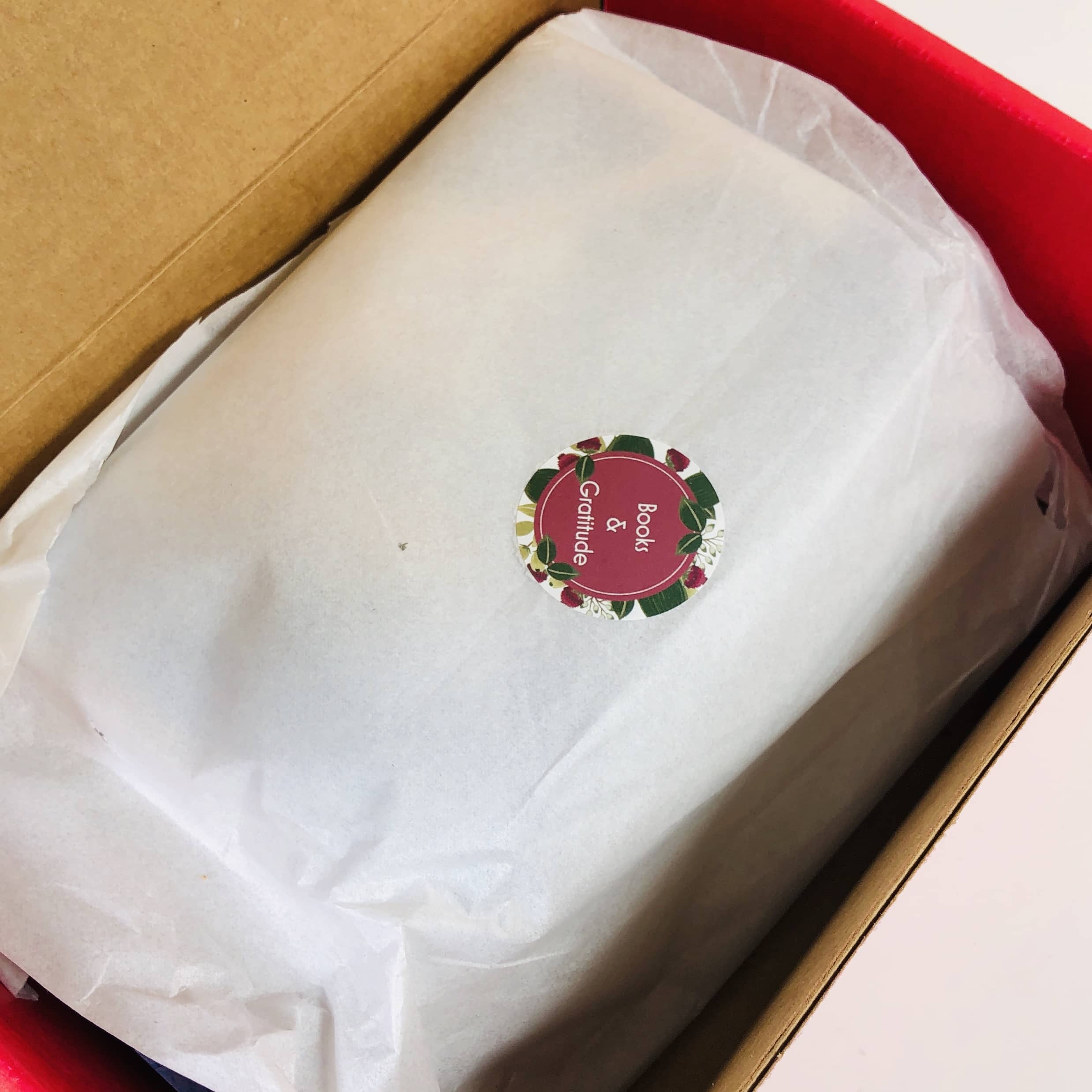 The tissue paper was sealed with a sticker!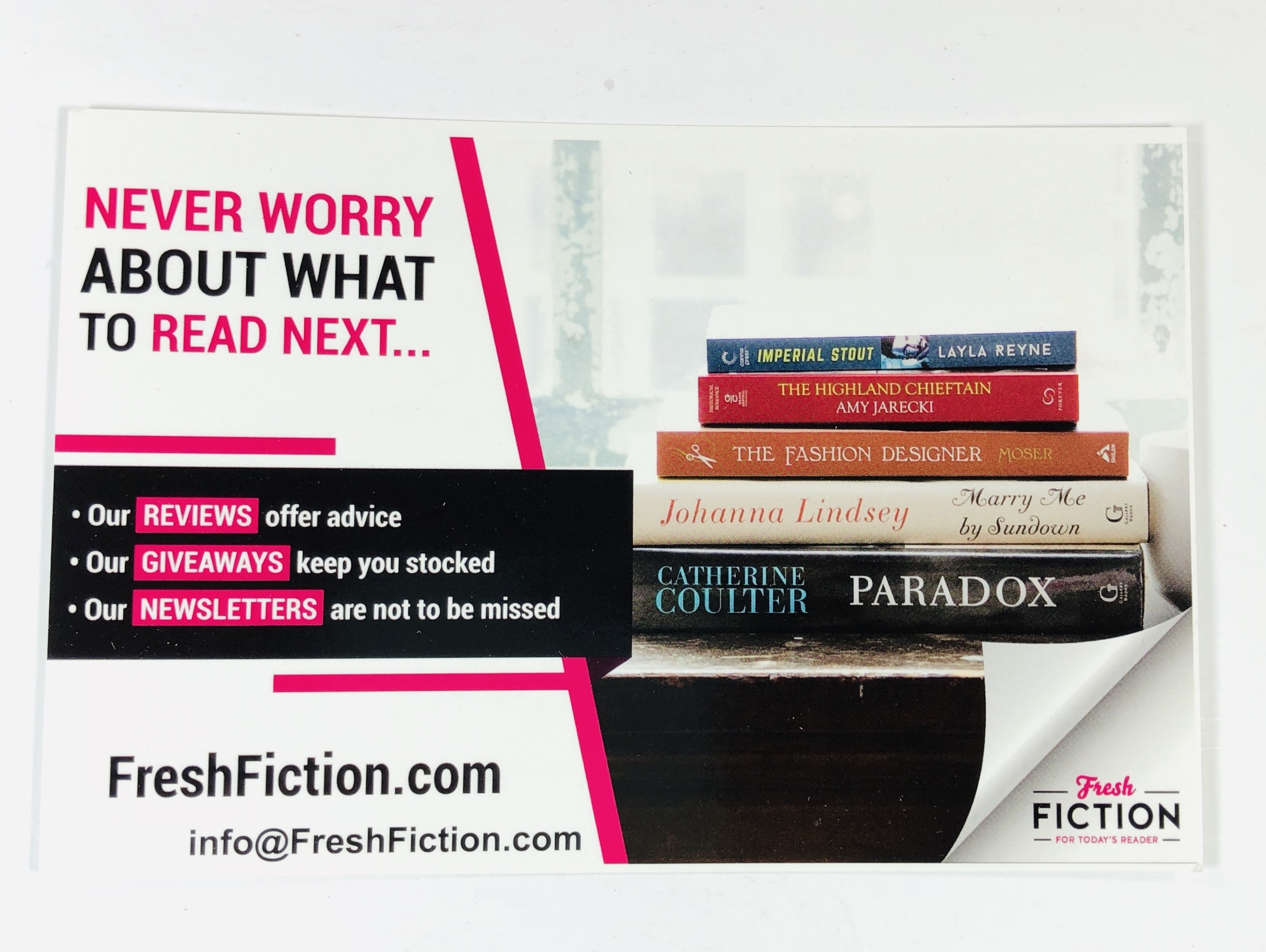 I received a card about the Fresh Fiction website, where you can read reviews of books and enter giveaways.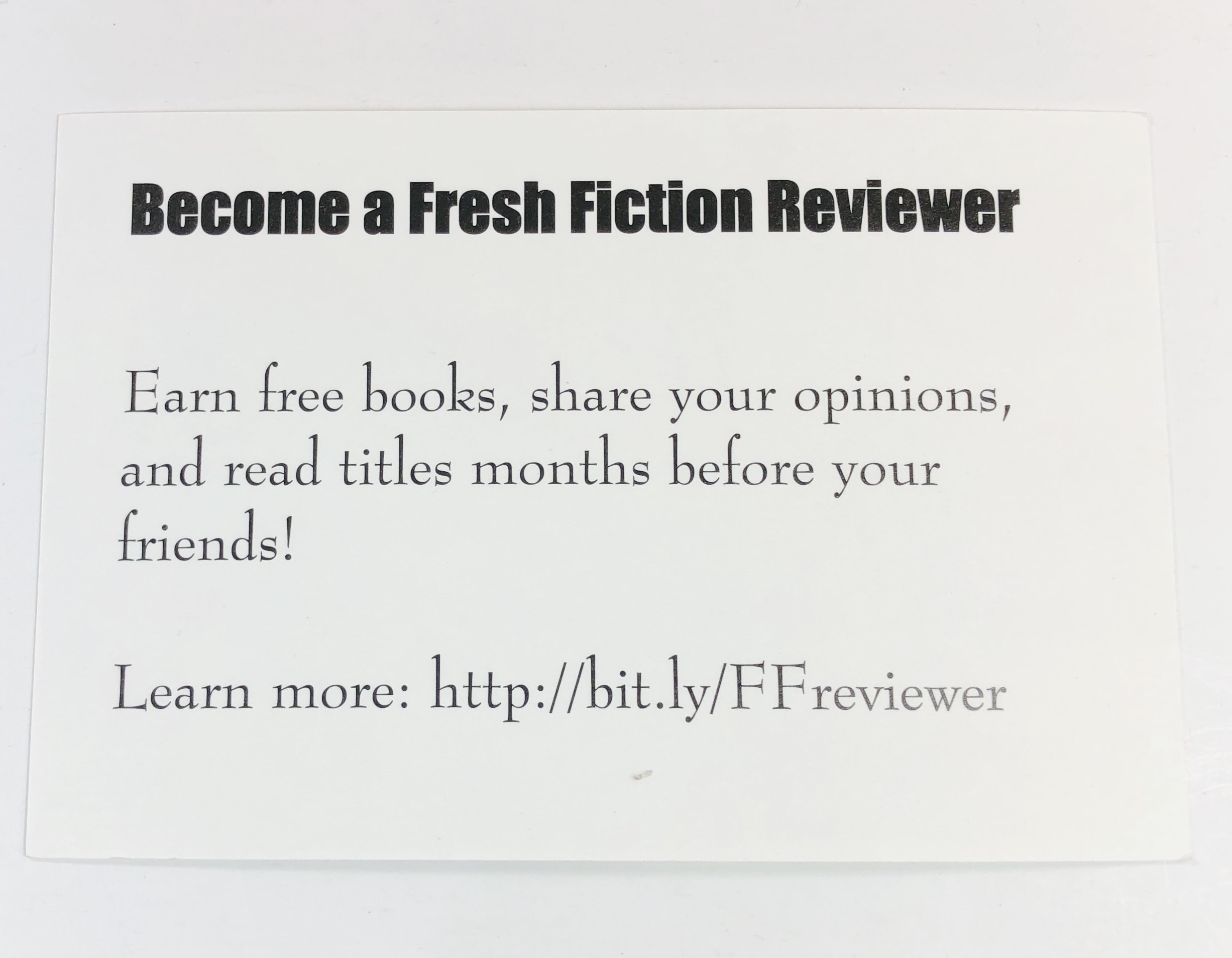 The back of the card tells how you can become a reviewer on the Fresh Fiction website!
One more card…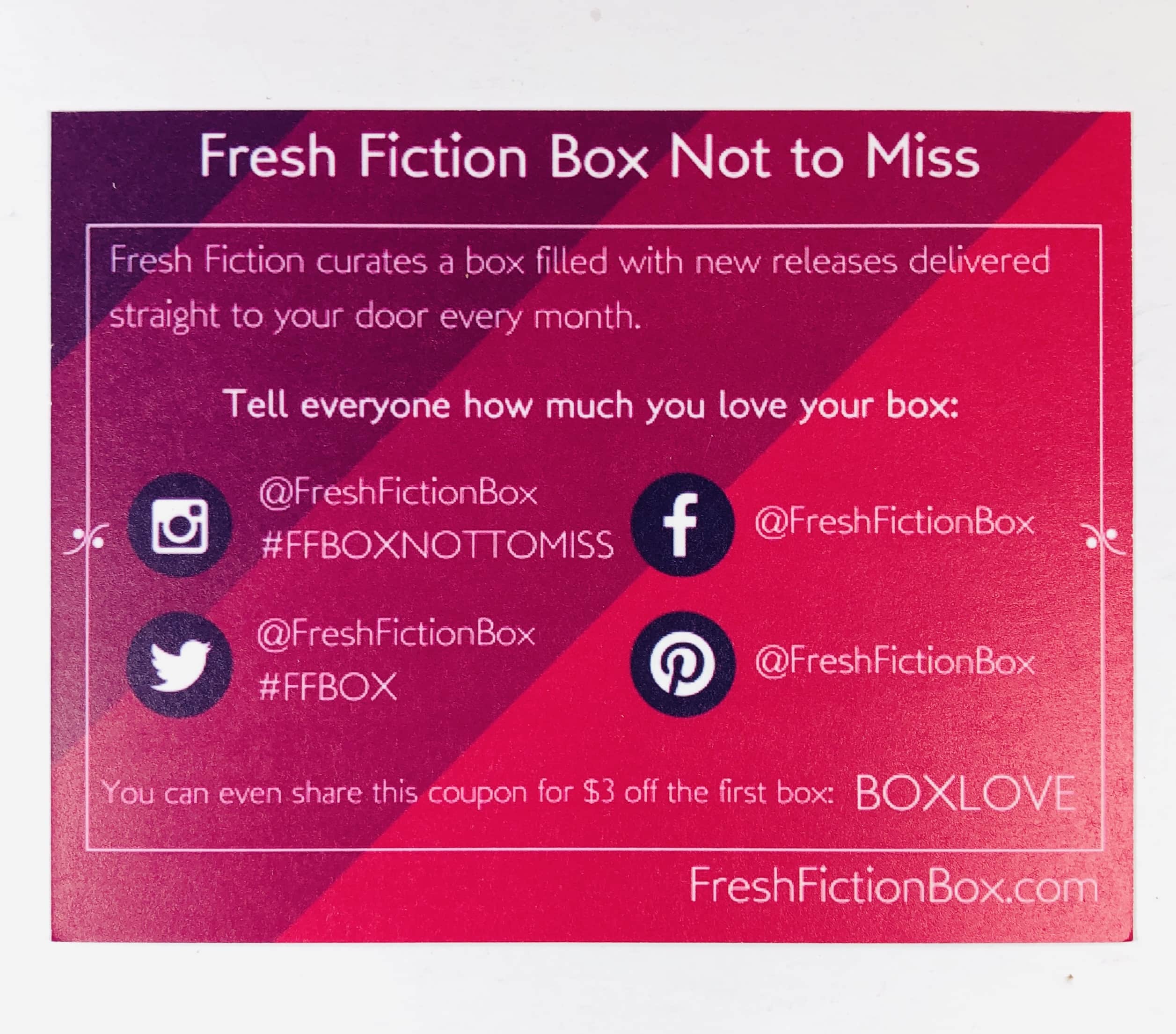 …listed all of the social media sites where you can check out more Fresh Fiction!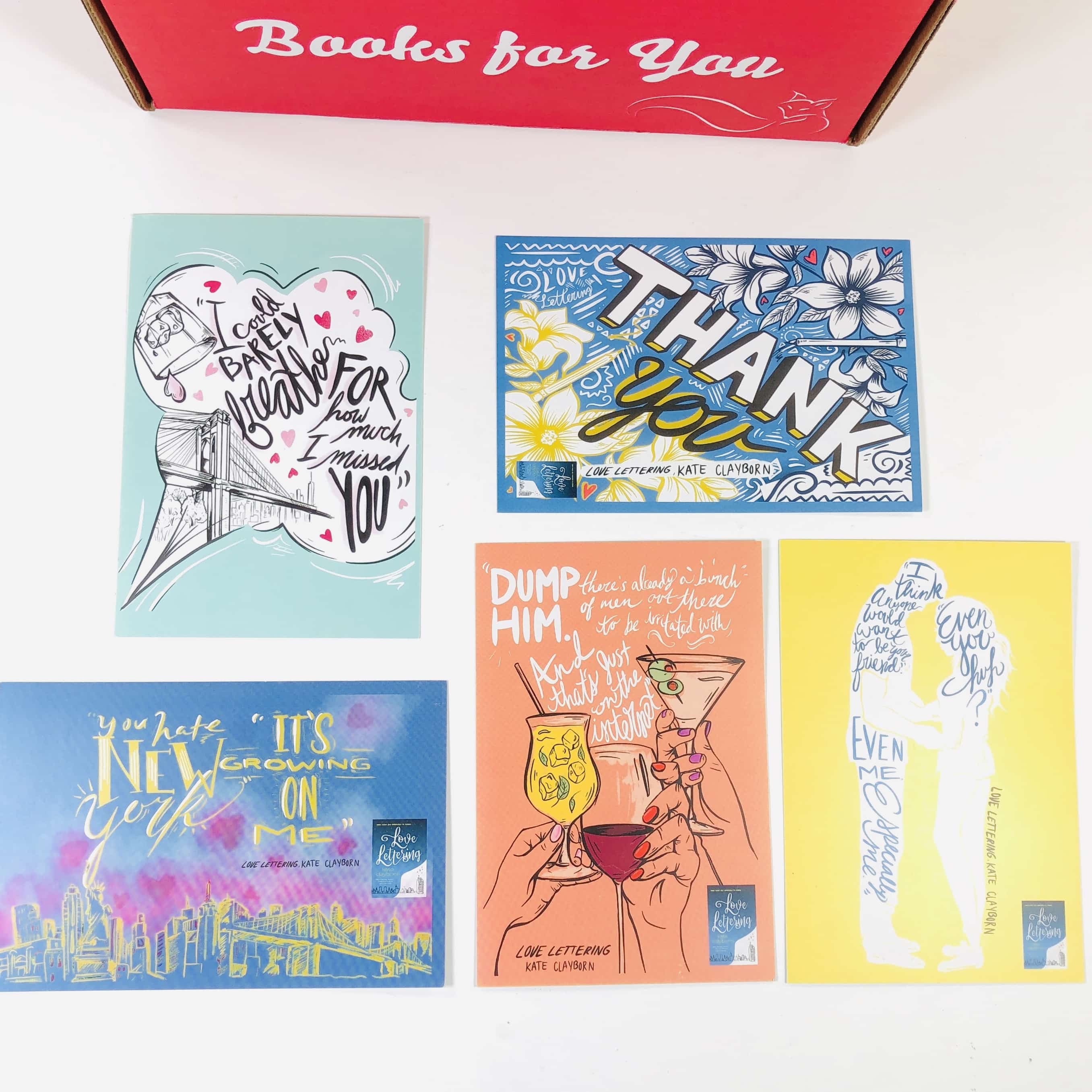 I found 5 postcards which are inspired by one of the featured books for January.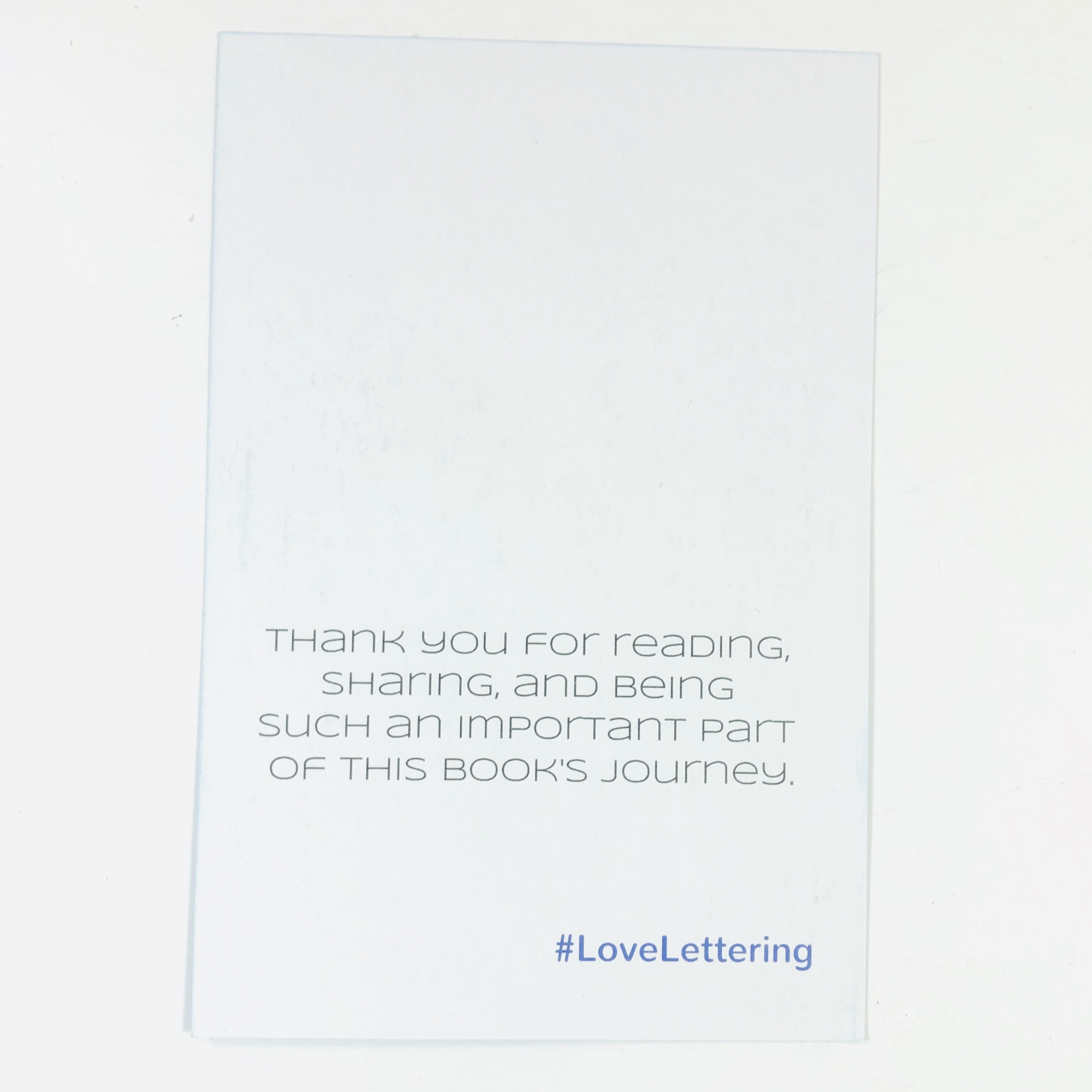 Four of the cards are blank on the back, one has this saying and #.
I also found a Biscoff cookie, a Stash tea bag, and a mini flashlight!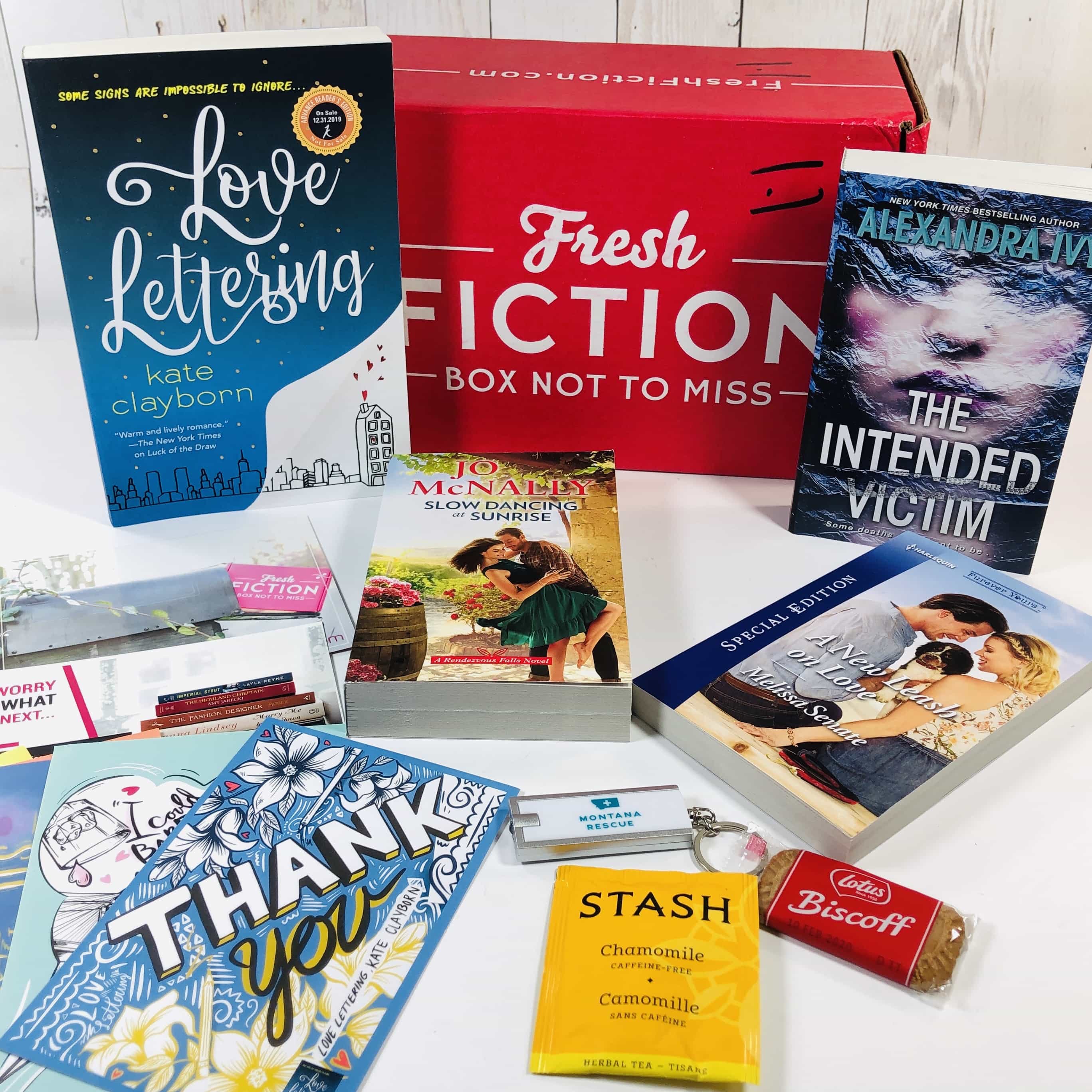 Everything in my box!
Love Lettering by Kate Clayborn (Advance reader copy, $15.95 list price, now $12.76) falls under the contemporary fiction genre and has to do with an artistic journal maker who predicts that the couple she is designing a wedding program for is doomed to fail, and a year later the groom finds the word of warning that Meg wove into the finished project.
In this warm and witty romance from acclaimed author Kate Clayborn, one little word puts a woman's business—and her heart—in jeopardy . . .
 
Meg Mackworth's hand-lettering skill has made her famous as the Planner of Park Slope, designing custom journals for her New York City clientele. She has another skill too: reading signs that other people miss. Knowing the upcoming marriage of Reid Sutherland and his polished fiancée was doomed to fail is one thing, but weaving a secret word of warning into their wedding program is another. Meg may have thought no one would spot it, but she hadn't counted on sharp-eyed, pattern-obsessed Reid.
 
A year later, Reid has tracked Meg down to find out how she knew that his meticulously planned future was about to implode. But with a looming deadline and a bad case of creative block, Meg doesn't have time for Reid's questions—unless he can help her find her missing inspiration. As they gradually open up to each other, both try to ignore a deepening connection between them. But the signs are there—irresistible, indisputable, urging Meg to heed the messages Reid is sending her, before it's too late . . .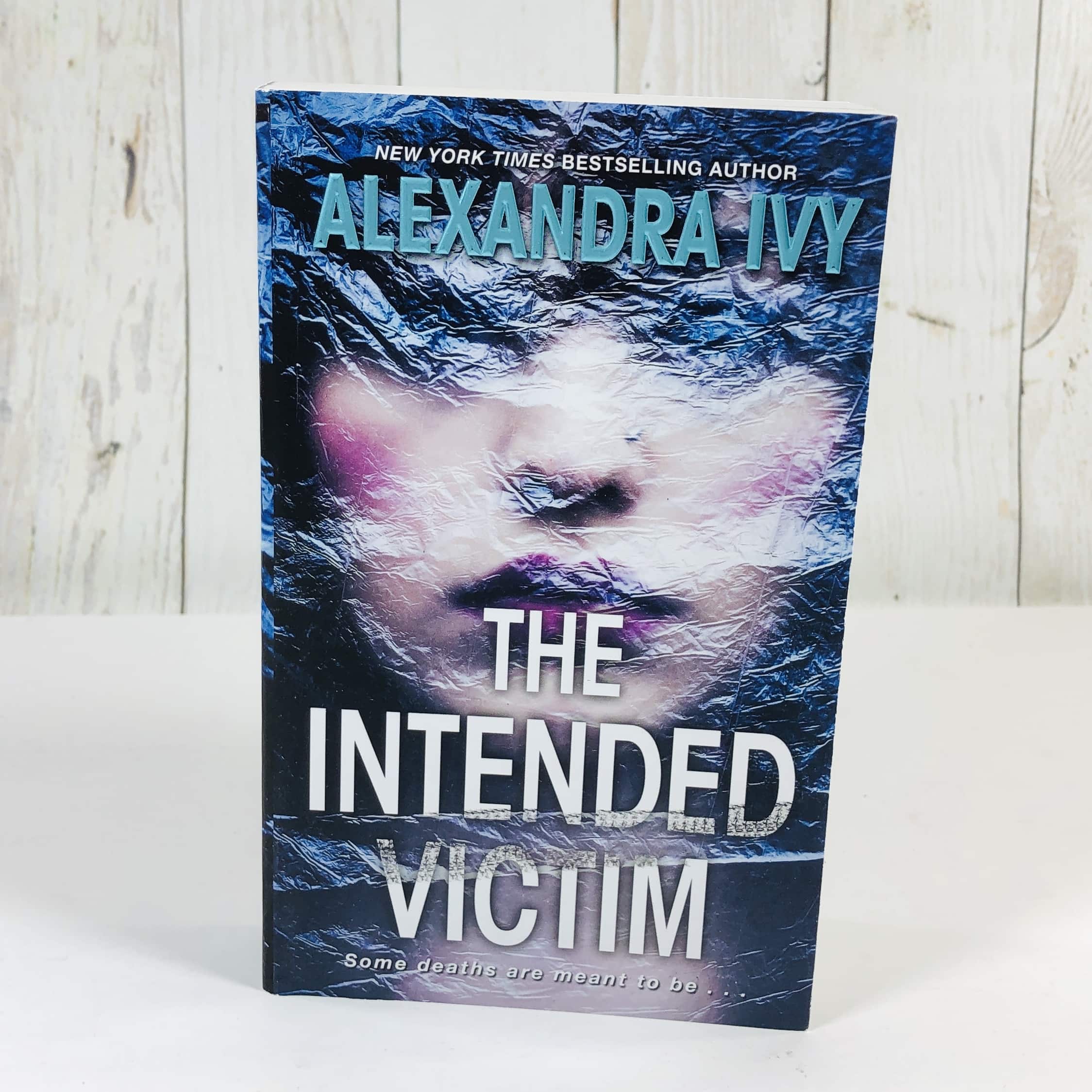 The Intended Victim by Alexandra Ivy ($7.99 list price, now $6.79) is book 4 of 4 in The Agency series and is a murder thriller. I haven't read the other three in the series but since they all have different detectives and different locales I think it might work as a standalone.
ONCE, SHE GOT AWAY
The body lying on a cold steel slab bears all the hallmarks of the Chicago Butcher. There's a cruel slash across her throat, deep enough to sever the carotid artery, and a small crescent carved into her right breast. Her delicate features are painfully familiar to Ash Marcel, once a rising star in the Chicago PD. But though the victim resembles his former fiancée, Remi Walsh, he knows it's not her.

BUT THIS TIME
Though Remi escaped a serial killer five years ago, her father died trying to save her. Grief and guilt caused her to pull away from the man she loved. Now Ash is back in her life, insisting that Remi is still in danger.
 
IT'S A DEAD END . . .
Someone is targeting women who look just like Remi. With or without a badge, Ash intends to unmask the Butcher. But the killer isn't playing games any longer. He's moving in, ready to finish what he started, and prove there's nothing more terrifying than a killer's obsession . . .

Praise for Pretend You're Safe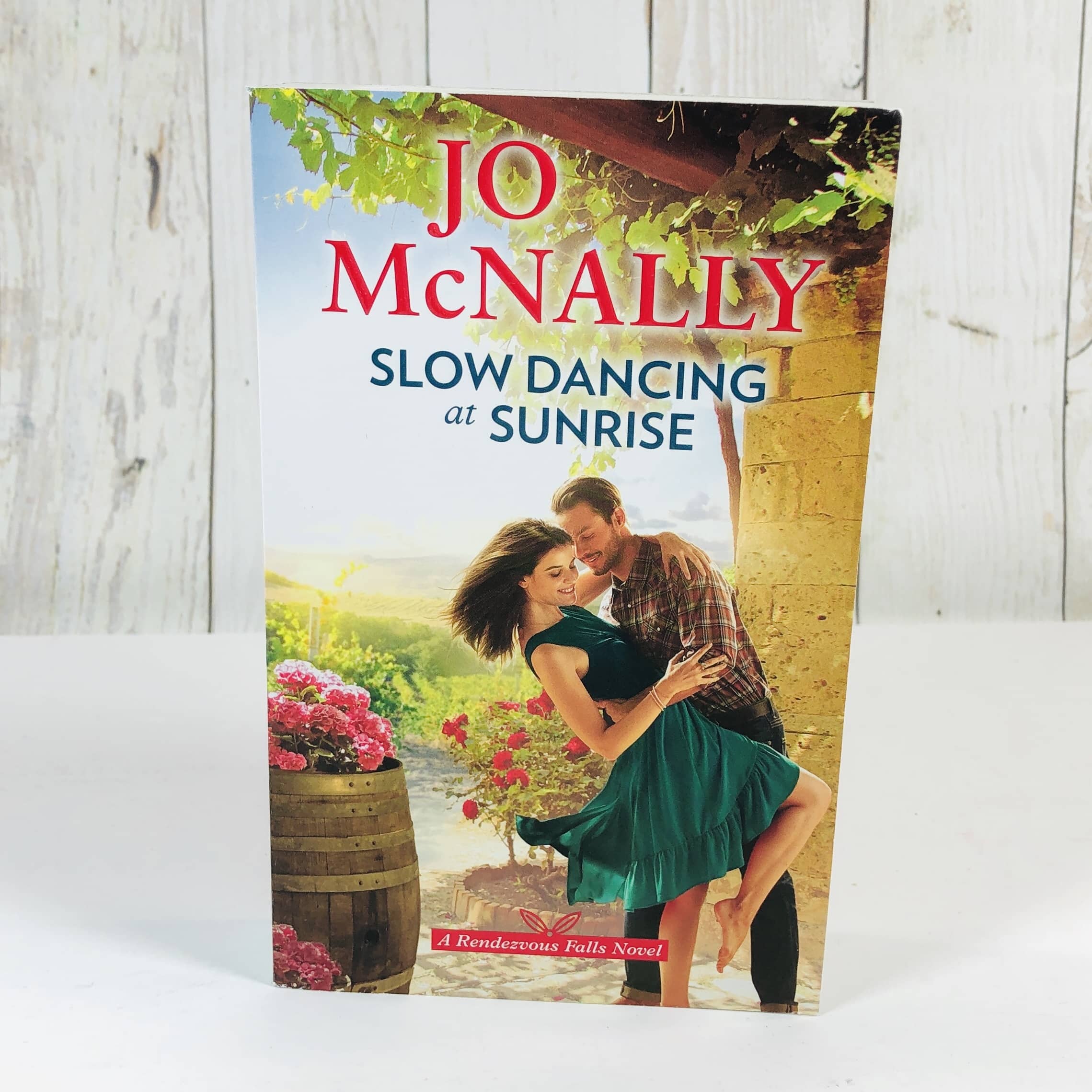 Slow Dancing at Sunrise by Jo McNally ($7.99 list price, now $4.55) is book 1 of 3 in the Rendezvous Falls series. It's a romcom-contemporary novel and I am intrigued that it takes place at a vineyard.
Welcome to Rendezvous Falls, New York, where love is where you least expect it…

When accountant Whitney Foster's carefully calculated life blows up, she escapes to the one place that's always felt like home. But Rendezvous Falls has changed since she's been away. Her aunt Helen's winery is in trouble. And she doesn't trust the sexy, surly stranger working the vineyard as far as she can throw him.

Luke Rutledge would do anything for Helen, who's been like a mother to him. Revive the winery? Sure. Repair her property? No problem. Tolerate Helen's infuriating, big-shot niece? Well…maybe. But as he and Whitney are forced to work together to rebuild the business, her chilly facade reveals a woman as complex and intoxicating as a fine merlot. Throw in a matchmaking book club hell-bent on happily-ever-after and it's a potent cocktail.

Love should never be calculated. But it doesn't take Whitney's math skills to see that this is adding to up to one tantalizing adventure…
A New Leash on Love by Melissa Senate ($5.75) looks like a cute, uncomplicated quick read about a second chance at love for two former high school sweethearts.
Will true love strike twice…

…at the Furever Paws shelter?

Army vet Matt Fielding is back—for good—and finding a puppy for his niece. He's also avoiding Claire Asher, his high school ex—spotted at the local animal shelter! He can't refuse her offer of puppy training, but soon their friendly reunion brings back memories of their teenage love, and sparks fly. Will their rekindled affair lead Matt to put a ring on it?
The January Fresh Fiction books will help me start the year off on the right foot! I am looking forward to reading the main book for this month and the bonus items were cute plus I am always happy to get more tea. I didn't see any downloadable books this month but the books I did receive were worth around $29.85 using sale prices (and worth even less if you don't count the advance reader copy). This is probably the lowest value box I have received but it still went over the price paid for the subscription and all of the books were fairly new, I just think there were three mass market paperbacks and those are never high value.
Which book would you read first? Let me know in the comments! 
Visit Fresh Fiction Not To Miss to subscribe or find out more!