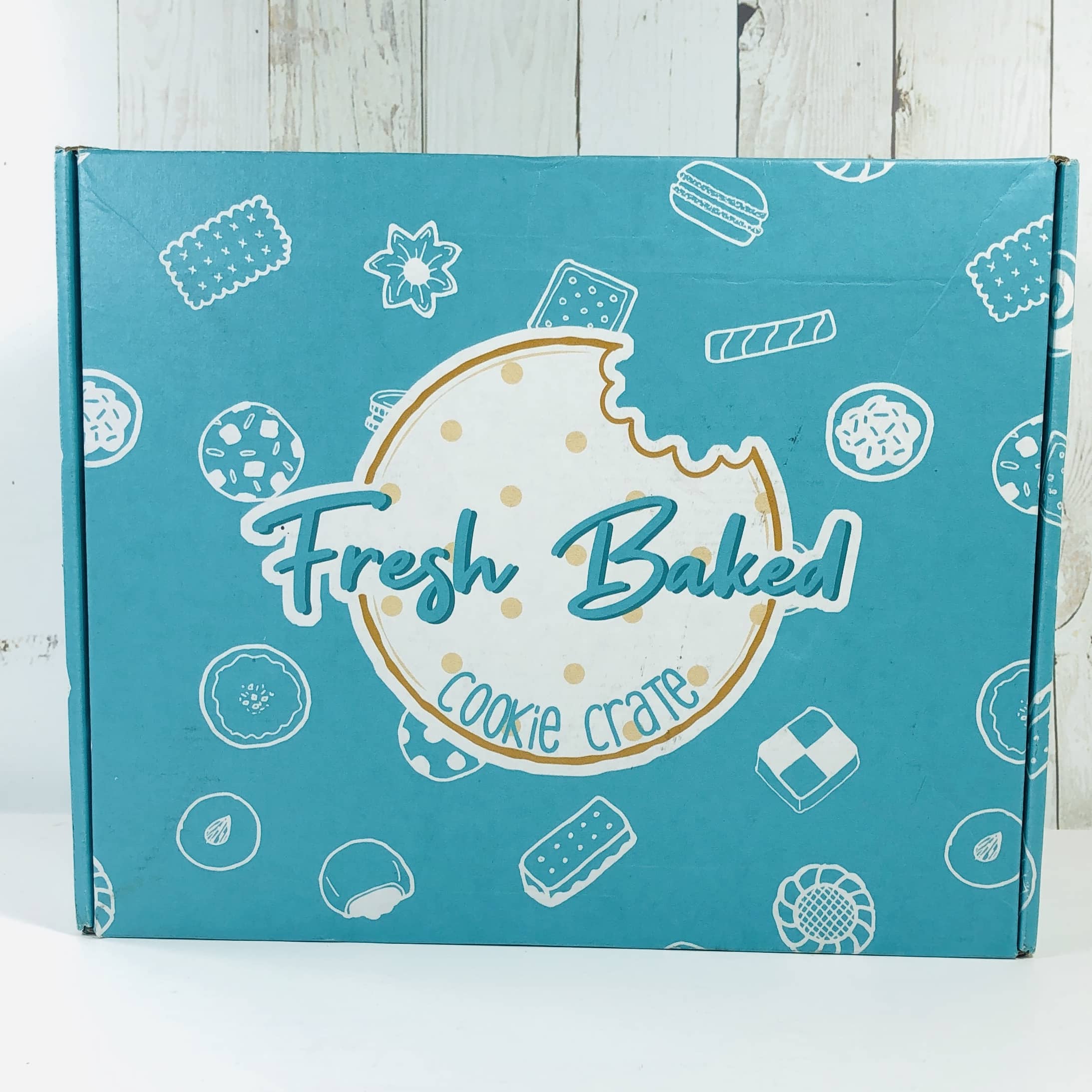 Fresh Baked Cookie Crate is the ultimate subscription box for cookie fanatics. Each month, you'll receive pre-measured, vacuum-sealed ingredients to bake your own cookies. You can choose from 2 Dozen ($39.99 a month) or 4 Dozen ($49.99 a month) but you will also receive lots of cookie or baking themed extras.
Delicious new cookie every month, never any repeats
Gourmet and handcrafted ingredients
Pre-measured, mess-free, fool-proof
Awesome cookie-themed gifts and surprises
Organic, all-natural, vacuum sealed ingredients
DEAL: Get 15% off Hello Subscription exclusive coupon Use coupon code HELLOCOOKIES.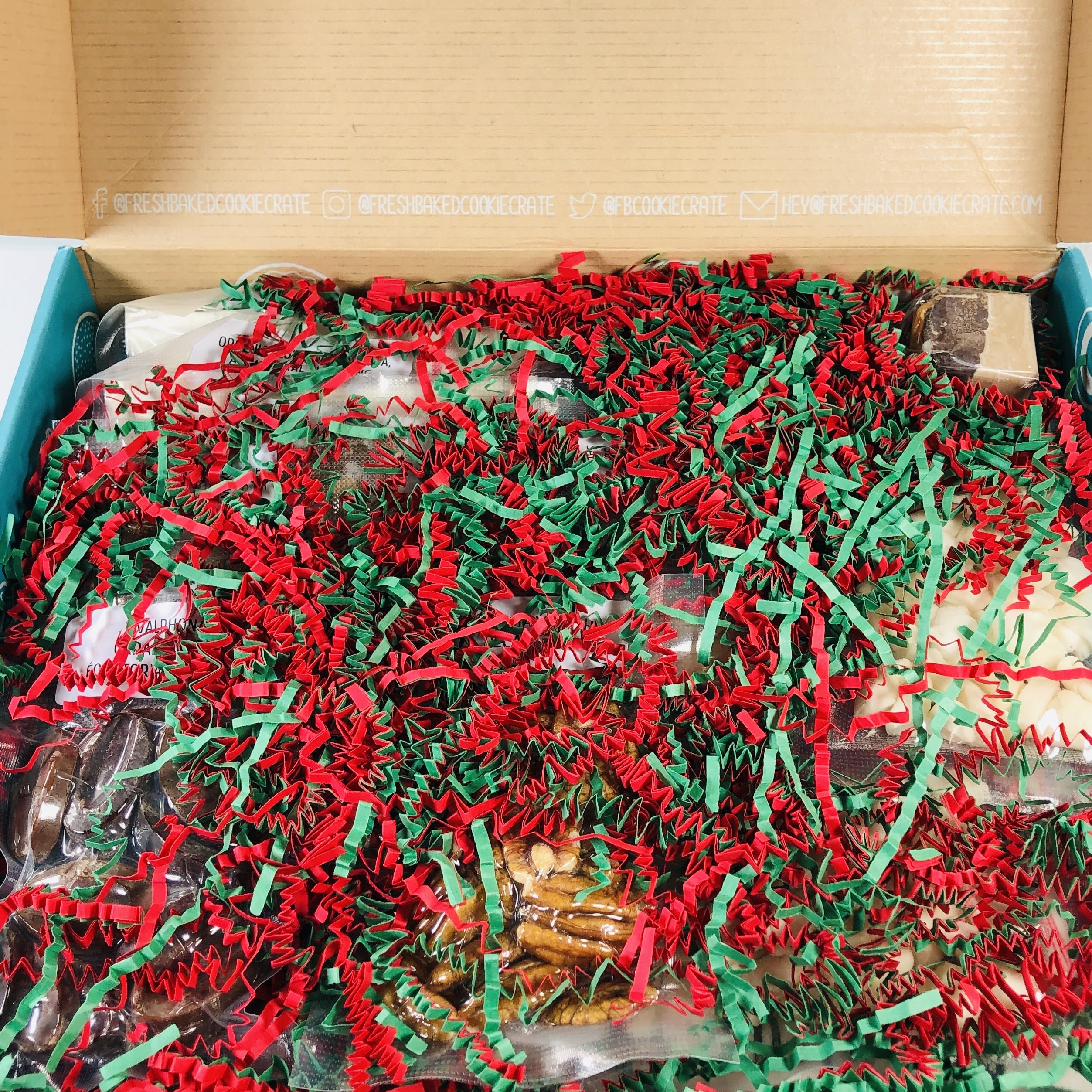 This is my very first Fresh Baked Cookie Crate and I am reviewing the 4 Dozen Box!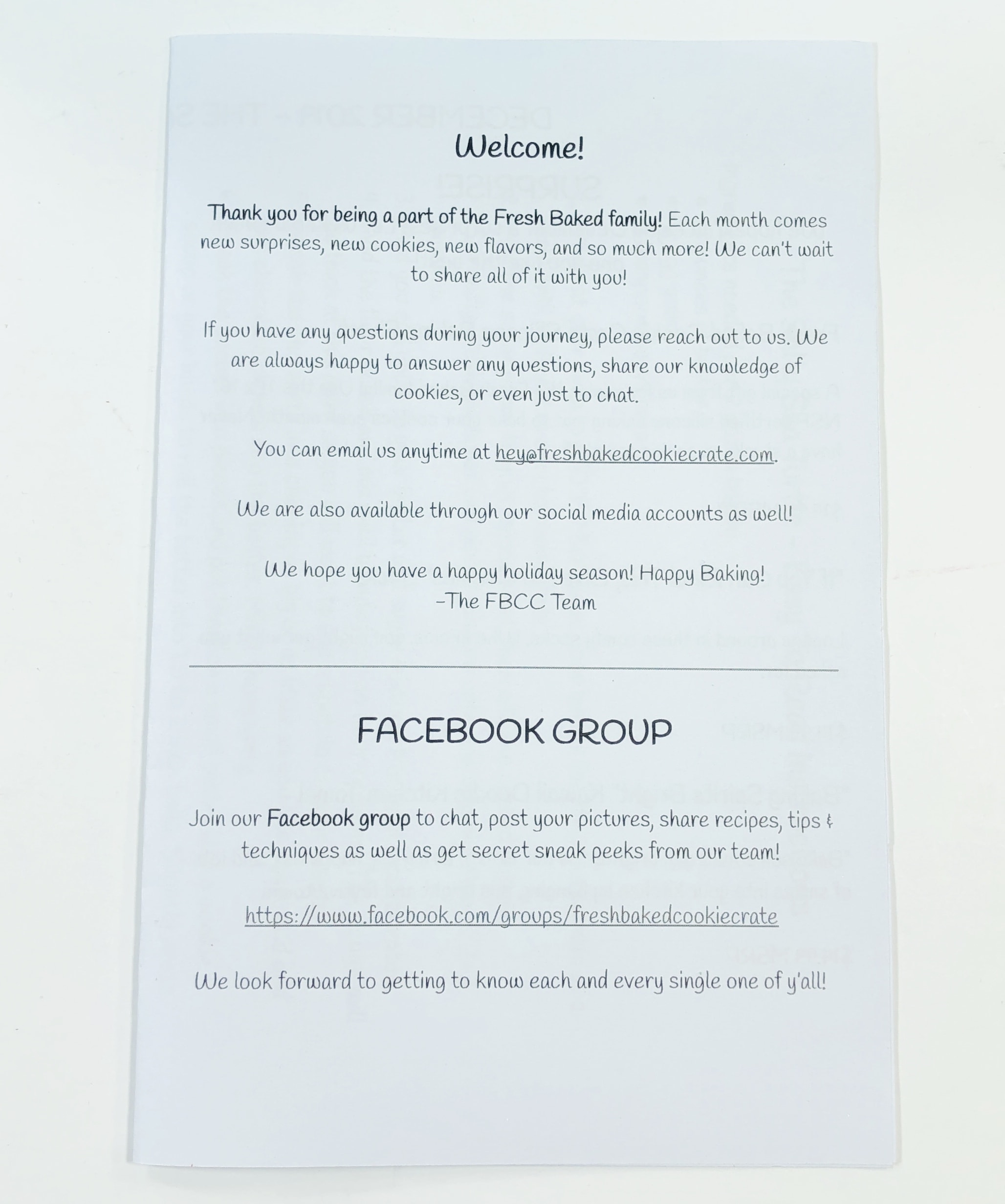 I found a sheet that welcomed me the the Fresh Baked family! It told me how I can reach the company if I have any questions or concerns, or just want to share my goodies on social media. Supposedly there is a Facebook group but it came up as invalid.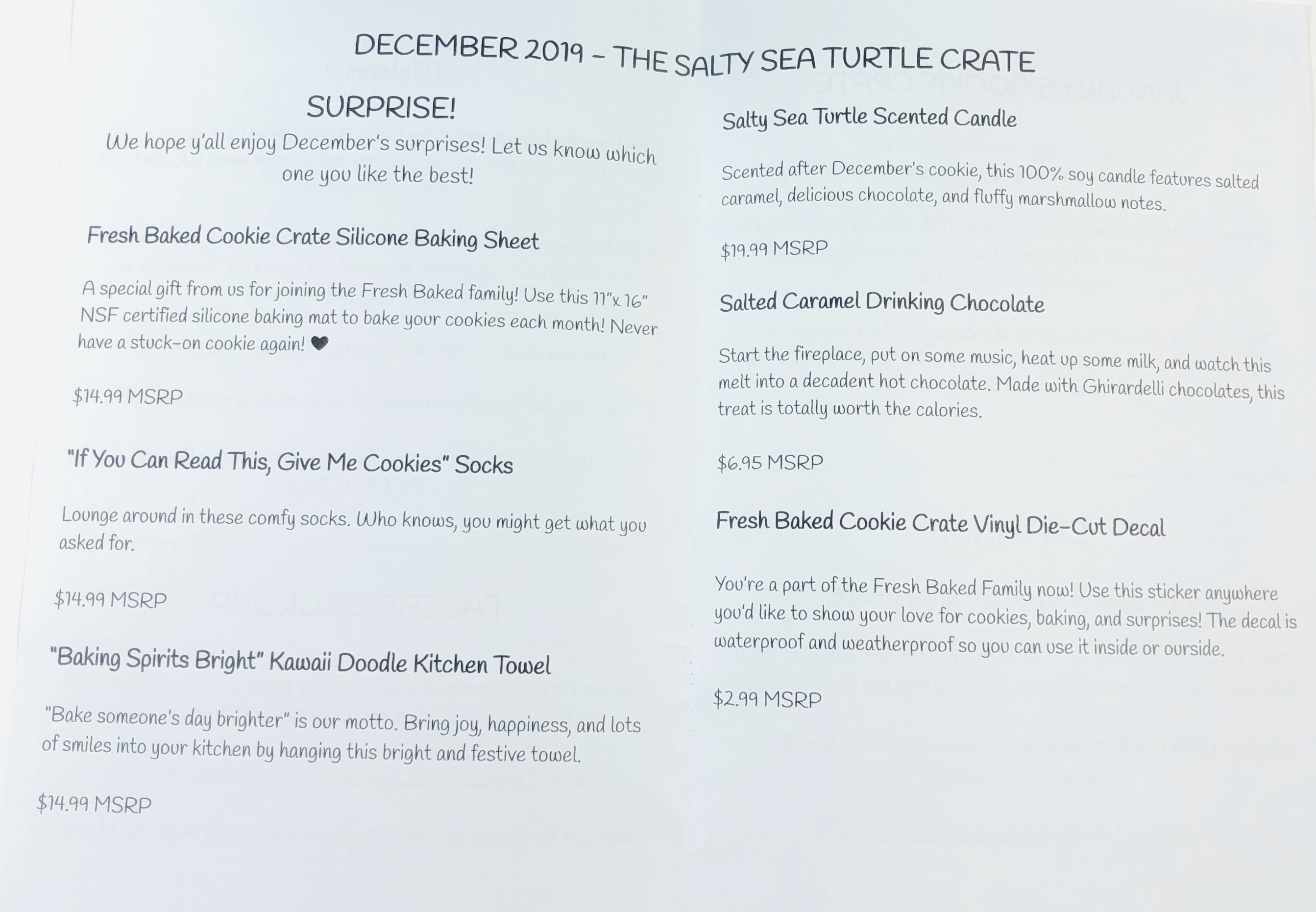 The inside listed the items in my crate along with the MSRPs.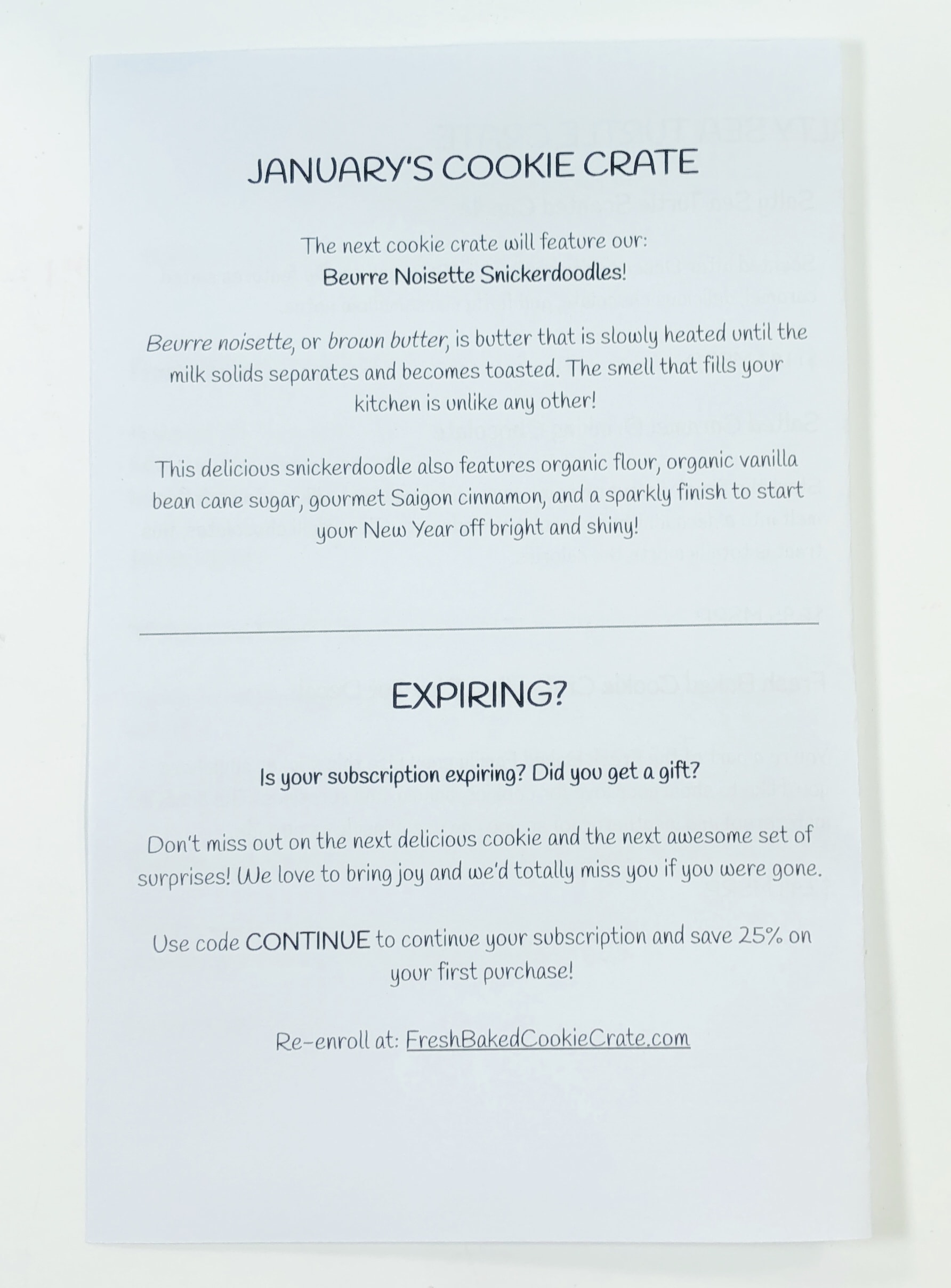 The back told me what is coming in the January crate. Mmmm, Snickerdoodles!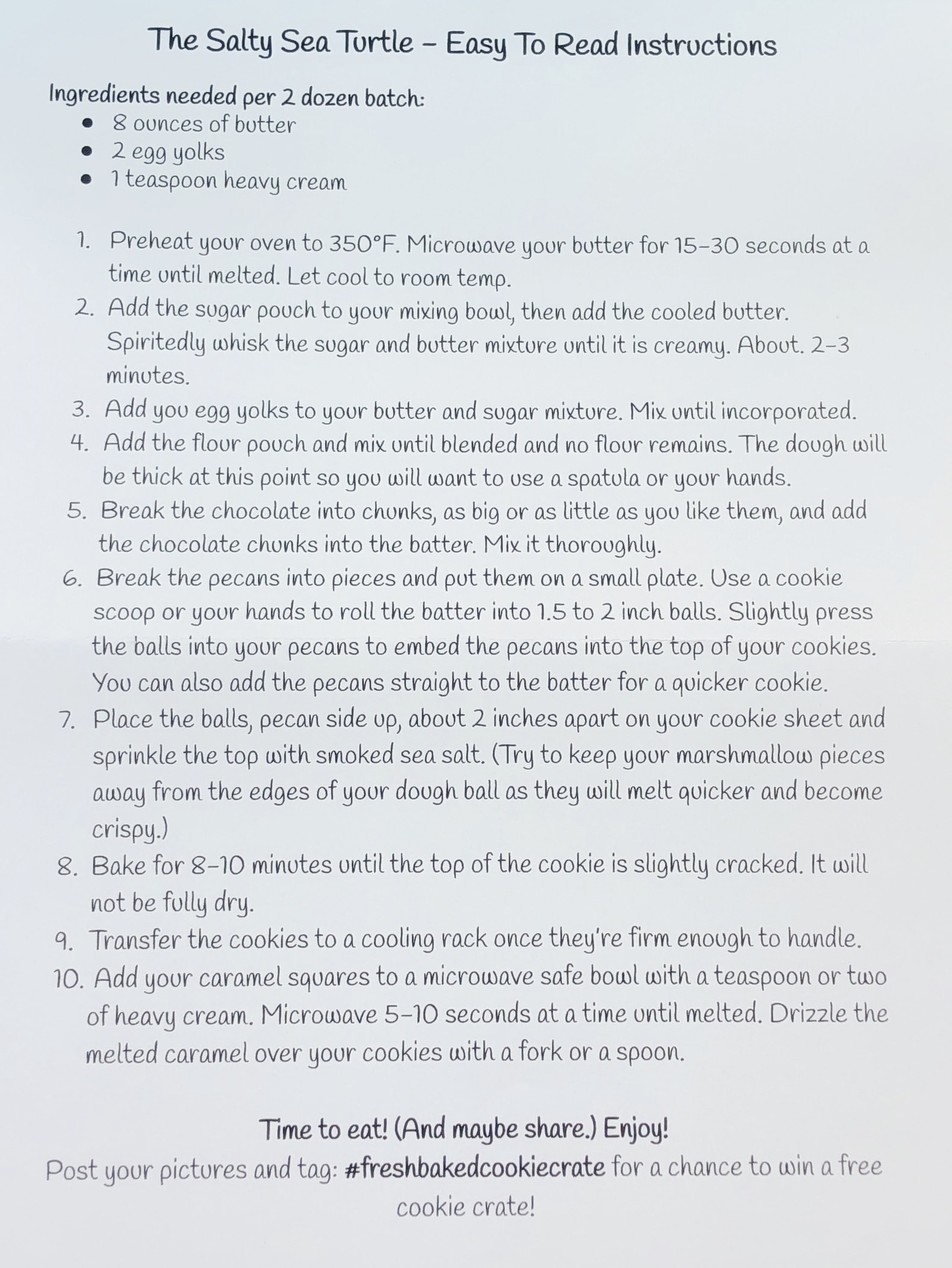 I received a separate sheet with instructions. There was a misprint and I found out that I would only need 4 ounces of butter to make 2 dozen cookies, not 8 ounces.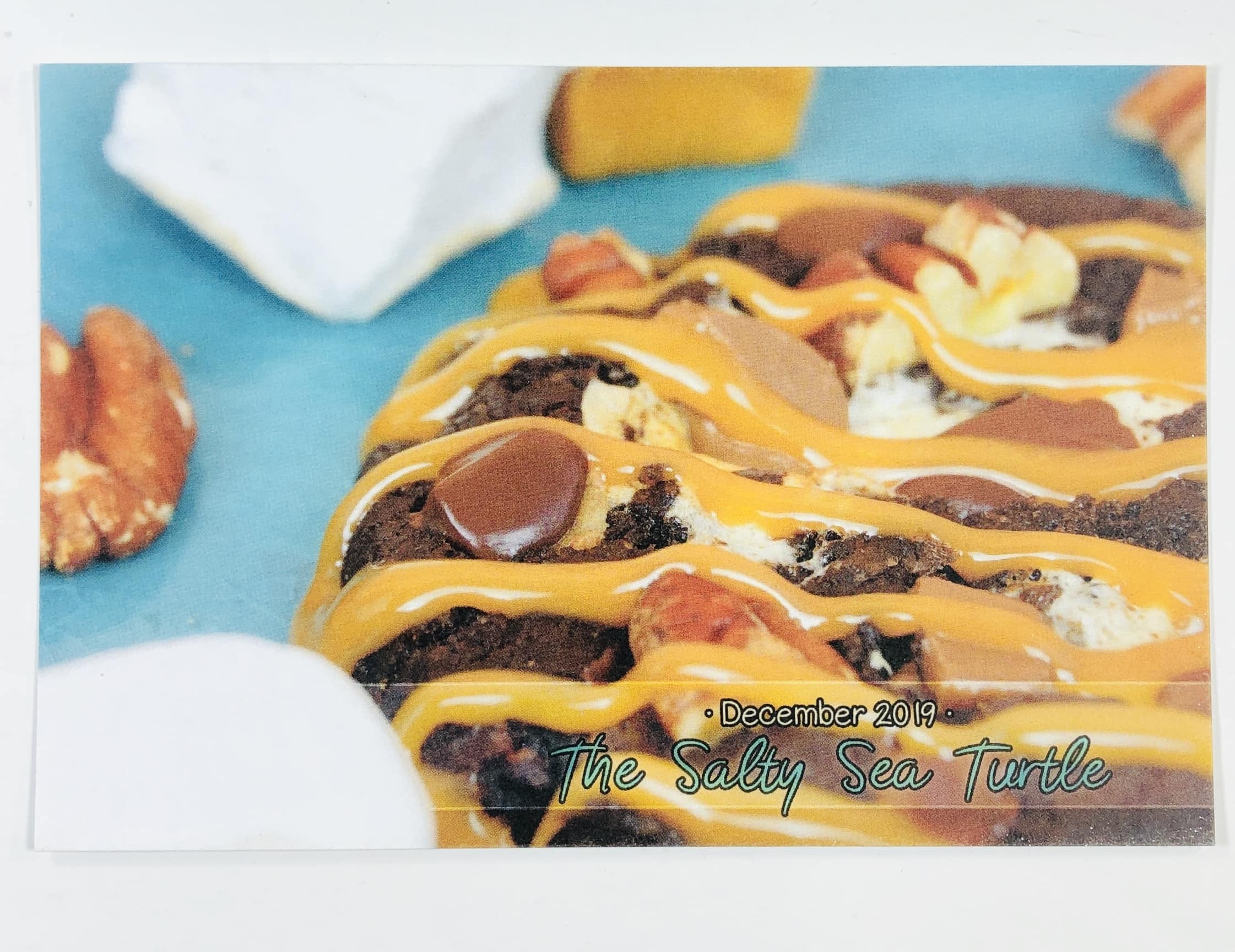 I found a smaller note card with a picture of the featured cookie for December – The Salty Sea Turtle!
The back of the card gave the details for some of the ingredients and why they were included.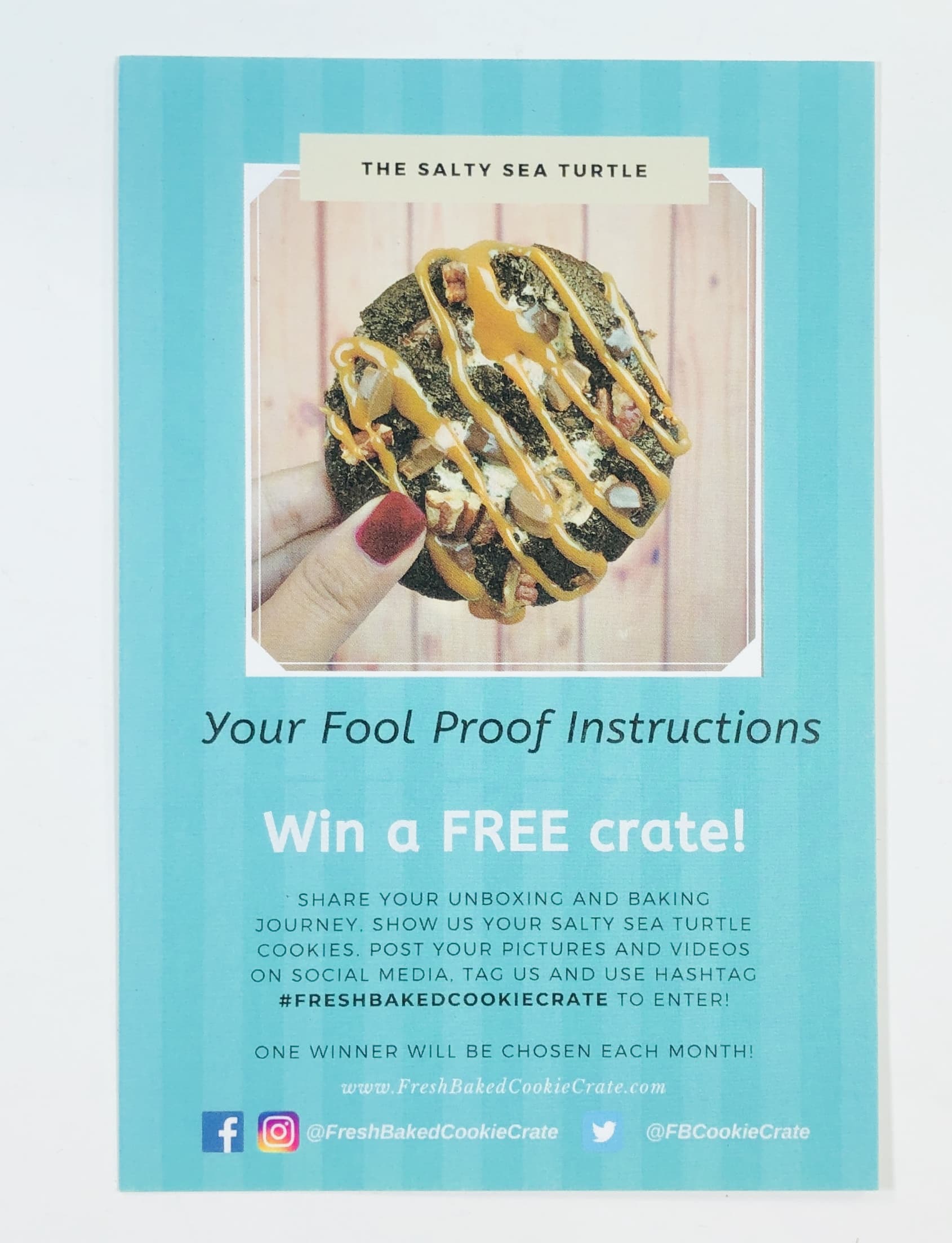 Another card told me how I could possibly win a free crate by sharing my pictures and unboxing/baking videos on Instagram and Facebook. One winner will be chosen each month.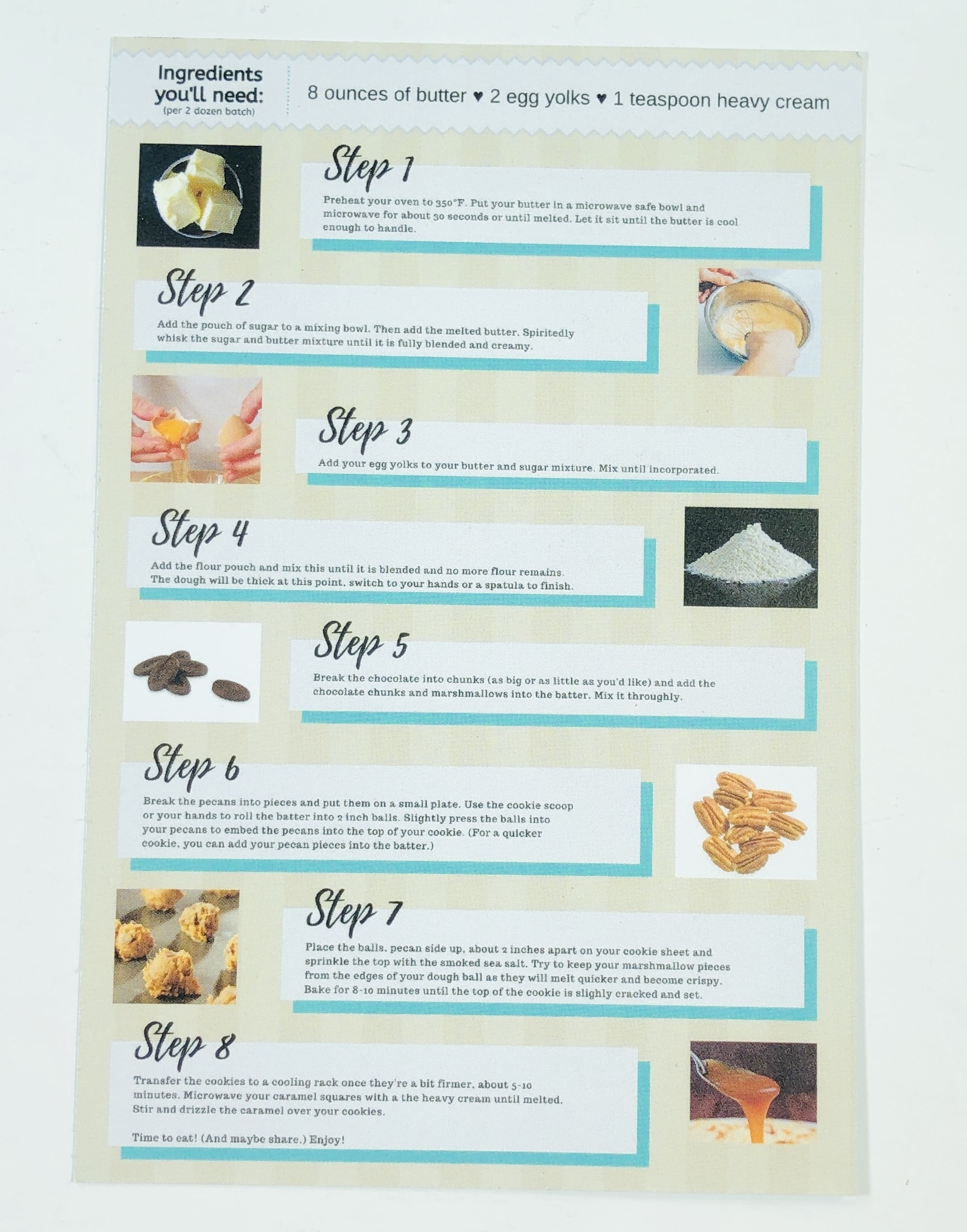 It's pretty much the same as the one on the sheet, butter mistake and all, but with pictures. I prefer the sheet, it is easier to read.
The red and green squiggles quickly put me in a festive mood, what a cute sight to see upon opening!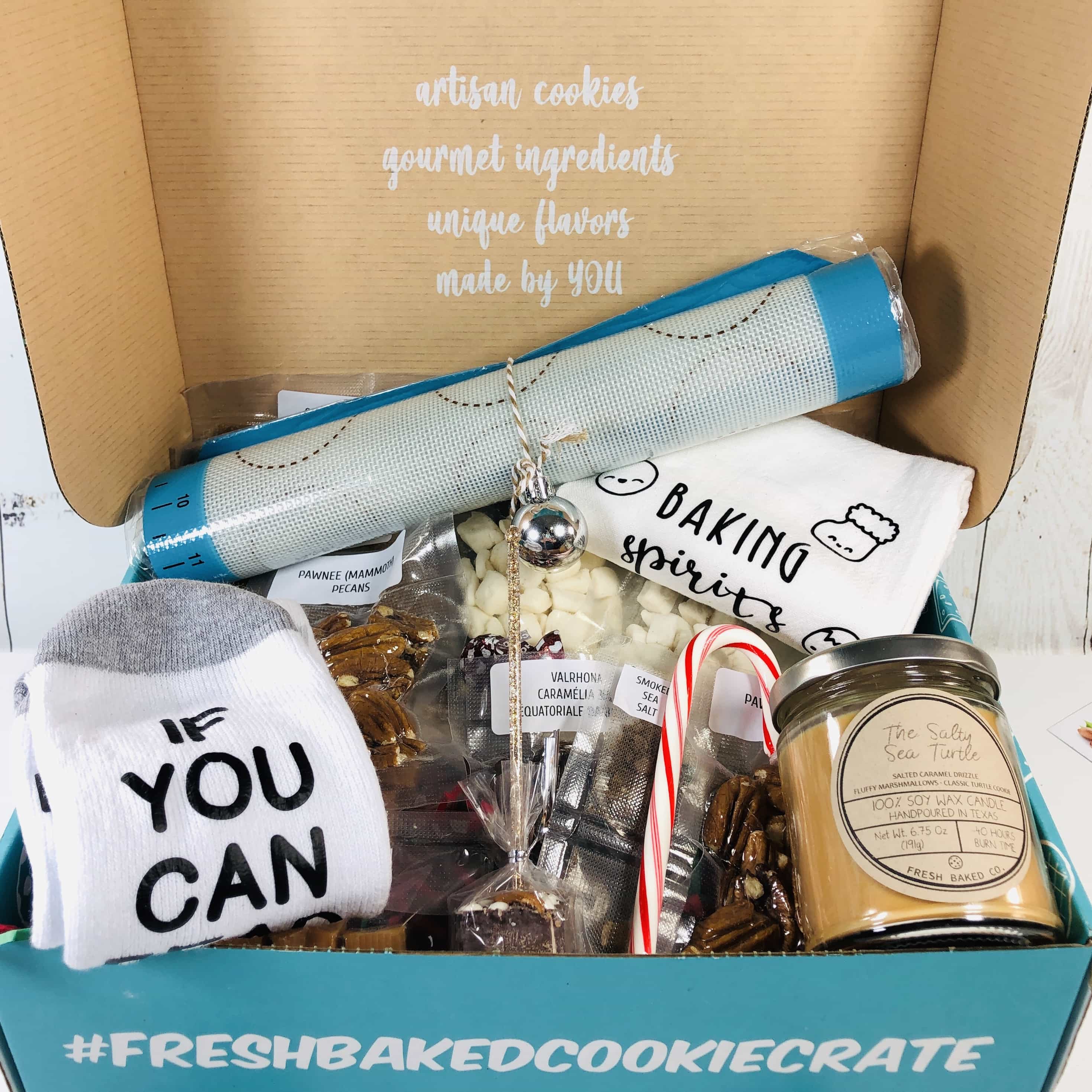 Everything in the box! I sent a picture to my friend, I was so excited, and told her that this box made my holiday season so much better!
Look at all of those goodies!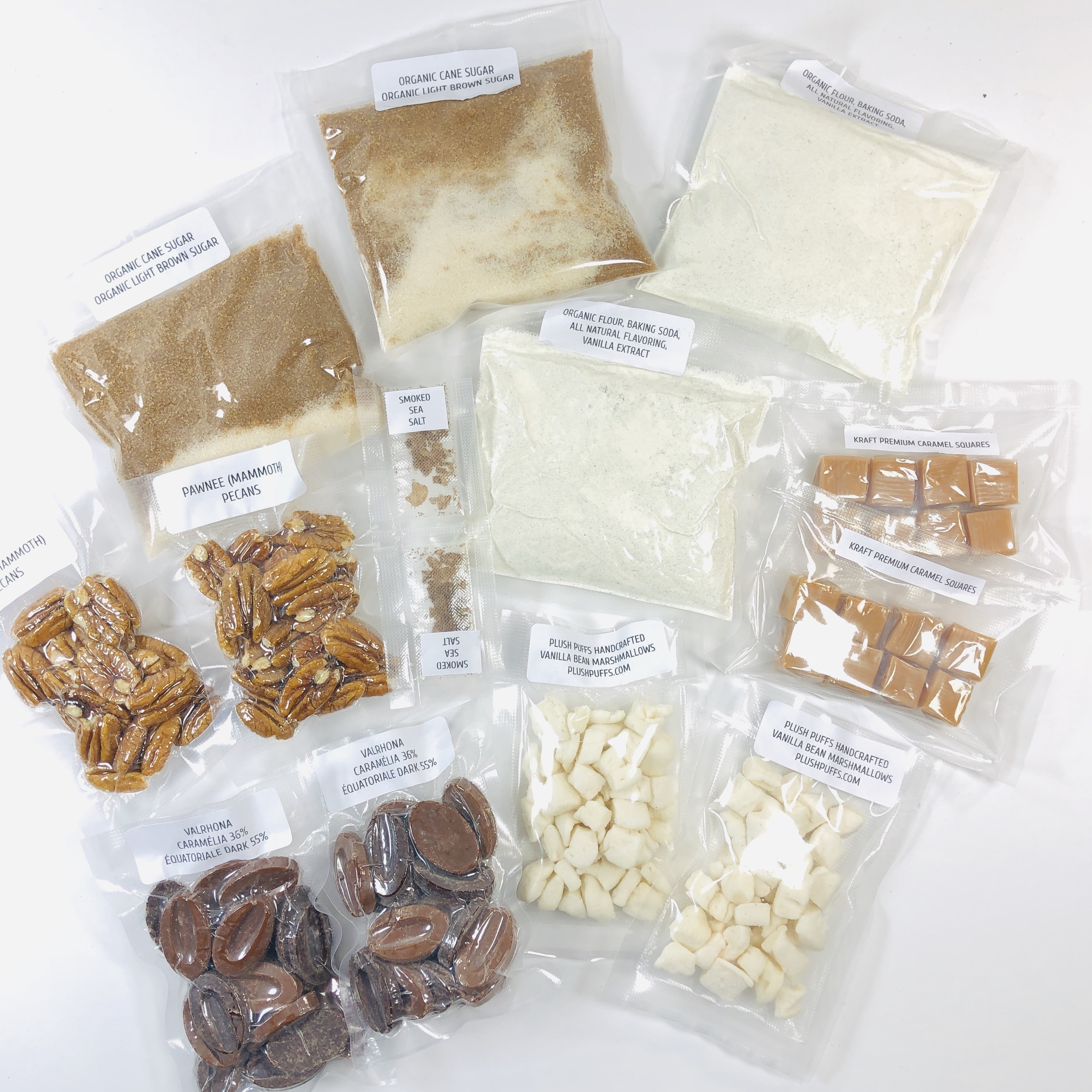 I received the 4 Dozen box, which means that I received two of all of the cookie ingredients – each set makes 2 dozen cookies! I could make them all at once or bake one batch at a time, which is what I decided to do.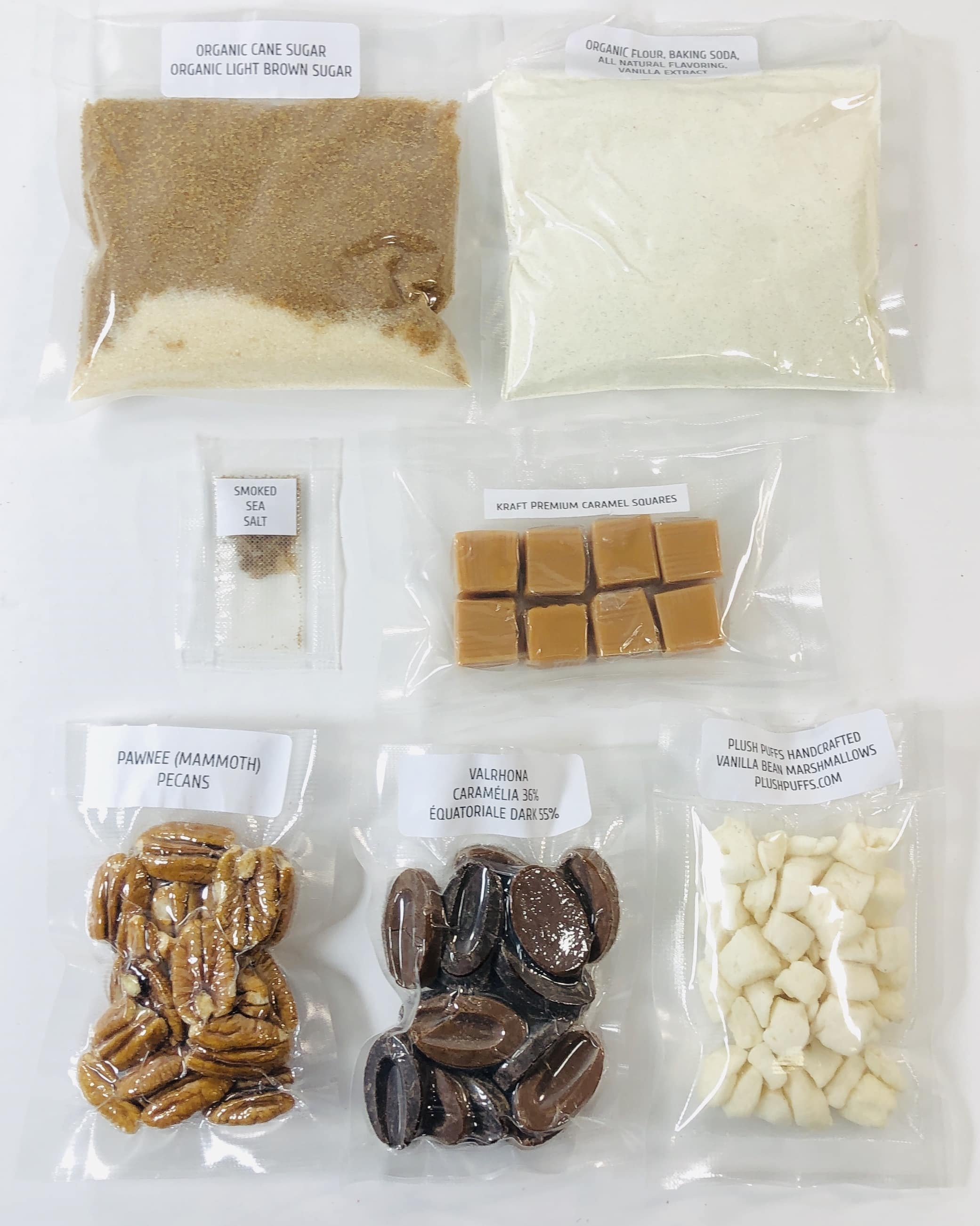 The ingredients are organic when available, and look, Valrhona chocolate! Plus gourmet marshmallows! I will get into the cookie baking in a bit, but let's see what else is in here!
Baking Spirits Bright Kawaii Doodle Kitchen Towel ($14.99) My first surprise is a fun and festive hand towel.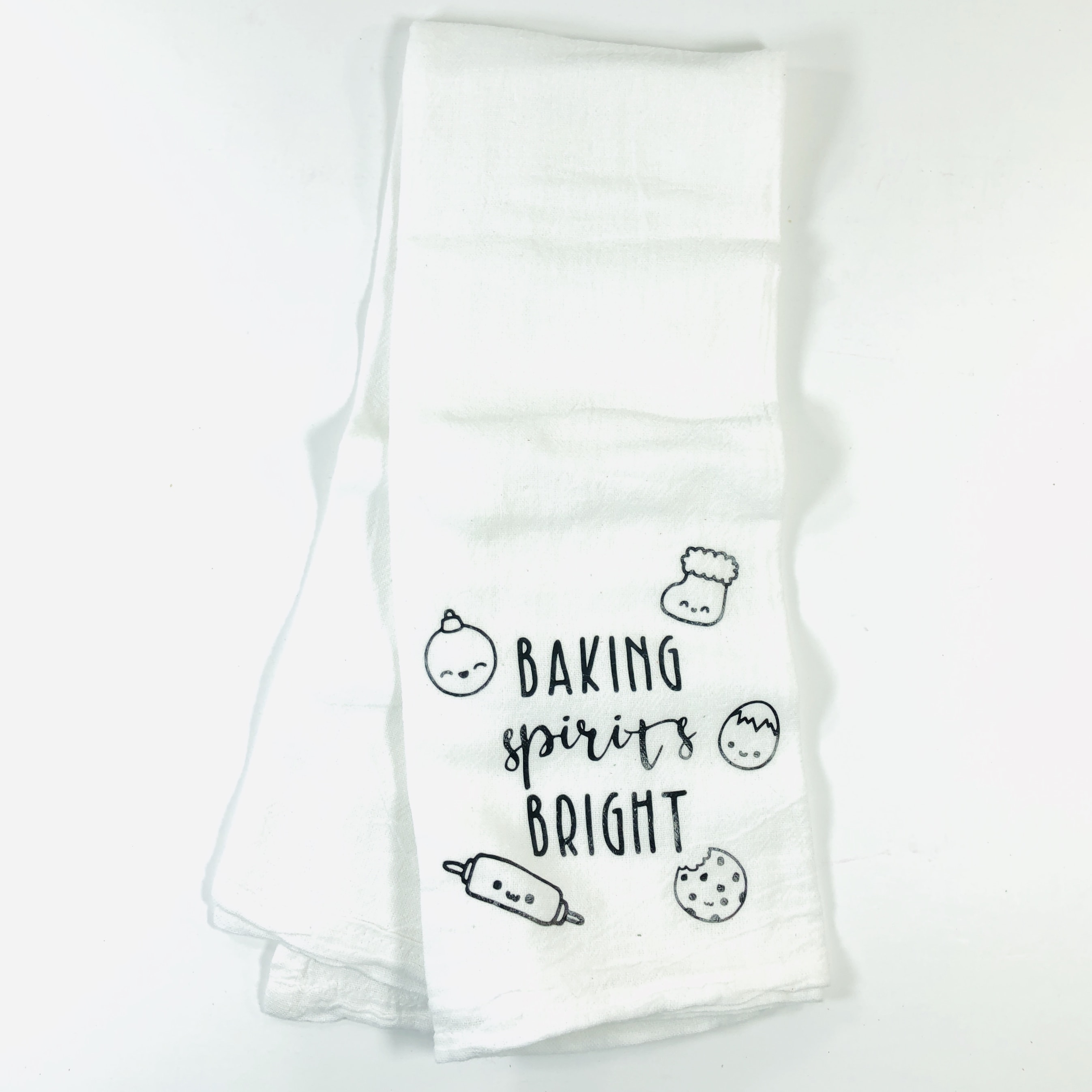 I am going to hang it on my oven door to remind me to keep my spirits up during this busy time of year. The towel is made of 100% cotton and measures about 30″ square (although I think it will shrink after I wash it).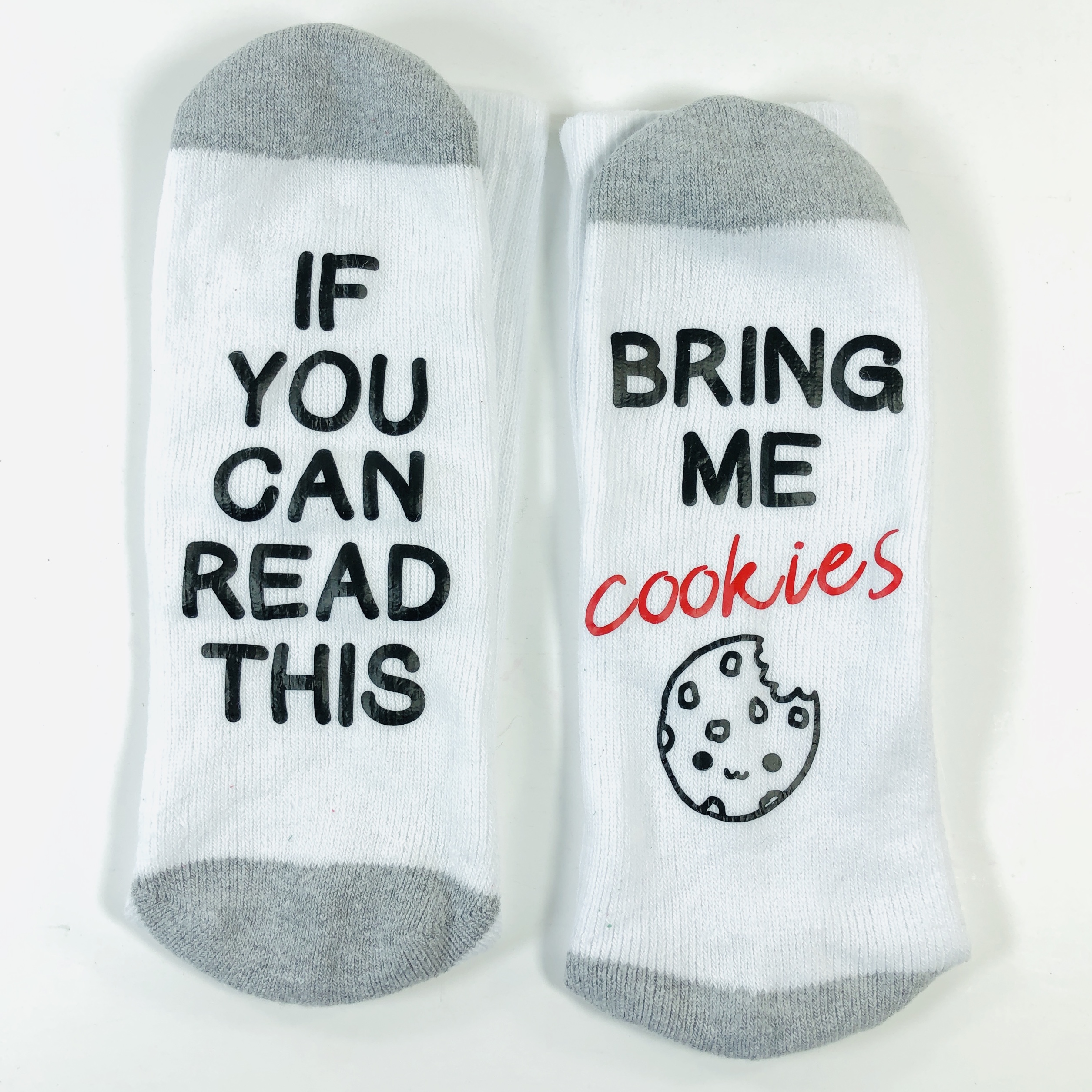 If You Can Read This, Bring Me Cookies Socks ($14.99) I feel like these socks are a substitution, there was originally a pair of cute blue socks in the promo boxes shown online. These are still cute, and look more gender neutral for sure.
They are a basic pair of white tube socks with grey toes and heels.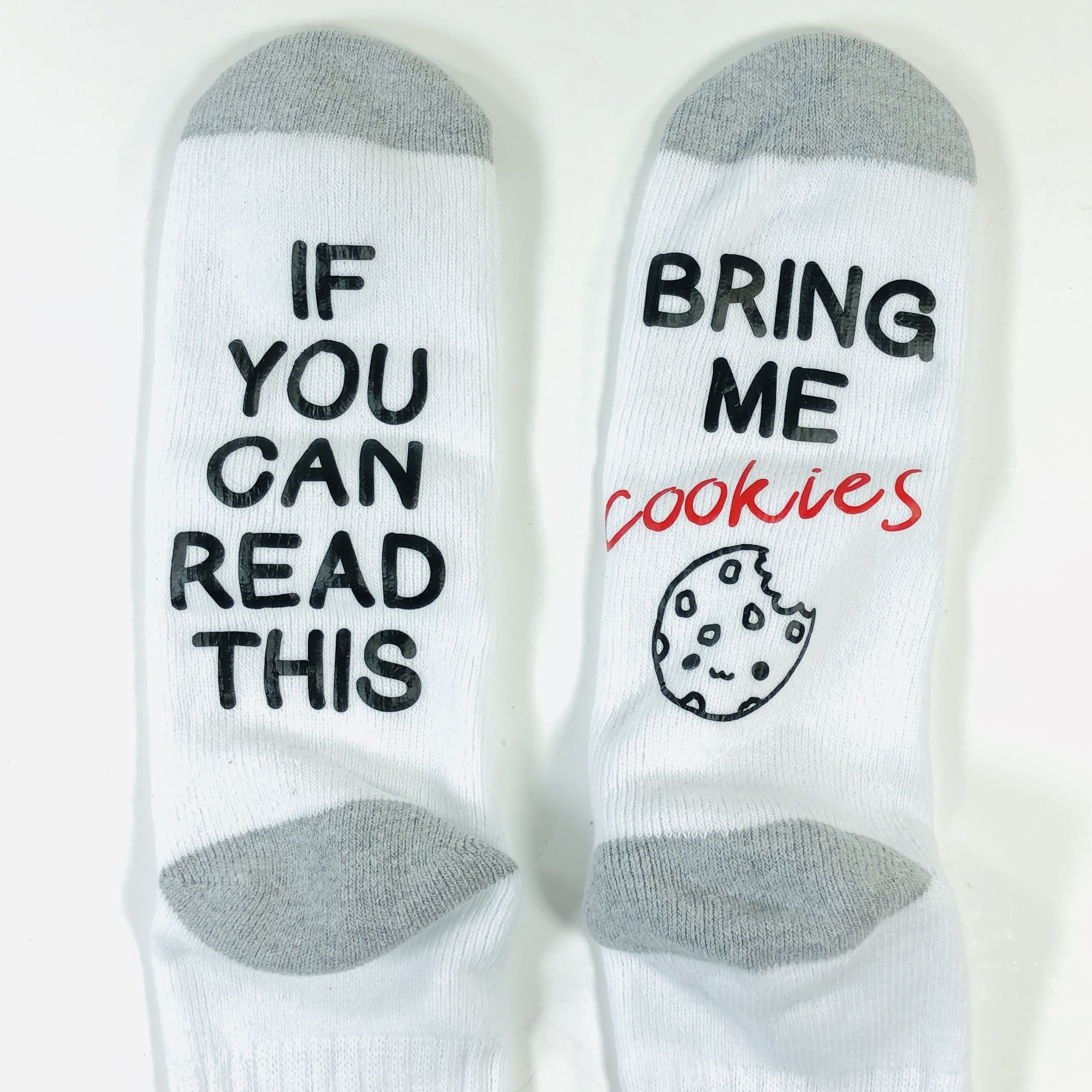 I like the sentiment on the bottom of the socks!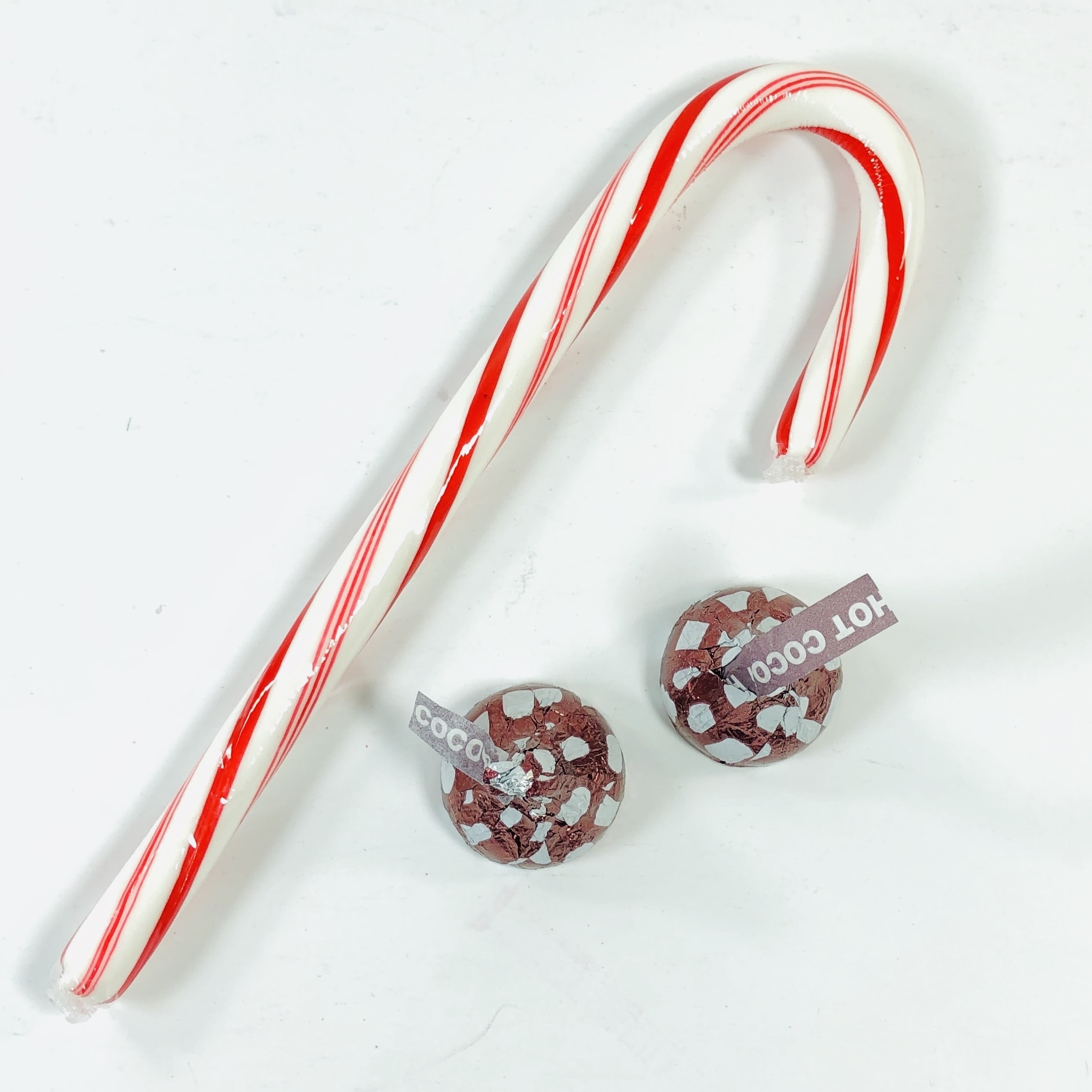 I found a couple of sweet treats. I've never tried a Hot Cocoa flavored Kiss but it sure was tasty!
Salted Caramel Drinking Chocolate Stick ($6.95) I didn't see a full list of ingredients or instructions for this item but it is made with Ghirardelli Chocolate and is supposed to be placed in a hot cup of milk to help it melt.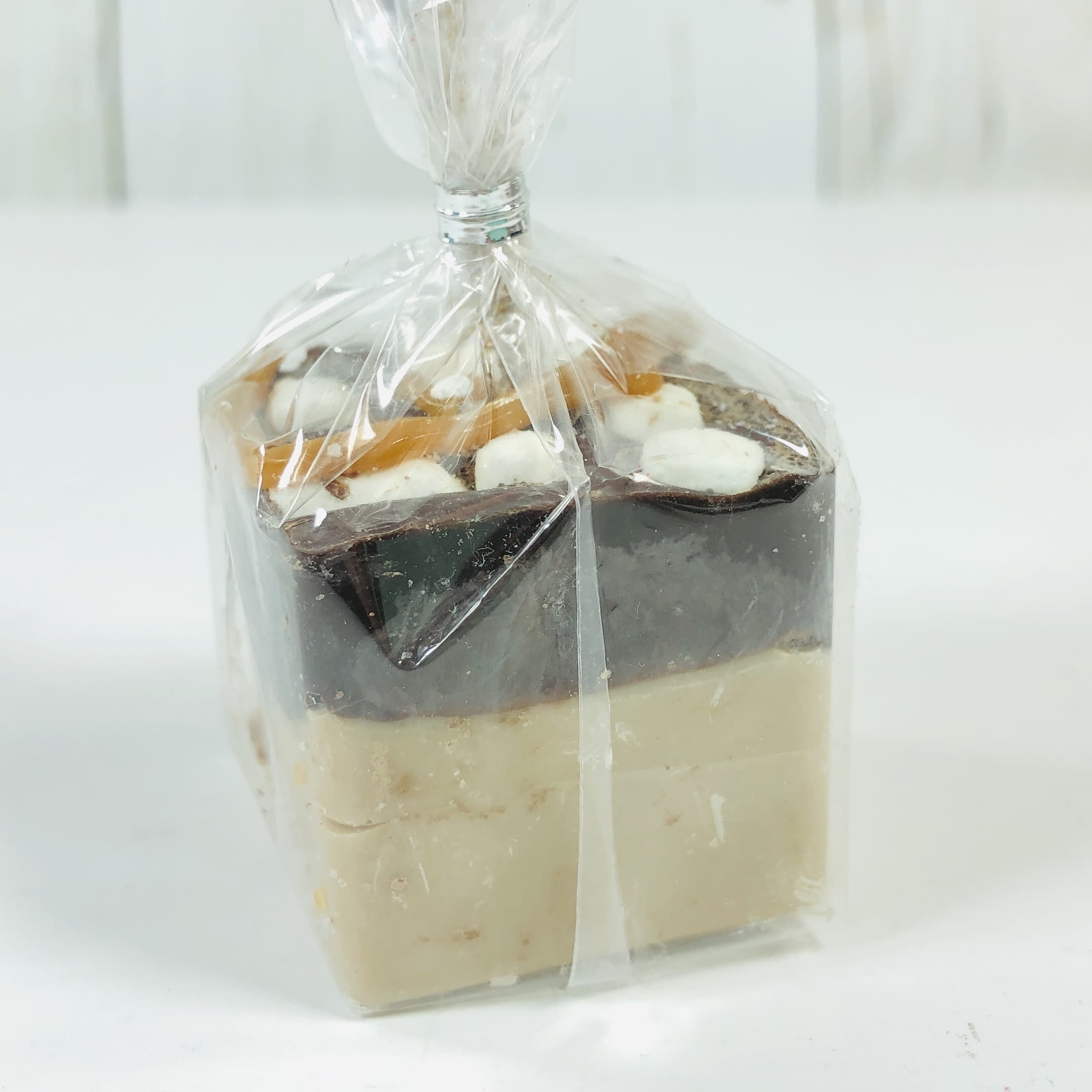 It has little marshmallows at the top that will float in the cup!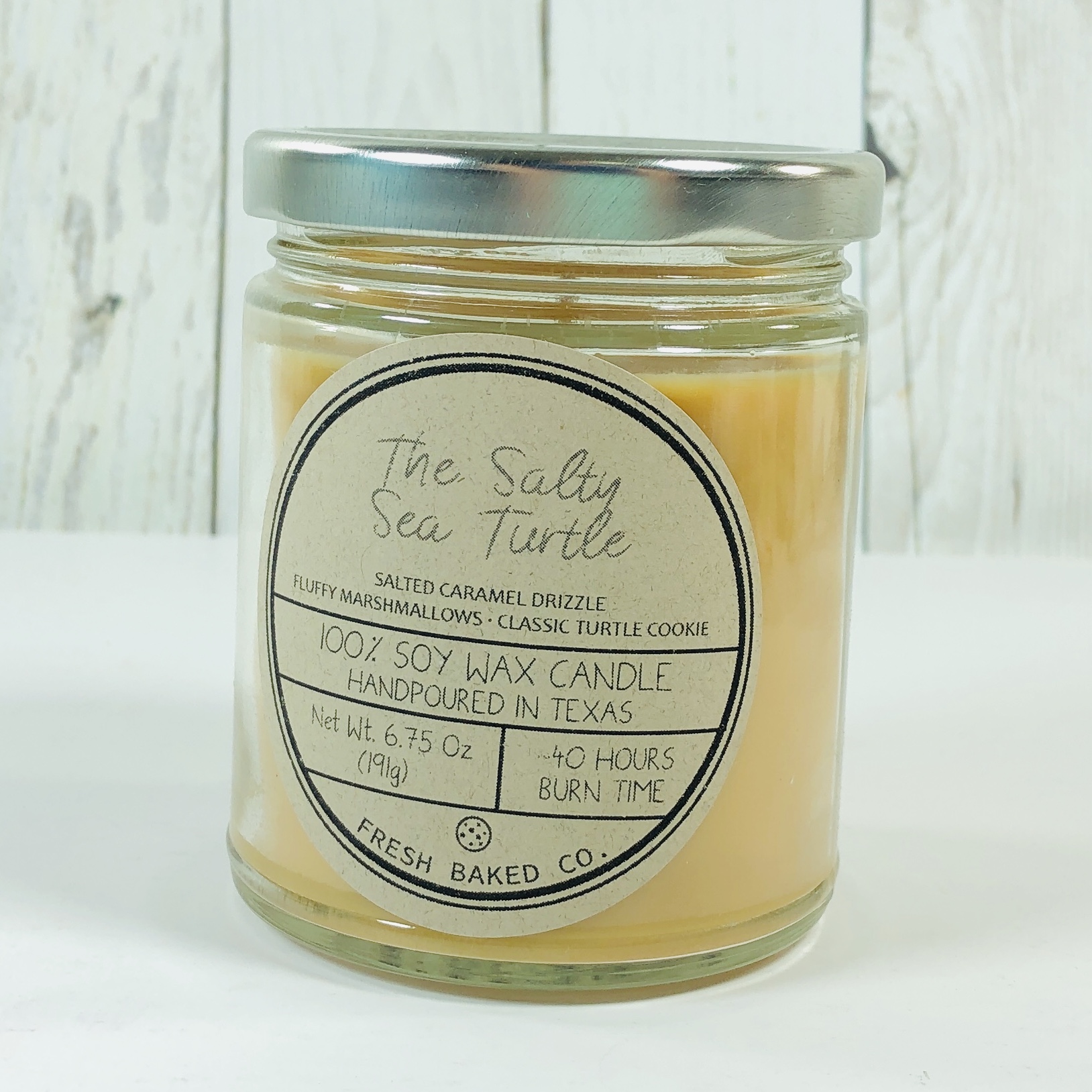 Salty Sea Turtle Scented Candle ($19.99) Wow, the smell of this candle is out of this world, it smells like I've been baking even when I haven't turned the oven on in a while!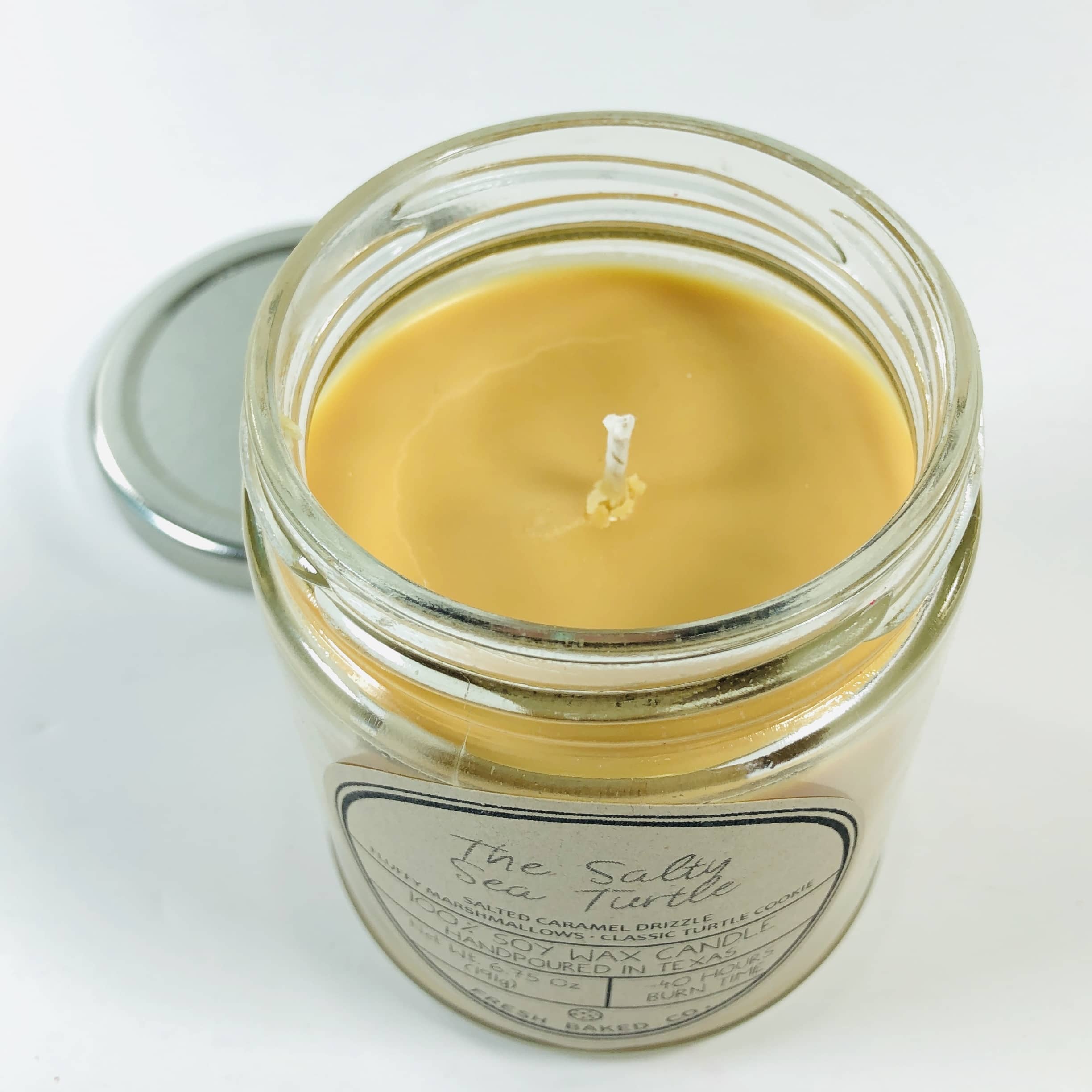 It's made of soy wax and is hand poured in Texas. The scent is inspired by the cookie of the month! It smells like warm caramel and I love it, it smells great cold or hot. It did tunnel a bit while burning so maybe they need to use a slightly bigger wick in future jars?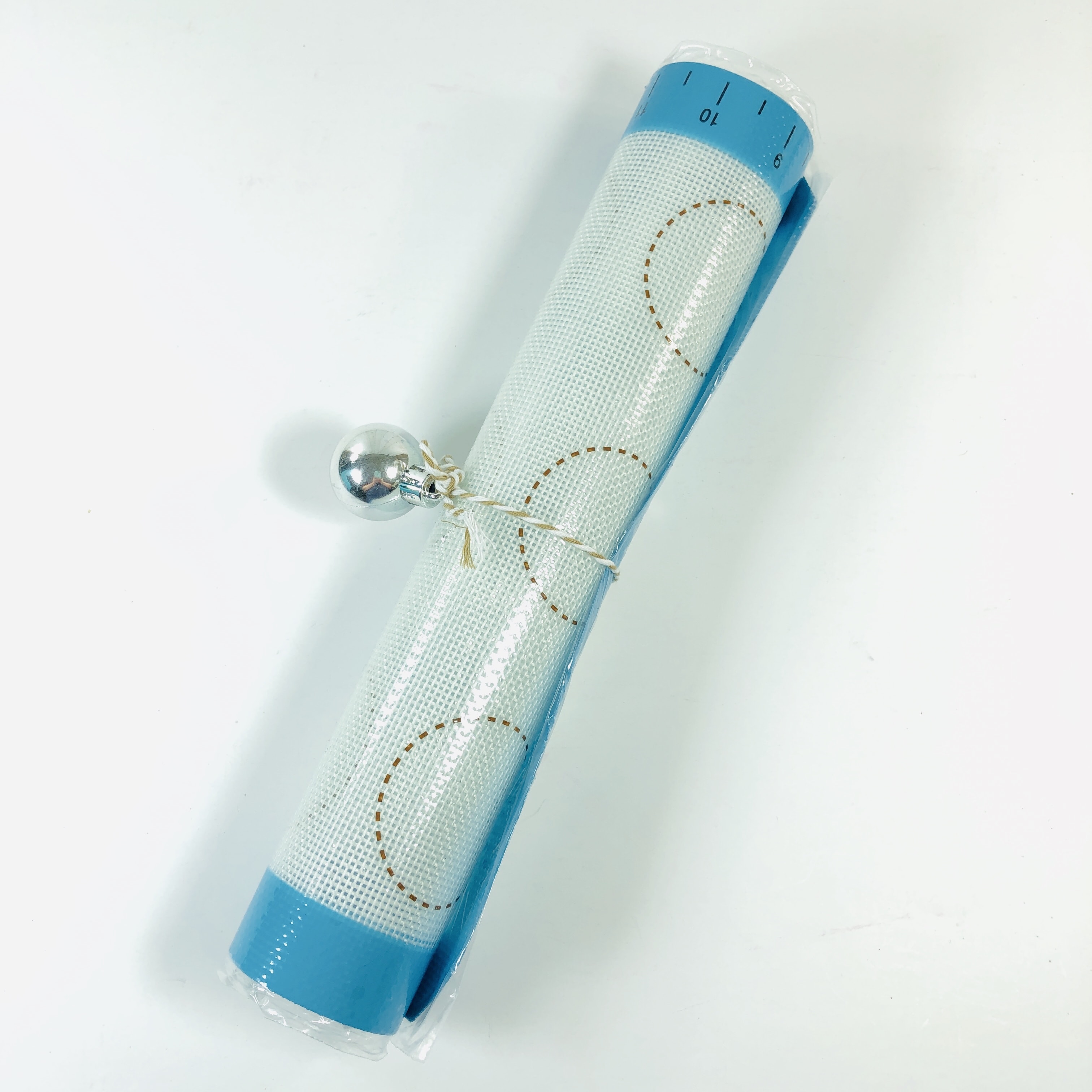 Fresh Baked Cookie Crate Silicone Sheet ($14.99) New subscribers will receive this sheet in their first box.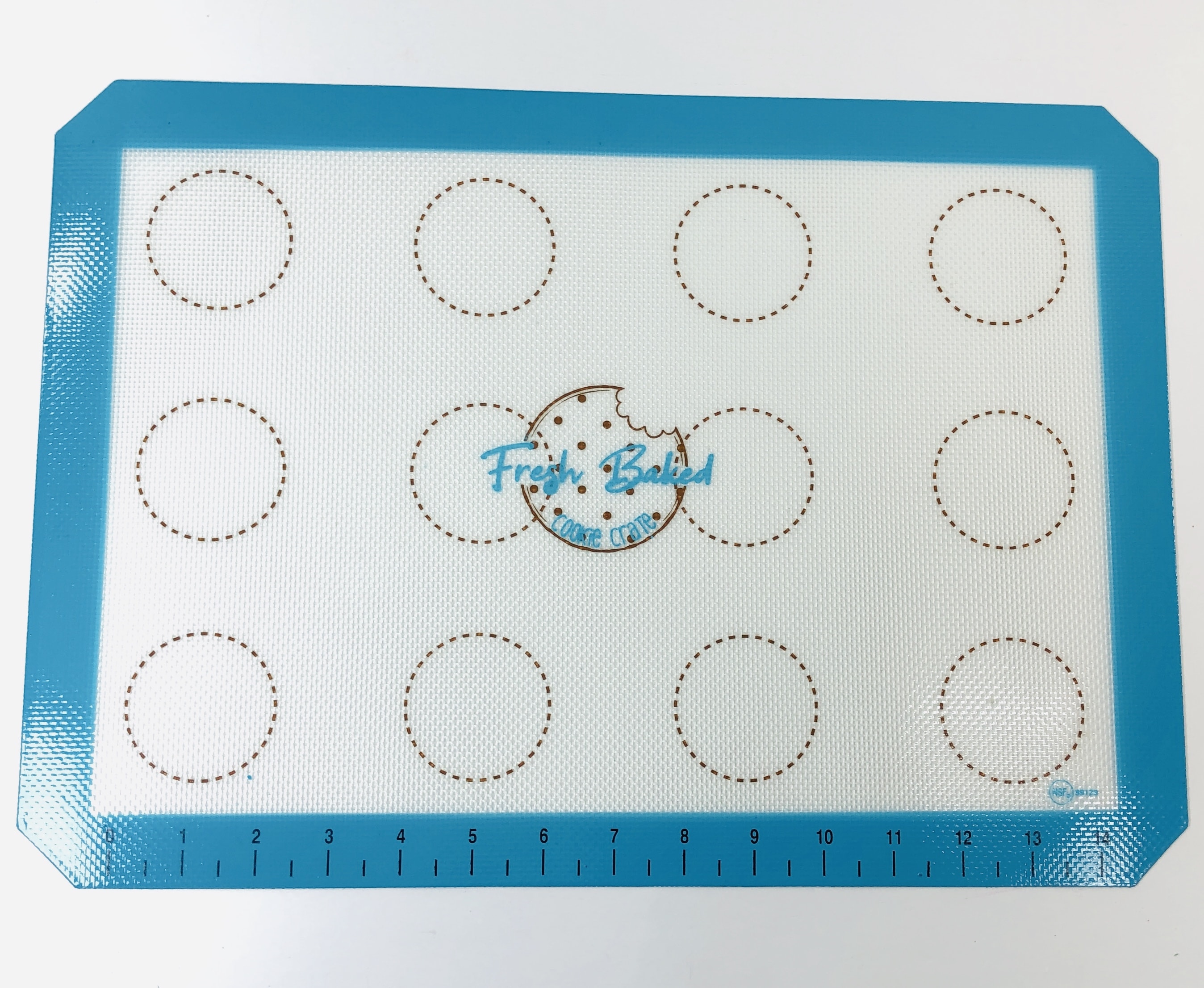 It's my first ever silicone baking sheet! You place this on a cookie sheet then drop the dough on top so you won't have to keep using parchment or foil to keep the sheet clean. The sheet is 11″ x 16″ and is easy to clean.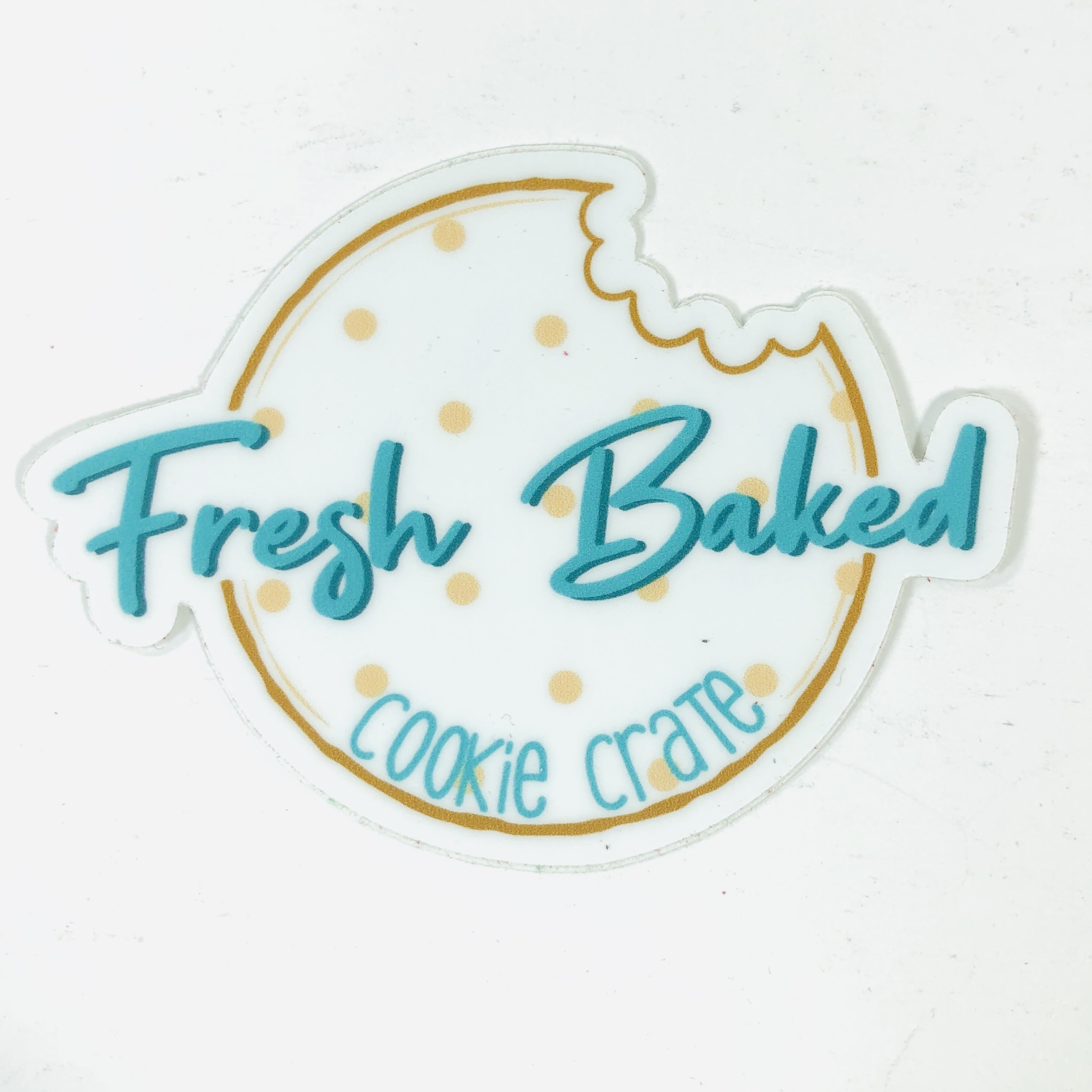 Fresh Baked Cookie Crate Vinyl Die-Cut Decal ($2.99) I love stickers and will find a fun place to stick this sticker!
Now for some cookie baking fun!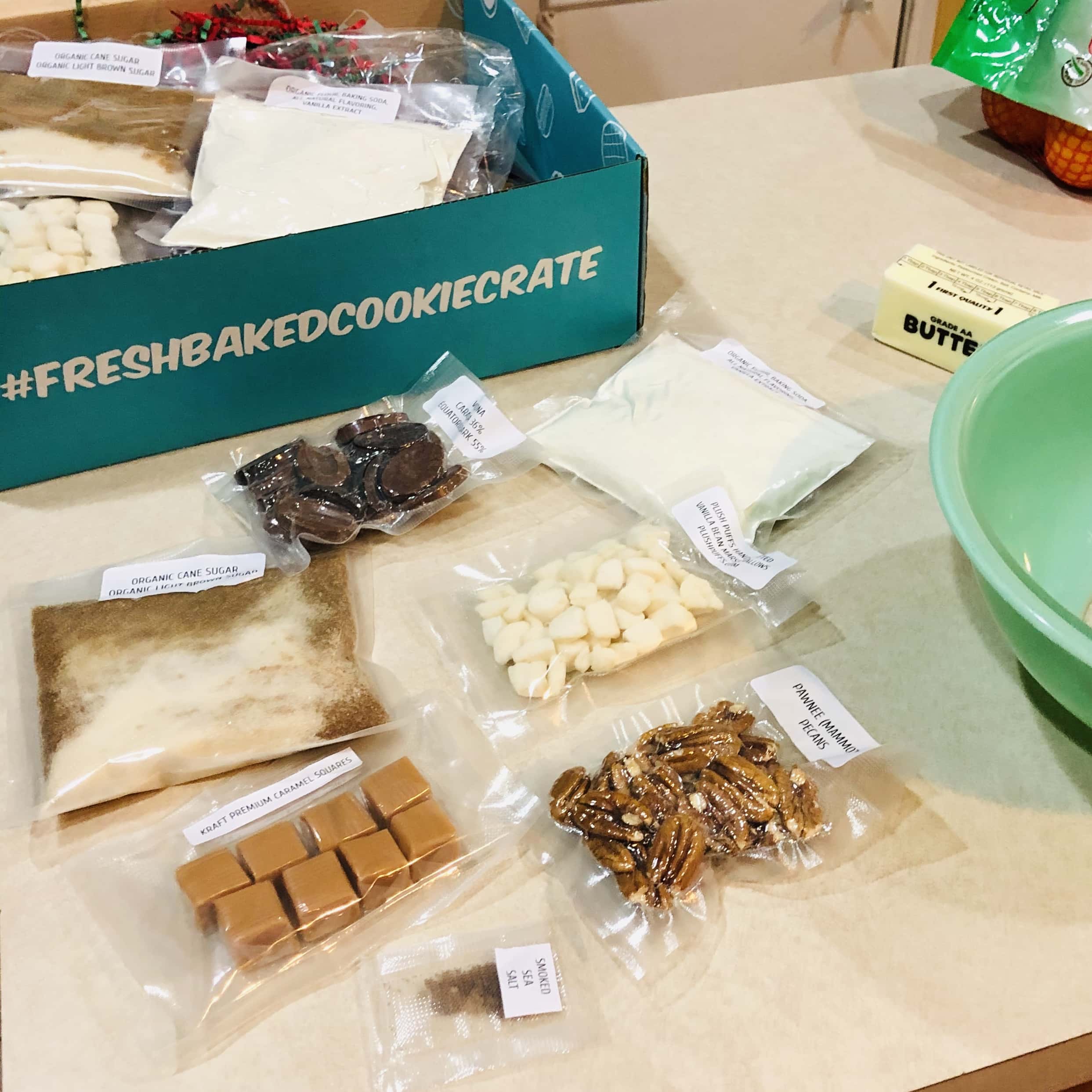 I assembled the mini bags plus some butter and two egg yolks on the counter. Then I made my 16-year old do the rest.
Karina mixed the melted butter and sugar pouch and "spiritedly" whisked them together. The instructions said to do this until it got creamy, although it never did. Melted butter won't cream because the milk solids and fat have separated, only solid butter will cream.
Then she added the egg yolks, mixed, then added the flour pouch and mixed again. She had to switch to a spatula per the instructions and then I got to mix it all with my hands to make sure it was thoroughly incorporated.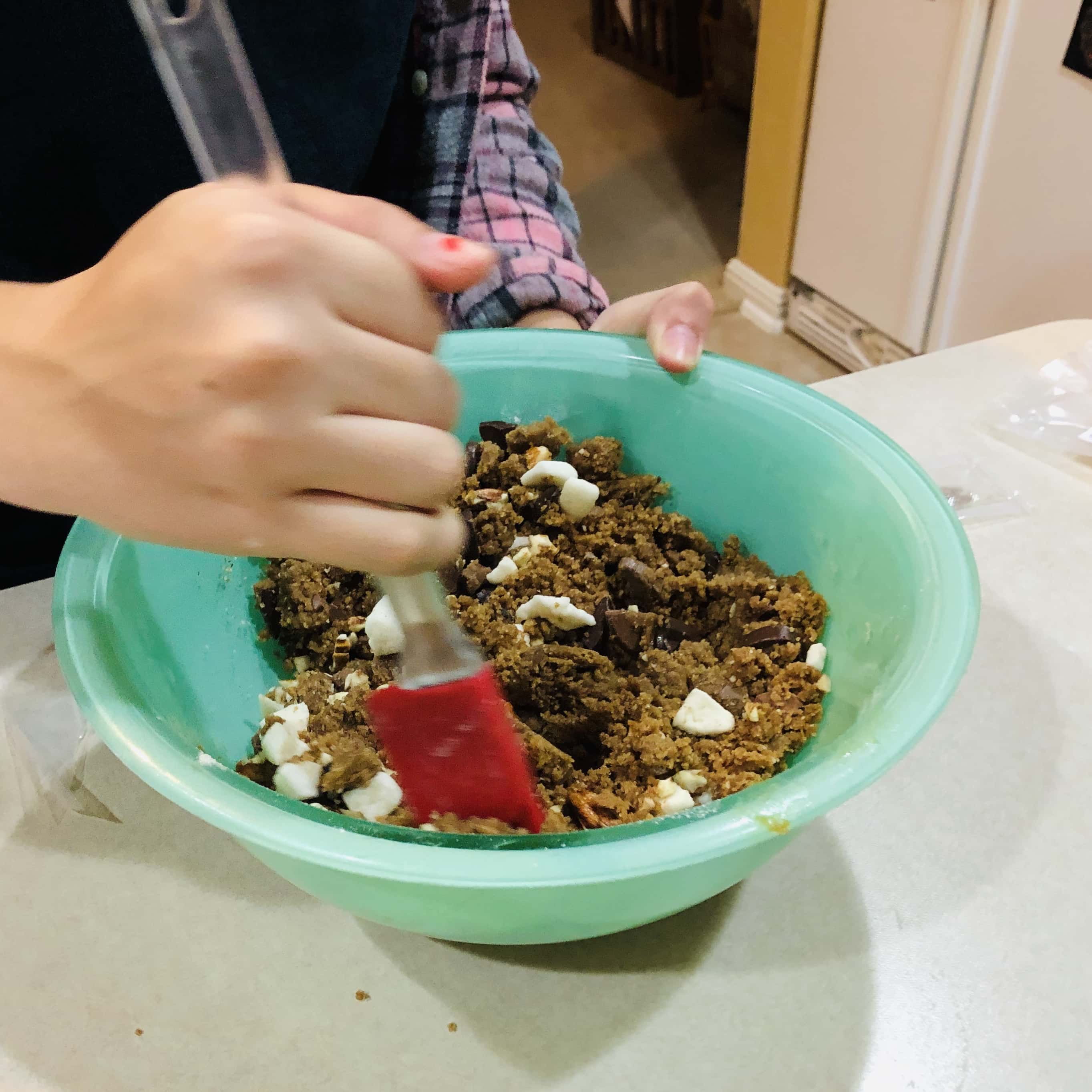 The instructions said to break the chocolate into chunks and then add to the batter. It then said to chop the pecans and to roll the cookies in the nuts or just stir them in so we decided to stir them in. The instructions didn't say anything about adding the marshmallows so we stirred them in here too. I later saw that the small card said to add the marshmallows with the chocolate, but it was missing that part in the large printed sheet we were following.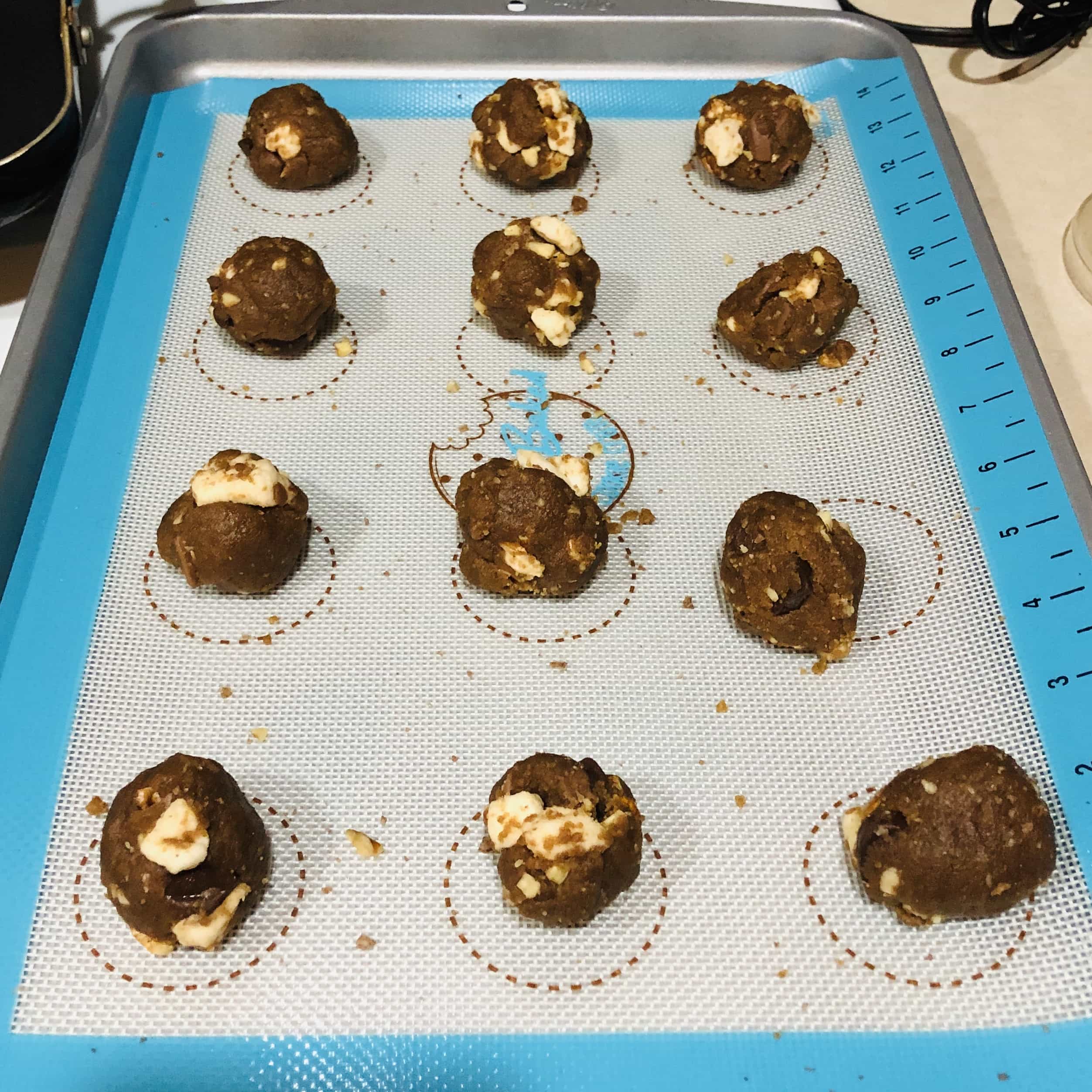 One important thing to note is that the nuts, chocolate, and marshmallows would not stay mixed into the dough at all. It's not a creamy dough so those pieces had to be pressed into the cookie. The directions did say to keep the marshmallow pieces away from the edges, and we tried to do that, but it was kind of hard to keep the ball from falling apart on the sheet. You can see bits of nuts all over the sheet here. I sprinkled about half of the salt packet by hand on top of the cookies. I probably should have used the whole packet of smokey salt and will with the next batch.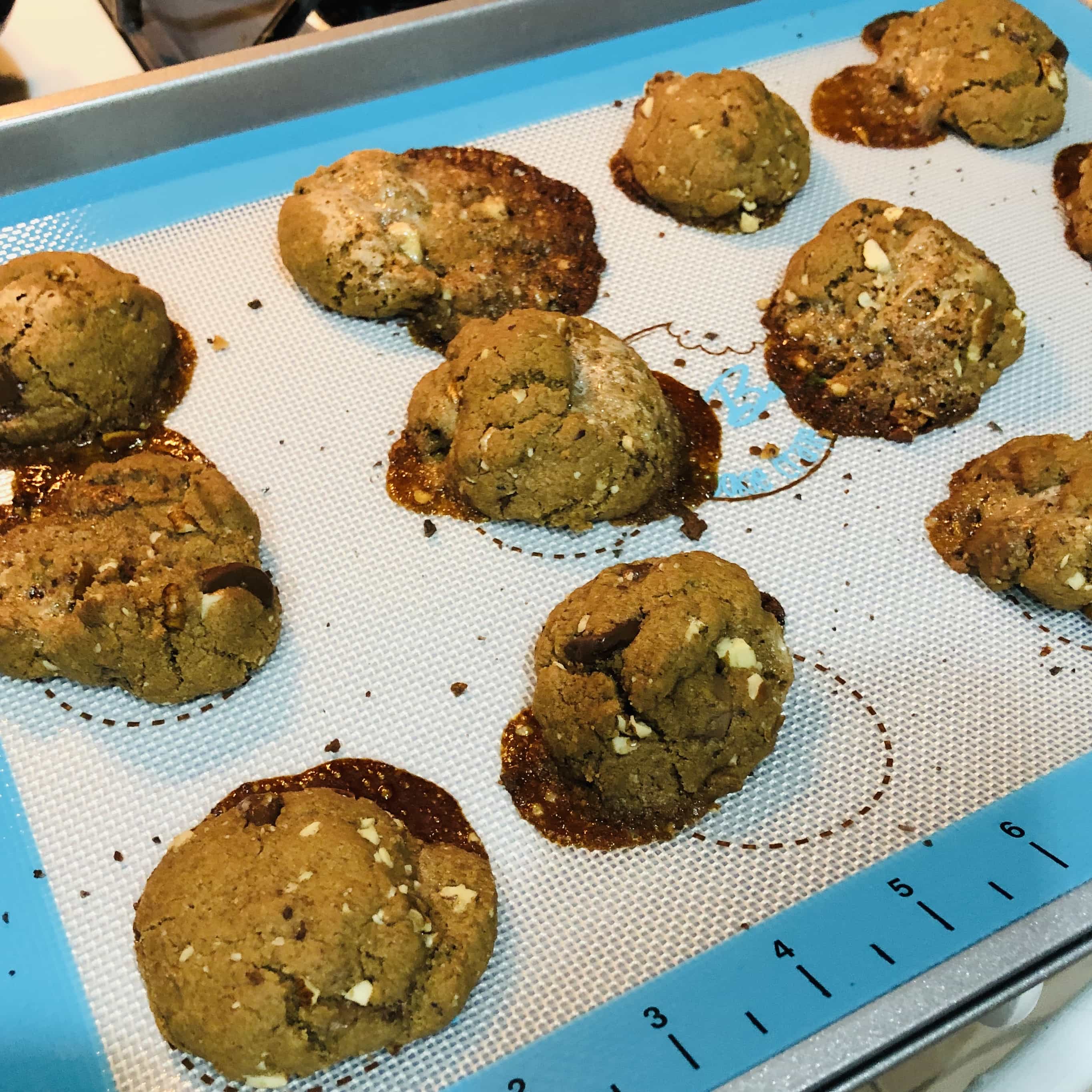 Here is the batch after baking as directed. The marshmallows melted into nothingness and in most cases burned along the edges. I will omit them from the next batch and see how they end up.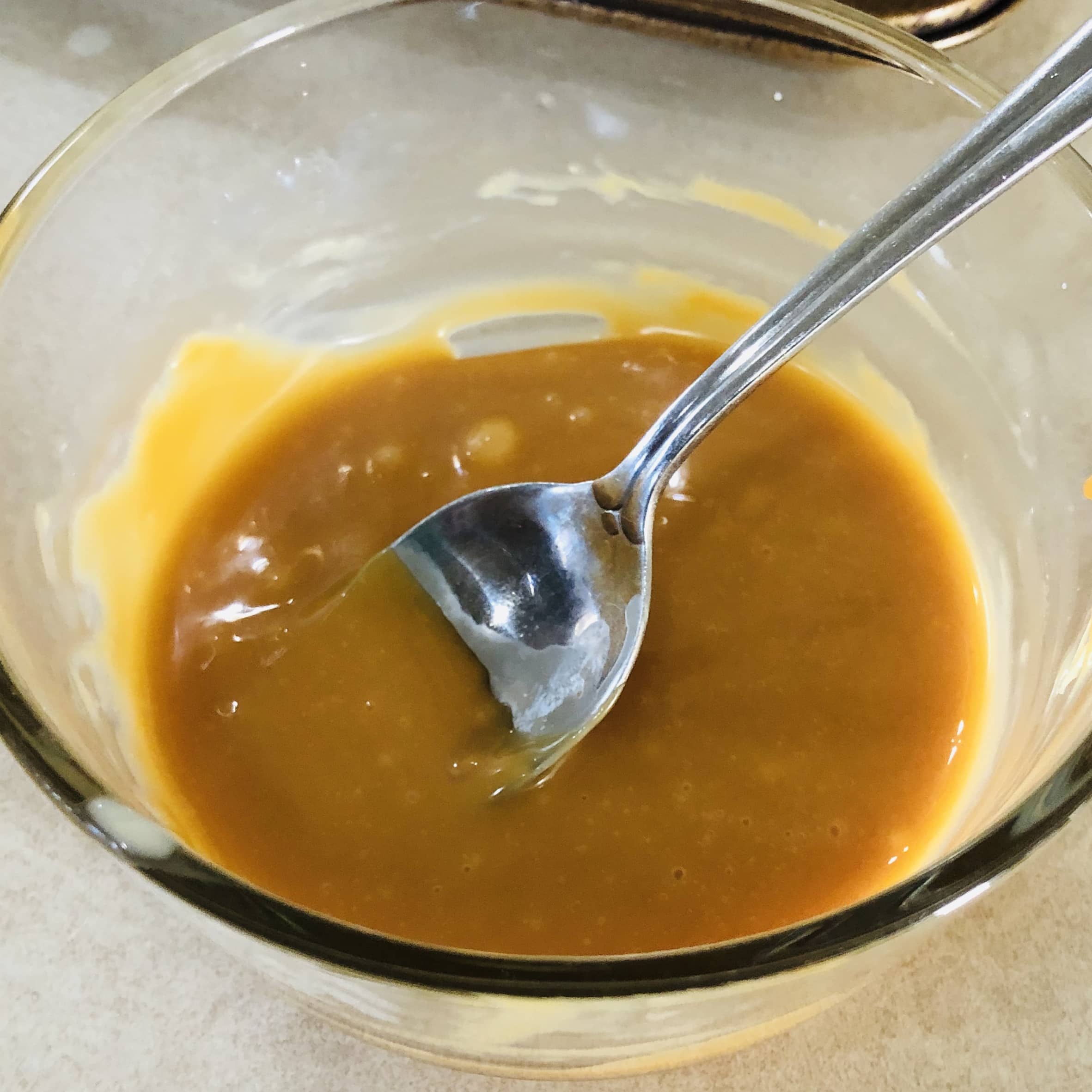 The final step was to melt the caramels with some cream and drizzle over the cookies.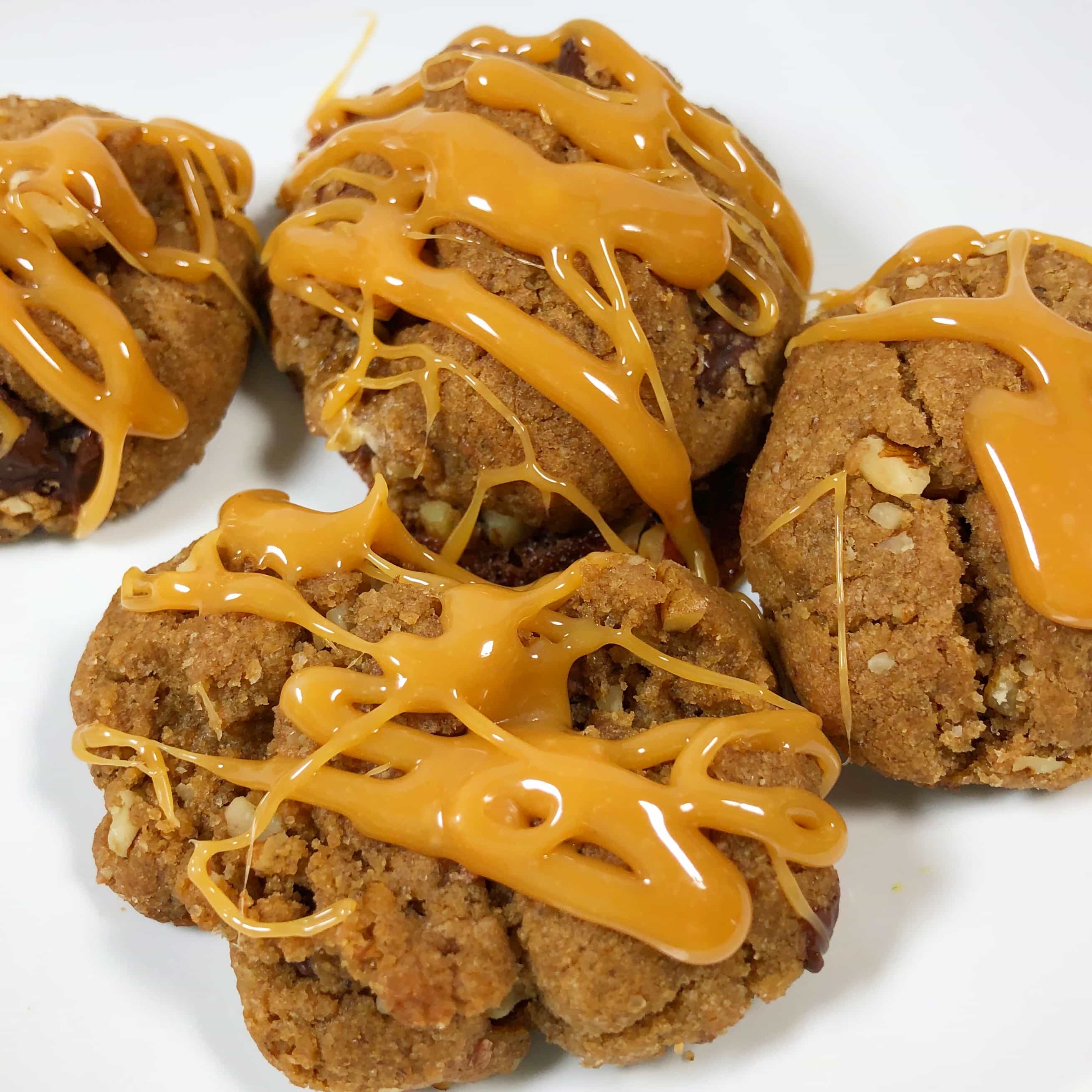 Here are some of the more photogenic of the cookies, others were not pretty at all. Looking back at the card with the finished cookies, they look very different, and the cookies on the card look like a chocolate cookie base. They did, however, taste delicious, with sweet, salty, creamy, and chewy all in one cookie. The ingredients were high quality and it tasted that way, but I don't think anyone would pay $3 per cookie based on the way mine turned out. This box isn't for professional chefs, it is for home cooks and I have a lot of experience baking cookies so it wasn't user error. A quick search around social media revealed that my cookies turned out about the same as others so I feel like mine was the rule rather than the exception.
A week later I decided to bake the second batch. I didn't melt my butter, I only softened it a bit. I proceeded with the recipe and used a hand mixer to cream everything together. I used one whole egg instead of two egg yolks. I chopped the chocolates and pecans in a food processor and added both to the mix. I didn't add the marshmallows. I baked as directed and you can see my finished product here. It looks similar to a traditional chocolate chip cookie, with gooeyness on the inside and melted pieces of chocolate when broken apart. Obviously I also left off the caramel drizzle since no one in my family liked it the first time around. This was a tasty, pretty cookie.
For the second dozen I topped with the marshmallows in the last three minutes of baking. Here is the result. Instead of gooey cookies I ended up with cookies that were still raw in the middle and inedible. Marshmallows are just not a good choice for drop cookies.
My very first Fresh Baked Cookie Crate was a fun experience and although my cookies weren't picturesque they were very tasty! I think better care needs to be taken with proof reading the instructions. The quality of the ingredients was excellent and I feel like they used high quality foods. The other items rounded out the box nicely. The best part was that I didn't have to spend time shopping for and measuring ingredients, plus I got to spend quality time with my daughter.
What do you think of the Fresh Baked Cookie Crate?