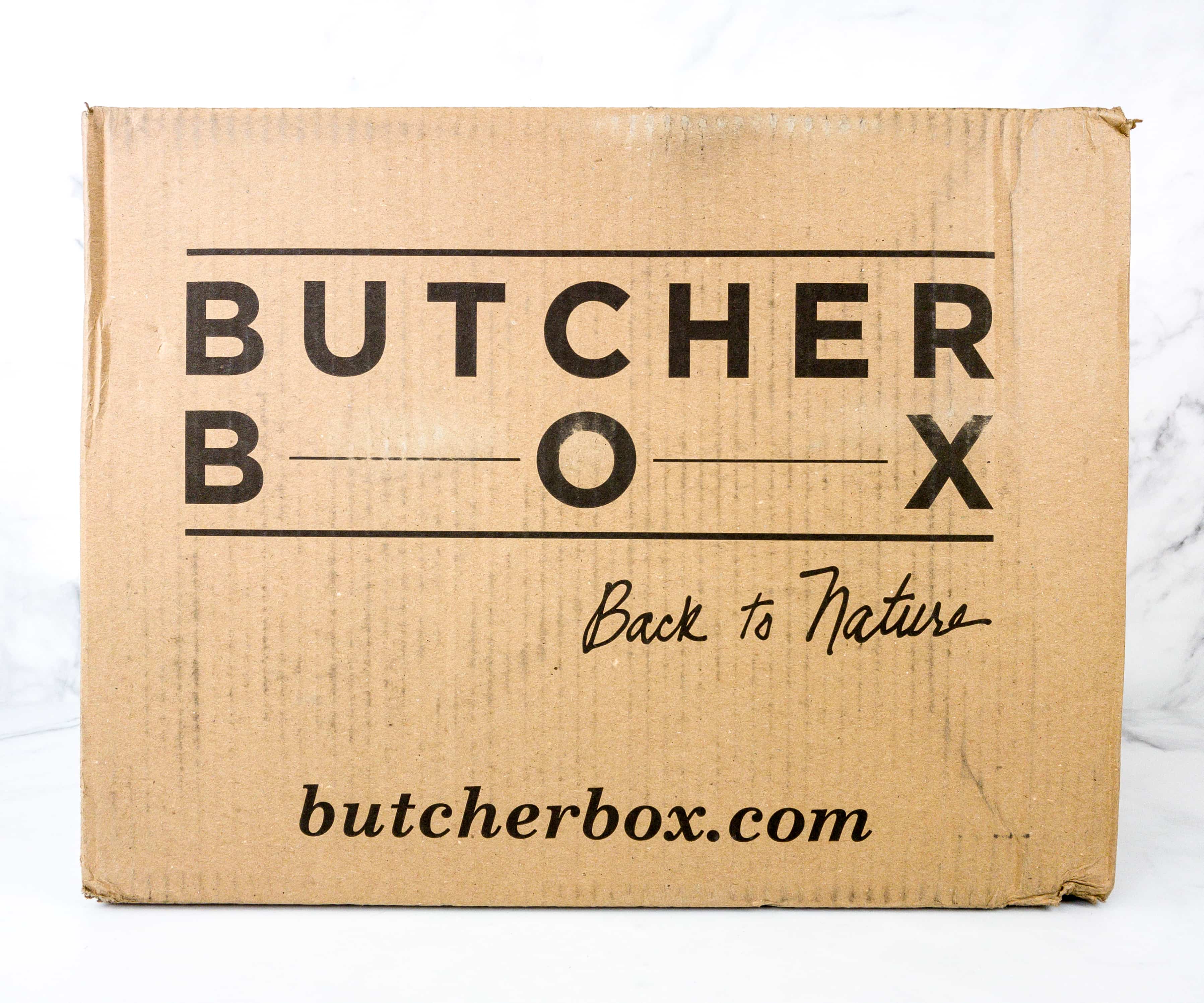 Butcher Box is a subscription box service that delivers premium quality meat for $129 per month. Each box comes with a selection of meat (about 15-20 meals worth) that has been carefully cut and prepared. The Butcher Box brings back that unique experience you get when you visit your local butcher shop. Their specialty is 100% grass-fed beef, but they also provided mixed subscription options. You can also have the box delivered every two or three months depending on your needs.
For this review, we're featuring some of the dishes we made using our items from Butcher Box. This is different from our regular Butcher Box reviews!
DEAL: Check out the current ButcherBox deal – just use this link to sign up! (Currently FREE WINGS FOR LIIIIFE! )

First, here's the antibiotic-free and added hormone-free Ground Pork from the November 2019 Custom box and we're using it to make flatbread pizza!

Our yummy flatbread pizza has pork sausage, added Italian seasoning, and shallots! This was really quick to make, and of course, nothing beats homemade pizza for dinner.

Next, we have the Grass-fed Beef Boneless Chuck Roast from the October 2019 Custom Box! This time, we're making an Instant Pot Roast!

We love this cut because it's boneless and low in fat. It's also quite easy to slice and prepare.

This Instant Pot Roast is another great dinner choice, as it's easy to make and it's overflowing with flavor!

We only added beef broth and onions, and we're good!

Paired with mashed potatoes, this dish becomes extra filling. My whole family loved it!

The meat came out so tender, shredding them with a fork is really easy. It also melts in the mouth, as if it was slow roasted for days!

This one is Pork Spareribs from the September 2019 Beef and Chicken Box, ideal for roasting!
We roasted the St. Louis ribs with a homemade dry rub and used a Martha Stewart trick, which involves wrapping the ribs in parchment before the foil.
At the end, we broiled the meat with BBQ sauce. All the seasonings stay on the ribs!

Look at that meaty goodness! They came out evenly cooked!

The meat was quite tender and the savory flavor bursts on my mouth in every bite.

No need for dipping sauce because it's already so tasty on its own!

Another meat cut we love is Ribeye Steak, and this one is from the October 2019 Custom Box!
It has the best sear, and gives out a rich flavor due to its fat content.
We seasoned these ribeyes with salt and pepper and grilled them to perfection!

Here they are right off the grill. The meat turned out really juicy and beefy!

They're cut thick to ensure juiciness!

This makes such a tasty dinner and it pairs well with red wine. The meat is so tender, you can cut it with your fork without much effort.

We also got a pack of Ground Beef from the November 2019 box, which we're using for Patty Melts!

First, we mixed the ground beef with salt and pepper and formed them into patties. You can even add some Worcestershire sauce for extra flavor.

Then, we cooked the patties on a skillet with medium heat. When the patties are done, it's time to assemble the patty melts. Just put a slice of cheese over a slice of bread, then add the patty, another slice of cheese, and another slice of bread.
The last step is to grill the sandwiches. This is seriously so good! Best served hot!

Next up, we have Boneless Pork Tenderloin from the November 2019 Custom Box and we're using it for Ginger Garlic Pork!

We butterflied the tenderloin for this recipe.

We also made a ginger and garlic marinade and then reduced the sauce to serve with it.

It was super tender, and it was also a hit with the kids. The combination of ginger and garlic lent such a unique flavor to the meat and it was present in every bite.

Here are packs of Boneless Skinless Chicken Breast from the October 2019 Custom Box, which doesn't contain any antibiotics!
We used a pack for enchiladas!

In this recipe, we braised the chicken breast. We also sliced them up before putting them inside the tortillas.

We also mixed the chicken with canned enchilada sauce, cheese, and seasonings. After rolling them up, it's time to put them on the baking dish and then cover with most of the sauce and cheese.
We love cheese so we added a lot! No regrets, because the dish turned out so good!

Look at that delicious filling oozing out of the tortilla! This is best served warm. Even without sides, it's really tasty and filling!

Now, we're onto the Grass-fed Beef Sirloin Tips from the June 2019 All Beef Box!

We used the sirloin tips for Beef Bourguignon, along with veggies from Misfits Market box! It was easy to make, as we only needed to put the beef in the Instant Pot along with radishes, carrots, potato, and sunchokes, as well as seasonings. It made such a warm and hearty dinner meal.

These chicken thighs are from the September 2019 Beef and Chicken Box! There are lots of possibilities with this cut, and for this month, we used them for Malaysian-style curry.

We added pepitas, sweet potato, carrot, ginger, and garlic to make the dish flavorful.

Lastly, here's a young turkey from the November 2019 Custom Box! The turkey was raised without antibiotics and with an all-natural, all-vegetable diet.

Of course, we roasted the turkey! We picked some of our favorite herbs and seasonings and used them to make it more flavorful.

What a classic! The savory flavor of the turkey stood out, and it was even enhanced by the herbs and seasonings.

It turned out perfectly! So moist and juicy!

This was the star of our holidays! The moist, tender texture is just too good to resist. Even the turkey skin was nicely browned!
It was another month filled with delicious meals! Butcher Box's monthly shipments make it easy for us to plan out our meals, and everything always arrives fresh and well-packed. There's no need to go all the way to a shop to choose our favorite cuts, we just wait for them to arrive at our door. If chicken, pork, and/or beef is a part of your family's diet, subscribing to Butcher Box would be a great choice! They only send high-quality meats, so spending a little extra on them is definitely worth it!
Are you planning to get Butcher Box?