BoxDog offers a seasonal subscription box which covers an extra large box delivered to you 4 times per year. Every box is filled with a large assortment of handmade treats, chews, and bakery items from their chefs. Members can customize their box with their choice of toys, wearables, gadgets and more.
DEAL: Use the coupon code 10HELLO to get $10 off your first box!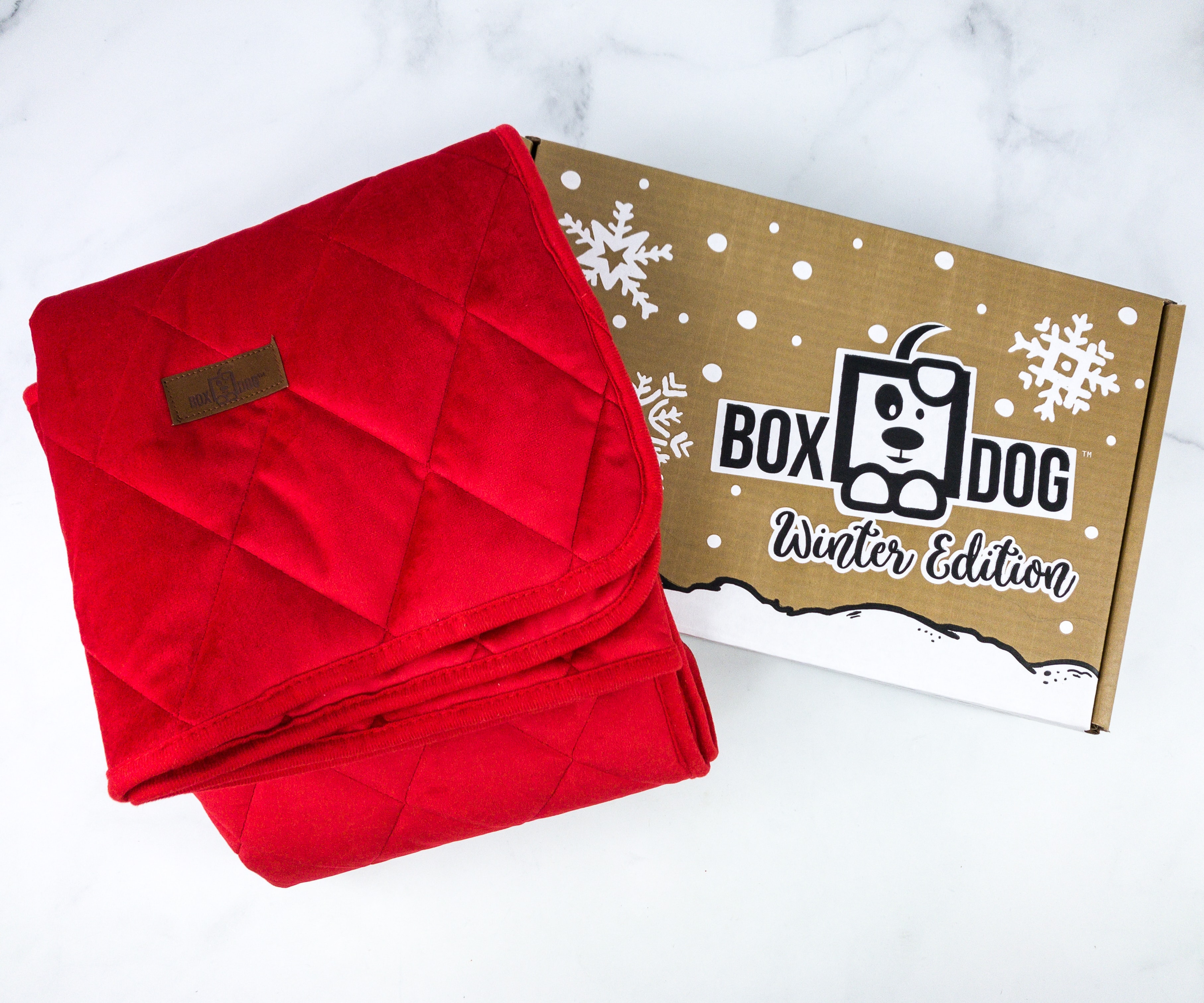 There's a huge item that didn't fit in the usual box, so they were packed together in a bigger box.
I love this quarter's box! It's festive but in a simple kind of way!
The sides of the box indicate that the treats inside are 100% handmade.
Isn't this illustration the cutest?
Upon opening, you can clearly see that they packaged everything nicely.
The items were wrapped in BoxDog paper. It was also sealed with a BoxDog sticker.
We also got this card that we can attach to any dog cookie we're gifting!
It entitles the holder to a free BoxDog Starter Box, which includes free cookies and 1 toy. It's valid for new subscribers.
I love how organized the contents are. The treats were packed properly in individual containers so they won't spill or cause a mess during transit.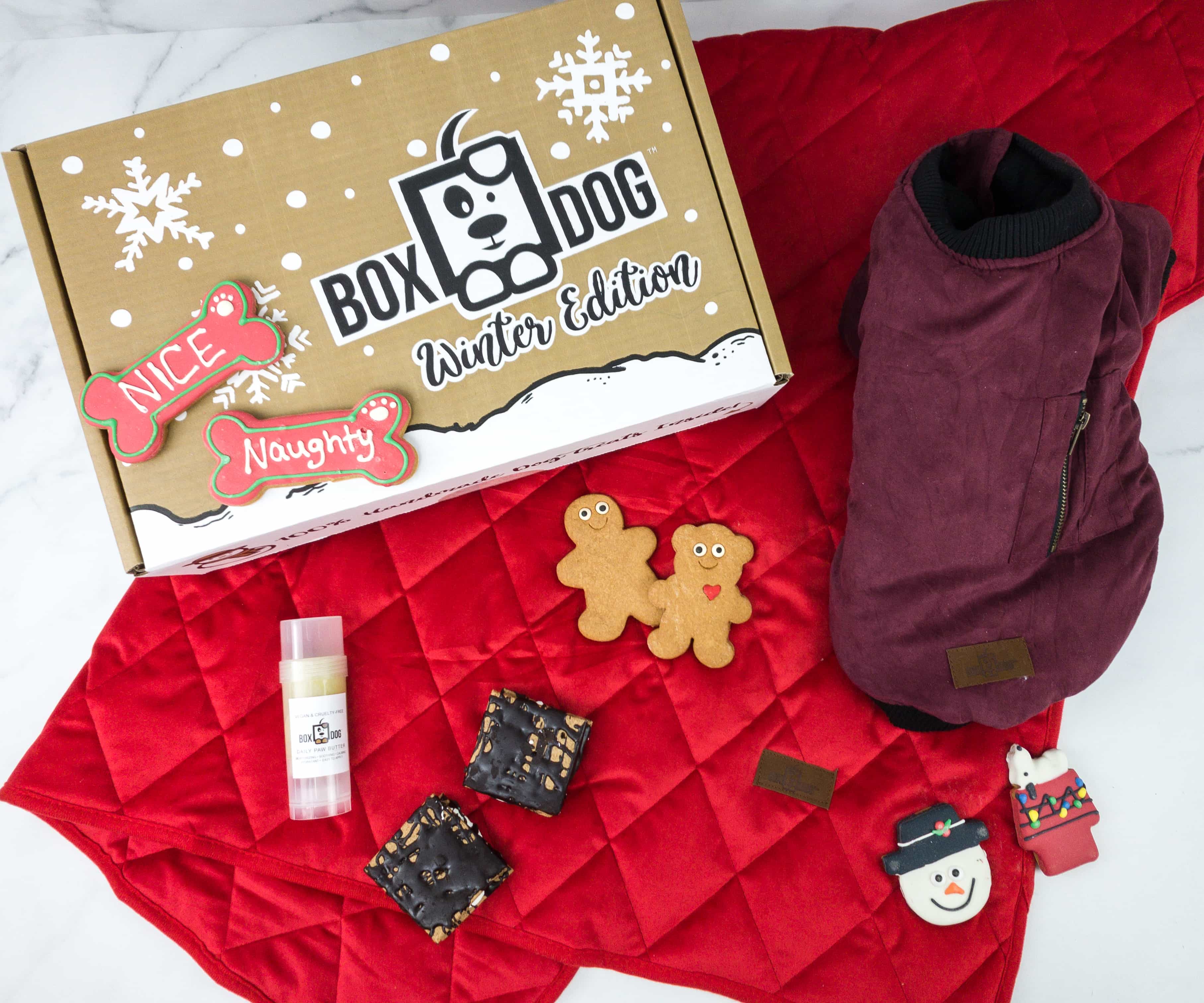 Everything in my box!
Red Christmas Dog Blanket. Upon opening this quarter's box, this red piece of cloth caught our attention. It's a blanket for dogs!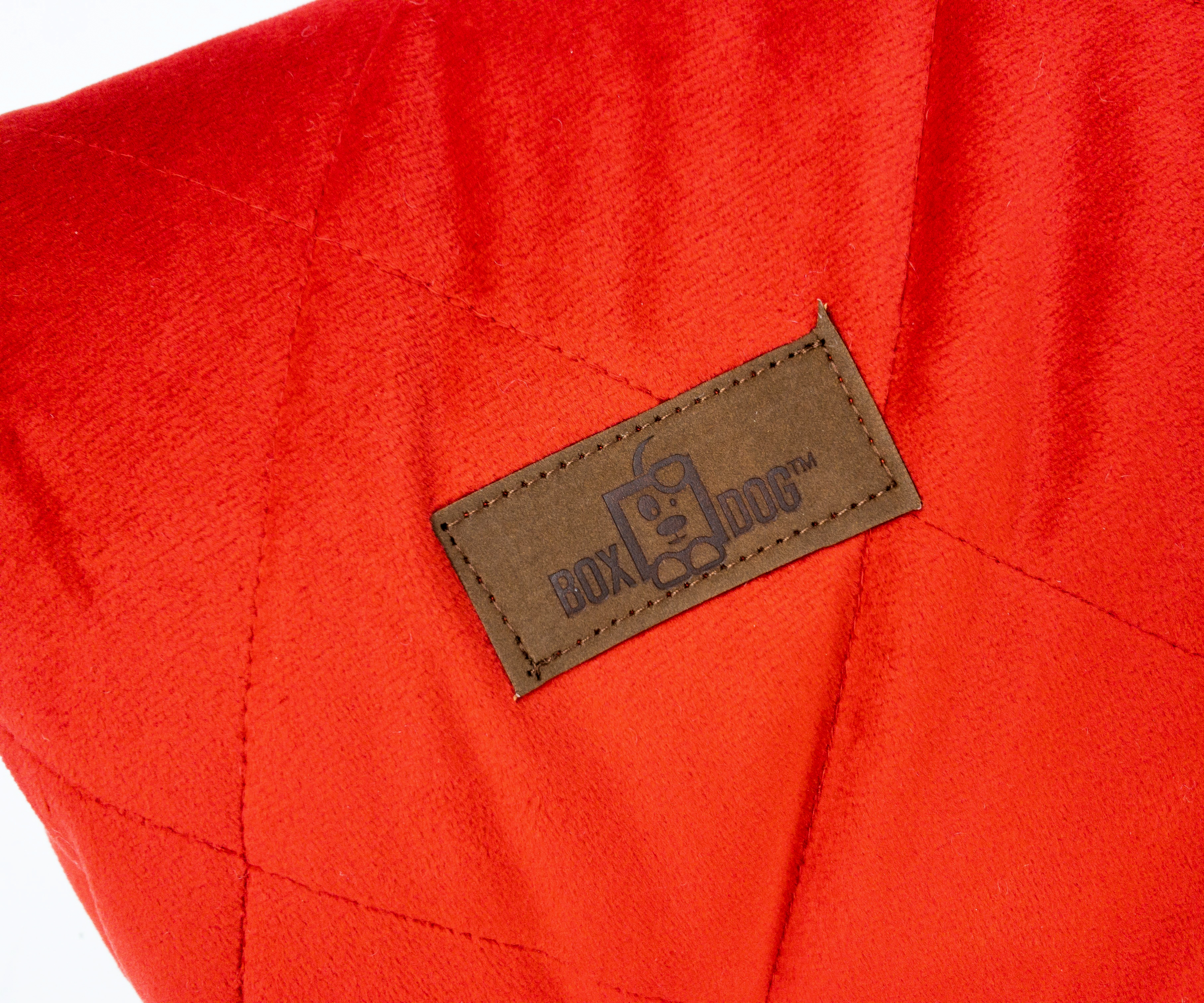 It has a small BoxDog logo stitched on it.
The size of the blanket is quite good! Not too big that it gets too bulky, but also not too small that it won't even cover your dog. I love that the blanket is soft and fluffy. Perfect for dog cuddling on cold winter nights!
The red color of this blanket is also striking. It has that festive vibe we get during this time of the year. I can now imagine sitting with our dogs in front of a fireplace, with me and the kids sipping on some hot cocoa or coffee and the dogs bundled up in this comfortable blanket beside us. A picture of a perfect winter evening! It's a little hard to photograph – this is the correct color!
Warm Wine Dog Jacket. This dog jacket is a must-have, especially during winter!
First off, its red wine color is stylish! It's a great color for this season and I feel like it adds warmth to the whole look.
I also like how easy I can put this on my dog because it has a zipper opening.
The material used is quite thick so the insulation is surely good.
It could be a bit of a struggle if your dog is restless but other than that, we had no problems with this cute dog jacket!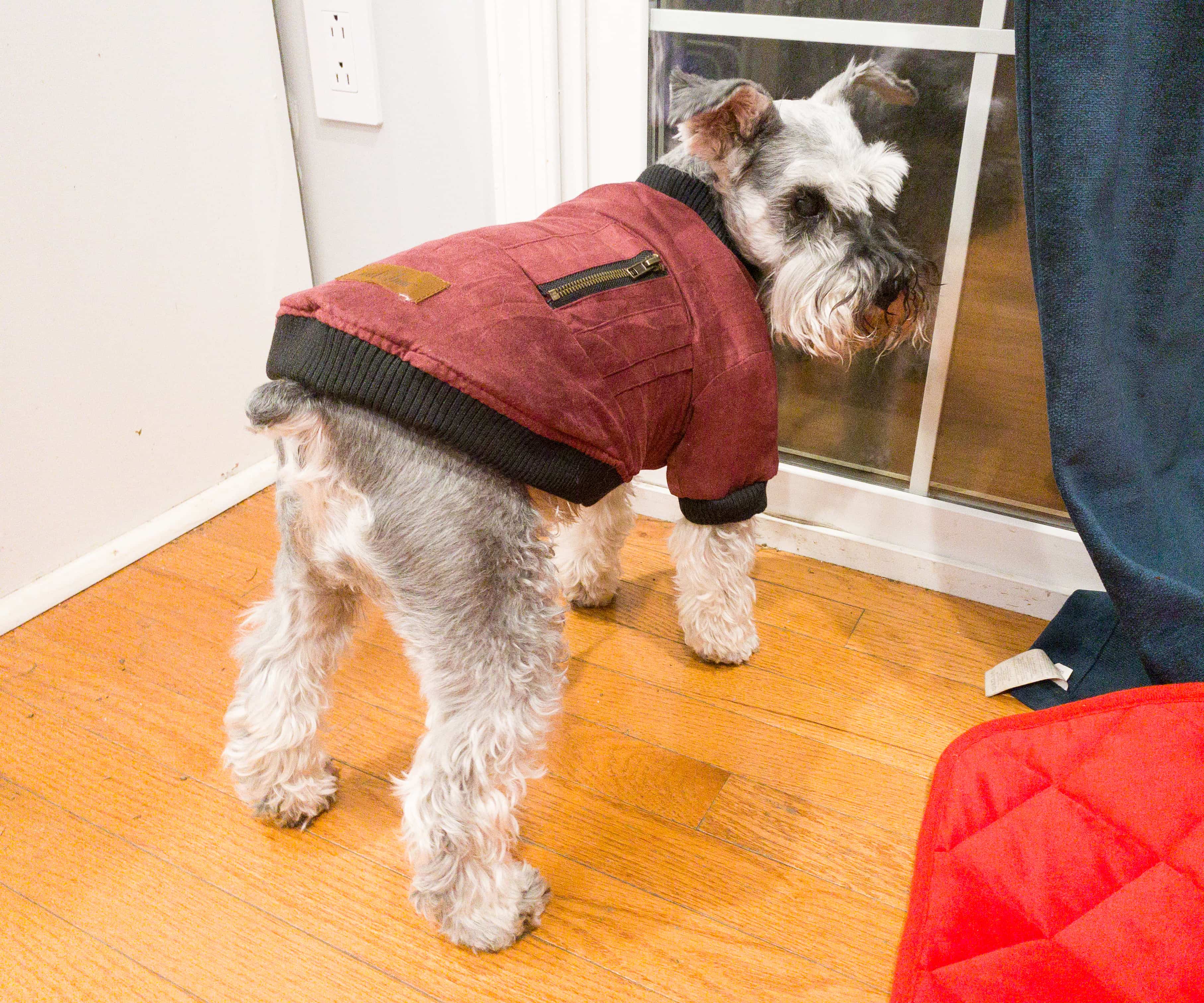 Our pup is now winter-ready! Good job Lindy!
Daily Paw Butter. Just like us humans, our dogs need TLC too. That's why for this box, we got this daily paw butter. It's like lotion, but for dog's paws!
At the back, you can see the ingredients, as well as instructions on how to use it. It's pretty easy. It's just like applying lotion, but we apply it on their hands so they can avoid cracked paws.
This can also heal lightly damaged paws or prevent them from chafing. I like how this is odorless because some dogs don't like smelling something they're not familiar with. This one is easy to use on our fur baby because it doesn't smell like anything.
Of course, here are the awesome handmade cookies!
Gourmet Frosted Cookies. Each set of cookies comes in a resealable pack so they're kept fresh and yummy!
This set has a snowman and Snoopy frosted cookie inside. They're made with flour and honey, plus yogurt frosting.
This cookie was certainly a hit. It was gone in no time.
Gourmet Cookies. The next set of gourmet cookies for dogs don't have frosting, but they're still a hit with our pups.
This set is gingerbread man-themed. They're plain but still the cutest!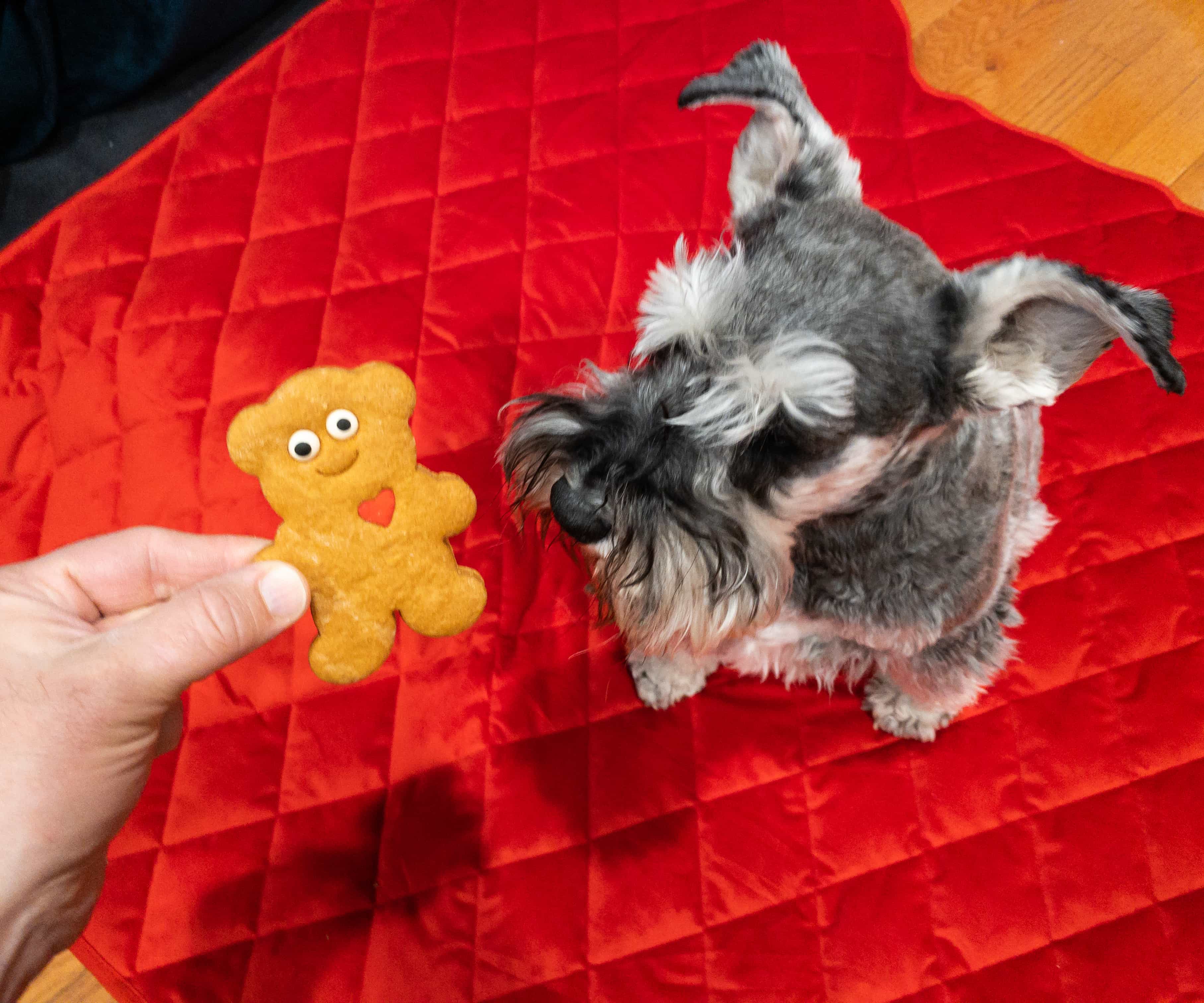 Our pup looked at the gingerbread man intently before deciding to munch on it. The BoxDog treats are her absolute favorite – she's such a gourmet!
S'mores. We also got S'mores from this box. Yes, S'mores for dogs! These are made with oat and wheat flour, plus peanut butter, carob, and yogurt.
These treats are quite crunchy and they can be broken down into smaller pieces. Our pups loved these and even asked for more once they finished a piece!
Gourmet Frosted Cookies. The last set of cookies for this quarter is really cute! It has "naughty" and "nice" written on each bone with festive Christmas colors!
The design seemed moot when my pups saw them, though. It's like they didn't even care who's naughty or nice, they just gobbled everything up!
BoxDog surely makes the best handmade pup cookies! They send out a variety each quarter and my dogs love each and every single one, down to the very last bite. I also love that each box comes with a special care item for our beloved fur babies, like the paw butter from this box. The warm wine jacket and the doggy blanket are also a nice addition to tie up the whole holiday vibe they got going for this quarter, and it is just so on point for winter. I'm so excited to see what they have in store for me and my dogs next quarter!
What do you think of BoxDog?