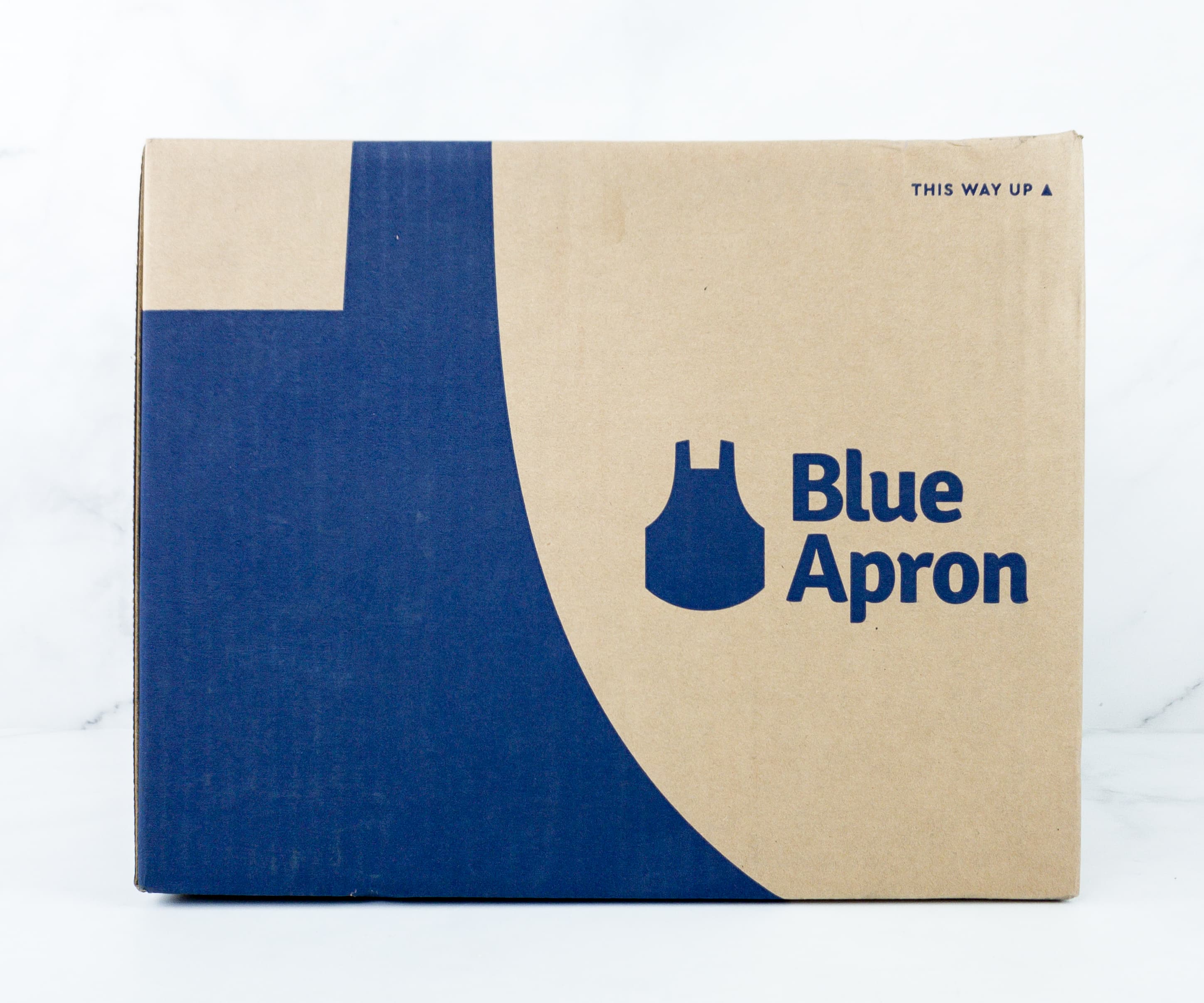 Blue Apron is a meal kit subscription that ships weekly. It's great for anyone who needs help with meal planning, whether you're just cooking for yourself or for the whole family. This subscription saves you so much time because you no longer have to research recipes and go to the grocery, everything is already provided in one securely-packaged box with ice packs and all you have to do when it arrives on your door is to cook. They offer a 2-Person Plan, which sends 3 meals a week of 2 portions each, and a Family Plan, which includes 2 to 4 meals a week of 4 portions each. You can set the delivery date and also tell them whether you have allergies or other ingredients you're avoiding.
DEAL: Get $60 off your first THREE Blue Apron boxes! Just use this link to subscribe!
Pricing: 2-Person Plan – $59.94 for 3 recipes. Family Plan (serves 4) – $69.92 for 2 recipes, $139.84 for 4 recipes.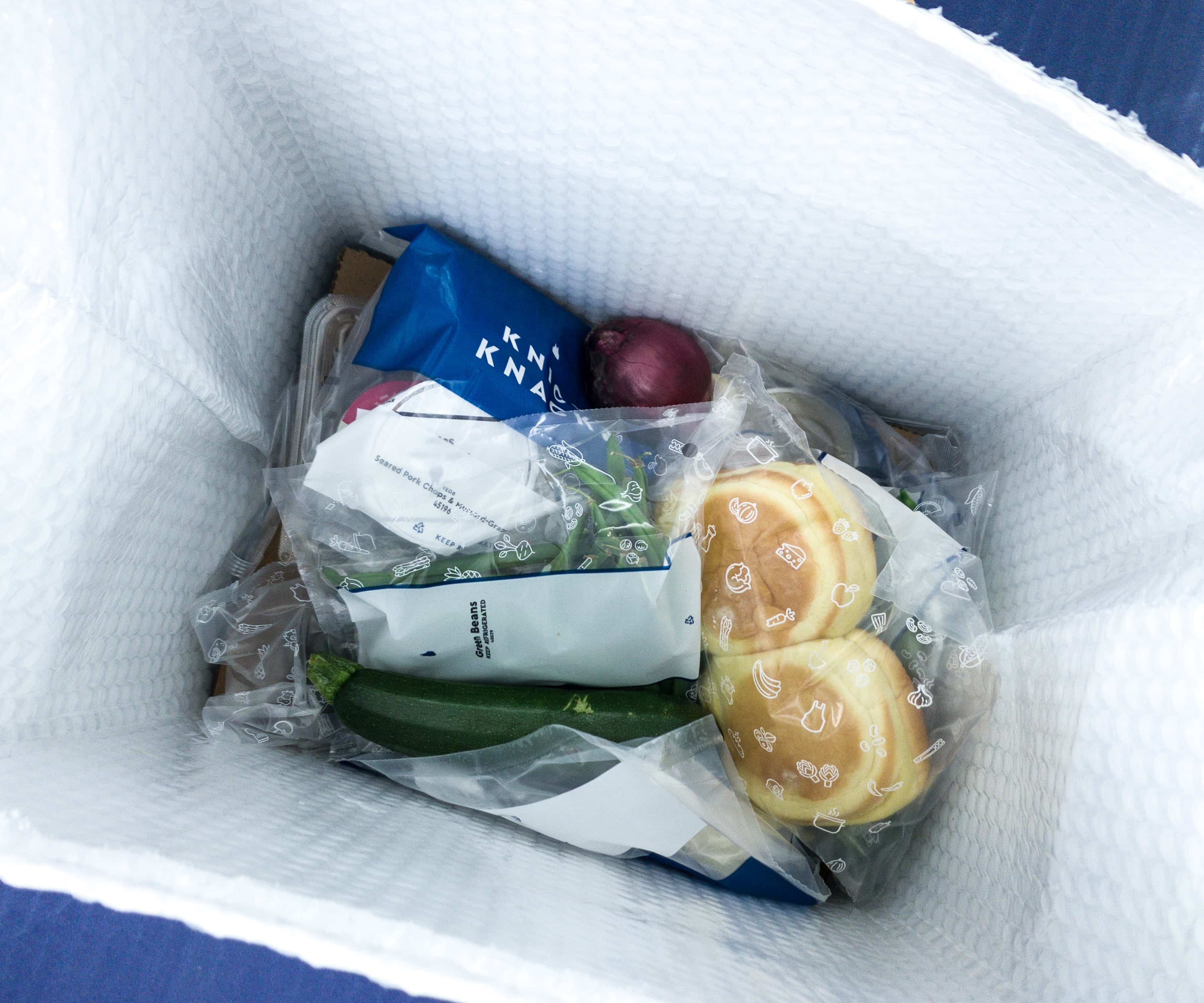 The meat is at the bottom, surrounded by still-frozen gel ice packs. The new double-sealed meat packaging is great and keeps errant meat juice out of your box. Other ingredients are individually packed. They're also well labeled, so there's no problem sorting them out and preparing them for cooking.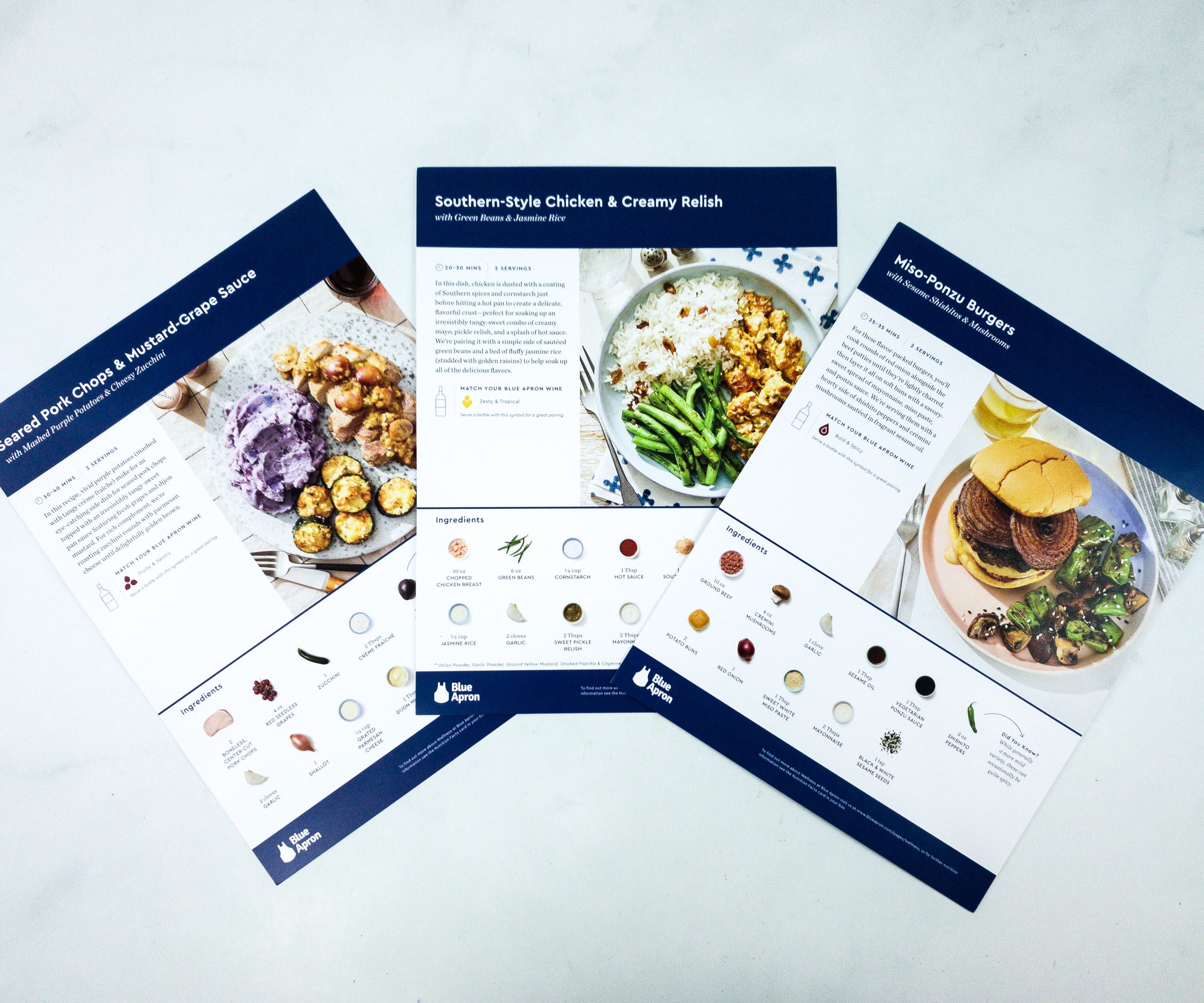 The recipes also come with respective cards that contain detailed step-by-step cooking procedure and ingredient list.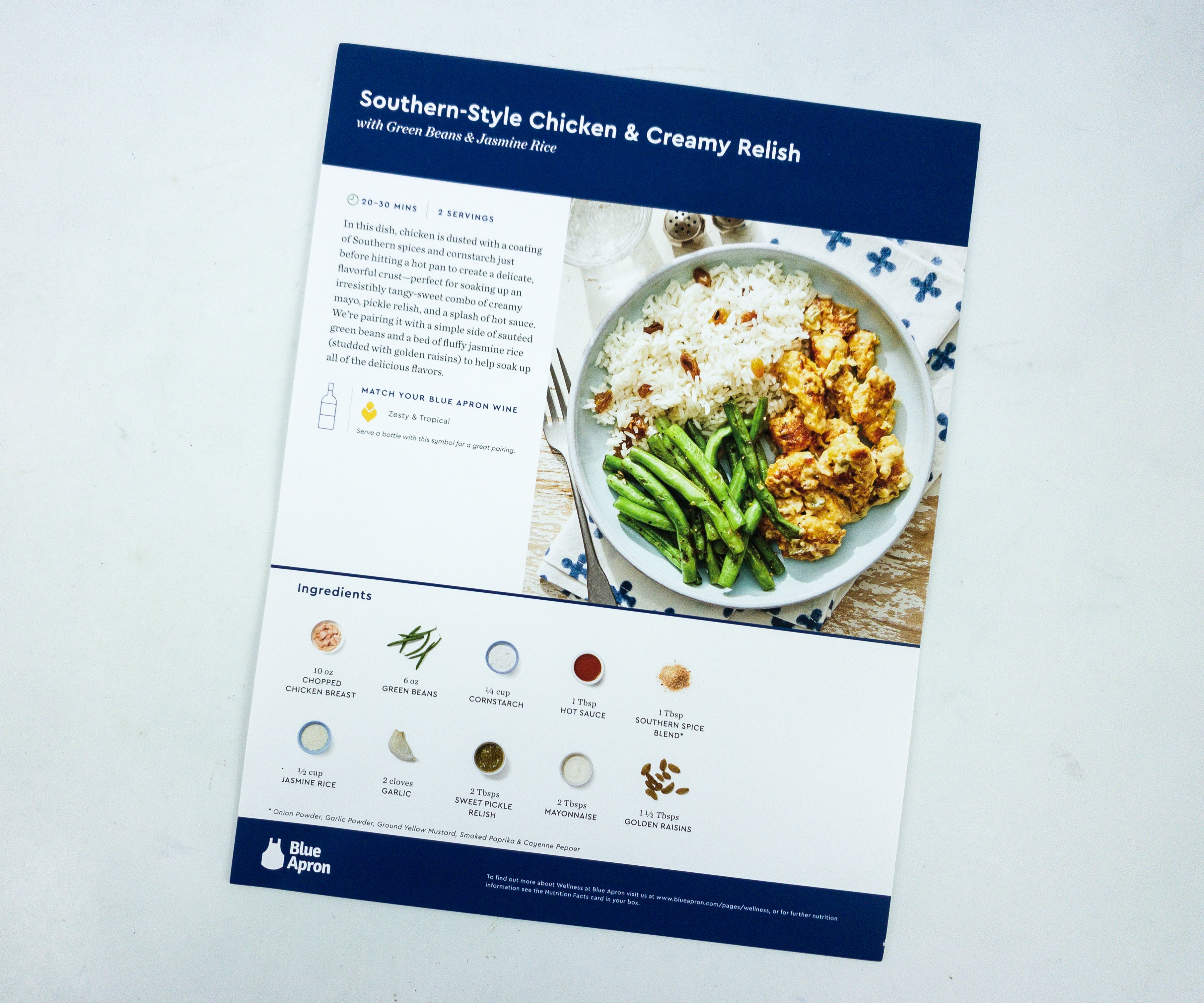 One of the recipes we're doing from this box is the Southern-Style Chicken and Creamy Relish!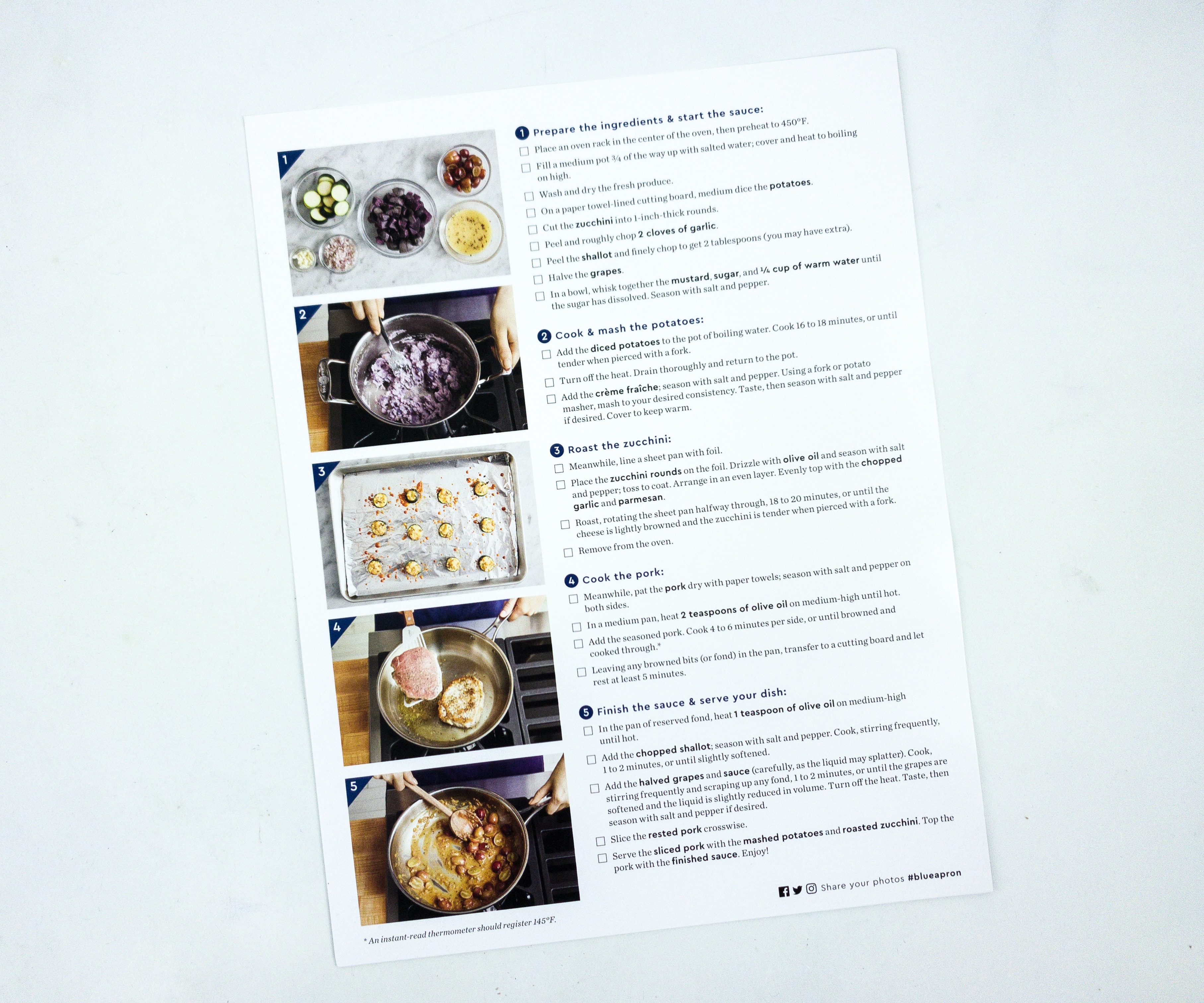 The back of the card even included some high-quality pictures that serve as a guide, so you know you're doing the right thing.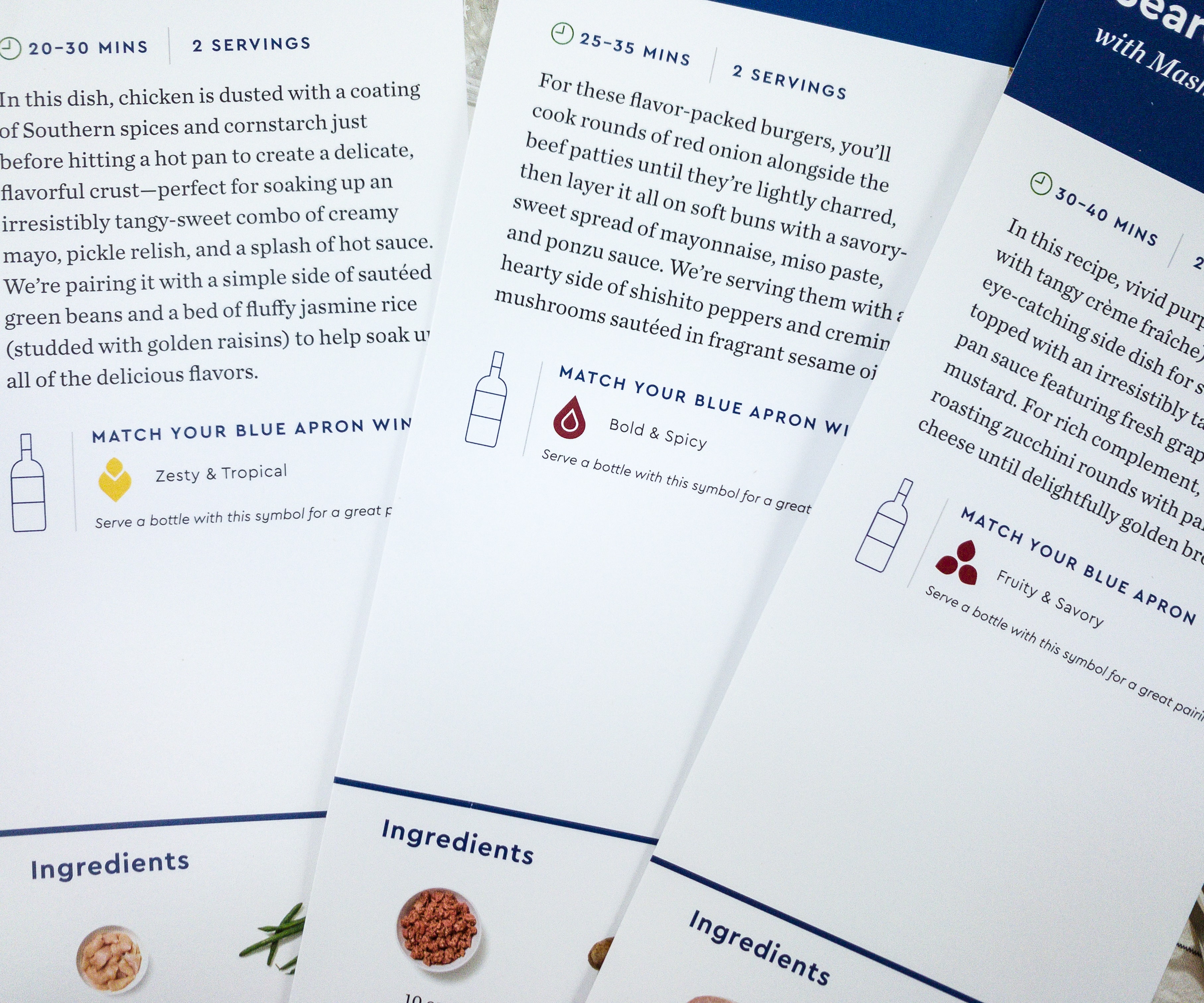 There are also wine pairing suggestions for each dish!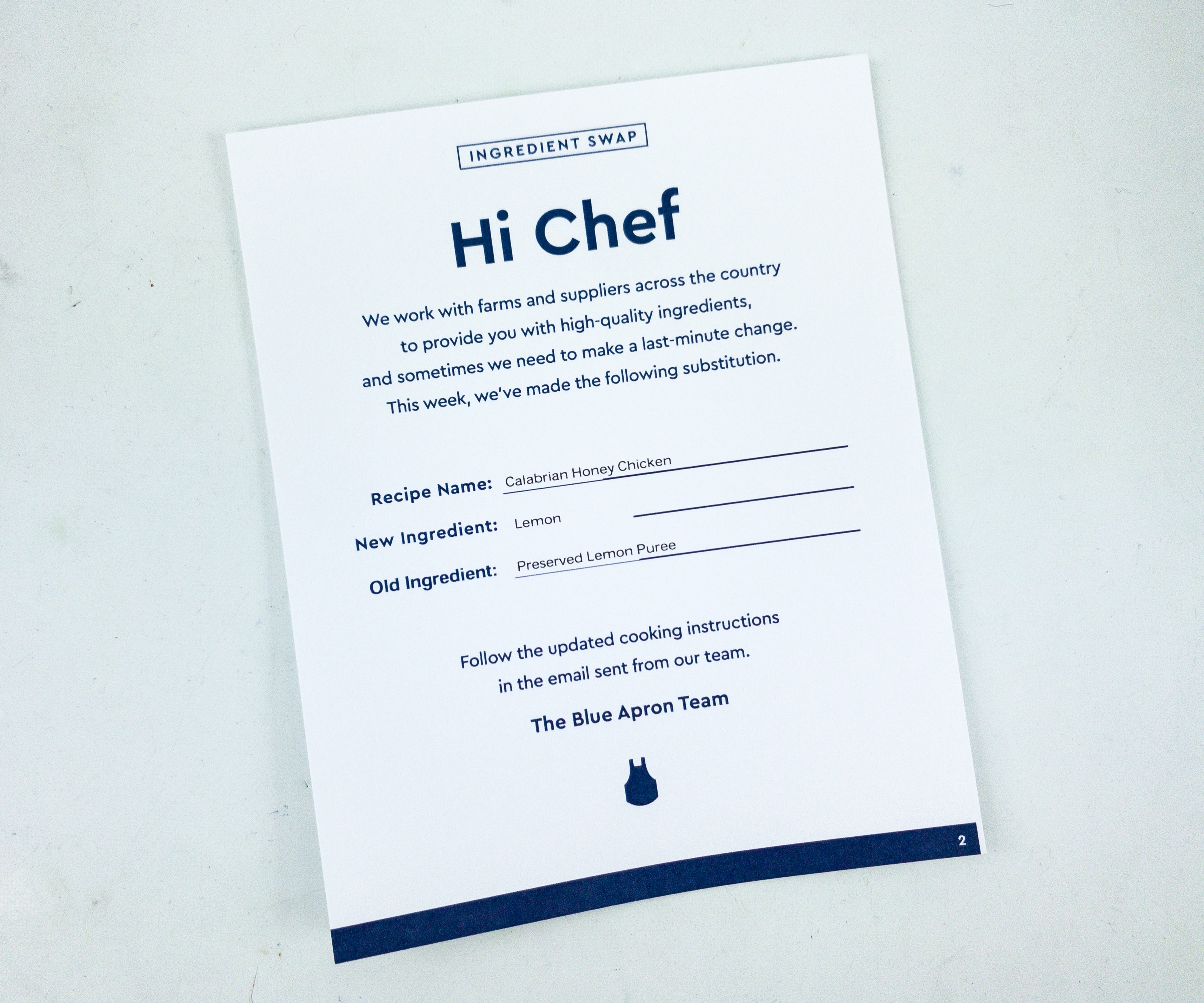 There's another info card, informing us of a last-minute change with the recipe, Calabrian Honey Chicken. The changes and updated cooking instructions are sent in an email by the Blue Apron team.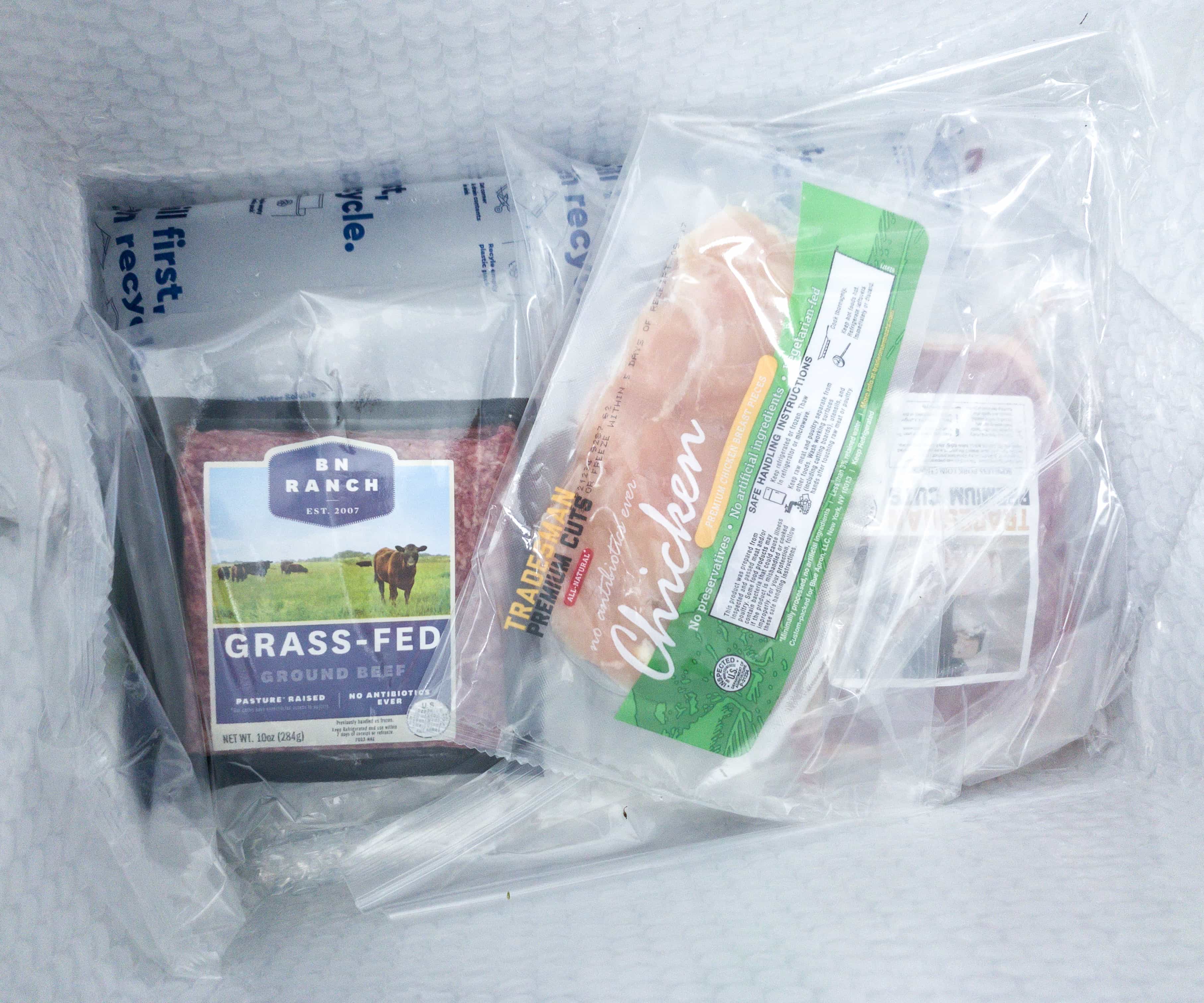 The ingredients are sealed and packed separately, most especially the veggies and buns.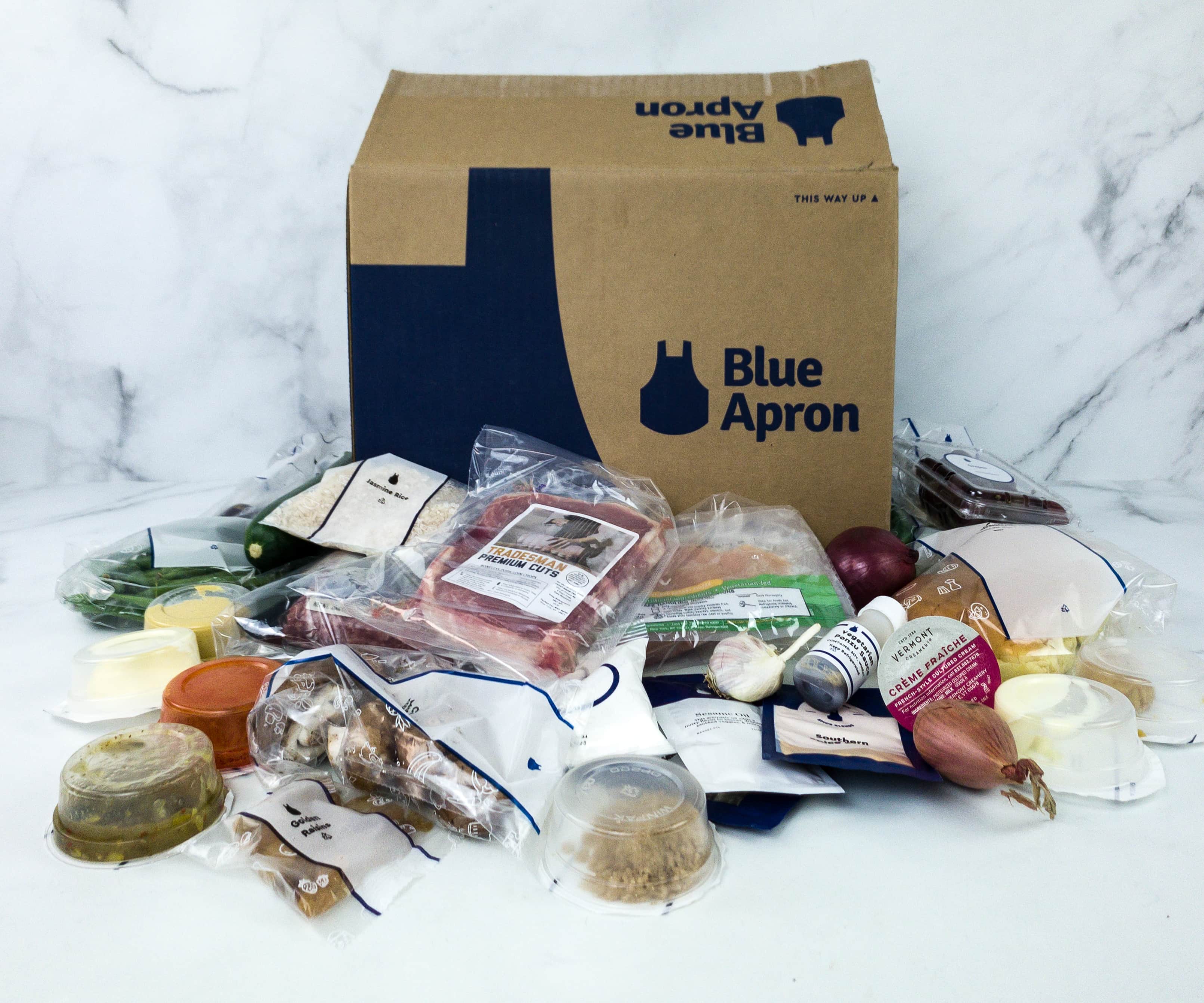 Everything in my January 2020 Blue Apron box!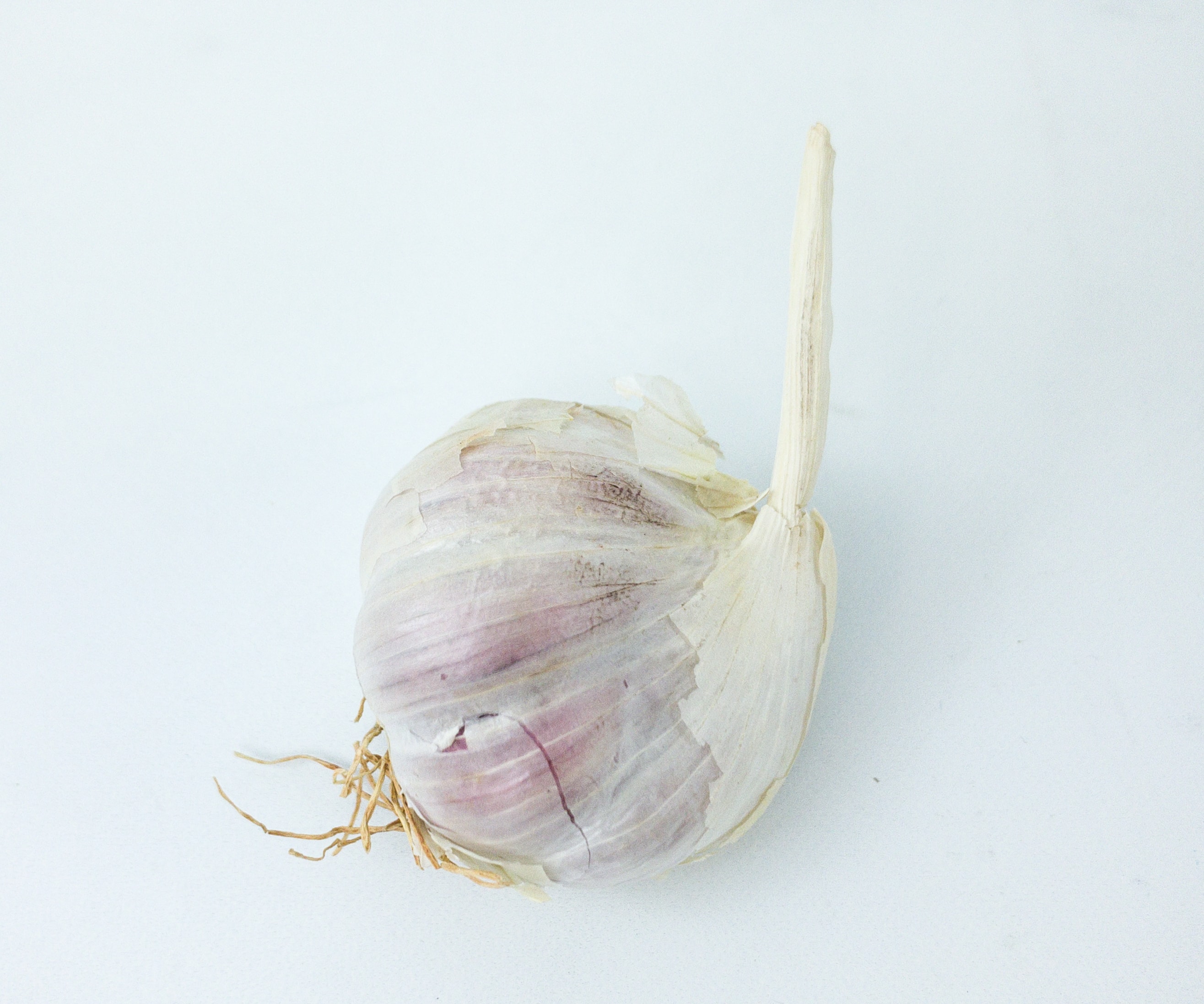 They also included a huge bulb of garlic to use in any recipes for which it may be needed.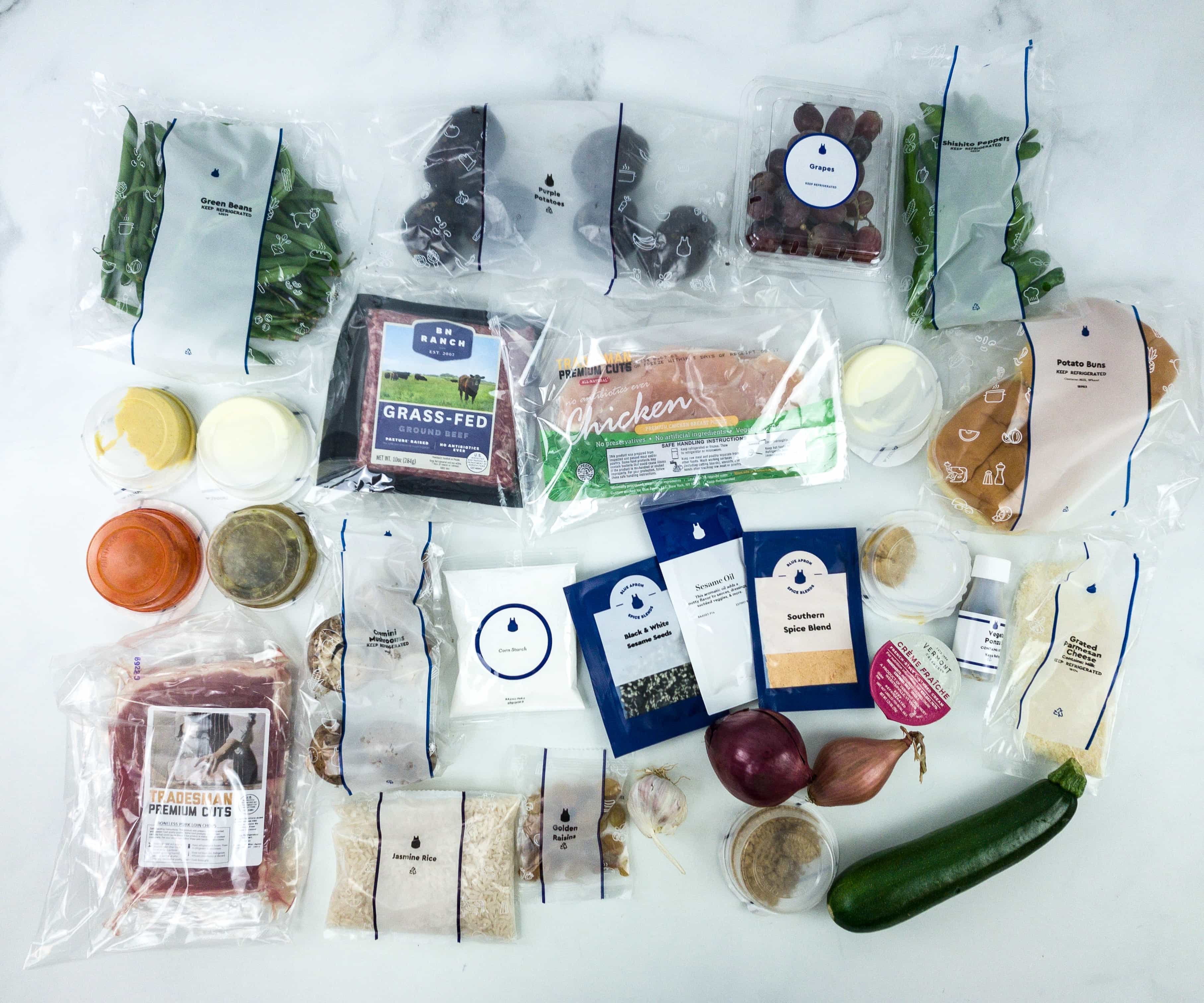 Seared Pork Chops & Mustard-Grape Sauce with Mashed Purple Potatoes & Cheesy Zucchini  – 40 minutes, 2 servings.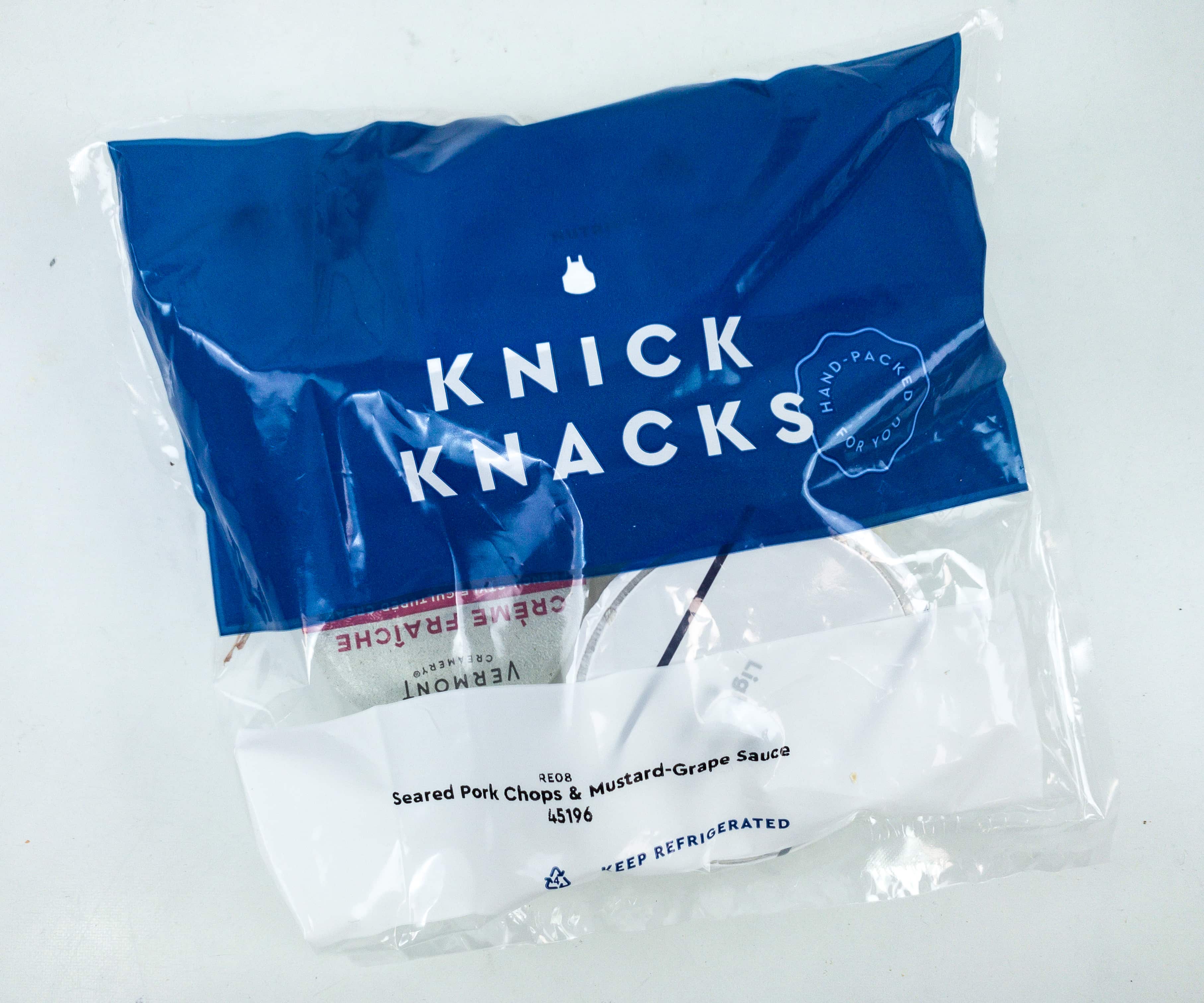 There's a package that contains the sauces, like the Crème fraîche, which is a thick, slightly sour cream.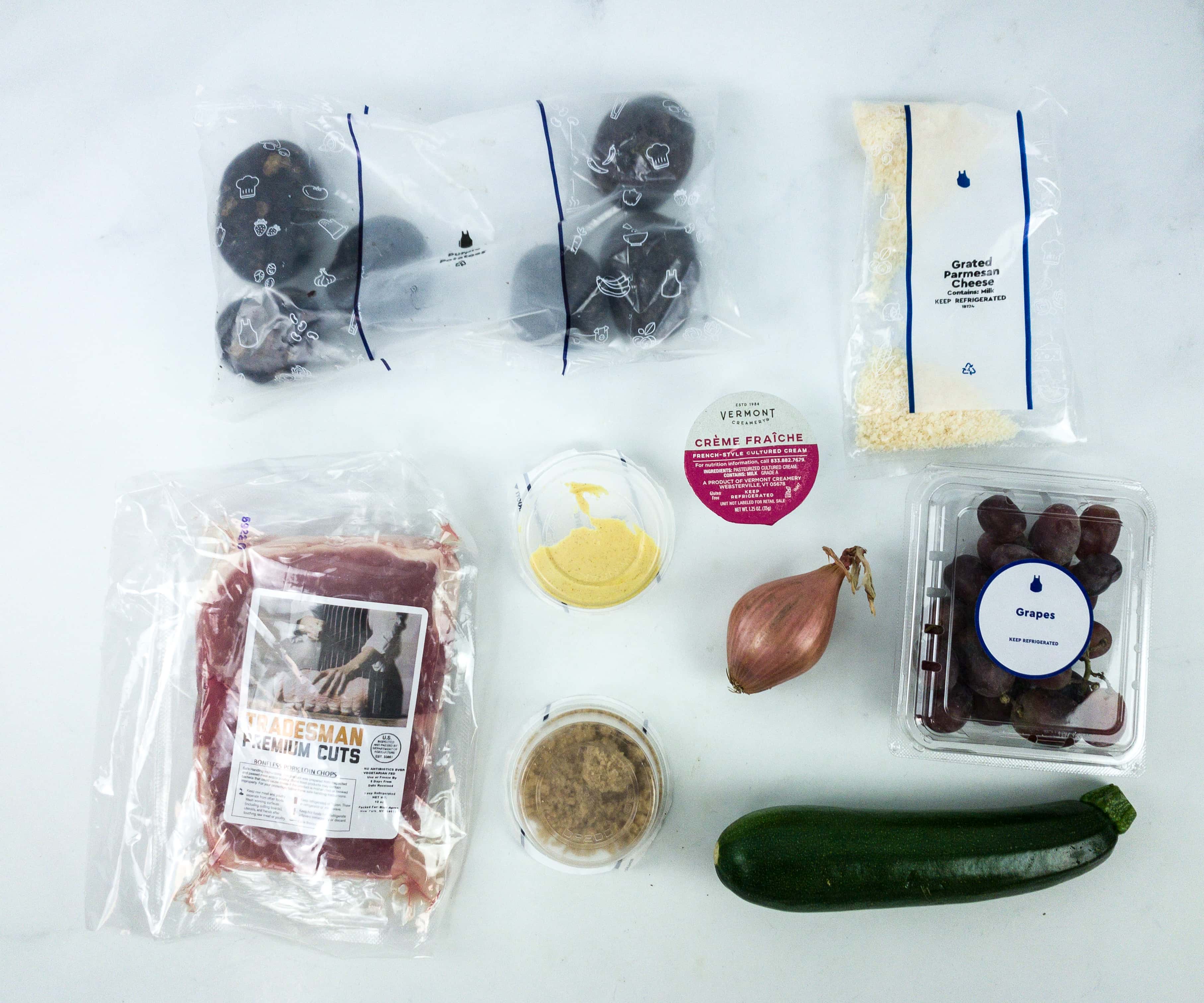 Here's everything that we need to prepare the delicious dish!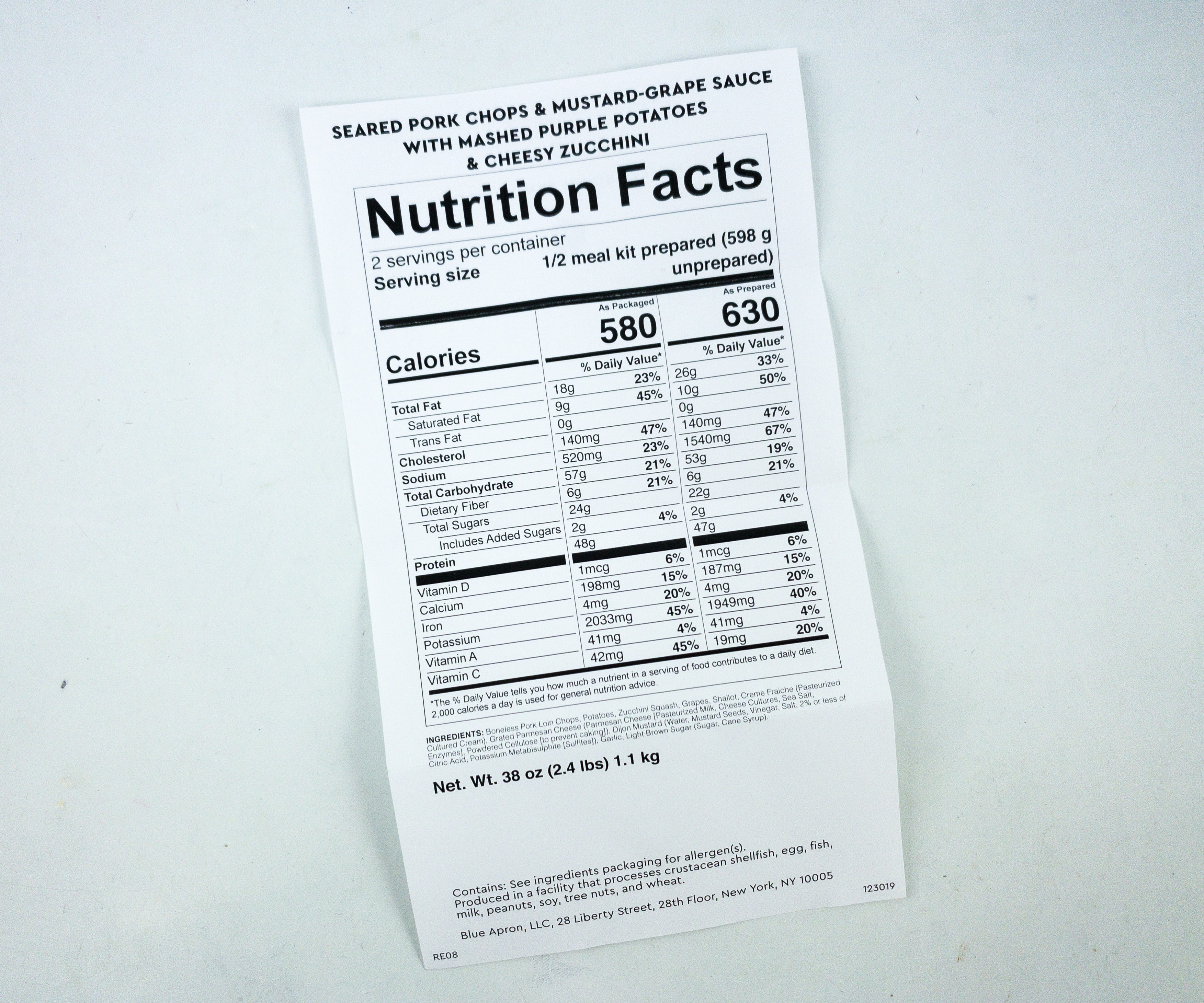 Each recipe also comes with an information sheet containing all the nutritional information per recipe. For this recipe, the calorie count as packaged is 580, and as prepared is 630.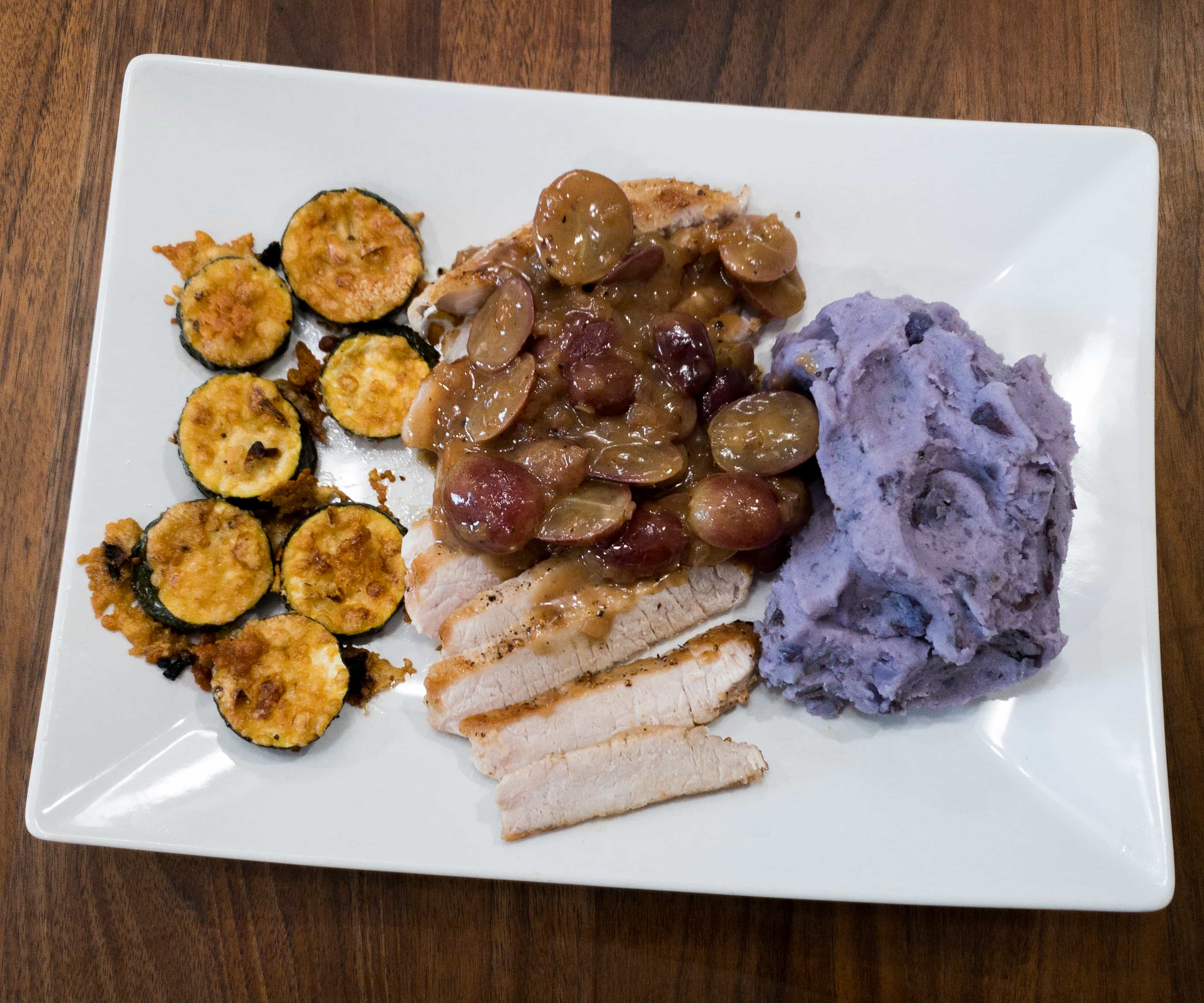 I really like how the grape sauce turned out! It's a mix of sweet, tangy, and delightful! The purple mashed potatoes also look like dessert on the side, but truly complements everything on the plate.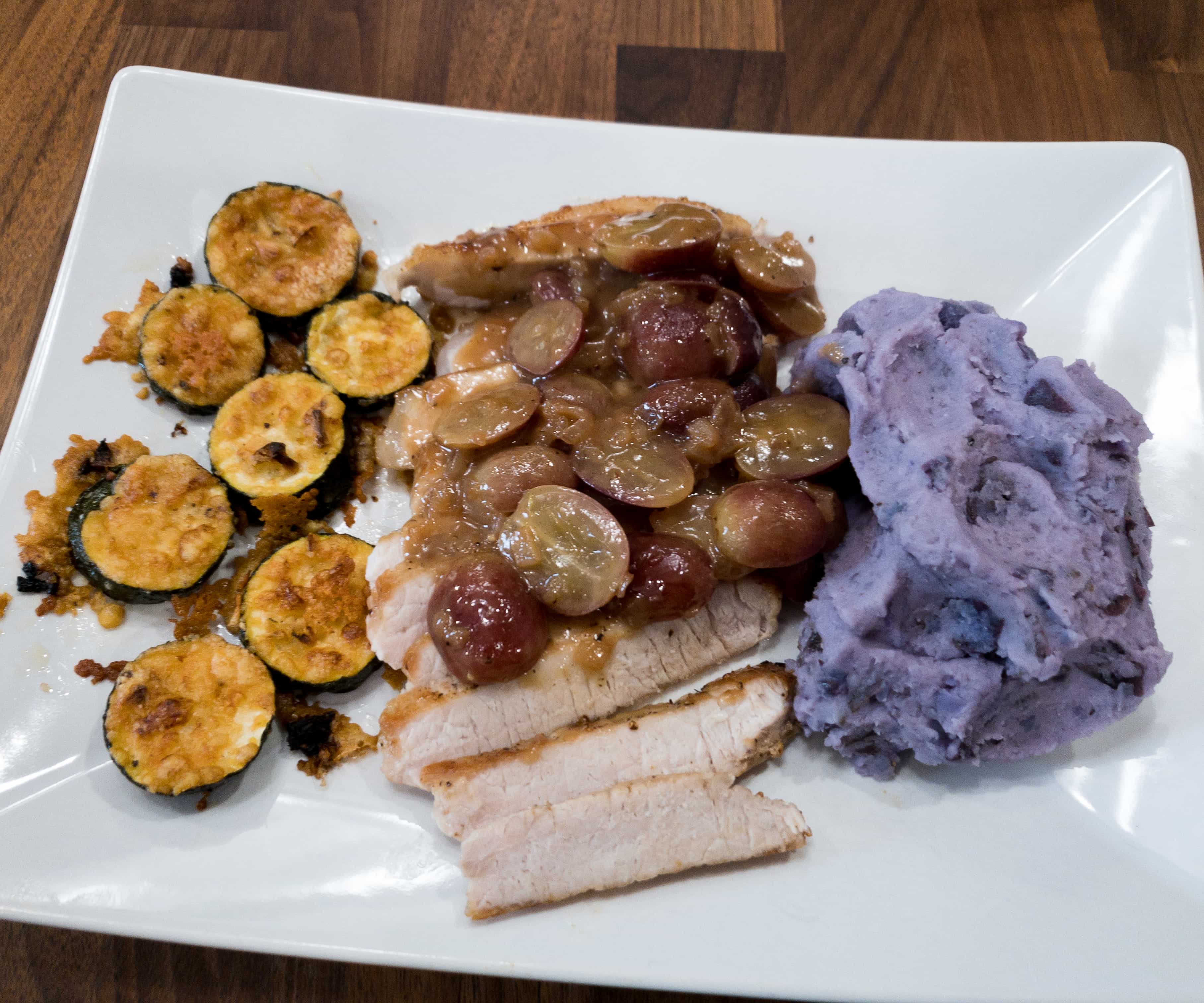 The pork chops were cooked well yet they're still juicy. The cheesy zucchini is amazing. It's a plate of amazing flavors and the dish is so filling, I can't help but ask for a glass of wine.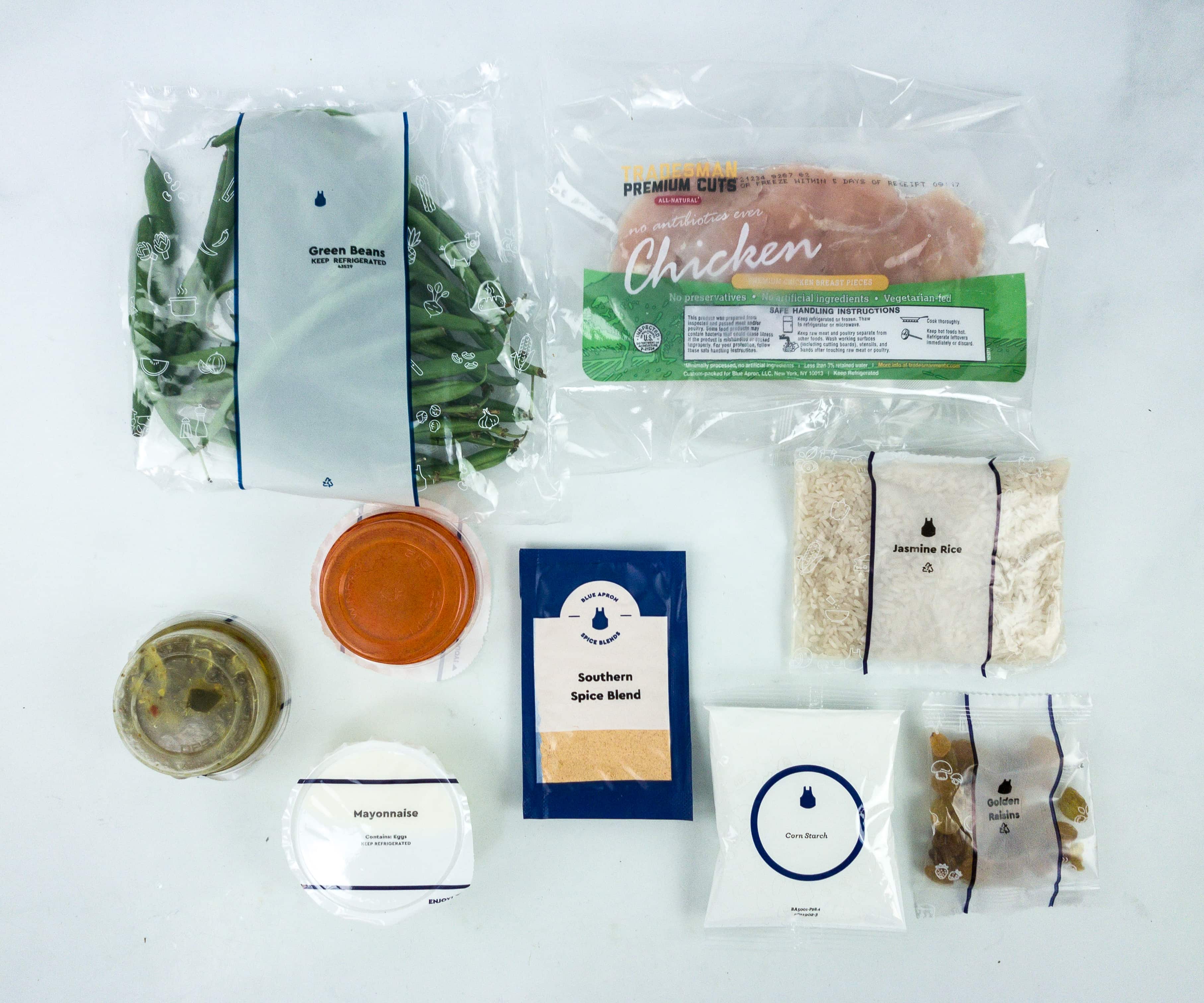 Southern-Style Chicken & Creamy Relish with Green Beans & Jasmine Rice  – 30 minutes, 2 servings.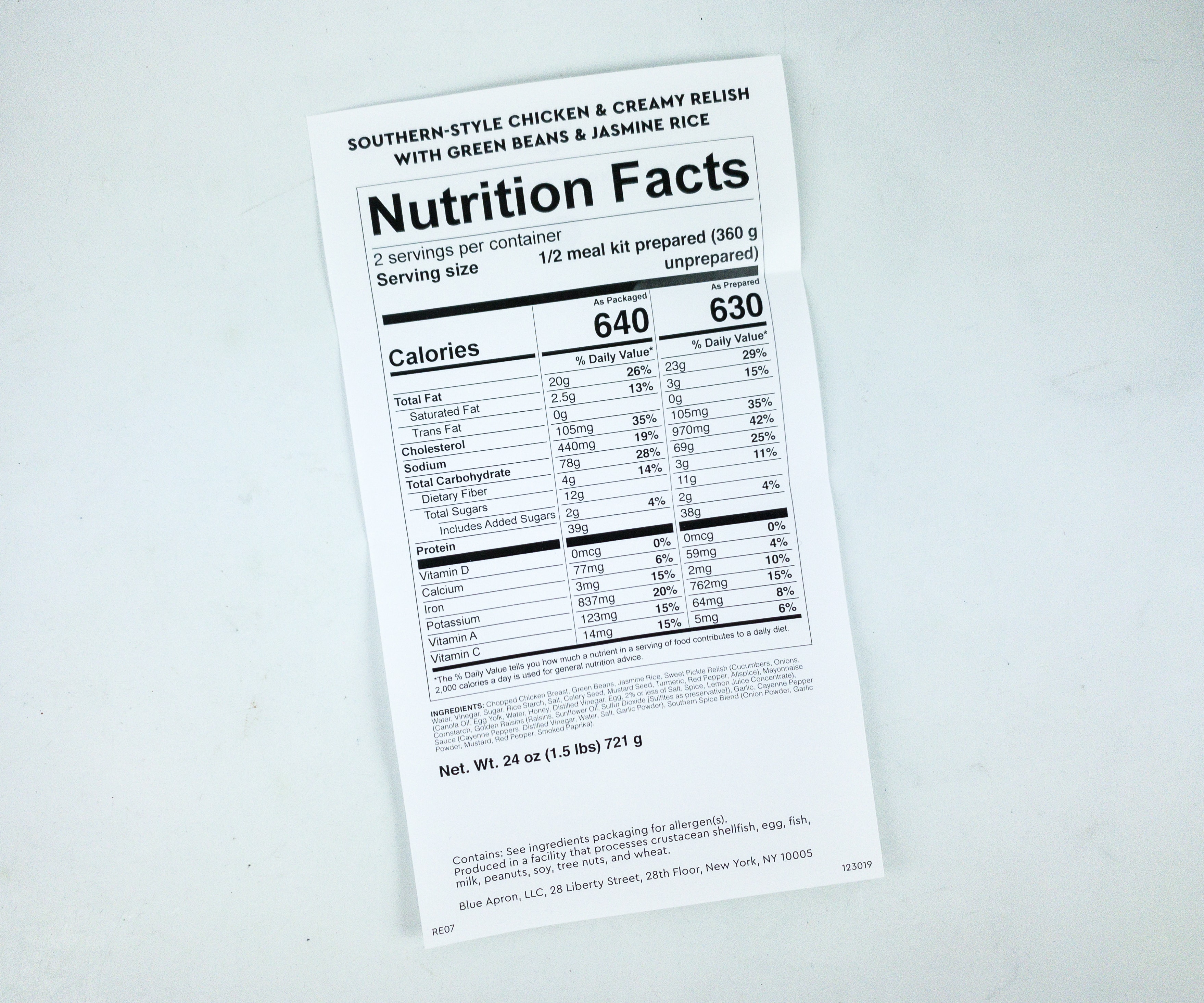 For this recipe, the calorie count as packaged is 640, and as prepared is 630.
This meal is refreshing! I love the crusted chicken so much — the outside is crunchy, but the inside is juicy and tender. The flavors are being soaked by the meat awesomely well and pairing it with the sweet and tangy combo from the creamy mayo, pickle relish, and hot sauce, the flavors were up to another level.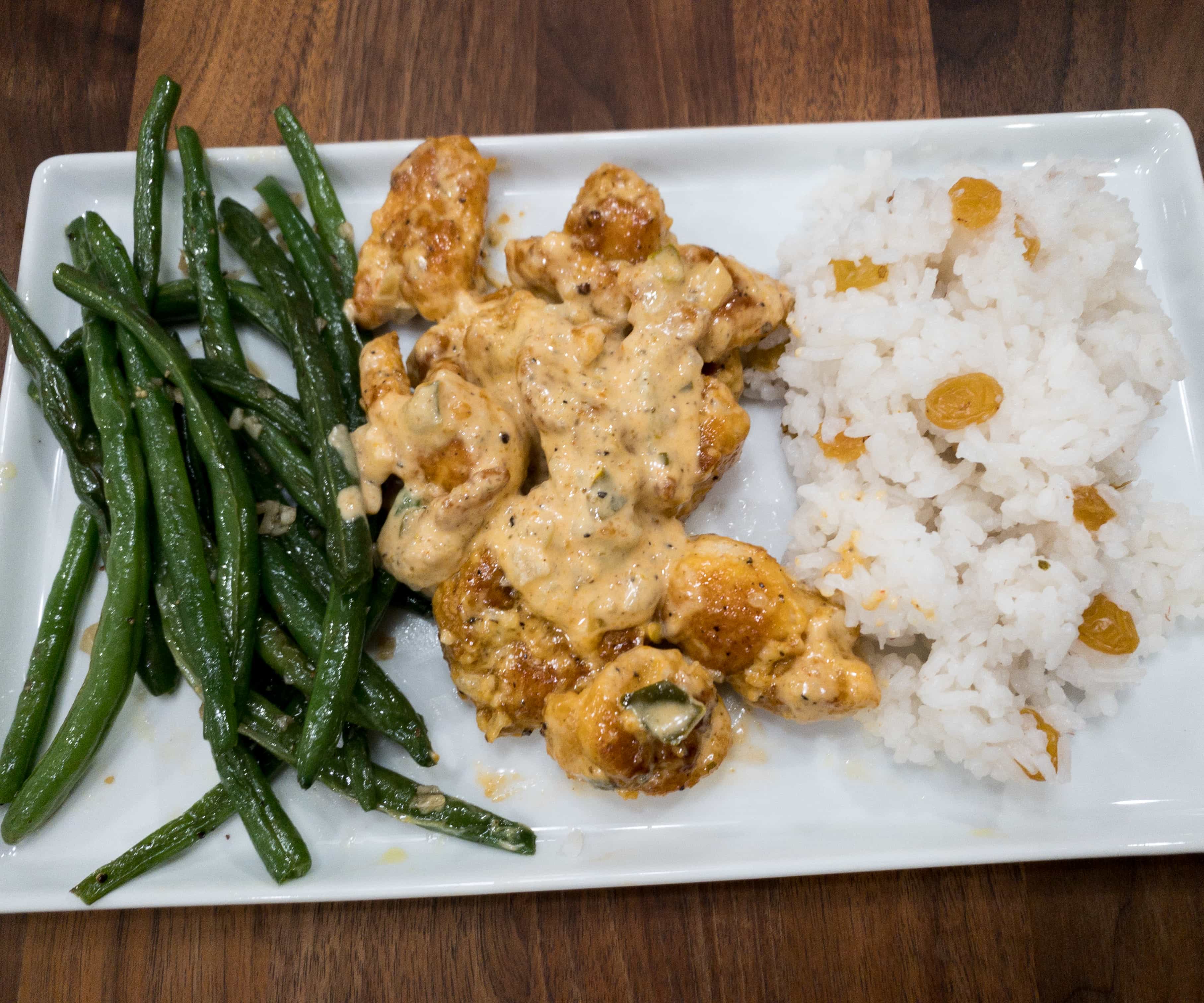 The side of sauteed green beans and jasmine rice with golden raisins is the best complement to the dish, as they help balance the different flavors.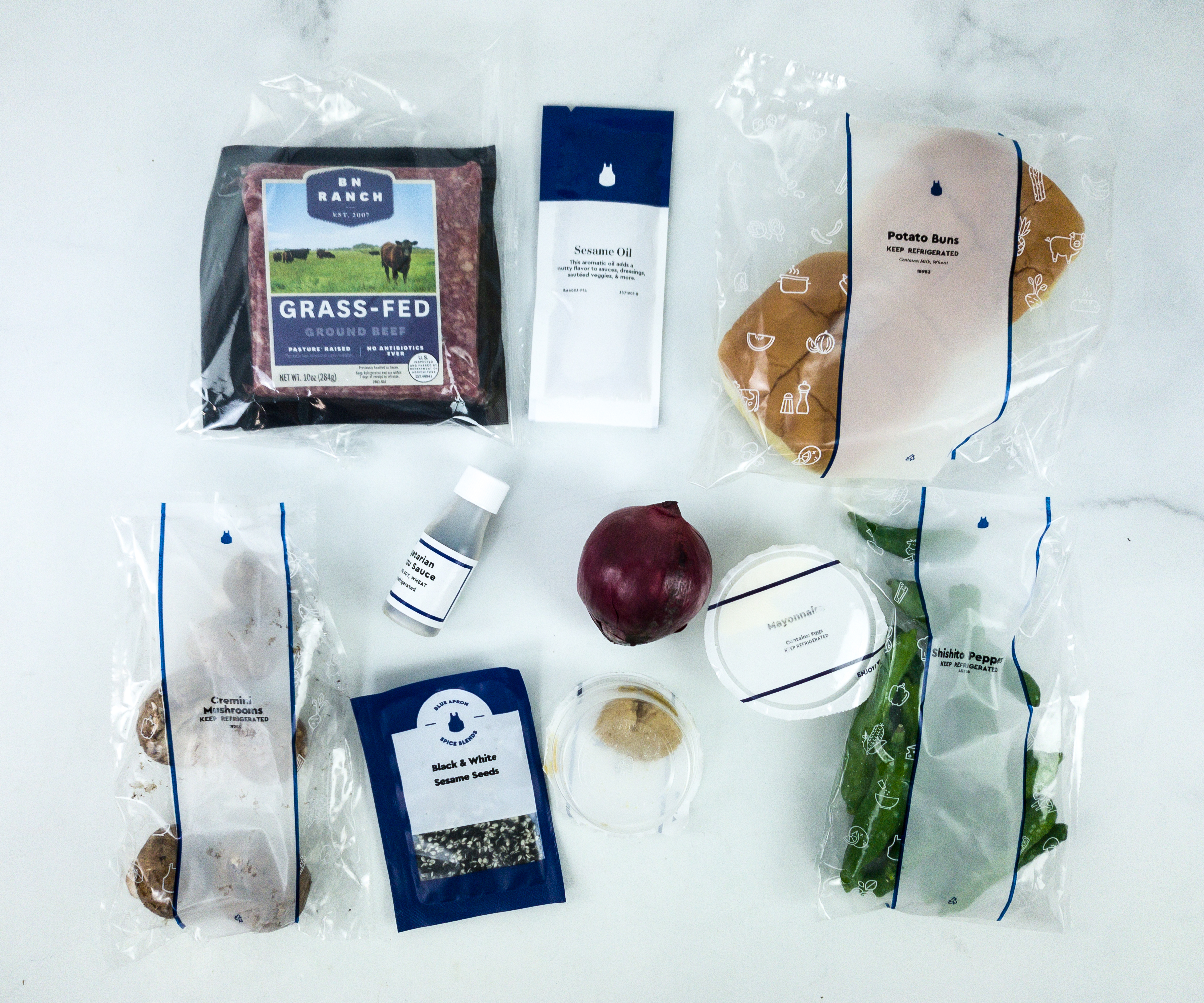 Miso-Ponzu Burgers with Sesame Shishitos & Mushrooms  –  35 minutes, 2 servings.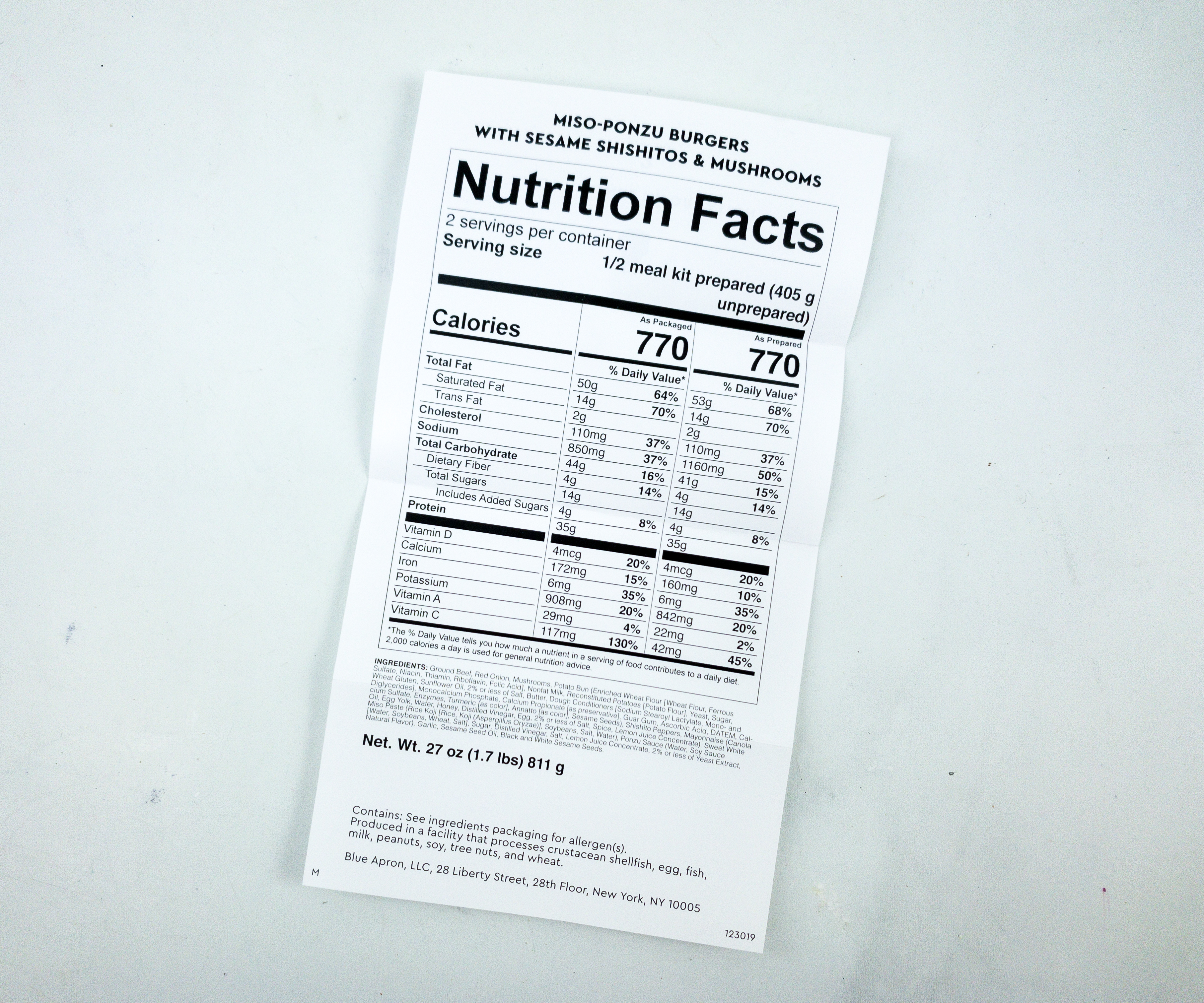 For this recipe, the calorie count as packaged is 770, and as prepared is 770.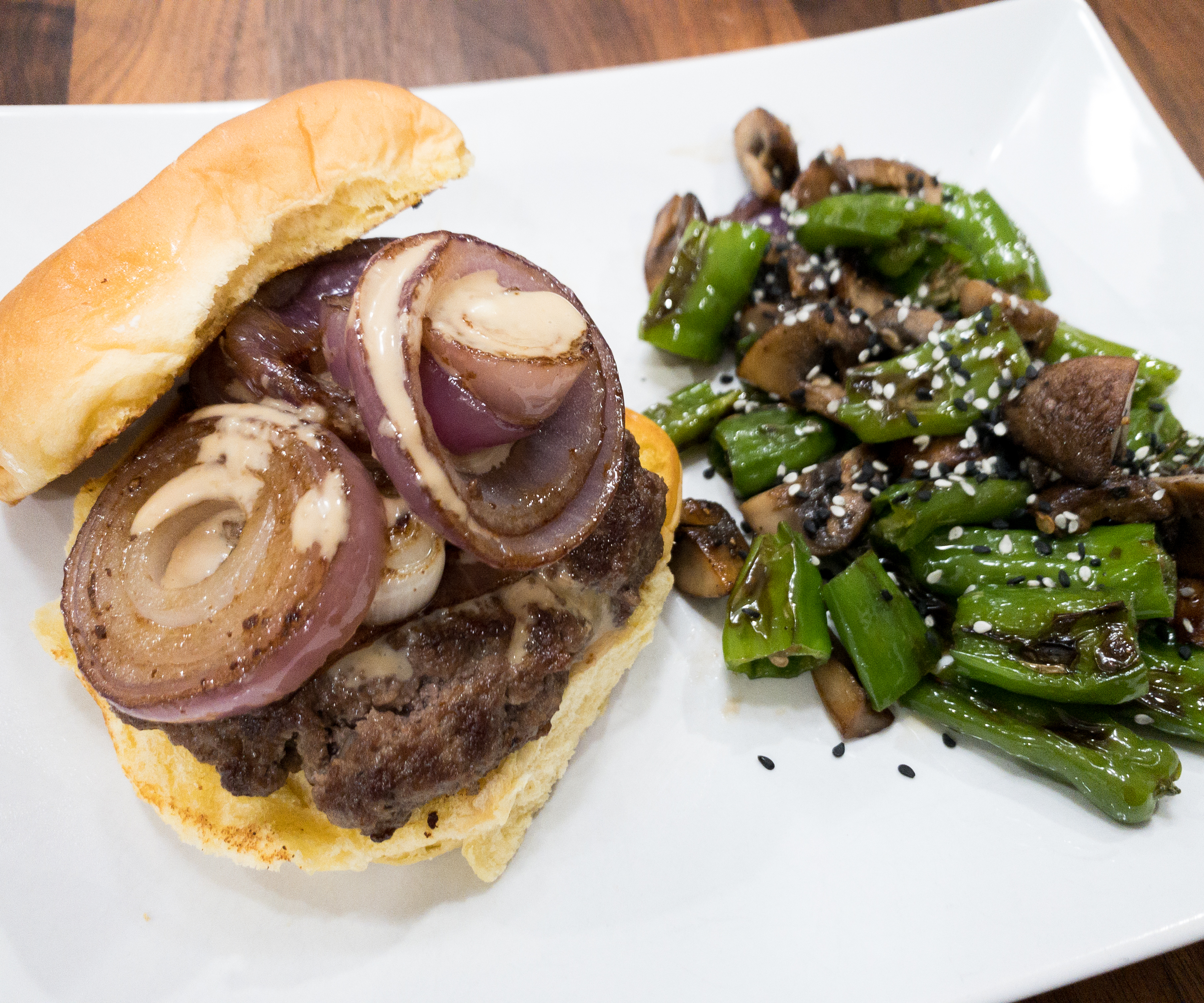 We love burgers, but this another one! The burgers are packed with flavors, and I love that my meat is slightly charred, giving it a distinct smoky flavor and added crunch, plus the crunch and juicy red onions.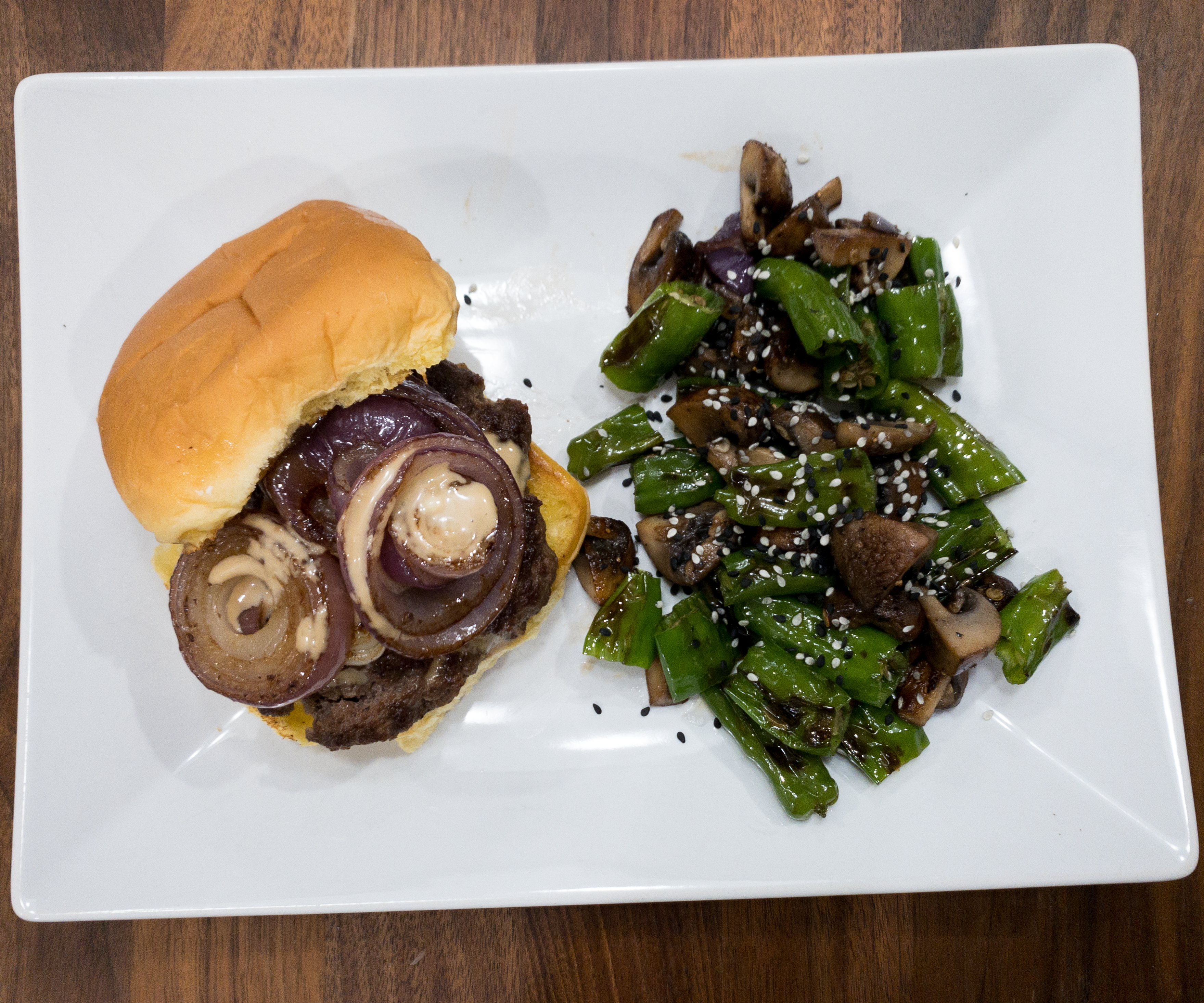 The buns are perfect for the patty and the condiments. However, toasting them is optional, but for added flavor and crunch, you can do so. Smother them with mayo, miso paste, and ponzu sauce, before laying the patty topped with onions, you can also add cheese if you'd like. The side of sauteed shishito peppers and cremini mushrooms is another one that makes this dish up by another level. Adding hot sauce is a certified game-changer too!
Easy-to-cook and filling meals are what Blue Apron meal box is all about! They make cooking an easy task, and a thing that everyone can enjoy. Through this subscription, I love how I'm able to save time without sacrificing the taste of our meals and, of course, the quality time with my family. Each box contains almost all the ingredients needed for the recipes, and sometimes, they throw in more than what's needed, like a large bulb of garlic that I can use for other recipes, and not just for one. The recipe sheets are well-detailed, they also come with a nutrition fact sheet, the prep time, and the serving size. Following the instructions is as easy as counting 1-2-3, and the meals are prepped in no time, all that we have to do is enjoy a filling meal, and a great conversation with the whole family!
What did you think of these recipes from Blue Apron?