BlendBee is a monthly subscription that sends two bags of delicious loose leaf tea blends, and the bags are even personalized with your name! BlendBee has recently rebranded and you can choose your blends and pick the frequency of your shipment – either monthly, every other month, or once a quarter. You can also choose between Caffeinated, Decaffeinated, or Both and the price is $20 for two 2 ounce bags, about 40-60 cups of tea. Shipping is included for the US!
Fact: there's nothing better than a new package of well-blended tea every month. A monthly tea club membership is a delightful opportunity to explore a variety of teas, refine your palate, and diversify your habits.

Plans are 100% personalized – after getting a sense of your taste, our busy bees will balance and blend high-quality ingredients to create a customized package for you or your recipient. Pass the biscuits.
DEAL: Get 20% off your order! Use the coupon code HELLO20.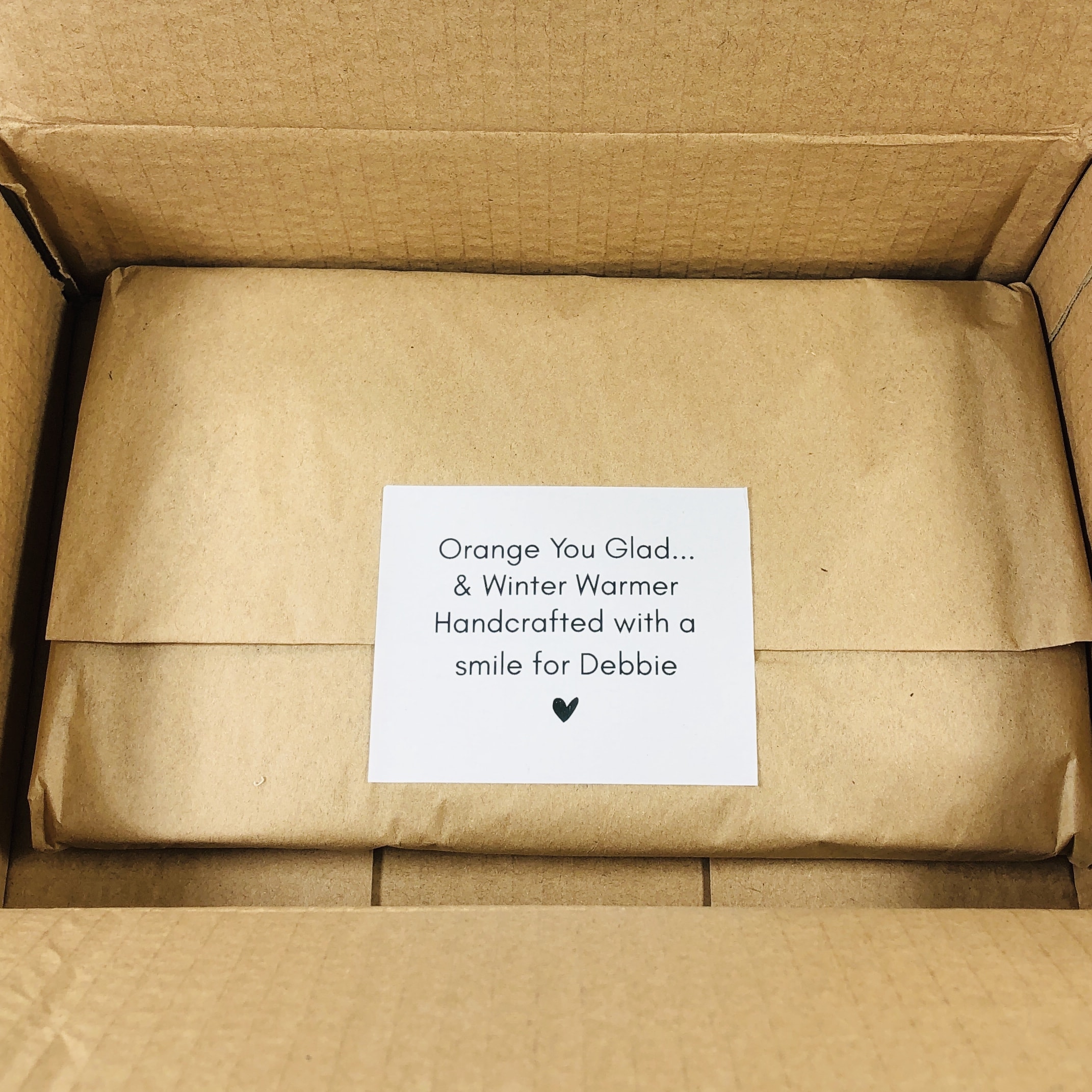 When I opened the box I could see the names of the teas that were sent!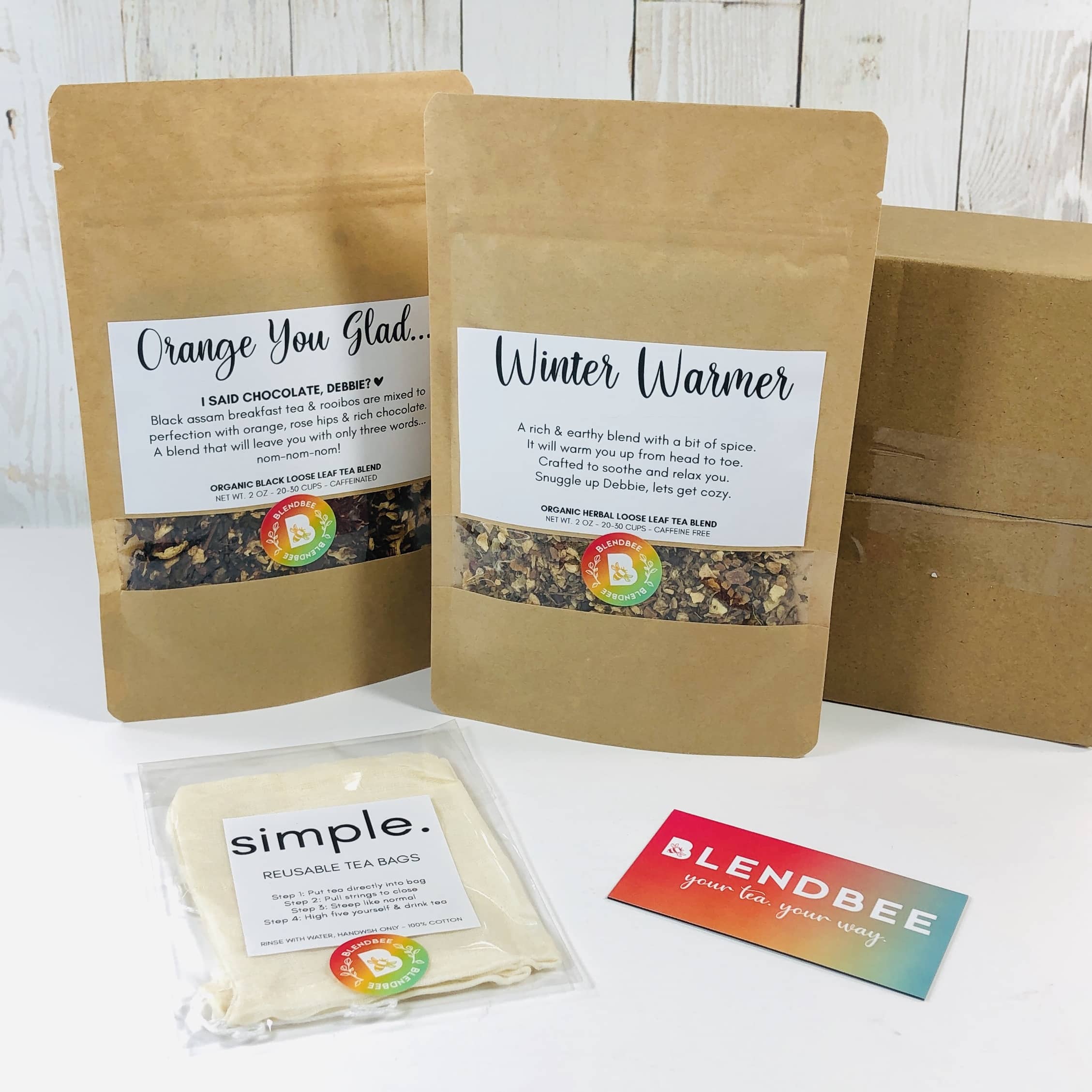 Everything in my box!

I received a business card with contact info and social media handles.
I also received two reusable muslin bags.
These should be hand washed only and are used for steeping the tea – just place the tea inside the bag, close the string, and place in a cup before pouring water.

Winter Warmer ($15 for two ounces) I love the way the bags are personalized with my name, what a cute touch! I also think the names of the tea themselves are hilarious and you can find an assortment of teas such as Fertilitea and Jamaica Me Blush. Want to create your own blend? You can do that too!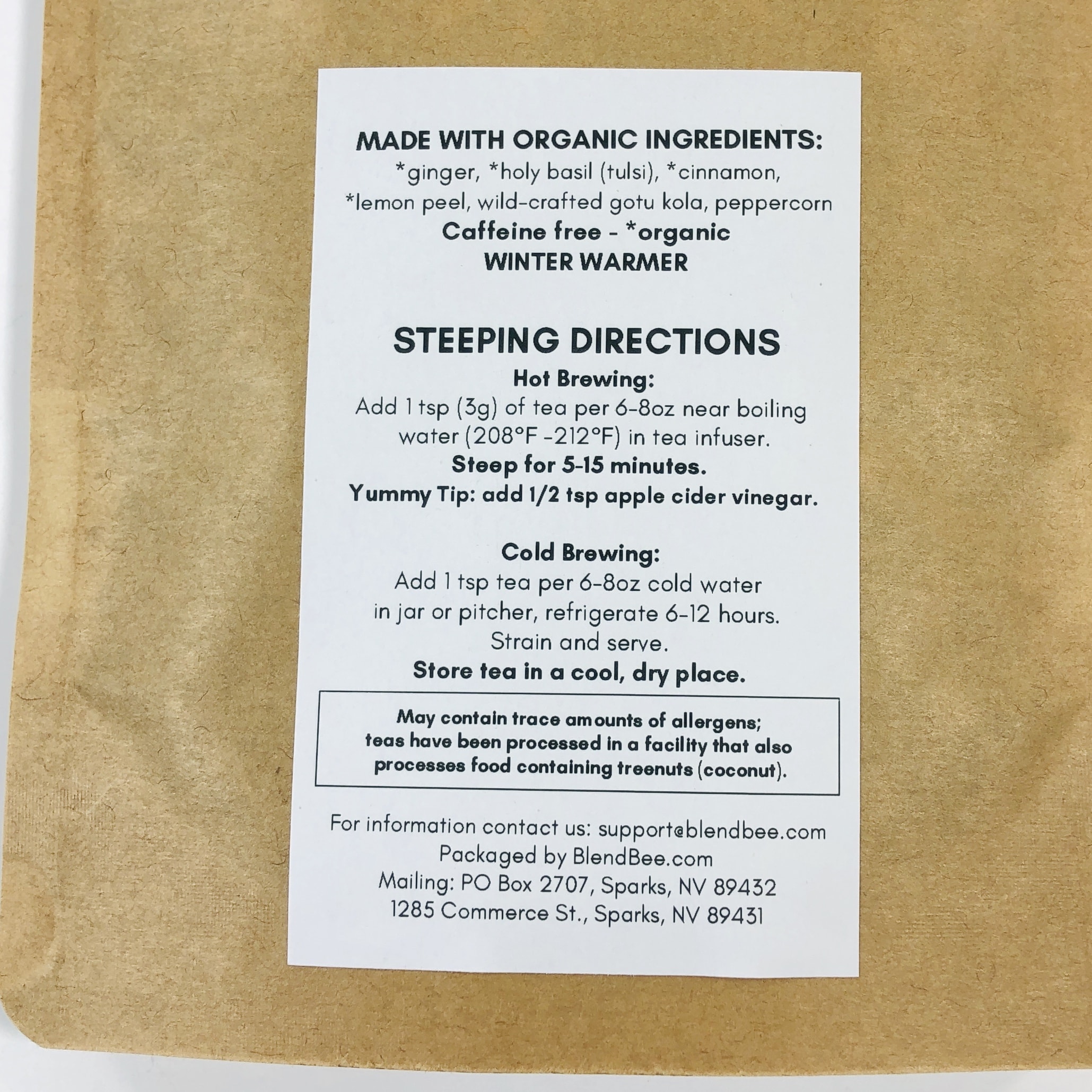 Steeping instructions and ingredients are listed on the back of each bag. If you go to the website you can learn all about each ingredient that was used in the tea and its health benefits. Very informative!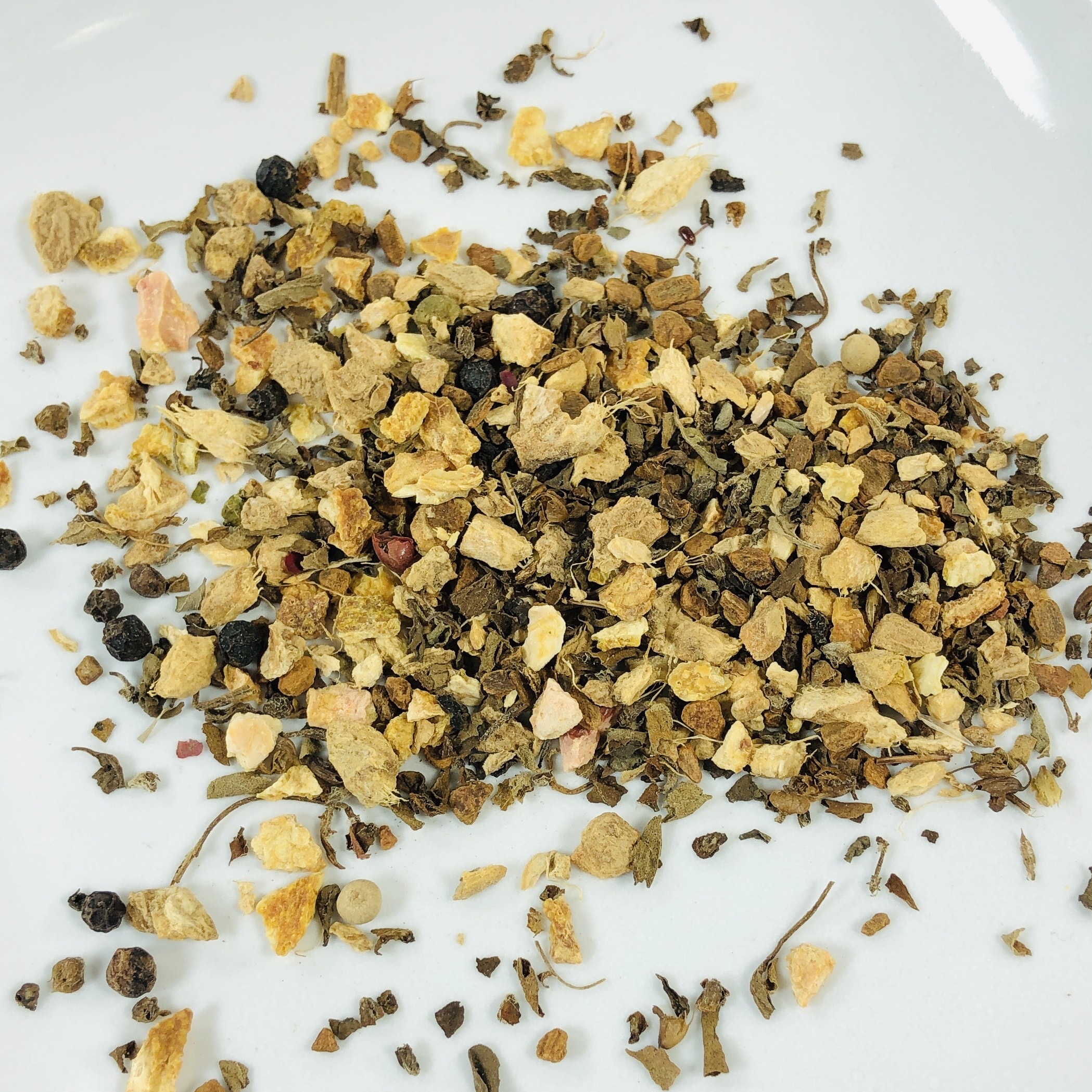 Ginger, tulsi, cinnamon, and pepper are a few of the ingredients but don't make the mistake of deeply sniffing the dry tea unless you need a good sneeze or four. It has a spicy flavor thanks to the pepper and ginger and it is warming. My daughter had the flu and I brought her some of this and she said it smelled like Christmas!
Orange You Glad I Said Chocolate ($16.75 for two ounces) is a caffeinated blend that has a base of Assam black tea and a host of tasty aromatics.

I used 1.5 teaspoons because black and rooibos blends are usually not strong enough for me but of course everyone's taste buds are different!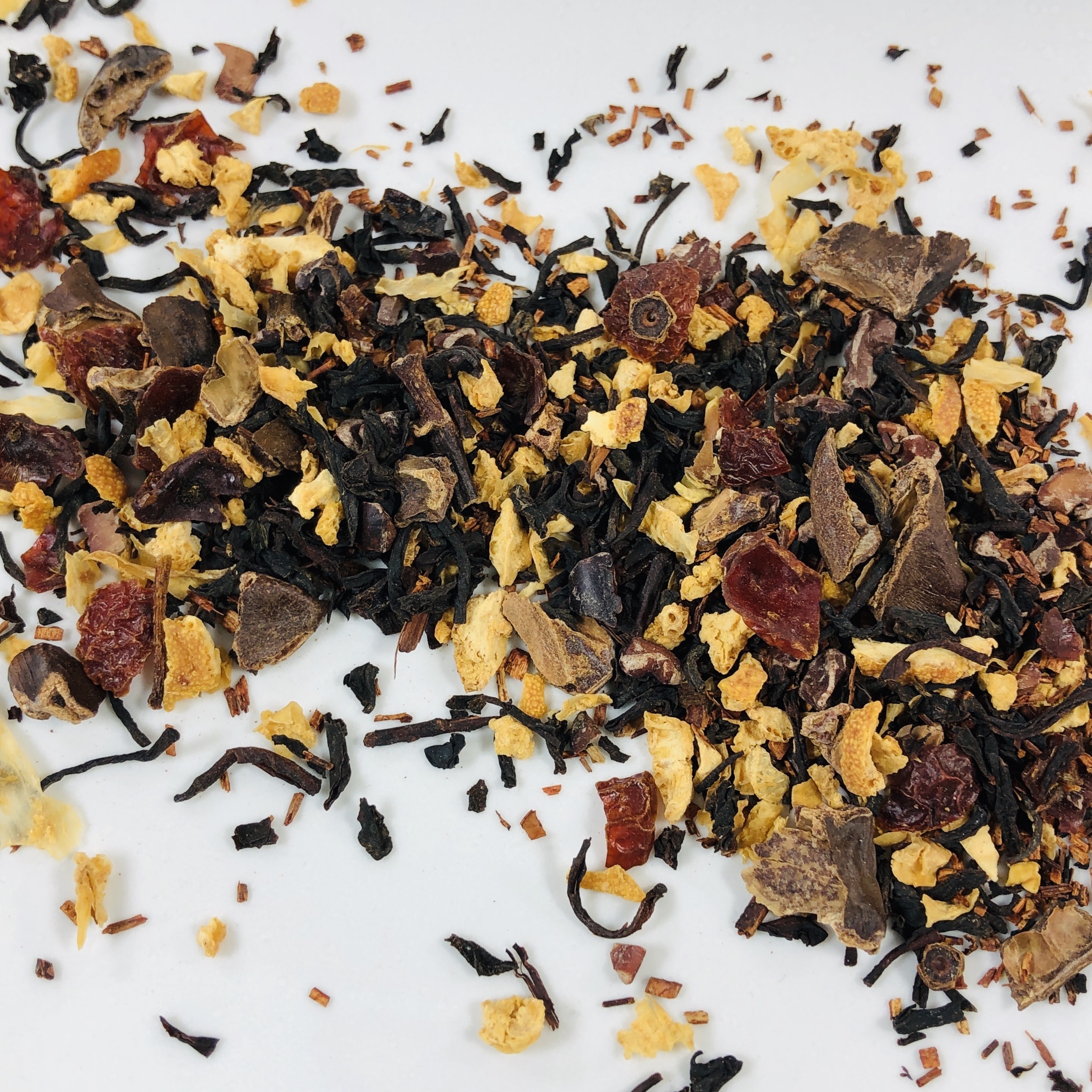 I could see the pieces of dried orange peel and cacao nibs. I found the tea to be tasty and mild. I added sugar and milk and it was like I was having dessert in the middle of the afternoon.

BlendBee is a fun tea subscription to try and I love that you can choose your own teas! That makes it exceptionally customizable and is perfect for those who want more control of their beverage ingredients. The teas were high quality and tasty and the packaging is some of the best, it was pretty cool to see my name on the labels! The amount of tea sent was generous too and enough for plenty of cups throughout the month. If I bought my teas without the subscription I would have paid at least $31.75 so getting them both for only $20 is a great deal!
What do you think of the BlendBee box?