Beachly, formerly Coastal Co., is a quarterly subscription that gives you a dose of the beach lifestyle no matter what season through apparel, accessories, and more. With 6-8 premium items, each box costs $99 and promises a $200+ retail value. Some of the brands they've partnered with include Puravida Bracelets, Aloha, Billabong, DIFF Charitable Eyewear, Havaianas, and more. Proceeds from every box sold fund monthly beach cleanups hosted by Heal The Bay.
DEAL: For a limited time, get a FREE BONUS BOX ($130+ value) with your Winter Box – that's over $380 value! Use the coupon code BONUSBOX at checkout!
OR Use the coupon code SEA25 to get 25% off your first box on any Beachly subscription!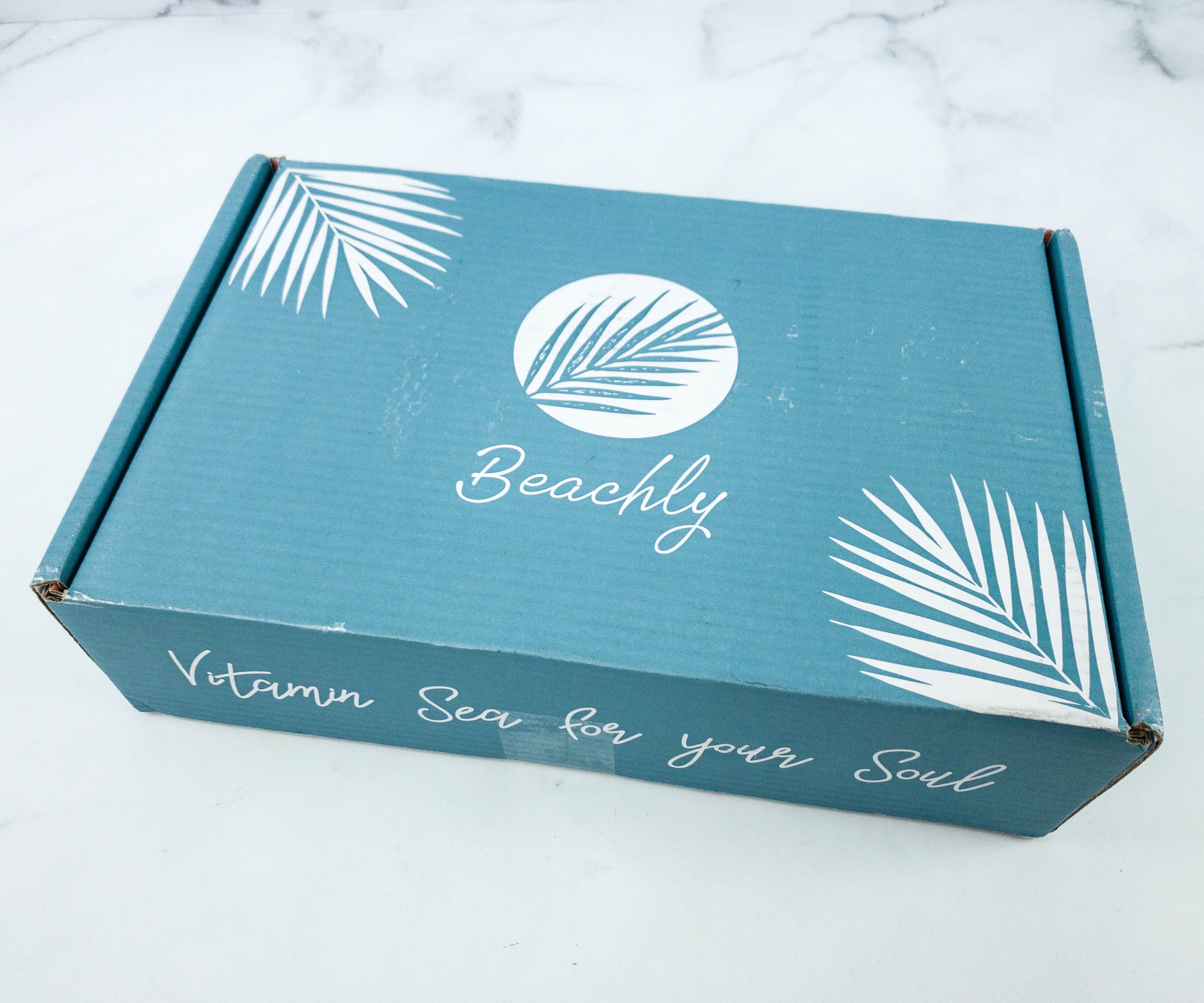 The items are inside a beautiful beach-inspired teal box that has palm print design with a motto written on the side:
Vitamin Sea for your soul.
The palm leaves/print is seen all throughout the box contents for this season.
A mini booklet sits on top of the box's contents! There was a nice pop of bright peach color inside the box.
The items were wrapped in this beautiful peach tissue paper, sealed with a sticker.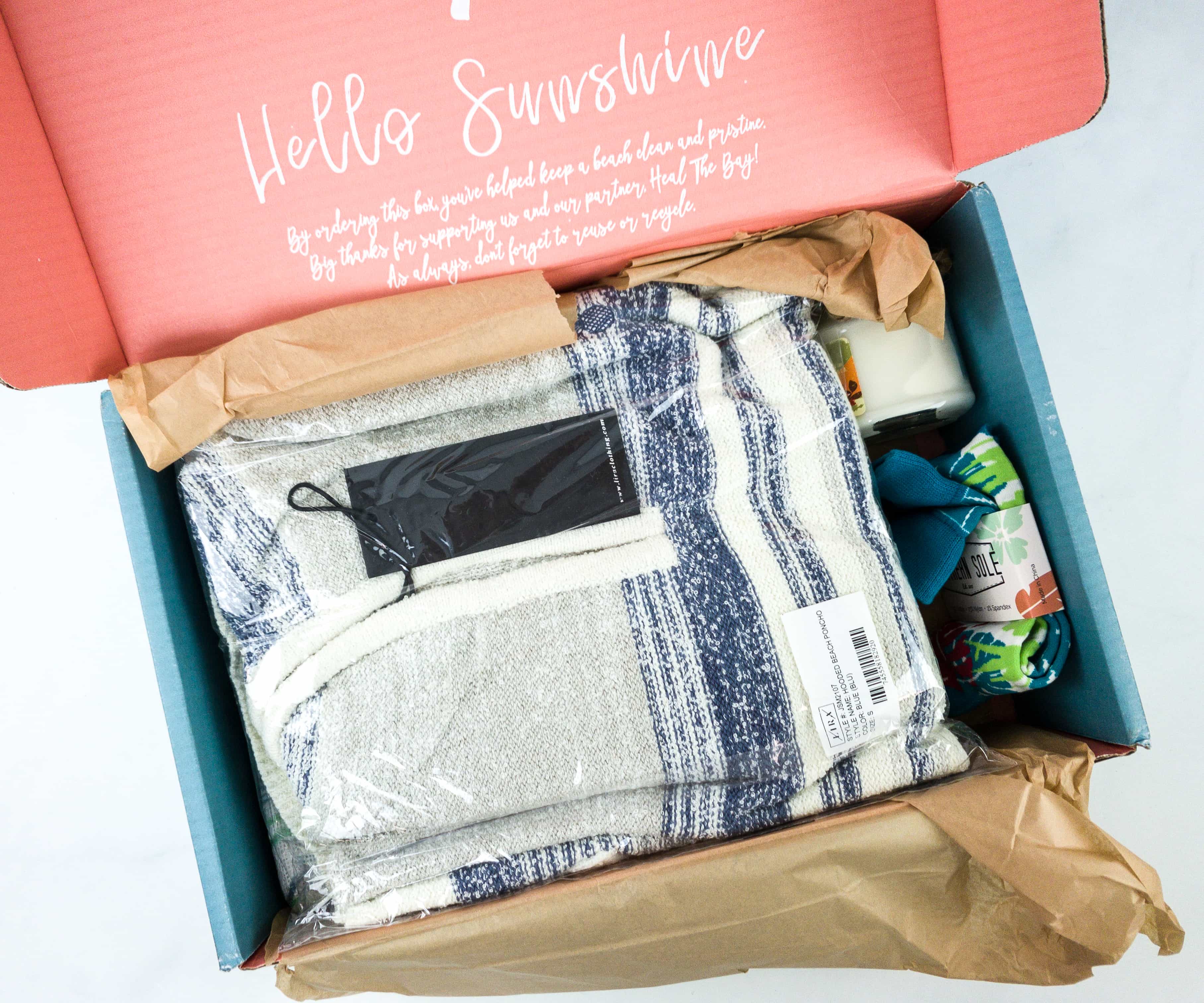 There is also a brown Japanese paper as the second layer covering and item protection.
The mini magazine's cover for Winter 2019/2020 has a beautiful photo of a woman with some palm trees on the background.
Inside the booklet is a letter from the curators and a list of all the contents of the box.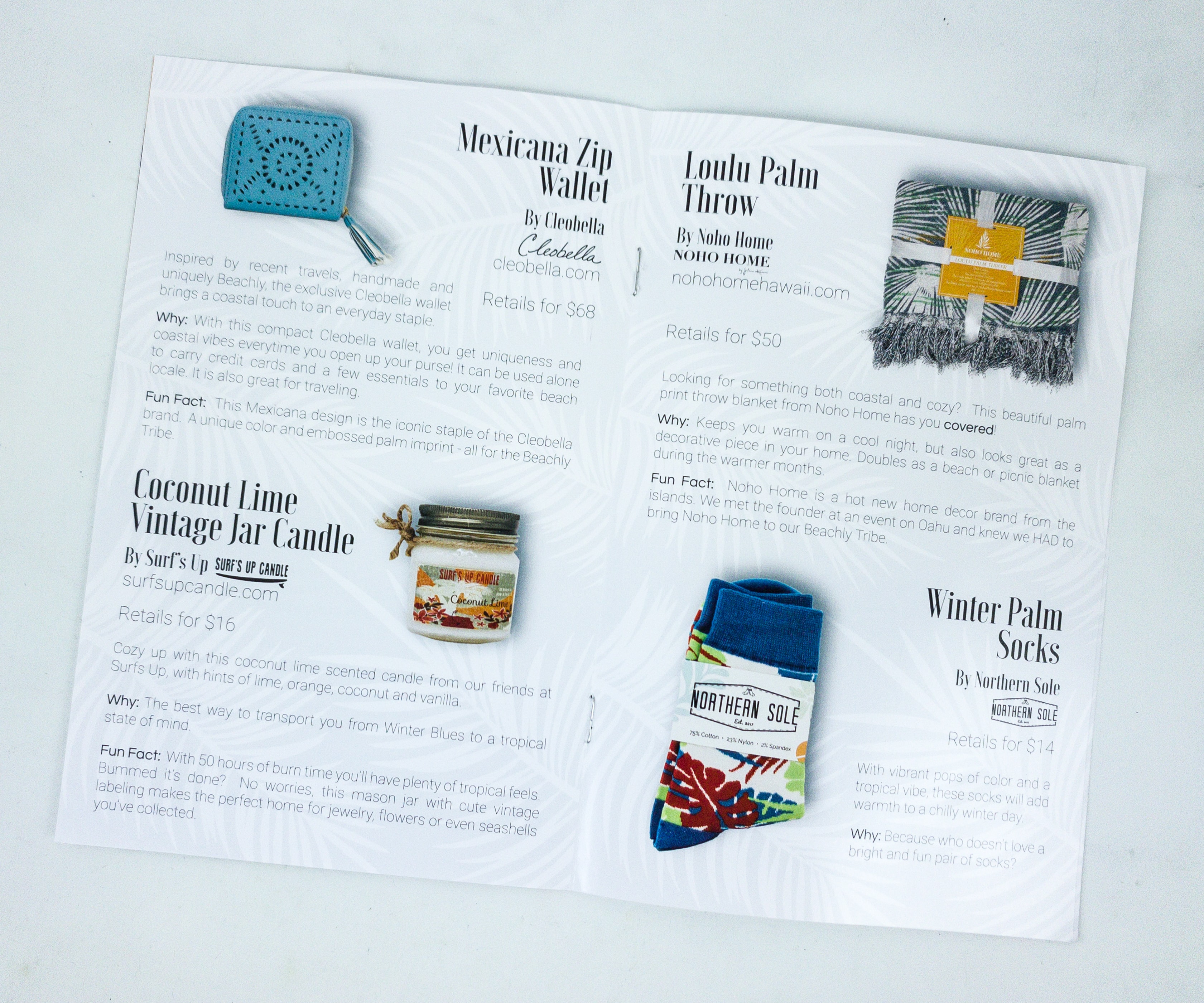 Each item in the info booklet has a product description, the reason why they chose it for the box, retail price, and a fun fact.
What's good about Beachly is that they partner with Heal the Bay to sponsor coast clean-ups in Los Angeles oceans and beaches through every box that they sell. Plus, there are lots of discount codes to some of Beachly's favorites brands.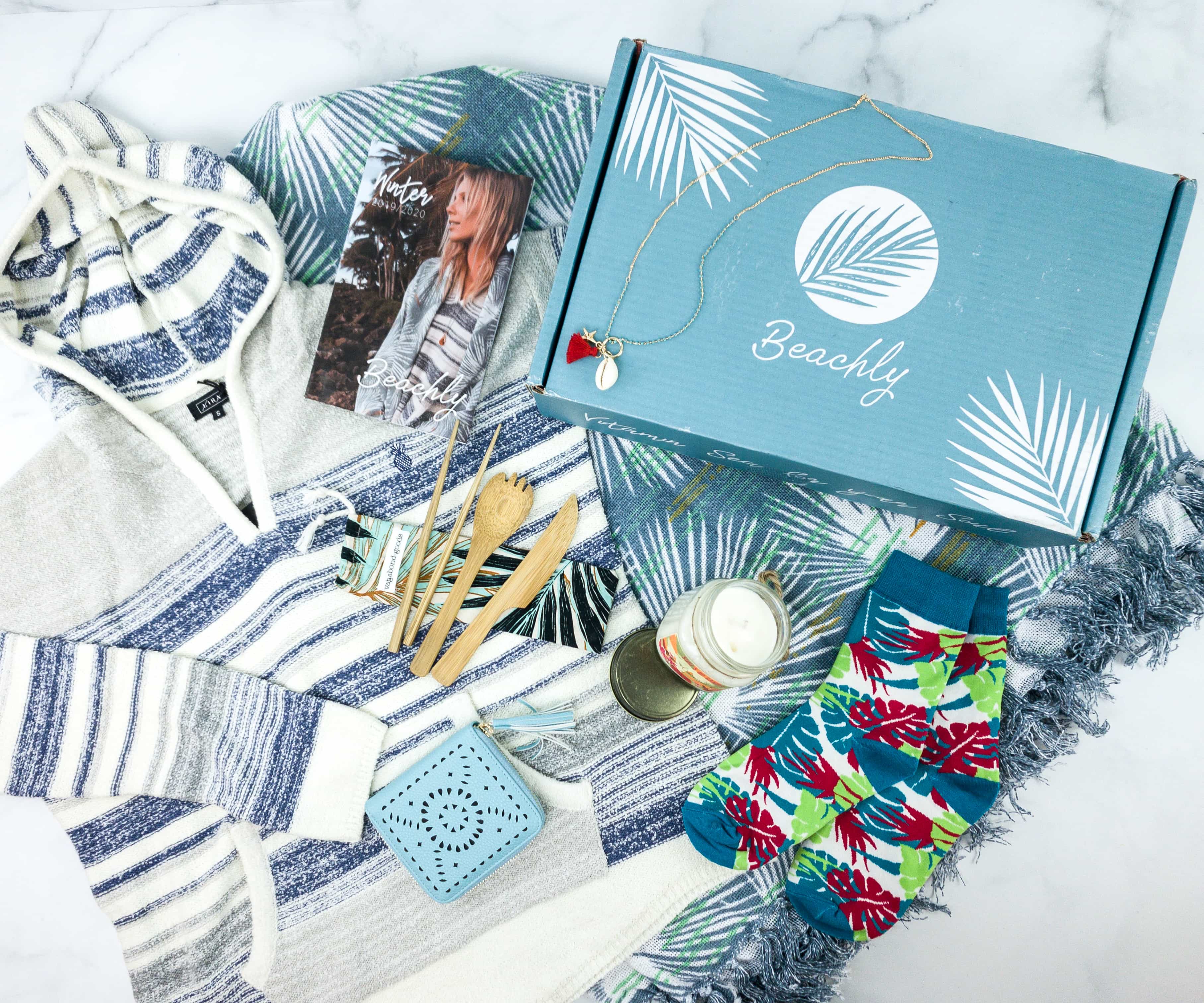 Everything in my Winter 2019 box!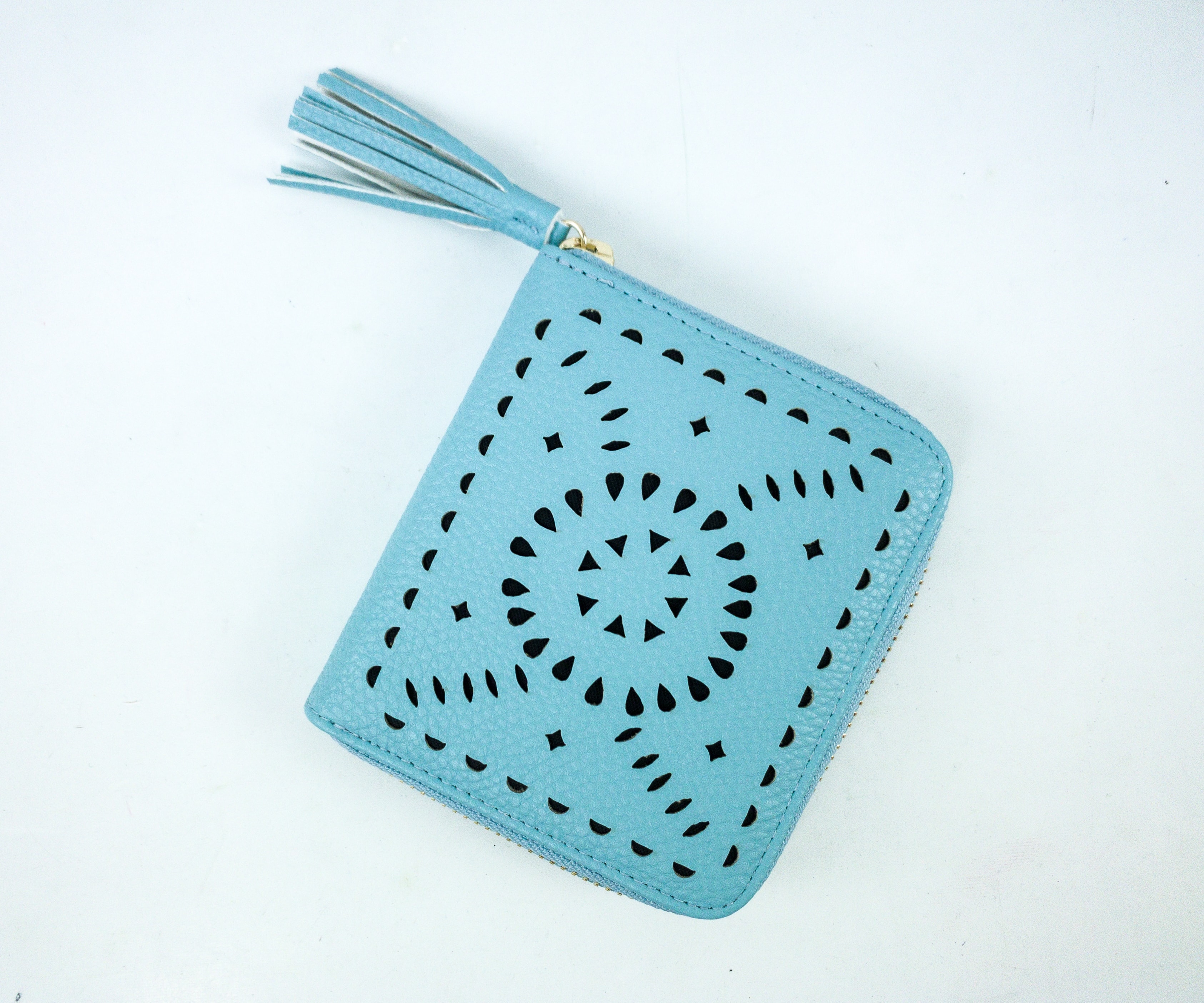 Cleobella Mexicana Zip Wallet ($68) This women's square zip wallet comes in turquoise blue color. It has the Cleobella signature hand-tooled cut-out detailing and is made with soft leather.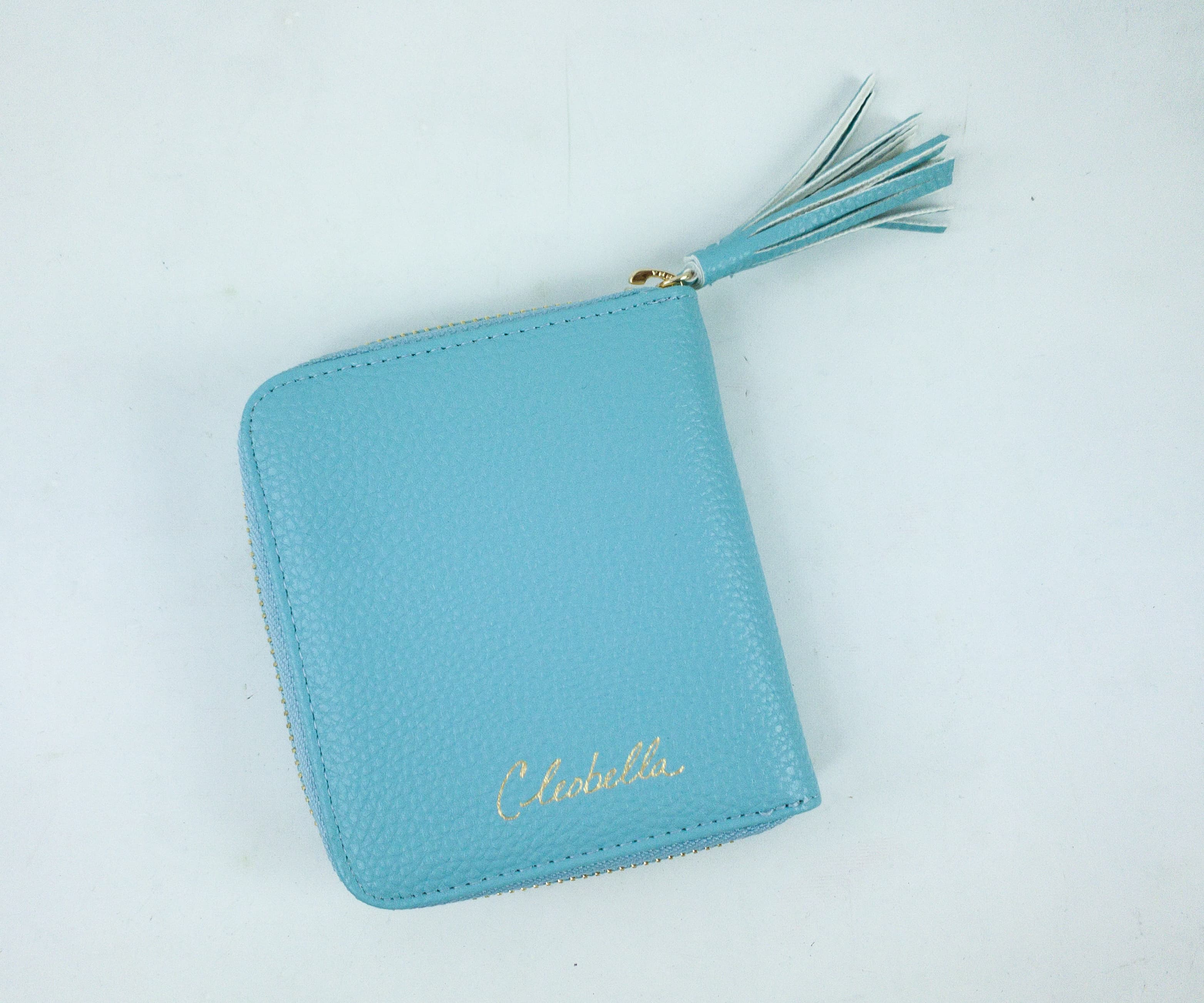 On the other side comes the signature gold cursive Cleobella logo. It also has a tassel on the zipper pull, as an additional accent and style.
Upon opening inside, there is an embossed gold palm imprint on one side while the other side has a 2 card slot and then a bill slot. The gold zipper perfectly matches the gold palm print. For its price, I'm not really a fan, but I find this wallet really cute and handy and I love it as long as I don't pay any mind to the MSRP!
Northern Sole Winter Palm Socks ($14) This pair of fun, brightly-colored winter socks is made of 75% cotton, 23% nylon, and 2% spandex.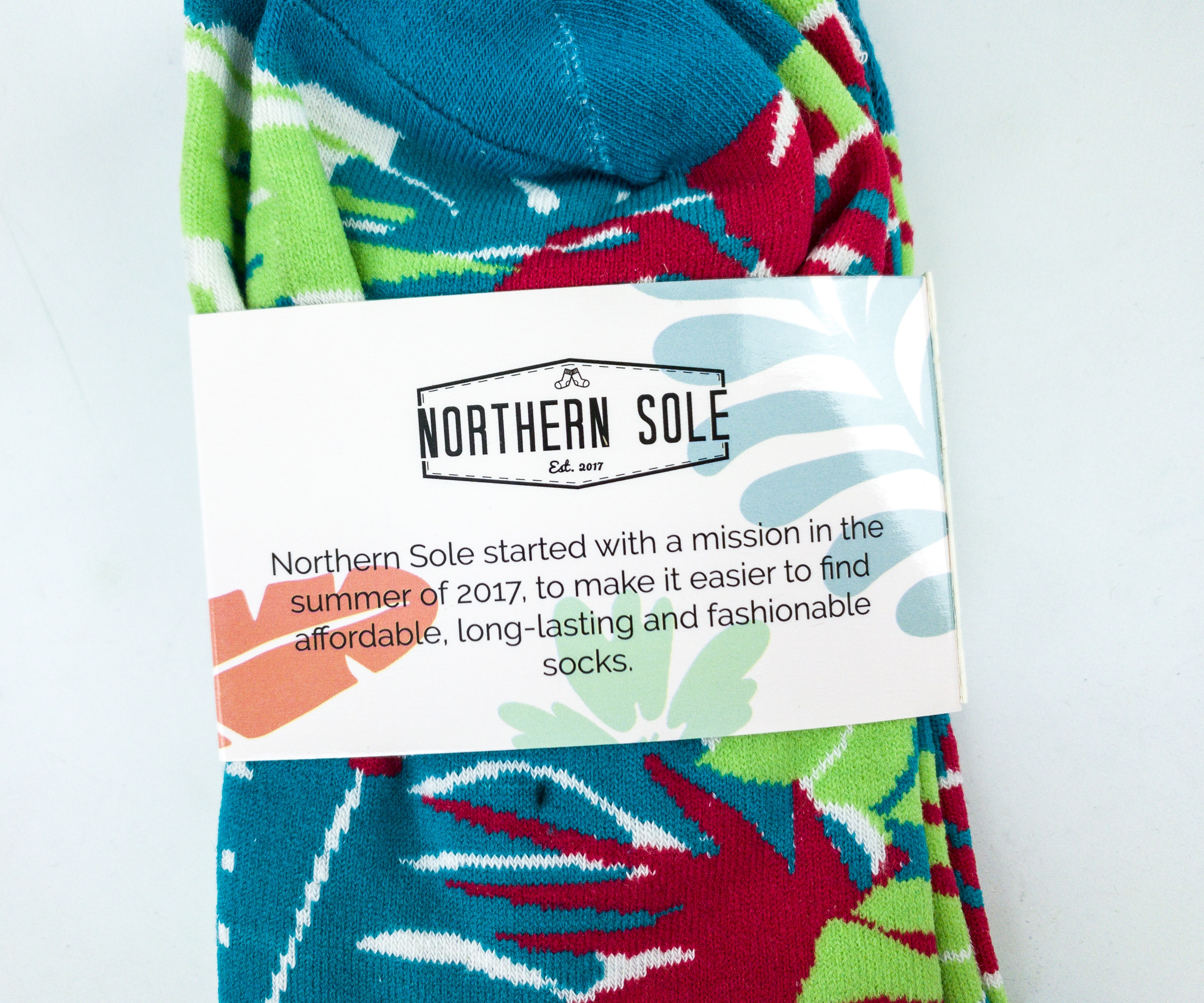 It offers comfort and style without compromising its warmth. For a winter sock, this feels so cozy and warm!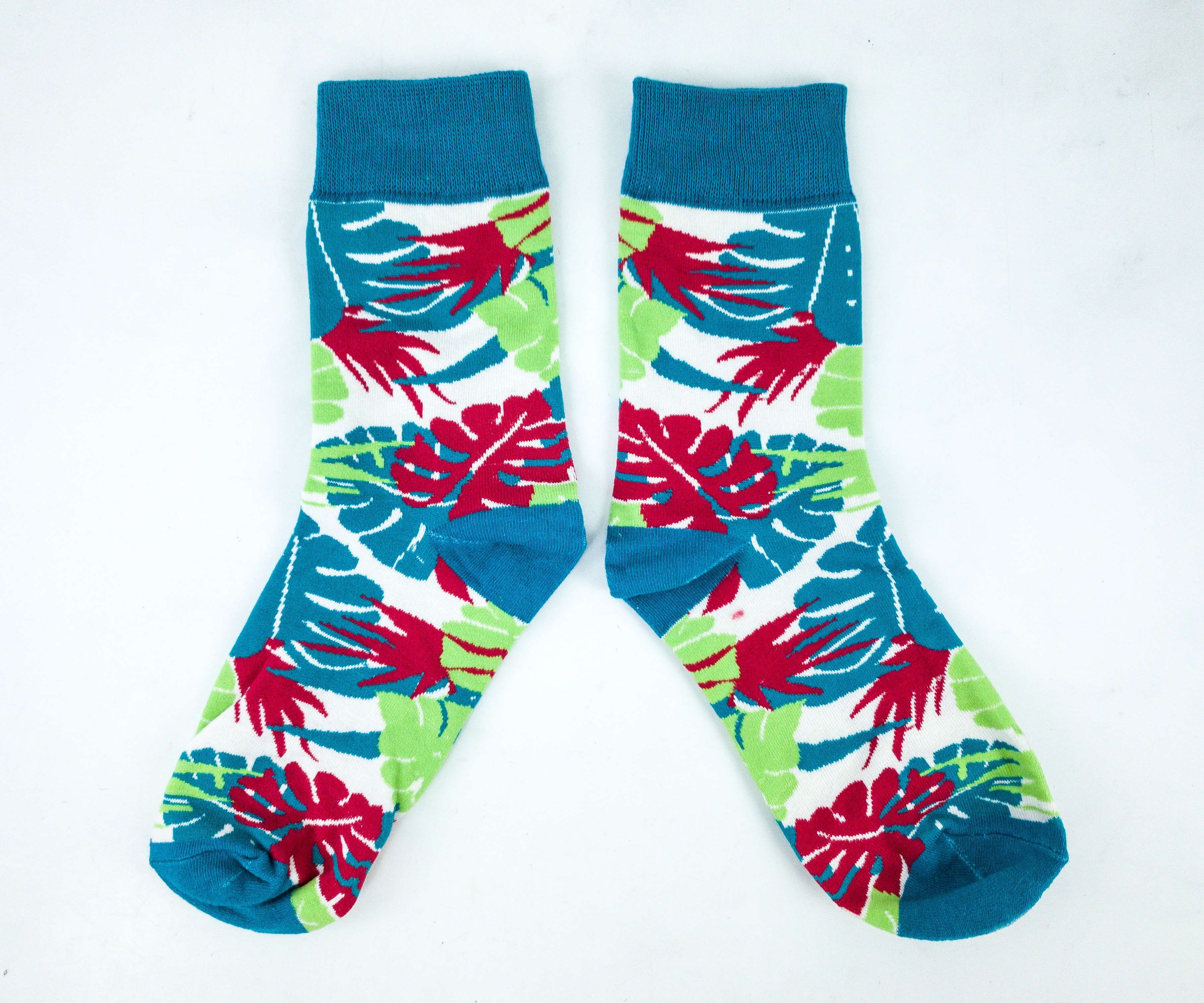 These crew length socks don't slip off easily. Palm leaves in different colors give the socks some island vibes and also bring a casual feel to any outfit.  Its cuffs, heels, and toes all come in teal green color.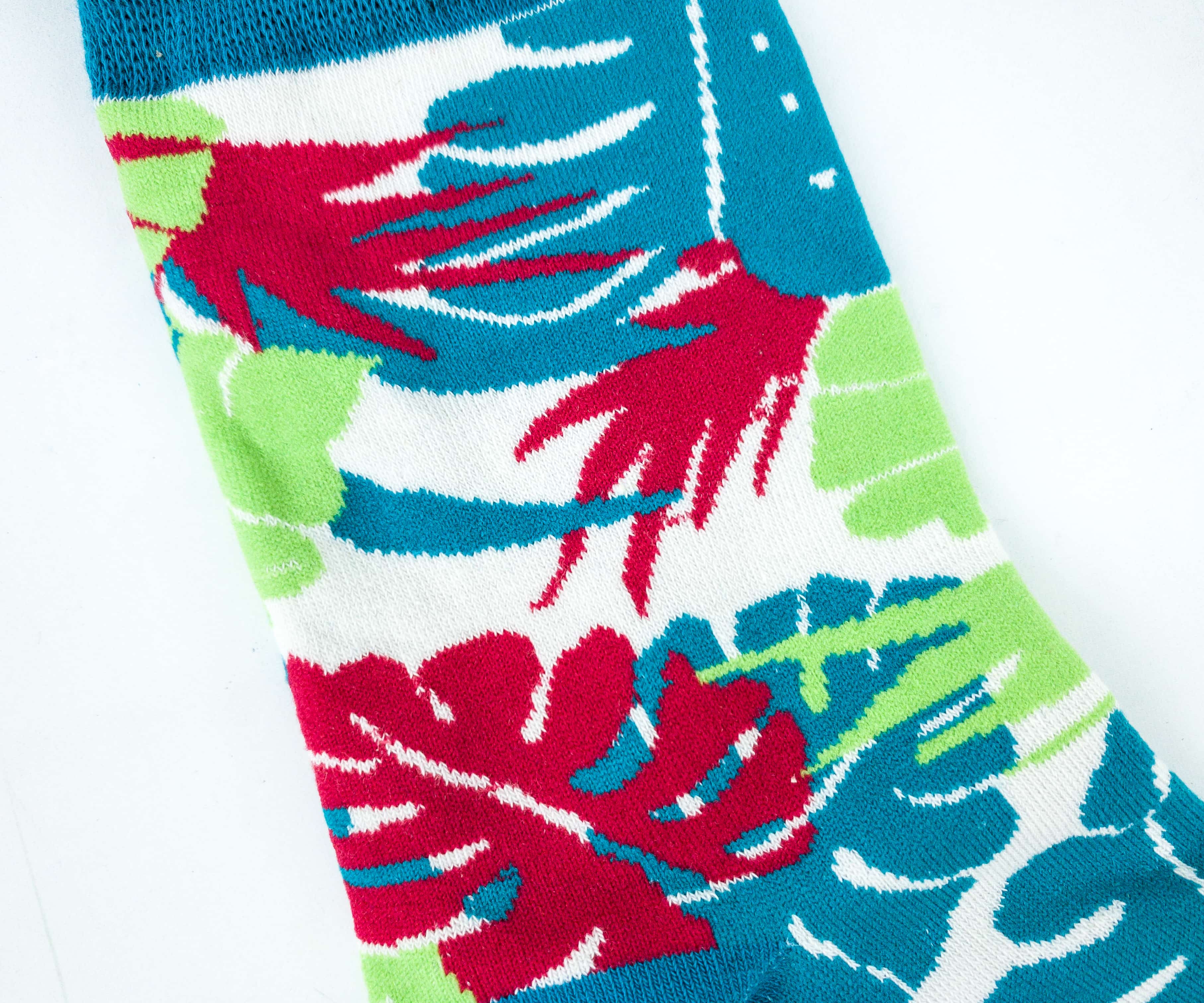 The palm leaves are in neon green, red, and teal, over a white background.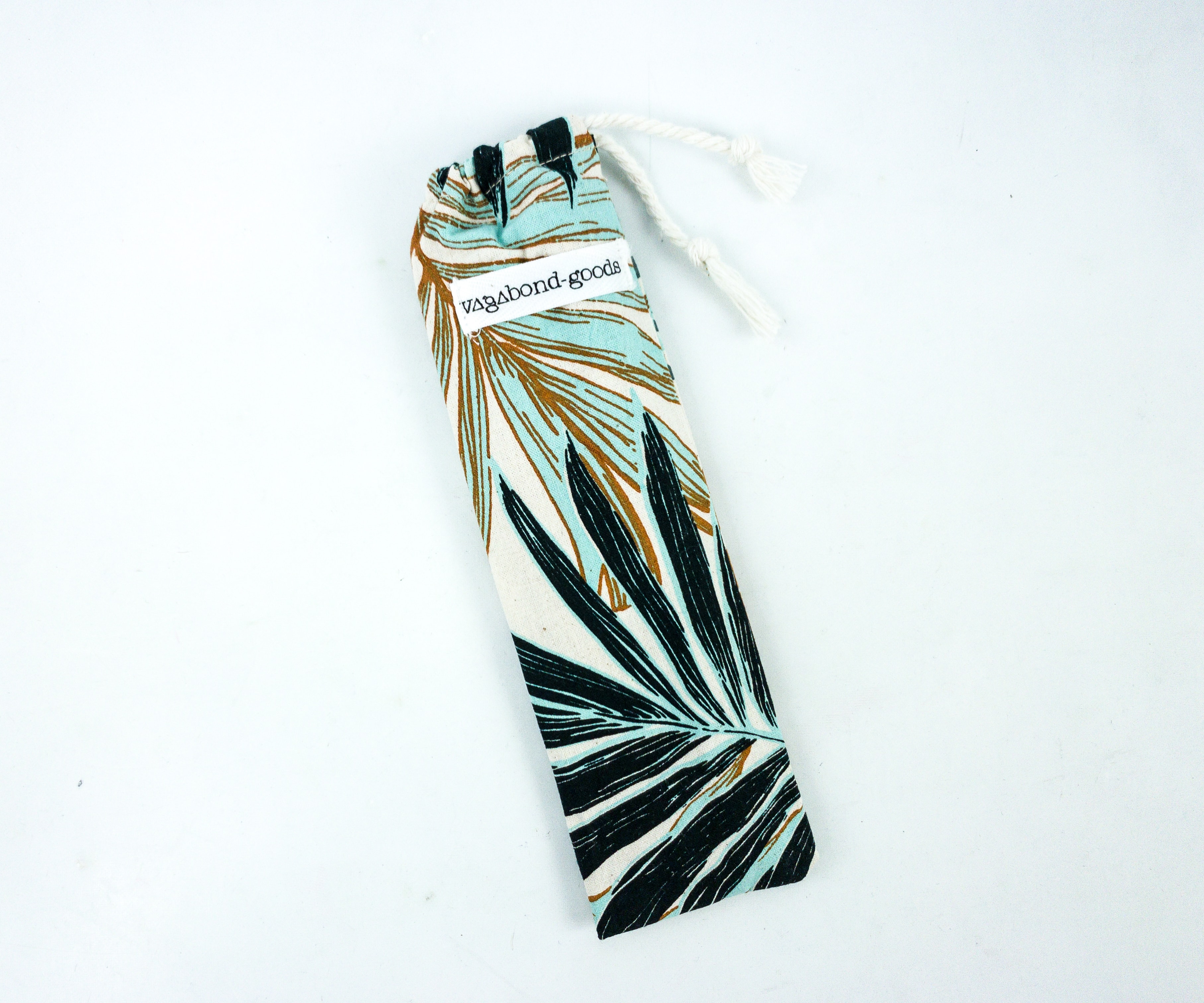 Vagabond Goods Palm Utensil Set ($20) This is a perfect bamboo utensil set while on-the-go, most especially on the beach. What makes it great is that it's sustainable and eco-friendly. The utensil set is kept together in a tropical-themed drawstring pouch with palm leaves, which is in line with the box theme.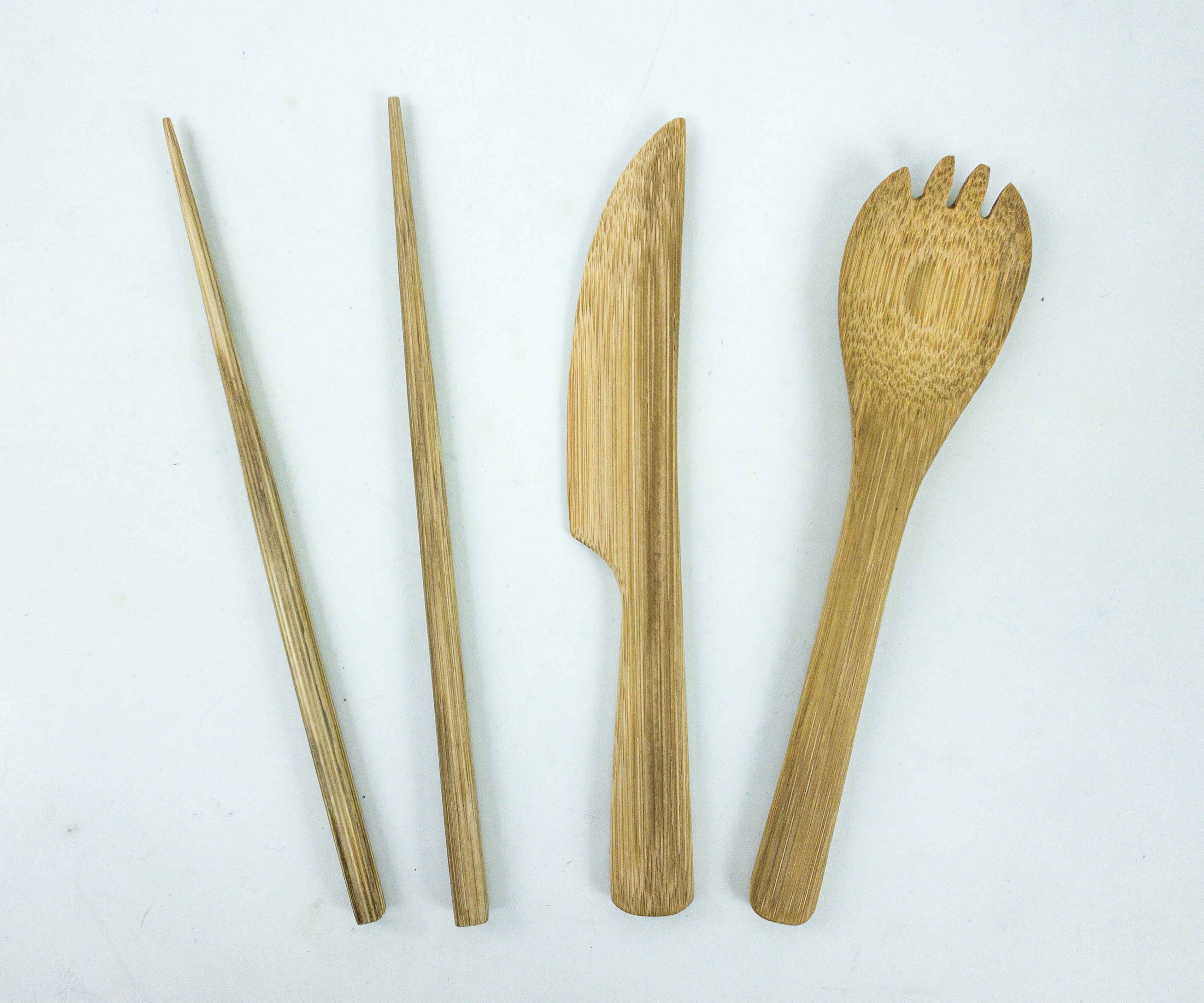 The set comes with a handmade bamboo knife, fork, and chopsticks created all the way from Bali. It's so lovely to be able to help the environment through a simple effort of eliminating single-use plastics and by using this reusable bamboo utensil set instead.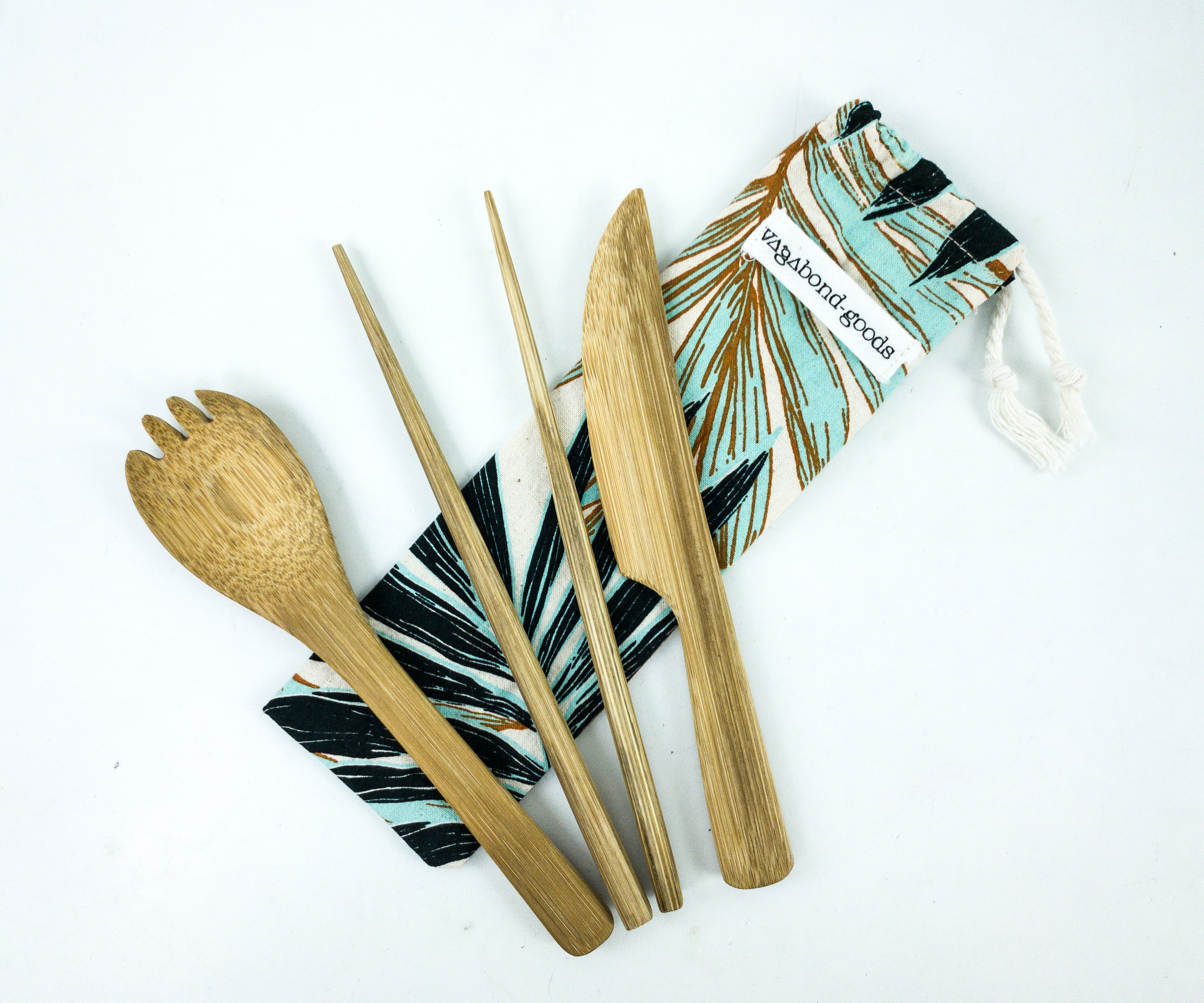 In this season's box, this utensil set is probably my favorite item. They were able to pull off and make this set beach-inspired through the prints on the drawstring pouch. It's very handy and I will make sure it will be kept in the car so that whenever we are on the road, we can eliminate the use of plastic utensils as much as we can.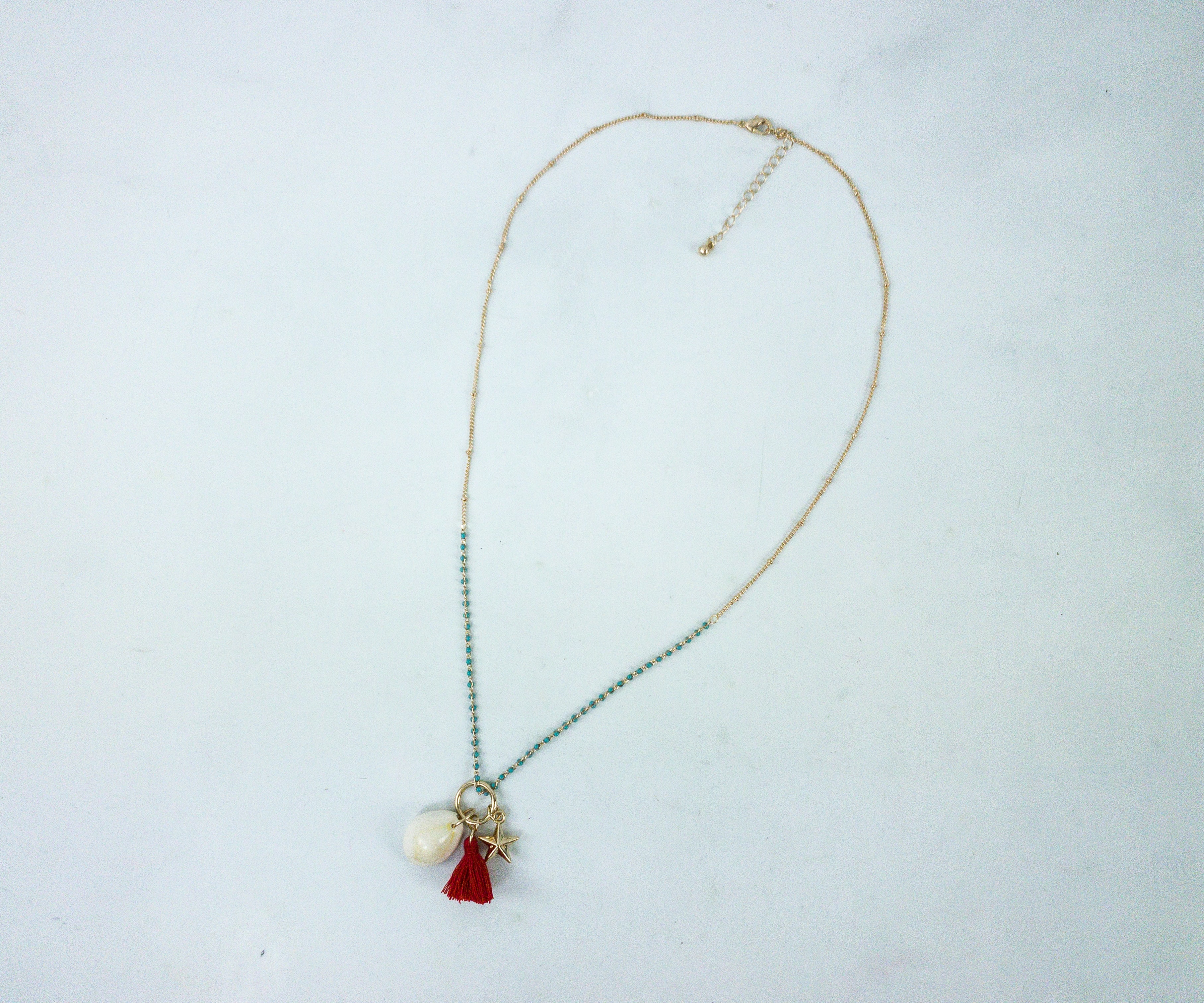 Fresh Produce Shell Necklace ($25) Every box from Beachly includes a piece of jewelry! This winter, they included a must-have statement necklace from Fresh Produce. It's the perfect top off to any beach or winter look with its gold chain accented with turquoise beads with the perfect beach-themed dangling charms.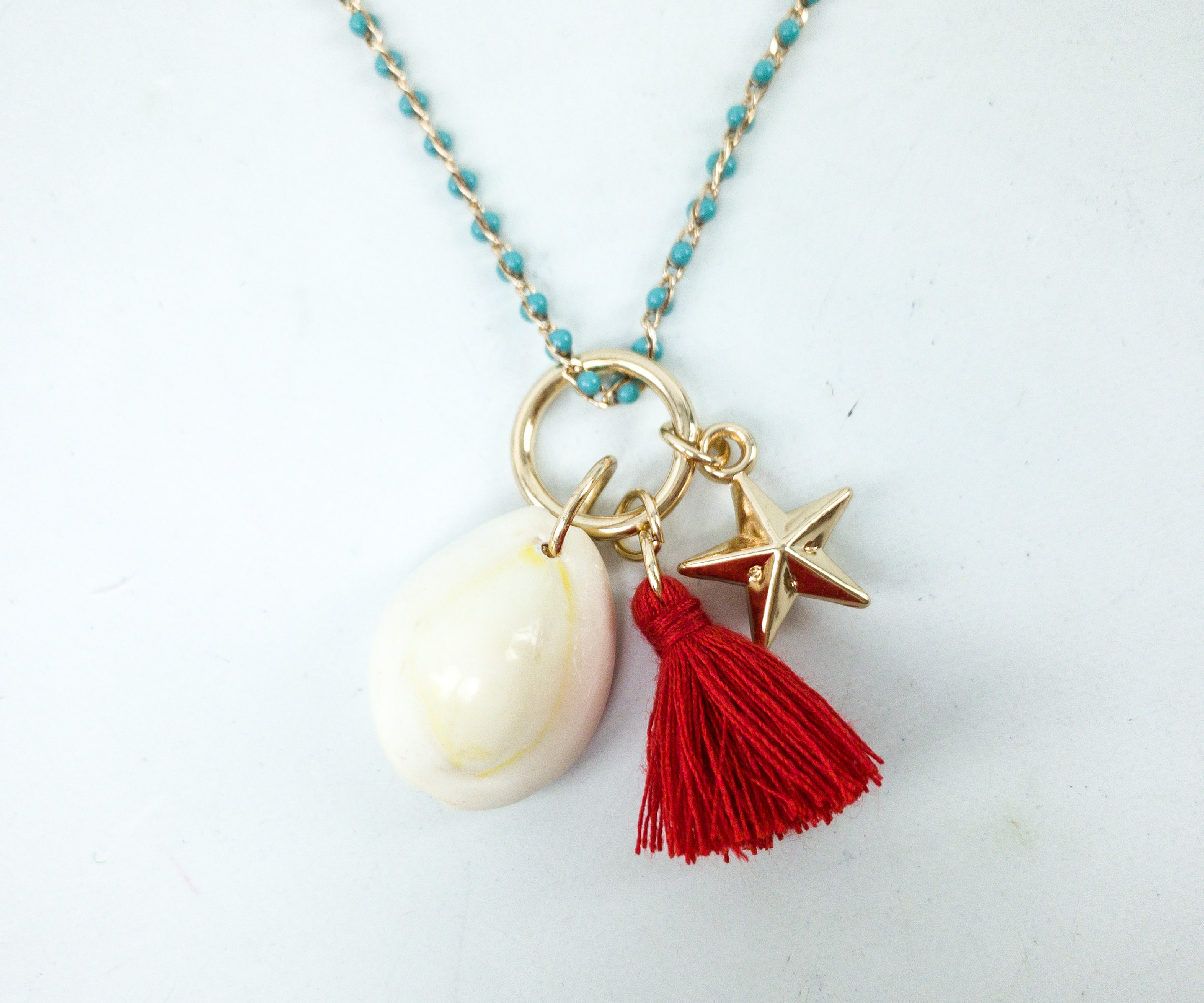 The special charms come with a white seashell, red tassel, and a golden star hanging from a gold-colored hoop of up to 15 inches length golden necklace chain.
This unique piece of jewelry can add a touch of the beach anytime. It can be well paired with jeans and a tee or add it to your existing necklaces for a layered look.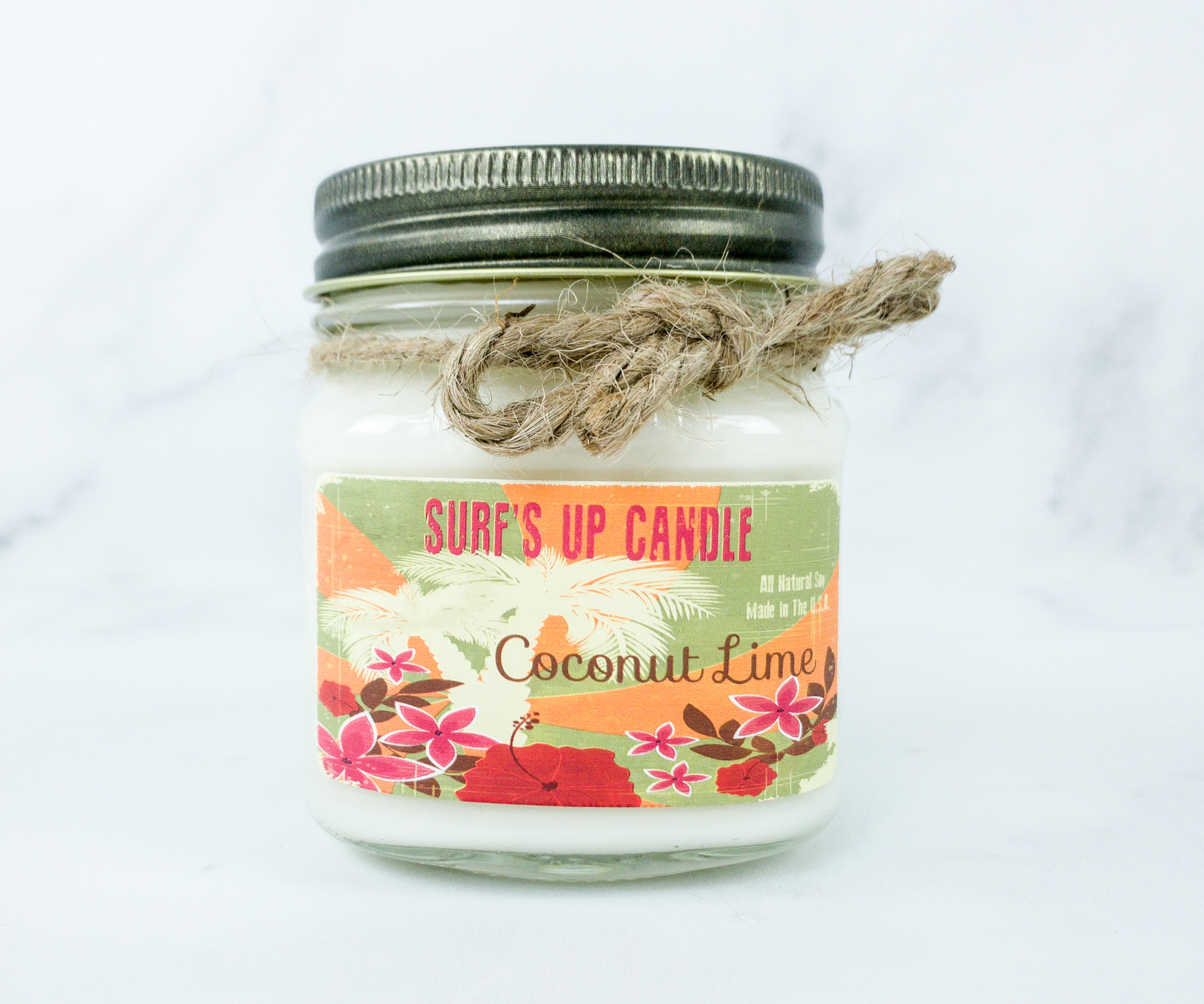 Surf's Up Candle Coconut Lime Vintage Jar Candle ($16) This hand-poured candle smells so good! It has a refreshing summer scent that reminded us of the seaside scent right away even in the winter. With its coconut lime scent, it is power-packed with the tropical aroma of lime, orange, coconut, and vanilla.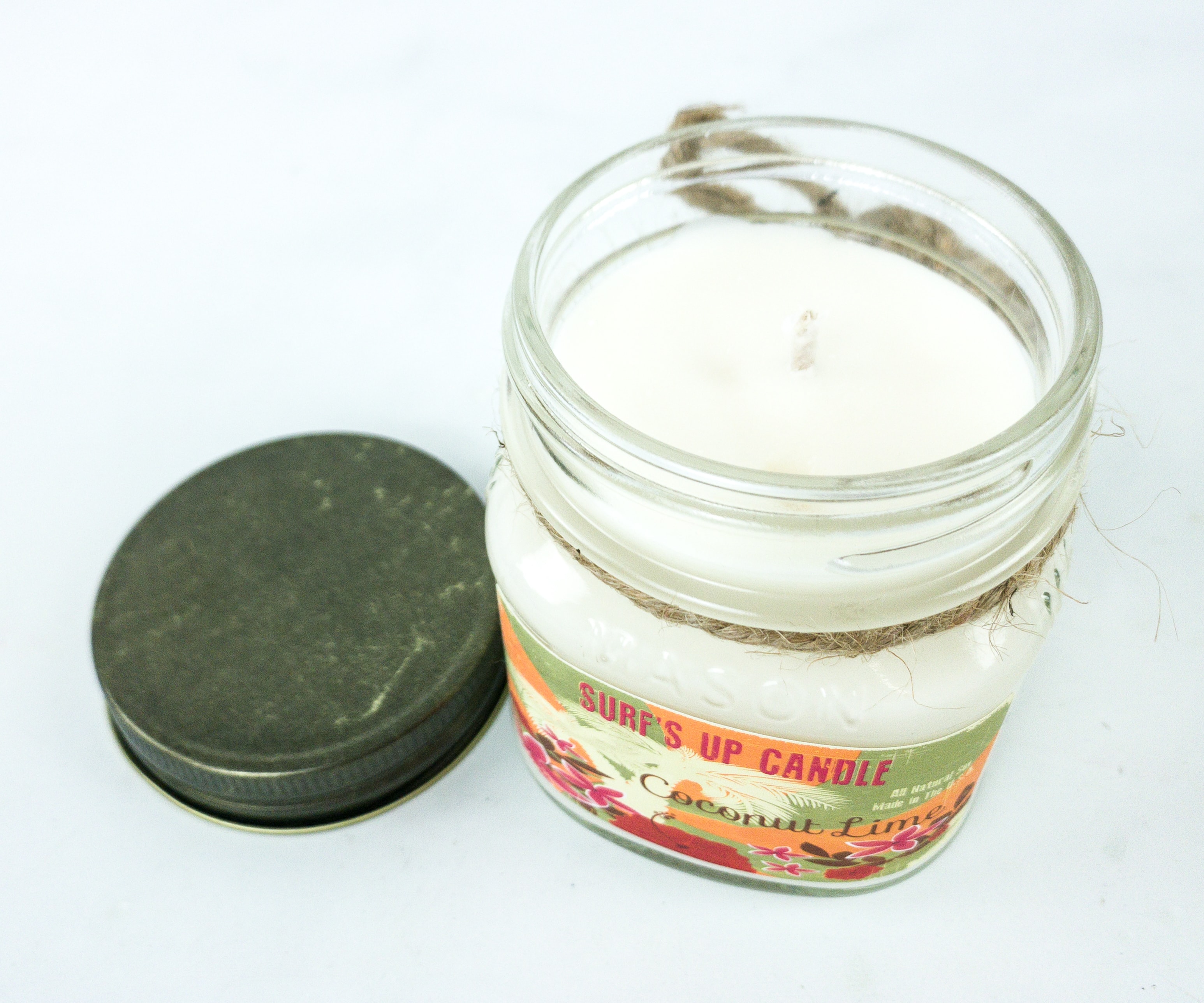 It is packaged in a reusable mini mason jar with twine bow and a cotton wick for that rustic vibe. To keep up with the beach vibe, the label has coconut trees to remind you of the tropical breeze.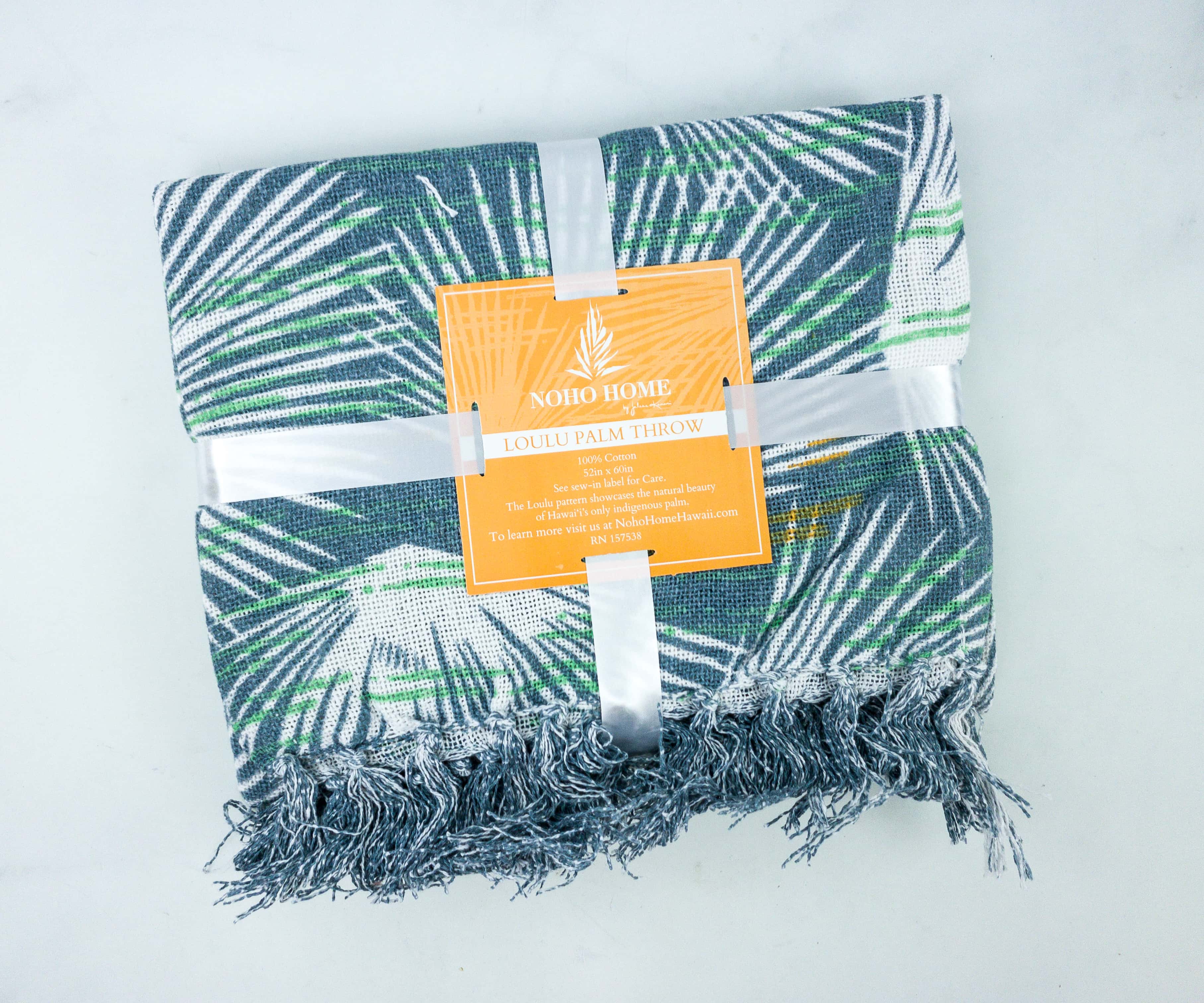 Noho Home Loulu Palm Throw ($49.95) This palm throw can help keep you cozy on your favorite chair or sofa, or serve as a cover when you're feeling a bit chilly while strolling on the beach. It's just too versatile!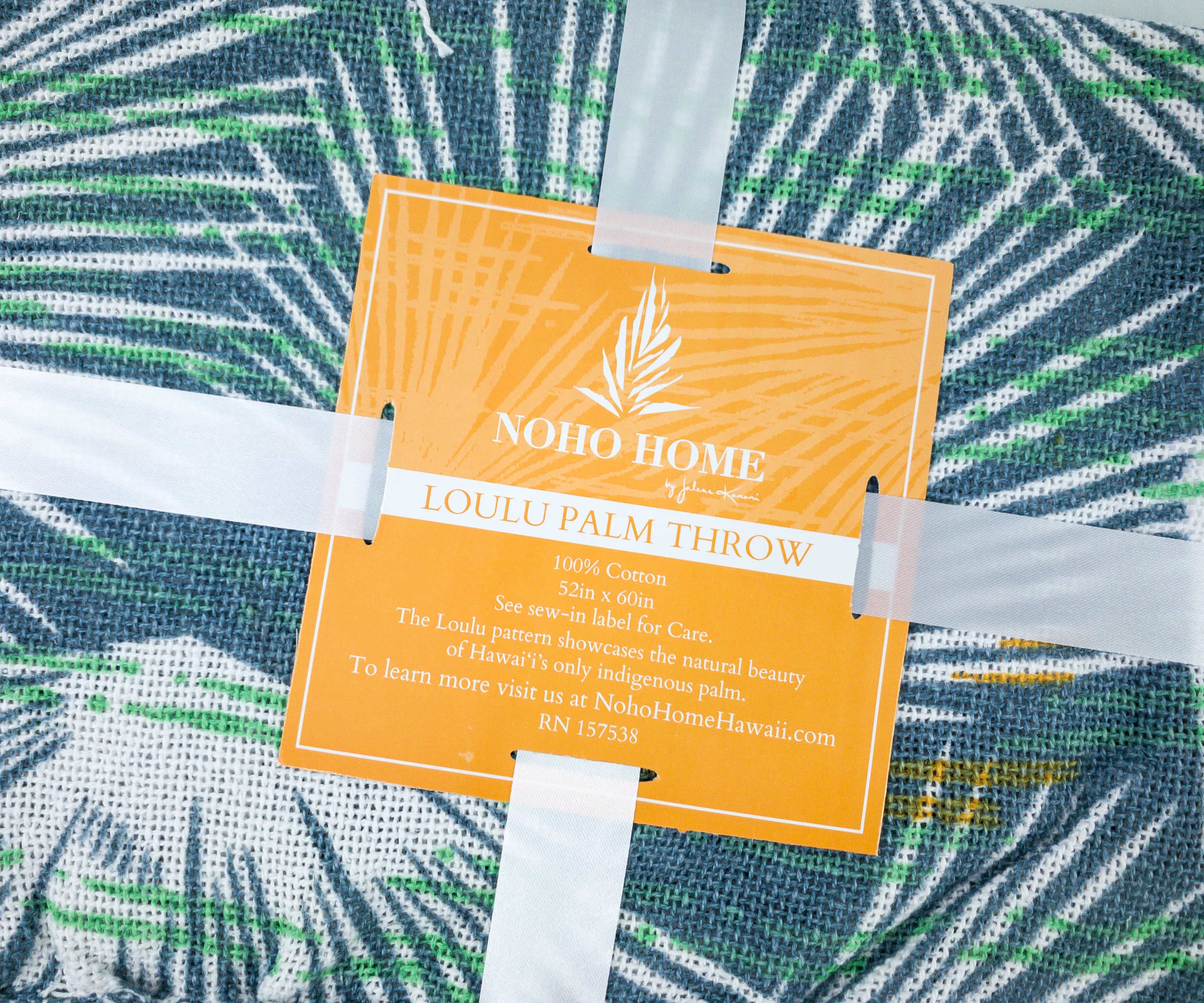 It is made of 100% cotton woven blanket and the pattern showcases the natural beauty of Hawaii's only indigenous fan fern, the Loulu palm tree (thus, the namesake print). It has cool tones of blue, green and mustard yellow.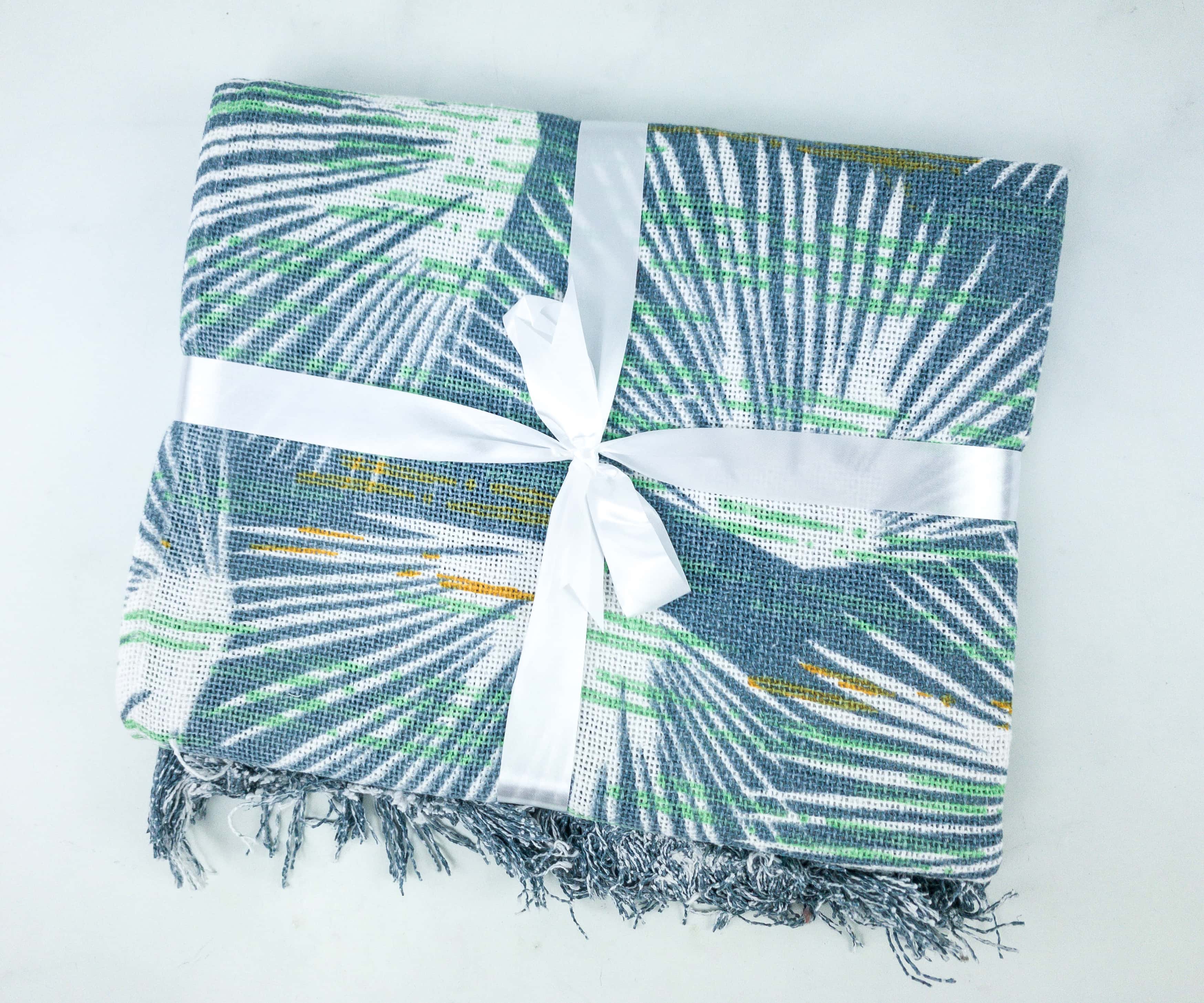 It is securely packed using a white ribbon as its enclosure, along with an info card about the item. We like how it doubles as a beach or picnic blanket during warmer months or a body warmer during chilly nights.
It is soft to touch and is really comfortable, which is attributed to the natural material of 100% pure cotton. Due to its cotton fibers, this should be washed frequently, since these cotton fibers tend to absorb moisture and pick up dirt.
This throw blanket has a fringe tassel trinket design on both ends for that additional sophistication.
The beautiful pattern has a fanlike shape and rigid, pleated leaves of the Loulu palm tree.
Lira Baja Piña Hooded Poncho ($50) A Baja poncho is a type of Mexican jacket with a single large pocket on the front, and vents on the side. We got a small-sized hoodie in the color blue as seen on its label card.
There is a small (almost unnoticeable) embroidered pineapple on the upper left portion of the jacket. Upclose, the piña woven material seems of good quality and I haven't noticed any loose or frayed stitches.
It features horizontal stripes. This clothing piece is quite stylish yet cozy with a beach vibe.
Baja sweatshirts are known for its double-sided front pocket, unisex designs, and comfortably loose-fitted style.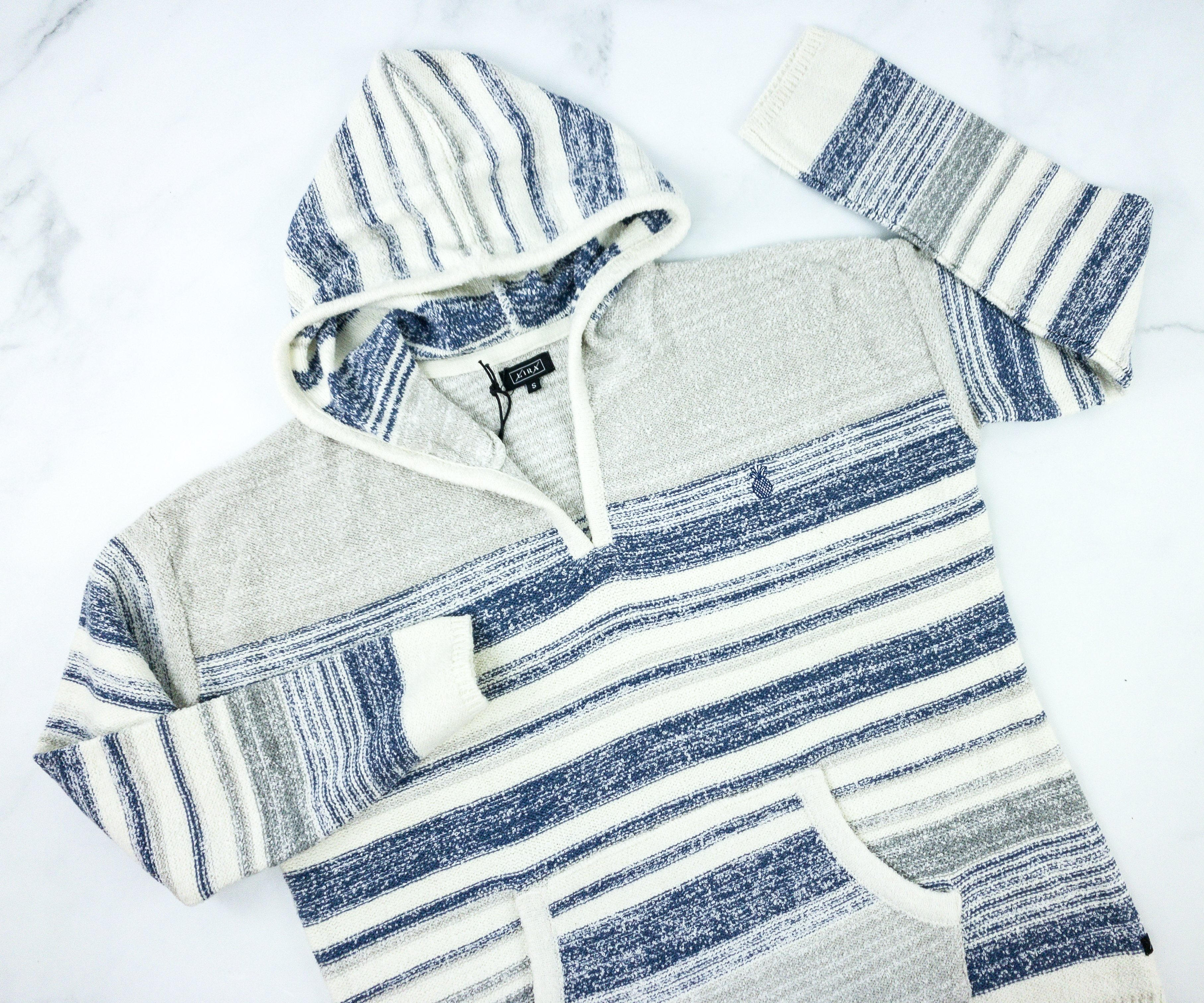 It features blue, grey, and cream-colored stripes. Its fit has room to spare but it's not crazy baggy. It's not meant to be a tight fit either.
This is a style that is forgiving if you get it a little oversized, and I find the little bit of extra space a comfort.
Wearing this feels nice and warm. It even has a hood!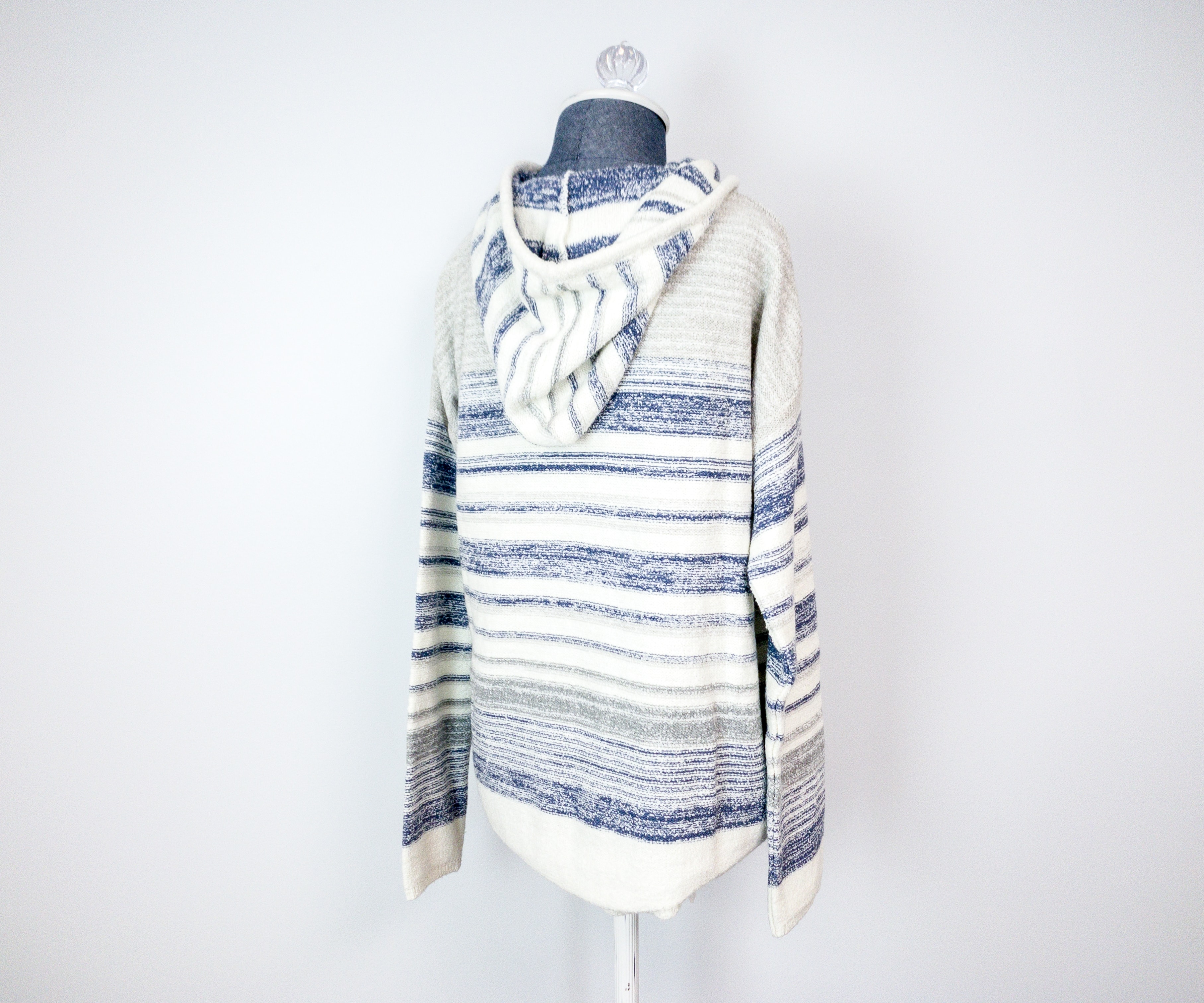 Not to mention, it is a beach style staple that can be worn all year-round. In warmer weather, we thought it can easily be paired with jeans or shorts while walking barefoot on the sand. Come chilly nights, it can be used as a layering piece with your favorite jacket. I love how it's breathable and incredibly comfortable to wear!
There is also a teaser card for the next box, the Beachly Spring Box 2020! Something BIG is coming! Maybe an umbrella?!?!
Beachly is definitely a treasure box for beach lovers out there. The beach-themed items are all well-thought-of! Each item has something, from symbol to logo to colors to its scent, that reminds us of the beach, the sand, and the ocean. I love how they were able to pull off a winter box that still revolves around the beach. It almost genius, really. My two favorites in this box are the bamboo utensils set and the Baja poncho. Aside from being an environmental advocate by including eco-friendly items in the box, Beachly also helps financially by supporting coastal clean-up drives through Heal the Bay organization. I love supporting companies that care for our surroundings. Overall, I love everything in this box and I'm certainly looking forward to the next season's box!
Are you getting Beachly?