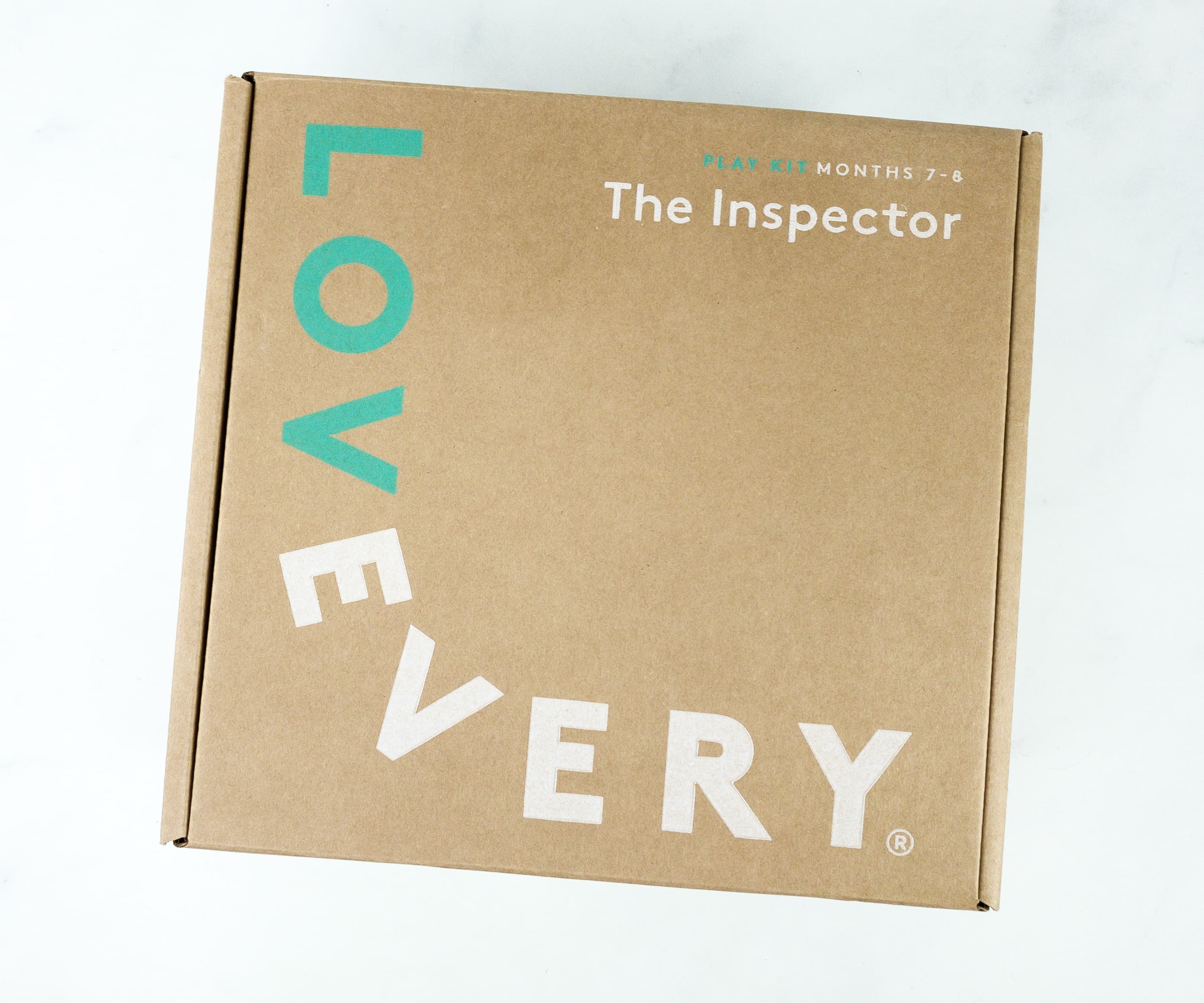 Baby Play Kits by Lovevery feature the best play products designed by child development experts. The toys are customized by stage and thoughtfully crafted using sustainably forested wood, organic cotton, and baby-safe plastics.
Head's up – this is a BIG box, with lots of photos! There is SO much in this box, along with guidance for parents, and just a ton of developmentally appropriate toys, that we couldn't really get rid of anything. We think this box is worth it, and this review will show you how the parent guide and all the items really work together. Every baby who has played with the toys in this box has found them absolutely fascinating, and we couldn't be happier with the Lovevery kits.
DEAL: Get 10% off on 3+ months prepaid subscriptions. Deal applies automatically, just use this link to subscribe.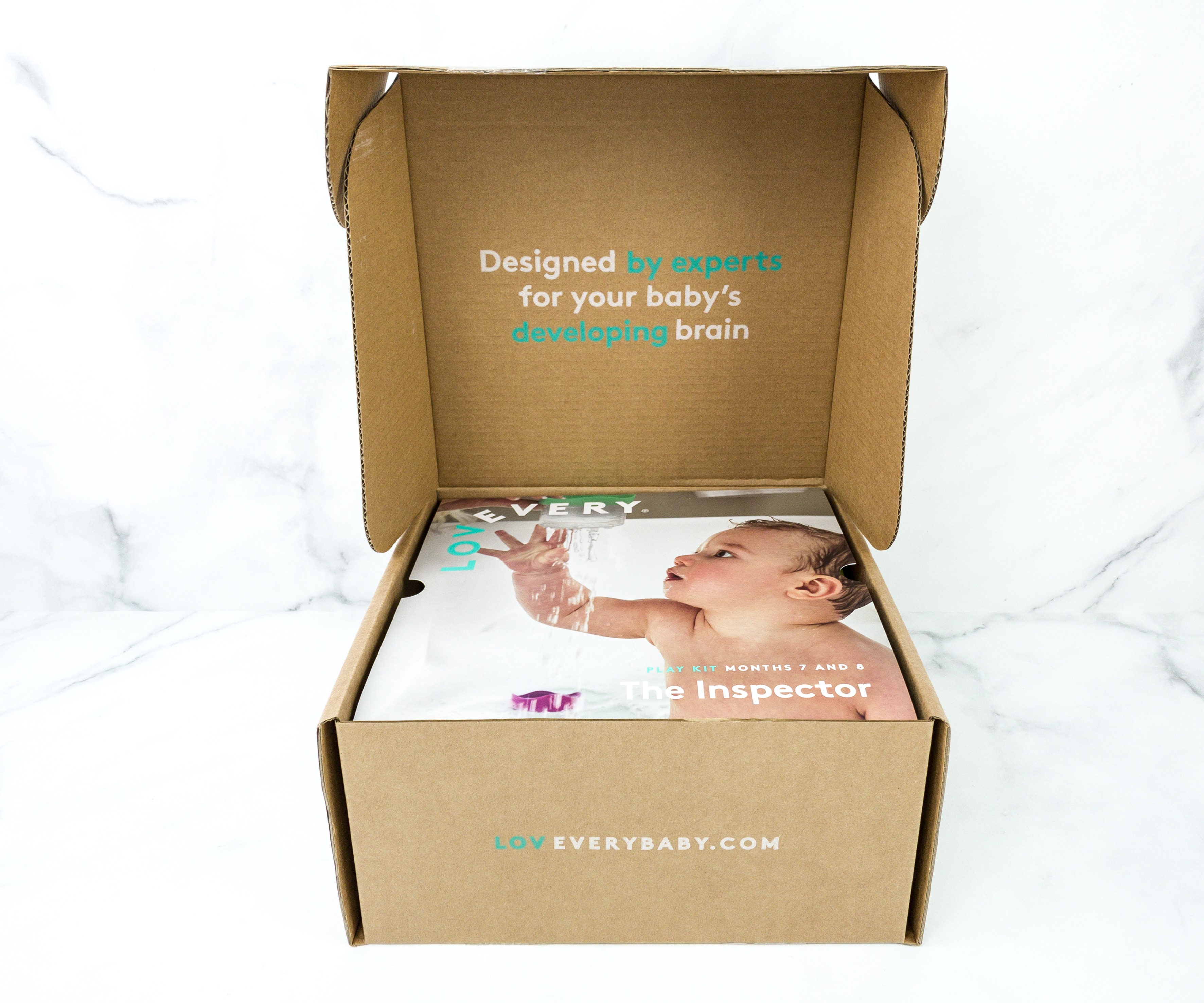 The box is quite full and heavy!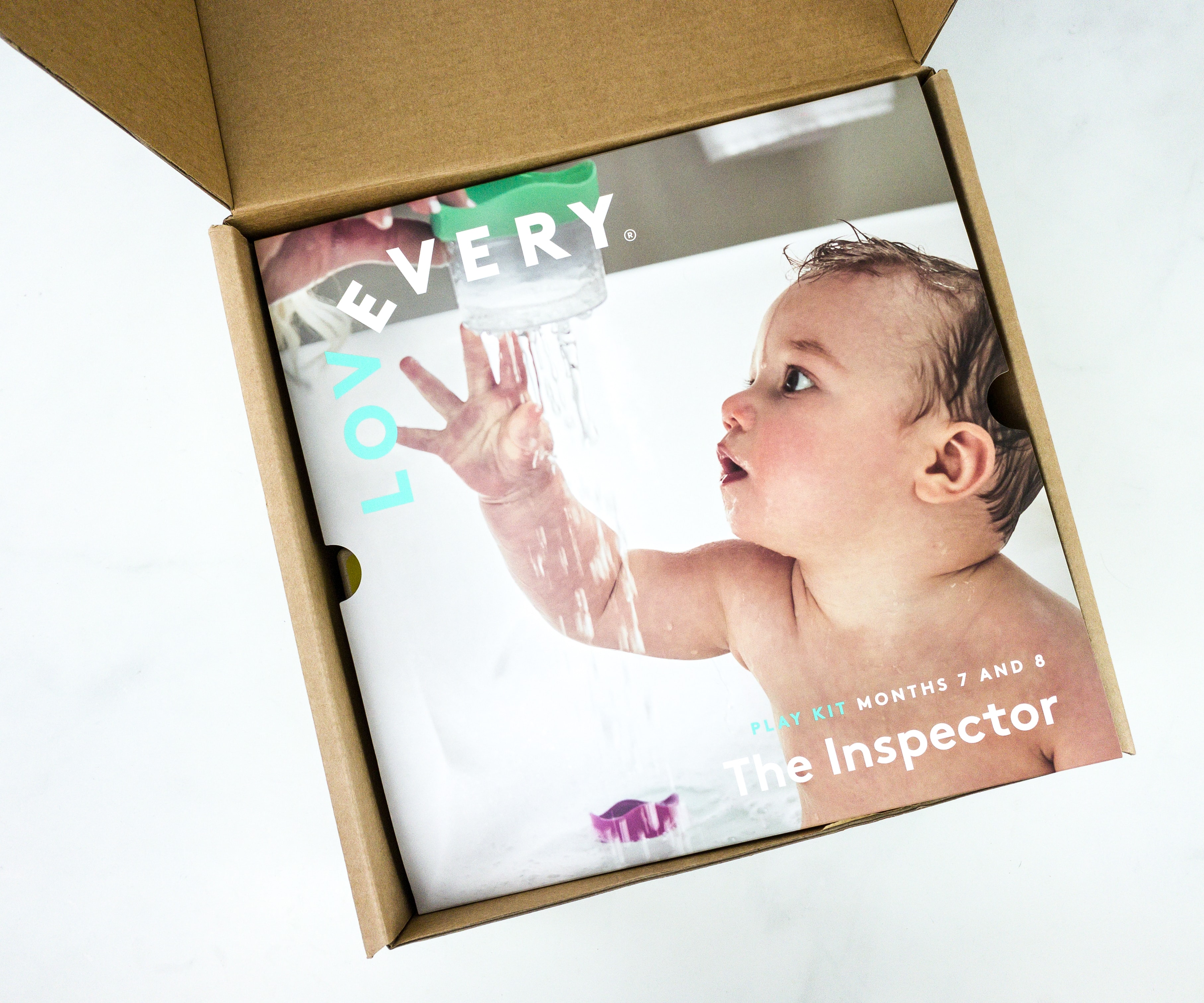 This play kit is specially designed for babies 7 to 8 months old. They're called "The Inspector!"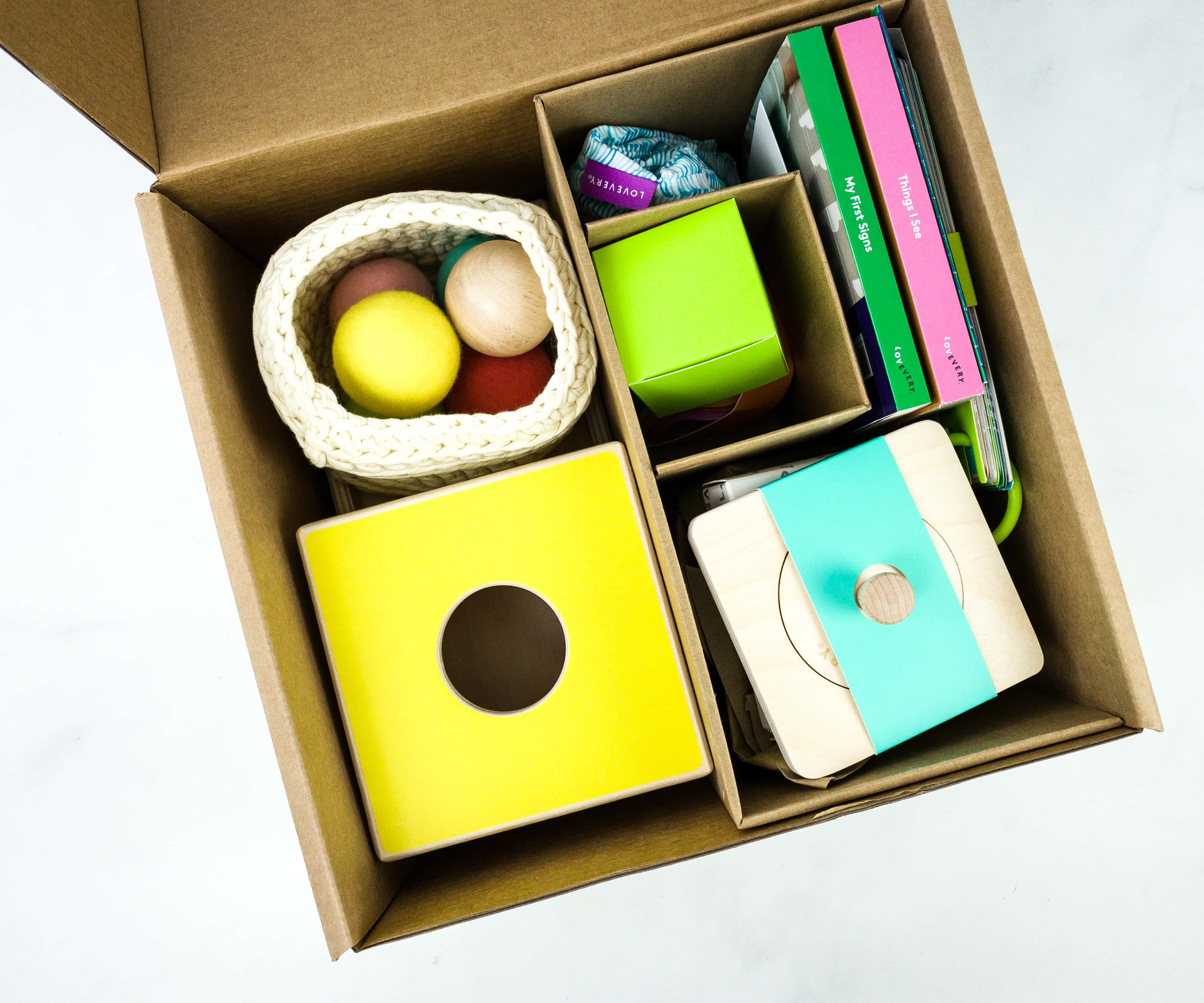 The toys came neatly packaged.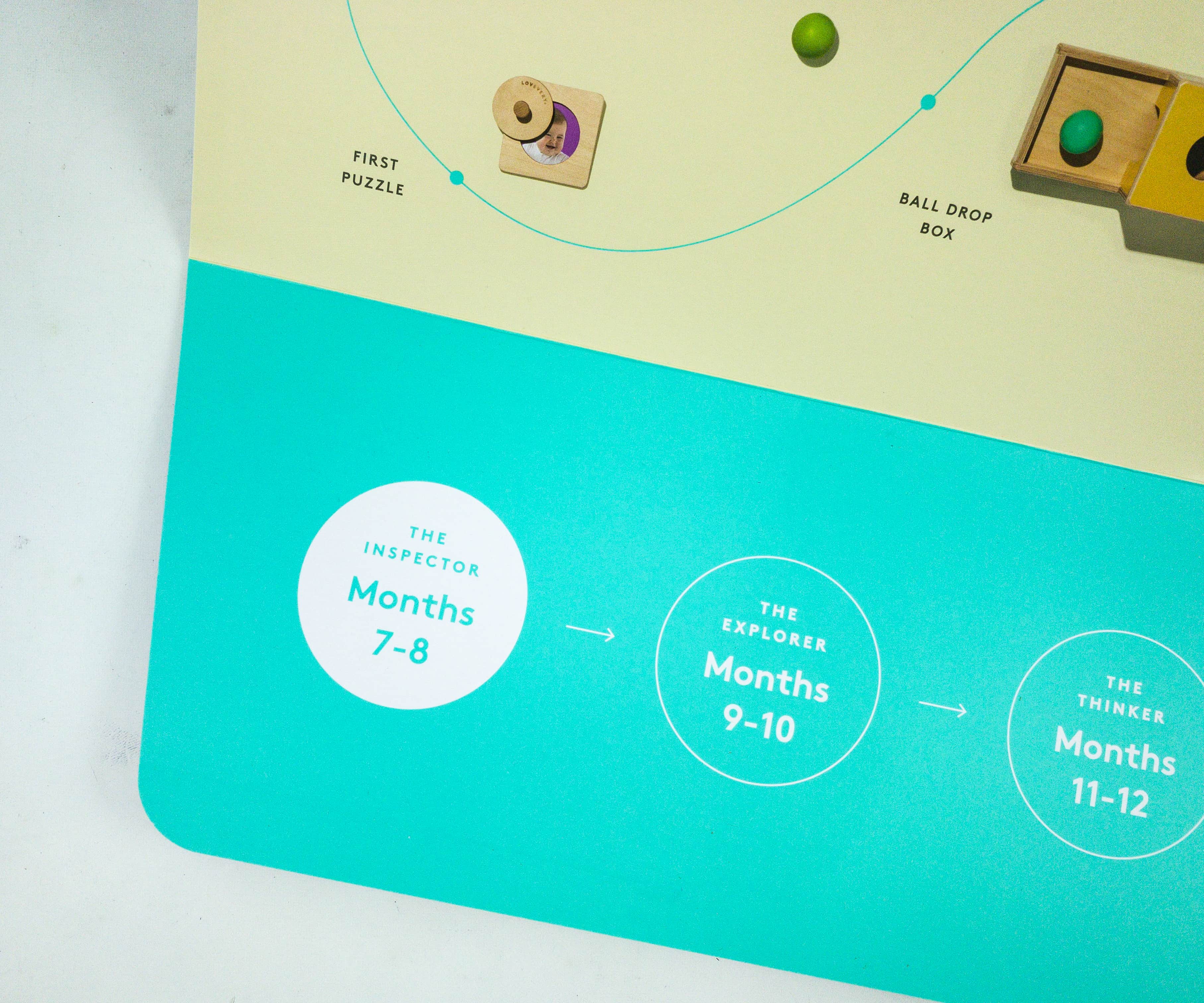 The information sheet included a list of the various stages of your baby.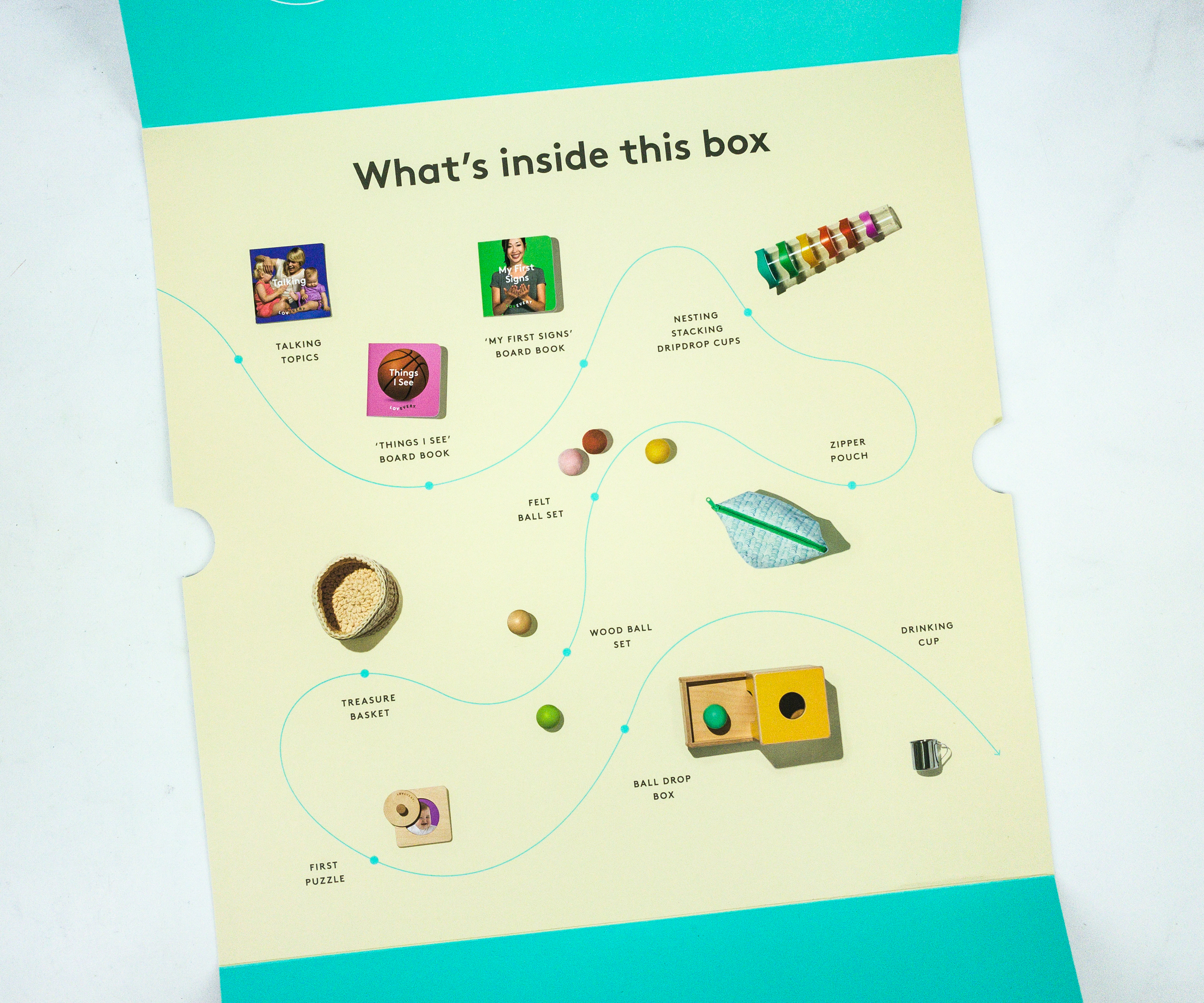 There's also a rundown of all the items in the box!
Baby Play Kits will include stickers to help you keep track of your baby's growth. Just attach the appropriate sticker to your baby's top and take their photo!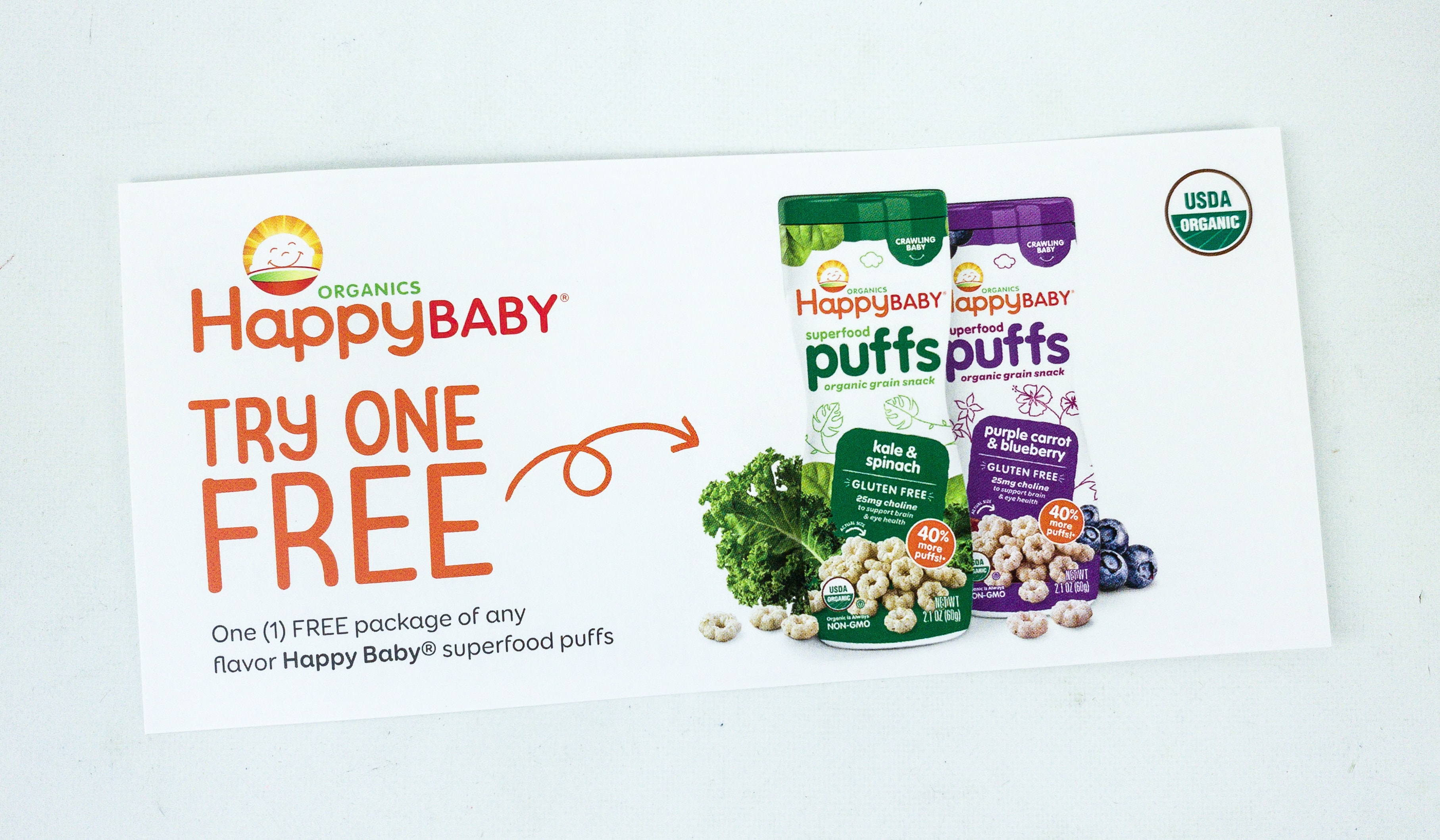 We also received a promotional card from Happy Baby!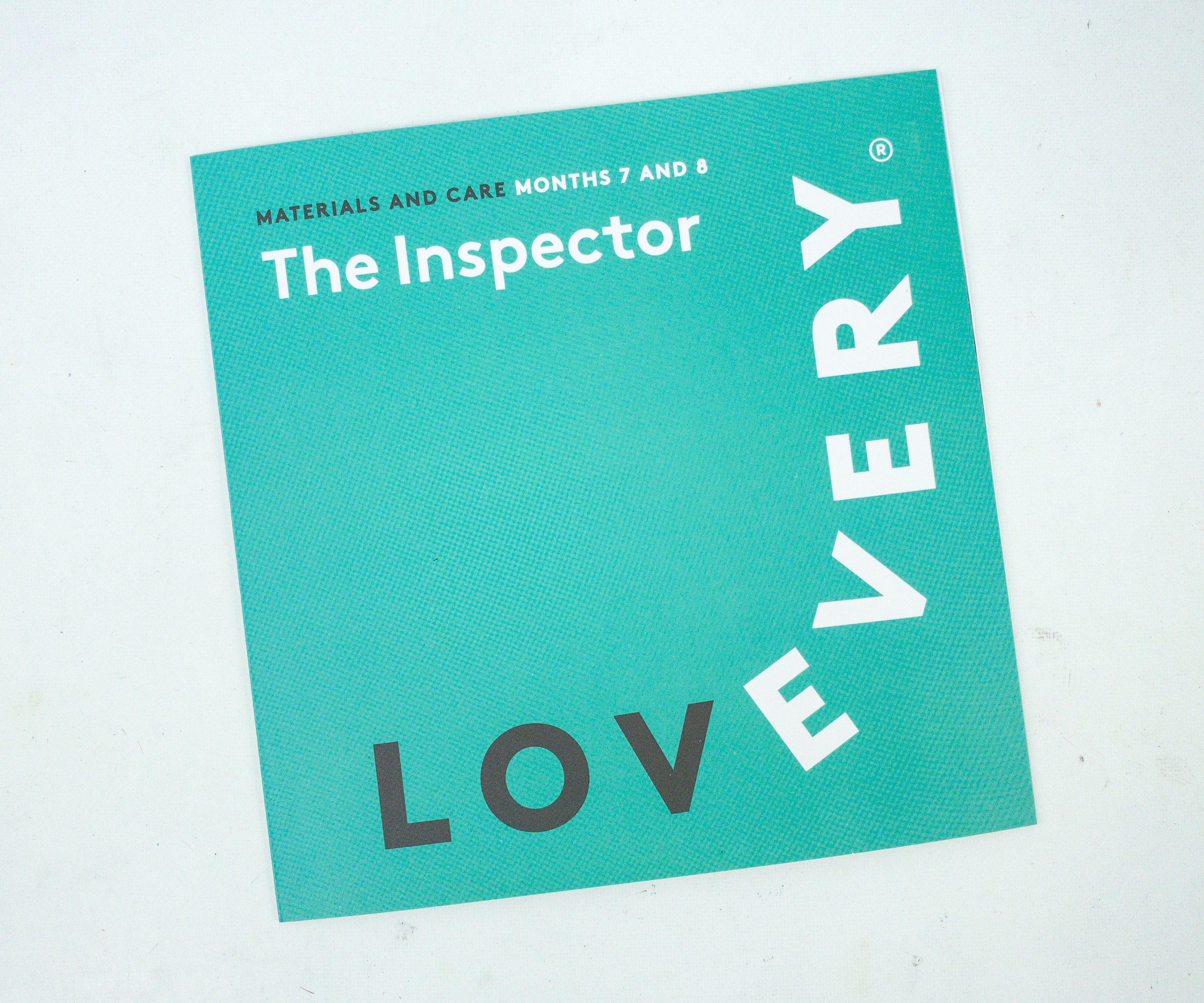 To make this a fun and safe experience for all, they included a material and care manual.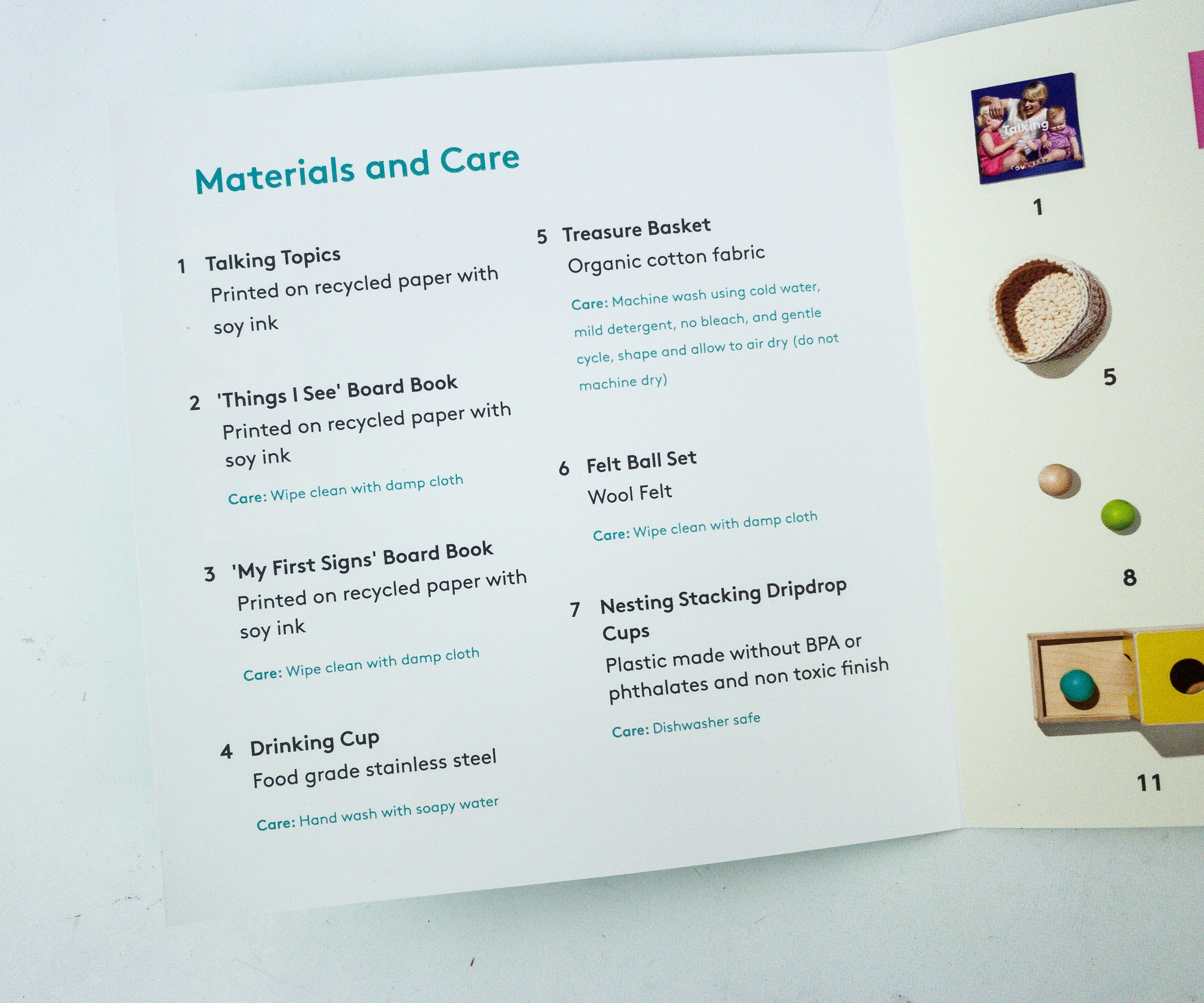 There's a list of safety tips and warnings!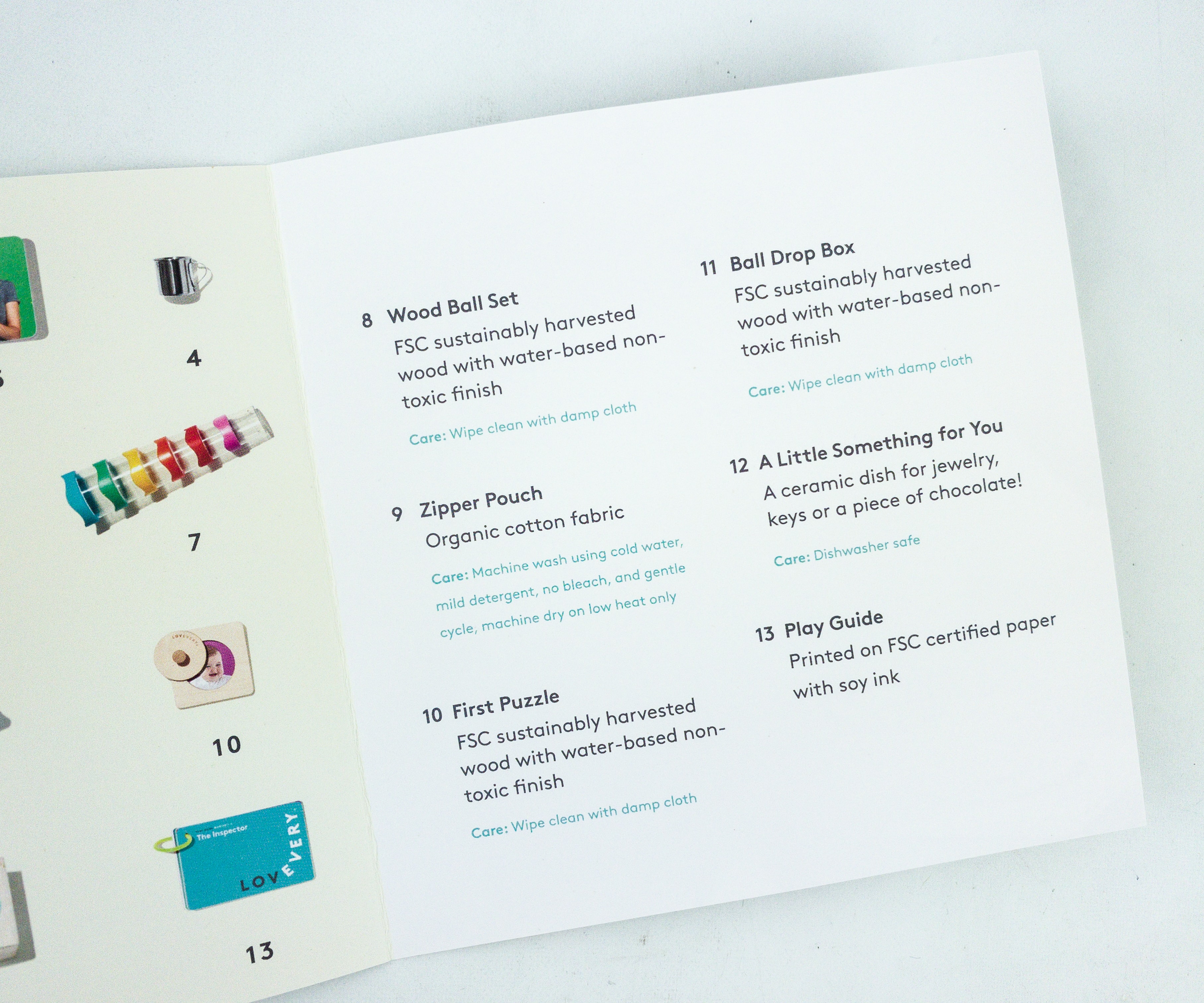 They even listed how to care for each item.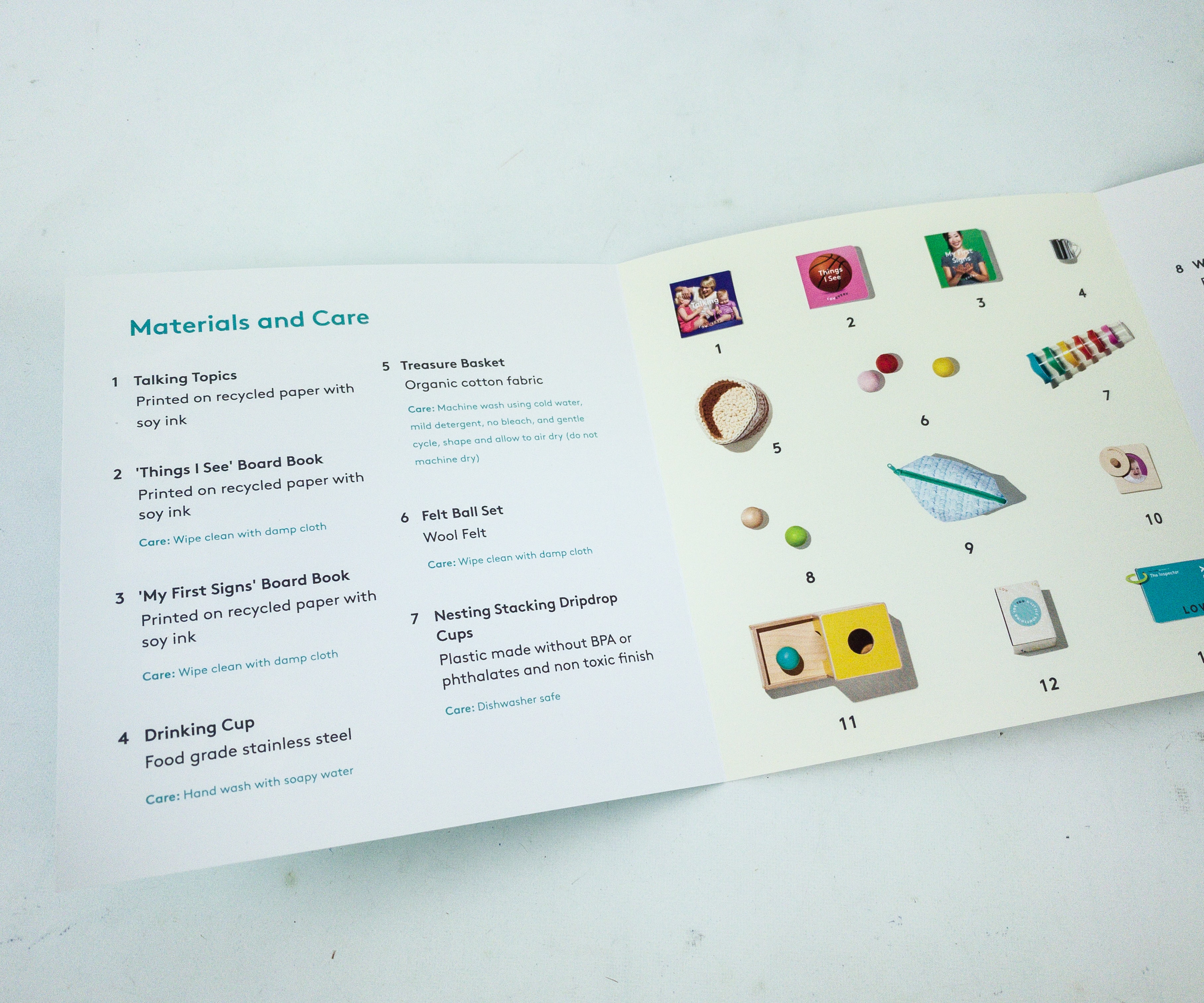 Some toys can be simply wiped clean using a cloth, while others are needed to be hand-washed.
There are corresponding photos for each number, so it's easier for you to determine which is which.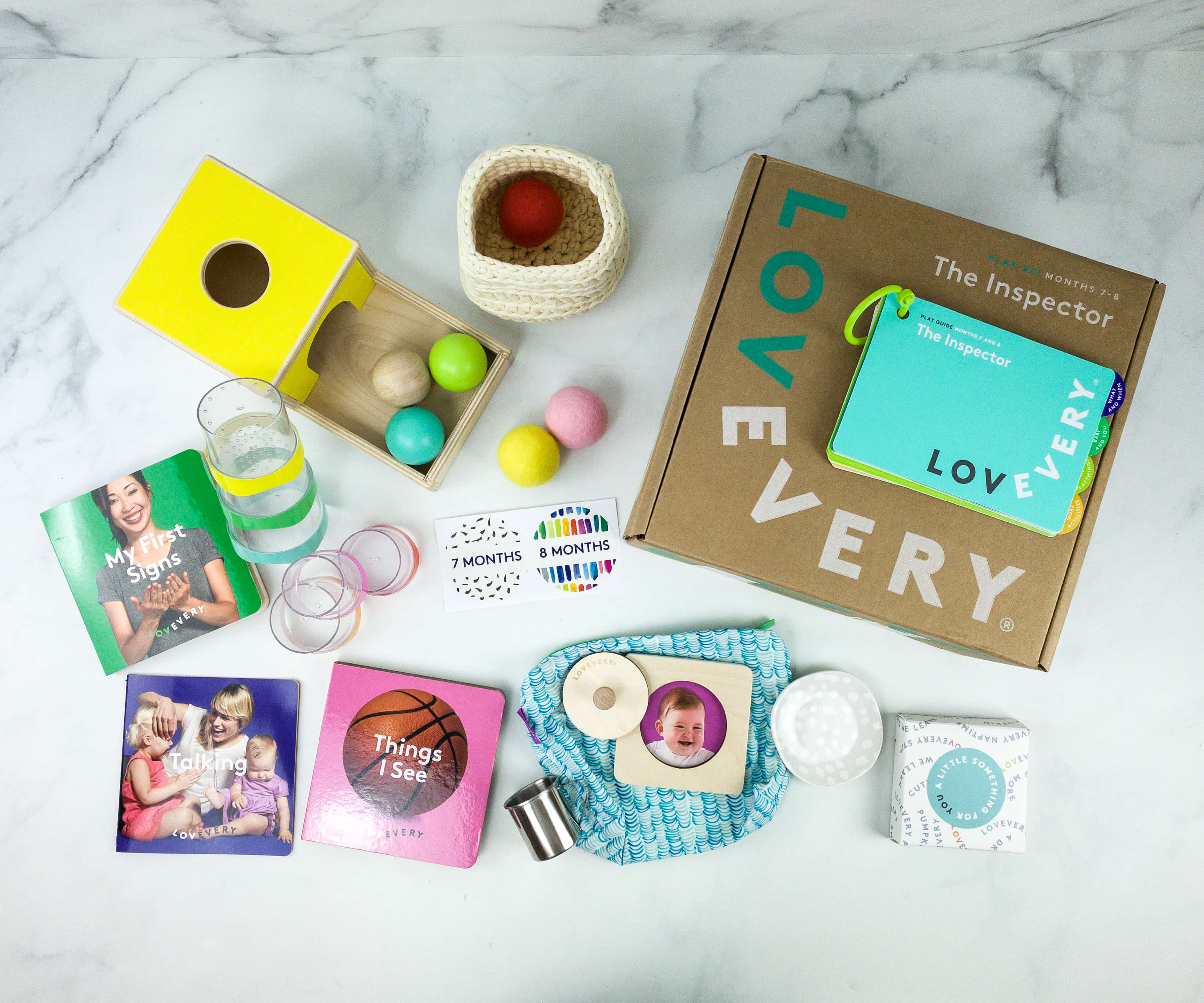 Everything in my box!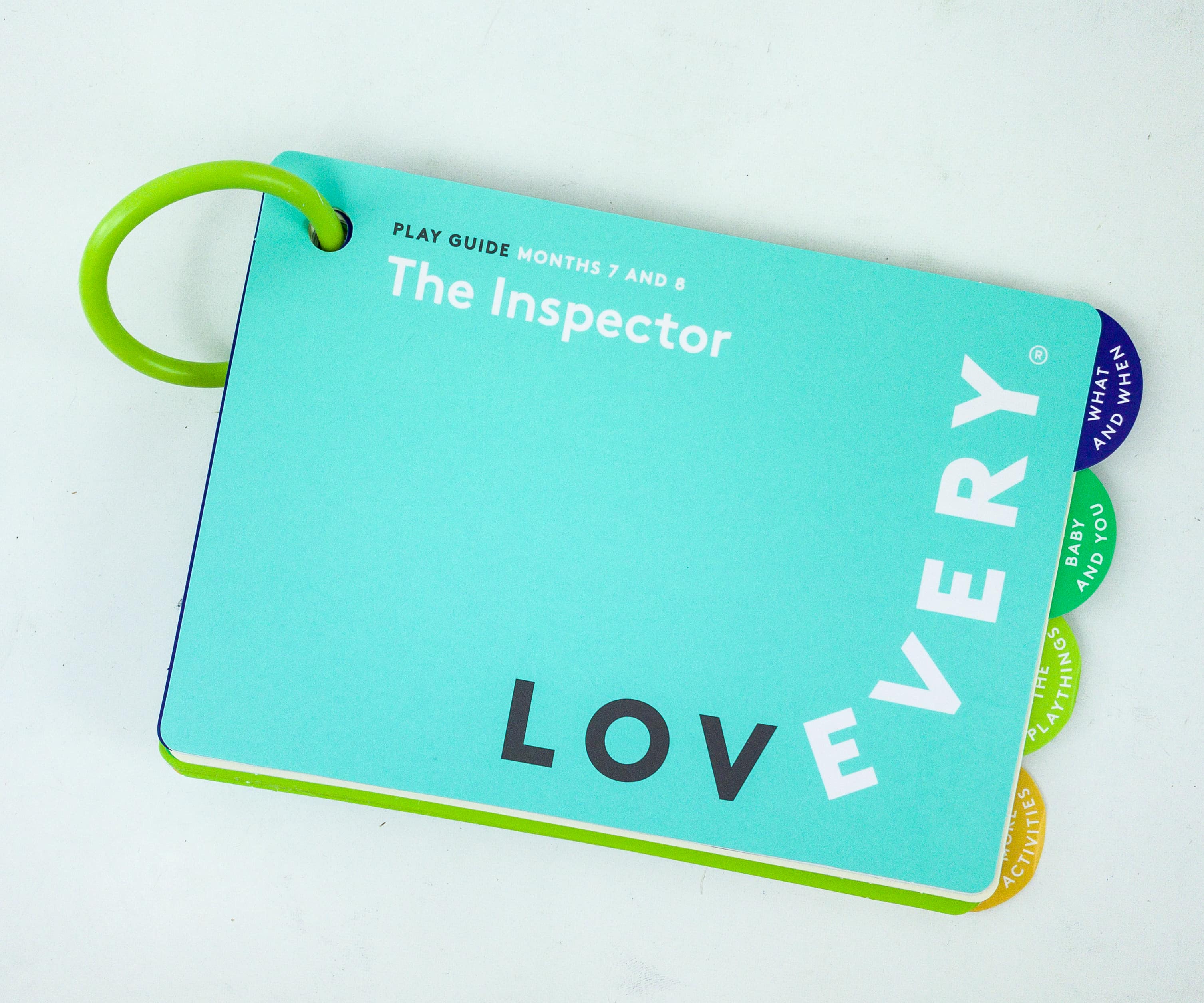 First up is the Play Guide!
This guide is divided into different sections, so it's easier to flip through them and find what you're looking for.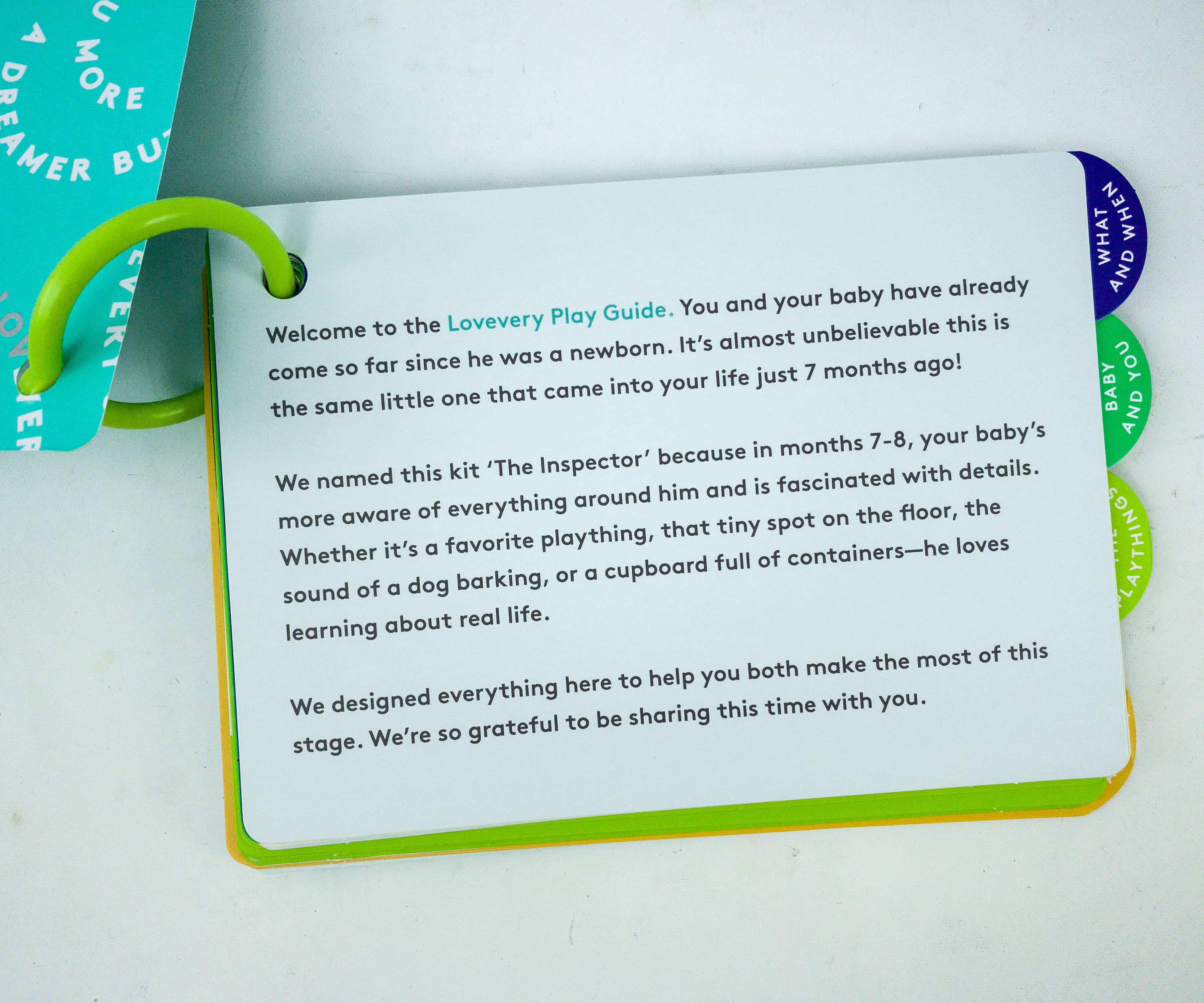 There's a welcome note!
They also remind you that each baby's development path is unique and that it's okay if your baby isn't interested in playthings right away.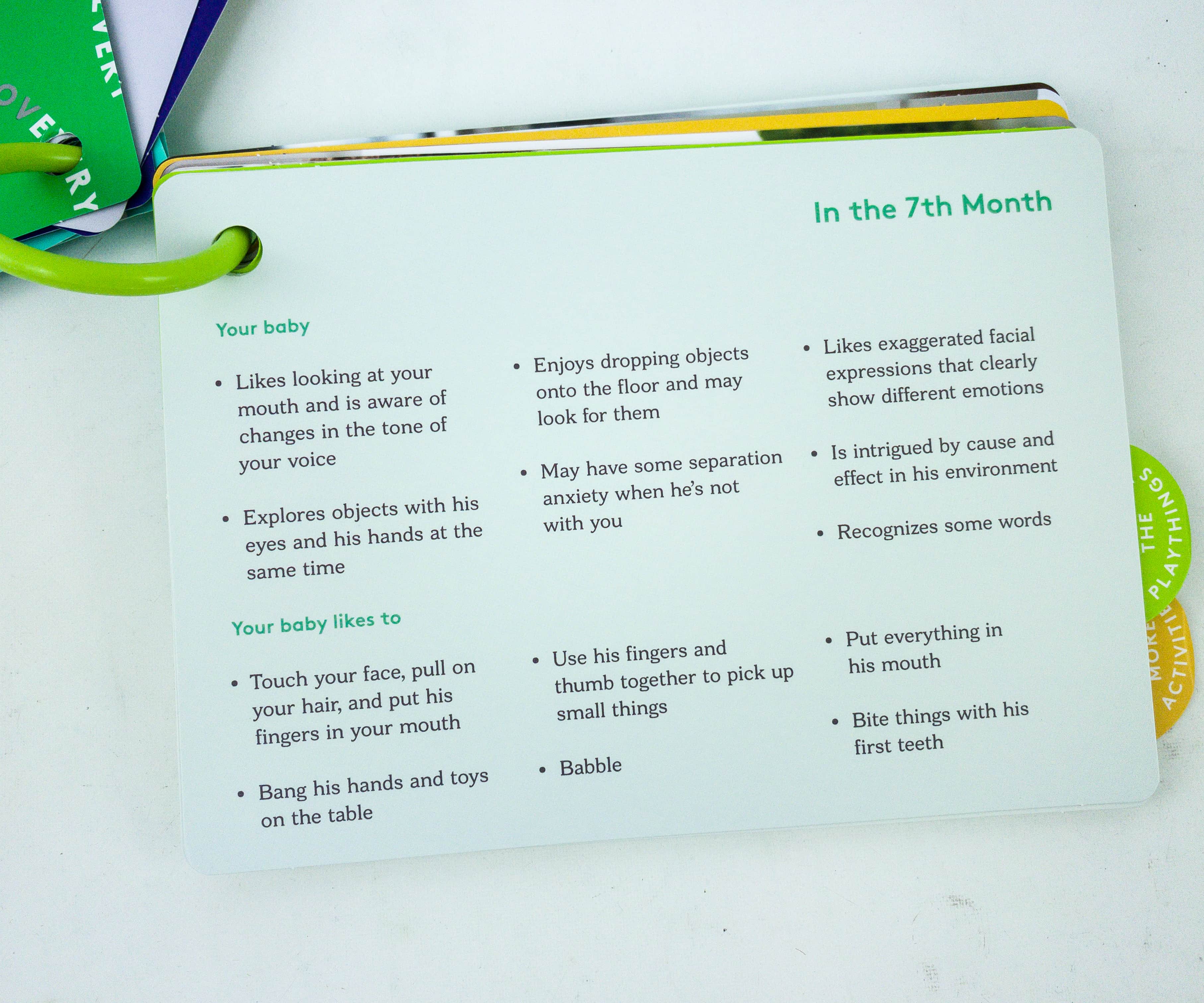 They listed what your baby is already capable of in their 7th month. It's also really helpful that they listed down what babies of this age like to do! Not everything would apply to your baby, but at least you'd get a general idea.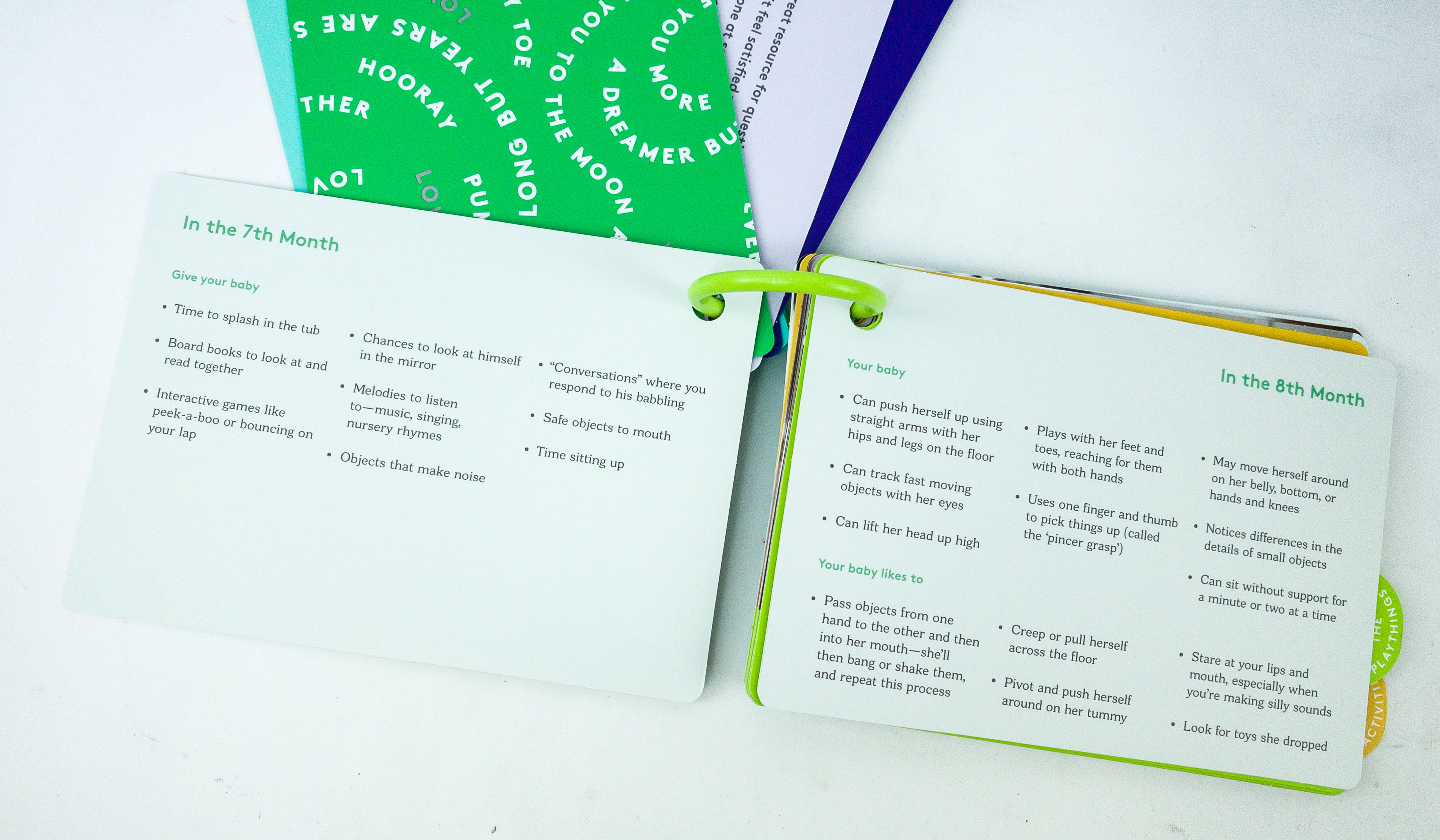 A separate page is dedicated to a list of things your baby can do and likes to do in their 8th month.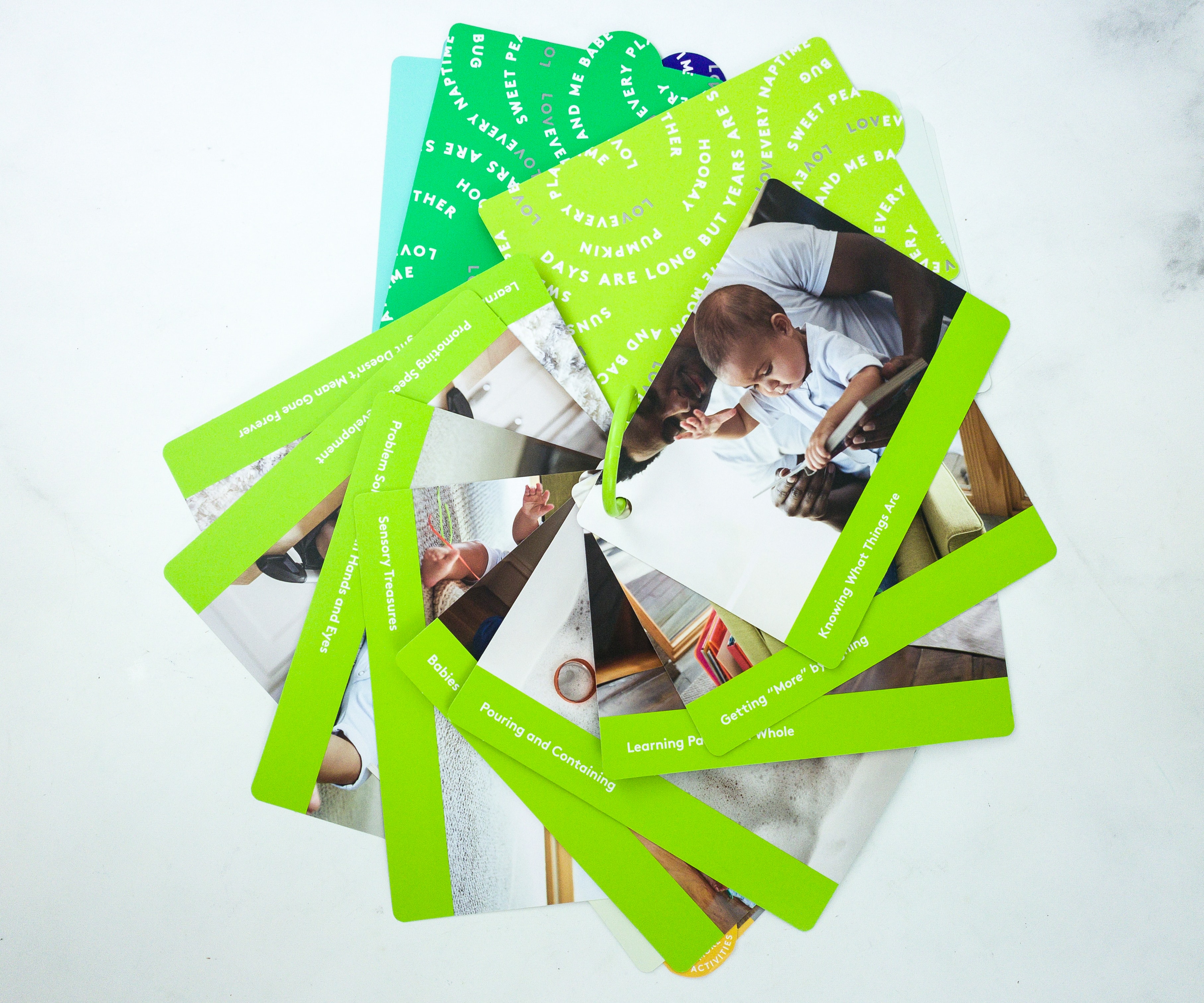 Next section is The Playthings! We're getting on to the toys and activities!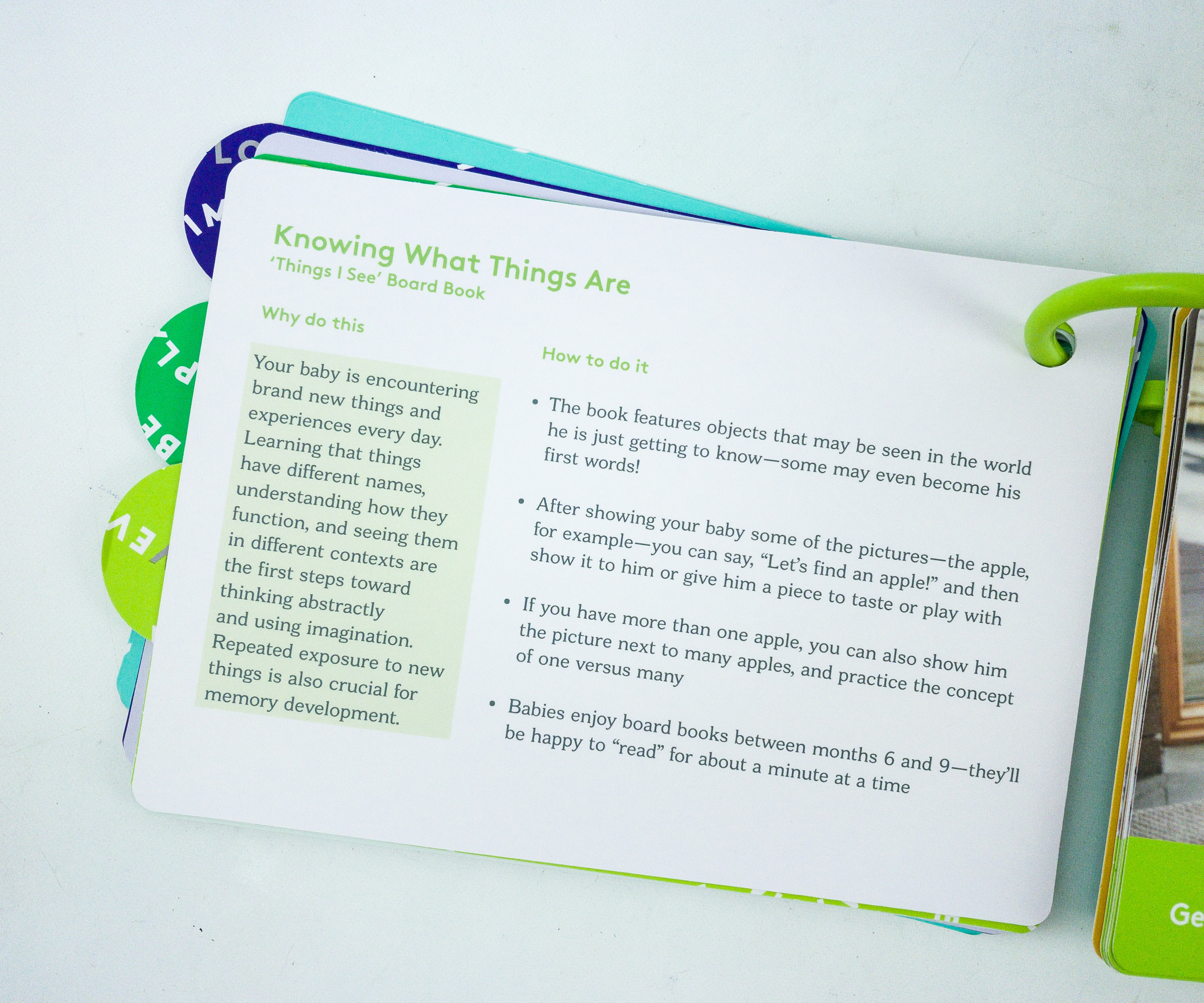 The first activity is Knowing What Things Are!
Your baby is encountering brand new things and experiences every day. Learning that things have different names, understanding how they function, and seeing them in different contexts are the first steps toward thinking abstractly and using imagination. Repeated exposure to new to new things is also crucial for memory development.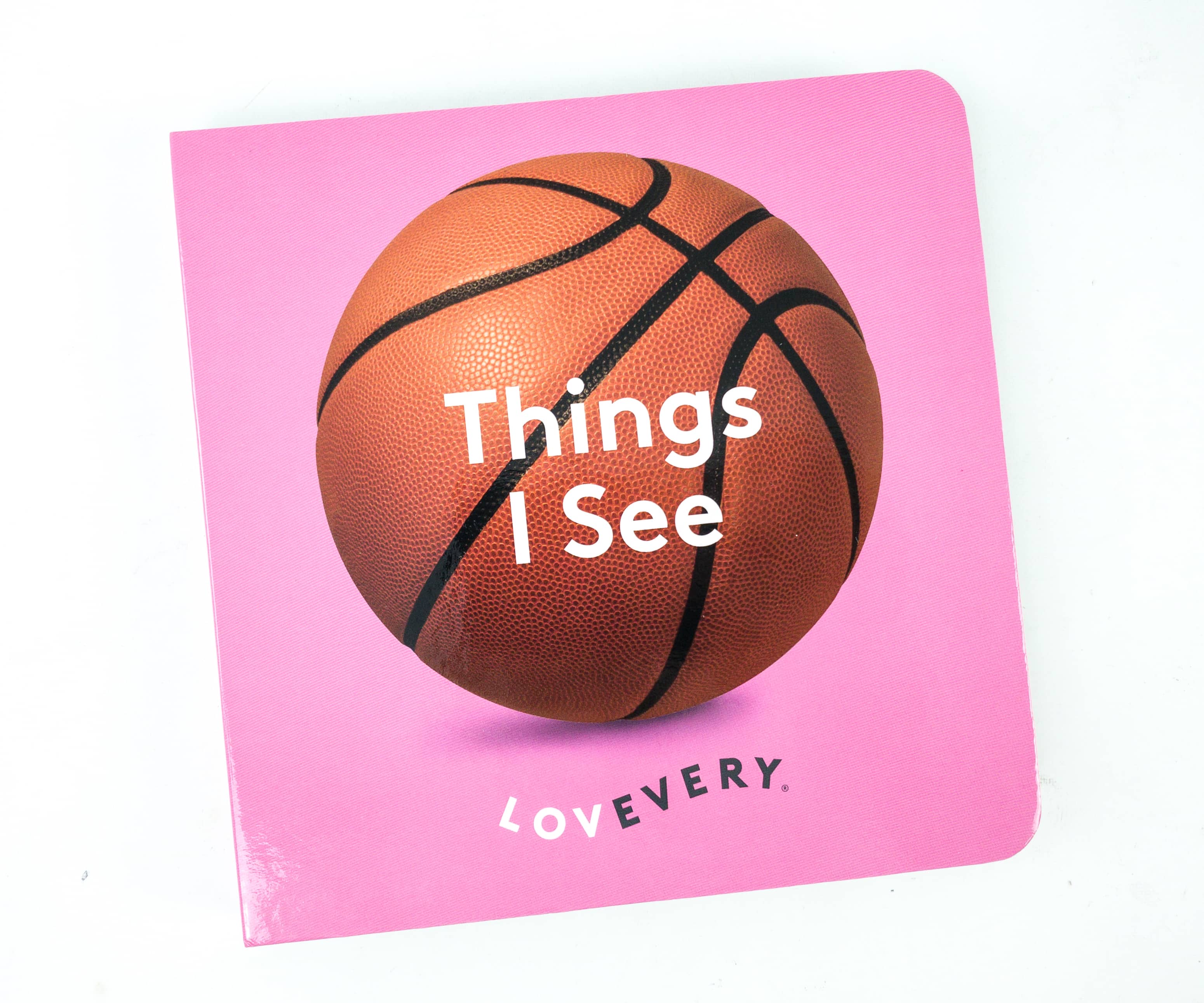 We got a board book for this activity, and it's entitled Things I See.
Each page features a photo and its name. The board book itself is made with thick and sturdy material, designed to withstand endless flipping by your baby!
These are great for building a baby's vocabulary at a young age. It also helps familiarize them with the real world!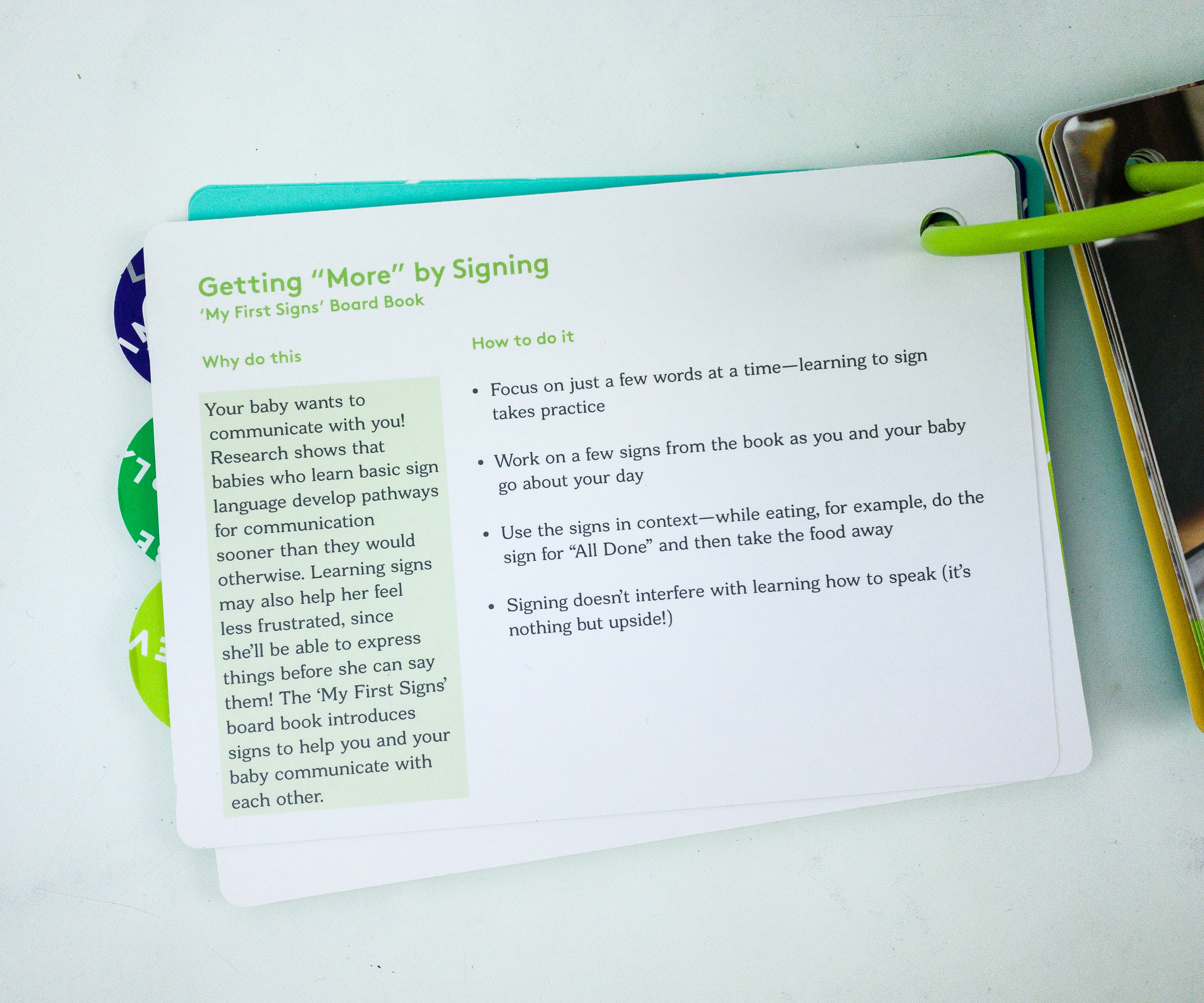 Next is Getting "More" by Signing!
Your baby wants to communicate with you! Research shows that babies who learn basic sign language develop pathways for communication sooner than they would otherwise. Learning signs may also help her feel less frustrated, since she'll be able to express things before she can say them! The 'My First Signs' board book introduces signs to help you and your baby communicate with each other.
We got another board book and this time it's called My First Signs.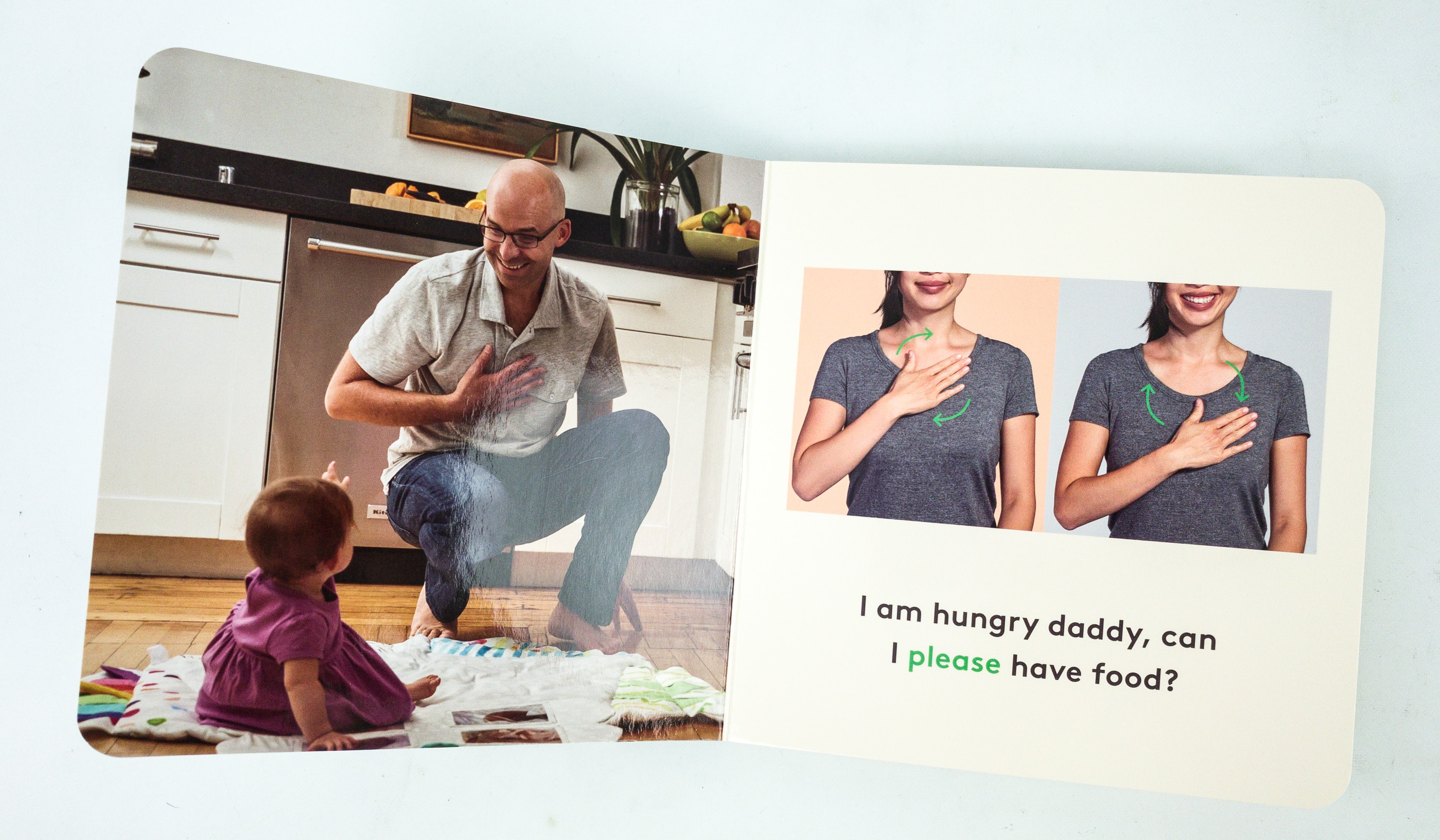 This board book features various sign languages that you can teach your baby so they can communicate with you effectively.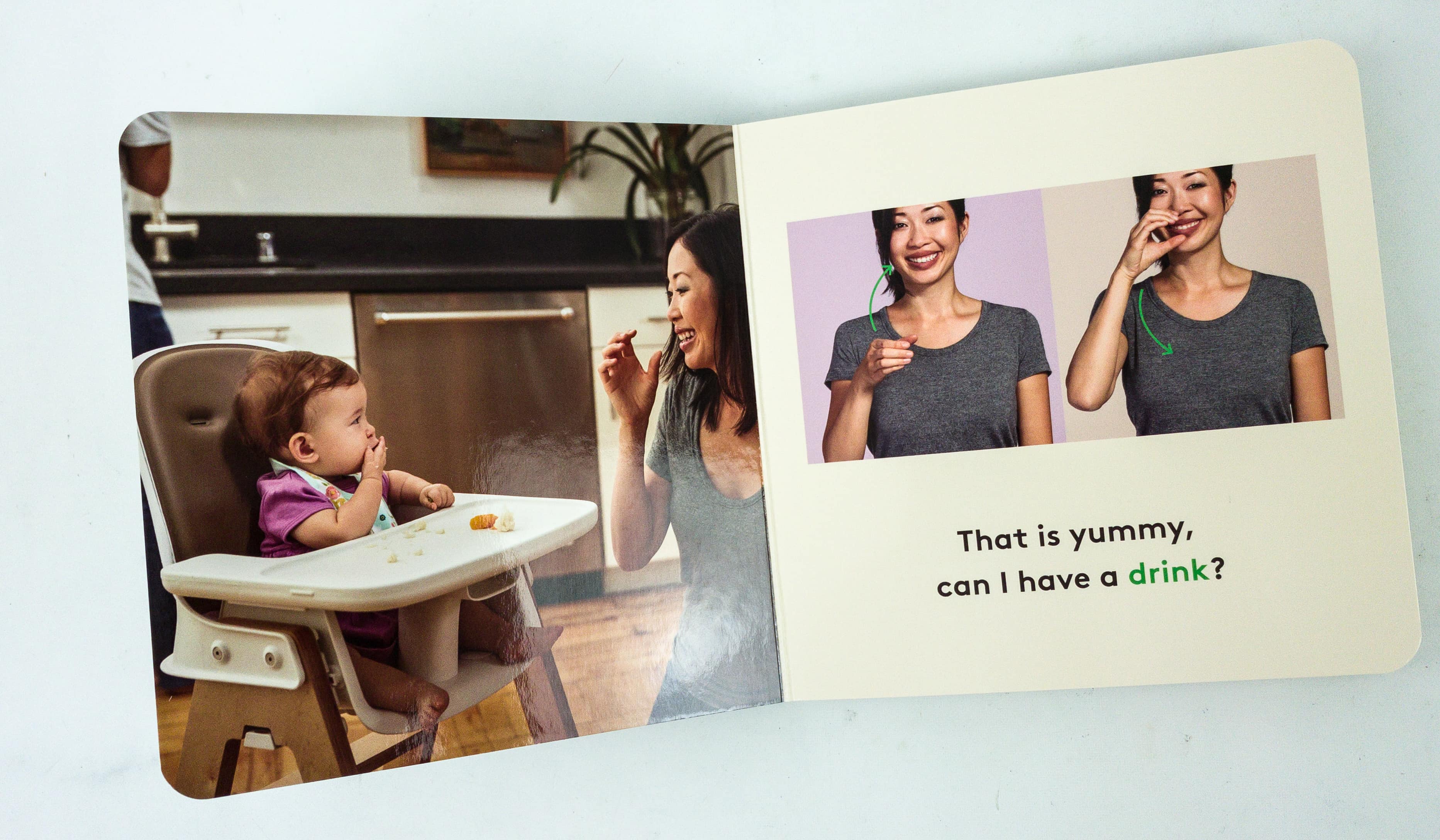 Aside from the text, the book features sample photos and context so you can easily apply these signs to your everyday routine.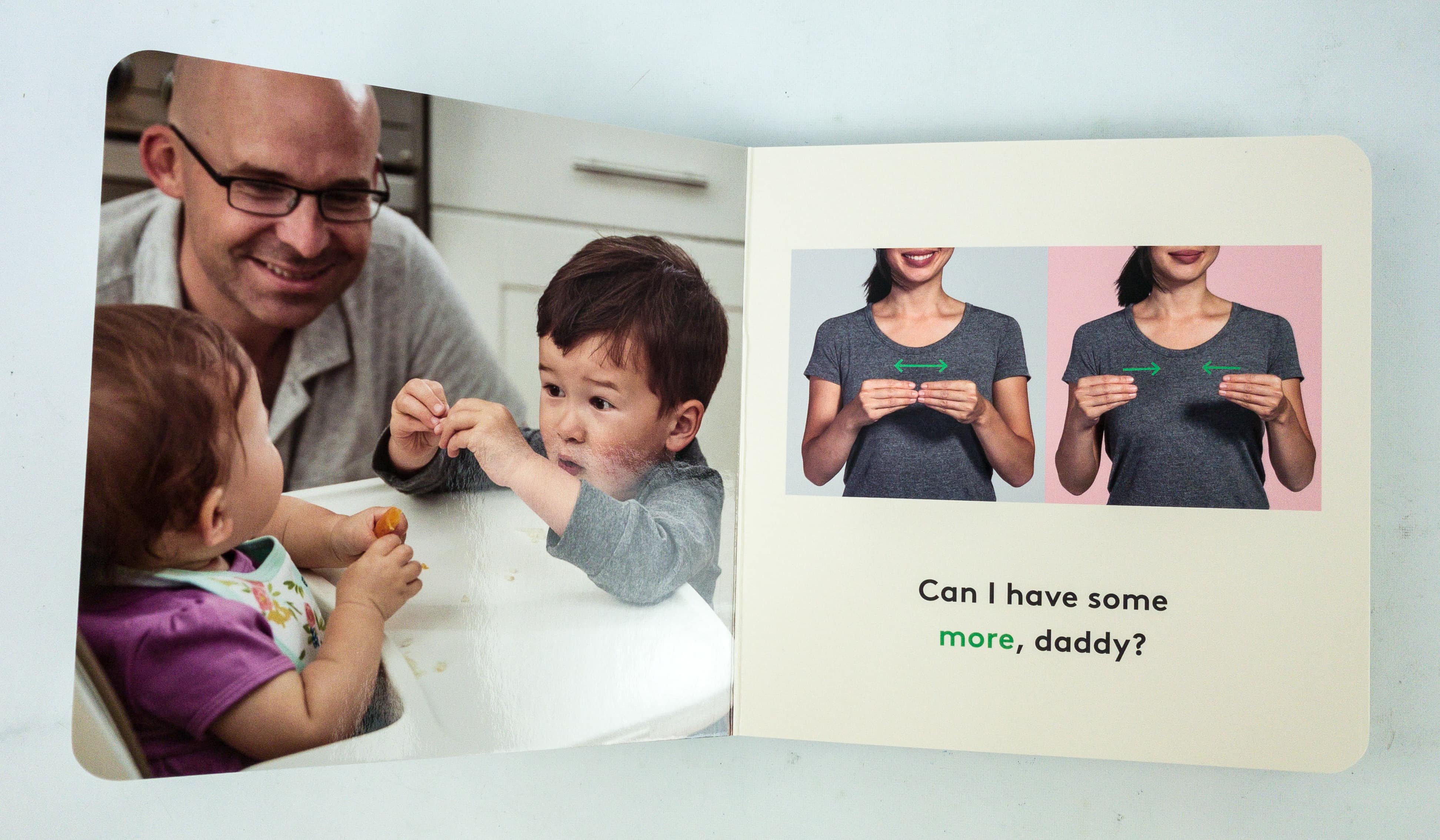 It's such a fun book! No worries because learning sign language don't hinder the development of a baby's verbal skills.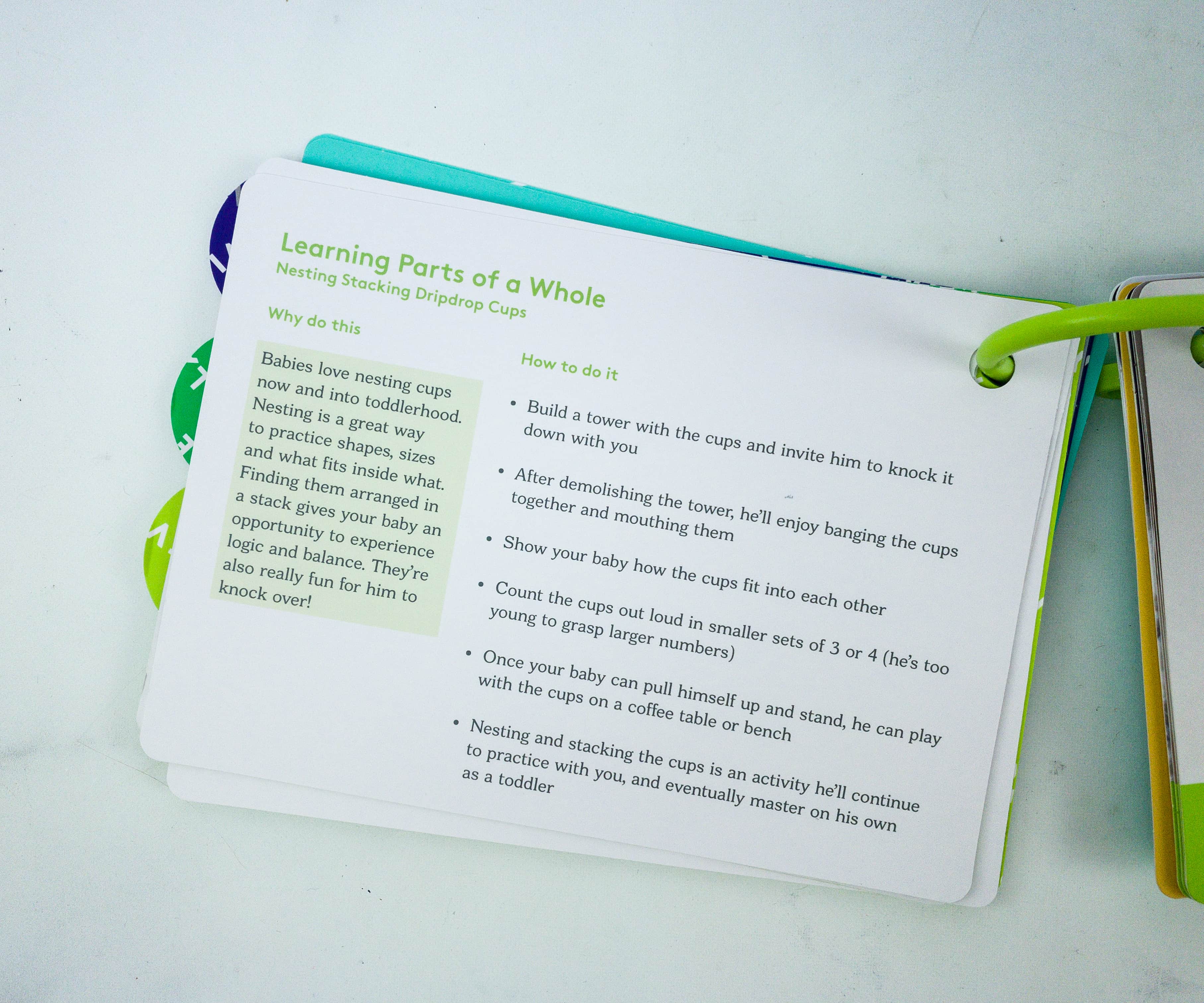 Another interesting activity is Learning Parts of a Whole!
Babies love nesting cups now and into toddlerhood. Nesting is a great way to practice shapes, sizes and what fits inside what. Finding them arranged in a stack gives your baby an opportunity to experience logic and balance. They're also really fun for him to knock over!
To learn about parts of a whole, they included these Nesting Stacking Dripdrop Cups!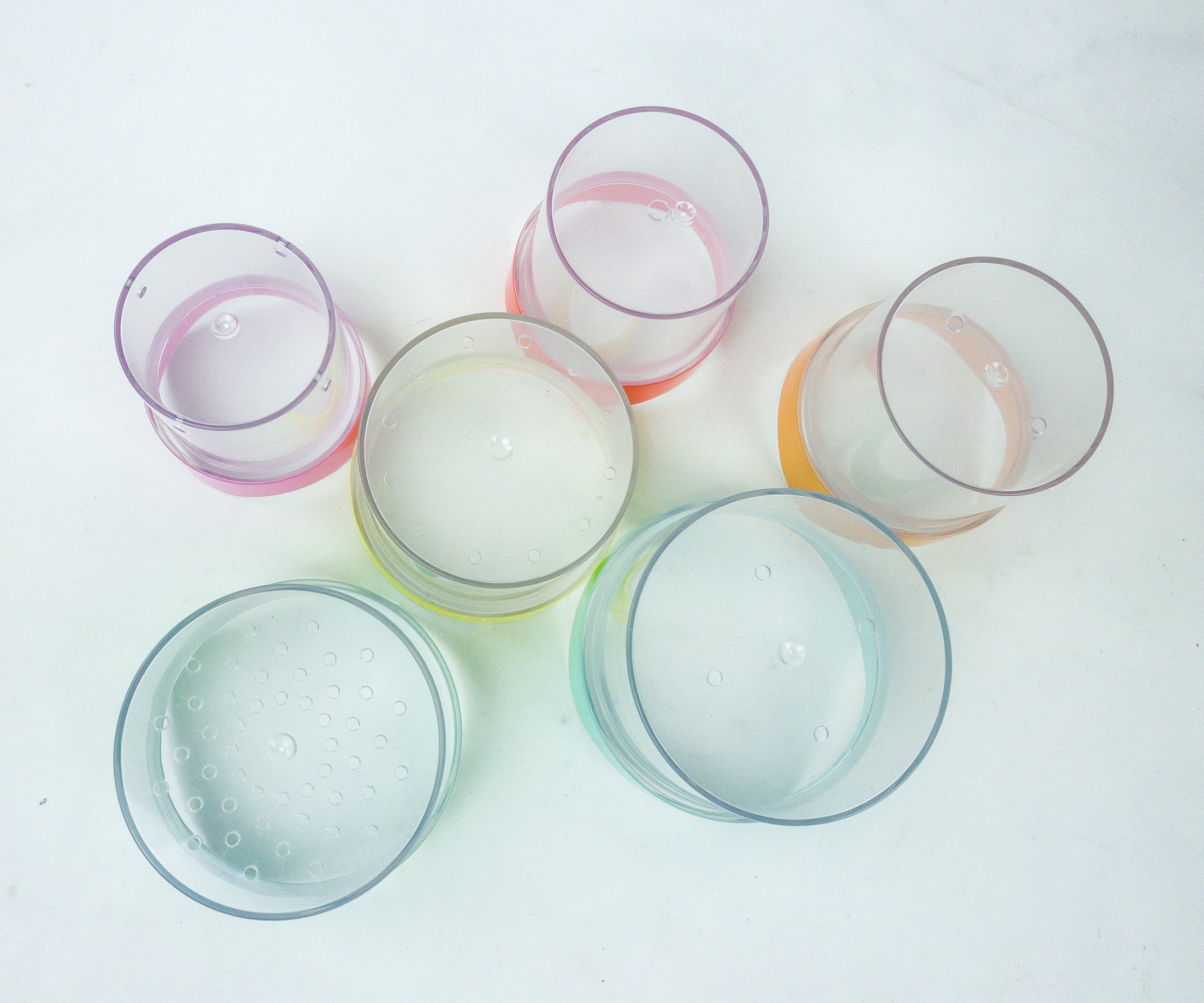 The cups come in different sizes and also with different colors.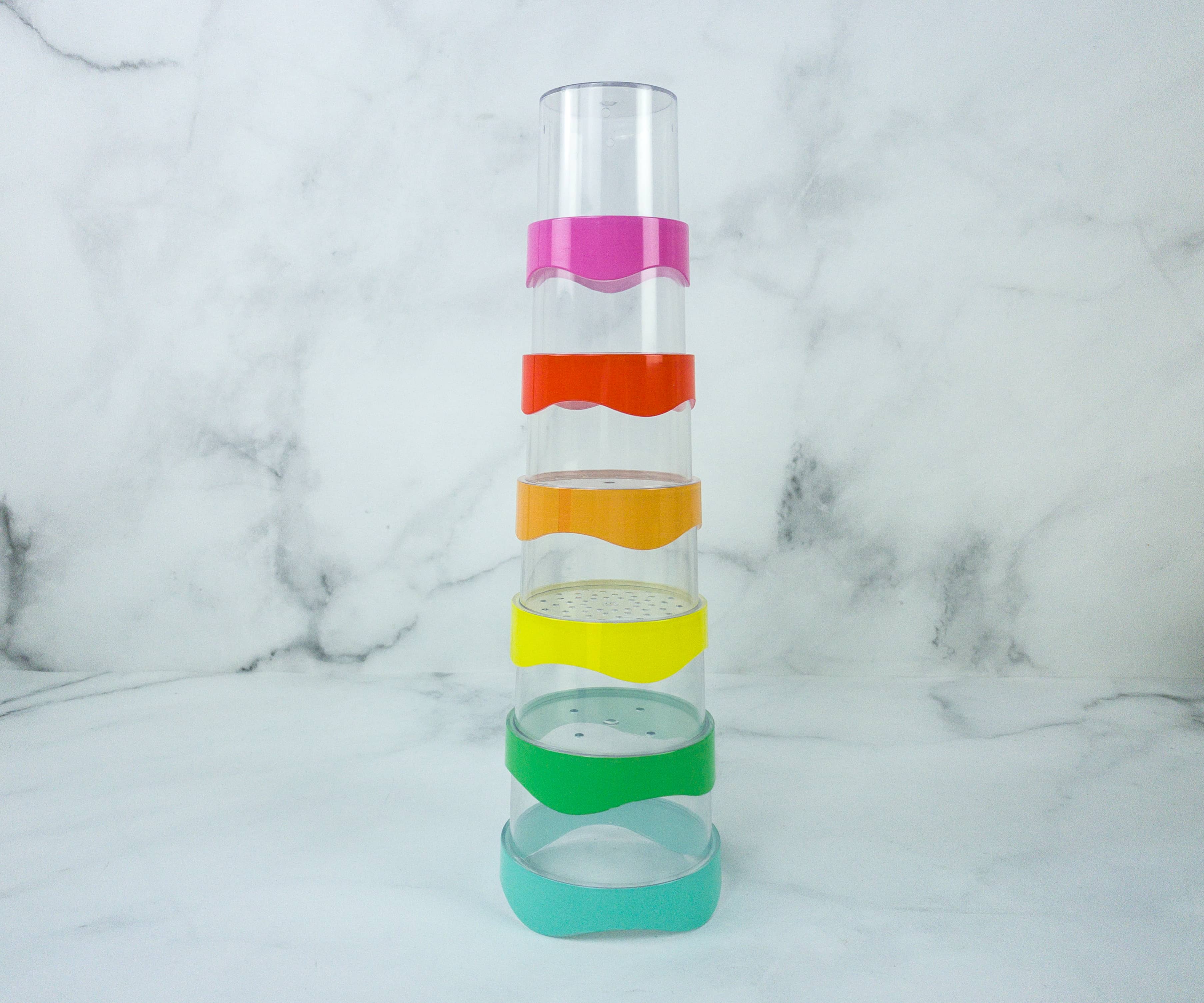 To introduce this toy to your baby, the booklet suggests stacking these cups to build a tower and then knocking it down together.

You can also show your baby how to stack the cups and count using them! We shared the toy with my cousin's baby and she totally had fun with it.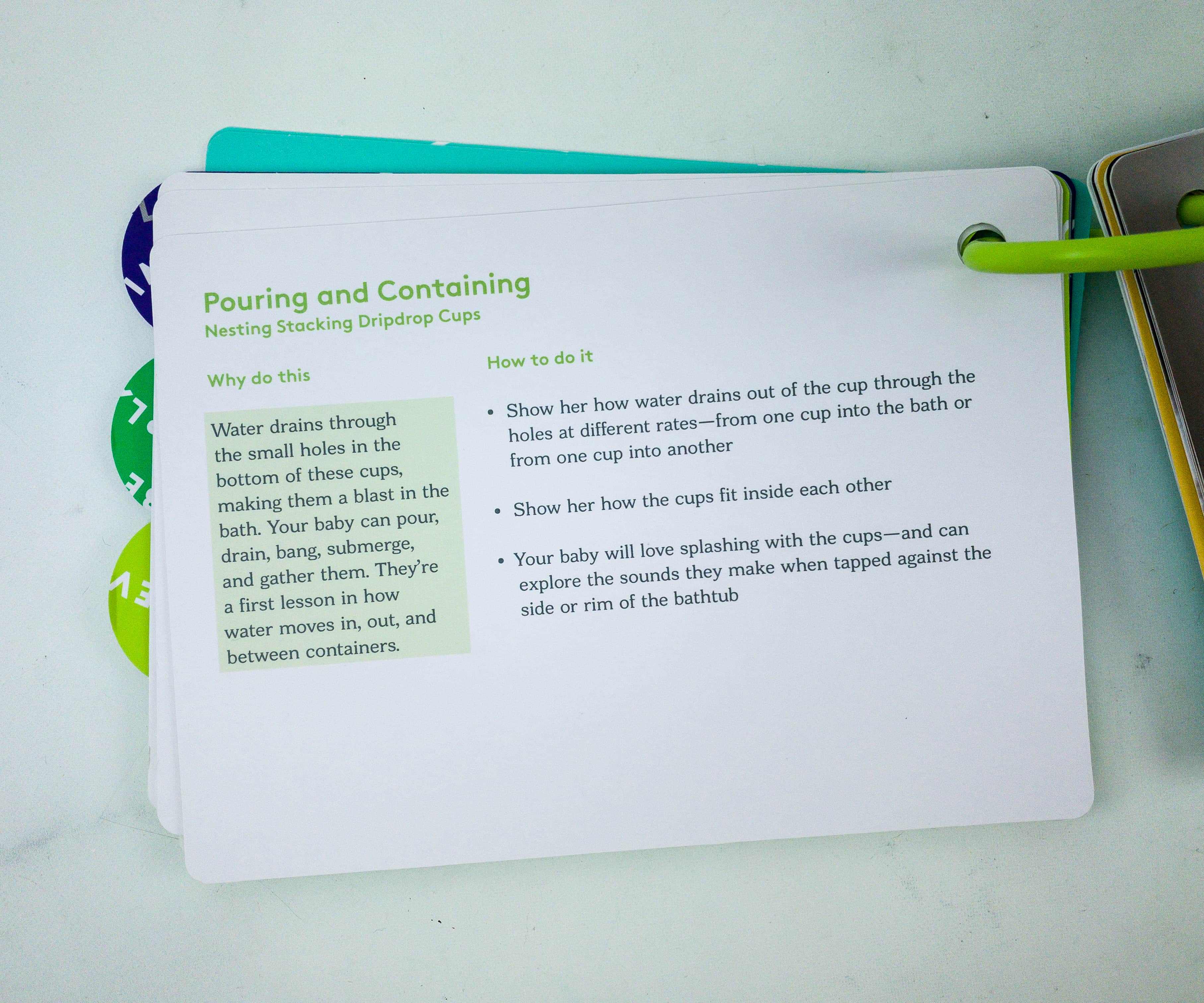 Next up is Pouring and Containing! This also involves the use of the cups, and all you have to do is show them how water drains out of the cup. It makes a fun bathtime activity!
Water drains through the small holes in the bottom of these cups, making them a blast in the bath. Your baby can pour, drain, bang, submerge, and gather them. They're a first lesson in how water moves in, out, and between containers.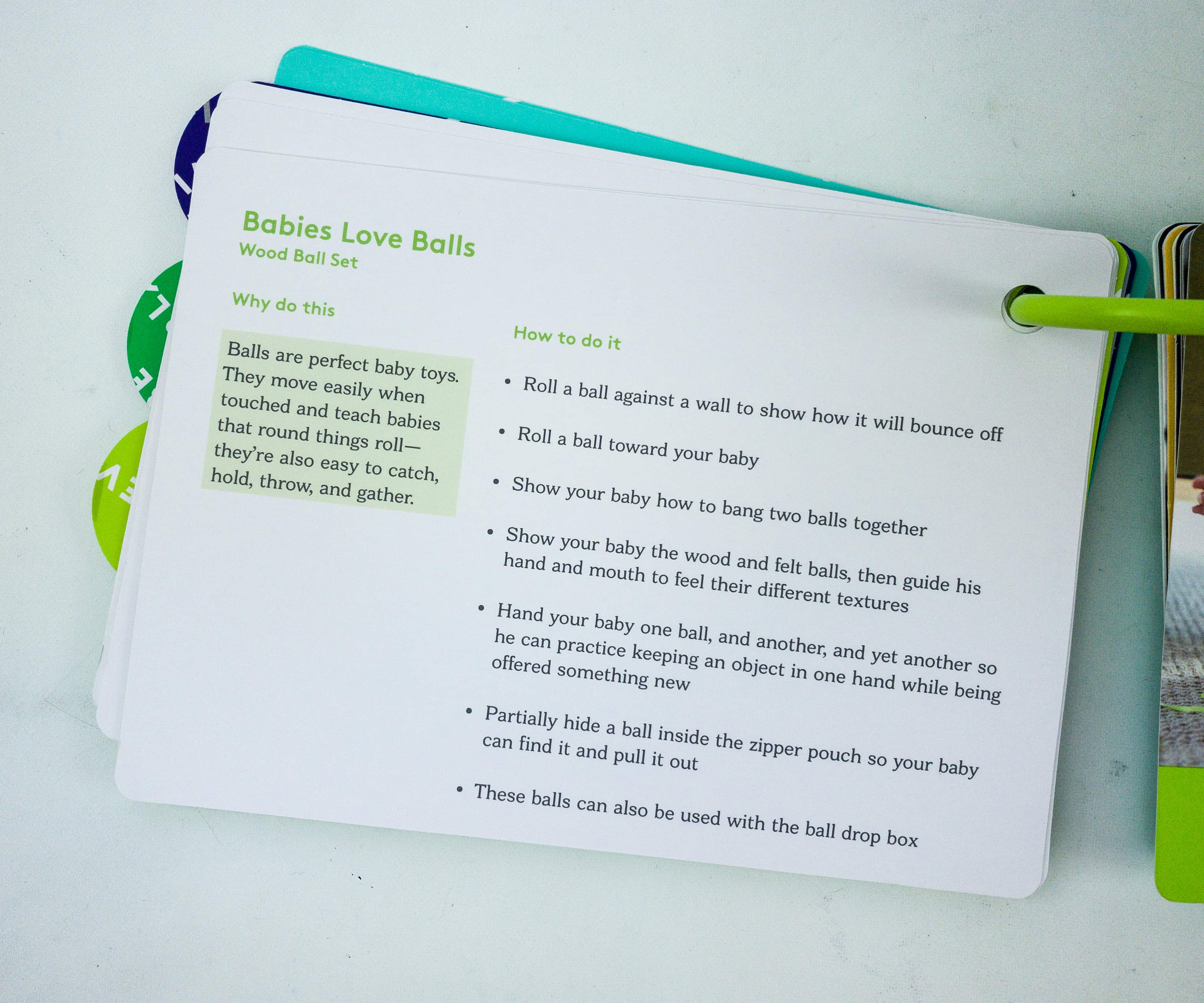 Here's another awesome activity, Babies Love Balls!
Balls are perfect baby toys. They move easily when touched and teach babies that round things roll — they're also easy to reach, hold, throw, and gather.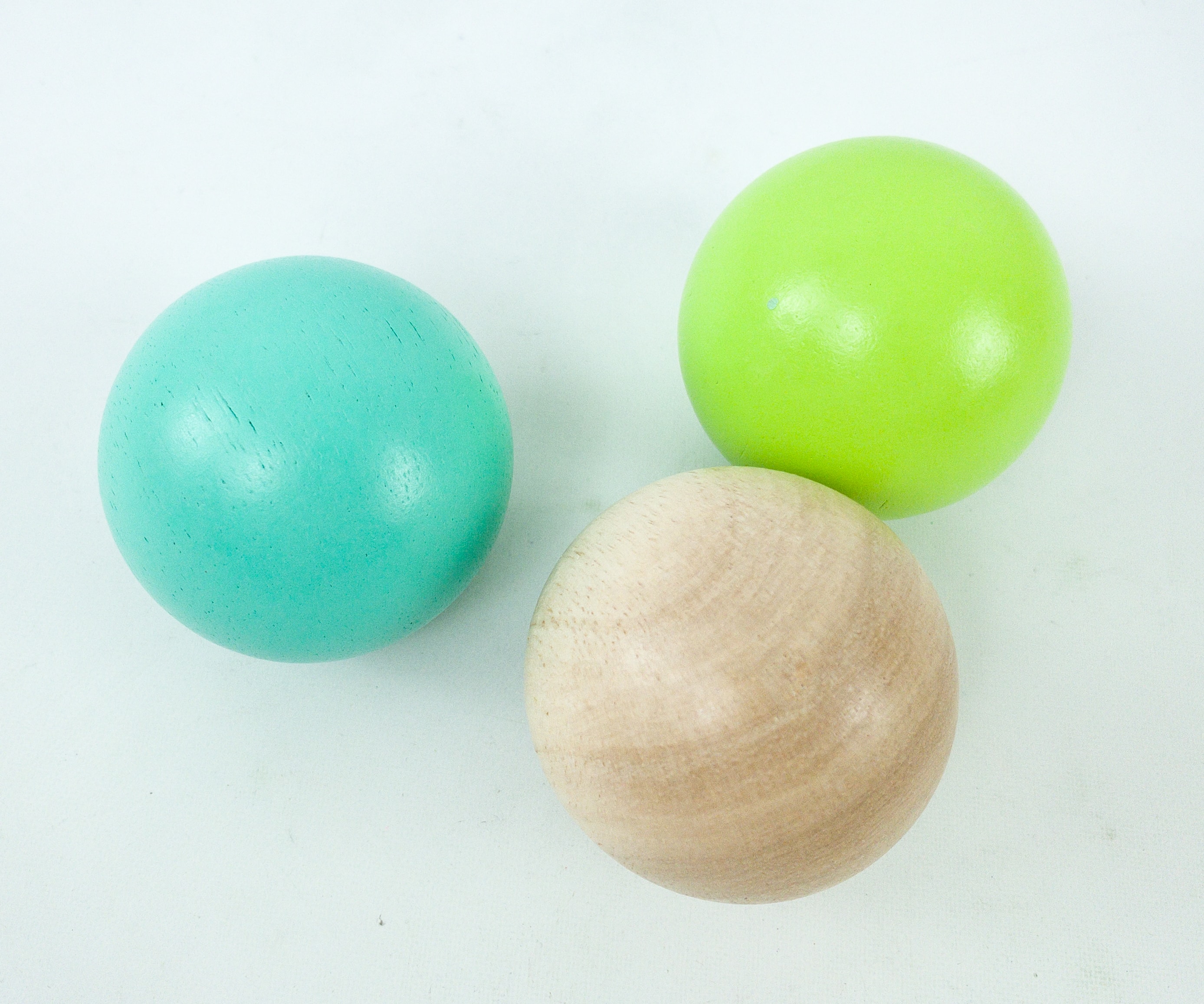 This activity involves the use of 3 wood balls! We got them in 3 different colors: brown, apple green, and blue green.
On to the next activity! It's entitled Sensory Treasures!
This Montessori classic encourages your baby to explore and make new discoveries independently. Your baby craves touching, handling and mouthing new and different things (especially objects from real life). You'll soon fund out that there's an endless stream of objects inside your home and outdoors that are often more interesting to her than actual toys.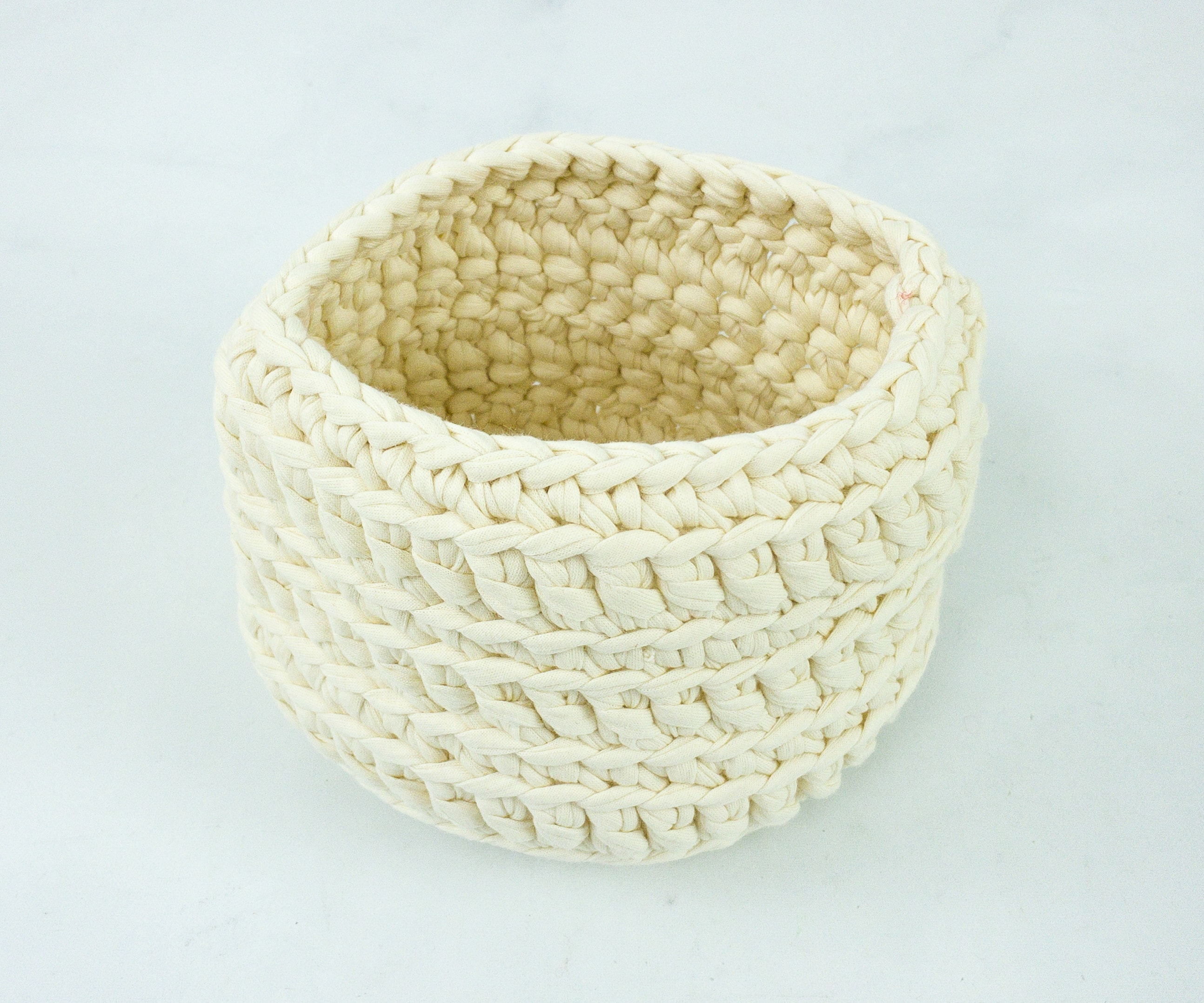 For this, we got a treasure basket! It has a braided texture, which makes it quite an interesting item for babies at this age.
The box also includes felt balls, offering another unique texture for your baby to explore. There are 3 of them in the box and they came in different colors: pink, yellow, and red.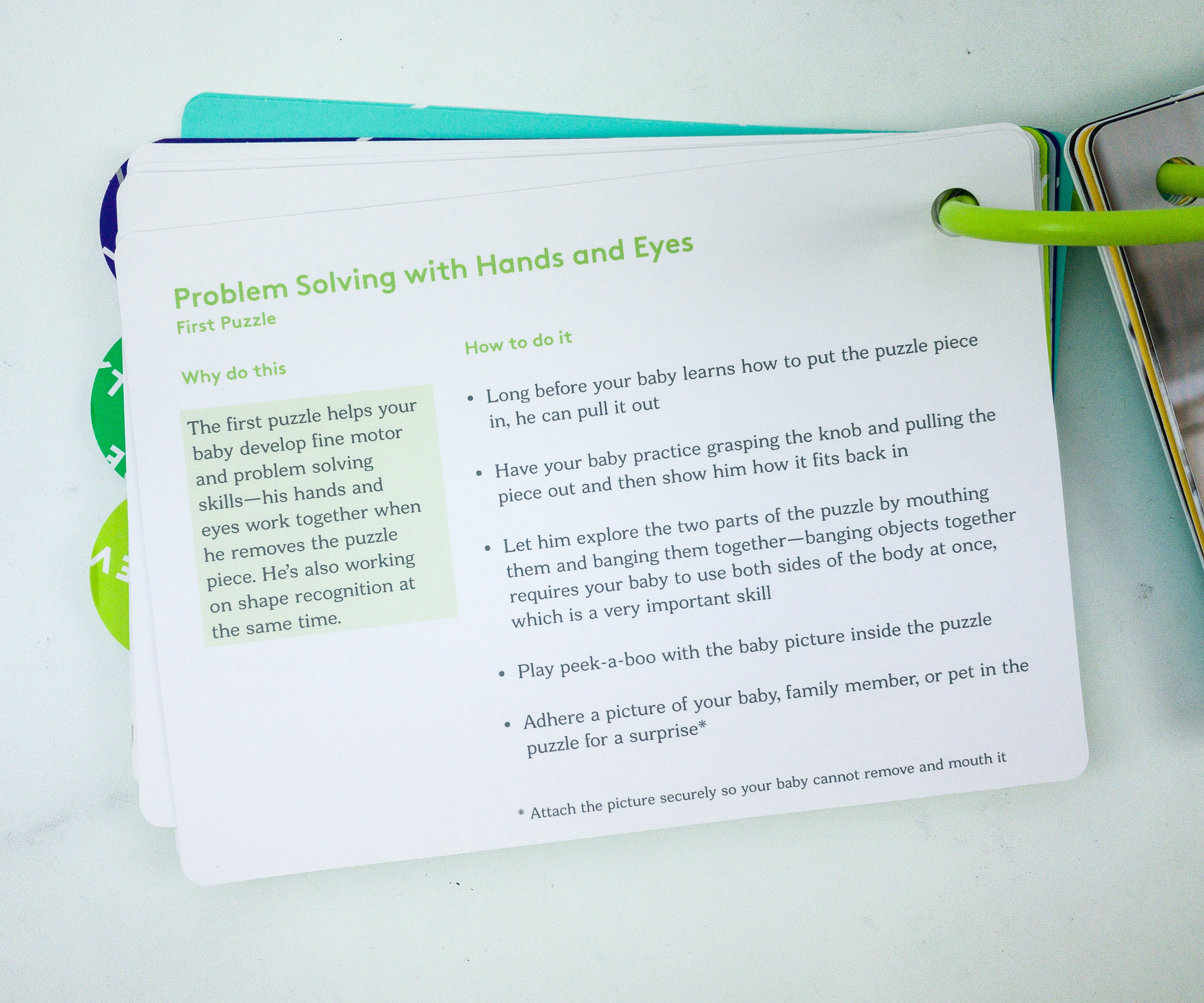 We're moving on to the next one, Problem Solving with Hands and Eyes!
The first puzzle helps your baby develop fine motor and problem solving skills — his hands and eyes work together when he removes the puzzle piece. He's also working on shape recognition at the same time.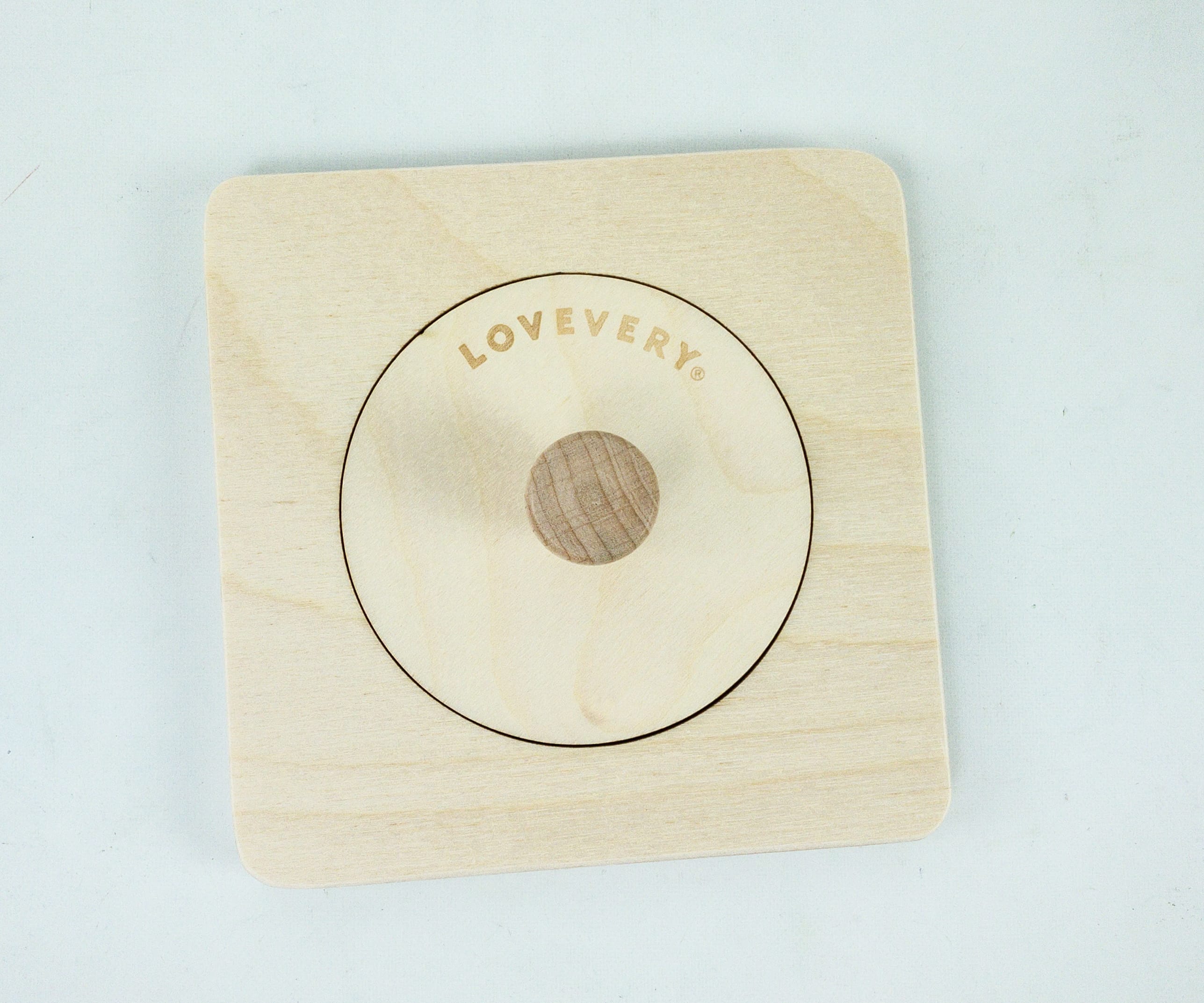 This is how the First Puzzle looks like! It's made of wood, yet it's lightweight enough for babies to lift. It also has rounded edges for safety purposes.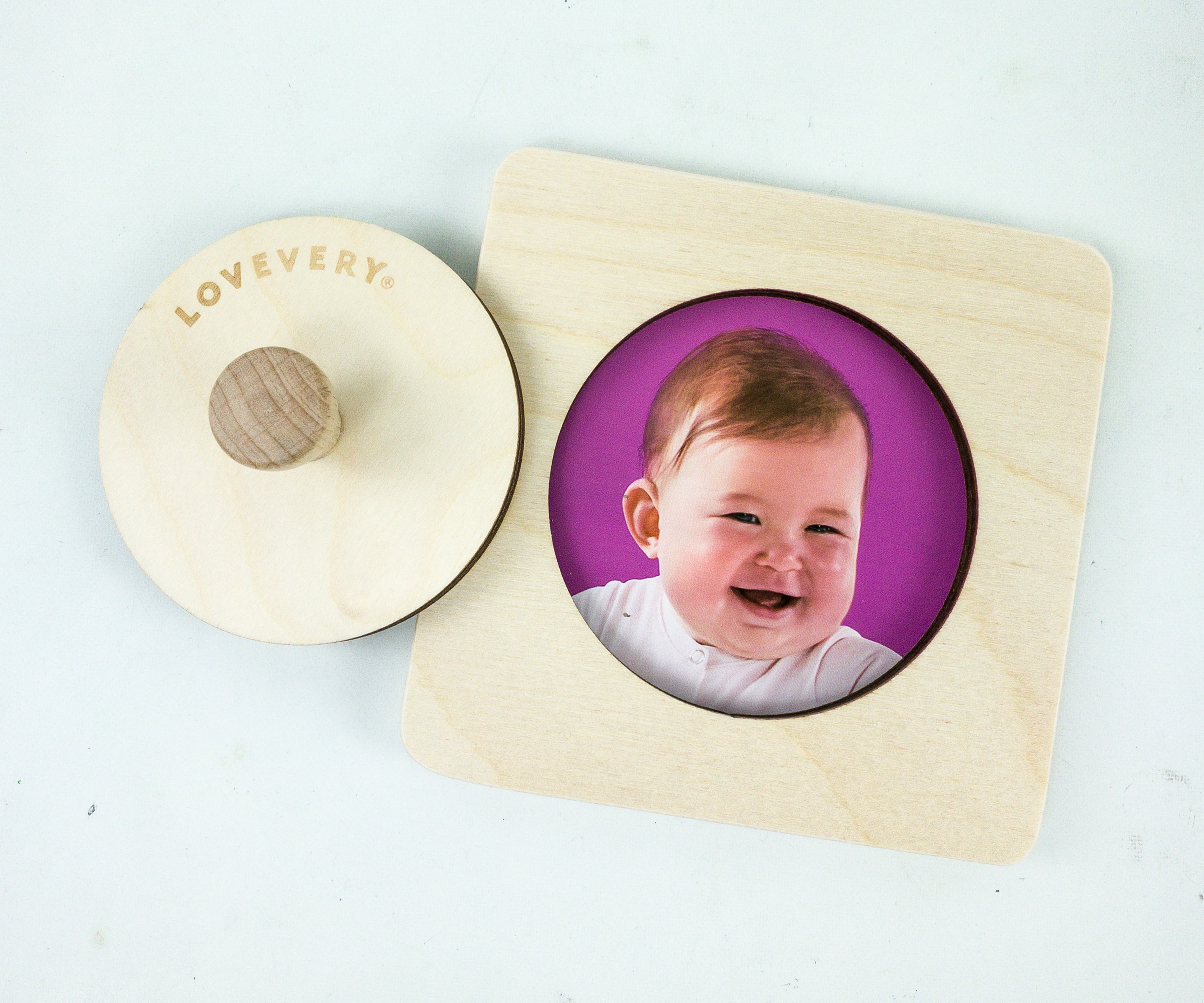 Inside the square is a round puzzle piece with a knob that makes it easier to lift. Under it is a baby's photo. You can change this photo to customize the puzzle!

Mouthing the puzzle is okay too, it's a part of exploring the toy. My sweet niece loved this toy as well!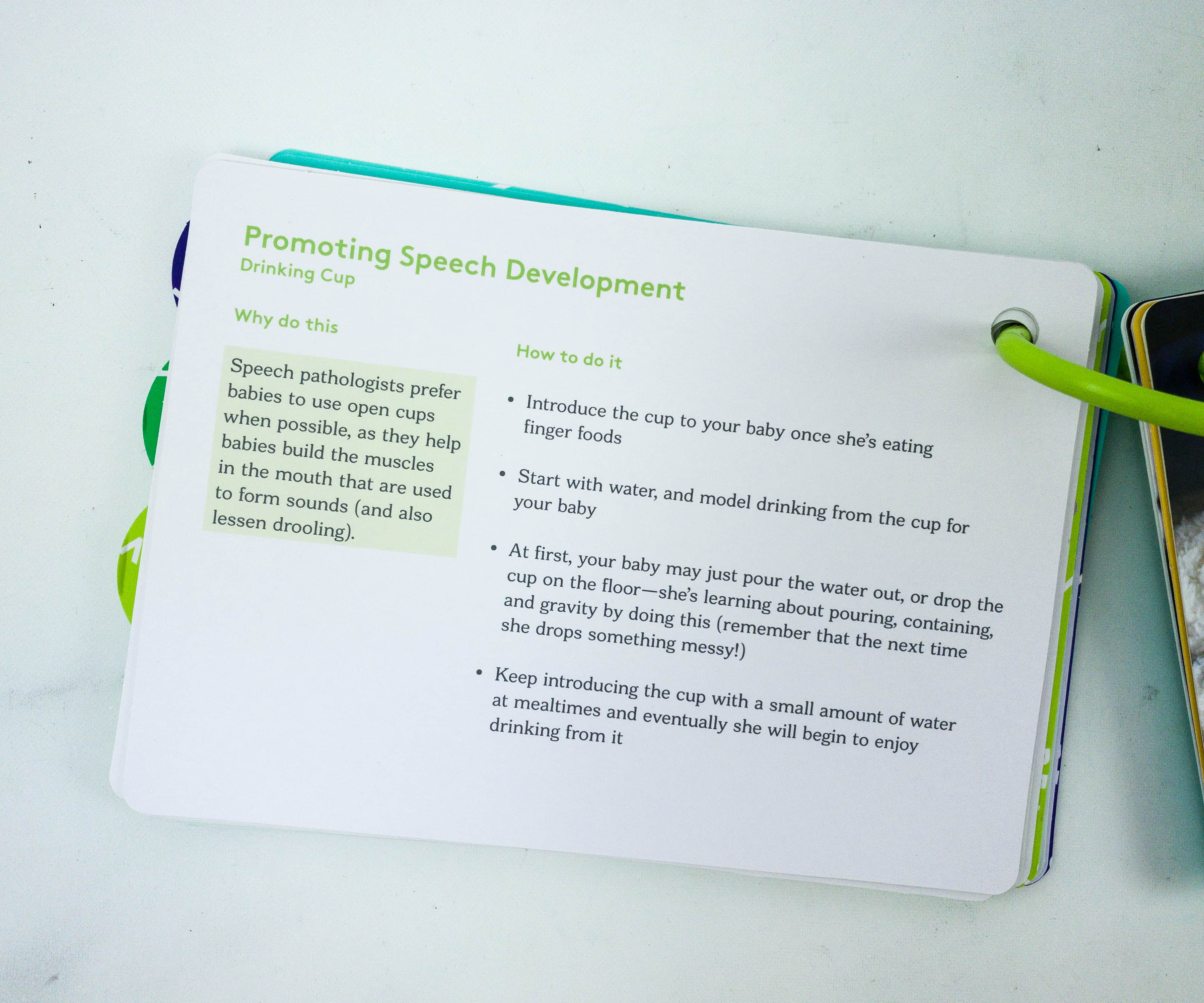 Here's the next activity, Promoting Speech Development!
Speech pathologists prefer babies to use open cups when possible, as they help babies build the muscles in the mouth that are used to form sounds (and also lessen drooling).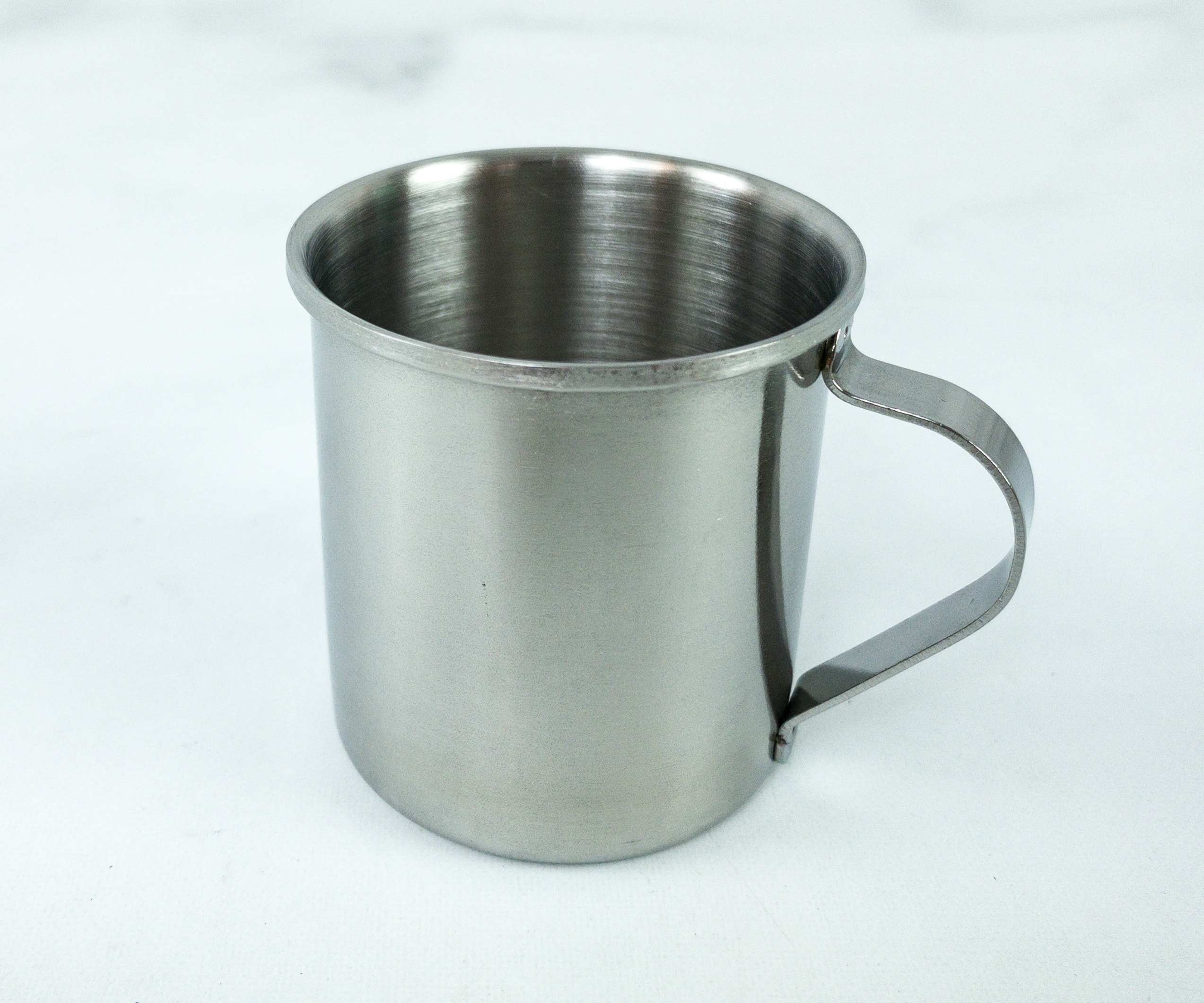 We got a Drinking Cup for this activity! It can be introduced to your baby once they have started eating finger foods. Put some water in it and let them have a drink.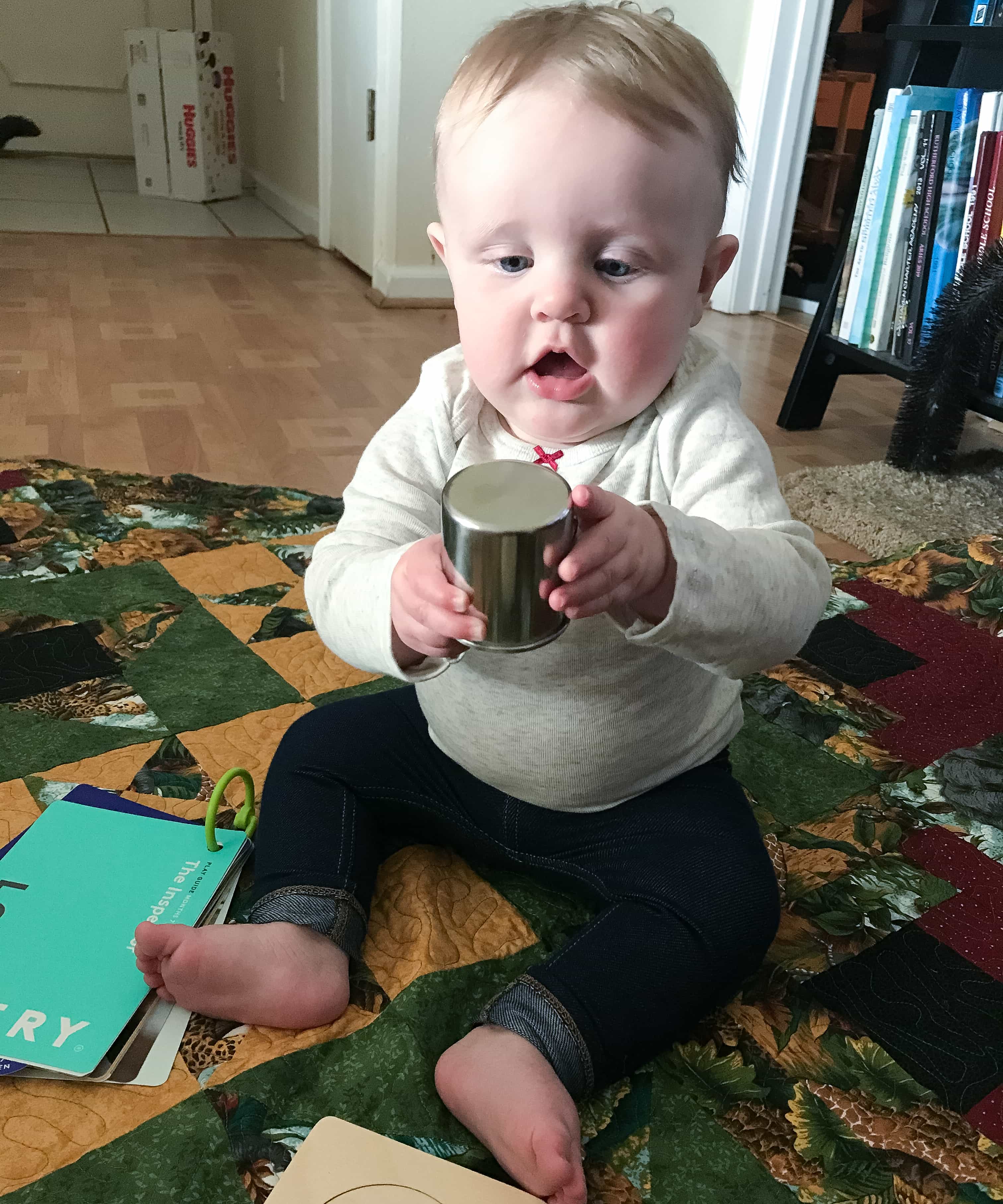 Pouring the water out or dropping the cup at first is normal, but they'll eventually learn to enjoy drinking from it!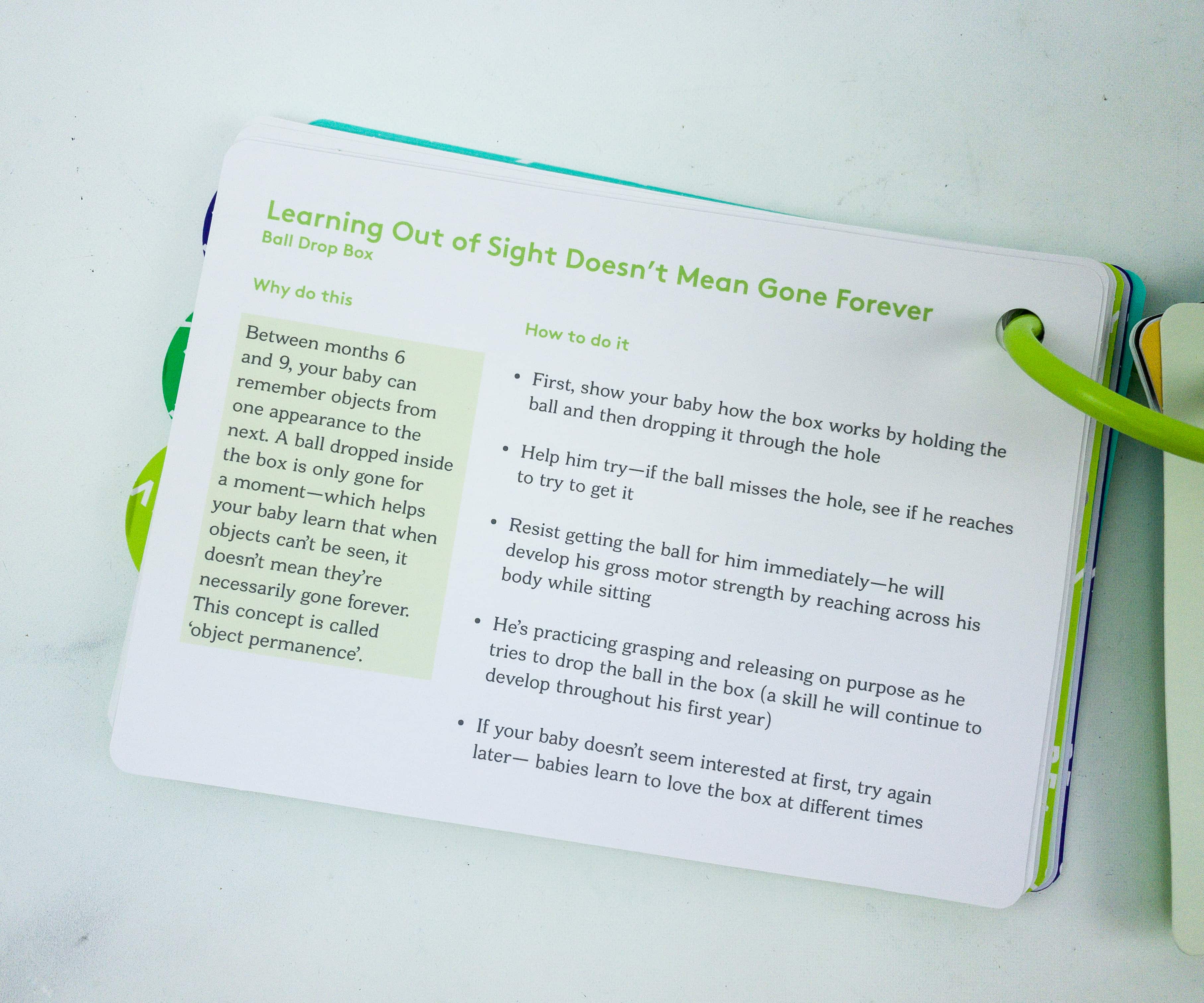 The next activity is Learning Out of Sight Doesn't Mean Gone Forever!
Between months 6 and 9, your baby can remember objects from one appearance to the next. A ball dropped inside the box is only gone for a moment — which helps your baby learn that when objects can't be seen, it doesn't mean they're necessarily gone forever. This concept is called 'object permanence'.
It's time to explore the Ball Drop Box! It's made with wood, and has a hole on top where your child can insert the balls.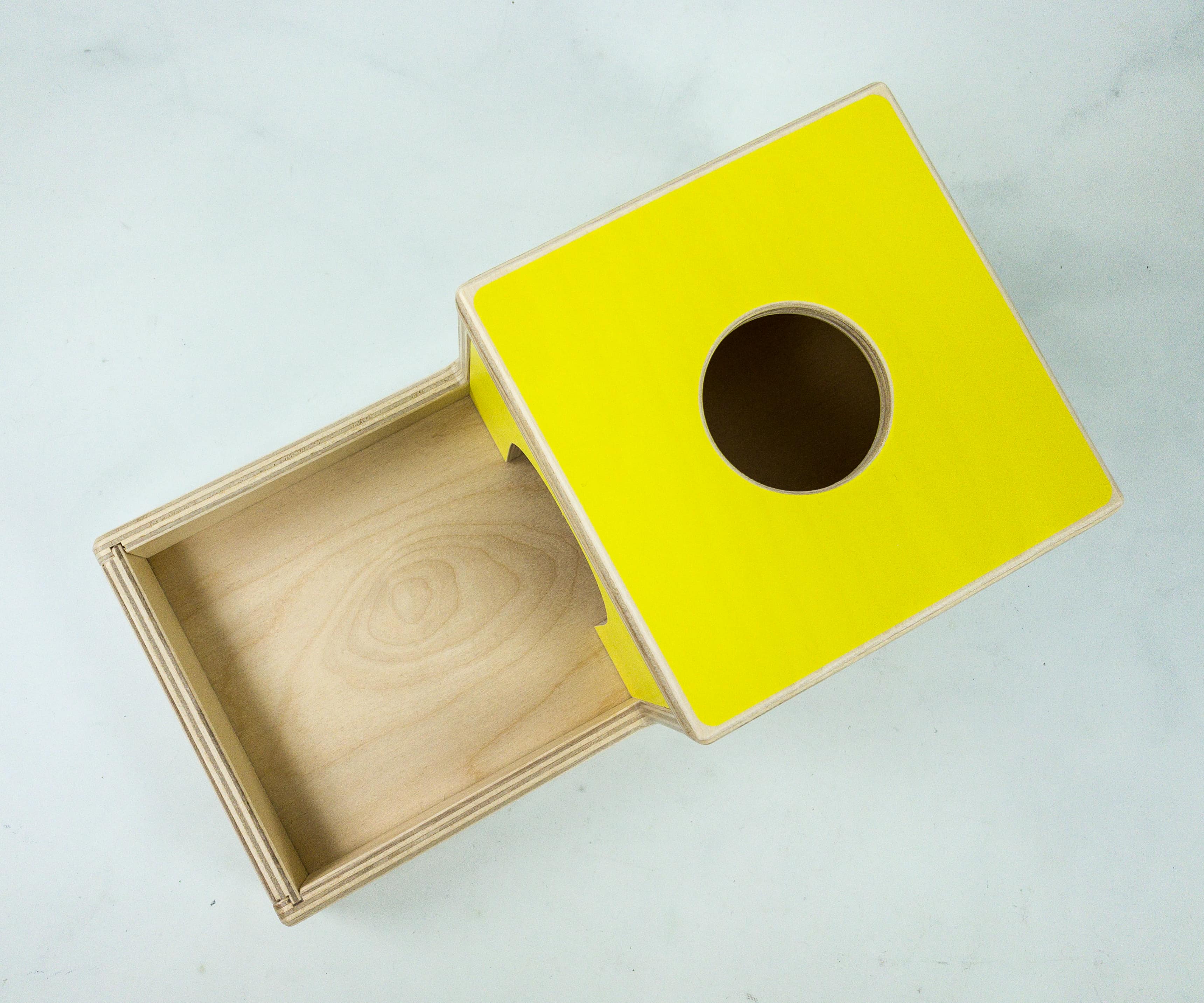 The ball will then pass through the side and your baby can pick it up again! It's another way to develop their gross motor strength.

My niece was so curious about the ball. This is really a great developmental toy!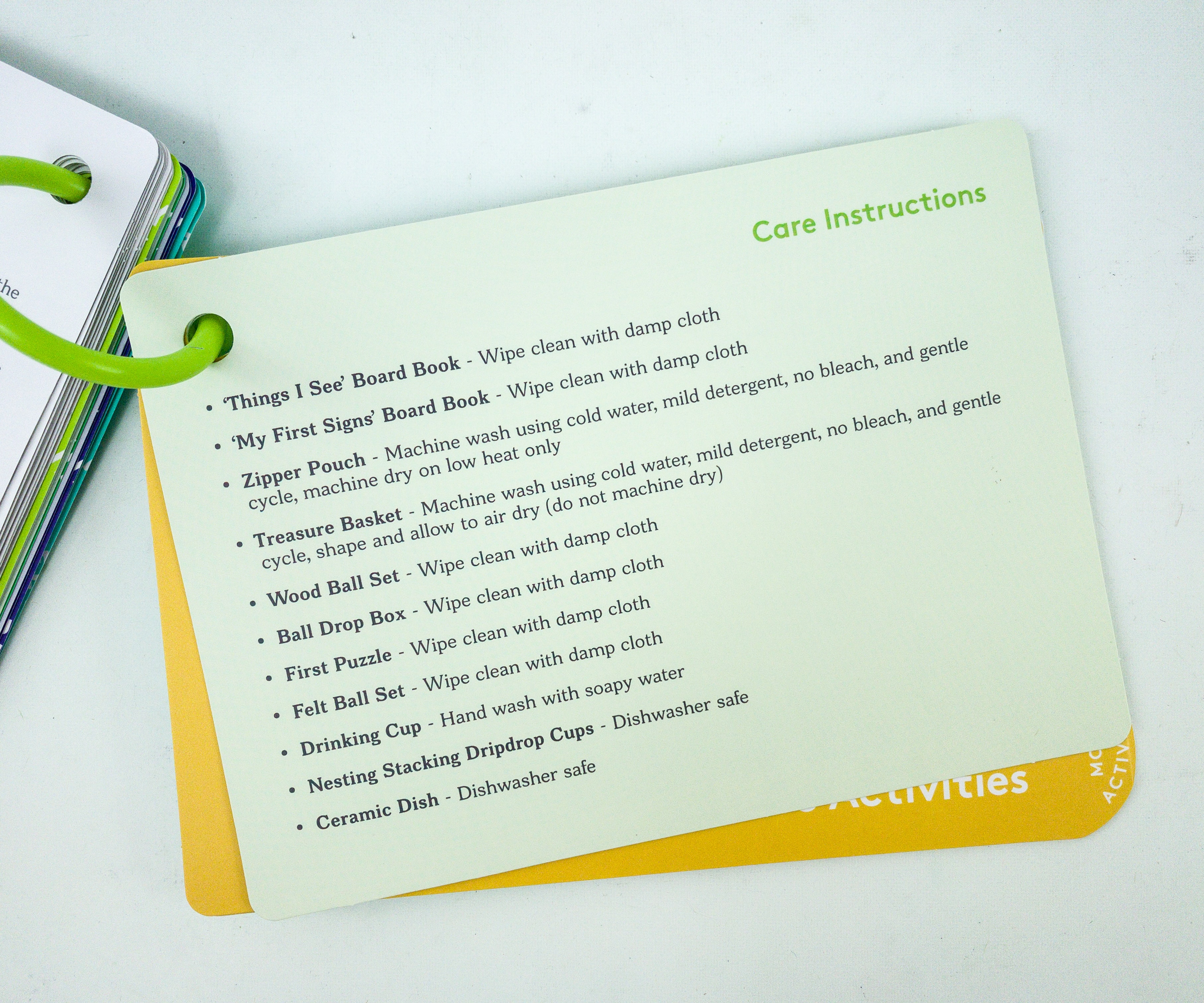 Additional care instructions are listed in the booklet.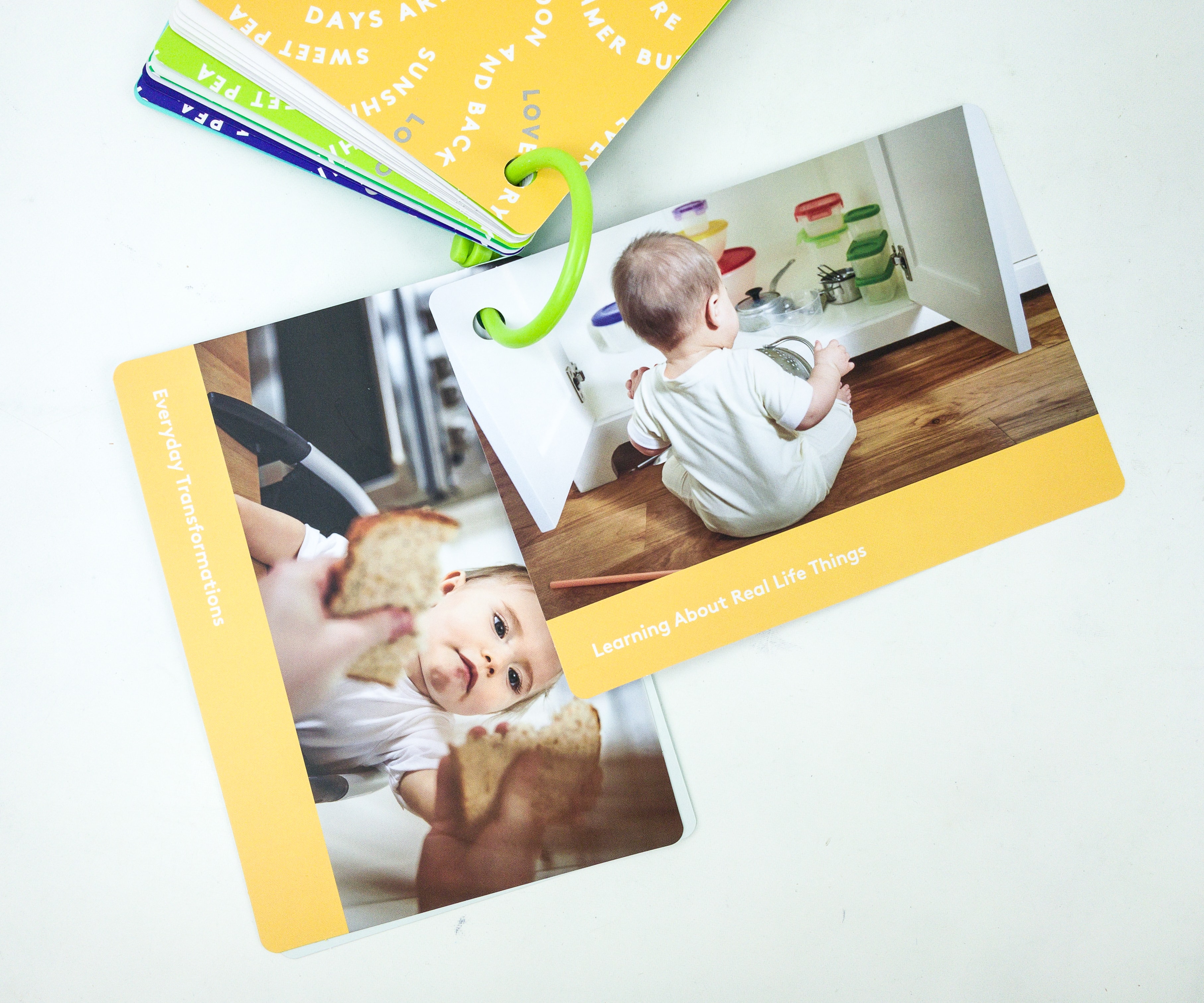 We're onto the last part of the booklet, which suggests more activities for parents and babies!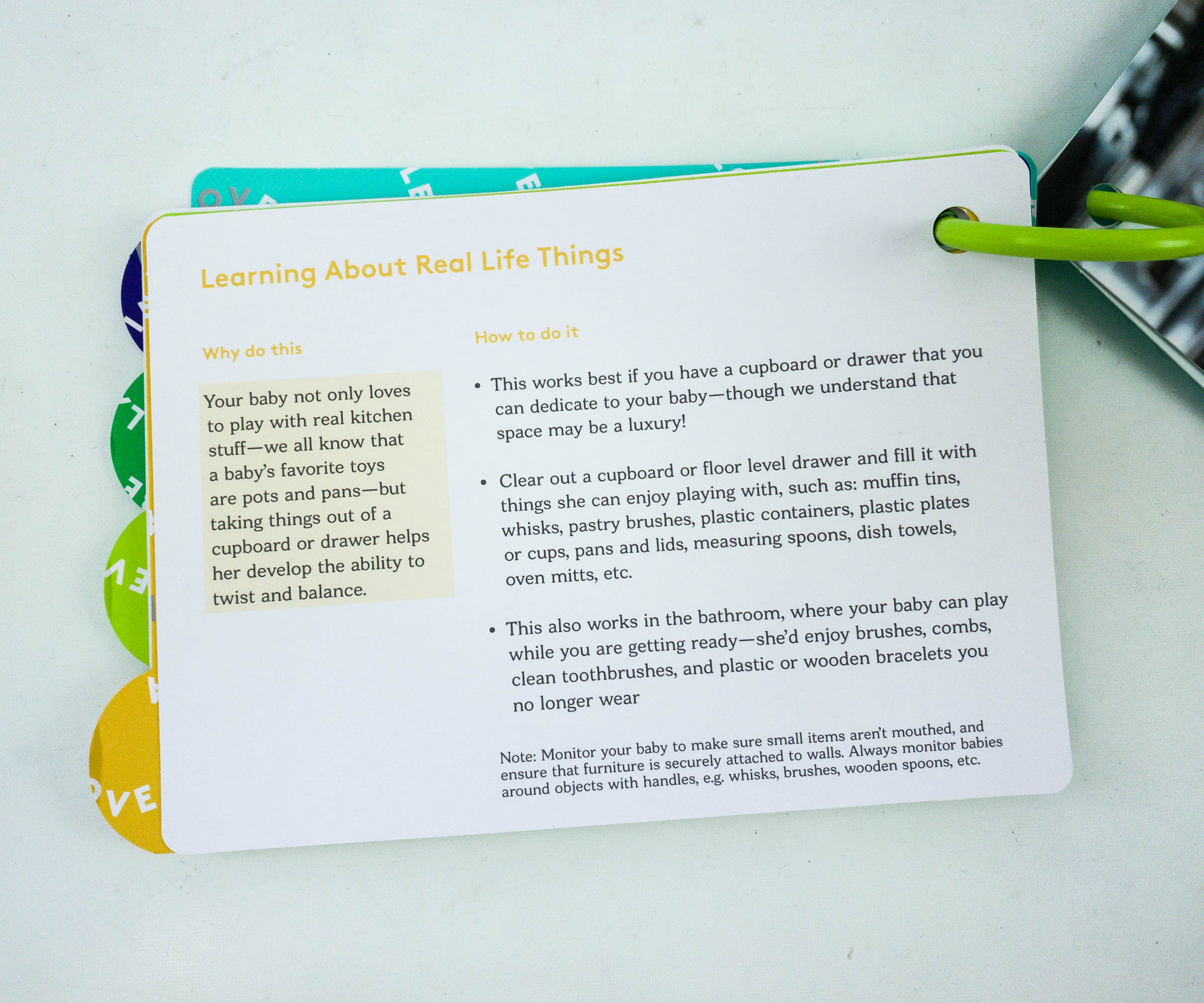 The first one is Learning About Real Life Things! This activity encourages you to dedicate a cupboard or drawer for your baby and fill it with their favorite toys.
Your baby not only loves to play with real kitchen stuff — we all know that a baby's favorite toys are pots and pans — but taking things out of a cupboard or drawer helps her develop the ability to twist and balance.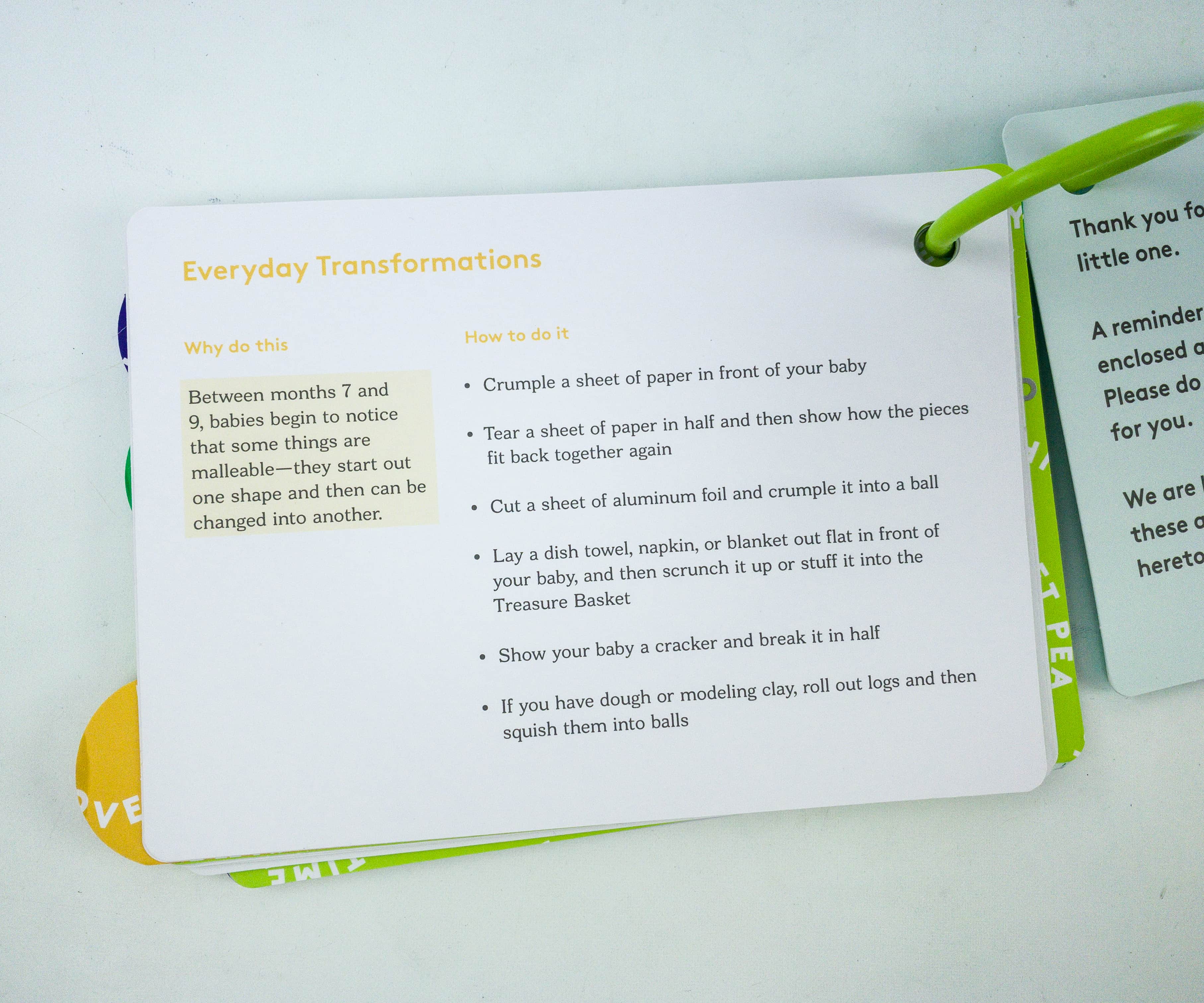 Next is Everyday Transformations! There are various ways to teach kids about some things being malleable, it can be as simple as crumpling or tearing a sheet of paper.
Between months 7 and 9, babies begin to notice that some things are malleable — they start out one shape and then can be changed into another.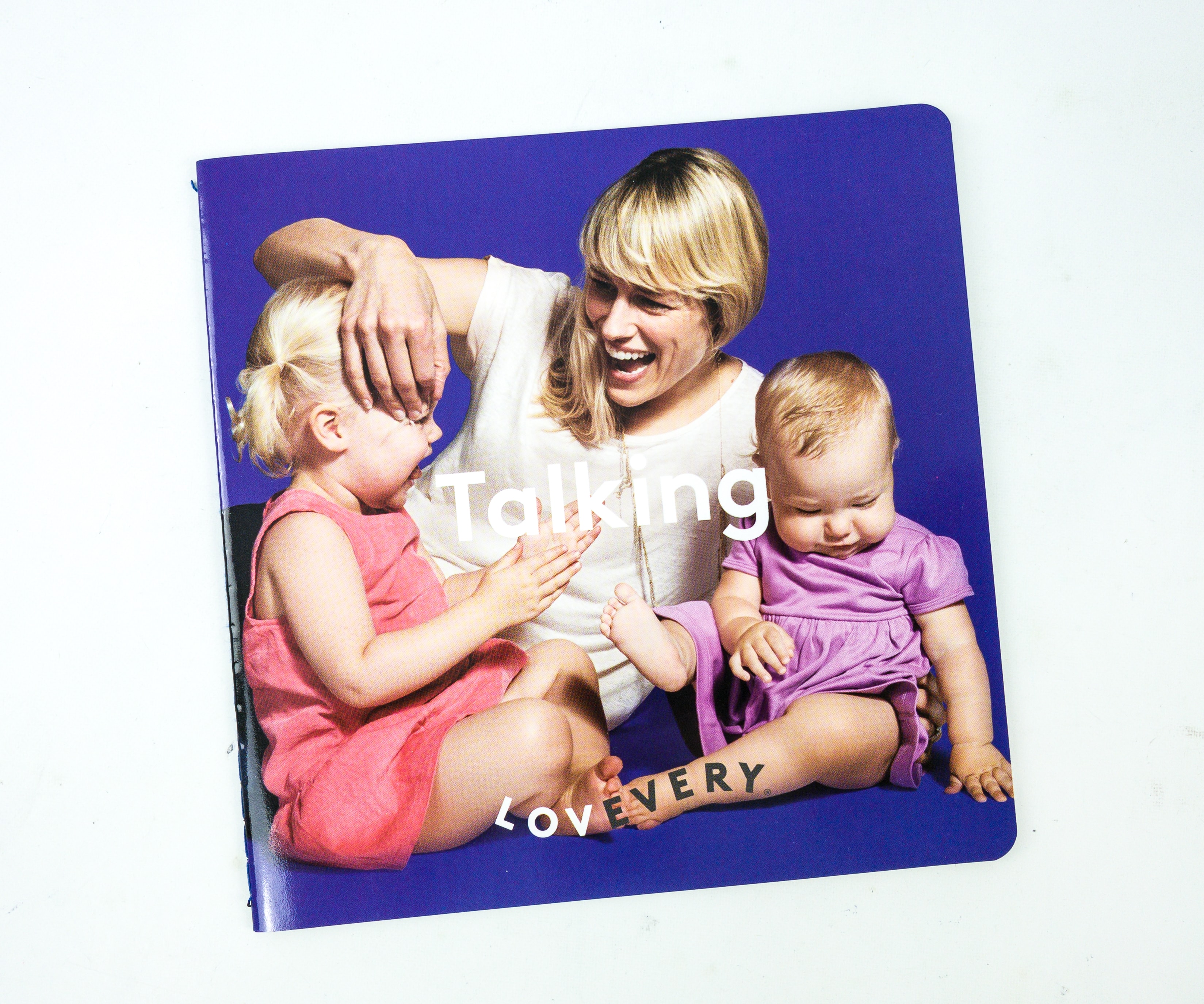 Another booklet is included in the box!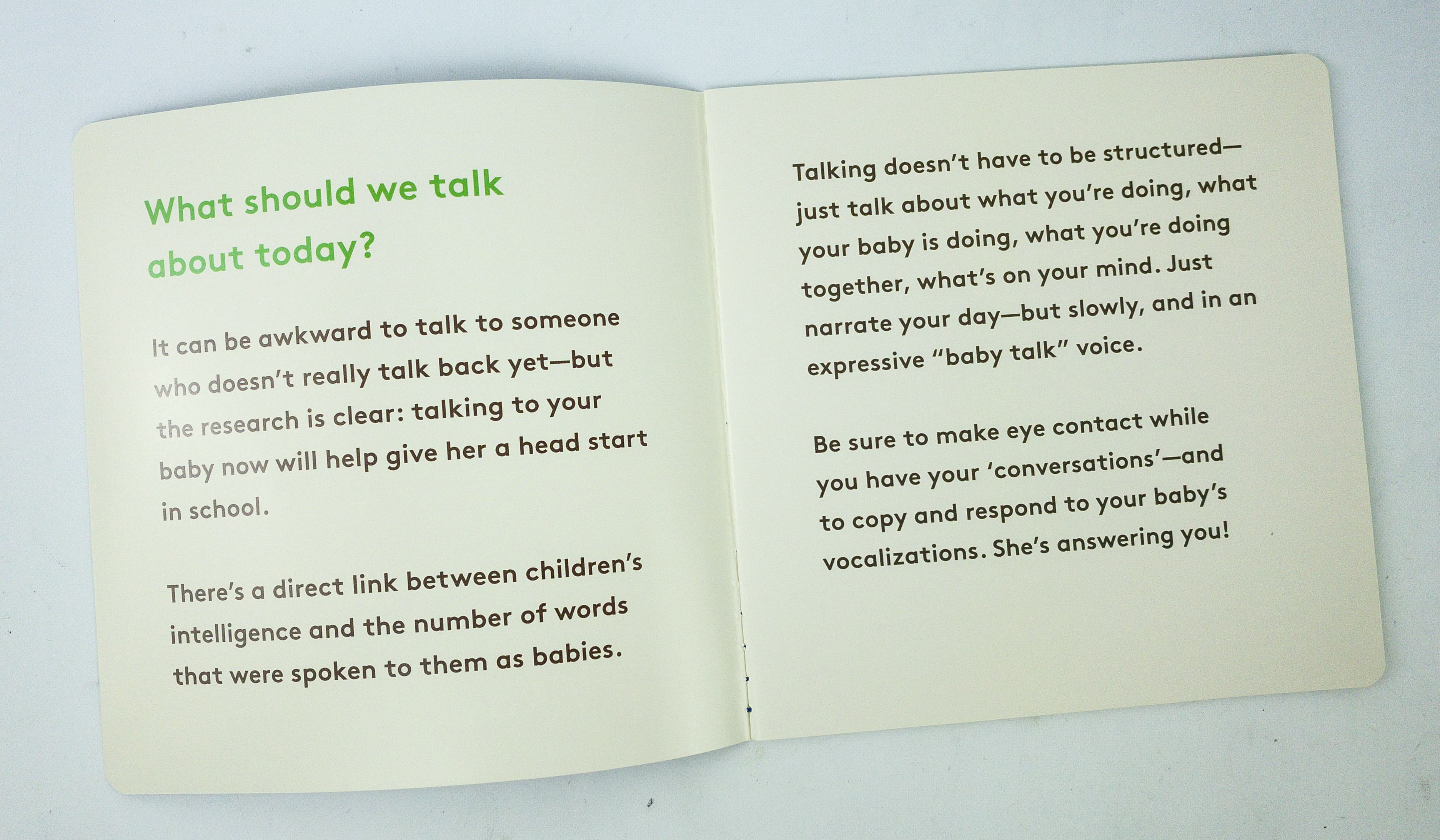 This was made to encourage parents to have conversations with their babies, even when they can't really talk back yet.
They even shared topics you can talk about!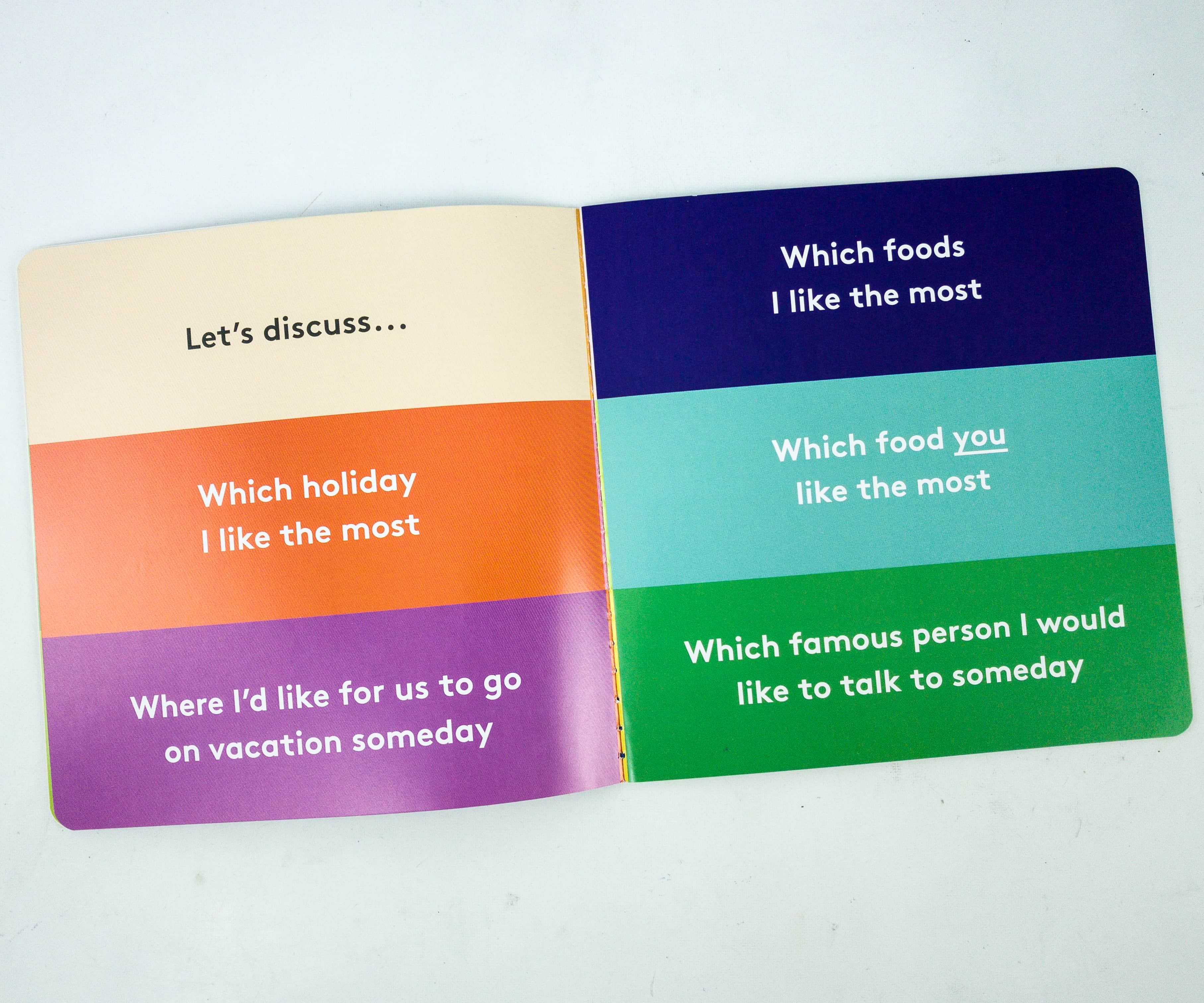 From your hopes and dreams to everyday things like food, there's so much to talk about!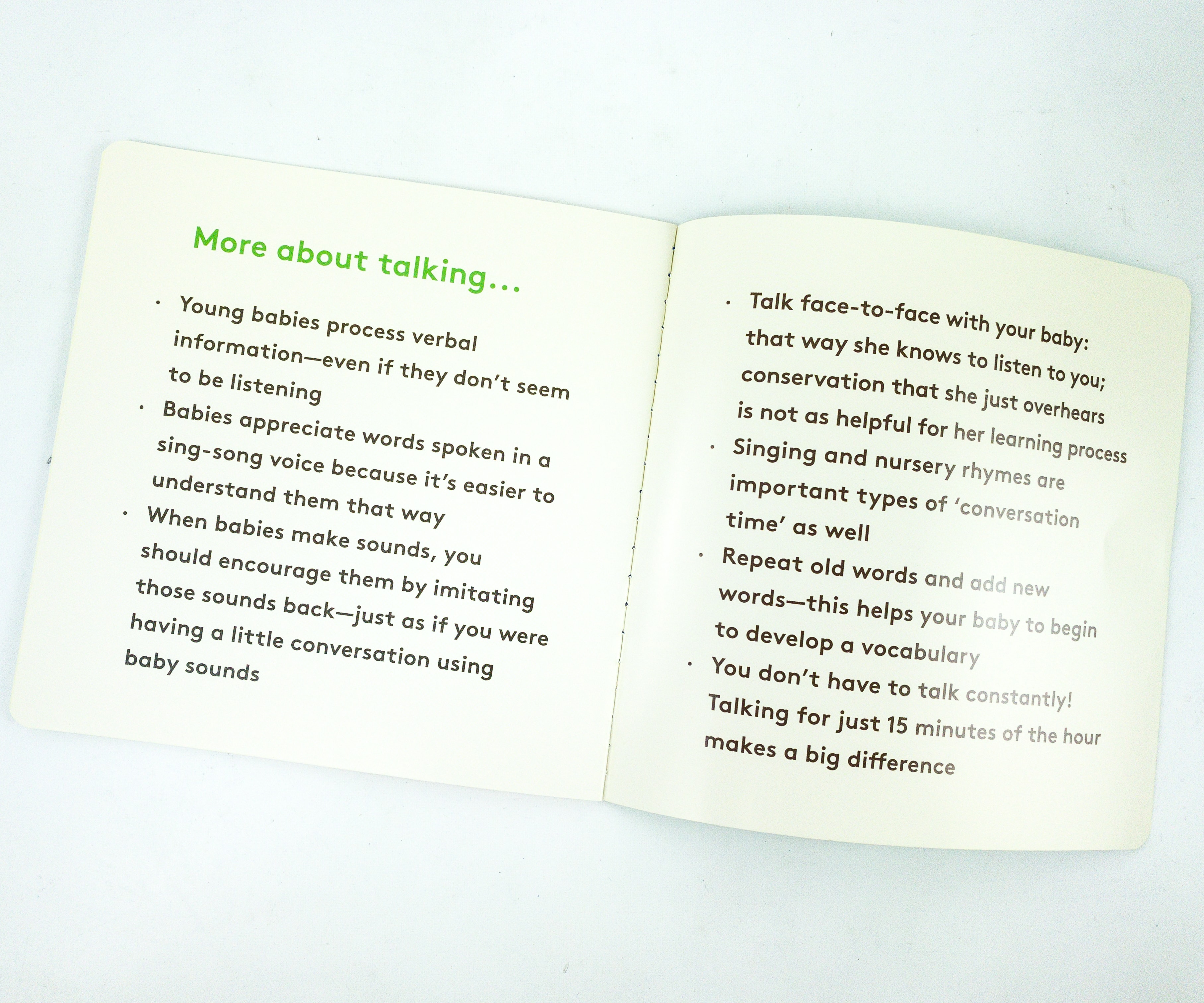 This guide is really helpful, especially if you're a first-time parent.
They also included this cute pouch in the box. It's secured with a green zipper and also has a green lining.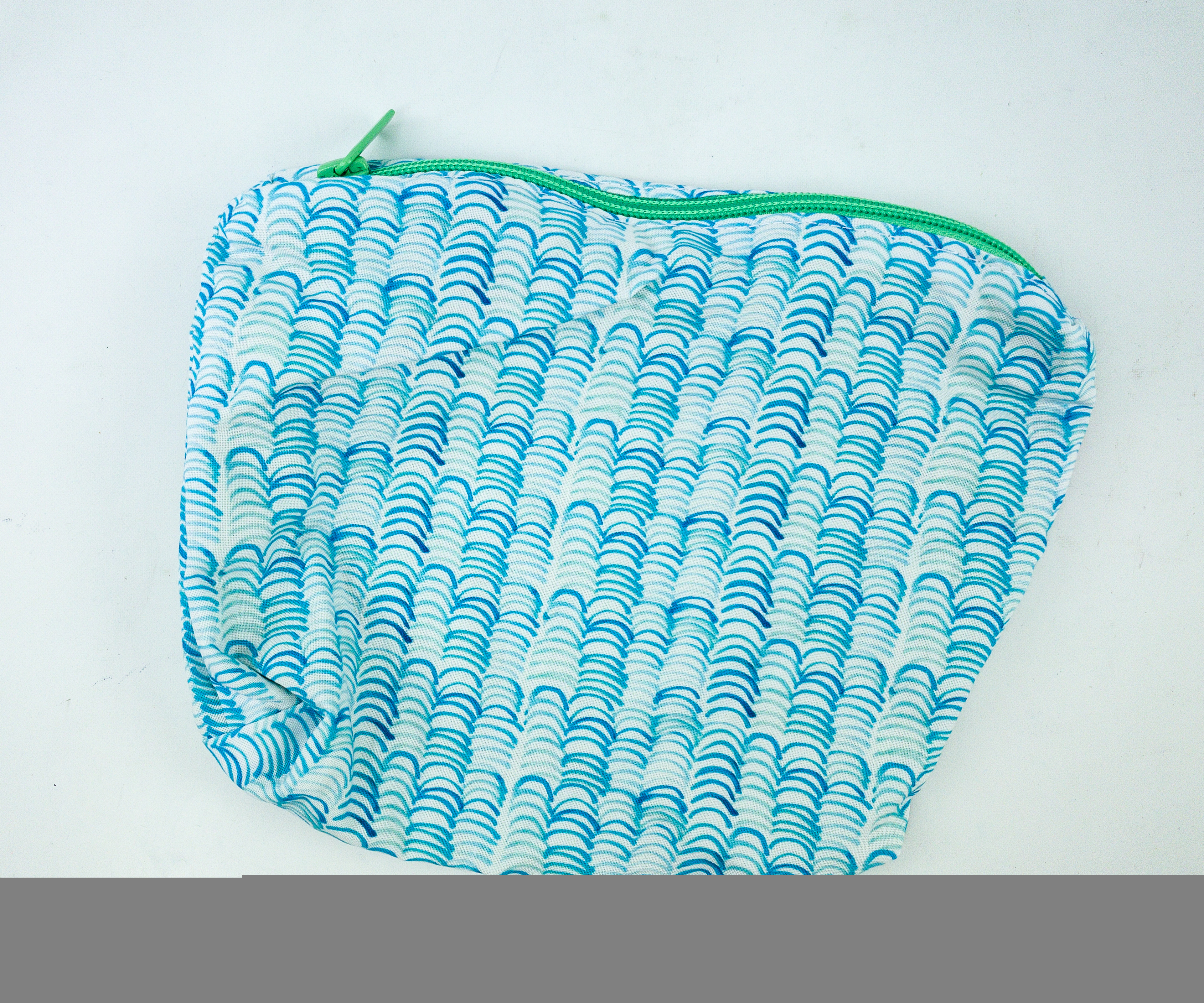 It's spacious enough to keep some of the toys and learning materials from the box.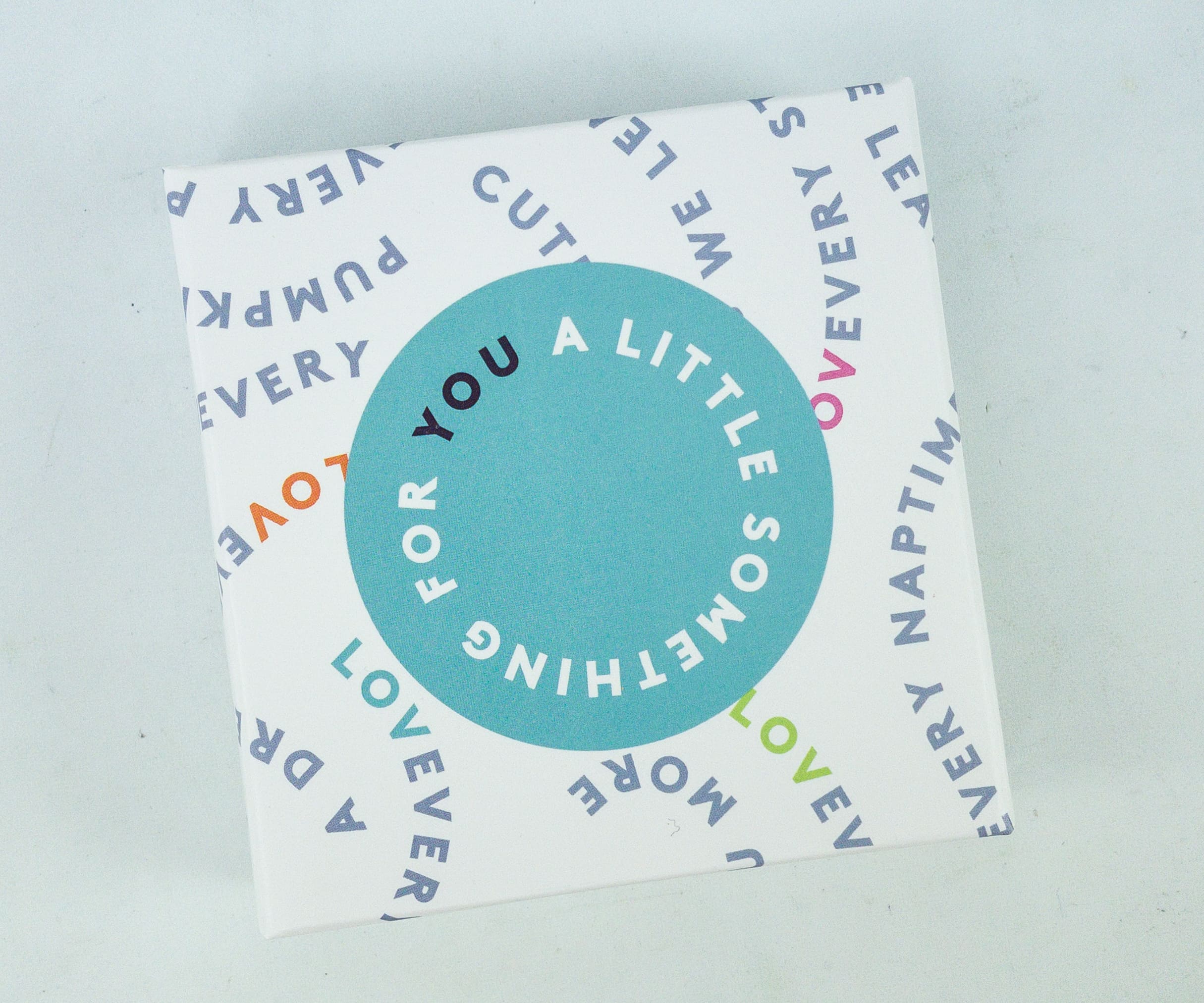 Lastly, here's a gift for the parents!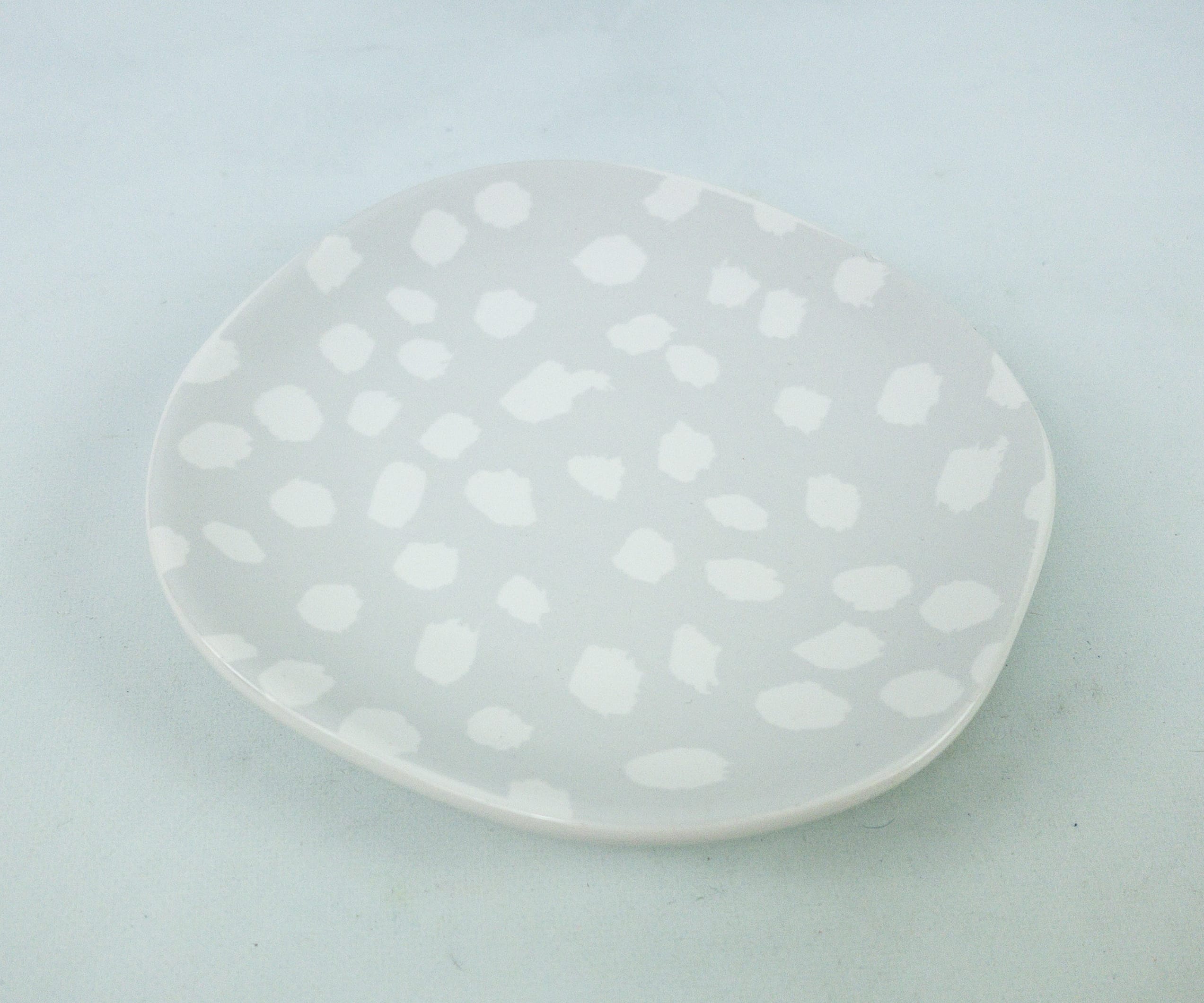 It's a small dish where you can place trinkets, accessories, and other small items.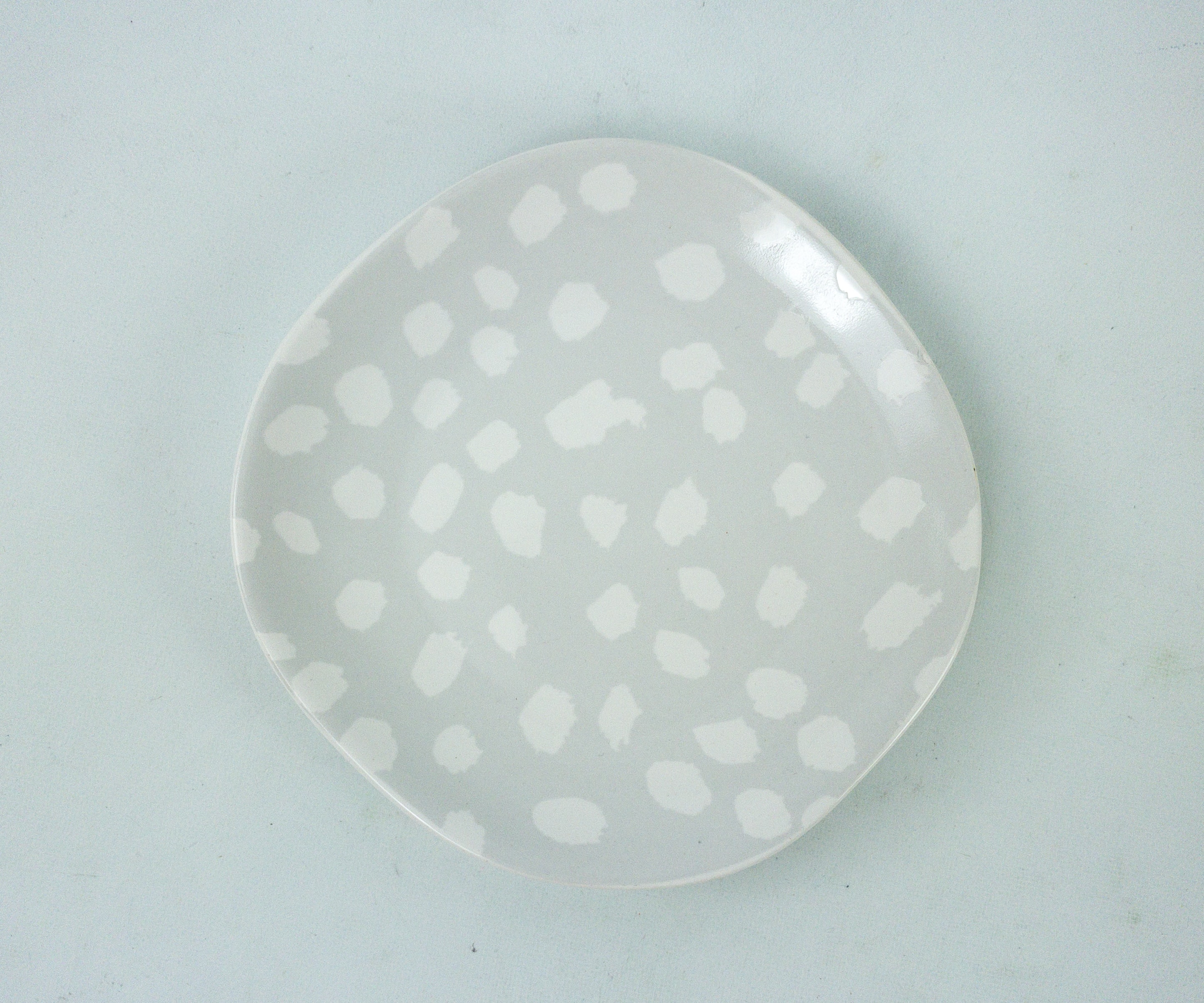 It also makes a good display for your desk.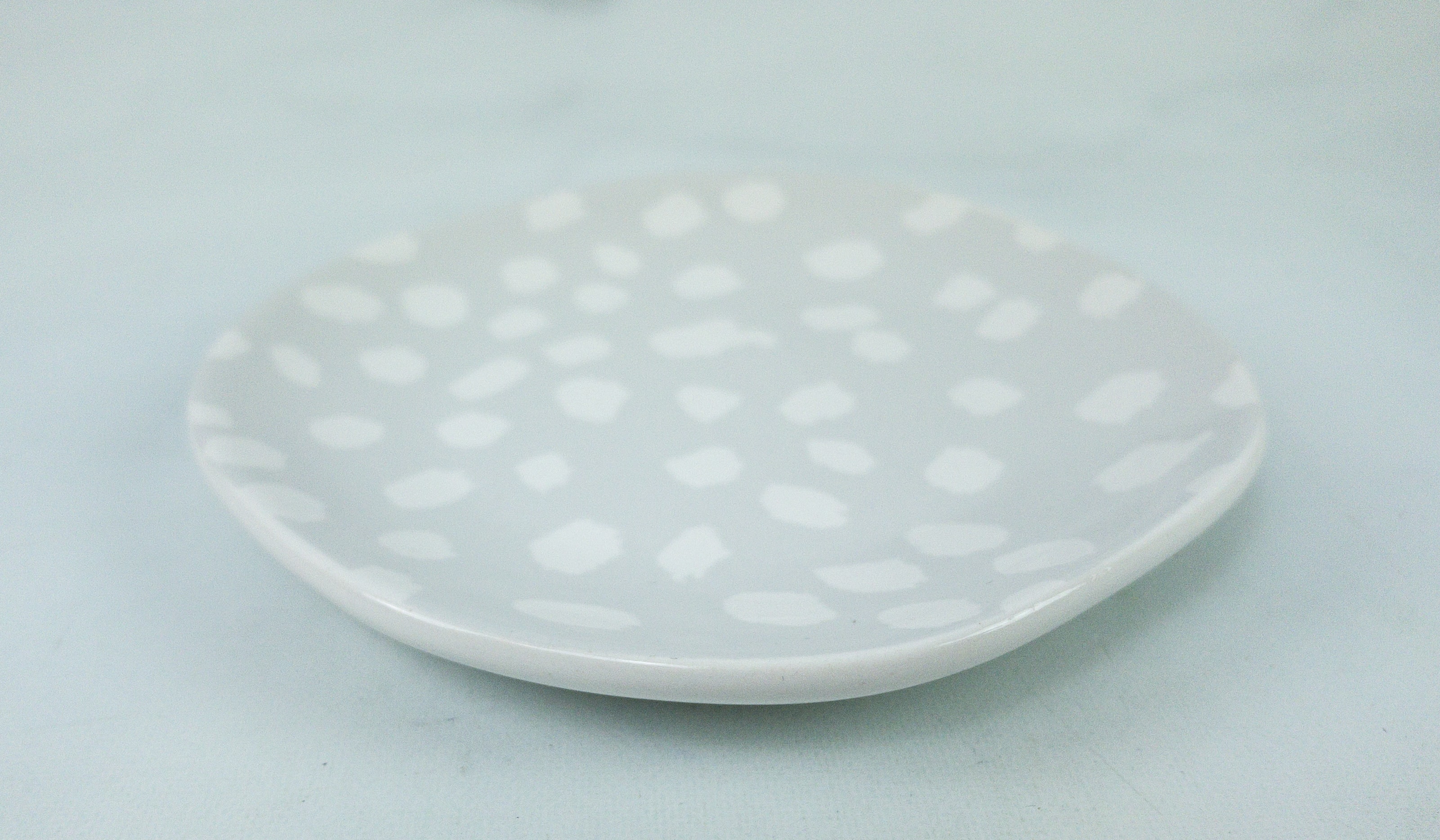 The dish has a gray color with specks of white on it. It's lovely!
Baby Play Kits by Lovevery are always filled with useful information for parents and fun, developmental toys for babies! Once again, they didn't disappoint with this box. Right from the beginning, they laid out what you need to know about this stage in a baby's life, in order for the activities to be more fun and effective. Parenting could be a challenge but having a companion like this makes it a little less daunting. The booklet is also well-researched, while the toys are durable, age-appropriate, and made with safe materials. This is really one of the best and biggest baby boxes! We're totally enjoying it and we're looking forward to future boxes!
What do you think about the Baby Play Kits by Lovevery?
Visit Baby Play Kits by Lovevery to subscribe or find out more!