ZampleBox is a monthly e-juice/vaping subscription box. Every month you'll receive 3 ($23.99), 6 ($33.99), or 11 ($53.99) premium, American-made e-liquid bottles. Zamplebox has a ton of juice preference features that allow them to deliver a box that is customized to your taste preferences.
This is a review of the 11 bottles $53.99 per month box.
DEAL: Get 10% off your first box with coupon code ZBTEN!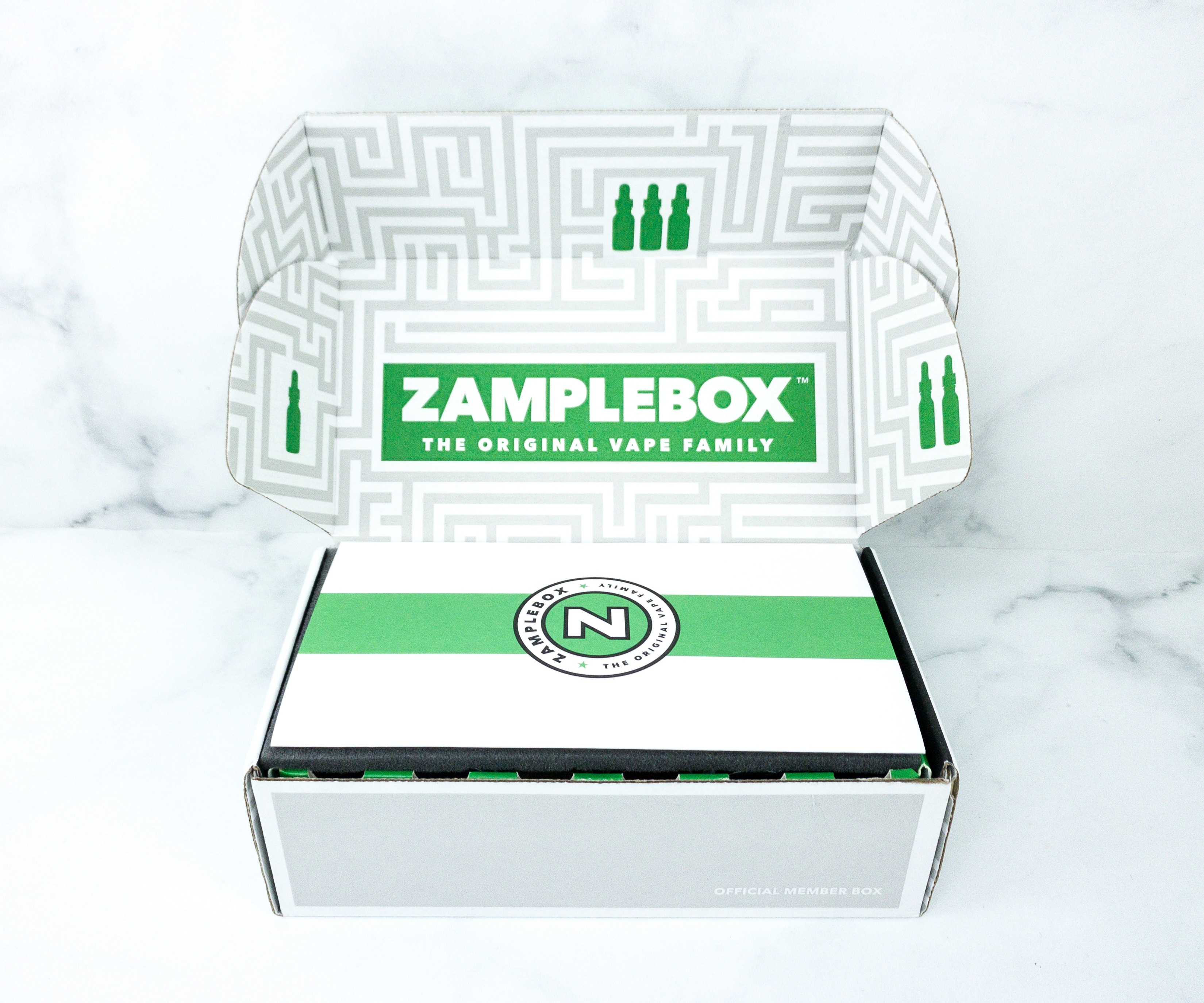 It's well packaged to ensure that there will be no leaks or damages during shipping.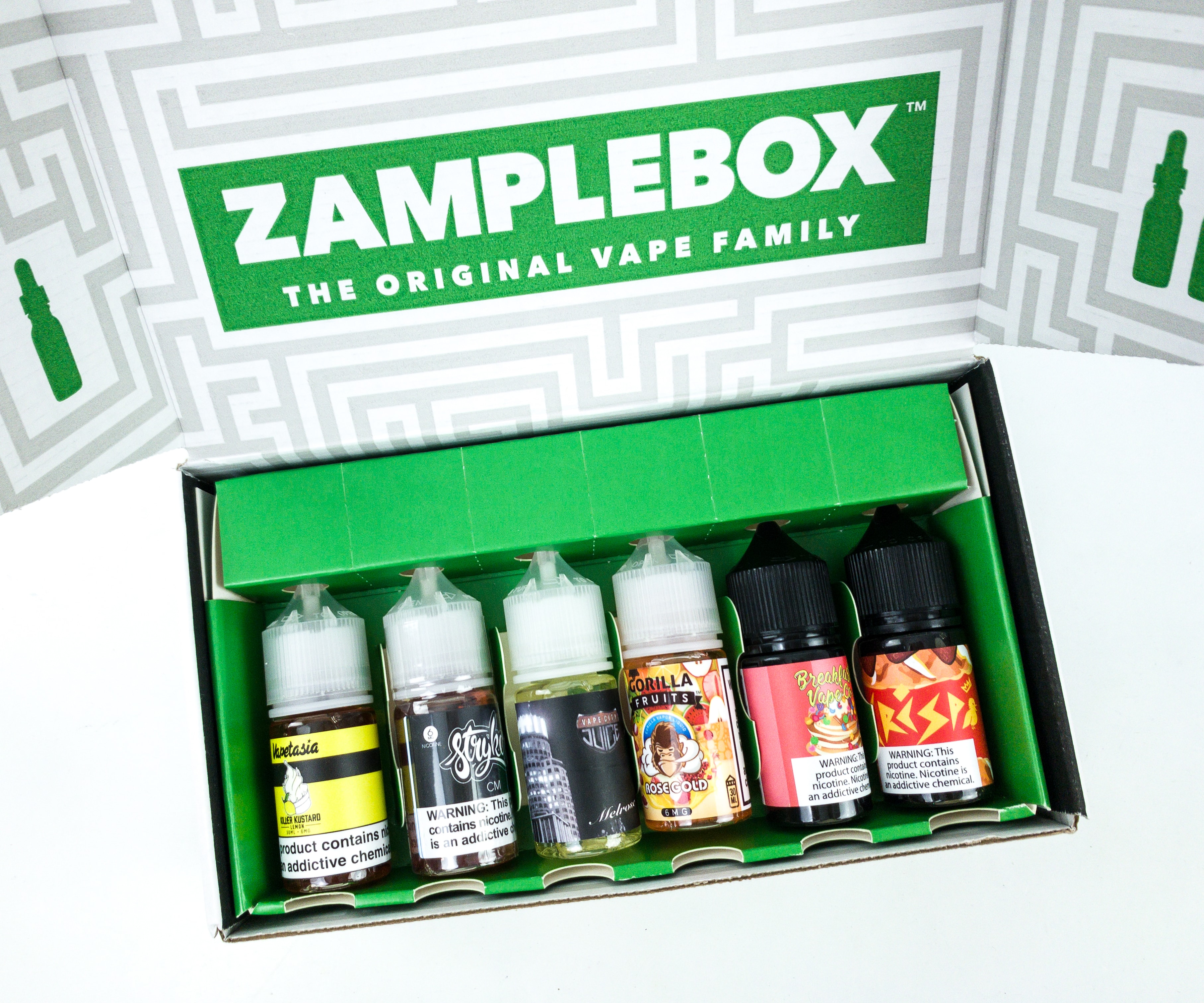 All ZampleBox Memberships now include ZB Wholesale ($9.99/month value) for FREE! You'll get access to special member-only vape deals as well as the wholesale shop.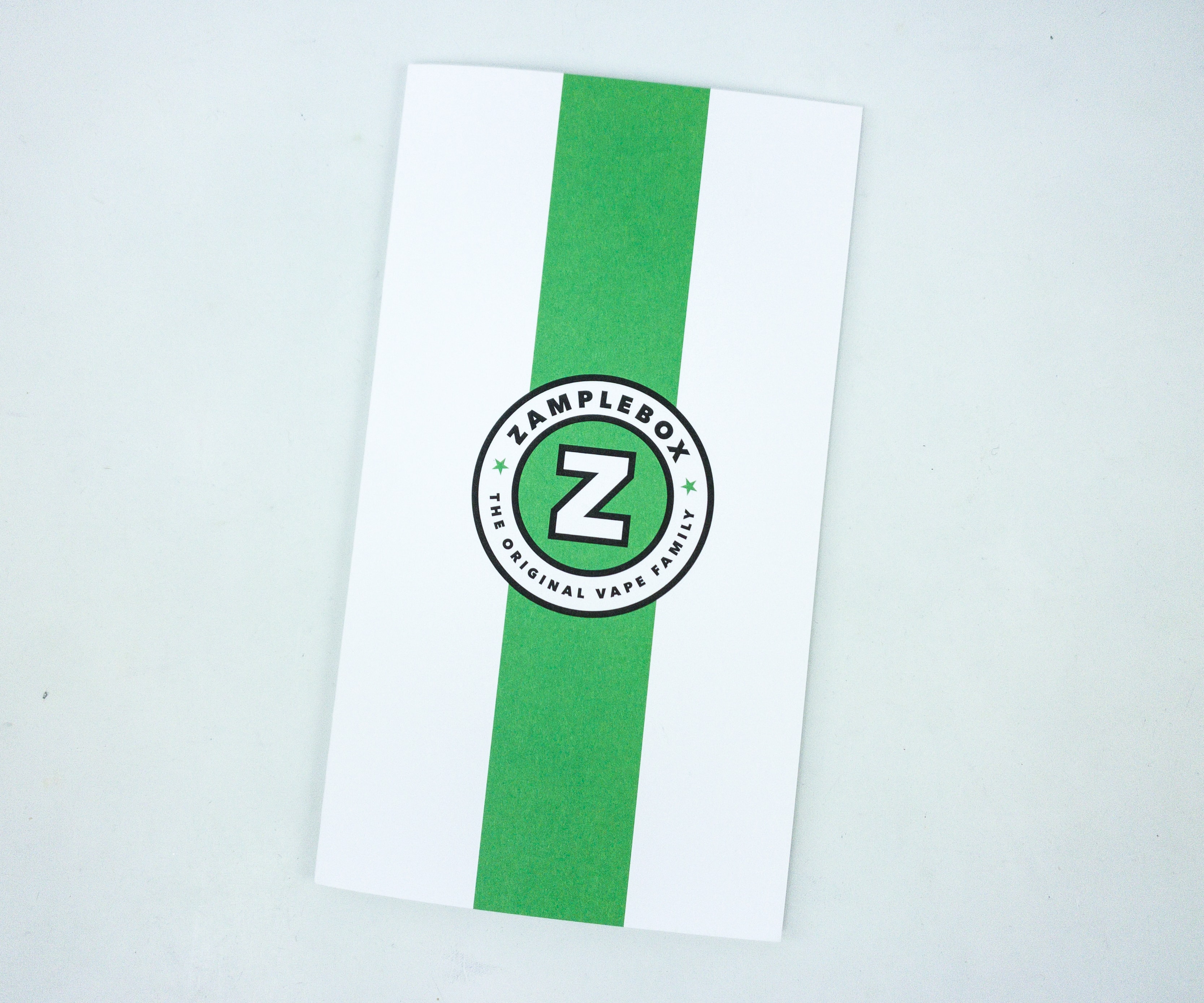 Included inside the box is an information sheet that lists all the e-juices in your box for the month.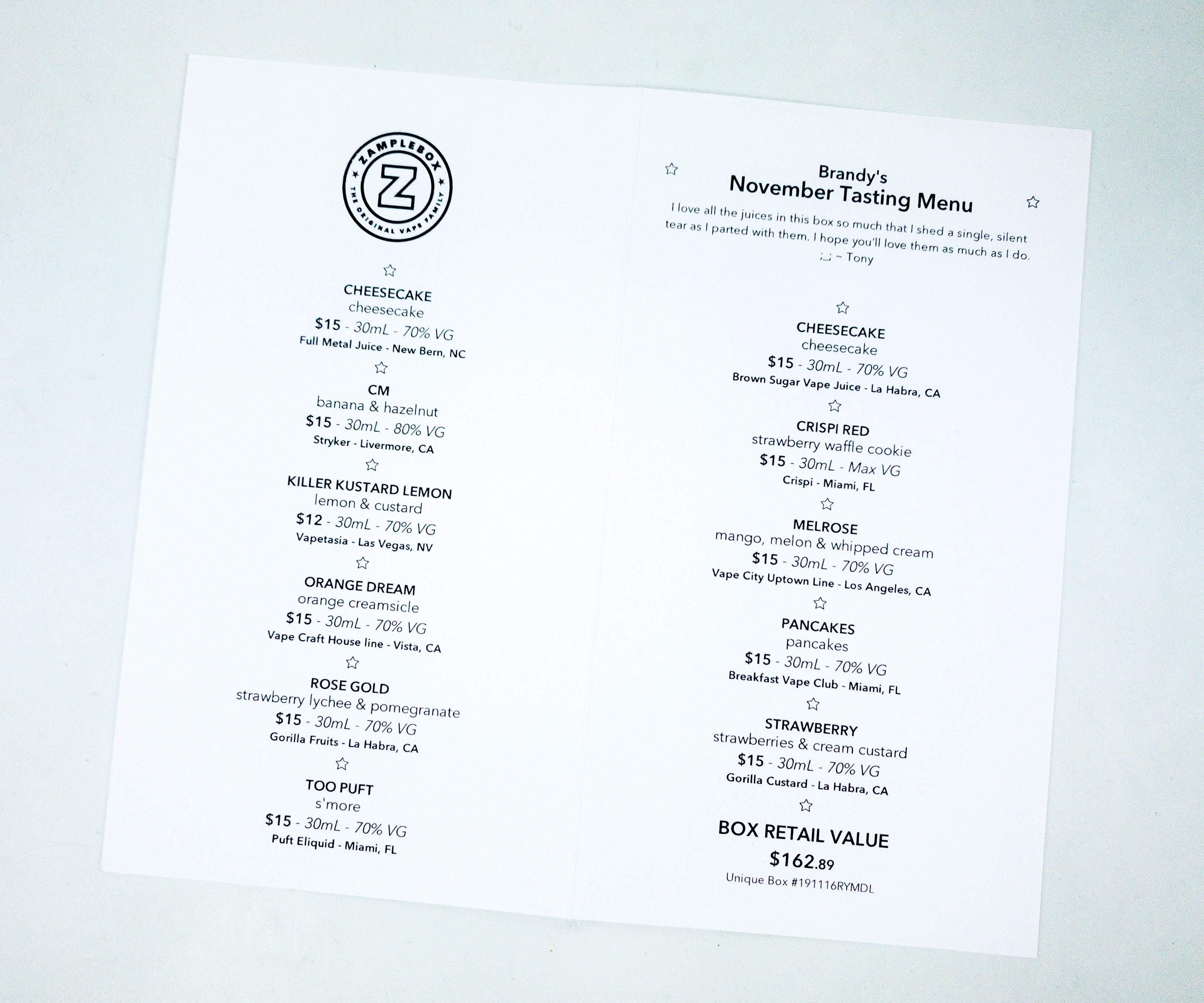 Brand labelling on e-juice is notoriously cryptic, so it's sometimes a bit of a challenge to match up the listings with the bottles.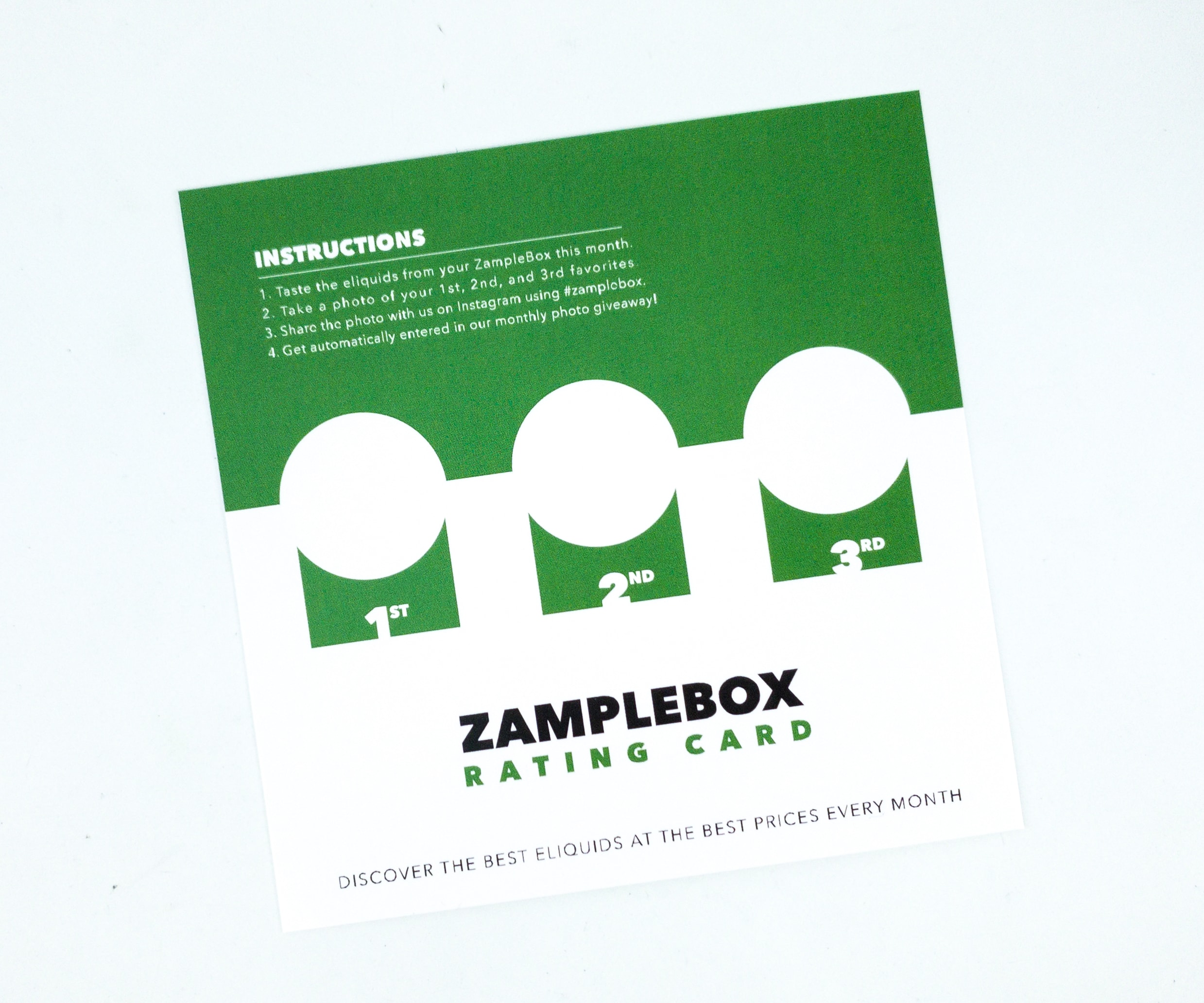 Here's the rating card!
You just have to pick your top 3 favorite e-juices, post it on social media, and tag ZampleBox for a chance to be featured!
This month's box includes stickers!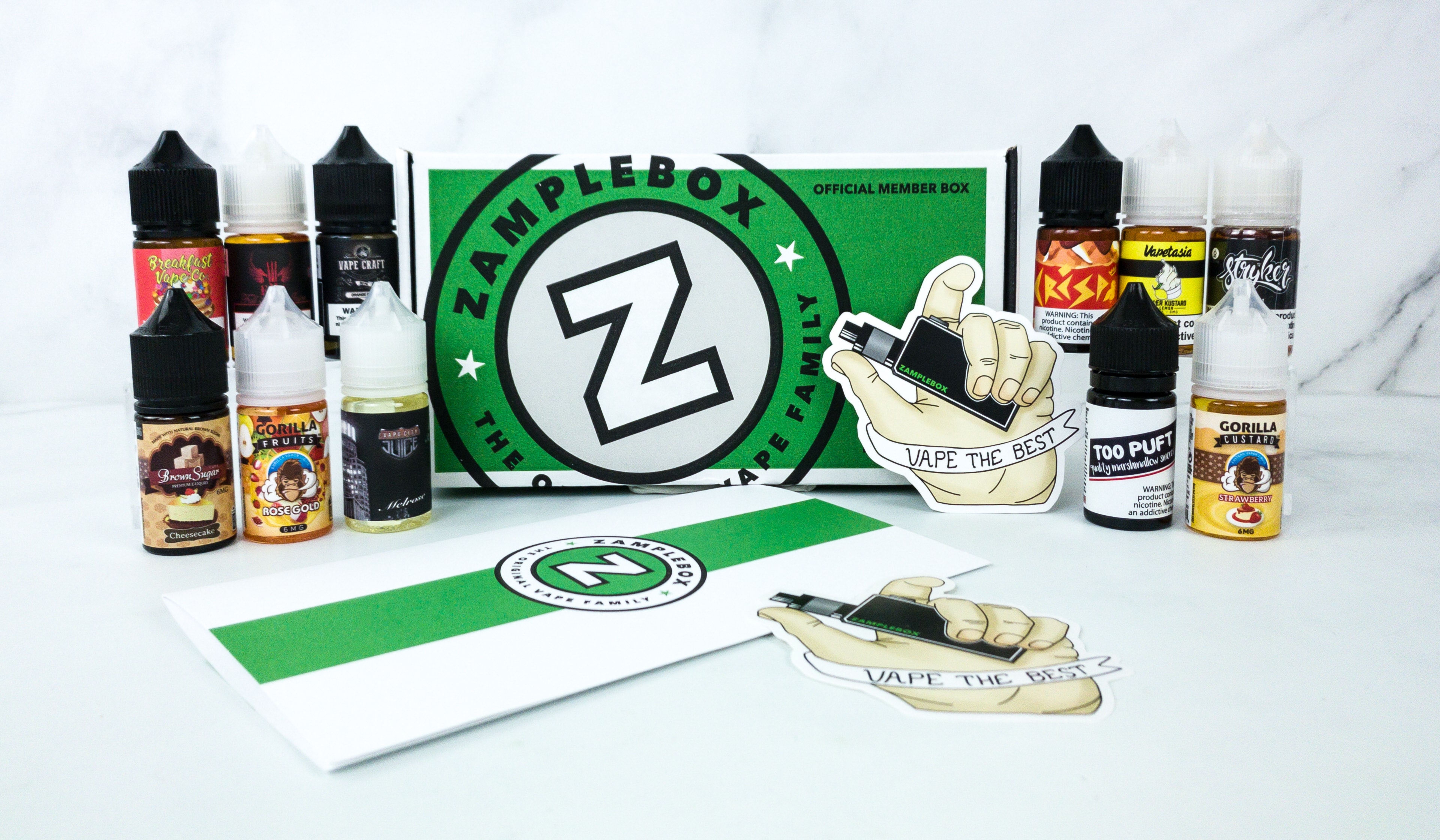 Everything in this month's box!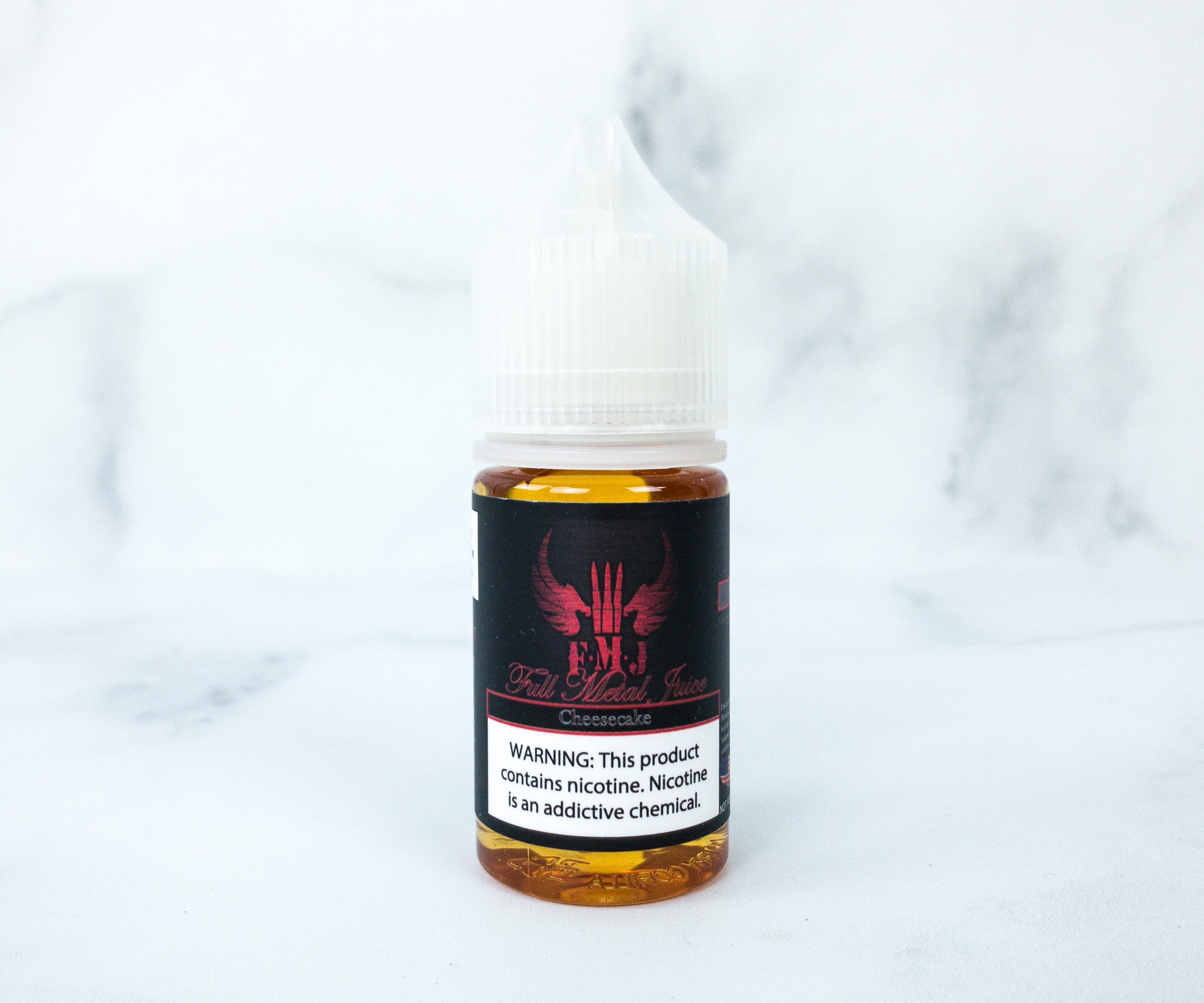 Full Metal Juice Cheesecake  ($15) Flavor: cheesecake, dessert, cream
Creamy and delectable! This vape juice is packed with just the right amount of sweetness, cheesiness, and tanginess, plus it has high vapor production and low throat hit. It's ideal for those who like a light and smooth vaping experience.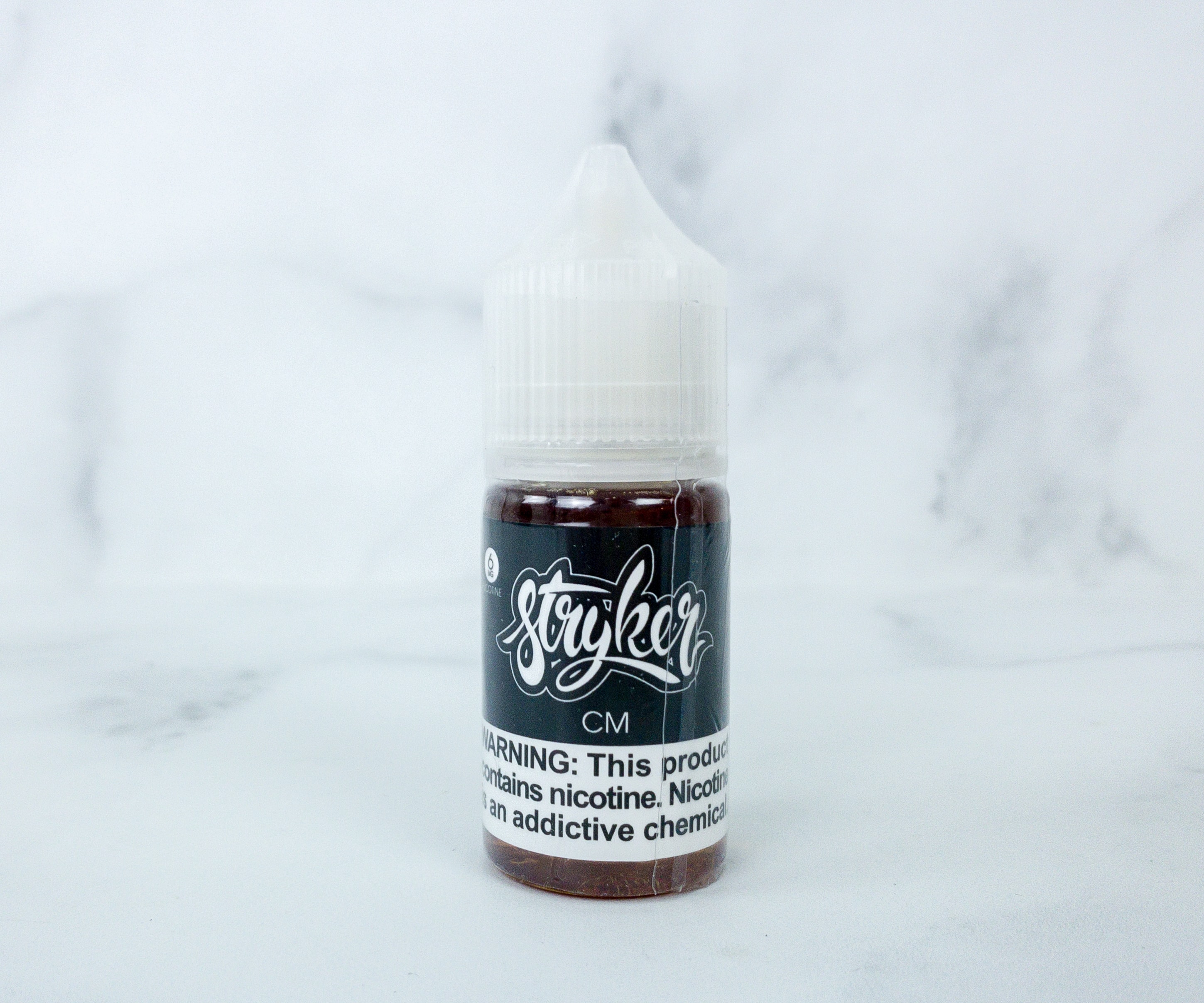 Stryker Banana and Hazelnut  ($15) Flavors: fruit, banana, hazelnut
Silky smooth, nutty flavor that's not too sweet! This e-juice has a good balance between two ingredients. The banana flavor blends really well with the hazelnut and there is thick vapor production.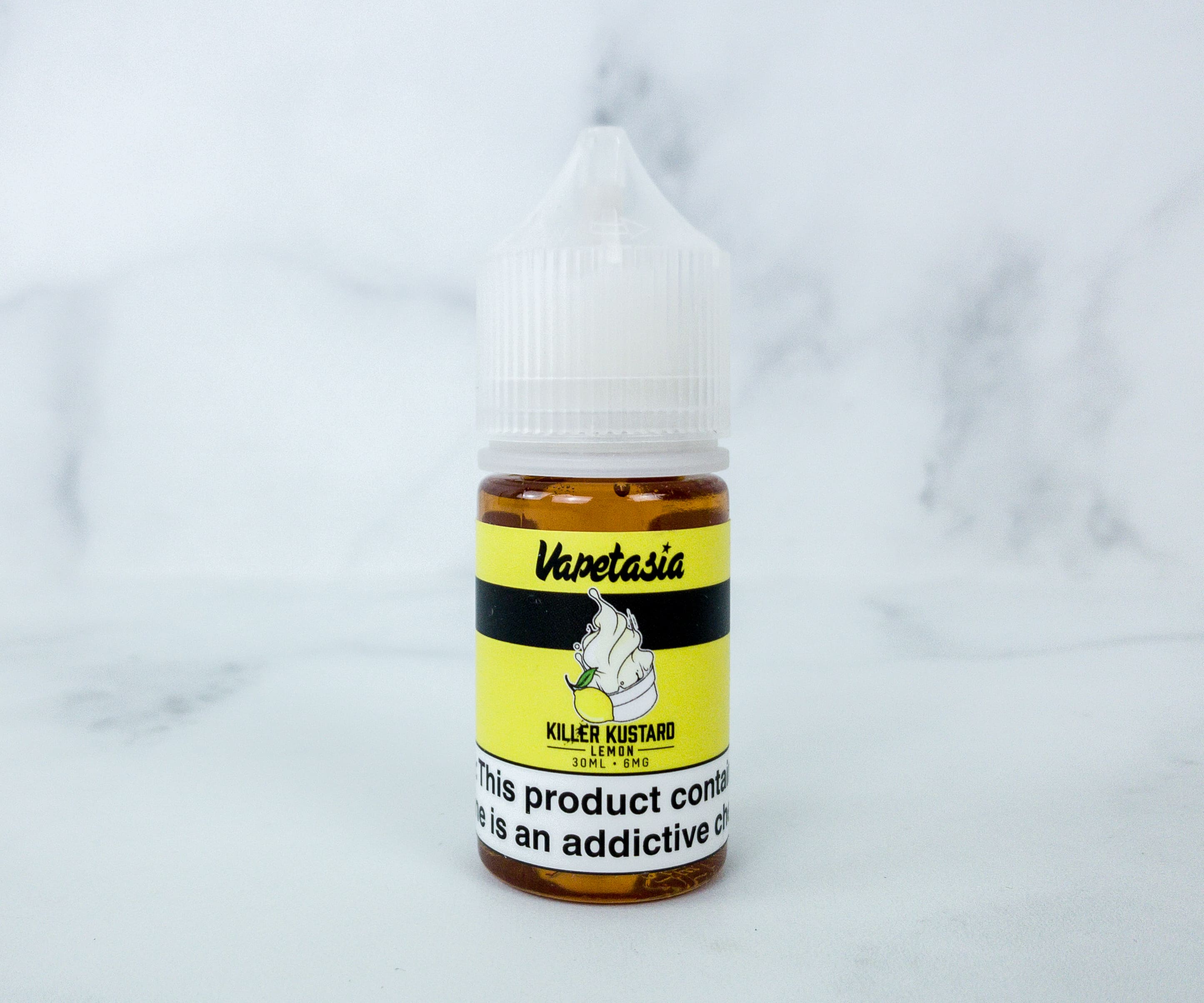 Vapetasia Killer Kustard Lemon  ($12) Flavors: lemon, dessert, cream, custard
Vapetasia's Killer Kustard has one of the best flavor profiles when it comes to pure custard flavors. Now that they added lemon to the original formula, it took the dial up a notch! The tanginess of the lemon is perfectly mixed with notes of vanilla. With a flavor that's deep, rich and smooth, this could be easily one of the best from this bunch.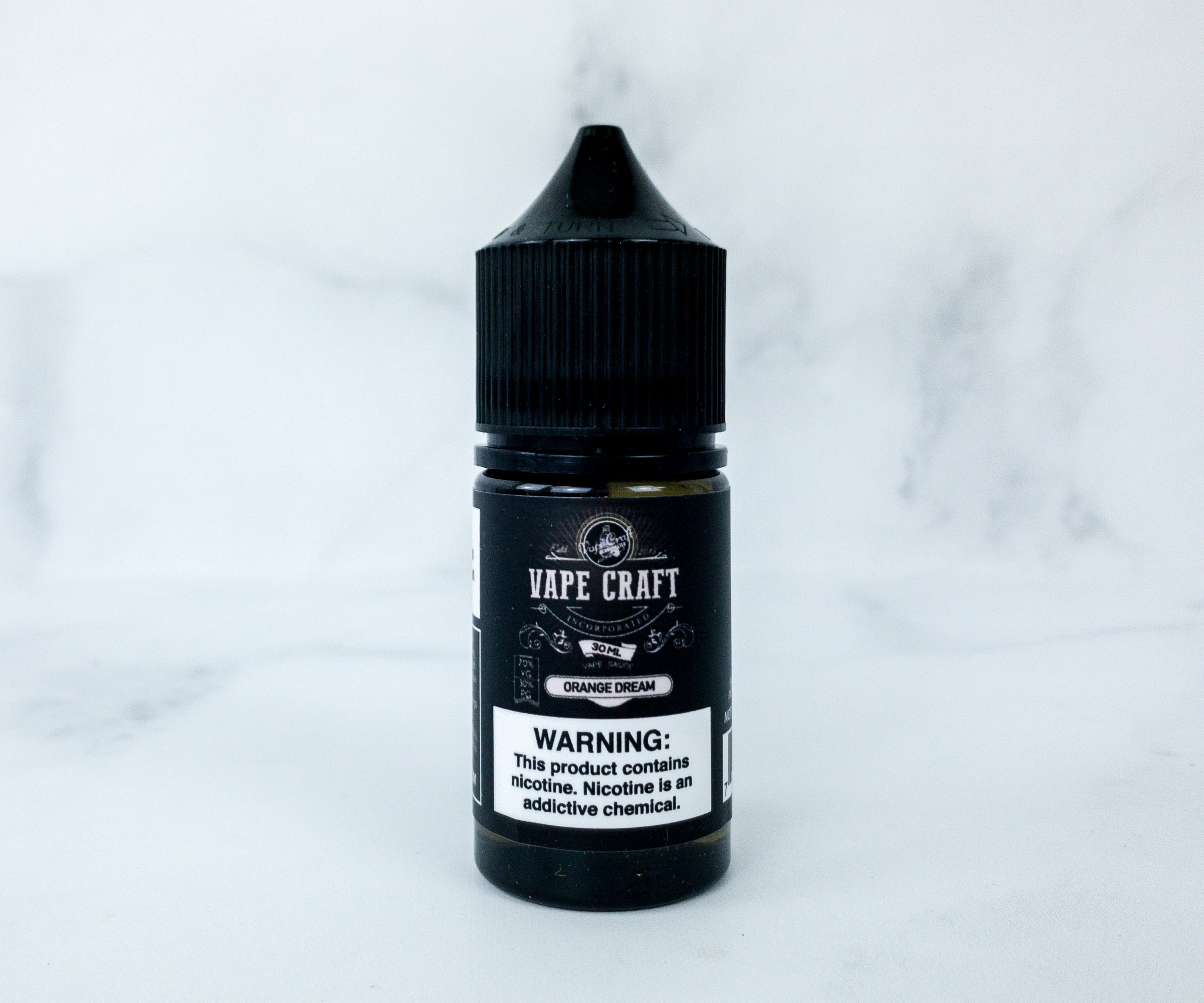 Vape Craft House Line Orange Dream ($15) Flavor: orange, fruit, cream, vanilla, ice cream
This vape juice is straight to the point, with a perfect balance of fruity goodness. Orange Dream is smooth and creamy, and you can easily recognize the awesome blend of orange and sweet cream. It's like having an orange popsicle on a hot summer day!
Gorilla Fruits Rose Gold ($15) Flavors: strawberry, lychee, pomegranate
It's a whirlwind in the mouth with this e-juice! A perfect blend of three amazing fruits and a blast of icy menthol, it's very refreshing. The throat hit is also good and the vapor production is exceptional.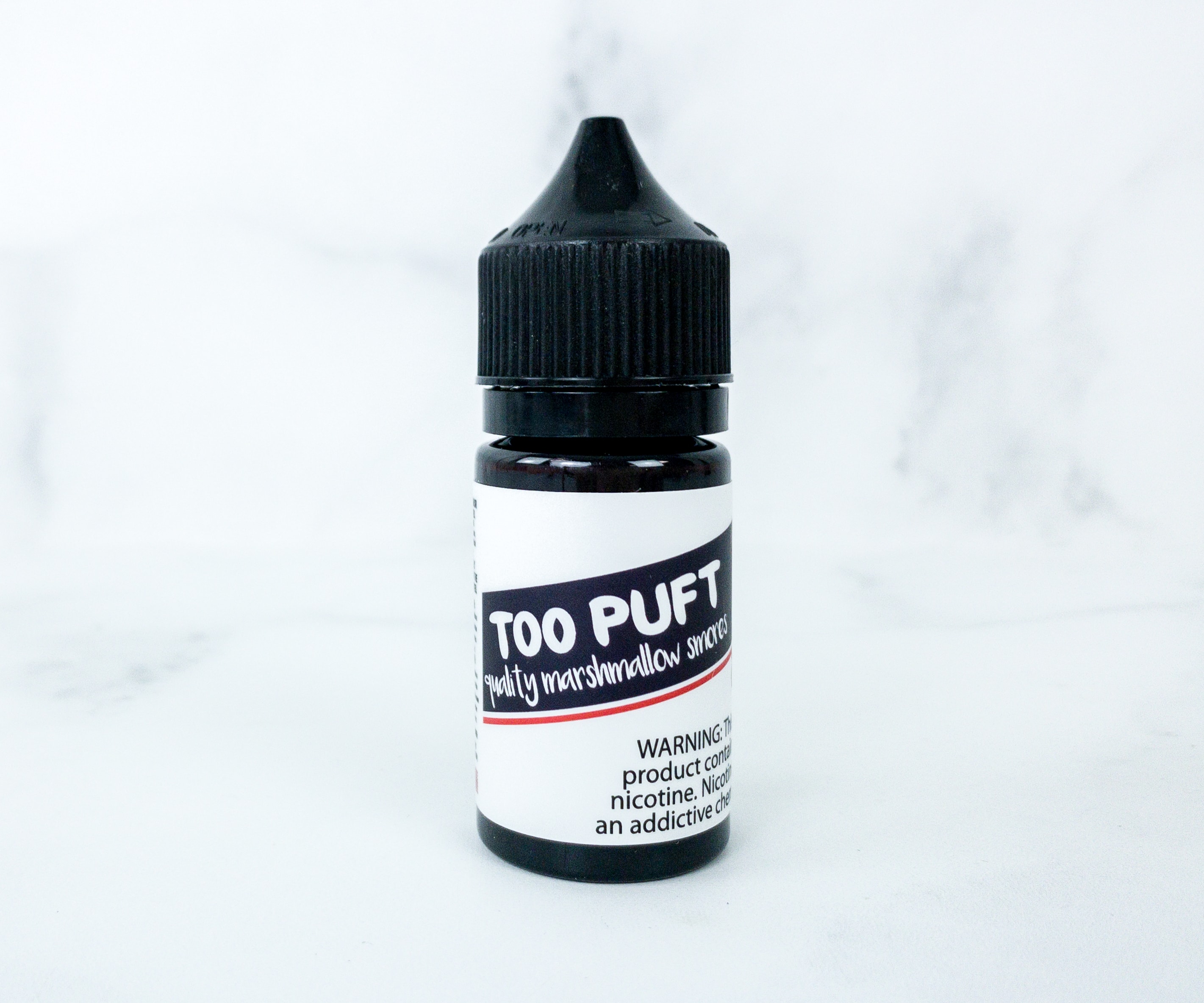 Puft E-Liquid Too Puft ($15) Flavors: graham crackers, chocolates, marshmallow
This is seriously like puffing marshmallows with notes of crunchy graham crackers and sweet milk chocolate. Brings back memories of campfires during childhood! One of the best s'mores-flavored e-juices in the market!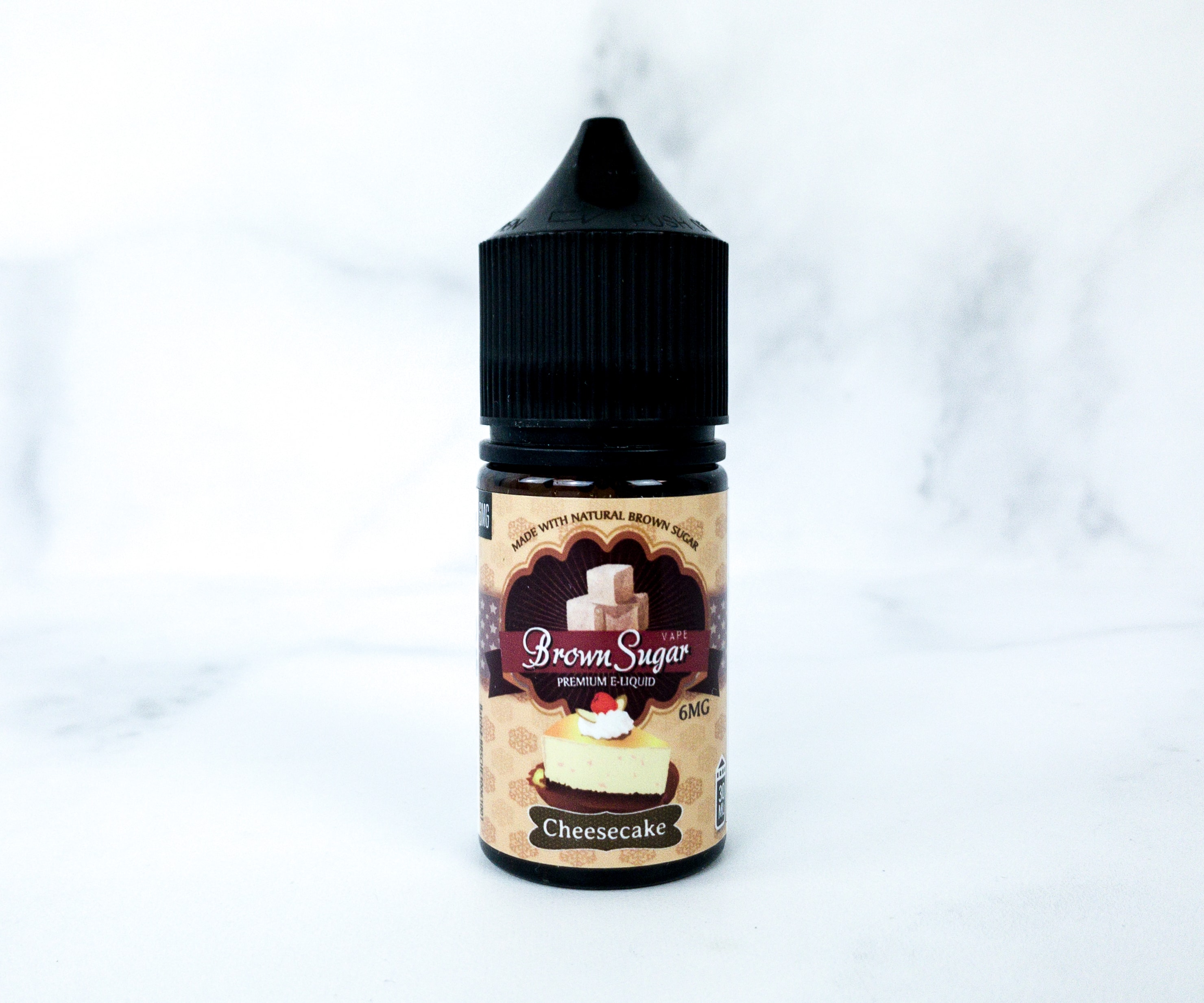 Brown Sugar Vape Juice Cheesecake ($15) Flavor: brown sugar, dessert, cheesecake, cake
Perfect for all-day vaping, this e-juice has layers of sweet vanilla with a kick of cream cheese here and there. It's very smooth and the cheesecake flavor is not overwhelming.
Crispi Red ($15) Flavor: waffles, vanilla gelato, strawberry
This next e-juice is really amazing. You can taste the crisp sweetness of the waffle cone, the faint notes of vanilla gelato and the sweet and tangy vibe of the fresh strawberries. It's a really good take on strawberry flavored vape juices!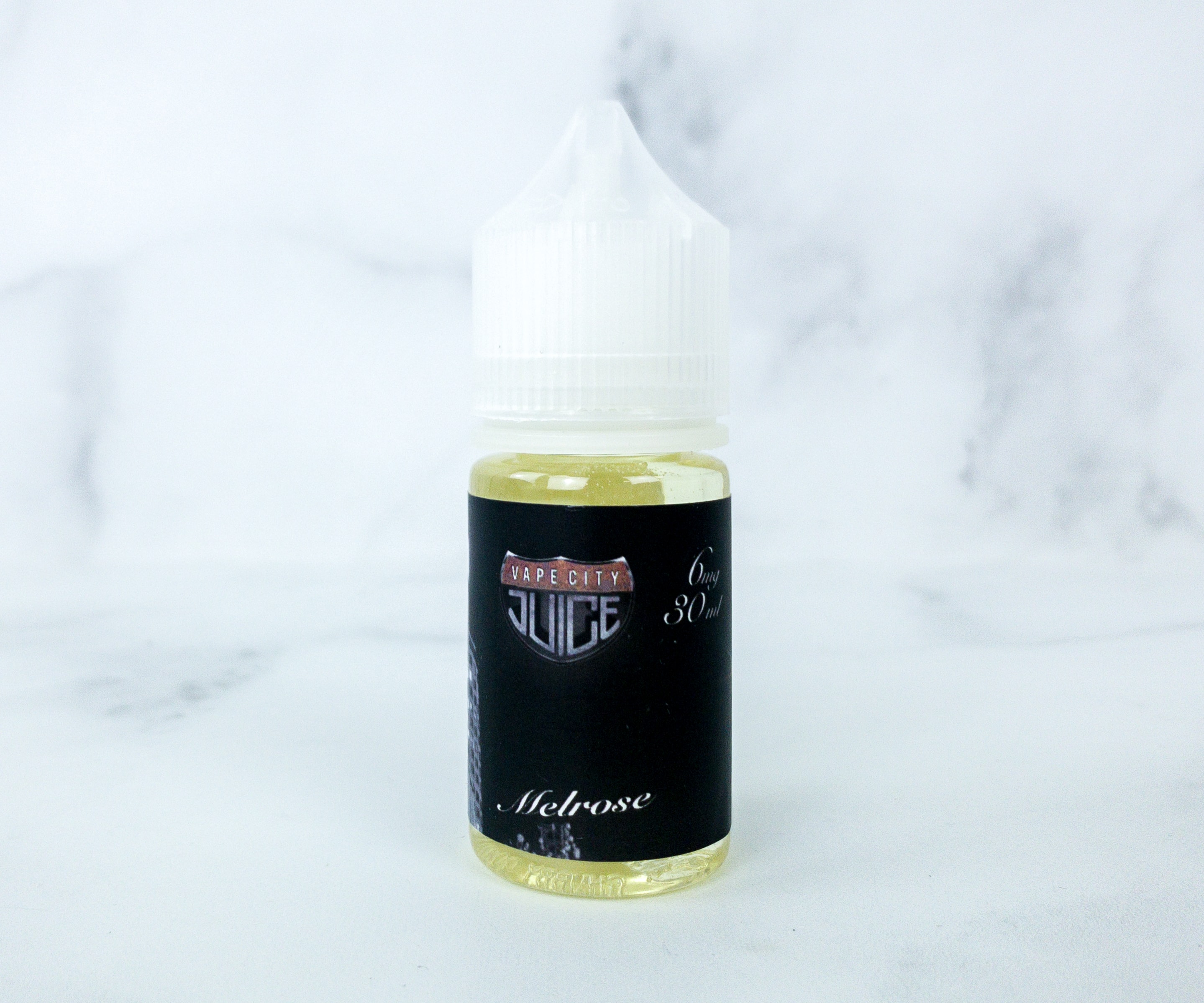 Vape City Uptown Line Melrose ($15) Flavors: melon, dessert, cream, mango, honeydew
A mouthwatering blend of fresh mangoes and juicy honeydew, this e-juice is unique in its own way. It's sweet and creamy all at the same time. It produces good clouds and has a light throat hit.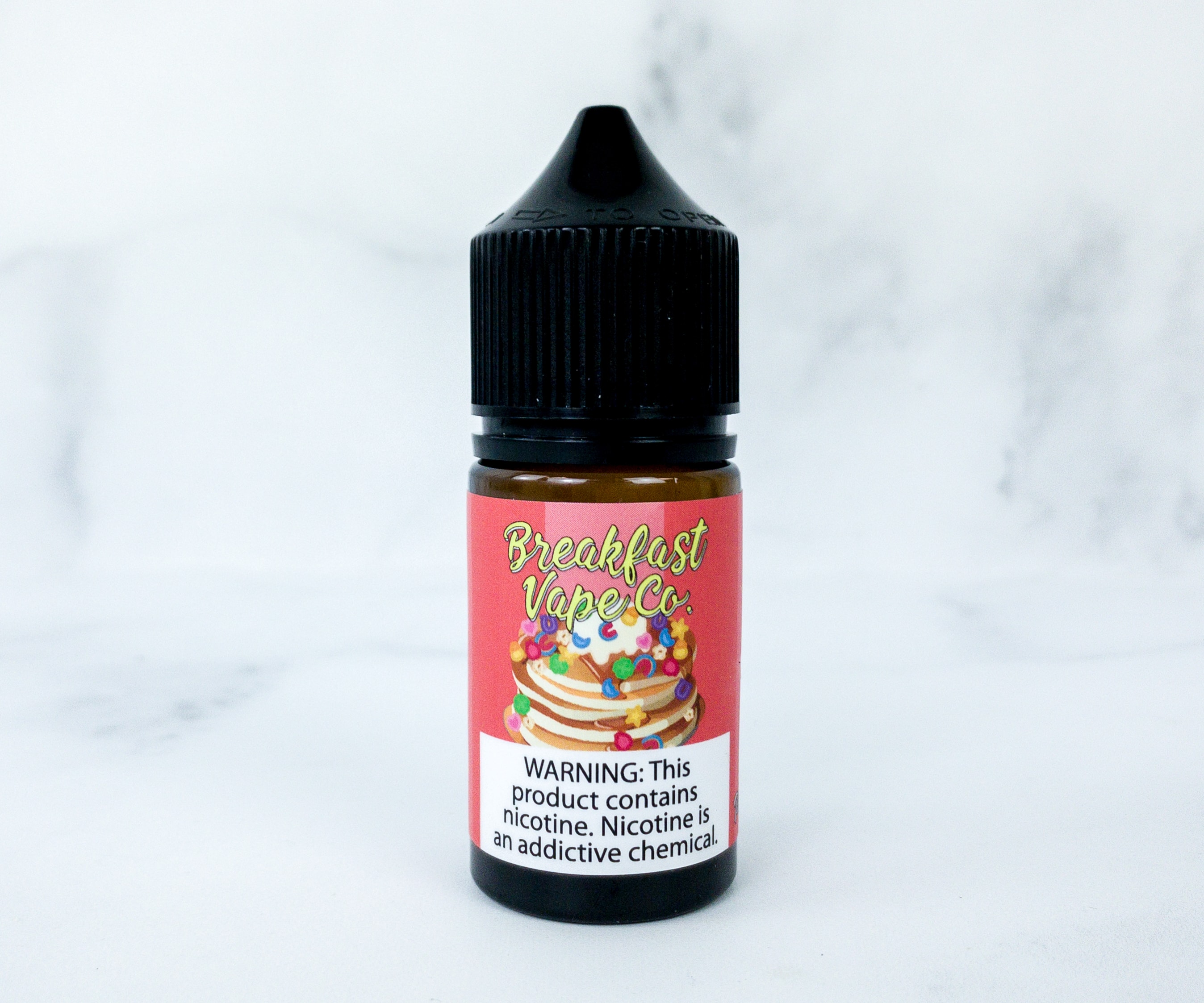 Breakfast Vape Club Pancakes ($15) Flavors: dessert, breakfast, syrup, pancake, maple
This e-juice is a must-try, as the flavor is composed of the right blend of buttermilk pancakes topped with melted butter, maple syrup and a dash of sprinkles. The throat hit is okay and the cloud production is good as well.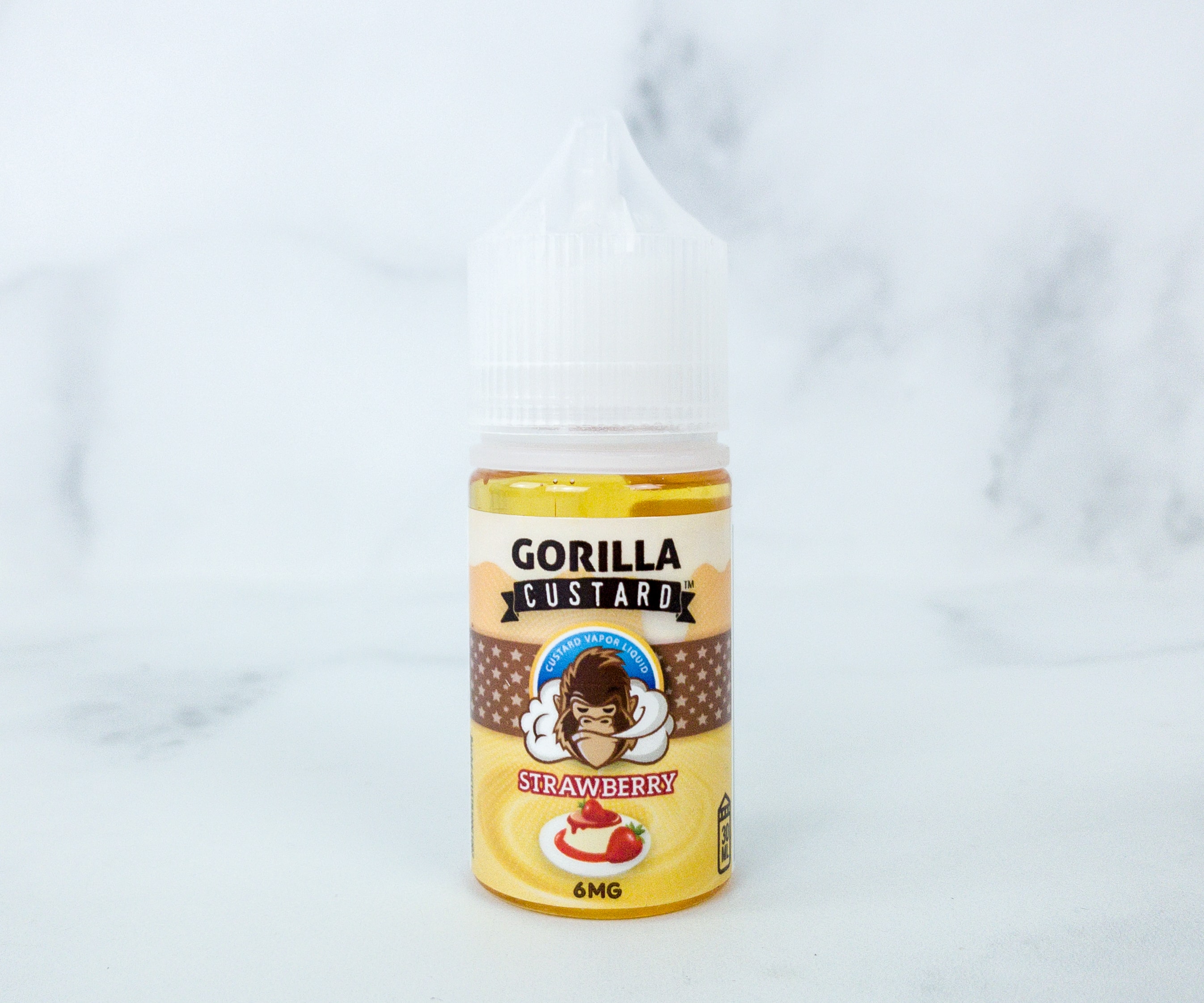 Gorilla Custard Strawberry ($15) Flavor: dessert, cream, custard, fruity, berry, strawberry
You can say it's just another strawberry flavored e-juice, but it's actually really good. The smooth vanilla custard is topped with just the right amount of fresh and ripe strawberries. The balance between sweet and creamy is just right. Perfect if you're a fan of custard-based e-juices and a strawberry-flavored e-juices!
This is another awesome box filled with high-quality e-juices, and Vapetasia's Killer Kustard Lemon is definitely a standout. Zamplebox is a really great way of trying out different e-juices for both newbies and veteran vapers since it has a wide selection of e-juices from different vape brands around the world. It's also great that you can customize the e-juices you'll receive depending on your taste preference so you can be sure none will go to waste. Looking forward to next month's bunch!
Are you getting this month's Zamplebox?