Yogi Surprise, in addition to its regular monthly lifestyle box, has a jewelry only subscription box. Every month you'll get handmade yoga-inspired jewelry pieces and 1 other item.
DEAL: Get 25% off your first box! Use coupon code HELLO25. OR Get 15% off every box for the life of your subscription with coupon code HELLOYOGI!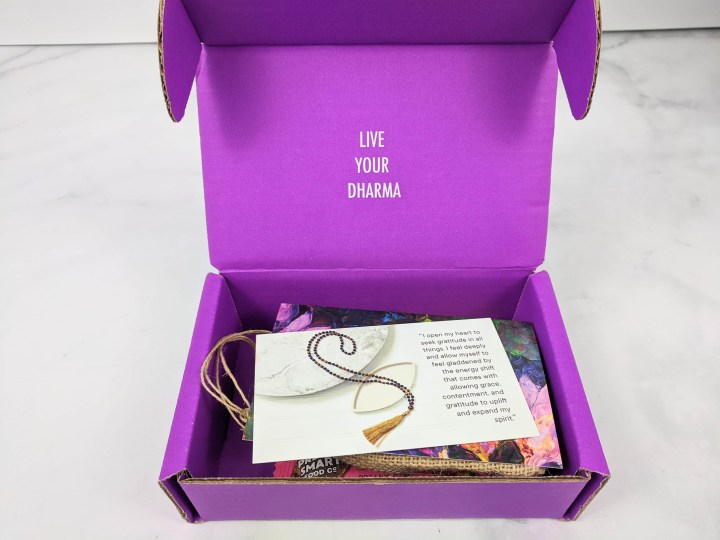 I love the simplicity of their purple box, and it brightens up my mailbox!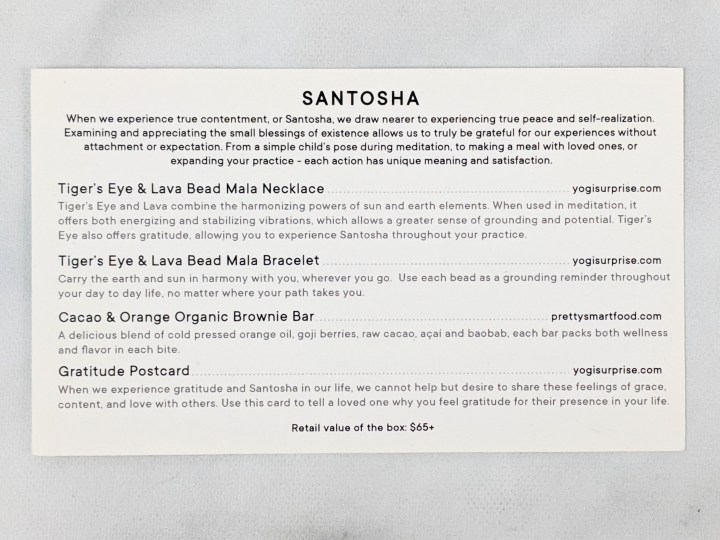 This month's theme is Santosha and the offerings will bring us closer to true contentment where we appreciate all the small blessings.
On the other side of the card, we have a Santosha mantra.
Tiger's Eye and Lava beads Mala Necklace and Bracelet. This set was created to harmonize the the powers of the sun and the earth elements.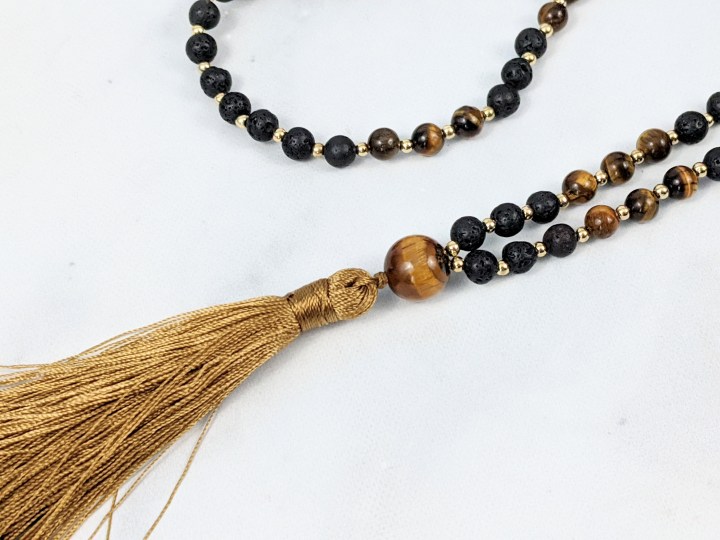 The Tiger's Eye is a stone associated with the solar plexus chakra and is a warm, energizing but grounding stone. The golden beads add a nice warm touch to the mala. The beads are smaller than most malas, but I prefer them like that. It's less heavy to wear.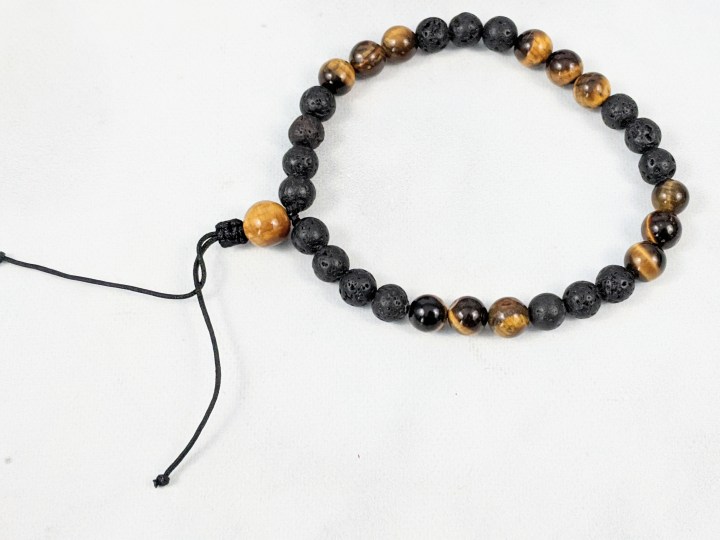 The bracelet is an adjustable one, on a silky cotton. The guru Tiger's Eye beads and a little piece of braided cord can slide down.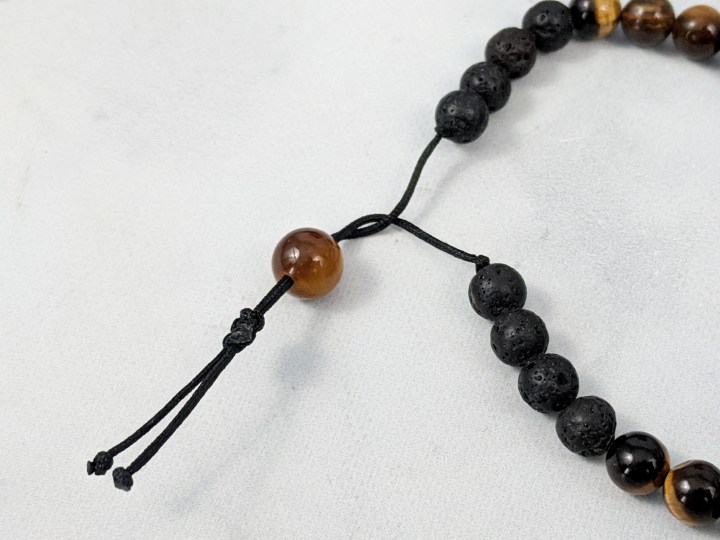 They work very well together and the bracelet doesn't get loose with wear.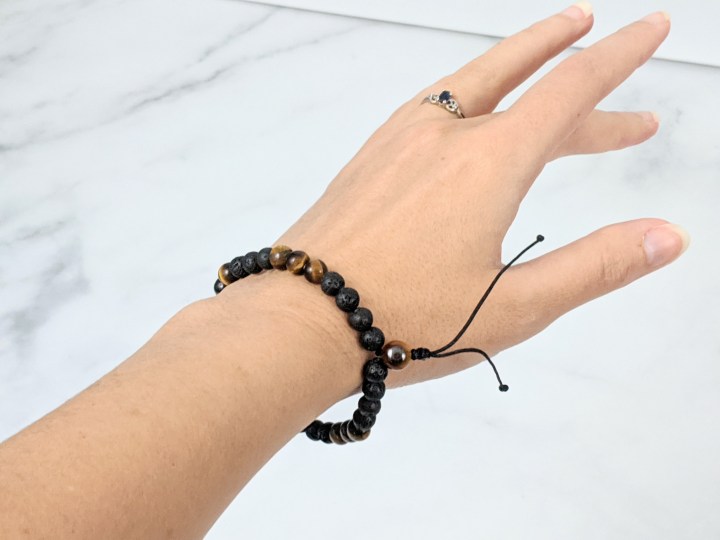 It's really pretty and I really like the bead size.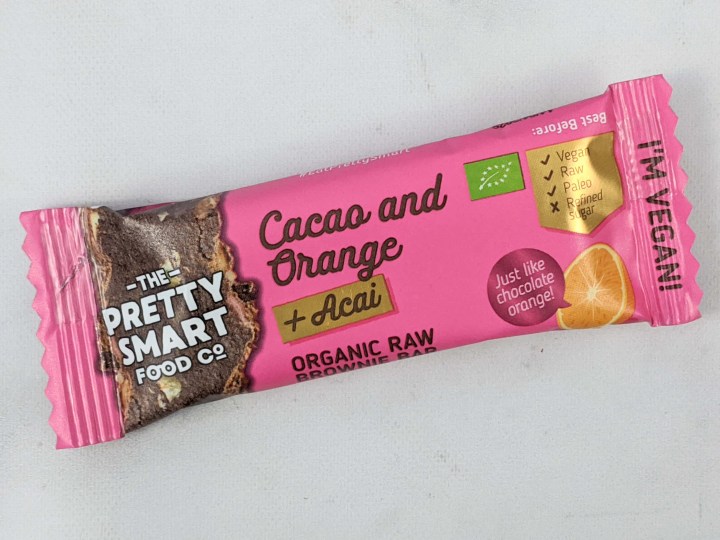 The Pretty Smart Food Co. Cacao and Orange + Acai Organic Raw Brownie Bar.  Made with Dates, Cashew Butter, Cacao Powder, Goji Berries, Cocoa Nibs, Açaí Powder, Orange Oil, and Baobab Powder, this bar is vegan, gluten-free, and organic.
Gratitude Postcard. Experiencing Santosha in our life is also about sharing our gratitude.
This postcard was created to tell someone in our life that we are grateful for their presence.
This month's offering was really lovely with the nice addition of the Postcard so we can share our gratitude with someone in our life. I love the warm and grounding mix of lava beads and Tiger's Eye, especially at this time of the year when it feels so cold and the nights are getting longer.
What did you think of this month's Yogi Surprise Jewelry box?