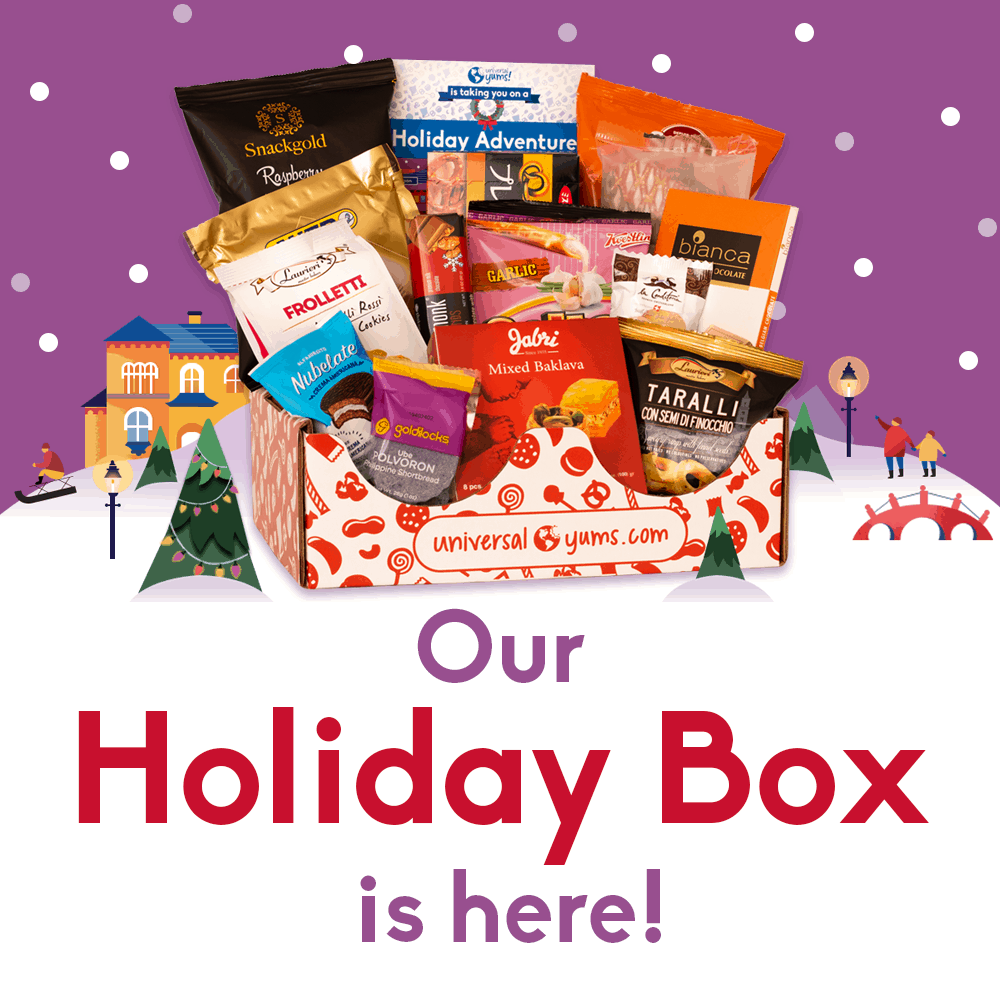 Universal Yums has a Black Friday deal that ends TONIGHT!
Buy any 6 or 12 month gift, get a free pack of Yums (Choose from either a chocolate pack or candy pack)! Ends 12/01. This deal ends TONIGHT!
This deal is also currently active for all annual plans, even for the Yum Sampler!  No coupon code is needed, just use this link to start the deal!
You will be able to make your selection between chocolate or candy in the checkout process! Which one are you picking?
Check out all our Universal Yums reviews to find out more about this subscription box!
We have spoilers for the December 2019 Universal Yums Holiday Box!
If you're an active subscriber, this will be your December box! And for all new gifts and subscribers, this box will also be the first box that you receive.
One thing many people love about the holiday season are the sweet and savory delicious treats and this company found the best of the best from around the world … *cue the Drummer Boy instrumental* introducing Universal Yum's Holiday Box!

Hand crafted by Universal Yums experts, the December box is filled with a variety of popular holiday snacks and treats sourced from 13 countries including Spain, Japan, Italy, and more! To paint a tasty picture, options range from Koestlin Saltas Garlic (Pretzel Sticks with Garlic Flavored Filling) to Snackgold Raspberry Potato Chips (Raspberry Flavored Potato Chips).

Including snacks from 13 amazing countries: Spain, France, Germany, Switzerland, Uruguay, Jordan, The Philippines, Italy, Croatia, Austria, Japan, Belgium, Poland
Each box comes with recipes, trivia and games from each country

Visit Universal Yums to get this deal!