Too Faced Cosmetics releases a Mystery Beauty Bag every Cyber Monday! It happens only once a year and typically sells out in the morning. This year's Too Faced Mystery Bag was $42 for $131 in value and sold out fairly quickly.
The pouch comes inside a box filled with squiggles!

The items were topped with squiggles.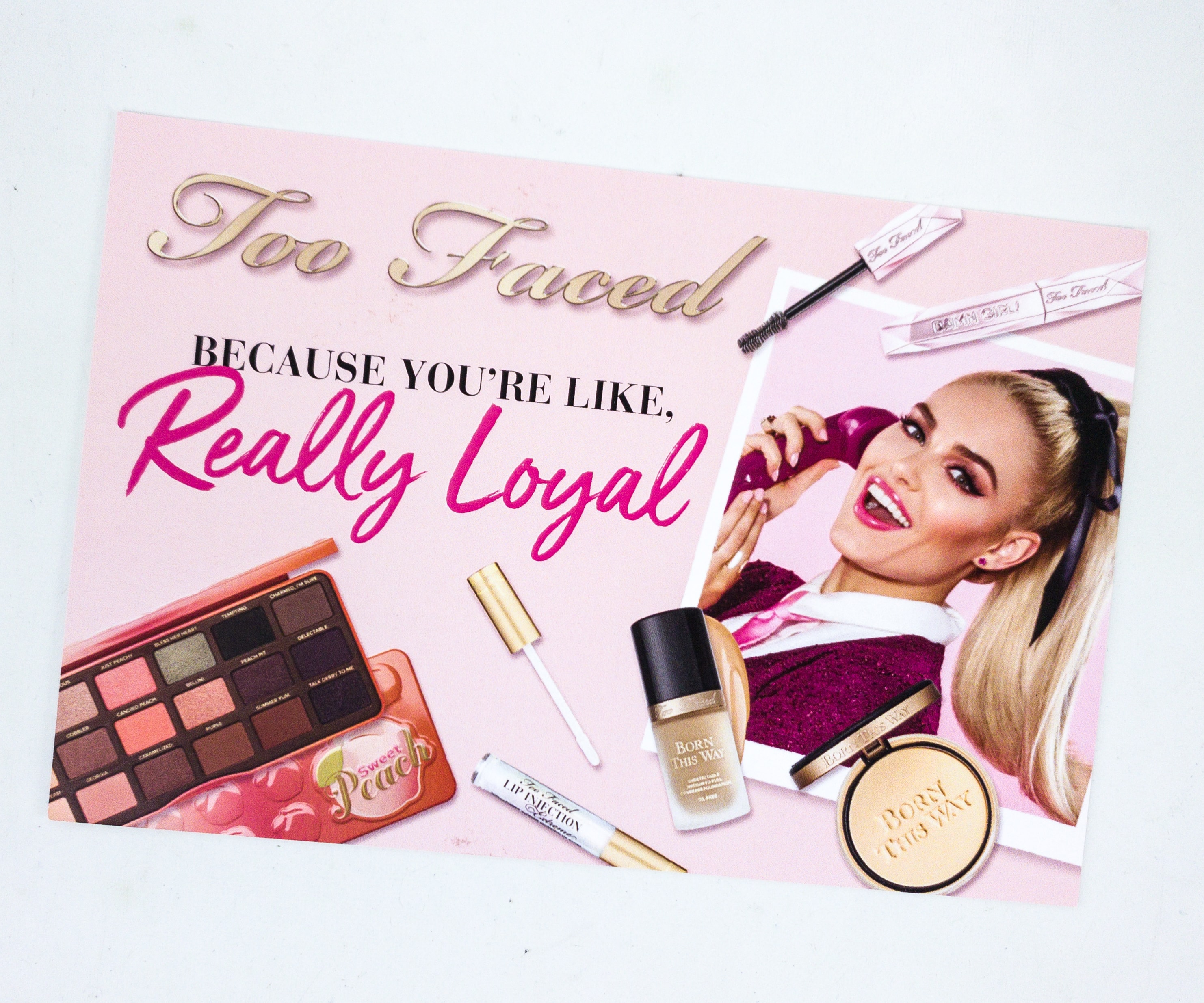 The box includes a card.
At the back is a 20% off coupon for your next order!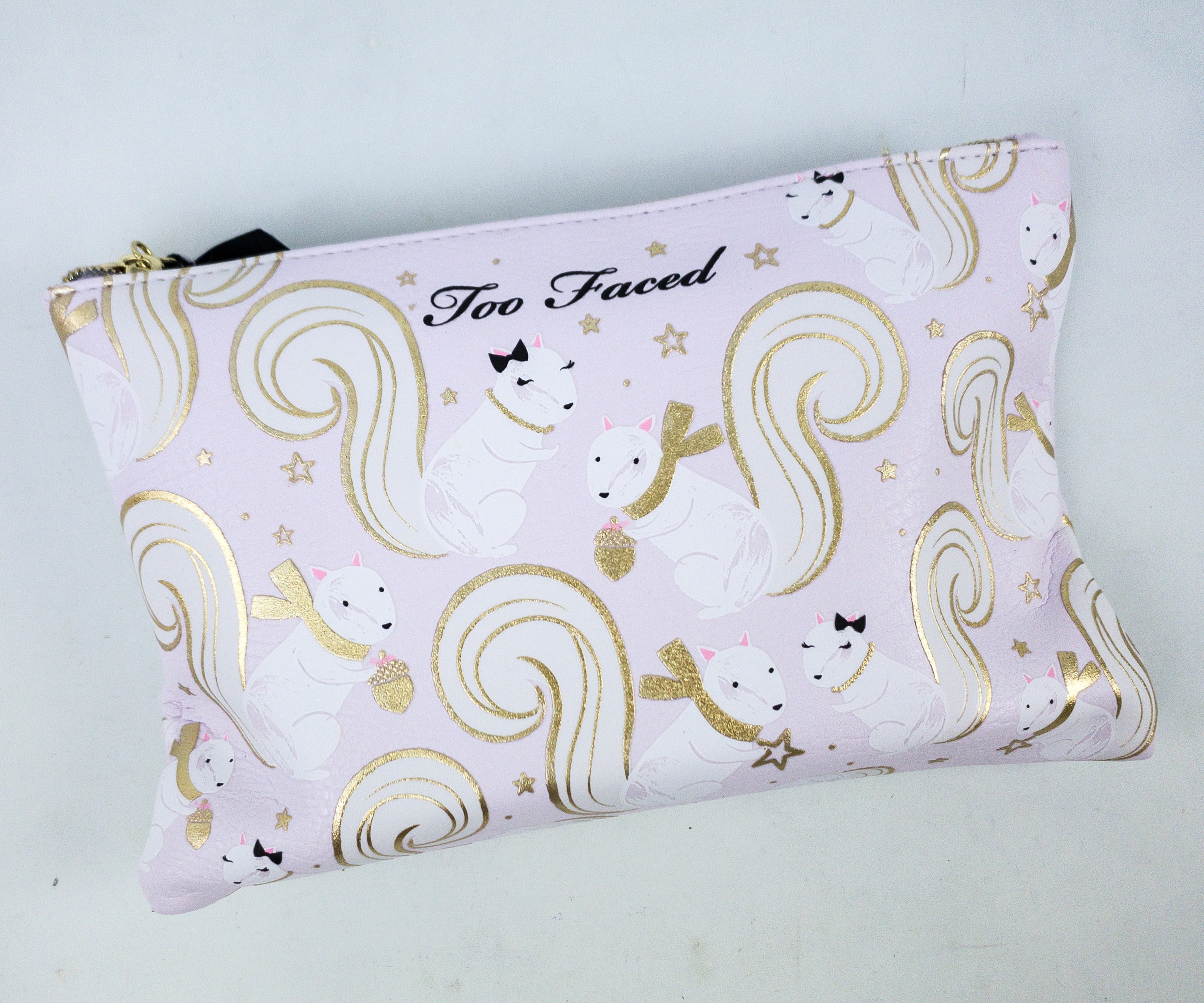 This year's mystery bag is in baby pink! It also features cute white squirrels and gold accents.
The zipper pull is a gold-colored heart with Too Faced branding emblazoned on it. It's also tied with a cute velvet ribbon and I think it really wraps up the whole look!
The inside of the pouch is in lavender. It goes really well with the pastel vibe they've got going.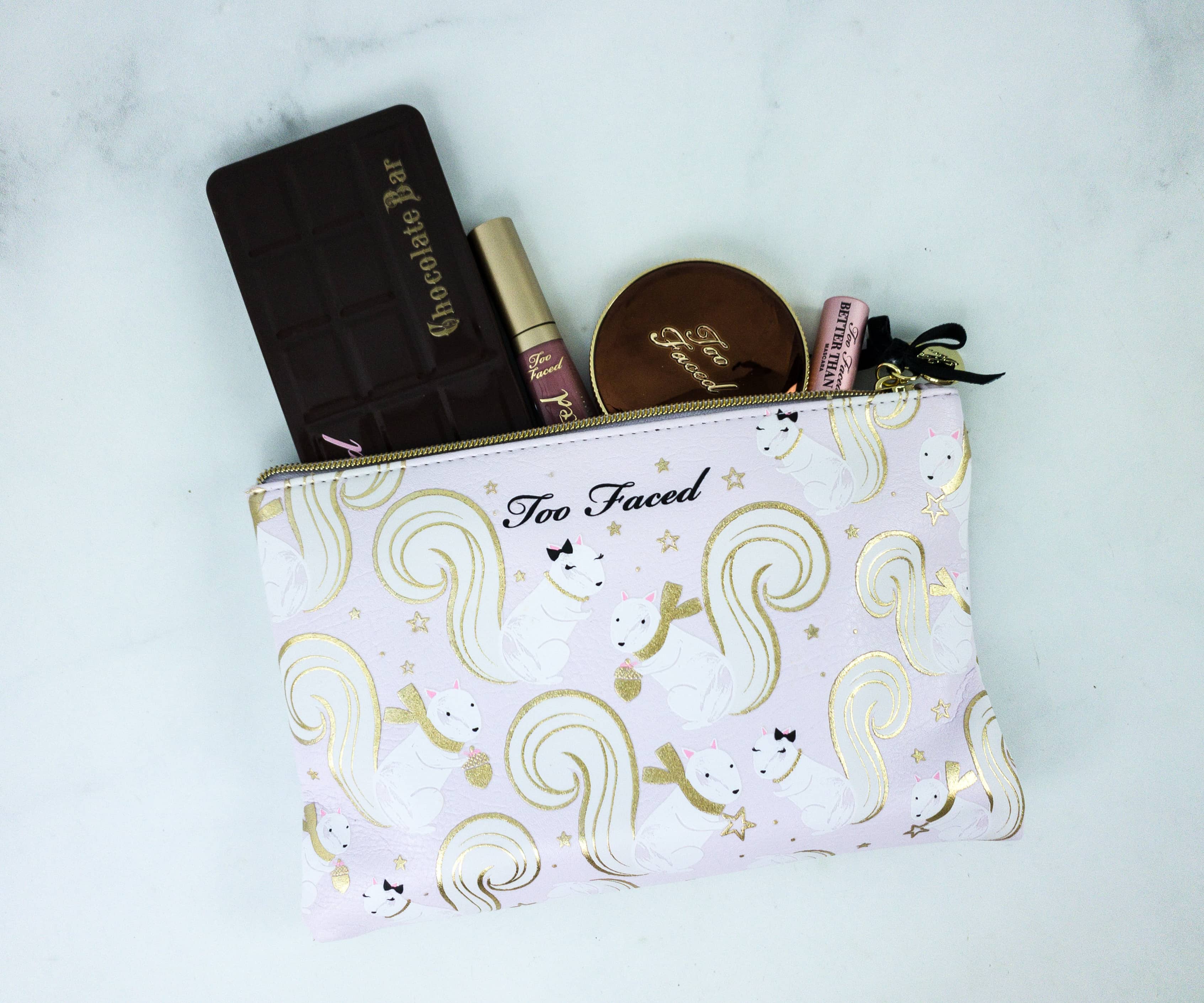 The pouch is spacious enough so that I can use it as my on the go make-up kit!
Everything in my Too Faced Mystery Bag!
Too Faced Born This Way Undetectable Medium-to-Full Coverage Foundation ($39 Full-Size 1oz.) Born This Way is one of the best foundations I have ever tried. I really like the consistency, it's not too thin but it's not too thick as well. It blends really easily and dries down to a matte finish. I also like its buildable coverage so I can use it lightly for regular days and glam up with a full face of make-up when attending events.
They sent me 2 different shades, one is Mocha and the other is Pearl! This way, I can just mix up my own shade without having to worry if it's too dark or too light on me because I can control the shade I'm mixing. The excess lighter shade, I can use for concealing and the excess darker shade, I can use for liquid contouring! This is quite brilliant, actually!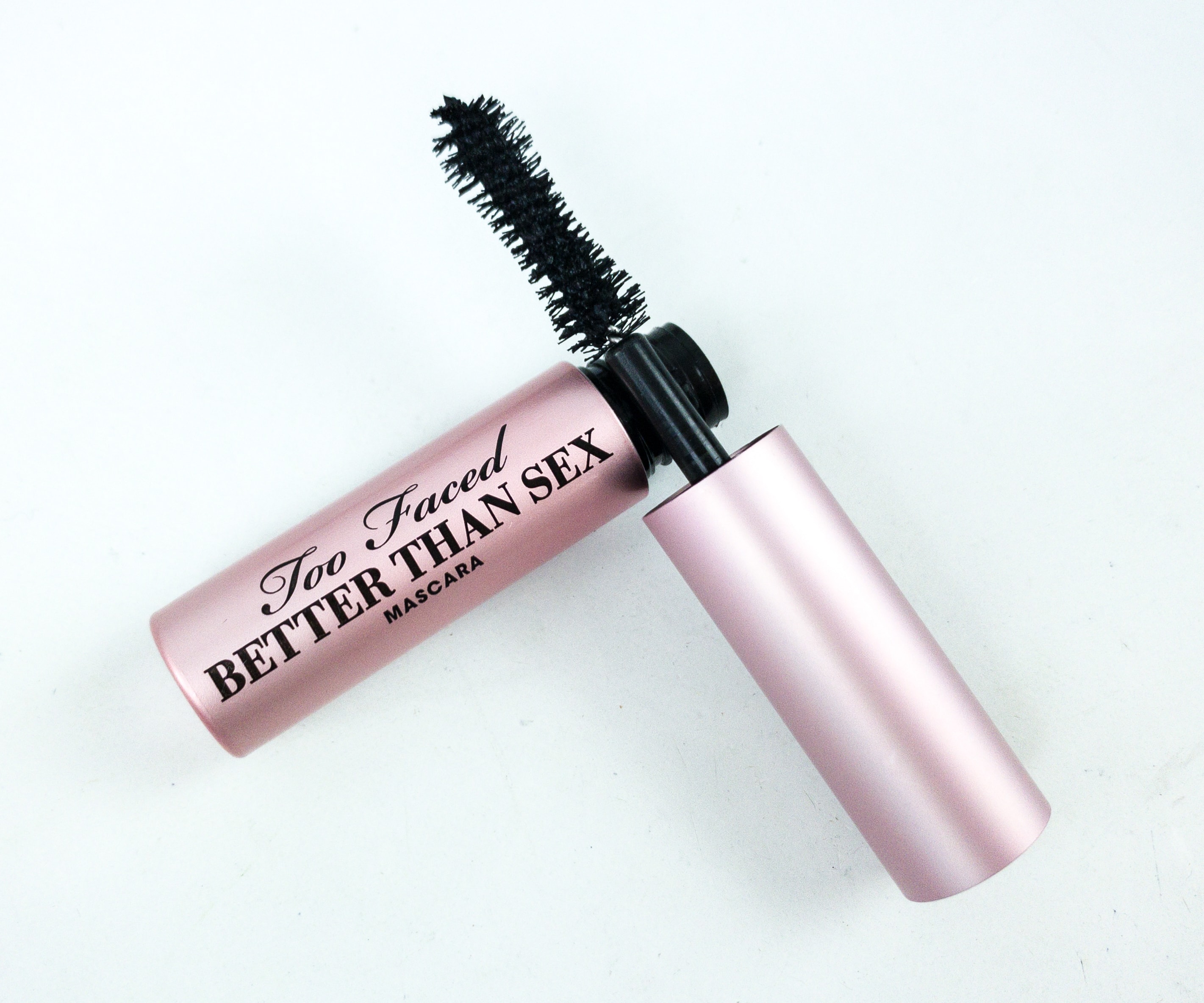 Too Faced Better Than Sex Mascara ($13) I am in love with this mascara! The formula really does add volume and length to my lashes, making them look full and long. The applicator is also good, as it separates my lashes for even coating.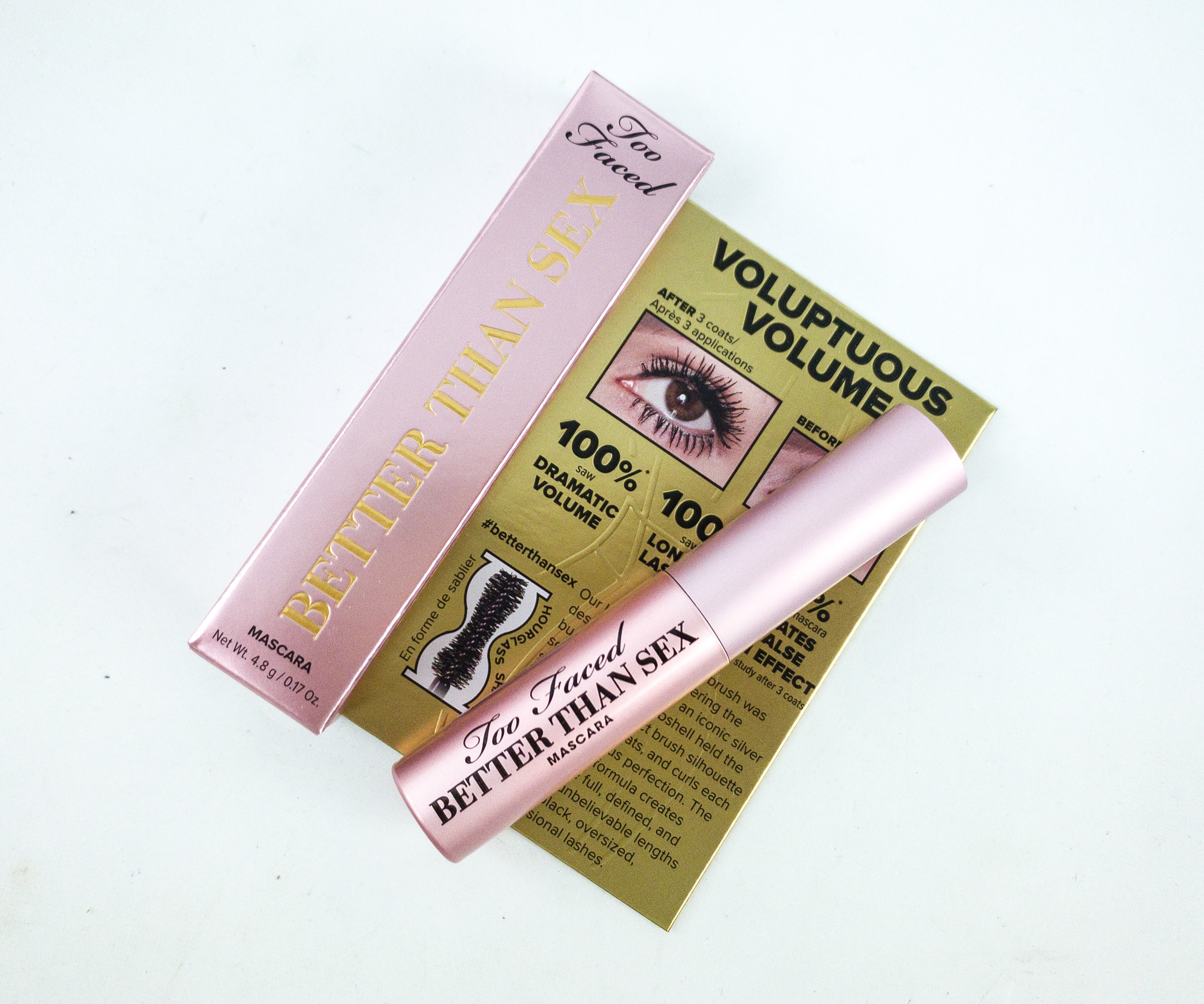 You can even build it up to have that false lash look. The only downside is that this isn't waterproof. It's still a nice mascara choice, if only for the volumizing and non-streaky formula it has.
Too Faced Chocolate Gold Soleil Bronzer ($30) It's a one-of-a-kind bronzer made with natural cocoa powder and real gold!
Its packaging looks really luscious in brown, which reminds me of a chocolate-coated cookie
I also like the compact's gold-colored details, it adds an even more luxurious vibe to the packaging. The bronzer itself is in a nice chocolate brown color and it does smell like chocolate!
This bronzer is actually quite good. It has hints of golden shimmer that make your face get that sun-kissed glow. It's a great way of adding dimension and warmth to your face!
Too Faced Chocolate Bar Eyeshadow Palette ($49) We're on to the full-sized eyeshadow palette, which is what I'm really looking forward to! Along with it is a card featuring samples of what looks we can make with this palette.
I like that they put in instructions at the back for when you want to recreate the look they featured in the card.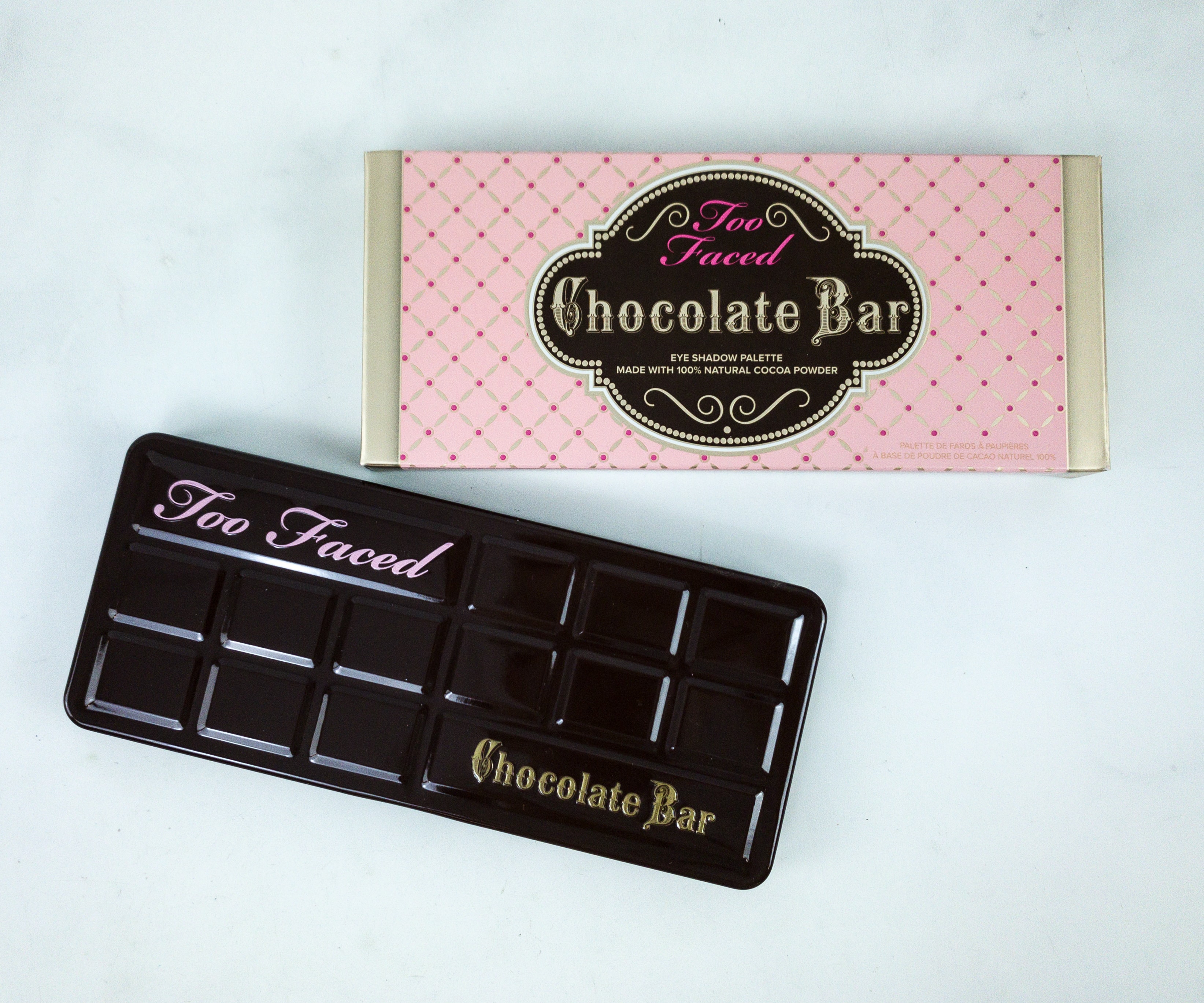 The packaging looks like a bar of chocolate! It's so cute!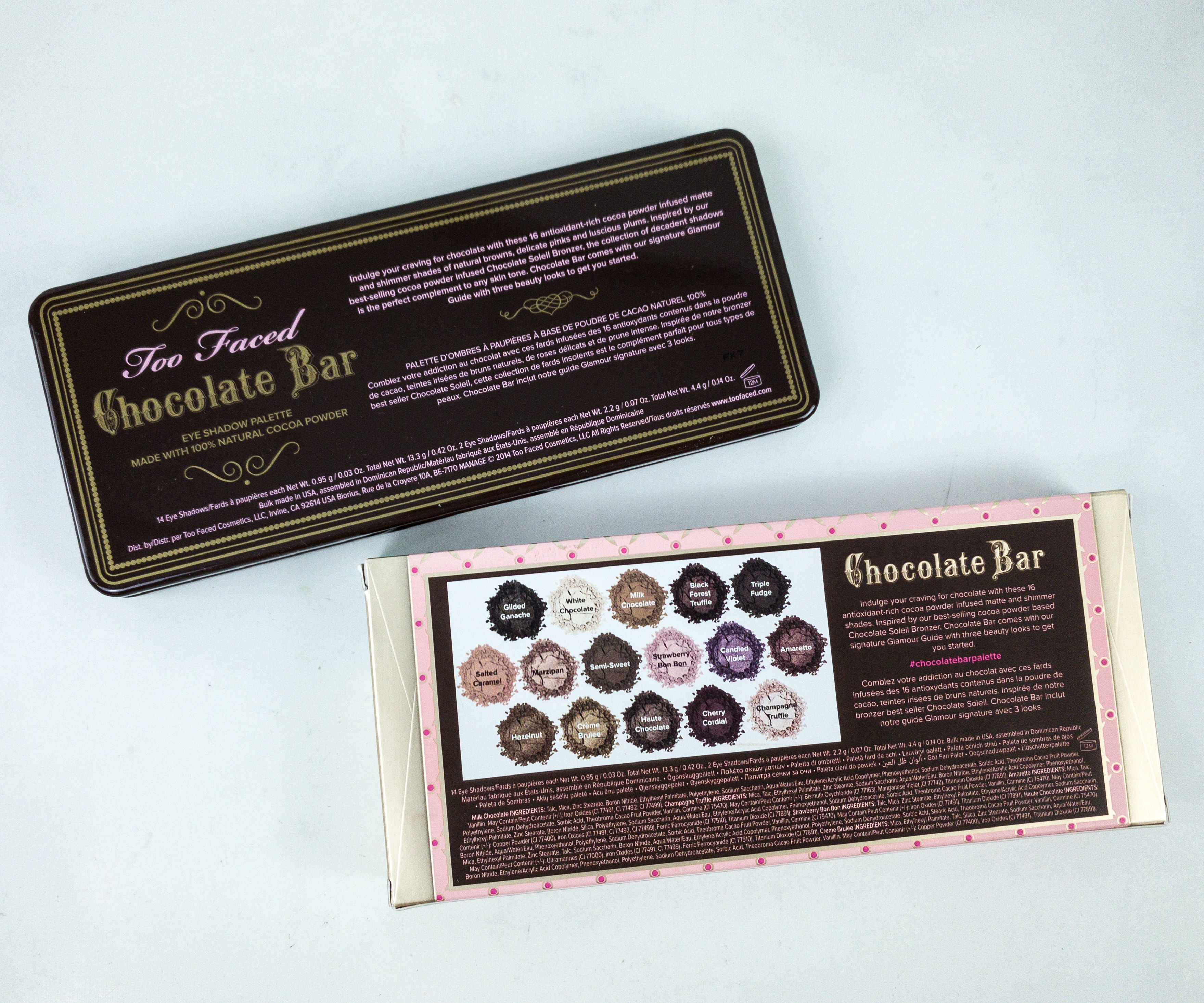 At the back of the box, you will see the product details including the shade names!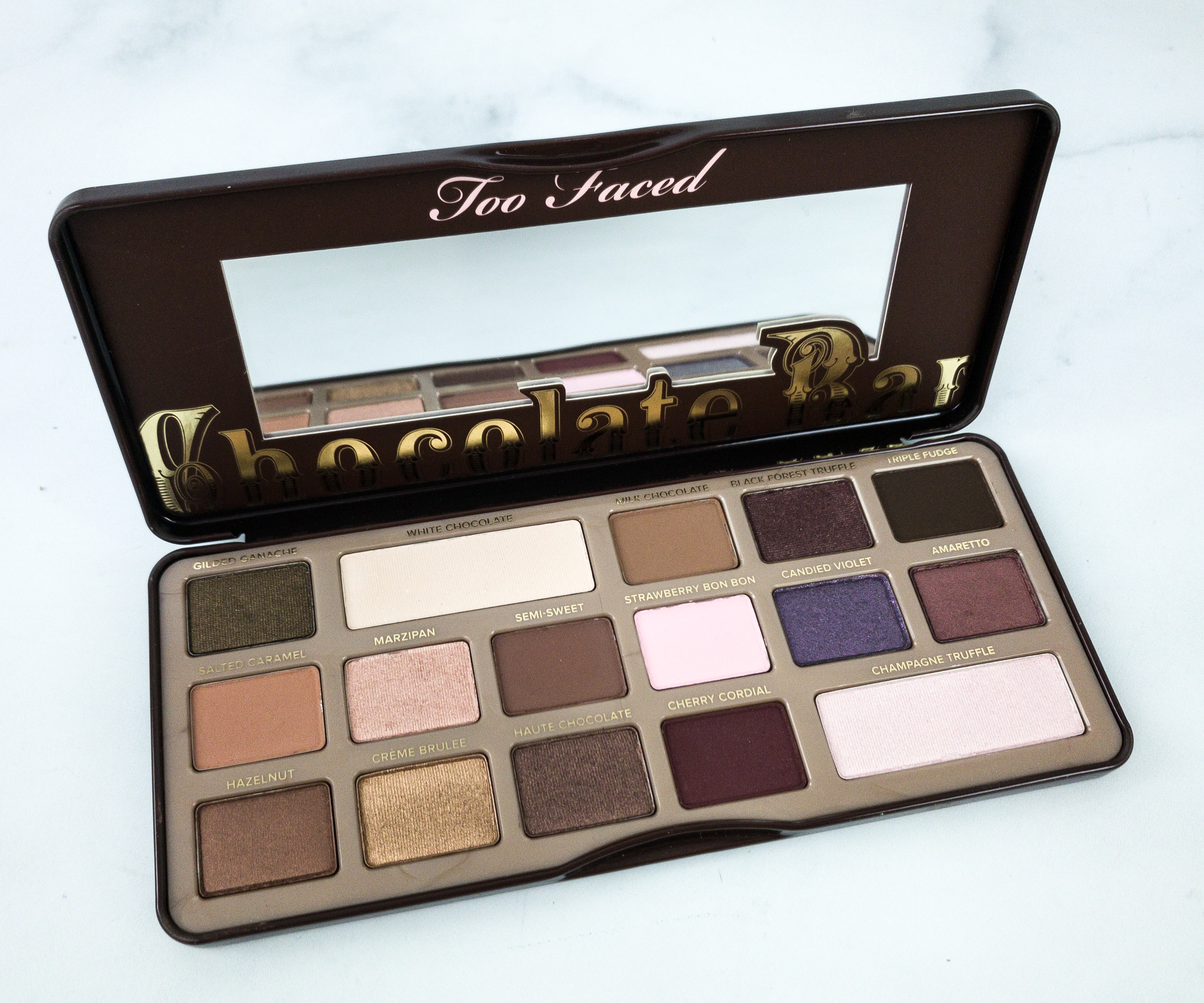 The shade names are so cute! They fit the chocolate theme really well!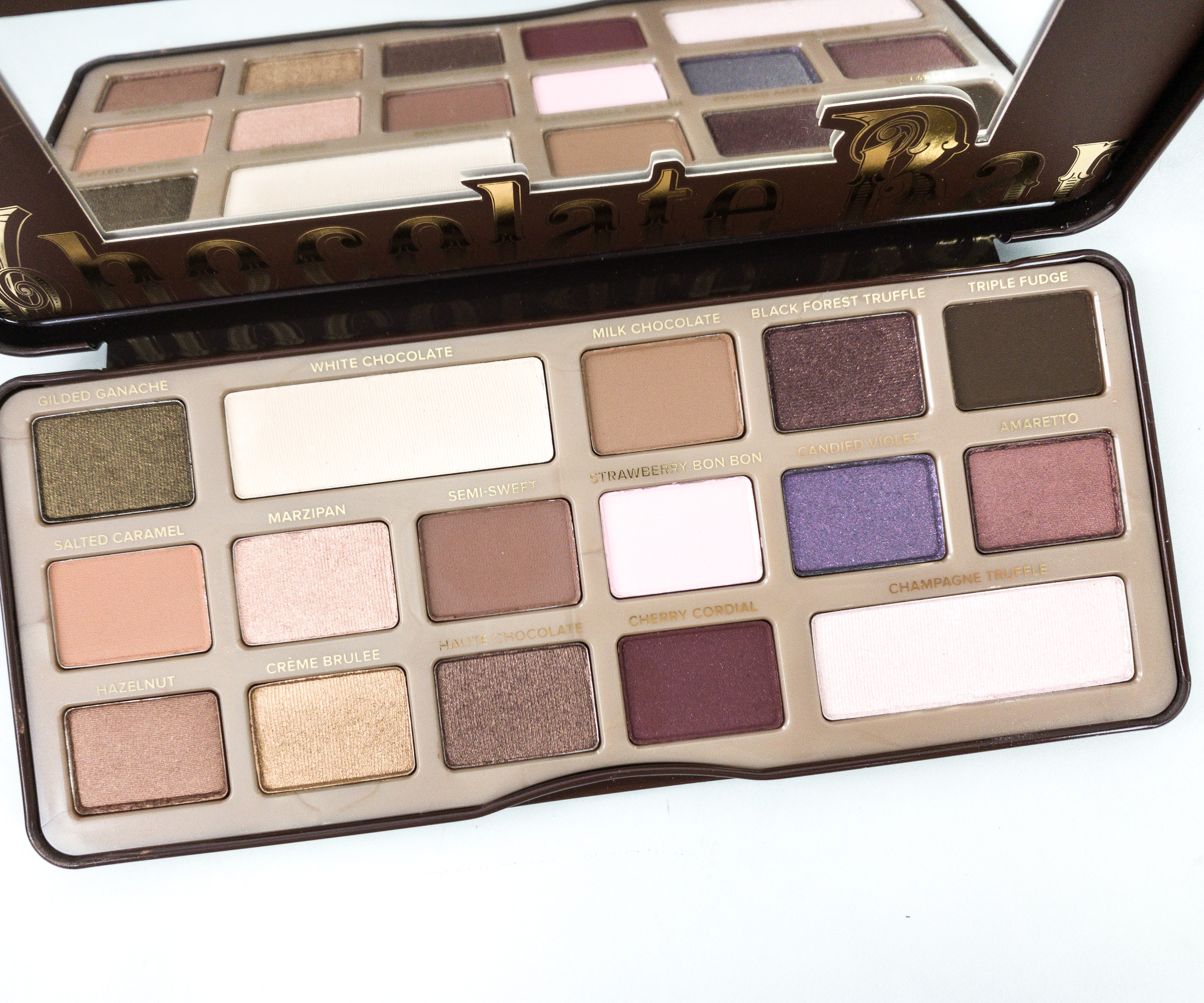 The color selection in this palette is great. The shades are very wearable with mostly cool-toned and some warm-toned browns that are perfect for everyday use! But it also has a pop of colors like the purple shade Candied Violet or the metallic olive-colored Gilded Ganache that you can use for an extra dramatic effect in transitioning a day time to a night time look!
Too Faced Melted Matte Liquified Matte Longwear Lipstick ($12.08) I like Too Faced liquid lipsticks! Their formula is pretty lightweight and long-wearing. I'm adding a new one to my stash, Queen B, which is a very wearable cool-toned mauve.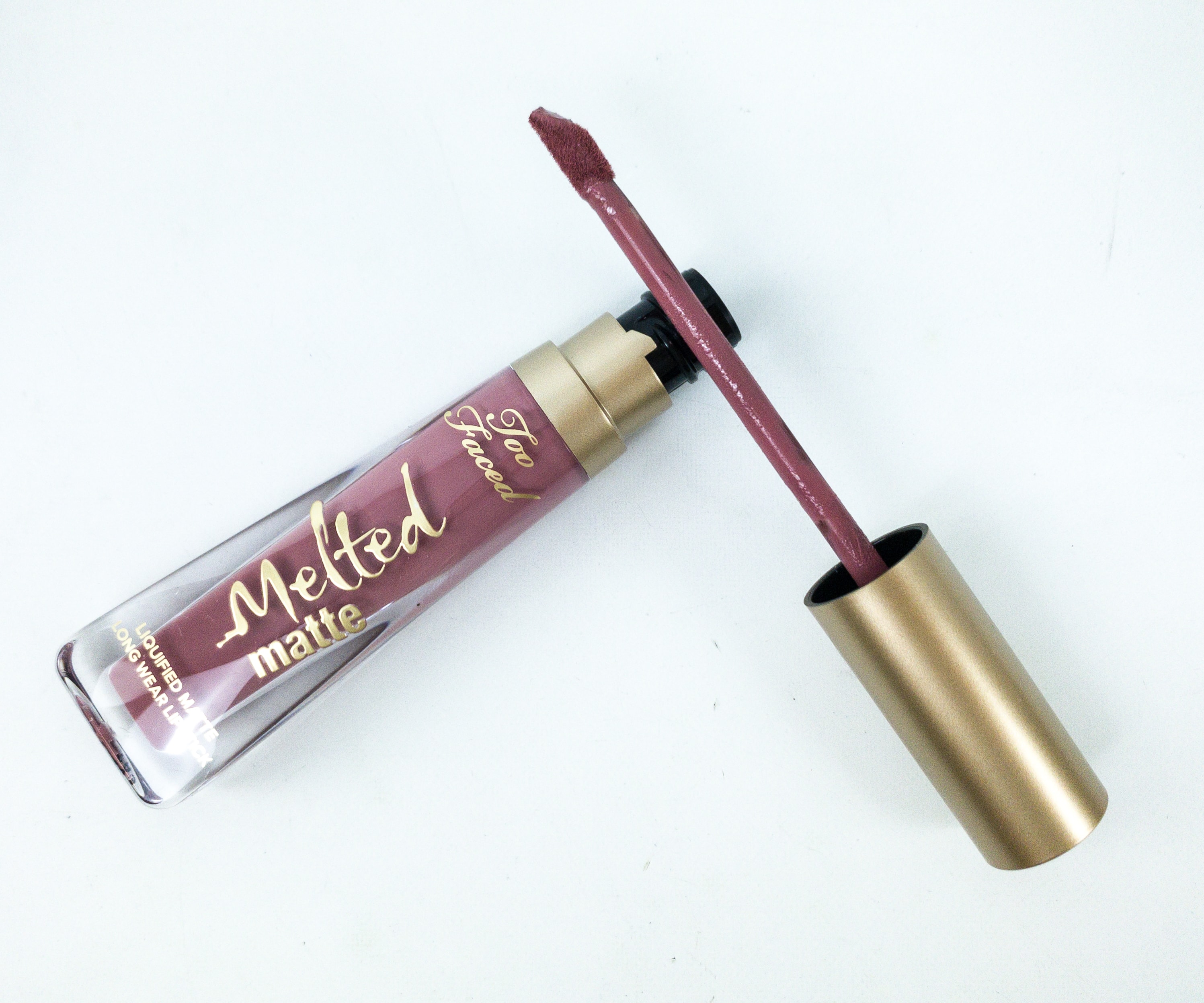 It goes on really smoothly on my lips. It dries down into a matte finish and is transfer-proof when it sets. I like their formula because I can go a whole day without needing to retouch all the time!
I look forward to this mystery bag every year. For this year, it's such a steal for $42. The eyeshadow palette itself costs more than the price of the bag, so it's definitely a win! I love the items they included because they're all useful for my everyday looks. I'm also obsessed with the super cute pouch because it's the perfect travel pouch for my make-up. Overall, I'm really happy with everything. Too Faced always puts out a great mystery box each year!
If you missed out this year, be sure to get a notification about the 2020 mystery bag:
What do you think of the 2019 Cyber Monday Too Faced Mystery Bag?