Pupjoy is a subscription box for dogs that delivers the healthiest dog treats with all-natural ingredients and clear labeling, as well as well-crafted dog toys and artisan accessories. You can choose from monthly, bi-monthly or quarterly subscriptions, and then have it customized for your dog's specific needs. To date, PupJoy has a total of 28 options to customize your box.
PupJoy, together with BISSELL Pet Foundation, supports shelter animals and rescues across the country.
PupJoy have also been selected as a winner of Purina's Pet Care Innovation – a competition that helps support and connect companies that have pet products and/or services already in market.
DEAL: Get 2 free items with your first order on any Uno Box plan or 3 free items on Grande or Power Chewer Plans. Use coupon code HELLOSUBSCRIPTION.
FYI Pupjoy subscriptions are changing!
Soon, we're launching a new, really awesome, user experience – Build Your Own Delivery. BYOD is replacing our old subscription model, and combines all of the things you love about curated subscription boxes, auto-replenishment, and on-demand shopping, in one convenient, cost-saving experience. You're gonna love it!
We've also doubled down on health & sustainability, in the products we produce and in the companies that we work with. We're expanding our product categories to serve you better and we're delivering it all to you with the best shopping experience in the industry.
You can choose either an Uno Box, great for single dog households or a Grande Box, a plus-sized box for a multiple dog household. There is also an option to receive a combination of toys, treats & accessories, or you can limit the subscription to toys & accessories only. If you wish, you can even opt to receive treats only. You can skip renewals and edit or cancel a subscription – anytime, without penalty.
There are cute icons printed on the interior of the box flap!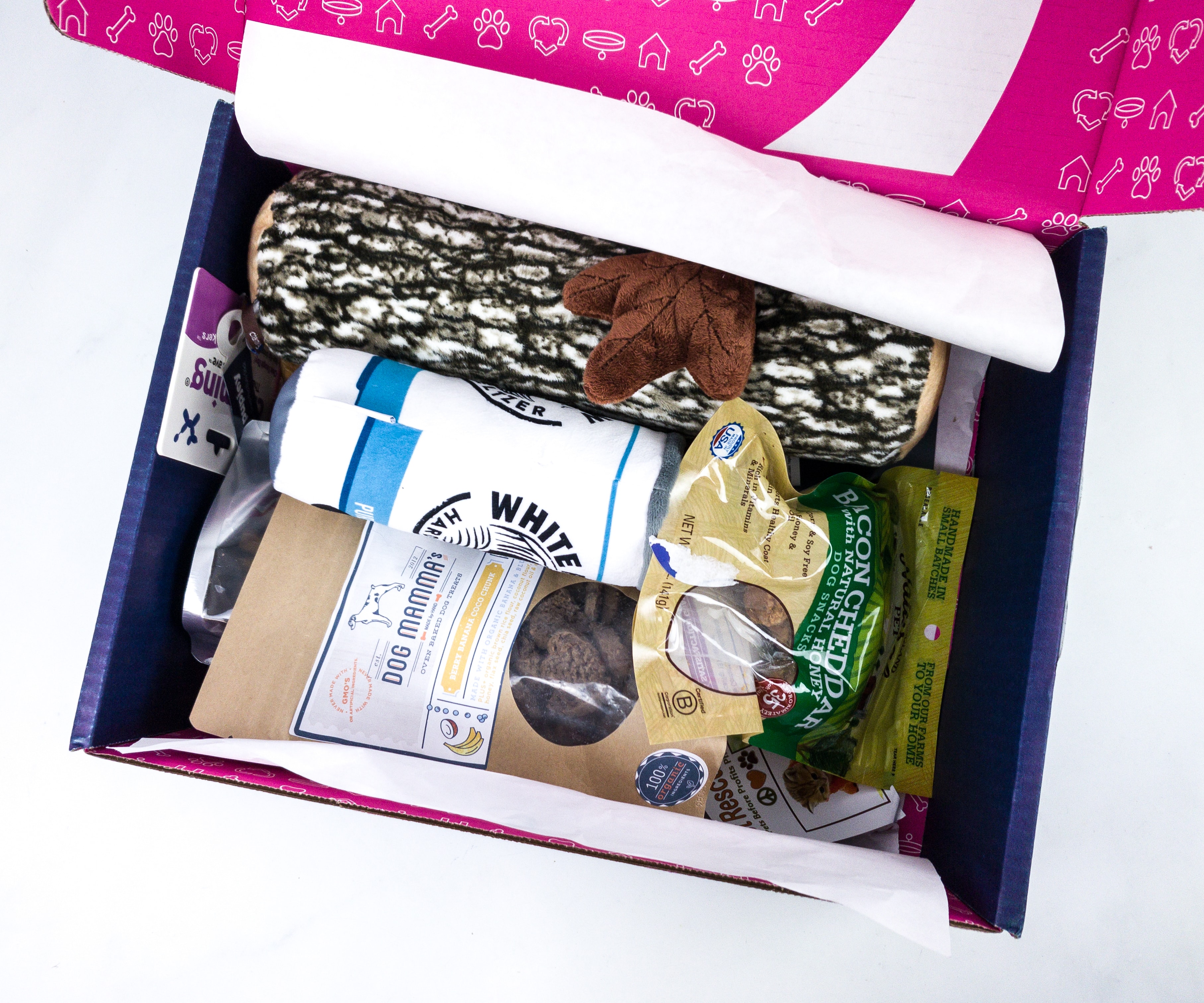 As always, our box is full of awesome goodies for our dogs! PupJoy works directly with small manufacturers. They support independent businesses and they give back through charitable programs as well.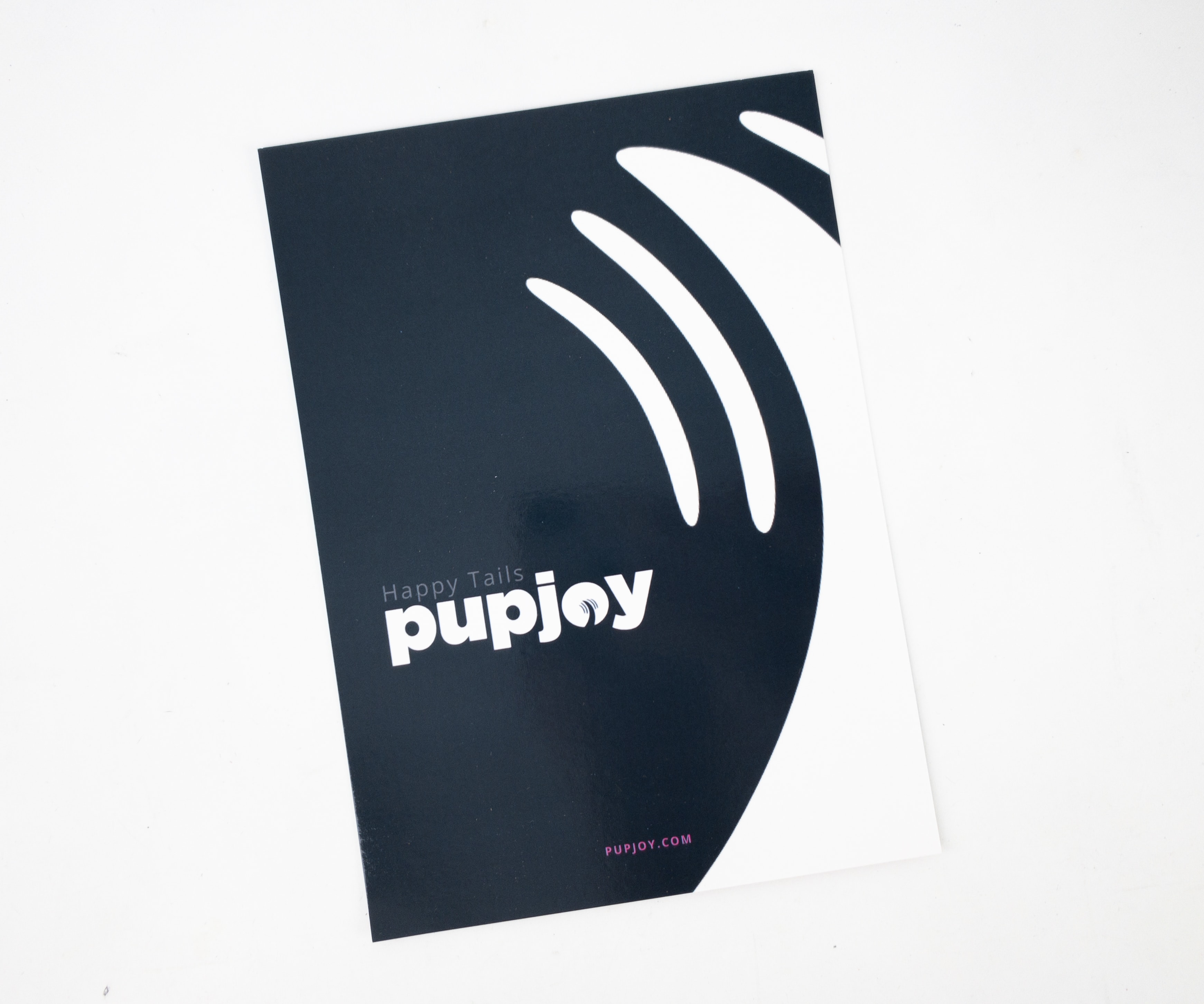 Inside the box is a PupJoy info card.
The back of the card contains all the information you need to know about the box including its contacts, rewards, and more!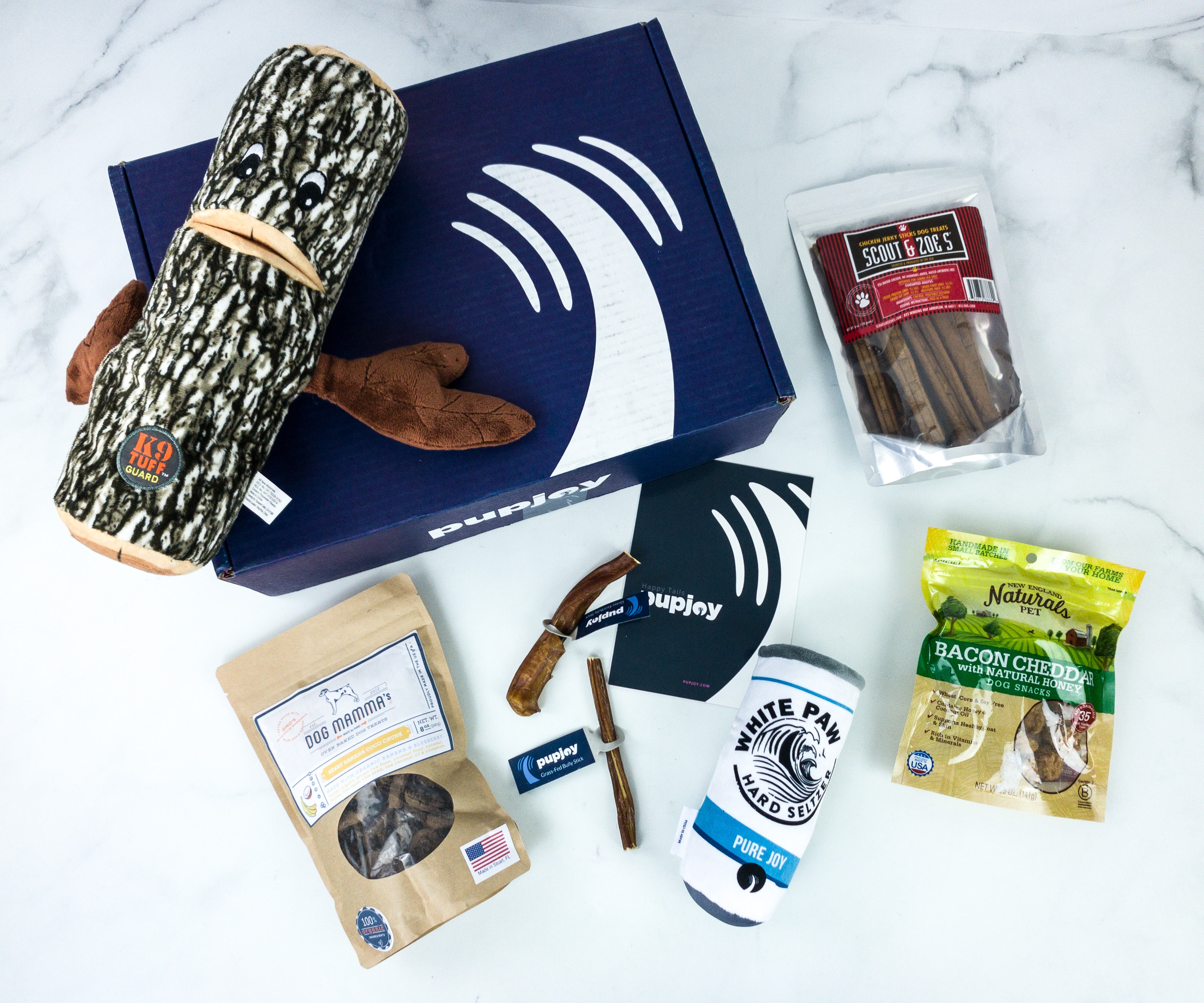 Everything in the box!
Pup Joy Grass-Fed Bully Stick. It's an all-natural dog treat made using grass-fed, pasture-raised cow from Brazil!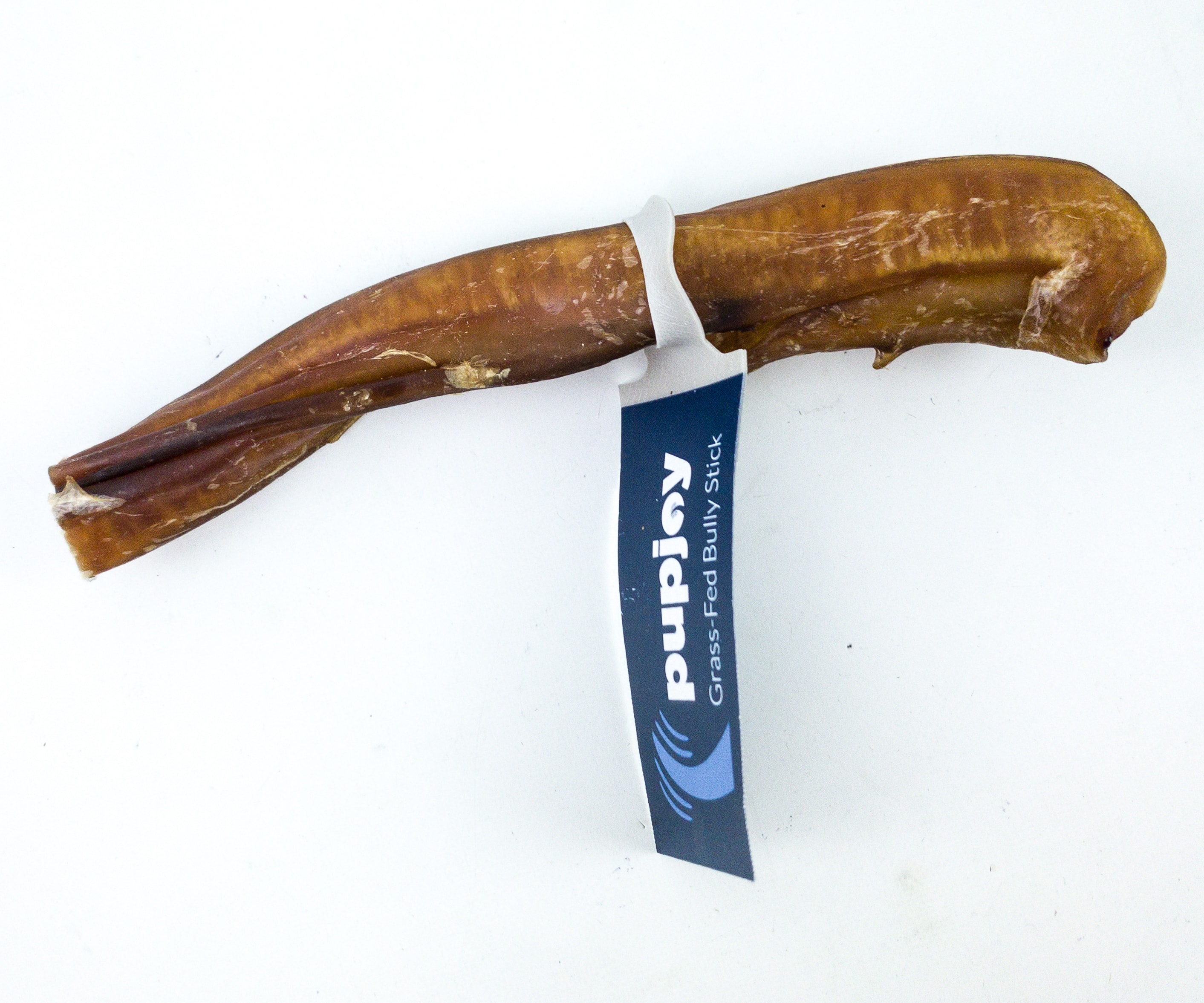 This grain-free stick is highly digestible and is a great source of protein and other healthy nutrients that your pups need for a strong and active body.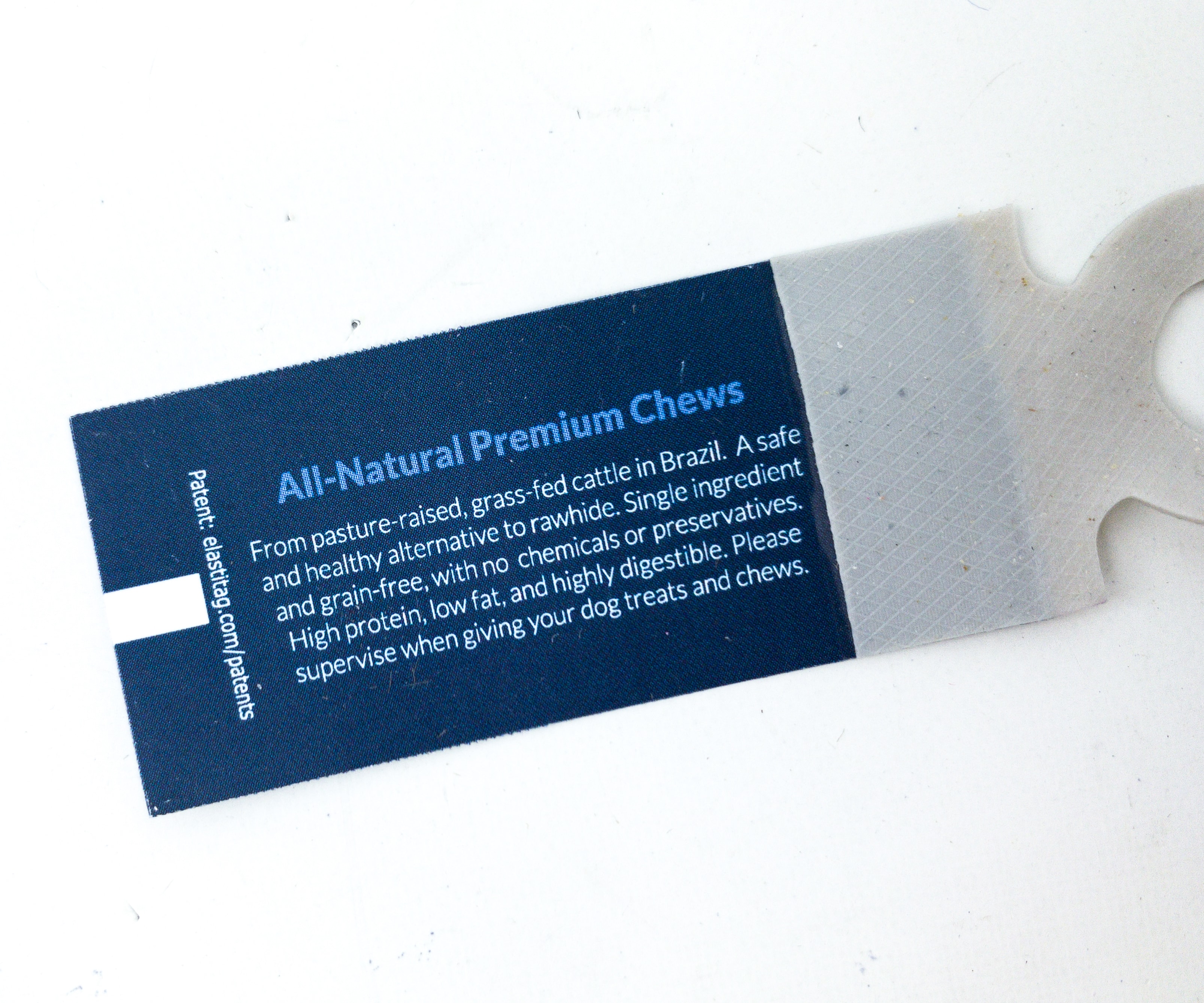 According to the label, this scrumptious treat is a perfect alternative to rawhide.
Pure Joy Dog Plush. It's a cute plush toy featuring White Claw Hard Seltzer, a famous spiked sparkling water drink. It will not get your pup drunk, but will definitely keep them busy for a long period of time!
Soft and fluffy, this premium plush is perfect for a fetch game!
K9 Tuff Guard Charming Barkers Dog Plush. This is definitely one of the toughest toys our dogs have ever encountered! K9 Tuff Guard is a durable toy made from premium quality fabric with non-rip lining and double-stitched seams.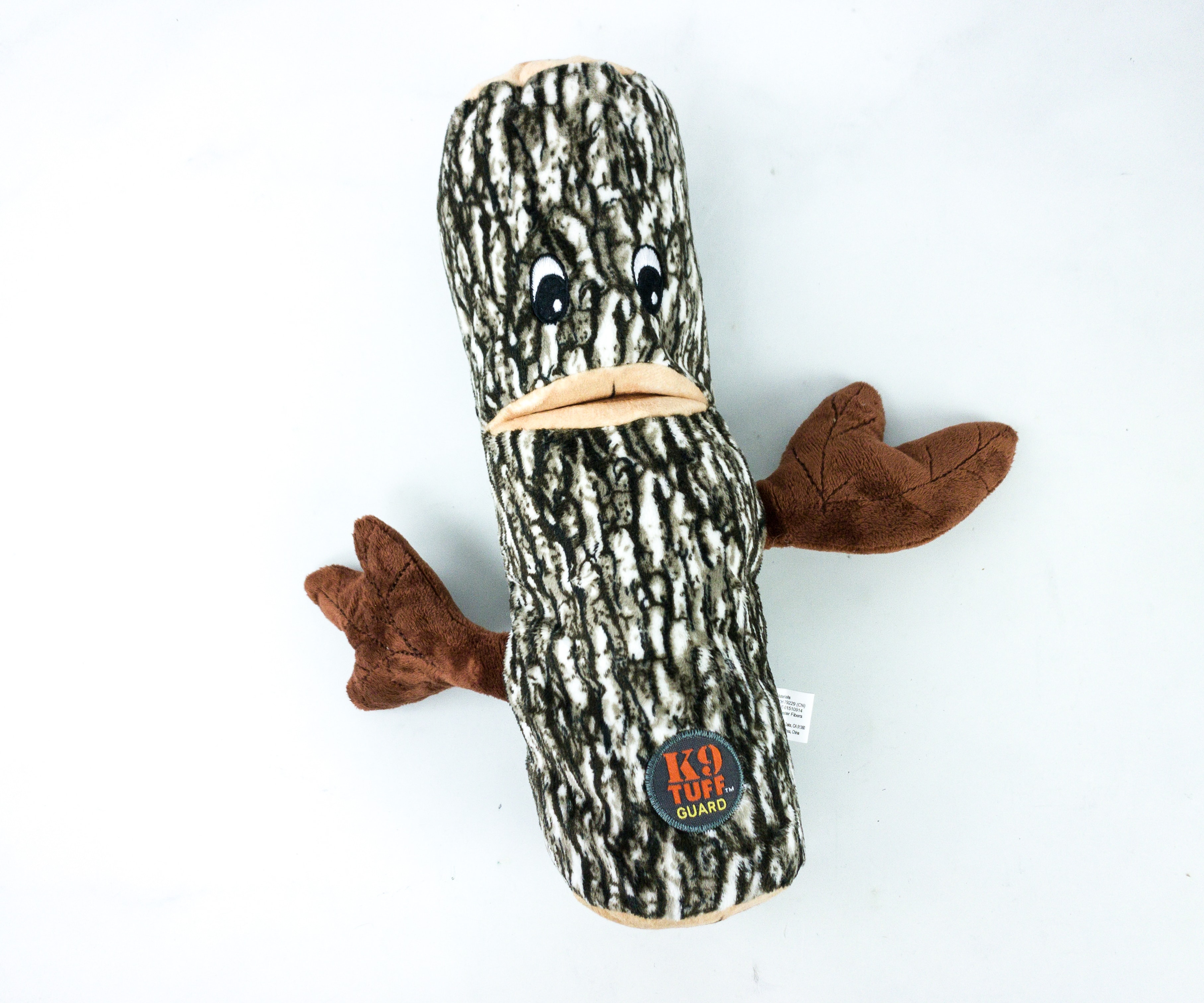 This toy features a unique branch-like design that looks really awesome. It's the perfect toy to use for tug-of-war or even for fetching!
New England's Naturals Pet Bacon Cheddar Dog Snacks. This first bag of treats in the box is made with barley flour, honey, rolled oats, cheddar cheese, and bacon flavor!
It's also rich in vitamins and minerals, keeping your dog's skin and coat healthy!
They are bite-sized, with a distinct crunchy texture. I can hear the sound of their crunchiness with each bite made by our pups!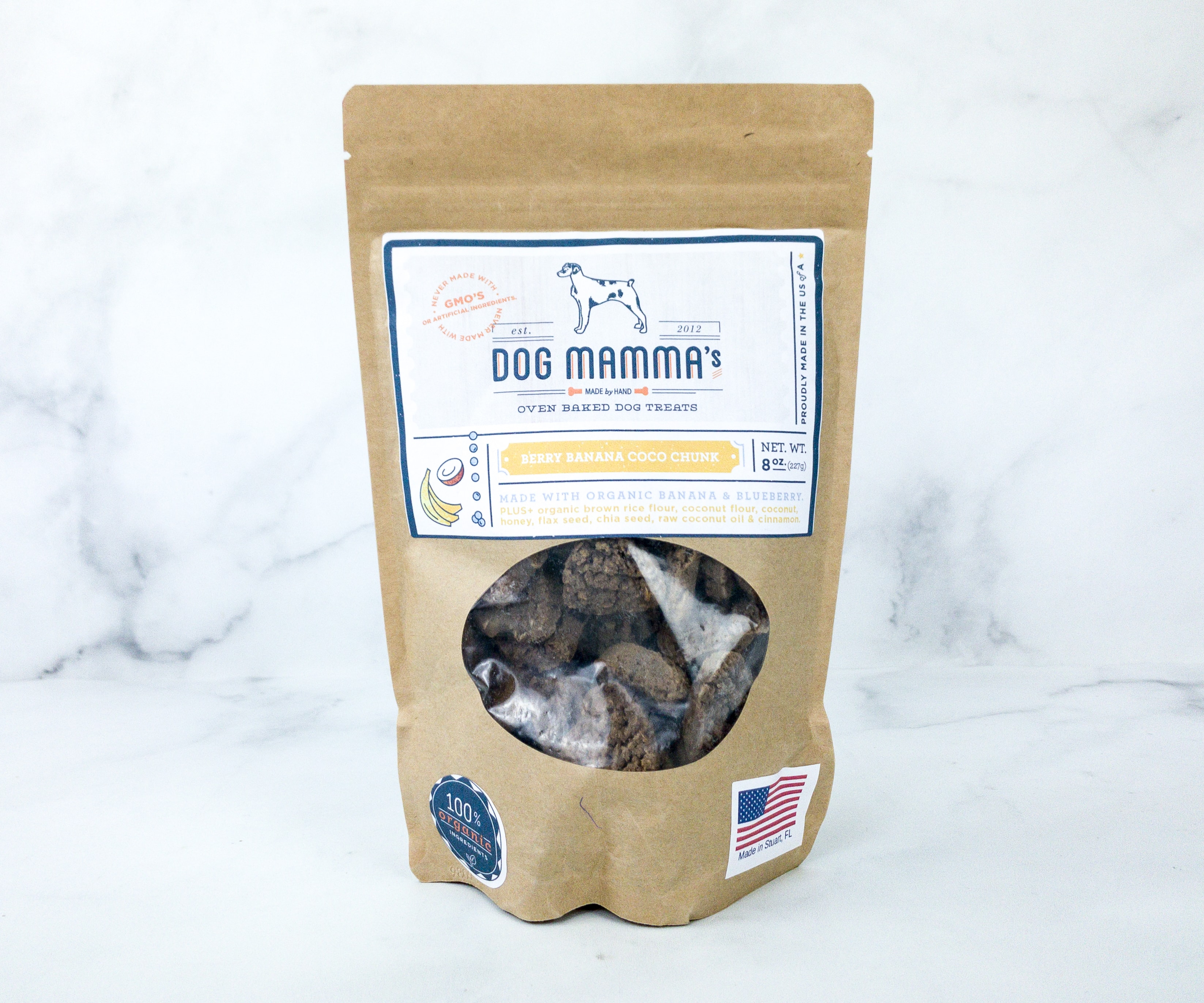 Dog Mama's Oven Baked Dog Treats. These oven-baked snacks look like cookie bites! They're made from 100% organic ingredients that are not just banana-mazing, but berry delicious too!
It's a highly nutritious dog snack made from banana, coconut, and blueberries mixed with organic brown rice and coconut flour. This snack is also corn-free, soy-free, and wheat-free!
Each piece is bite-sized and heart-shaped. They're also quite crunchy! Definitely another hit with our pups!
Scout & Zoe's Chicken Jerky Sticks Dog Treats. Our pups love jerky sticks and we're glad to get one pack in the box! These are made from human-grade, USA-sourced beef.
According to the back of the pack, this treat is packed with love and was assembled with lots of love from the people who made it. This snack is also best enjoyed by 09/01/2021.
Each stick features a unique golden brown color, as well as a bamboo tree-inspired carving. Each piece is nice and chewy but breaks apart easily, ideal for feeding as a treat!
PupJoy just made our pups happy with their exclusive selection of durable toys and yummy treats. They kept on asking for more of the goodies, especially the jerky, and we also had lots of fun playing fetch and tug-of-war with their new favorite toys. You'll never be bored with this box, as they always find ways to keep you and your dog more excited.  Overall, the box was splendid! It's a great subscription if you want new toys and treats for your dog every month! We're looking forward to seeing what the next version of PupJoy brings!
What do you think of this month's PupJoy?