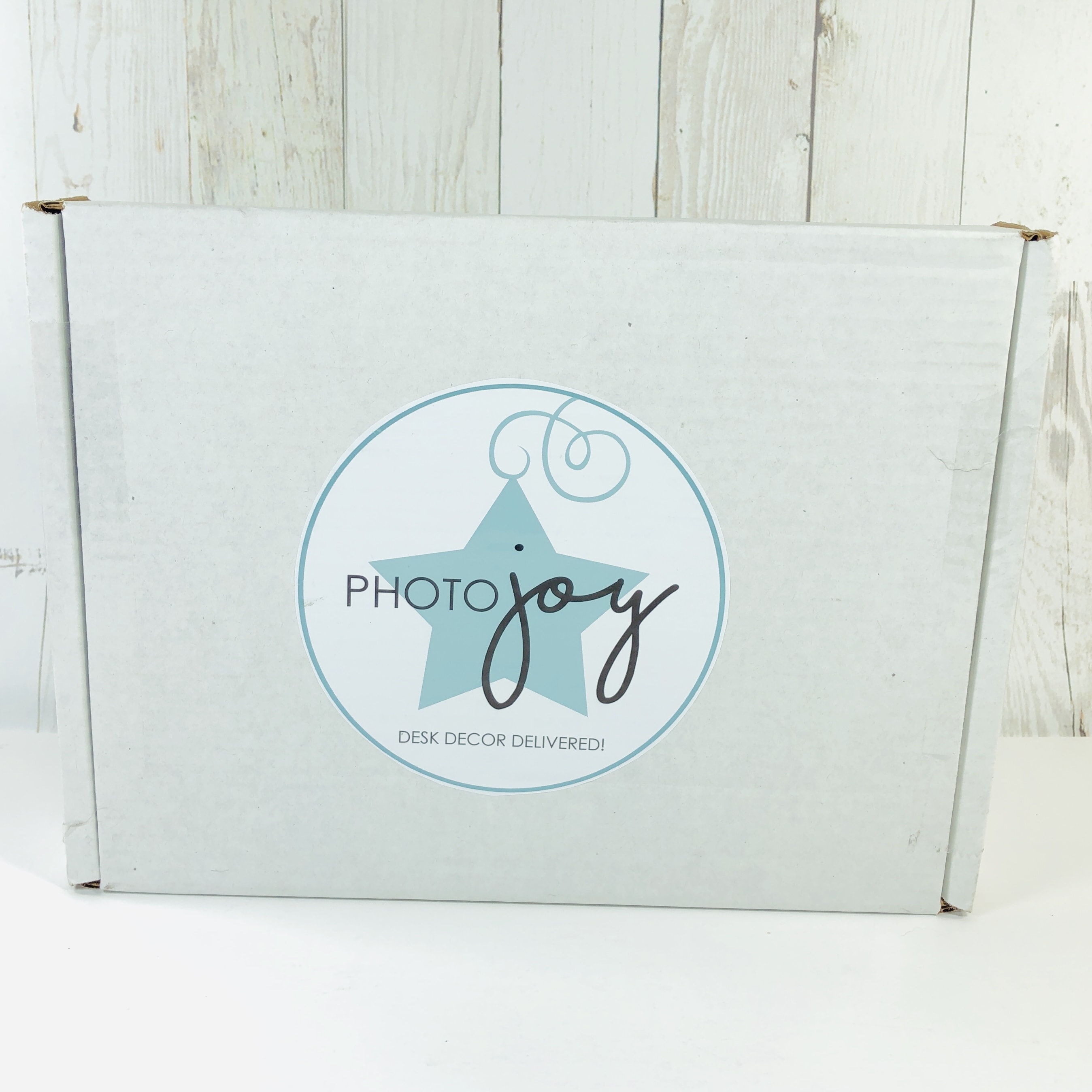 Photo Joy Box is a monthly subscription box that helps you decorate your office (or bedroom, or wherever!) by delivering artistic, ready-to-frame, high-quality photography prints every month. You will also receive coordinating cards, postcards, stickers, magnets, and other items to match! The main product will be a matted photography print (either 5×7 matted to 8×10, or 8×10 matted to 11×14, depending on the level you choose) and shipping is free to the US. Subscriptions are $29.95 (for 5×7) or $39.95 (for 8×10). Prices drop for longer subscriptions!
CAN YOU IMAGINE…

… walking into a fresh, inspiring workspace each day, where updated colorful art boosts your mood, productivity and happiness? ………….. WE CAN MAKE THAT HAPPEN.
DEALS:
Get 20% off your first box! Use coupon code FIRSTMONTH20.
Get $5 off your subscription! Use coupon code PHOTOJOY5.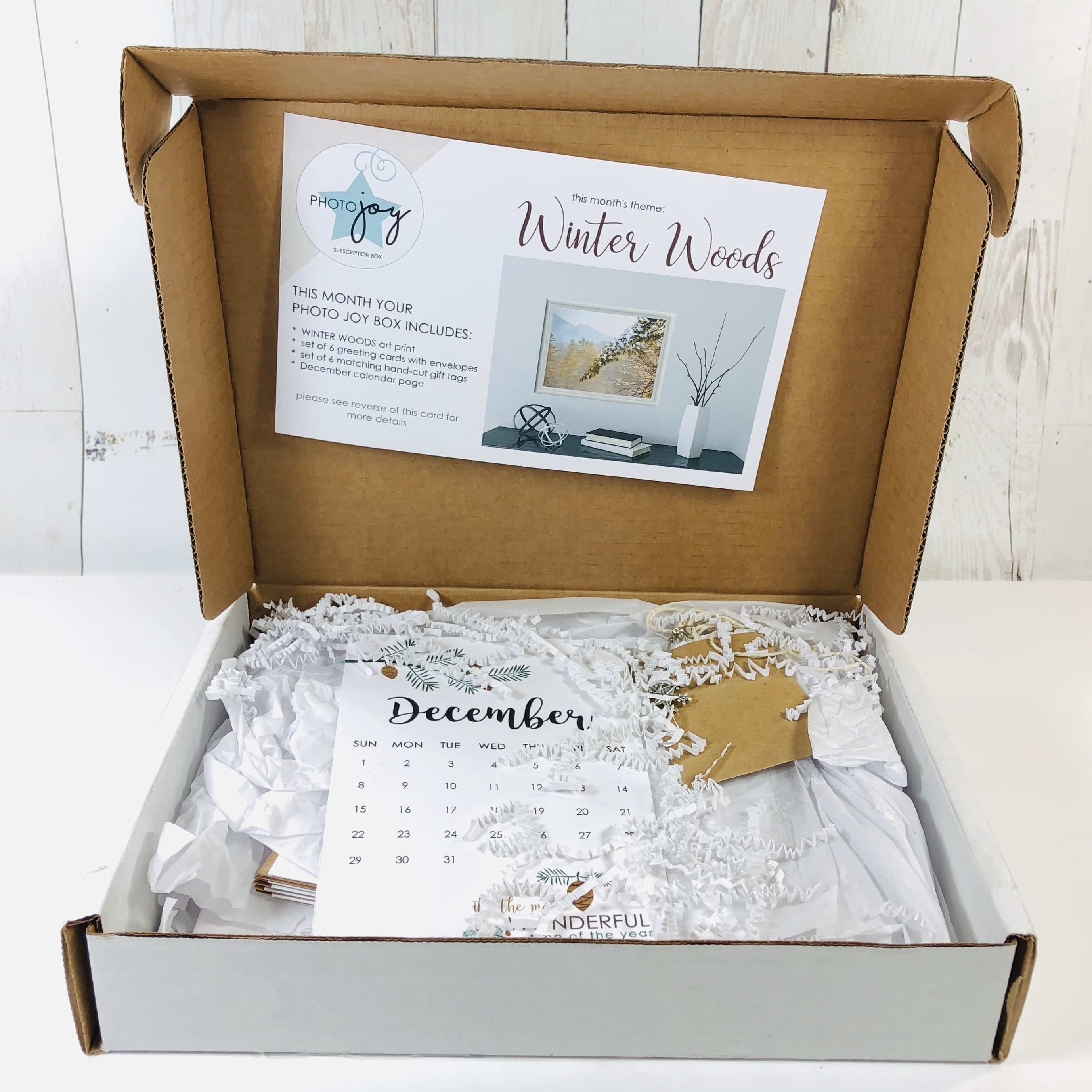 I found a card on the inside of my box. Make sure to remove it – there's more info on the back! My items were tucked into tissue paper and shredded paper squiggles. Some of the items were wrapped in plastic to keep them from getting marred during shipping.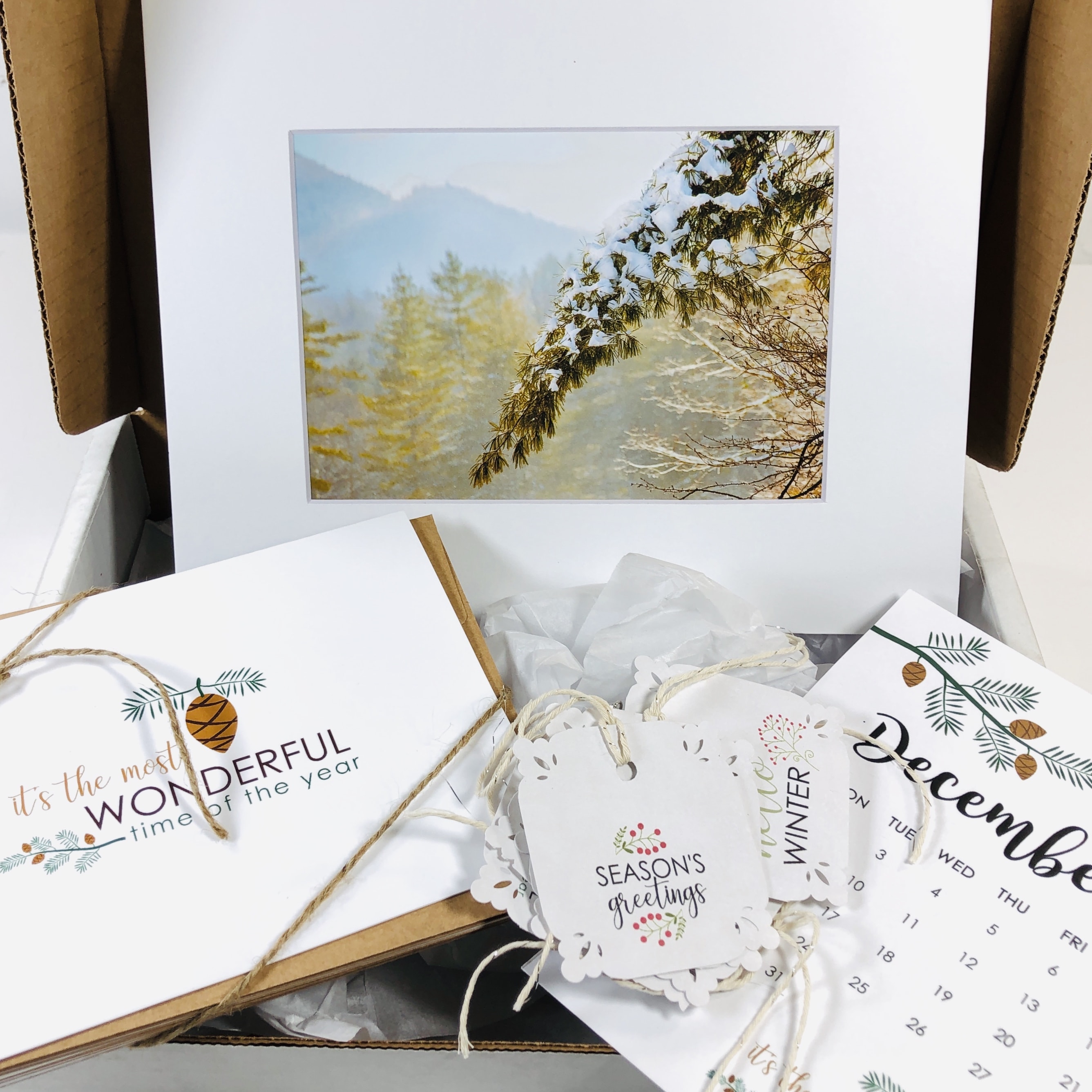 Everything in the box!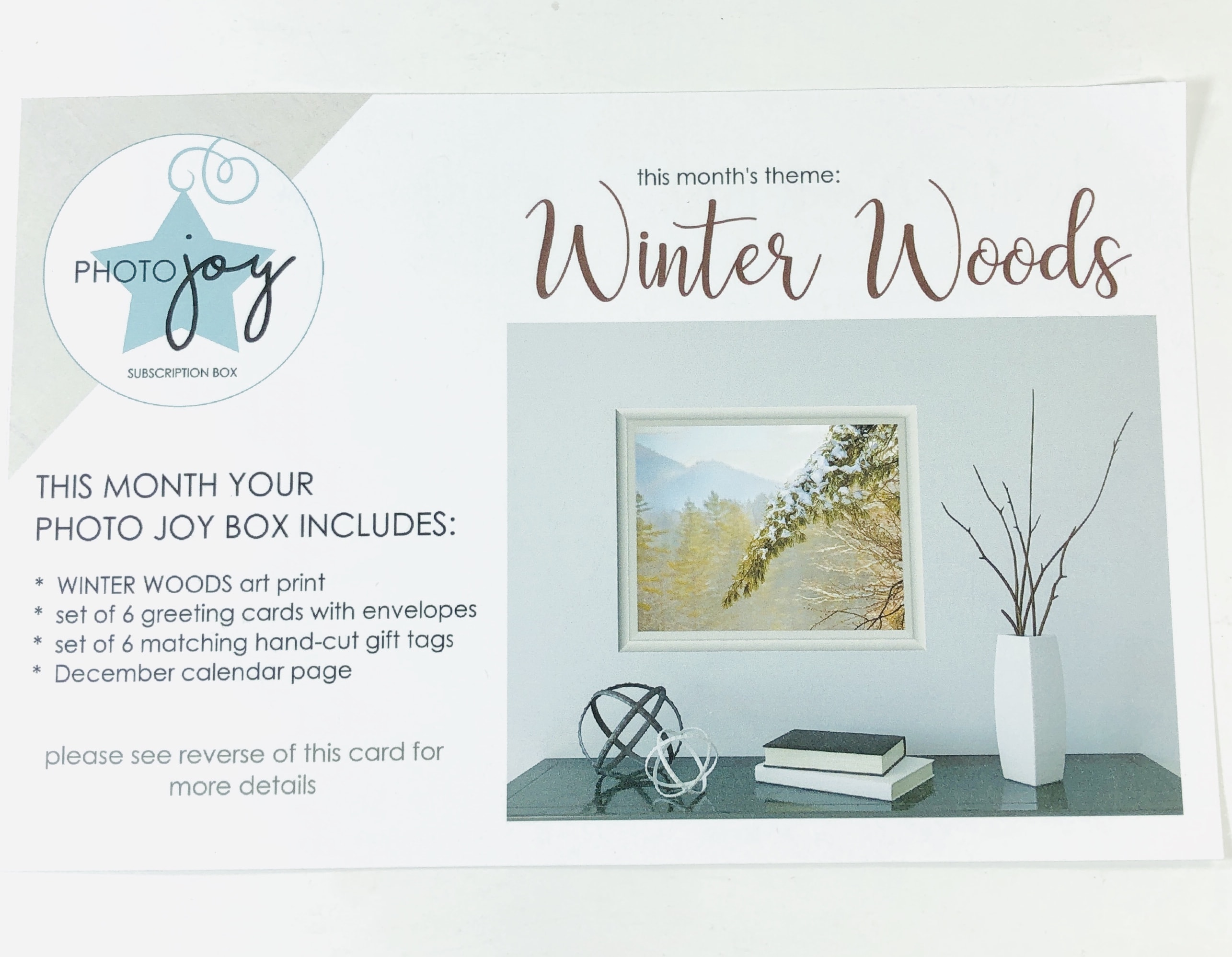 The card had info on the items in my box. The theme for December is WINTER WOODS!
The back of the card had info on the included print and products plus a subscriber discount code.
We received a December Calendar Page, which can be propped on a desk.
The back of the calendar had a place to list some goals for the month. This card is 5″ x 7″.
Next I found a kraft paper holder with something inside. I also noticed a cute snowflake charm on the outside.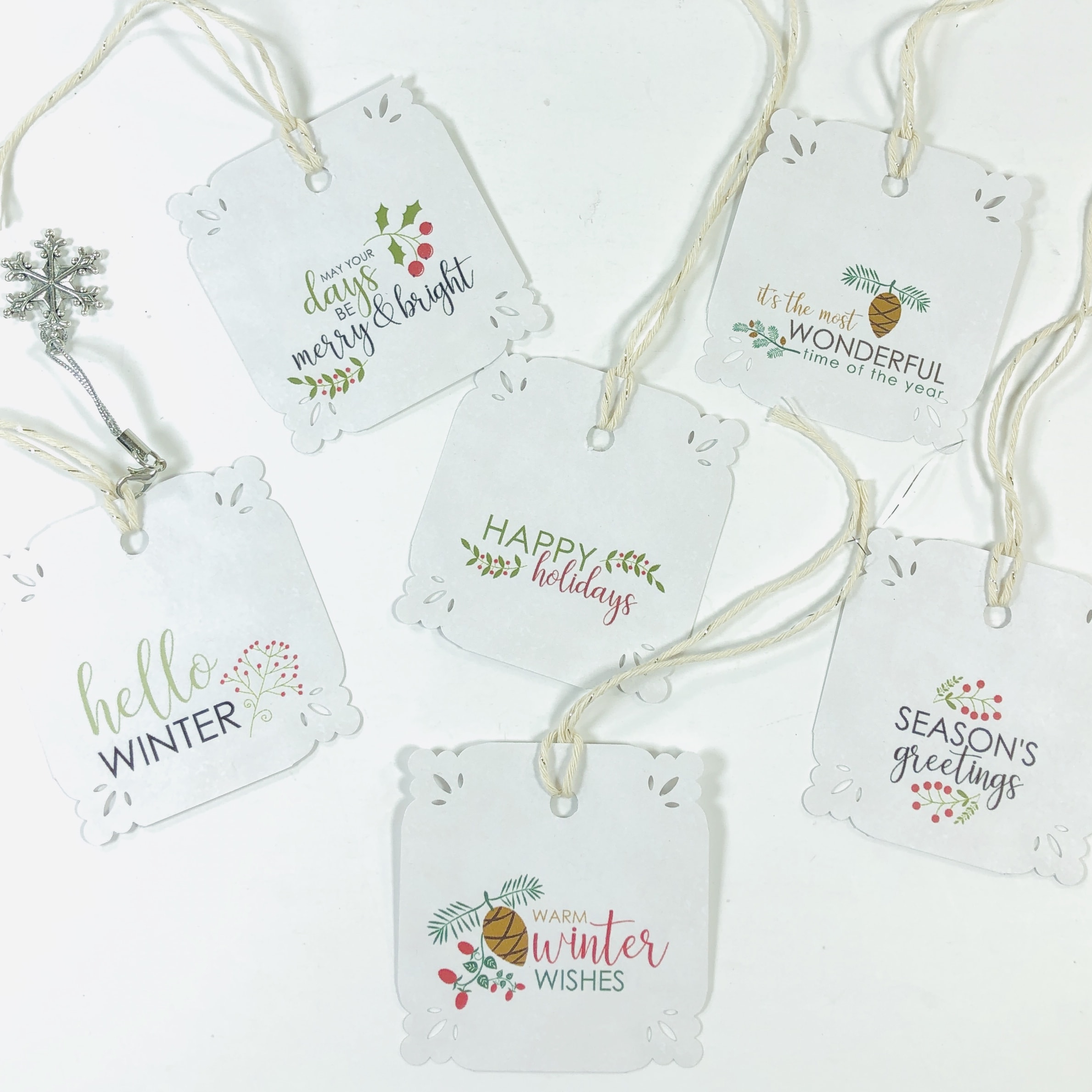 I found a set of six Gift Tags! Each tag is about 2.5″ square and has a print that matches the greeting cards shown next. They have a cotton tie that has silver tinsel woven through it and decorative edges. The back of the cards have a place to write to and from.
I was very excited to receive this set of 6 Holiday Greeting Cards!
They had a variety of winter wishes on them and each one is blank on the inside and comes with a kraft paper envelope. Each card is 5″ x 7″.
Our main item is the Winter Woods print. The picture is 5″ x 7″ and matted to 8″ x 10″. It has a lovely tree branch covered in snow with beautiful morning light softening the trees and mountain in the background.
Your first box comes with a mini easel so you can prop the picture on your desk, bookcase, or mantle or you may choose to frame the print for a more permanent display.
Photo Joy sends beautiful items that are well made and seasonal. I love the print, especially since my second favorite place on Earth is the mountains (number one is the beach). I think it makes for an interesting conversation starter and I think it's fun to rotate the picture in the easel monthly. I also liked the calendar page and gift tags, but the greeting cards are just exactly what I needed to send some well wishes this month and next.
What do you think of the Photo Joy Box?