Pet Treater Dog Pack is a monthly dog subscription! Every month you receive at least one bag of treats made in the USA or Canada along with one toy each month for $15 and free shipping. Small, medium, and large dog options are available. Subscribers have access to secret deals and add-ons. It's formerly known as Mini Monthly Mystery Box for Dogs and Pet Treater Dog Box Mini. Pet Treater Dog Pack is a smaller version of Pet Treater's Deluxe Dog Pack.
DEAL: Get 10% off your first month with coupon code DOGPACK10.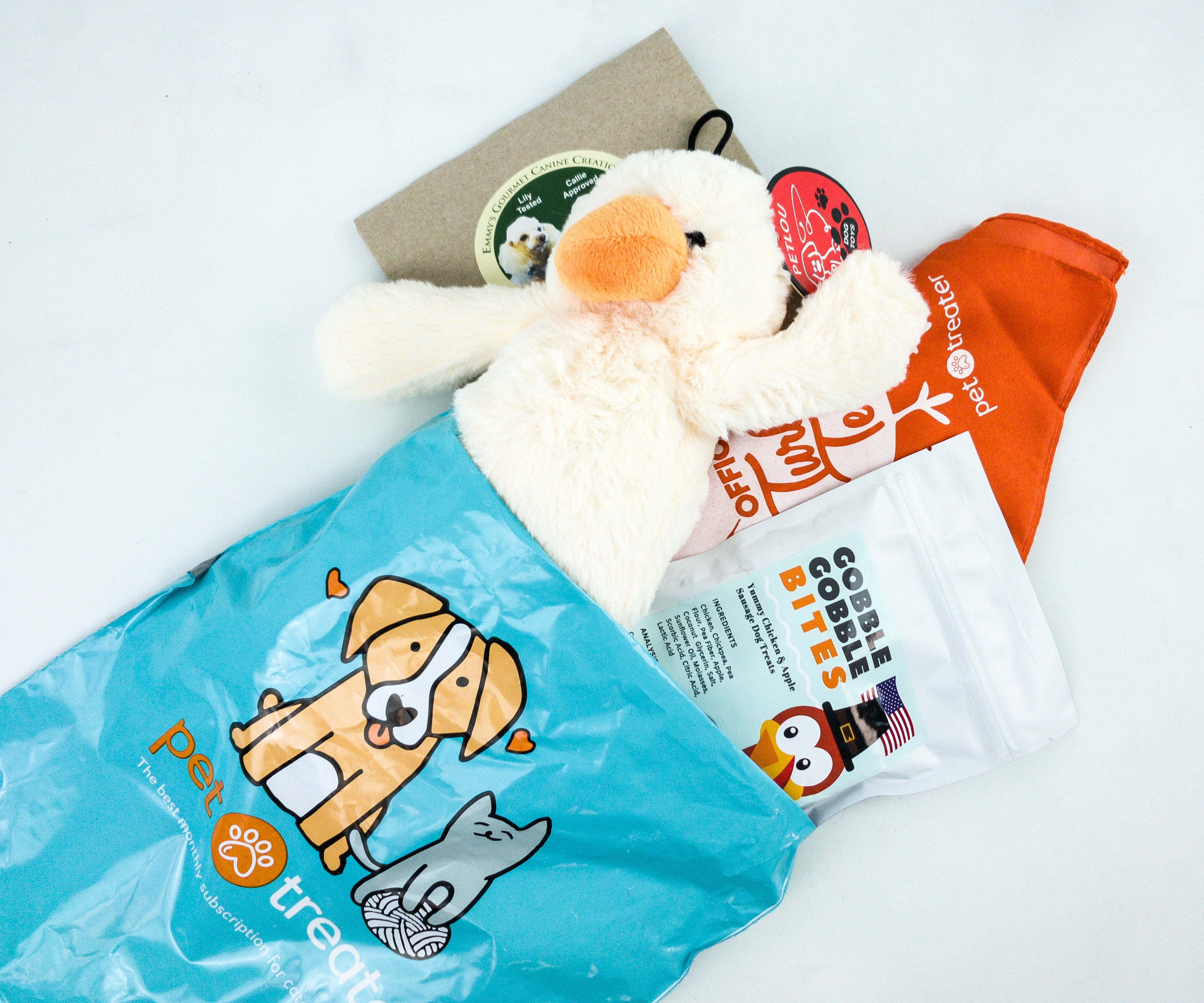 There is no extra packaging except for the pouch, but everything arrived in great condition.
They gave us a first-month Pet Treater coupon code.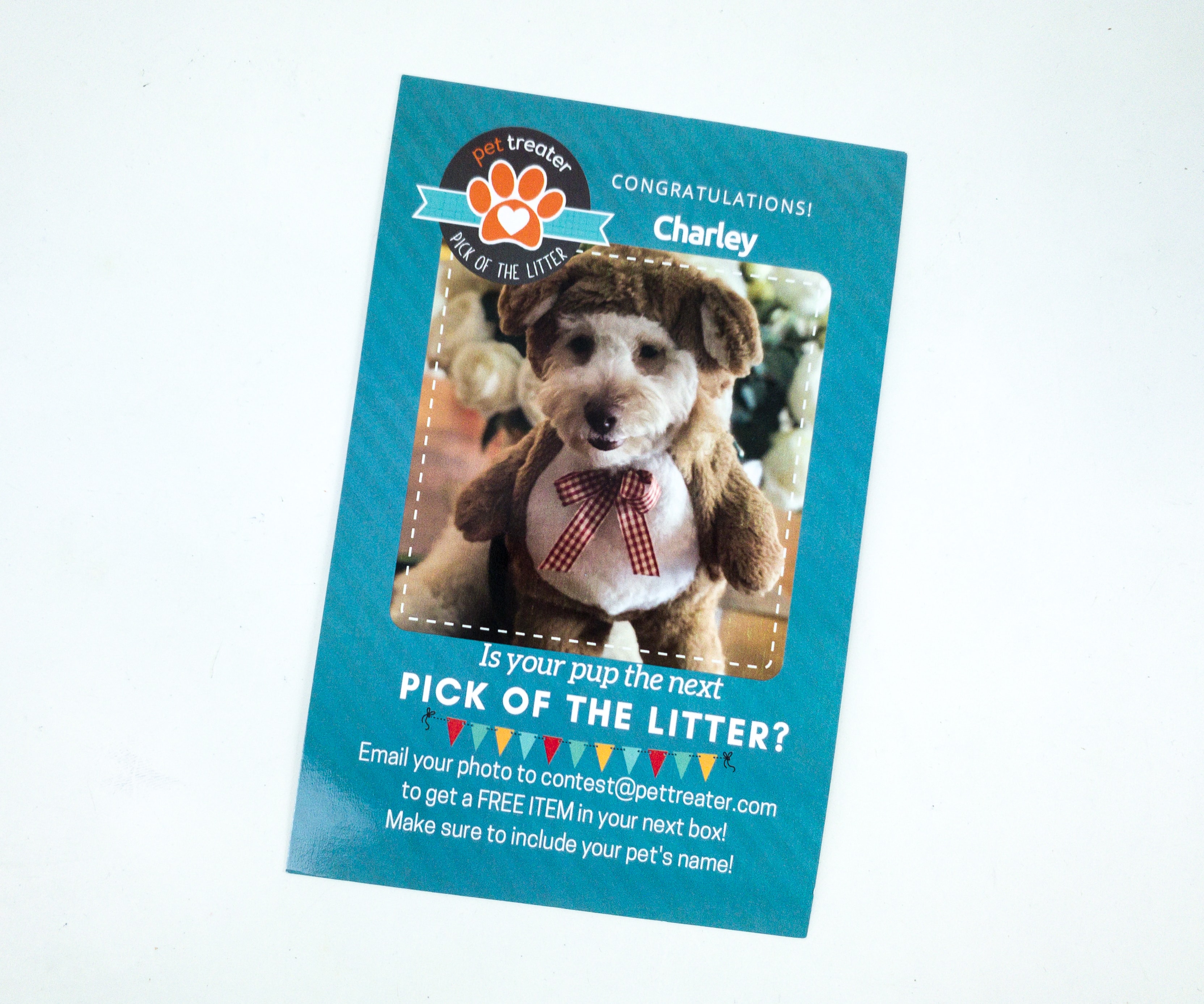 At the back is this month's featured Pick of the Litter. If you want your pup to be featured, just send their photo and to the provided email. Winners will get a free item in their next box!
Everything in my November 2019 box!
Gobble Gobble Bites. Chicken and apple are combined in this Thanksgiving-appropriate treat for our pups. They're rich in protein and fiber, which are essential in maintaining a dog's health.
They look like snack sticks broken down into smaller pieces for easy consumption. They're crunchy and our pups were head over heels for this snack!
Emmy's Gourmet Canine Creations Three Cheese Pleasers. The cookie arrived in a brown pack with a cute sticker of the business owner's dogs!

This snack is perfect for cheese-loving dogs, as it's made with 3 kinds of cheeses namely cheddar, Colby, and jack.
The cookie is shaped like a chestnut. There's "frosting" on top and it's undoubtedly yummy because our pups kept wagging their tails while snacking on it!
The cookie has a nice golden brown color. It was also crunchy and chewy!

PetLou Duck Dog Toy. Now, we're onto the toys! This duck plush toy is so super soft and cuddly, it makes a nice companion for our pups.
It's so adorable! The details are complete, from the duck's bill to its feet.
Our pups had so much fun playing with this plushie and they didn't even want to let go.
Turkey Tester Bandana. This bandana is the only accessory our dogs need for Thanksgiving. It's made with a smooth and lightweight fabric in dark orange color.
There's a print on the bandana that says "Turkey Tester"! On the bottom is a small Pet Treater logo.
It's easy to tie around our dog's neck. She was comfortable in it as well.
Lindy has tested the Turkey and she has approved!
Pet Treater is a whole lot of fun for dogs and even for their humans. This subscription box always contains choose healthy and yummy treats, as well as unique ones like this month's cookie with cheese! We also appreciate the inclusion of bandana because it made our pups look cute and Thanksgiving-ready. Also included in the box is a soft plush toy, which is our pups' newest favorite companion. All in all, we loved this box and we think it's a great subscription for anyone who wants to treat their beloved furry family members with the toys and treats they truly deserve!
What do you think of this month's Pet Treater Dog Pack?