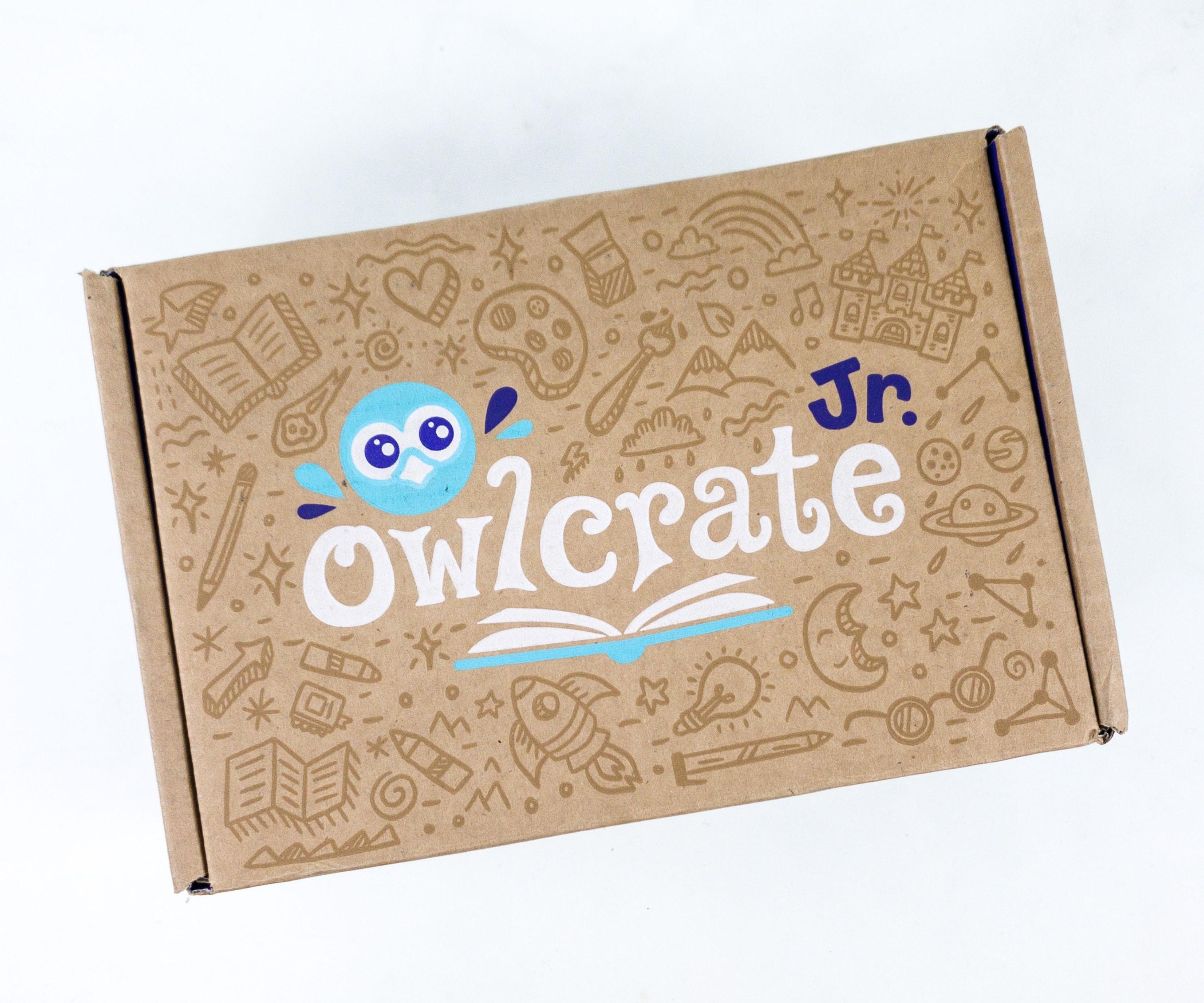 OwlCrate Jr. is a monthly book subscription box for young readers ages 8-12 with a middle-grade book plus fun gender neutral bookish items designed to enhance your little reader's experience. It's from Owl Crate, a super popular YA (young adult) fiction subscription.
DEAL: Save 15% on your first subscription with the coupon code HELLO15 at checkout.
The inner flap has a guide to unboxing your crate!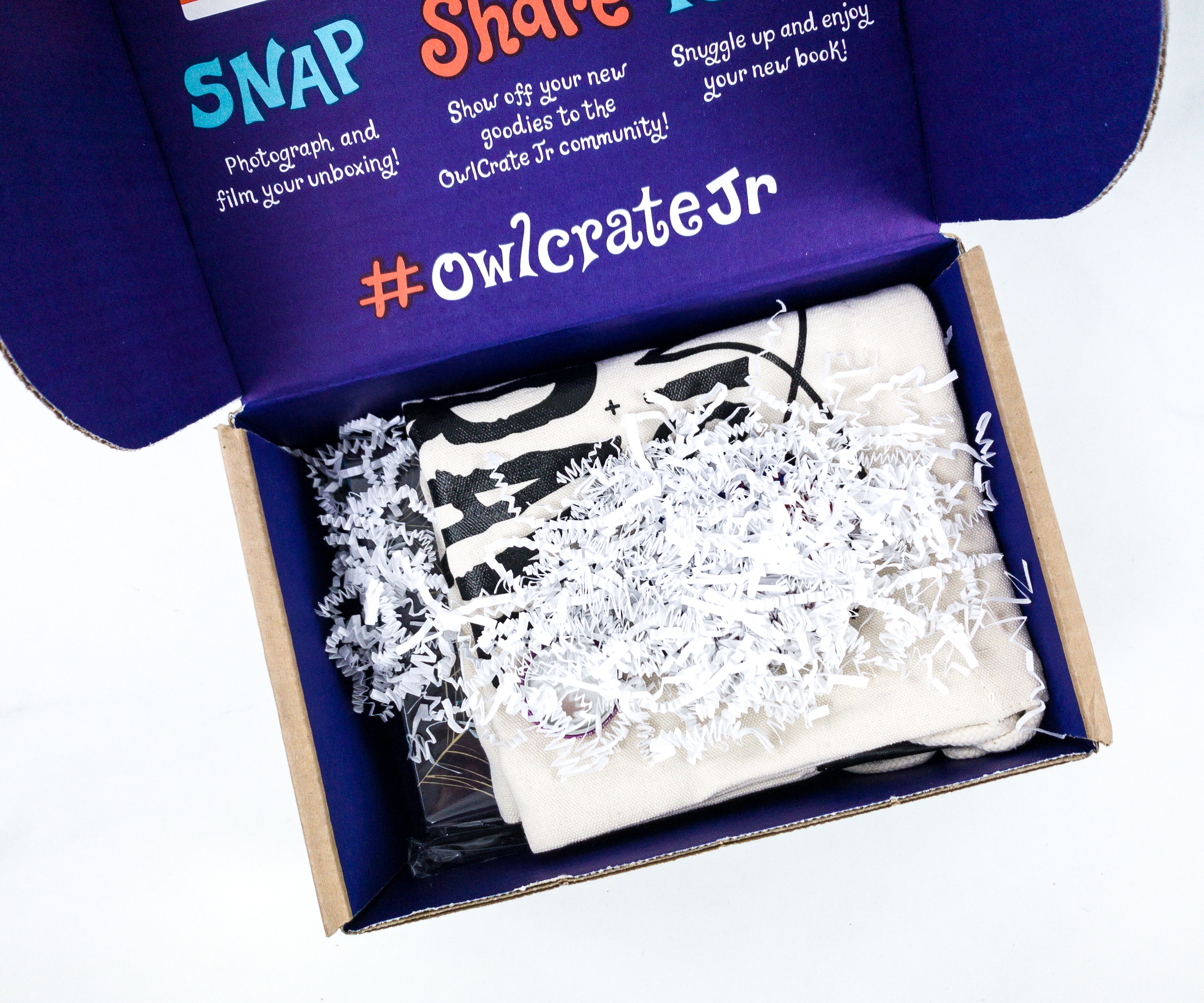 The items were packed with white squiggles.
The theme for the November 2019 OwlCrate Jr. box is PARALLEL WORLDS!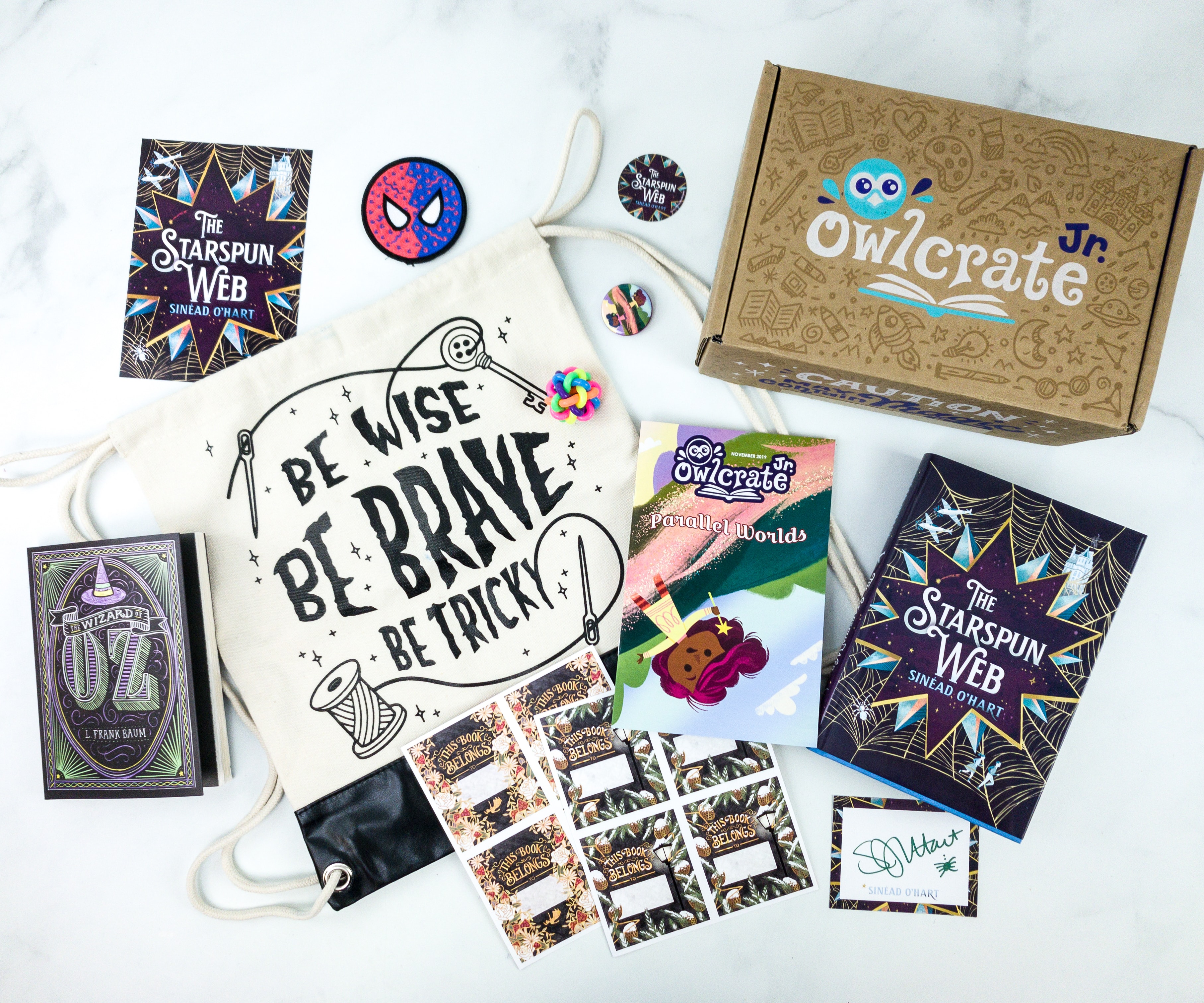 Everything in the November OwlCrate Jr. box!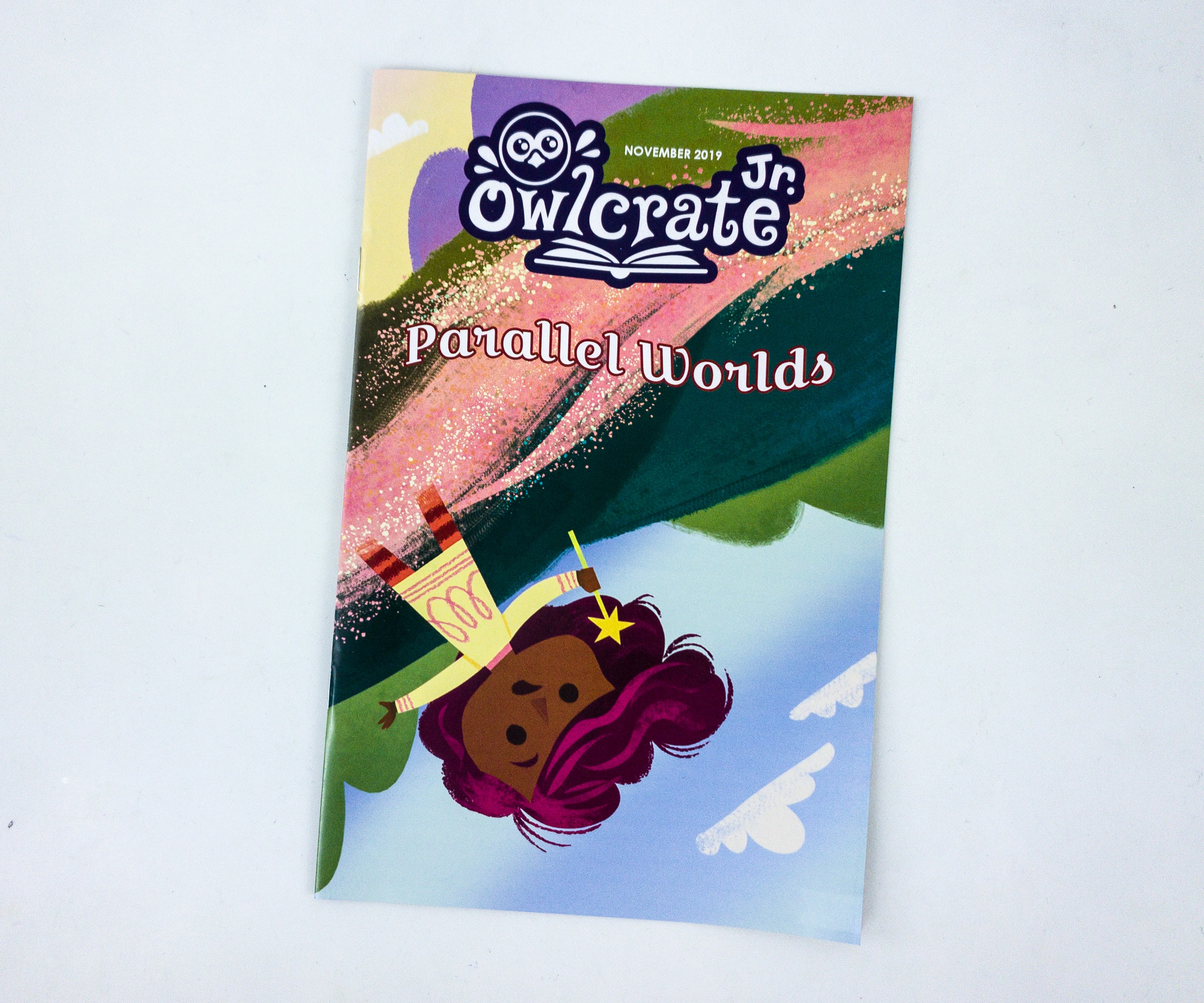 They also included a mini magazine!
The art on it is really colorful and adorable!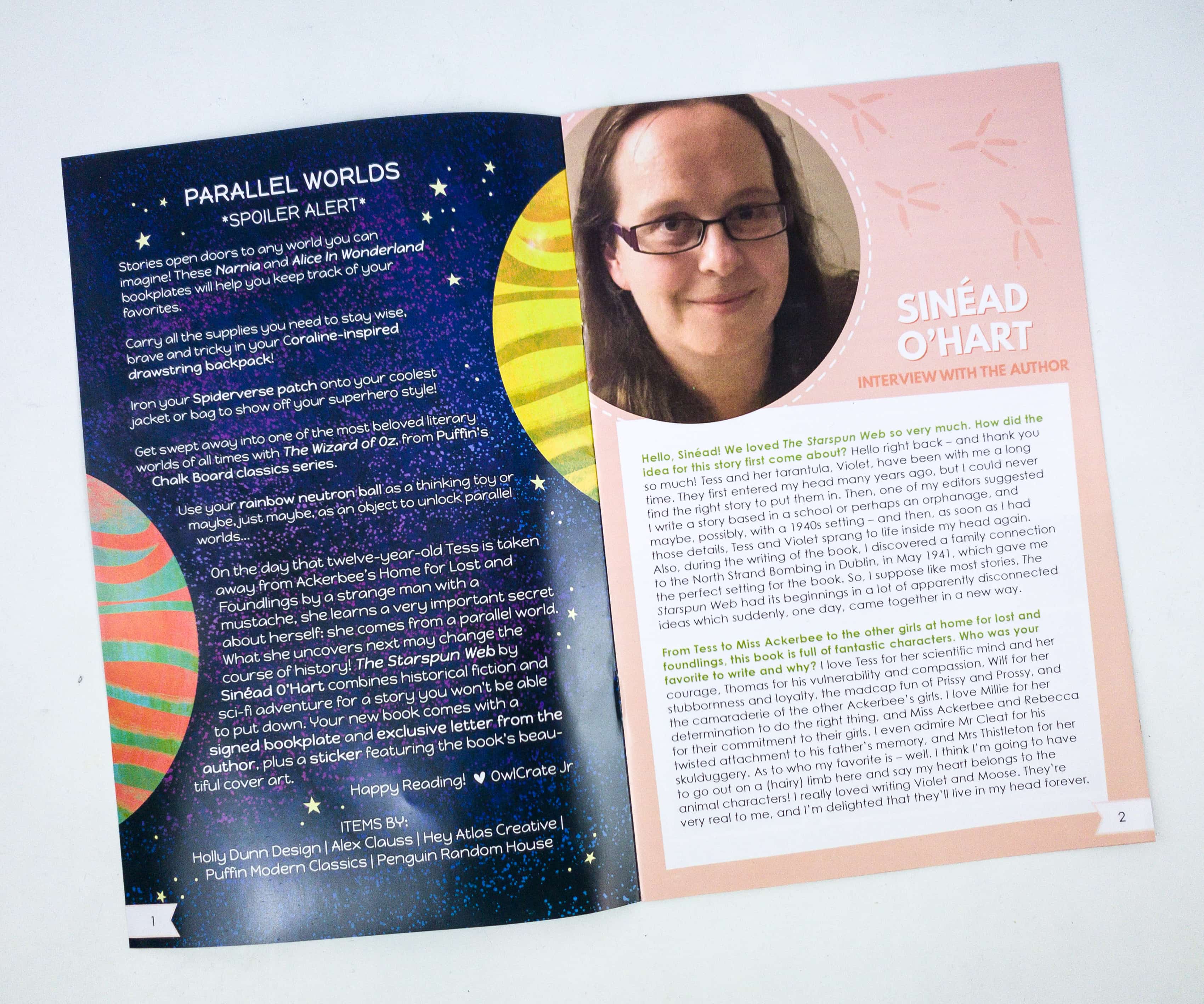 Of course, the mini-magazine includes an author interview! This month's featured author is Sinead O'Hart.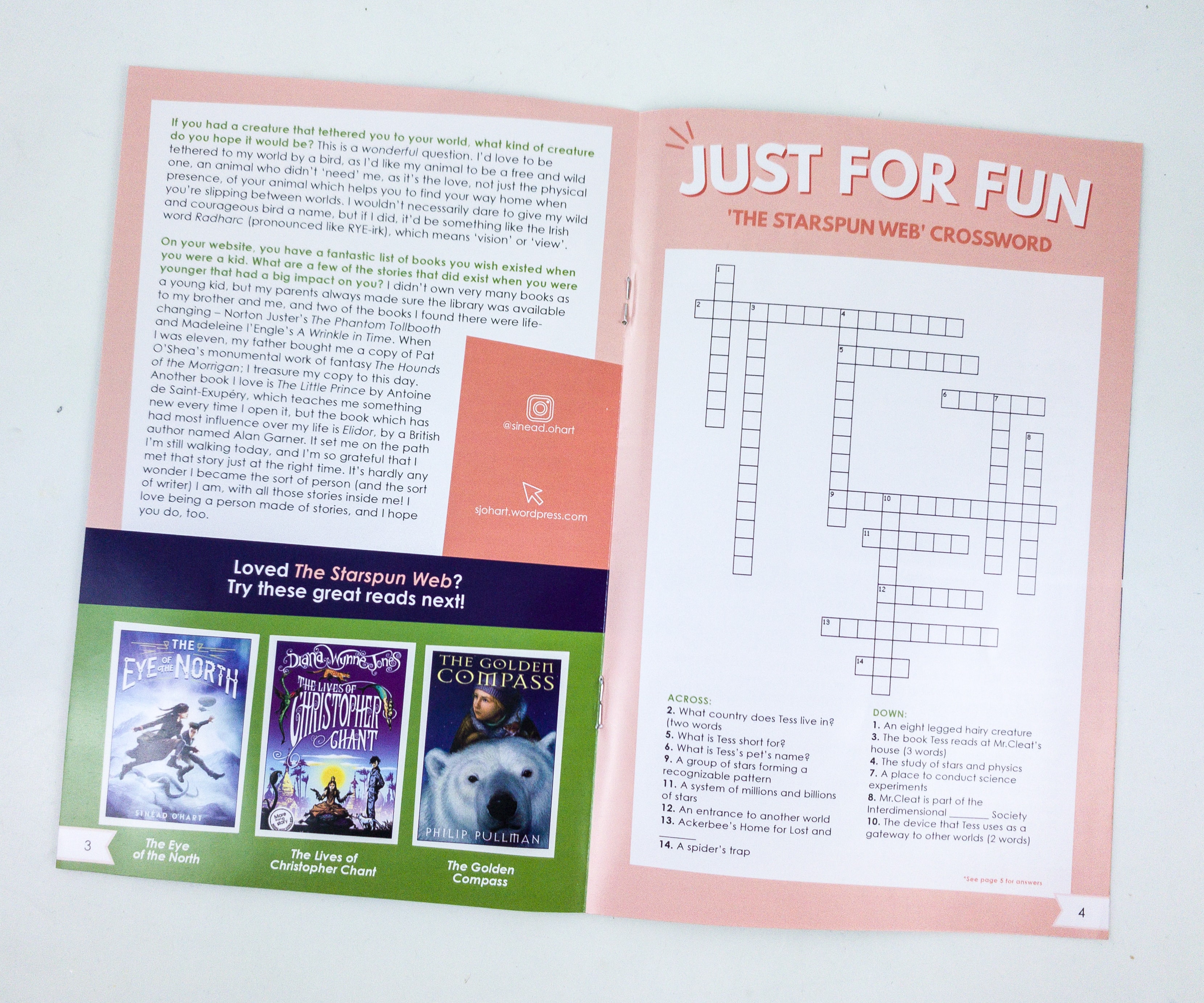 Knowing what inspired the author to pen a story can help children understand the book better.
They also suggested some titles for further reading, especially if you love this month's book: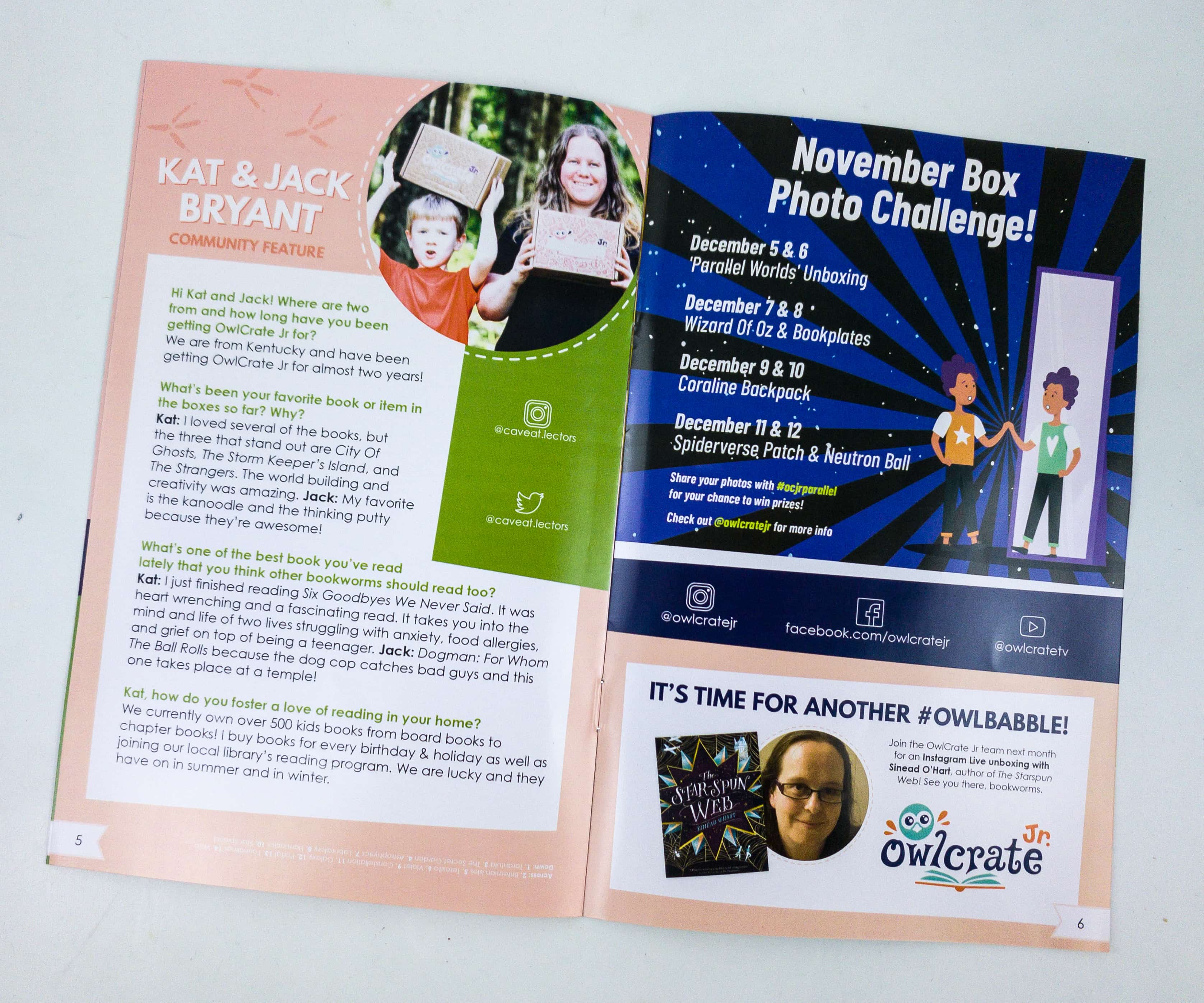 The mini-magazine also included some fun activities like this 'cog' crossword puzzle. There's another a community feature that has an interview of OwlCrate Jr. subscribers, Kat and Jack Bryant. They even included a box photo challenge that you can join.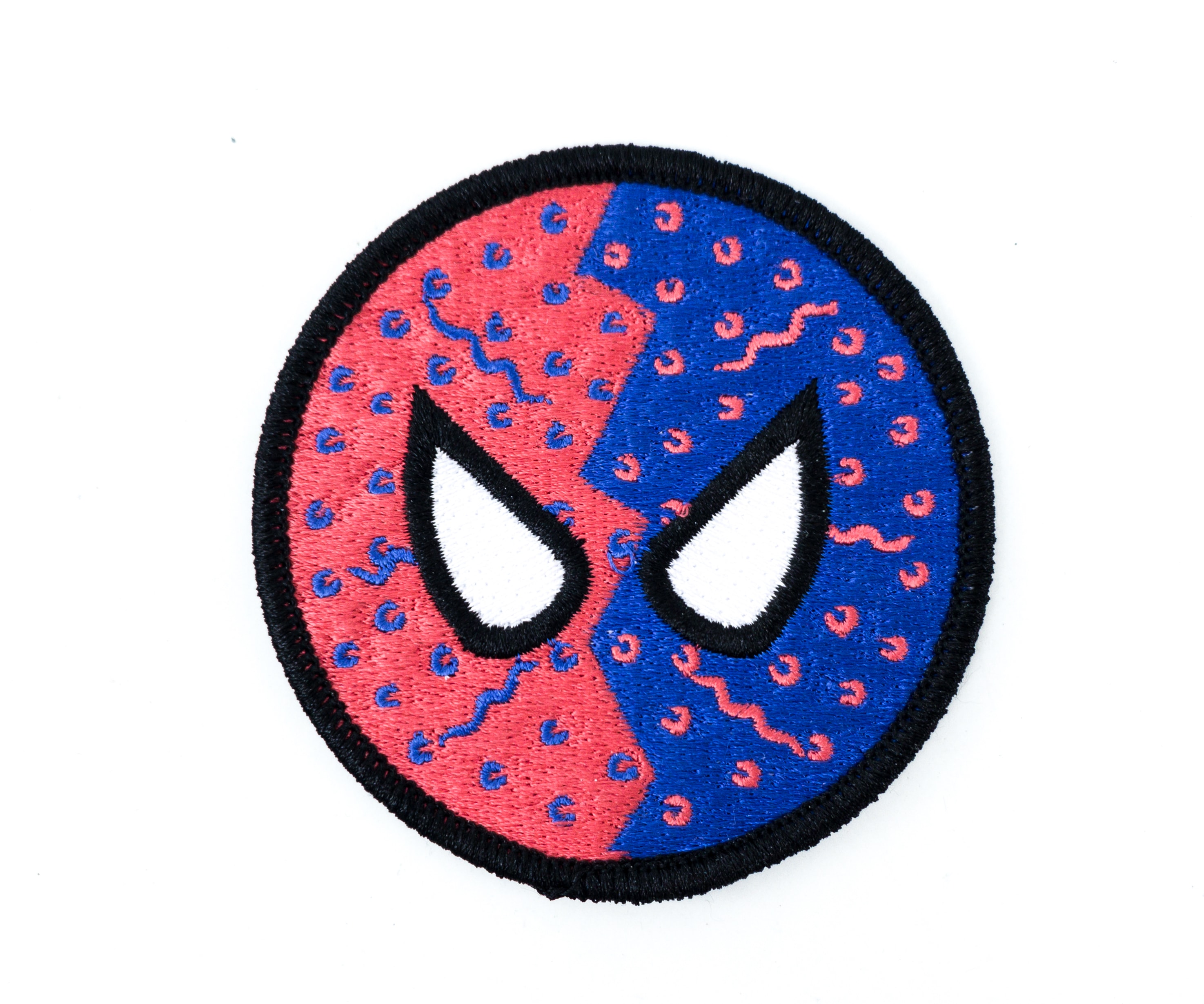 Spiderman Badge. One cool inclusion in the box is this badge of our friendly neighborhood superhero, Spiderman! This will look nice attached to a bag, cap, or a denim jacket.
Pin. The pin for this month features a girl holding a wand, and seeing the same girl but with a different look on the other side of the water.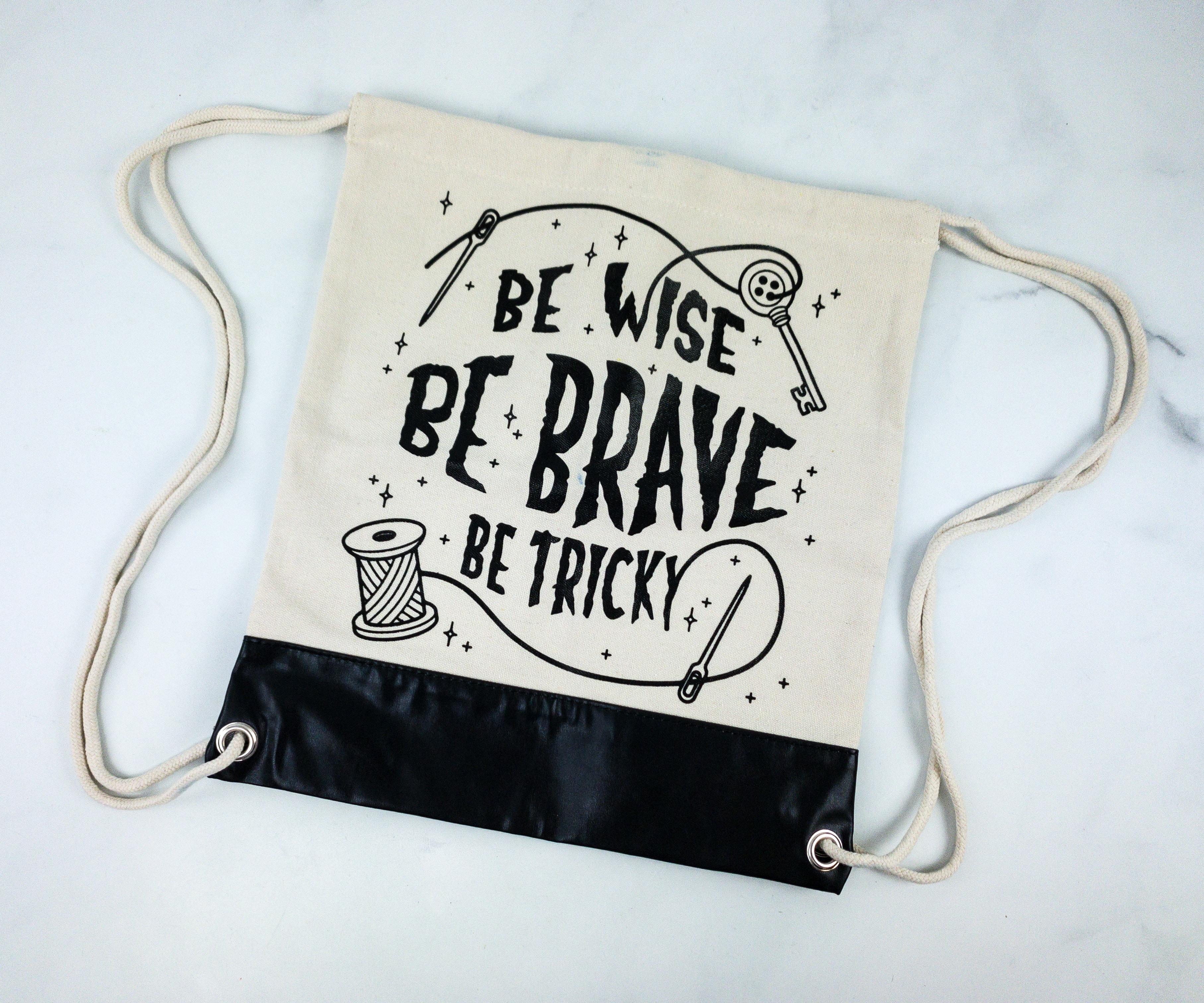 Drawstring Bag. The drawstring bag is a nice addition, and it is where we're keeping all the stuff we got from this box!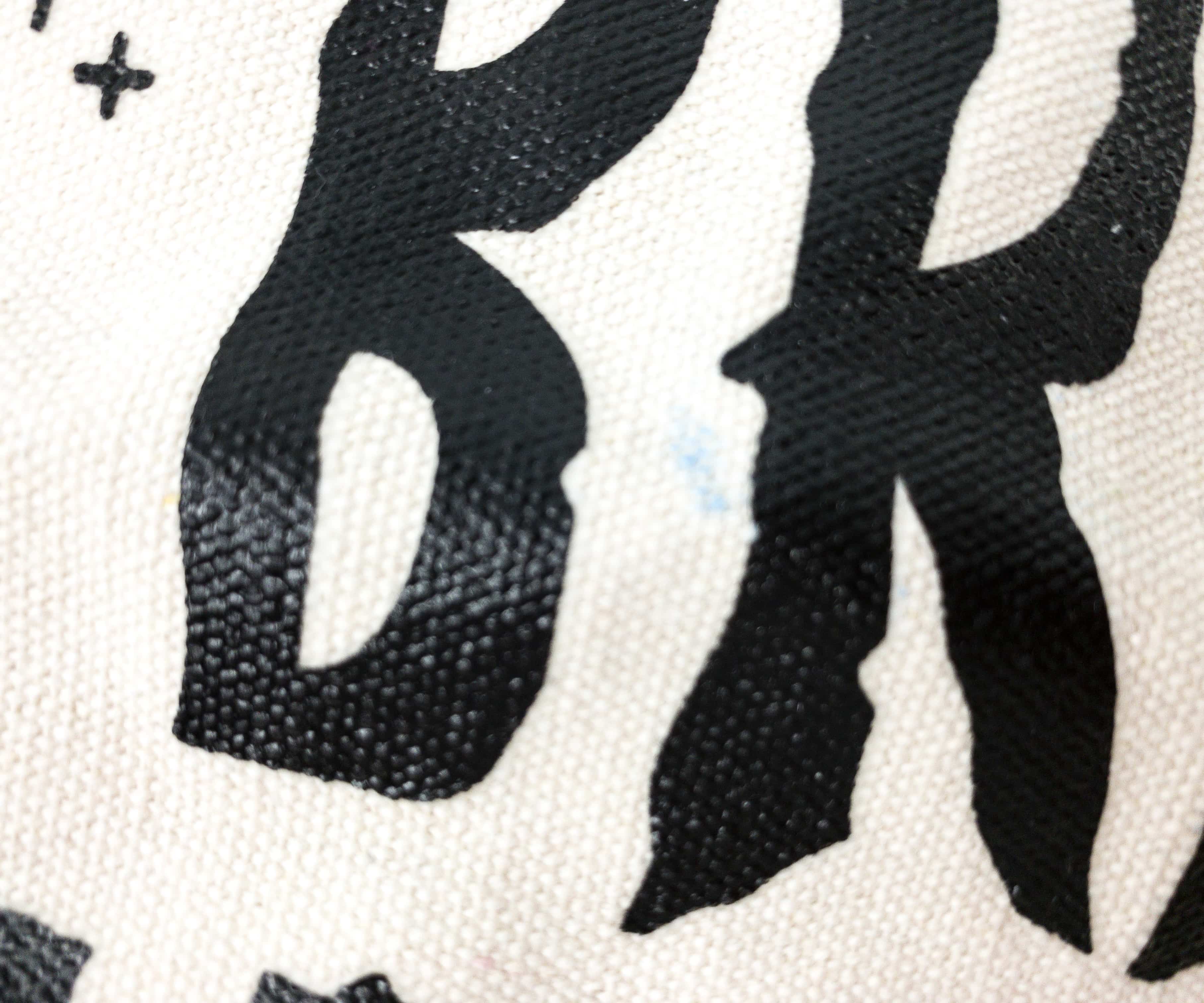 The prints are cool. We love the details.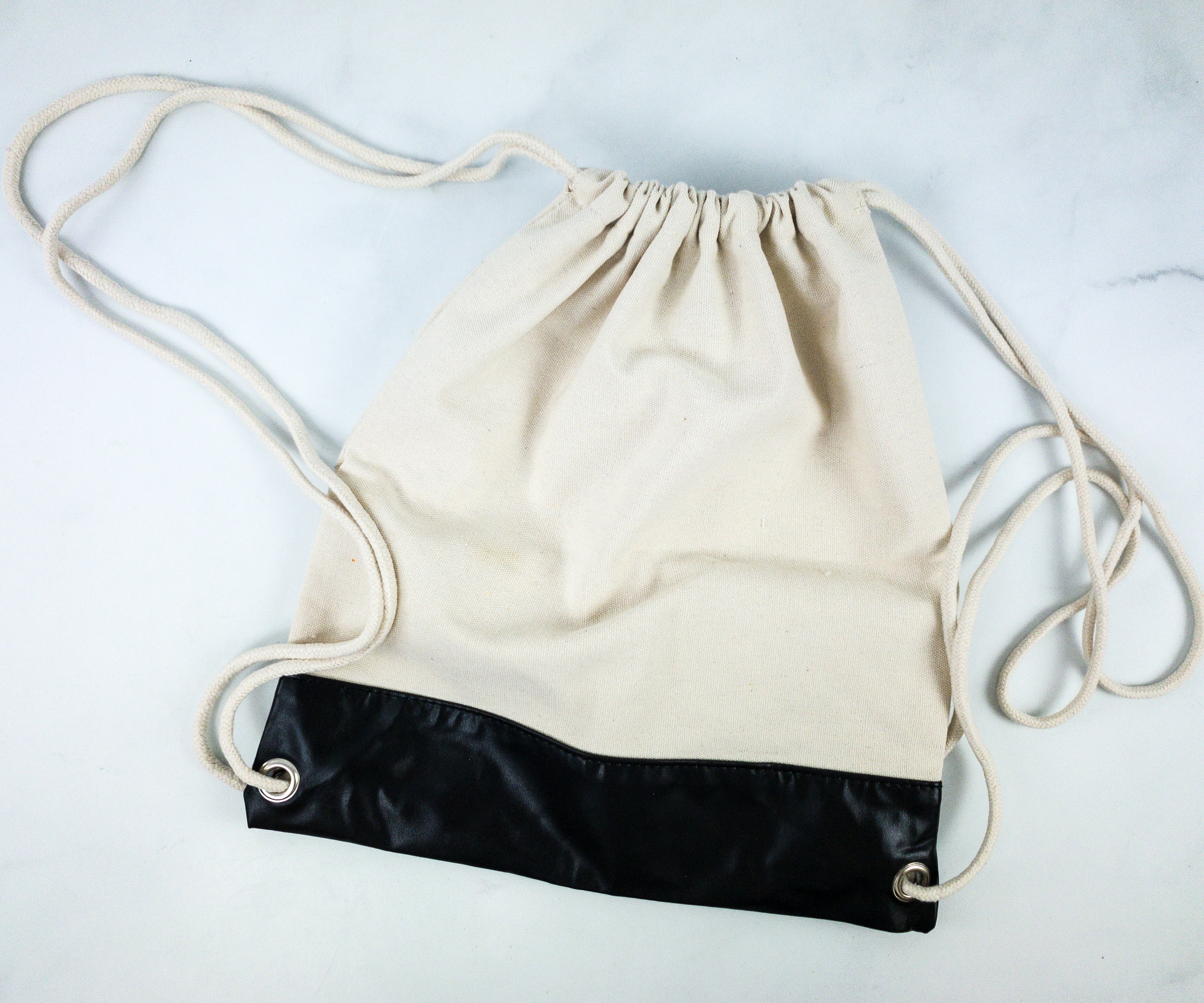 The bag is spacious but you can easily store it in another bag for extra storage when traveling.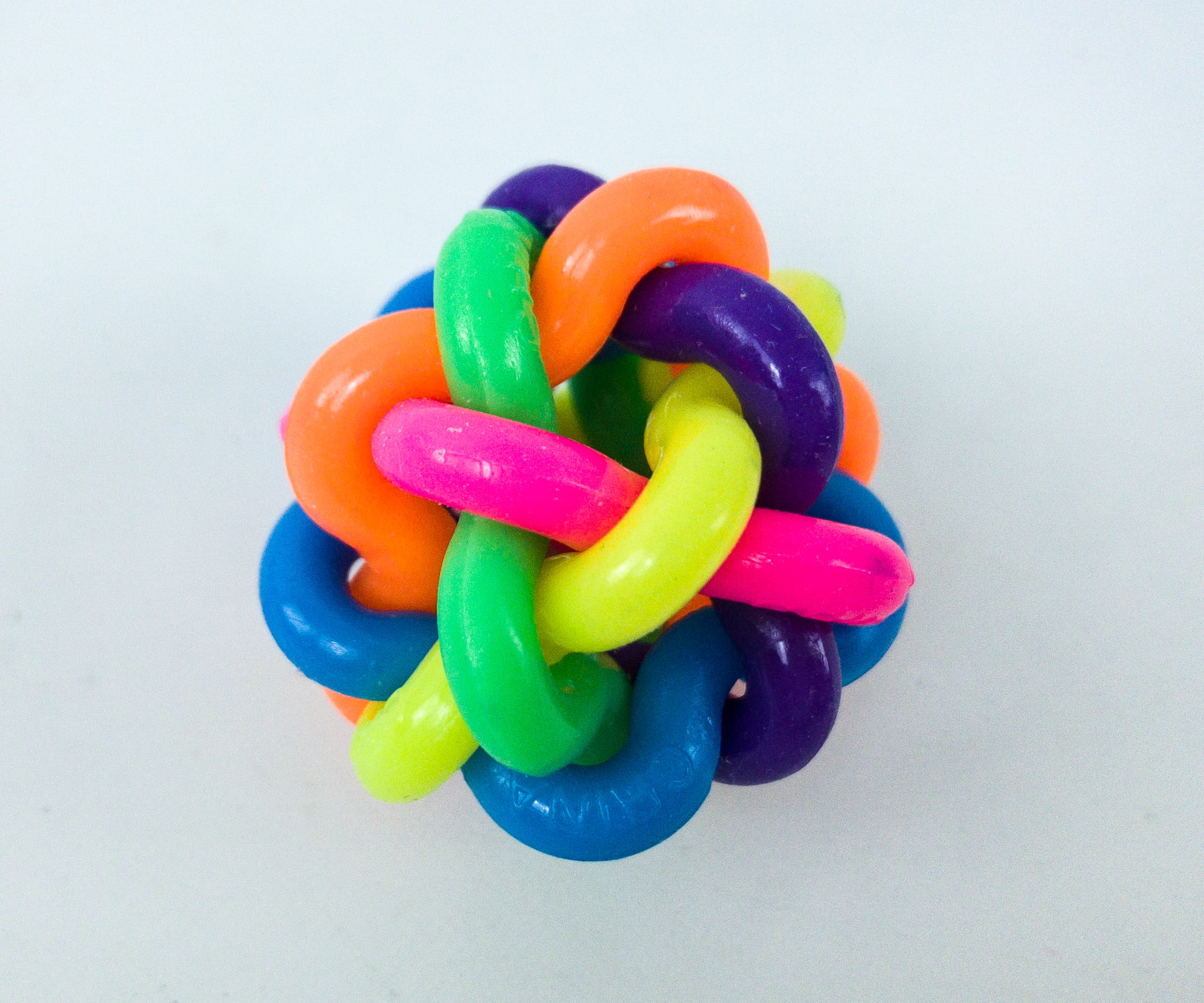 Puzzle. There's also a colorful puzzle for the kids to work on!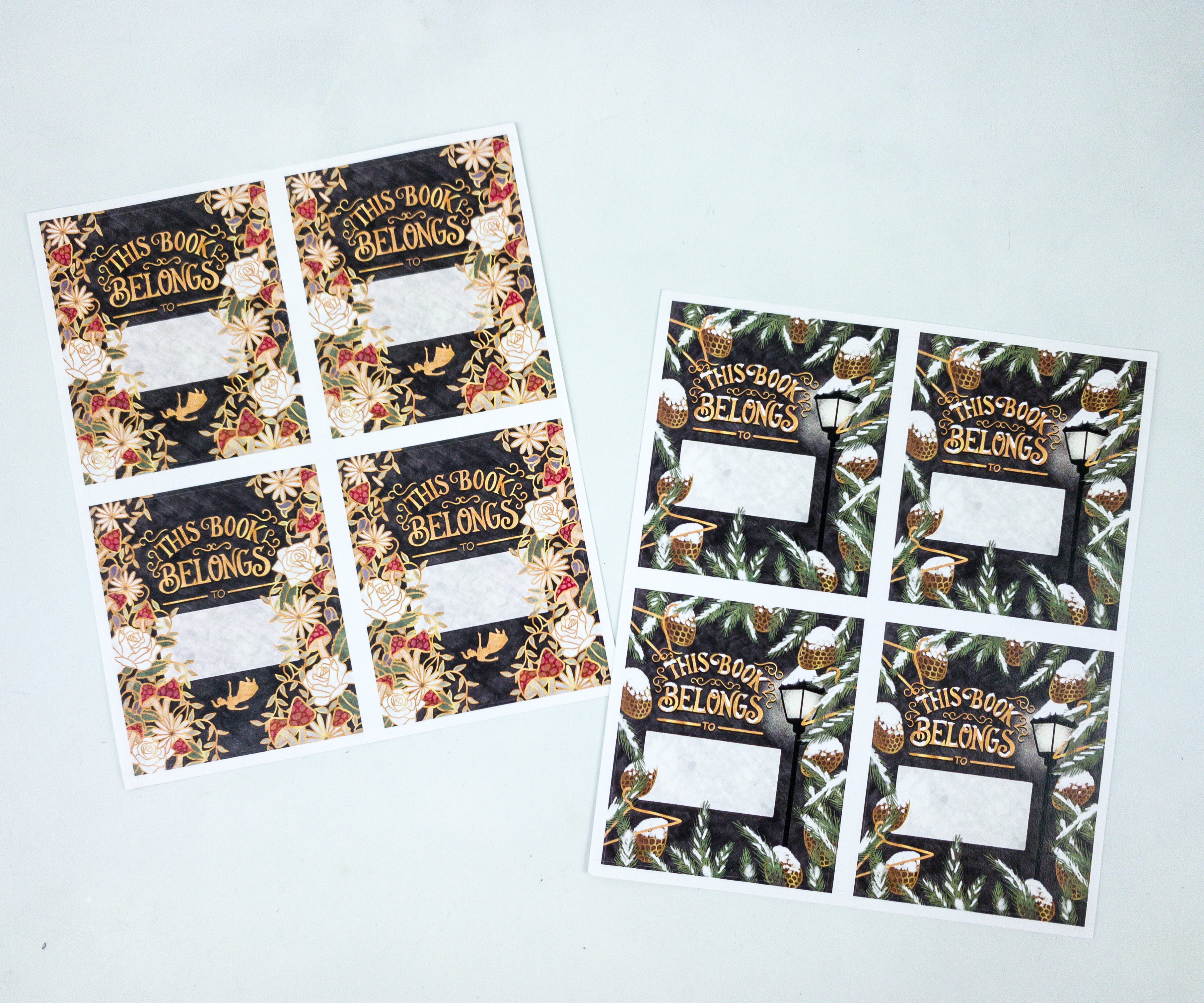 Sticker labels. These vintage-themed sticker labels are pretty! We got 2 sheets, and each sheet has 4 stickers.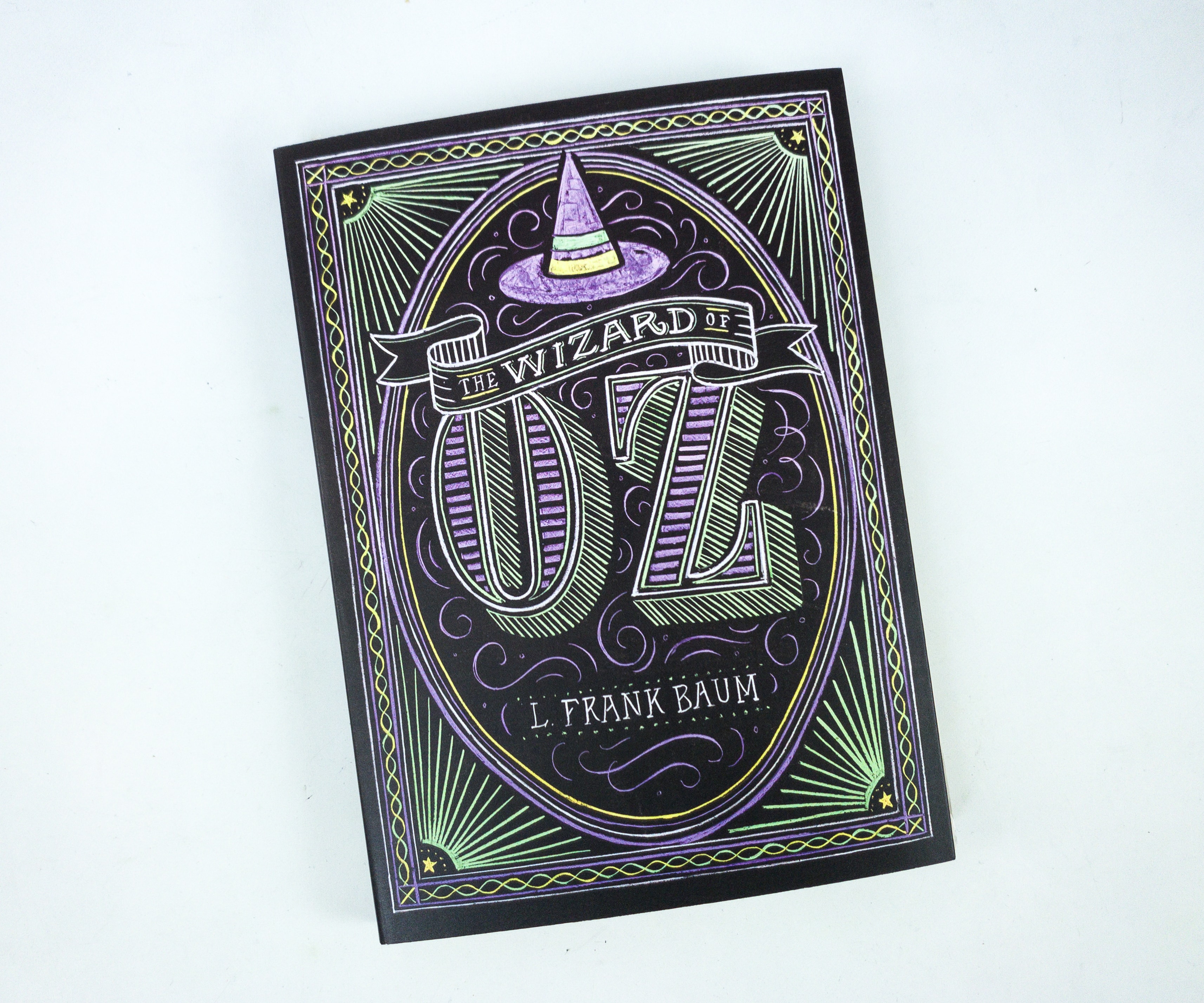 The Wizard of Oz by L. Frank Baum ($8.70)
They're off to read the Wizard–the original, imaginative American tale written by Frank L. Baum just over a century ago. All the beloved characters are here, along with the splendid Emerald City and the heartwarming motto: "There's no place like home."
The cover of the book is unique and fun. The back also features one of Dorothy's dialogue to her dog Toto, to search for the Great Oz!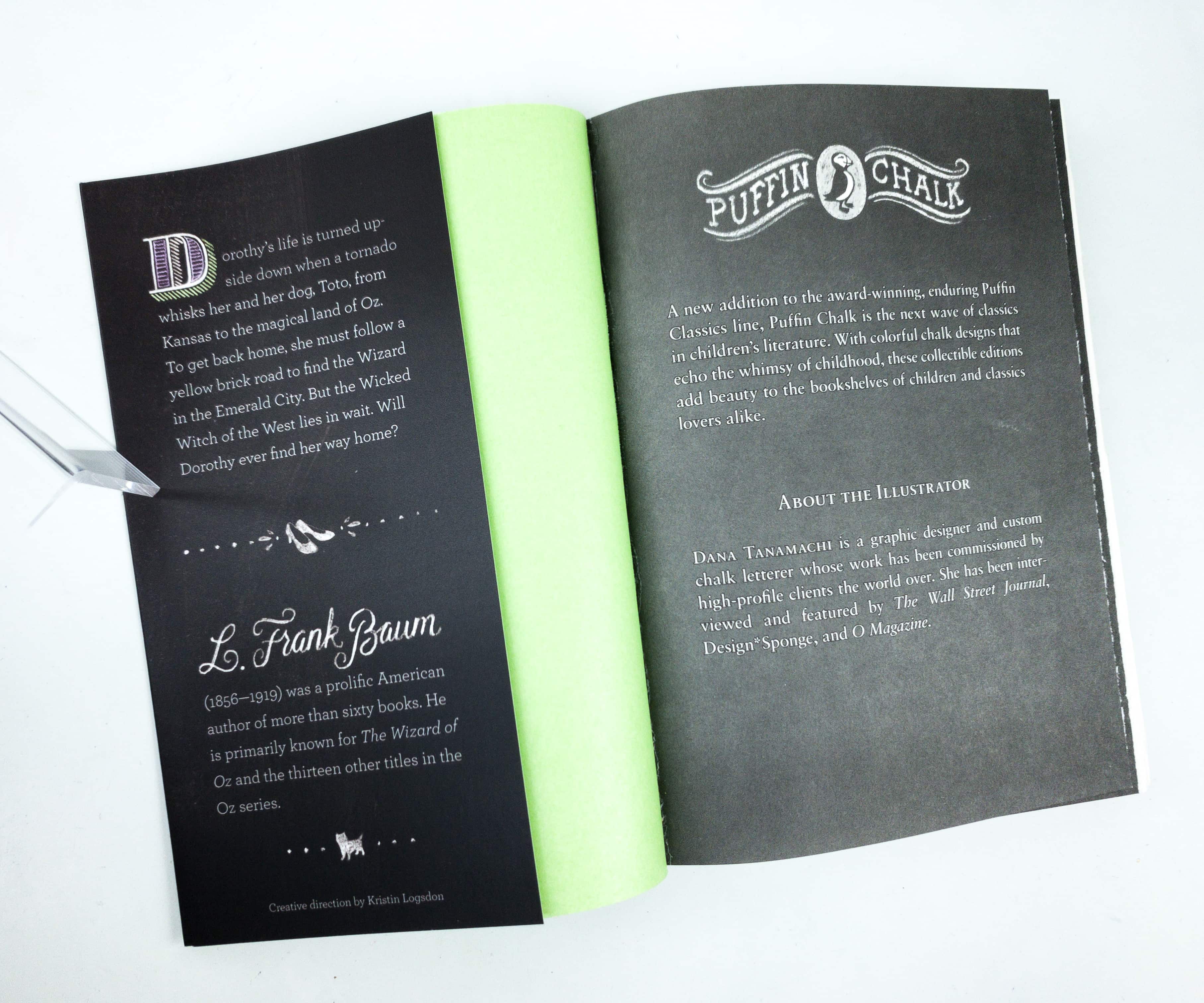 Like other books, the dust jacket's flap included a synopsis of the story, and some information about the author L. Frank Baum, a prolific American author who is primarily known for this story and thirteen other titles in the Oz series!
The story is about a girl named Dorothy and her dog Toto, who got lost into another world because of a tornado. They need to find their way home by finding the Great Oz who's said that can make their wishes come true.
Dorothy also met new friends in the other world like Tin Woodsman, Scarecrow, and the cowardly Lion. It's really a fun adventure, and it also made us realize that there's really no place like home. No matter how cool or amazing these other places are, you'll always long to be home.
Sticker. The round sticker has a similar design to the featured book's cover!
Signed Bookplate. Another awesome inclusion is a signed bookplate from the author!
Author's Note Card. Just like the sticker, this card features the same artwork as the cover of The Starspun Web!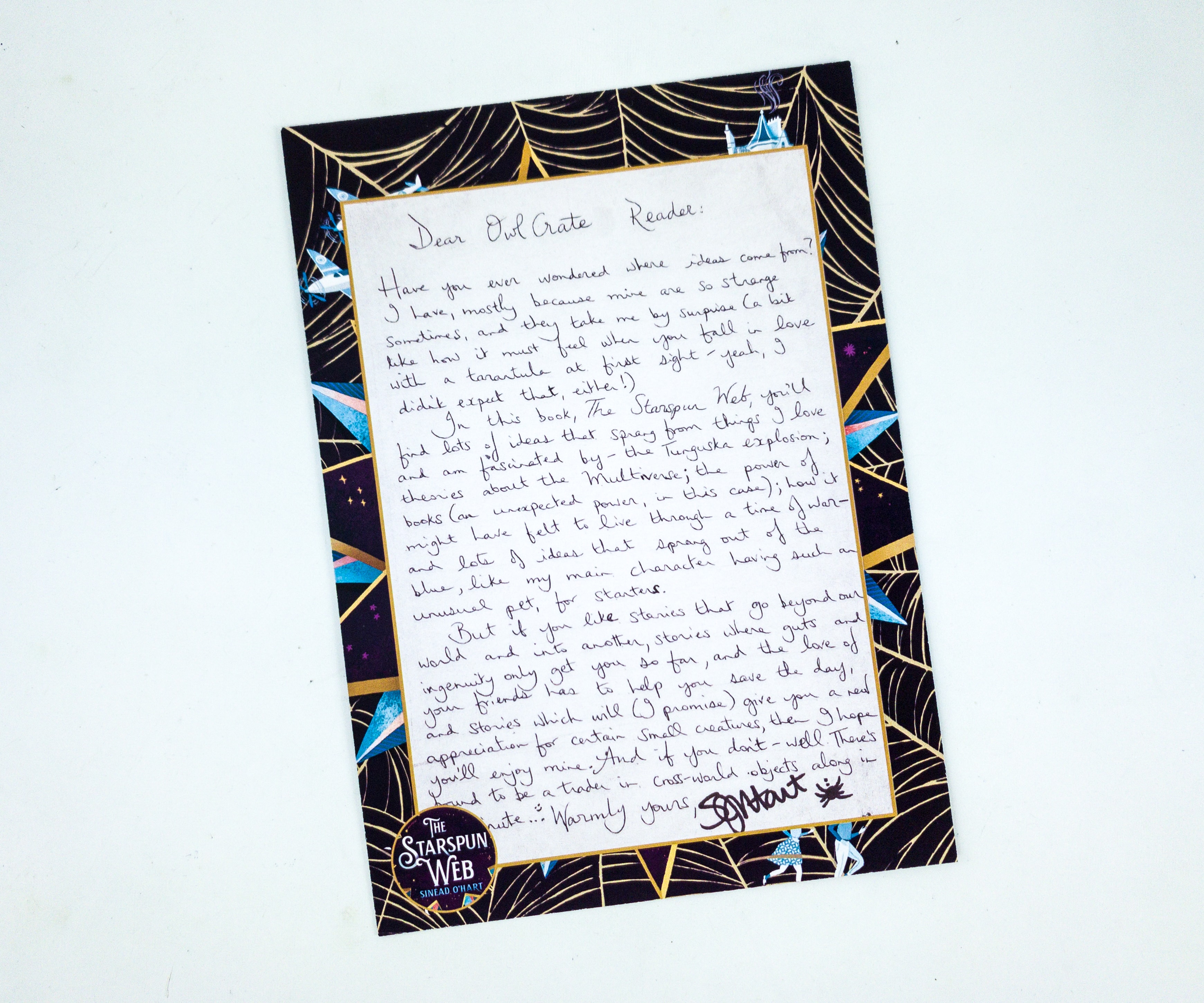 On the flip side is a note from the author.
The Starspun Web by Sinead O'Hart ($16.99)
For fans of Ophelia and the Marvelous Boy comes a thrilling adventure about a brave girl who finds a portal to parallel worlds, and must protect her secret from the evil forces trying to capture it.

All her life, Tess has lived at Miss Ackerbee's orphanage with her friends and her pet tarantula, Violet. But one day, a mysterious man named Mr. Cleat shows up and whisks Tess away to live with him. Before Tess leaves, Miss Ackerbee gives her a strange lens, and makes an even stranger admission: that Tess can travel to parallel worlds, and has been able to do so since she was found as a baby. Now, with her newfound abilities and the mysterious lens in tow, Tess must navigate life with Mr. Cleat and his nefarious housekeeper, who seem to be up to more than they let on. As Tess learns about the lens and its role in transporting her to other worlds, she discovers that behind Mr. Cleat's oily smiles is a darker intention: one that could bring the world to its feet. Can Tess keep her secret from Mr. Cleat, and figure out what he's up to? And what if the lens falls into the wrong hands? With the help of Violet and her friends from the orphanage, Tess can finally discover the truth about Mr. Cleat and, more importantly, herself.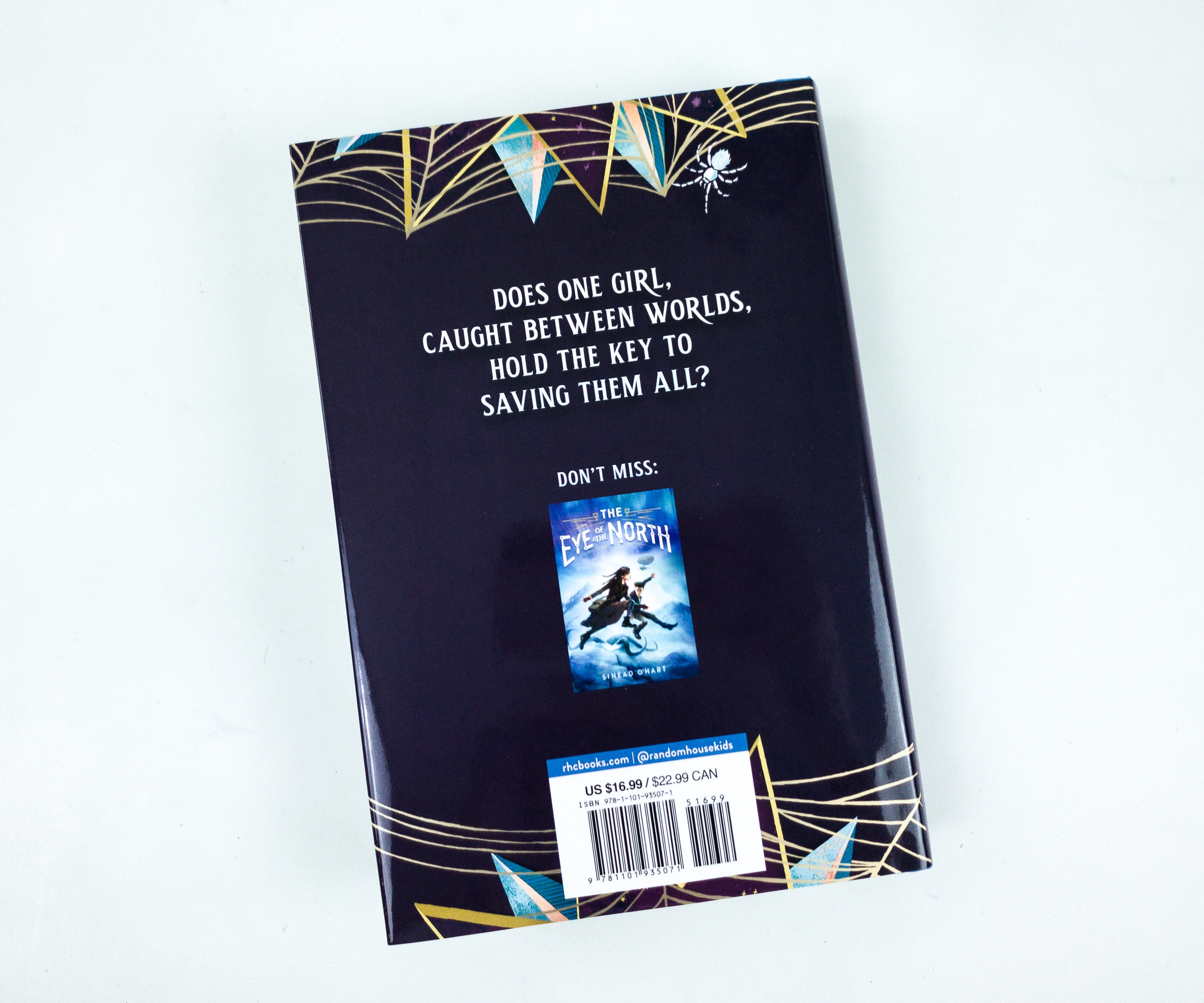 The back of the book gave us an idea of what the story is all about, and it seems exciting. We're excited to read the book together!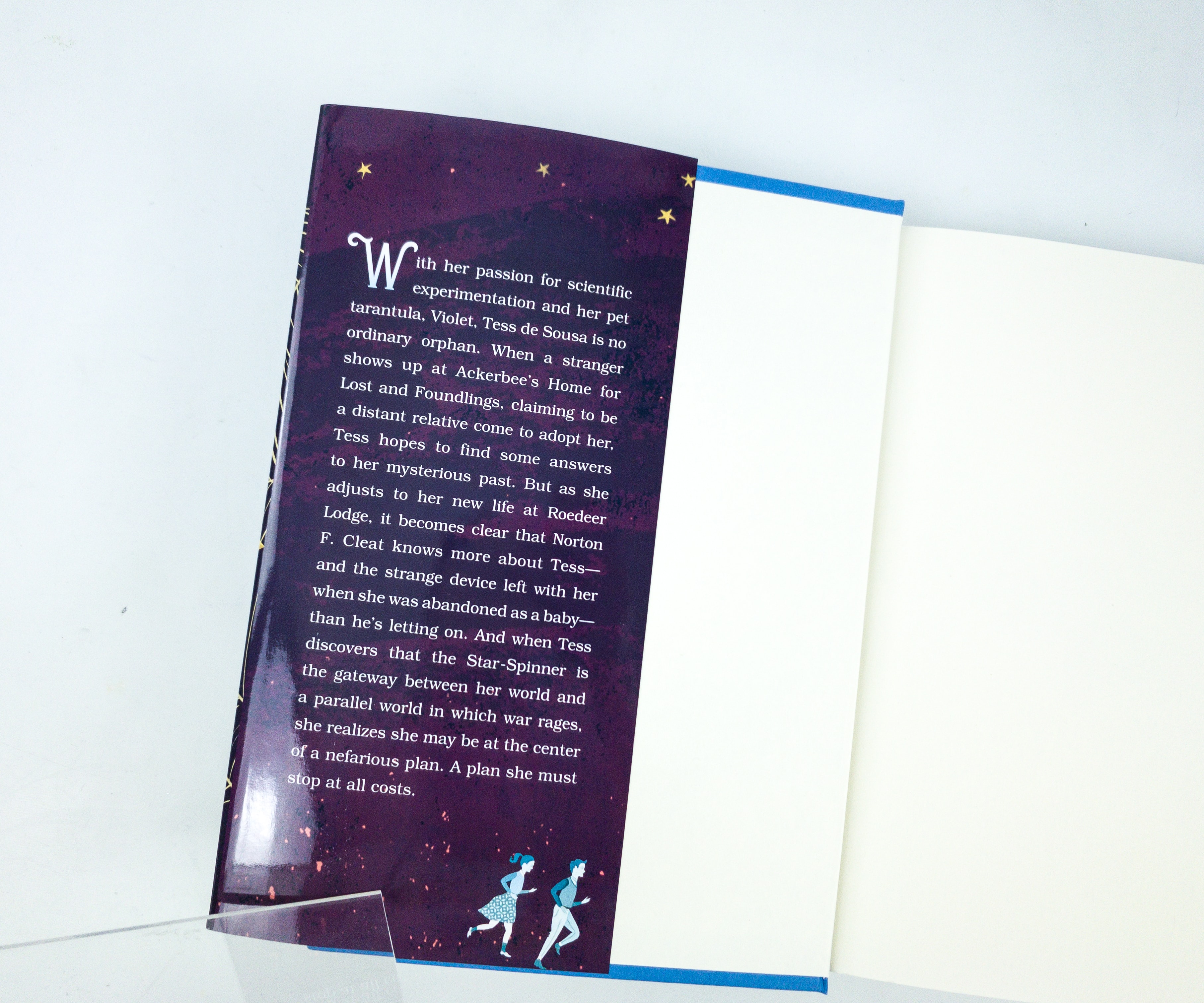 The inside flap of the dust jacket introduces us to the story's main protagonist, Tess de Sousa, and her pet tarantula, Violet. She was an orphan at Ackerbee's Home for Lost and Foundlings. Then, one day, a distant relative came to adopt her and her life will never be the same as she explores more about herself, her family, and a parallel world!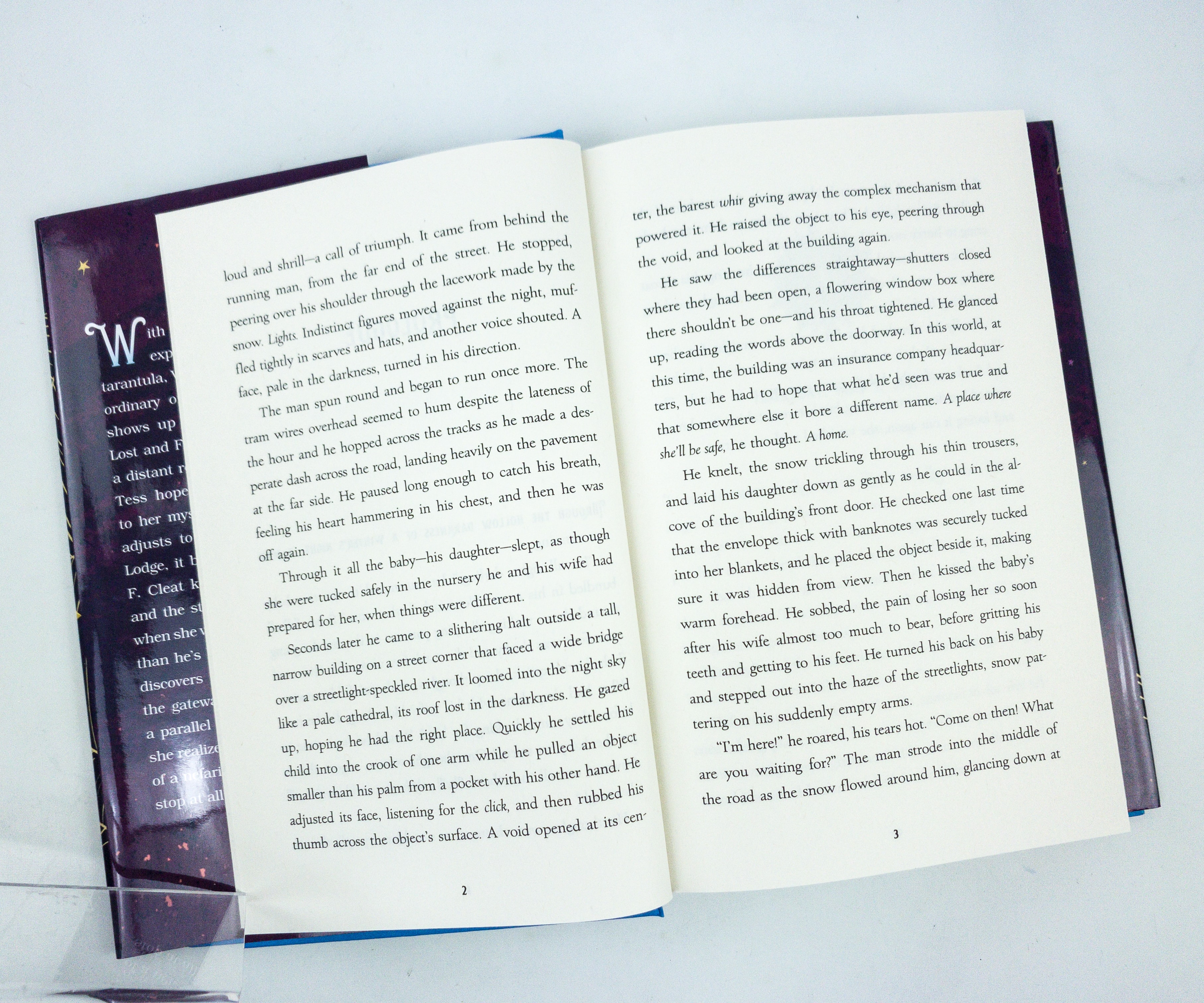 The story is really thrilling and engaging. As we accompany Tess in going back and forth the parallel worlds, we were also bound to more adventures!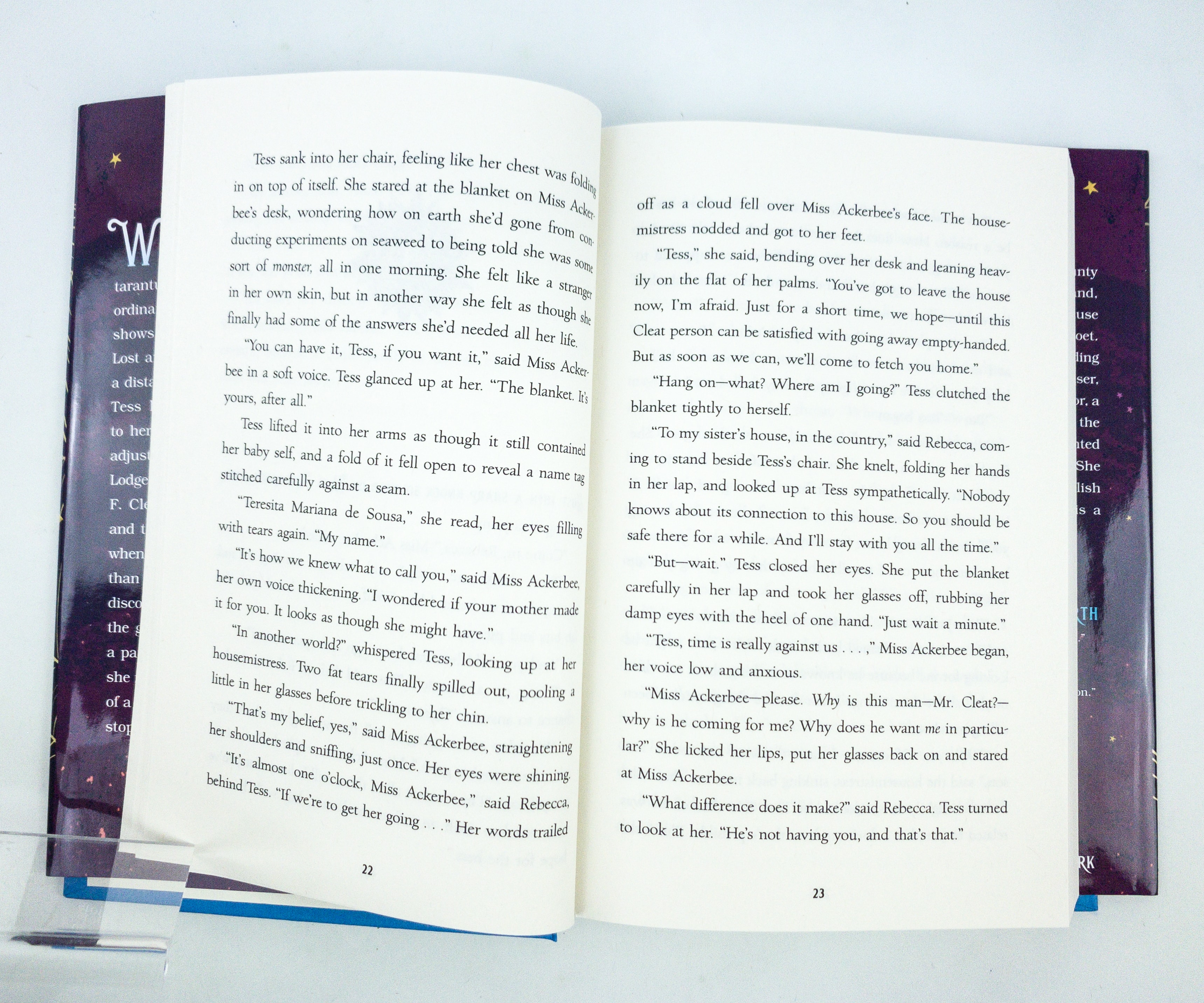 My kids love the narrative, as well as Tess' bravery and curiosity. She's really a strong girl who stood up to her supposedly relative Mr. Cleat to make things right. It's really an imaginative world that we're happy to explore!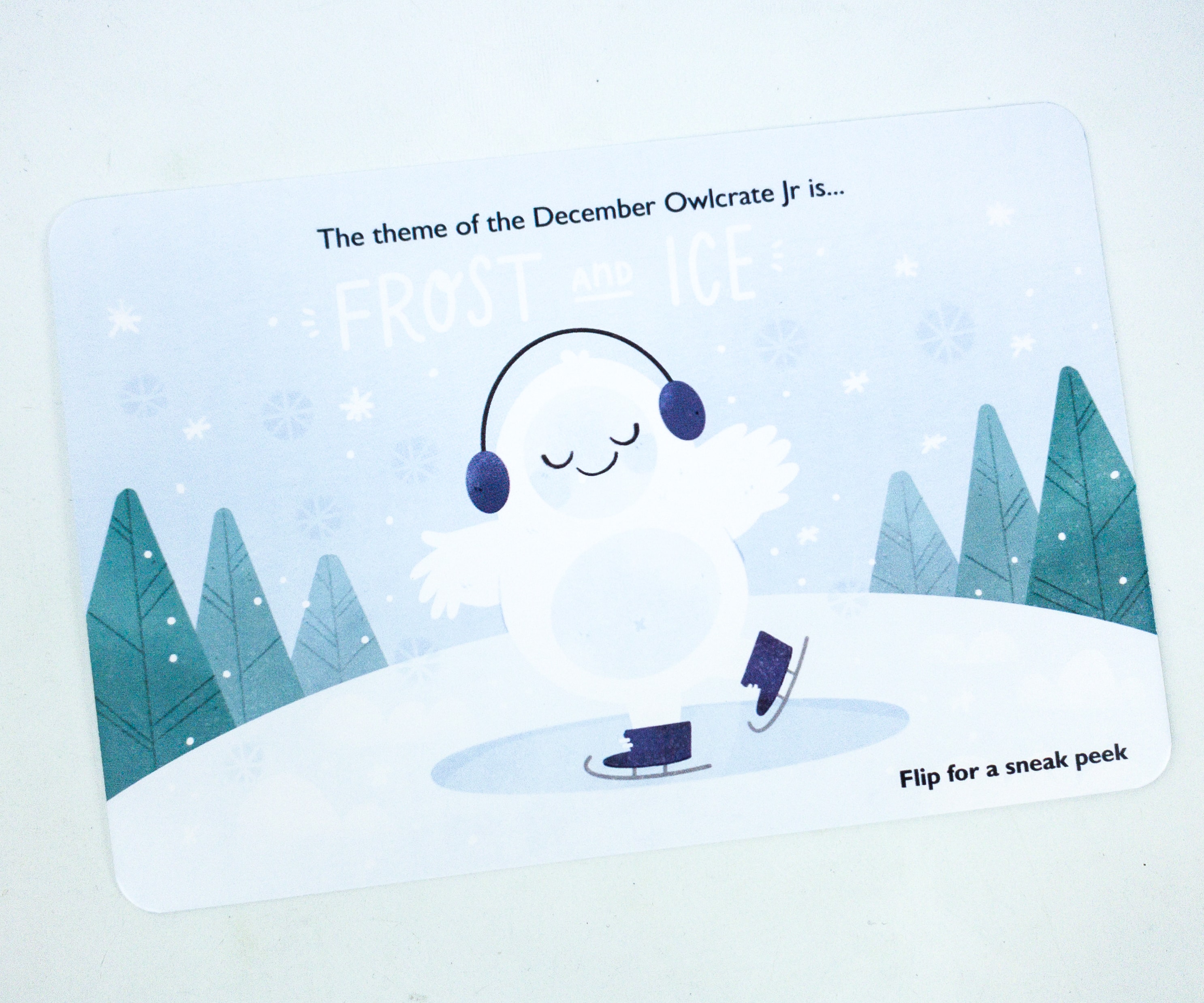 Here's a sneak peek for next month's box!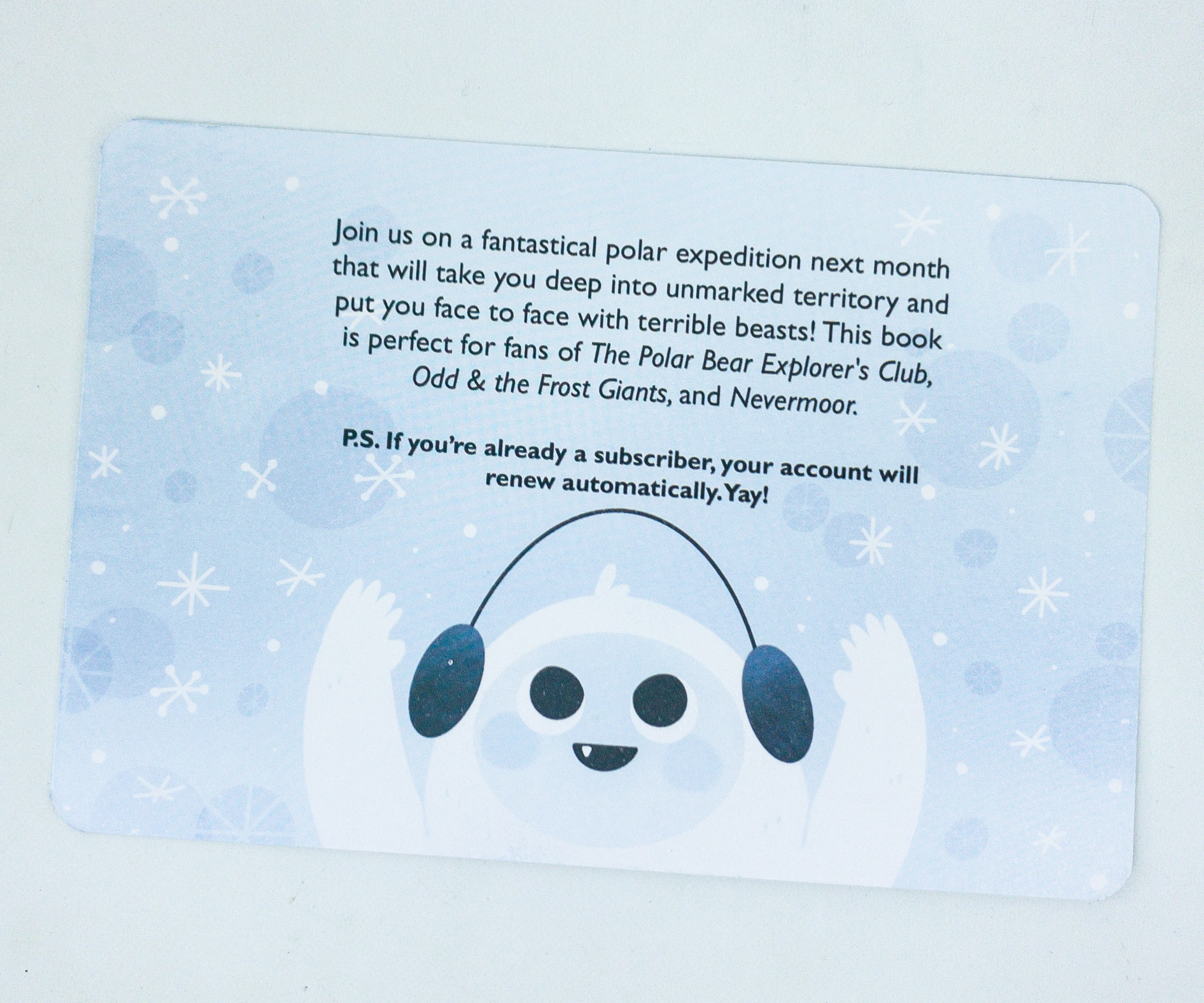 It's the December box so we're expecting some Frost and Ice!
Join us on a fantastical polar expedition next month that will take you deep into unmarked territory and put you face to face with terrible beasts! This book is perfect for fans of The Polar Bear Explorer's Club, Odd & the Frost Giants, and Nevermoor.
We're really excited to explore new worlds with this box. My kids loved the inclusion of the classic book The Wizard of Oz, and I can tell that they really enjoyed Dorothy's journey to come back home and meeting new friends along the way. Adults or kids, no wonder that it is a favorite! Also, the Star-spun Web is another amazing story and we all love Tess' curiosity, stubbornness, and bravery! The other stuff we got like the drawstring bag and toy add fun to the experience. We all can't wait for next month's Frost and Ice-themed box!
What did you think of the Owl Crate Jr. box this month?