Marvel Collector Corps is a bi-monthly subscription from Marvel Comics and Funko, now available through Amazon! The box promises 4 to 7 collectibles in every box, including an exclusive vinyl Pop for $29.99.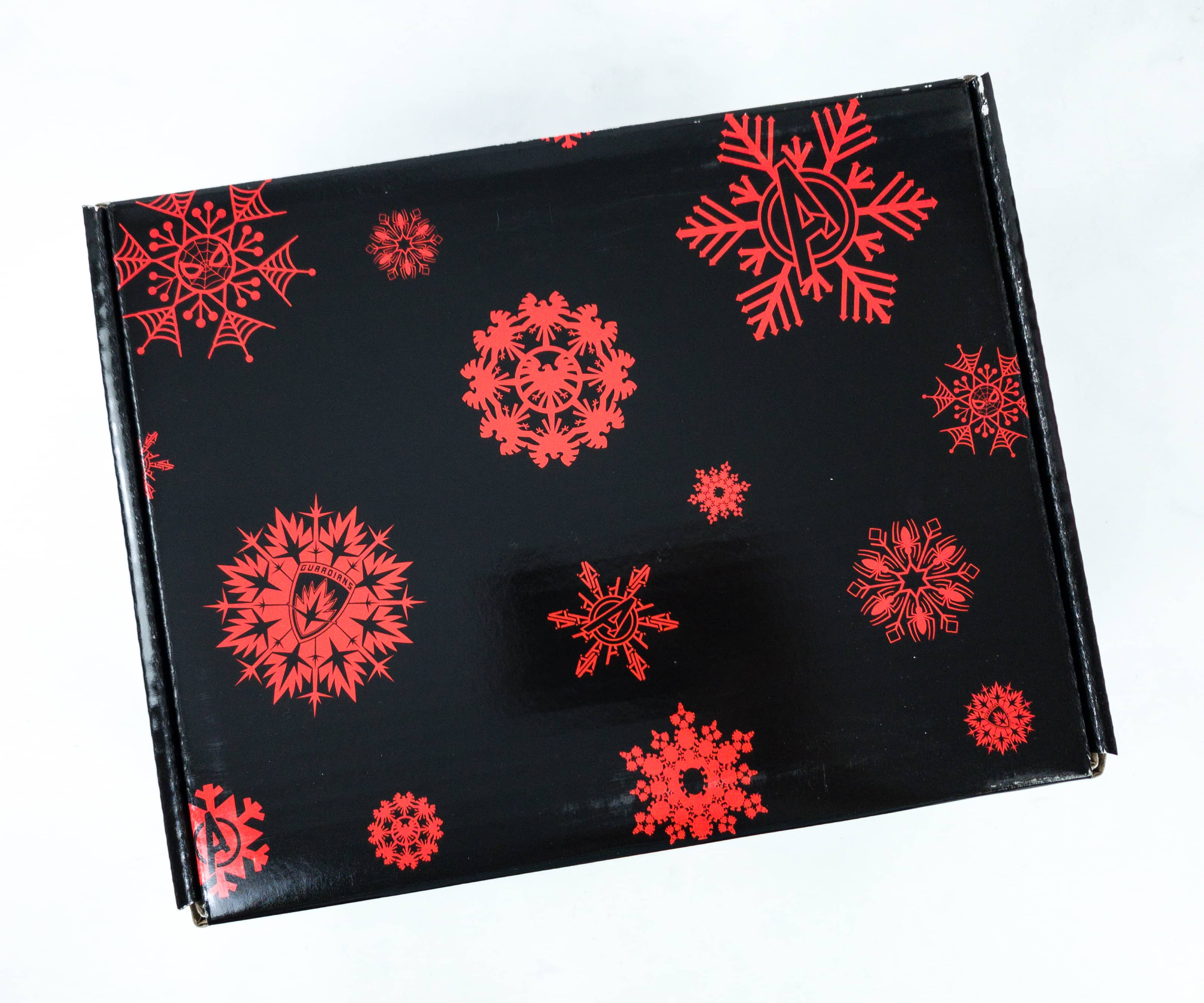 The box is holiday-themed. There are several superhero symbols formed into snowflakes!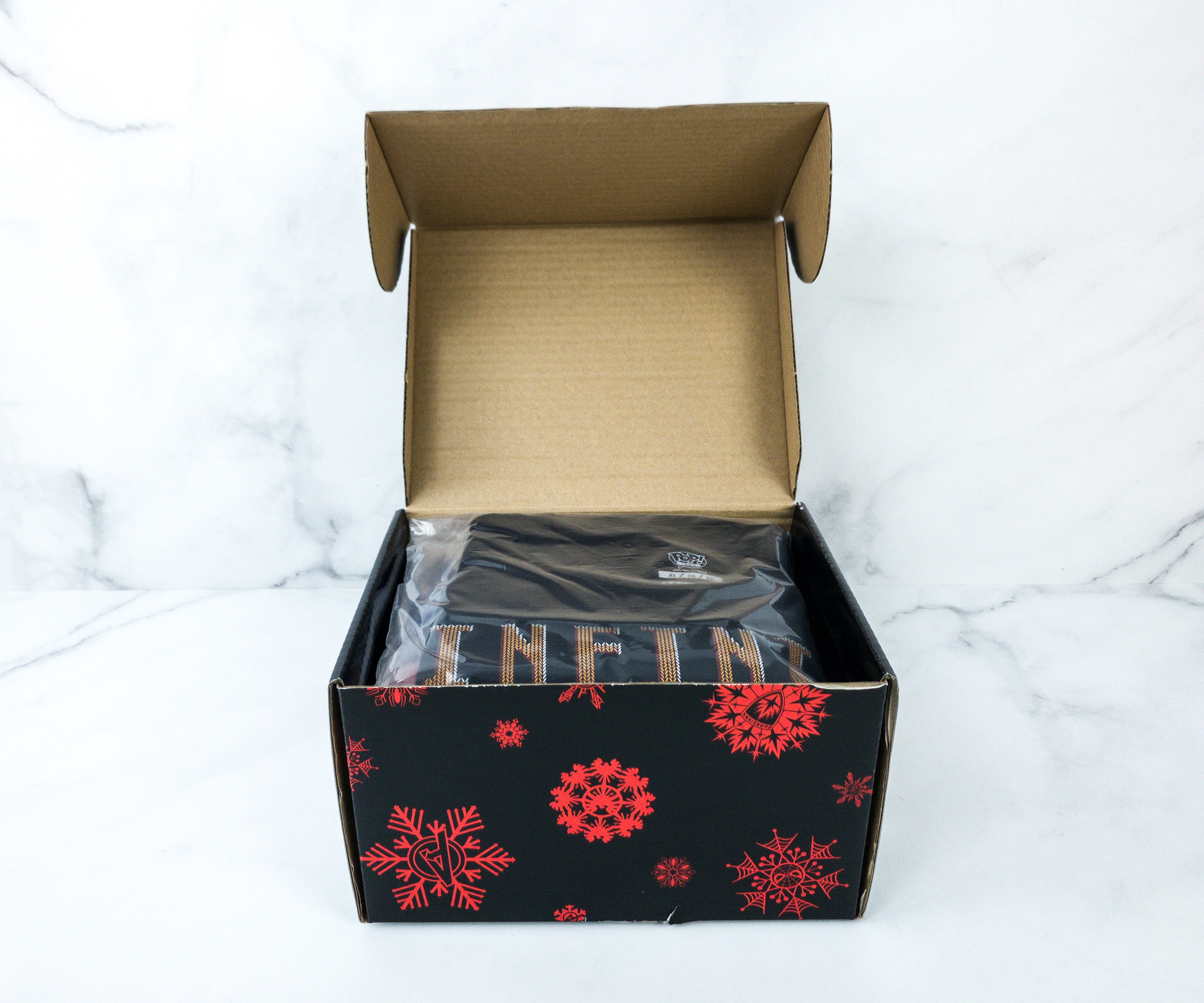 It's full to the brim and even the contents are wrapped separately.
The theme for November 2019 is MARVEL HOLIDAY! The info card lists all the items inside the box. Although this card is smaller, it's nice to see it return.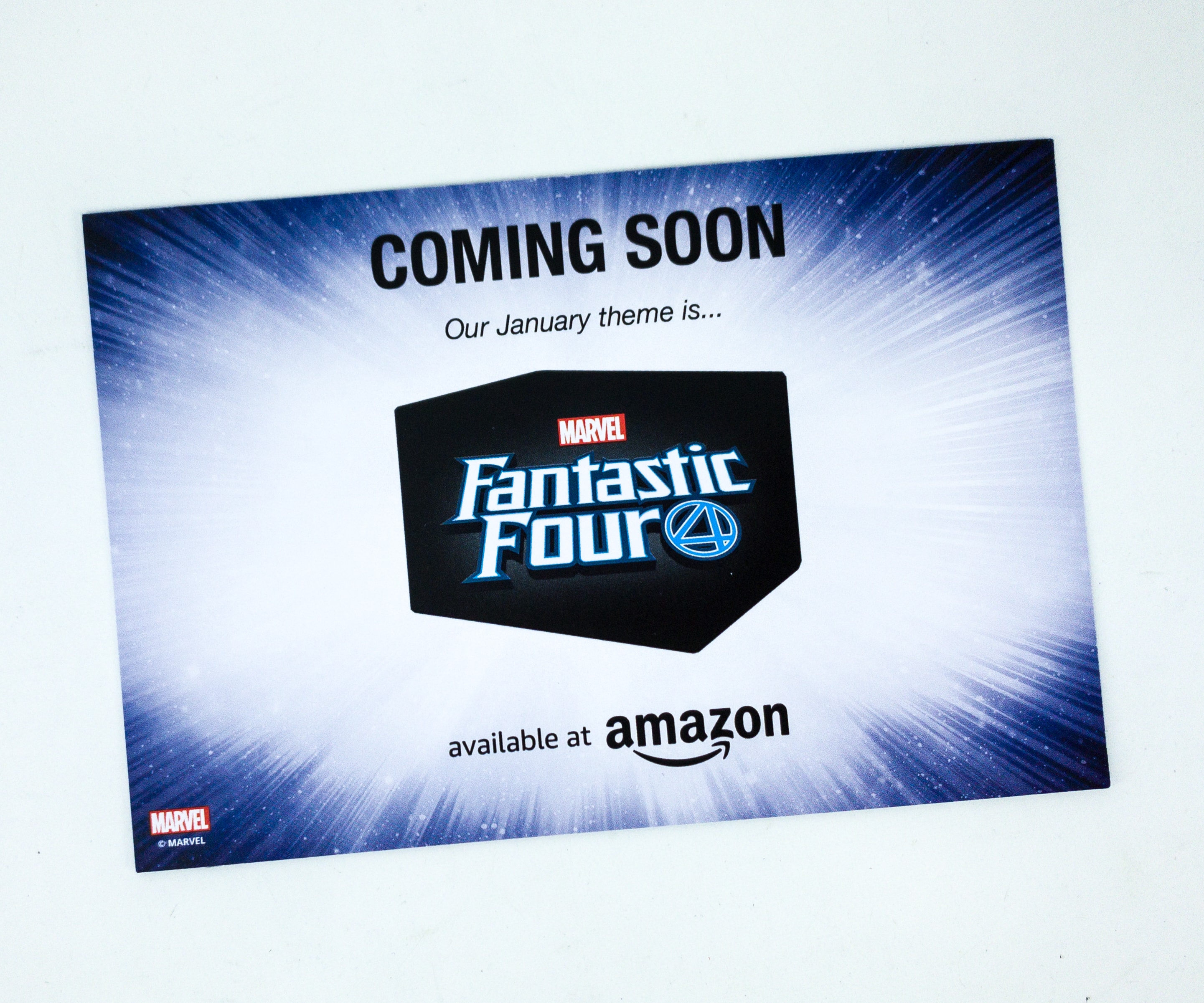 They also gave us a hint for the January 2020 box! And it's FANTASTIC FOUR!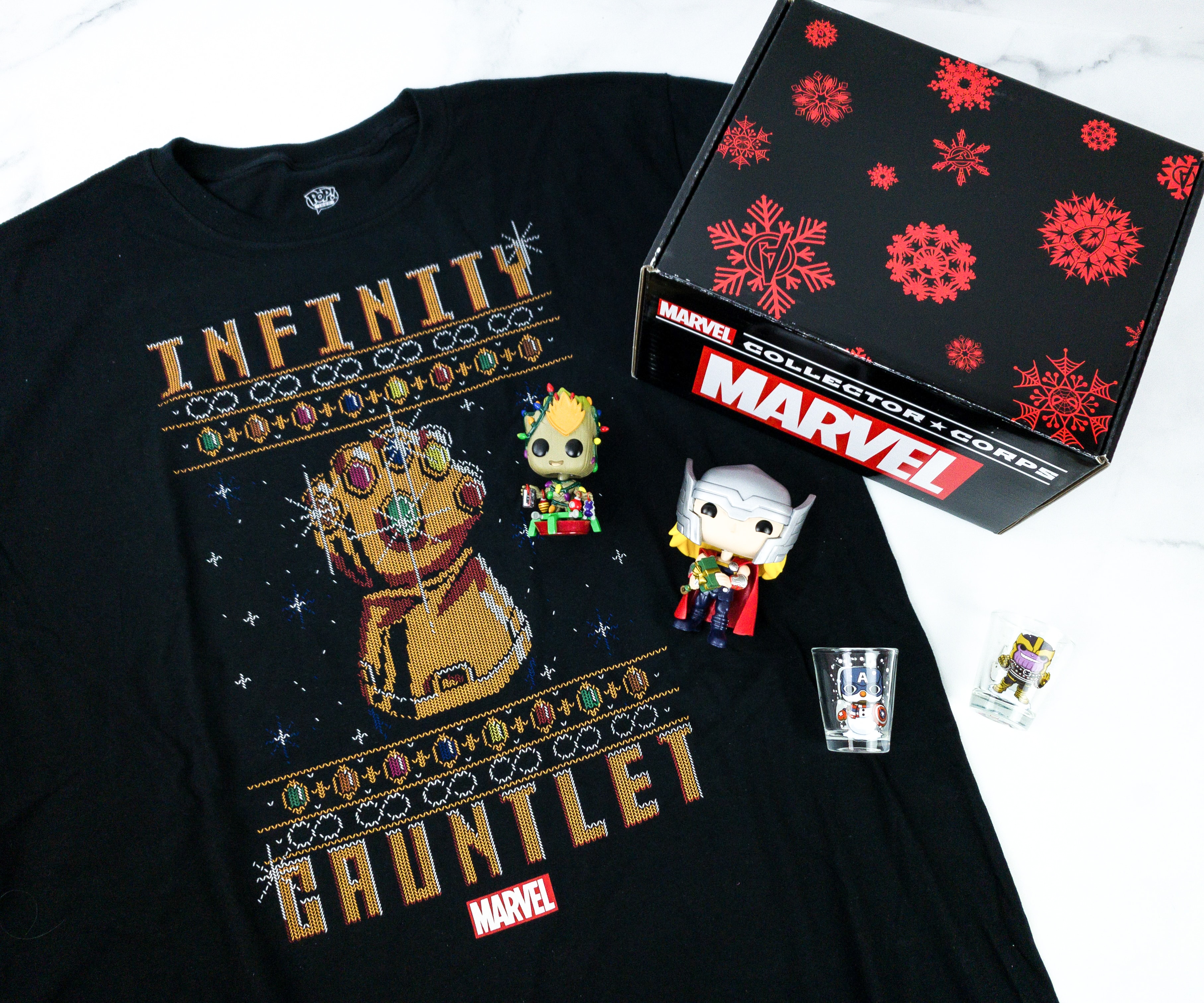 Everything in the November 2019 box!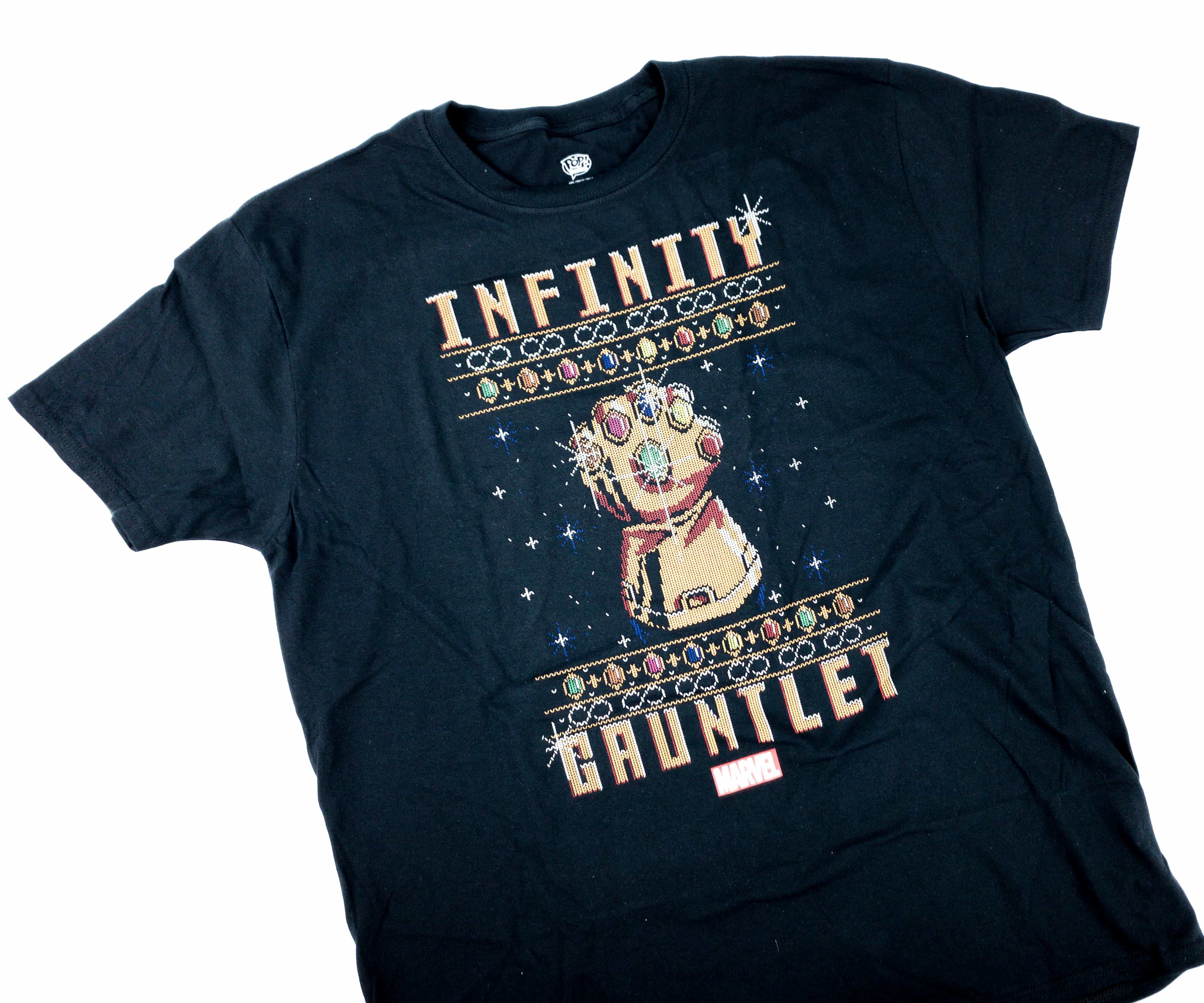 Infinity Gauntlet Ugly Christmas Sweater T-Shirt. It's tagged as an "Ugly Christmas Sweater" shirt, but I don't think it's ugly! I definitely love this black shirt!
The only difference of this shirt from others is that the print features knit patterns, except for the Marvel logo.
The Infinity Gauntlet still looks so powerful! The knitted patterns look even more amazing when you look at them closely. I love how they made it so detailed!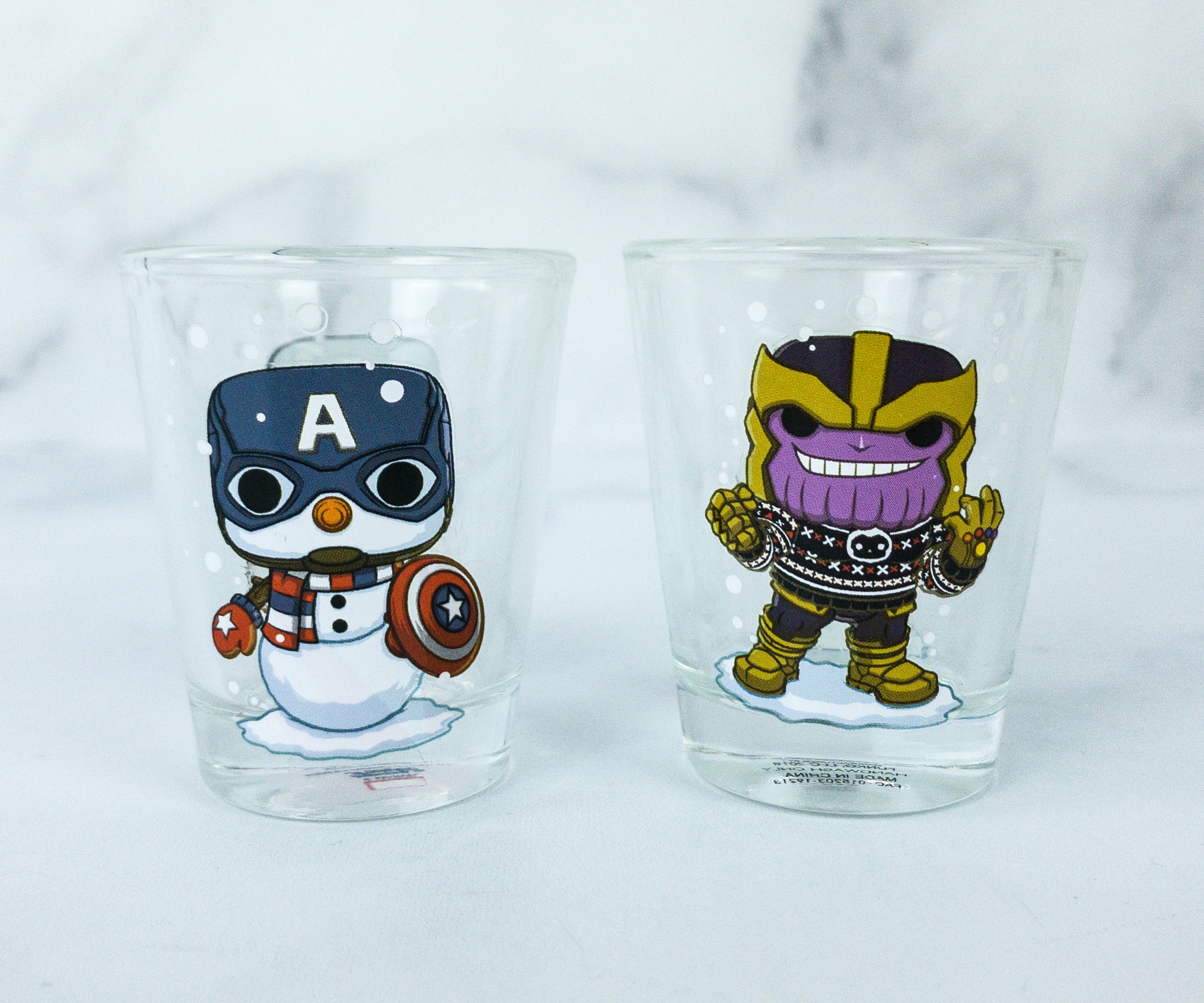 "Toothpick Holders" – Captain American Snowman & Thanos Shotglasses. Toothpick holders or shot glasses, I know that these Holiday-themed items will amazingly serve either purpose. I really like the snowman version of Captain America, while the POP! version of Thanos looks cute wearing an ugly sweater.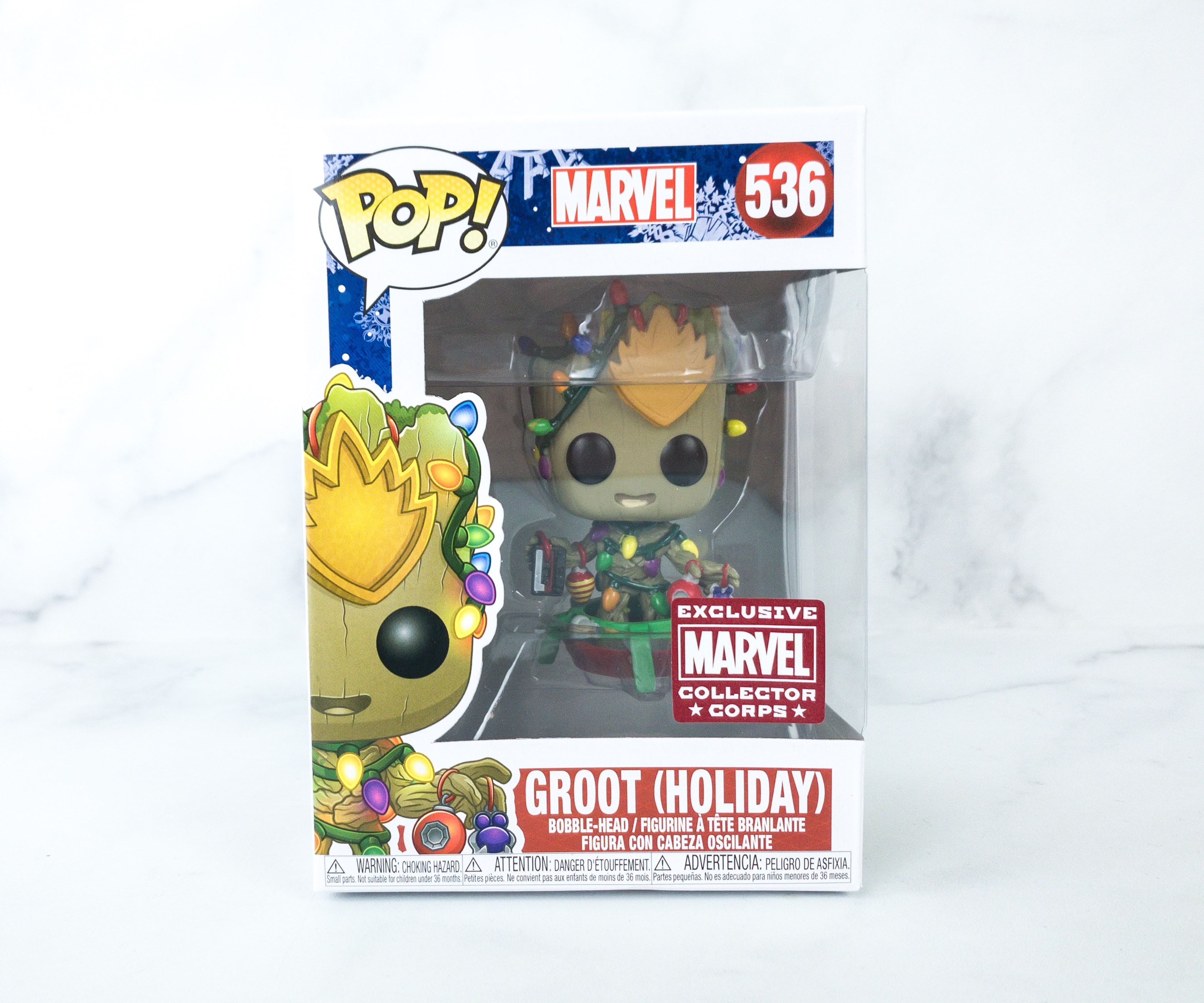 Baby Groot Holiday POP!. It's a POP! version of our favorite Guardians of the Galaxy. It's holiday-themed, and I can say that it's like getting the best of both worlds!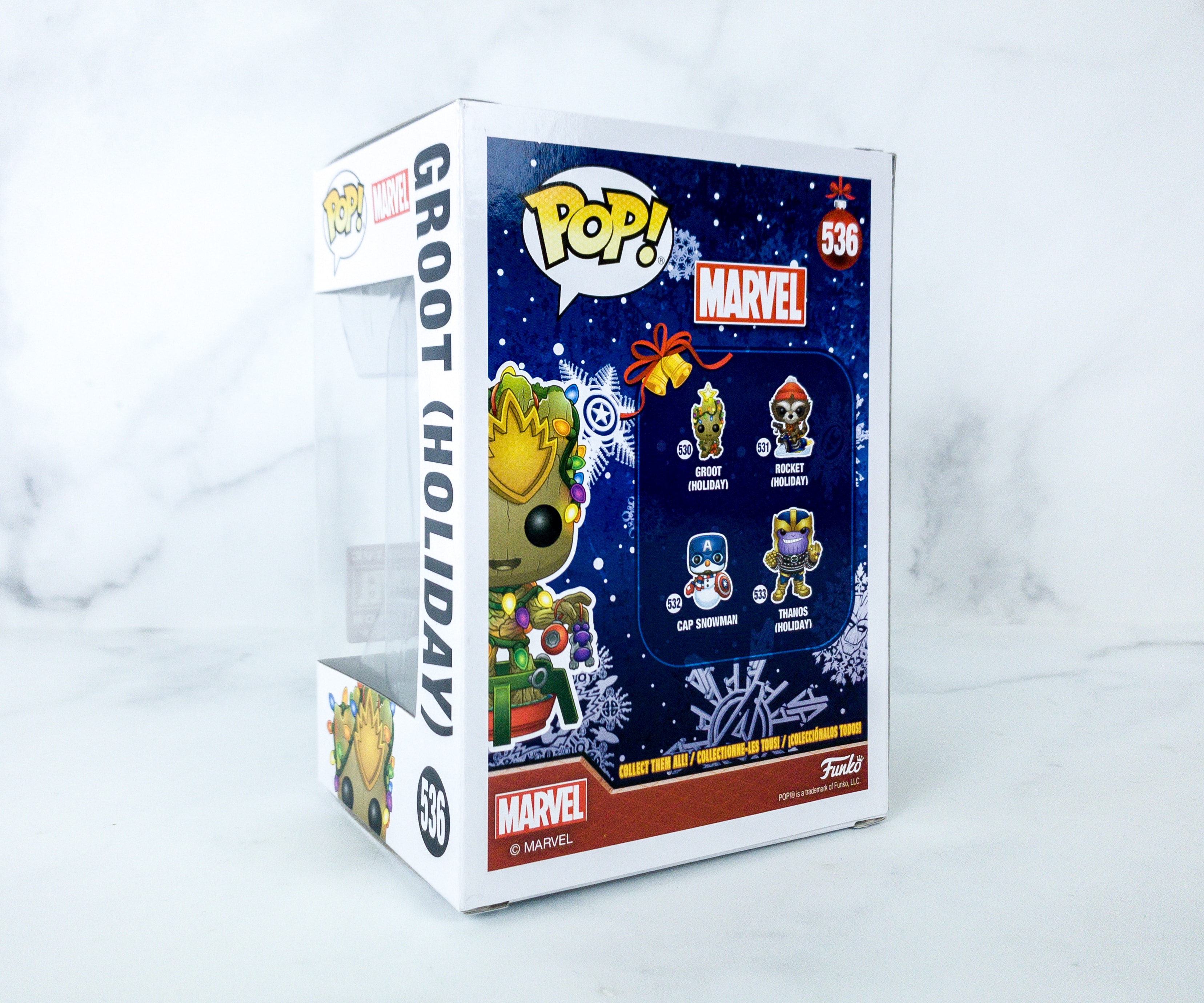 You can also get Holiday versions of other superheroes like Rocket, Cap in the form of a snowman, and Thanos wearing an ugly sweater, just like the ones printed on the toothpick holders!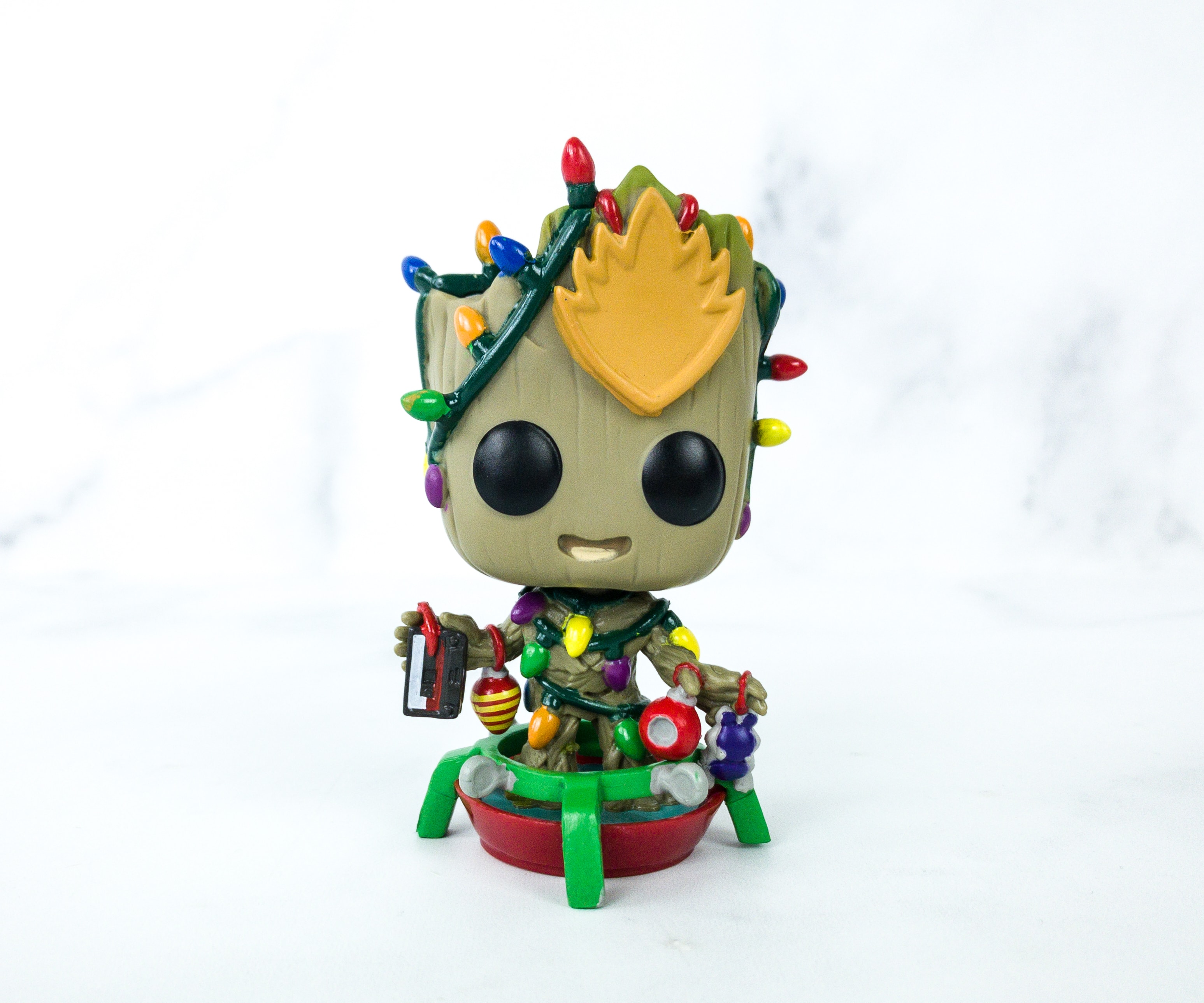 Here's the adorable Groot adorned with Christmas ornaments!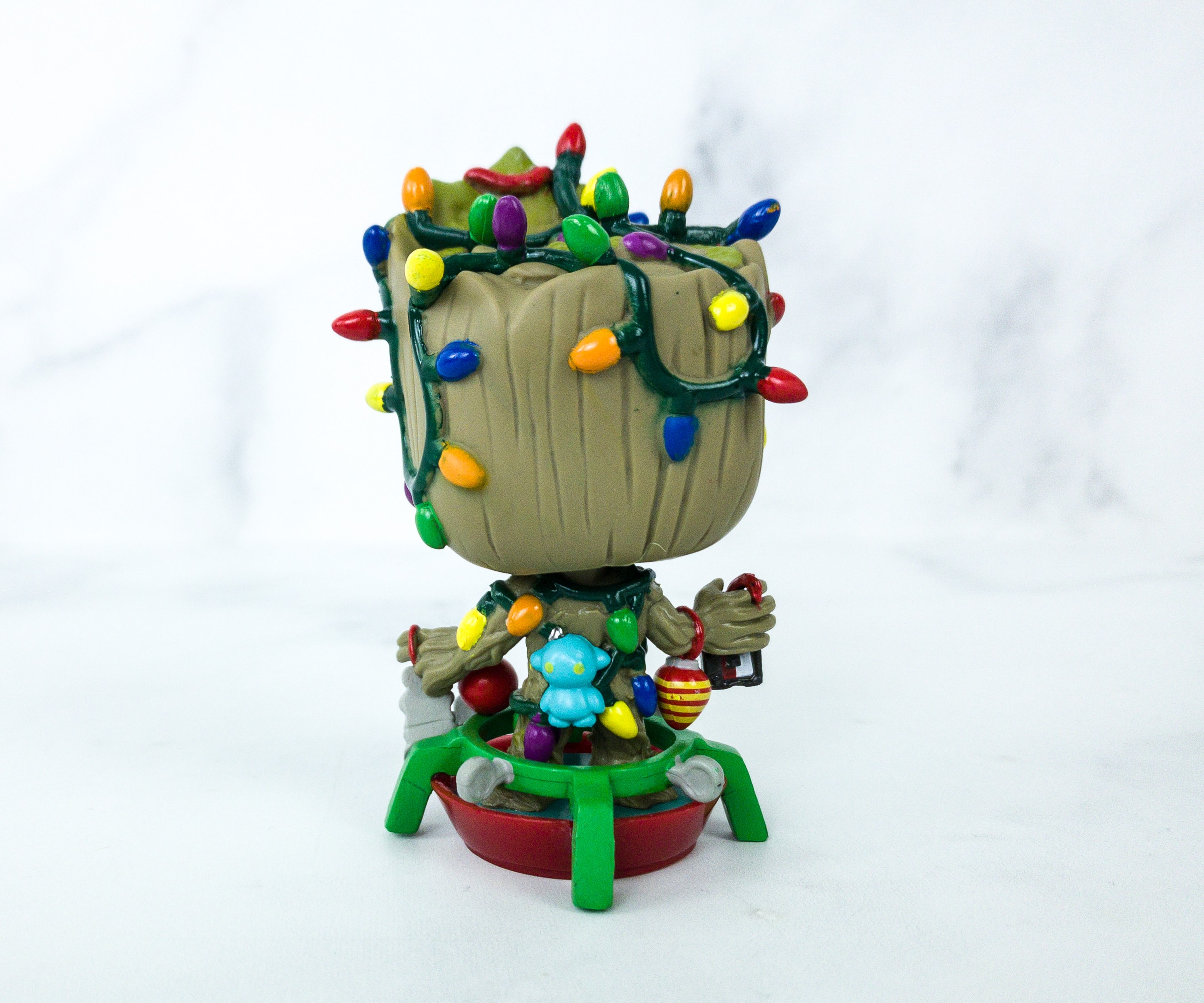 I love how the ornaments made Groot look festive. They're so colorful as well!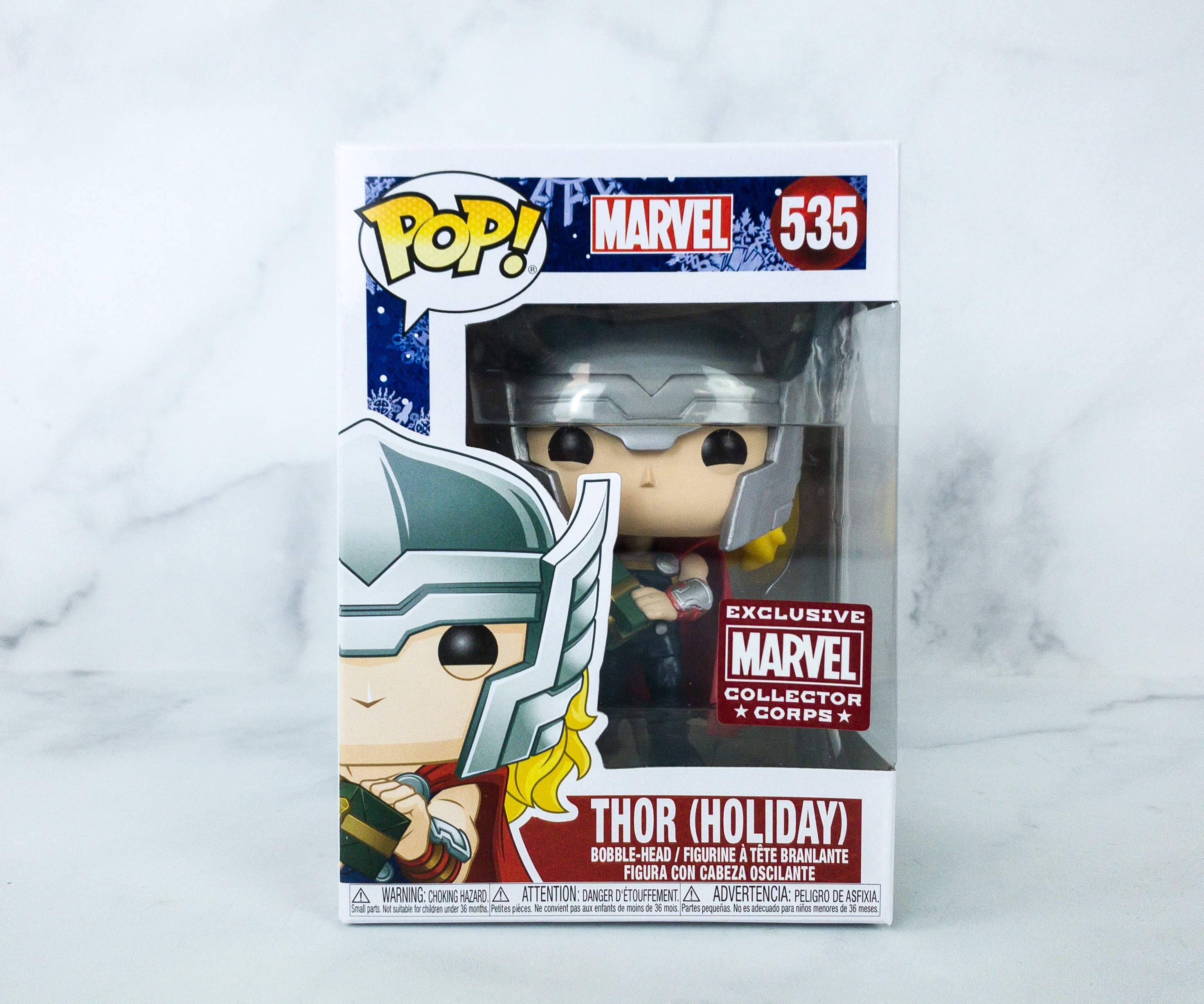 Thor Holiday POP!. Another superhero is given a holiday treatment! Here's Thor, the God of Thunder!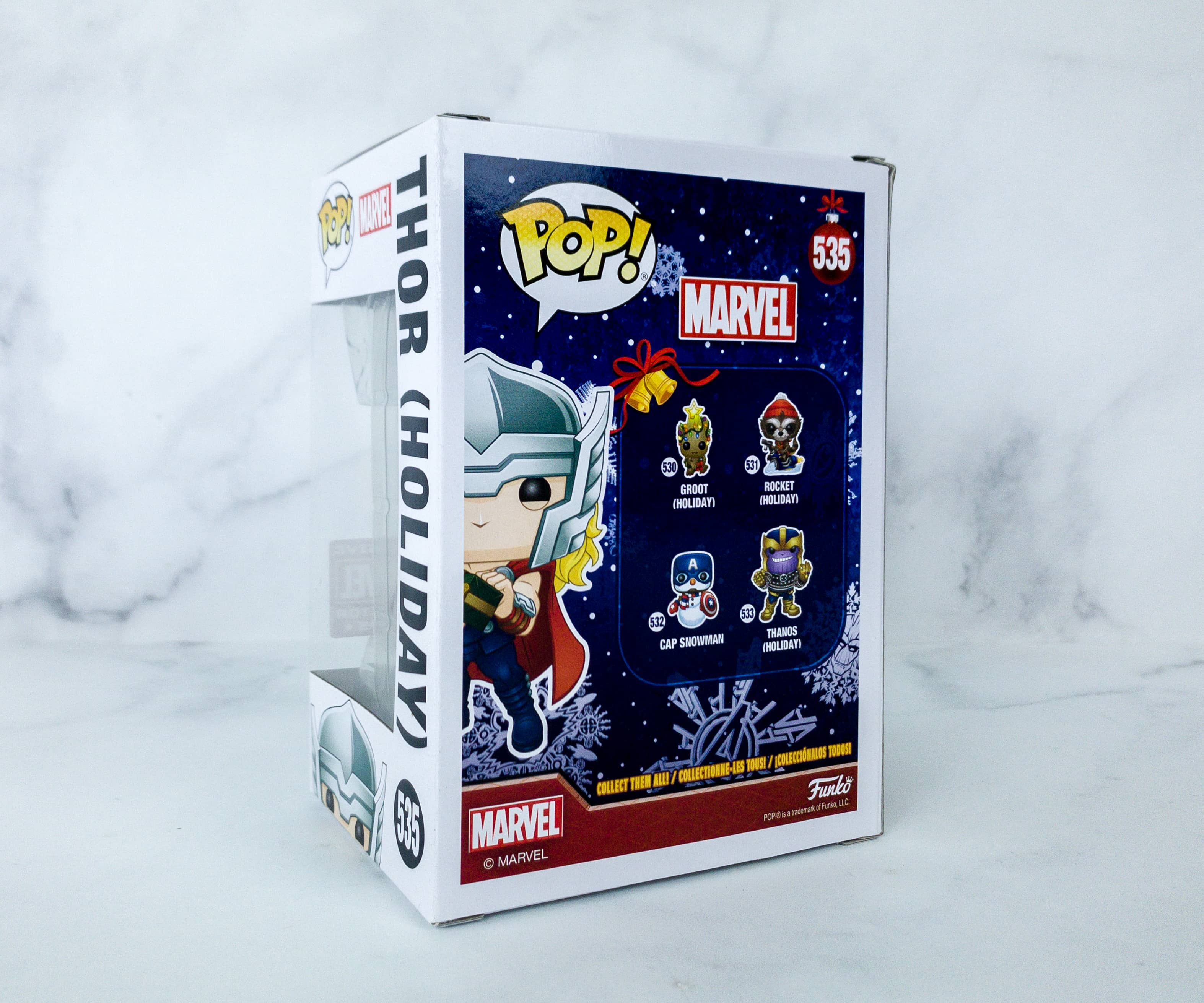 I would love to have all these Holiday-themed Marvel POP! figures and line them up on my table as Christmas decorations. That would be awesome!
Here's Thor wearing his usual garb, but this time, he has the Mjolnir all wrapped-up in green decorated with a golden ribbon!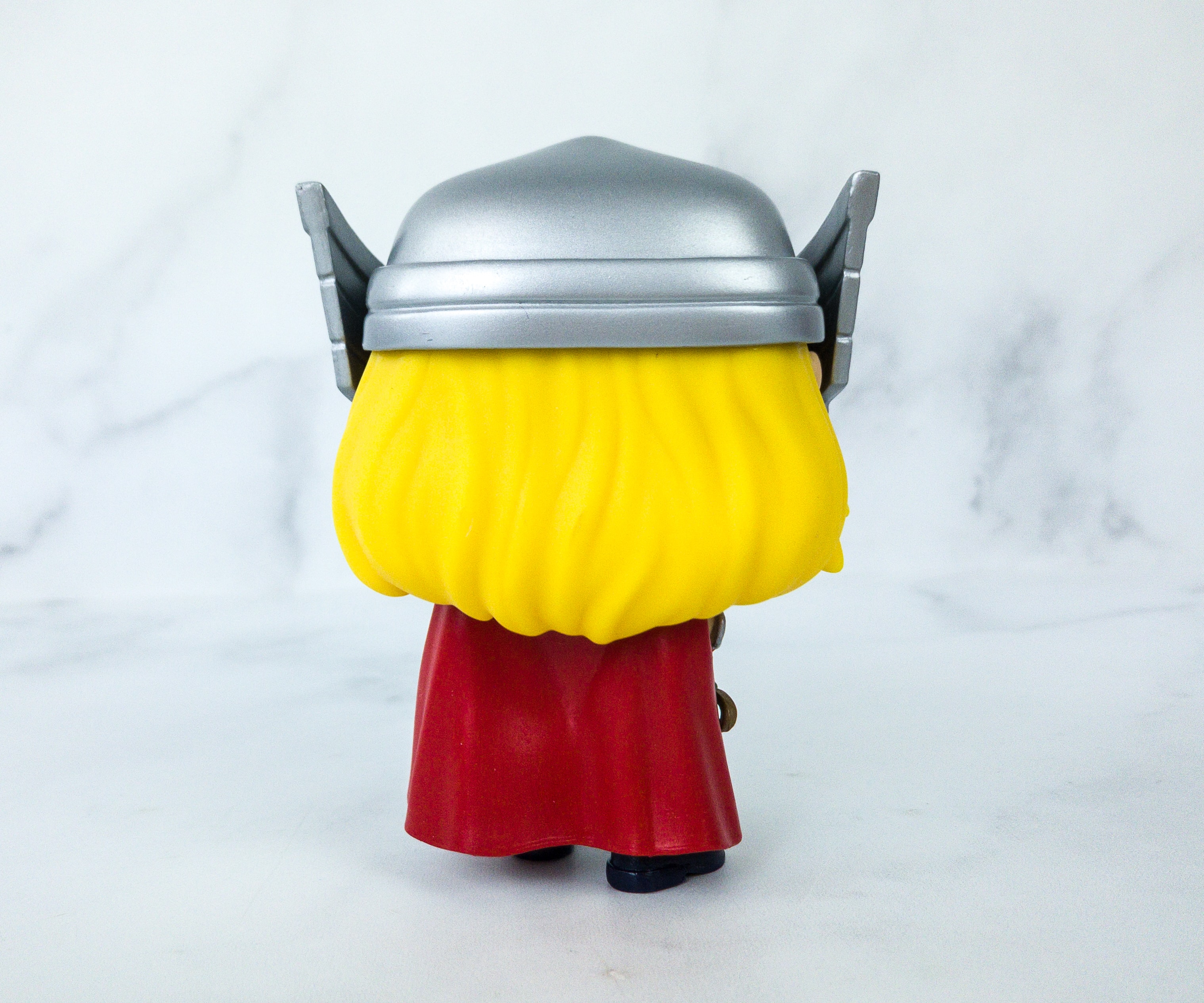 I love how bright his red cape and yellow hair are. The paint job on this figure is really amazing, and they captured all the details of the character perfectly!
Happy Marvel Holiday! I am so happy with this holiday-themed box, it's hard to choose a favorite because all of them are amazing! I love the shirt's ugly sweater-inspired design, it's definitely a nice alternative for an actual ugly sweater! The POP! figures are so cute. I would love to get the other POP!s too, especially the Cap Snowman. The shot glasses/toothpick holders are perfect for my Christmas table set-up. It's really the season to be jolly, and this box definitely added excitement and happiness to the holiday festivities!
What do you think of this month's box?