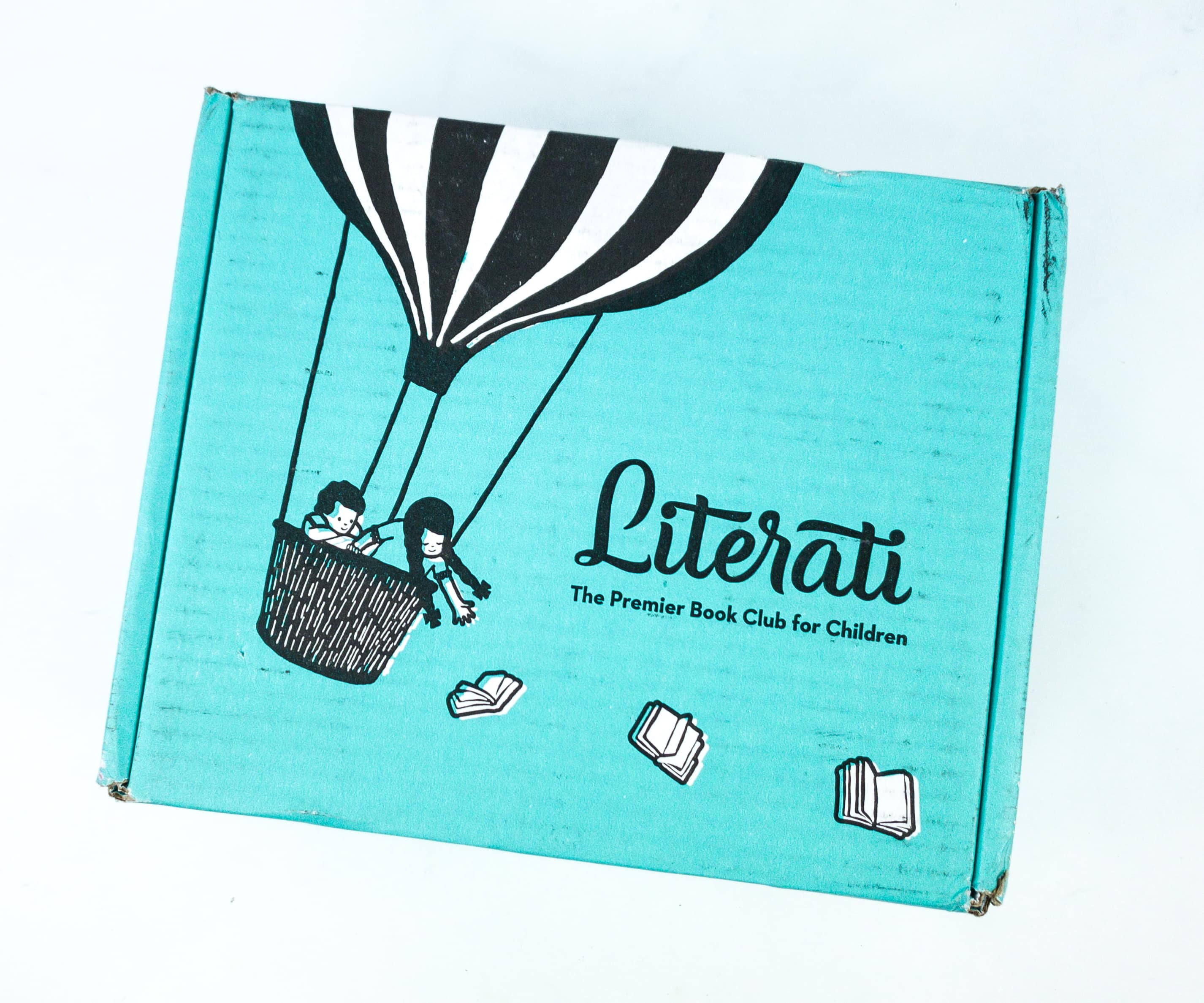 Literati is a monthly book subscription box for children that works similar to Stitch Fix. For a monthly fee of $9.95, you'll receive 5 books to try out for a week. You can purchase the ones you love and return the rest (in totally new condition) in the enclosed prepaid mailer (shipping is free in both directions).
You can get 5% off when you decide to keep all the books! There are also categories for each age bracket: Club Neo is for newborn to 1 year; Club Sprout is for children ages 2-3; Club Nova is for kids 4-6, and Club Sage is for those 7-8 years old.
This is a review of the Club Phoenix box for kids 9-12.
DEAL: Get $25 in account credit to put towards books when you sign up! USE THIS LINK to get the deal.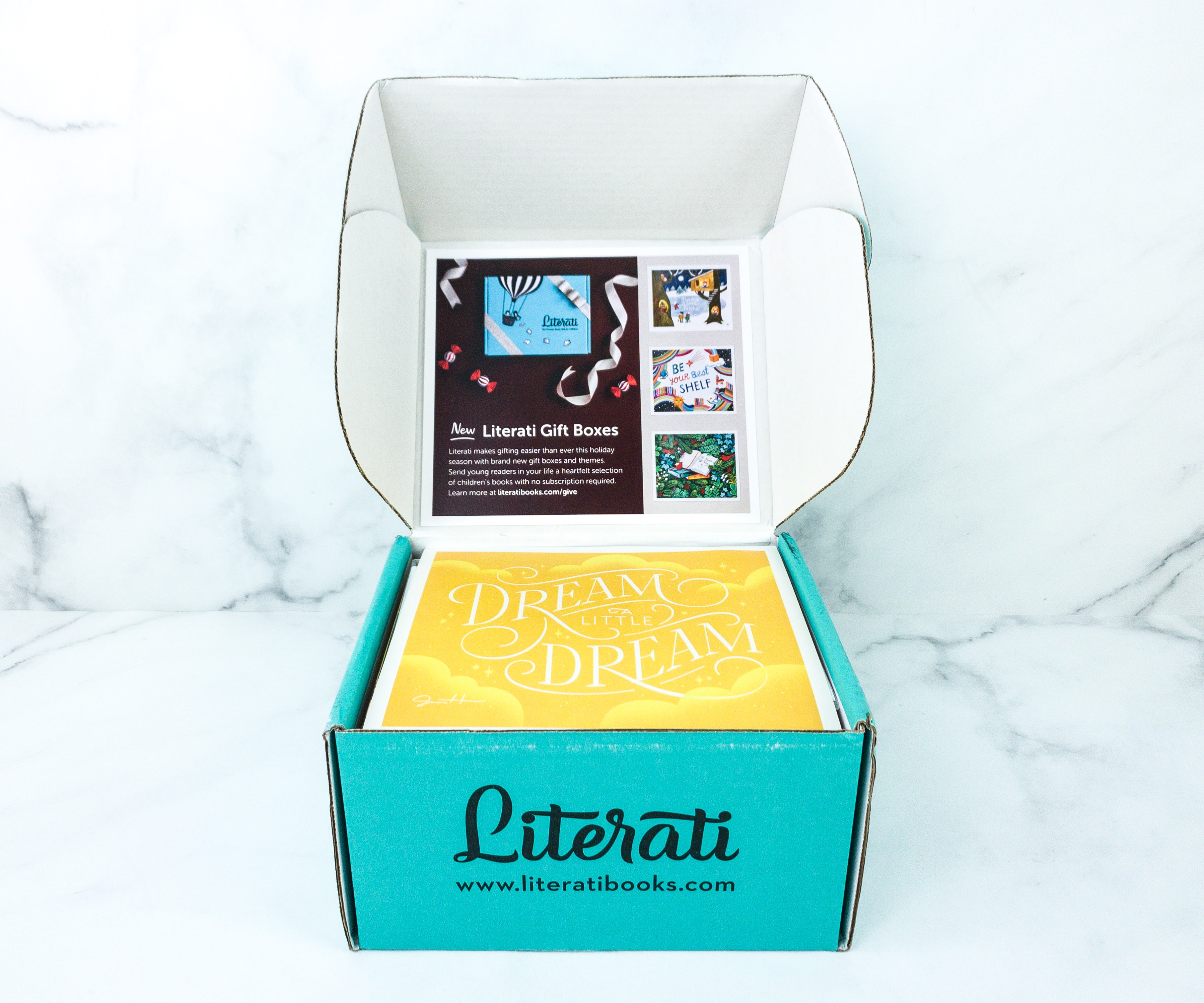 There are lots of books in store for us!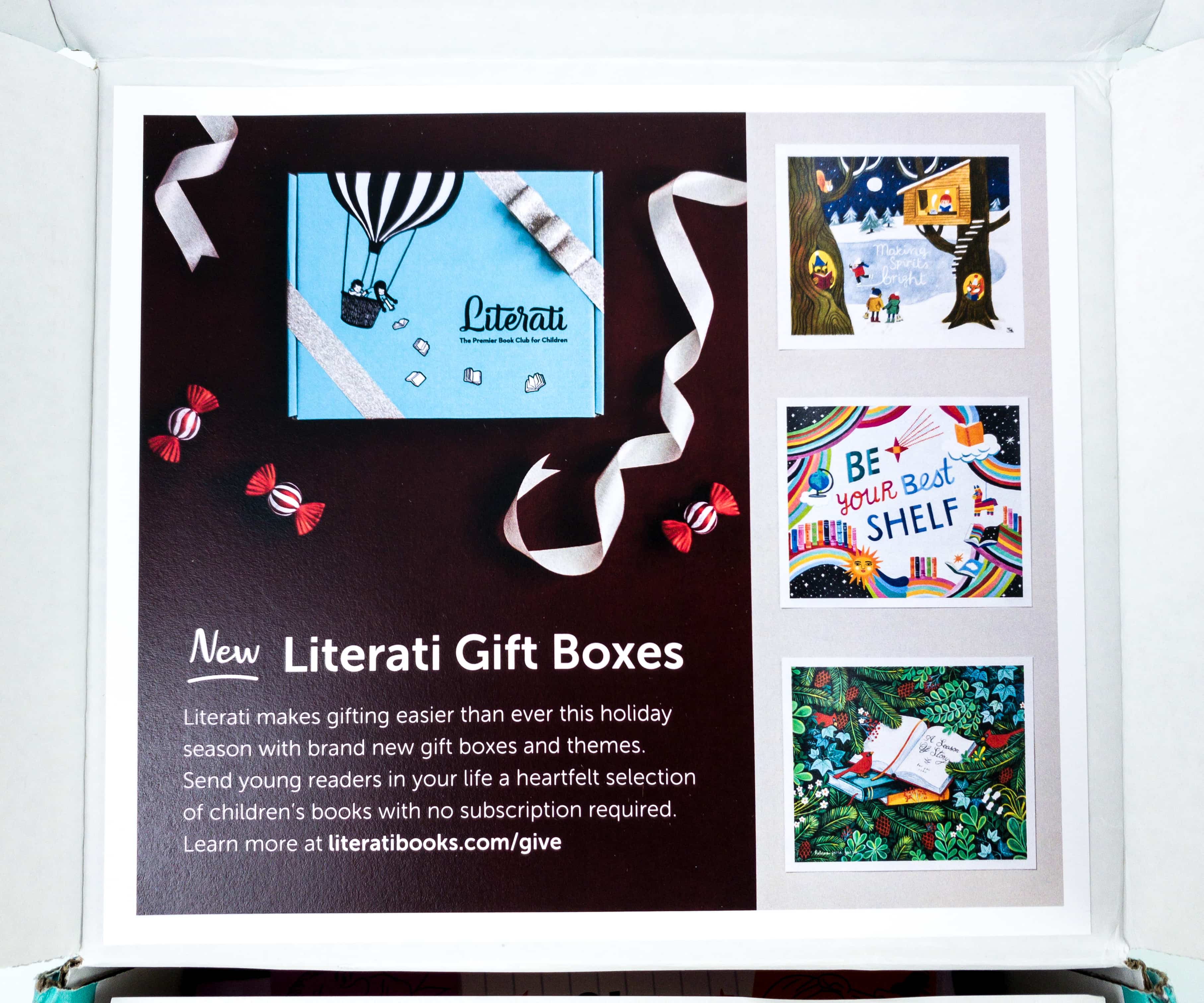 There's an included promotion about the New Literati Gift Boxes!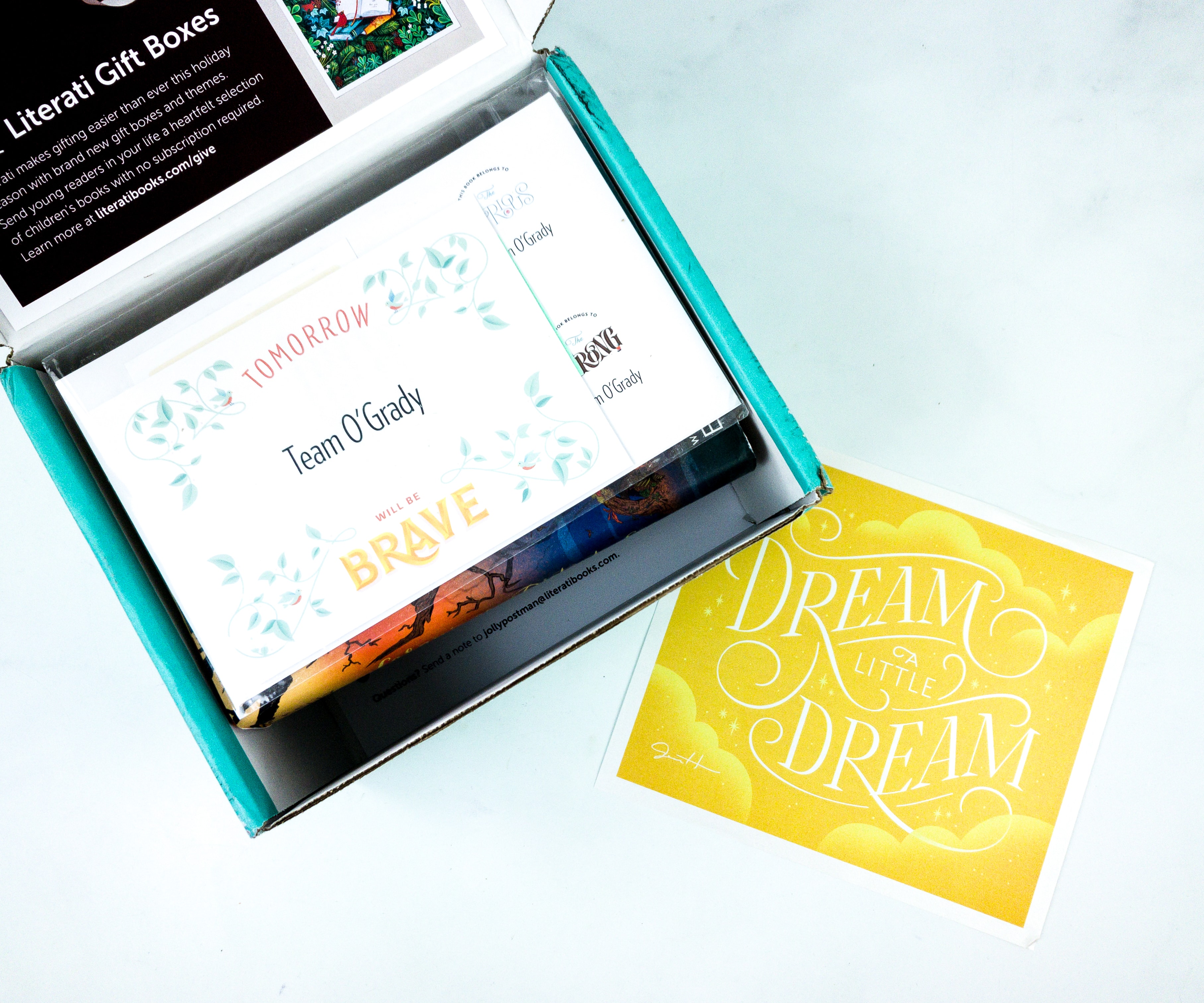 The contents are all neatly packaged.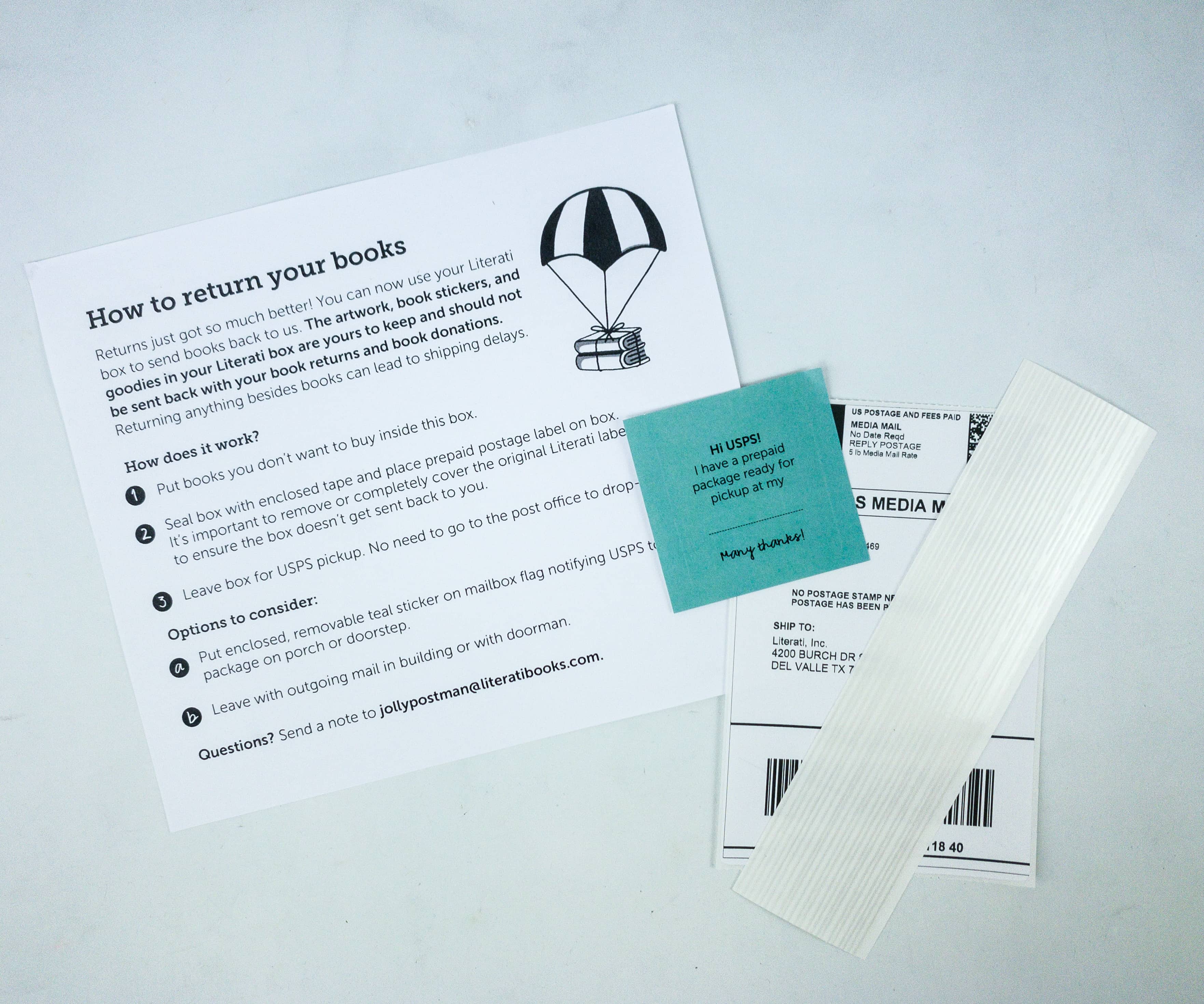 There's no longer a padded mailer. Instead, you can use the teal box itself if you want to return some of the books. You'll also receive a tape and a prepaid postage label for the box.
A full-size print comes with the box, along with free shipping. It's no longer on high-quality card stock. The printing on the back is semi-transparent through the frunt. Also, the theme for this month is Dream A Little Dream!
The featured illustrator creates new artwork for the monthly themes. This month's illustrator is Jessica Hische.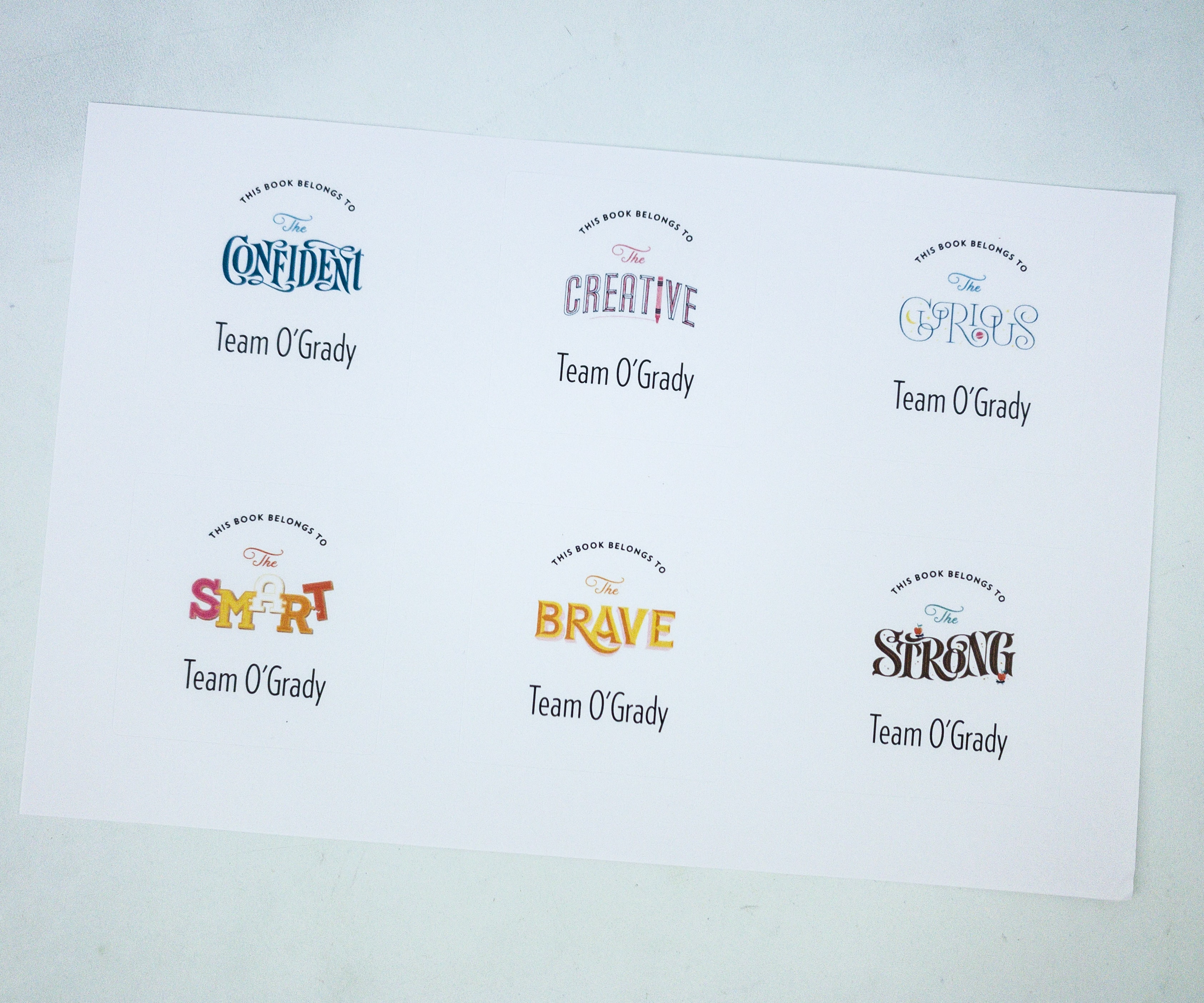 They included a sheet to help us label the books, and let others know that they're ours when we decide to keep them. They're really adorable!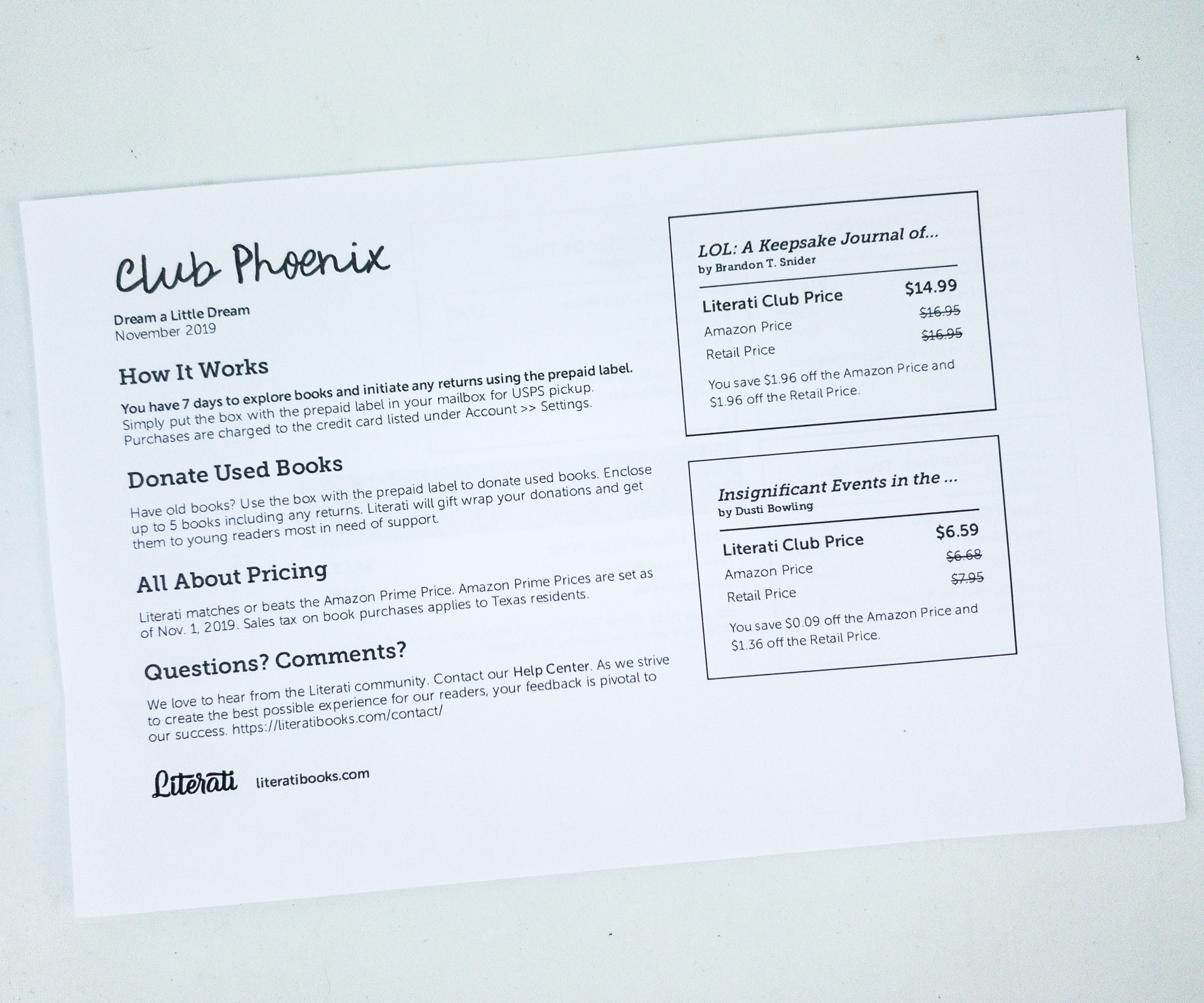 There's also a listing of the book prices. If you decide to keep everything, you'll get 5% off. The subscription has a $9.95 non-refundable fee.
According to Literati "it covers shipping both ways, allows the curators to invite a new world-renowned illustrator each month to draw personalized bookplates and a unique print for members, and covers other themed surprises that are included in the box." It includes the shipping back and forth too.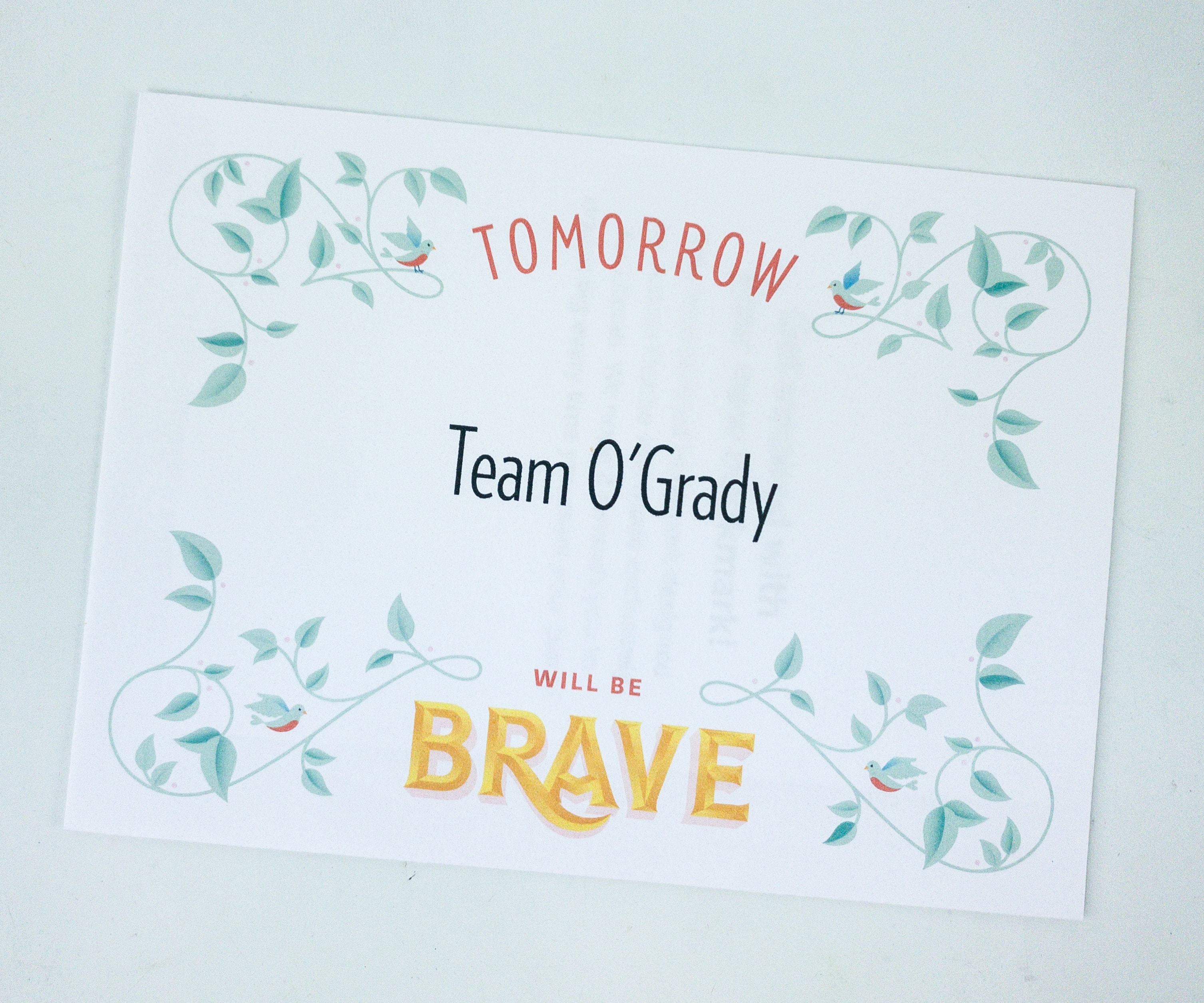 There's a cute note from Team Literati.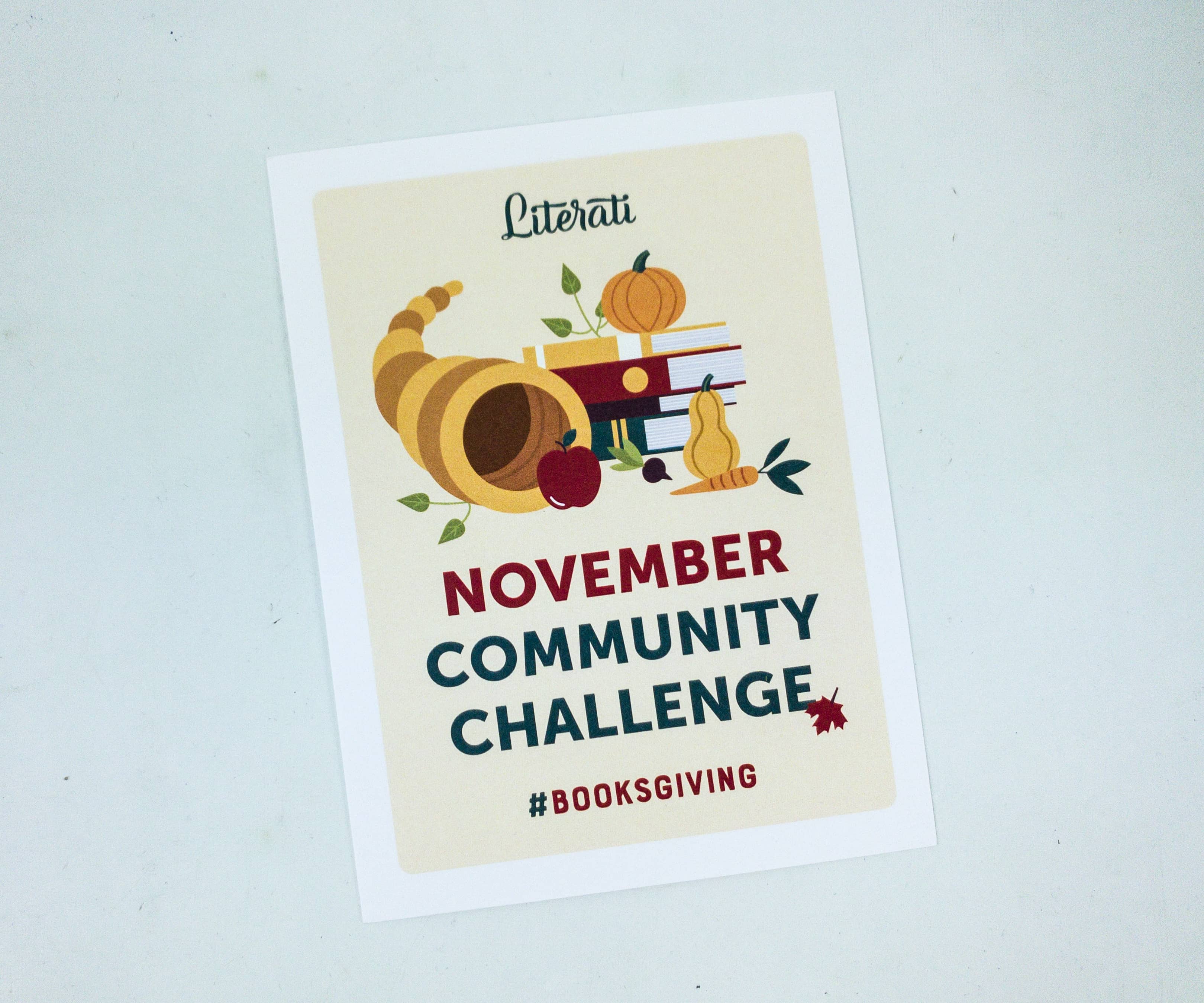 There's an included November Community Challenge.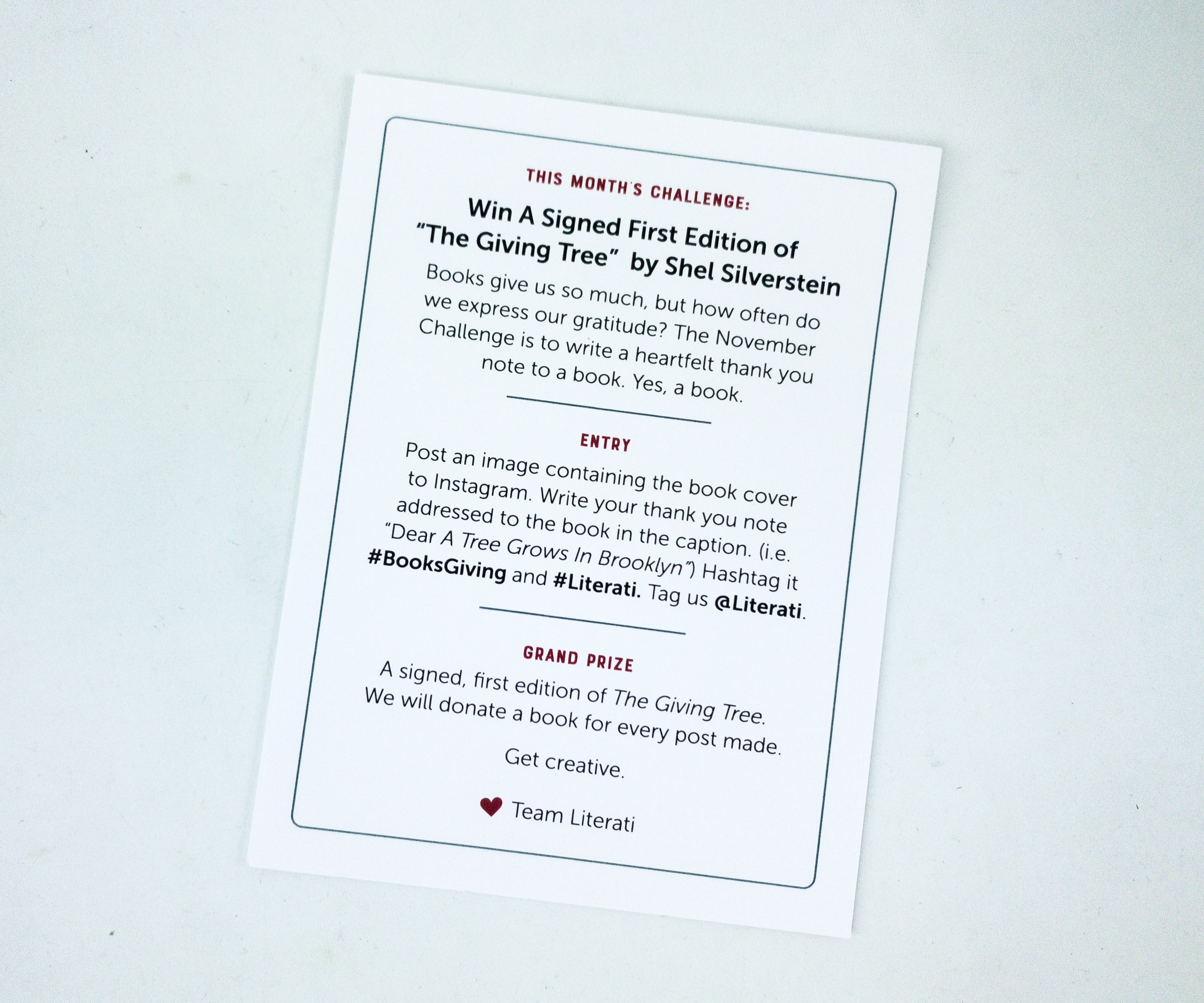 This month, the subscription challenges you to write a heartfelt thank you note to a book.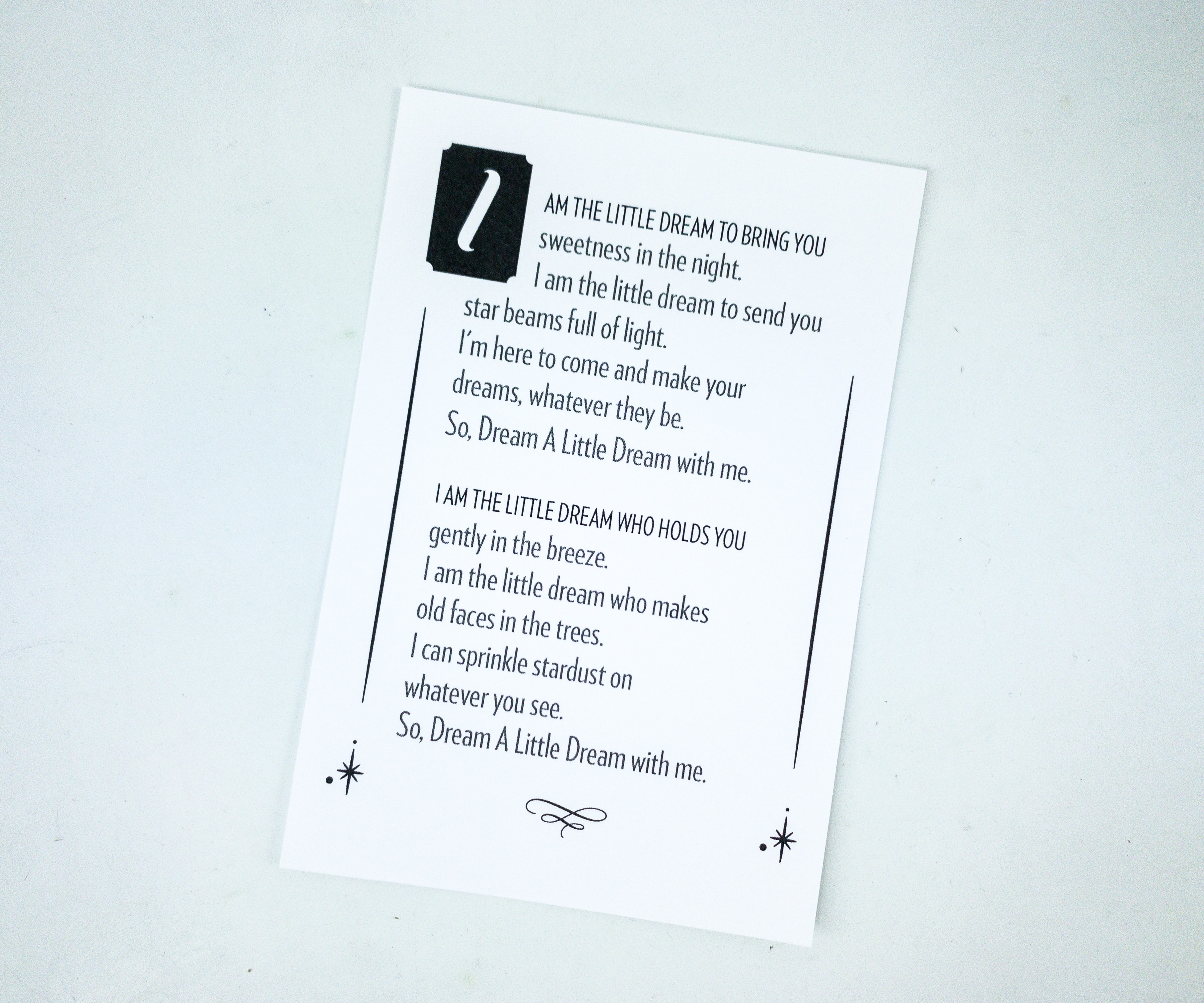 The card has a cute note at the back which is about this month's theme!
The box also included a letterpressed bookmark.
The pretty bookmark even features the box's theme this month!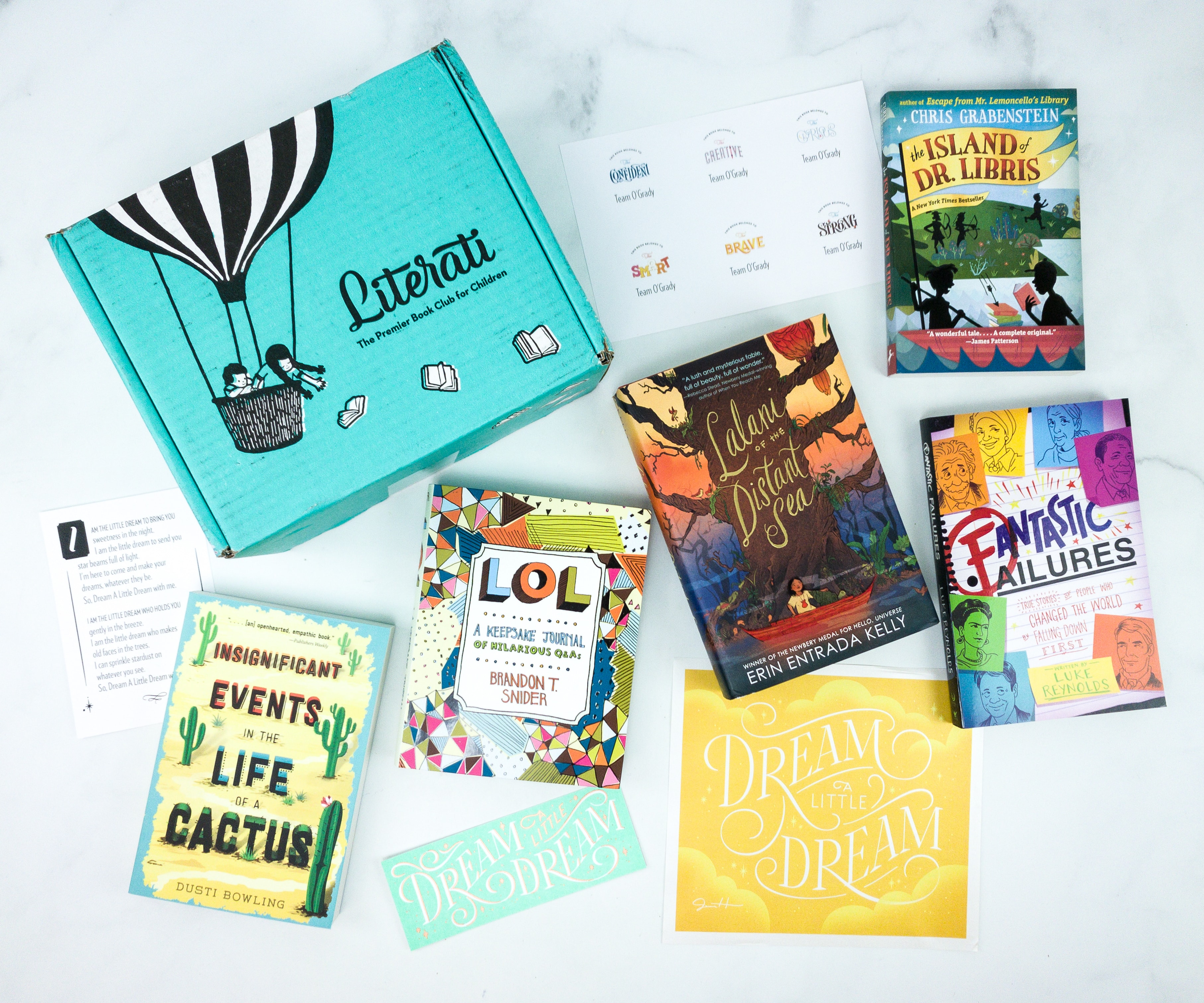 Everything in the box!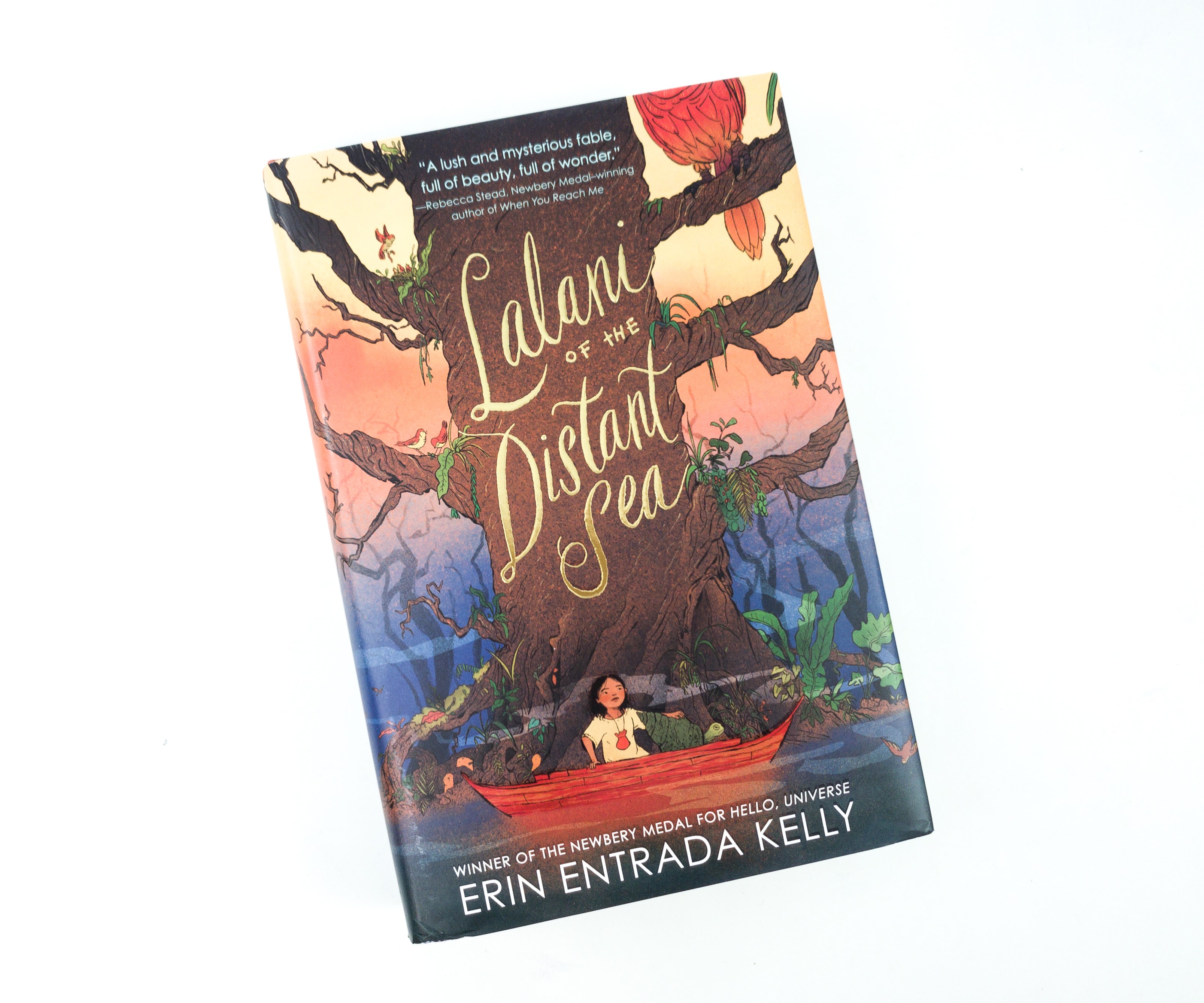 Lalani Of The Distant Sea by Erin Entrada Kelly ($11.85)
"Fast-paced and full of wonder, this is a powerful, gripping must-read."—Kirkus (starred review)

"A lush and mysterious fable, full of beauty, full of wonder."—Rebecca Stead, Newbery Medal–winning author of When You Reach Me

Newbery Medalist Erin Entrada Kelly's debut fantasy novel is a gorgeous, literary adventure about bravery, friendship, self-reliance, and the choice between accepting fate or forging your own path.

When Lalani Sarita's mother falls ill with an incurable disease, Lalani embarks on a dangerous journey across the sea in the hope of safeguarding her own future. Inspired by Filipino folklore, this engrossing fantasy is for readers who loved Grace Lin's Where the Mountain Meets the Moon and Disney's Moana.

Life is difficult on the island of Sanlagita. To the west looms a vengeful mountain, one that threatens to collapse and bury the village at any moment. To the north, a dangerous fog swallows sailors who dare to venture out, looking for a more hospitable land. And what does the future hold for young girls? Chores and more chores.

When Lalani Sarita's mother falls gravely ill, twelve-year-old Lalani faces an impossible task—she must leave Sanlagita and find the riches of the legendary Mount Isa, which towers on an island to the north. But generations of men and boys have died on the same quest—how can an ordinary girl survive the epic tests of the archipelago? And how will she manage without Veyda, her best friend?

Newbery Medalist and New York Times–bestselling author Erin Entrada Kelly's debut fantasy novel is inspired by Filipino folklore and is an unforgettable coming-of-age story about friendship, courage, and identity. Perfect for fans of Lauren Wolk's Beyond the Bright Sea and Kelly Barnhill's The Girl Who Drank the Moon.
The book cover shows us an amazing illustration with beautiful details and colors. The back introduces us to what the story is all about.
The dust jacket's flap tells us more about Lalani Sarita, the main character of the story which is about to embark on a journey that requires bravery and self-reliance!
The story also gives us an idea about Filipino folklore, as it features some creatures similar to those that you can read from Philippine Mythology.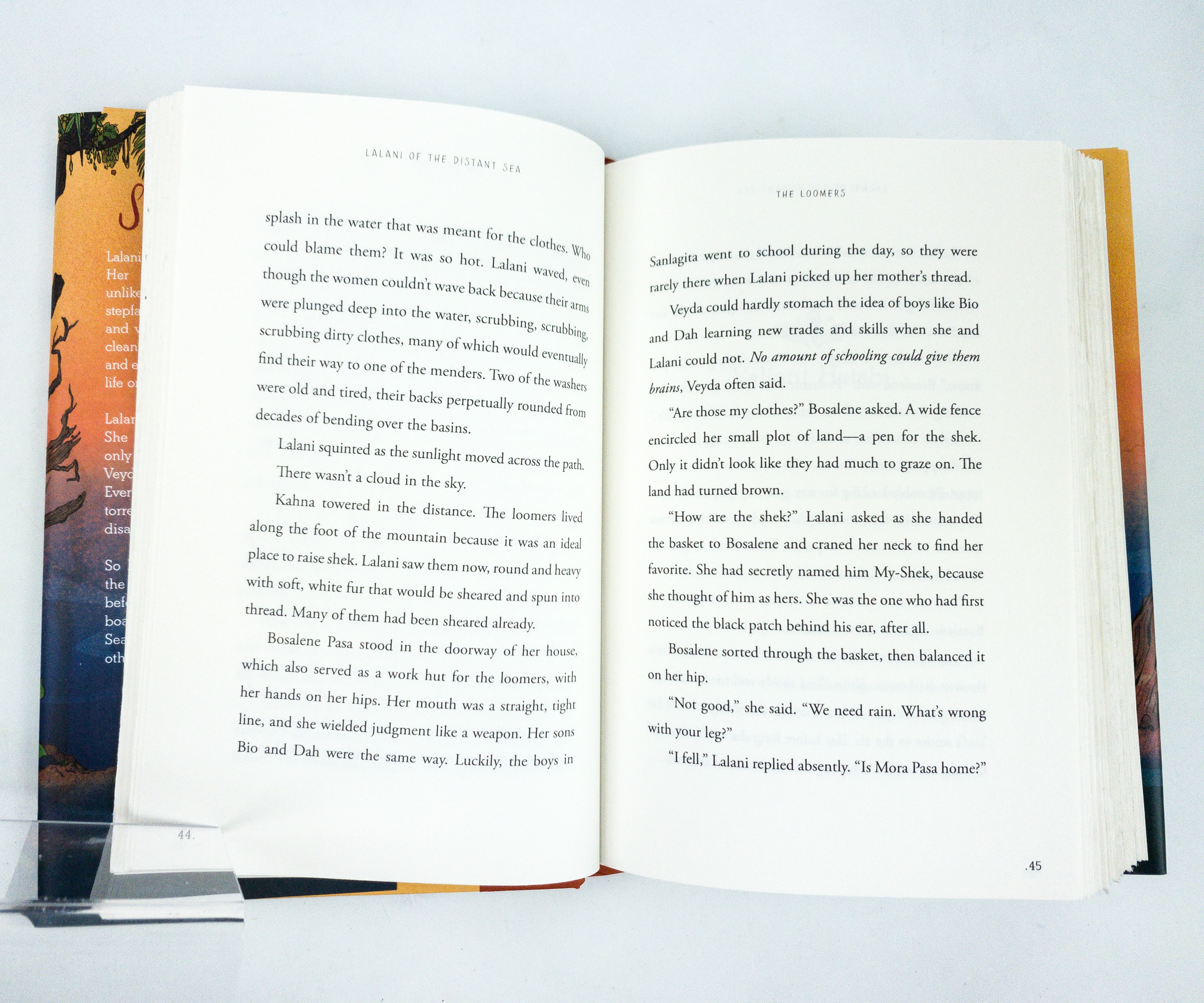 We love how brave Lalani is, as she encounters different creatures in search of the richness from Mount Isa!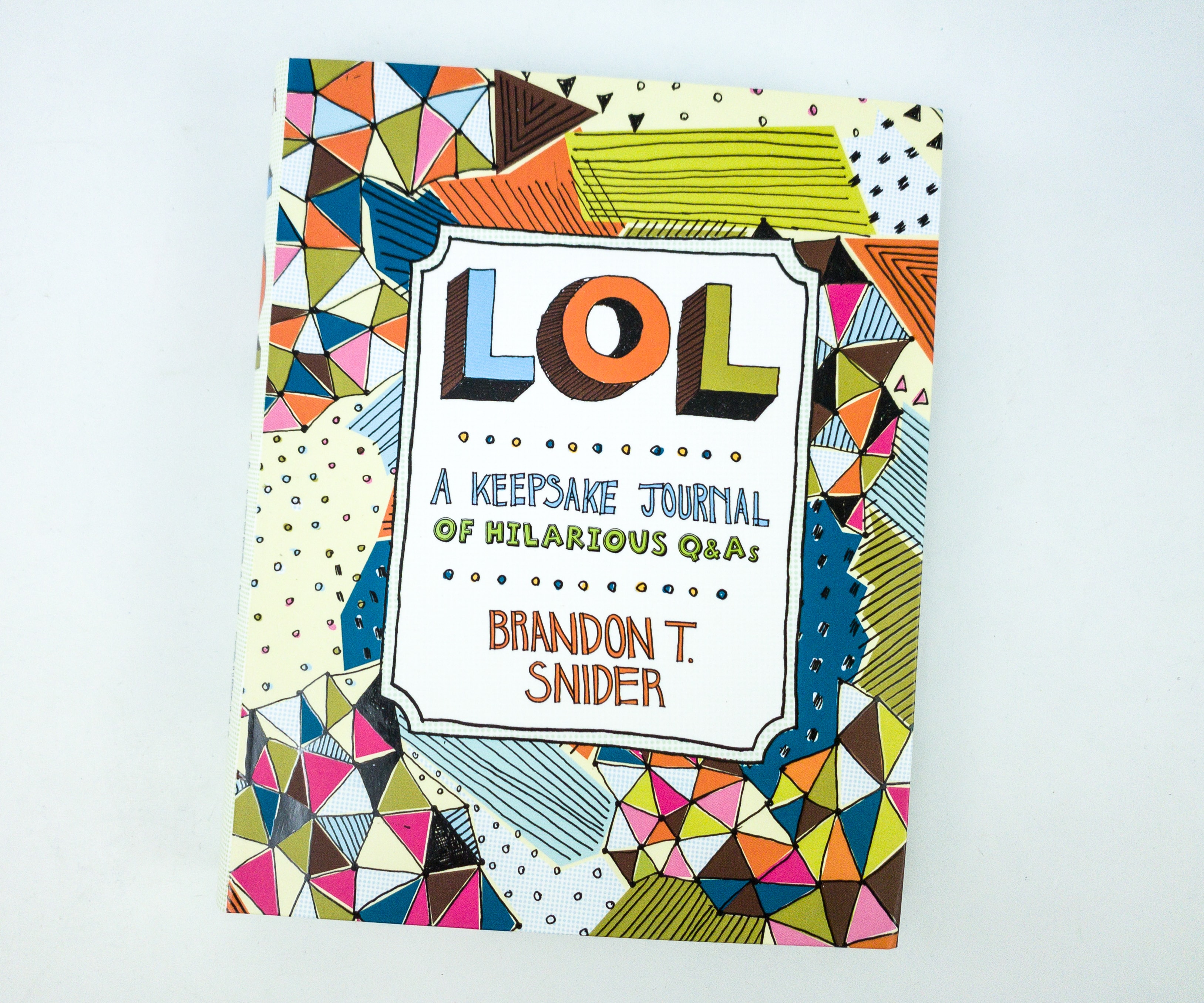 LOL: A Keepsake Journal Of Hilarious Q&A's by Brandon T. Snider ($16.95)
Kids—humor yourselves! Would you rather shave your head OR wear the ugliest wig in the world for a whole week? What's the most embarrassing thing that ever happened to you on social media? And what wild and crazy things "wouldja" be willing to do in public? Make yourself laugh with this keepsake journal packed with hilarious prompts, silly fill-ins, wacky doodle ideas, story suggestions, and cool questions and lists. It's YOUR place to be as funny and crazy as you want . . . with no boundaries.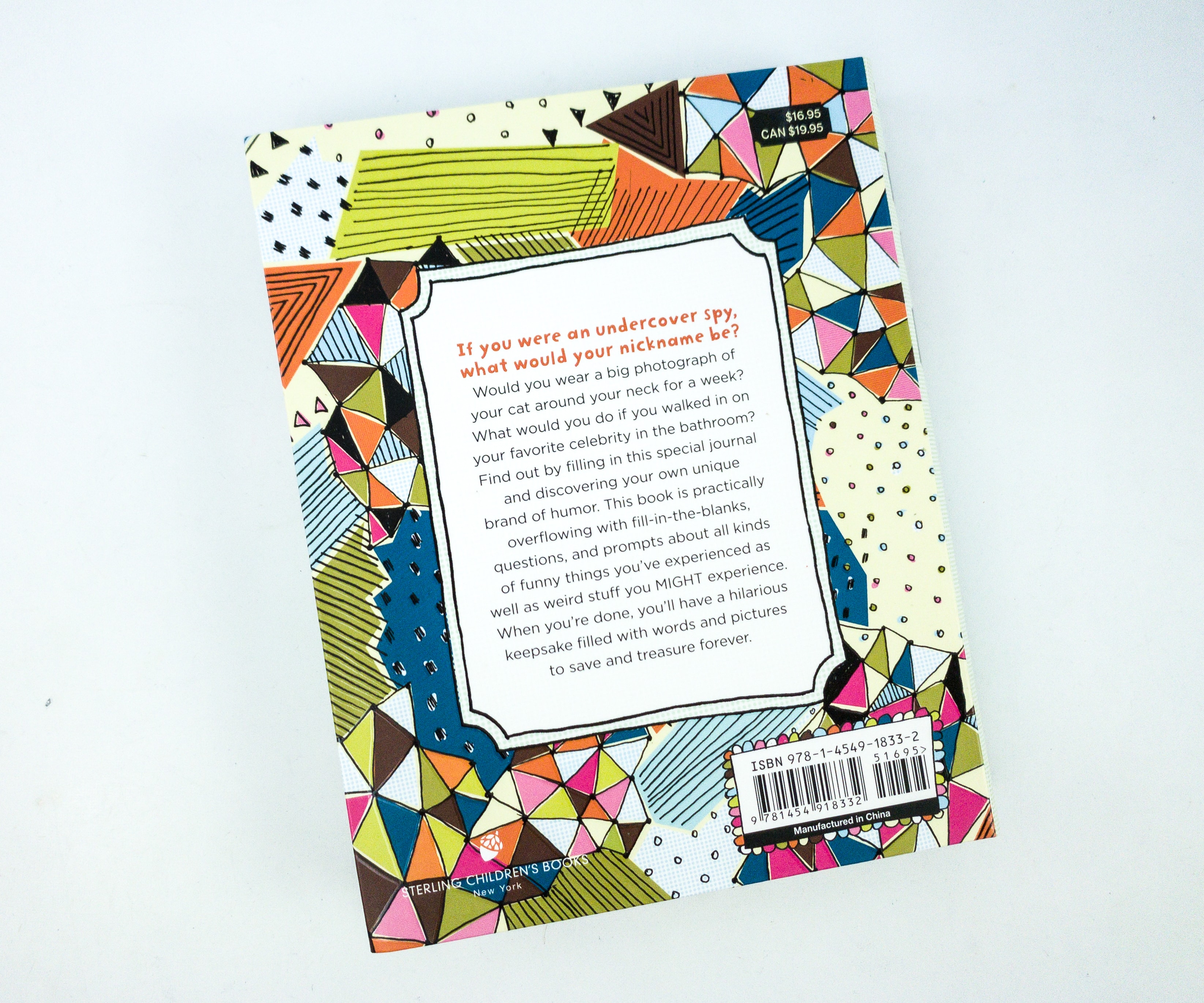 It's a book that will ask you silly questions! You can answer them and be as funny as you can be!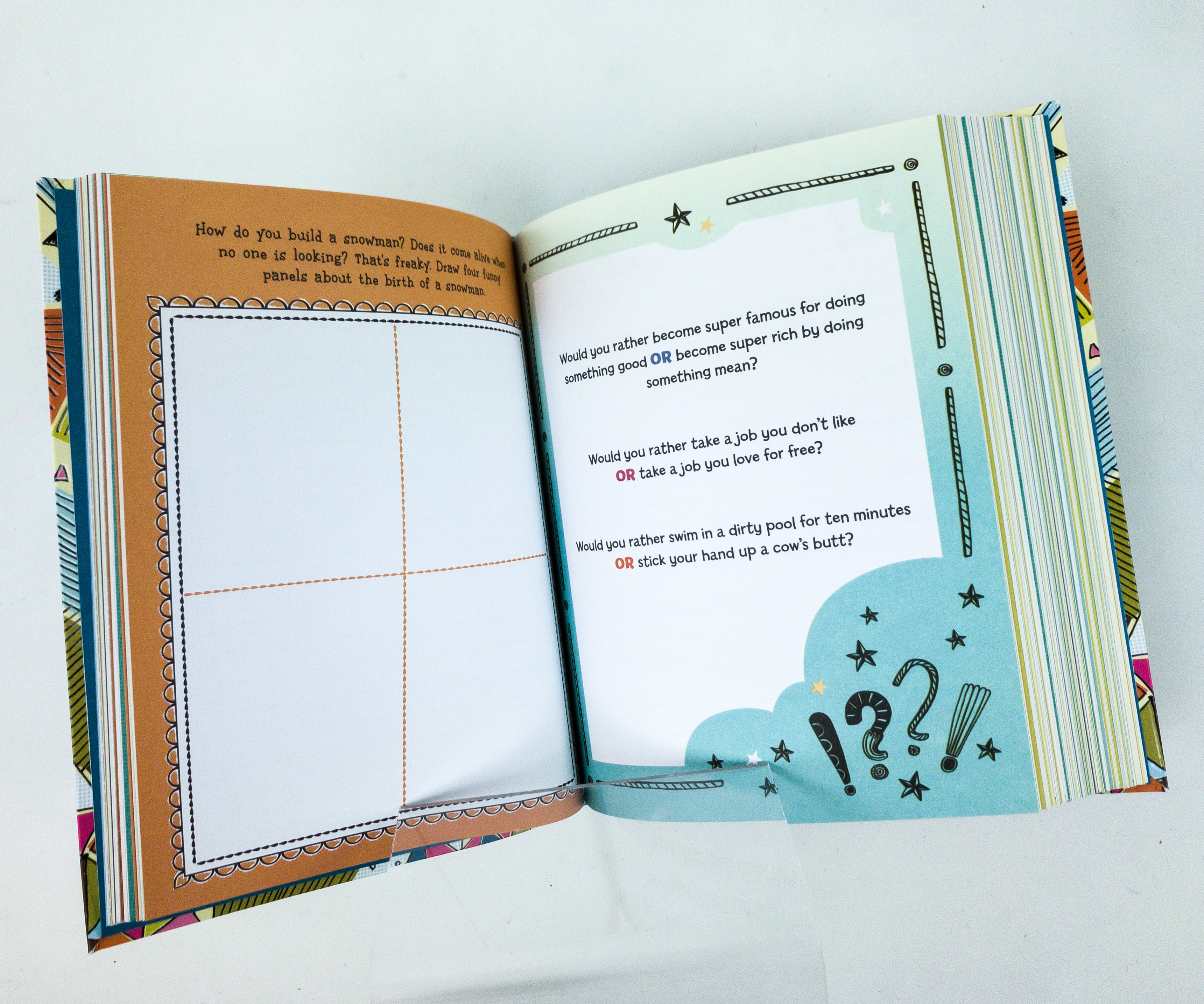 This amazing keepsake journal is filled with colorful and fun pages.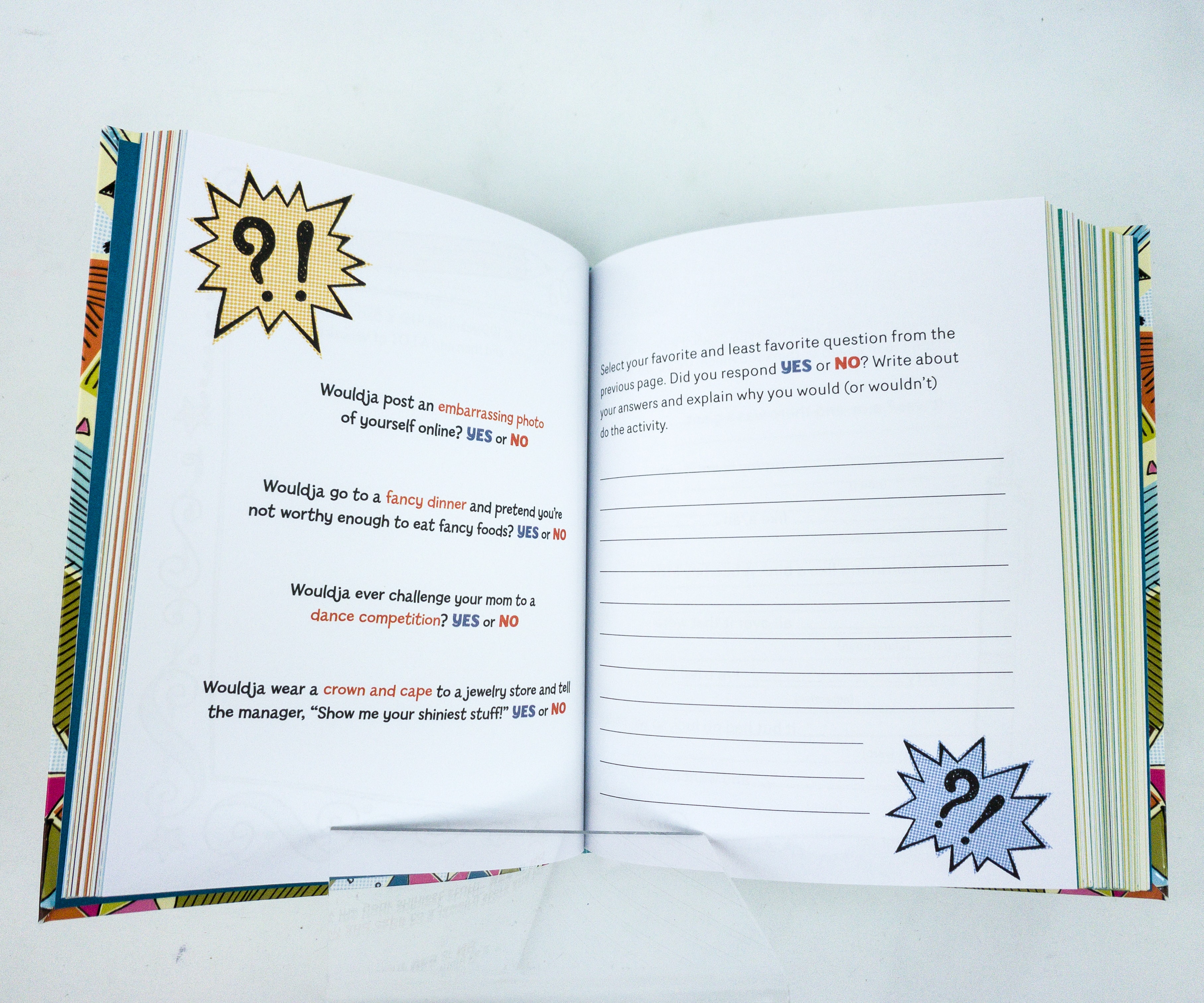 Aside from funny questions and fill-ins, you can also find some entries that have some hilarious prompts, cool doodle ideas, story suggestions, and even lists!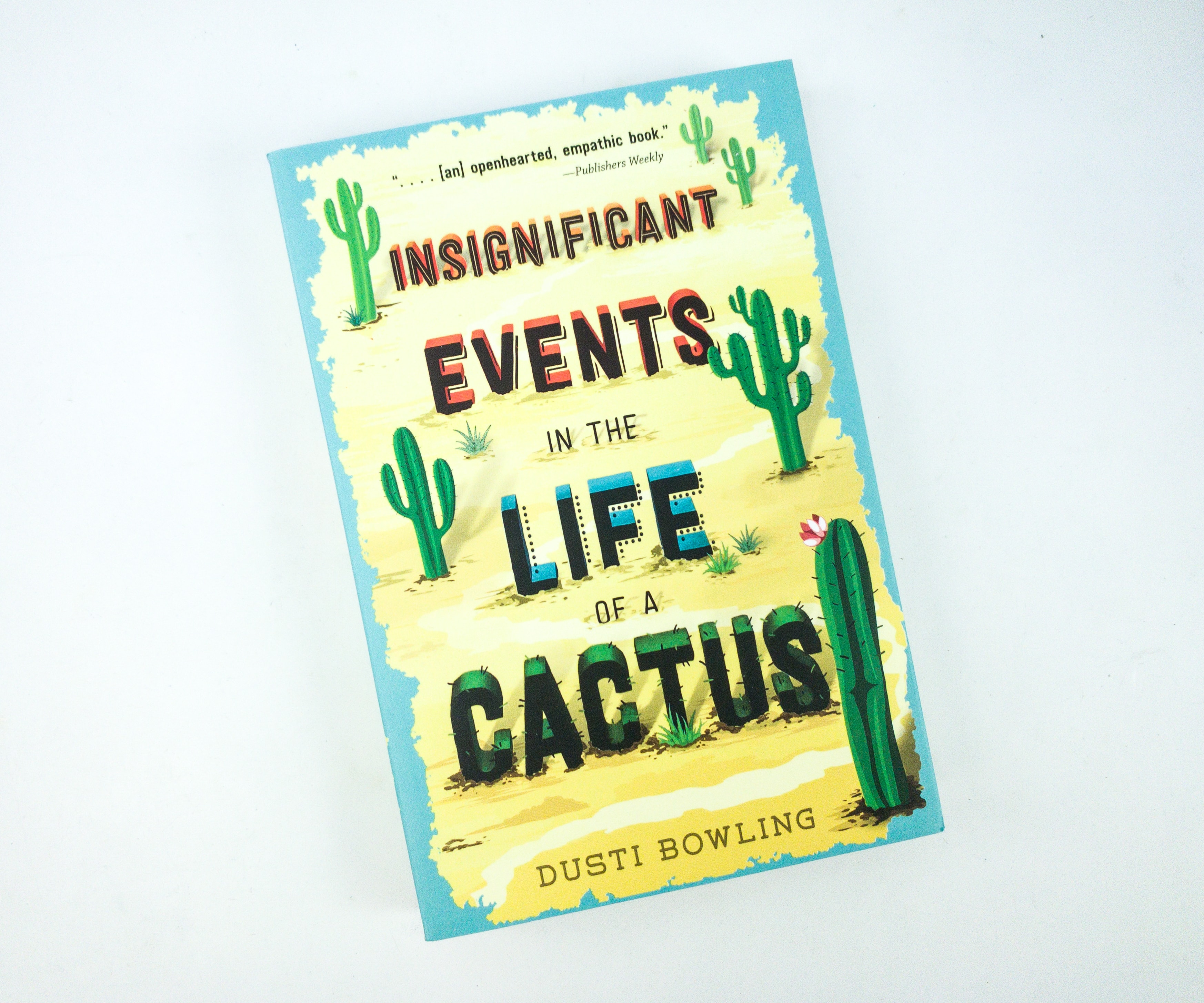 Insignificant Events In The Life Of A Cactus by Dusti Bowling ($7.19)
"Aven is a perky, hilarious, and inspiring protagonist whose attitude and humor will linger even after the last page has turned." —School Library Journal (Starred review)

Aven Green loves to tell people that she lost her arms in an alligator wrestling match, or a wildfire in Tanzania, but the truth is she was born without them. And when her parents take a job running Stagecoach Pass, a rundown western theme park in Arizona, Aven moves with them across the country knowing that she'll have to answer the question over and over again.

Her new life takes an unexpected turn when she bonds with Connor, a classmate who also feels isolated because of his own disability, and they discover a room at Stagecoach Pass that holds bigger secrets than Aven ever could have imagined. It's hard to solve a mystery, help a friend, and face your worst fears. But Aven's about to discover she can do it all . . . even without arms.

Autumn 2017 Kids' Indie Next Pick
Junior Library Guild Selection
Library of Congress's 52 Great Reads List 2018
The School Library Journal has some good things to say about the story, and it also won 2017 Reading the West Book Award for Children's Books, Autumn 2017 Kids' Indie Next List Pick, and 2018 Selection for the Yout One Book, One Denver program, so what's not to like?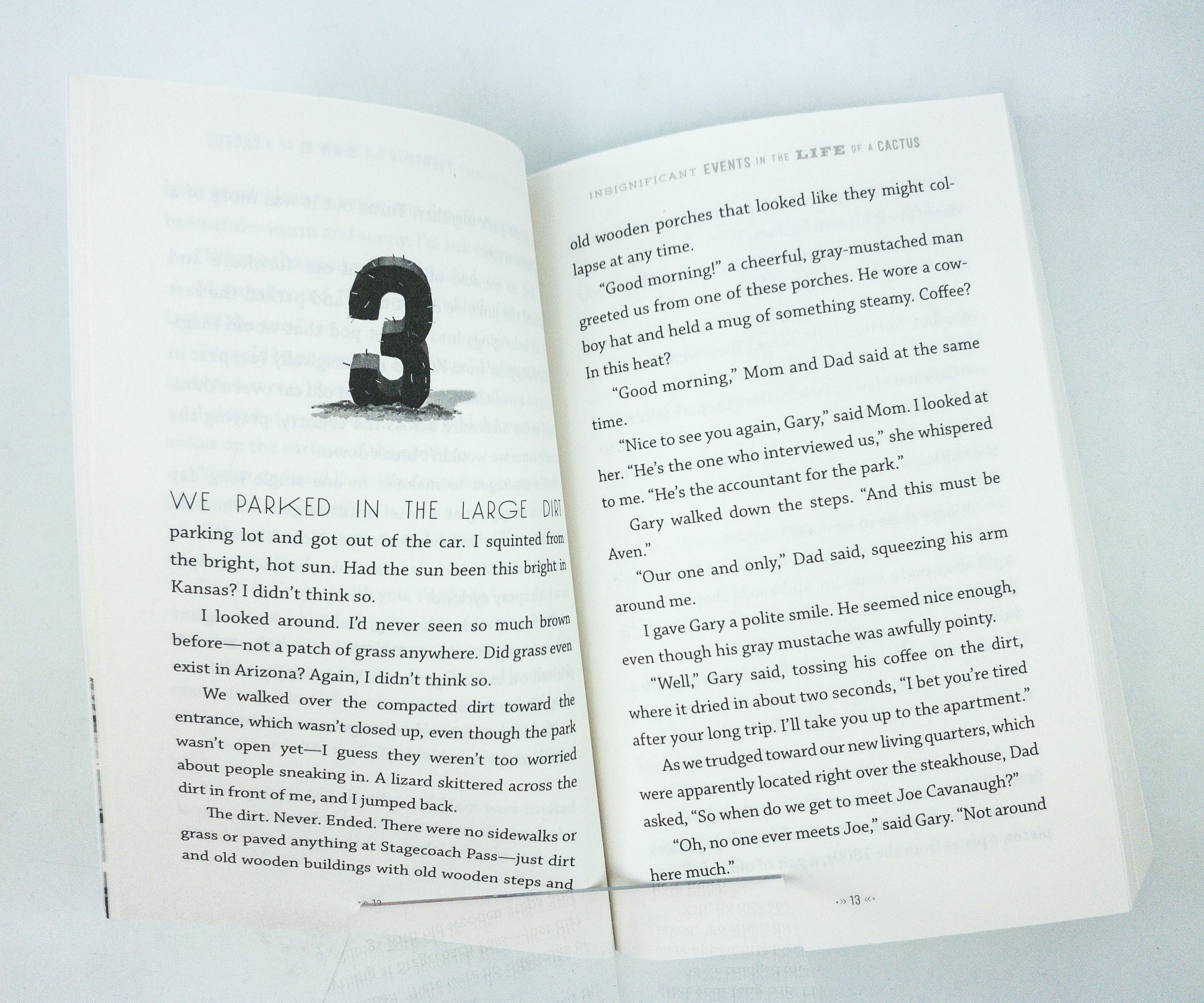 The story is about a girl named Aven Green who was born without arms. They are about to move from Kansas to Arizona, and she knows that the people will ask her again and again about her condition.
When she arrived at the new place, she also met a disabled guy named Connor, and they bonded. Also, both of them discovered a room at Stagecoach Pass that holds more secrets than they could have imagined. As they discovered the room, Aven will also discover the other things that she can do, even without having arms!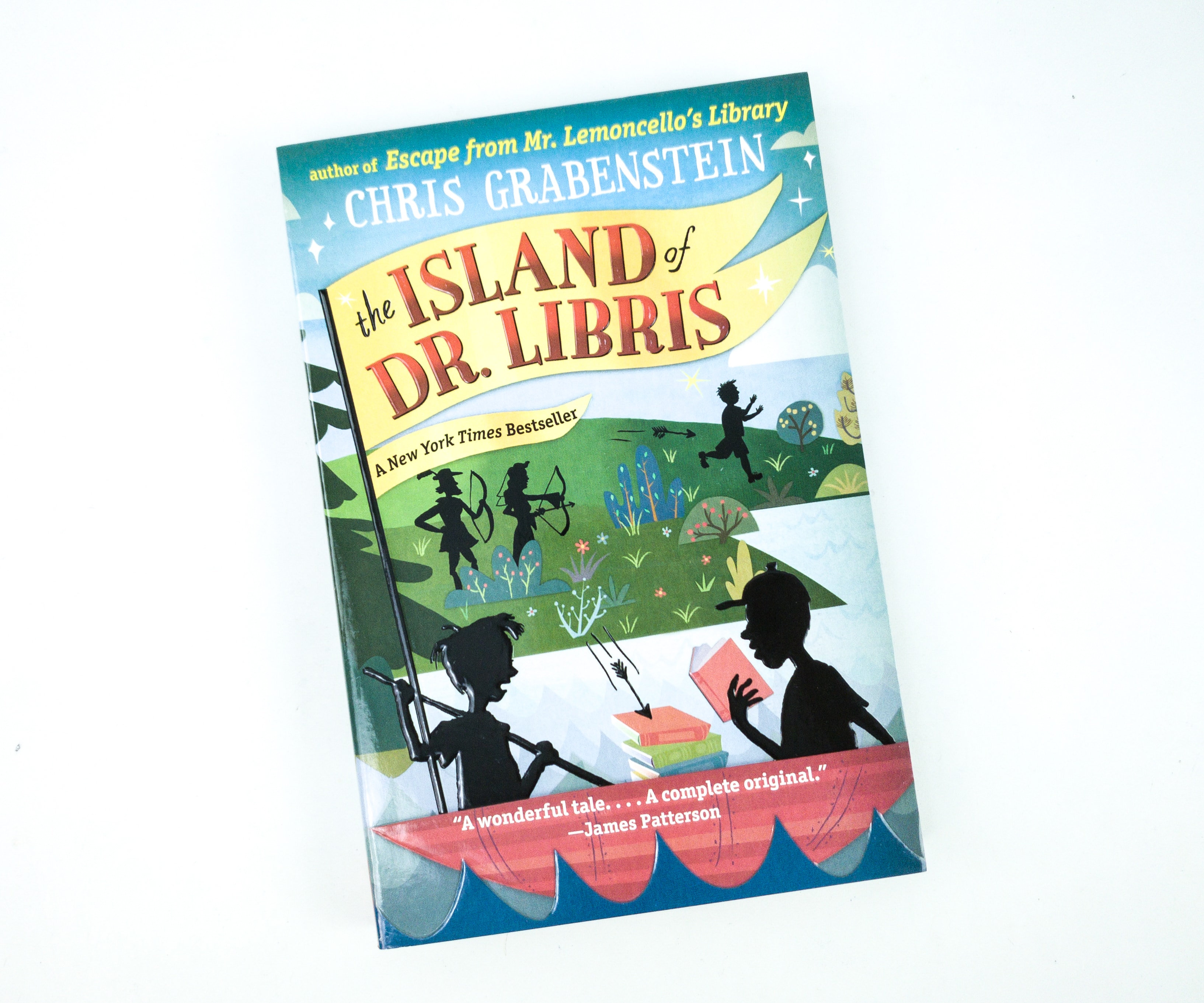 The Island Of Dr. Libris by Chris Grabenstein ($7.99)
Handpicked by Amazon kids' books editor, Seira Wilson, for Prime Book Box – a children's subscription that inspires a love of reading.

New from the author of Escape from Mr. Lemoncello's Library and coauthor of the I Funny series with James Patterson! Celebrate the power of imagination with this action-packed New York Times bestseller that shows that sometimes the real story starts after you close the book! 

What if your favorite characters came to life? Billy's spending the summer in a lakeside cabin that belongs to the mysterious Dr. Libris. But something strange is going on. Besides the security cameras everywhere, there's Dr. Libris's private bookcase. Whenever Billy opens the books inside, he can hear sounds coming from the island in the middle of the lake. The clash of swords. The twang of arrows. Sometimes he can even feel the ground shaking. It's almost as if the stories he's reading are coming to life! But that's impossible . . . isn't it?
The book gave us something to ponder on: "What if your favorite books came to life?"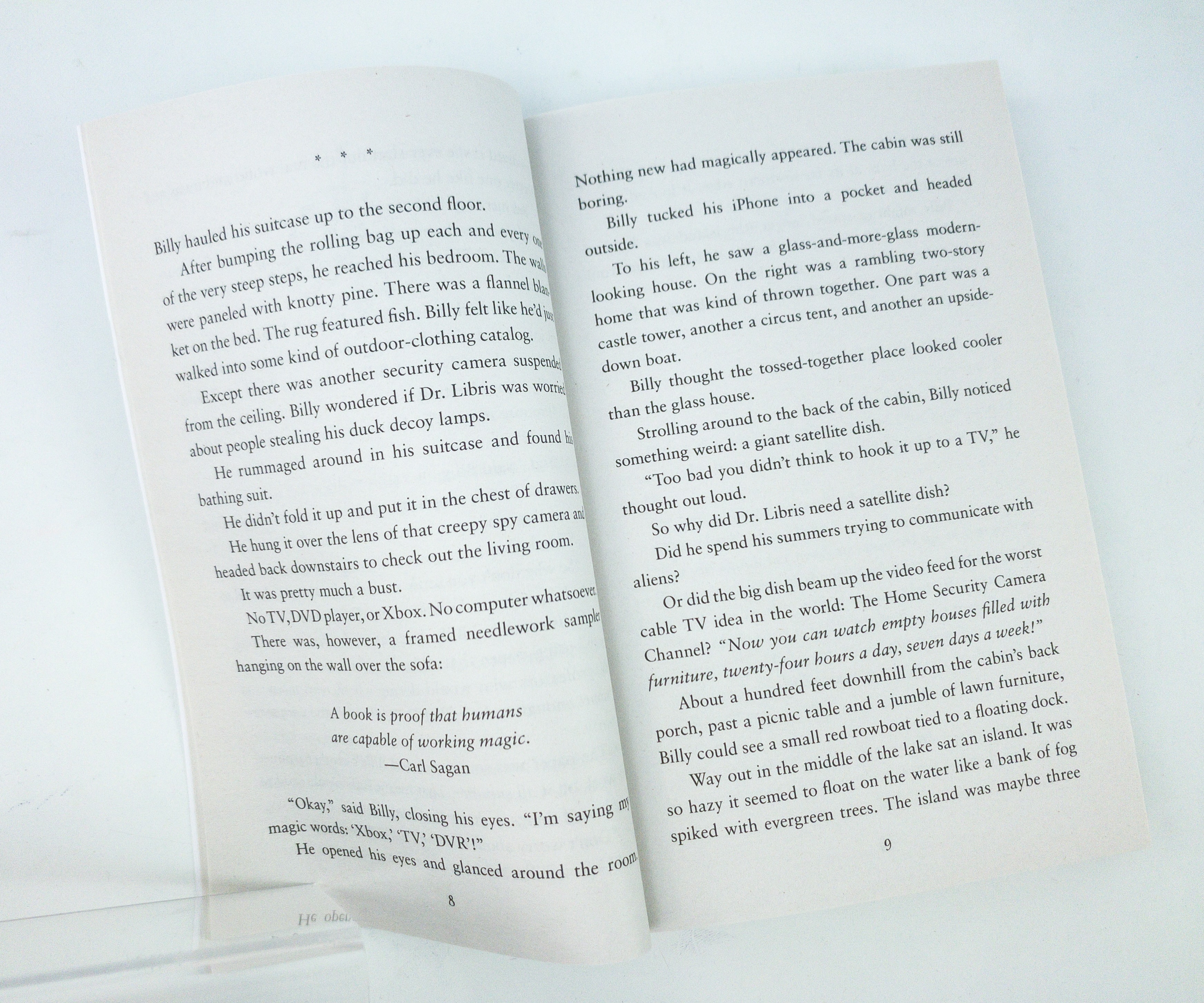 The story is a nice pick for imaginative kids.
However, there are some weak points in the book, like included characters that are quite confusing. Still, it's a good read for the kids, and it helps develop their creativity as well by using their wide imagination, just like the main character of the story.
Fantastic Failures by Luke Reynolds ($9.62)
Even the most well-known people have struggled to succeed! Find out what they learned and how they turned their failures into triumphs with this engaging and youthful guide on how to succeed long term.

There is a lot of pressure in today's society to succeed, but failing is a part of learning how to be a successful person. In his teaching career, Luke Reynolds saw the stress and anxiety his students suffered over grades, fitting in, and getting things right the first time. Fantastic Failures helps students learn that their mistakes and failures do not define their whole lives, but help them grow into their potential.

Kids will love learning about some of the well-known people who failed before succeeding and will come to understand that failure is a large component of success. With stories from people like J. K. Rowling, Albert Einstein, Rosa Parks, Sonia Sotomayor, Vincent Van Gogh, Julia Child, Steven Spielberg, and Betsy Johnson, each profile proves that the greatest mistakes and flops can turn into something amazing. Intermixed throughout the fun profiles, Reynolds spotlights great inventors and scientists who discovered and created some of the most important medicines, devices, and concepts of all time, including lifesaving vaccines and medicines that were stumbled upon by mistake.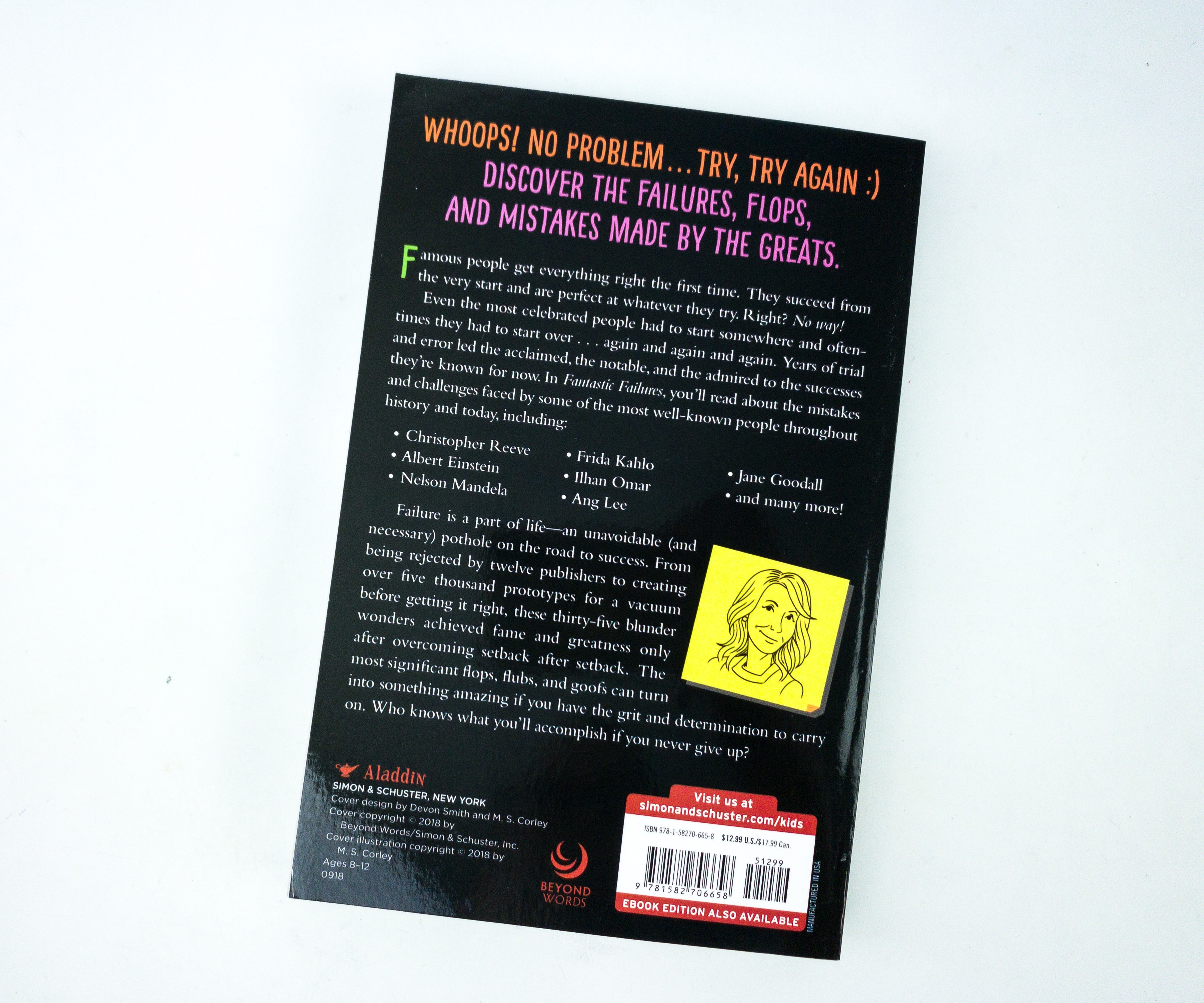 The book presented profiles about well-known people, and how their failures paved the way to greater success!
One of the featured personalities is the great Albert Einstein! We all know how his great mind worked, but we haven't really heard about the failures that he overcame before becoming one of the greats.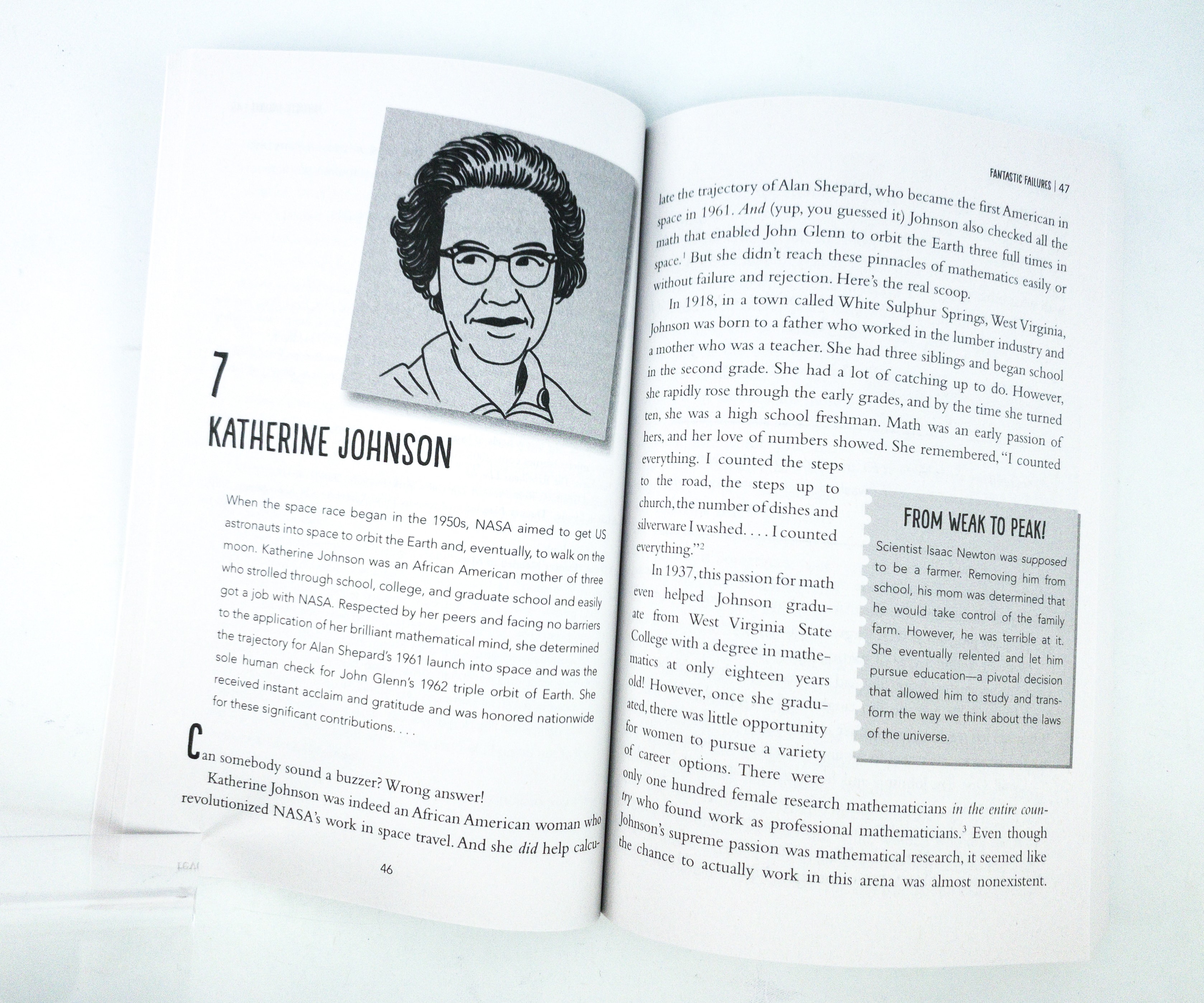 The book teaches us, not only the kids, that failure is a part of life, and that it's not the end for you if you experience it. It will definitely open up more opportunities, and eventually, will lead you to achieve your goals!
Again, this month's Literati Club Phoenix presented us with some amazing reads, and we love them. Our favorites are definitely the L.O.L. Keepsake Journal and the book Fantastic Failures! While some of the stories have amazing plots, like Lalani of the Distant Sea, the reality-based ones are more appealing. It's fun to know about the mythologies and culture of other places too. The books once again took up most of my kids' time, but I am happy knowing that they're spending more time reading and learning about a lot of stuff. We're sad to see the high-quality cardstock print go, but at least our home library is again filled with amazing titles.
What do you think of this month's Literati Club Phoenix selections?