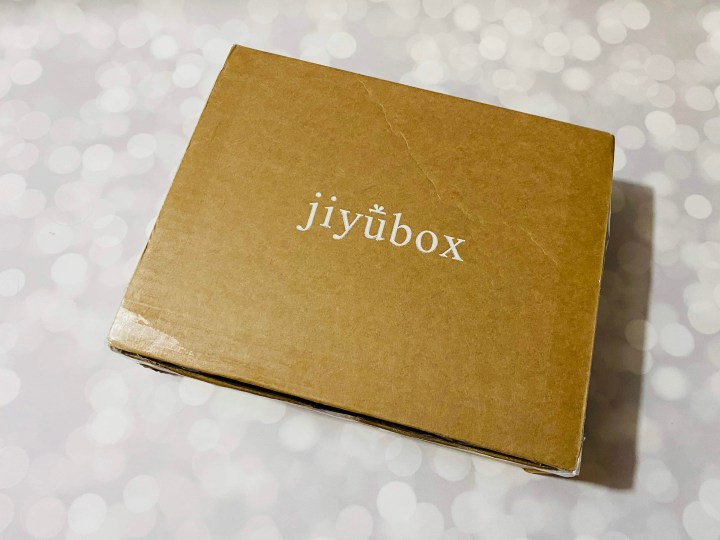 jiyūbox is an exciting Canadian subscription box focusing on natural beauty, self-care, jiyūbox is based in Vancouver (I loooove a local box!) and they feature skincare brands that line up with their mission statement of providing natural, effective, safe skincare and beauty products. Everything included is cruelty-free! The box ships quarterly and in addition to the recurring subscription model they also do one-time personalized boxes to gift.
DEAL: Get 10% off your first box! Use the coupon code HELLOBOX10.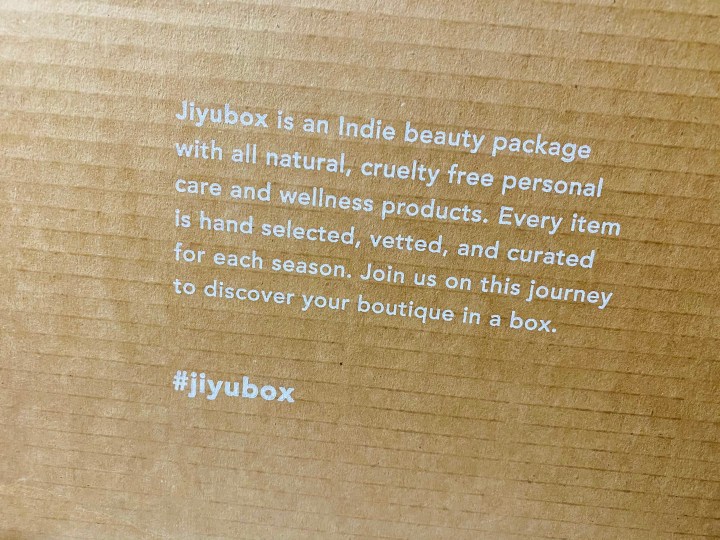 I'm so excited to see what's inside this box, so let's dive right in!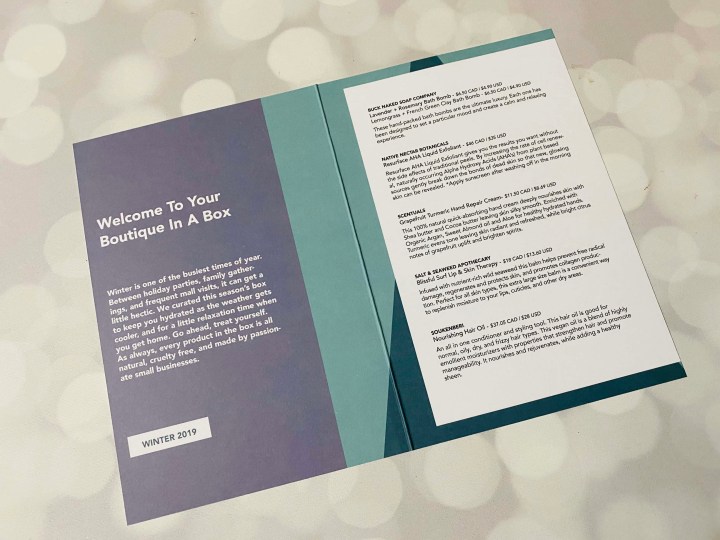 The information card is an adorable design that opens to include information on the box's theme as well as information on the products included. The winter box focuses on hydration in the cold weather as well as relaxation during the busy season!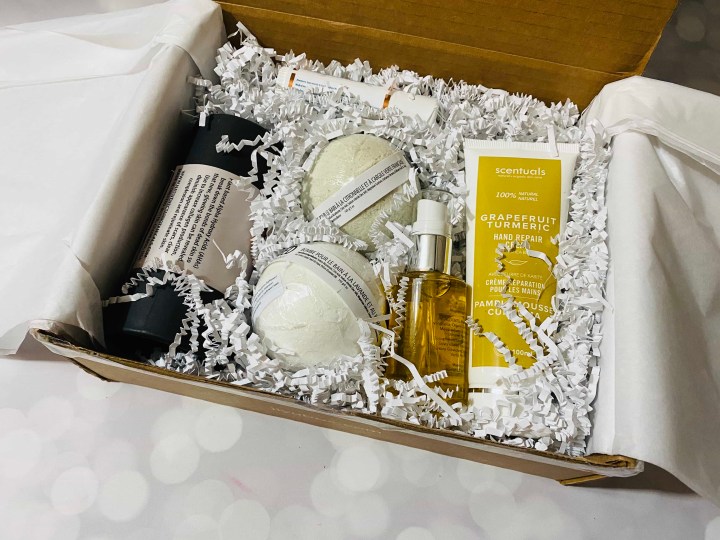 First look!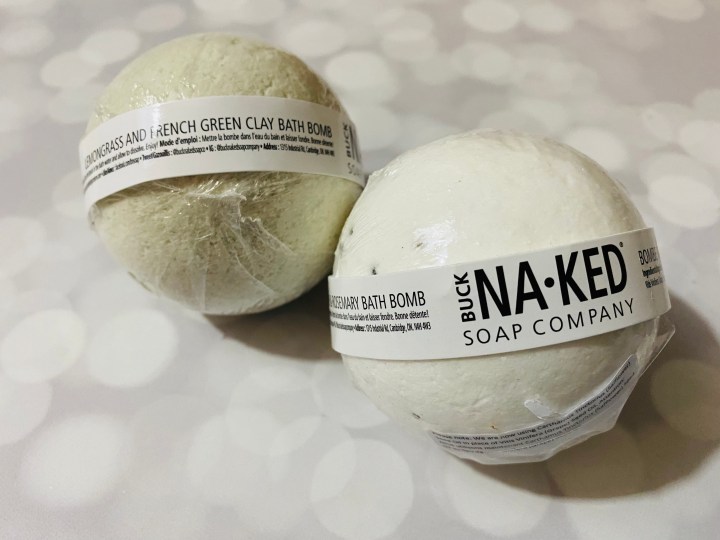 The first items I noticed were a pair of bath bombs from Buck Naked Soap Company, a Canadian bath and body line.
Lemongrass and French Green Clay ($4.91) — The citrus scent of this bath bomb was amazing! The fizz wasn't as exciting as some other bath bombs I have tried, but the water was left silky and fragrant and my skin felt soft and clean. French green clay draws out excess oil, but I loved this bath bomb especially because my skin didn't feel dried out or tight as a result of soaking in it.
Lavender and Rosemary ($4.91) — Lavender and I have a love hate relationship, so I was surprised by how much I enjoyed the combination of lavender and rosemary. This bath bomb had more of a fizz to it, which is always fun to watch. (I'm easily amused by bath bombs…) The little bits of dried lavender added to the relaxing ritual of having a nice hot bath on a cold winter night!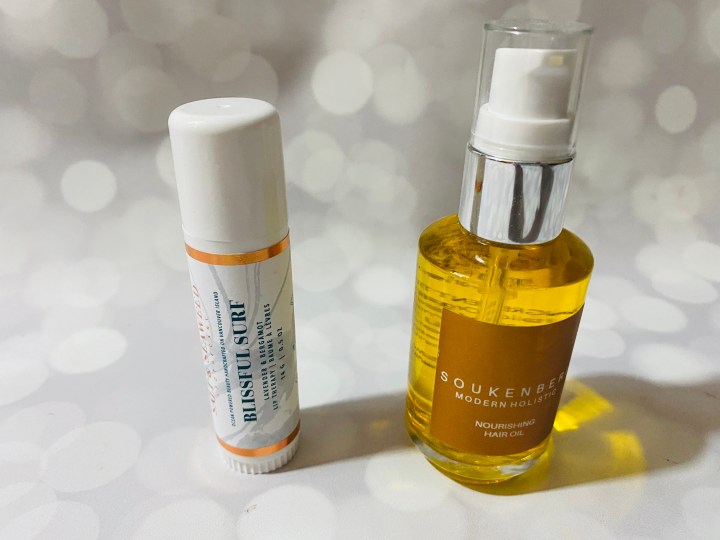 Salt & Seaweed Blissful Surf Lip & Skin Therapy ($13.60) — In winter, a multipurpose balm like this is ESSENTIAL because you can use it on everything — lips, hands, cuticles, etc. This handy balm from Salt & Seaweed includes (unsurprisingly) seaweed, known for its antioxidants. Cocoa butter, shea butter, and coconut oil seal in moisture to keep skin soft and protected. The lavender and bergamot scent is really nice without being too overpowering.
Soukenberi Nourishing Hair Oil ($28) — Hair oil is an easy way to tame flyaways, add shine, and keep hair protected from moisture loss during the cold weather. I have fine hair so I find many hair oils too heavy, and this oil by Soukenberi was pretty lightweight and easy to use.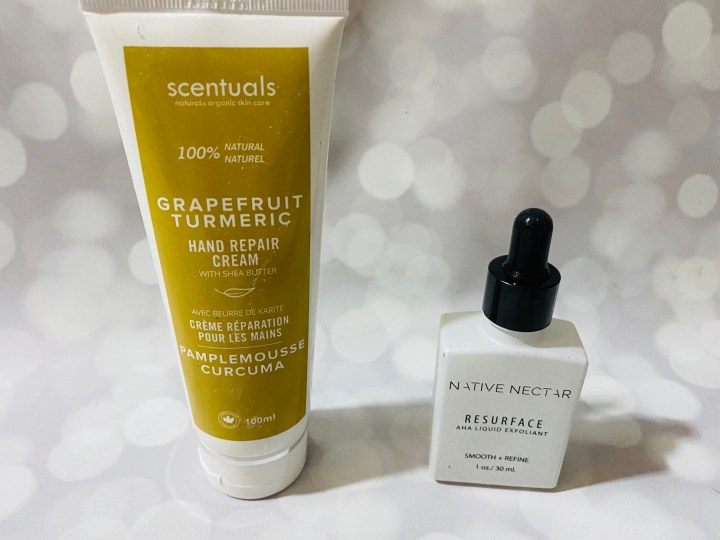 Scentuals Grapefruit Turmeric Hand Repair Cream ($8.73) — A yummy hand cream has already made its way into my purse. Shea butter and cocoa butter leave hands a bit greasy, so with this cream, I find a little goes a long way. The grapefruit scent isn't too strong but adds a nice little whiff of citrus when I move my hands. I really like how this kept my hands healed during work, as my hands dry out quickly handling money all day and then the cold temperature on top of that makes it worse!
Native Nectar AHA Liquid Exfoliant ($35) — AHAs gently exfoliate away the dead skin to expose new skin below. When using an AHA make sure to use sun protection, as the freshly exposed skin is photosensitive and can easily burn. This is a fruit-based AHA that uses the natural citric acids as well as sugar cane. I found it easy to use and my skin wasn't irritated.
Jiyūbox put together an amazing winter box full of items to nourish skin, lips, and hair. I love their continued focus on cruelty-free products with great ingredients. The winter box included brands from both Canada and America, so I was happy to see my country again represented. My favourites from the lot are definitely the bath bombs and the hair oil, but the other items are already in my regular routine as well!
What did you think of this Canadian subscription?