IndiFix sends a variety of delicious snack foods every month and is the only Indian snack subscription that we know of! Each month you can expect to receive a unique selection of India's most loved snacks & treats such as chips, cookies, chocolate, spicy snacks, candy, traditional desserts, noodles, soda, juices, and more. Choose between the Super Fix ($39 per month and 20+ full-sized items) or Original Fix ($25 per month and 12+ full-sized items) and start exploring the flavors of India every month! Save some cash with a longer subscription term and know that shipping is free for any level!
I am reviewing the Super Fix, $39 per month and 20+ items!
This is my very first IndiFix and I am so excited to try these snacks! The box was packed to the top and was heavy.
I found a card that reminded me that IndiFix donates a meal to a child in need with each box purchased.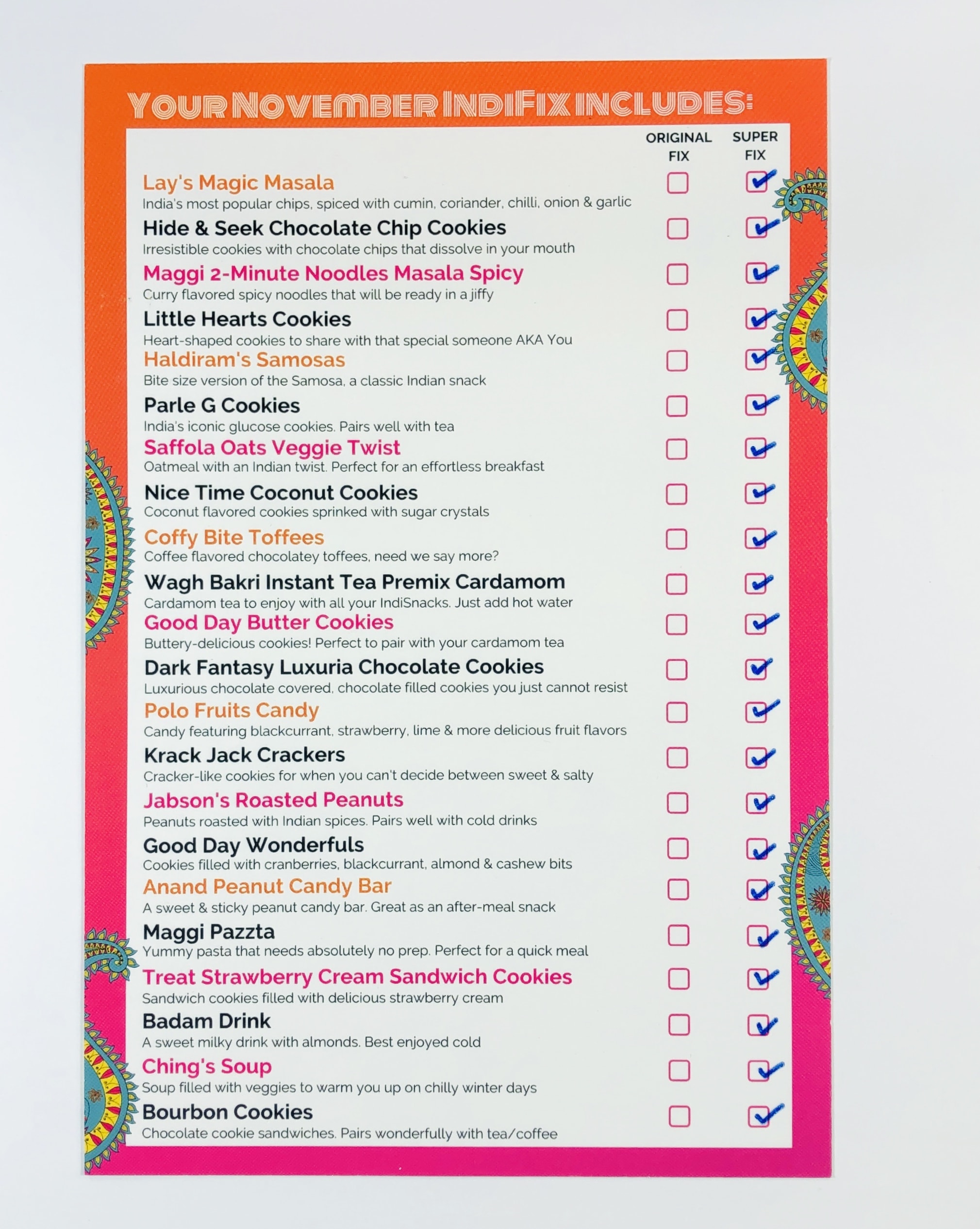 The back of my card had the items listed for my box. That's 22 items in this Super Fix box!
Everything in my box!
Wagh Bakri Instant Cardamom Tea I couldn't find ingredients for this drink online but I assume it has tea and dried milk at the minimum. Mix with 6 ounces of hot water and stir.
After mixing this up I can edit to add it also has cardamom and sugar, lots of sugar. I live in a place where they don't blink if you ask for sweet tea but I can say this is way too sweet for me. It's almost like tea hot chocolate, it is so creamy and has a lovely spicy and floral cardamom flavor but the sweetness is overwhelming to my taste buds. I also want to add that it dissolves completely so there are no tea solids in the bottom of the cup.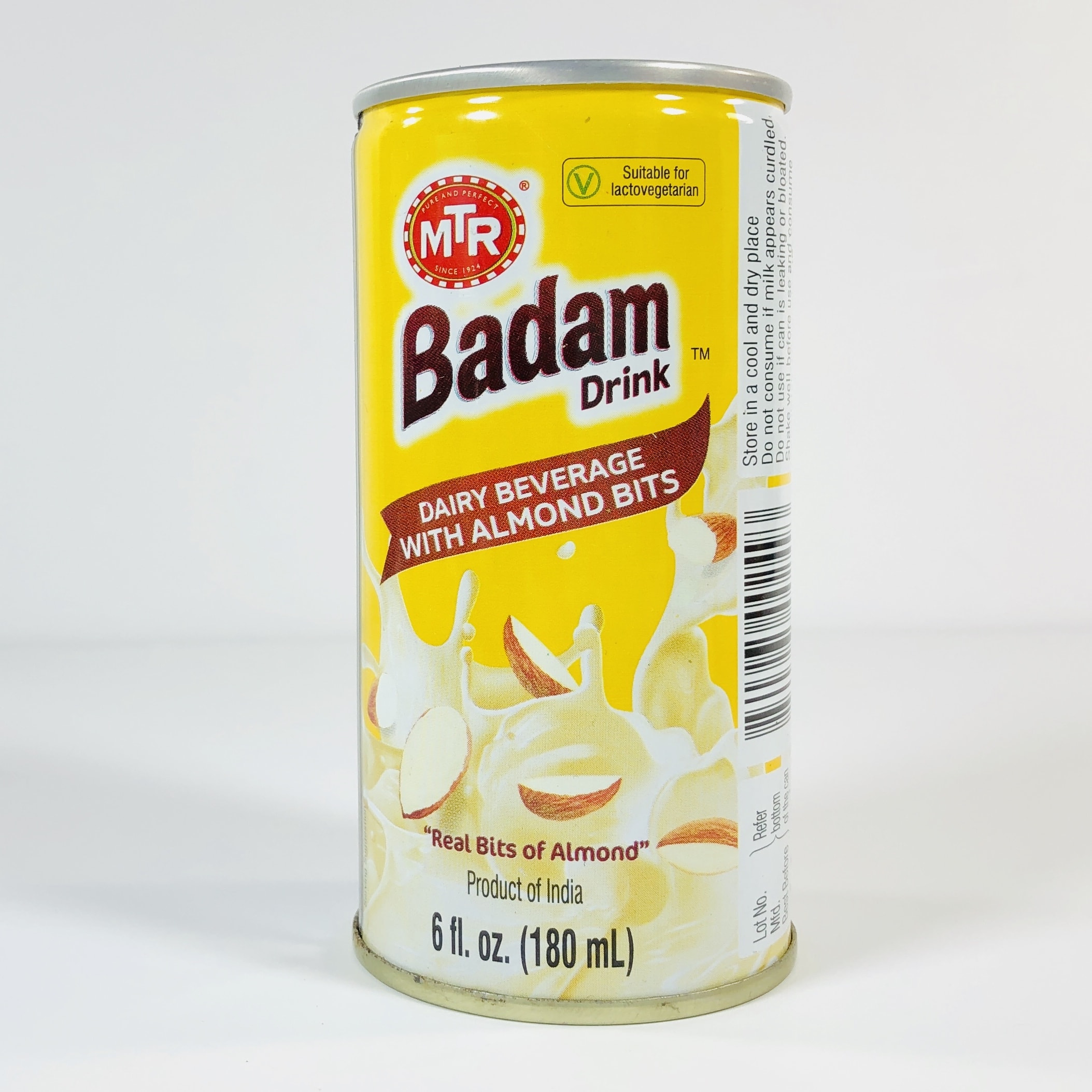 MTR Badam Drink is one of the strangest drinks I've tried and I can't decide if I like it or not. It's made with buffalo milk and has saffron and cardamom. It is thinner than eggnog but very rich and sweet, plus it has little pieces of almond. I thought it tasted like a mix of evaporated milk and sweetened condensed, but with nuts and spices.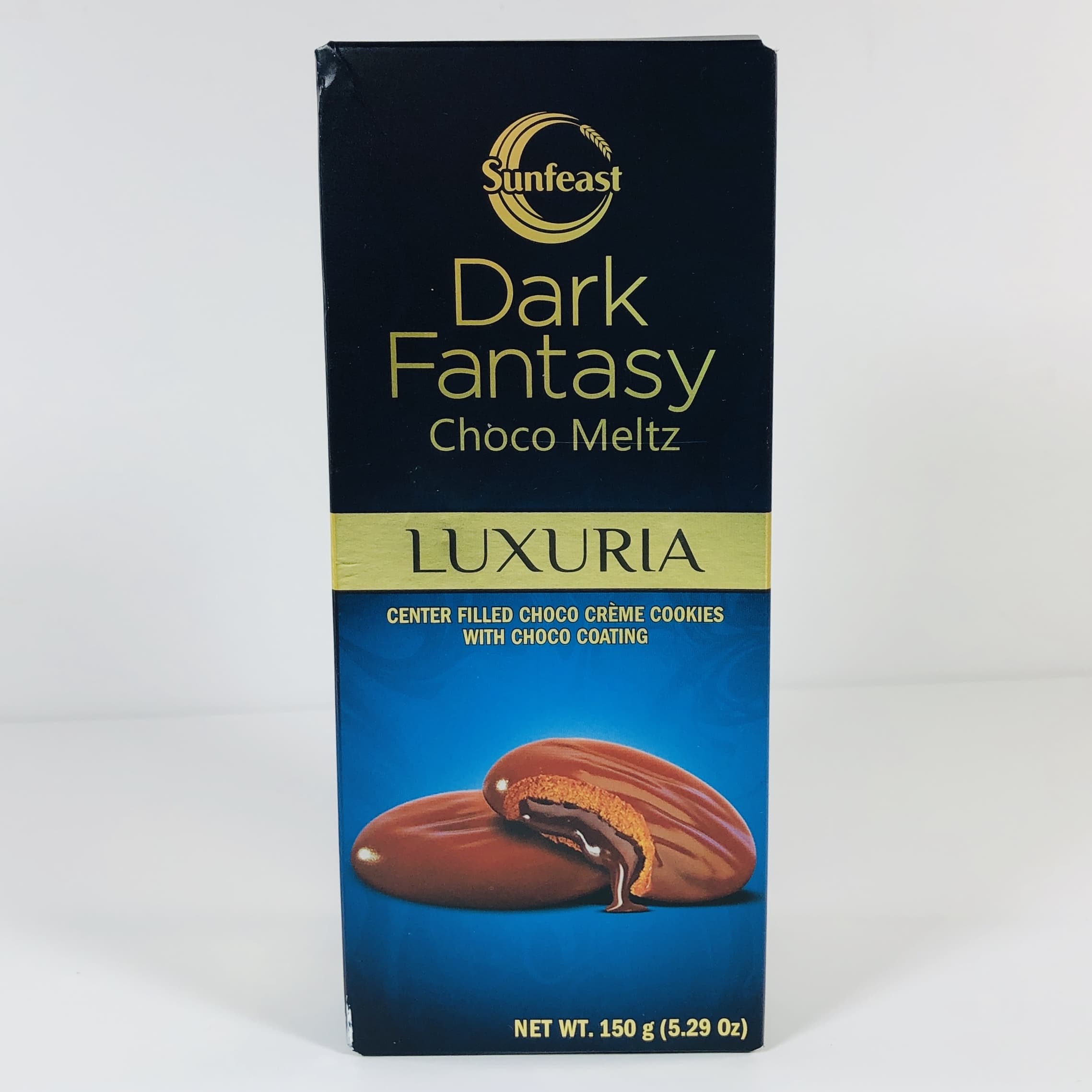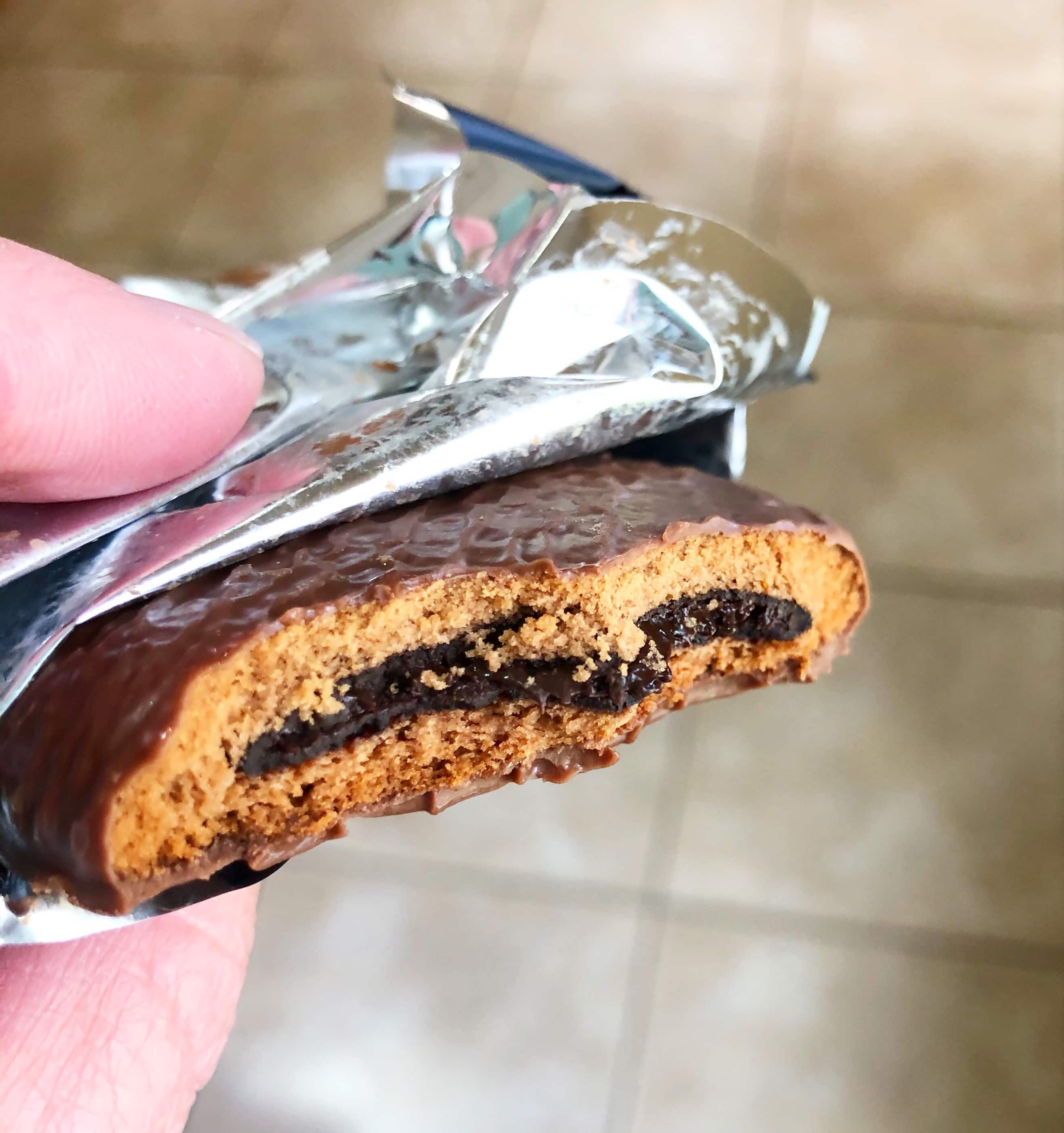 Sunfeast Dark Fantasy Choco Meltz are individually wrapped so no worries about them becoming stale once opened. The cookie is chocolate with a chocolate filling and chocolate flavored coating.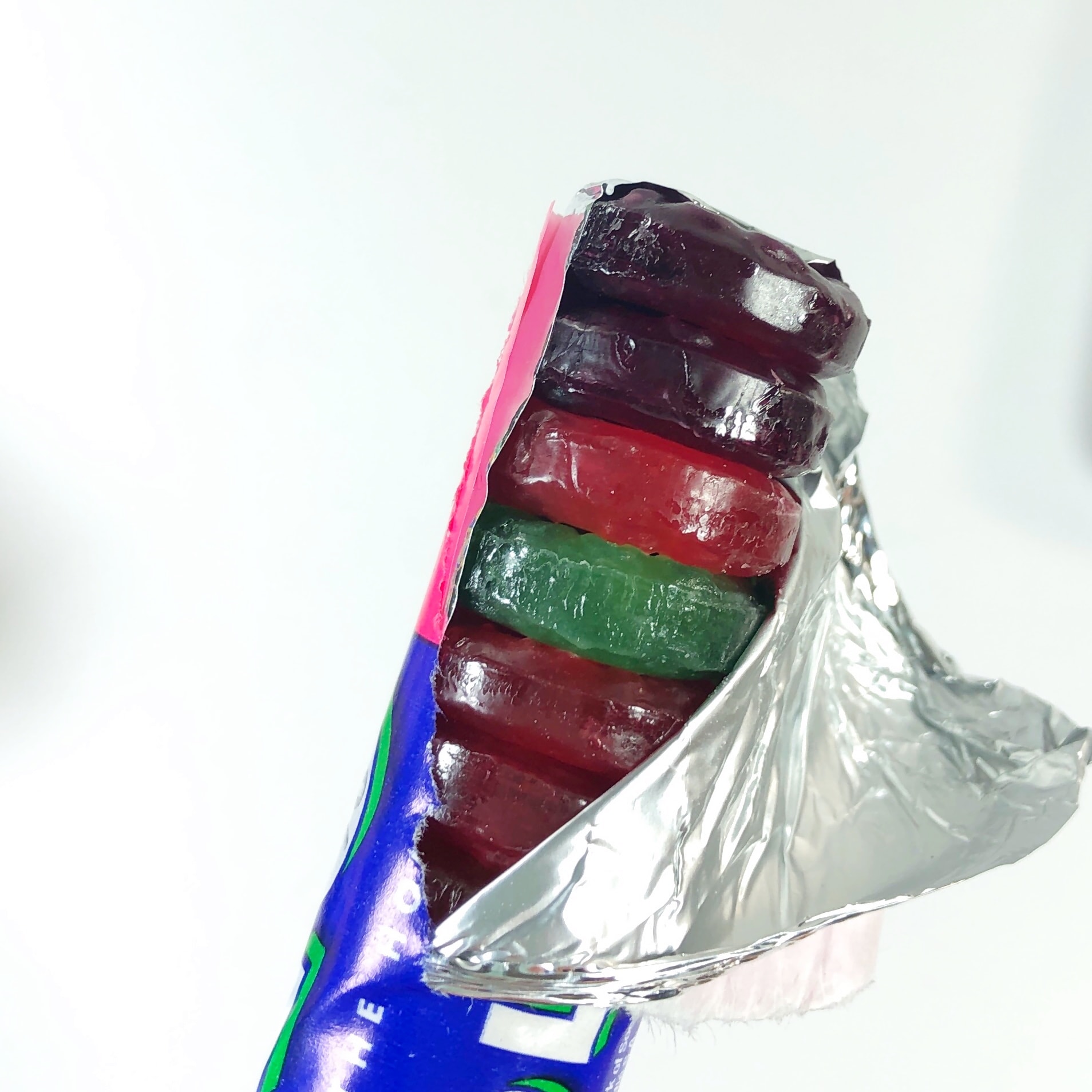 Polo Fruits are similar to Lifesavers fruit candies and come in 5 flavors: strawberry, blackcurrant, orange, lemon, and lime. These expire this month so I better eat them quickly!
Britannia Little Hearts Biscuits look like palmiers but are not quite the same consistency. They are sweet, crispy, and bland and would go good with coffee or tea.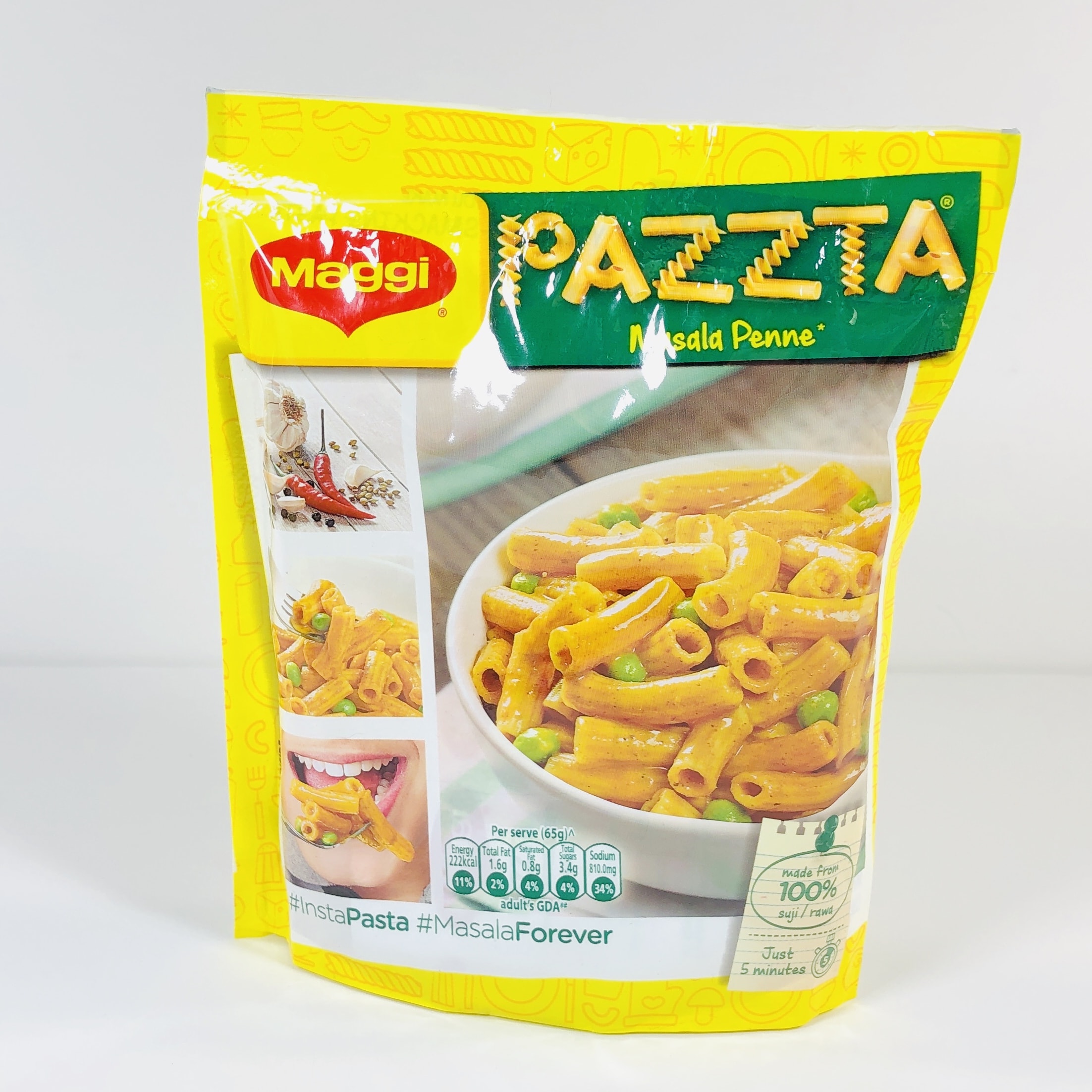 Maggi Pasta Masala Penne is a quick cooking pasta dish with an Indian twist. Bring water to a boil, add the mix, then cook for 5 minutes before serving. I am saving it for a day when I need something quick for lunch or as a side dish.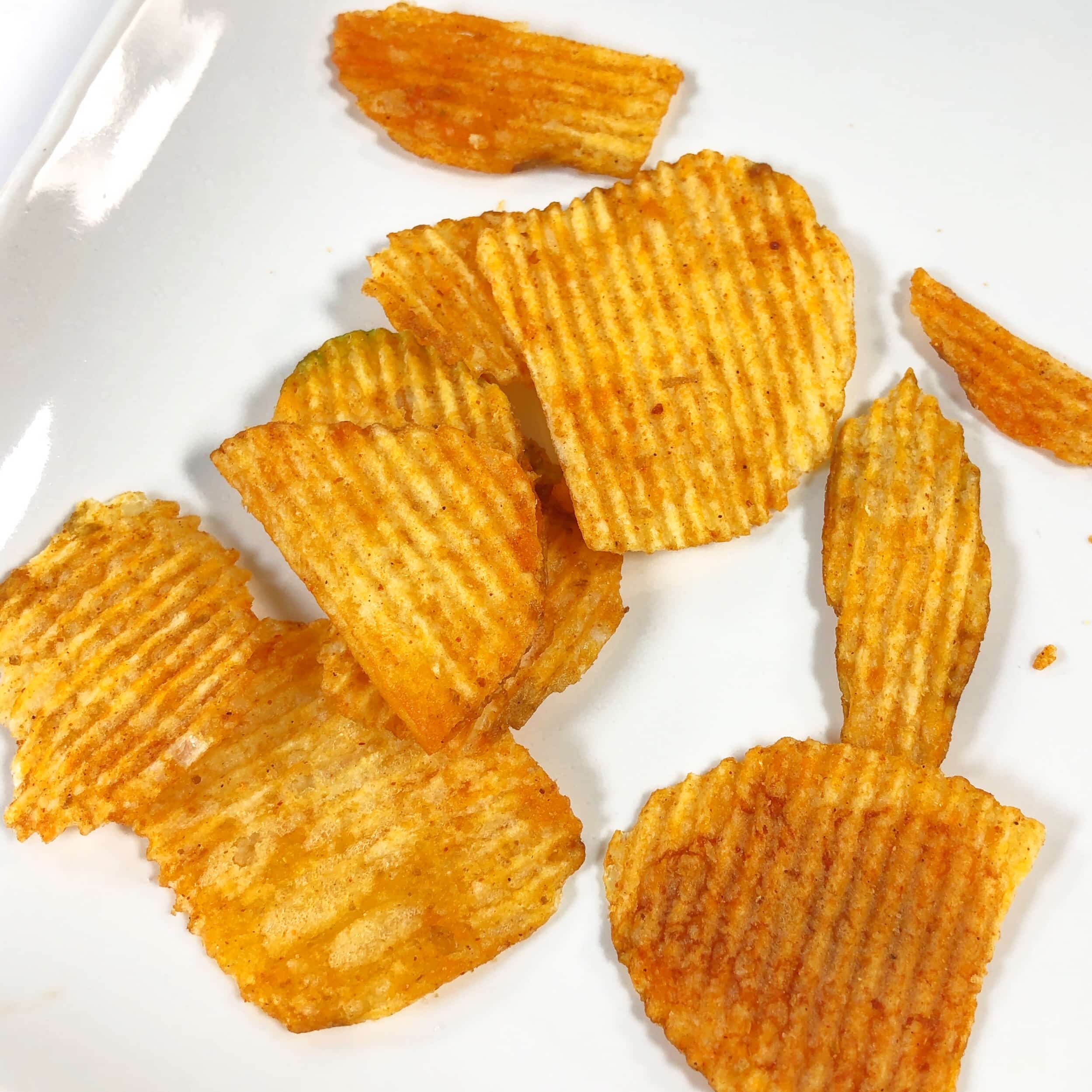 Lay's India's Magic Masala Why can't we have cool flavors like this in the U.S.? I think it tastes like a BBQ chip, but with more spice (but not too spicy!) and without the sweetness.
Jabsons Roasted Peanuts in Hing Jeera (left) are flavored with asafoetida and cumin, and you can see the cumin seeds are stuck to the peanuts. They taste very much like spicy cumin peanuts and I can't decide if that's good or bad. The peanuts are top notch though.
Anand Nelakadale Chikki Bar is peanut brittle, but with a less buttery flavor than I am used to here in the U.S. Your teeth have been warned!
Ching's Secret Hot & Sour Soup I didn't get to try this instant soup as it was expired. See pic below.
Maggi Masala Spicy Noodles I am not one for instant noodles but will share this spicy take with my kids and ask them how it compares to the ramen they get from the store.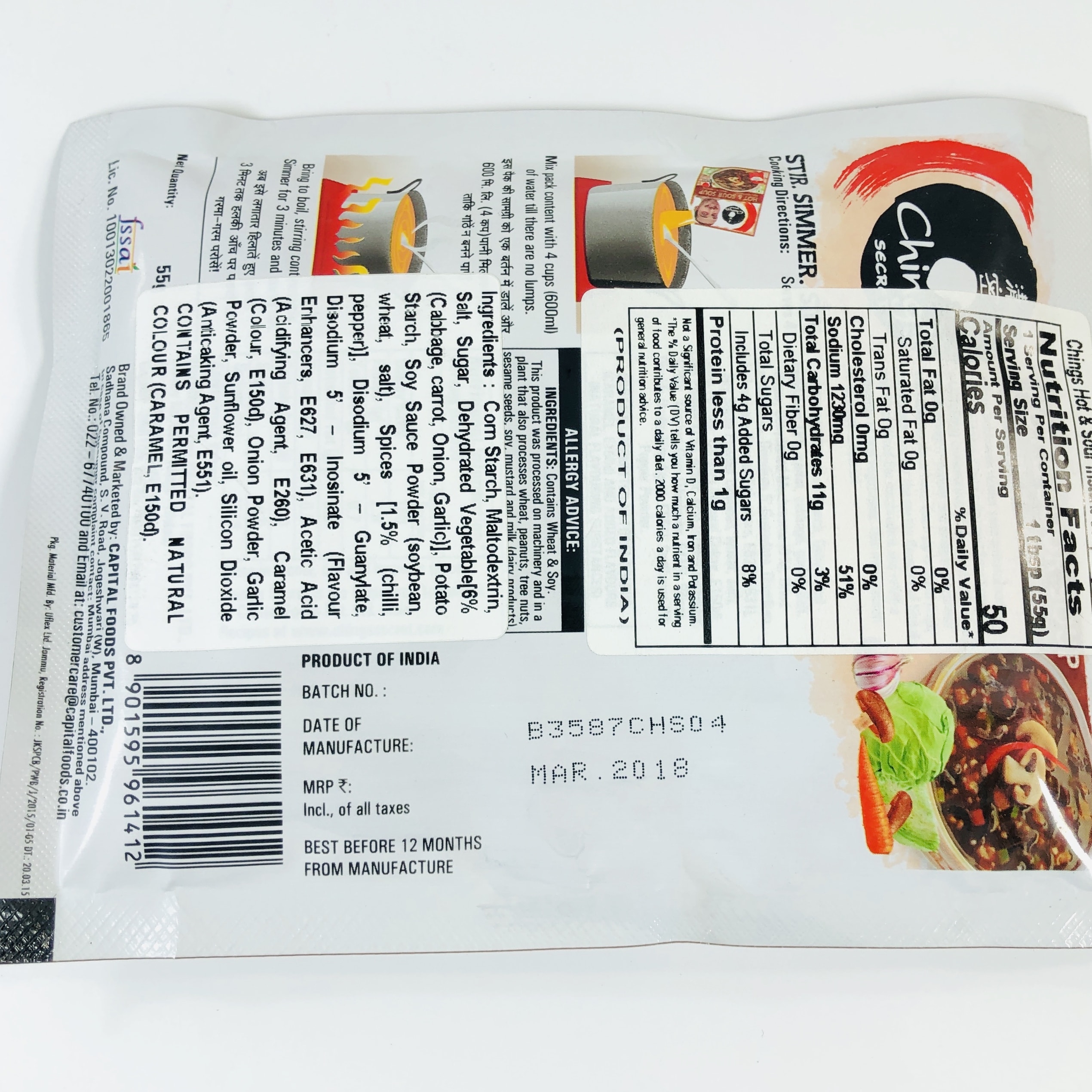 The Hot and Sour soup was the only thing I found that was expired. It happens. I tossed it. Just to be clear, it expired in March of this year, about 9 months ago.
Saffola Masala Oats Veggie Twist I haven't taken the plunge and tried this snack yet. I have eaten oatmeal my entire life as either a cereal (in granola or sweetened and topped with milk) or as a baking ingredient in cookies etc. I can't imagine eating it in a savory way so I'm going to have to work up my courage, maybe I need to pretend it isn't made with oats!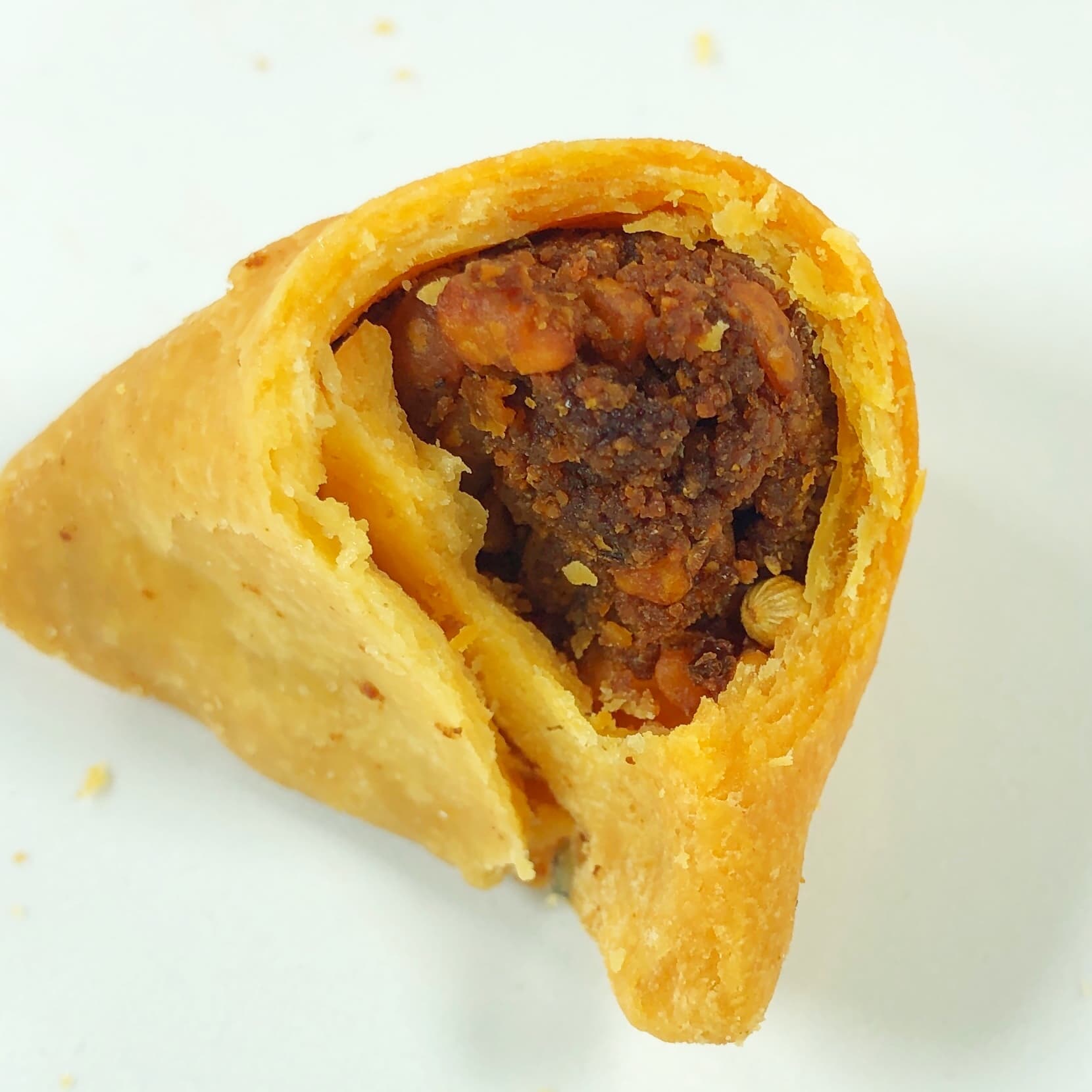 Haldiram's Samosa Snack We received a big bag of these treats. I like to bake frozen samosa's from Trader Joe's but these were too strong for my tastes. The outside was similar to pie crust while the inside was too hard for me to bite. What I did manage to eat was just super spicy.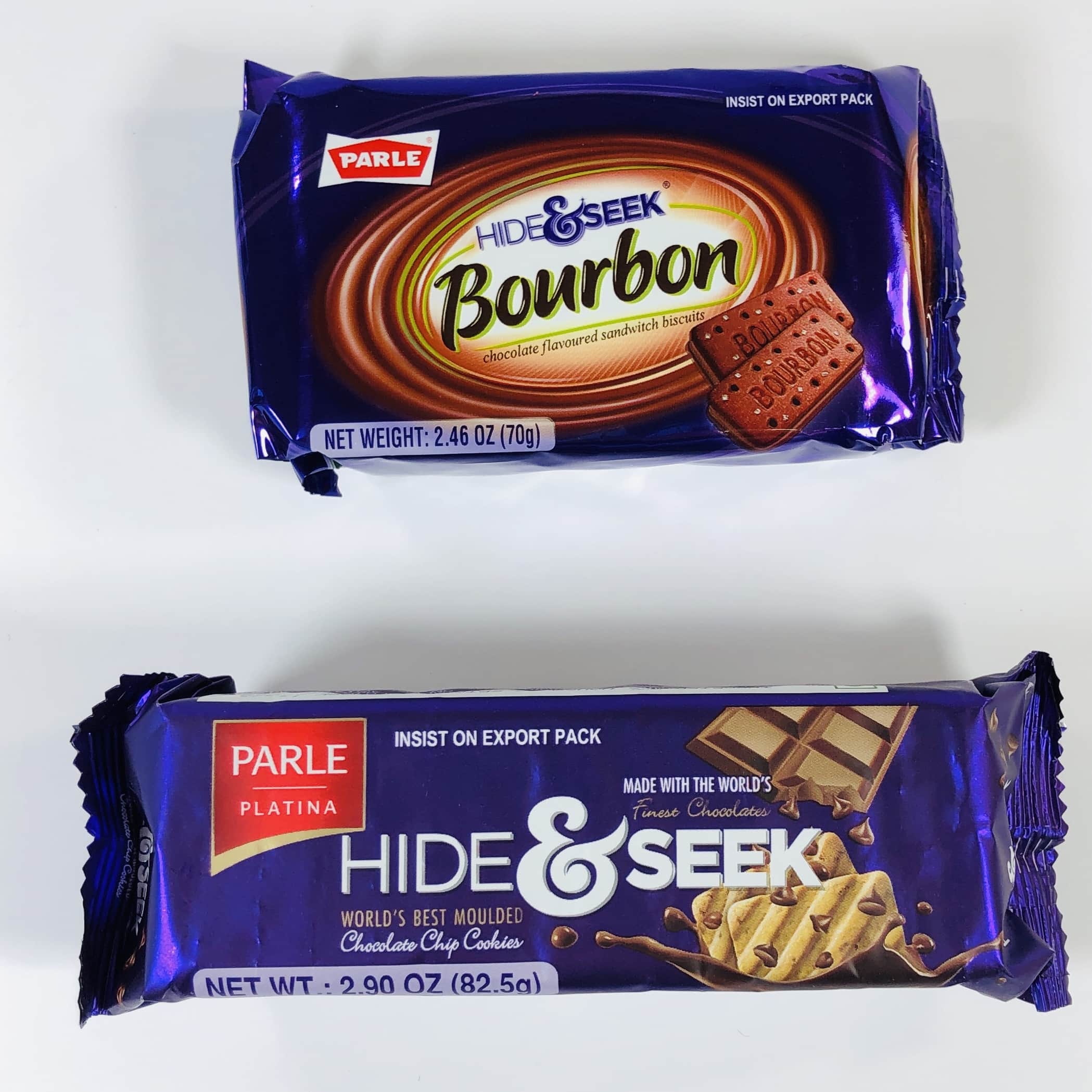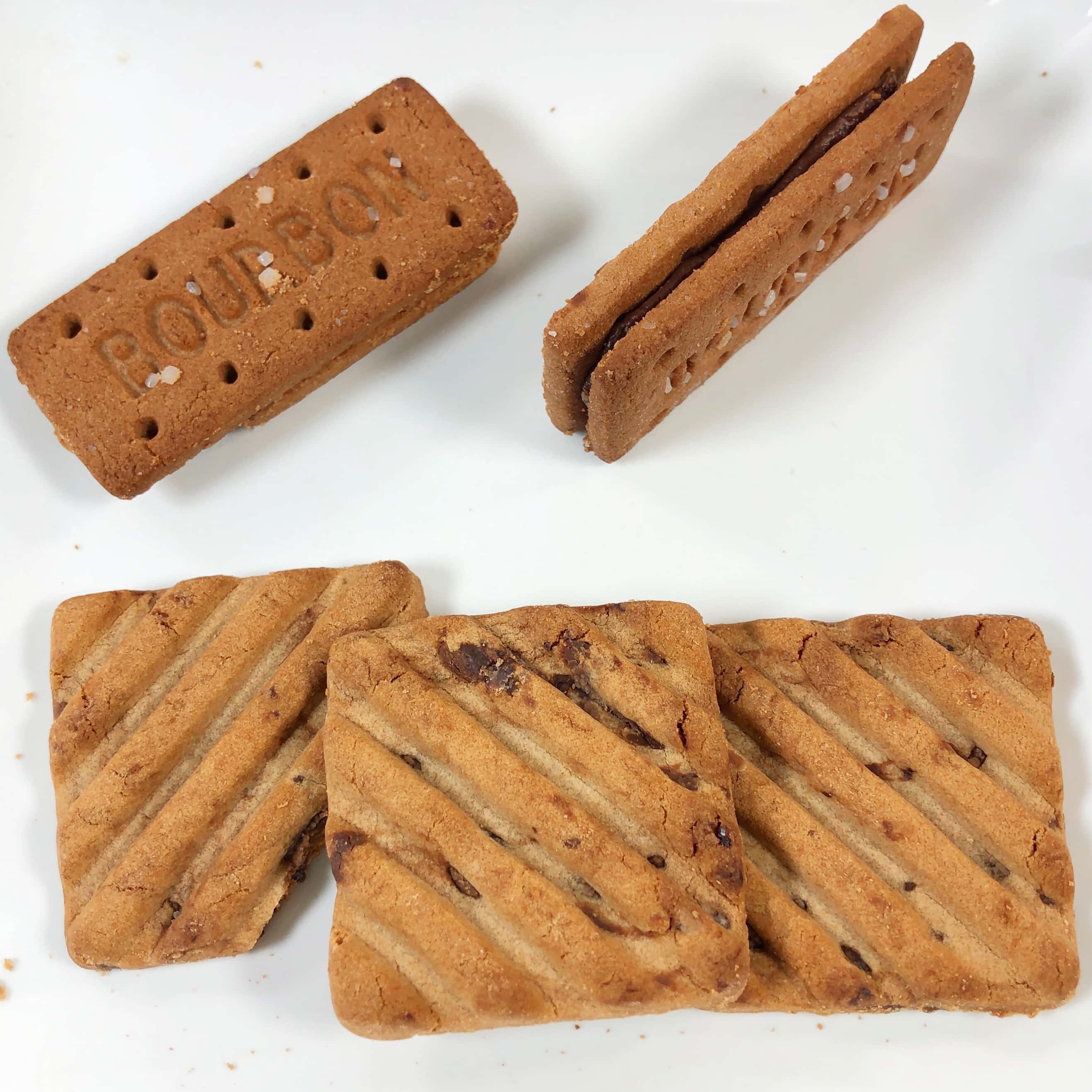 Parle Hide & Seek Bourbon Sandwich Biscuits (top) are chocolate cookies with a chocolate cream filling, plus just a hint of salt.
Parle Hide & Seek Chocolate Chip Cookies (bottom) remind me of an animal cracker base with mini chocolate chips, so the cookie isn't too sweet.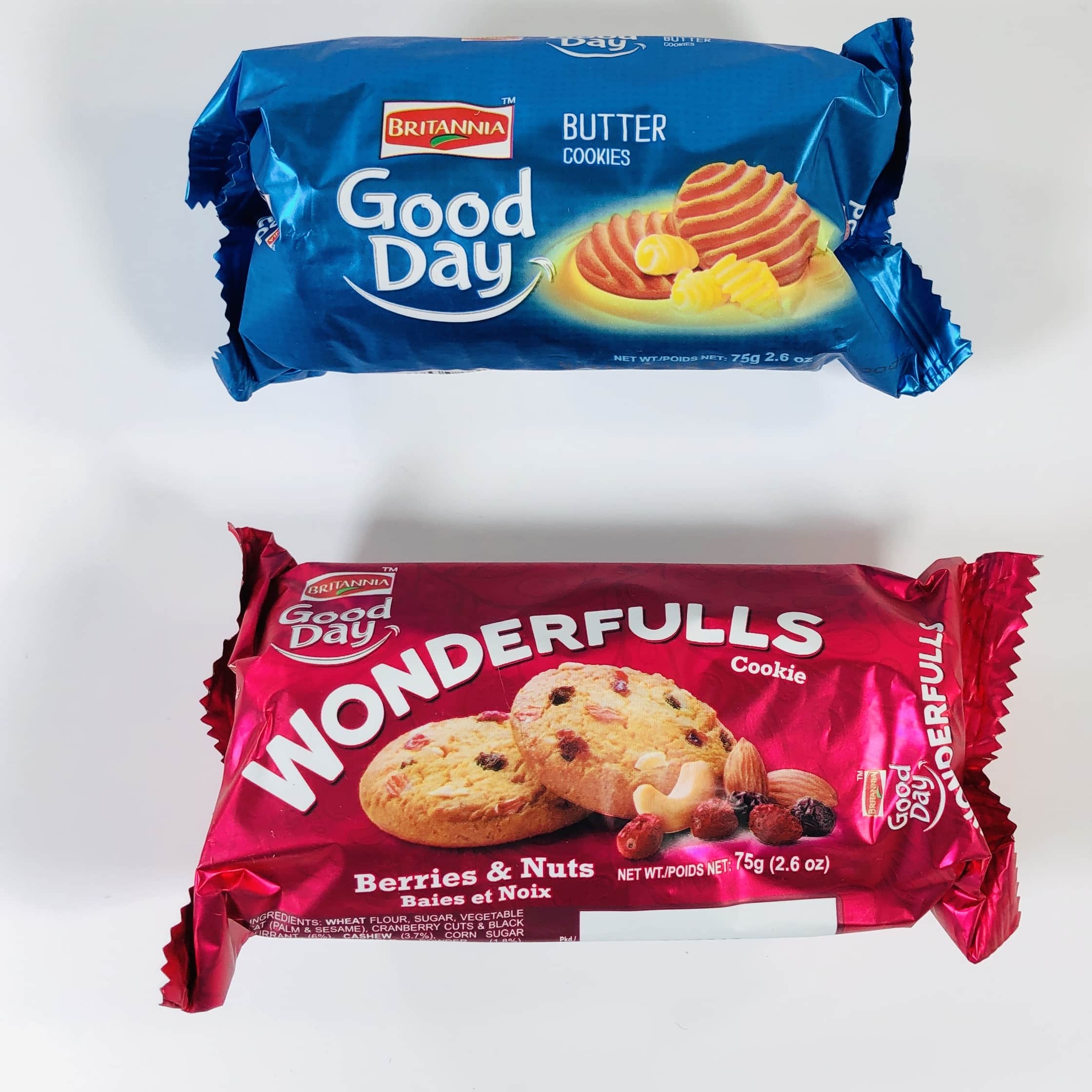 Britannia Good Day Butter Cookie is a classic buttery shortbread cookie.
Britannia Good Day Wonderfulls Cookie I blinked and this tray of cookies disappeared, I think my family really liked it!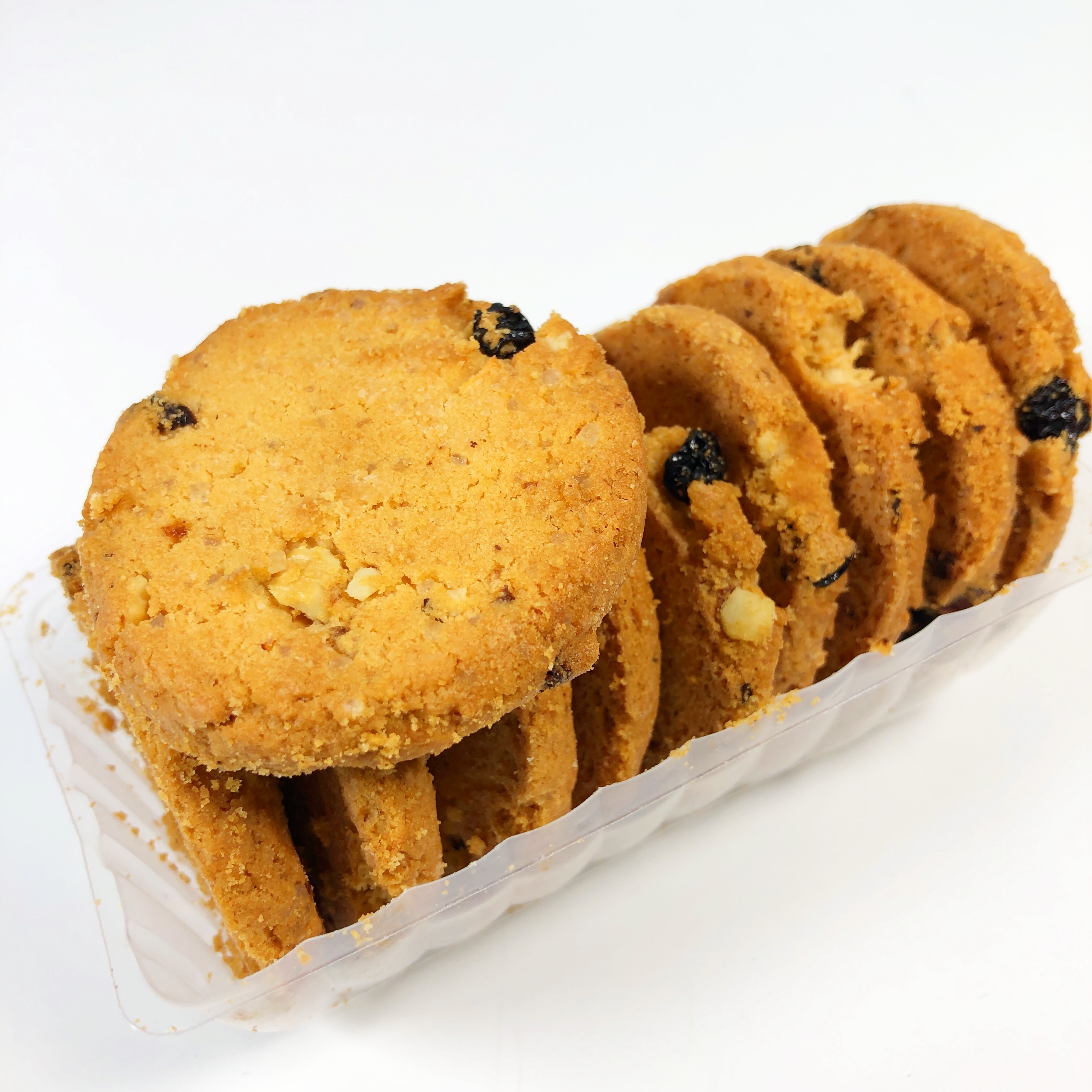 The Wonderfulls had currants and cranberries plus almonds and cashew in a buttery shortbread base.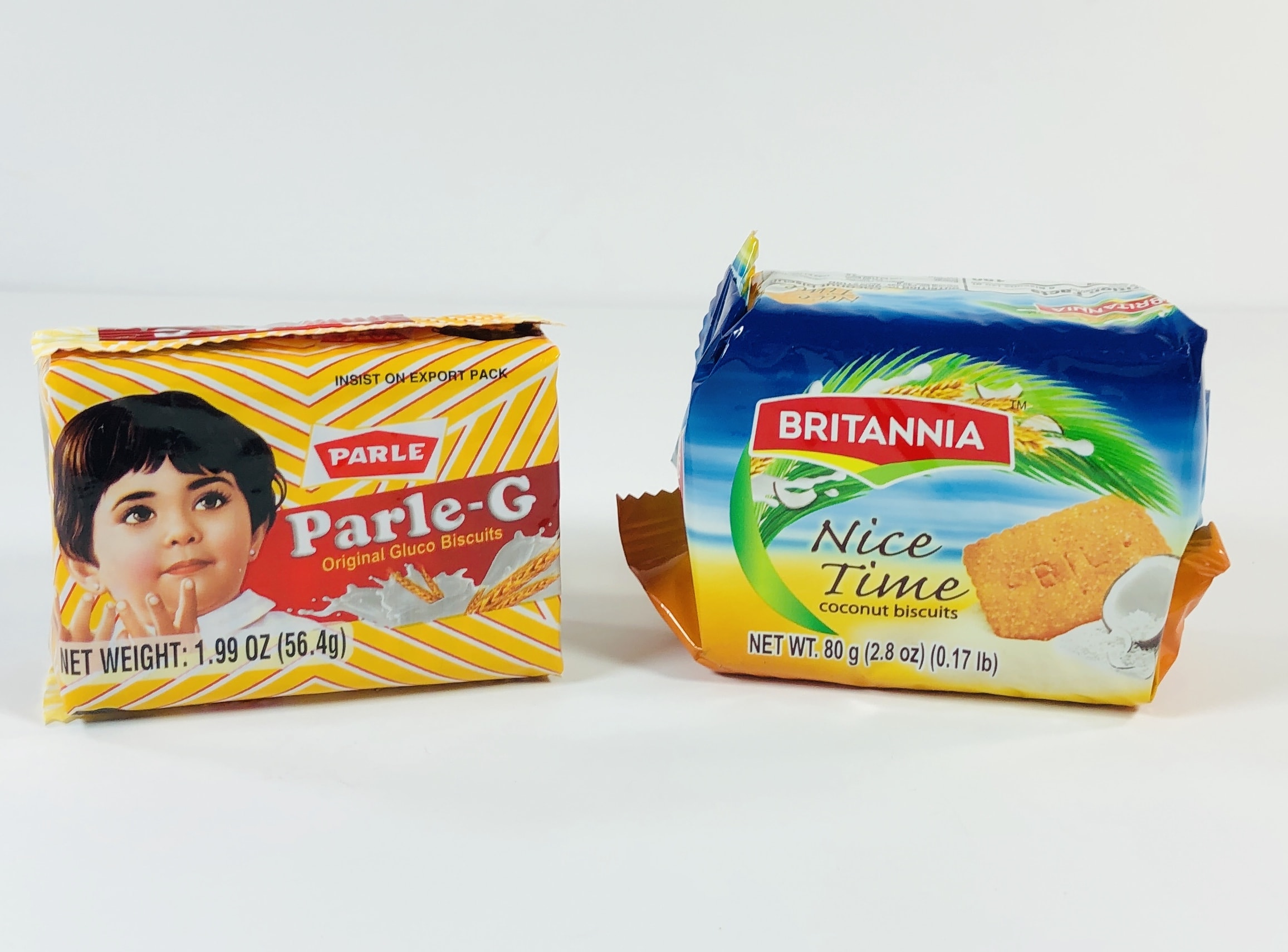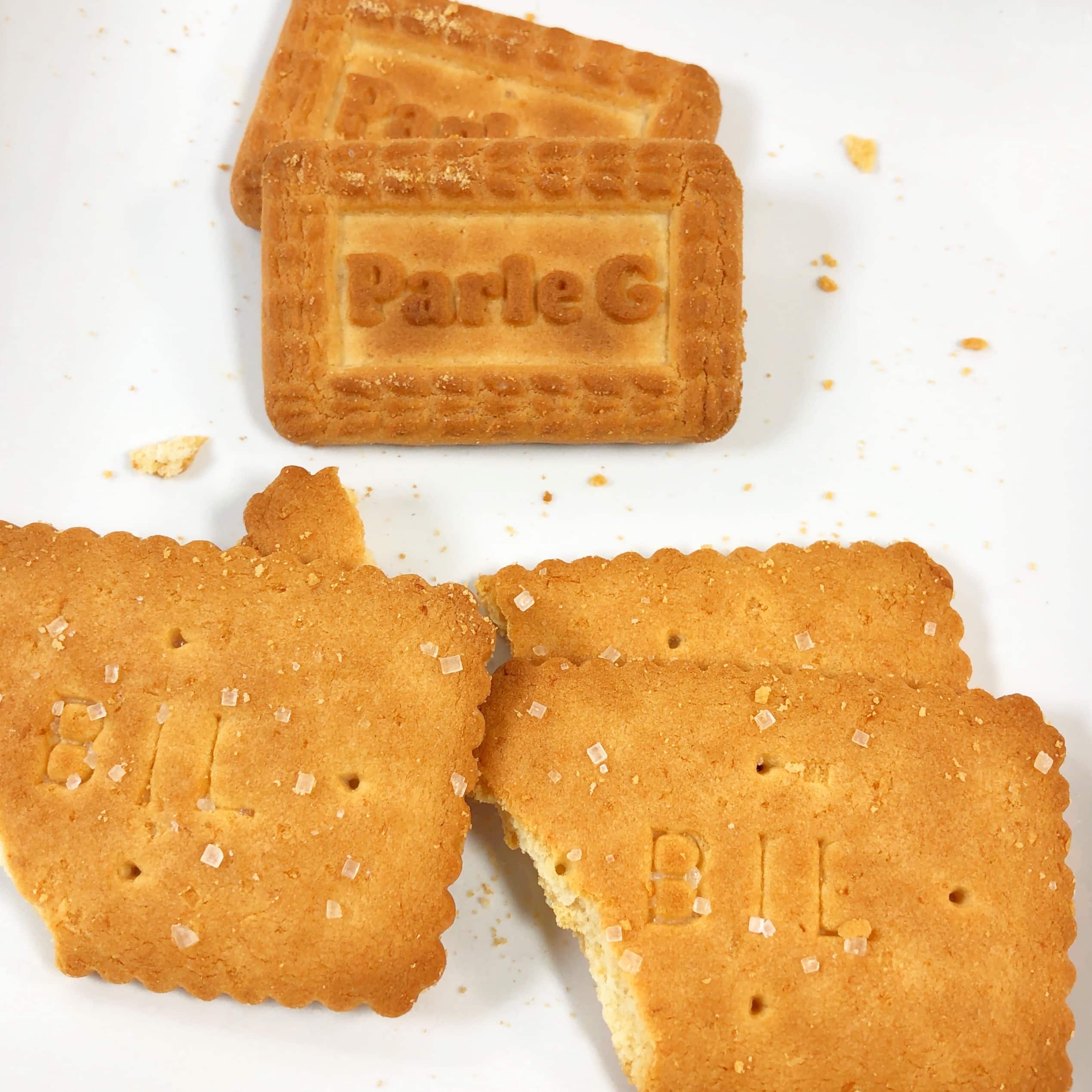 Parle-G Original Gluco Biscuits and Britannia Nice Time Coconut Biscuits are lightly sweet cookies that would go well with coffee or tea. The Gluco Biscuit reminds me of a Nilla Wafer and the Brittania Biscuit also seems familiar but I can't place it. If I didn't know it was supposed to be coconut flavored I wouldn't have guessed.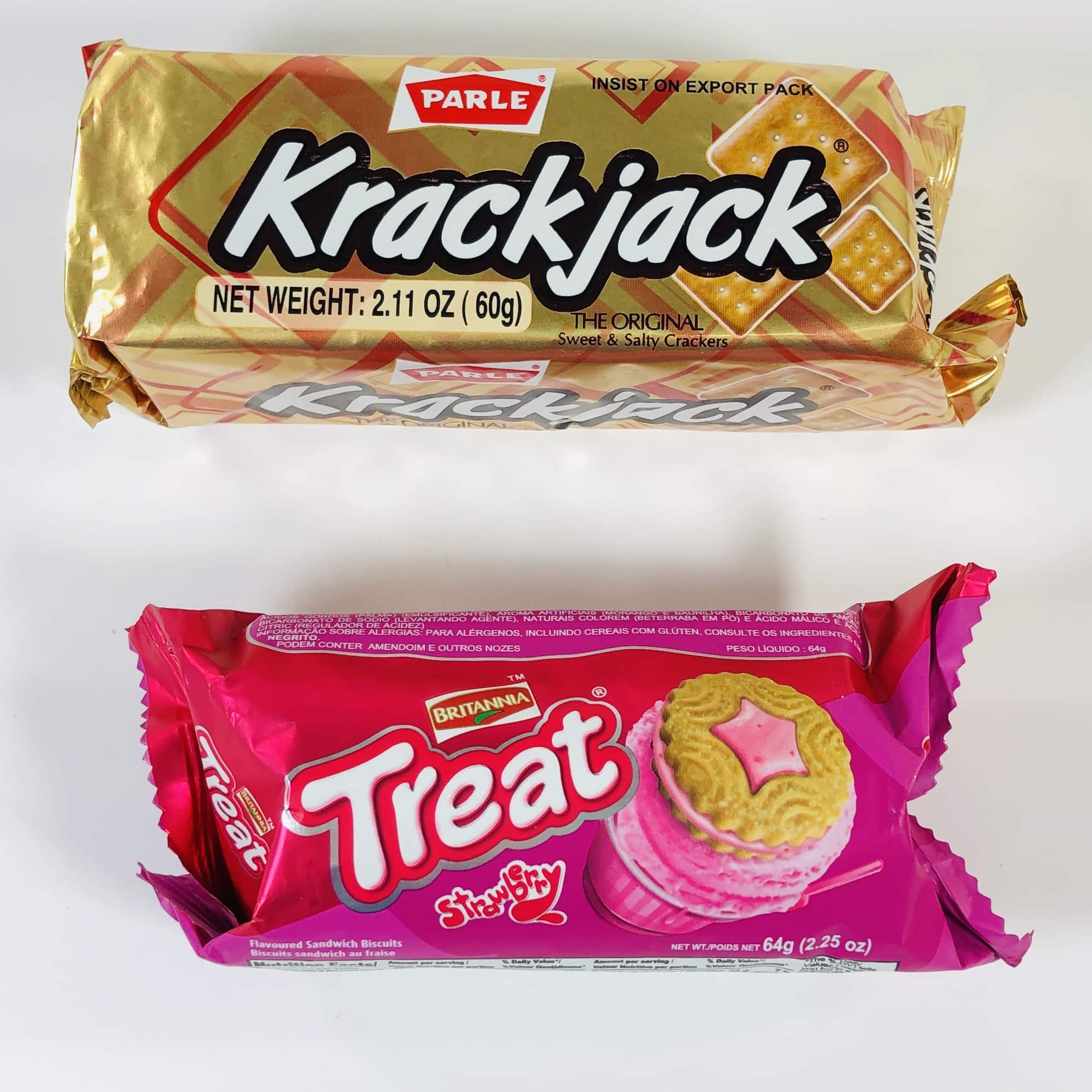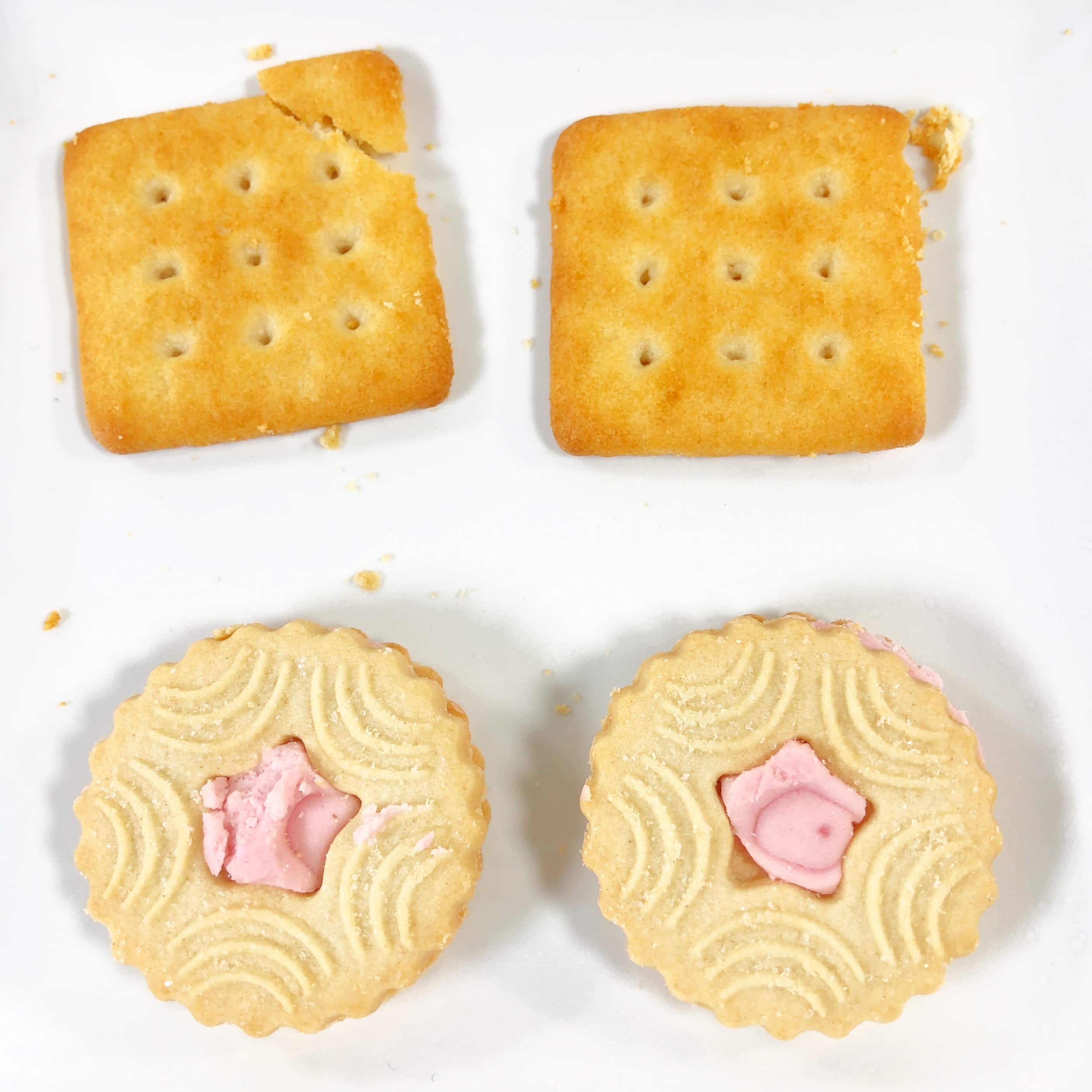 Parle Krackjack Crackers have the same texture as a Ritz cracker but tastes sweeter. Perfect for when you want something lightly sweet and salty, and it is suggested that you enjoy this treat with a cup of tea.
Britannia Treat in Strawberry is my favorite item from this box! Imagine it as a golden cookie base with a strawberry flavored creme filling. Does Oreo make something like this? If not, they should!

Lotte Coffy Bite I've tried Lotte candies before but these were different and I liked them! They are not as chewy as a caramel, but are softer than a hard candy lozenge. A lot of coffee candies are too bitter for me but this was like the Frappacino version, smooth and creamy with no bite.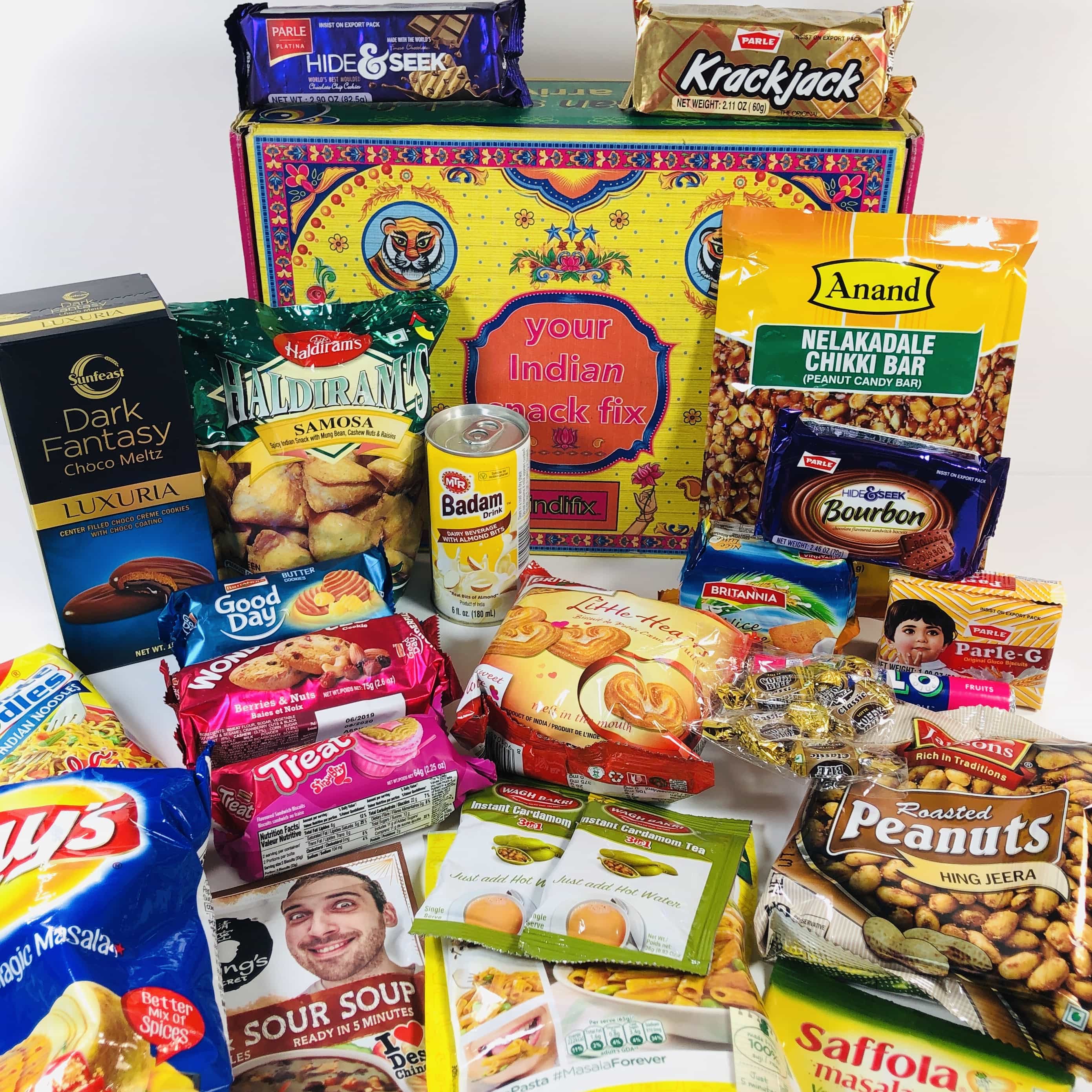 I had fun trying all of the snacks from the November IndiFix box! It's so funny: some of the snacks were too spicy, and some were a little too bland. I found a couple that were just right and overall I enjoyed them all because that's the fun part of course! There were sweet and salty snacks for whatever you may be craving on any given day. I think I found links for most of them but they are pretty expensive and you usually have to buy in bulk, as they're imported from India. This box is $39.99 and had 22 snacks, so that works out to $1.82 a snack and most of the snacks were generously sized for sharing.
What do you think of this month's box?
Visit IndiFix: Your Indian Snack Fix to subscribe or find out more!