GeekGear WIZARDRY Special Edition is a bimonthly premium subscription box from GeekGear filled with awesome licensed and exclusive PREMIUM Harry Potter & Fantastic Beasts merchandise! Boxes are £44.99 +S/H with a £90+ value! (That's £50.98 shipped to US, about $68). In every box expect an exclusive t-shirt, an exclusive jumper/hoodie/long sleeve t-shirt, an exclusive premium artwork, and 3+ other premium products.
Although they're called special edition, don't be fooled – these are now a regular subscription, similar to Loot Crate DX! 
This is a review of the October 2019 Special Edition box.
DEAL: Save 10% on your first month! Use coupon code NEWSUB10. Or try SPECIAL15 to save 15%!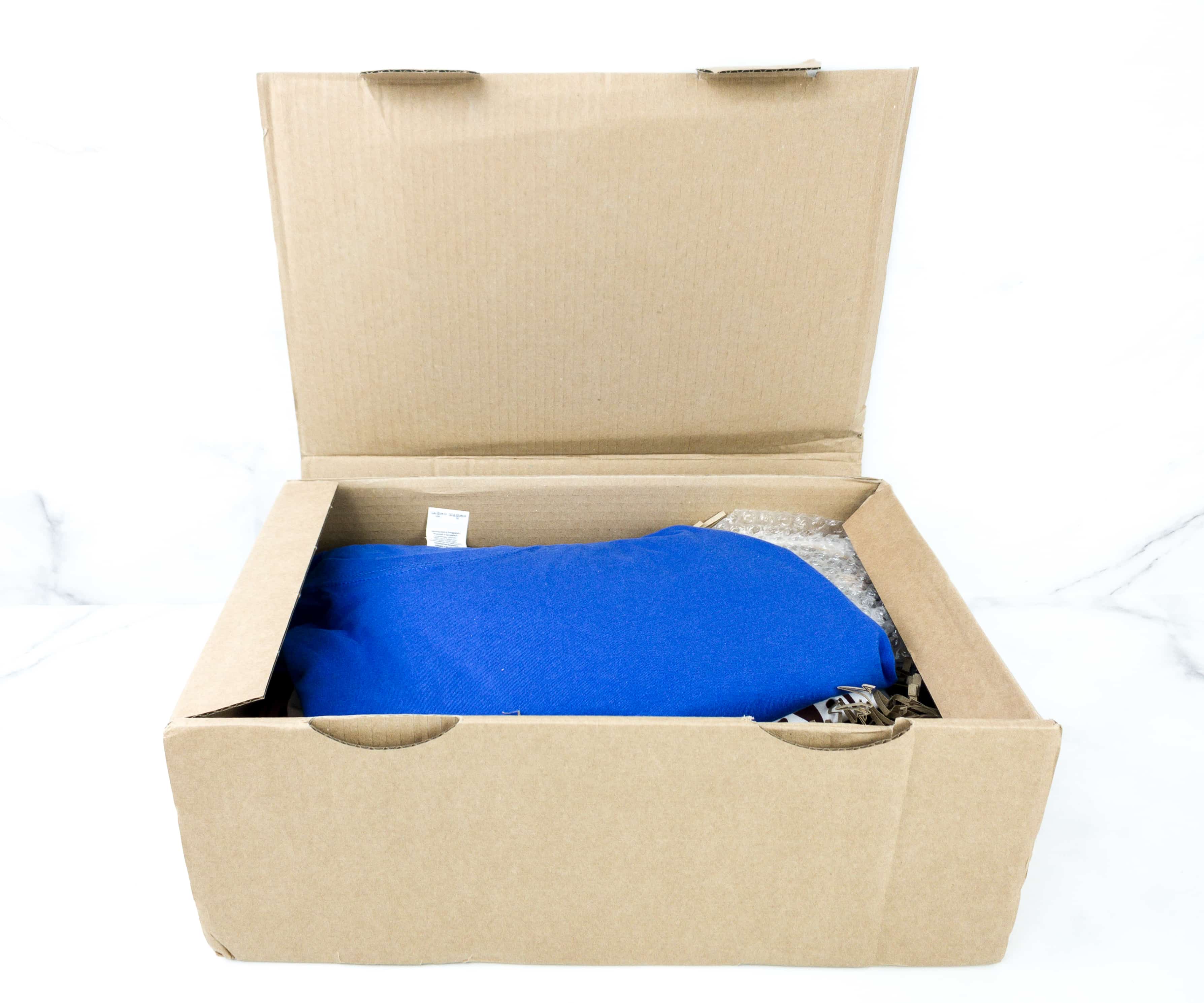 The items came in a simple brown box.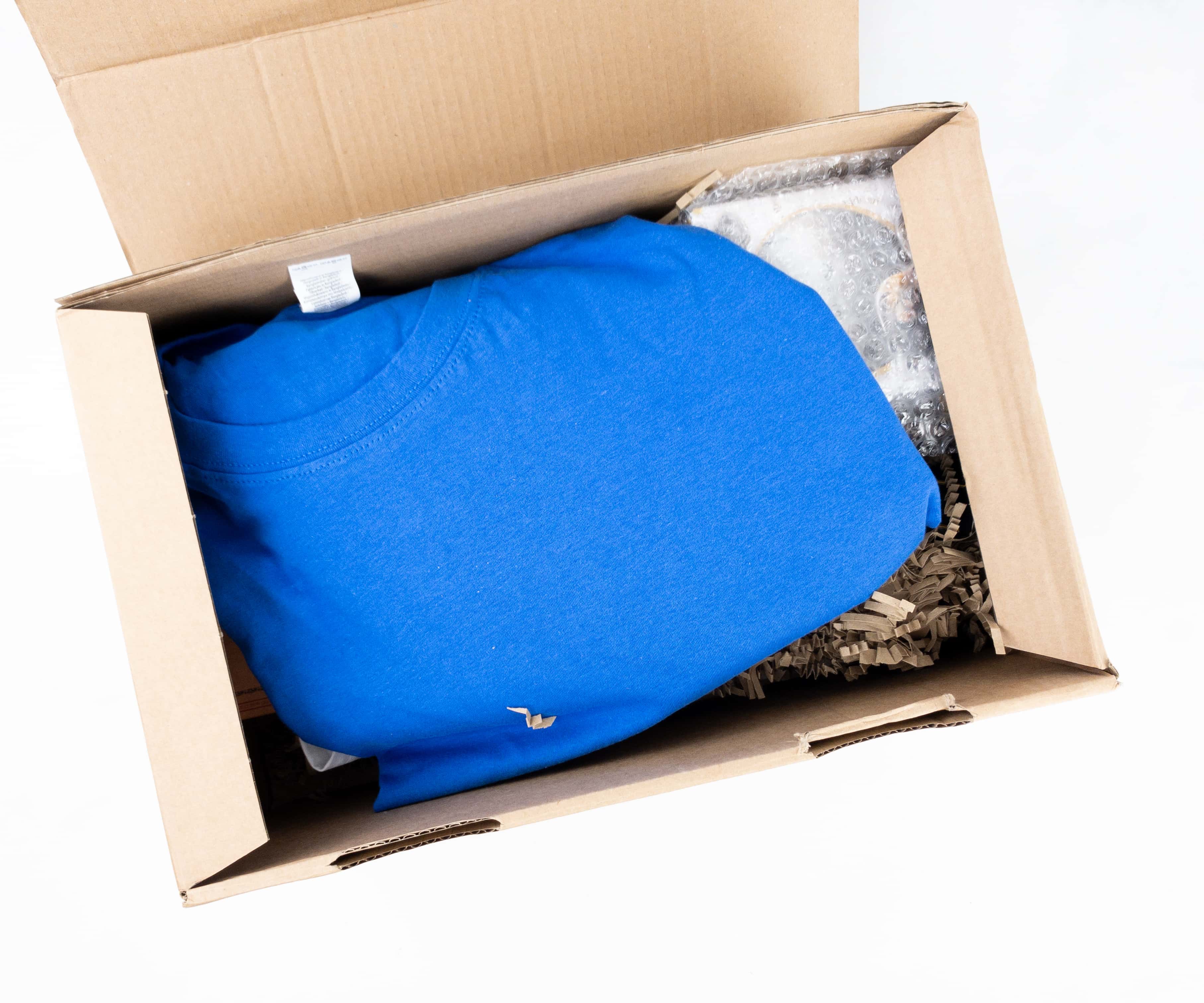 The box is filled with brown squiggles.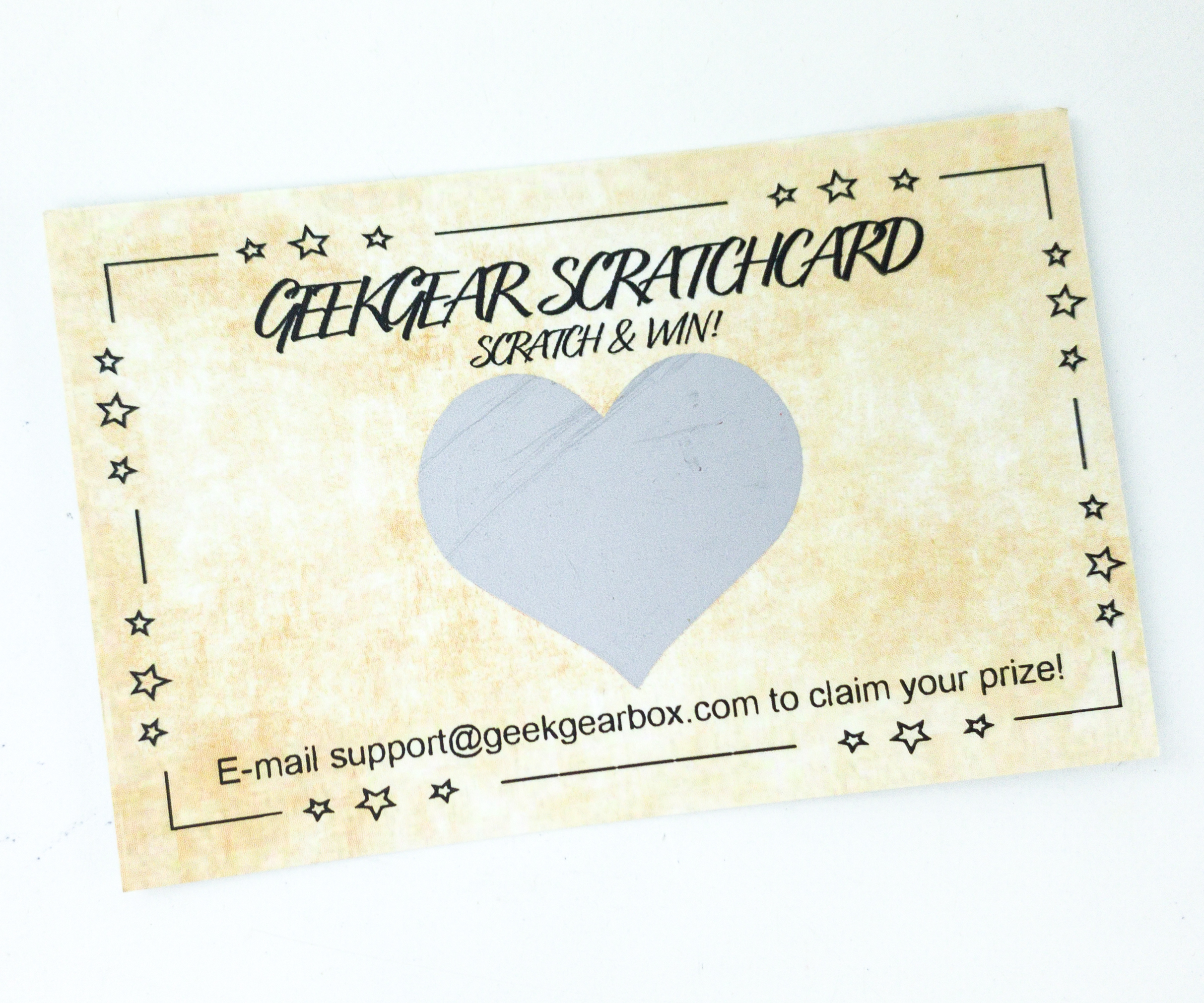 We also got a Geek Gear Scratch Card.
There's a letter sealed with the Geek Gear branding which looks like wax but it's actually printed.
It lists all the items in the box.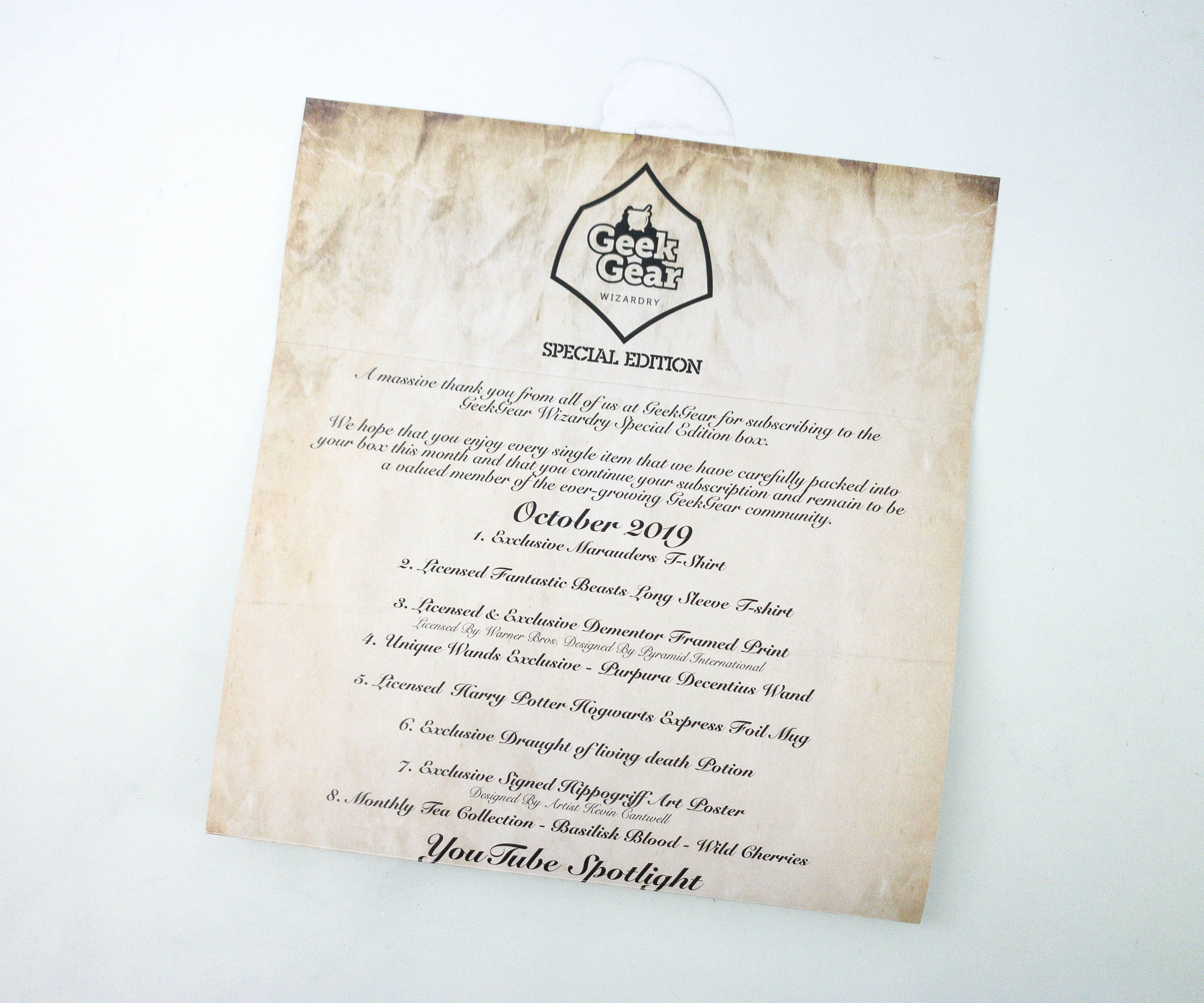 The box is jampacked with special items!
Everything in the October 2019 Special Edition World of Wizardry box!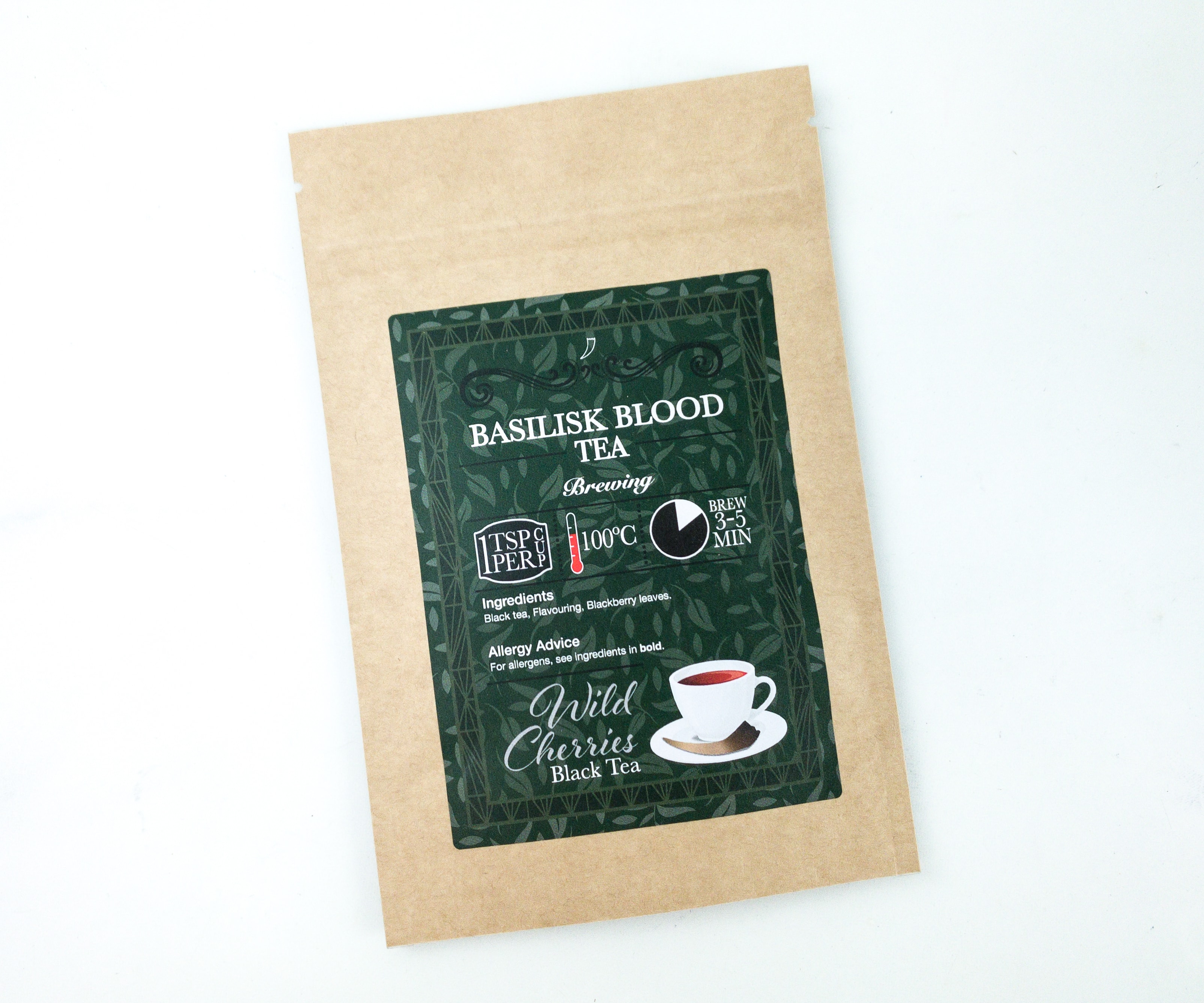 Monthly Tea Collection – Basilisk Blood – Wild Cherries. For this month, the featured tea contains black tea, flavorings, and blackberry leaves. To prepare the wild cherries black tea, brew a teaspoon per cup for 3-5 minutes at 100°C.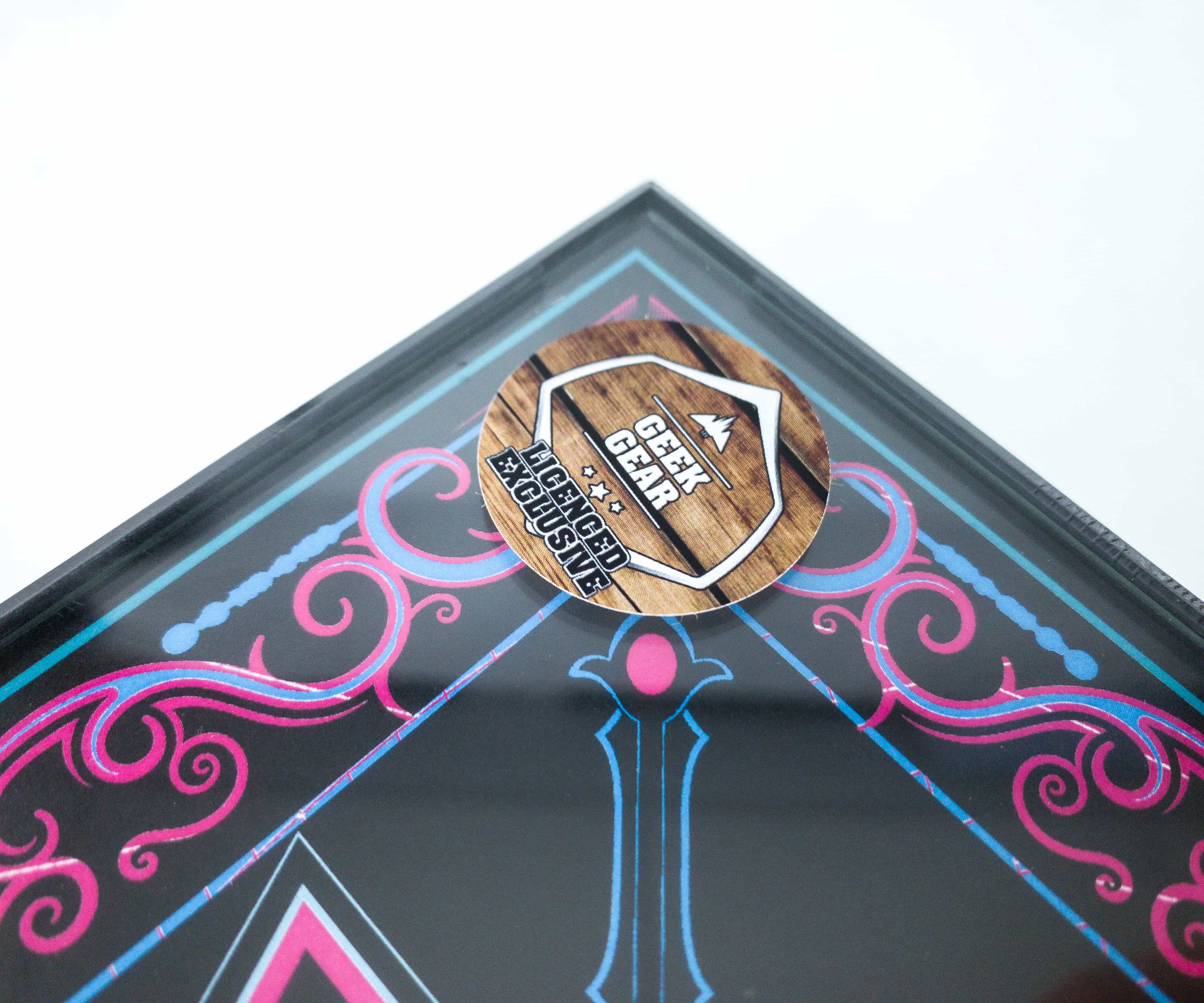 Licensed & Exclusive Dementor Framed Print. The licensed exclusive print features the dark creature, a dementor!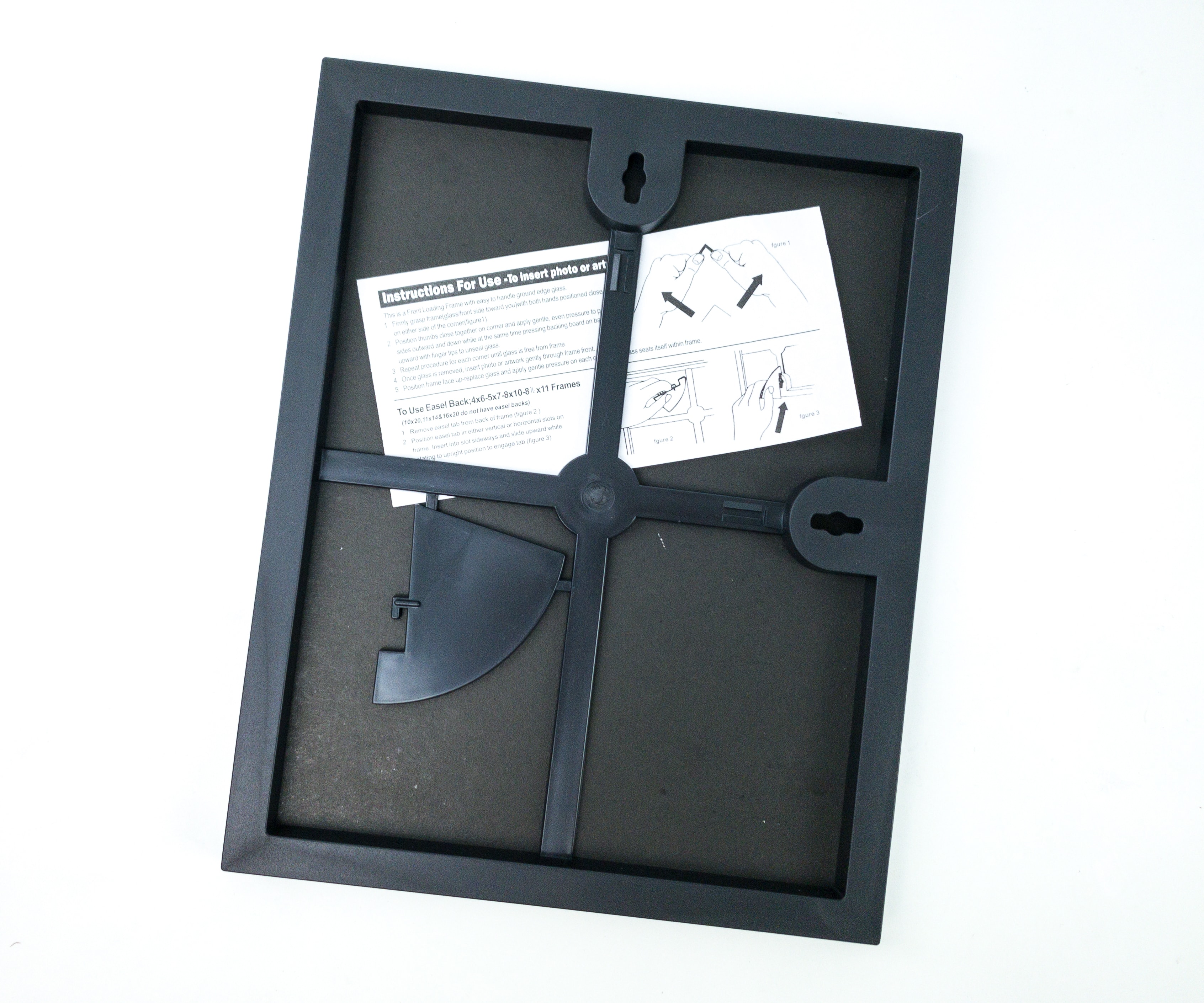 The poster arrived framed and even included an inset with all the instructions for use. Aside from hanging the art print on the wall, you can also make it stand on a desk!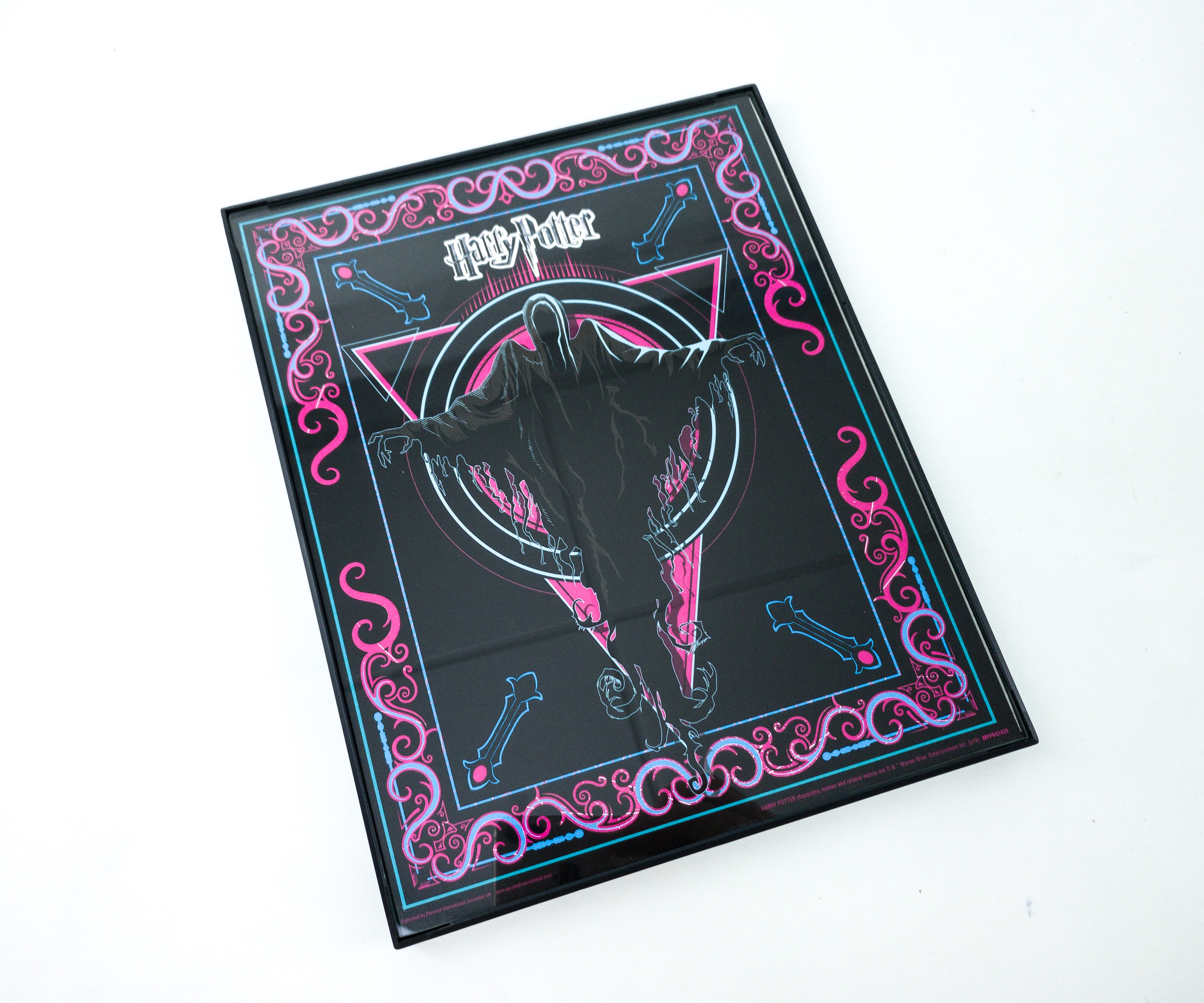 The dementors are dark creatures that consume happiness and creates an ambiance of coldness, sadness, darkness, and despair. These creatures also served as the guards of Azkaban and make the prisoners not want or lose the will to escape. You know how to defeat them, Expecto Patronum!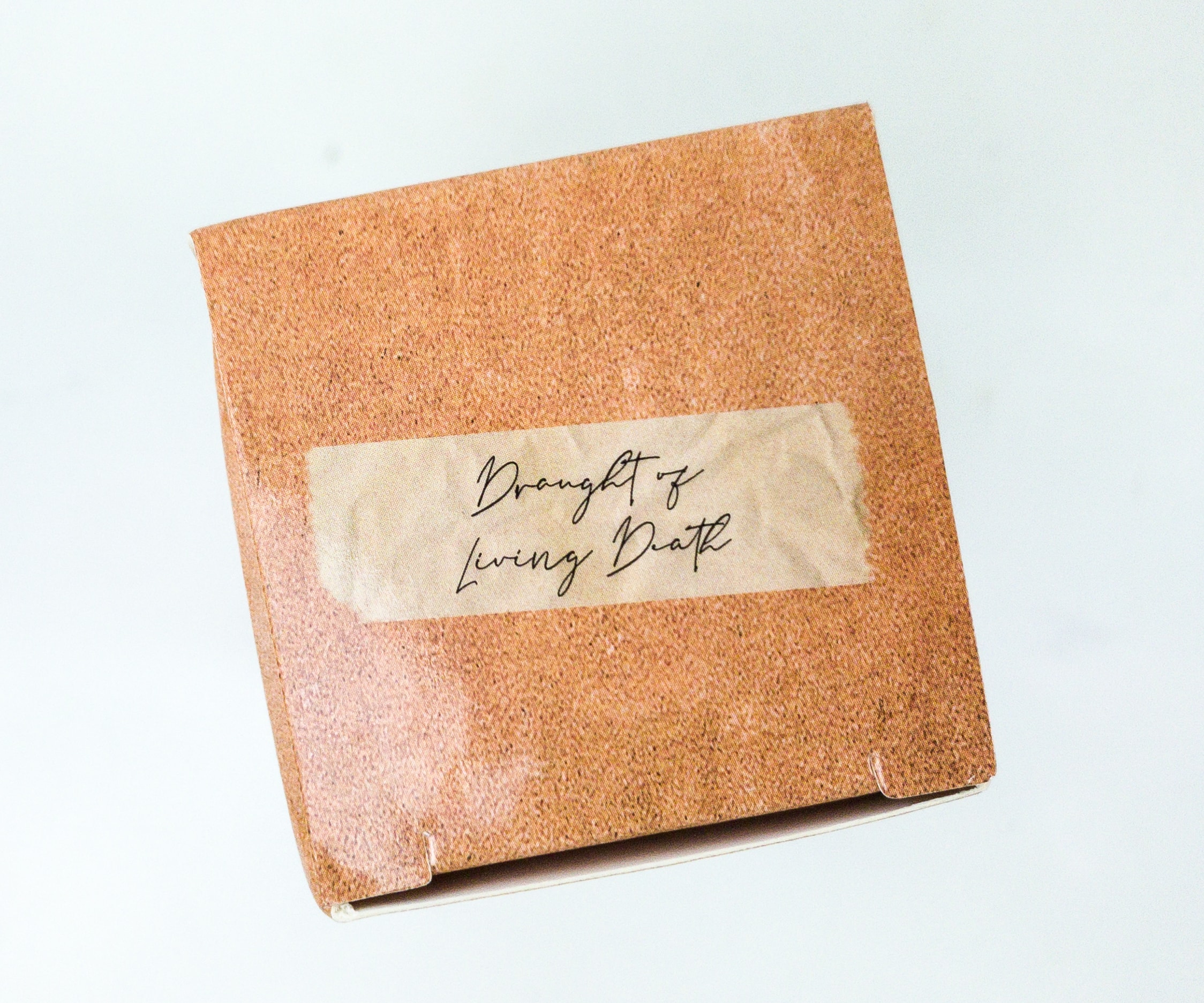 Exclusive Draught Of Living Death Potion. There's another potion replica in this month's Special Edition box, and it's the Draught of Living Death potion!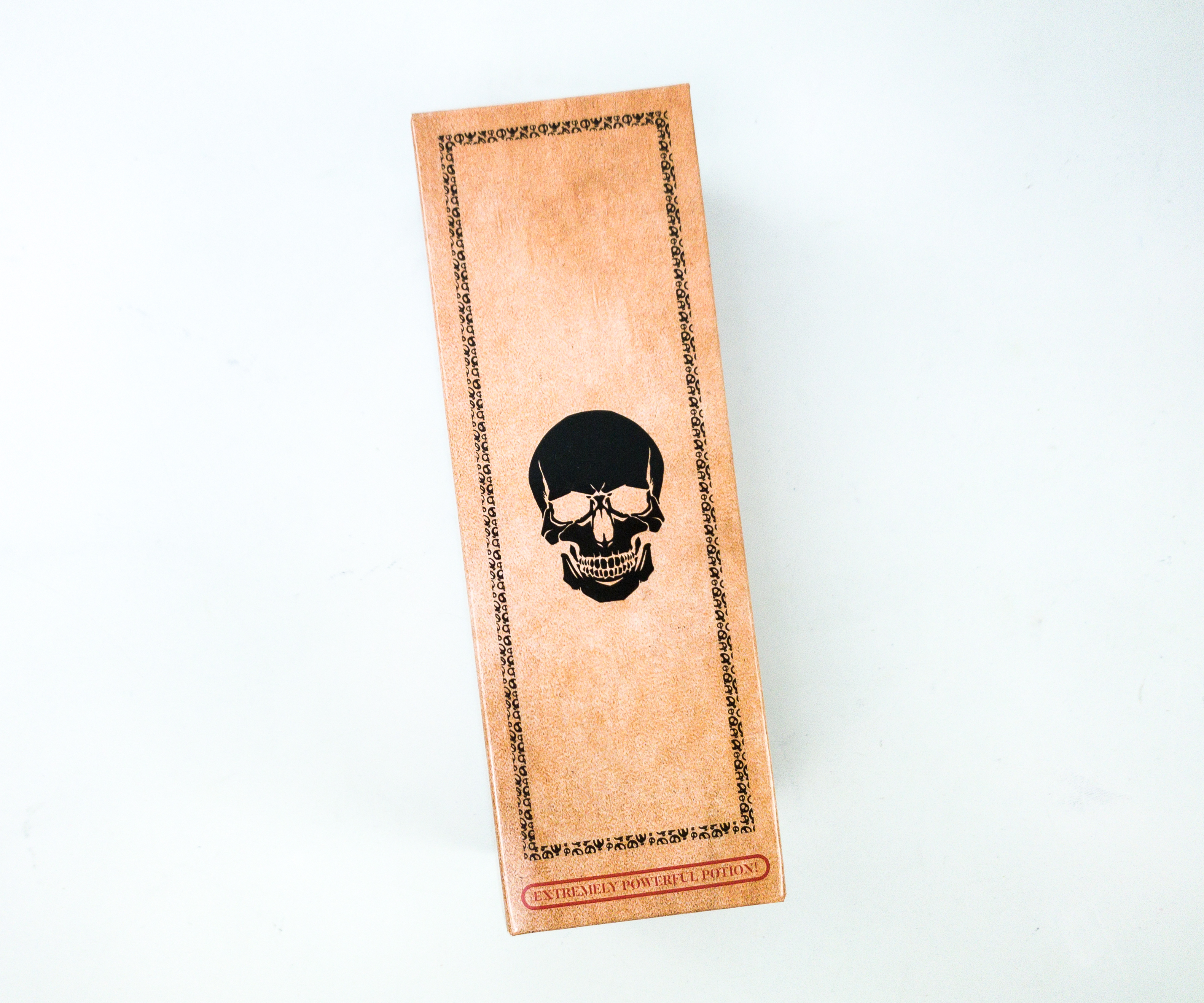 The box has a skull printed on it, which symbolizes death most of the time.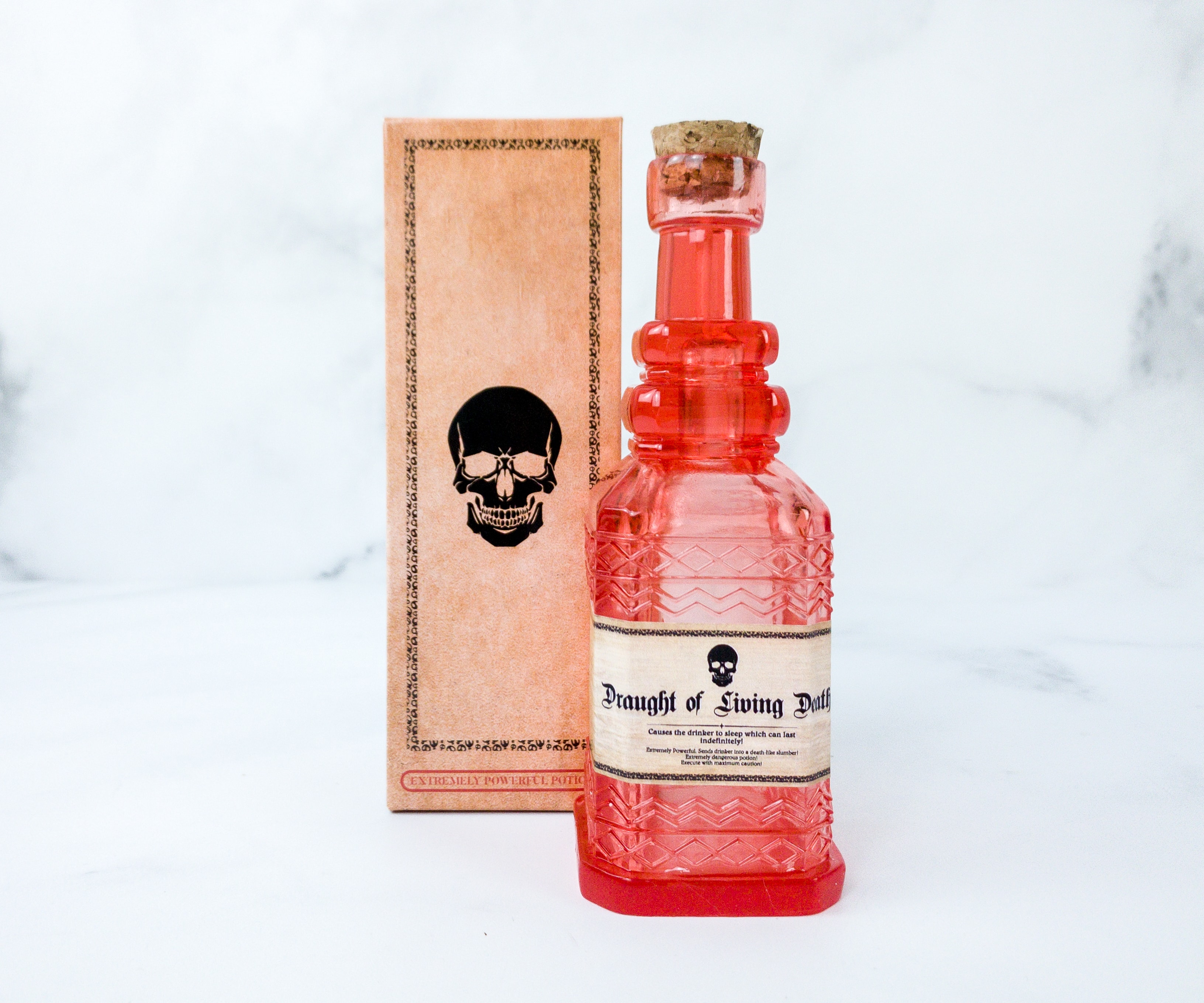 The Draught of Living Death is an extremely powerful sleeping draught, sending the drinker into a deathlike slumber. Its effects are similar to suspended animation. This draught is an advanced potion, taught to sixth year N.E.W.T. students at Hogwarts School of Witchcraft and Wizardry.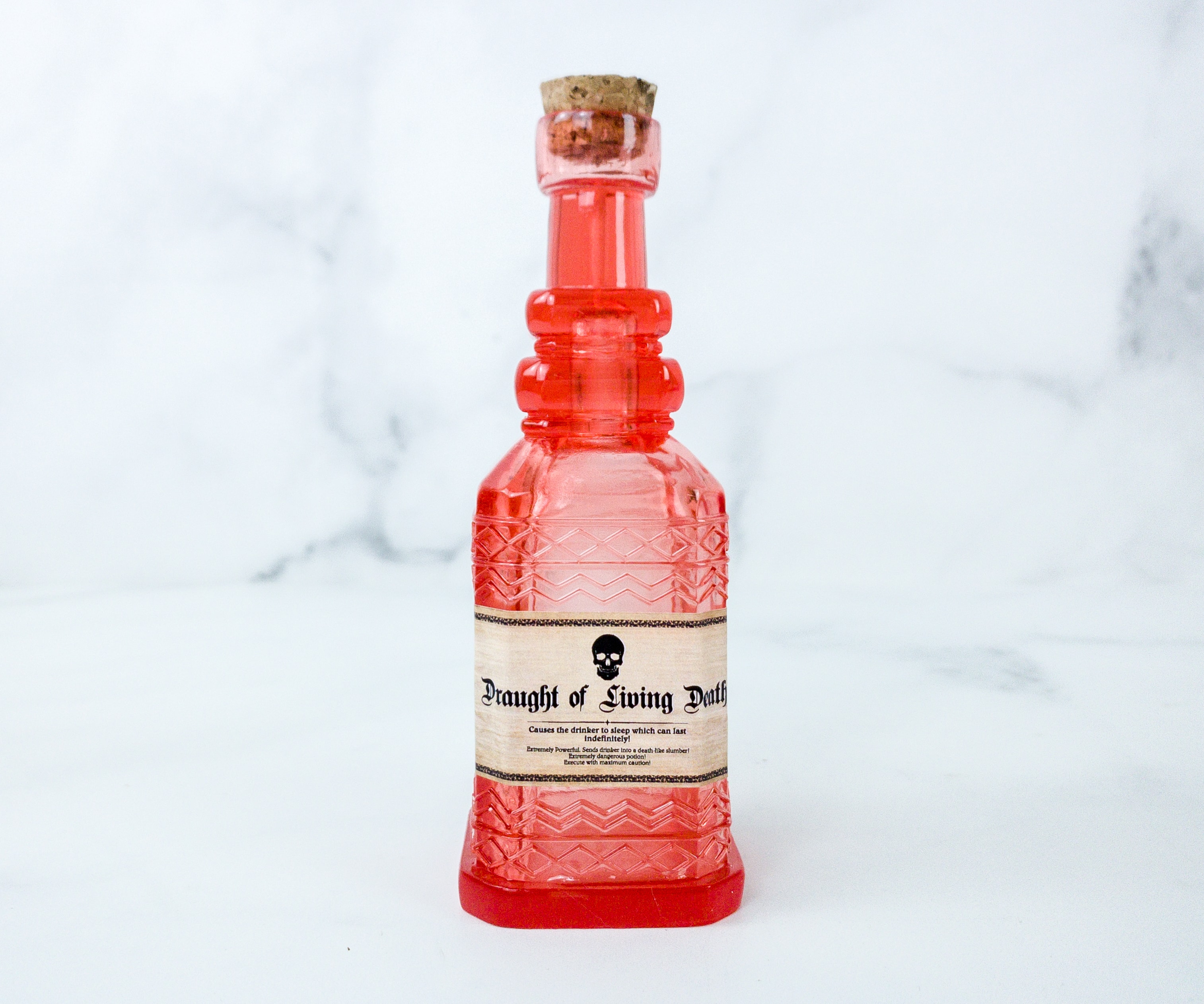 I like the shape and the color of the bottle. It's like those wine samplers. I think I can make use of this one too as a decoration, along with the other potion replicas!
Licensed Harry Potter Hogwarts Express Foil Mug. The mug arrived in a giftable window box, with Harry's image in front! It's also protected with bubble wrap.
The mug is decorated with a gold foil print ticket for Hogwart's Express!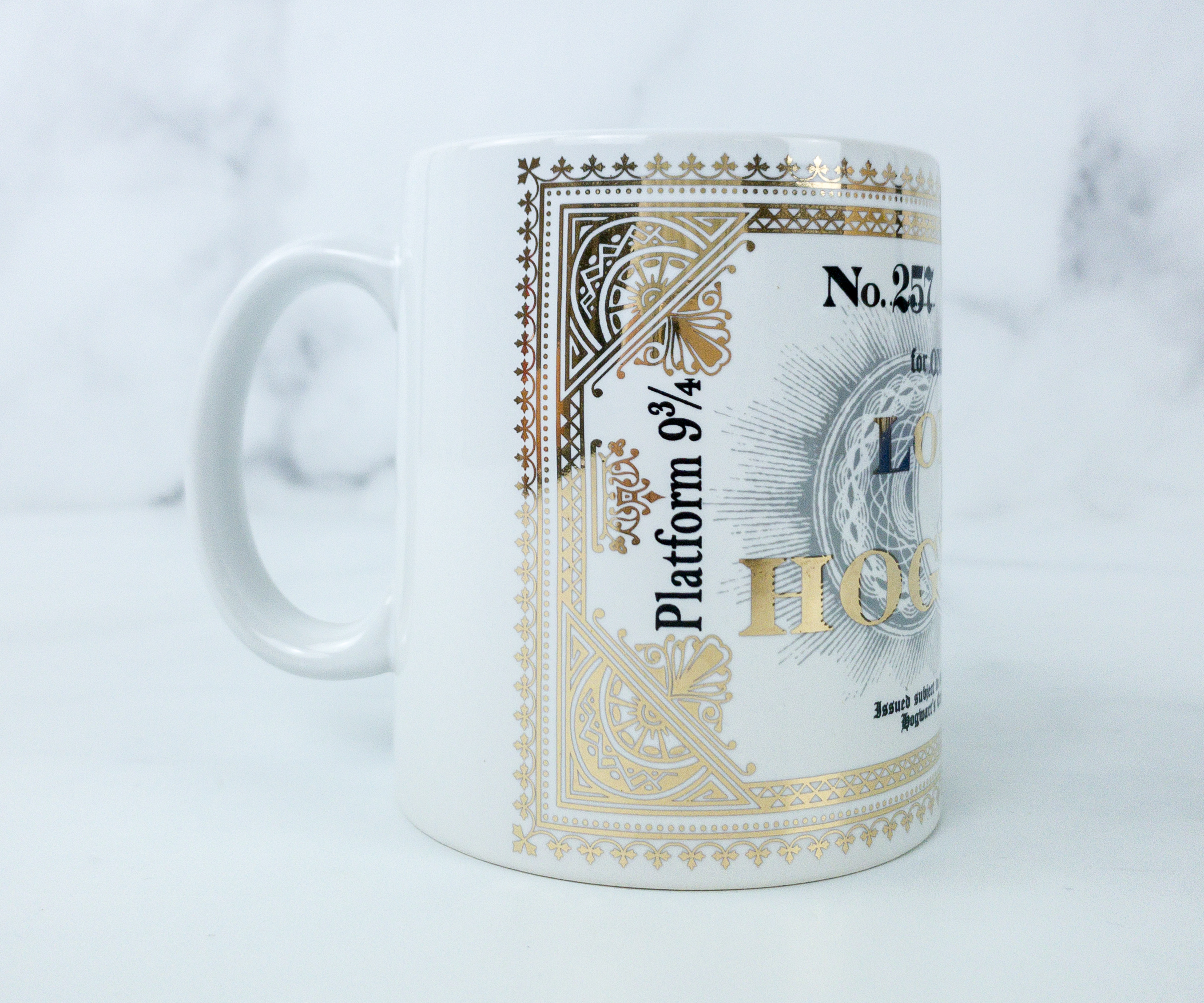 I love the details and the gold foil design. This will work perfectly as a pen holder for me, rather than a containment for hot drinks, making it stay on top of my desk is better than to keep it inside our kitchen cabinets/storage!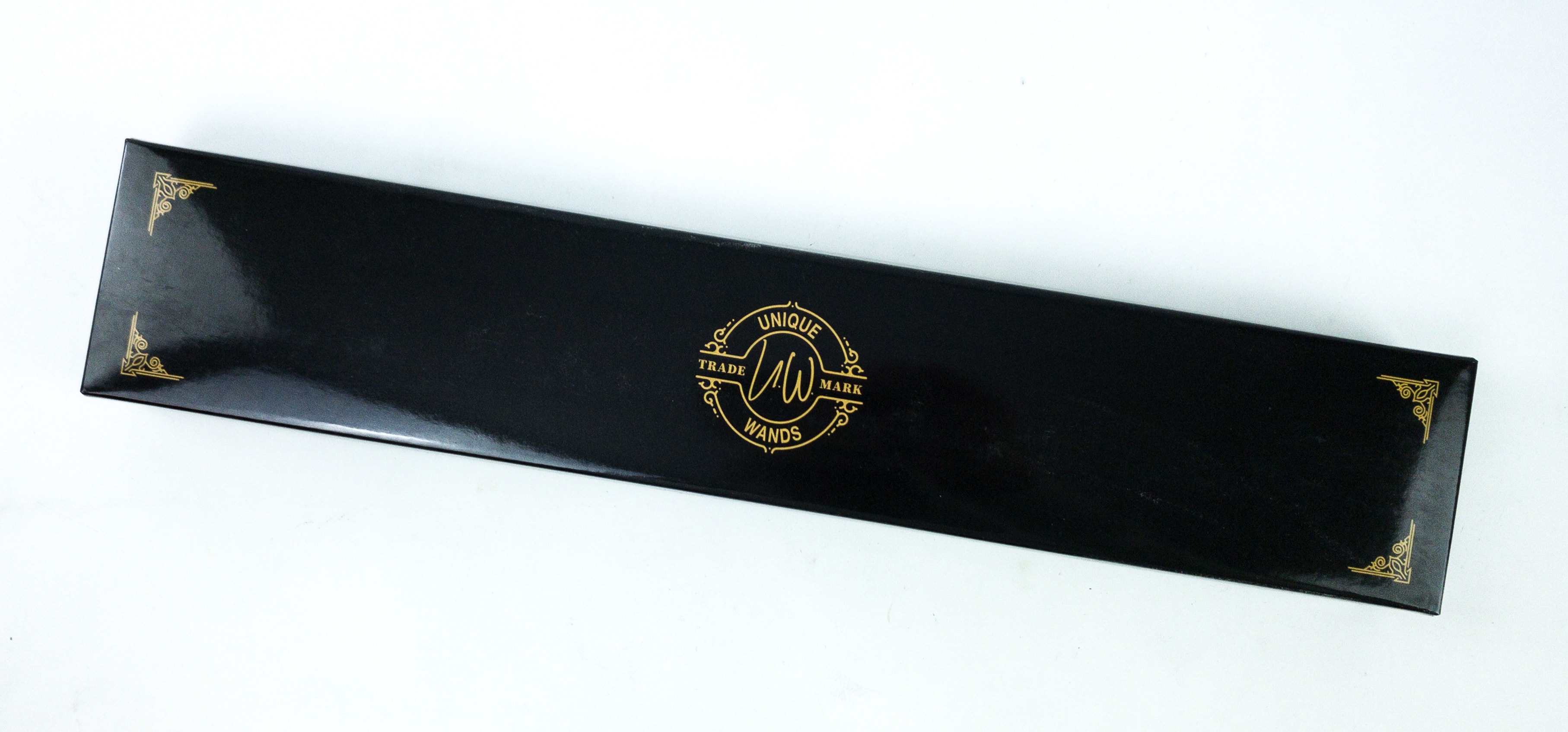 Unique Wands Exclusive – Purpura Decentius Wand. I love getting uniquely-designed wands from this box!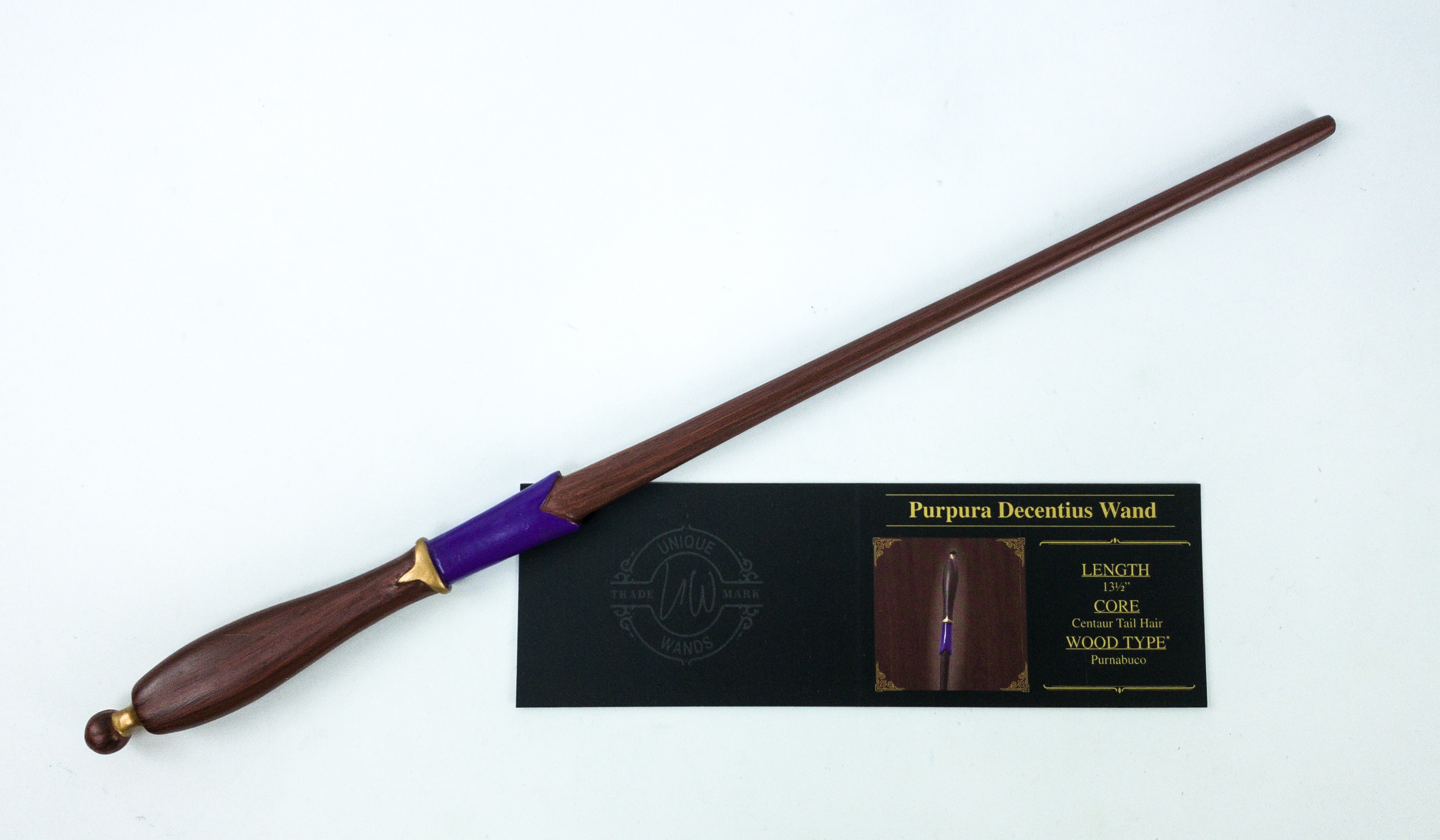 It's a 13 1/2″ wand made with Purnabuco and has a core of Centaur Tail Hair.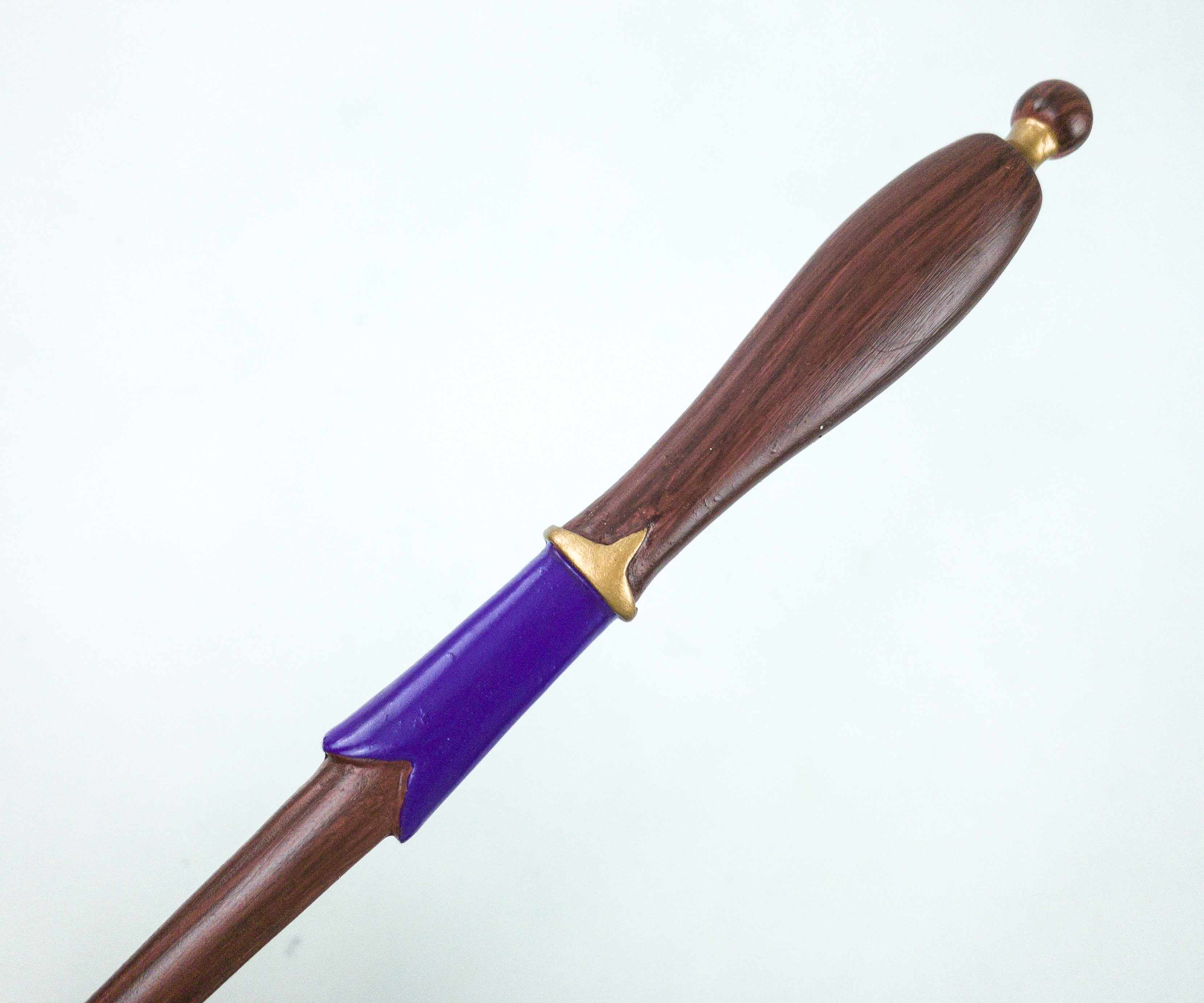 The shiny wand has an elegant looking handle, with a purple and gold detail. It's almost similar to Luna Lovegood's wand.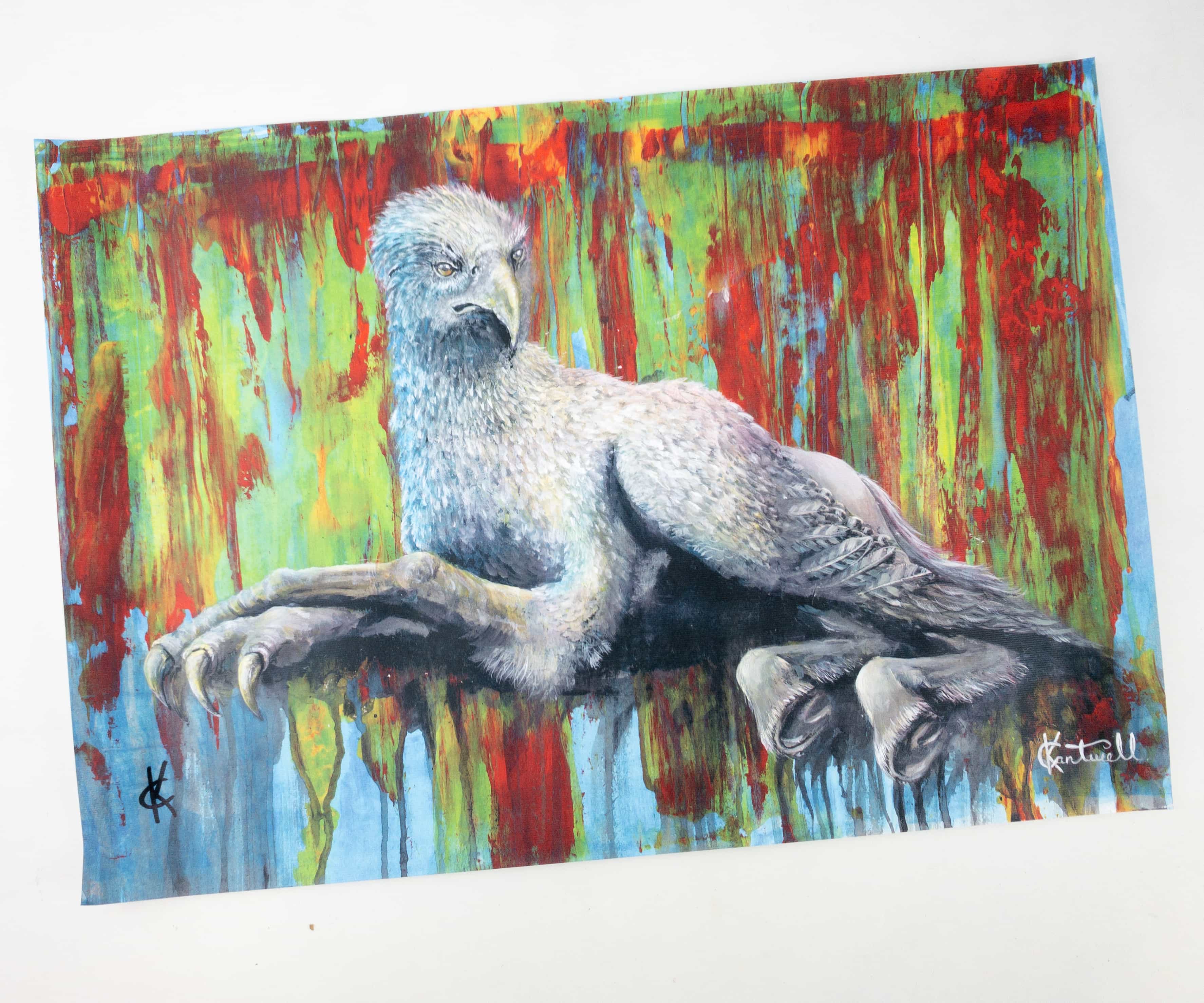 Exclusive Signed Hippogriff Art Poster. Another amazing art from artist Kevin Cantwell is this beautiful rendition of another magical beast, the Hippogriff!
The artist's signature can be found at the lower-left corner of the artwork.
Licensed Fantastic Beasts Long Sleeve T-Shirt. This time, I got a white long-sleeved shirt featuring the Fantastic Beasts franchise. It's a perfect wearable now that days are much colder!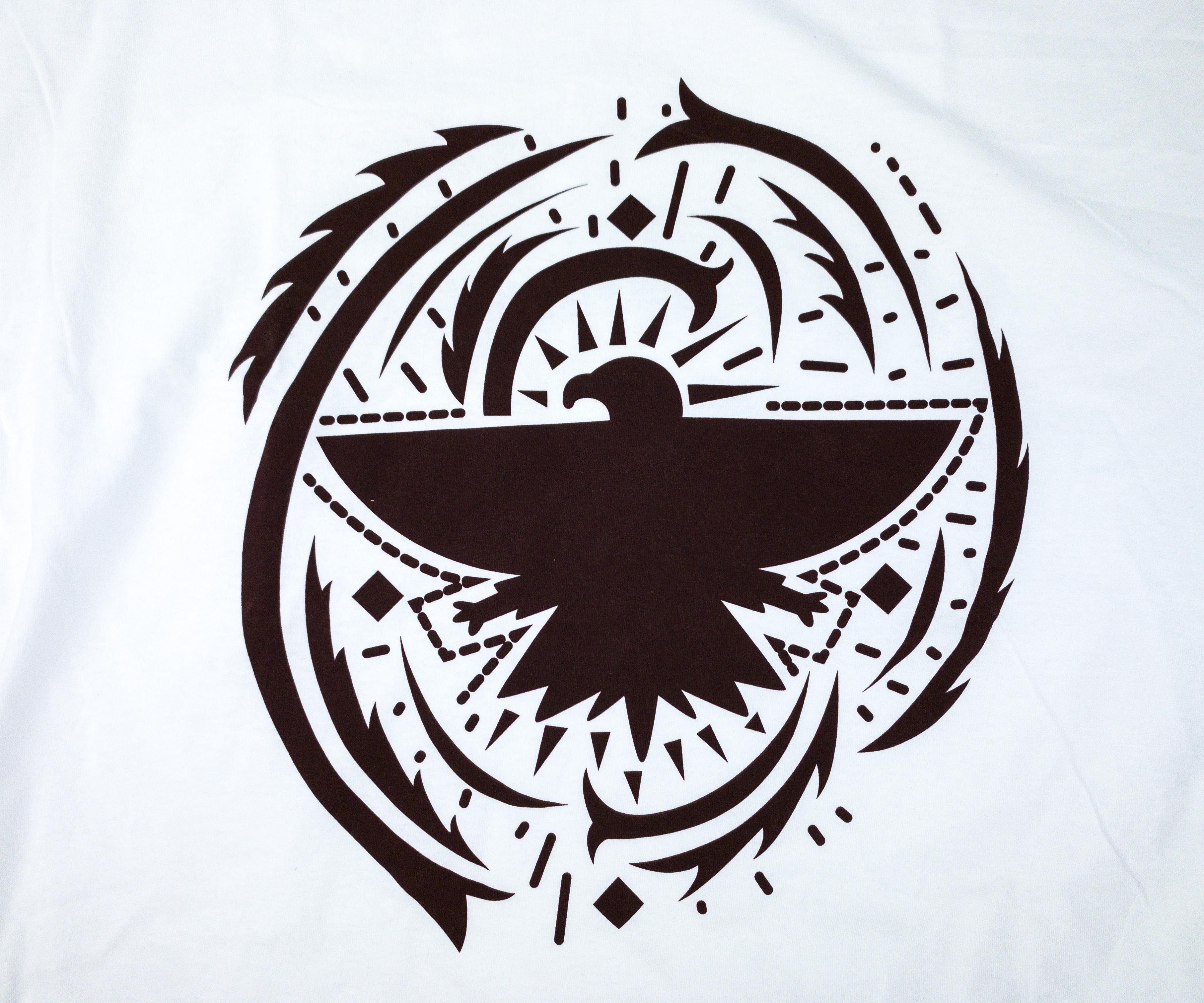 The symbol shows us one of the biggest and majestic beasts, the Thunderbird, which almost looks like the Hippogriff. It has the ability to sense danger and able to cast curses on its own. Also, its tailfeather can be used as a wand's core.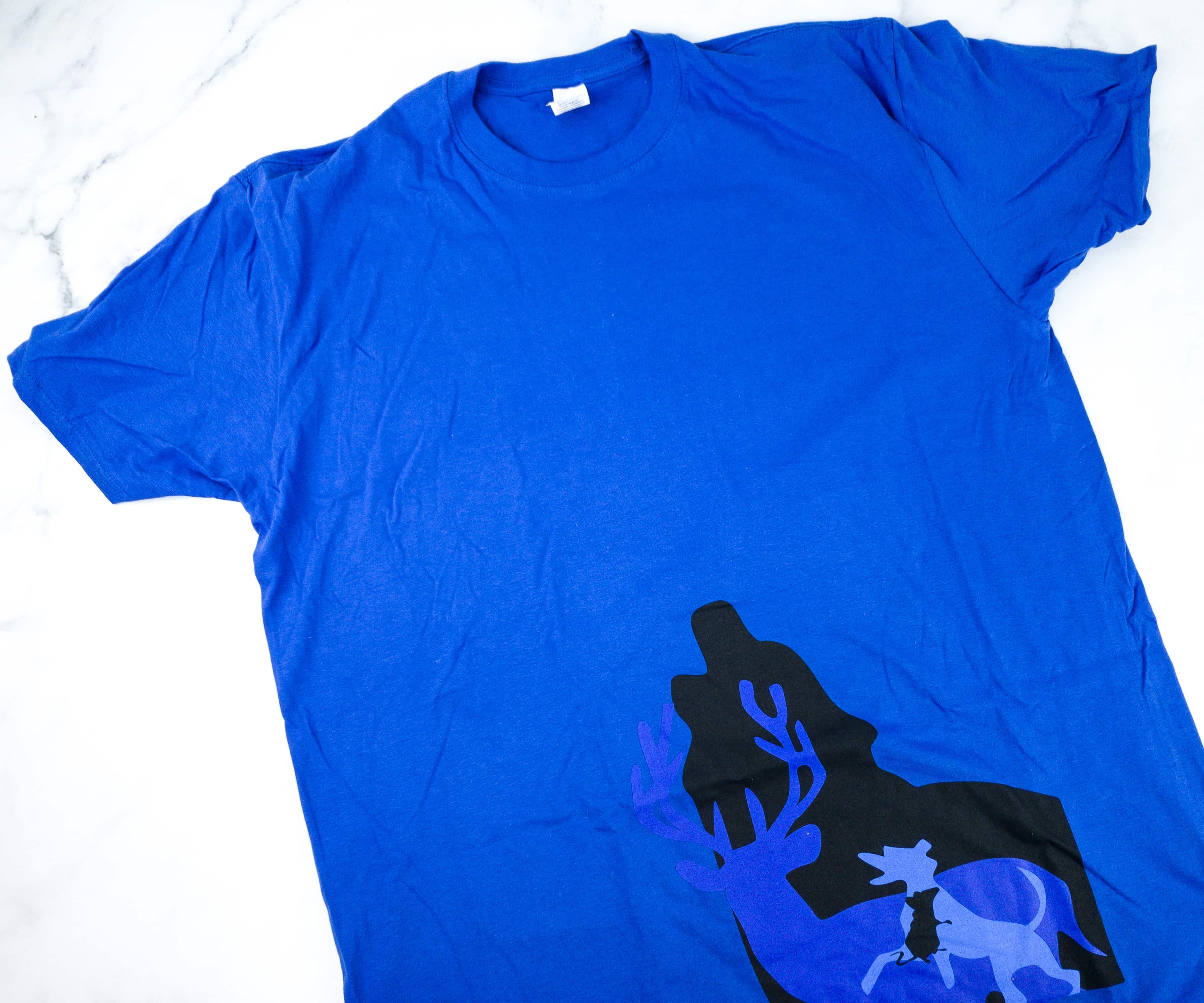 Exclusive Marauders T-Shirt. I like the bright blue color of this shirt, and they even included the Marauder's in it so I am more than happy to get this wearable!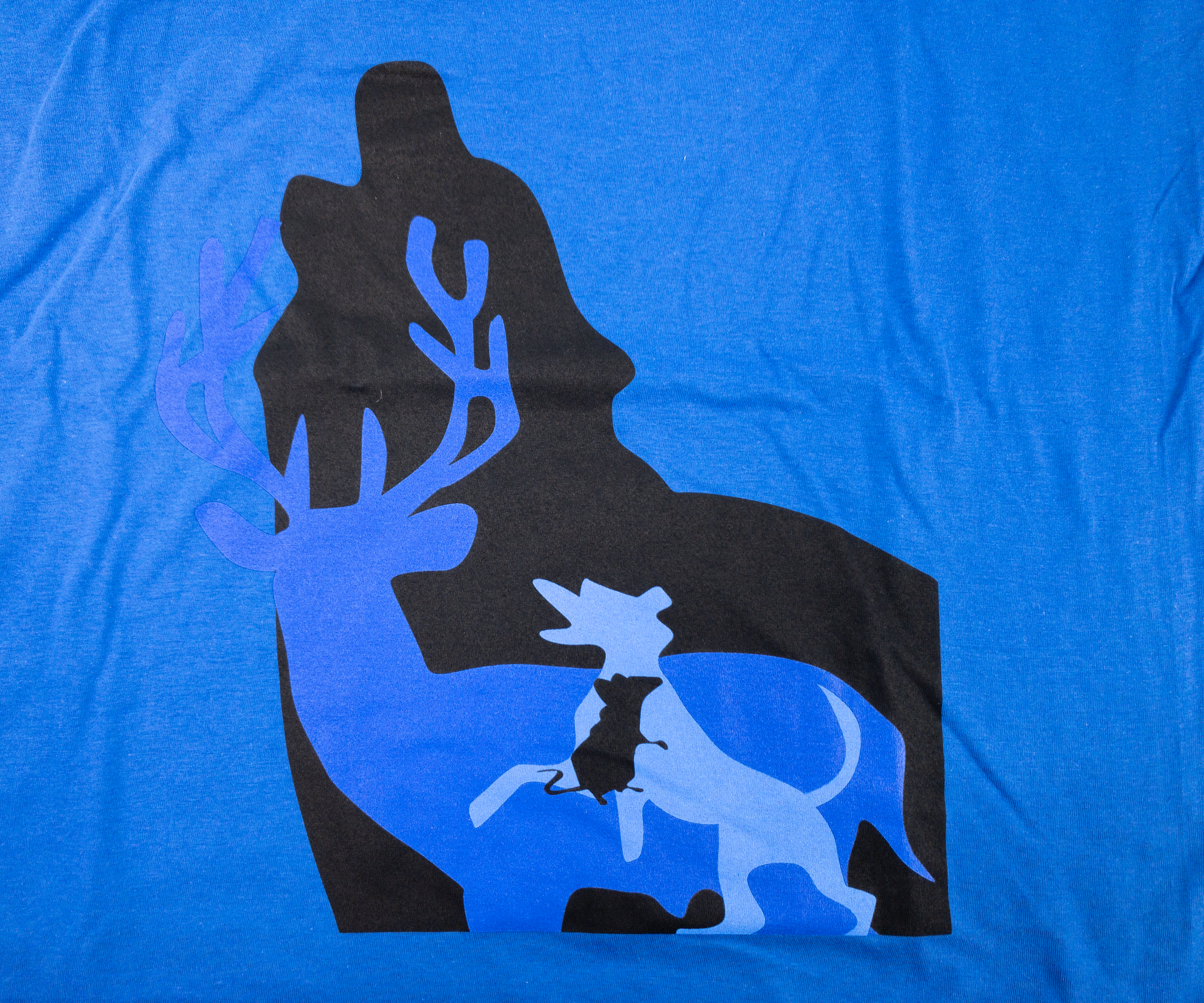 The silhouette of the Marauders came in different shades. There's Moony, Prongs, Padfoot, and Wormtail!
WOW! I was really excited when I saw all the contents of this month's Special Edition box. Again, I got amazing prints, both on paper and on the wearables! As always, the wand replica they sent is beautiful and intricately detailed. My favorite this month is the long-sleeved shirt that has the majestic avian native to Arizona and one of my favorite beasts from the franchise. The Marauders shirt is also nice! Getting potion replicas is great and I love looking at the different colors and bottle shapes! Every Potterhead should get this box if they love collecting unique and amazing Wizarding World merch!
What did you think of the special edition World of Wizardry Geek Gear box?
Visit Geek Gear World of Wizardry Special Edition to subscribe or find out more!