Free Your Tea is a tea discovery service that sends 6 samples to you in your first month based on answers you give to their tea survey. You try those samples and then rate them on the Free Your Tea website, and the next month they will send you a large bag of tea (enough for a daily cup of tea) plus one sample so you can keep discovering flavors you love. They also offer a caffeine-free option for those who prefer less stimulation from their beverage. Free Your Tea is $20 a month, or sign up for longer terms and the price drops, as low as $16 a month for the 12-month plan.
Free Your Tea is a personalized tea subscription that tailors teas to taste based on subscriber preferences and tea ratings. The teas are premium loose leaf teas sourced from tea plantations around the world. The goal is for everyone to discover new favorite teas.
DEALS:
Get 50% Off You First Month of Personalized Tea subscription! Use coupon code BLACKFRIDAY50.
Pay only $15 per month for 6 months of Personalized Tea subscription – that's $30 off! Use coupon code BF6MO25.
Save 10% on 3+ month prepaid subscriptions! Use coupon code HELLOPREPAY.
Everything in my box! The first box includes samples to get an idea of what you desire in a tea. Subsequent boxes will include one 3.5 ounce bag of tea (enough for about 30 cups) plus a bonus sample that makes about 3 cups of tea. You can upgrade to receive 2, 3, or 4 larger bags of tea if you like for an additional cost ($10 per extra bag of tea).
This is my very first box from Free Your Tea and I was so excited to try my teas! I received a welcome card…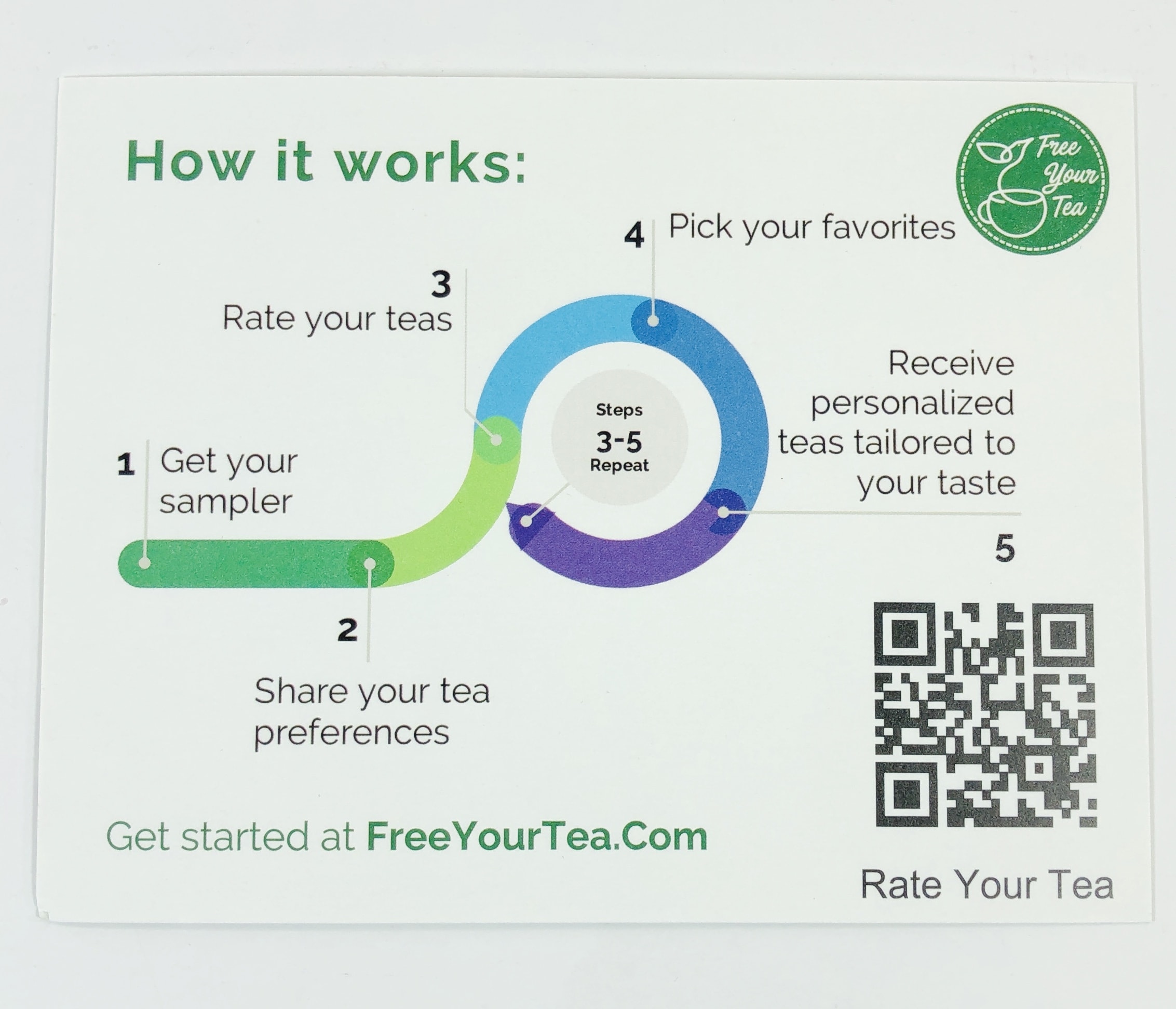 …that reminds me to rate my teas so I can receive even more personalized teas in the future!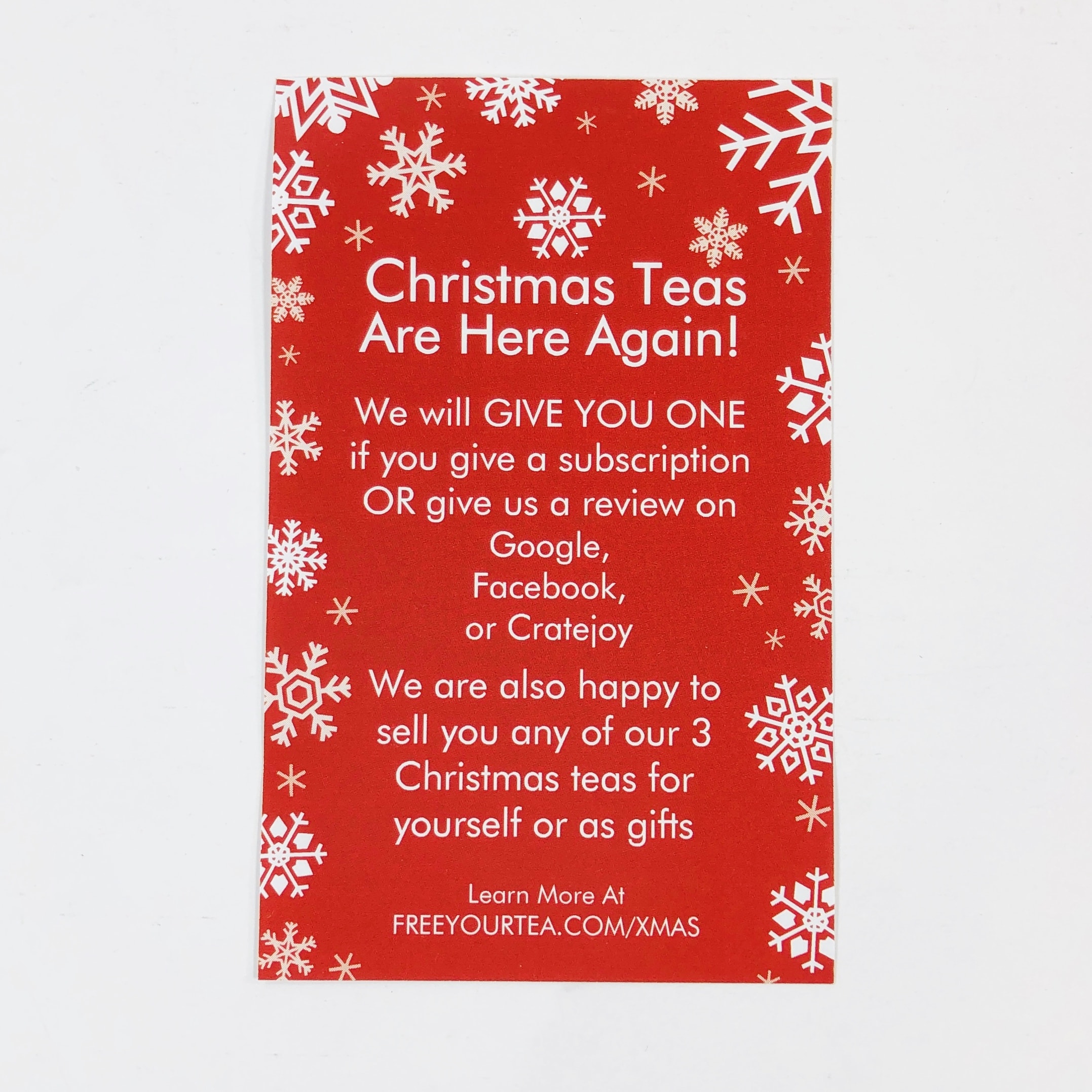 Spread the love via social media and you can earn a free bag of a seasonal flavor for the holidays! The Christmas teas sound amazing and there are 3 different flavors to choose from. Can't choose just one? You can purchase them if you want to!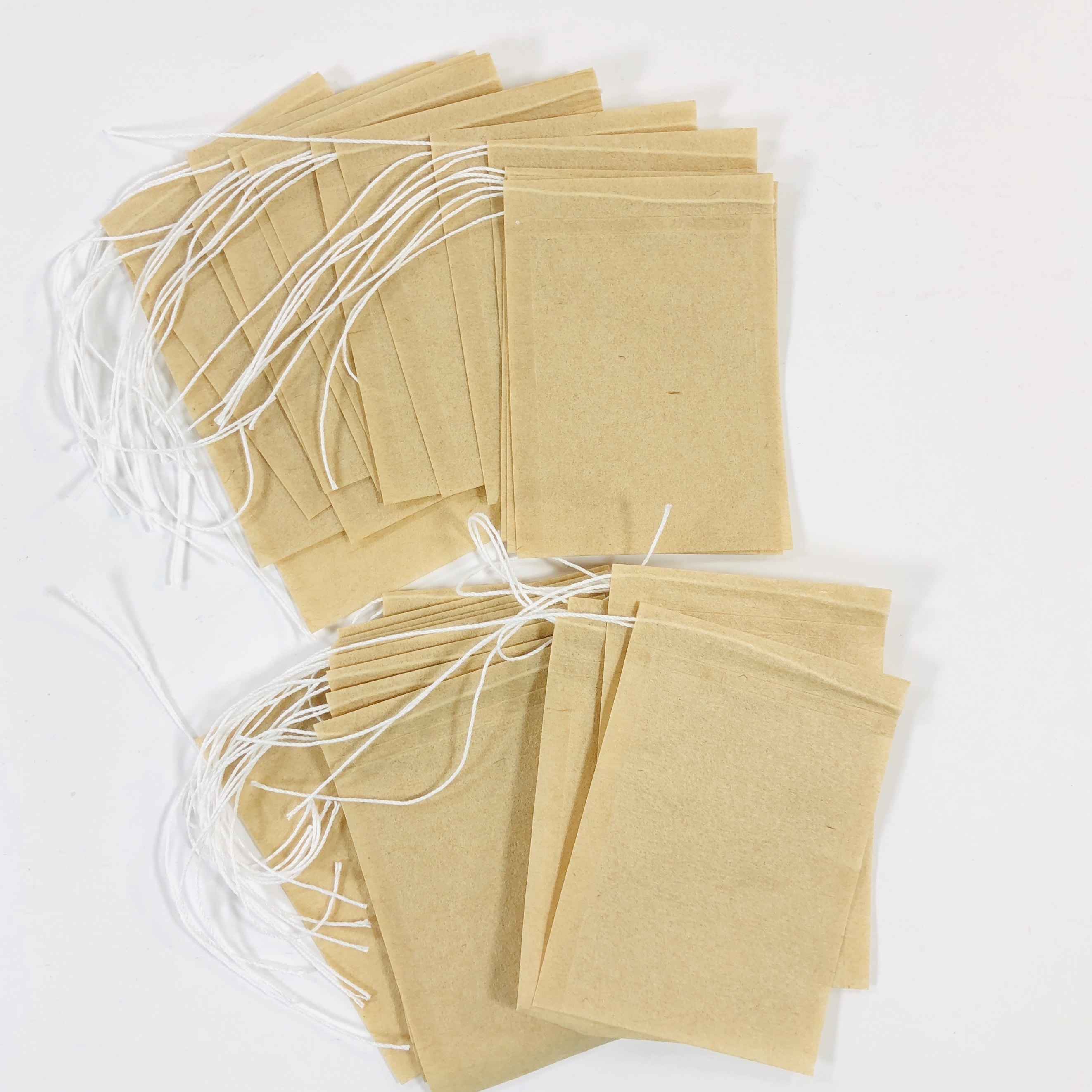 I received some disposable, compostable bags. Free Your Tea sends loose leaf tea so you will need tea bags, a strainer, or some other way to steep your tea.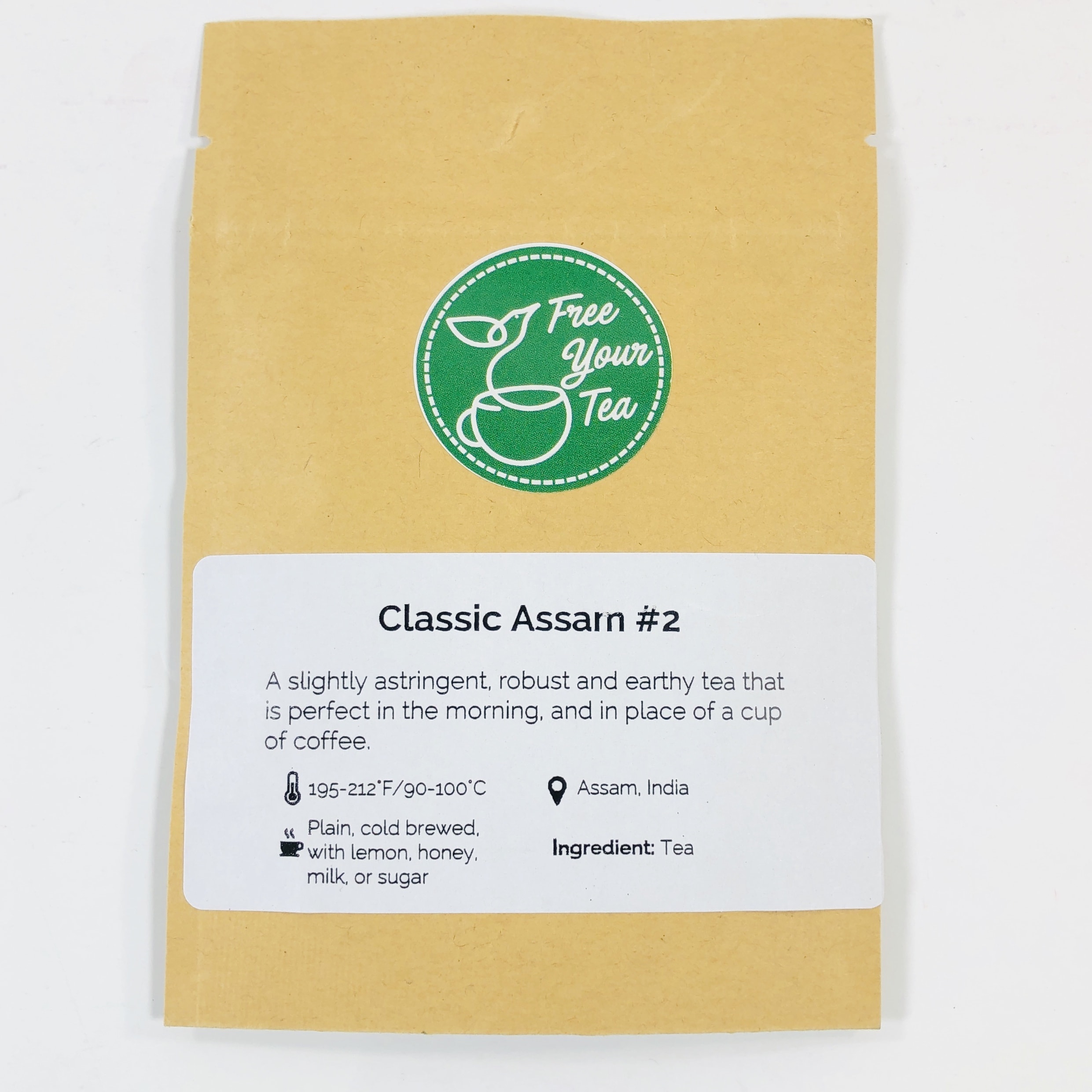 I want to point out that the bags tell you the ingredients, gives you flavor notes, lists country of origin, and tells you what temperature water to use. It even has a serving suggestion.

The back of the packet tells you to use 1 teaspoon of tea per 8 ounces of water. You can also cold steep if you like.
Free Your Tea Classic Assam #2 is classic black tea and my favorite of this box! It's dark in the cup and is astringent, perfect for adding sugar and milk. I also detected some floral notes in this amazing tea.
Free Your Tea Darjeeling Autumn Black I used 2 teaspoons since this was wiry and I like a full flavored tea. It still came out very light bodied, but then it says on the bag that this is a mild tea. No sugar was needed and milk would overwhelm it. The flavor was similar to white tea.
Free Your Tea Pu-Erh #2 is a fermented tea and steeped up dark and had an earthy mushroom smell (which is actually desired with this type of tea). It wasn't bitter at all, with a medium to bold body and flavor. You can drink it plain but I added sugar and milk. You can also steep it for a short amount of time, and then steep it a couple more times using the same leaves and adding about 30 – 60 seconds each time.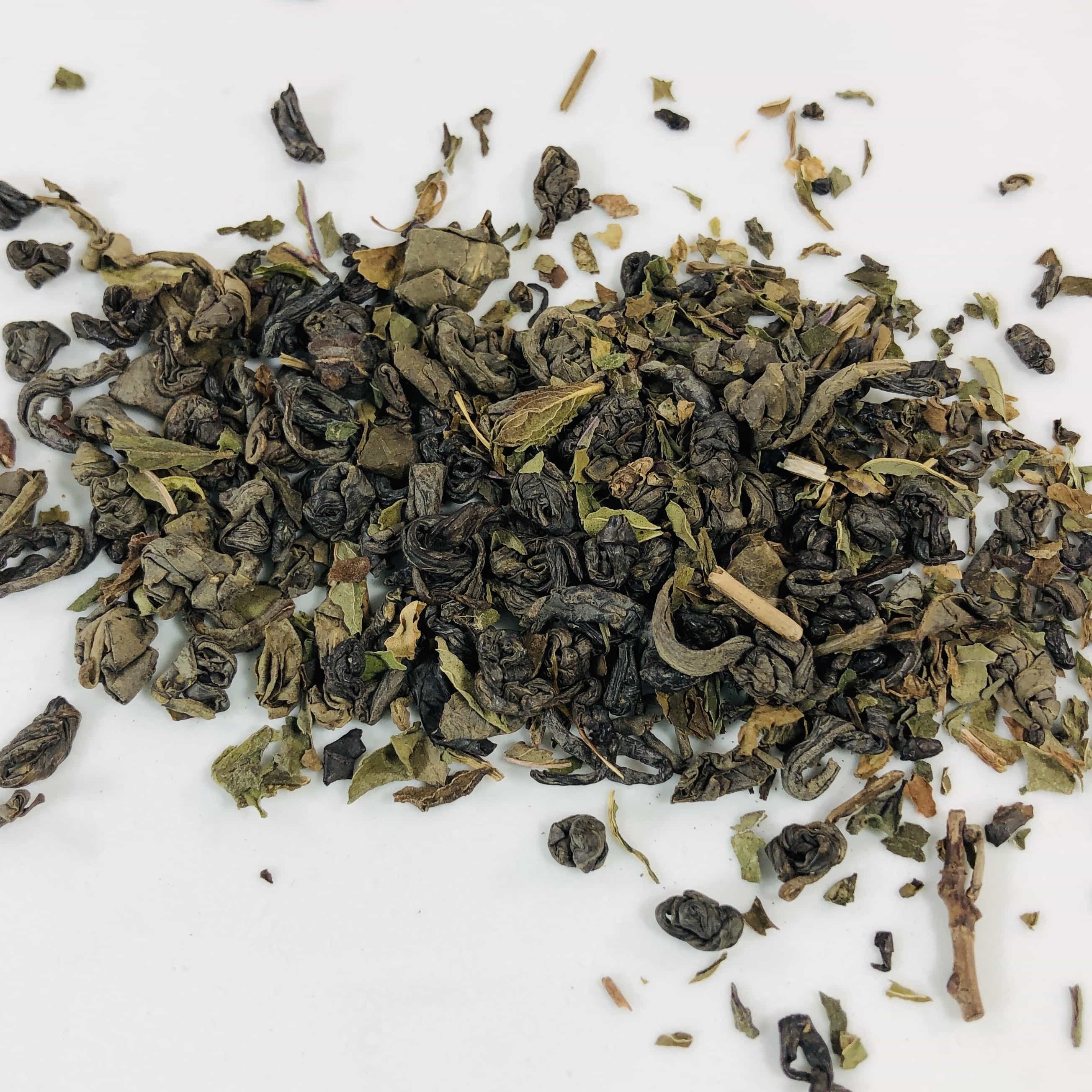 Free Your Tea Moroccan Mint #3 Green tea isn't something I regularly reach for, but I do like mint and I know green tea has health benefits so mint is a good flavor. It wasn't as minty as I was expecting and would make a wonderful iced tea. No bitterness at all, but then I made sure to not let the water come to a boil before steeping.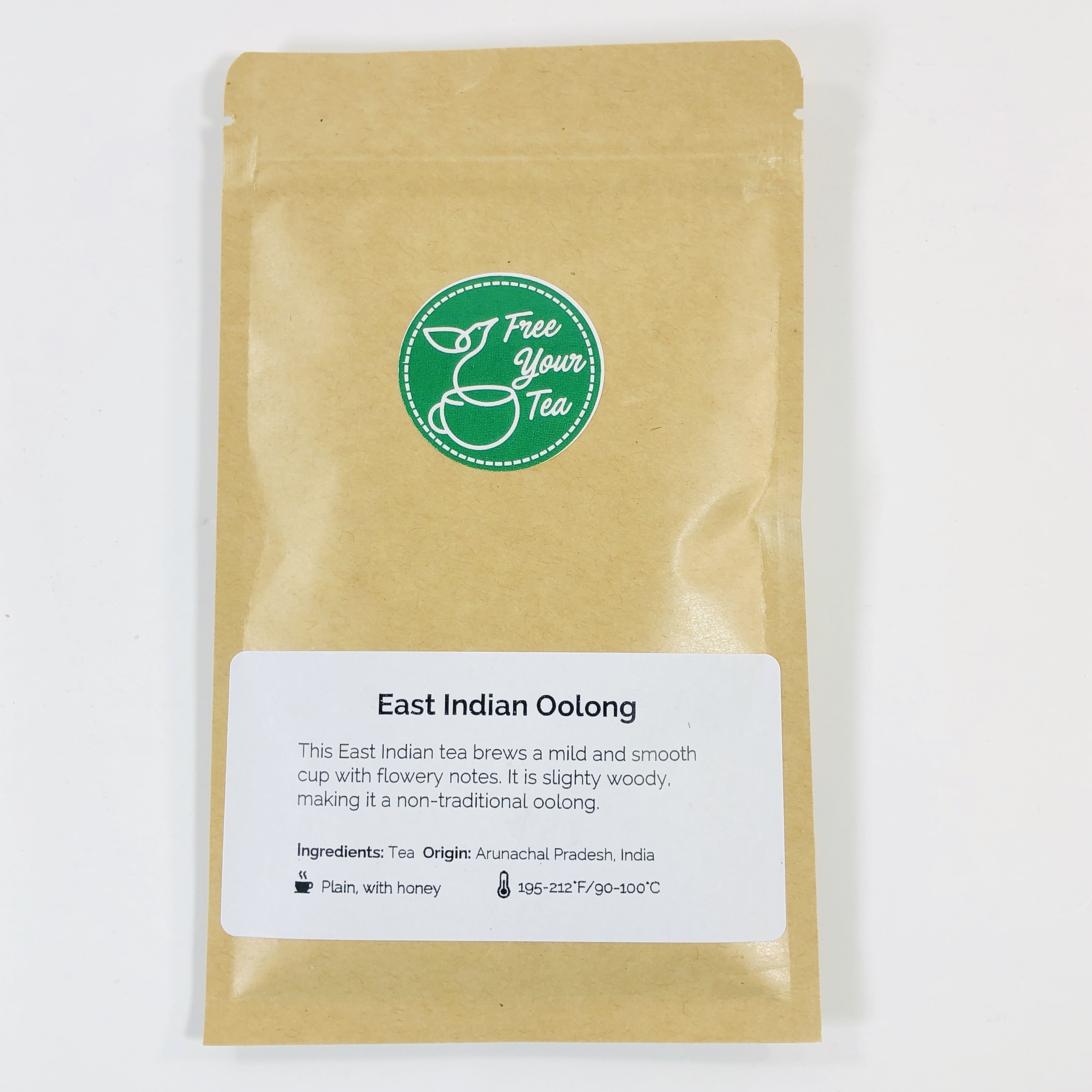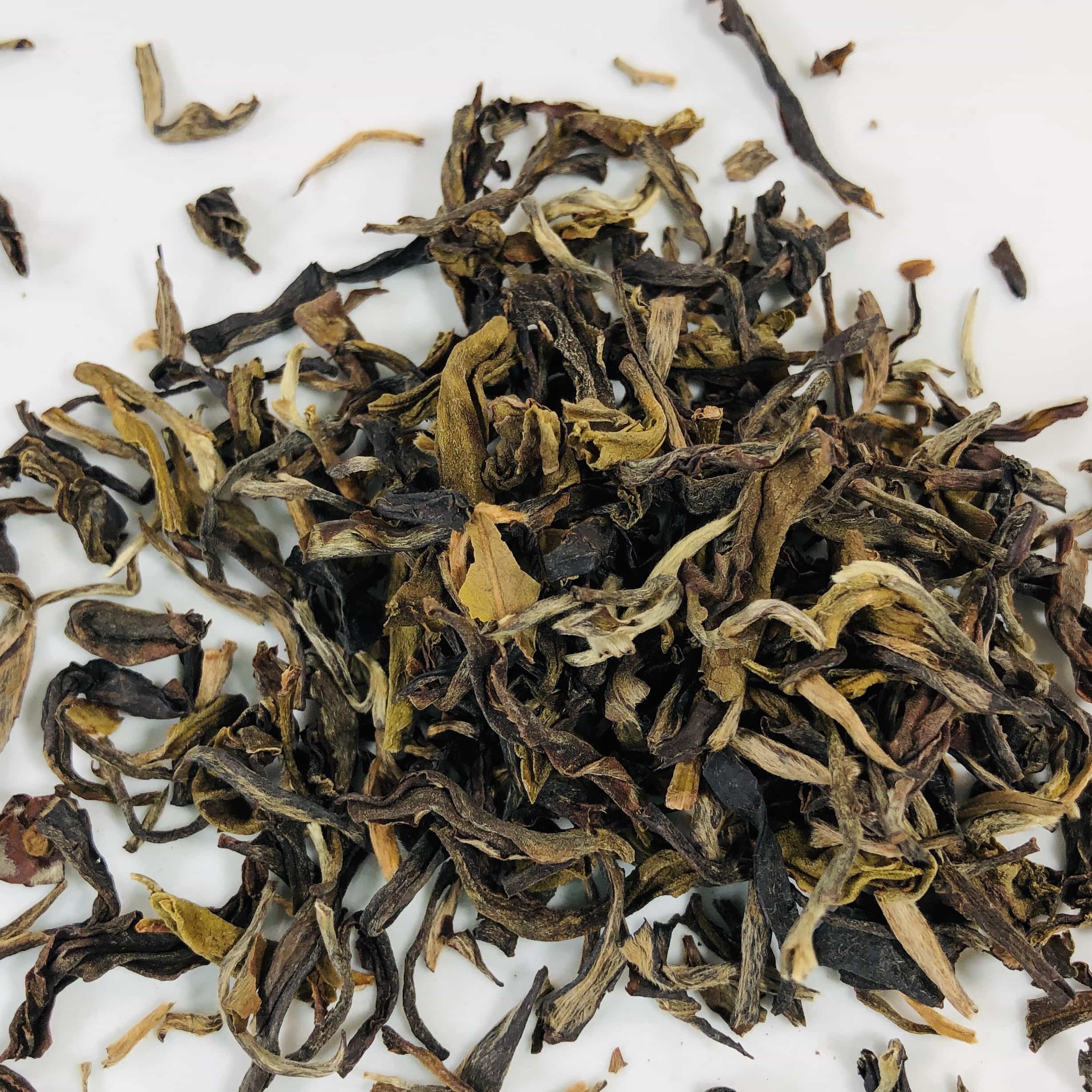 Free Your Tea East Indian Oolong Oolong falls in between green tea and black tea on the flavor/color spectrum. I used two teaspoons of this wiry tea and found that I had a cup with a wonderful almost floral scent. The tea turned out heartier than I was expecting and I really enjoyed this cup.
Free Your Tea Citrus Mate When I filled out the survey, I didn't mention that I am not usually a fan of yerba mate, but then again not many companies will actually send this type of tea so I give them points for having it as an option. The reason I don't typically go for yerba mate is because it has a higher caffeine level than black tea, although it has less than the amount of caffeine in coffee (for the record, I am not a coffee drinker). I did give it a try and found it delightful, with a citrusy flavor and not unlike a mild green tea. The lemongrass really shines here.
I really enjoyed discovering some new teas in my very first box from Free Your Tea! The tea quality was exceptional and I love the way they were packaged and that they have resealable tops. I look forward to seeing what might come in my next box, based on the answers I gave on my tea survey that I took after trying all of these flavors. My very favorite of this sampler was the Classic Assam #2, I love a good black tea that can take milk and sugar. I also liked the Pu-erh #2 for smiliar reasons, and the East Indian Oolong was also amazing. The Darjeeling was just a bit too light for my tastes, and green tea and mate are not my go-to picks, but it could be that I just haven't found my favorites yet in those categories. There is a world of tea possibilities out there and services like the one Free Your Tea offers can help you discover it, cup by cup!
What do you think of this month's box?