Free Your Tea is a tea discovery service that sends 6 samples to you in your first month based on answers you give to their tea survey. You try those samples and then rate them on the Free Your Tea website, and the next month they will send you a large bag of tea (enough for a daily cup of tea) plus one sample so you can keep discovering flavors you love. They also offer a caffeine-free option for those who prefer less stimulation from their beverage. Free Your Tea is $20 a month, or sign up for longer terms and the price drops, as low as $16 a month for the 12-month plan. You can also add additional bags of tea.
Free Your Tea is a personalized tea subscription that tailors teas to taste based on subscriber preferences and tea ratings. The teas are premium loose leaf teas sourced from tea plantations around the world. The goal is for everyone to discover new favorite teas.
DEALS:
Get 50% Off You First Month of Personalized Tea subscription! Use coupon code BLACKFRIDAY50.
Pay only $15 per month for 6 months of Personalized Tea subscription – that's $30 off! Use coupon code BF6MO25.
Save 10% on 3+ month prepaid subscriptions! Use coupon code HELLOPREPAY.
Everything in my box! Last month I received the sampler, so this month I received a full-sized tea based on the ratings I gave at the Free Your Tea website. The standard subscription comes with a full-sized bag of tea plus another sample, and you can add extra bags of tea for an additional fee. The big bags have enough tea to make about 30 cups each, while the sample is enough for around 3 cups. I am reviewing the Two Cups a month plan, which is $30 a month.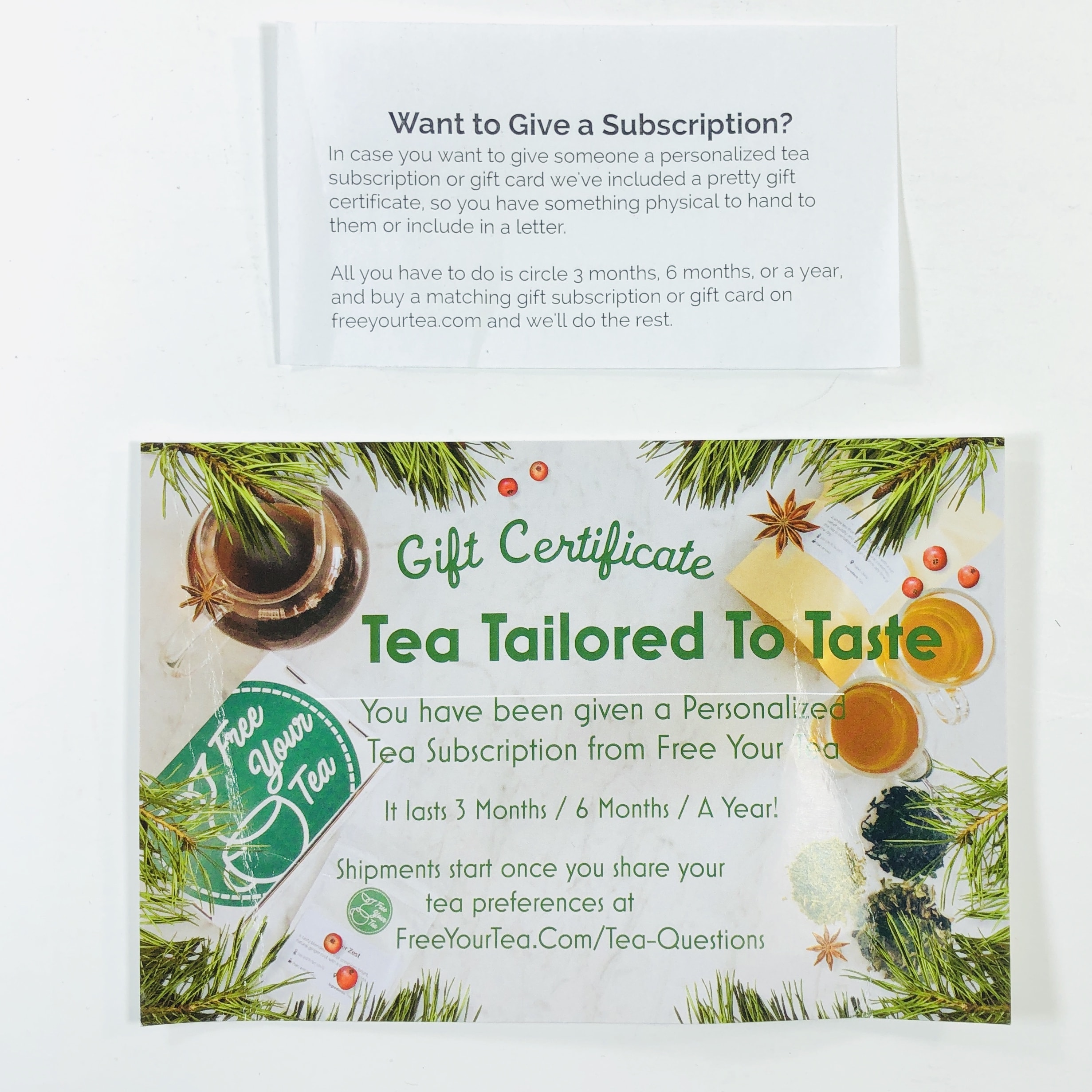 Looking for a last minute gift for someone? I found a card and paper suggesting that I give the gift of tea!
Irish Breakfast My first tea is a classic bold breakfast blend that gets me going in the morning and is always my first choice when it comes to tea types. Ingredients and steeping/serving suggestions are given on the front of each bag.
I want to show you the back of the bag, which tells you where you can go online to rate your teas. It also has social media handles listed.
My tea has both Indian and Chinese black tea leaves and I used 1 teaspoon for my cup but could possibly use 1.5 teaspoons for an even bolder flavor. I didn't feel like it was too tannic, my mouth didn't pucker when I tasted it but I still went ahead and added milk and sugar because that's how I roll.
Ginger Orange Pu-Erh Have you ever tried pu-erh before? It's black tea that has been fermented and that gives it an earthy flavor. It doesn't have any bitterness at all and this one looked as dark as a cup of coffee after steeping.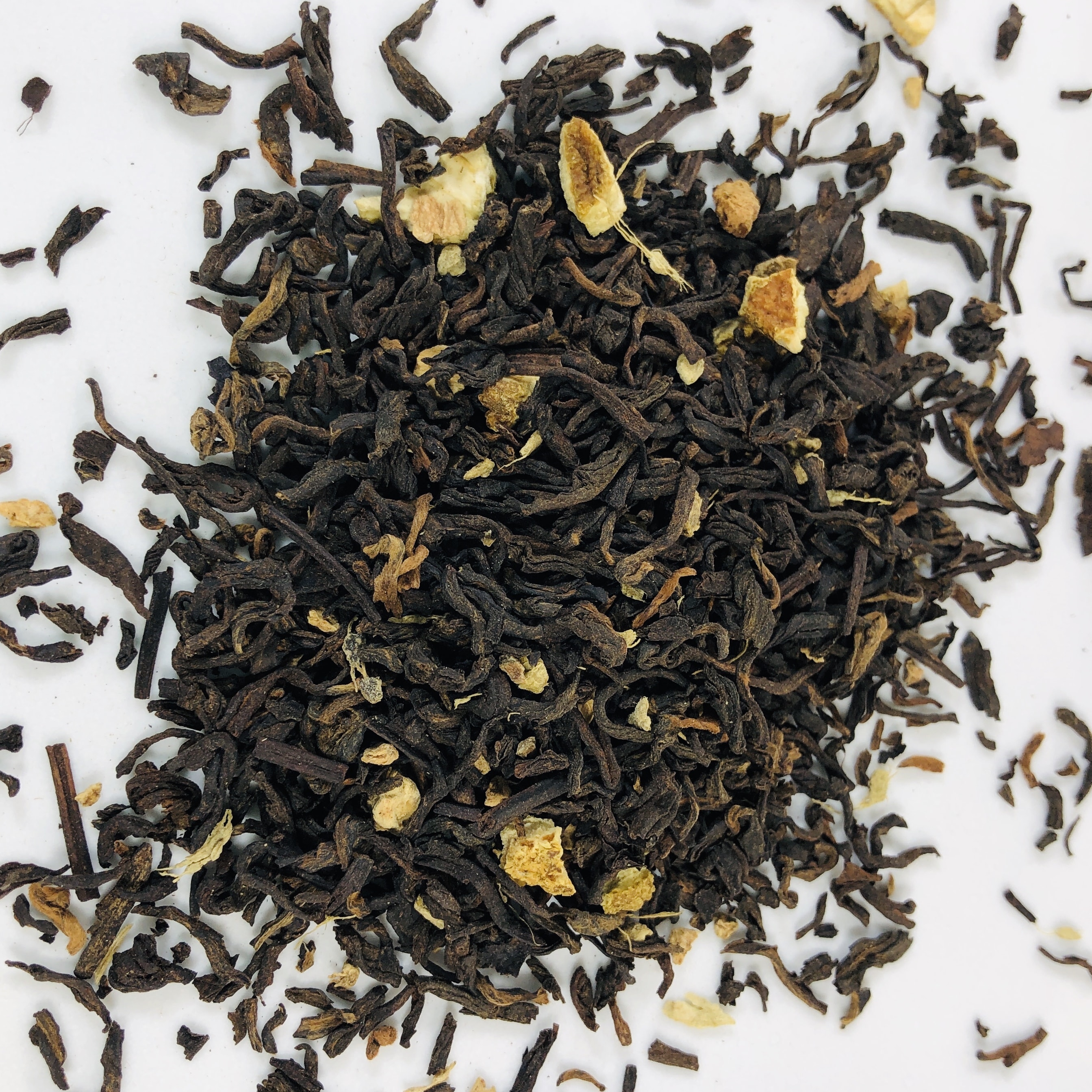 Ginger and dried orange peel join the tea leaves here and while it still has that characteristic pu-erh flavor, the orange and spice give it a holiday feel and reminds me of a tea I used to drink when I was younger, but this is more grown-up in flavor. It can be consumed as is or do as I do and add milk and sugar. It can also be re-steeped if you like.
Jasmine Green Tea is the sample that I received. I'm not a huge fan of green tea, but jasmine is the exception!
I used 1 teaspoon of leaves and made sure to turn off my water just before it came to a boil, in order to keep the tea from turning bitter. I also steeped for only 3 minutes, and again, that is to keep it from turning bitter (green tea needs to be babied a bit). The tea smelled beautiful both before steeping and after, with that wonderful floral, almost perfume-like aroma. There was no bitterness and I didn't even need to add sugar. This takes me back to being a kid again, when we would order this in Chinese restaurants.
Free Your Tea is just my cup of tea! There are lots of flavored tea subscriptions out there but I prefer to keep it simple with just an additional essence or two (or none, I really love the notes from the actual tea leaves!) and so far I have been super thrilled with the teas selected for me by this service. The quality is top notch and the quantity sent is generous. You could resteep the leaves too if you like to get even more servings. Members can add additional bags of tea of their choice to their box if they like, and they even had limited edition Christmas teas available for the holidays.
What do you think of this month's box?