The FCS of the Month Club is a monthly subscription from Fortune Cookie Soap that features goodies from FCS. The box is now $16.95 a month with free shipping. You can also subscribe just quarterly.
The 2019 version of FCS of the month features $40 in value every month, with 1 full-size product and 3 deluxe samples. See all the details here. There will be a $10 discount code off $25 purchase that expires in 30 days emailed to you with your subscription.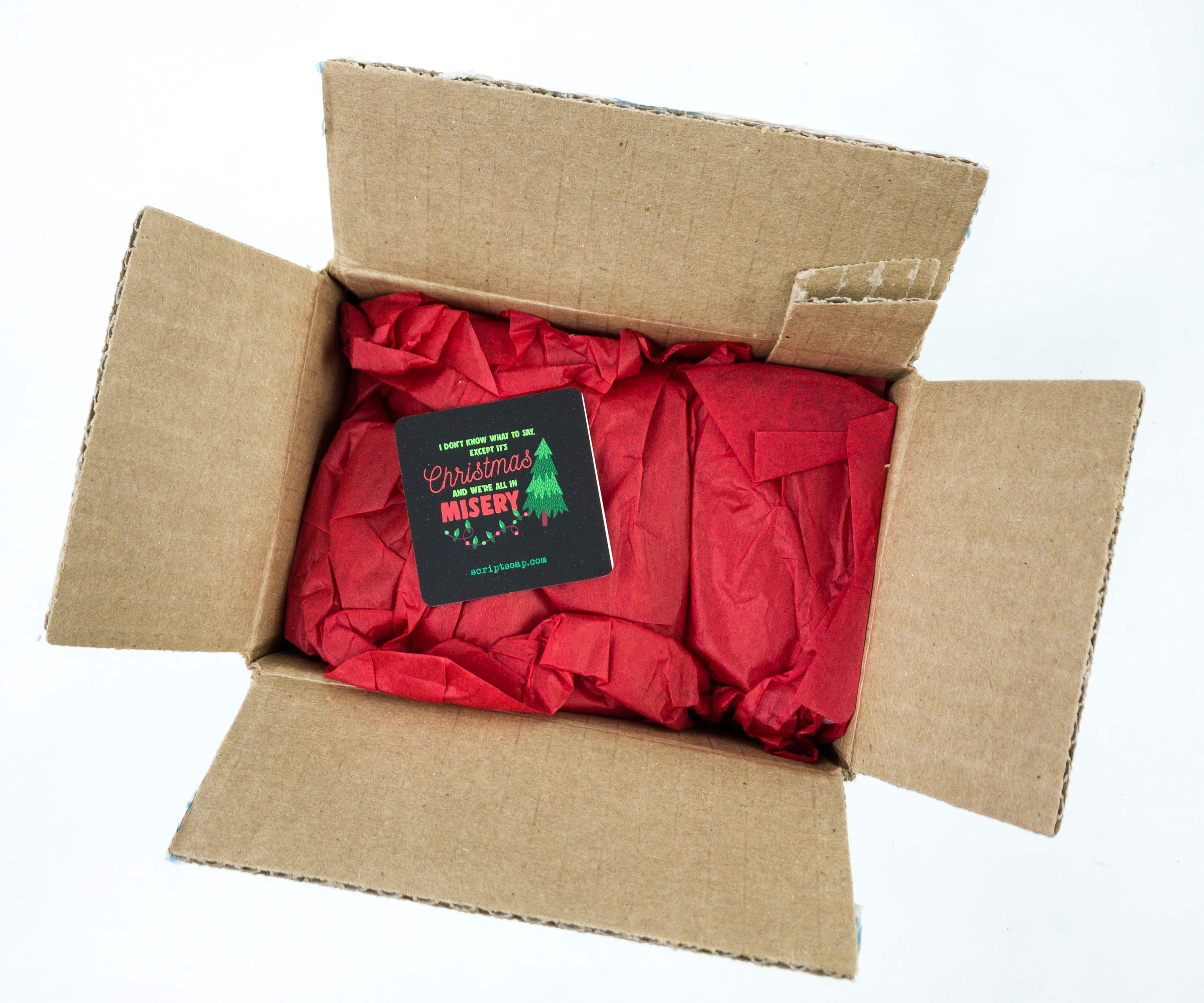 The items were wrapped with red tissue paper.
Upon seeing the card and this quote, there's no doubt this box will be all about National Lampoon's Christmas Vacation!
I don't know what to say except it's Christmas and we're all in misery.
A peek inside the box!
November 2019's theme is OLD FASHIONED FAMILY CHRISTMAS!
Information about the individual items is listed on the card.
Everything in this month's box!
Moose Mug Fortune Cookie Soap. This rich and creamy soap with a touch of nutmeg is inspired by the eggnog in a Moose Mug that Clark Griswold and Cousin Eddie enjoys! It contains no surfactants, parabens, sulfates, or propylene glycol.
The soap looks like a real fortune cookie, sprinkled with some flavorings! And what I love about this is that it lathers really well!
There's a piece of paper inside and instead of a fortune reading, it has a quote from Eddie!
Oh, he's just yakin' on a bone.
Jello Surprise OCD Hand Sanitizer. Remember Aunt Bethany's infamous jello? They made a hand sanitizer inspired by it! No worries because there's no cat food or something like that in here, just a pleasant-smelling sanitizer with festive notes of plum coupled with zesty citrus curls all wrapped up pretty with winter orchid and soft sandalwood. It's a nice inclusion to my kit to keep my hands clean all the time!
Jelly Of The Month Scent Diffuser. Another hilarious scene in the movie was when Clark was enrolled in a Jelly of the Month Club instead of getting a monetary bonus! Although there's no edible jelly in here, this scent diffuser makes up for it with notes of delicious strawberries, vanilla sugar, sticky syrup, and some squeeze of fresh oranges. You just have to unscrew its wood lid and remove the plastic plug, then screw the wood lid back on and turn over the bottle! The glass bottle holds 7ml or around .25 oz of the scent.
Fried Pussycat Perfume Oil. No cats were harmed in making this fragrance oil! It's just that its name came from the poor cat that got "fried" in the movie when Clark plugged the Christmas lights. This fragrance oil is quite intoxicating with notes of plums and caramel added with bourbon vanilla and jasmine!
Sparky Body Frosting. Your skin will thank you for this amazing Christmas gift, a body frosting that smells like vanilla pumpkin waffles decorated with brown sugar, pecans, and whipped cream. Sparky is actually Clark's nickname!
The formula contains shea butter, apricot, kernel oil, meadowfoam seed oil, jojoba, fragrance, and more. It may get a bit greasy but wait until your skin absorbs it. I like how it left my skin soft and hydrated!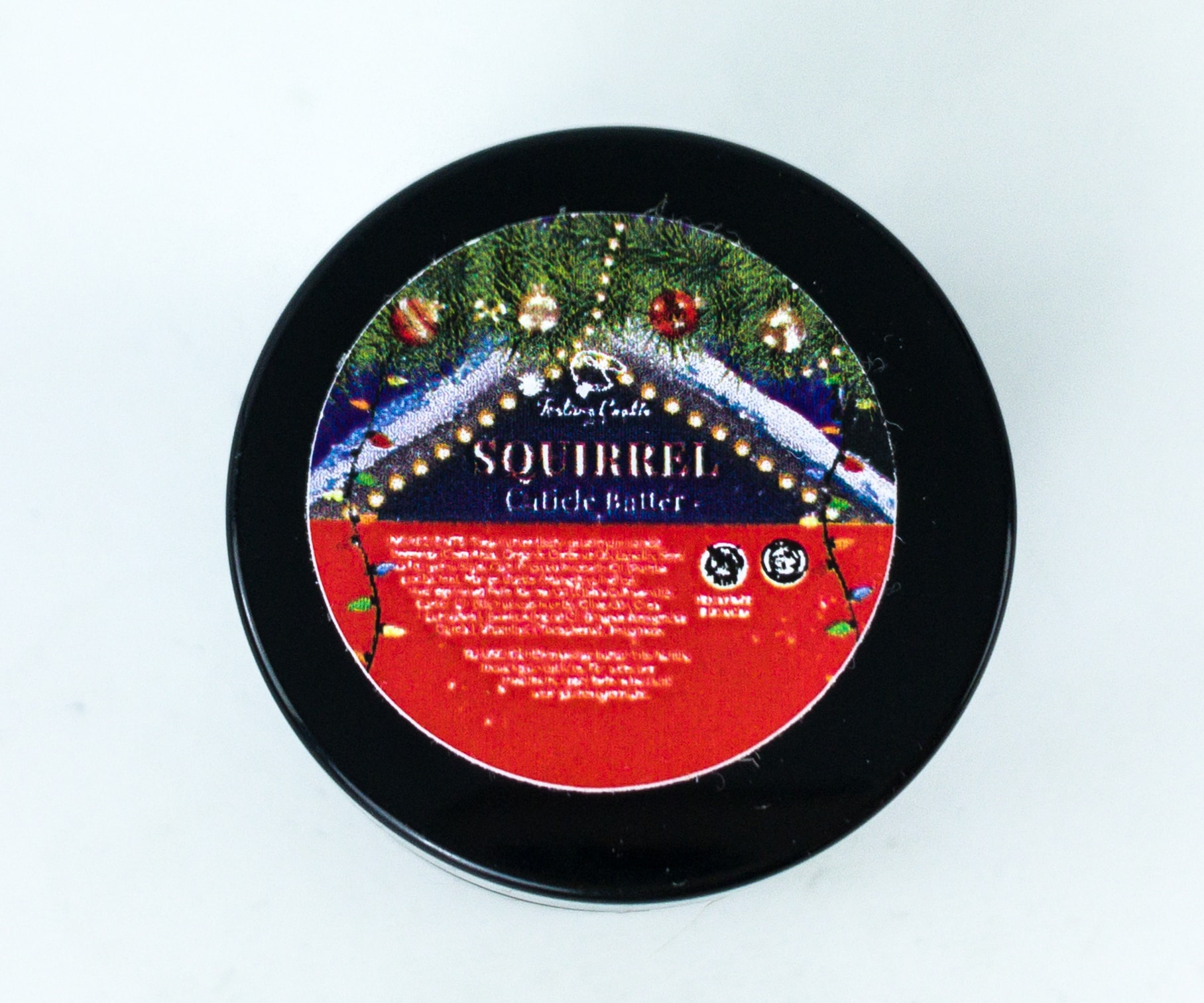 Squirrel! Cuticle Butter. For nice and healthy-looking cuticles, they included this cuticle butter! It has notes of apple, sun-ripened strawberries, and plums, with added zests of orange and lime.
It contains shea butter, beeswax, organic coconut oil, lanolin, soya oil, avocado oil, mango butter, and more, but no squirrels like the one that appeared from the Christmas tree in the movie! Just massage the butter into hands, focusing on cuticles, and see how it'll turn tired, rough hands to smooth, soft, hydrated, and youthful ones.
I'm feeling all the Christmas vibes from this month's box! The theme is just hilarious, and I had fun reliving the movie through the contents! My favorite is the cuticle butter as I love to keep my hands soft and smooth after all the busy work during the festivities. The diffuser is a nice addition as well, it easily makes any space smelling fresh and amazing! If you're also into scented products, prepare to get head-over-heels with this subscription! It's totally worth every penny!
What do you think of this month's FCS The Soap Box?
Visit Fortune Cookie Soaps – The Soap Box to subscribe or find out more!