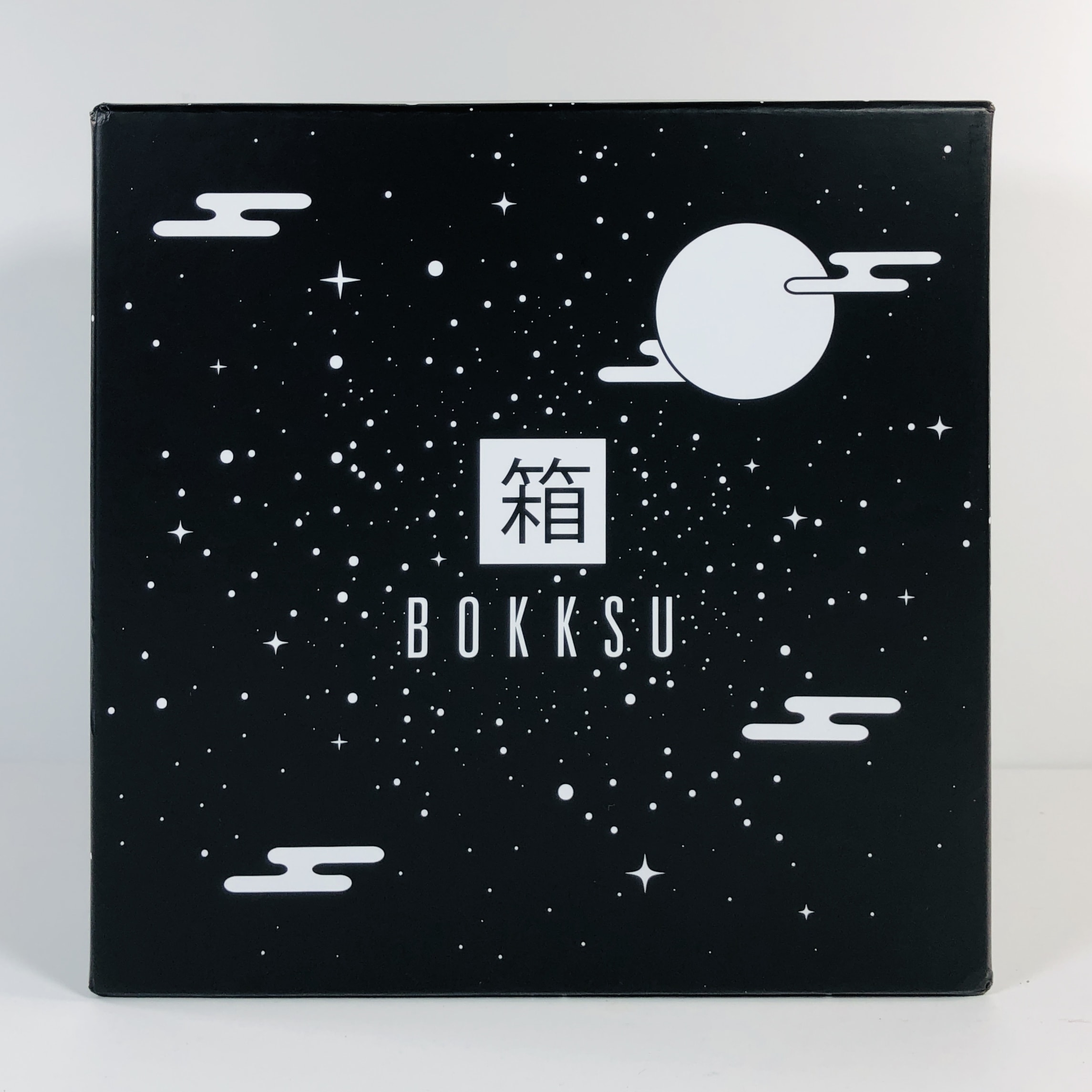 Bokksu is a premium snack box that features authentic Japanese snacks, as well as a tea pairing to go with it. There are two levels to choose from: Classic Bokksu ($39.99 USD) includes an assortment of 20-25 premium Japanese snacks and a tea pairing; Tasting Bokksu ($25 USD) includes 10-14 premium Japanese snacks and a tea pairing. Both boxes offer a discount for longer terms. The snacks sent are not easily found outside of Japan and this subscription ships internationally from Japan. Shipping is already included in the price. I am reviewing the Classic Bokksu.
Other Japanese snack subscription services use mass-produced mainstream snacks that can be readily found in most Asian markets outside of Japan. Bokksu directly sources its artisanal snacks from local snack makers in Japan (some of whom have been around for over 200 years!). We only curate high quality and gourmet snacks, never filler items. We are also the ONLY service that handselects a tea pairing for each box to complement that month's flavors.
DEAL: Save $5 on your first box with coupon code HELLO.
The box is always packed to the top!
When I opened my box I found a card on top.
The back of the card had a little info about the theme for the November box.
November's theme is AUTUMN IN KYOTO. I am always impressed with the booklet that is included in the box, there's so much info inside! Both levels of Bokksu come with this booklet.
I am always happy to learn new things and so the expanded booklet is welcome.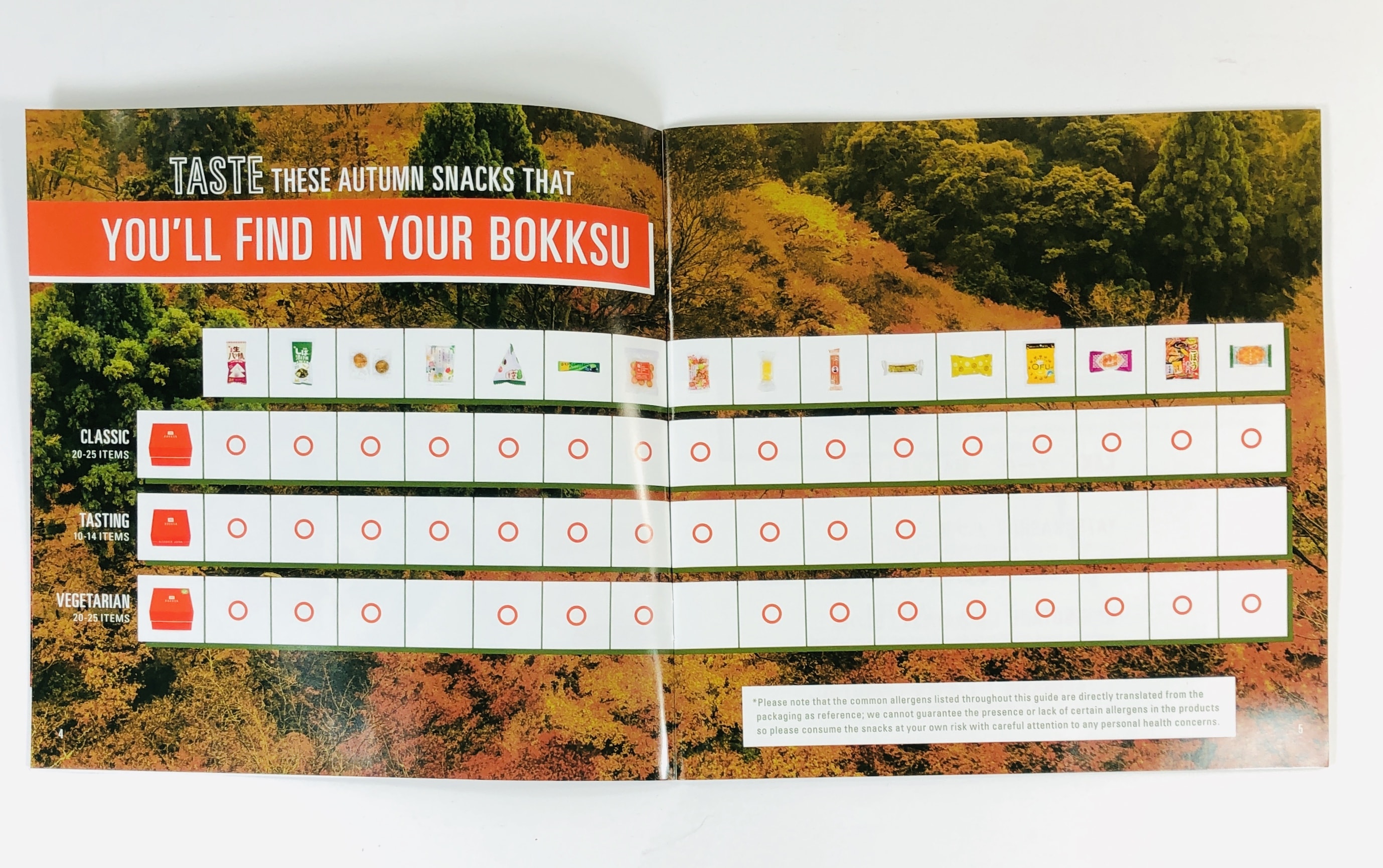 There was a key to which snacks you should find in your box. It shows a vegetarian box option but I no longer see a a way to subscribe to that box.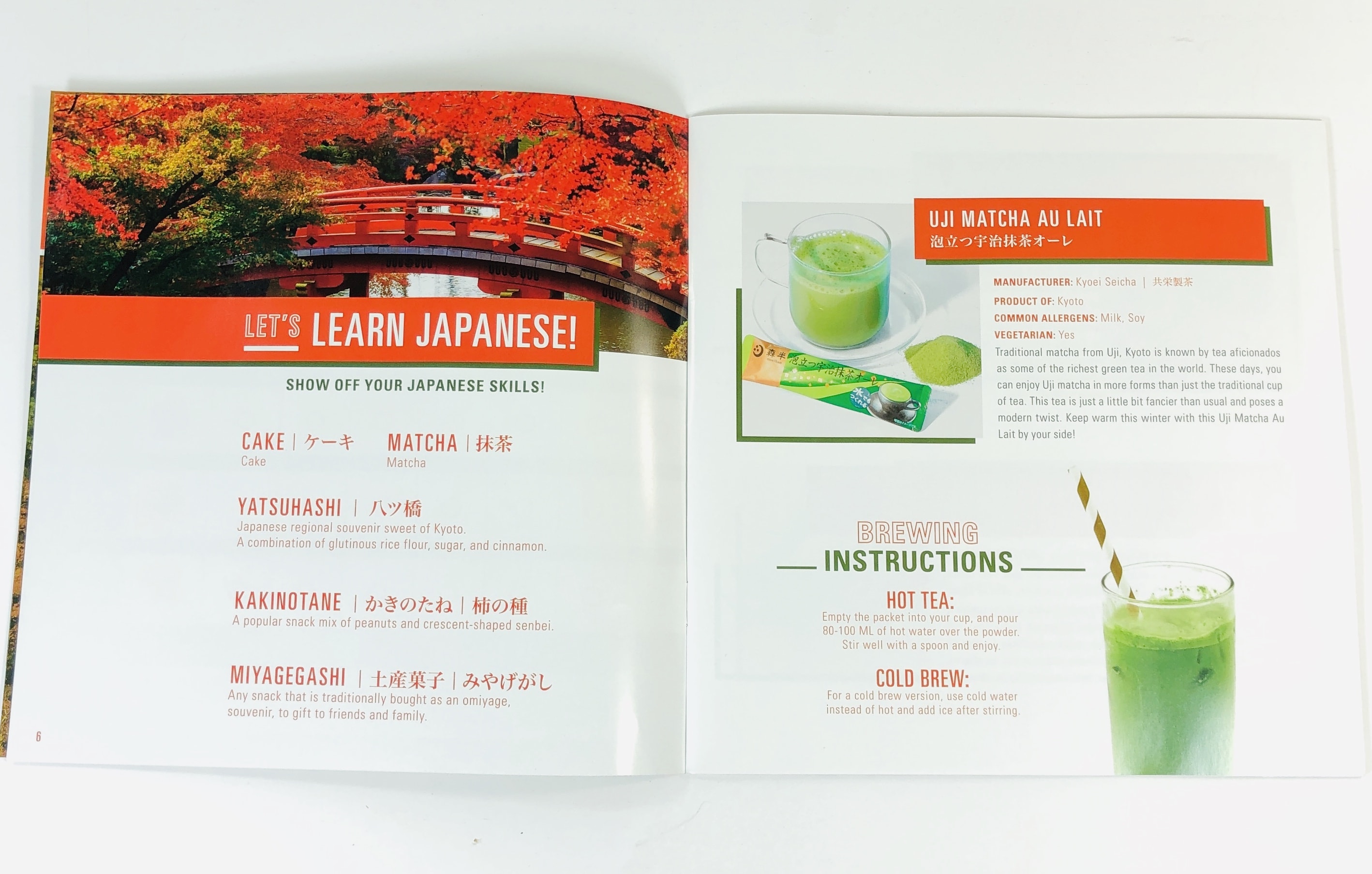 Each product was shown and even listed which part of Japan it originated from, brand name, common allergens, and a description.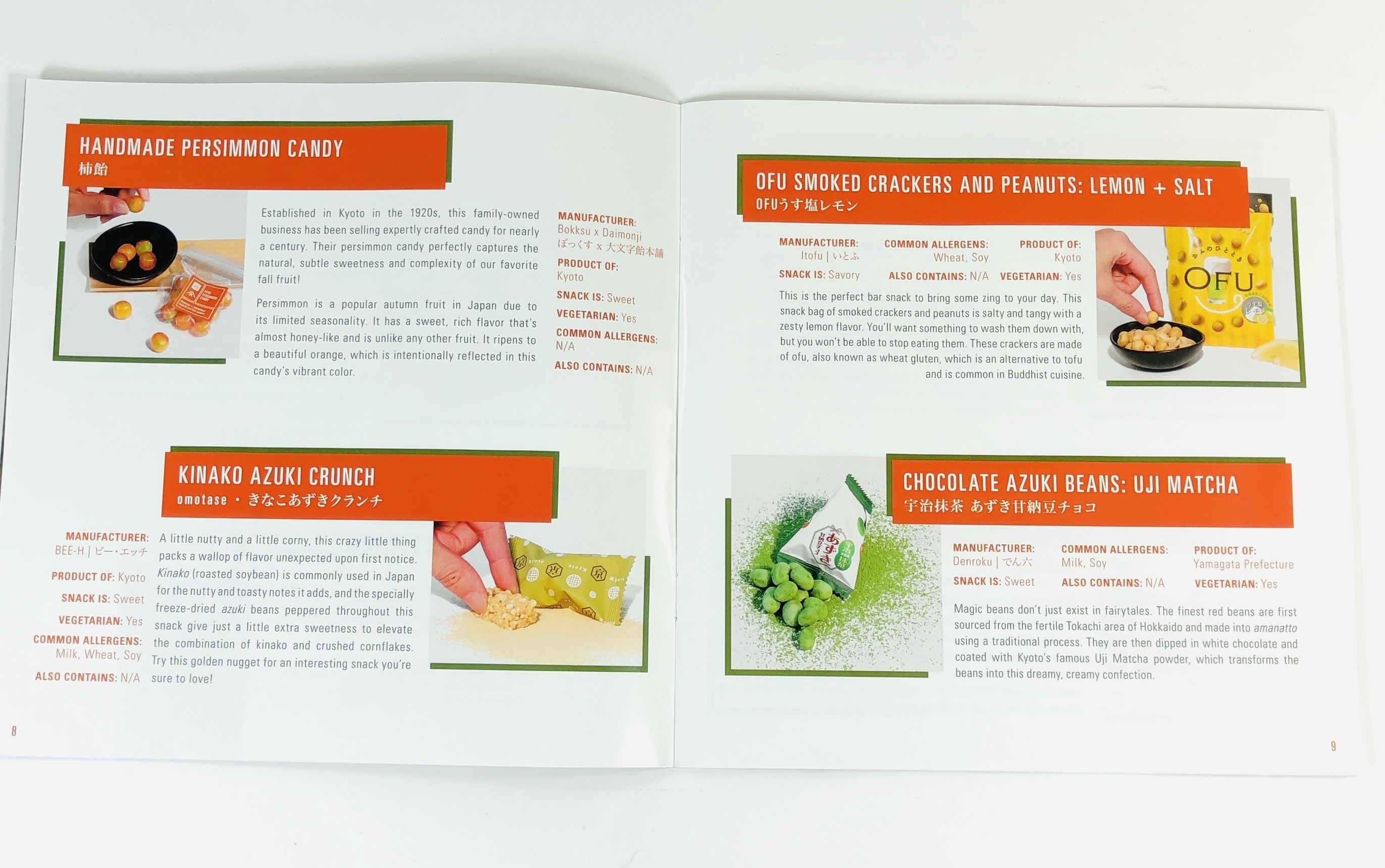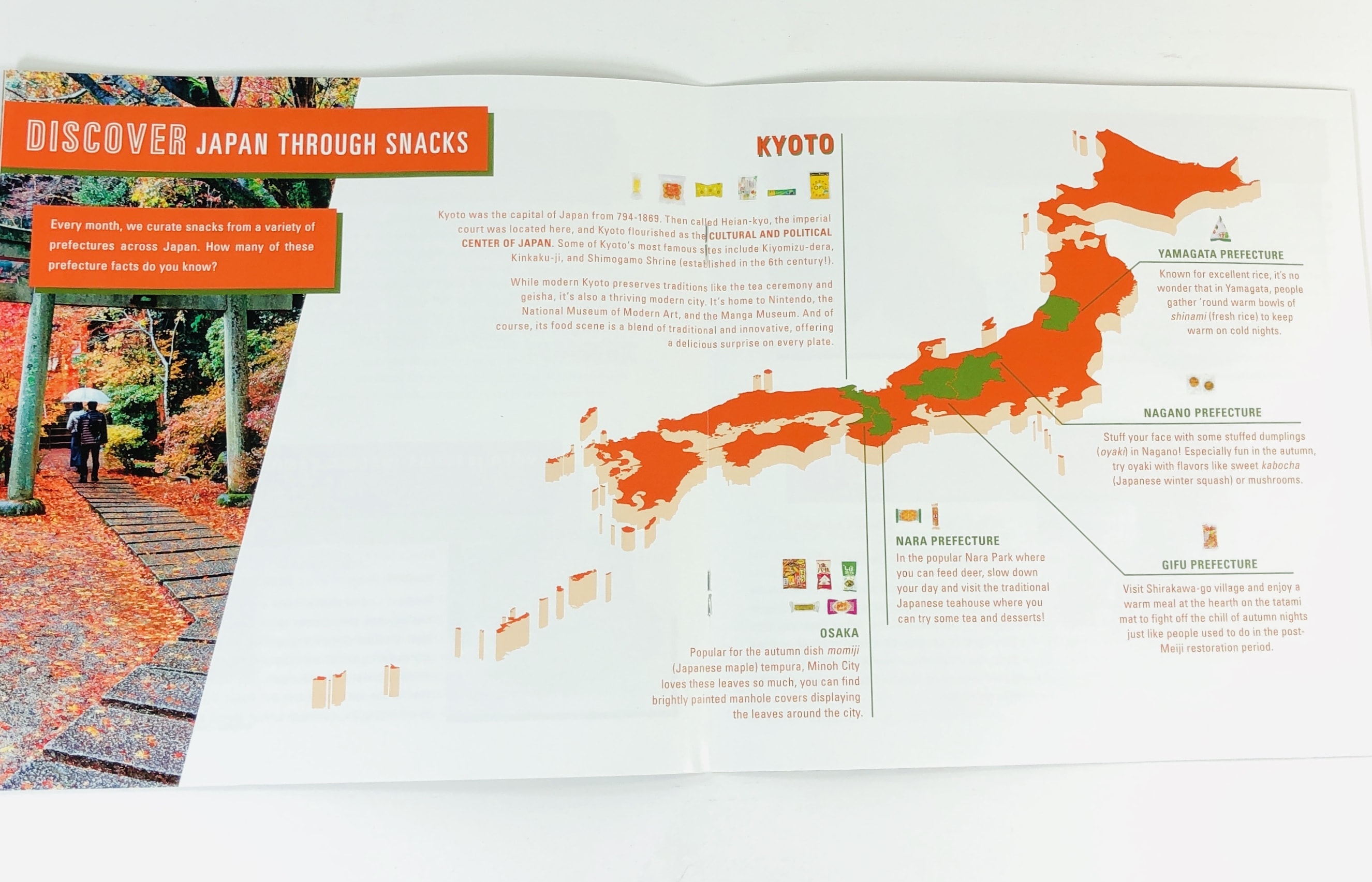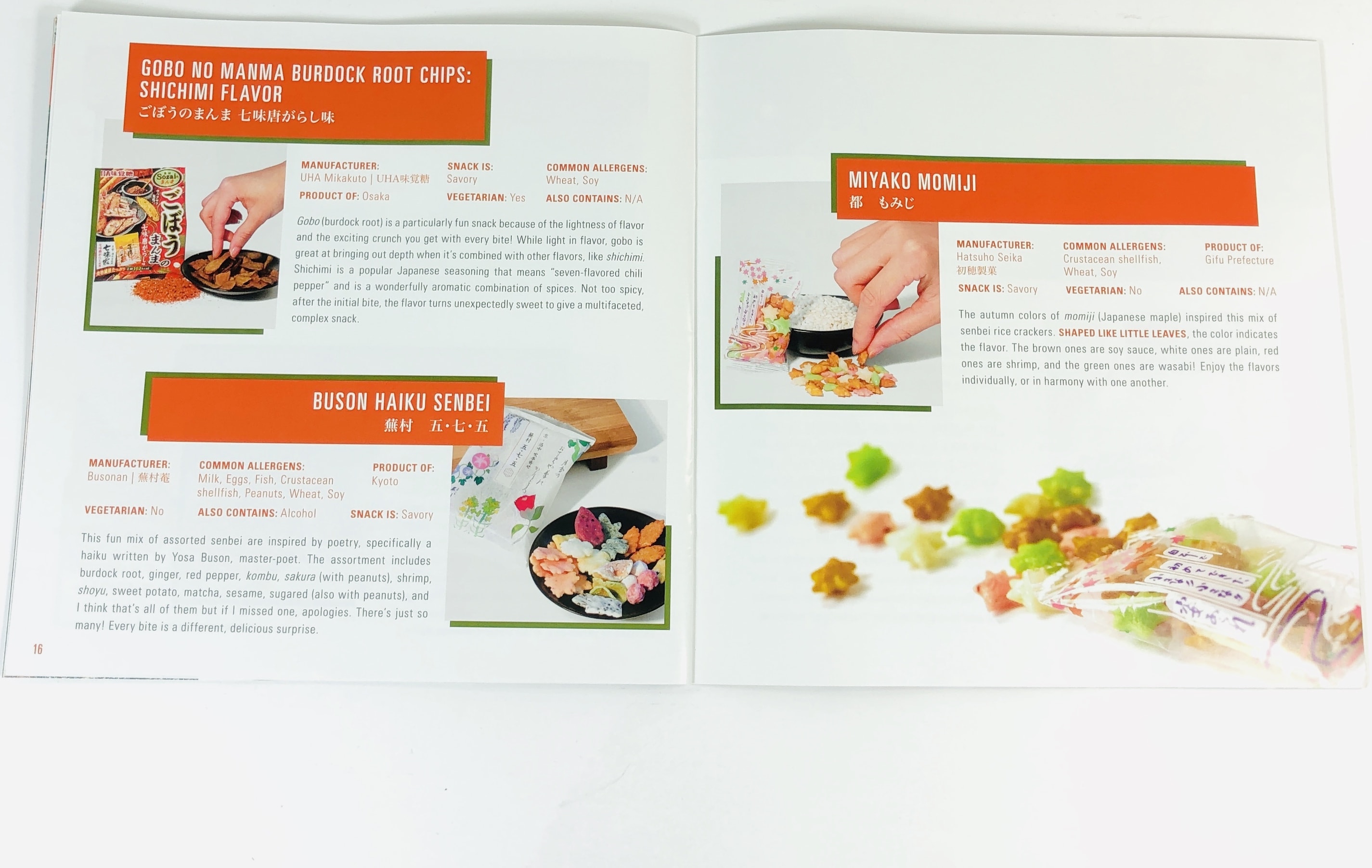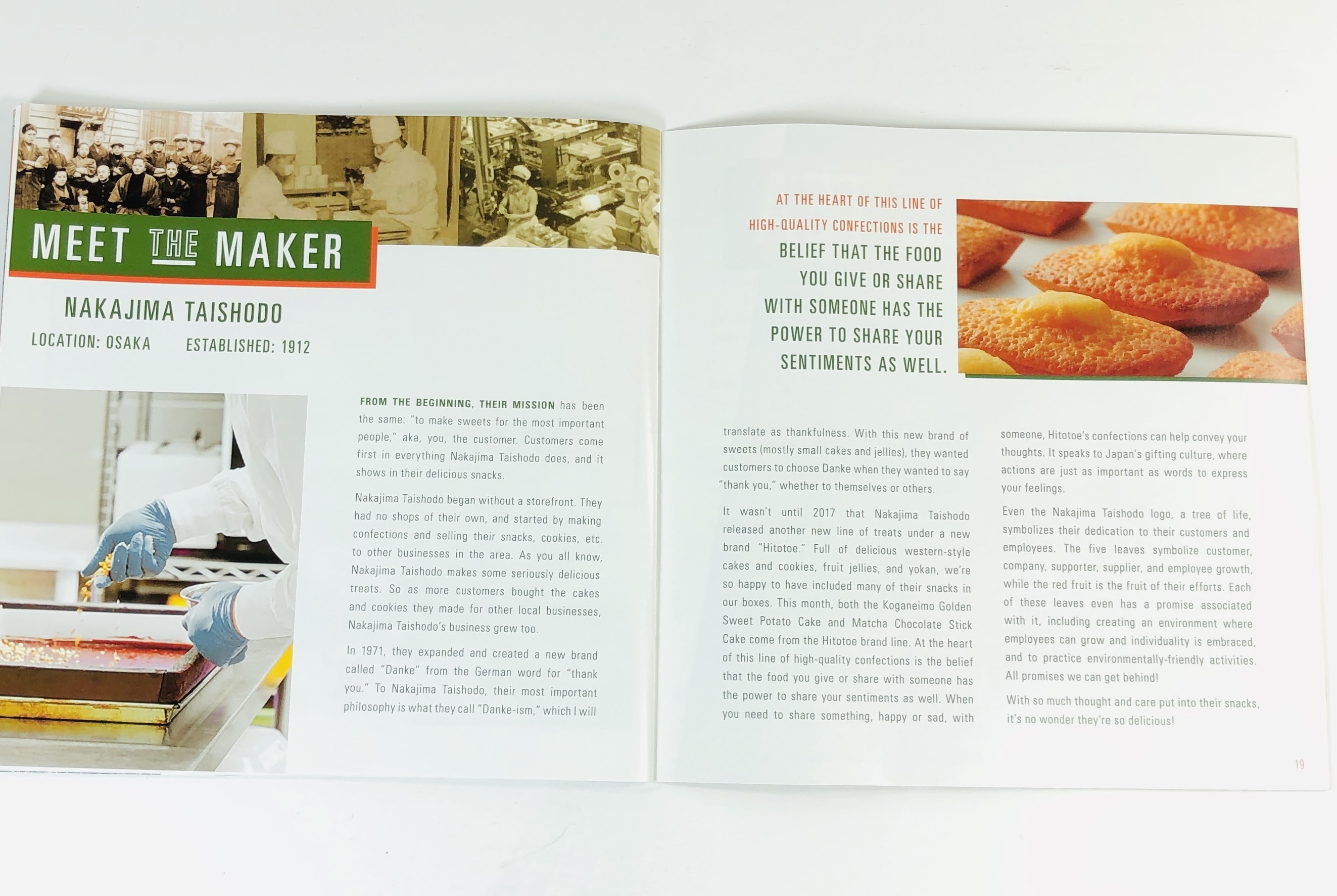 This month we got to learn about one of the makers.
Info about Japanese tea ceremonies was very informative.
You can find Bokksu on several social media platforms.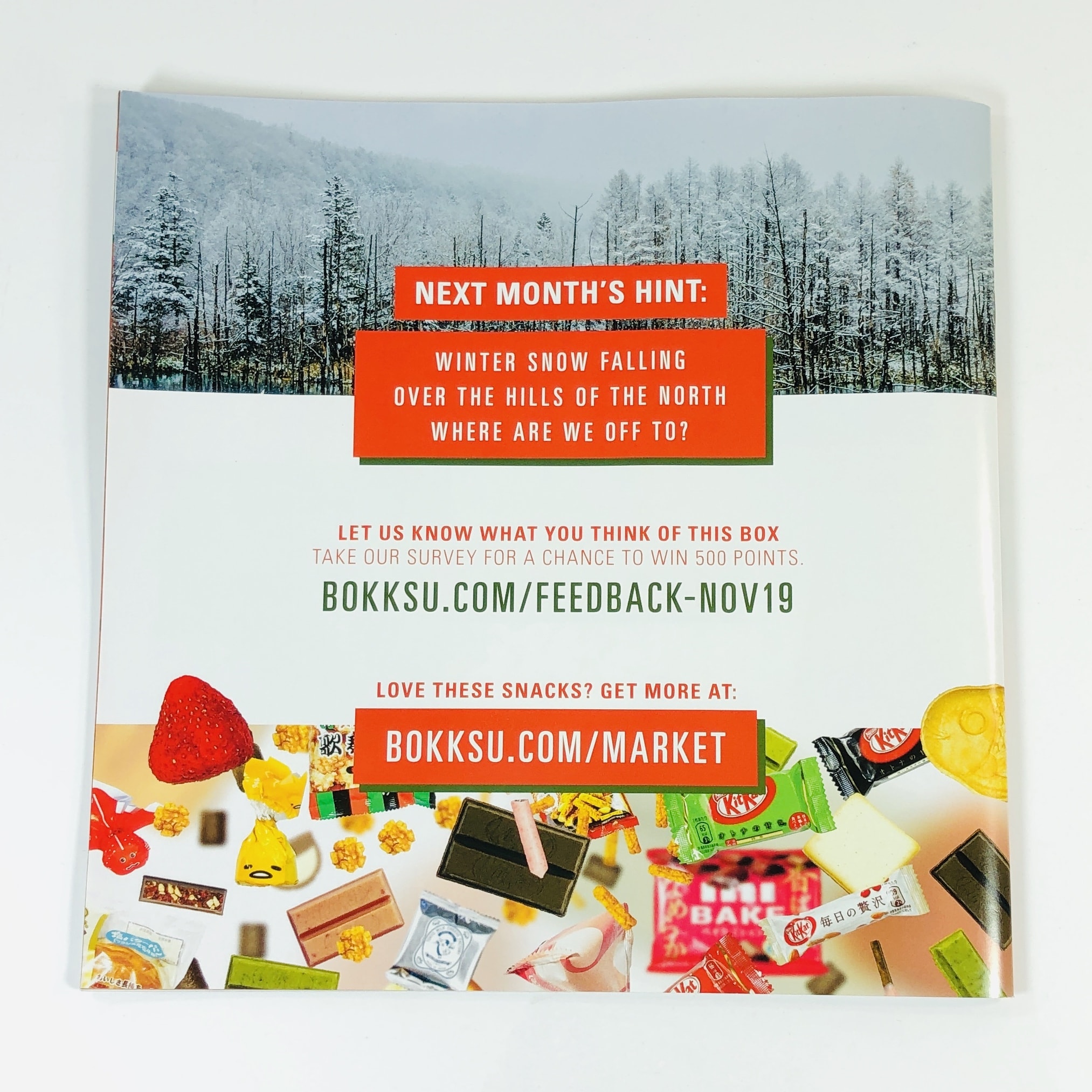 The back of the mini mag had info on how you can earn points plus a glimpse at the next box theme! So much info!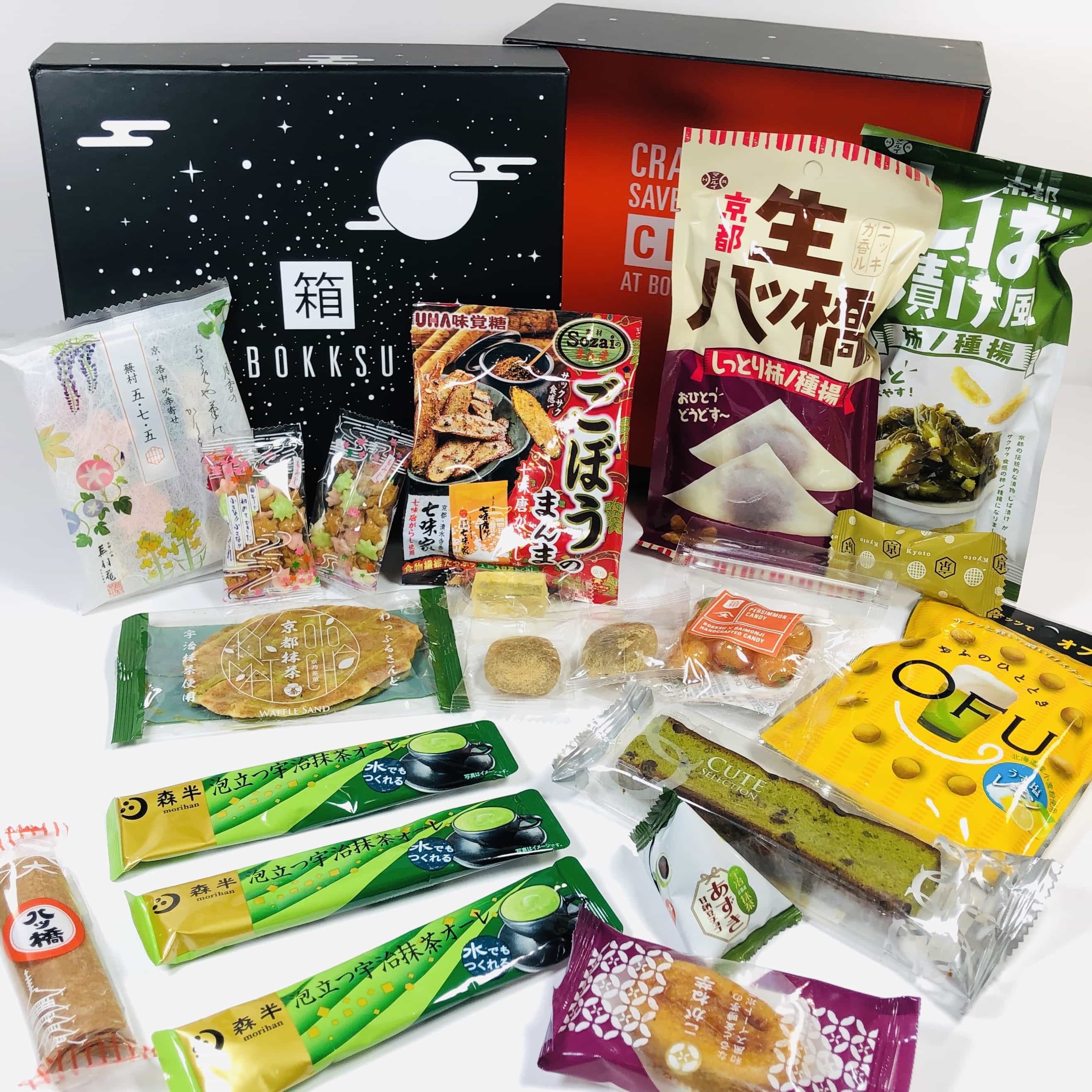 Everything in the November 2019 Classic Bokksu!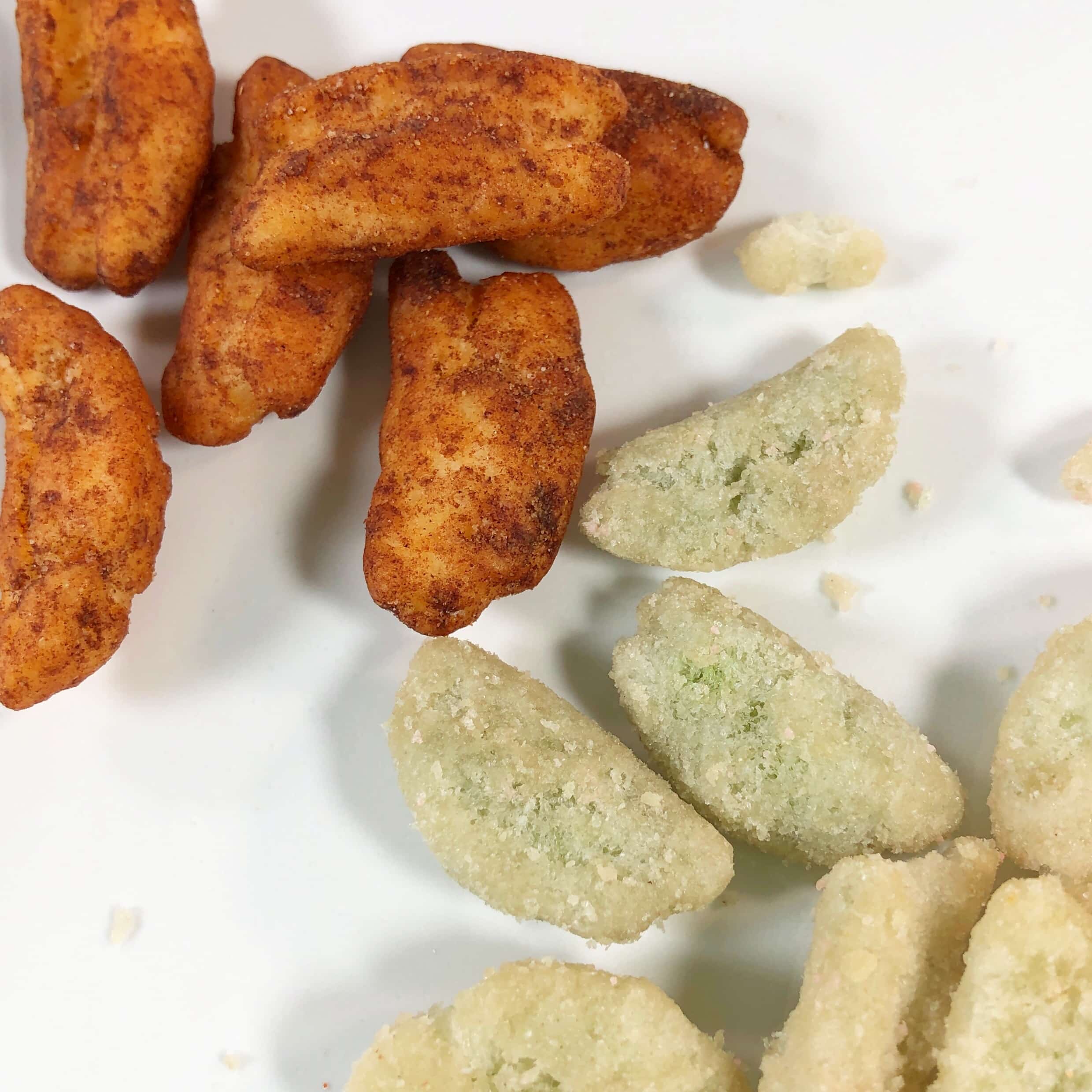 Fried Kakinotane: Kyoto Fresh Yatsuhashi Flavor and Fried Kakinotane: Sushi Pickled Cucumber Flavor are crisp fried snacks, one sweet, one salty with a hint of sour. Yatsuhashi flavor is just cinnamon and sugar and reminds me of cinnamon crisps or bunuelos. Pickled cucumber flavor came with a warning that it might be strong but I think it reminded me of a less sour, more fried version of dill pickle flavored potato chips. Both of these snacks were winners with me!
Uji Matcha Au Lait I didn't get to try this instant matcha powder because frankly, I'm not a fan of matcha. I will pass along this drink mix to someone who can appreciate it but you just mix it with hot water to serve hot, or cold water over ice for a cool drink.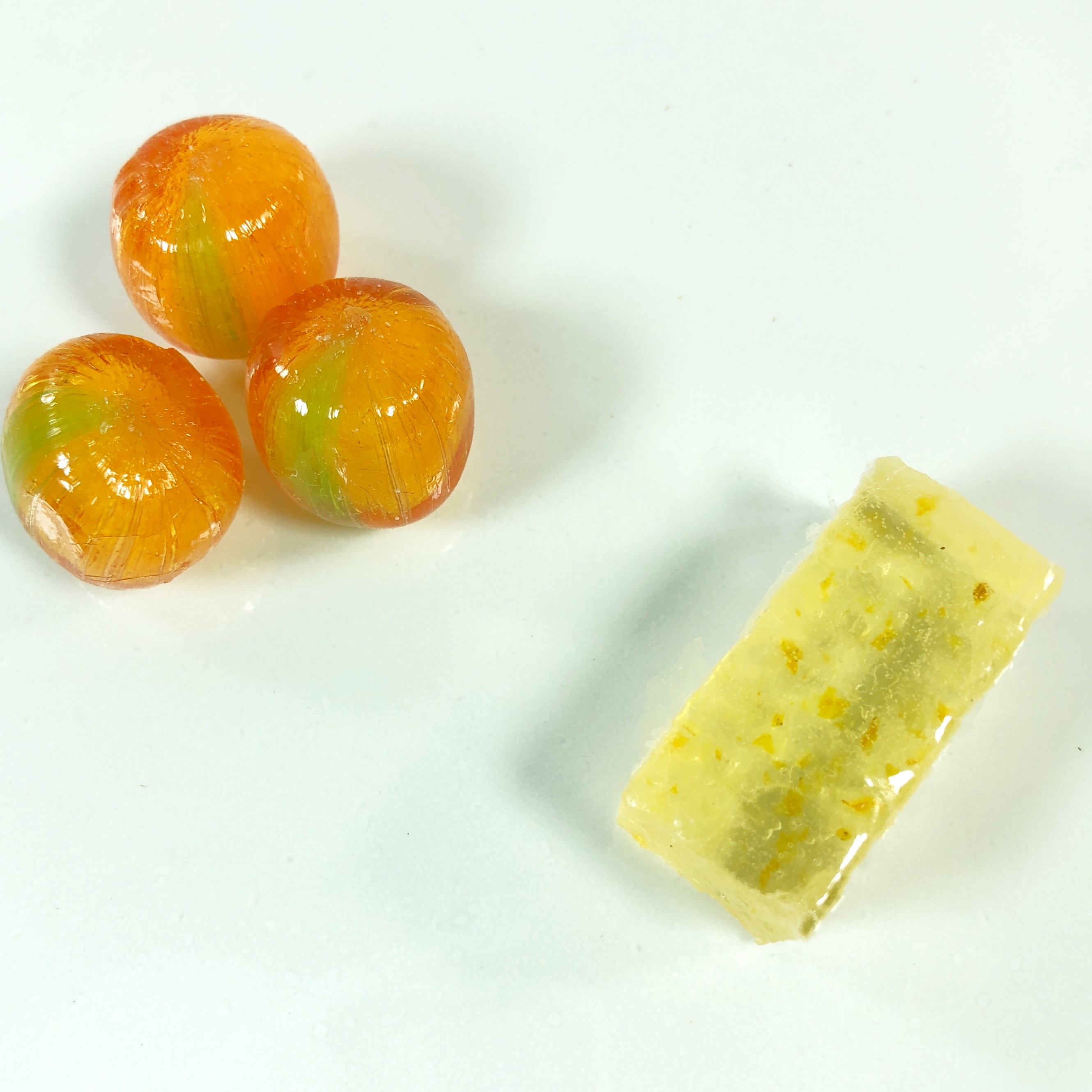 Handmade Persimmon Candy look so pretty with their orange and green color scheme. My mom would bake persimmon bread and cookies with the fruit from the tree in our backyard so this has a nostalgic feel for me. I can't say that it tastes like persimmon but it has an unusual fruity flavor that I like. These are hard candies in case you couldn't tell.
Mizuo Yuzon Kanten Jelly isn't sticky at first because it is covered with a rice sheet, just like a candy I used to buy at my favorite Japanese restaurant when I was a kid! The jelly is firmer than what I normally encounter in a gel candy and it has a light orange flavor that doesn't taste artificial, plus you can see tiny bits of peel in the gel.
Matcha Chocolate Stick Cake OK, this is really tasty! It's a soft cake that has matcha in it (which I can't taste, at all) and little chocolate chips (which I can). Yum!
Kyoto Matcha Waffle Sandwich More matcha (which I can taste, and very strong) is in this super crunchy cookie. The matcha is baked into the crispy, buttery waffle cookie and then more matcha is combined with white chocolate and the filling is sandwiched in between.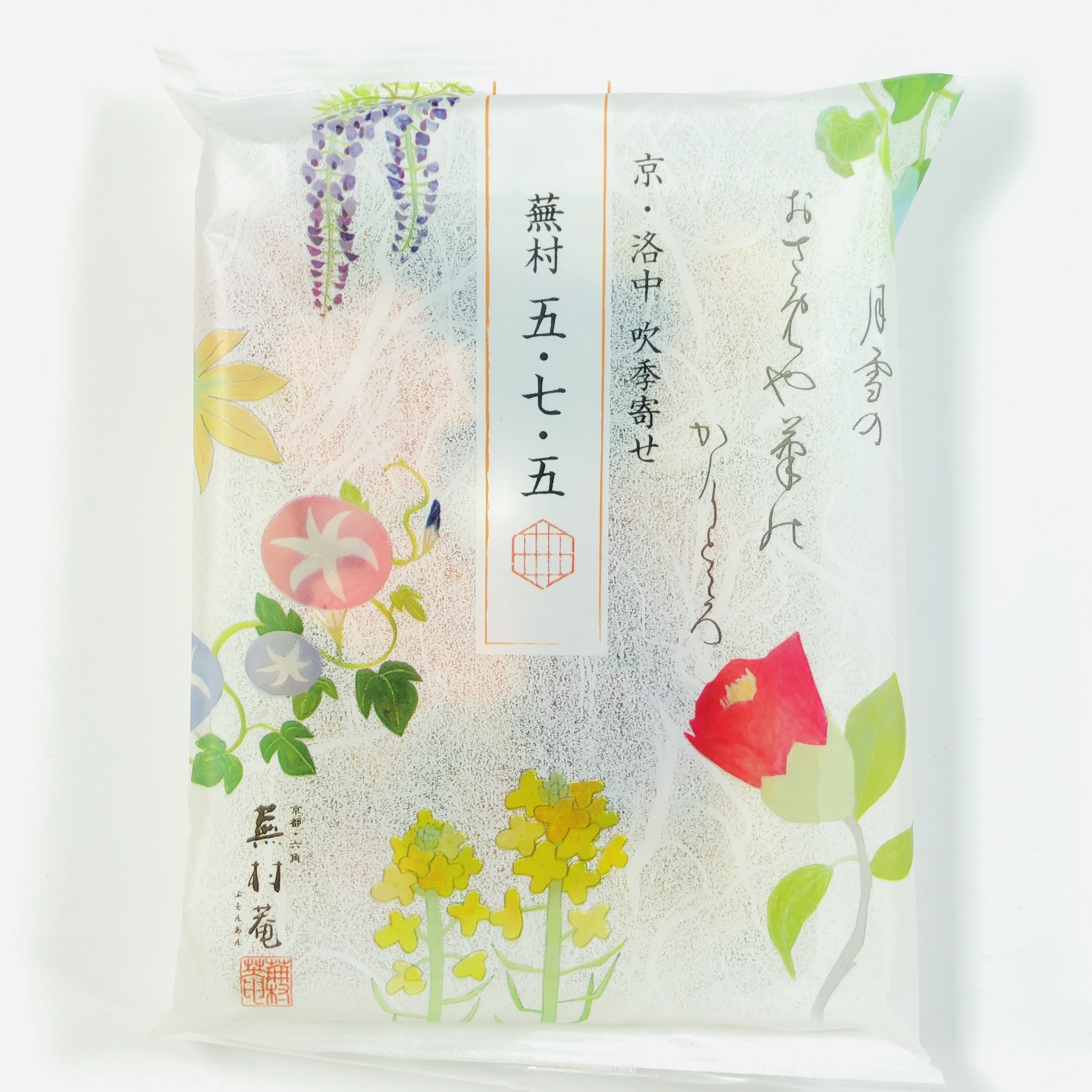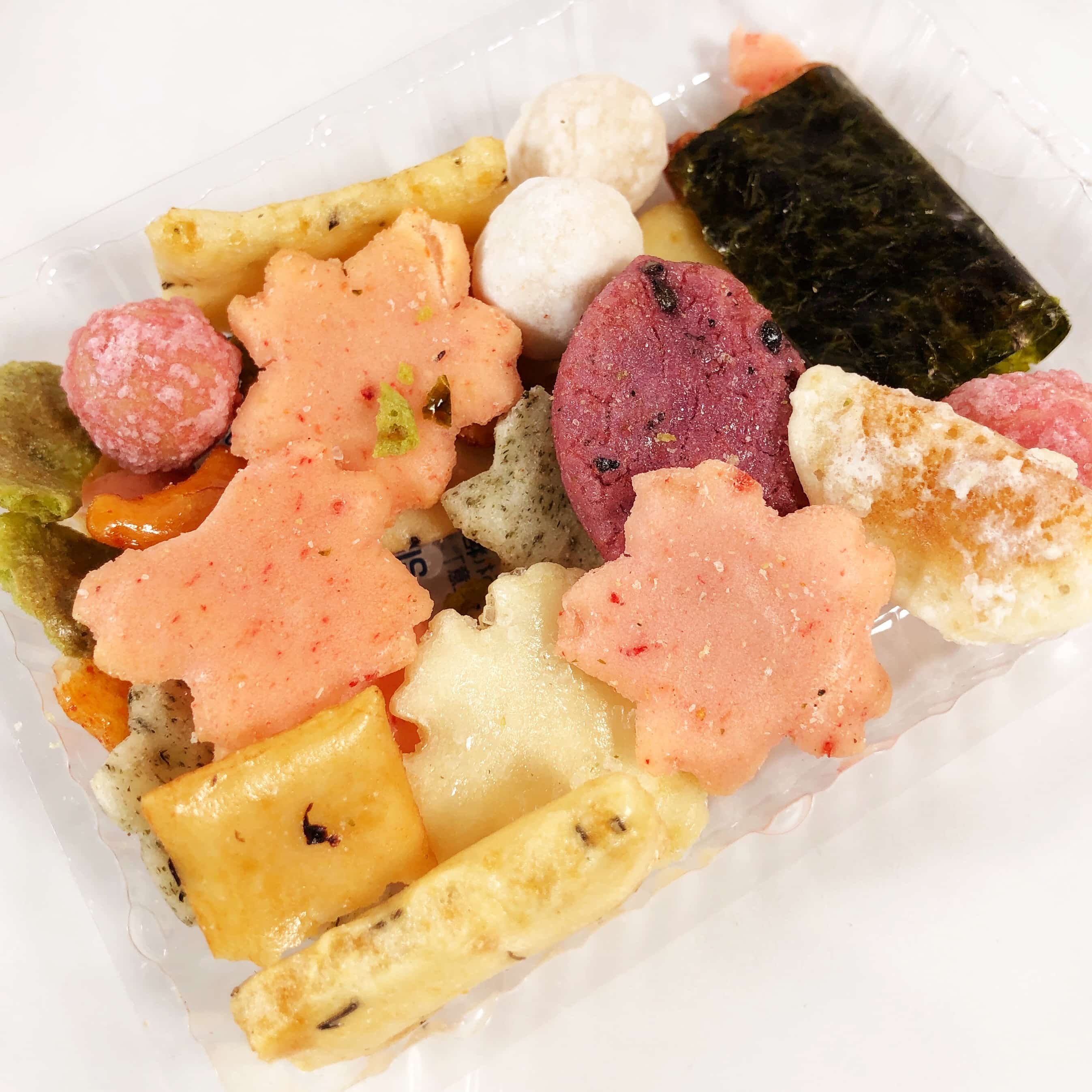 Buson Haiku Senbei Not only did this come on the prettiest packaging I've ever seen for a treat, the inside was just as adorable! The senbei come in a variety of flavors, both sweet and salty. I would eat something sweet and sakura flavored, then bite into a shrimp cracker. One item was a cross between a Frosted Flake and pickled ginger!
Gobo no Manma Burdock Root Chips: Shichimi Flavor (top) Shichimi is a spicy flavor and it plays well with the sweetness of the burdock root. This snack reminded me of spicy sweet potato chips that are extra crispy and flaky.
OFU Smoked Crackers and Peanuts: Lemon + Salt (bottom) I've tried Ofu snacks before and they usually don't have many peanuts but this one did and they were so good and went nicely with the round wheat cracker balls. I didn't really catch much lemon flavor but the smokiness reminded me of bacon!
Koganeimo Golden Sweet Potato Cake (top) is very moist and tastes a little like its namesake tuber and is sweet but not too sweet.
Kinako Azuki Crunch (middle) is perfect for those who like white chocolate (me!) and has crunchy bits inside, sort of like a Rice Krispie treat but 100x better.
Yatsuhashi (bottom) had a unique crunch and has a sweet cinnamon flavor, like a churro. My daughter asked for more!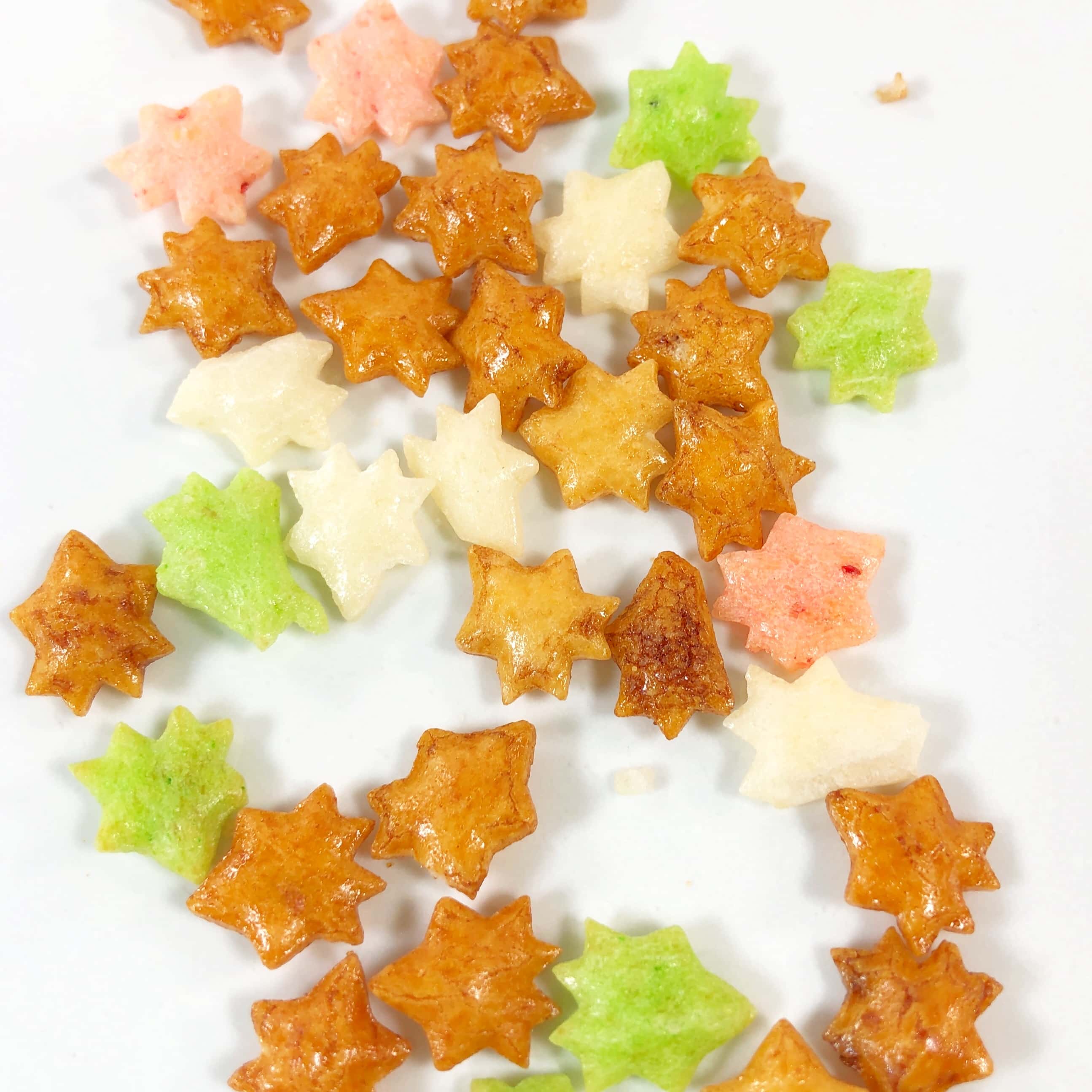 Miyako Momiji are cute little maple leaf shaped senbei rice crackers. Each color is a different flavor (plain, shrimp, soy sauce, and wasabi) but I ate them all together and they had a hint of spice from the wasabi!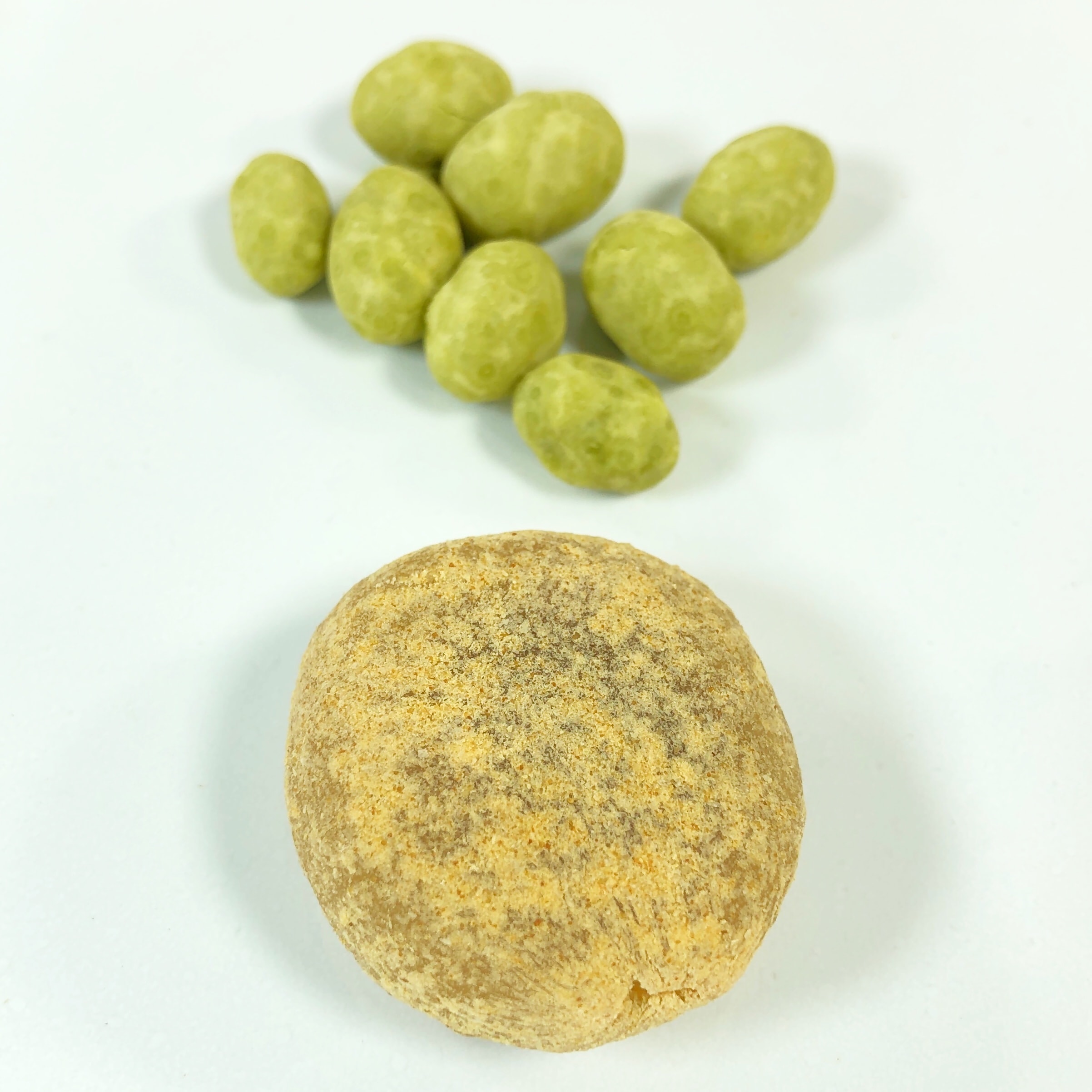 Chocolate Azuki Beans: Uji Matcha (top) have a candied red bean in the middle and are covered in white chocolate and then coated with matcha. If you like white chocolate and green tea then this is a winner, and you can't really tell that there is a bean in the middle.
Cinnamon Fresh Yatsuhashi Daifuku (bottom) I don't know that mochi will ever be something that I get excited about but I must say the flavor combos are always interesting! This one has a red bean paste filling and some cinnamon on the outside.
I loved the fall flavors that I found in my November Bokksu Autumn in Kyoto edition! I had fun discovering the different goodies and finding new favorites, and of course discussing the unusual snacks with my family. Some of the snacks are perfect for sharing, and some of them only get tried by me because it can be hard to cut a bite-sized treat into 4 pieces. If you like trying exciting snacks from Japan, then give Bokksu a go!
What's your favorite snack from this month's box?