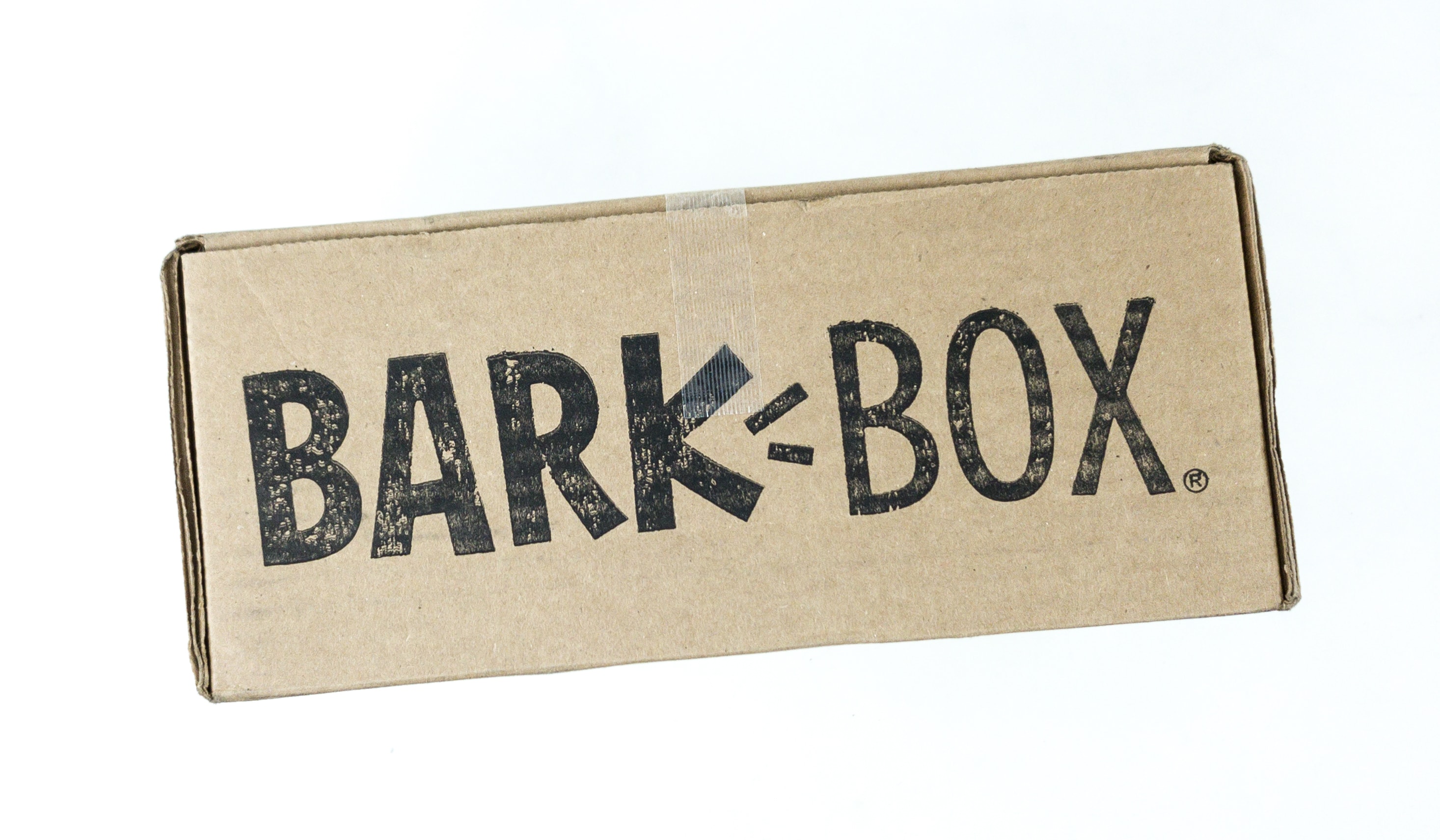 Barkbox is a monthly subscription box just for dogs. Each box has 4-6 dog products and is customized to the size of your pup, plus it has a cute theme.
DEAL: Get a FREE month on a 6 or 12 month subscription when you sign up for BarkBox with this link!
LIMITED TIME: Get your first month of BarkBox for $5 plus get a free extra toy your first month when you subscribe to a 6+ month plan! Just use this link, no coupon code required.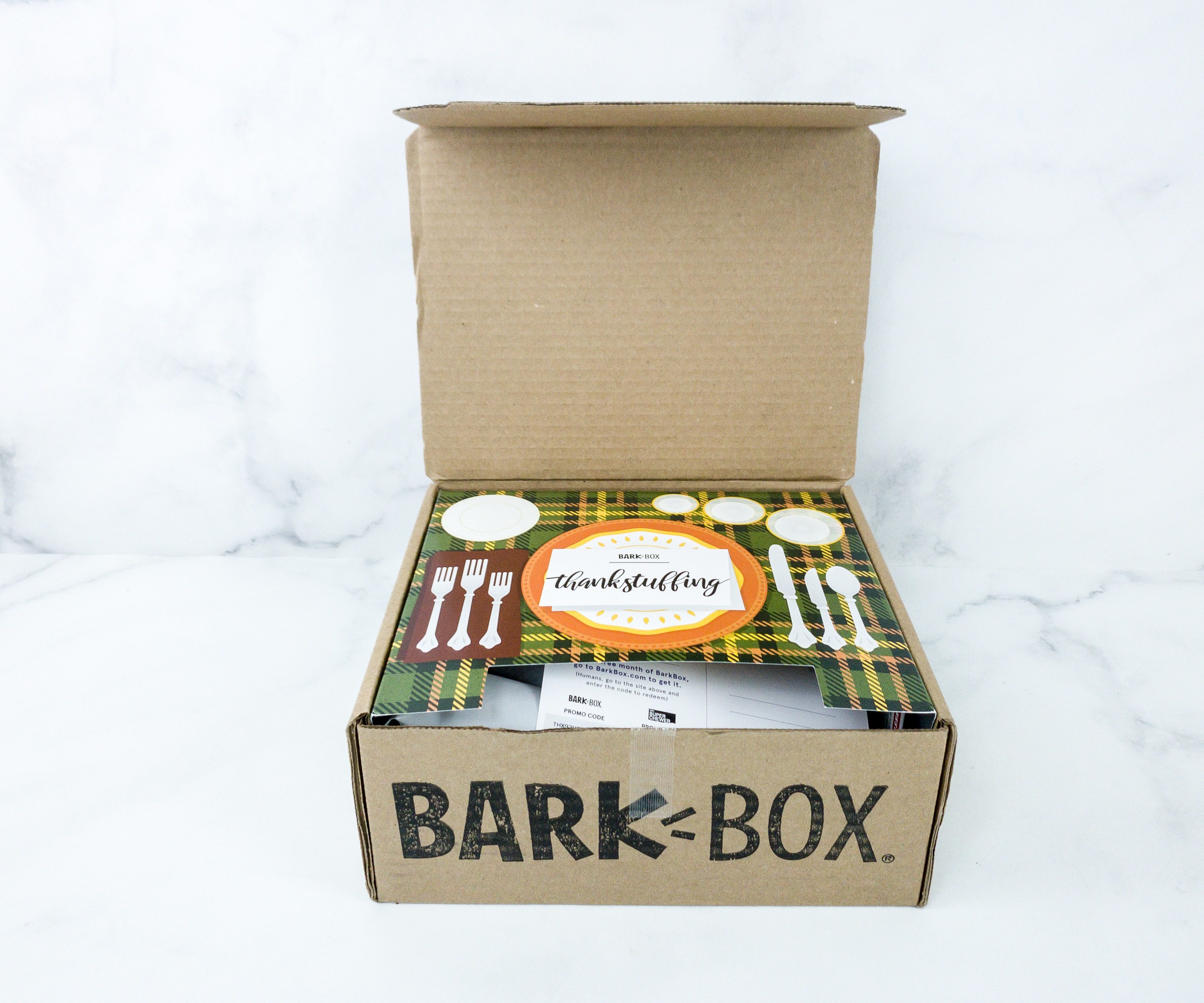 This Barkbox is for small dogs like our miniature schnauzers, Lindy and Dean, but you can get them for medium and large dogs too. Check out our Barkbox reviews for a peek at the big dog boxes! Plus, they now offer Barkbox SUPER CHEWER – the heavy chewer box!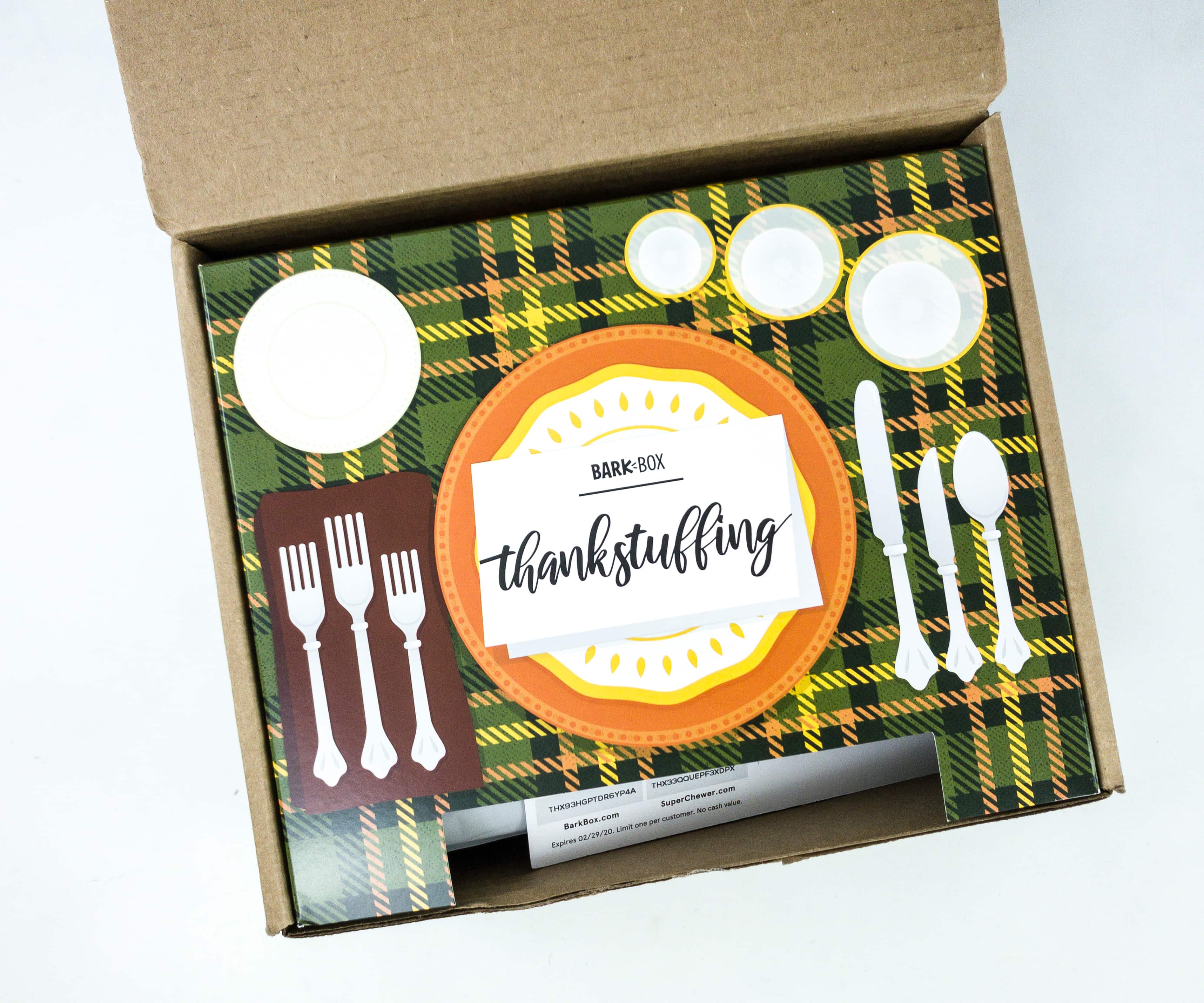 This month's theme is THANKSSTUFFING!
The box this month don't contain any custom-made wrapping paper, instead they used a colorful and hard comic-designed carton to cover all the items inside the box.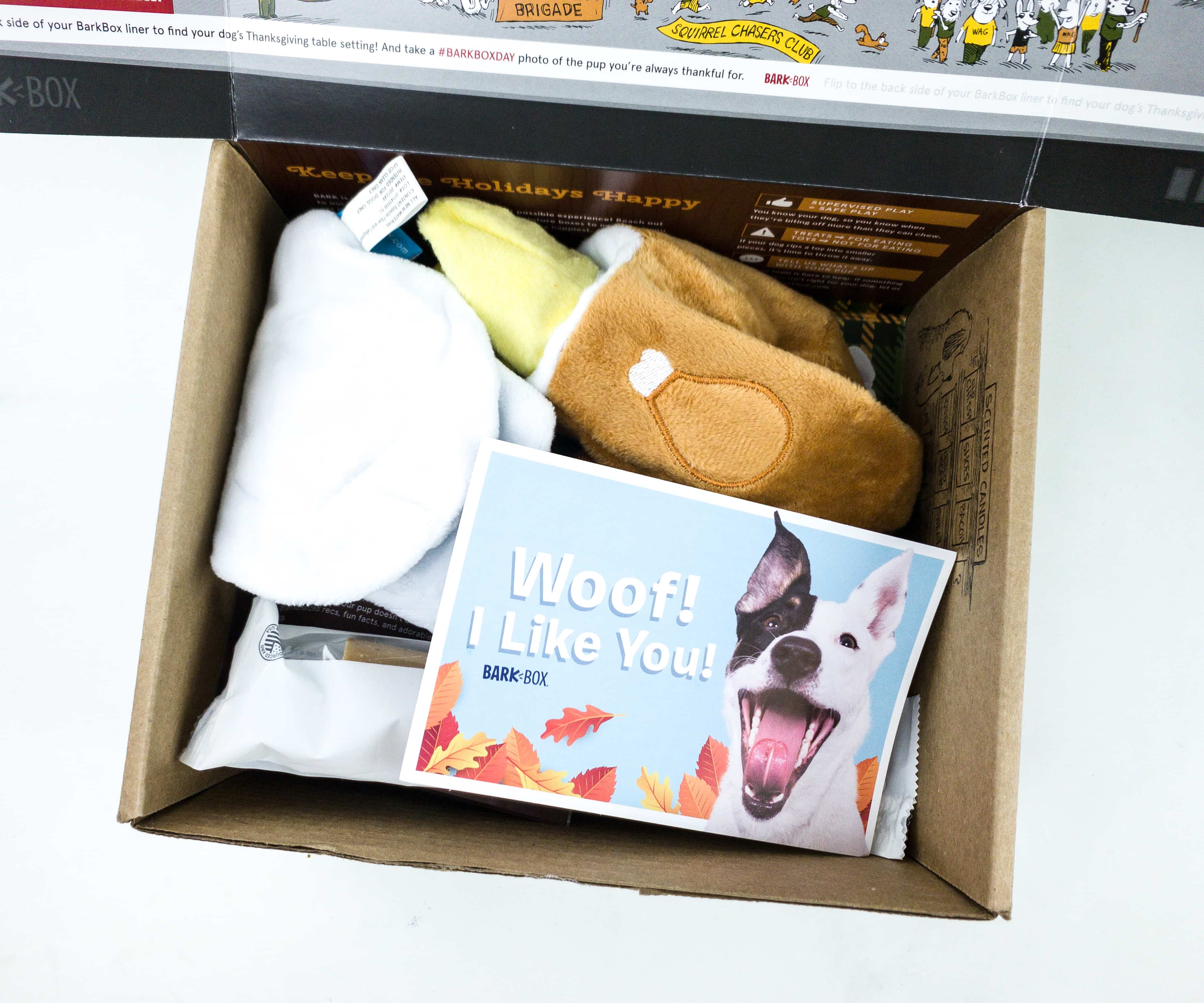 As usual, there were no extra fillers or squiggles, just pure treats and toys for your pups to enjoy!
Featured on one of the box's flap are the photos of the items you might receive in your box.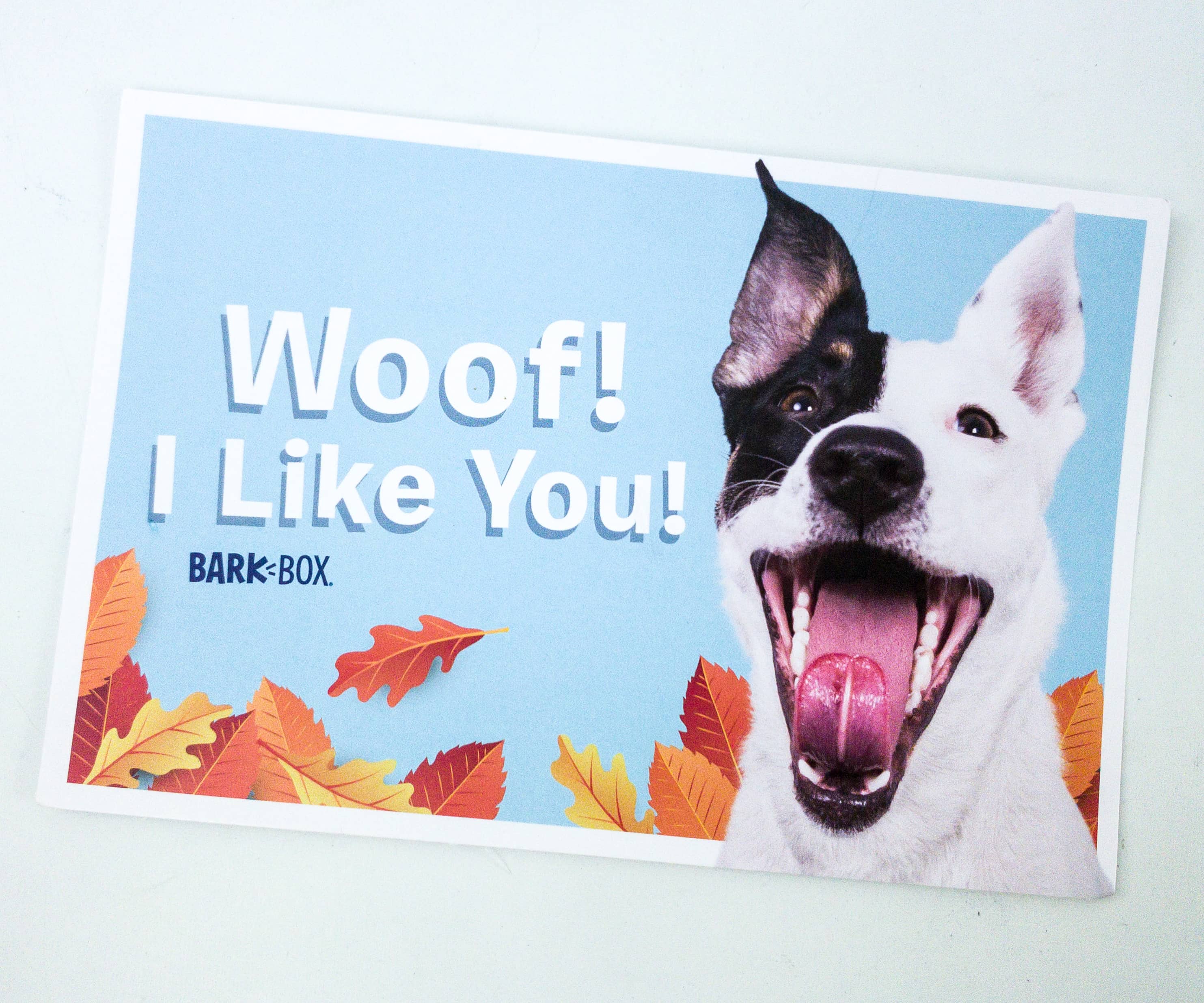 There's another card in the box, and it's meant for passing on to a dog friend.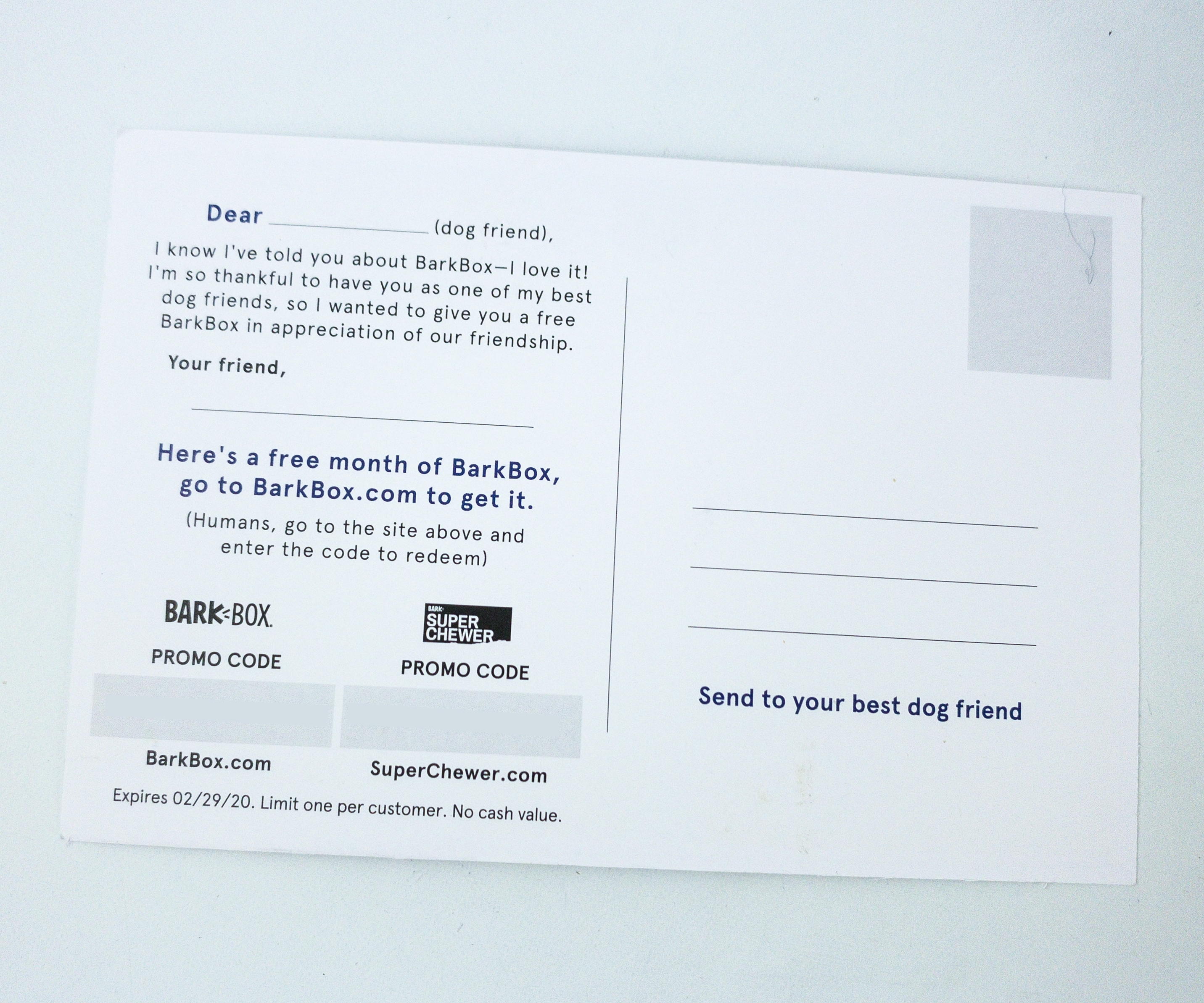 At the back, it has promo codes that expire on 02/29/20!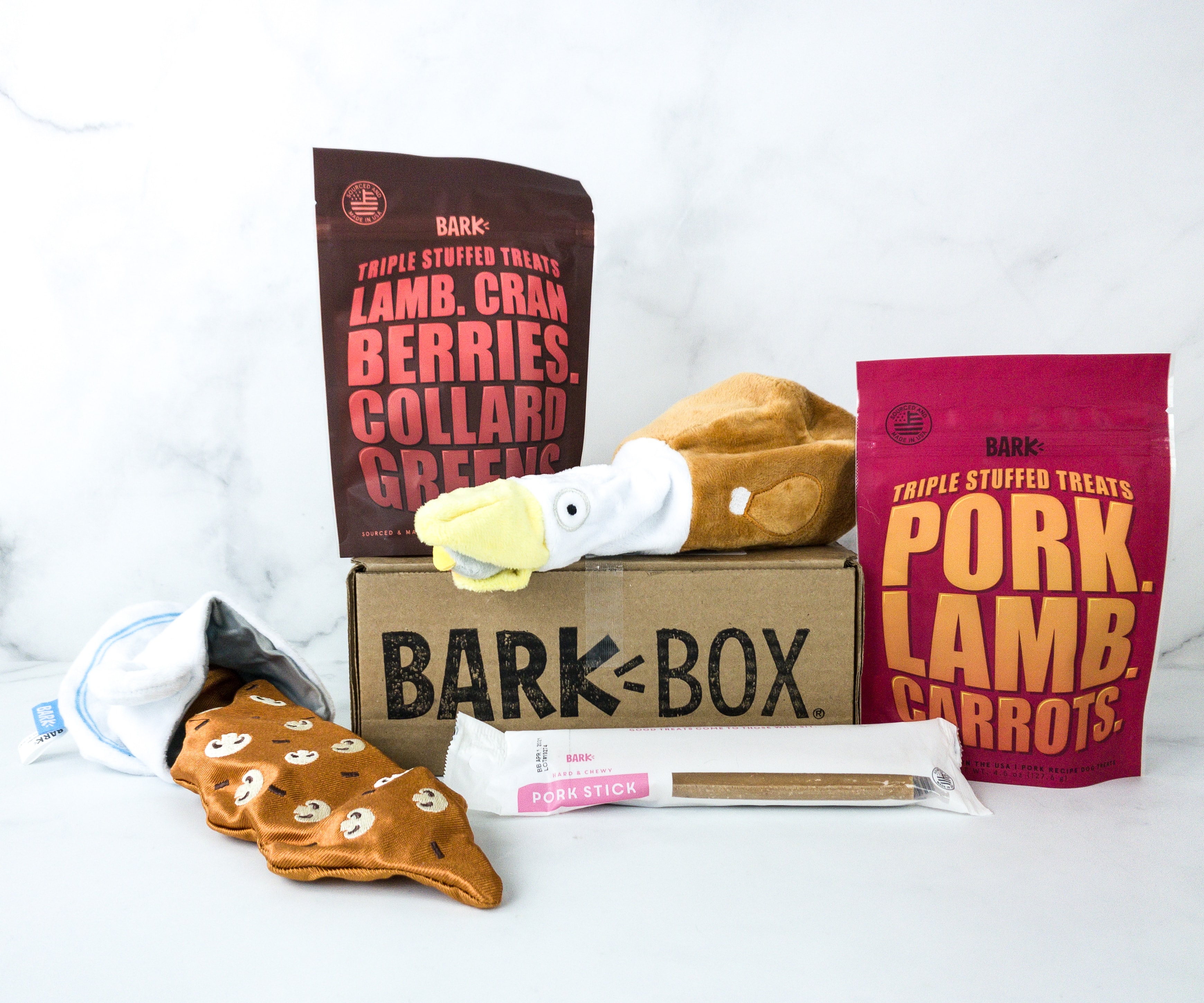 Everything in this month's box!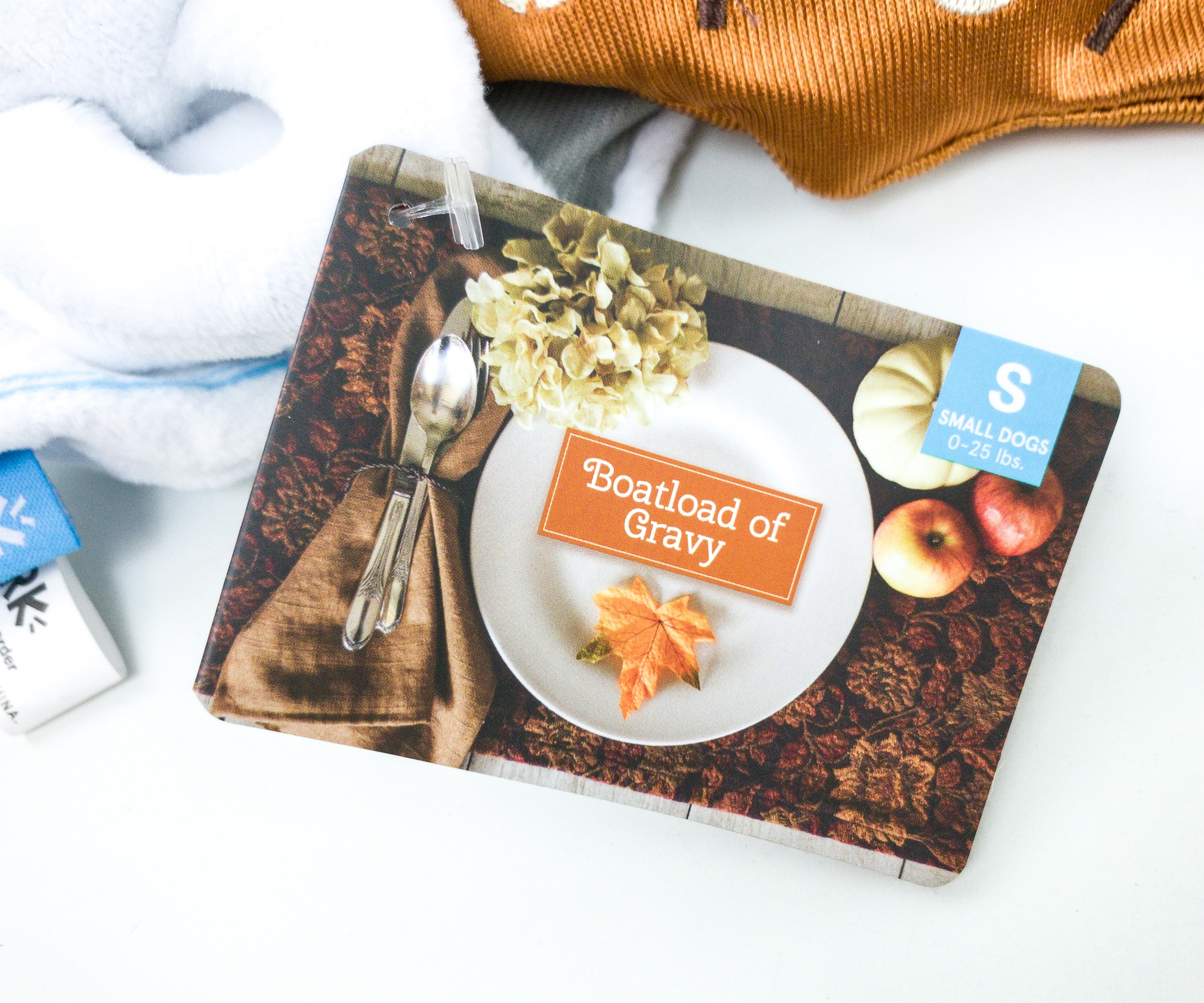 Boatload Of Gravy Dog Plush. Who doesn't love a boatload of gravy to go with their mashed potatoes? This plush toy is inspired by our ever favorite gravy, and it's soft and sturdy so our pups can enjoy it even after Thanksgiving!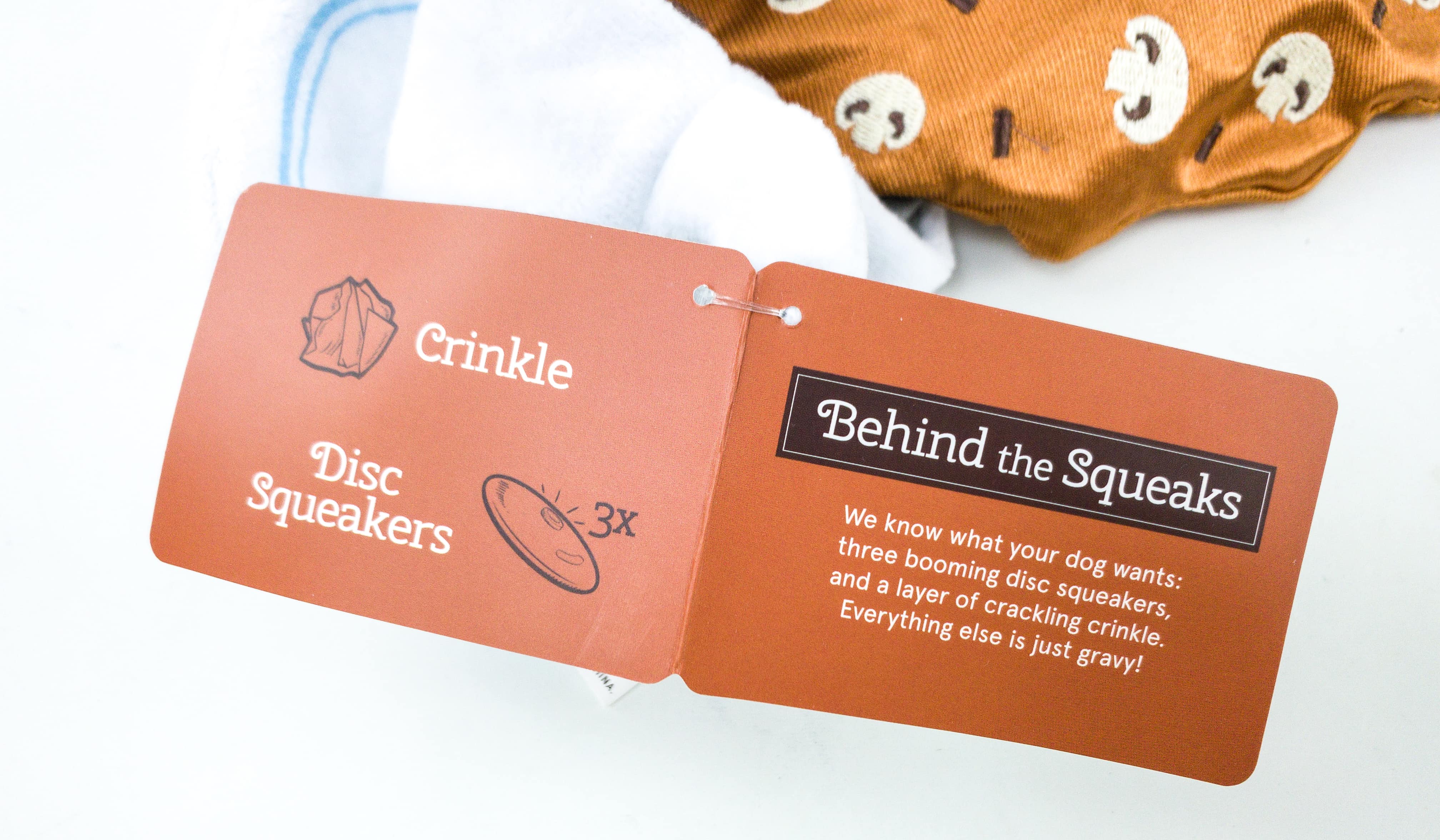 According to the label, this plush toy is made with layers of crackling crinkle and 3 pieces of disc squeakers inside.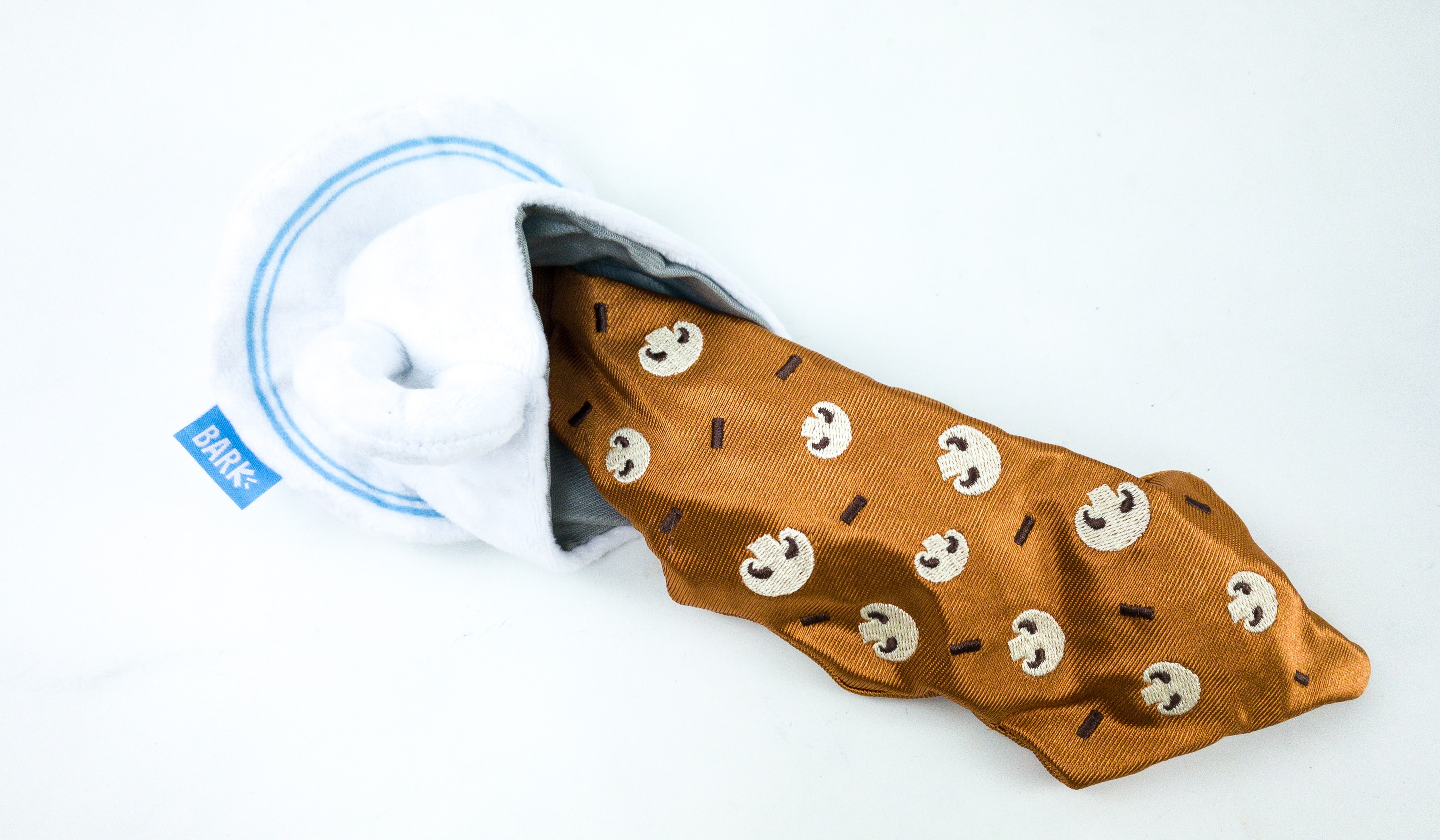 The white part is the "container," and the brown cloth white mushroom embroidery is the "mushroom gravy"!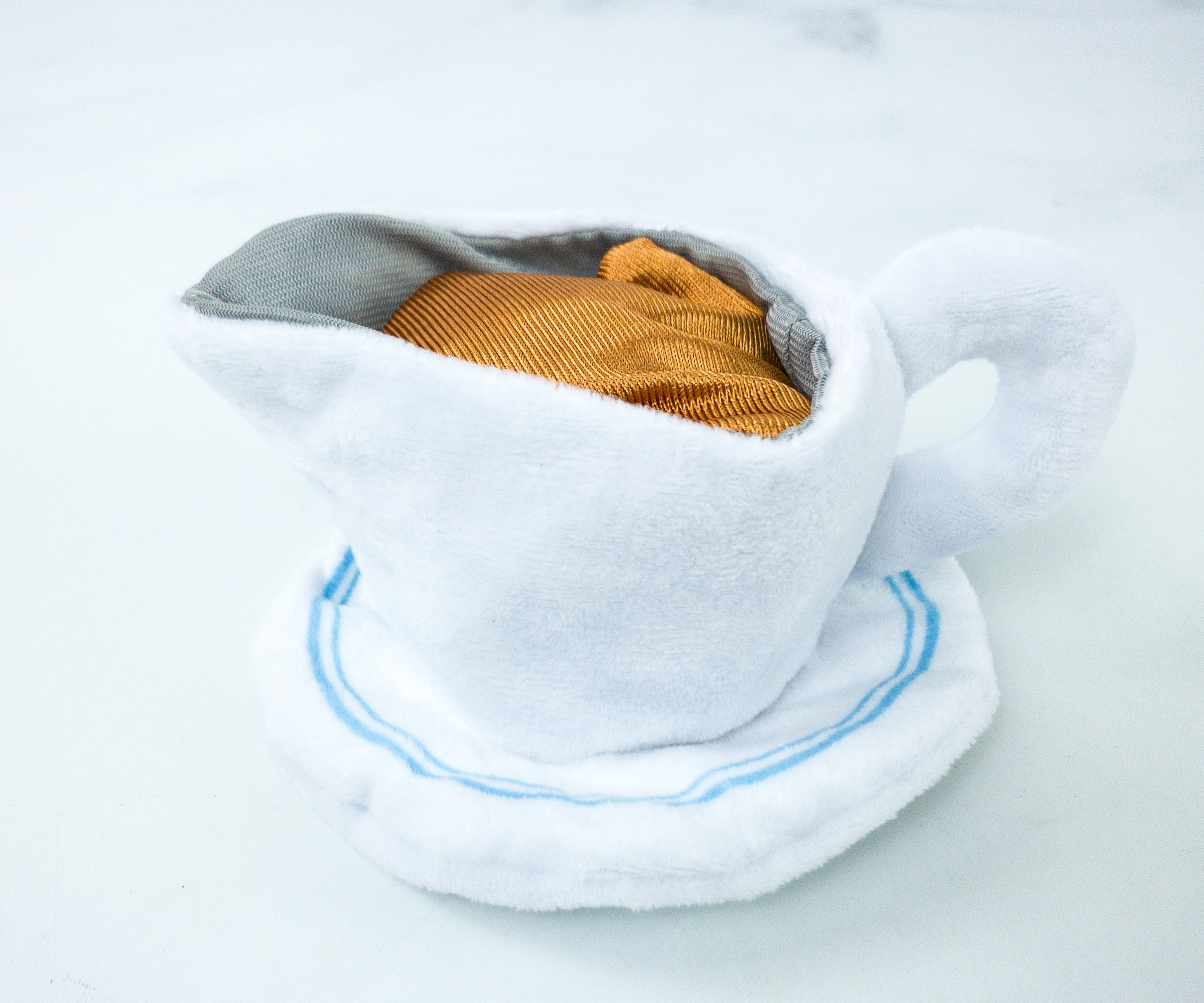 It's a pretty versatile toy since you can also fold the spilled gravy and reinsert it inside the container to make it look like a mug full of gravy sauce. You can even put some luscious treats inside and let your dog sniff and find it.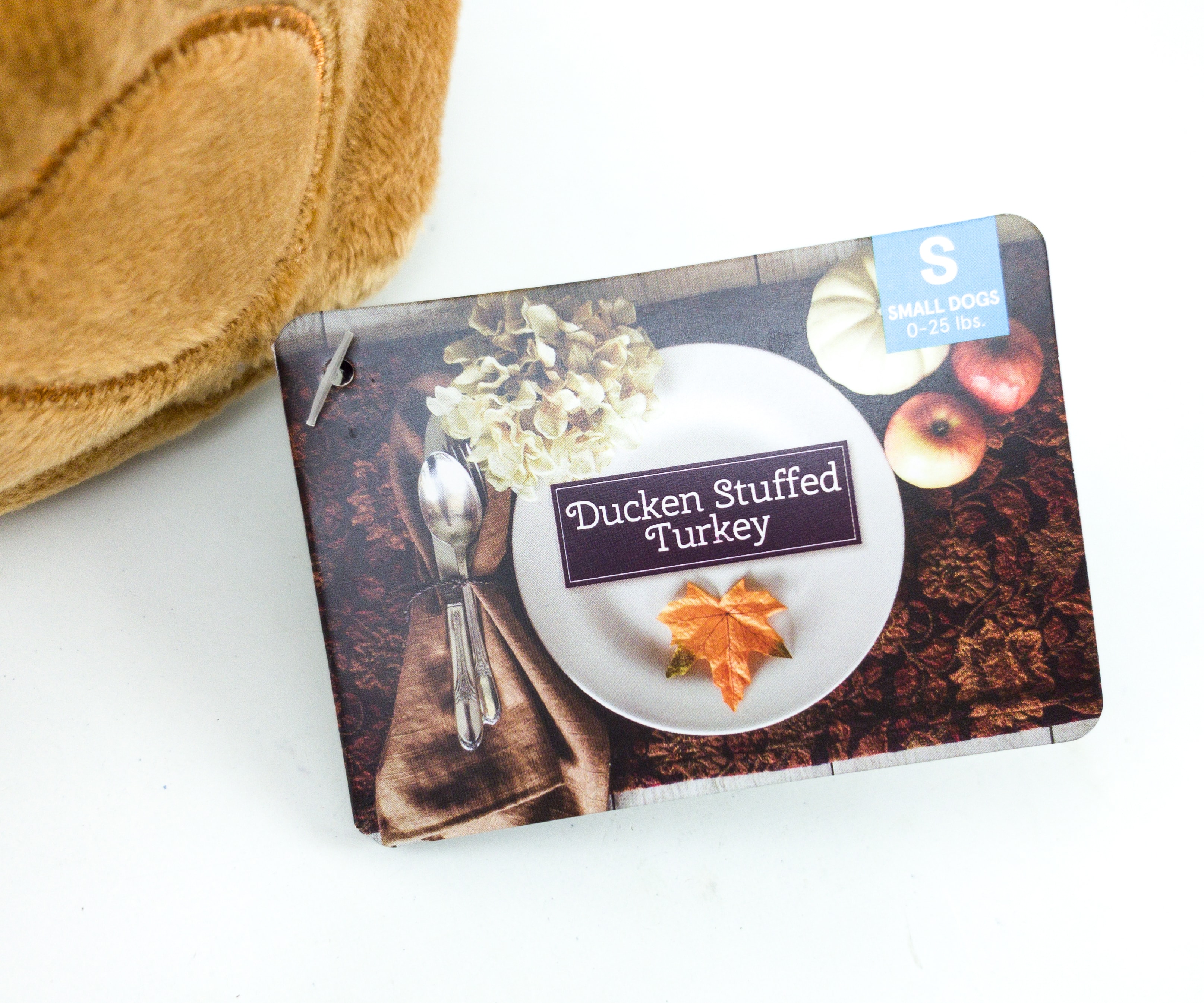 Ducken Stuffed Curry Dog Plush. Thanksgiving Day would never be complete without turkey, same with this month's Barkbox! That's why we got here a stuffed turkey!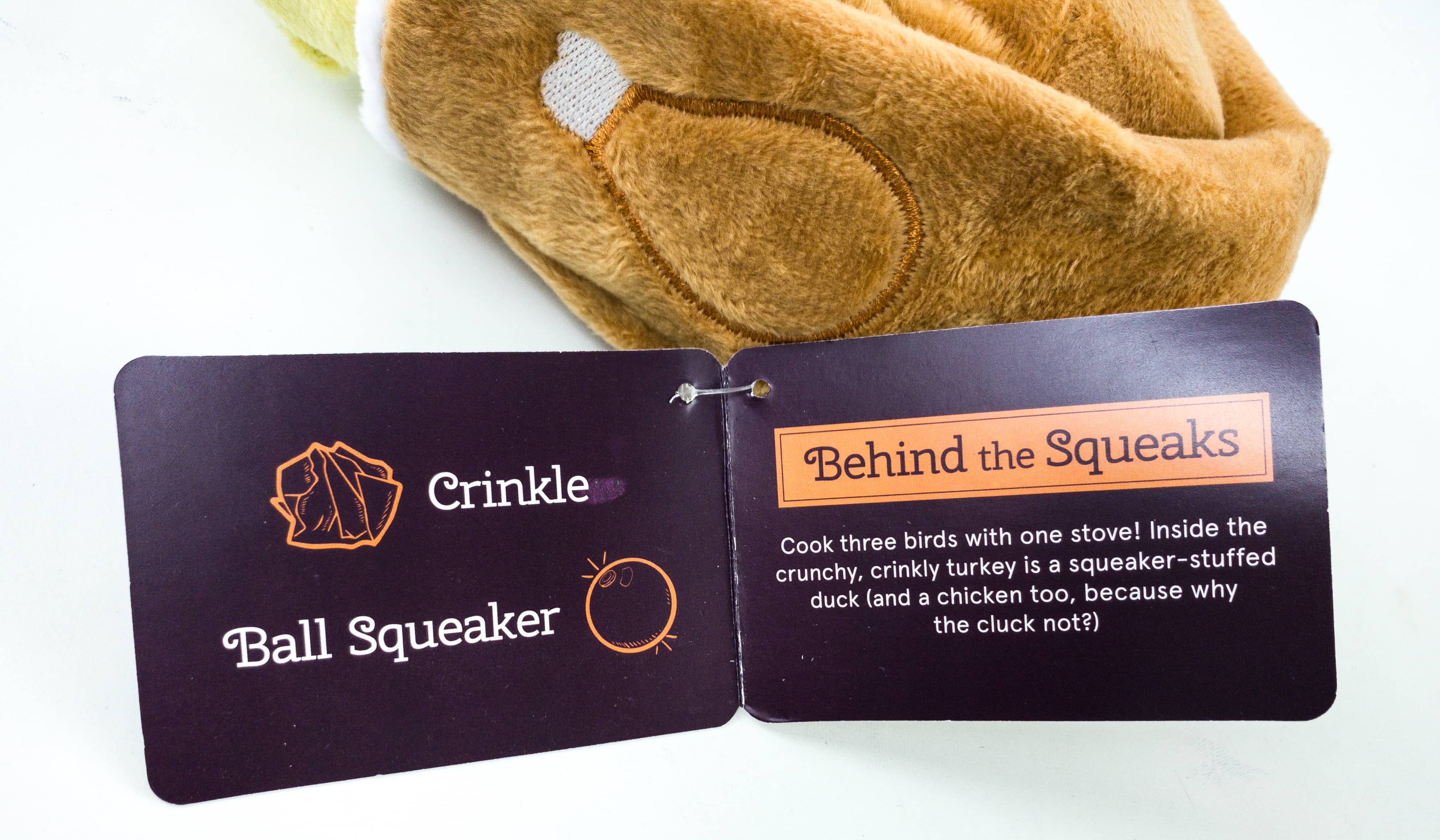 Inside the crunchy, crinkly turkey is a duck that squeaks really loud when bitten.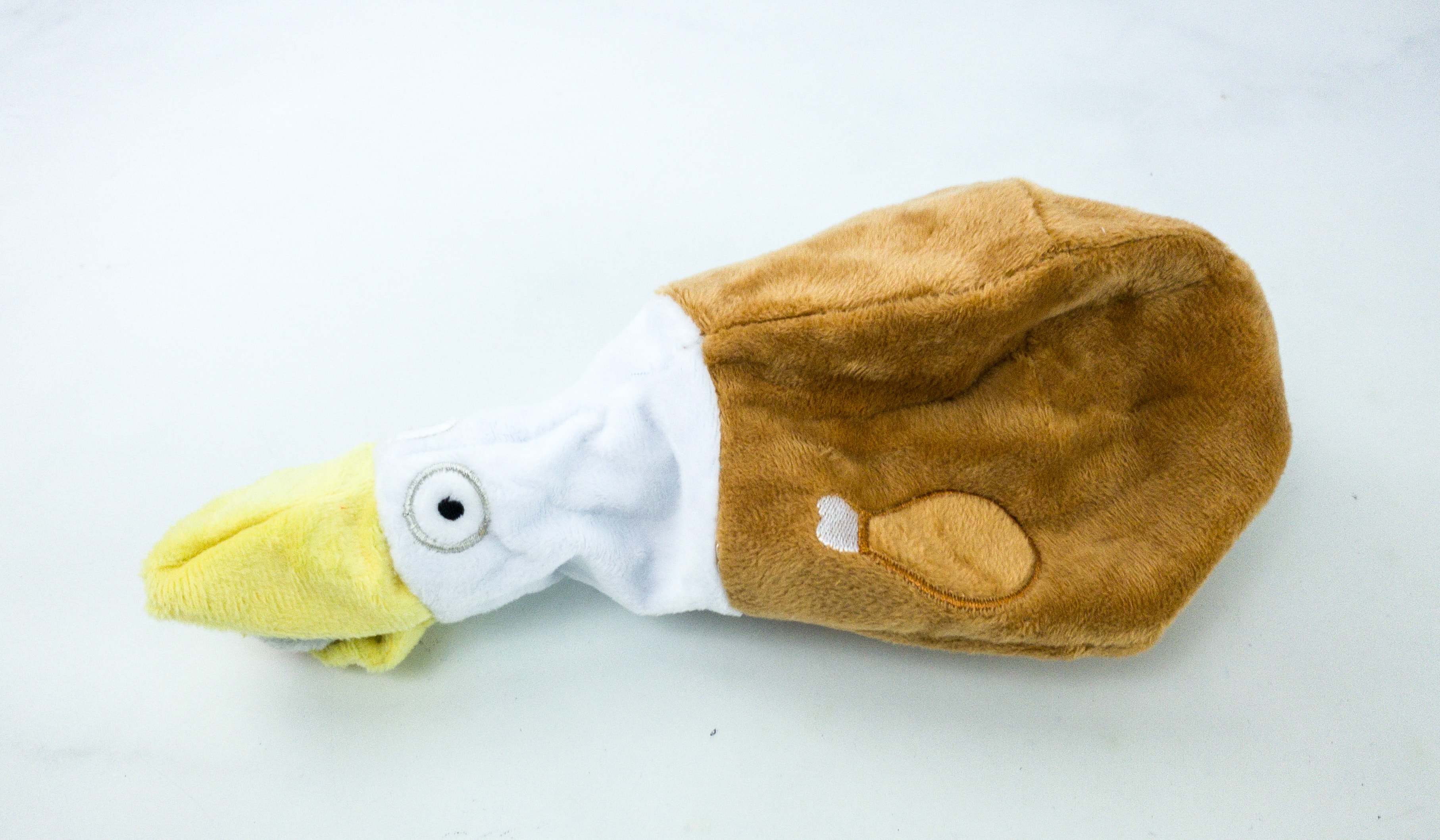 This plush toy also comes with a crinkle stuffing and ball squeaker inside.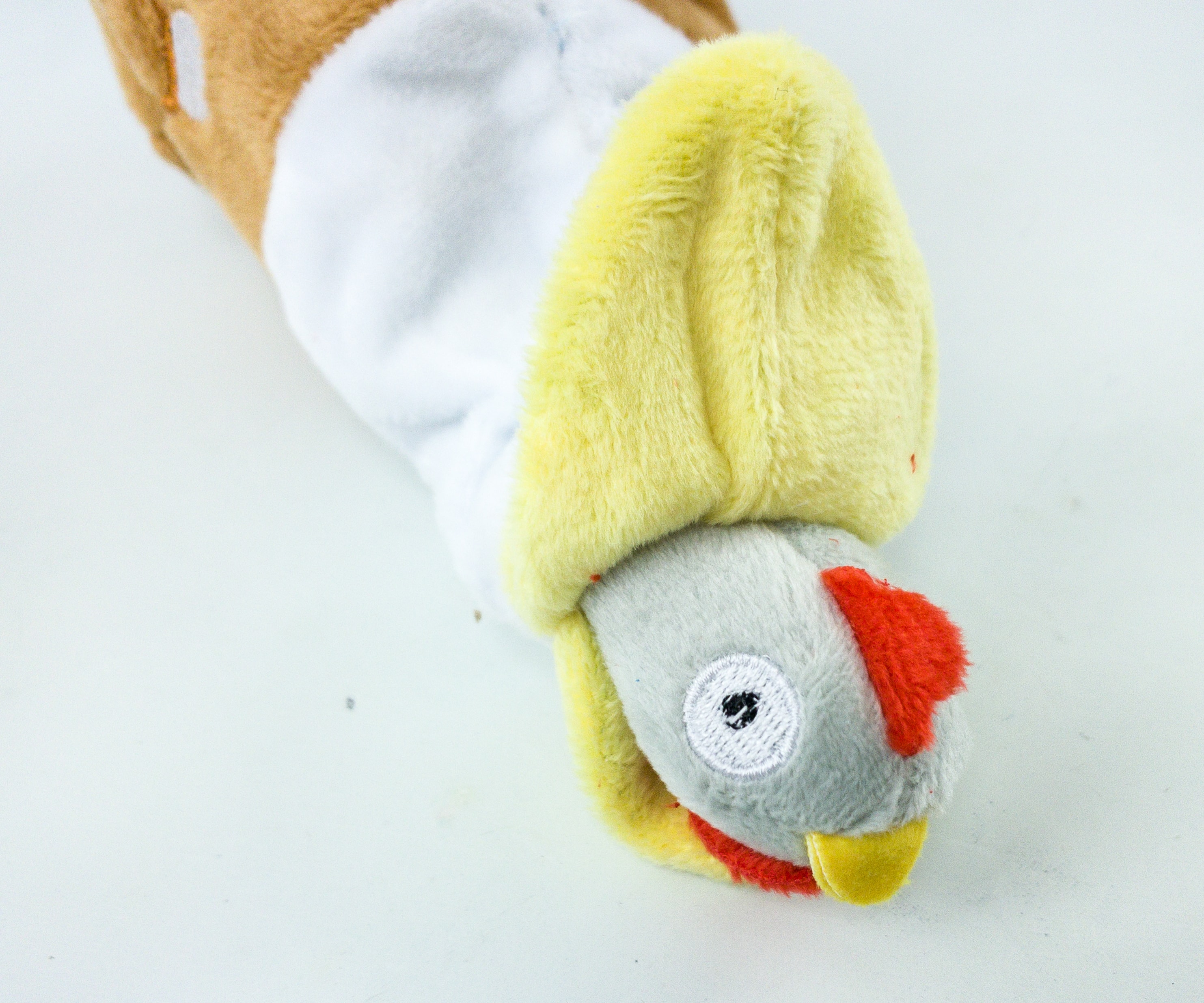 Inside the turkey meat is a duck, and featured behind its beak is a white little chicken with a pair of huge white eyes. Just like the chicken's expression, we were a little surprised, too!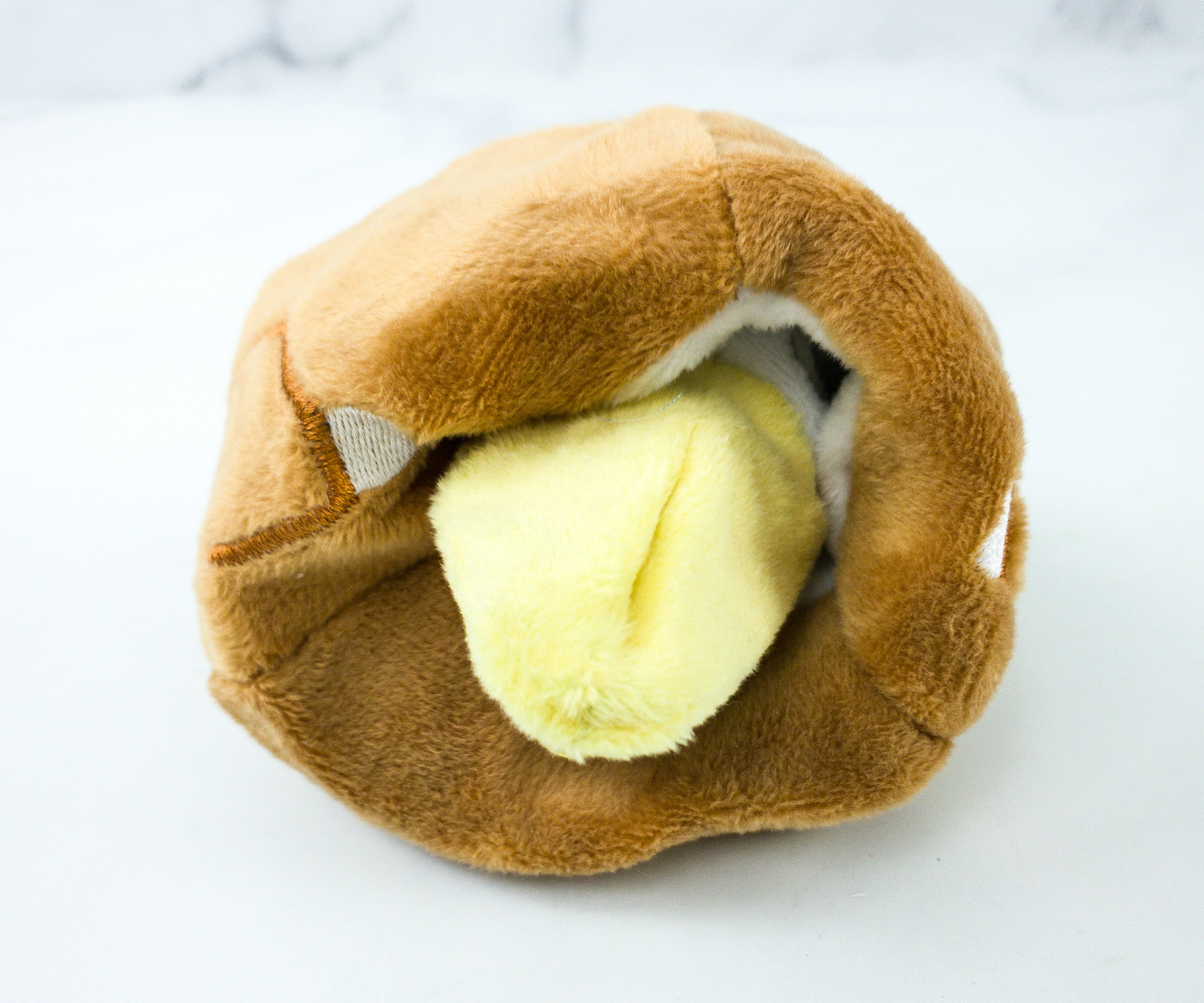 Close the duck's beak, and insert the duck's head so you can form a huge chunk of turkey meat perfect for your pup's Thanksgiving celebration. You can also stuff some treats inside, and use it to play fetch with your dog.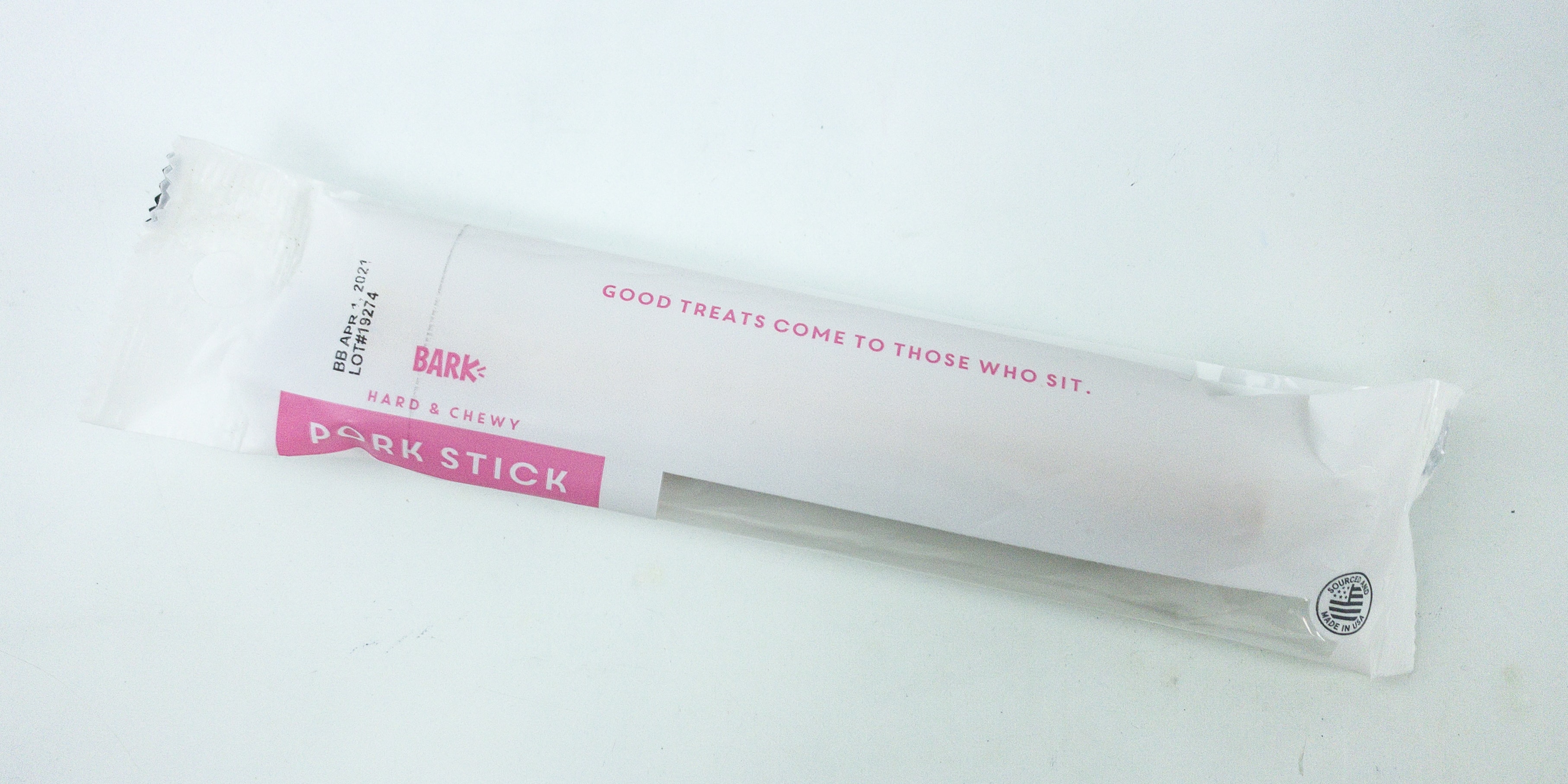 Barkbox Hard & Chewey Pork Stick Dog Treat. Good treats come to those who sit! This pork-flavored treat is a luscious, chewy stick made from real pork and other clean ingredients.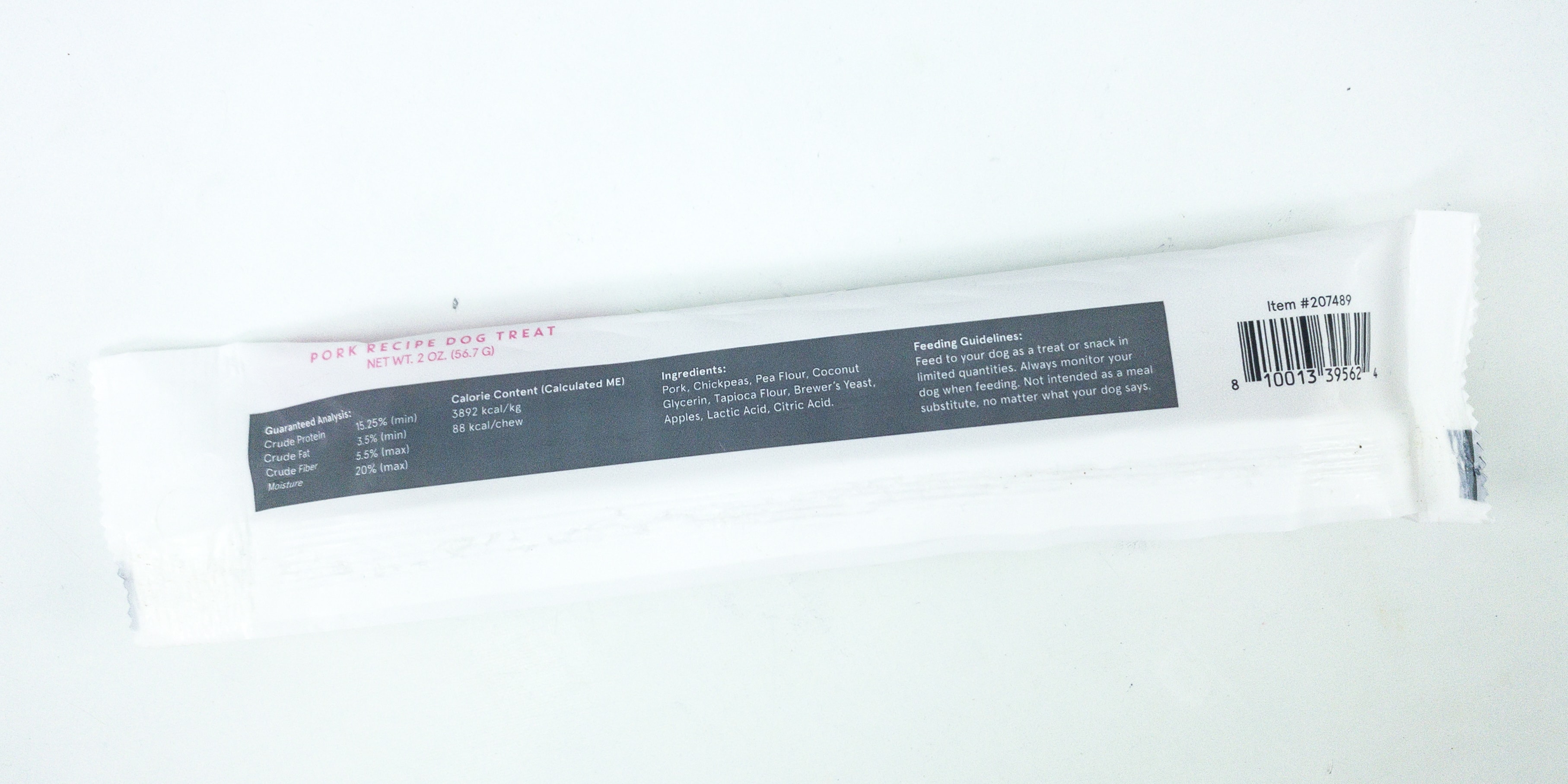 It's a low-calorie, highly-nutritious stick! It makes a great source of protein, fat, and fiber, to help improve your dog's health.
This stick is so crunchy and very chewy. You can serve it as is or break it down to smaller pieces and give it as a reward treat for training!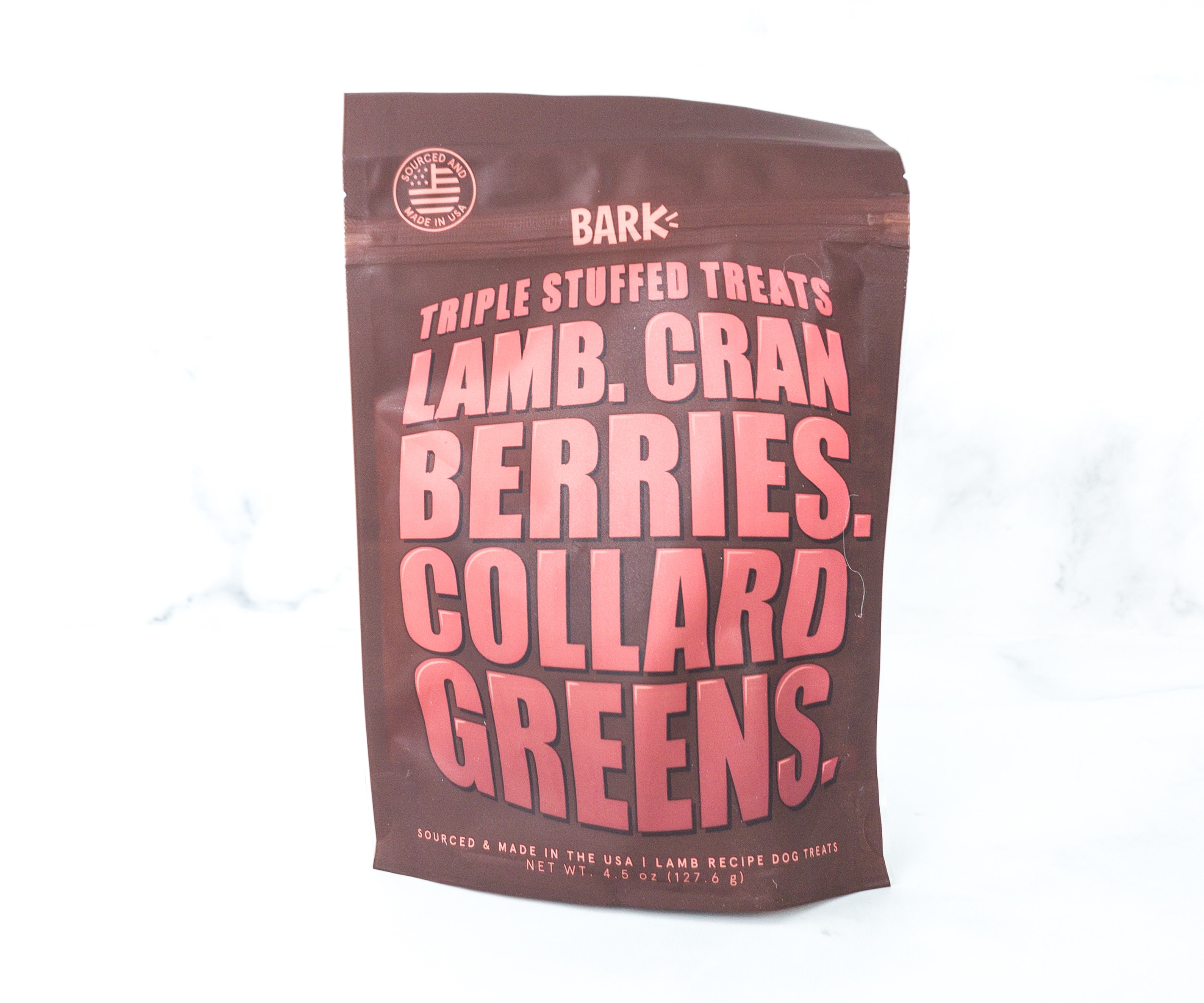 Bark Box Triple Stuffed Treats Lamb Recipe Dog Treats. This first bag of treats is made in the USA using all-natural, grain-free, and wholesome ingredients that includes real lamb, chickpeas, cranberries, and collard greens.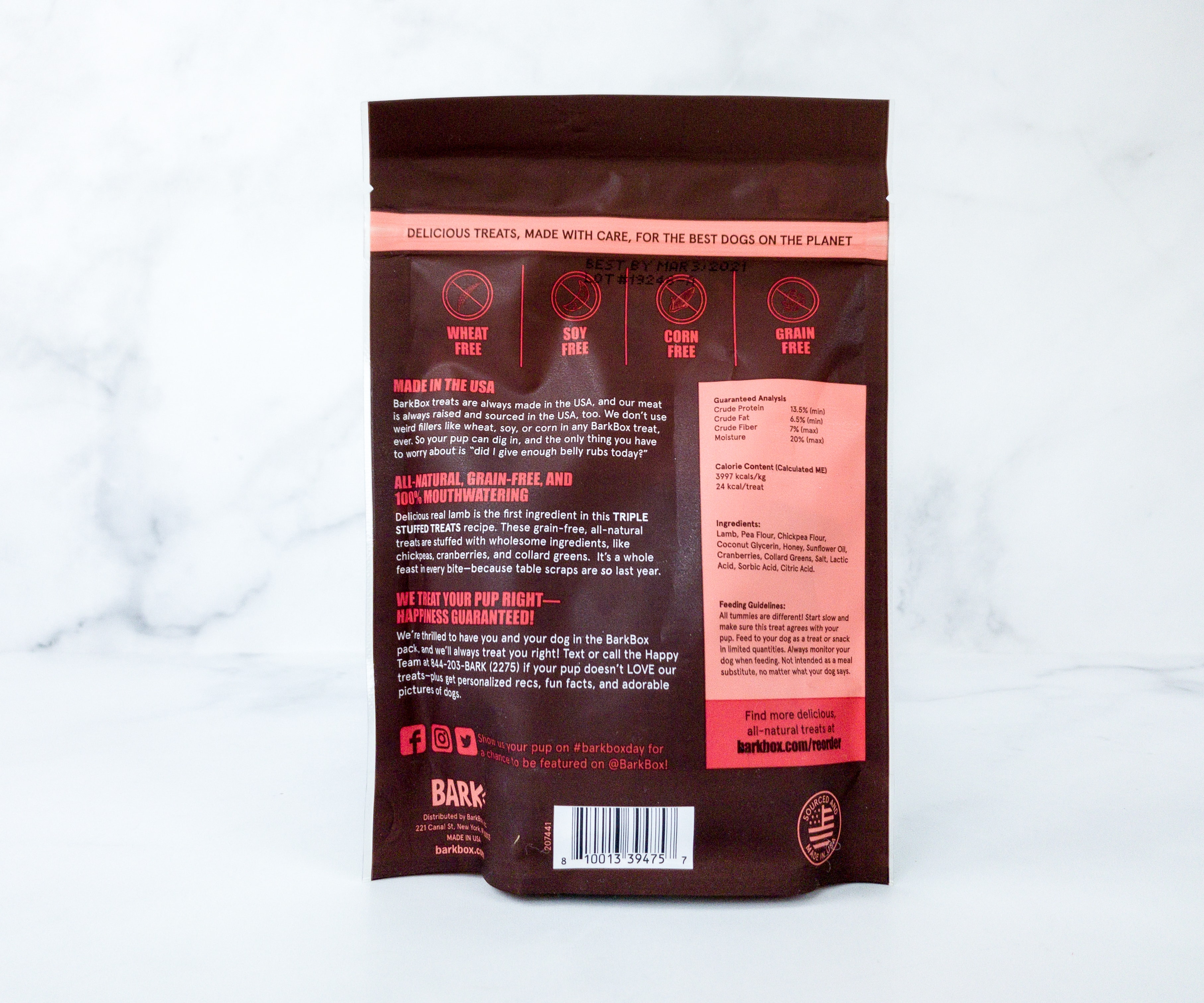 According to the back of the bag, this treat is rich in protein, fat, and fiber!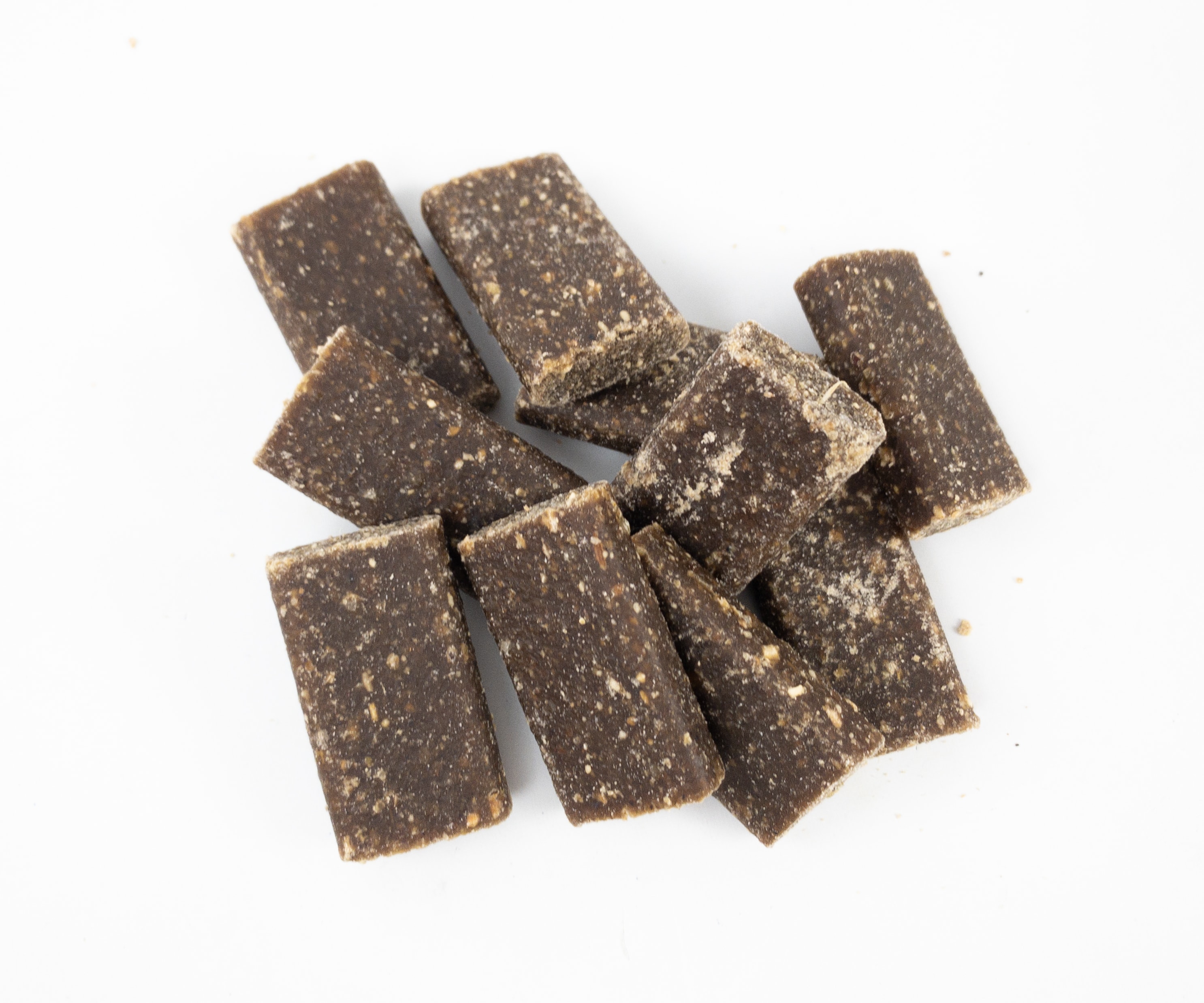 Inside the bag are rectangular bite-sized treats with a rough, chewy texture that my dog truly loves!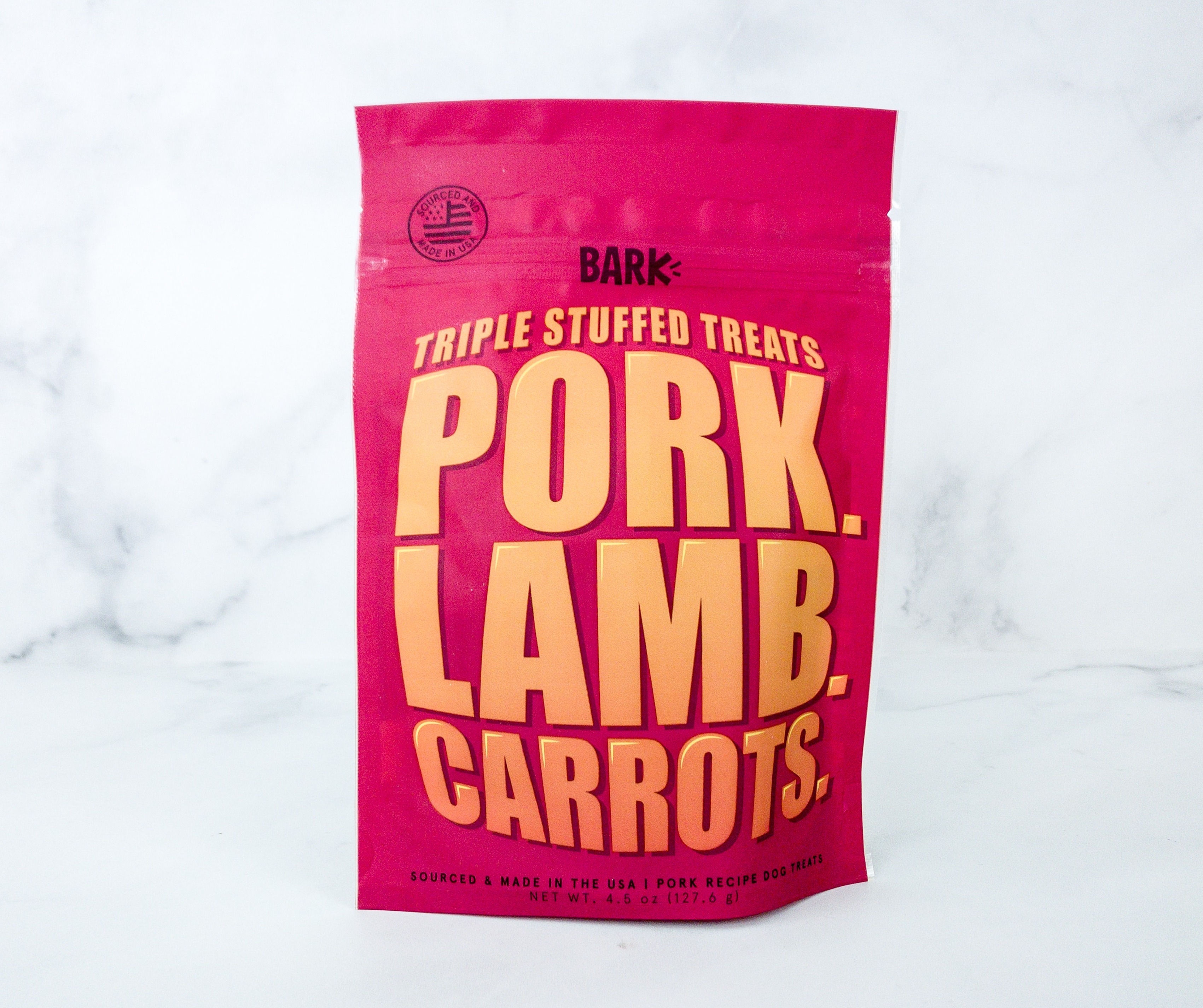 Bark Box Triple Stuffed Treats Pork Recipe Dog Treats. Pork, lamb, chickpeas, and carrots are combined in these delicious and crunchy treats!
This treat is also free from ingredients that may cause harm to your dogs such as wheat, soy, corn, and grains.
These treats also are also rectangular and bite-sized, just a little thinner than the first one. It also has the same rough and chewy texture that our dogs really love to munch on.
This month's Barkbox is truly special, as all of the toys and treats are greatly related to Thanksgiving. Our pups love both plush toys and enjoyed playing with them for a long time. The treats are also a hit with our pups, as evidenced by their constant tail wagging. We feel good knowing that they're made with natural ingredients and provides a lot of health benefits to our beloved dogs. Our dogs deserve nothing but the best and this subscription definitely helps us give them that!
What do you think of Barkbox? If your dog is also a serious chewer, check out Barkbox Super Chewer!