Yumble is a weekly meal subscription service for kids. They deliver pre-prepared meals suited to the specific tastes, nutritional needs, and portion size requirements of children. To make things more fun, they also include activities in each box! All the meals are pre-cooked and need either minimal heating, or no heating at all. You can customize exactly what meals you receive, or have Yumble just automatically send meals. Yumble meals are designed to be healthier versions of "kid food" and Yumble claims if your child is exposed to at least two weeks of Yumble food, they'll pretty much forget they ate anything else.
Yumble offers meal plans with 6, 12, and 24 meals per week. This is a review of the 6-meal per week box! Individual meals range from $6.99 to $7.99, and shipping is always free!
DEAL:  Get free shipping with every plan, plus save 25% with a 12 meal plan and save 15% with a 6 meal plan. No coupon code needed, just use this link to subscribe!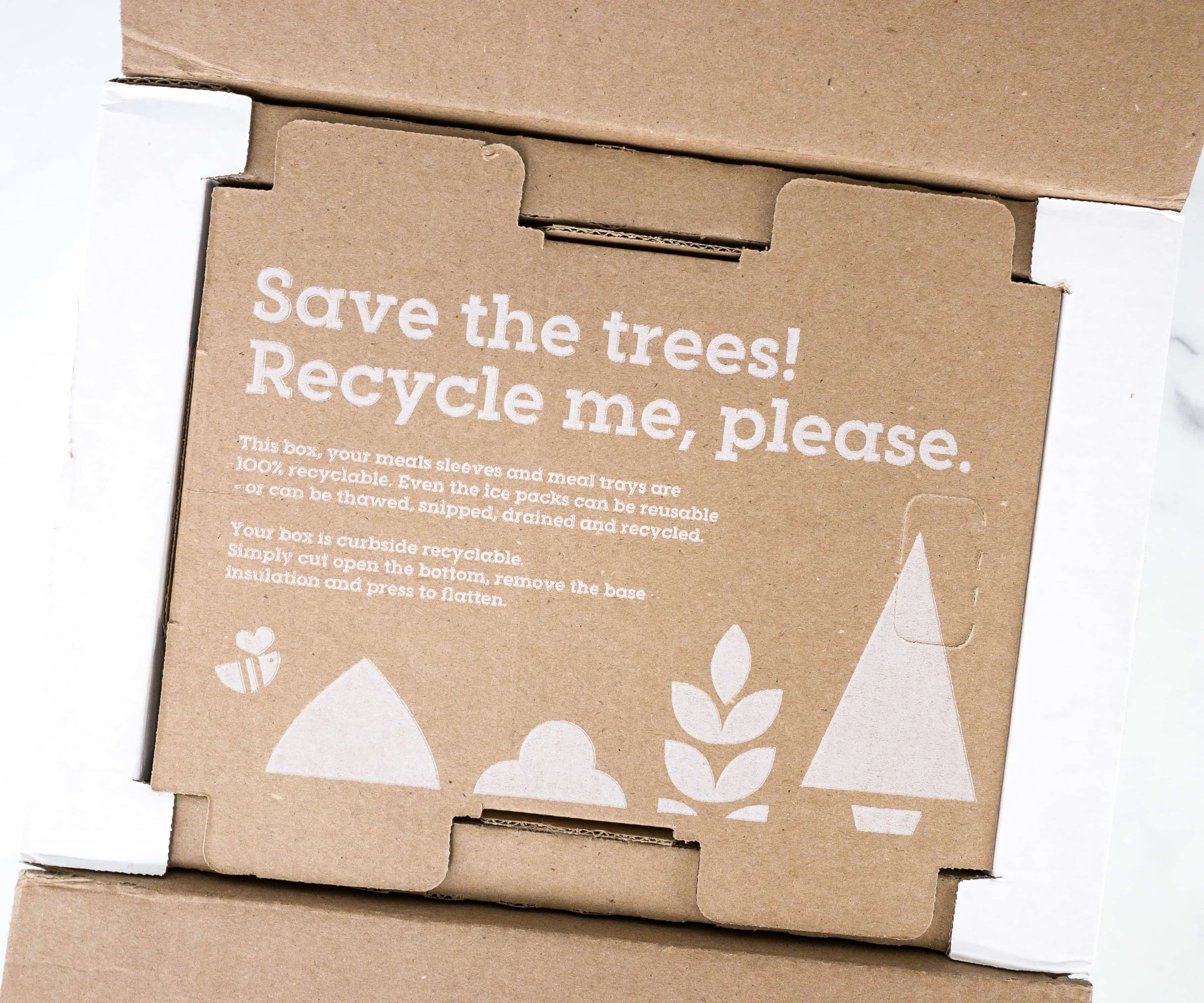 The box itself, the meal sleeves, and the meal trays are recyclable.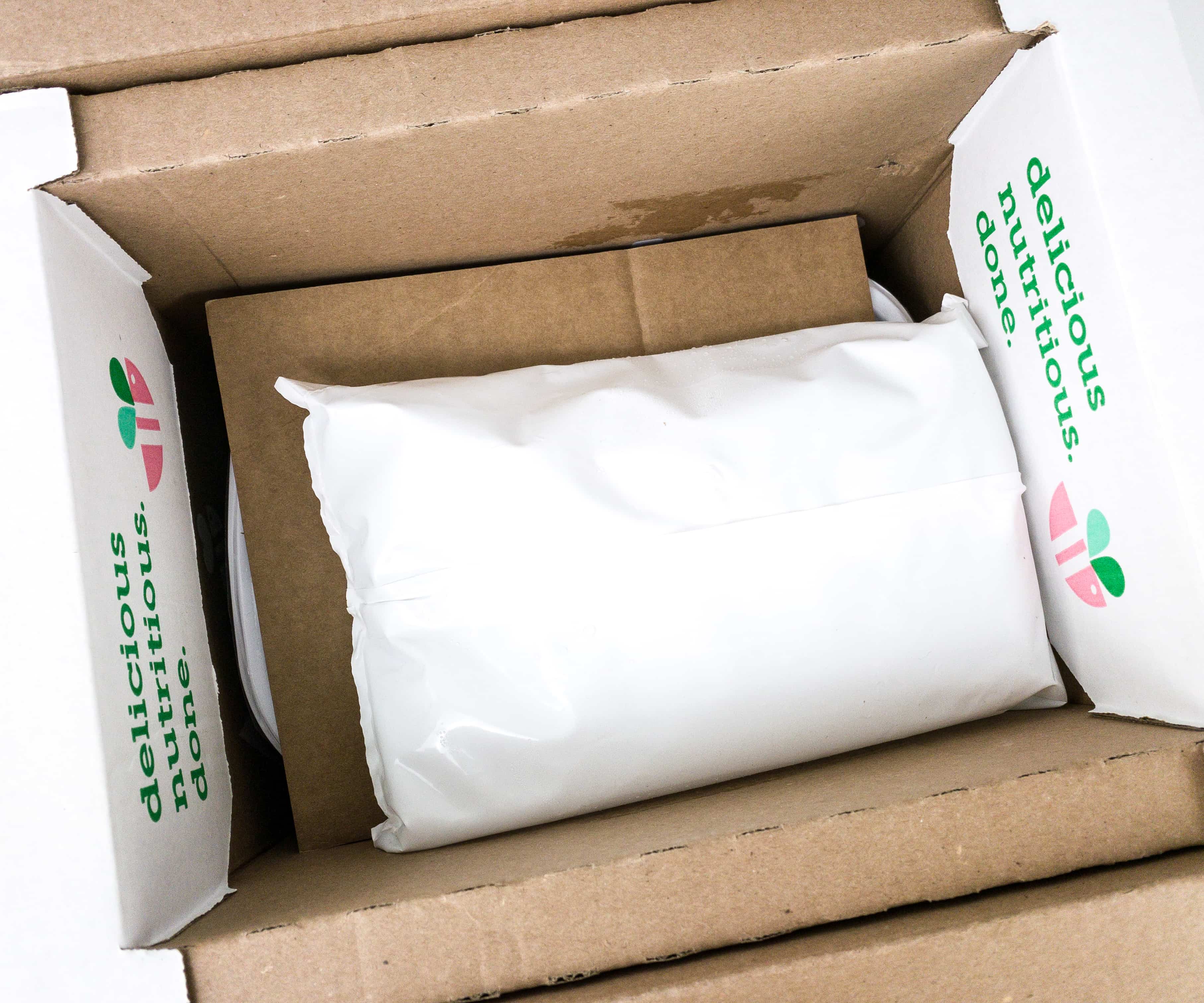 To keep the meals fresh, they ship it in an insulated box with ice packs, which are also reusable and recyclable.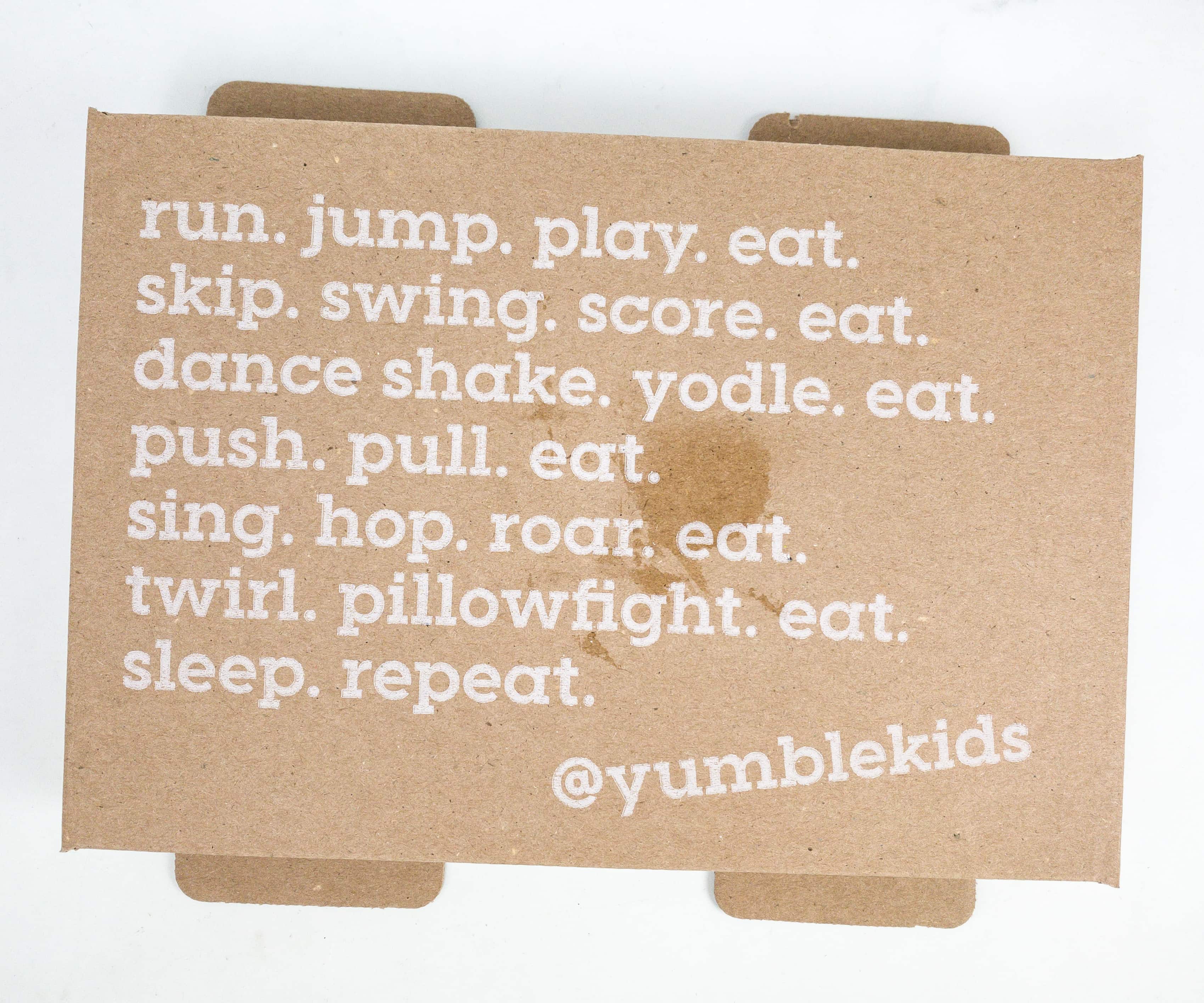 It's been a while since our last Yumble box and we're happy to see its new packaging!
The meals arrived in great condition! Each meal is easy to identify because they're well-labeled and even color-coded.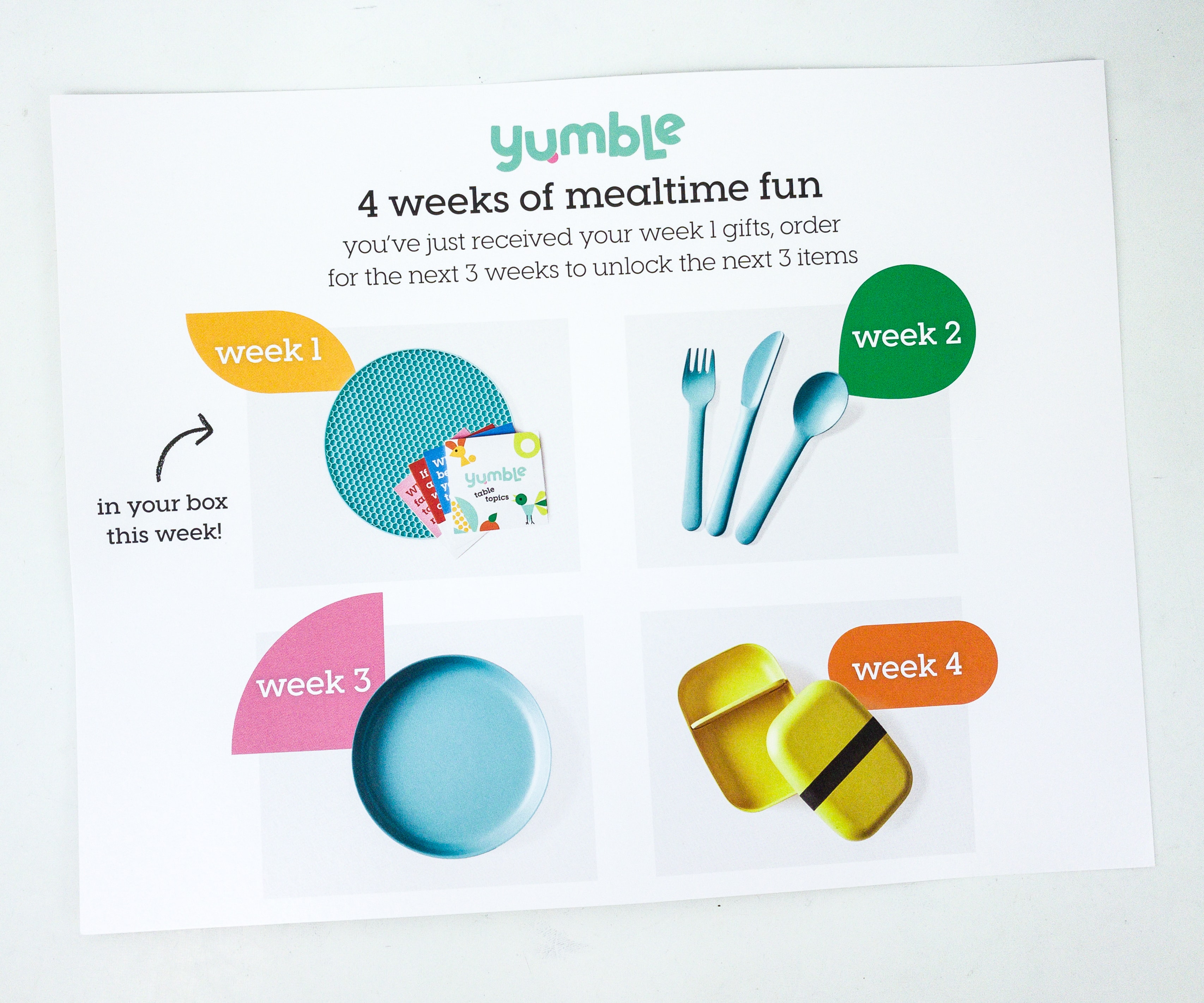 There's a promotional card in the box, which shows us the gift we received in this box: a placemat and some activity cards!
They also showed us the other gifts we'll receive if we order for the next 3 weeks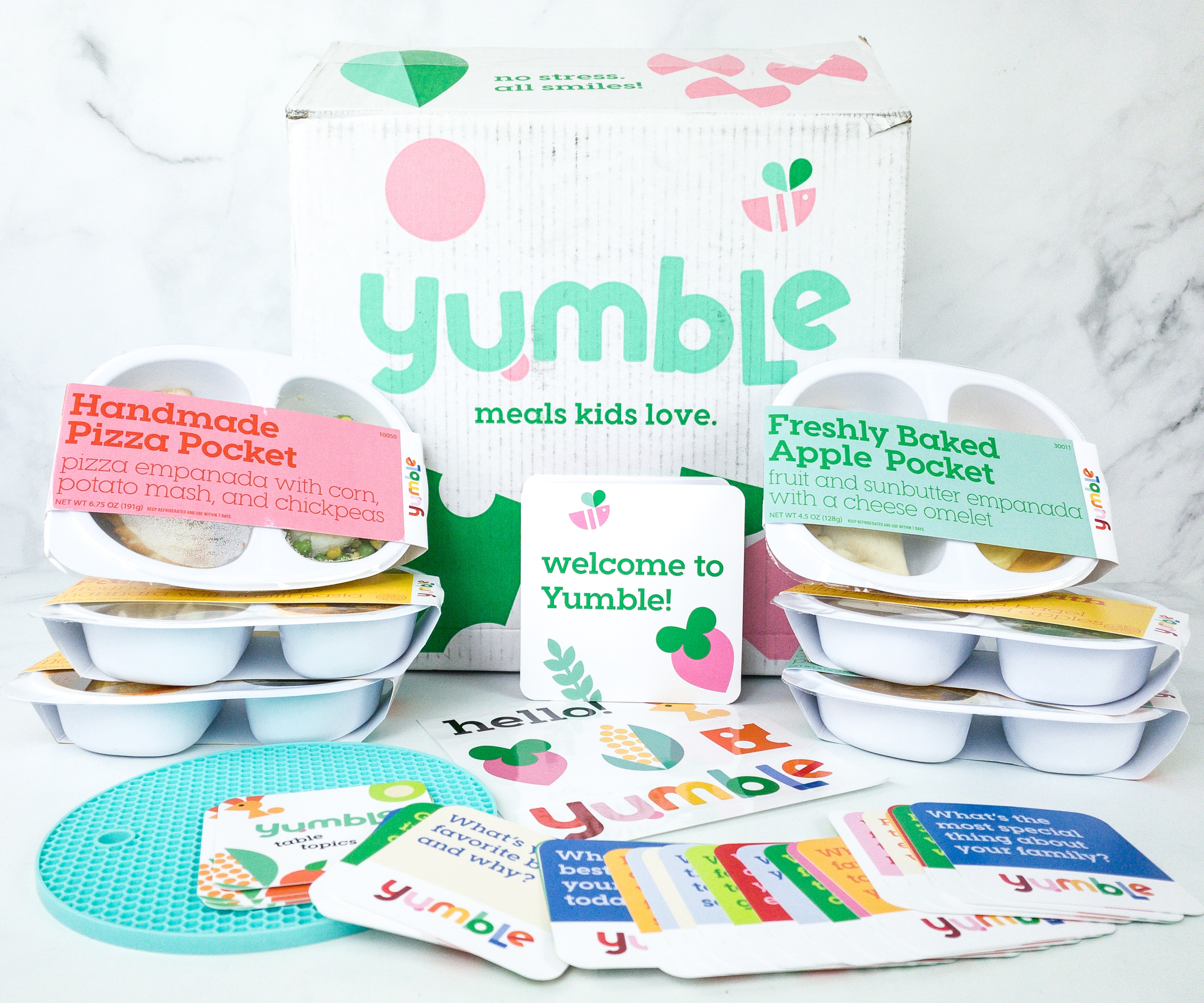 Everything in the box!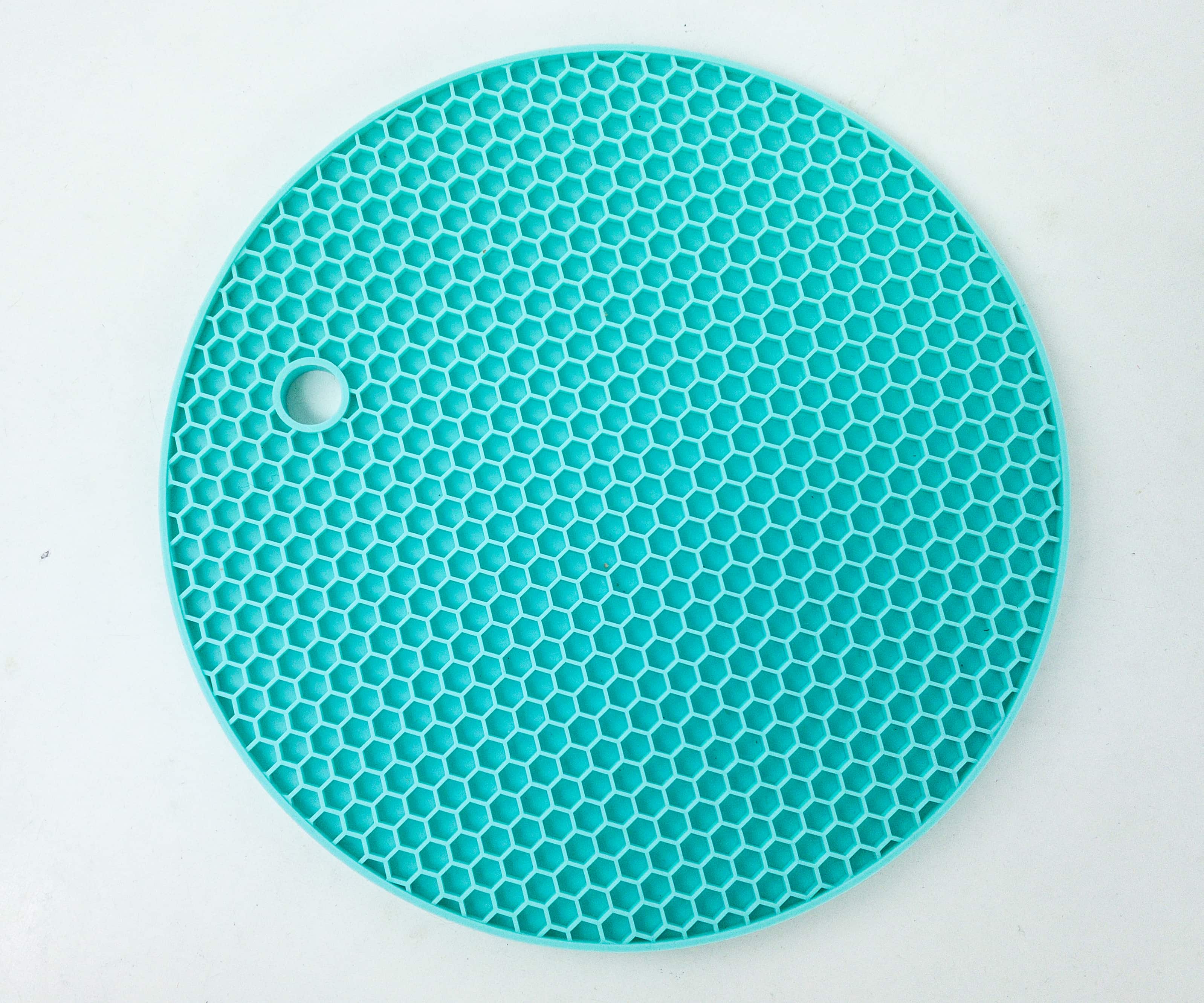 The placemat is in turquoise, featuring honeycomb patterns that prevent your kid's plate from slipping.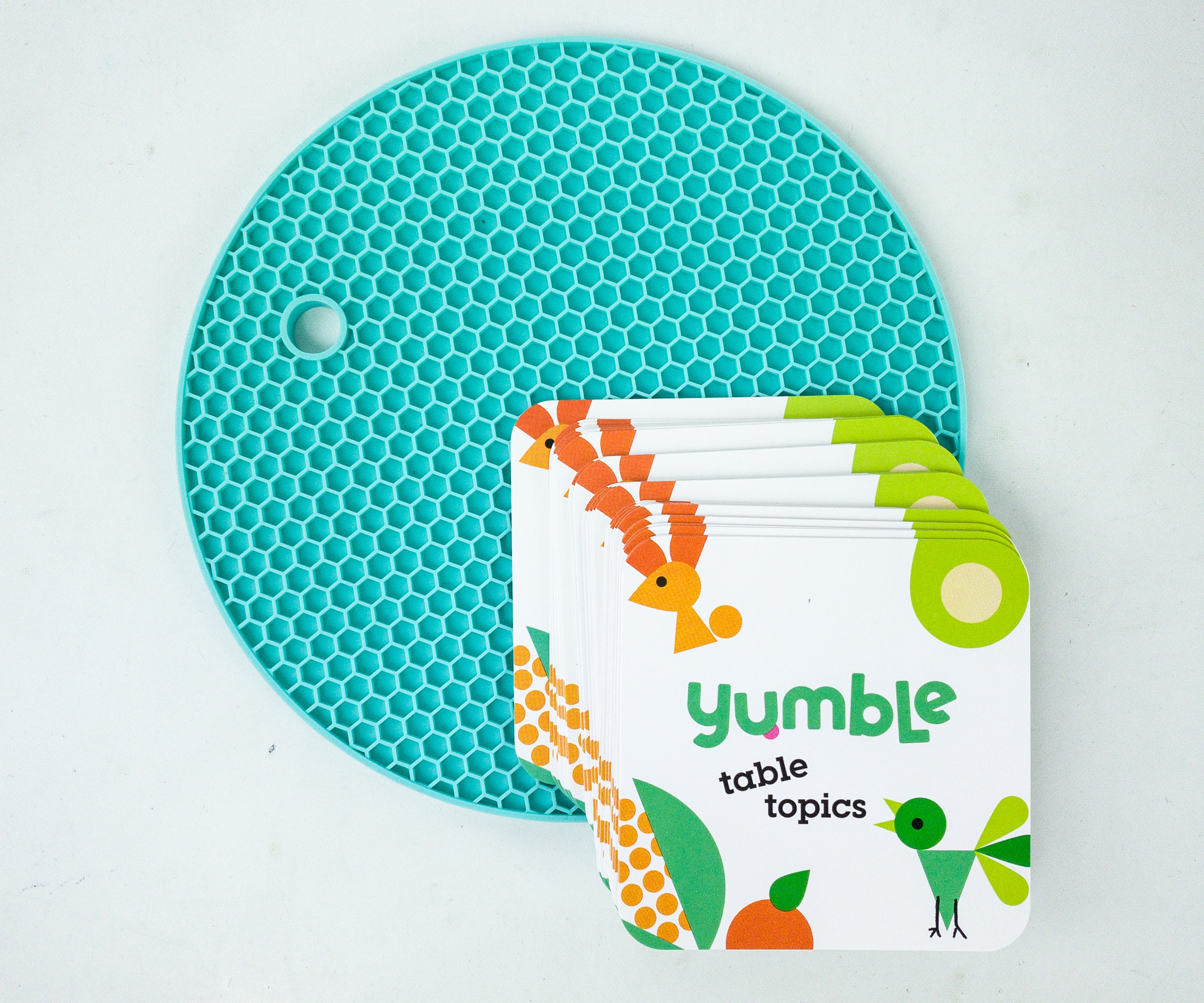 We also got a set of cards along with the placemat.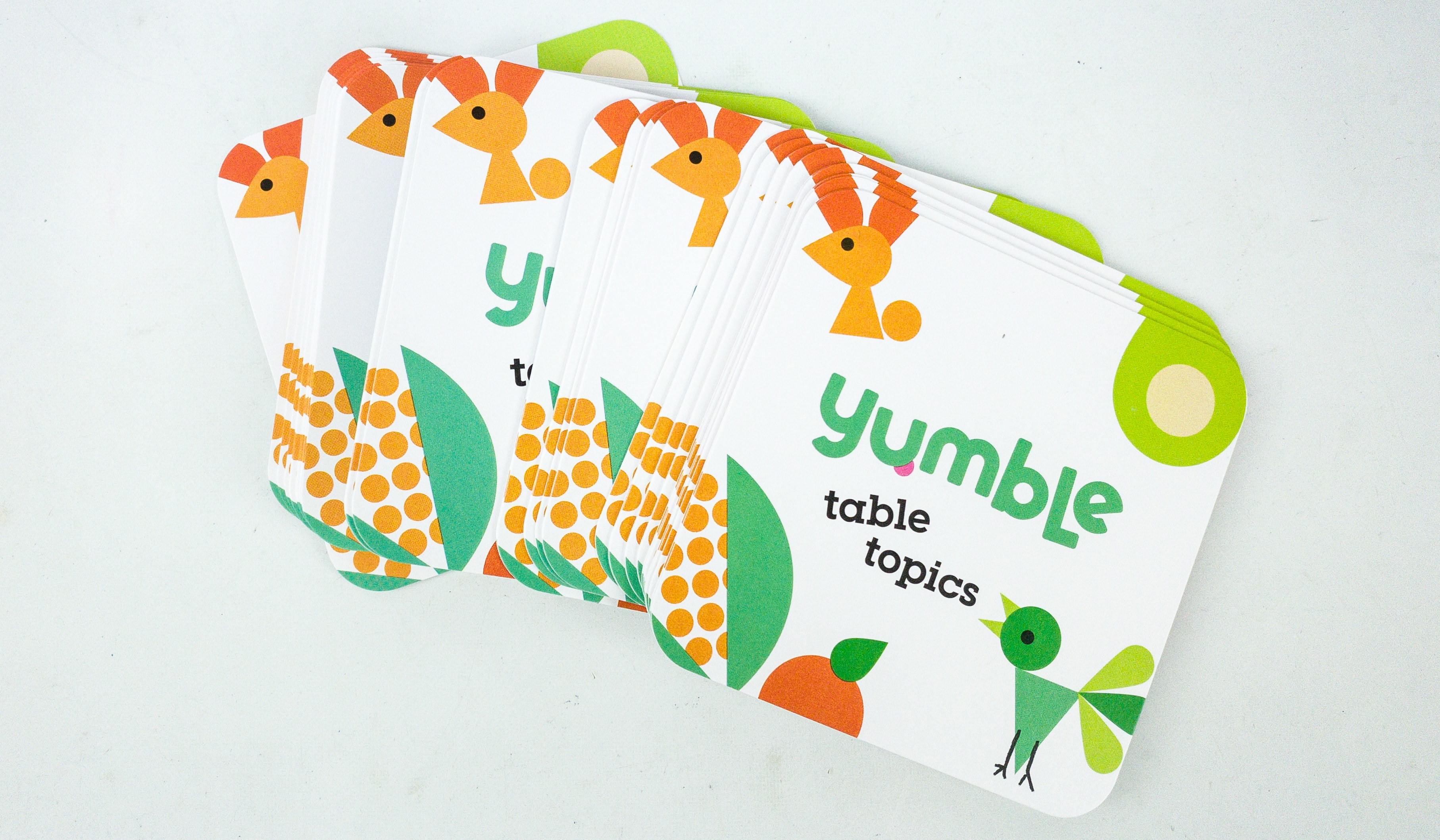 Each of these cards features a topic you can talk about with your kids while having a meal!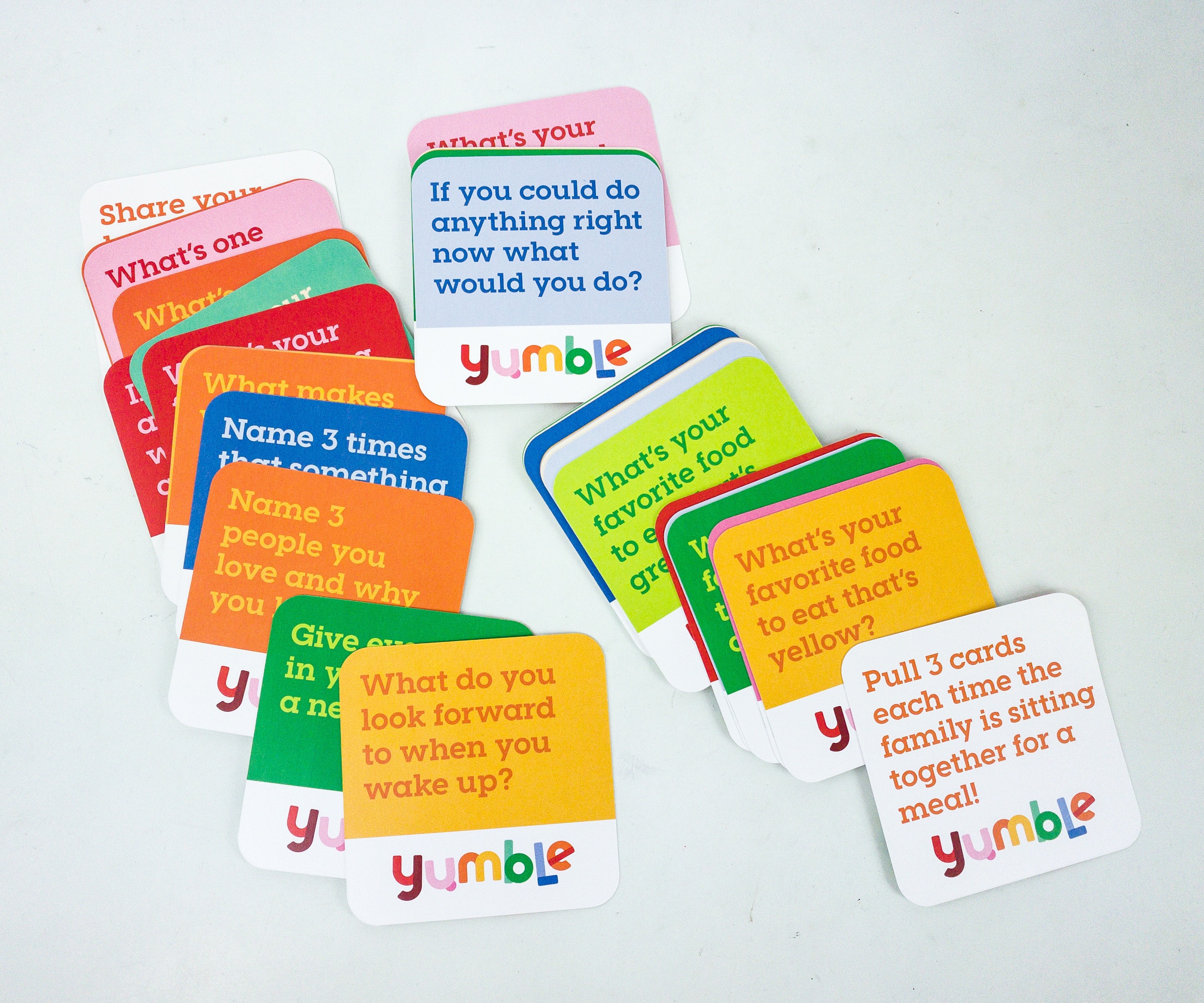 From simple things such as their favorite food to questions about their dreams, this would give you and your kids something to talk about every mealtime. We love that they encourage quality conversations!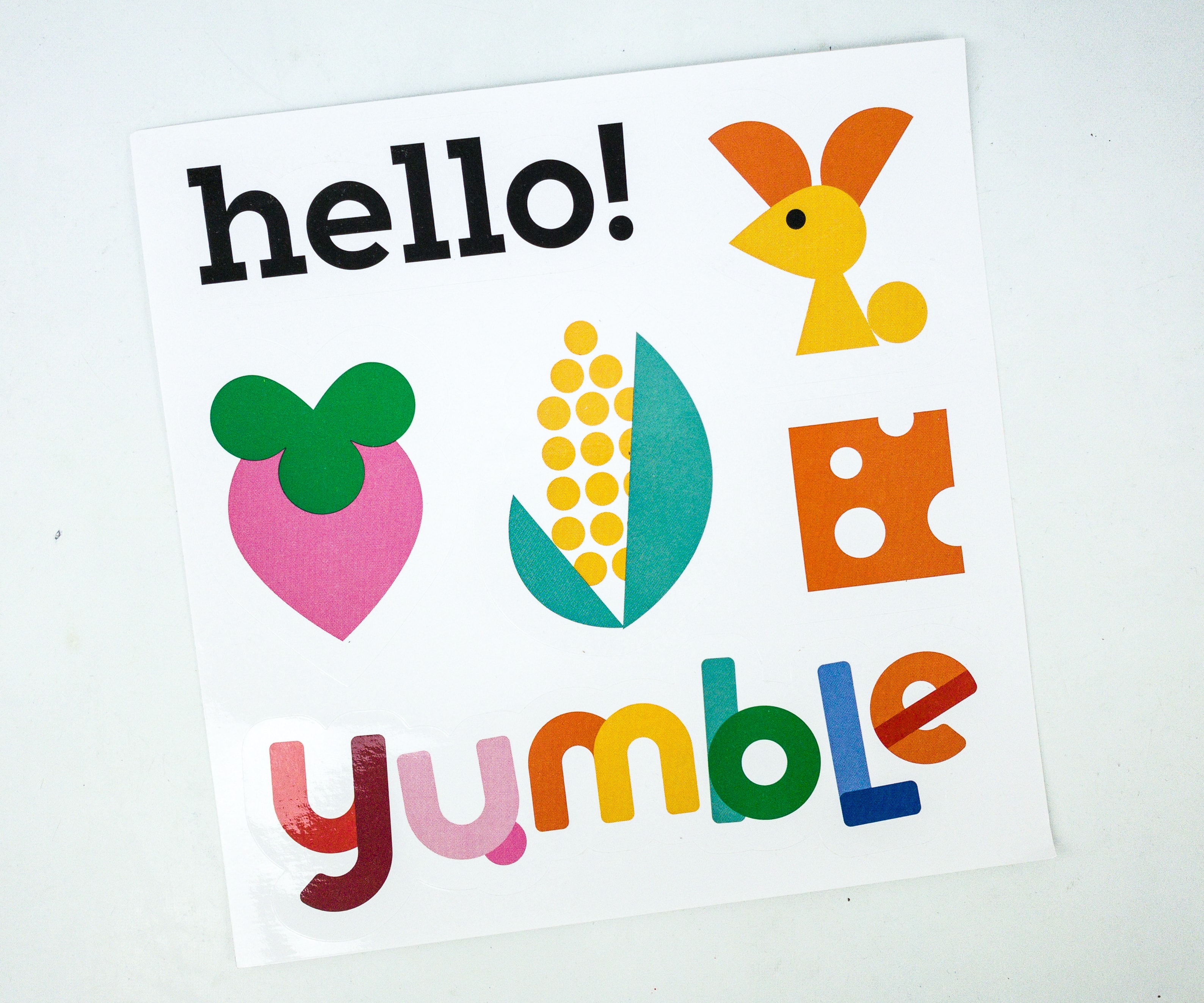 We also got some Yumble stickers!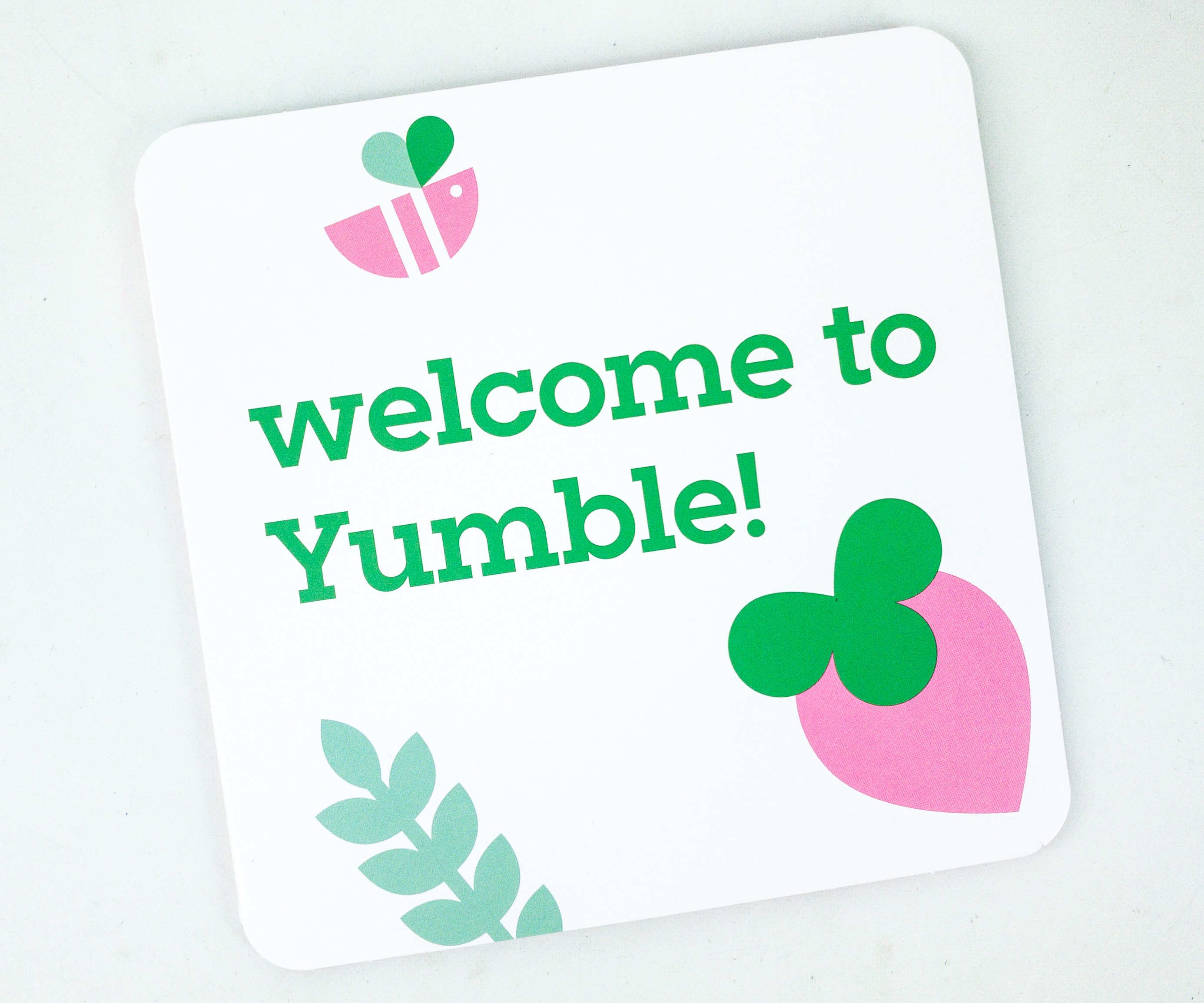 They're welcoming us to the subscription!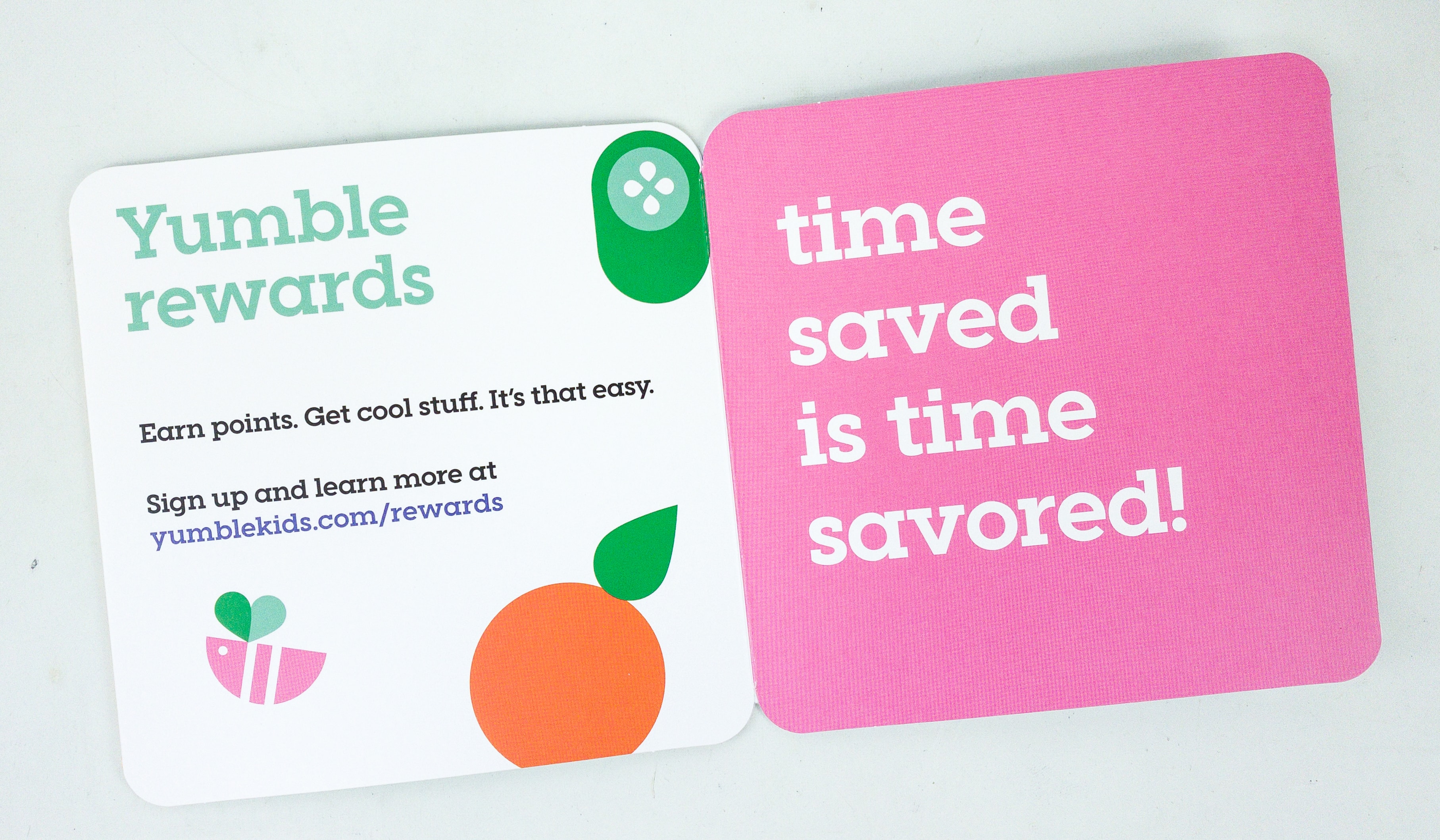 There's also a reminder about Yumble rewards.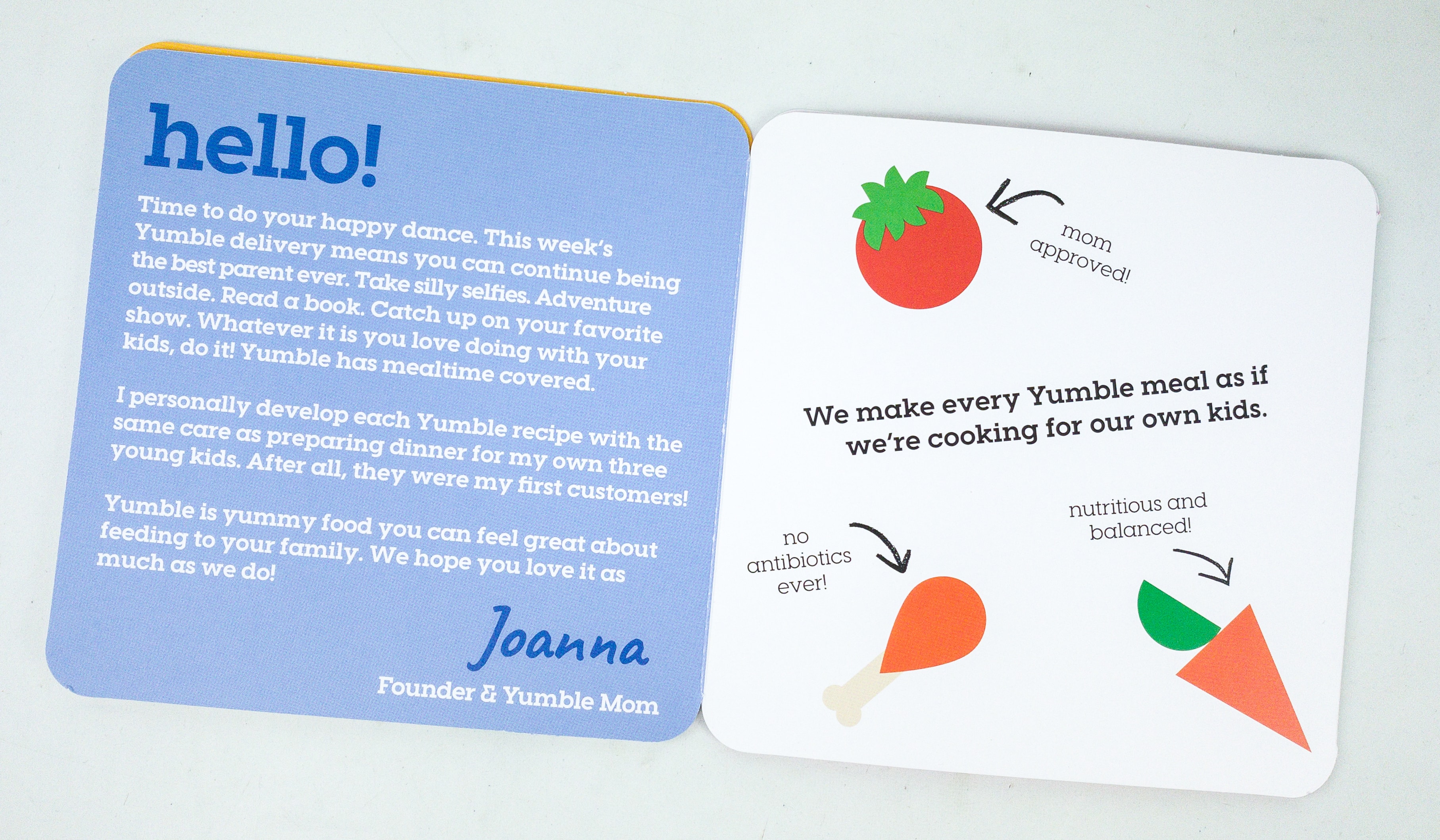 Next up is a message from Joanna, the founder of Yumble.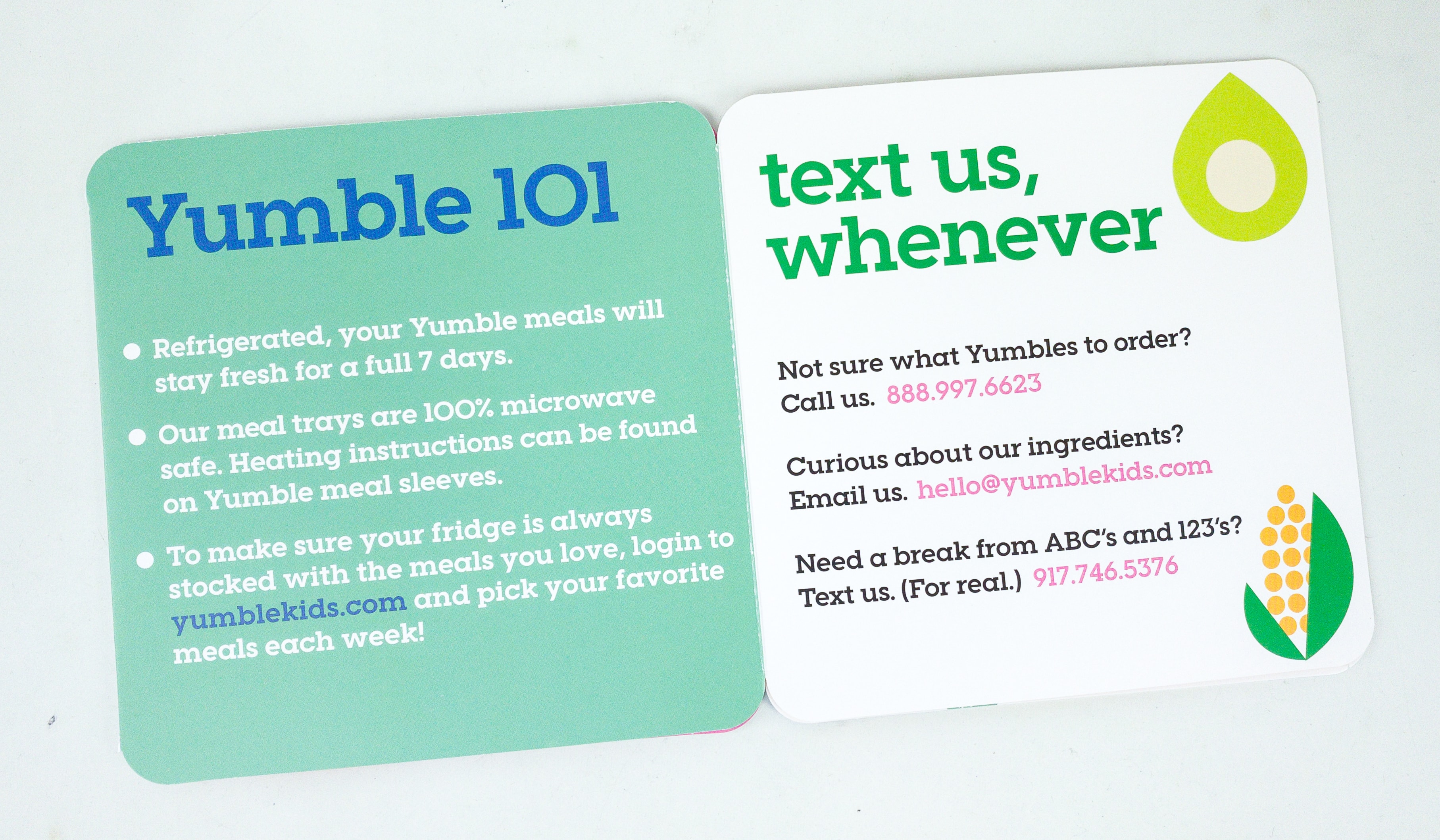 Here are more reminders! According to the pamphlet, Yumble meals stay fresh for 7 days when refrigerated. The meal trays are also microwave-safe.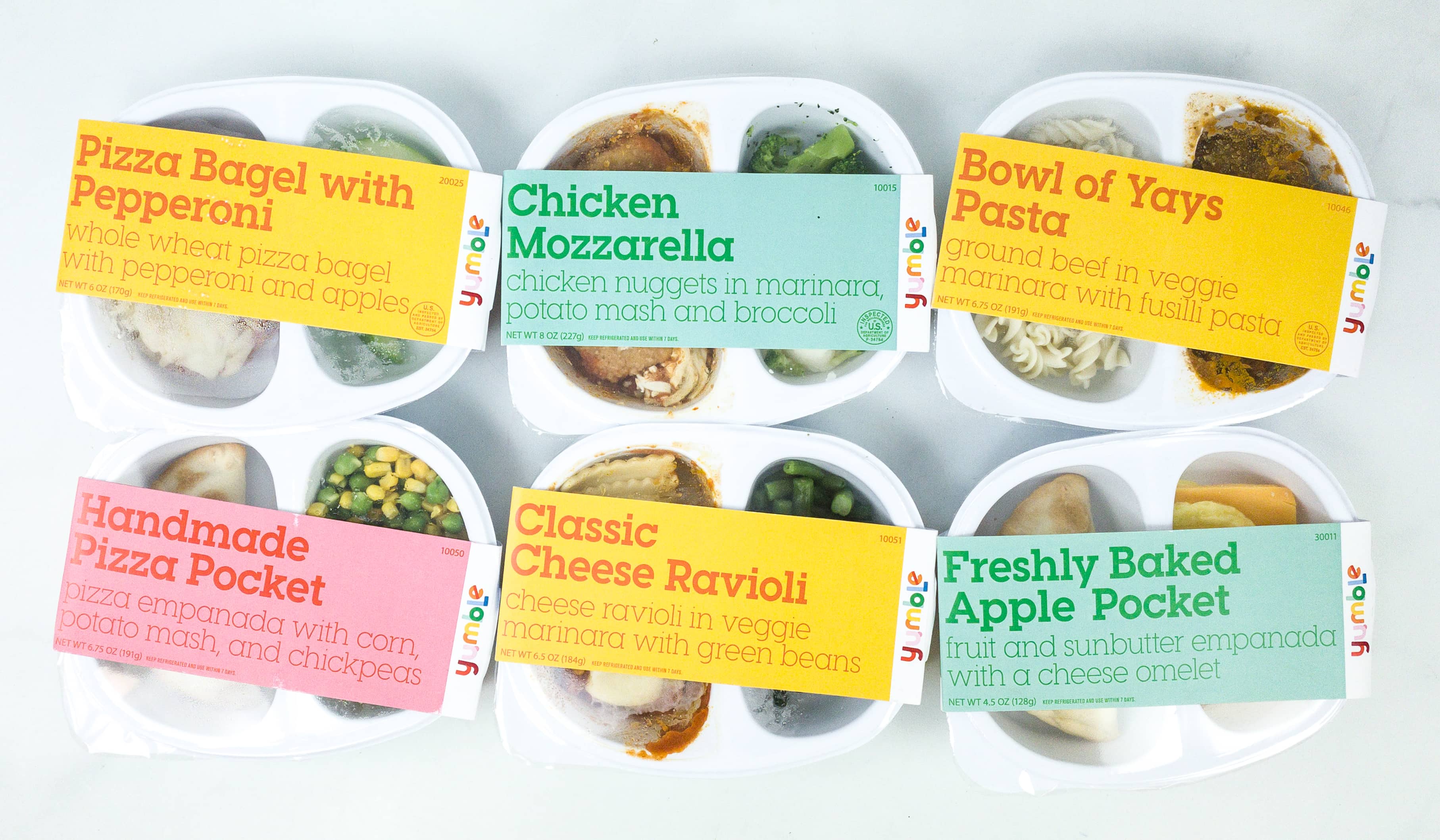 All the meals in the box!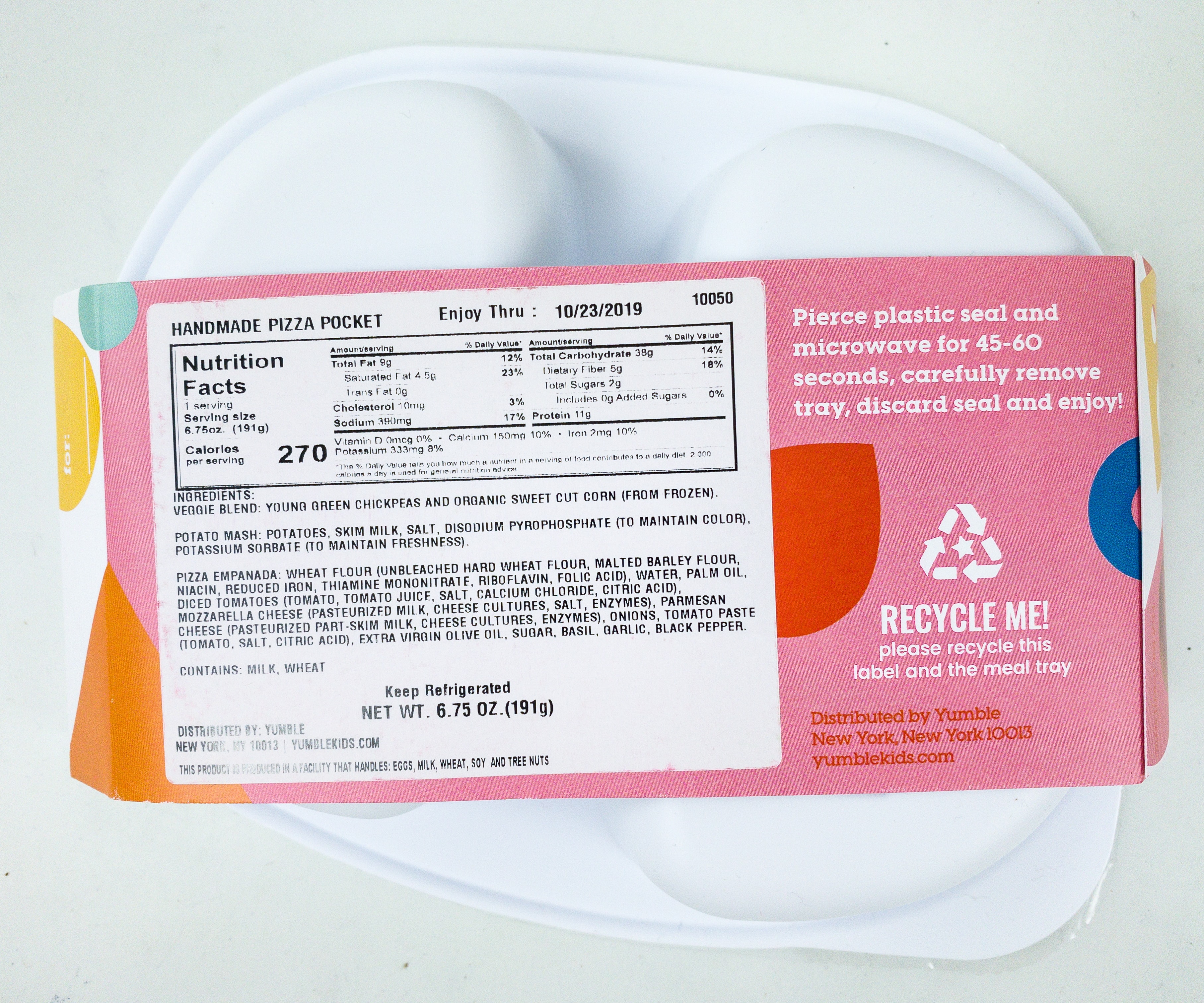 The sleeve has all the info related to that meal, including heating instructions, nutrition, and ingredients. They also have a handy "enjoy thru" date to help you order your meals for optimal freshness.
Handmade Pizza Pocket Pizza Empanada with Corn, Potato Mash, and Chickpeas.
It looks like an ordinary empanada outside, but inside it's bursting with the delicious flavors of a classic pizza, including diced tomatoes, mozzarella cheese, parmesan cheese, and onions. With potato mash and vegetable mix on the sides, it becomes a truly satisfying and nutritious meal, complete with fiber, plant-based protein, folate, and iron!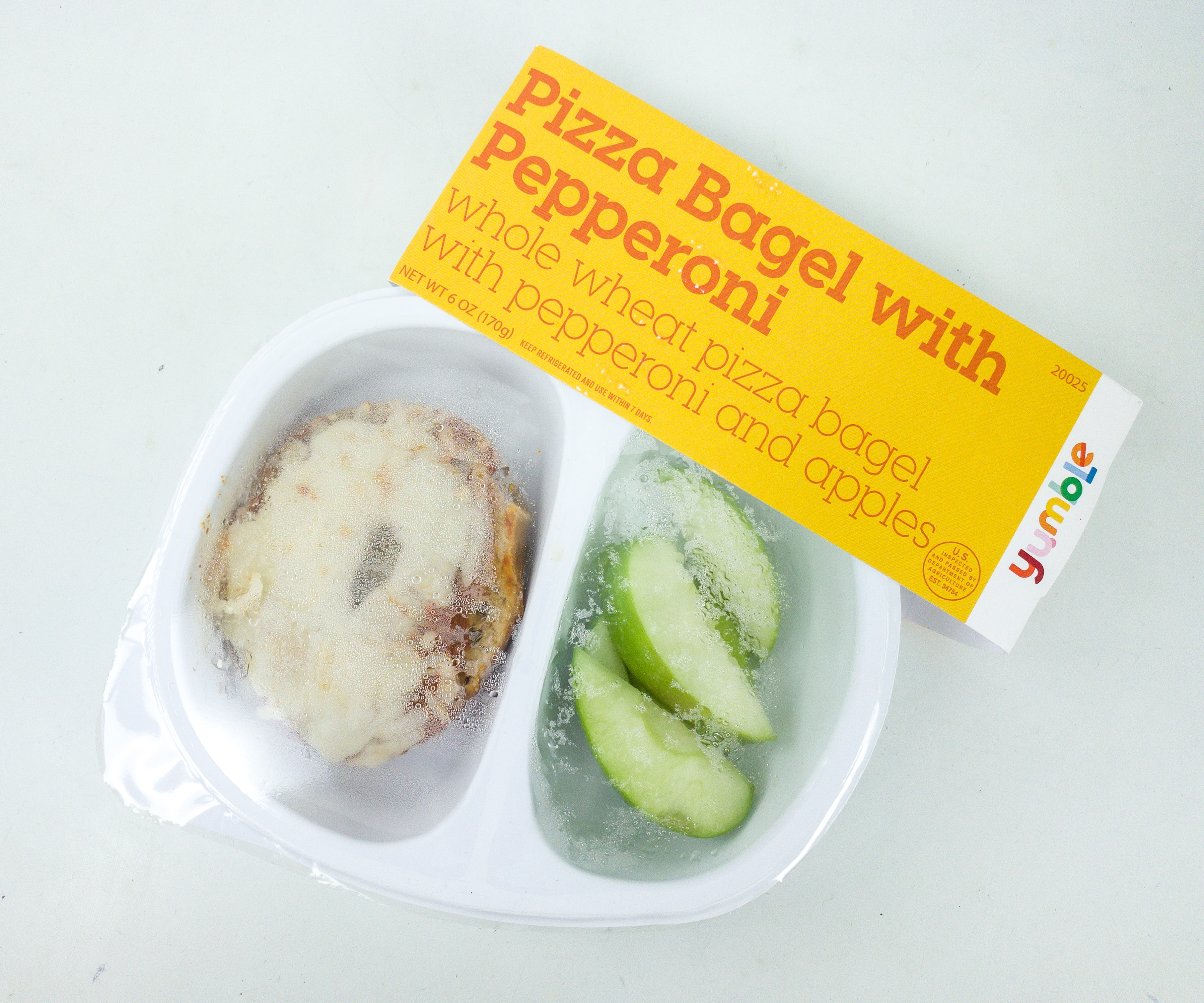 Pizza Bagel With Pepperoni Whole Wheat Pizza Bagel with Pepperoni and Apples.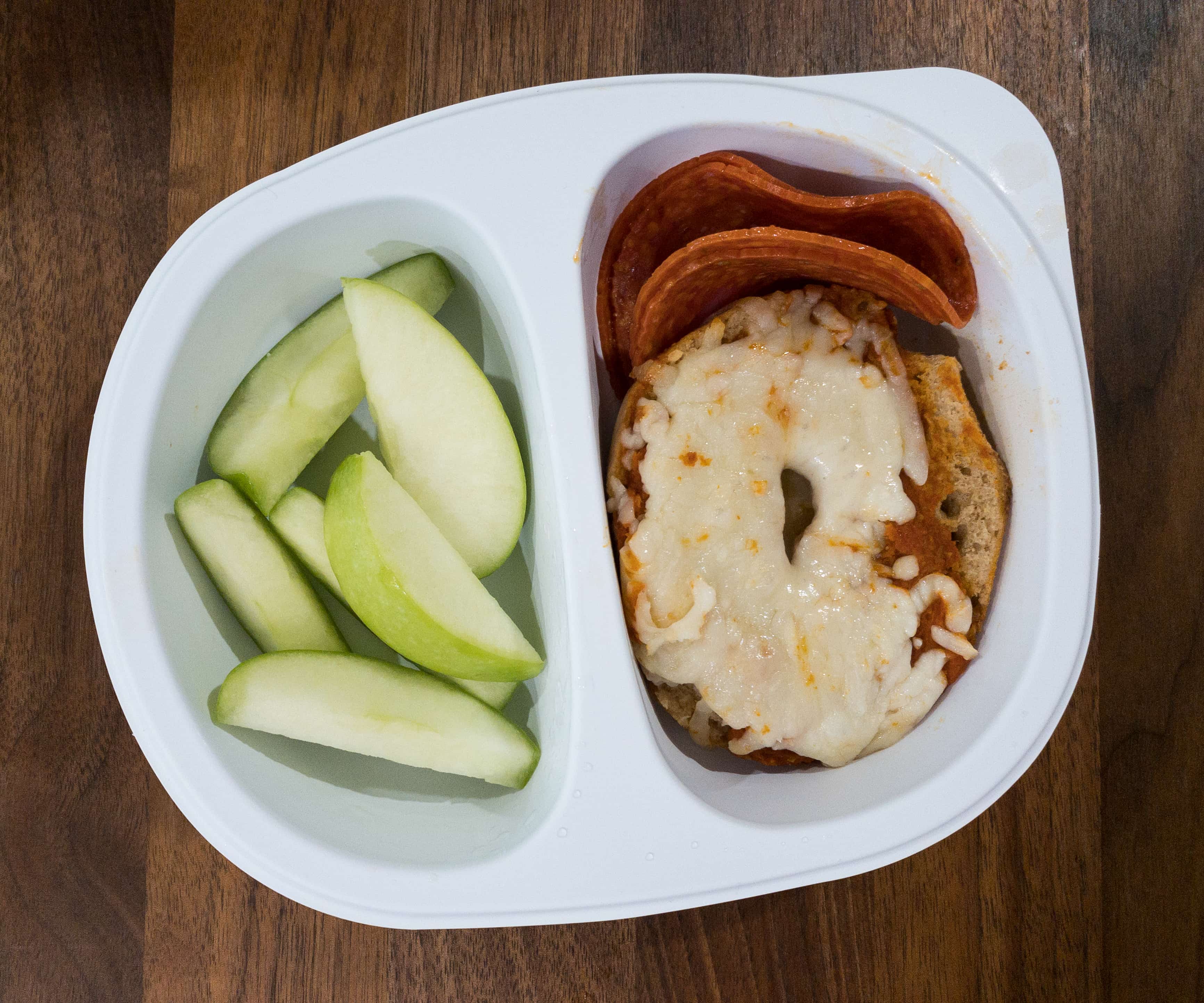 Here's another kid-friendly version of pizza from Yumble, the pizza bagel! It's made with a whole wheat bagel and a tasty sauce composed of organic tomatoes, mozzarella cheese, pepperoni, and lentils puree. Yes, lentils! It tastes so good, they wouldn't even know it comes with an ingredient they wouldn't otherwise eat. Lentils are rich in fiber, folate, and magnesium. The sides for this meal are fresh sliced green apples, and they're so satisfying!
Classic Cheese Ravioli Cheese Ravioli in Veggie Marinara with Green Beans.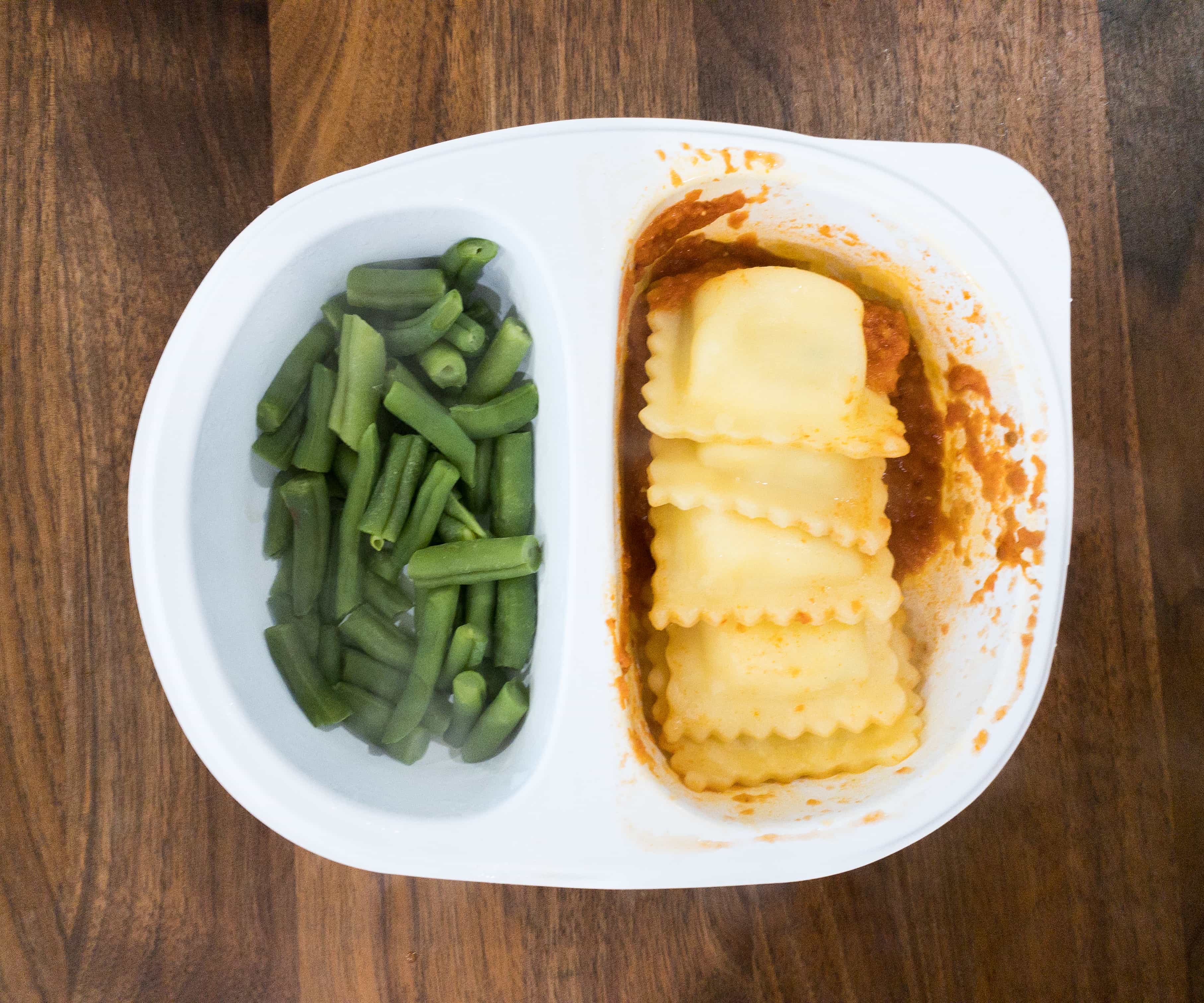 This ravioli is as cheesy as promised! The tomato sauce is made with pureed vegetables and lentils, and we wish there's more of it, but the meal is overall good and tasty. The green beans on the side are not just satisfying, they're also so nutritious because they promote healthy skin, bones, and hair!
Chicken Mozzarella Chicken Nuggets in Marinara, Potato Mash, and Broccoli.
Think of chicken parmigiana, but a version for kids! It's made using organic, gluten-free chicken nuggets with a tasty sauce composed of tomatoes, vegetables, and of course, lentils. They were generous with the sauce on this one. It's also topped with shredded mozzarella cheese! For the sides, there are mashed potatoes and organic broccoli, making it such a healthy and well-balanced meal.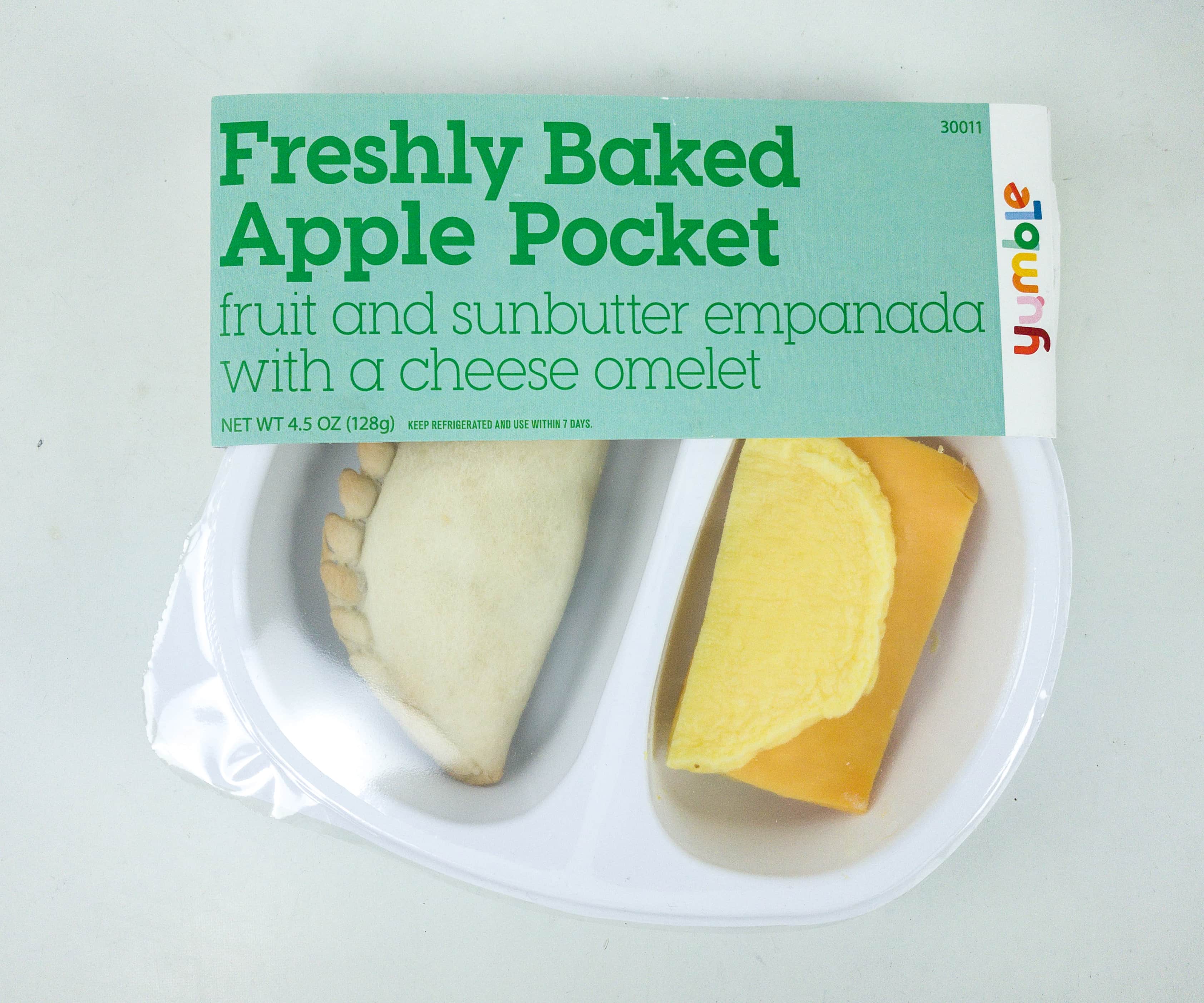 Freshly Baked Apple Pocket Fruit and Sunbutter Empanada with a Cheese Omelet.
They filled the empanada with apples, which are known to be rich in antioxidants and soluble fiber, and paired it with a cheesy omelet that's rich in protein. What more can we ask for? Served warm and fresh, it makes a perfect breakfast meal! The apple pocket even had a dash of cinnamon and some raisins that made it extra tasty!
Bowl Of Yays Pasta Ground Beef in Veggie Marinara with Fusili Pasta.
The pasta and the sauce came in separate sections of the meal tray, which is awesome! This is a healthier version of bolognese pasta, as it includes gluten-free rotini pasta and a sauce made with vegetables, lentils, and tomatoes. There's also ground beef, and Yumble ensures that it doesn't contain any antibiotics! It's aptly named as Bowl of Yays because my kid certainly loved this one!
It could be tough to feed youngsters with nutritious meals, that's why it's great to have Yumble Kids! They provide the tastiest and freshest meals, which are also packed with the vitamins and minerals a child needs. They also take away the hassle of meal planning and food preparation, because all you have to do is to choose which meals you'd like to receive from their menu and, when the box arrives, you just reheat the meal when it's time to eat! Everything's a hit in this selection, so it's really hard to pick a favorite. Most of our choices include Yumble's signature tomato sauce with lentils and it didn't disappoint! We're so excited for future boxes, and so are our kids!
Have you tried Yumble Kids subscription box yet?