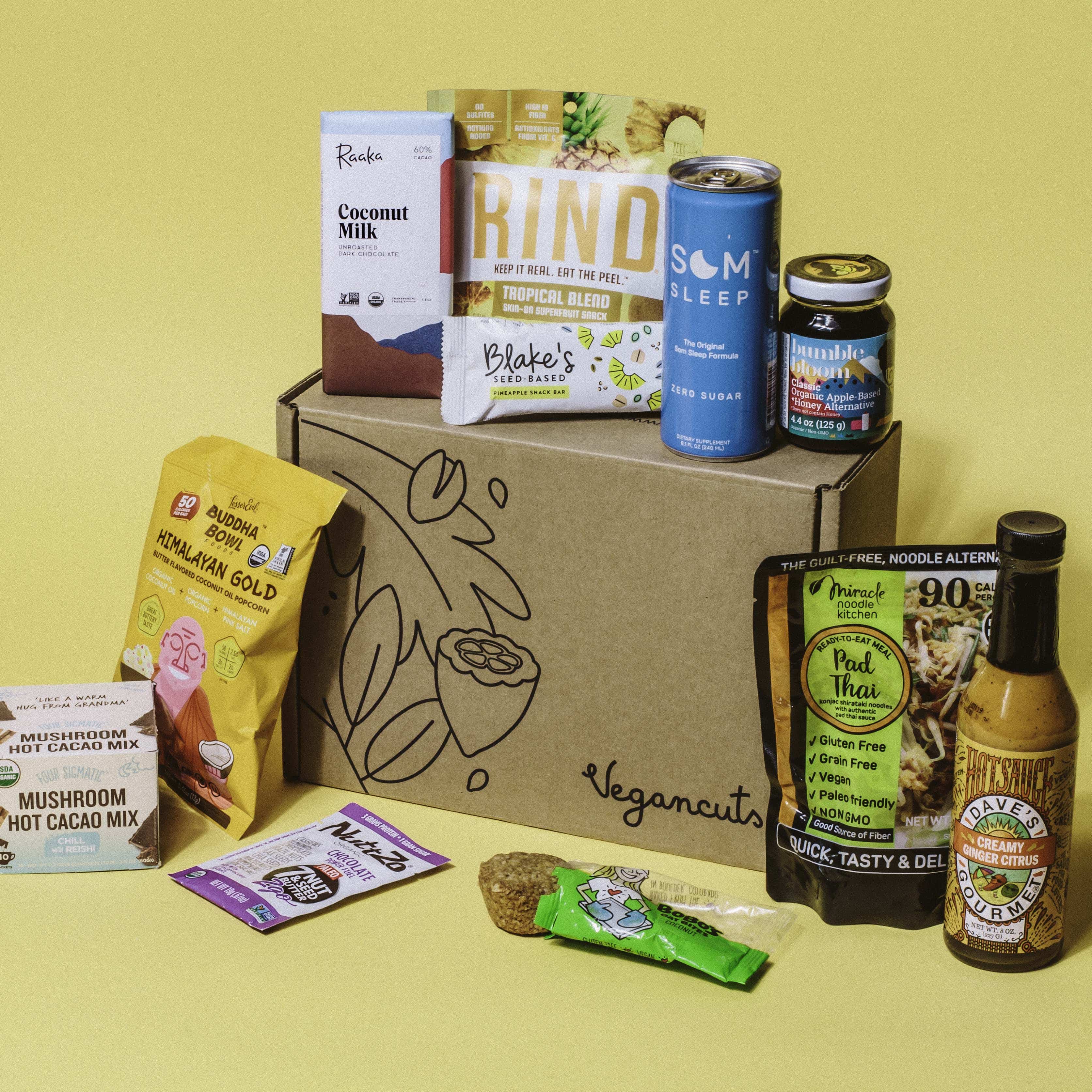 We have the full spoilers for the November 2019 Vegancuts Snack Box!
The November Snack Box: Oat So Thankful
New Subscribers in Nov will receive a fan favorite bonus gift. November's snack box will be packed with an abundance of sweet treats. We are "Oat So Thankful" for you so this month's featured items pack a real punch. First, you will unwrap an Endangered Species ESC One Puffed Rice Crunch + Dark Chocolate bar. Second, you will snack on gooey delicious JJ's Sweets Coconut Sugar Caramels. And finally, you will enjoy UNREAL's Dark Chocolate Crispy Peanut Gems. Happy Thanksgiving!
DEAL: Use the coupon code hellosub to get $5 off your first box on any Vegancuts subscription!   It can only be used once per customer, but it can be used on multiple subscriptions at once so long as they are in the same transaction
Boxes will include:
Popchips Barbeque Potato Chips
Endangered Species Chocolate ONE Rice Crisp + Dark Chocolate Bar
Good! Snacks Birthday Cake Bar
Tahoe Trail Bar Caramel Chocolate Chunk
IQ Bar one of either Almond Butter Chip, Banana Nut or Blueberry
Shanti Bar one of either Salted Nutty Caramel or Dark Chocolate Brownie
La Colombe Oat Milk Draft Latte (substituted for Canadian and International subscribers)
JJ's Sweets Coconut Sugar Cocomels
Fullgreen Cauli Rice Riced Cauliflower with Broccoli
Four Sigmatic Chai Latte Mushroom Mix
UNREAL Dark Chocolate Crispy Peanut Gems
New Chapter Complete Organic Plant Protein+ Chocolate Powder
PLUS BONUS!
BONUS item details:
Snack Box Bonus Gift Terms: This promotion is open any NEW subscriber who purchases any length Vegancuts Snack Box subscription in November. A bonus gift is available for any new U.S., Canadian, or International subscriber. We'll include the bonus gift of Nutiva O'Coconut Bag of 8 in the November Snack Box for the first 500 subscribers. Any subscribers after the first 500 will receive a jar of Nuttzo Organic Peanut Pro 12oz. Jar in Crunchy or Smooth! Offer valid while supplies last. Existing Snack Box subscribers are ineligible to receive the Nutiva or Nuttzo, however, existing U.S. Snack Box subscribers will receive a box of 4 Shrooms Chocolate Crunch Snack Bars. Existing Canadian or International Snack Box subscribers will receive an Endangered Species Elephant Bar with Peanuts. Exchanges and requests for different bonus items cannot be honored, thank you for understanding.
What do you think of this month's Vegancuts Snack Box Spoilers?