Vegancuts Beauty Box is a monthly beauty subscription service that sends 4 or more items ranging from unique cosmetics to luxurious skincare. Best of all, they are 100% cruelty-free and vegan, plus most items are natural and non-toxic! Monthly recurring shipments are $22.95 with free shipping in the USA (there is an additional charge for other countries). This sub is also available in 6 or 12-month terms that do not renew but that do earn you a discount.
Each month you'll receive a delivery of 4 or more new deluxe or full-size products, from unique cosmetics to luxurious skin care, that treat your outside as good as you treat your inside.
DEAL: Use the coupon code hellosub to get $5 off your first box on any Vegancuts subscription!   It can only be used once per customer, but it can be used on multiple subscriptions at once so long as they are in the same transaction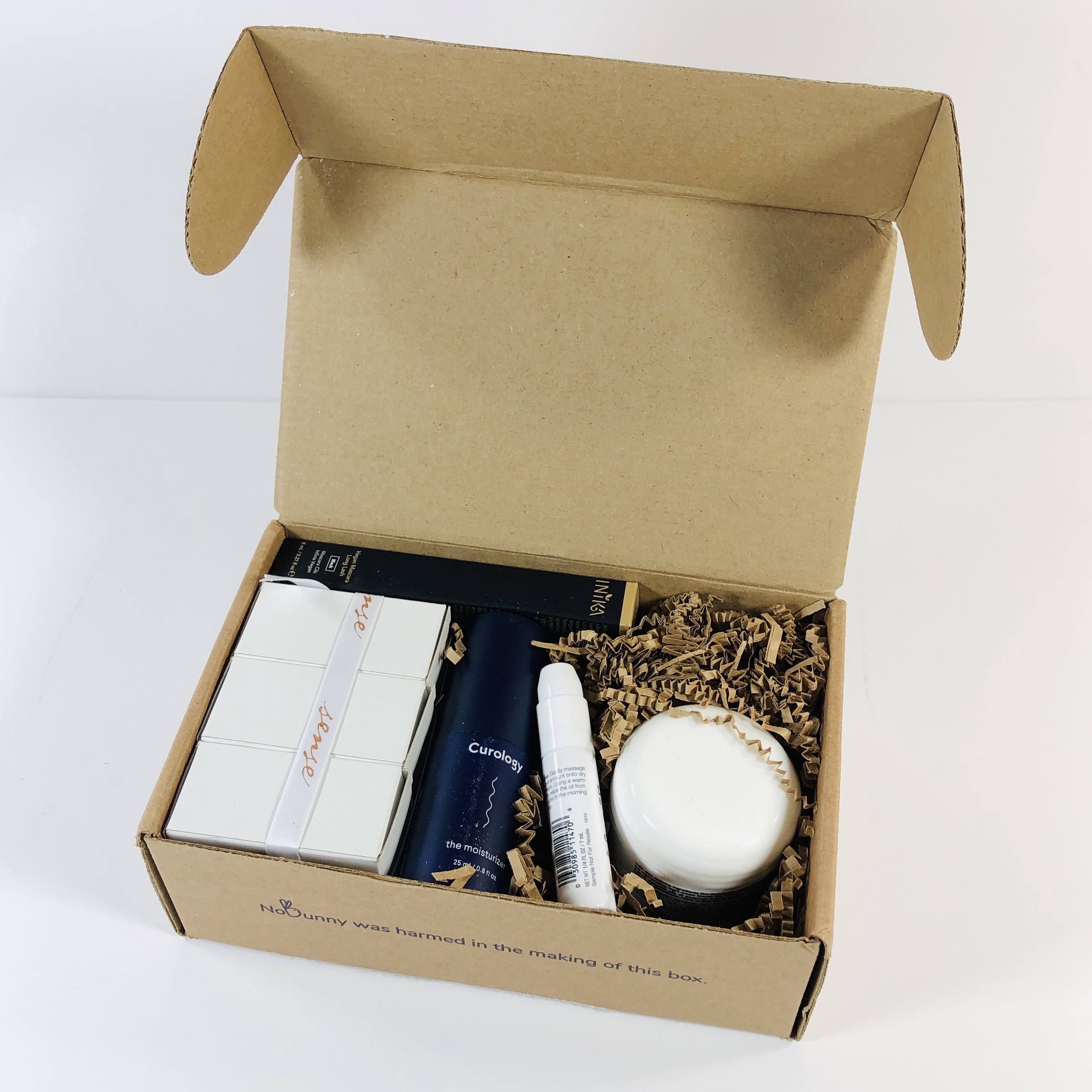 My items were tucked into shredded paper. I love seeing the items in their original boxes!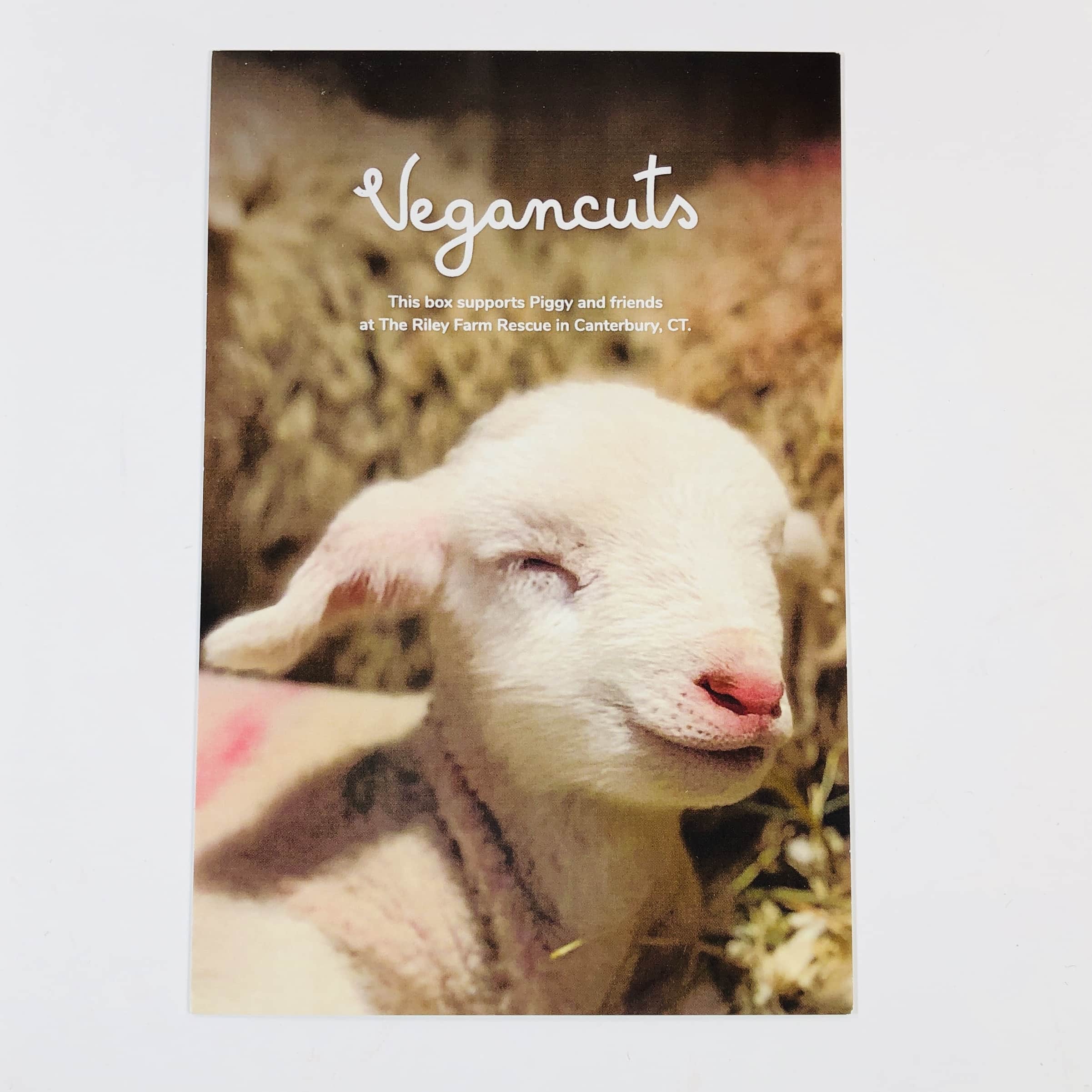 There was a card that says we are supporting The Riley Farm Rescue this month!
The back of the card lists the items and retail value and brief instructions. The theme for November is Rejuventation! You can find even more info about the products (along with coupon codes) and info on the supported cause on the Vegancuts website.
Everything in the box!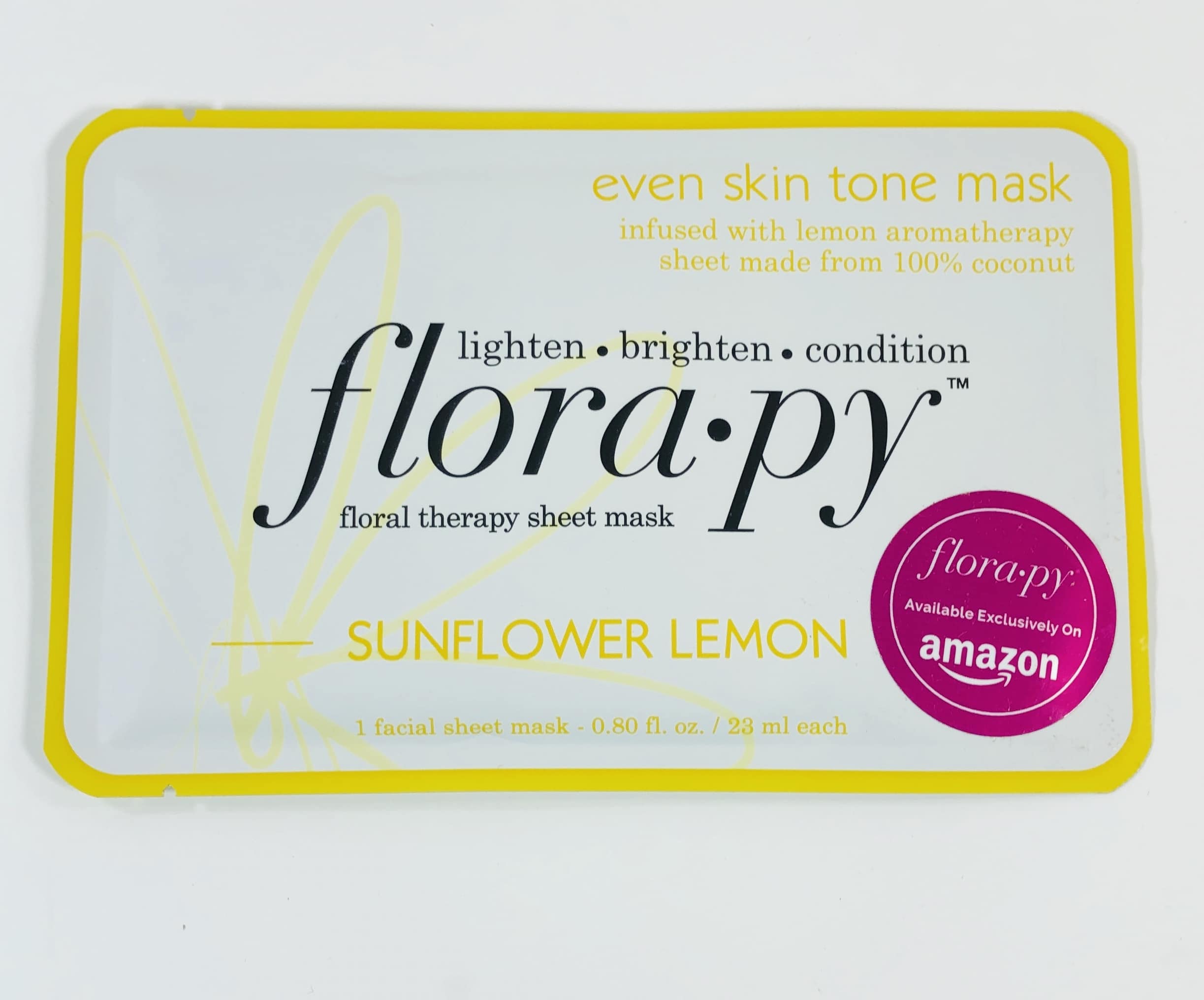 Florapy Even Skin Tone Sheet Mask in Sunflower Lemon ($7) is an aromatherapy mask that has a lemony scent that will help you enjoy those 15-20 minutes while you relax with it on your face.
Lemon juice provides the brightening effect here while the sunflower helps keep skin soft. Make sure to use this in the evening since those lemon oils may make the skin sensitive to the sun.
Delizioso Skincare Chamomile White Tea Rejuvenating Night Cream ($47.94) I'm not sure why the product sent in this box is bigger than the one available on the Delizioso website. For this price, however, I wish it was packaged in a more upscale way, like in a glass jar.
Ingredients include aloe, various plant oils (apricot kernel, safflower, avocado), and plant oils and extracts.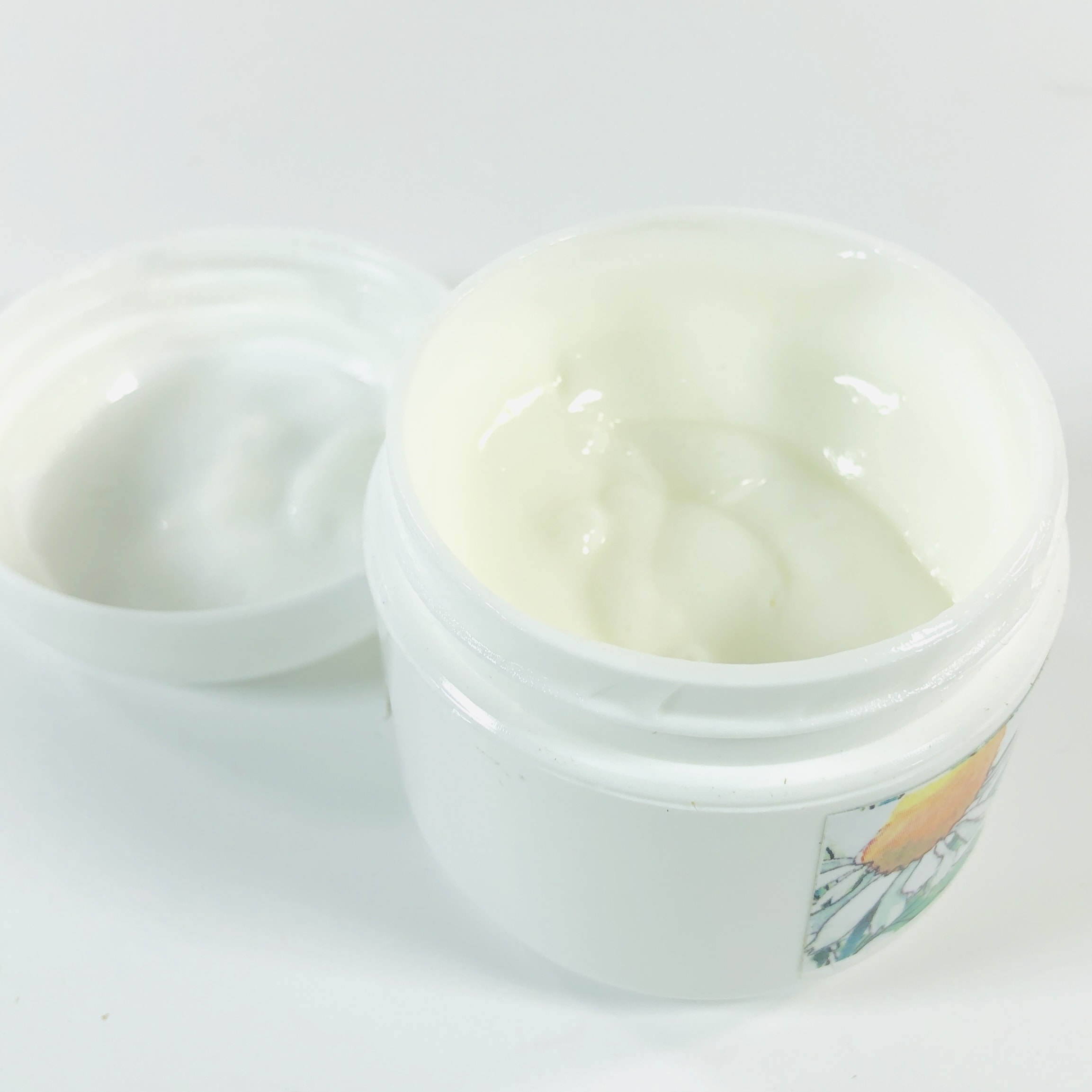 It was very emollient but didn't leave my skin greasy. It has a scent that is both lightly floral and somewhat herbaceous.
Wiliam Roam Sense Aloe Soap Trio ($15.99) Occasionally we will receive William Roam products in this subscription, and they are generally something you would find in hotels.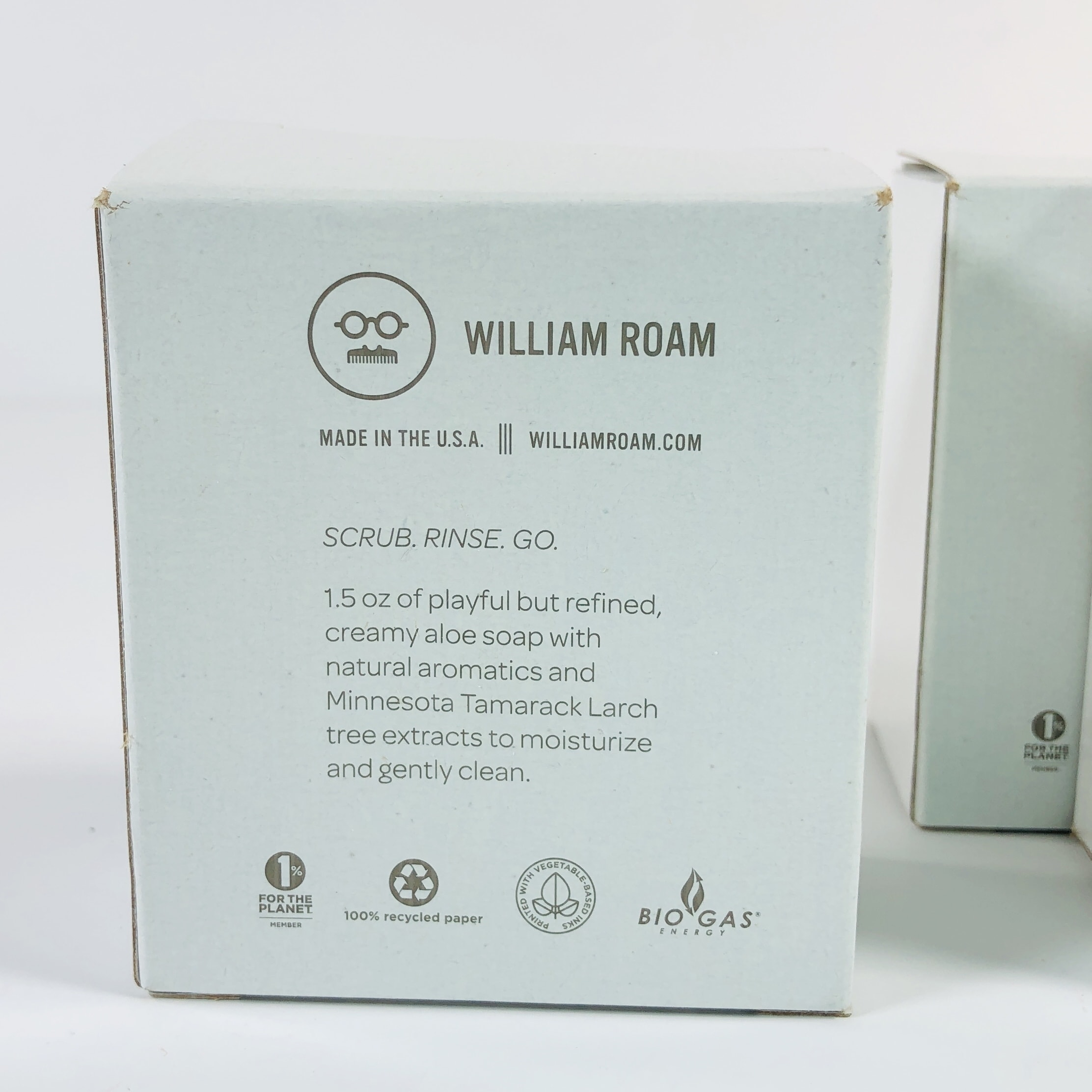 The soap includes aloe but full ingredients weren't listed on the box or website.
I think this is a good soap for either packing in a travel bag, or for placing in a guest room for holiday visitors. I will place it at my guest sink. It doesn't have much of a scent and smells like clean soap.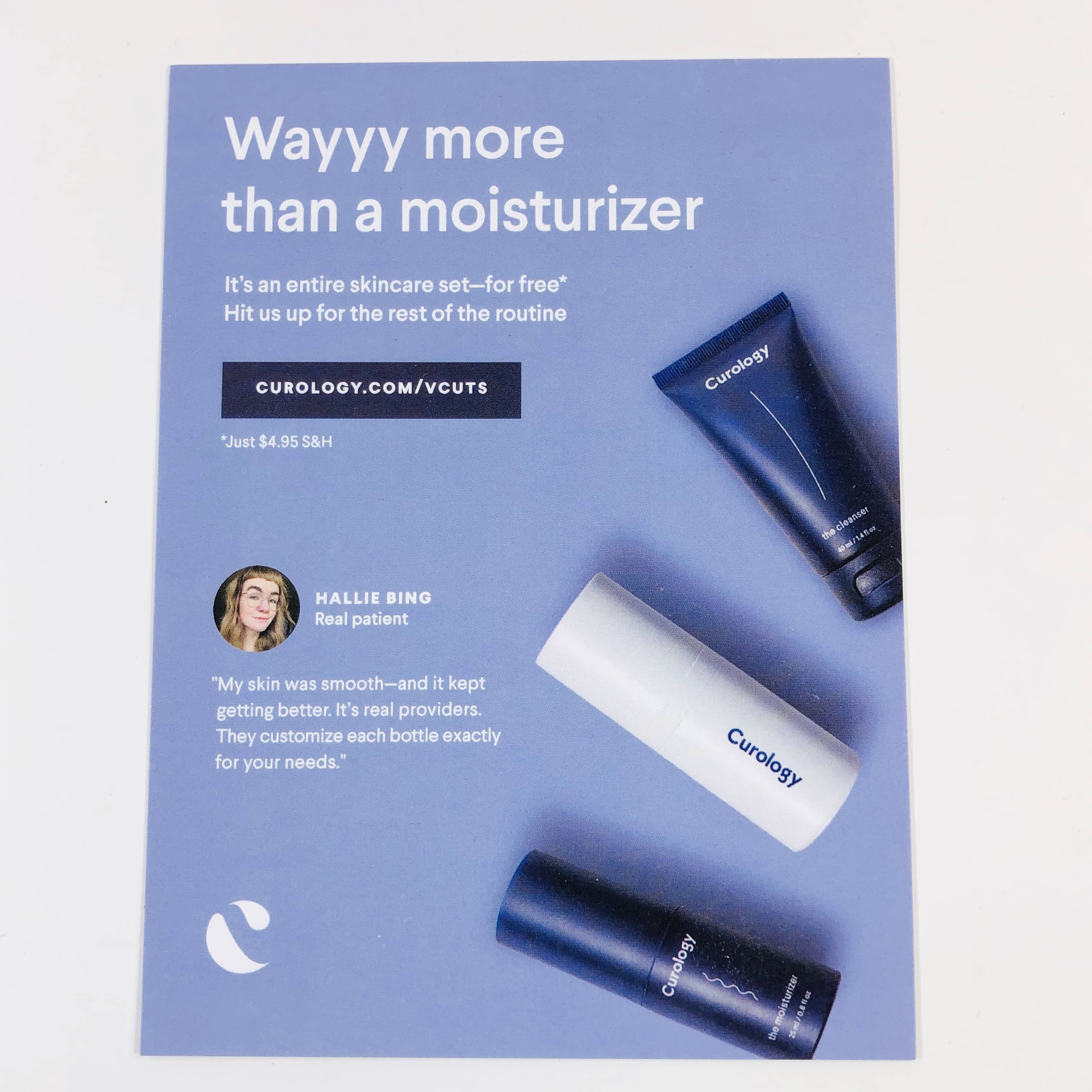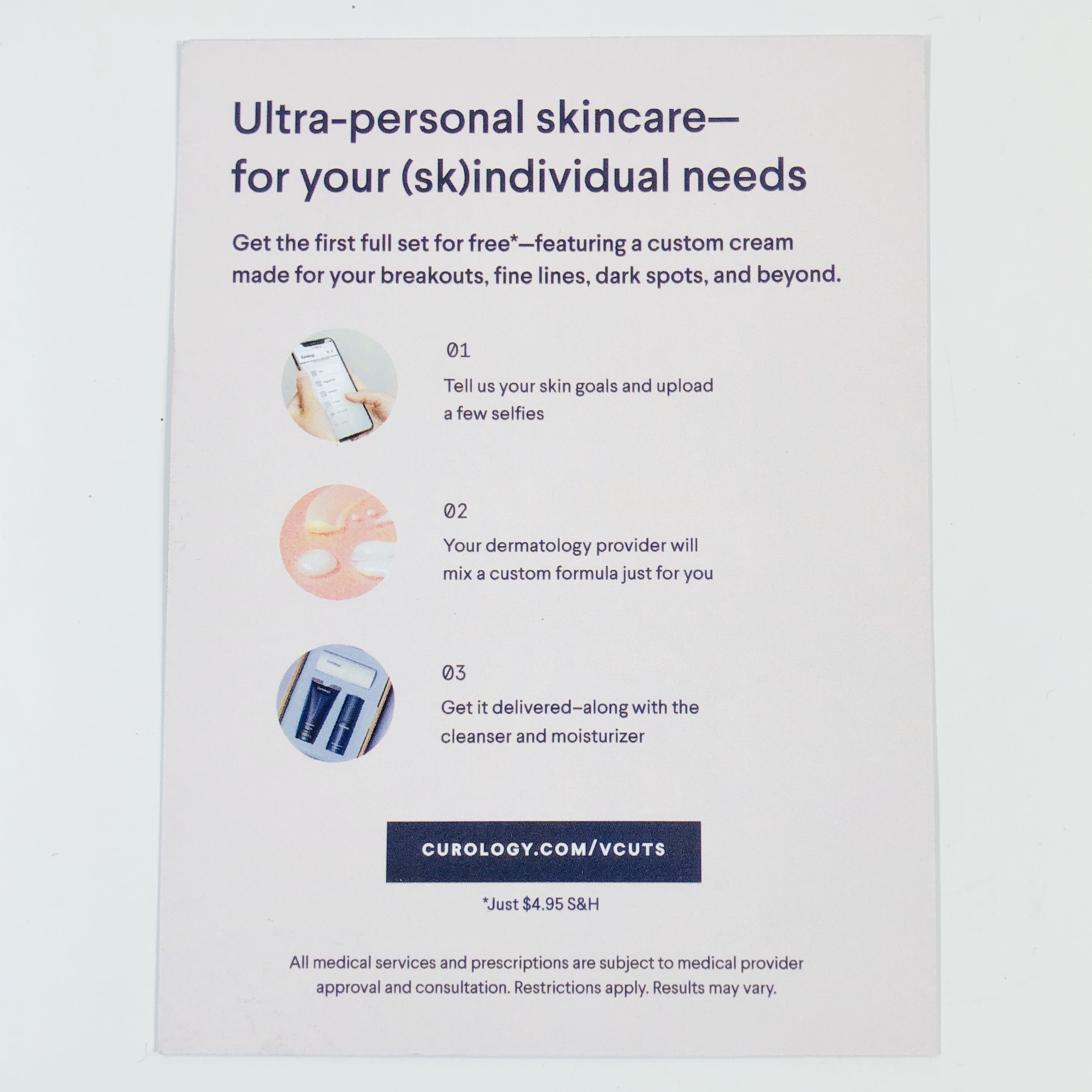 The next item came with a card. This is from a company that makes customized skincare.
Curology The Moisturizer ($9.99 value according to the card) Since Curology makes customized skincare, this item is more of a general, non-prescription product to help you get a feel for the brand.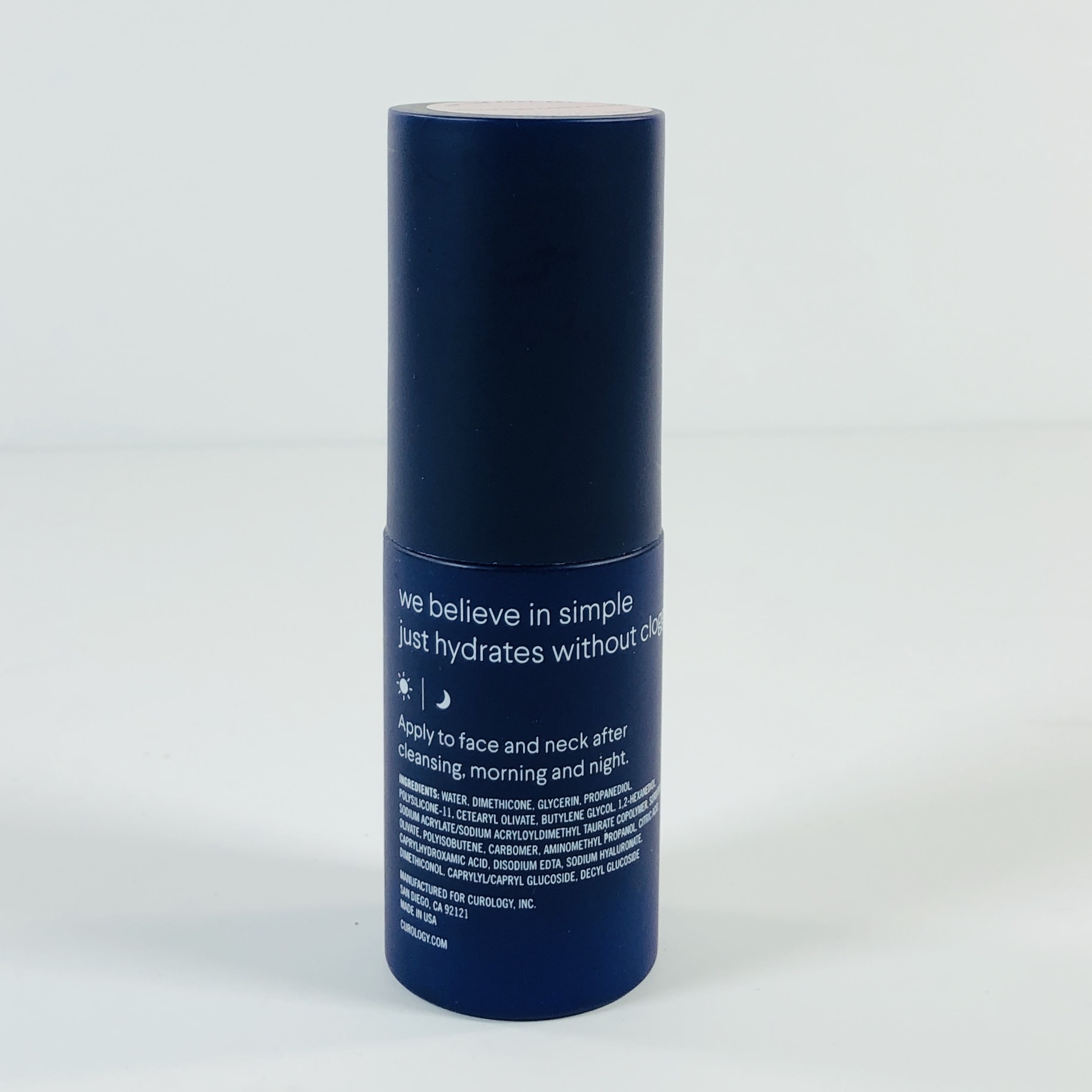 Ingredients were listed on the bottle and include dimethicone and glycerin. Curology has dermatologists on staff who will prescribe ingredients to help your skin concerns, although they don't treat certain conditions, like rosacea (my personal skin concern). They also offer cleanser and moisturizer to go along with your treatment product for an additional cost. I was surprised to see that the gel lotion had a blue tint but there wasn't much scent to it and it was non-greasy.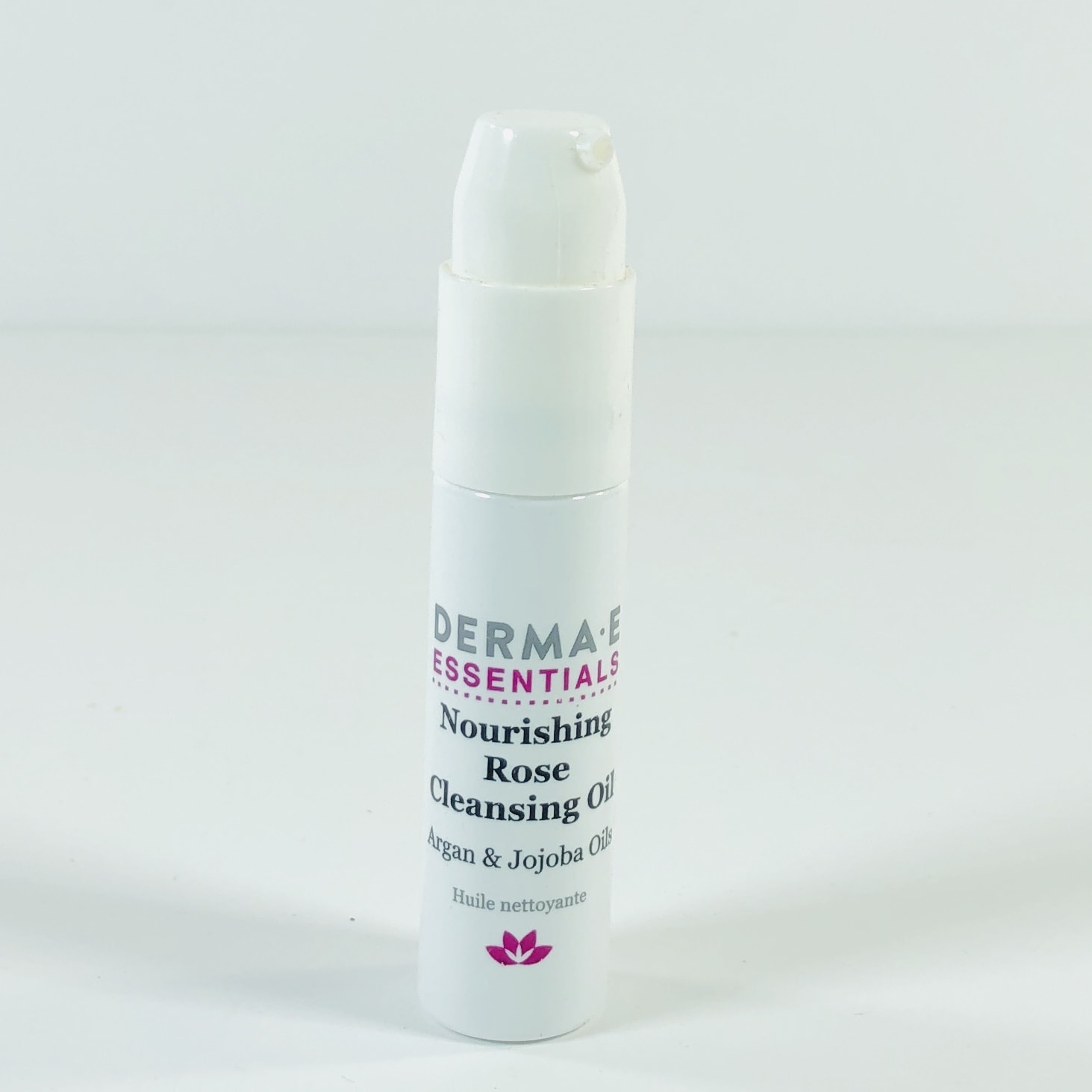 Derma E Essentials Nourishing Rose Cleansing Oil ($1.37) I always do a double cleanse in the evening and this is one of those products that I use first, and I really like it. You apply a few squirts to your hands and rub it into dry skin. Add some water (it turns milky on your face when you do this) and then rinse off with warm water or a wash cloth. Follow up with another cleanser if you like but this doesn't leave behind an oily residue, it rinses clean.
The following item is one of two bonus products offered to new customers!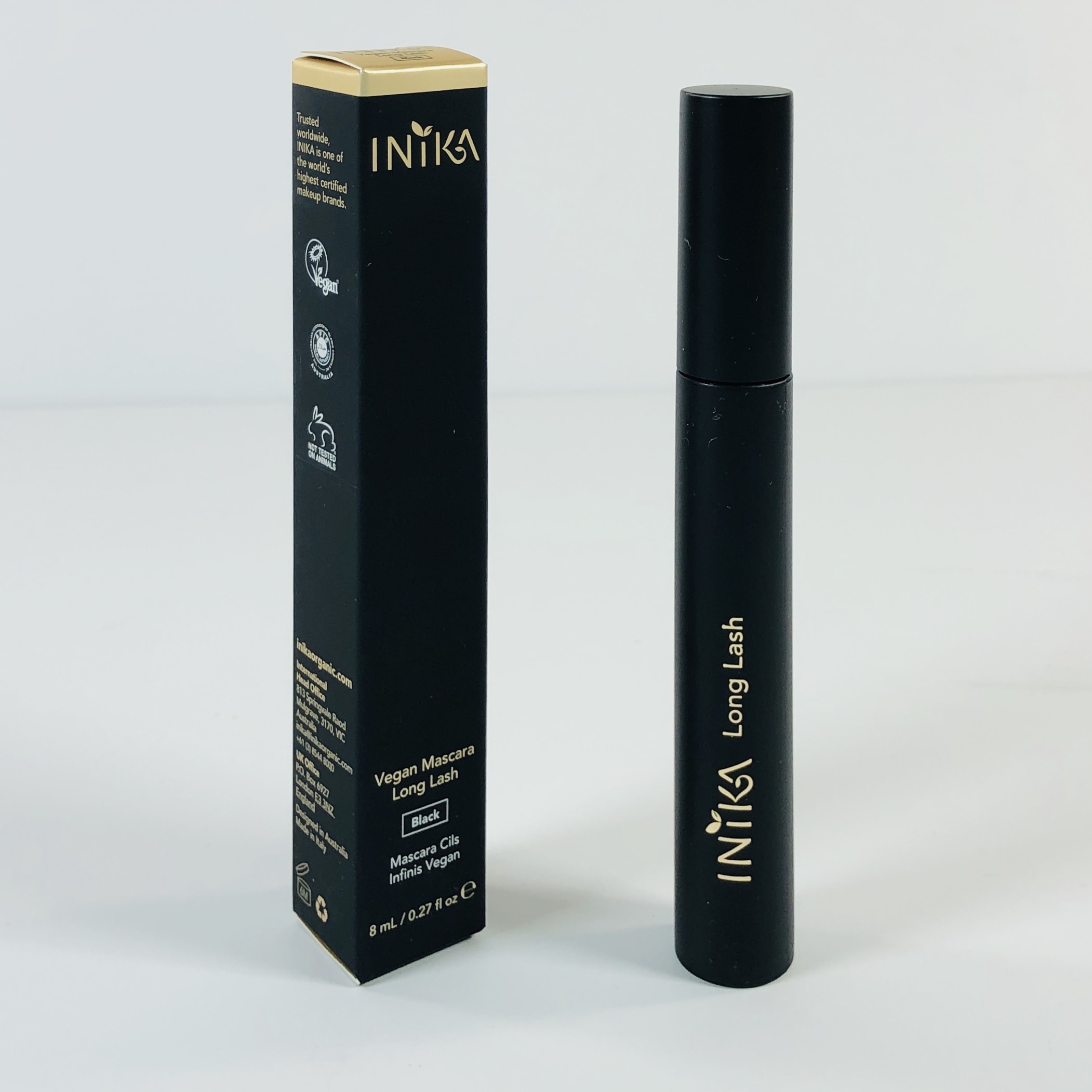 Inika Long Lash Vegan Mascara ($33) I have tried many mascaras over the years and most are ok, they give me the look of eyelashes and that's about it. This one was exceptional though!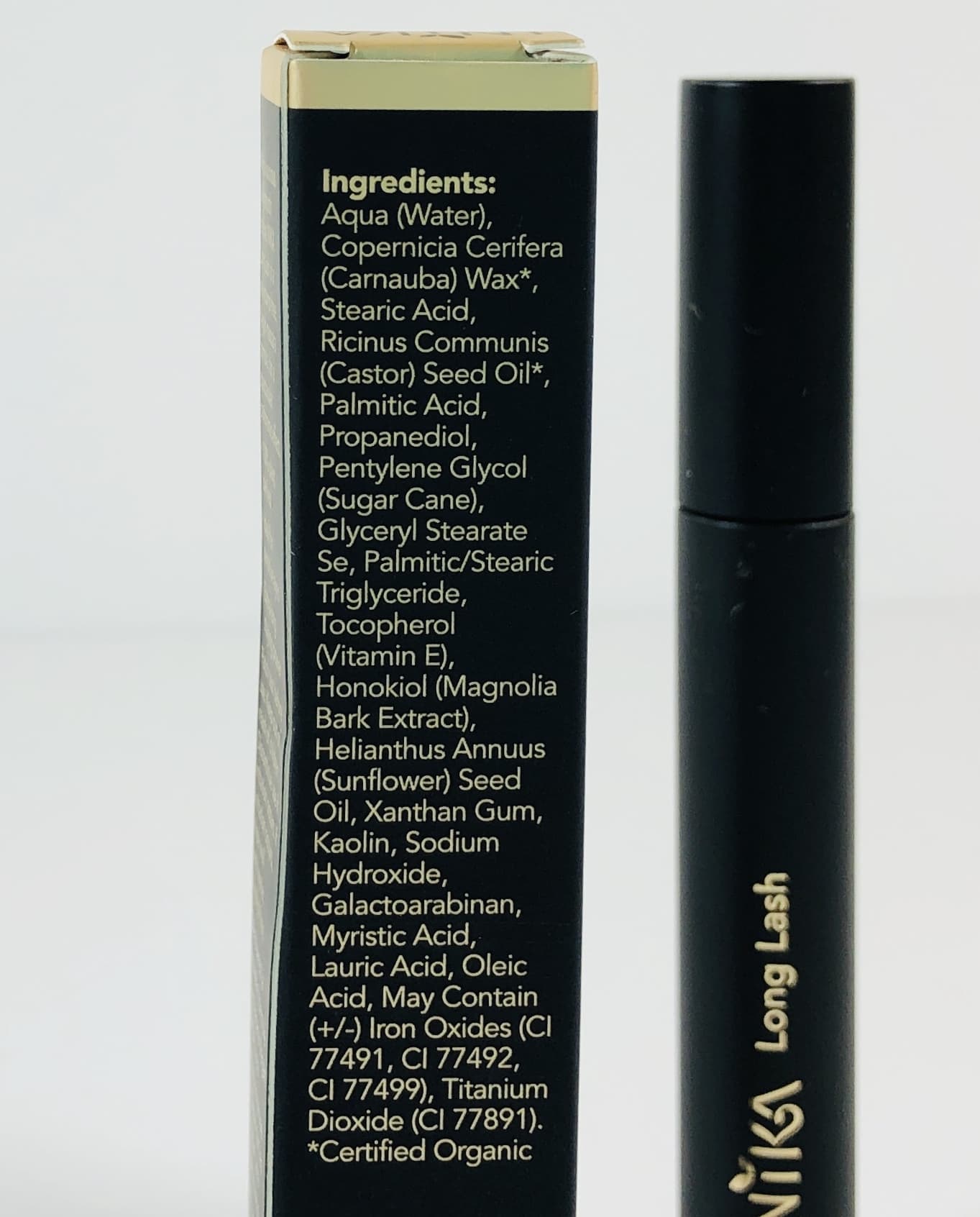 Ingredients were listed on the box and include castor oil (which may improve lash growth over time) and stuff like plant wax and kaolin clay.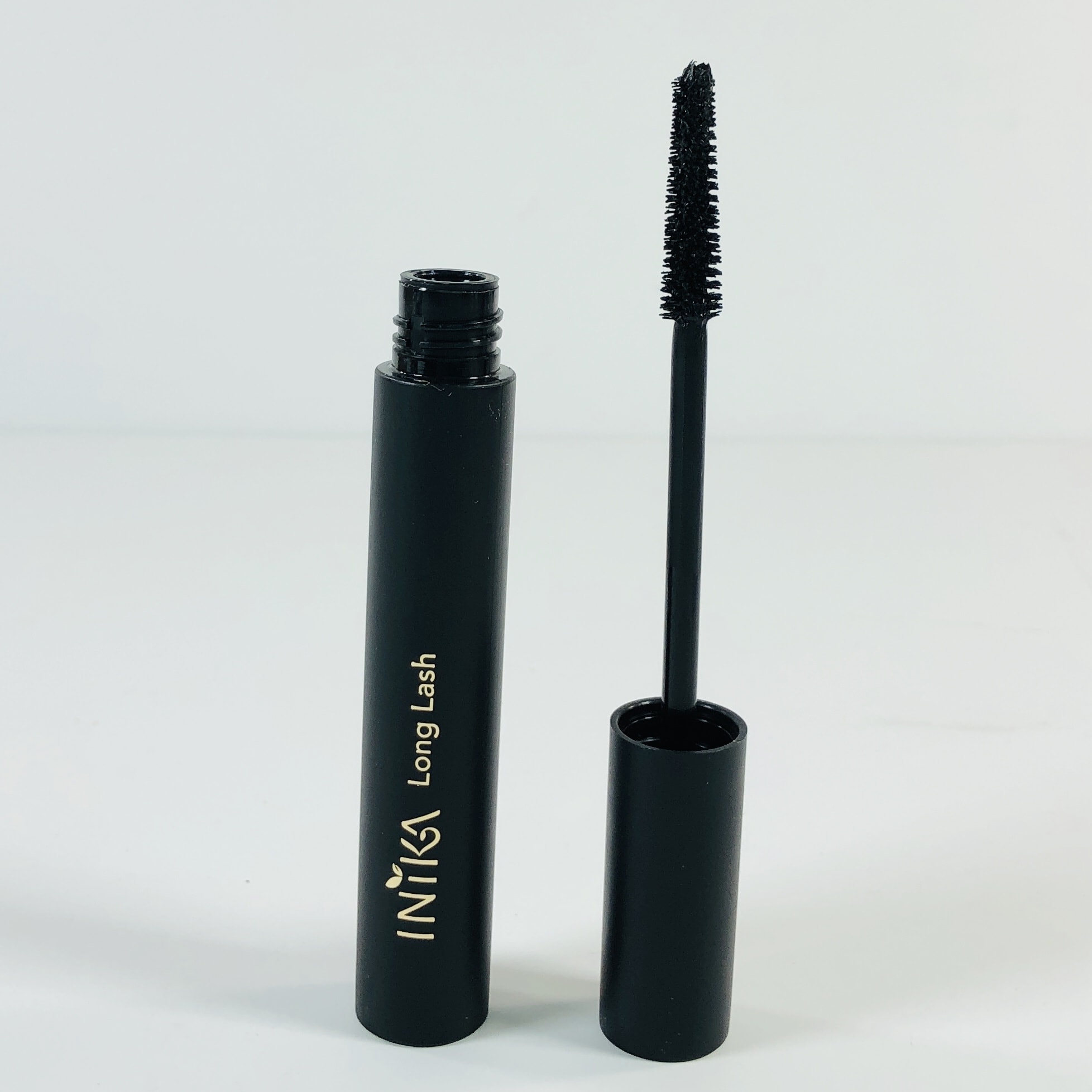 Here is the brush. I'm not sure if it's because the brush isn't too long or what (and therefore let me get close to the base of my lashes) but this really did give me the look of longer lashes. It also stayed on all day long. I am really happy with this mascara!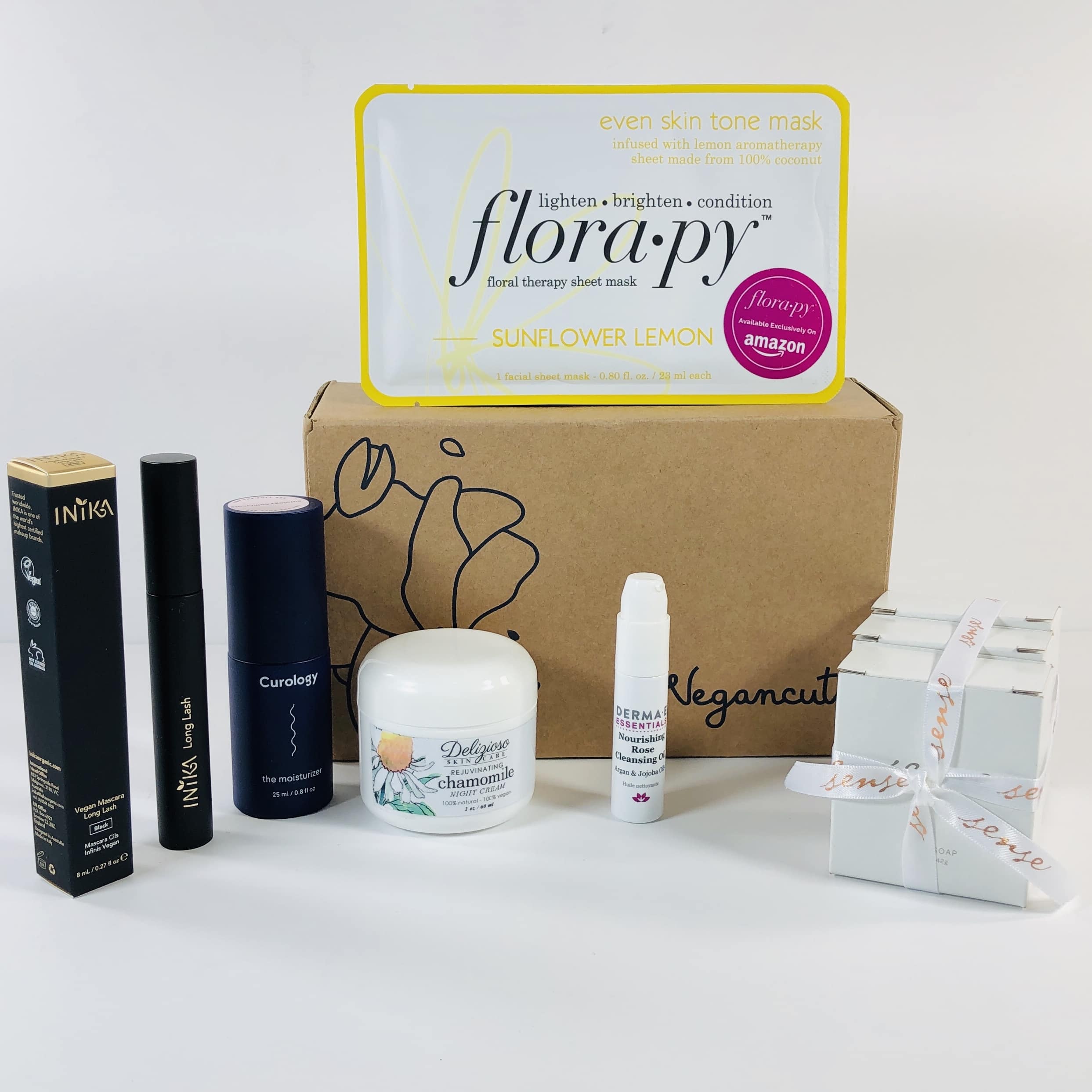 Vegancuts sent a pretty good assortment of products this time, although maybe two moisturizers is a bit much. Then again, it's almost winter (some of us need extra help) and one can argue that the Curology is for day and the Delizioso is for night. My favorite item was the bonus mascara, it really worked well for my fine lashes. I also love the cleansing oil. The value for this November box was around $82.29, not including the bonus item!
What do you think of this month's Vegancuts Beauty Box? Let me know which product you're loving in the comments!