The Introverted Chick is created for women who value alone time and for those who'd rather stay at home than to go out and socialize. Items usually include relaxing goodies plus lifestyle items featuring the humor that only true introverts will understand. The subscription is $39.99 a month and a portion of proceeds are donated to charitable causes!
DEAL: Save 10% on your first purchase with coupon code HELLO10.

The items are in a simple brown box. On top of the items, there's a pamphlet.

The items are all wrapped in a pretty pink tissue paper.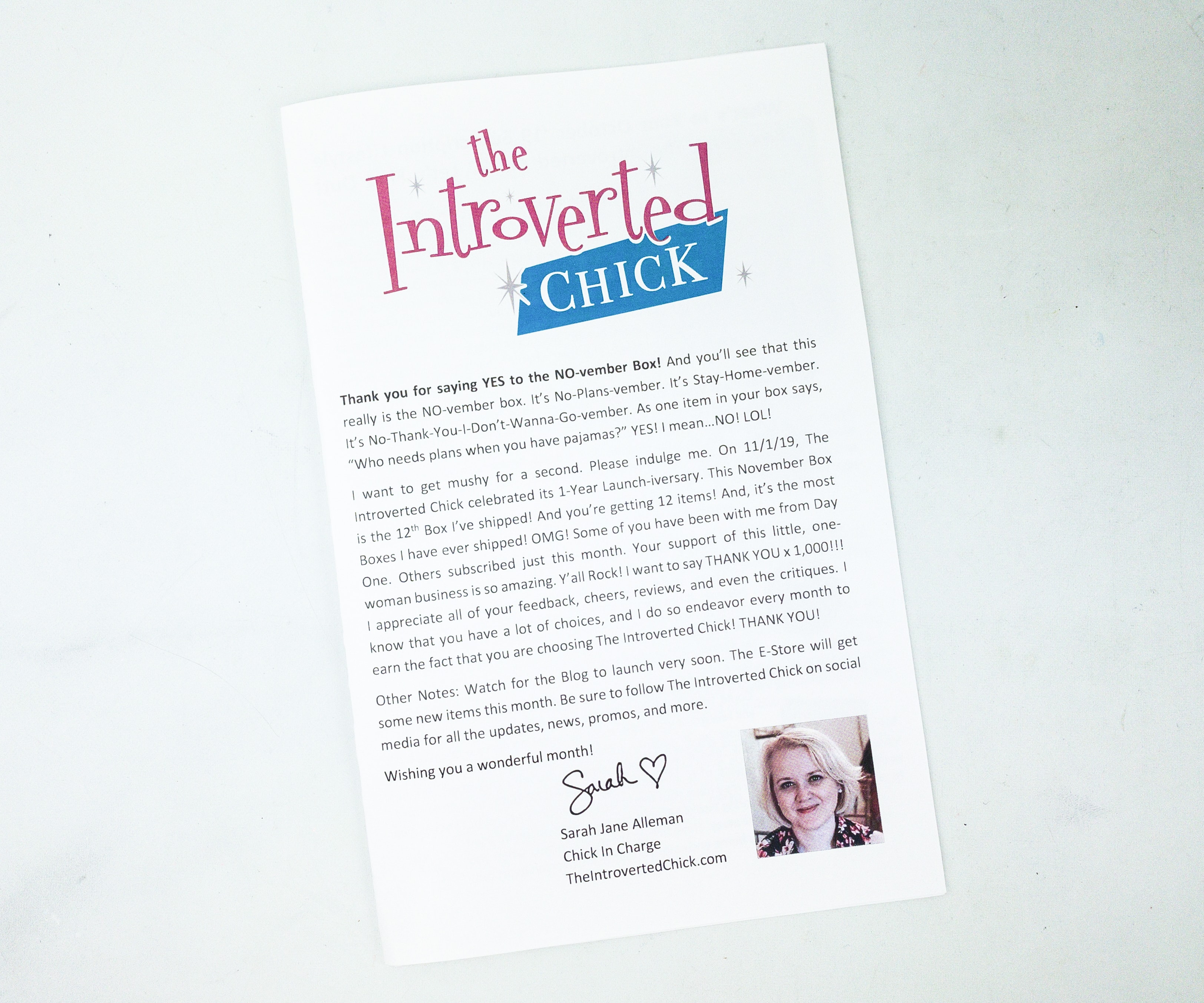 The pamphlet contains a message from Sarah, the box owner.
They also listed the brands featured in this month's box.
Of course, there's a rundown of all the items, plus a brief description for each.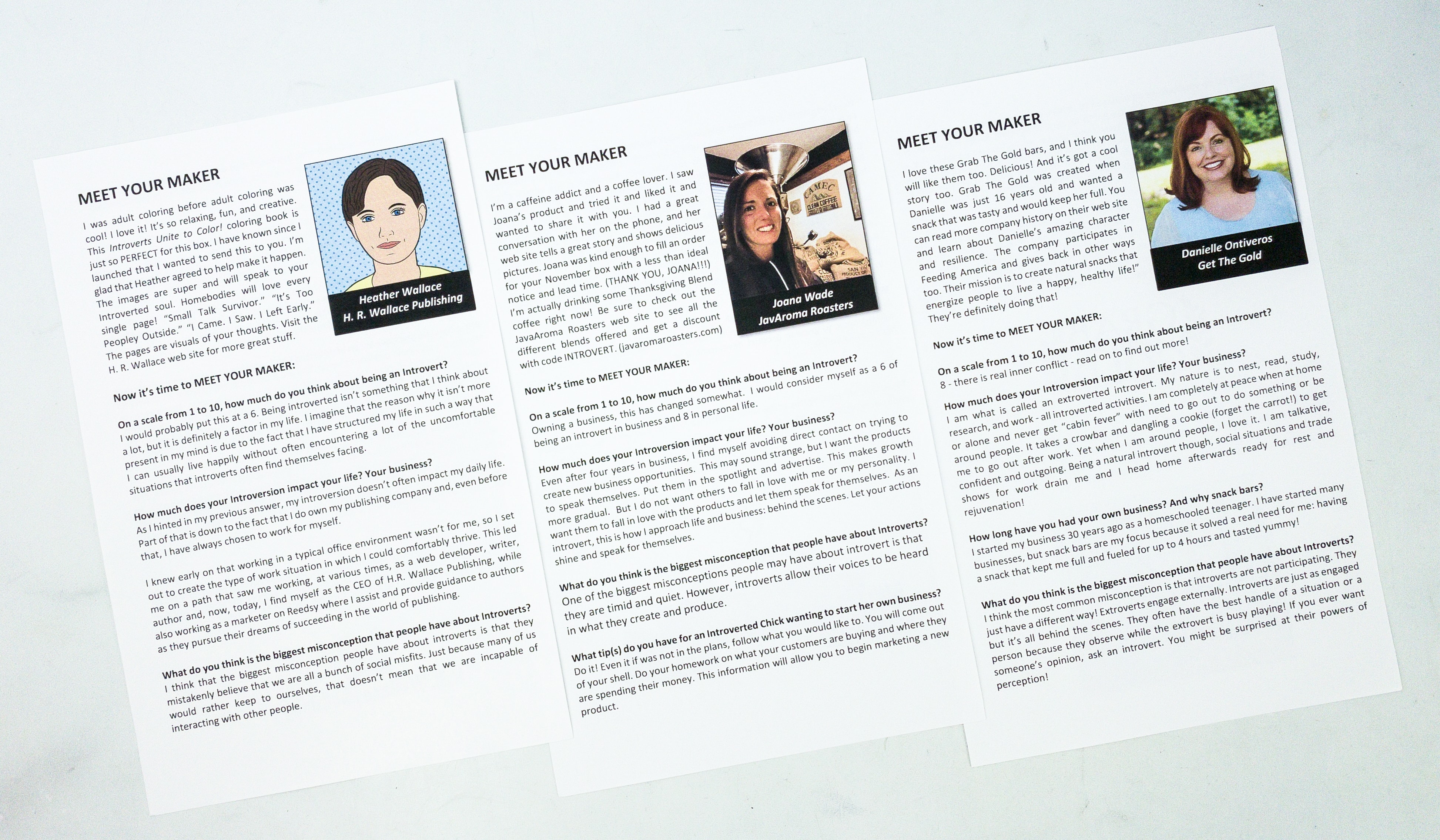 Another page contains a Q& A with this month's featured makers, Heather Wallace of H.R. Wallace Publishing, Joana Wade from JavAroma Roasters, and Danielle Ontiveros of Get the Gold.

They shared their thoughts about being an introvert and about their business!
The contents are colorful! I'm excited!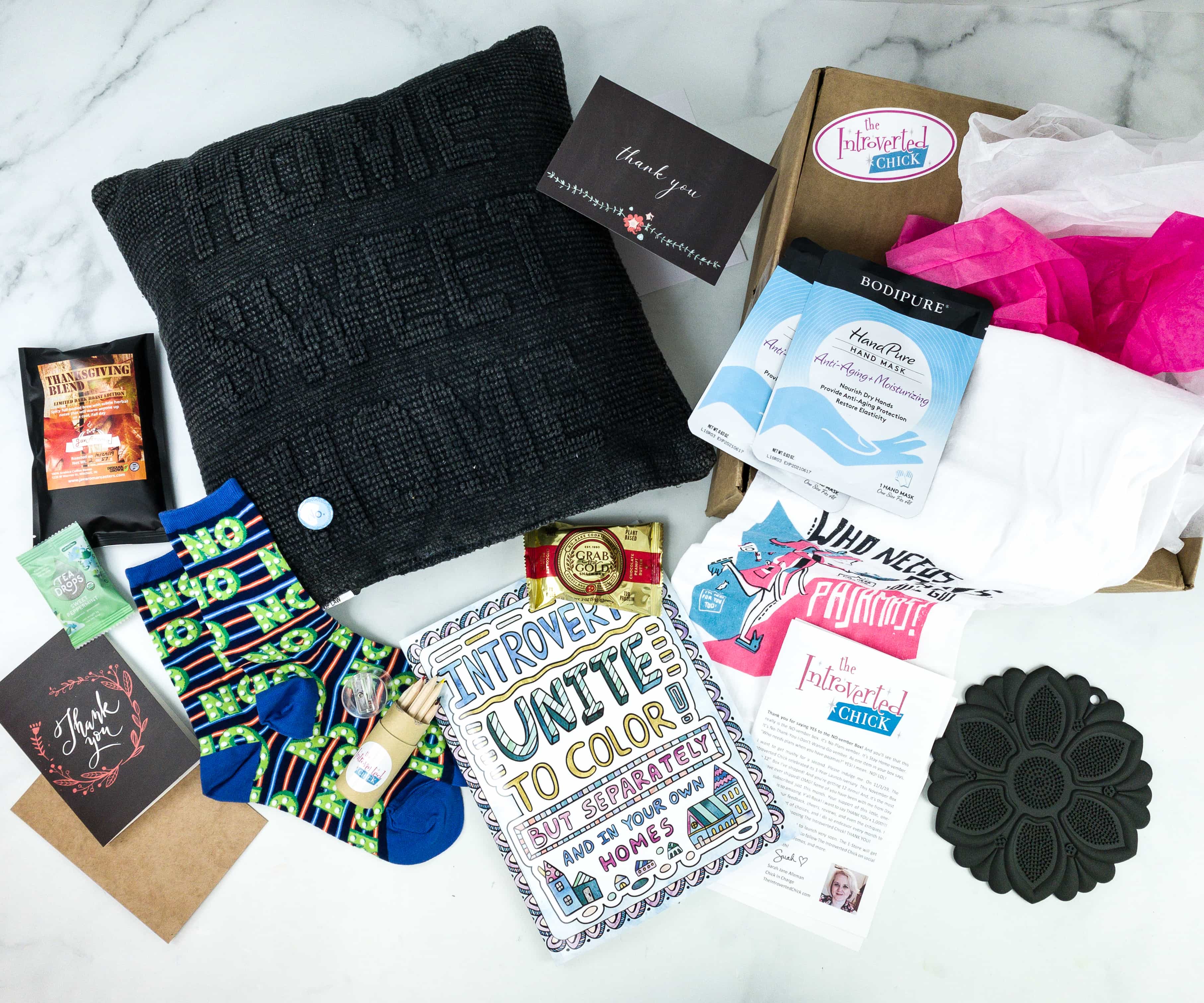 Everything in my box!
Talisman Designs Hot Pad/Trivet No-Slip Grip ($7.99) This beautiful home piece here can be used as a hot pad, trivet, a potholder, jar opener, or even as a spoon rest. It's got a no-slip grip and trivet pockets that protect your hands!
The hot pad is made from 100% silicone. It has specially designed nubs on its surface that improves grip while dispersing the heat quickly. The 7.5″ diameter hot pad can also resist heat up to 500°F. It's dishwasher-safe so cleaning it up is quick and easy.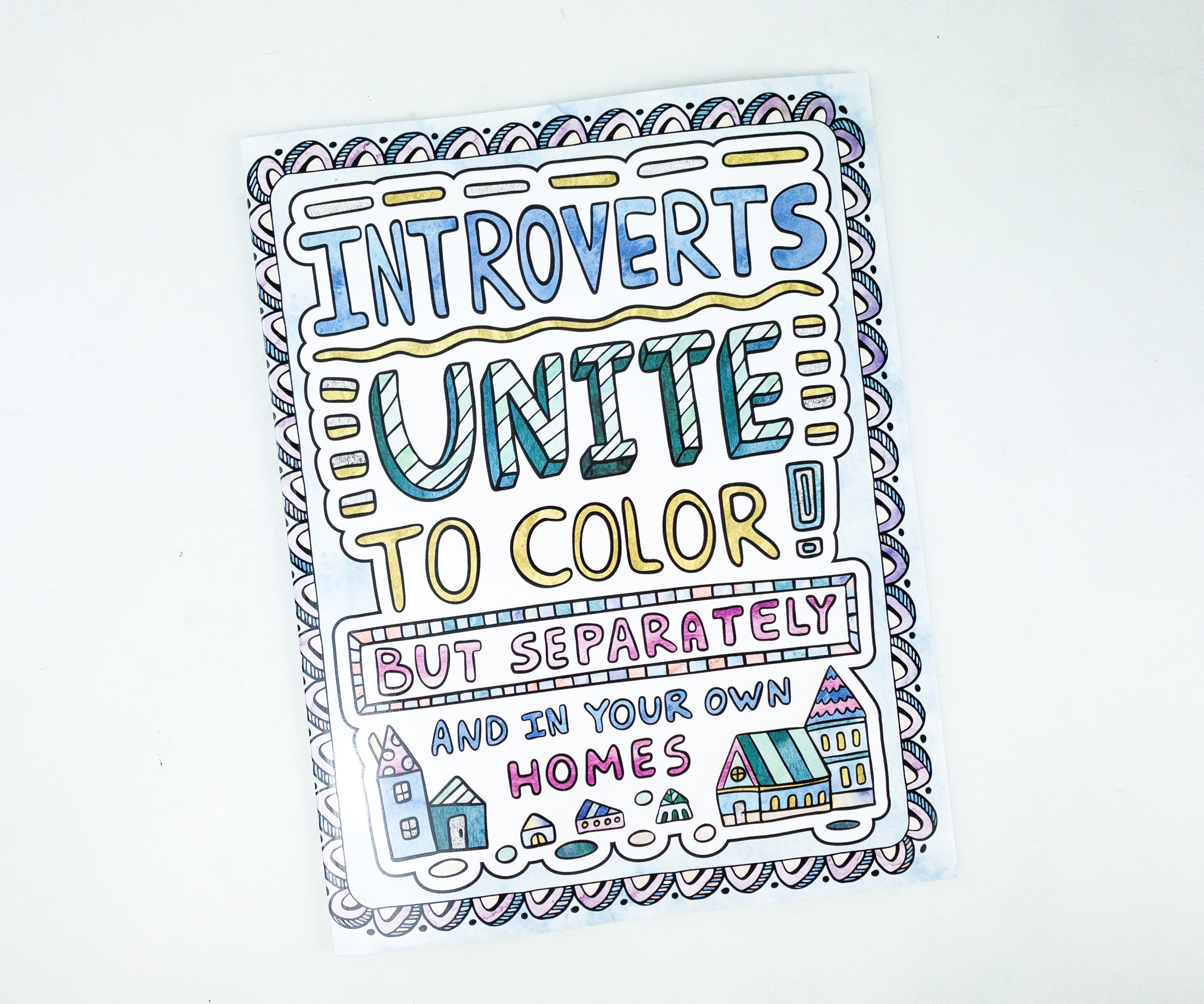 Introverts Unite To Color! But Separately And In Your Own Homes Coloring Book ($9.95)
Finally! An adult coloring book that urges all of you introverts out there to band together to color, but, you know, separately and in your own homes. Because, let's be realistic, who wants to socialize when you can stay at home and color?

After all, coloring combines two of the things that introverts love most; curling up with a good book and artistic expression. Oh, and coloring also offers up the perfect diversion for those times when it all just feels way too peopley outside and you need to recharge your batteries.

Introverts Unite to Color! consists of 25 adult coloring pages and, with phrases that express the innermost thoughts of pretty much every introvert, all of you gentle souls out there will definitely be able to relate.

Rest assured, when you grab your colored pencils to color the introvert-themed doodles found in this book, you can count on enjoying some introvert quiet time as you relax with this book's art and enjoy some coloring for adults.

That's because the funny, relatable, and sometimes poignant phrases found on these adult coloring pages will help every introvert relax and unwind after dealing with the stresses caused by too much socializing.

So, grab a copy of this introvert-themed adult coloring book for yourself as well as all of the people in your life who have an introverted personality type. That way all of you can happily stay home and individually bond over your shared love of alone time.
If you plan to stay at home but not get bored, all you will need are coloring tools and this coloring book!
Every turn of a page will give you an image to color. I think it's better that there's just one image for every turn to not mess up with the colors, especially when you use transmissible coloring materials like oil pastels.
I love filling even the smallest spaces with color. It's really calming and therapeutic. Plus, every design speaks so much to introverts, like this one that says "cancelled plans are my favorite plans."
Along with the coloring book is this tube of color pencils!
There's a total of 12 colors in the whole set. The cap of the tube container even included a sharpener.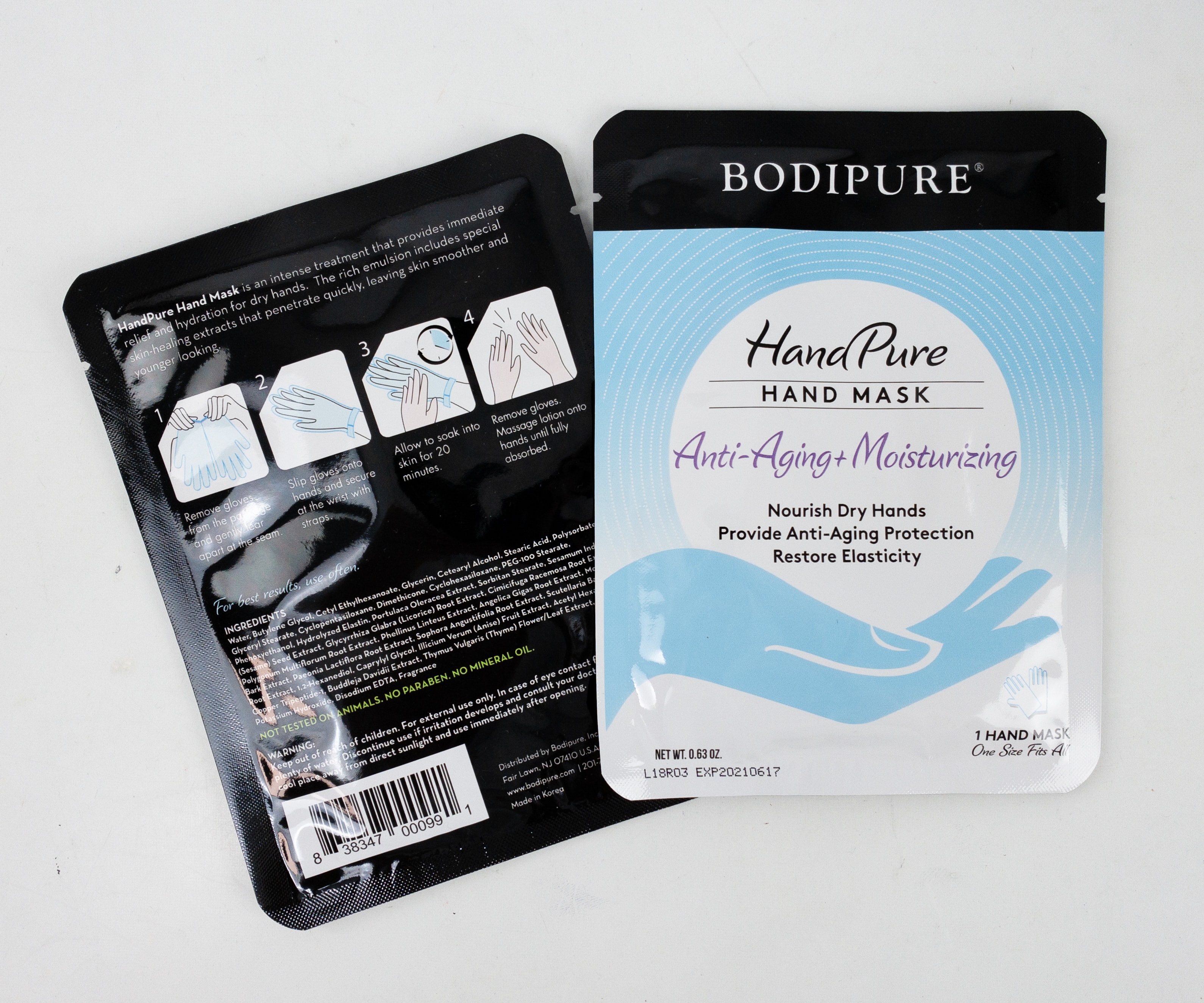 Bodi-Pure Hand Pure Hand Mask ($8.78) It's an intense, anti-aging treatment that provides relief and hydration for dry hands! The hand masks are infused with skin-healing extracts that penetrate quickly and leaves the skin smoother and younger-looking. It's definitely an easy home spa treatment without the need to go out of the house. Plus points because it is touch-screen friendly!
Pretty Blank Thank You Cards With Envelopes. I also got 2 Thank You cards, both with envelopes.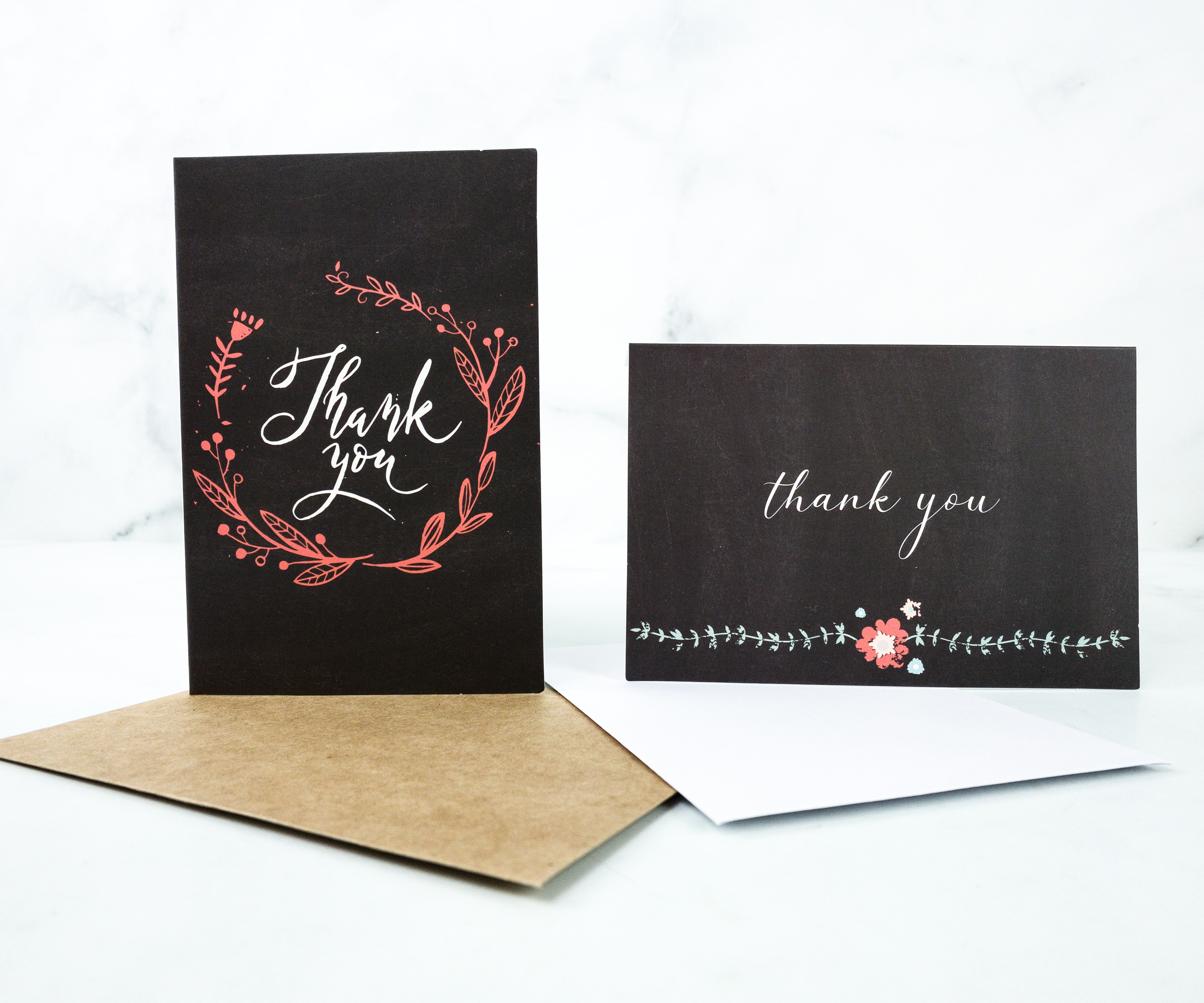 Thanksgiving is just around the corner so these are perfect. The inside of each card is blank, so there's plenty of space to write your messages.
PBK "Who Needs Plans When You Got Pajamas?" Dish Towel ($9.99) This is one of the cutest dish towels I've got and I totally agree with what it says: who needs plans when you've got pajamas?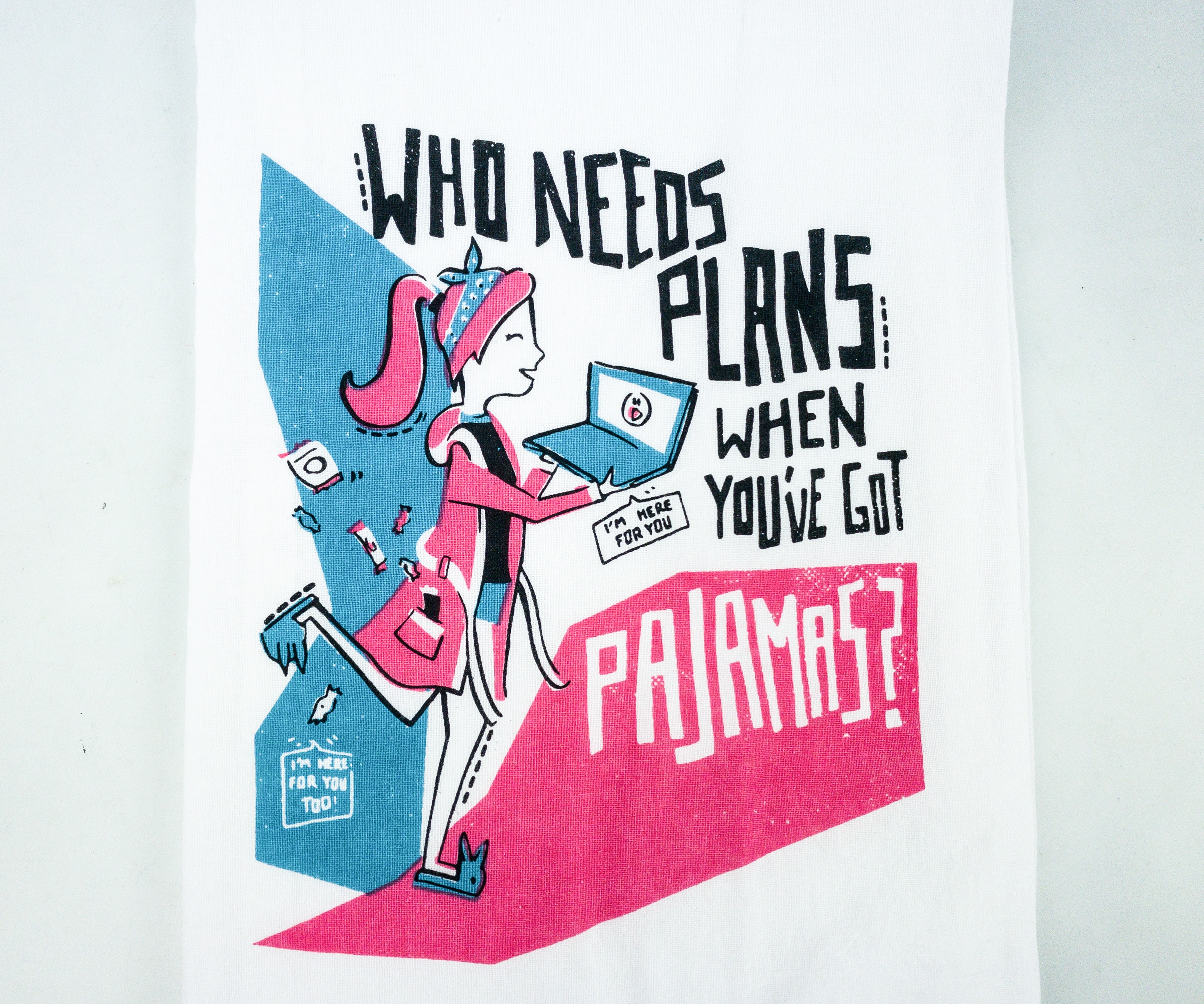 The cotton dish towel measures 28″ x 28″. I love the vivid colors on the print!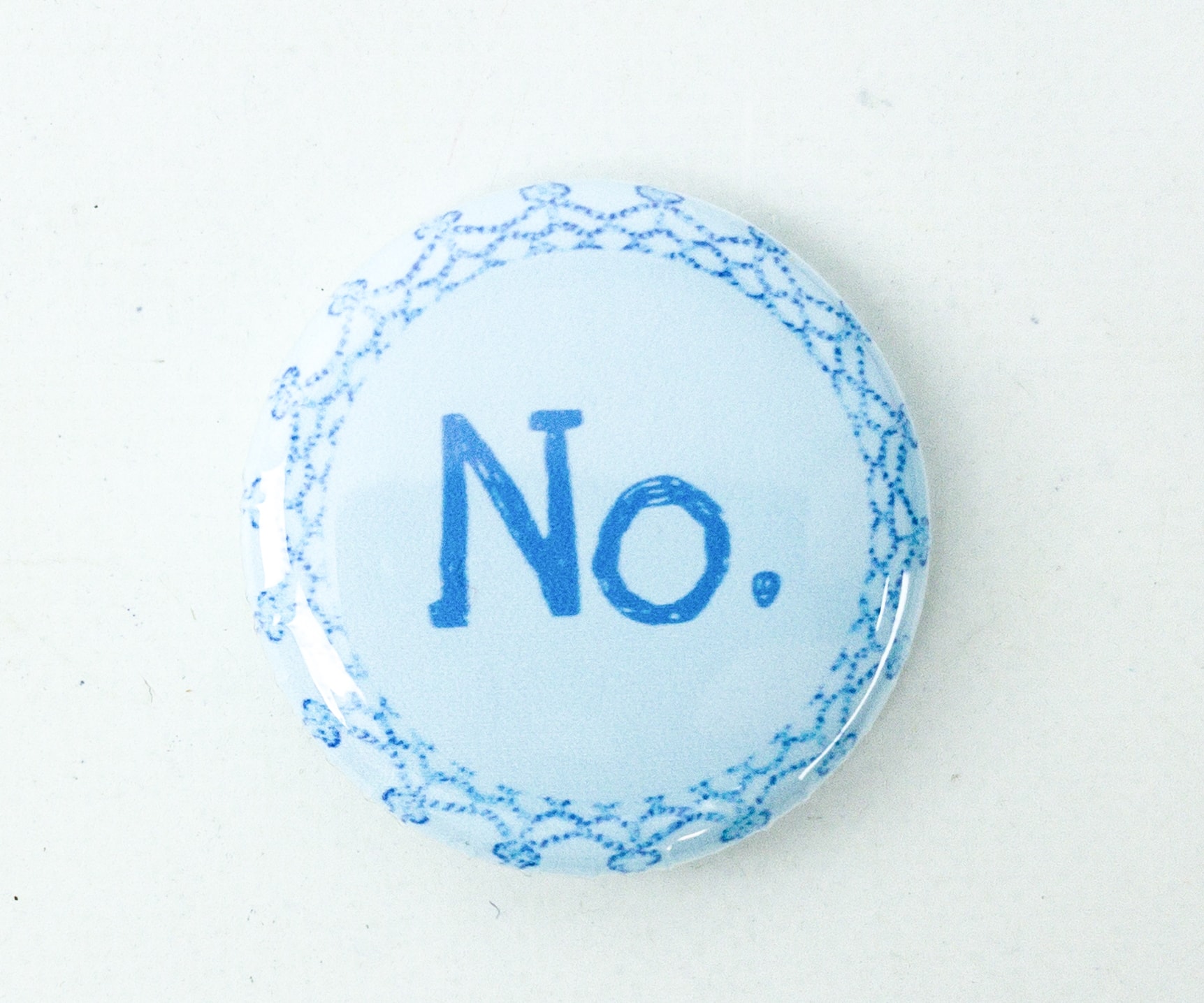 "No" Button. This button reminds us to not be afraid of saying "no" when we disagree or when we don't want something!
Sock Smith No Socks ($8) I got a pair of graphic cotton crew socks! It's thick enough to keep my feet warm and toasty!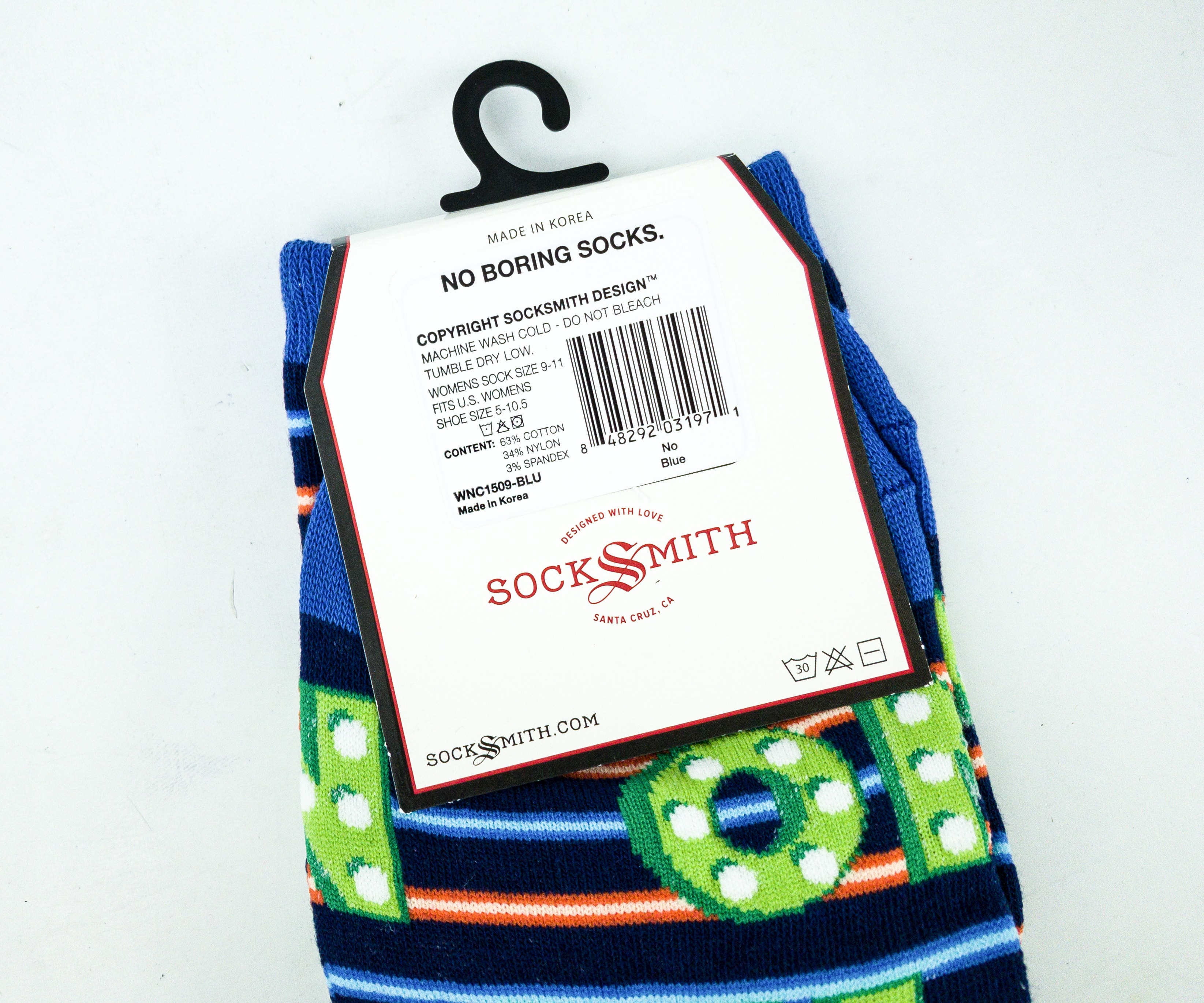 The socks are made from 63% cotton, 34% nylon, and the rest is spandex. The pair is size 9-11 which fits shoe sizes 5-10.5.
The pair is full of "NO" prints, and they're marvelous. I also love the mix of colors on these socks. It's definitely not a boring pair.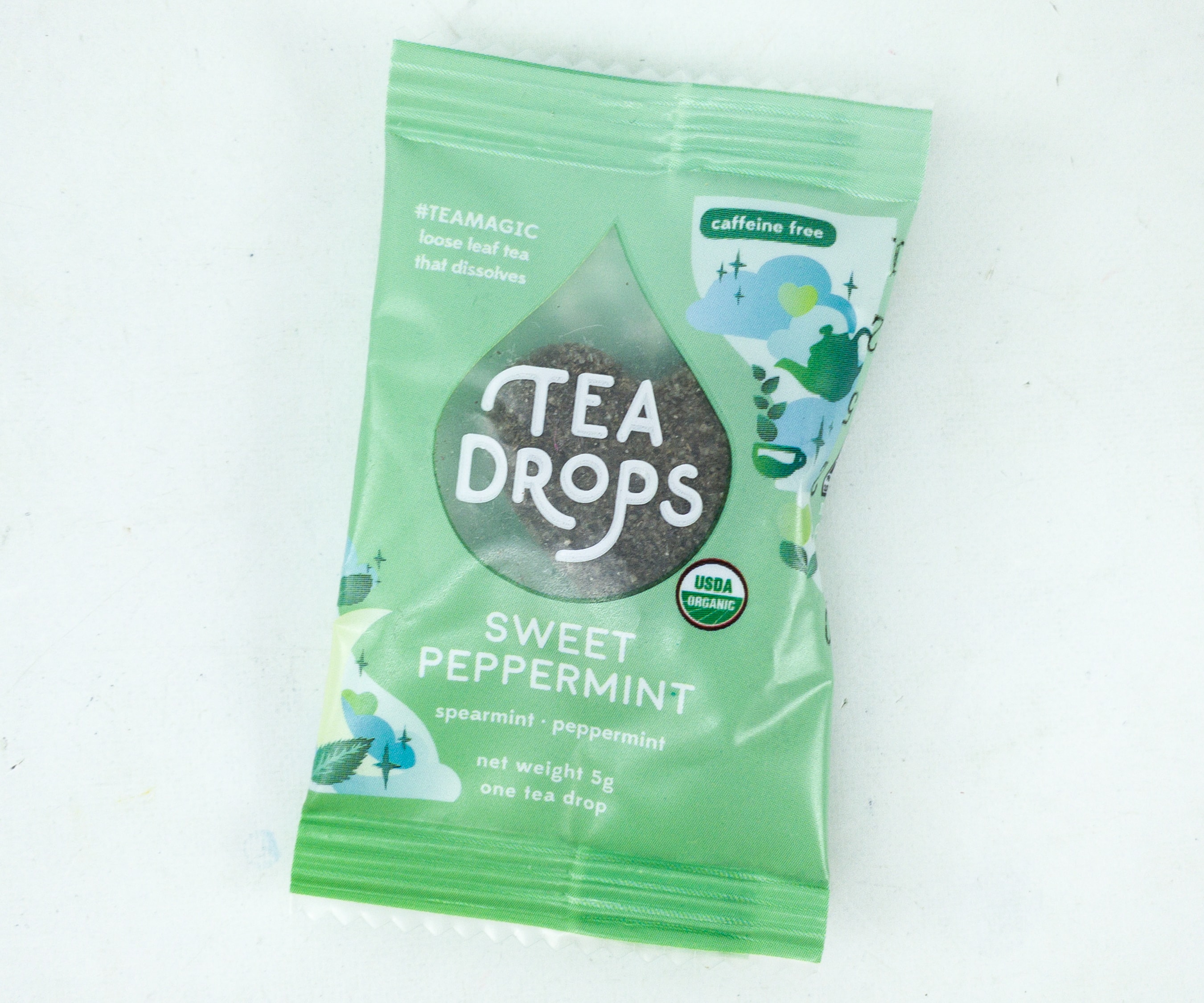 Sweet Peppermint Tea Drop ($2) The caffeine-free tea drops are heart-shaped! They're minty and truly refreshing, and you can enjoy them whether day or night. The tea is also lightly sweetened with organic cane sugar.
JavAroma Roasters Thanks Giving Blend Coffee ($2.50) Here's a Thanksgiving blend coffee, a dark roasted coffee with spicy and subtle herbal notes. To prepare the coffee, you can use a drip or a French press. I'm not into coffee, but my husband likes it!
Chocolate Peanut Butter Grab The Gold Bar ($2.02) To pair with the warm drinks is this delightful no-bake cookie made with organic oats. The snack bar tastes delicious with creamy peanut butter and chocolate!
The bar is also gluten-free, vegan, plant-based, dairy-free, and Kosher!
PBK Home Sweet Home Pillow. Staying at home will be more fun and comfy with my new black pillow. It even has a print that reads "Home Sweet Home." Who wouldn't want to just stay in bed or couch hugging this soft and squishy pillow?
I love this box so much as it satisfies the introvert in me! They keep on sending me amazing products that I can definitely use and enjoy at home, like the snack bars, pillows, and even the warm drinks that I can whip up when I want to spend the rest of my day sitting on the sofa and binge-watching my favorite shows or reading a book. The coloring book is another fun way to spend alone time, and I love that there's a set of color pencils that go with it! Being an introvert is more fun with this box! Can't wait for the next one!
What do you think of The Introverted Chick box?