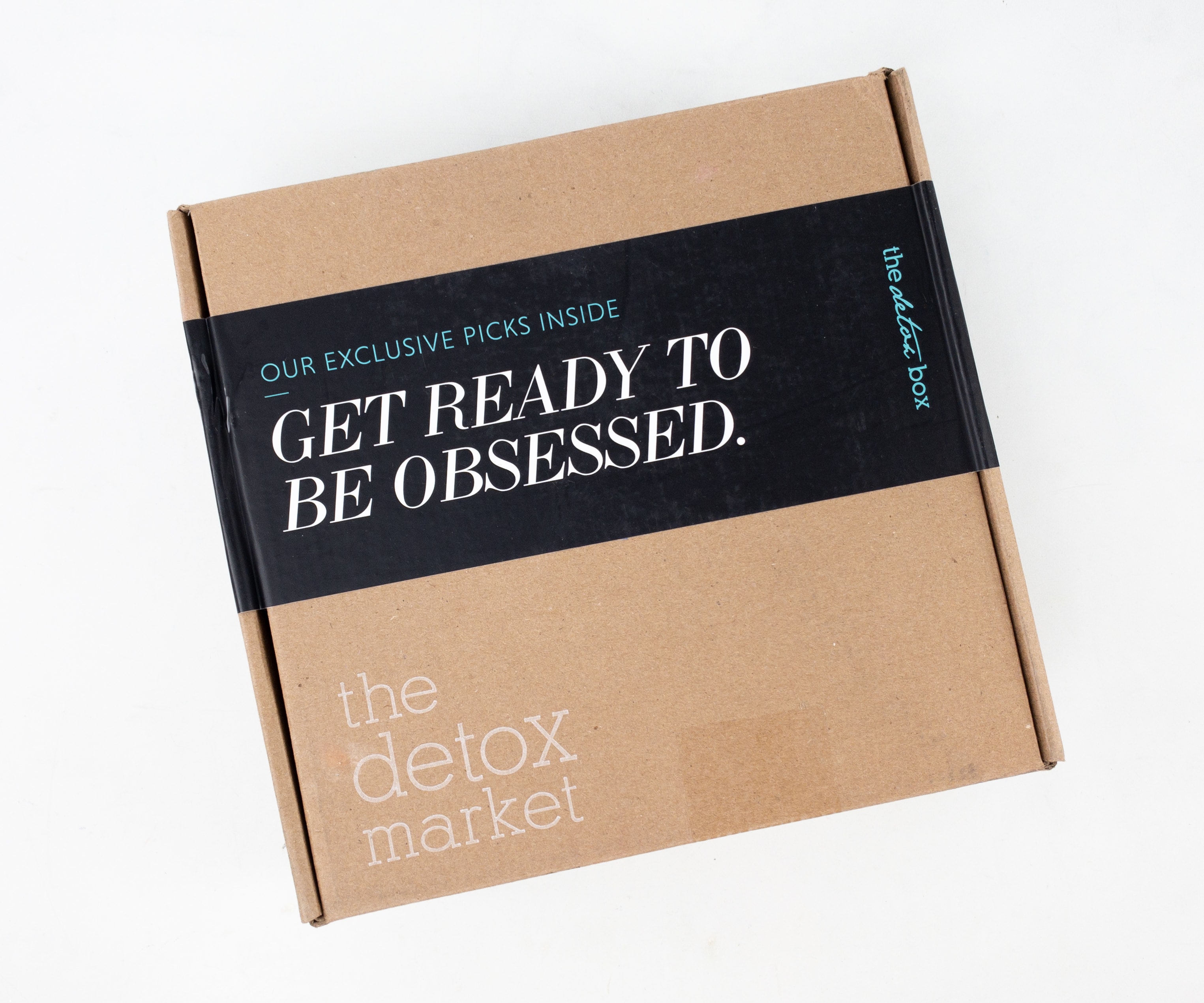 The Detox Box is a monthly green and natural beauty subscription box from The Detox Market. For $49.95 each month, you'll get a box featuring one or more green beauty products with a value of at least $90. The price decreases by $10 per month on a 6-month plan!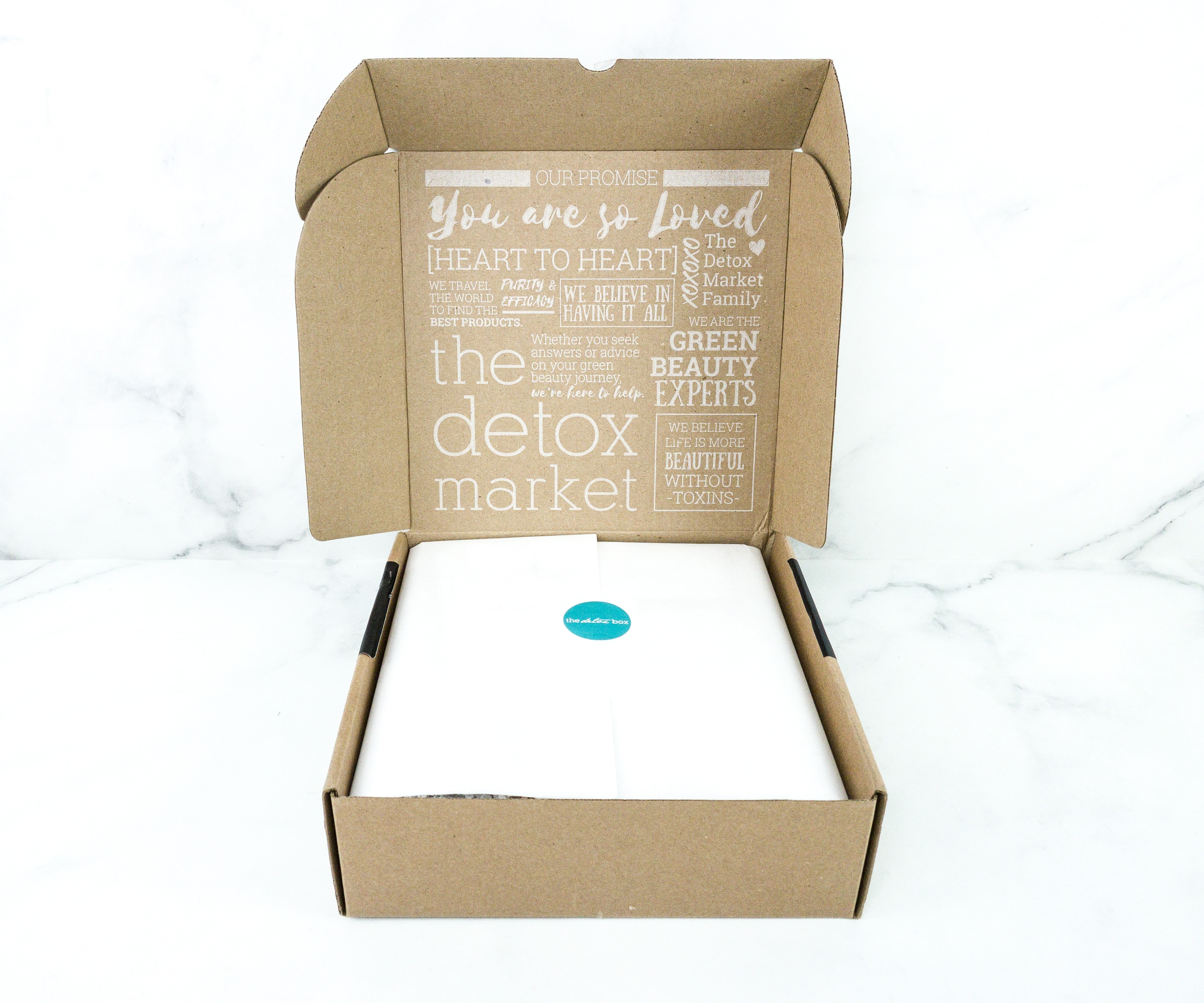 As you open the box, you will find feel-good messages from The Detox Box.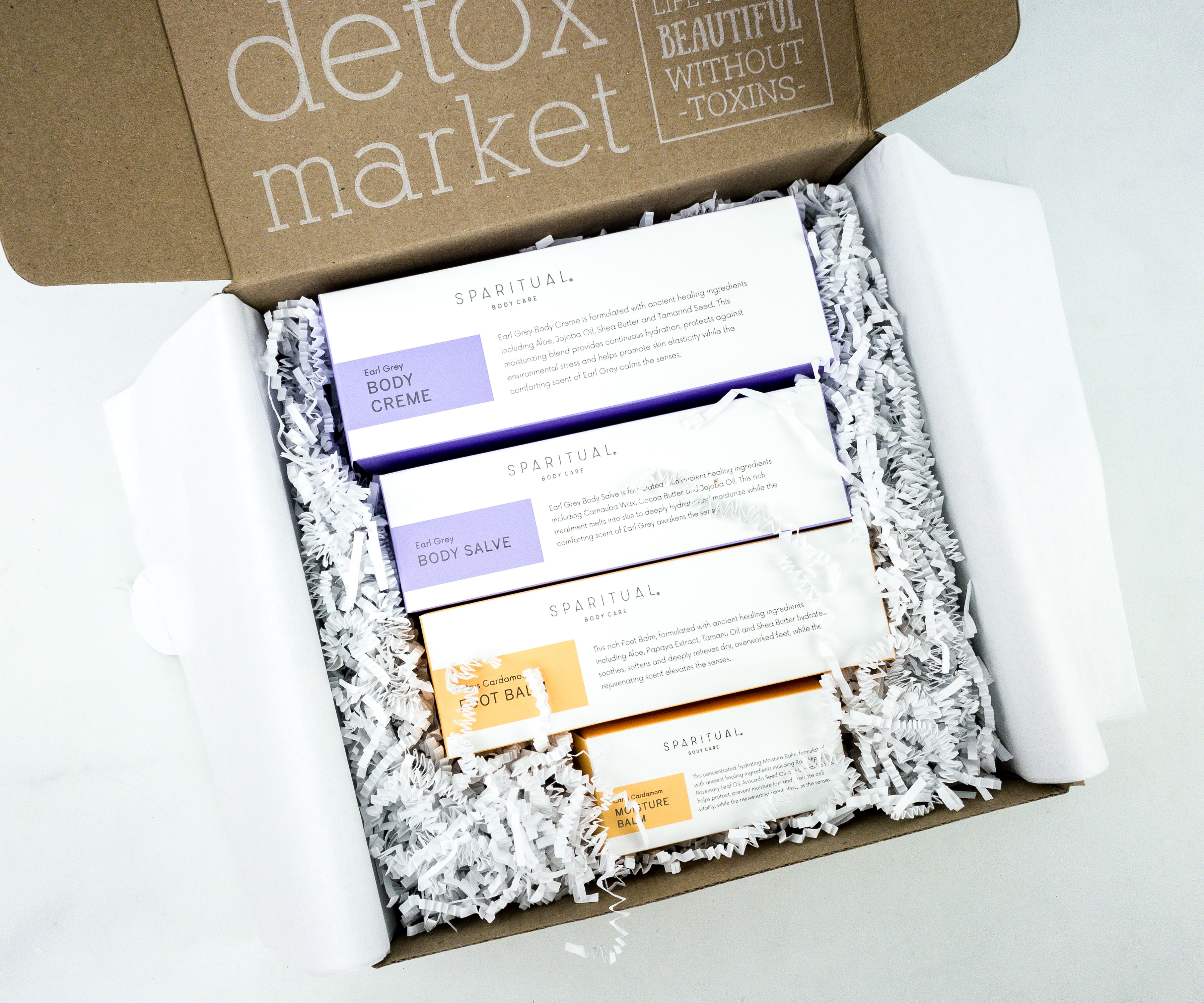 The products are cushioned with white paper squiggles.
This month's featured brand is SPARITUAL!
The Detox Market had a little Q and A with the brand!
I like the information card they provide!
It's complete with a product description, a list of key ingredients, and expert tips.
Everything in my box!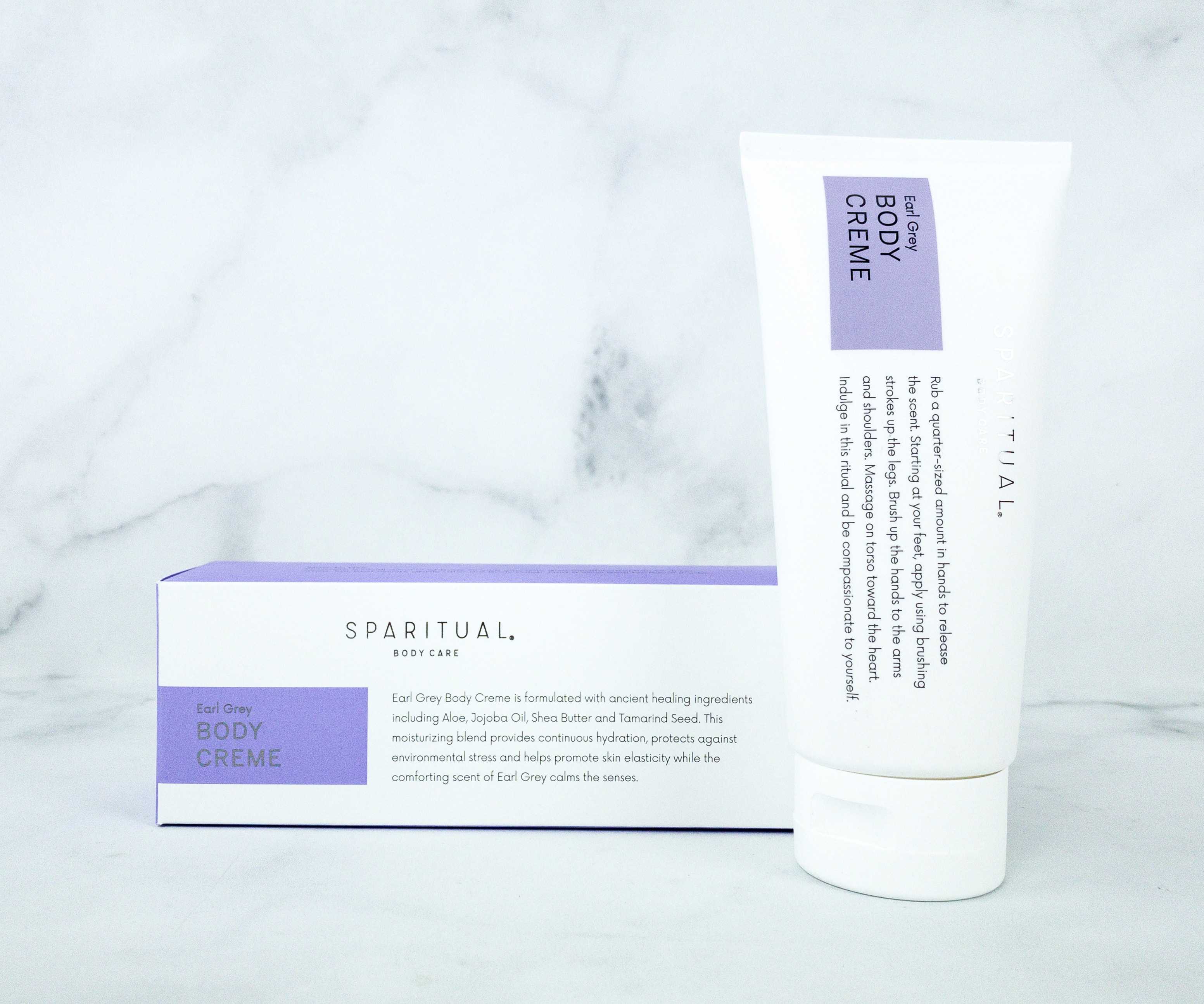 Sparitual Earl Grey Body Creme ($45) Aloe, jojoba oil, shea butter, and tamarind seed are combined in this body cream, making the formula highly moisturizing. The cream also protects your skin from environmental stressors and helps promote skin elasticity.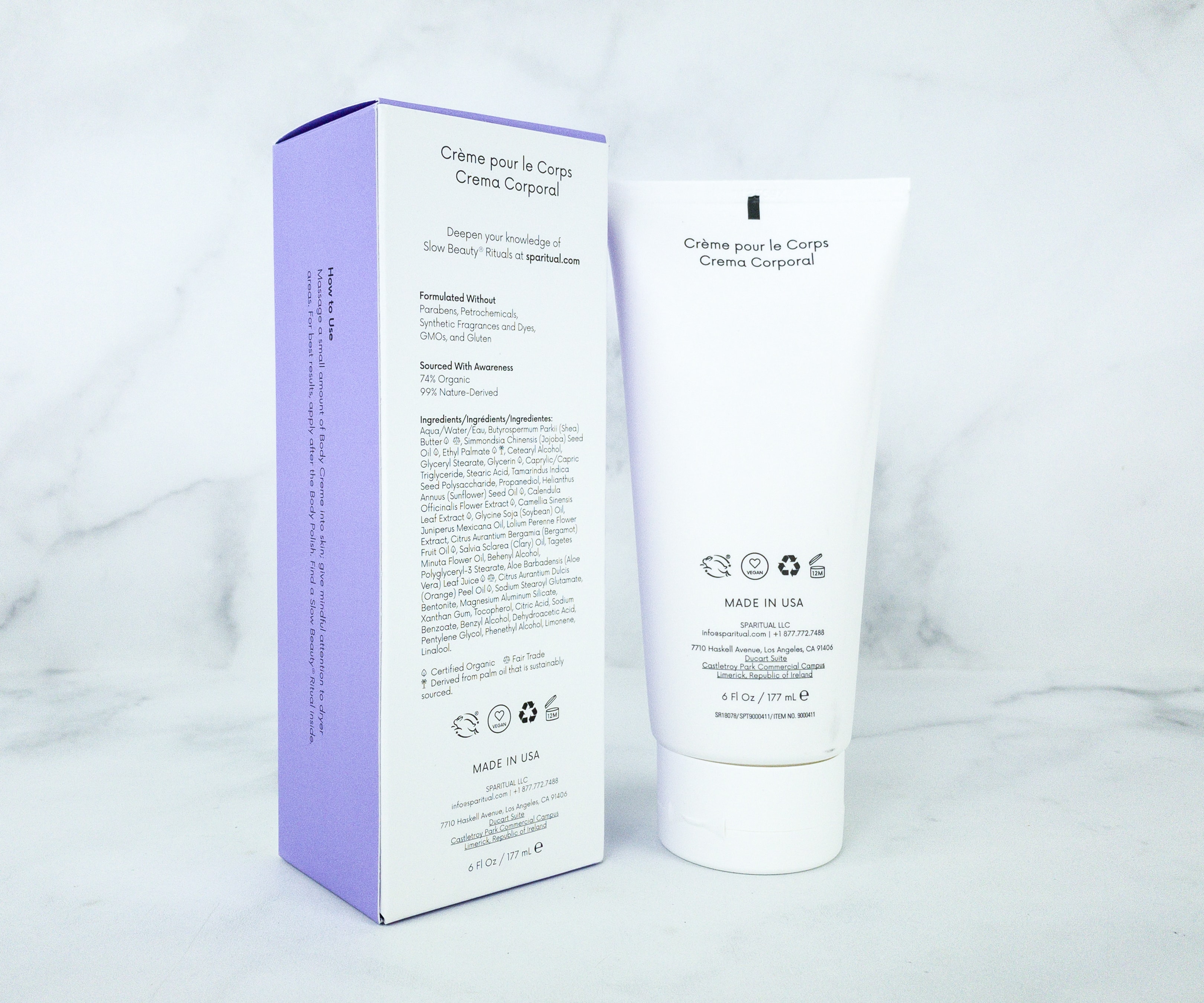 The cream is rich yet non-sticky! It's even subtly scented with earl grey, which is soothing and calming to the senses. It's a great body cream to use for dry skin in fall and winter.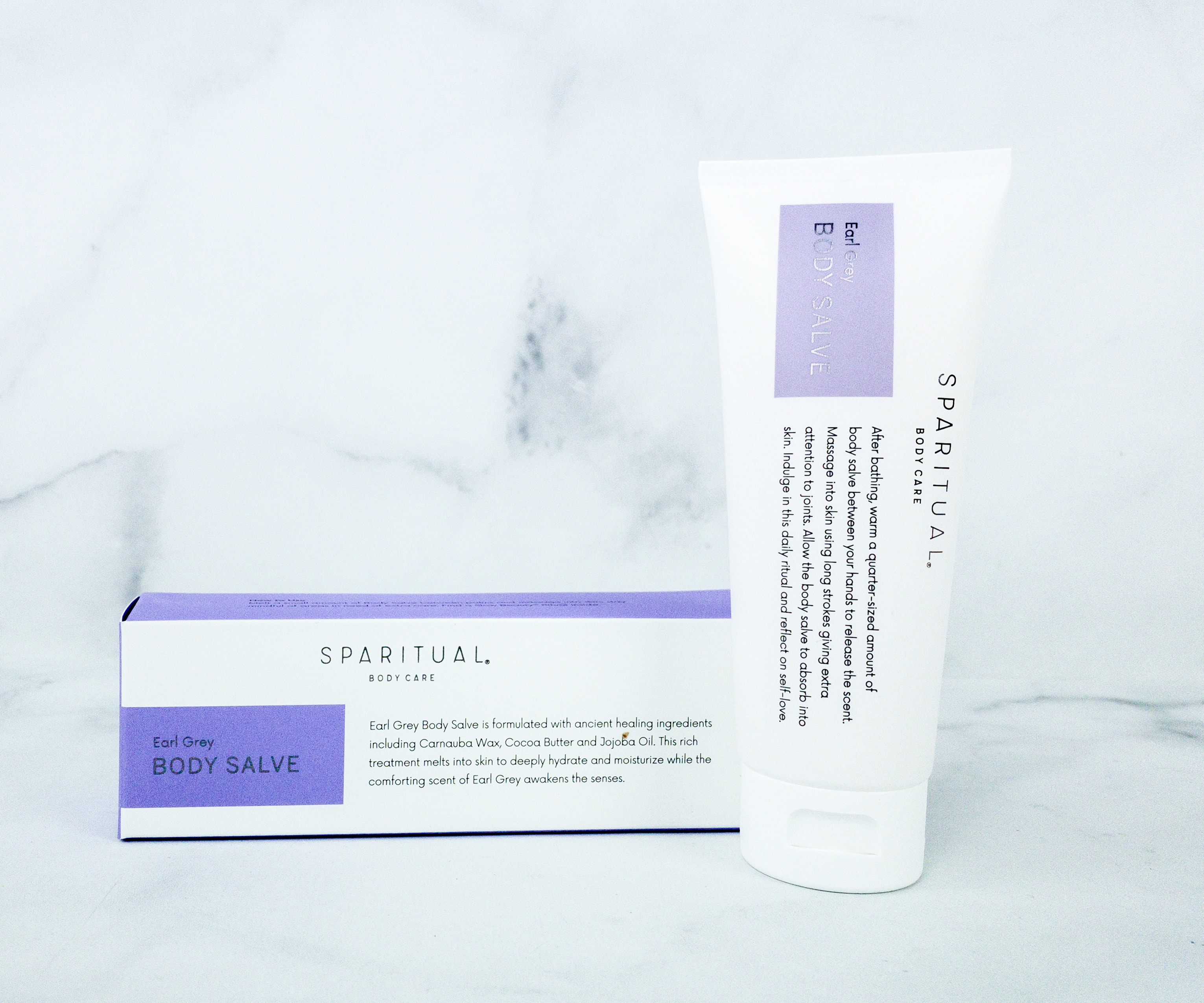 Sparitual Earl Grey Body Salve ($46) Here's another earl grey scented product, a body salve! It's made with hypoallergenic carnuba wax which helps retain skin moisture and cocoa butter known to be rich in vitamin K, vitamin E, and essential fatty acids.
It's ideally applied after bathing and although it takes a while to sink in, it leaves my skin soft and pleasant smelling!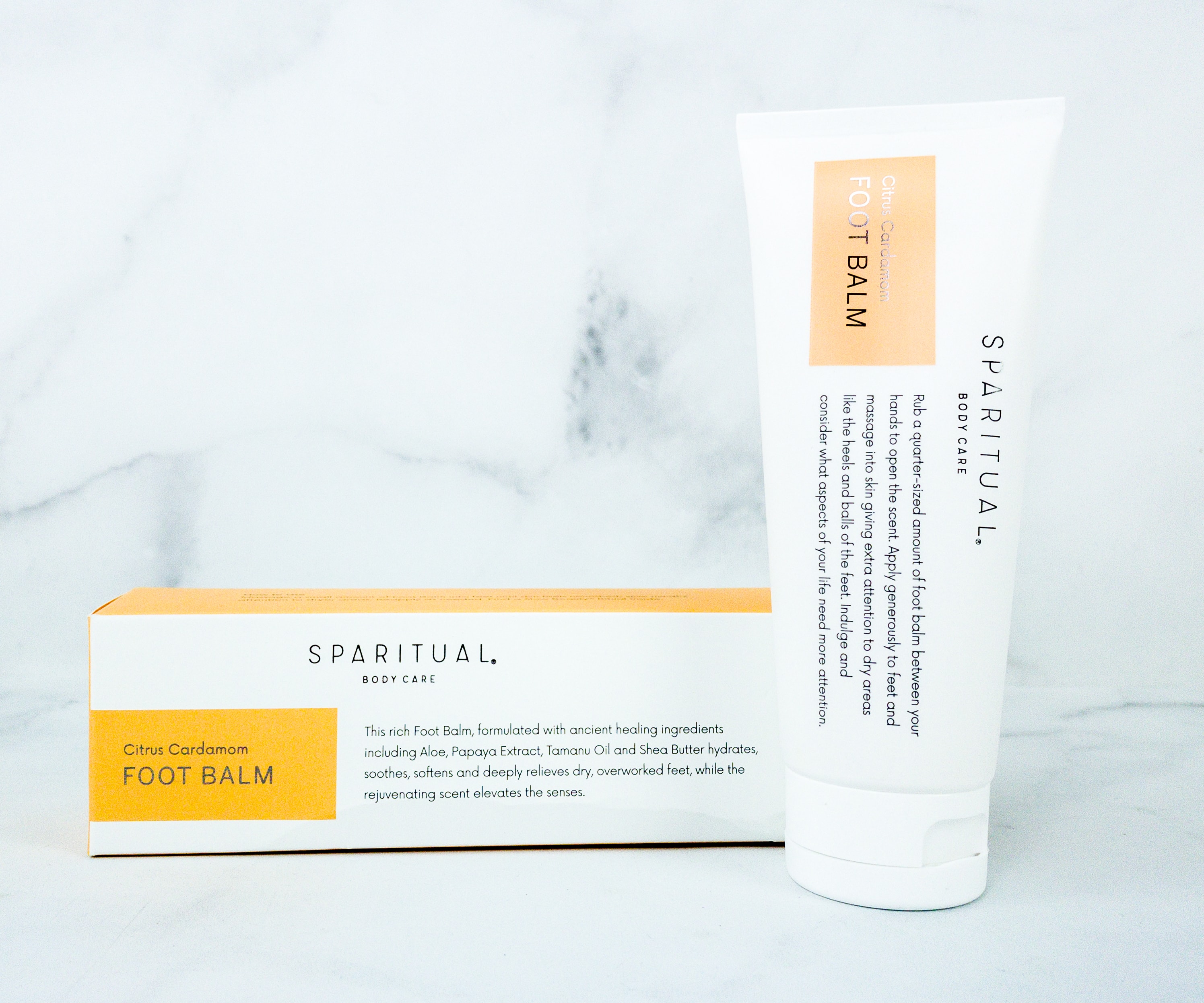 Sparitual Citrus Cardamom Foot Balm ($30) Our feet deserve some love, especially during the cold season! This foot balm comes to the rescue, as it's formulated with gentle and nourishing ingredients such as aloe, papaya extract, tamanu oil, and shea butter.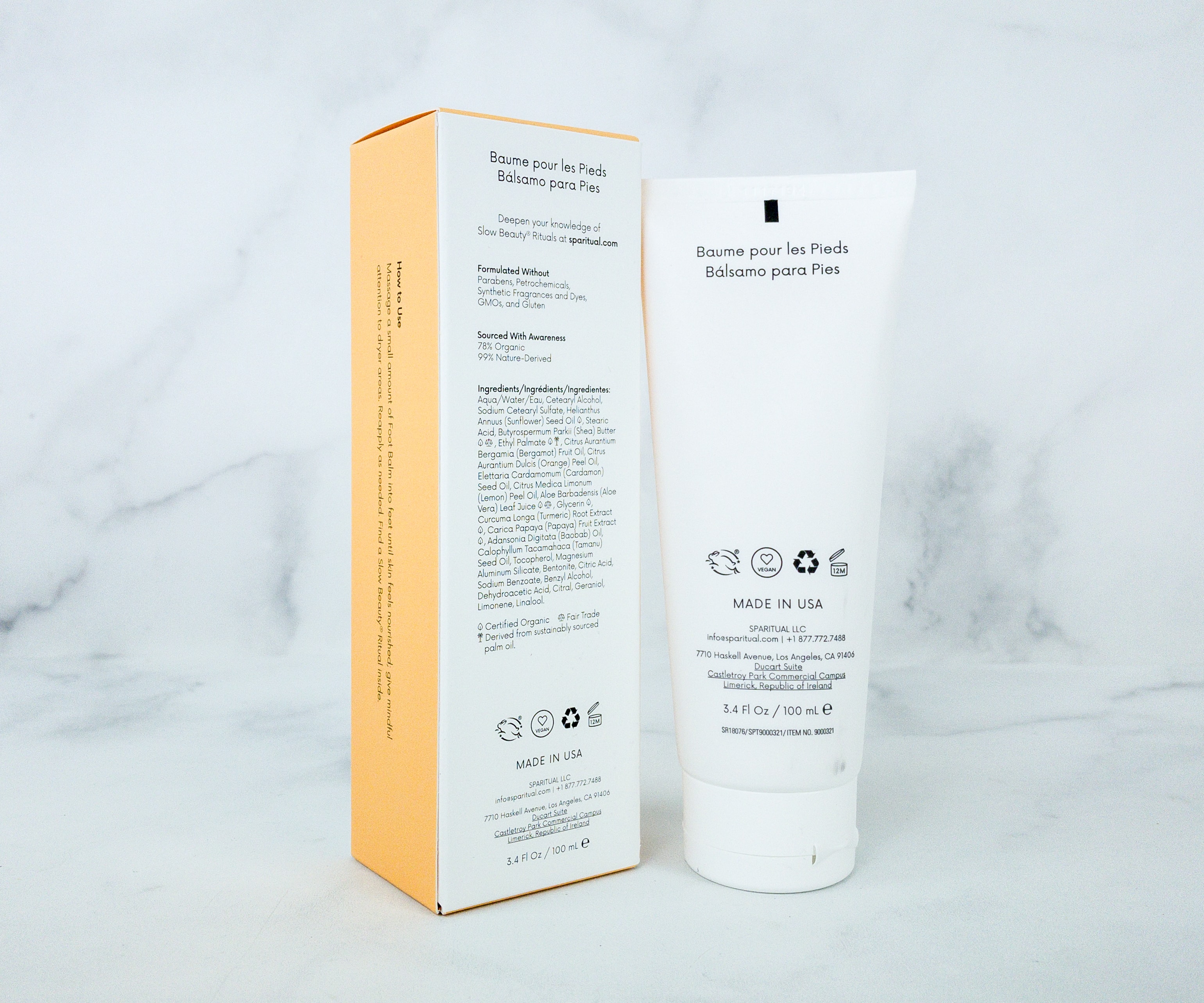 It's recommended to be applied generously on your feet, especially on areas that get easily dry like the heels. The scent is citrus cardamom and it's quite energizing!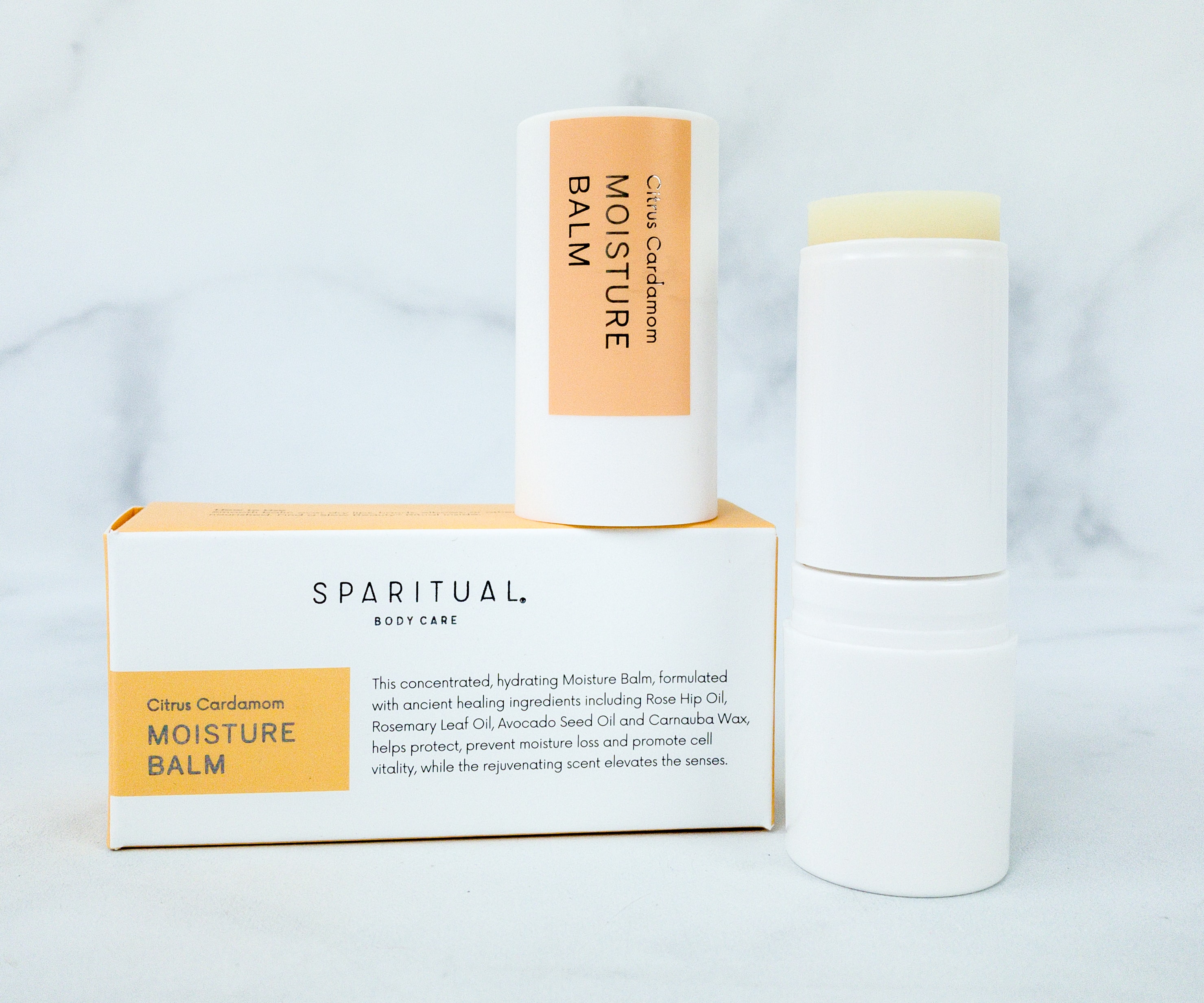 Sparitual Citrus Cardamom Moisture Balm ($26) It's a multipurpose balm on the stick, made with antioxidant-rich rosehip oil, skin-protecting rosemary leaf oil, and vitamin E-rich avocado seed oil. It can be applied over your dry lips, hands, elbows, or other dry areas.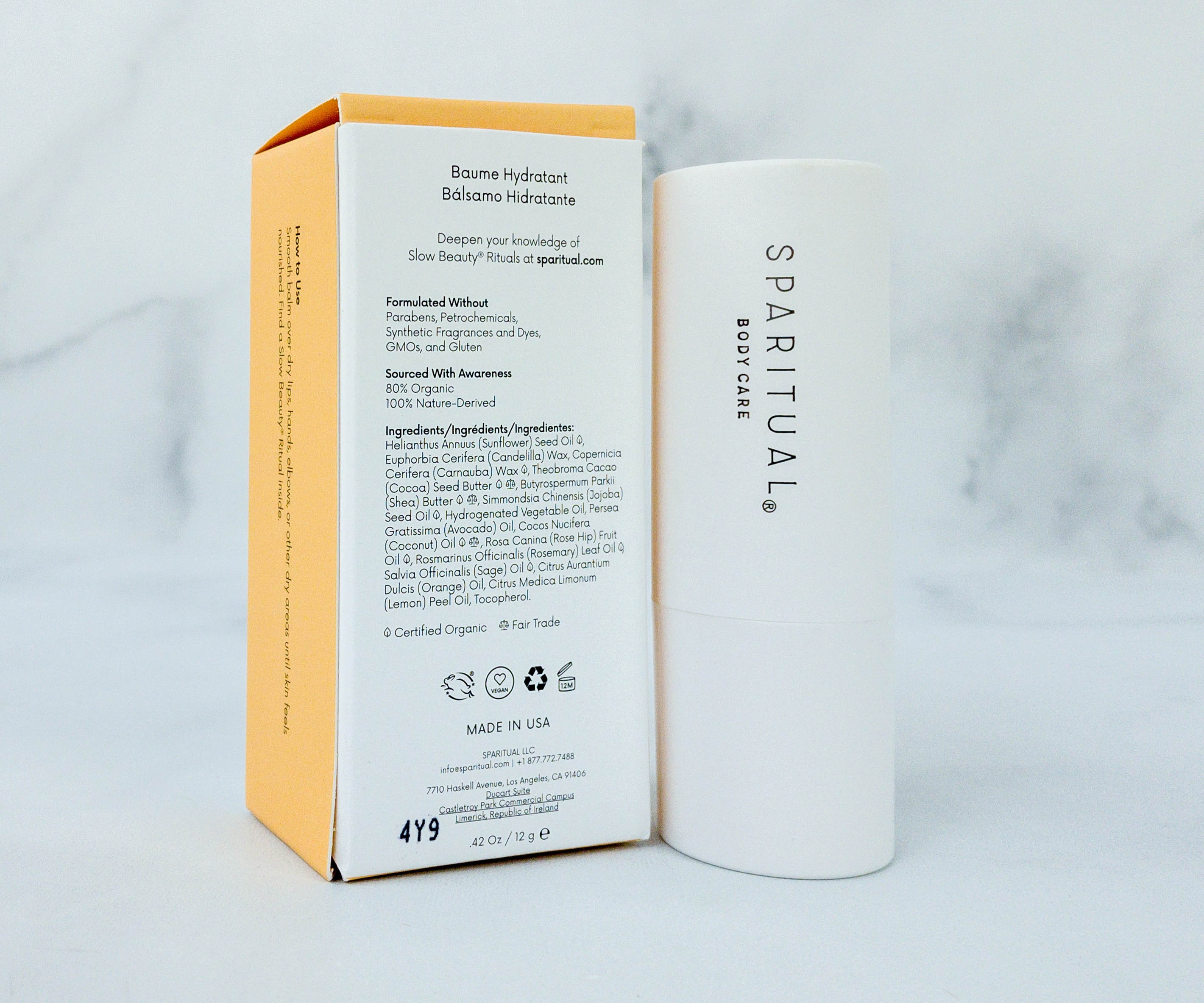 It's also citrus cardamom-scented and I love that it's not overpowering!
The Detox Box featured such an awesome brand this month, Sparitual! The products they sent are vegan, cruelty-free, and made with organic ingredients. All of them are also ideal companions during this time of the year, as they are highly-nourishing and hydrating. They even feature nice scents! Earl grey is soothing, while citrus cardamom is energizing. If you're also into natural and green beauty, this subscription is a must-try! It always offers something new to look forward to every month!
What do you think of this month's featured products?