The Dapper Dog Box is a monthly box for your best friend in the world – your dog! They source organic and natural items from passionate small companies that love dogs, hand-picking each item for your dog based on a personalized survey. The survey lets you customize your box for gender, five different dog sizes, and also any allergies. The regular sized box has 4-6 items with an average $50 value.
DEAL: Save 10% off your first shipment! Use coupon code HELLOSUBSCRIPTION.
The interior of the box cover says "all you need is love and a dog" and I couldn't agree more.
All the items are packed neatly inside the box. No fillers or extra packaging.
Every box comes with a cute information card.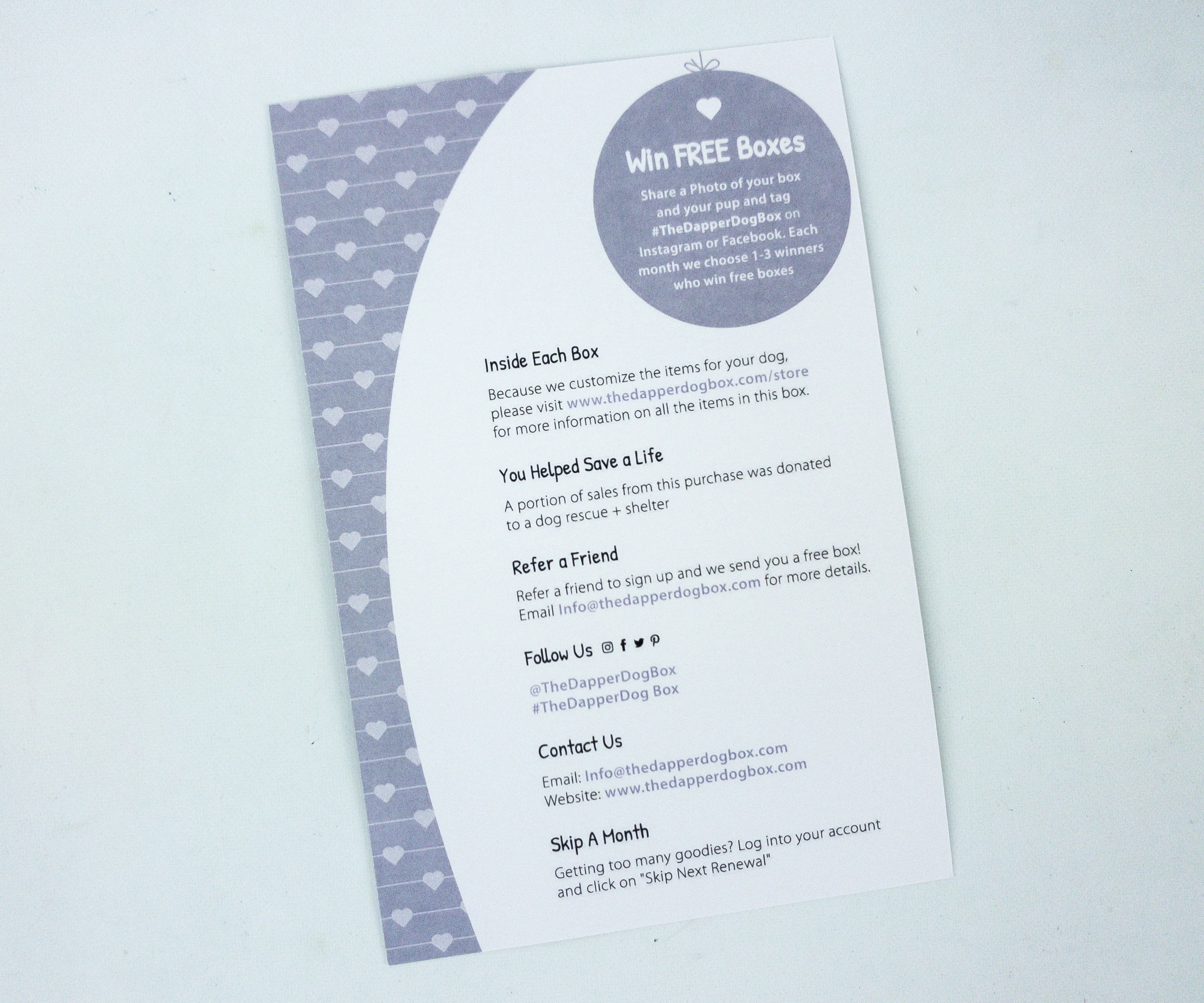 This card provides all the information you need to know about the box.
This month's theme is Woodland Forest!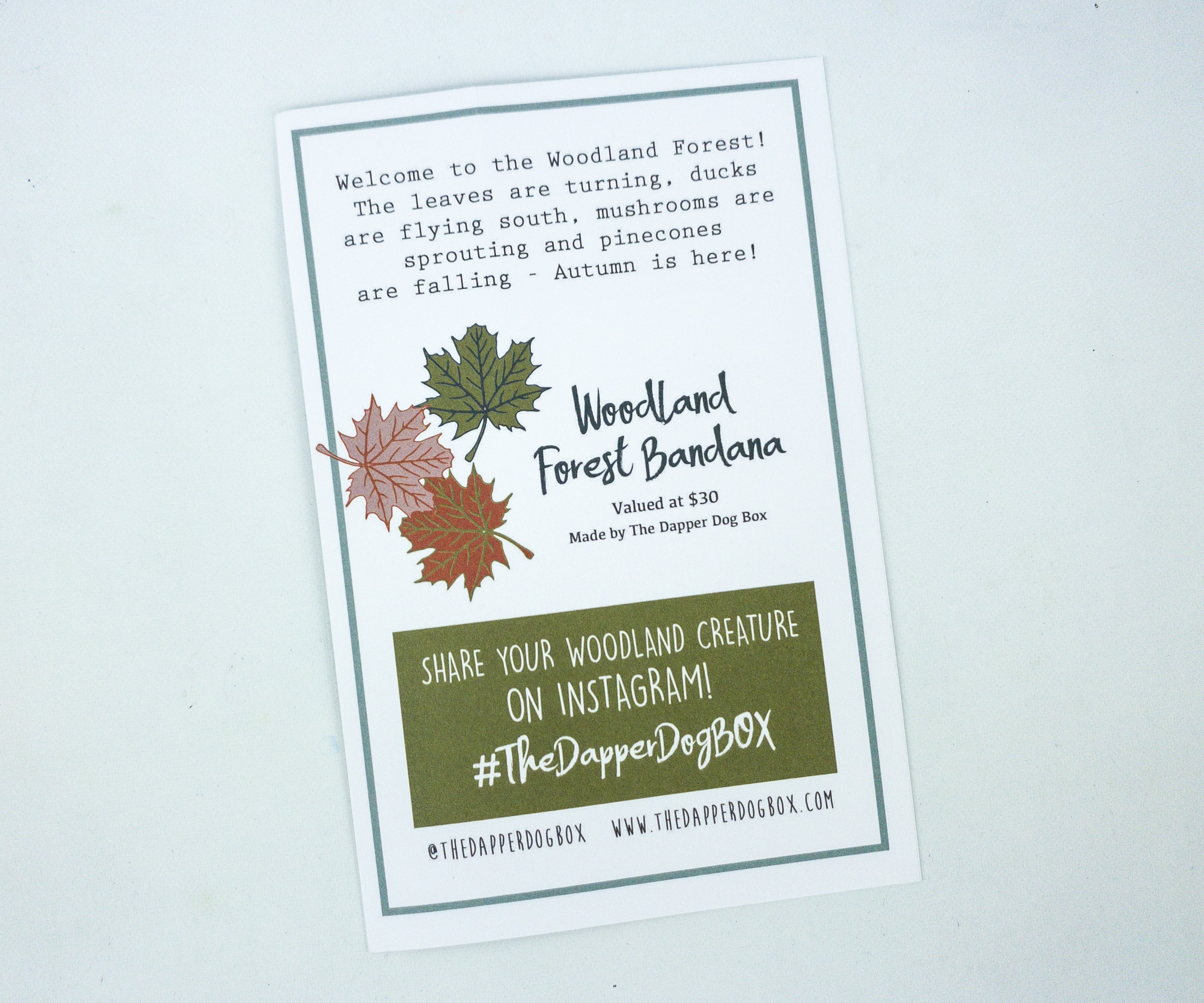 This card also encourages us to post unboxing photos on Instagram using #THEDAPPERDOGBOX!
Here are all the items in the November box!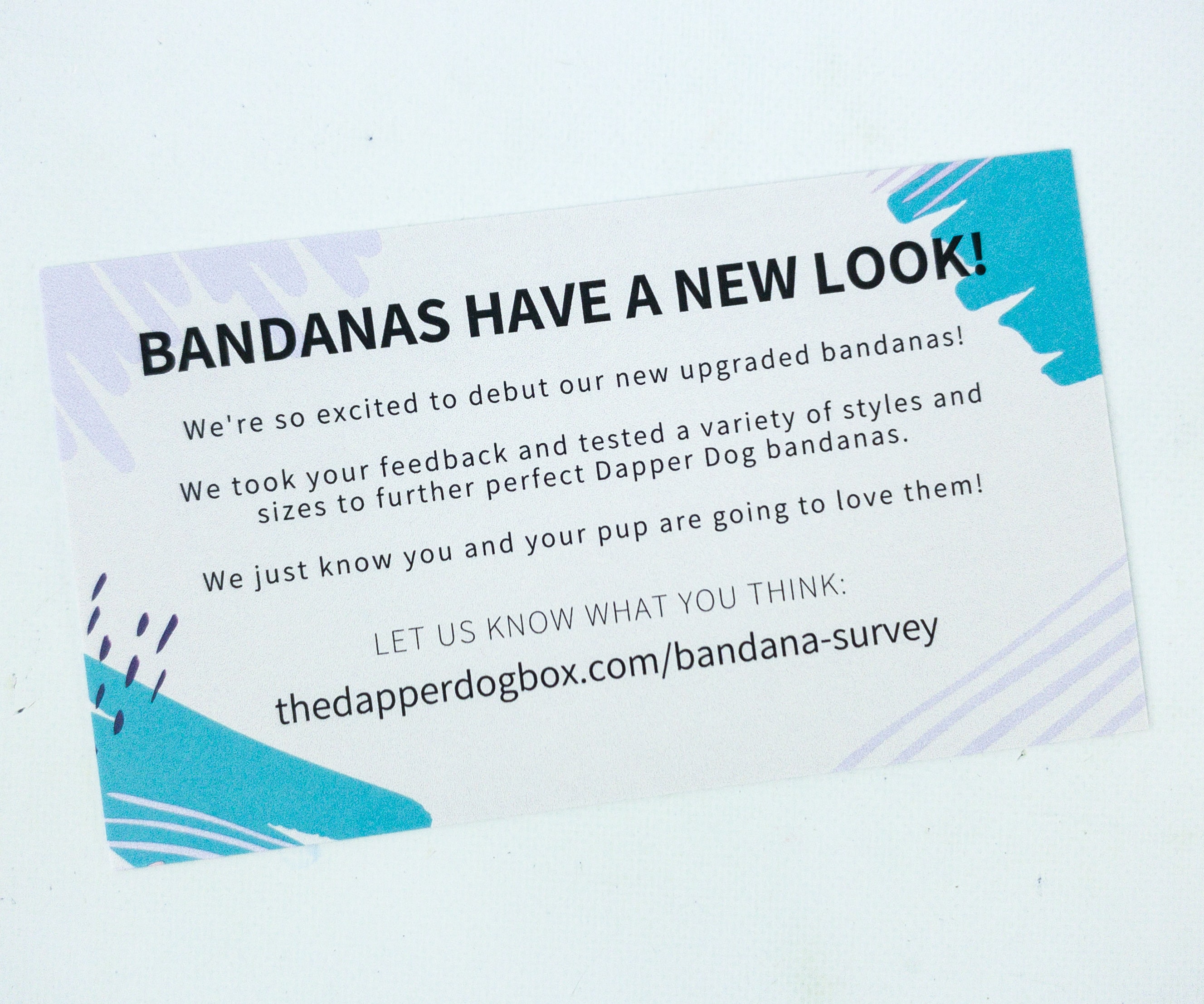 We also got a card informing us about the survey for Dapper Dog Box's new and upgraded bandanas!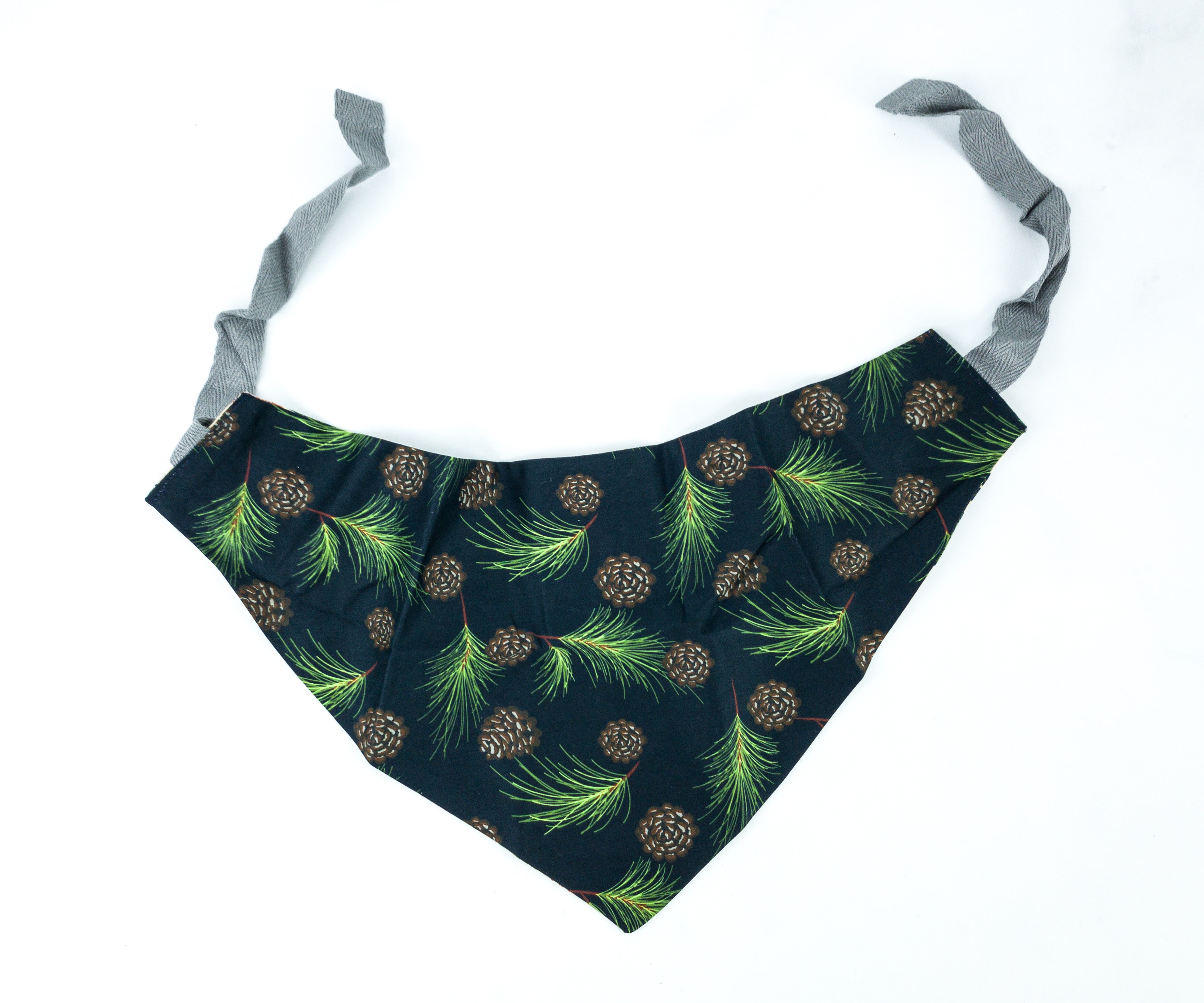 Bandana. This month's featured double-sided bandana is made from premium quality, soft fabric. One side features a navy blue base color with cones and leaves.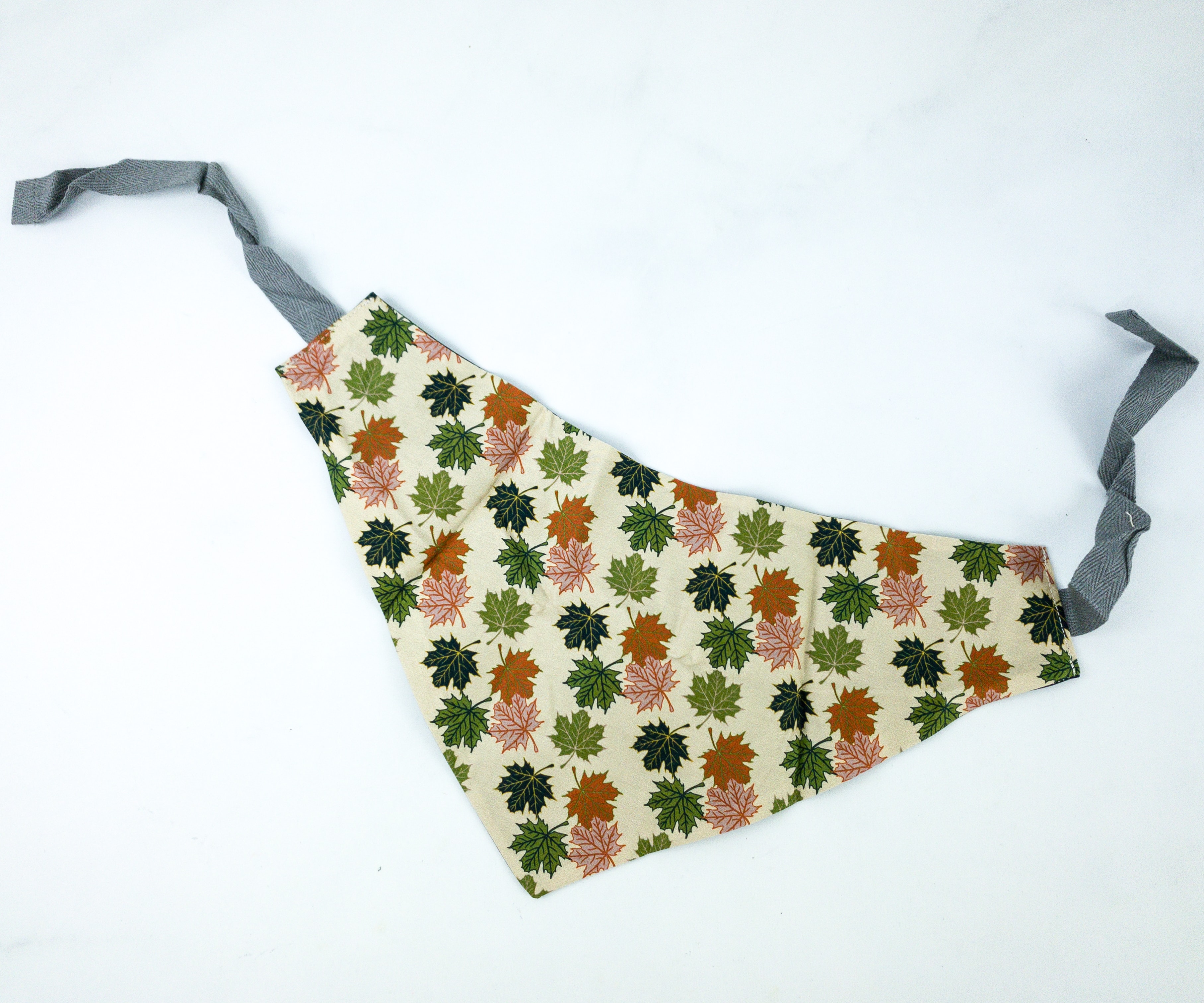 The other side of the bandana features a beige base color with a variety of colorful maple leafs all over.
Of course, there are grey straps to secure the bandana. It's easy to tie and adjust on my dog's neck.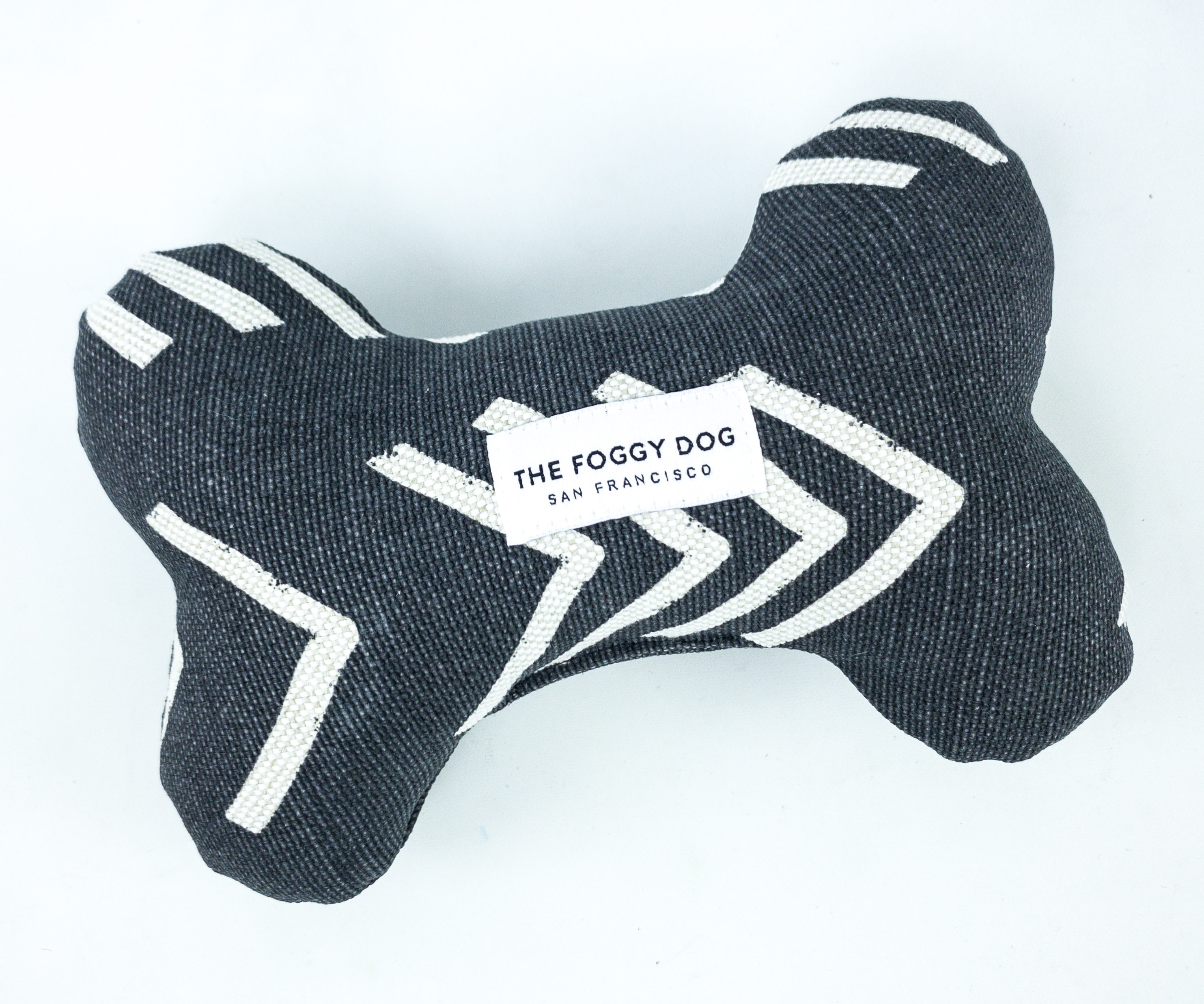 The Fuggy Dog Plush. It's a bone-shaped plush toy made from premium quality, soft fabric material with a built-in squeaker inside. It's a tough toy that can withstand a series of chewing, gnawing, and ripping!
Steel Dog Duck Plush. The second plush toy is duck-shaped, with a tennis ball and squeaker inside.
It looks like a real duck, especially with its color, built, and size.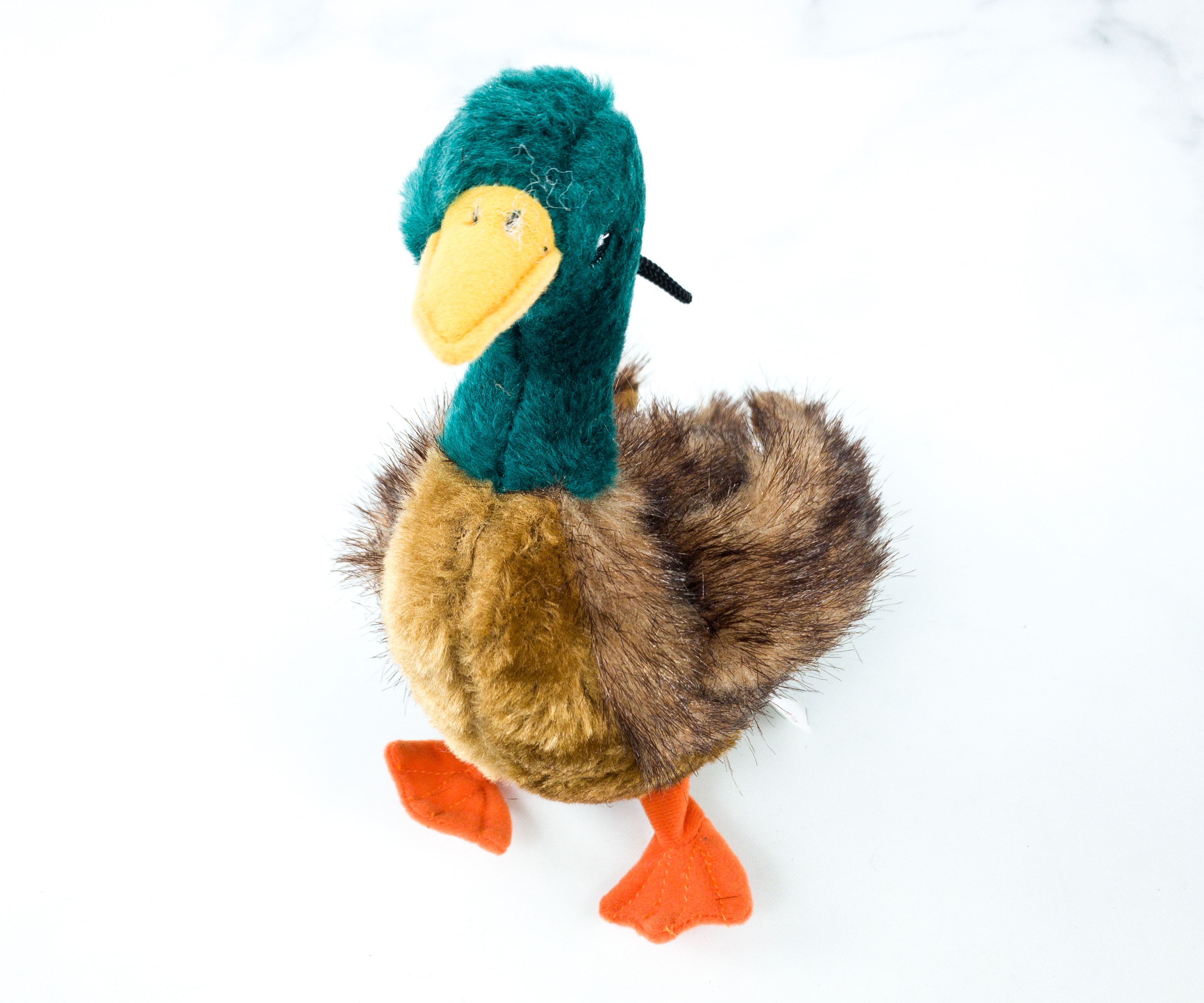 It's also soft and hairy, definitely a hit with our pups because they're fascinated with the different textures it offers.
Vital Essentials Duck Nibs Dog Treats. These crunchy bites are made from 100% ground duck with bone, liver, gizzard, duck skin and tocopherols.
According to the packaging, these treats are grain-free and gluten-free, perfect for pups with a sensitive stomach. They're also filled with vital nutrients such as protein and fiber.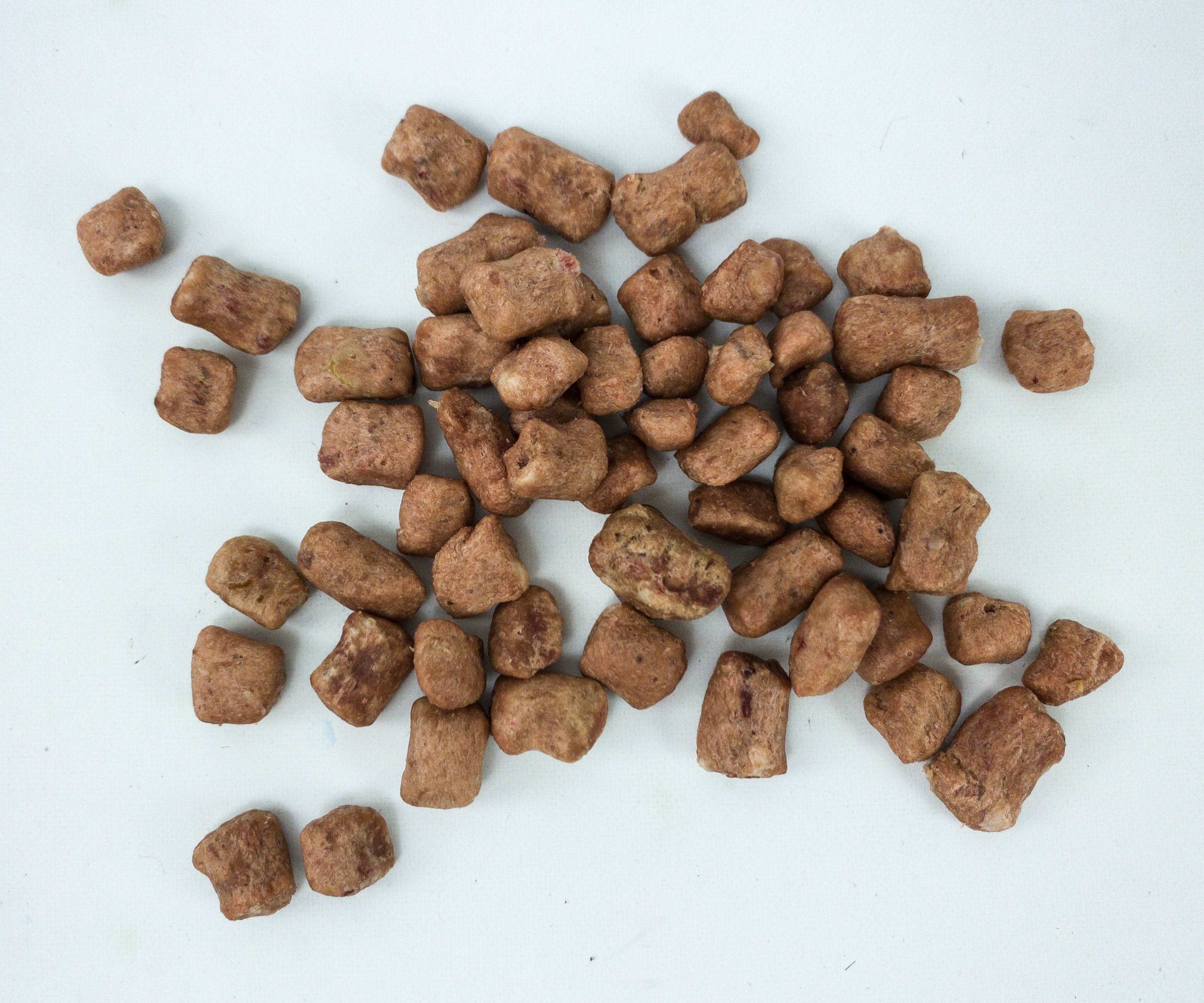 They're bite-sized so my pup doesn't have any problems munching on them. They also make a great training reward snack.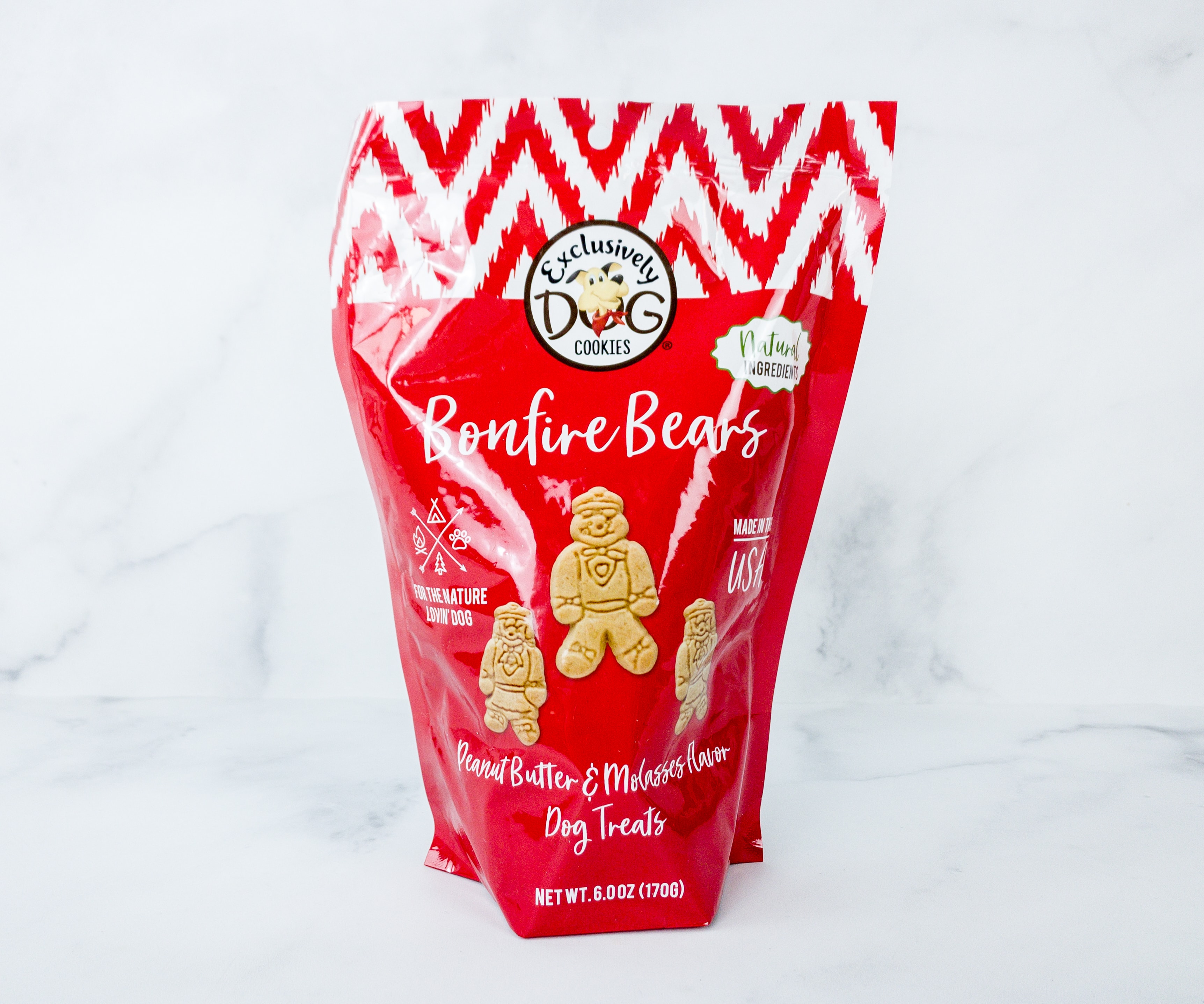 Exclusively Dog Cookies Bonfire Bears Dog Treats. This second bag of treats is made from peanut butter, molasses, vegetable fats, and natural butter flavors.
It's a low-calorie, highly-nutritious dog treat that is a great source of protein, fat, and fiber essential for your dog's health.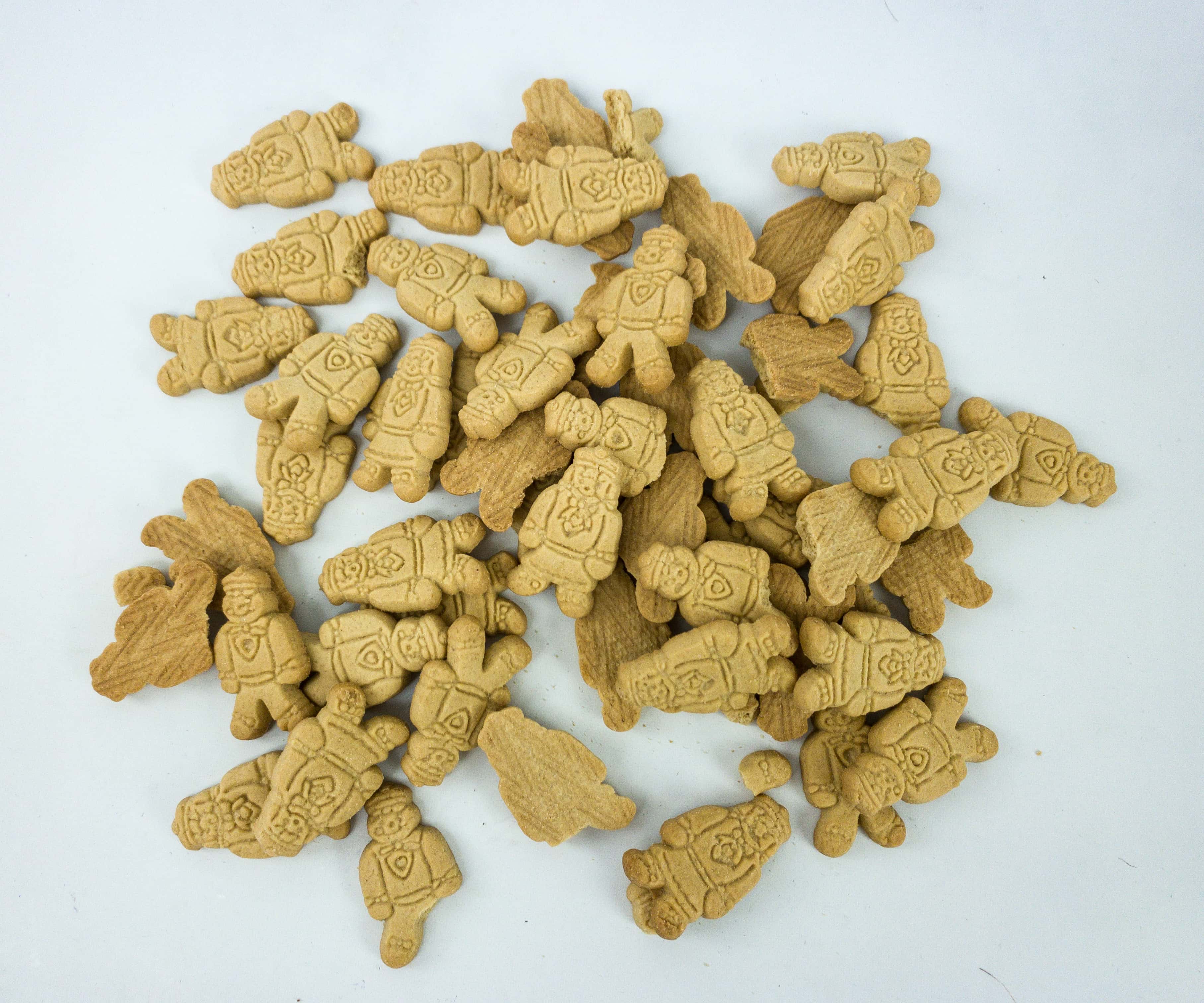 These are super crunchy, and tasty bite-sized cookies. Each piece is also shaped as Bonfire Bear with cute details!
The Dapper Dog indeed keeps our dog Dean dapper because of the high-quality bandana they send ever month. Along with tasty treats and fun toys, this makes such a well-rounded box for dogs. It makes me happy seeing my pup enjoy the toys all day long. The treats were really impressive as well, they're not just appealing for dogs but they're also made with healthy ingredients. We really love this box as it always exceeds our expectations, and we're definitely looking forward to future boxes!
Did you love this month's box as much as we did?