Stitch Fix Kids is a personal styling service for kids clothing ranging from sizes 2T to 14. At $20 styling fee for each box, you'll get 8 to 12 items with retail price ranging from $10 to $35 when it is shipped to you. You will be asked to share some styling preferences first when you sign up for this box so that the items included will be curated accordingly. If there are clothes that don't fit your child, you can always return them by the return envelope included in the box. If you do decide to keep all of the items, you will get 25% off on the whole box.
This is the review of StitchFix Kids for Girls.
When you open the box, you will see several cards on top with the rest of the items hidden away. The flaps of the box contain everything you need to know about how the service works.
There's also a StitchFix envelope in the box.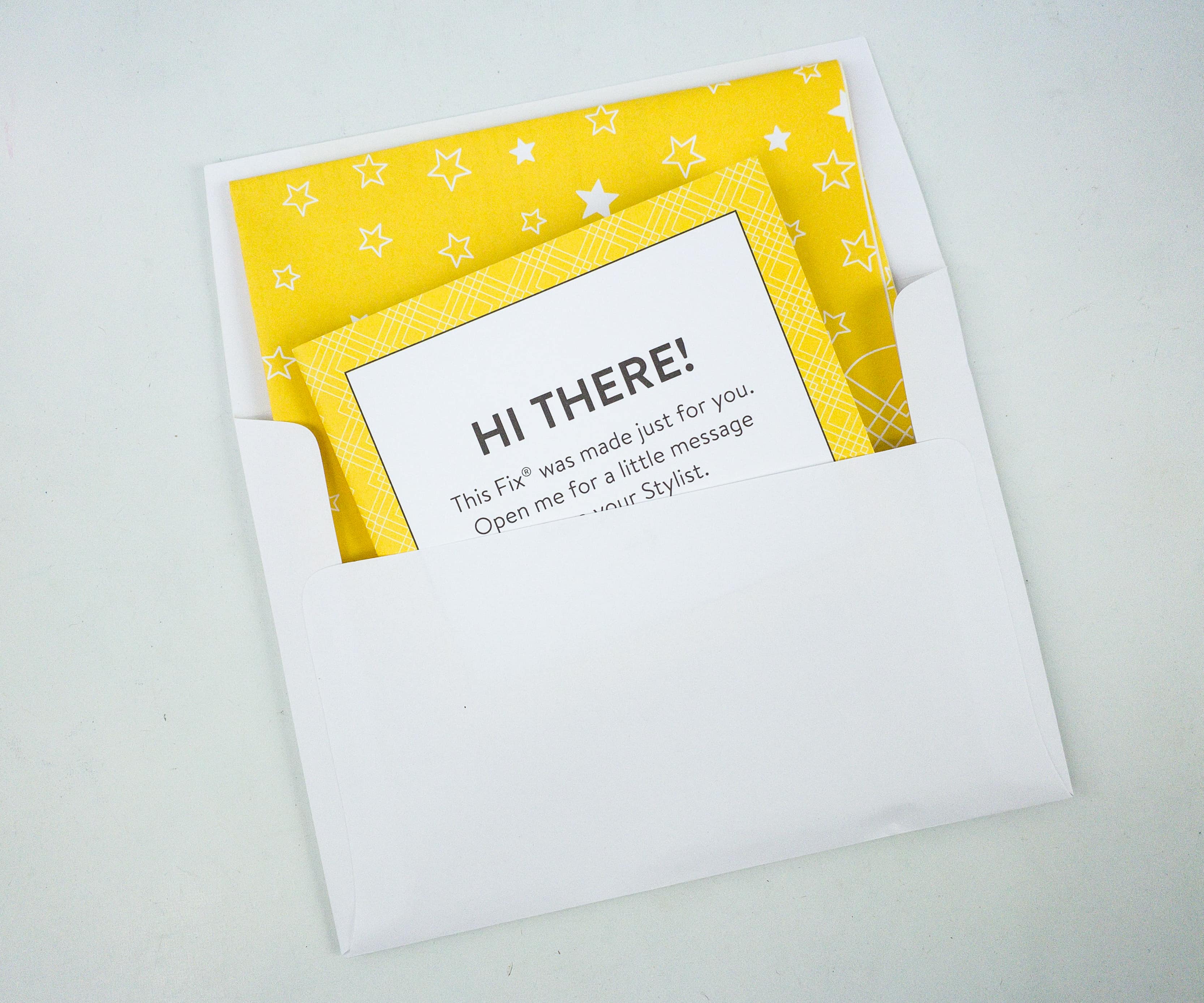 It contains a welcome card!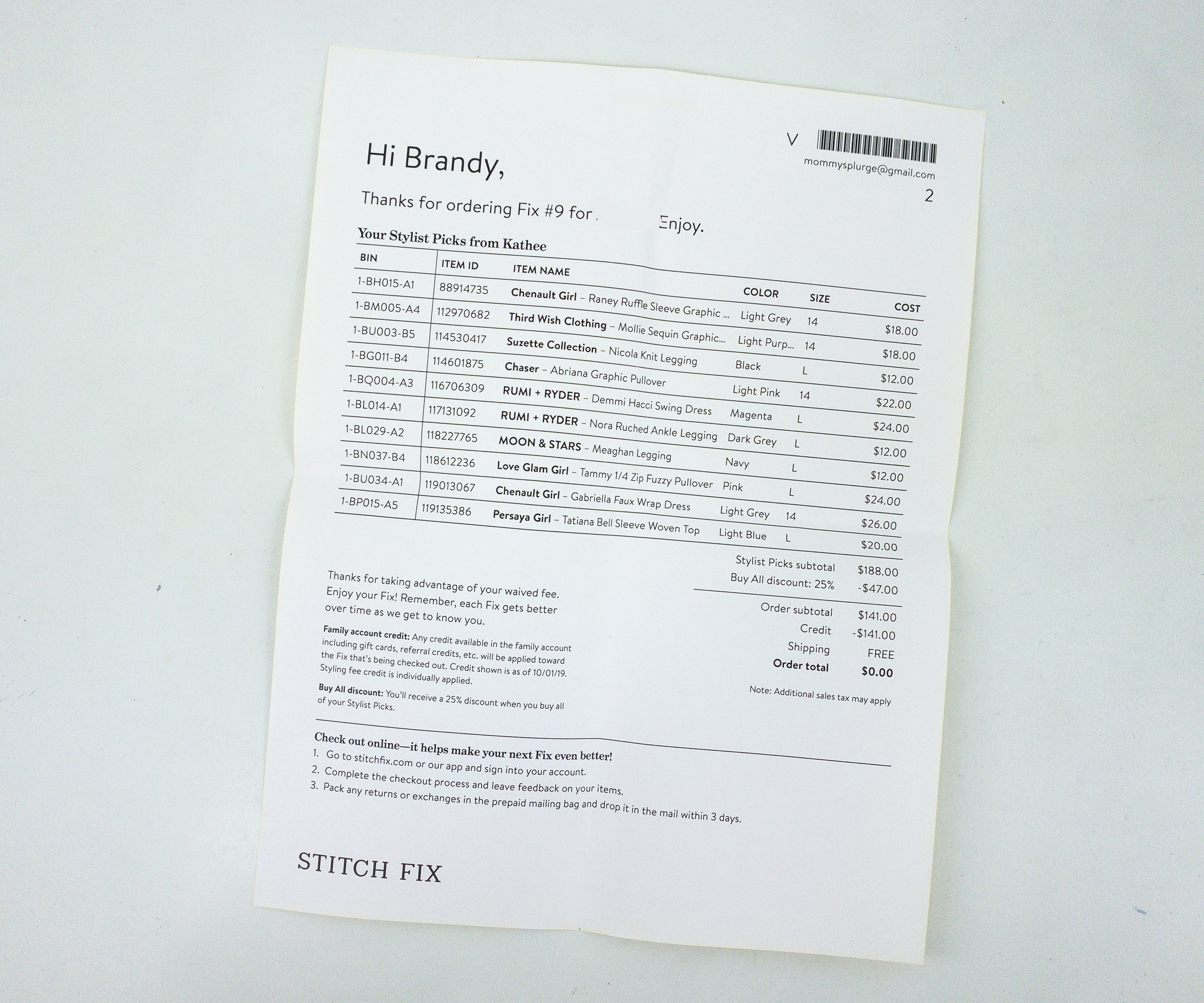 There is a list of all the items included in this box, their size, and their price too. This way, it will be easier for you to compute how much you'll be paying if you'll get individual items.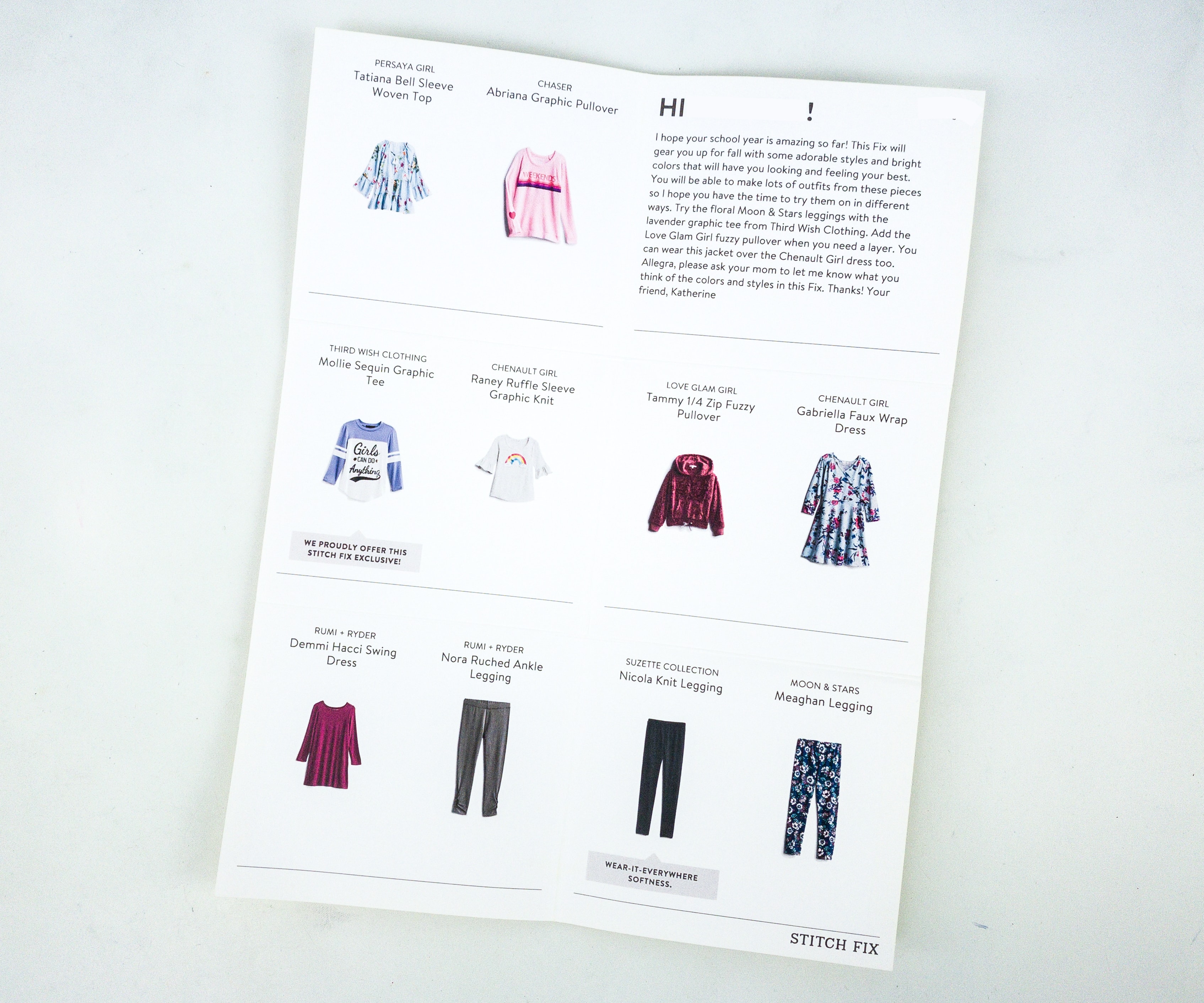 Flip the sheet over and you will see the message from this month's stylist as well as the photos of the items inside this box.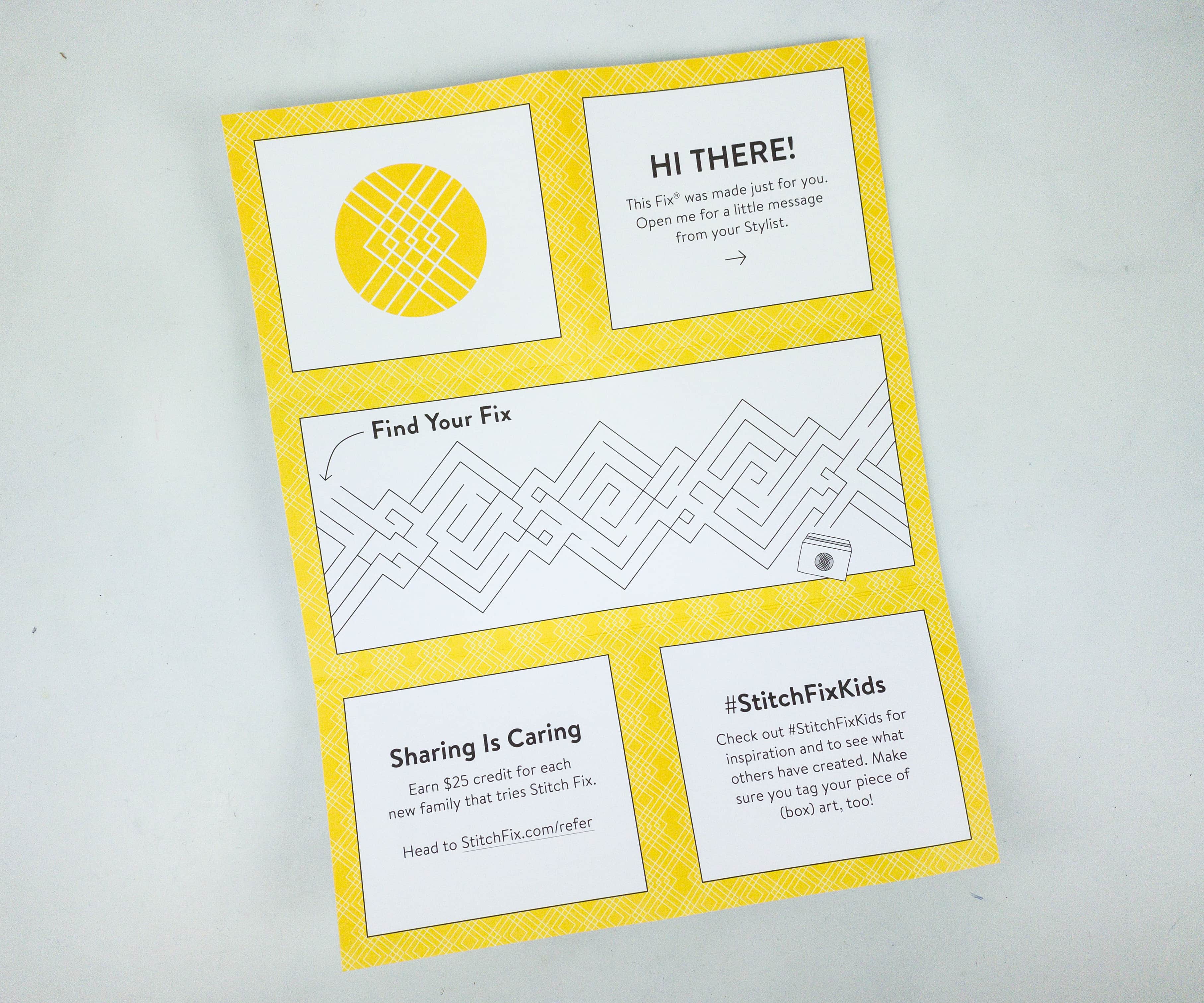 There's also a mini-game for the kids!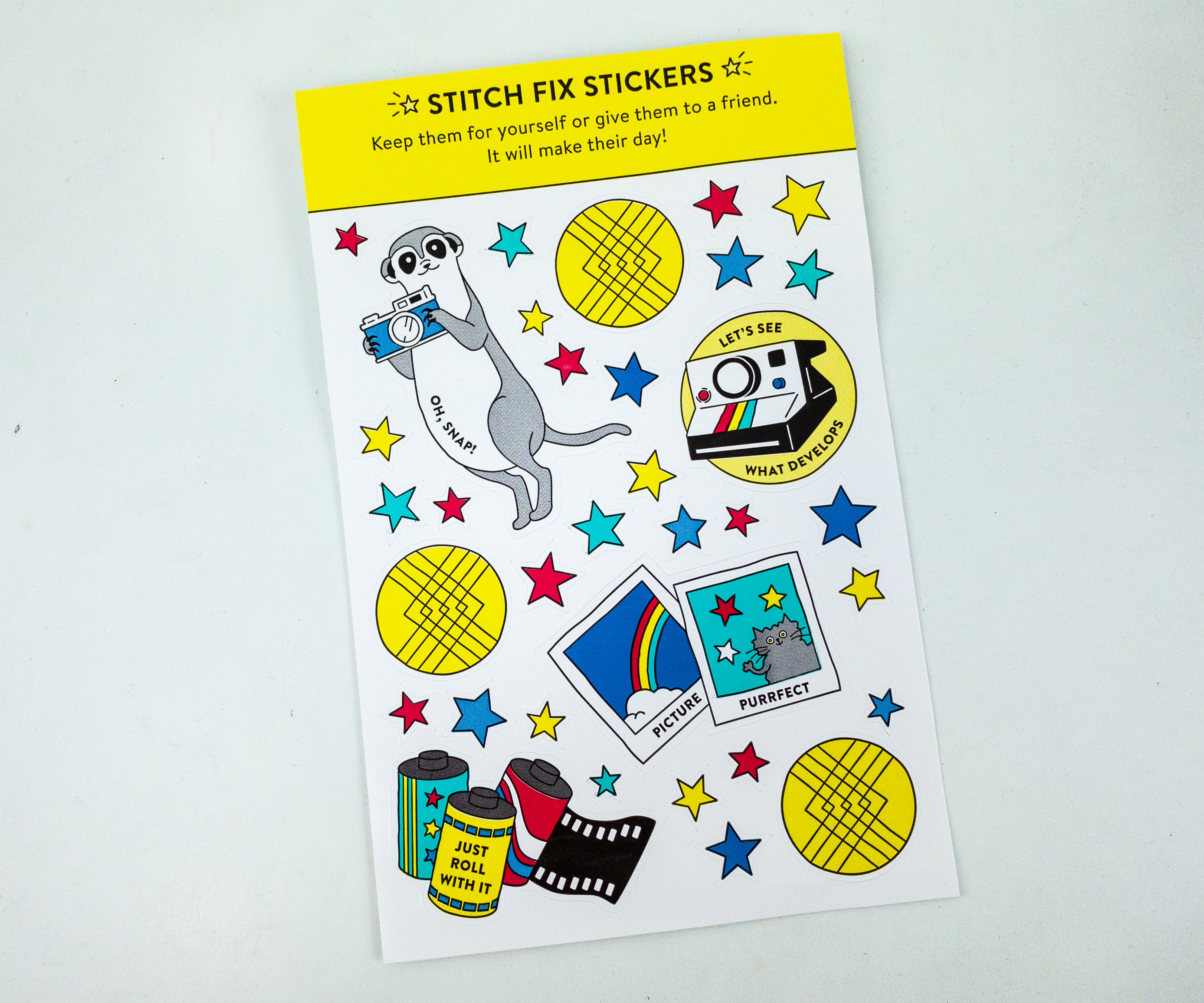 StitchFix started it off on the right foot with this cute set of StitchFix stickers.
The return envelope is already included in the box so you can return the items easily.
All the items are wrapped in bright yellow paper with a colorful Stitch Fix sticker.
Everything in my box!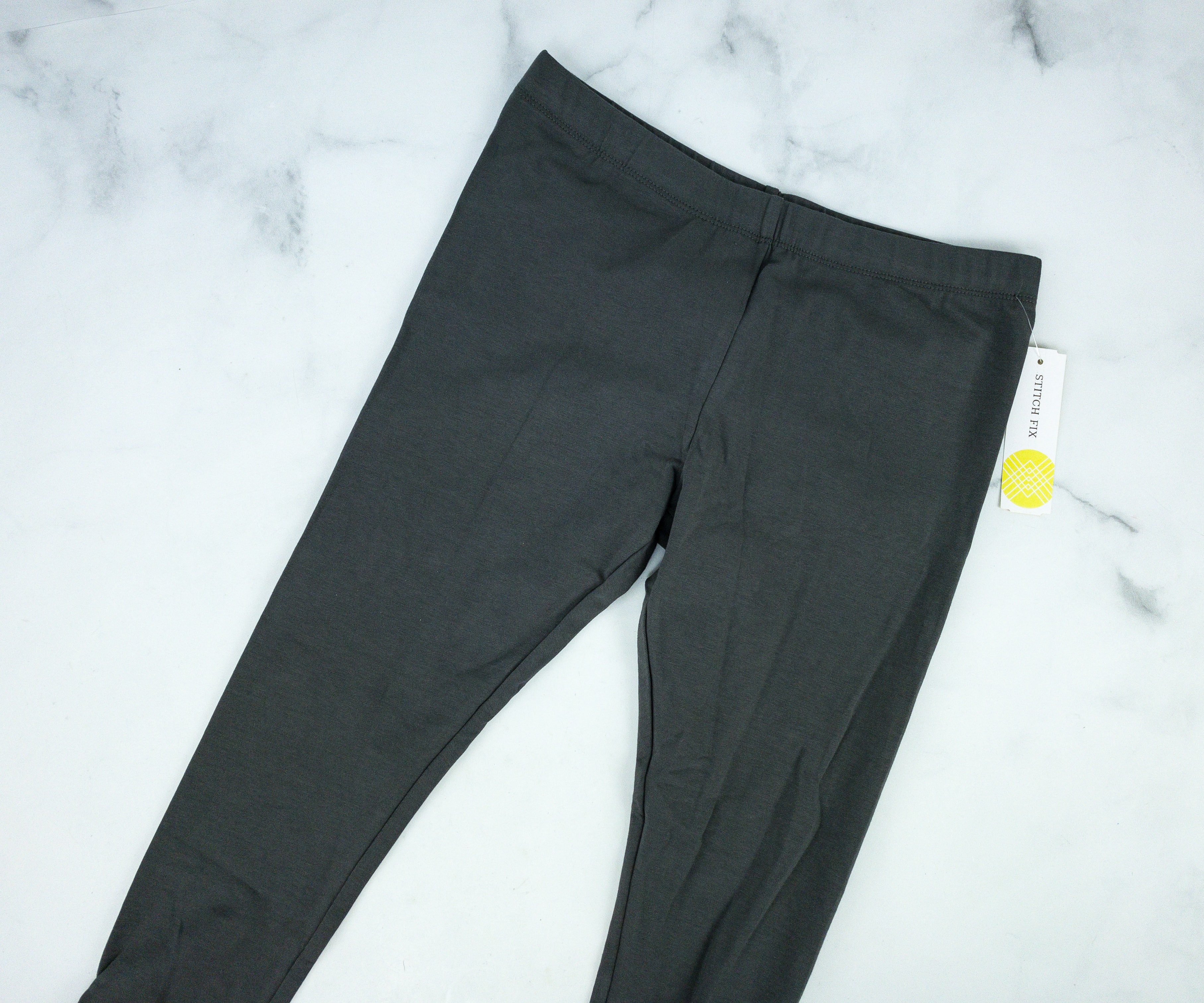 Rumi + Ryder Nora Ruched Ankle Legging ($12) It's a dark grey legging with an elastic waist, a cool and comfy bottom you can easily pair with sweatshirts or hoodies!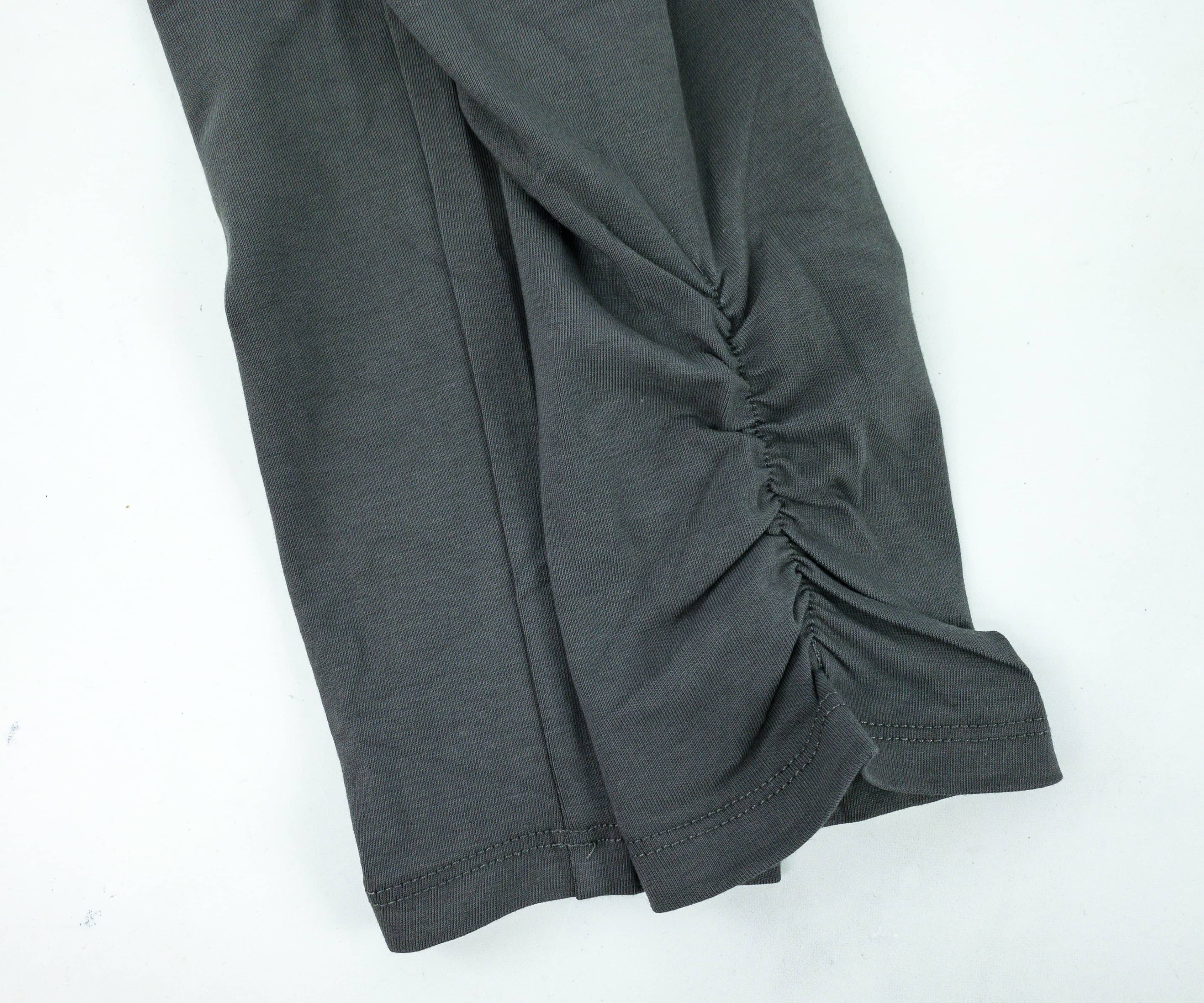 The sides have a ruffled detailing that adds charm to the otherwise plain piece.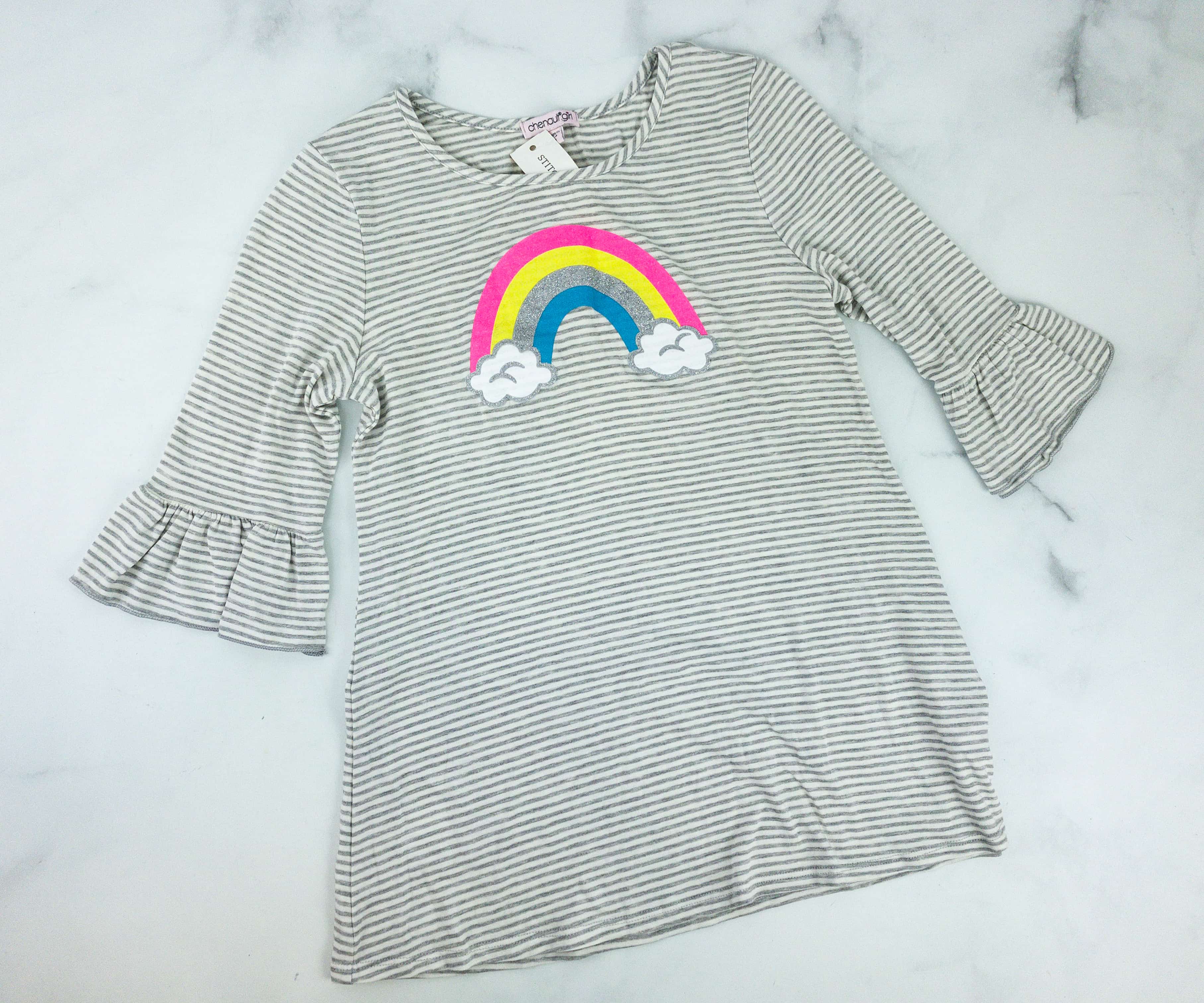 Chenault Girl Raney Ruffle Sleeve Graphic Knit ($18) This graphic knit tee is perfect with the legging. It features white and grey stripes plus a nice fit!
In the middle of the shirt is a rainbow print. So cute!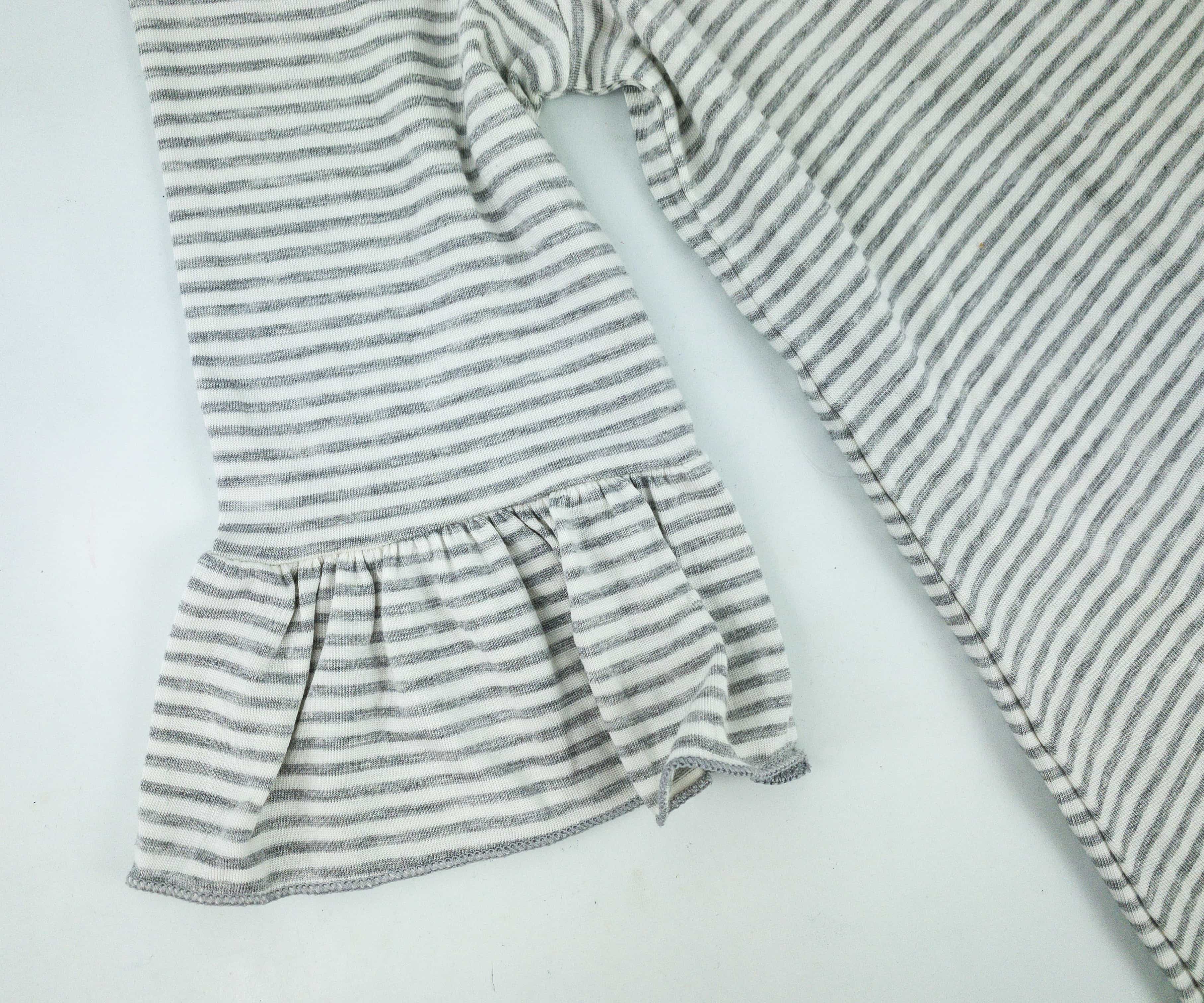 The ruffle sleeves give the top a feminine touch!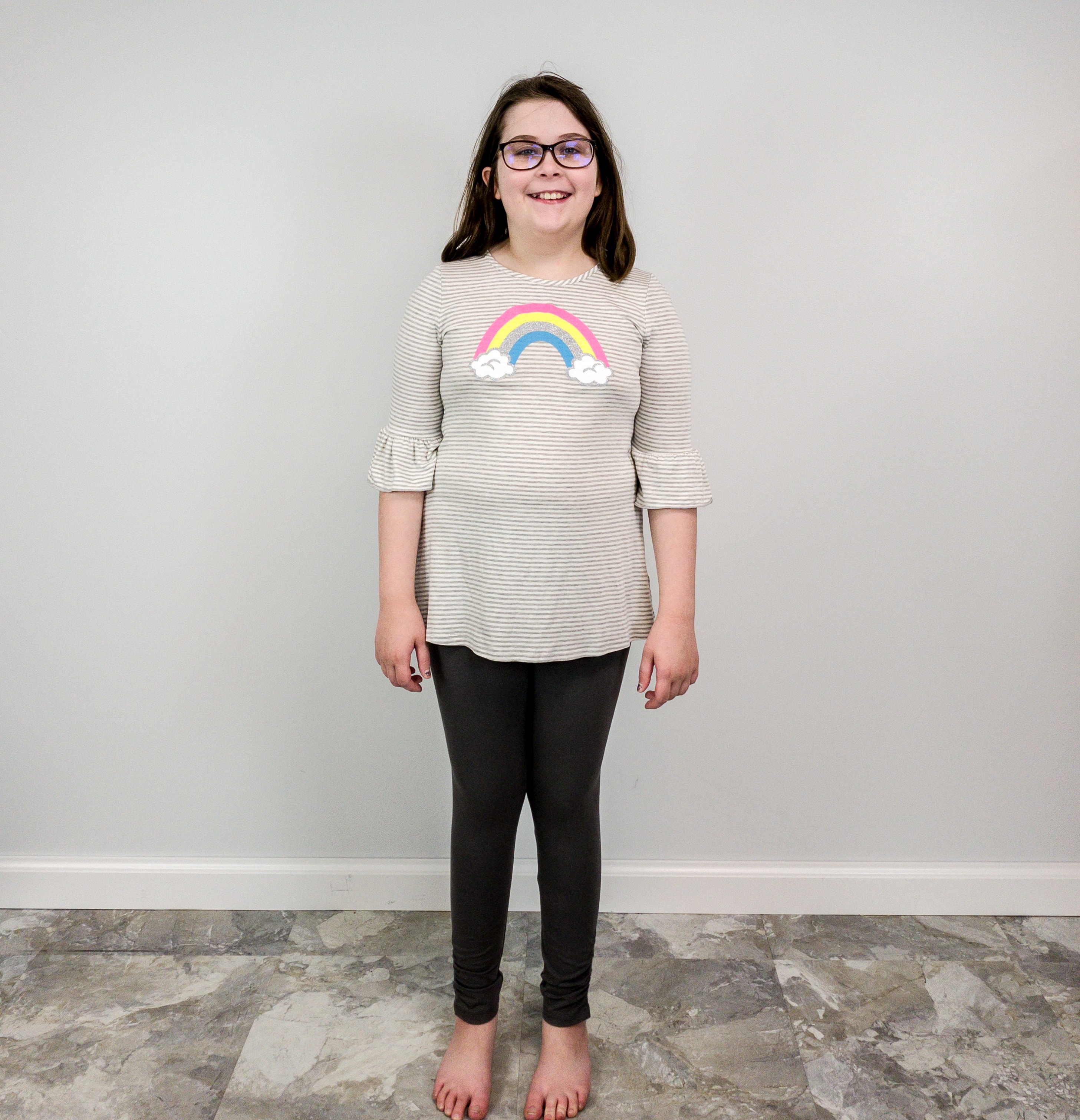 My daughter loves this ensemble. It's a great pair to wear for a fun and casual day out!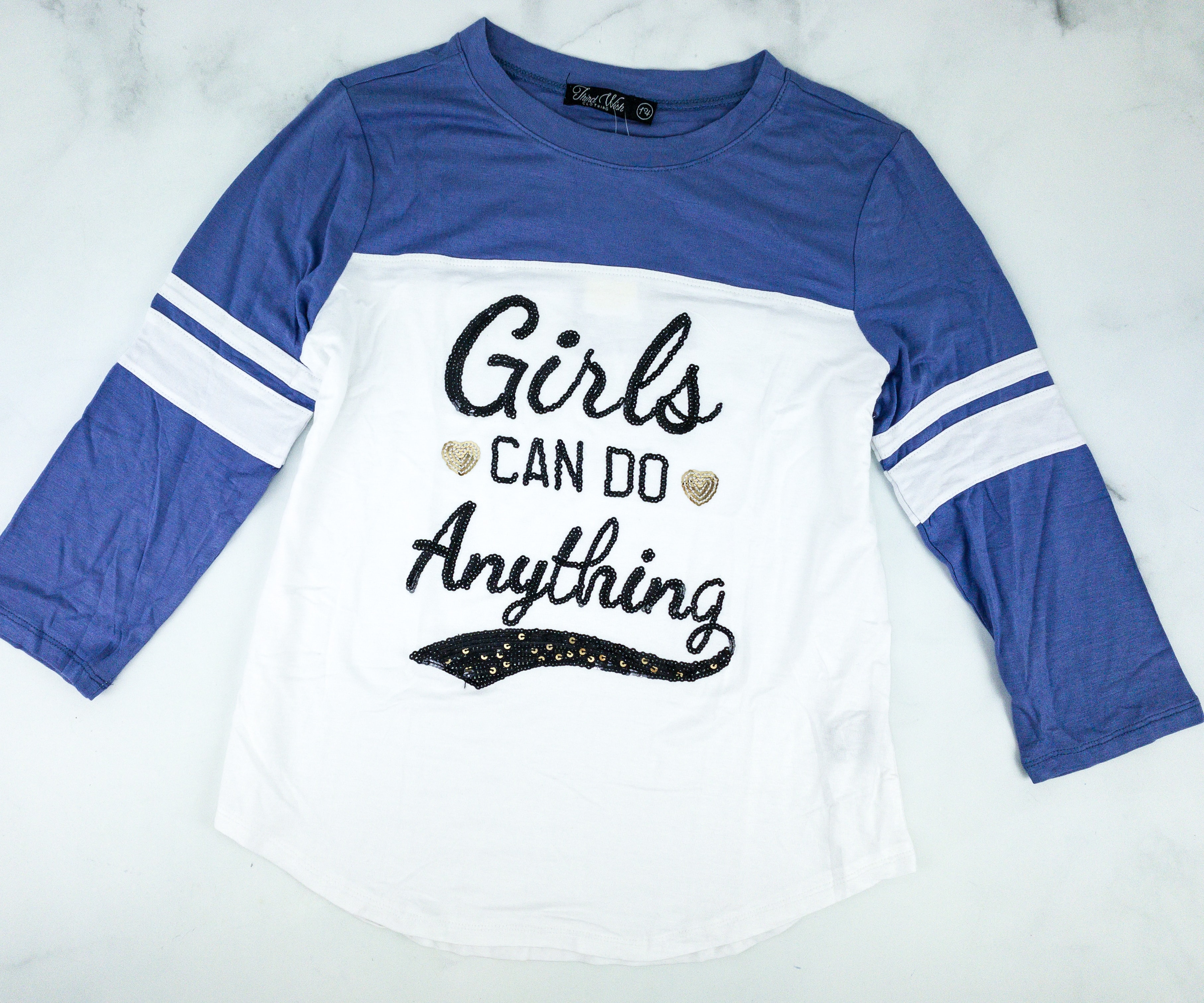 Third Wish Clothing Mollie Sequin Graphic Tee ($18) It's a sporty top featuring raglan sleeves, with a cute twist because of the sequined details!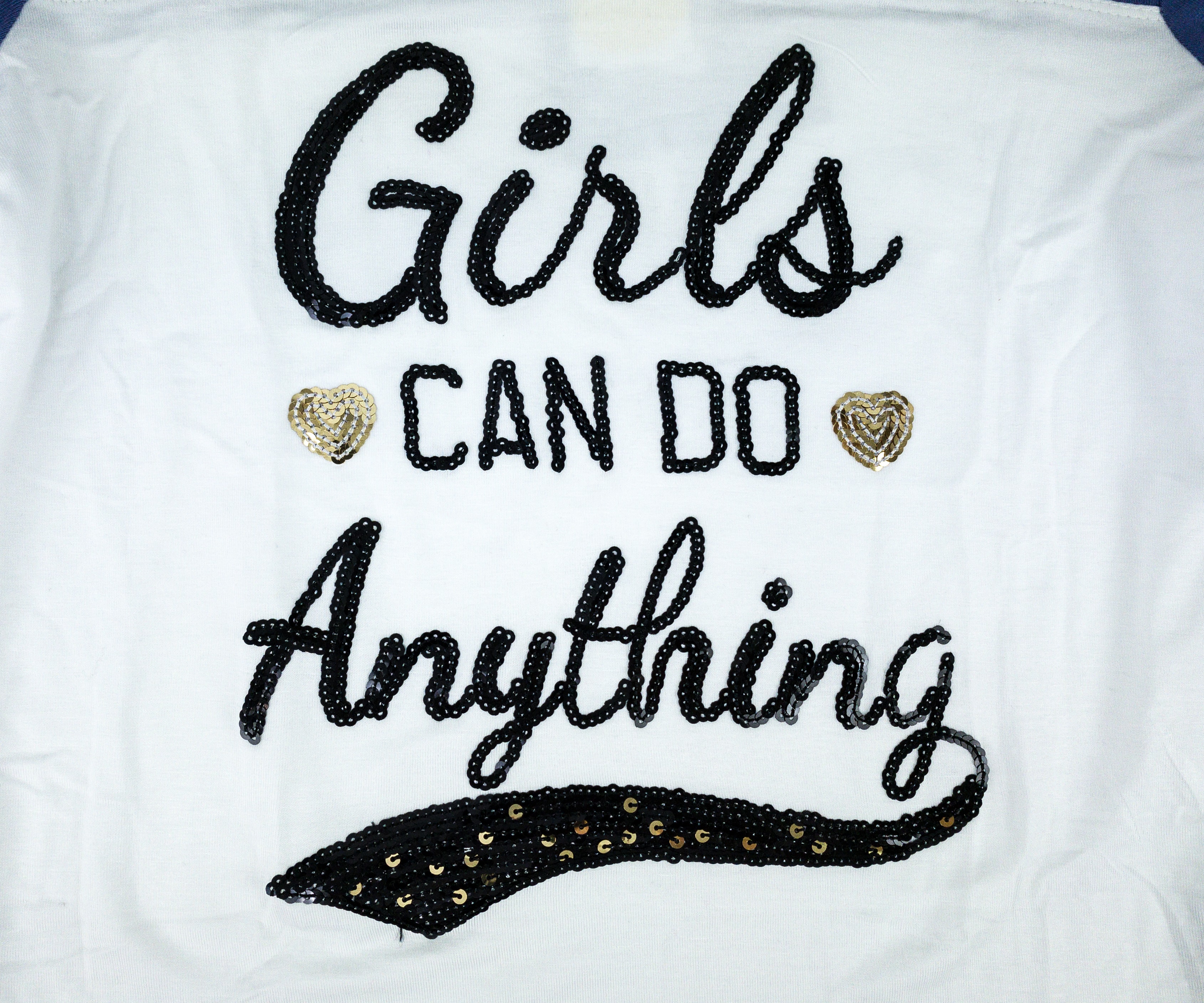 It says "Girls Can Do Anything", and we totally agree! It's mostly in black, but there are also gold-colored sequins for accents.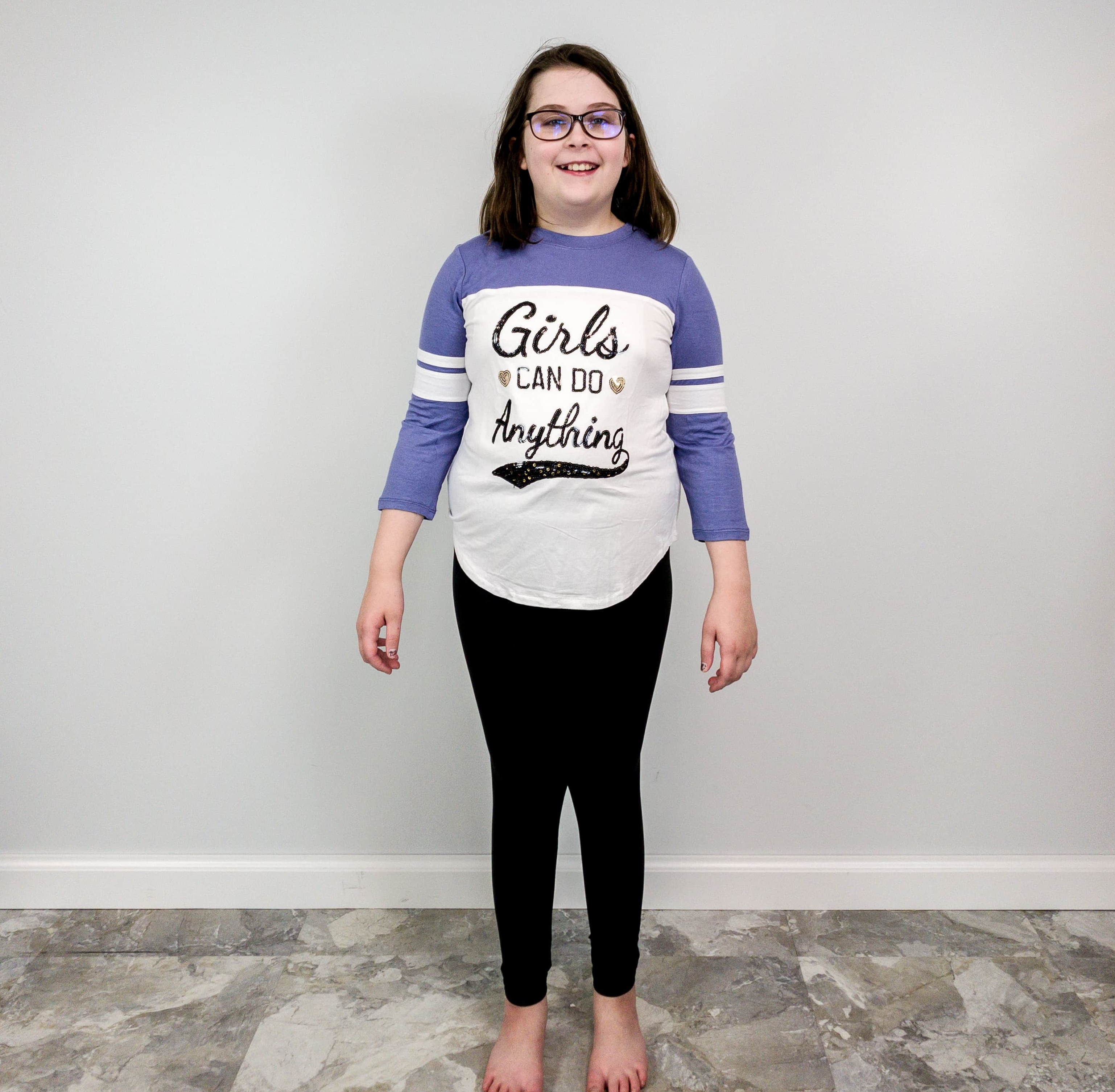 My daughter tried it on with the leggings. It's another fantastic outfit combination!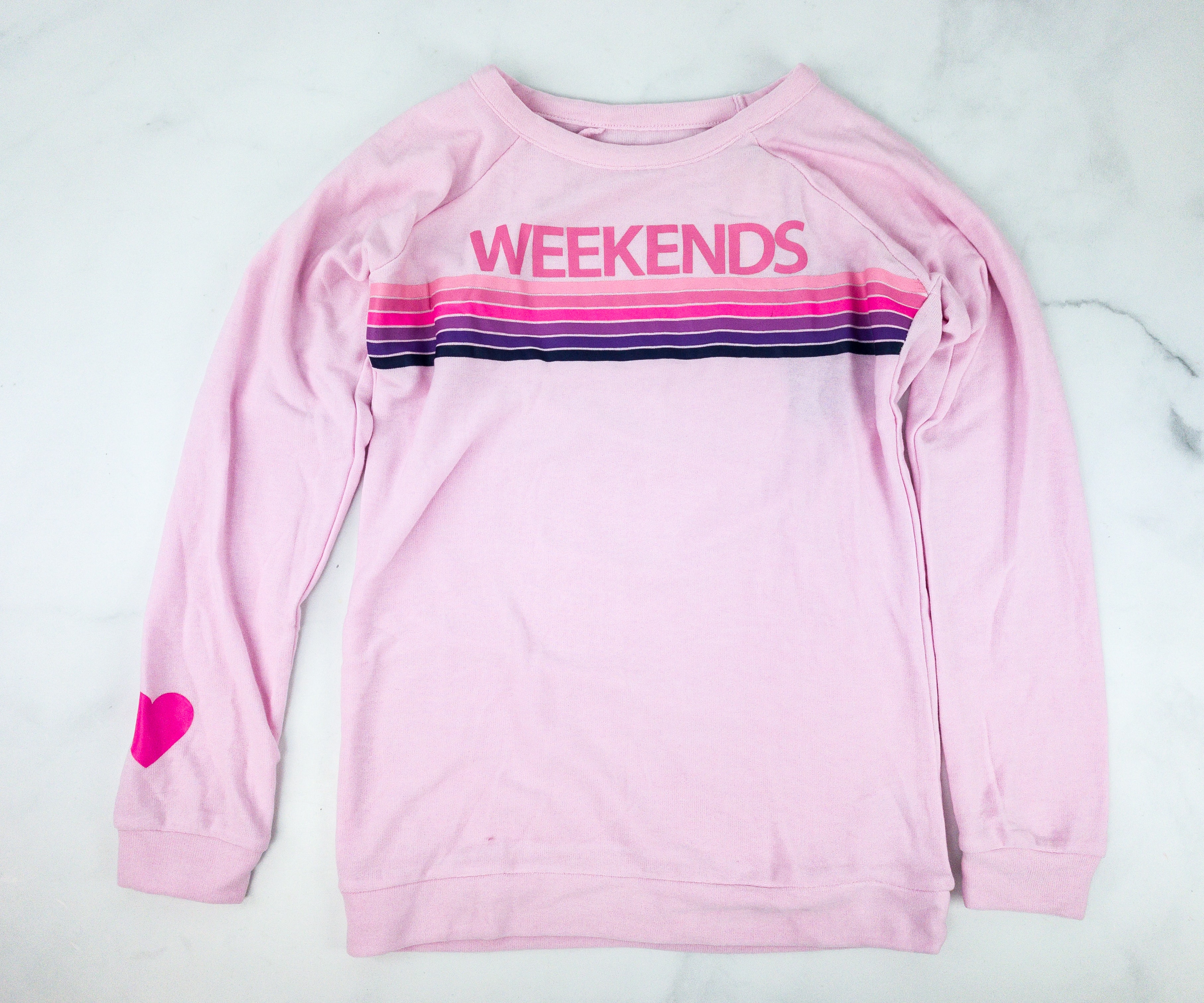 Chaser Abriana Graphic Pullover ($22) This pink pullover screams cute and comfy! Weekend or not, it makes a nice outfit with leggings or even jeans.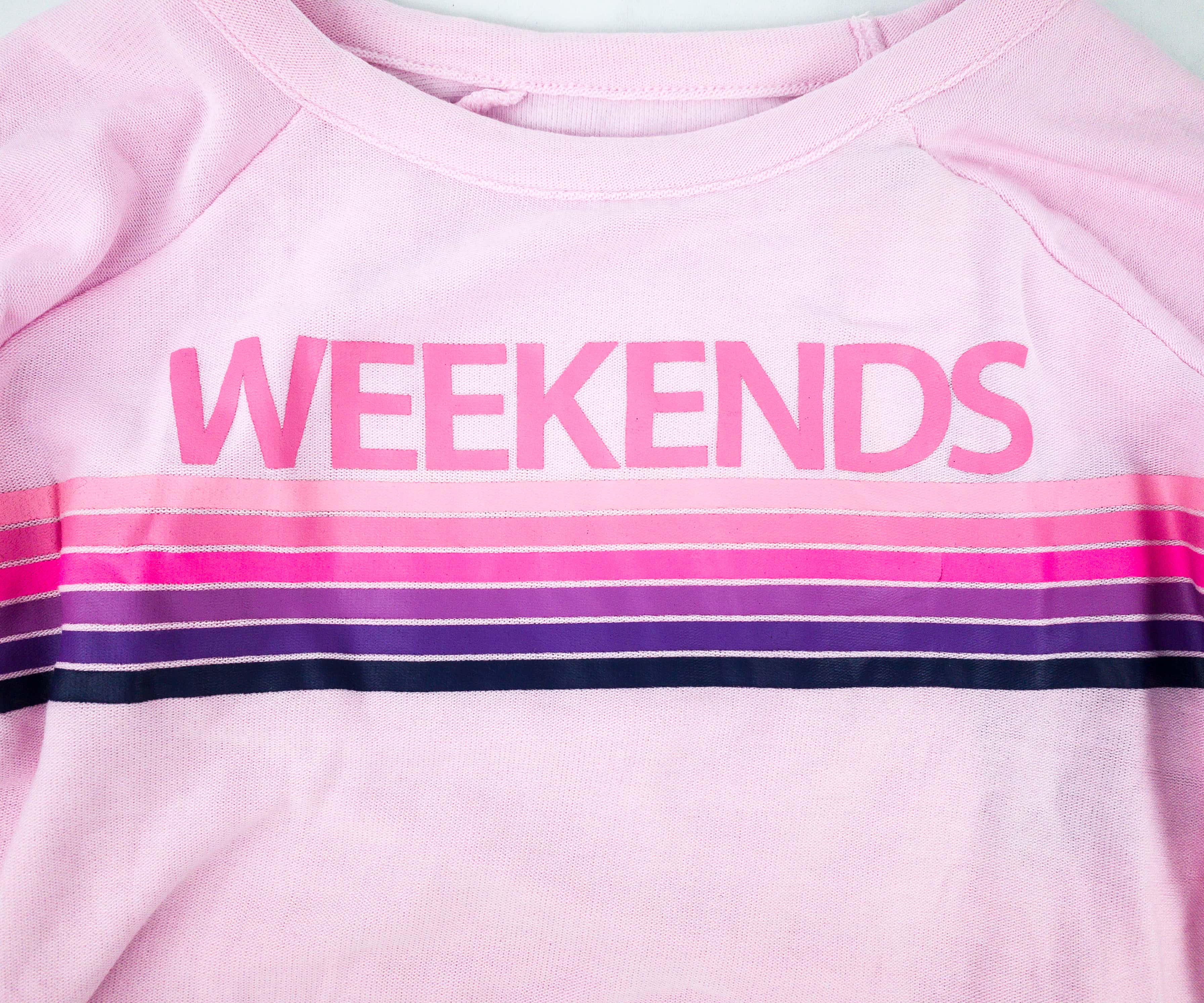 Aside from the "Weekends" print, it also comes with stripes across the chest.
Here's another cute detail, a bright pink heart near the cuff of the sleeve!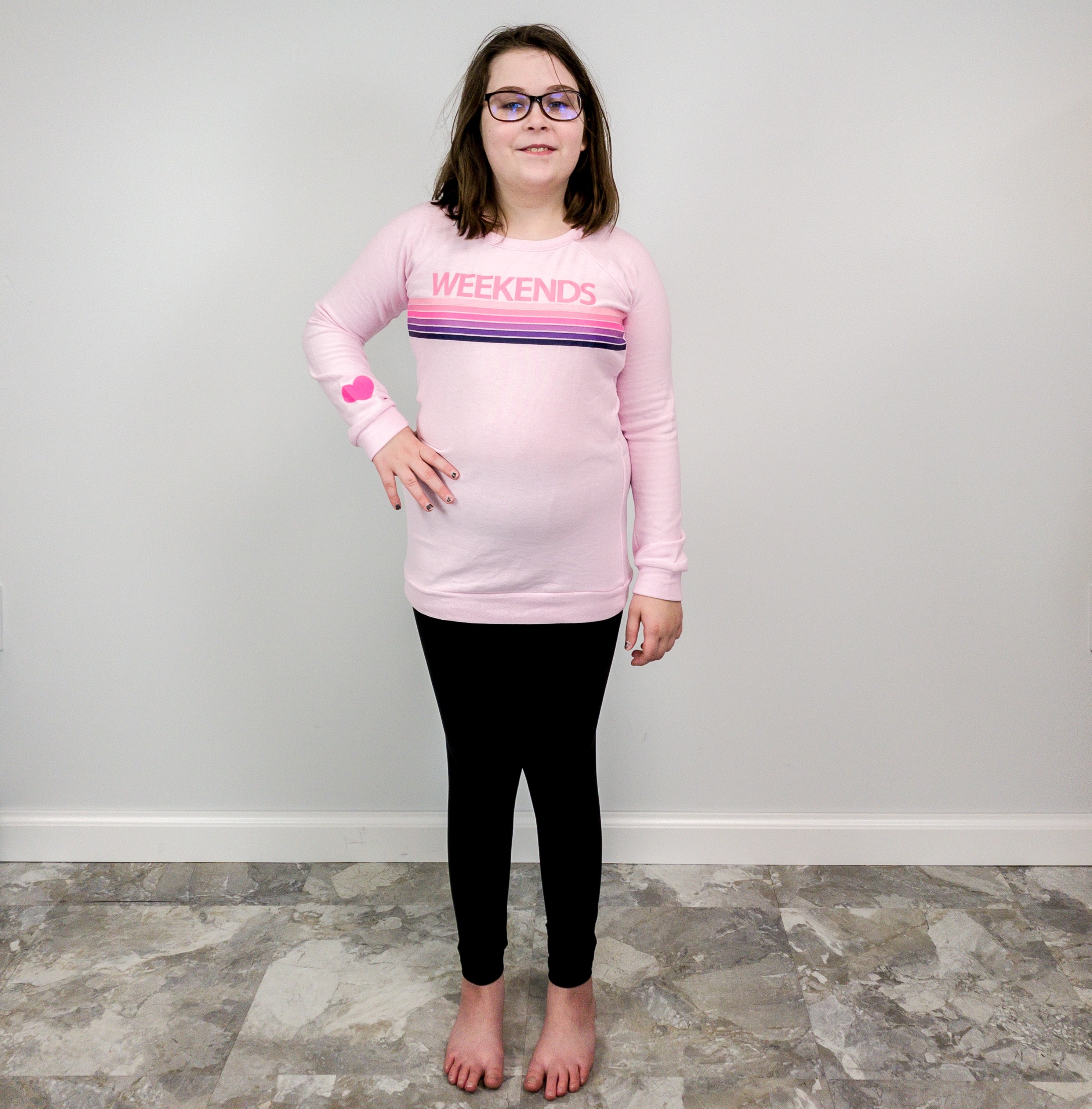 Pretty in pink! It's another hit with my daughter!
Moon & Stars Meaghan Legging ($12) Here's another legging, and this time it features floral prints. The fit is nice, and the fabric used is warm but comfy.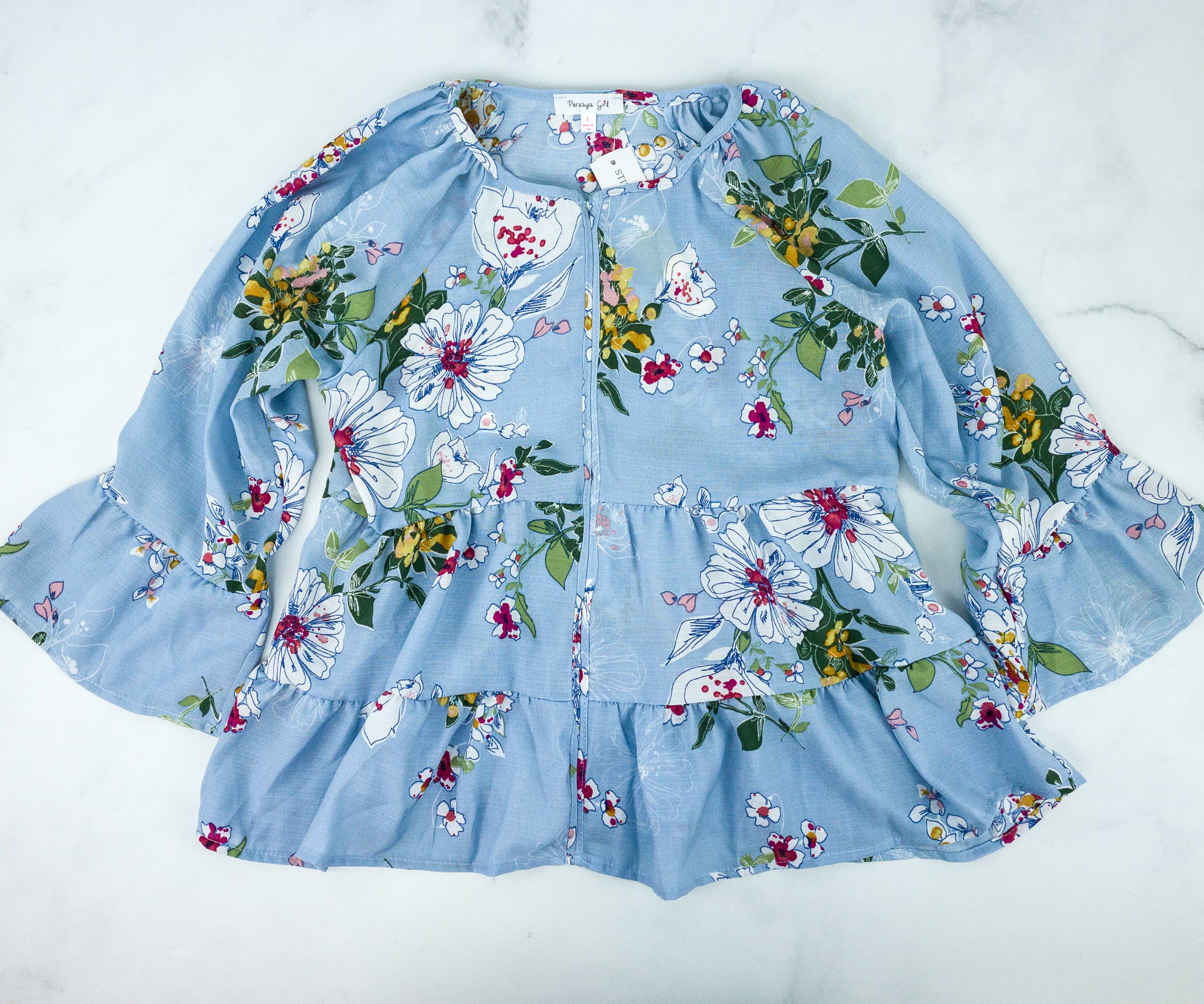 Persaya Girl Tatiana Bell Sleeve Woven Top ($20) Floral pieces never go out of style! My daughter got another one, a woven top featuring bell sleeves.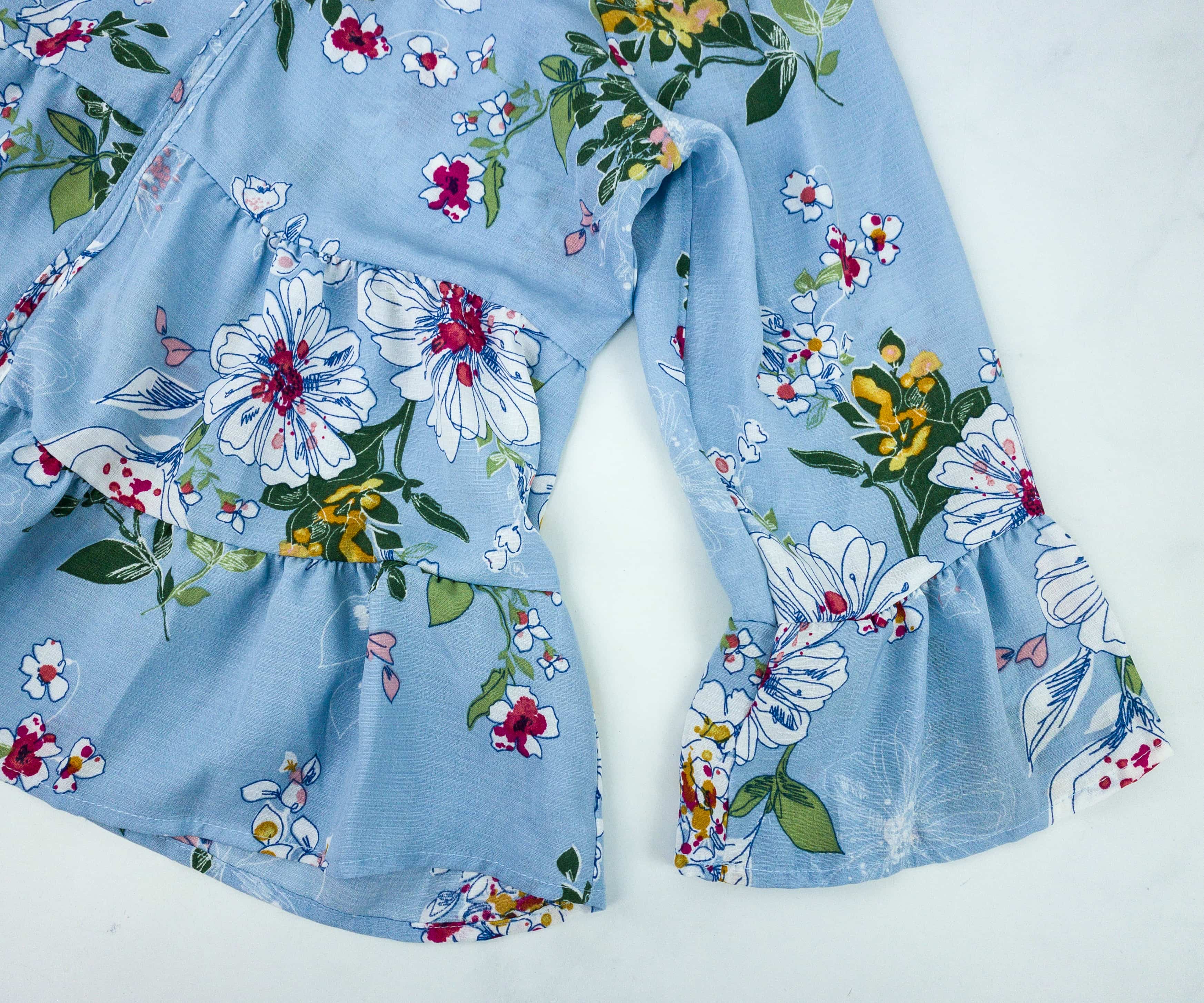 It's such a chic top. The floral prints are laid out nicely on the light blue background!
My daughter tried on the floral pieces together and they looked good!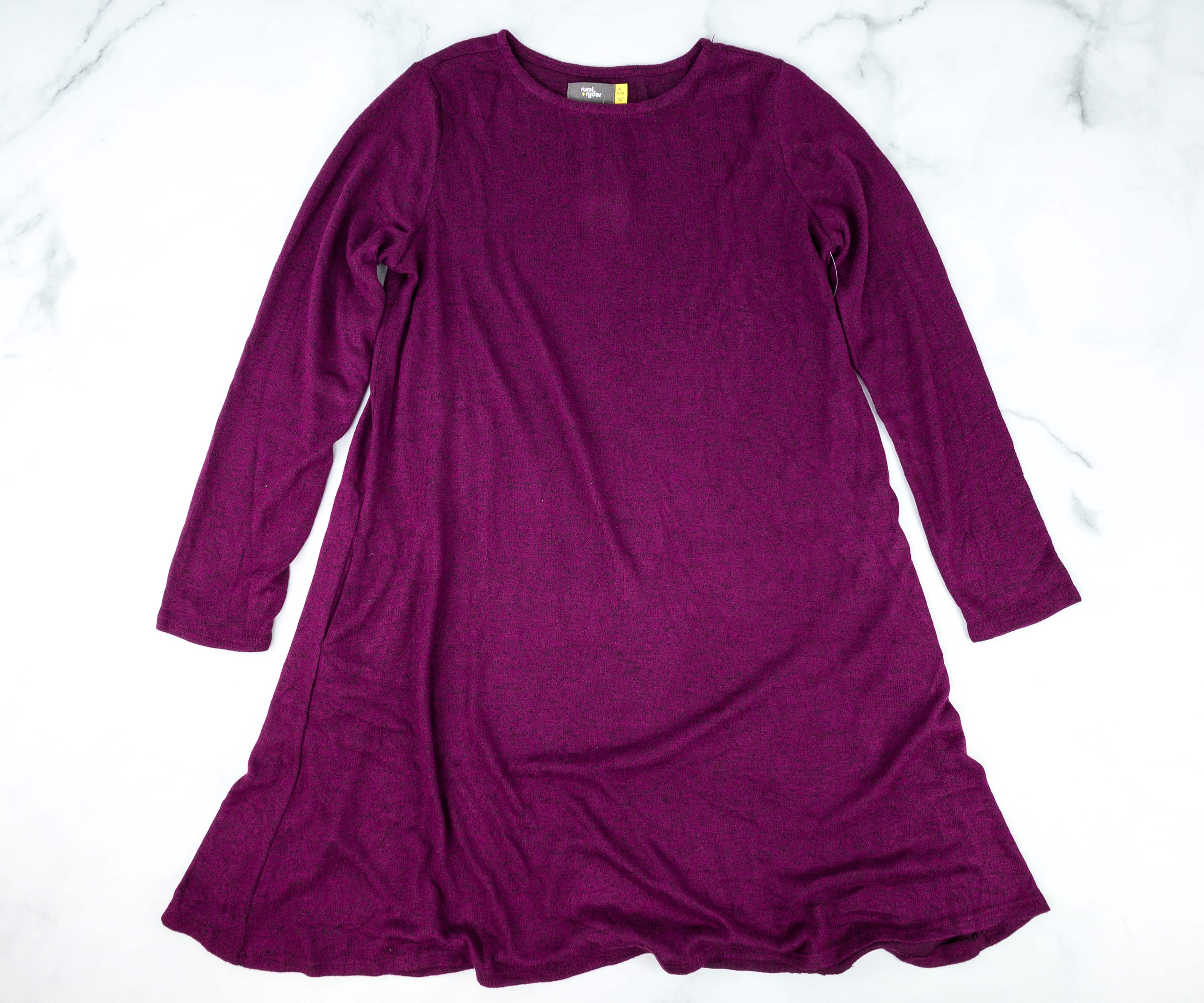 Rumi + Ryder Demmi Hacci Swing Dress ($24) Of course, they didn't miss out on comfy dresses for my daughter. This one is a swing dress in deep purple!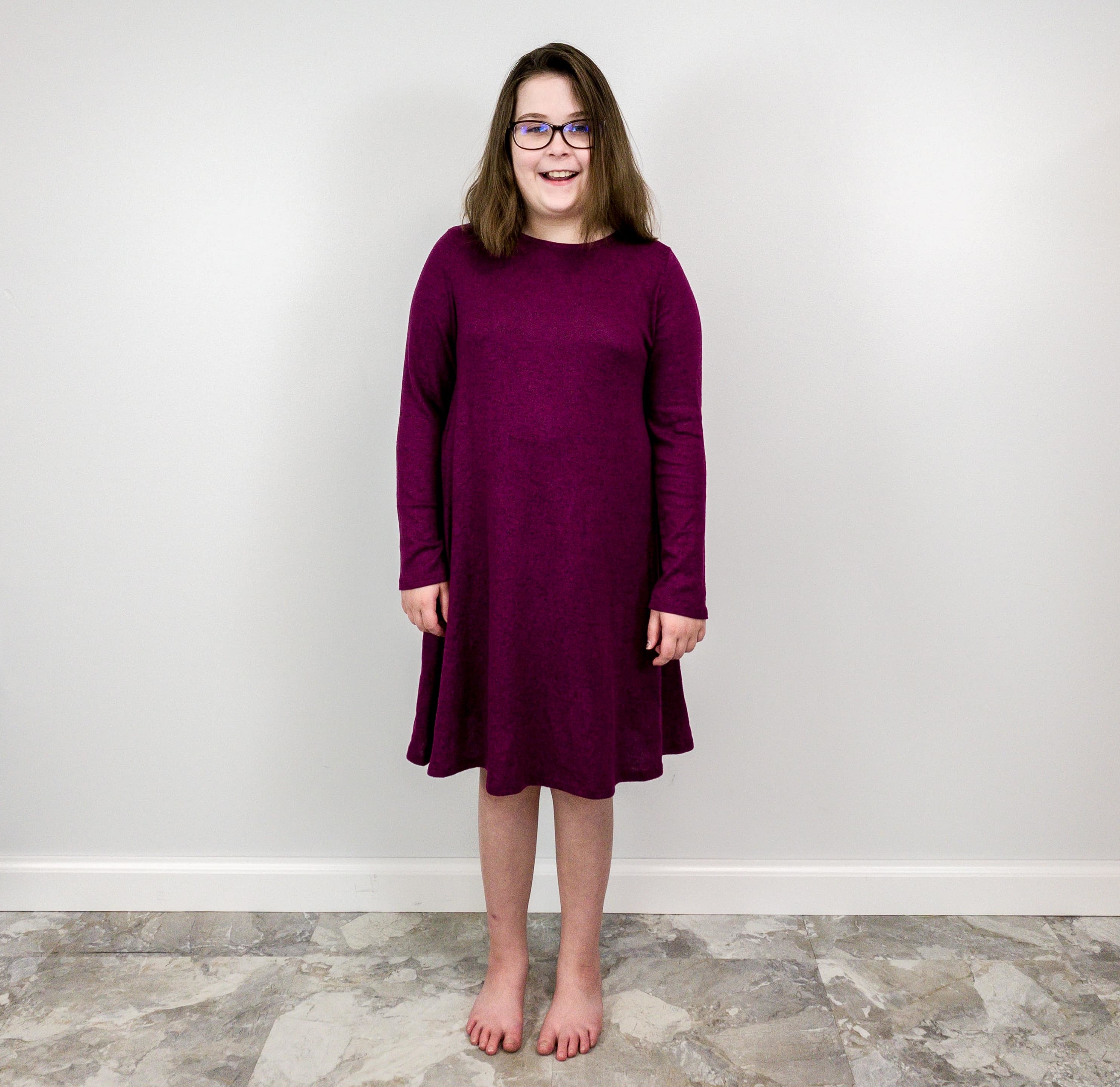 The length is just right, it reaches her knees and she's able to move around freely while wearing it. The dress also features long sleeves, ideal for cold days.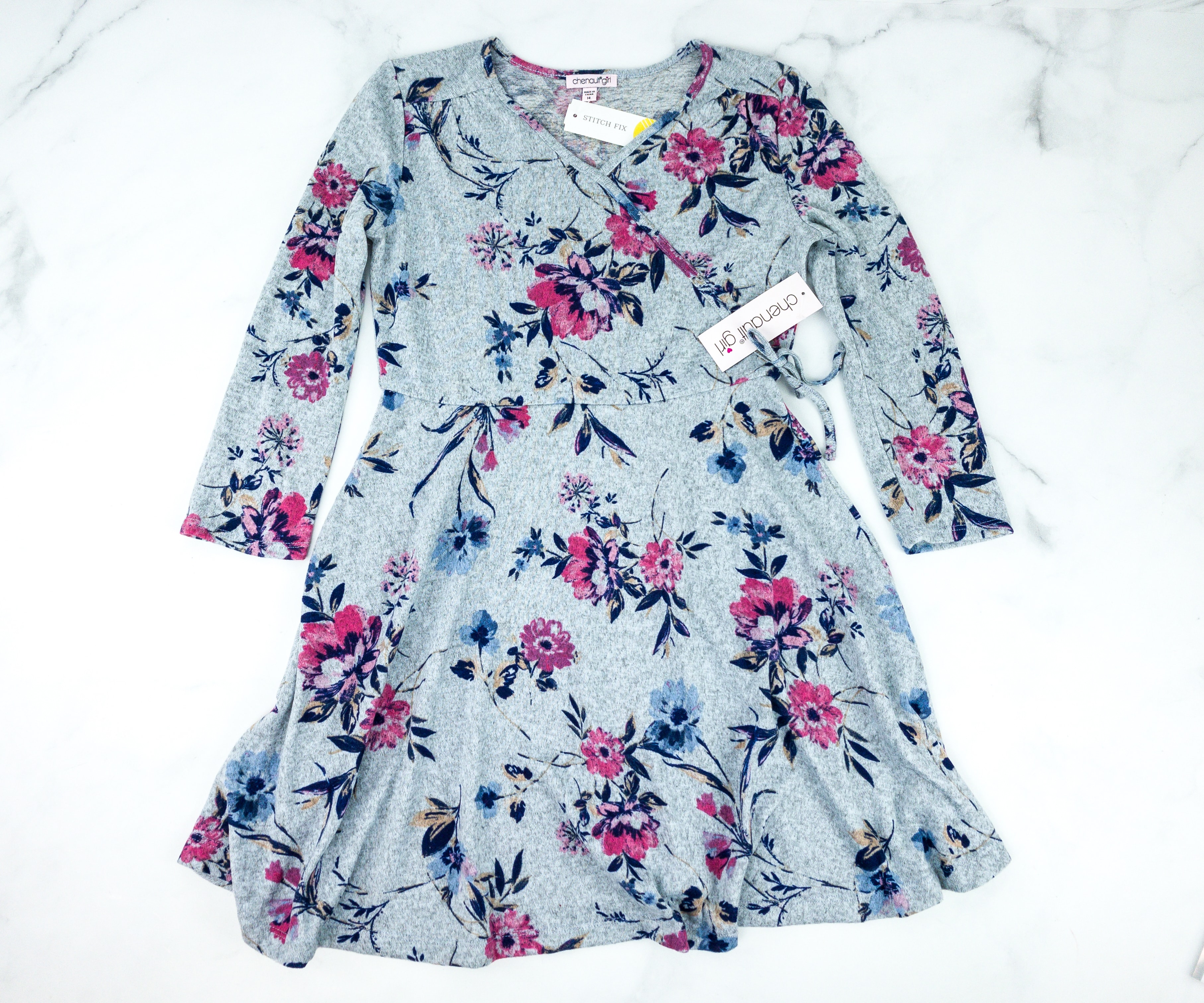 Chenault Girl Gabriella Faux Wrap Dress ($26) We also got a wrap dress in gray with floral details. The material is soft and lightweight!
The design makes it look like the dress is wrapped around the wearer. No worries because it's properly stitched.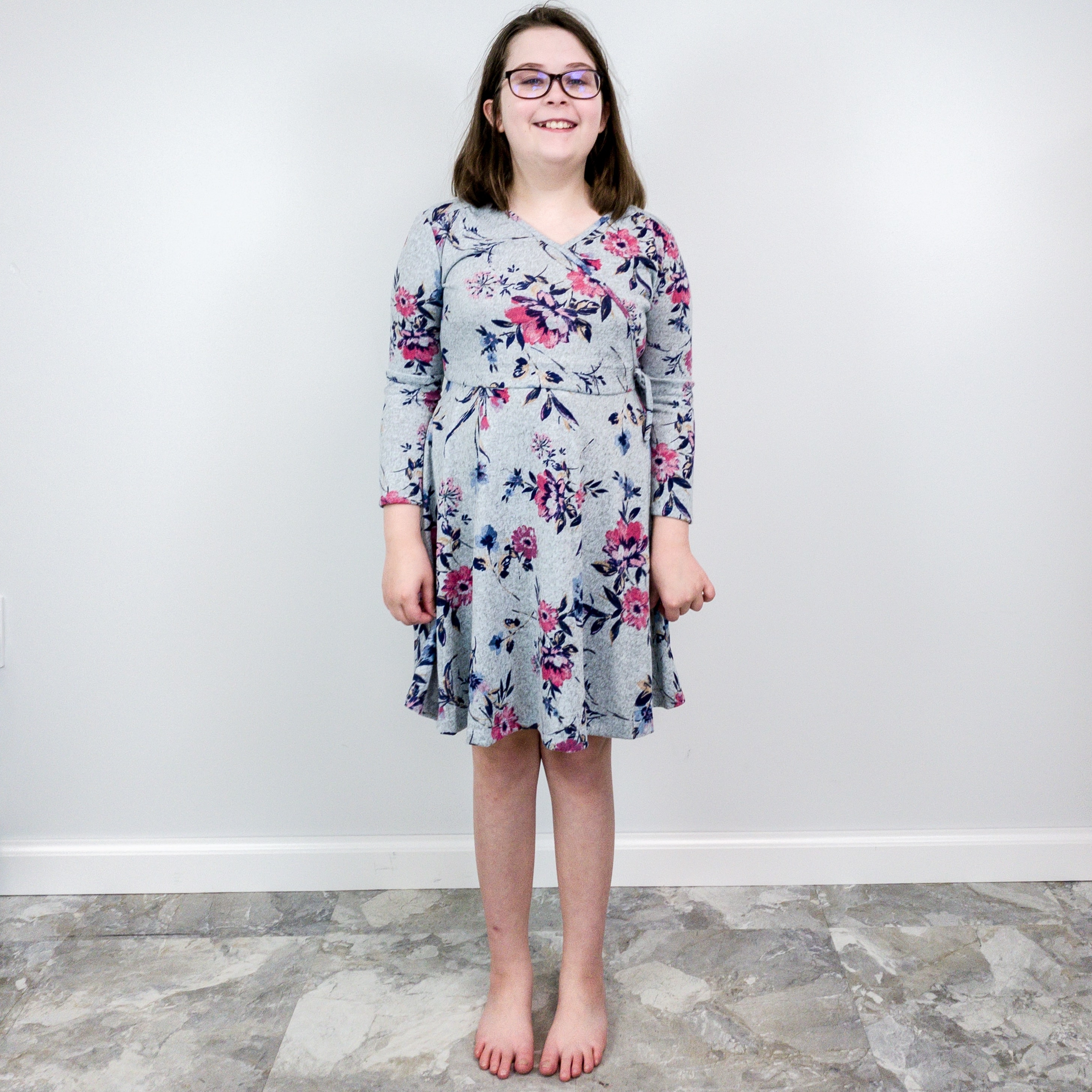 It's a bit shorter than the long-sleeved dress but still cute and comfy to wear.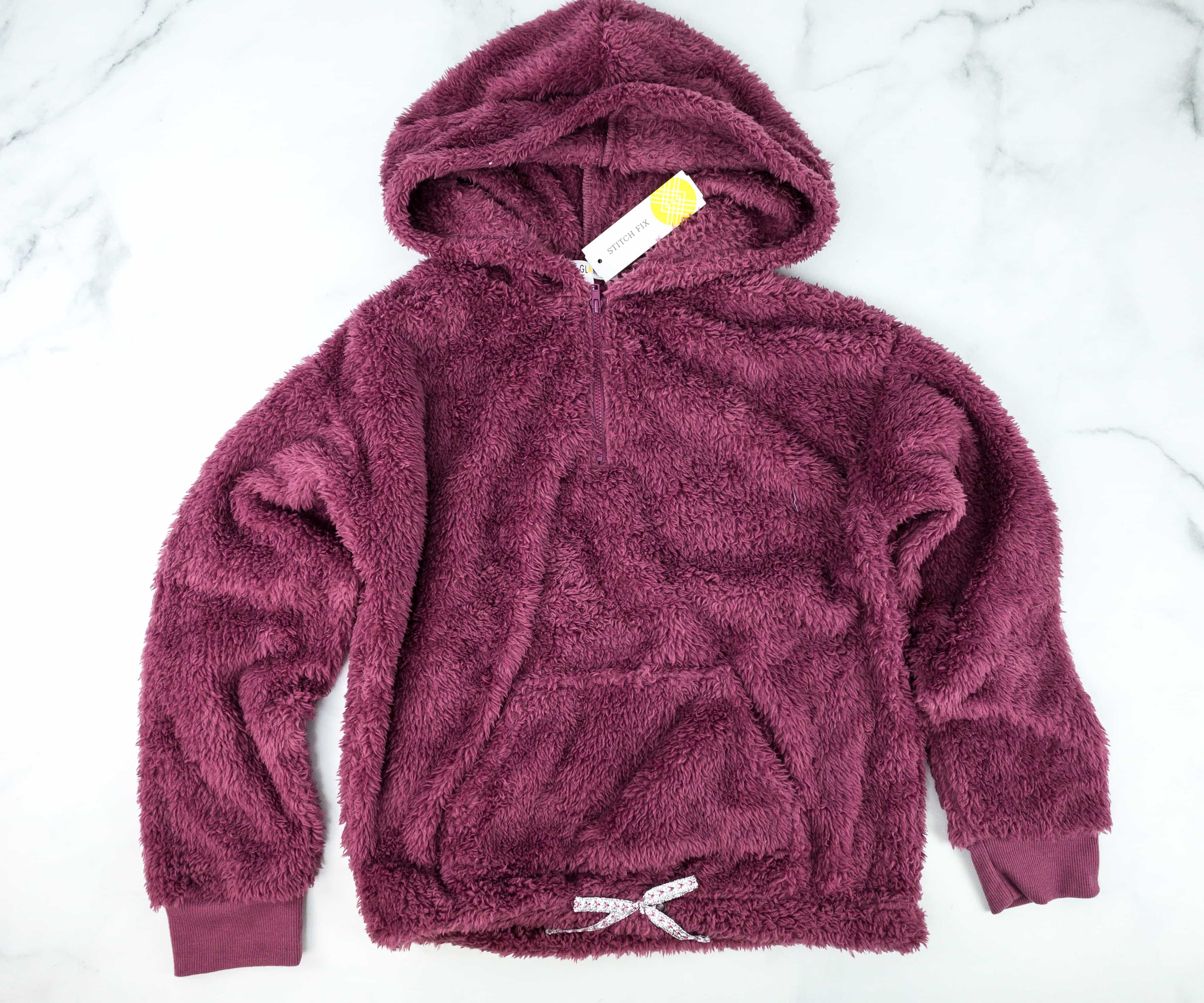 Love Glam Girl Tammy 1/4 Zip Fuzzy Pullover ($24) This is undoubtedly our favorite piece from this month's fix! It's a pullover made with a fuzzy material that makes the wearer so cozy and relaxed!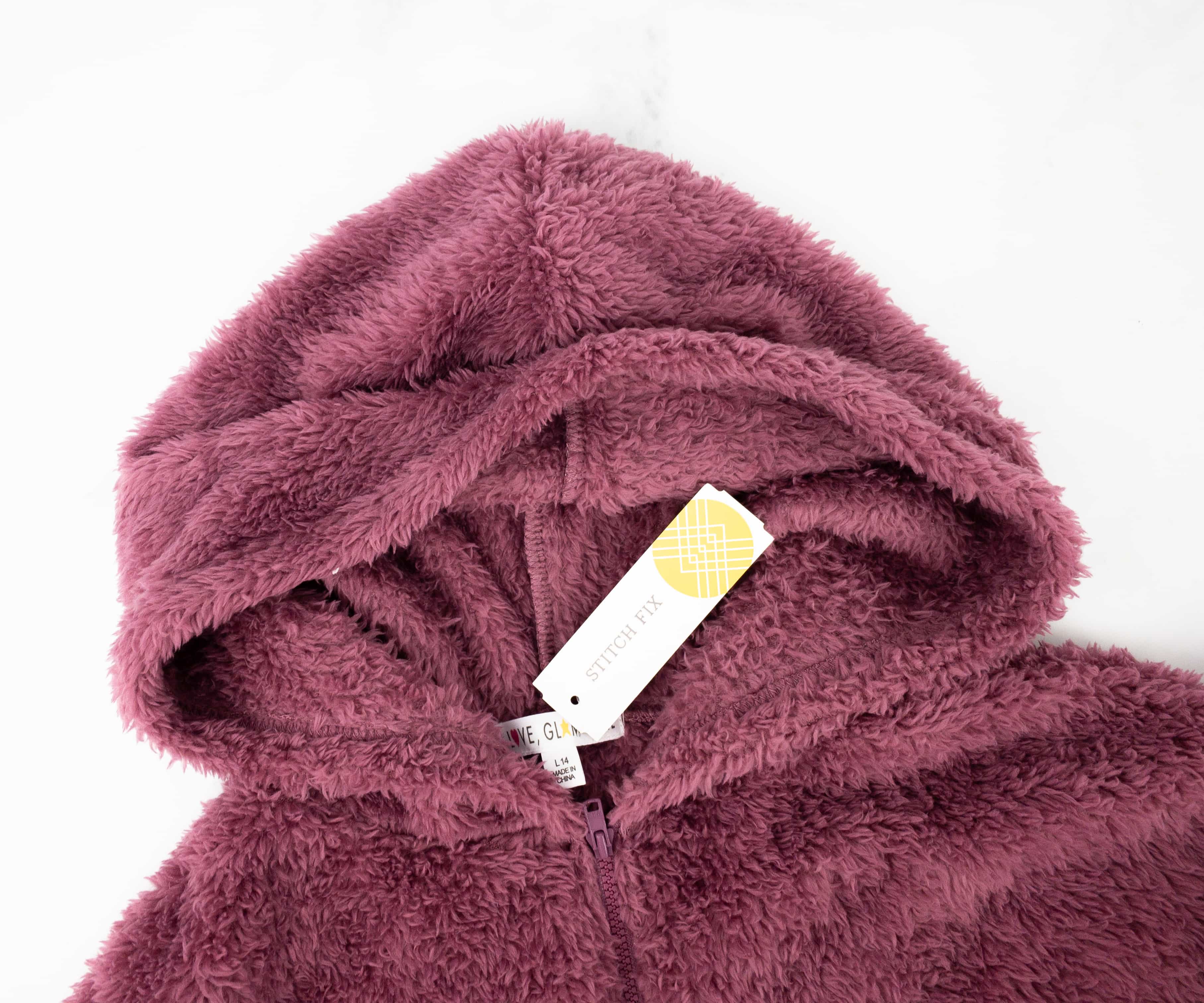 The brownish-red pullover also features a hood to keep my daughter's head warm.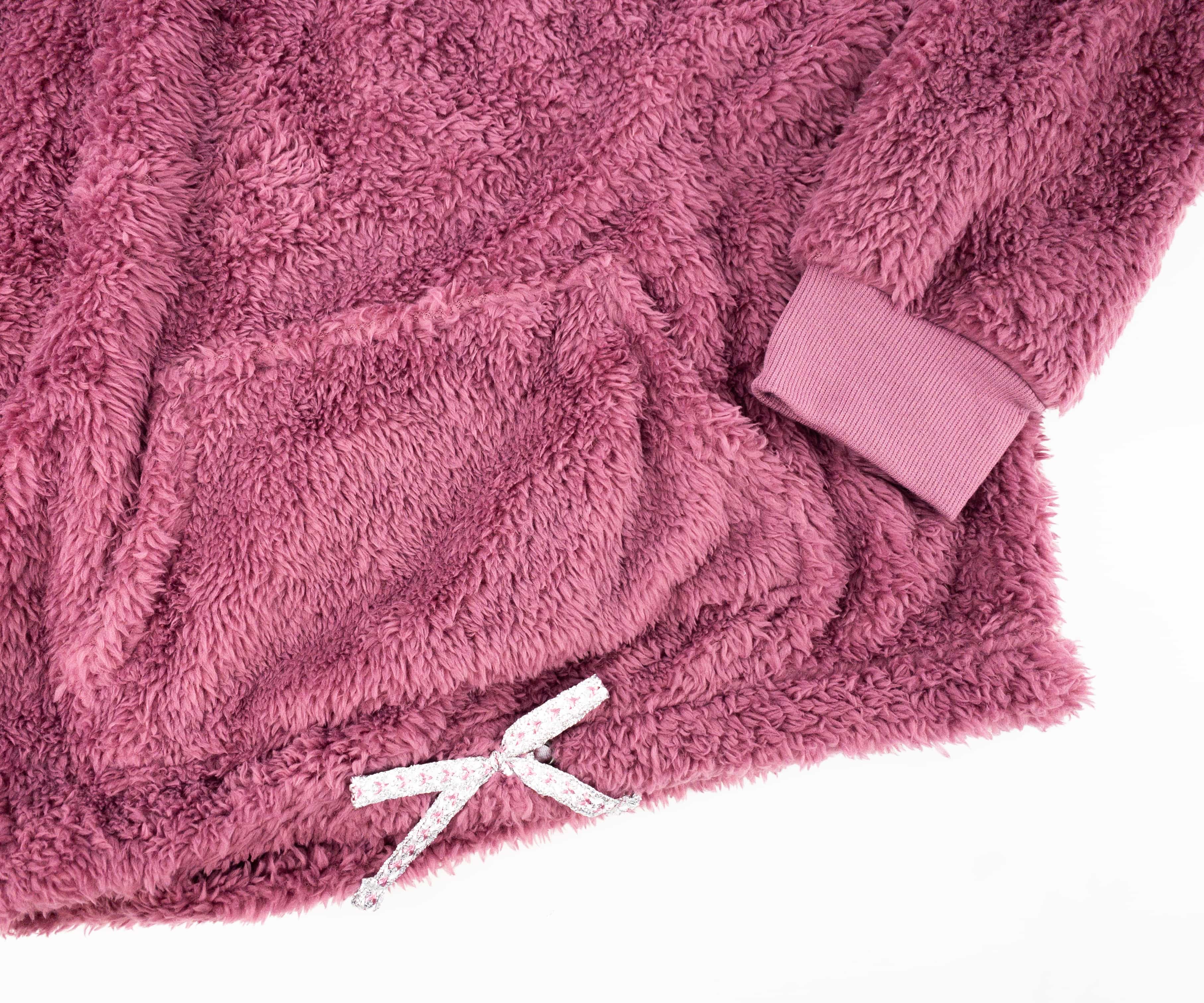 The ribbon detail on the hem adds a touch of cuteness to the piece!
My daughter is so ready for colder days ahead!
It's another box filled with fun clothing pieces for my daughter! Everything fits her style, from the comfy tops to the cute dresses. The gray and floral leggings are a hit with her as well. Stitch Fix Kids is a great subscription if you want new pieces for your child's wardrobe without having to go through physical shops or spending a fortune. In case anything in the fix doesn't fit, the clothes are also easy to return. Overall, we're super pleased with this collection and we can't wait for more season-appropriate pieces in the future boxes!
What do you think of Stitch Fix Kids?