Spiritual Guru box is a new monthly subscription box of spiritually inspired items specifically picked to enhance your spiritual experience. Each box will contain a mix of 5-7 items that can include: spiritual or growth tools, a high vibration crystal or stone, essential oil spray or roll on, scented candle, boho jewelry, mala beads or other adornments, figurine or other mystical items. Many of the products are made by skilled artisans, natural or organic, cruelty-free, and eco-friendly. The box is 100% vegan and cruelty-free.
Every new subscriber will receive the initial "Raise Your Vibration" themed box. Previous boxes are also available as one-time purchase in their store.
Everything is wrapped with a "Sending Good Vibes" sticker.
This month's theme is Moon.
Every month, we receive our personalized oracle card and if you feel attracted to the deck, the introduction card tells us what deck it is from. This month is from the The Moonology Oracle Deck.
My card is the Full Moon , or Surrender to the Divine. Such a lovely and full of soothing energy card.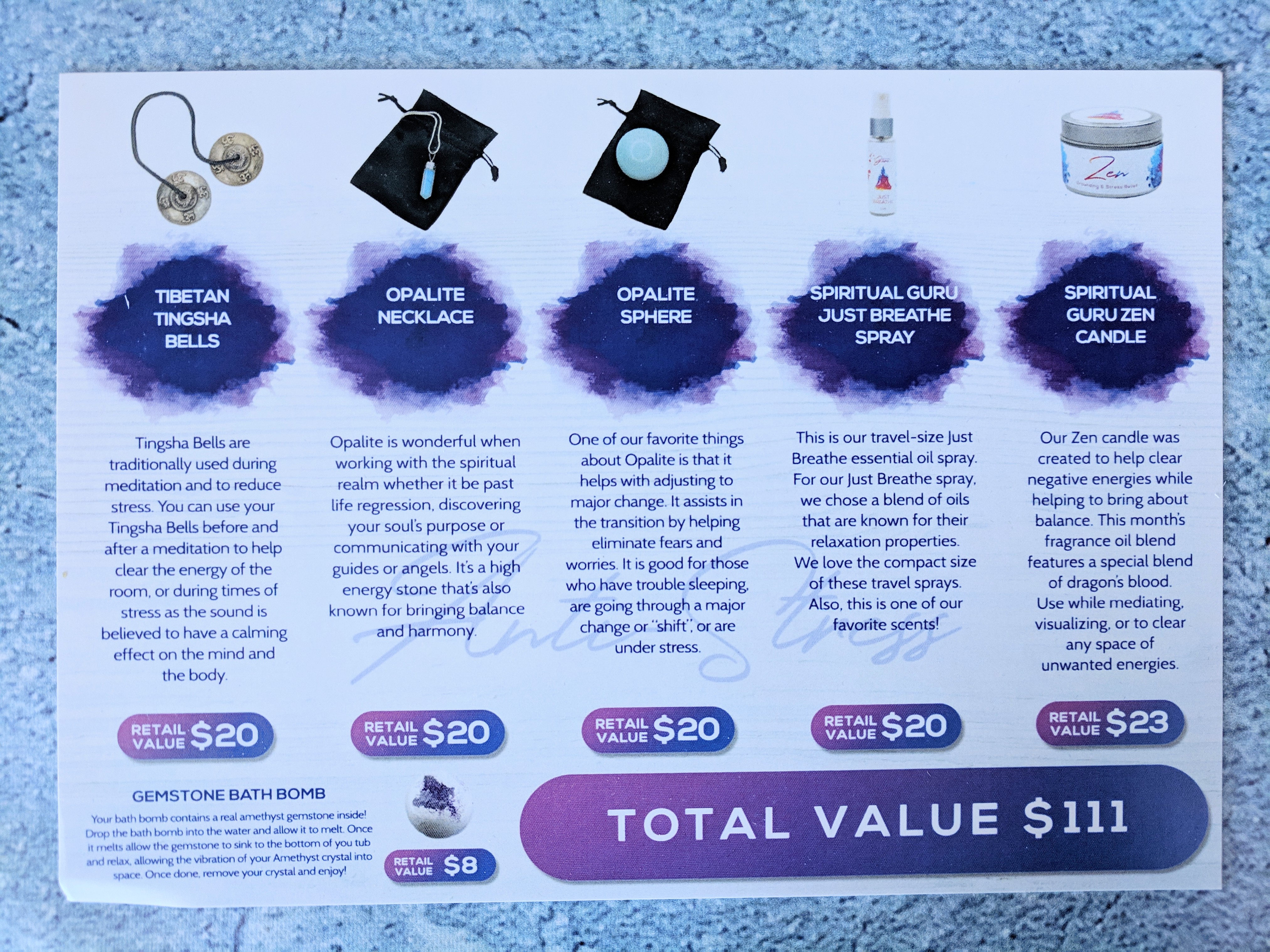 The information card details everything about this month's items.
Spiritual Guru Box Moon Spray. I like the scent, but I feel like they have change the formula a bit and the scents are stronger now and they feel more like perfume than room spray.
Moonstone Bracelet. I love the blue shimmer you can see through the pure white of the stone. Moonstones are the perfect stone harness the energy of the moon in a very soothing way.
It reminds me of snow under the moonlight.
Rainbow Moonstone Pendulum. You can use a pendulum to ask questions, but also as a way to release energy. I like to meditate with one hanging over my open palm.
Rainbow Moonstone Palm Stone. I love Palm Stone as they are easy to carry in a pocket, keep in your palm while you are meditating, or just put it under your pillow. I love how this moonstone looks like ice.
It's weight is comfortable and it fits in the palm of the hand. It is sooooo pretty, I love it!
The last item in this month's box is this Moon Box. This box can hold intentions for a moon cycle, can serve as a travelling alter, or you can put everything you need for a ritual in a simple convenient place.
The box is quite roomy and I like to put a dark piece of fabric, velvet or suede, at the bottom to make it cuter.
Everything from this month's box fit inside of it.
Spiritual Guru Box is one of my favorite subscription box as each month we get to gather tools from different spiritual background or theme. I really enjoyed this month's theme as moonstone is one of my favorite stone (with labradorite and kyanite) and we received a nice variety of items featuring this lovely stone. They always manage to surprise me with items that I would have picked up for myself, but haven't yet. I love that we always receive a piece of jewelry so we can really dive in and focus on the theme of the box.
What do you think of this subscription? Let us know in the comments!