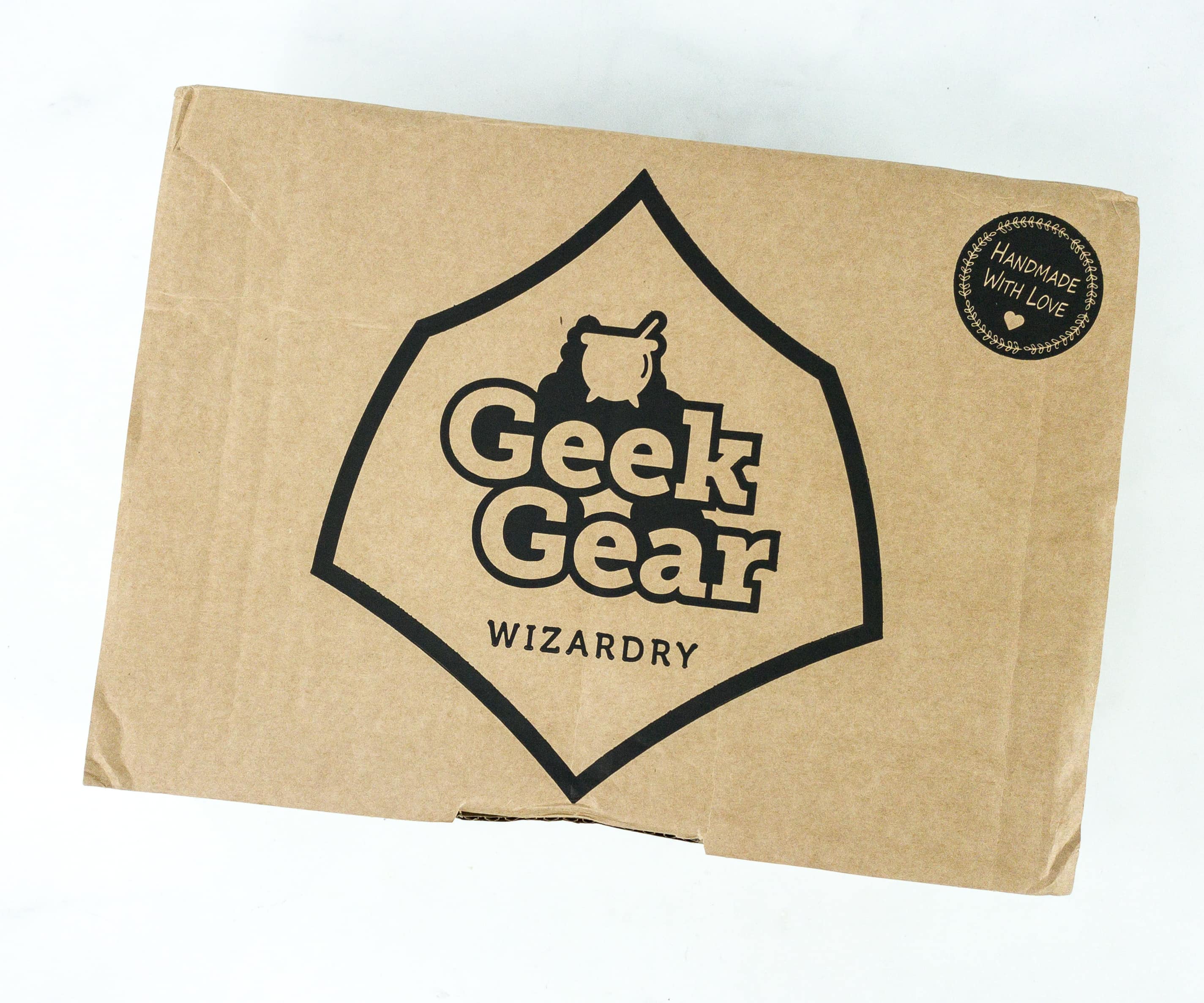 The Geek Gear World of Wizardry is a monthly Harry Potter themed edition subscription box. Every month, you'll receive a box filled with licensed or exclusive Harry Potter merchandise personalized to your chosen Hogwarts House, for only £24.99! 
DEAL: Save 15% off with code SPECIAL15!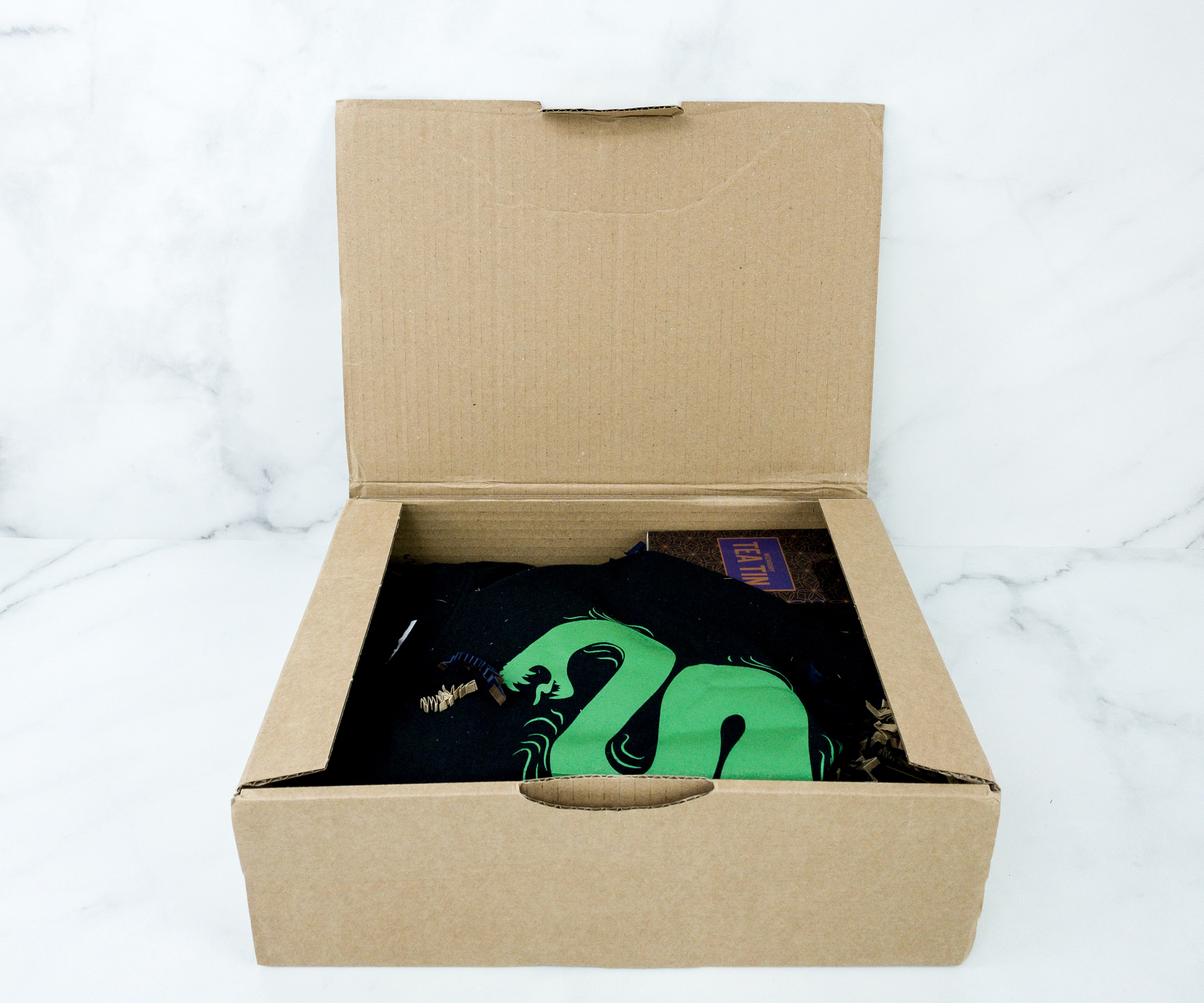 The items are packed with brown squiggles.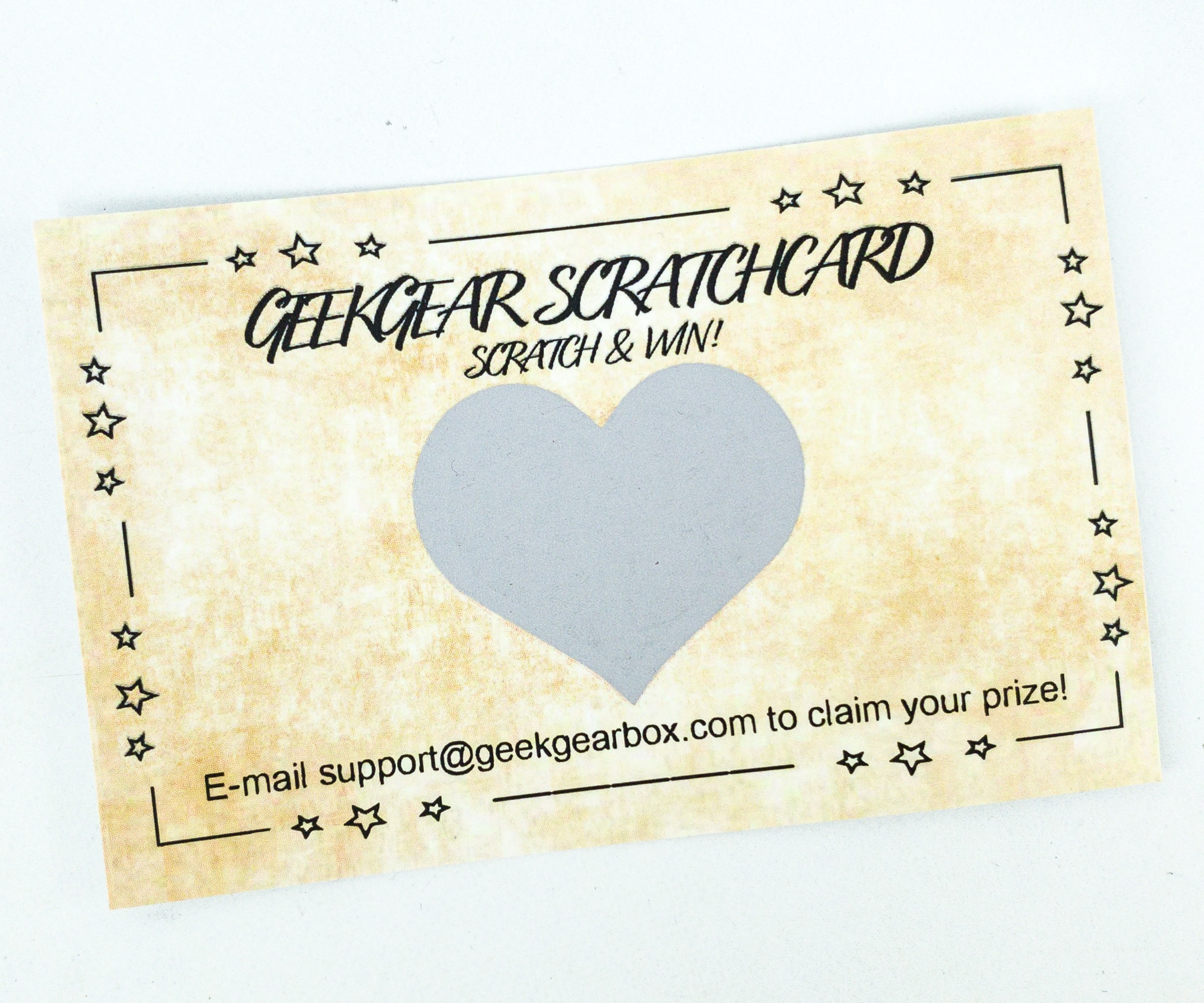 We also got a Geek Gear Scratch Card.
There's a letter with the Geek Gear branding that looks like a wax seal, but it's actually printed.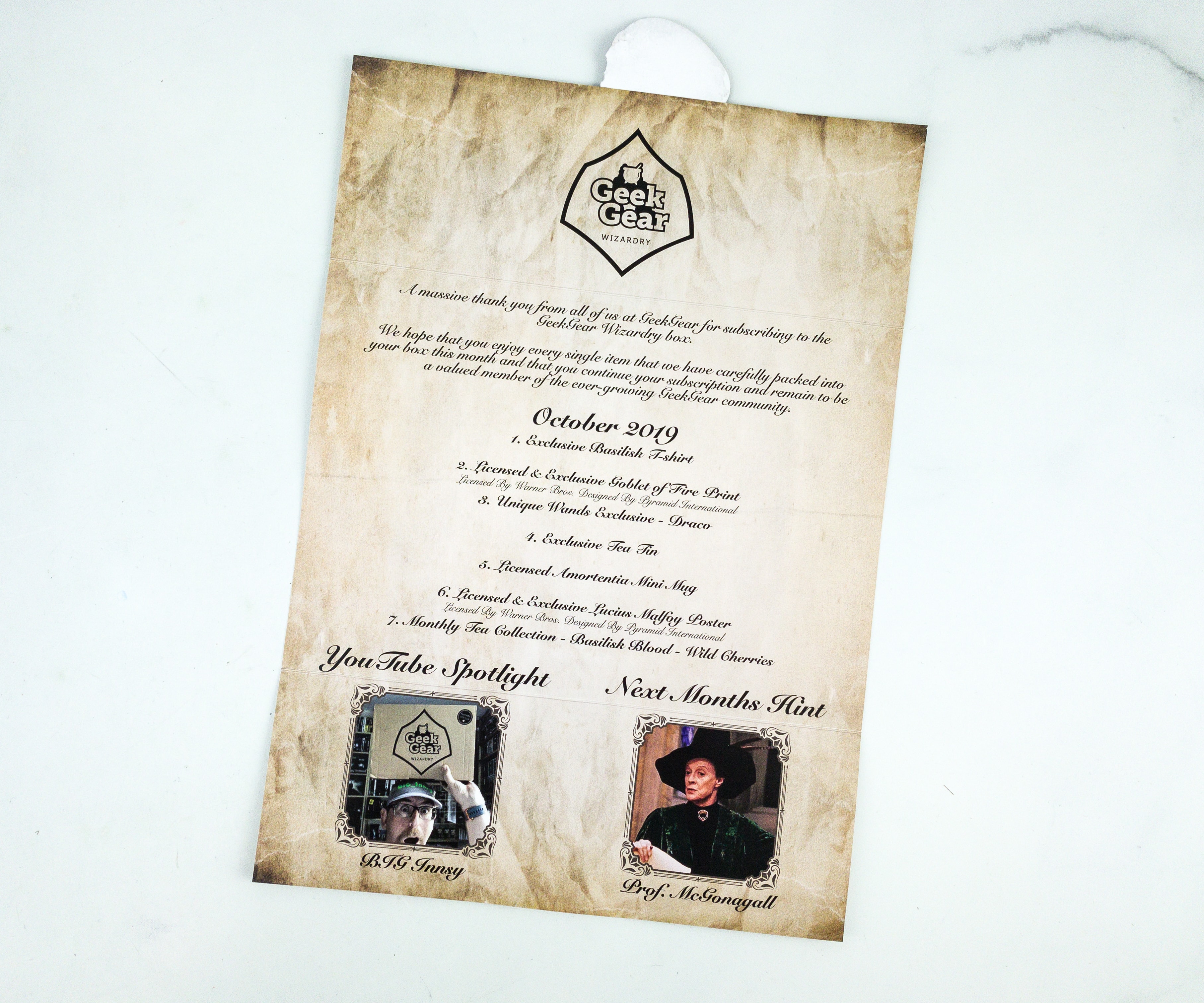 It lists all the items in this month's box, plus a YouTube spotlight.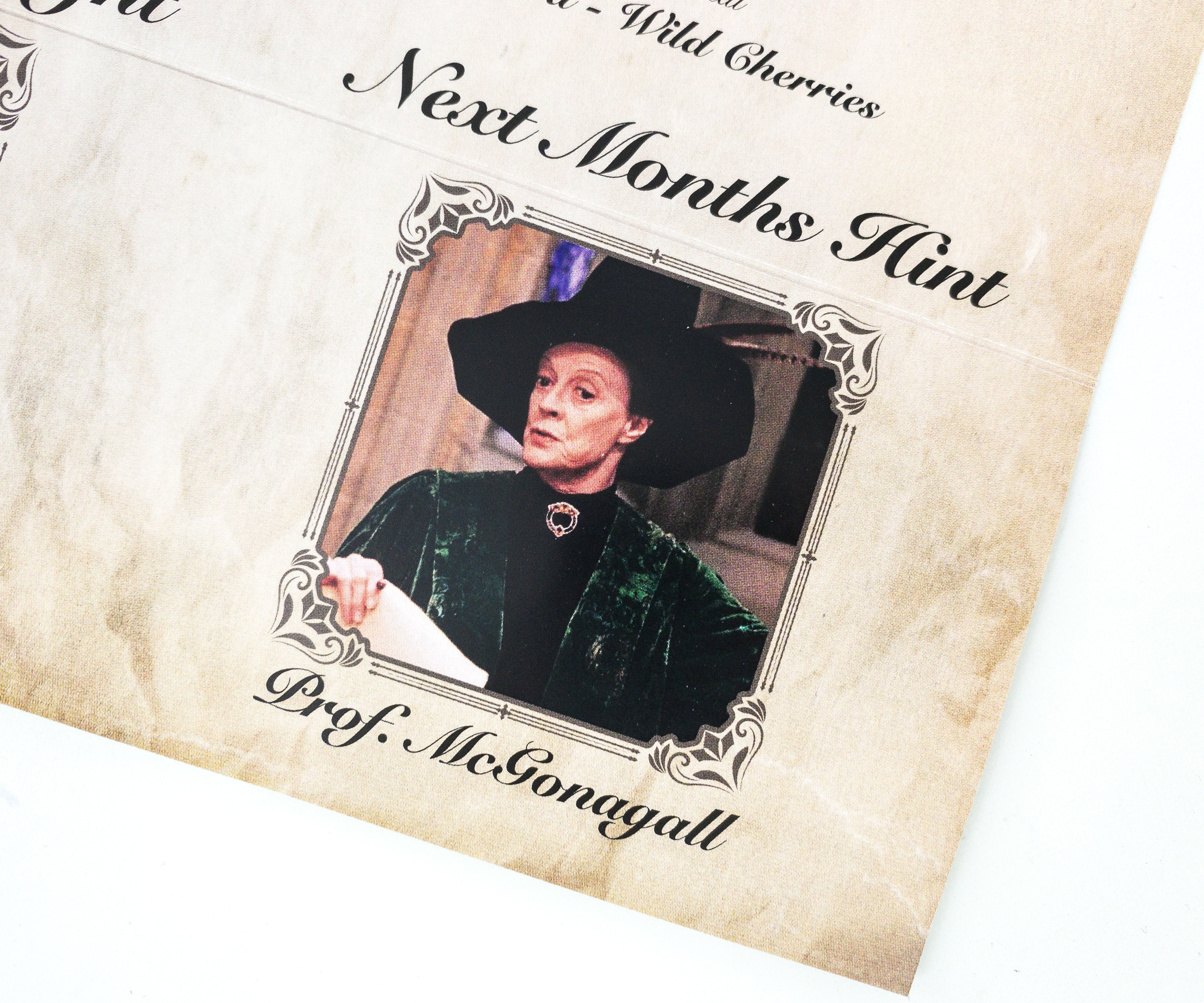 Here's the hint for next month: Professor McGonagall!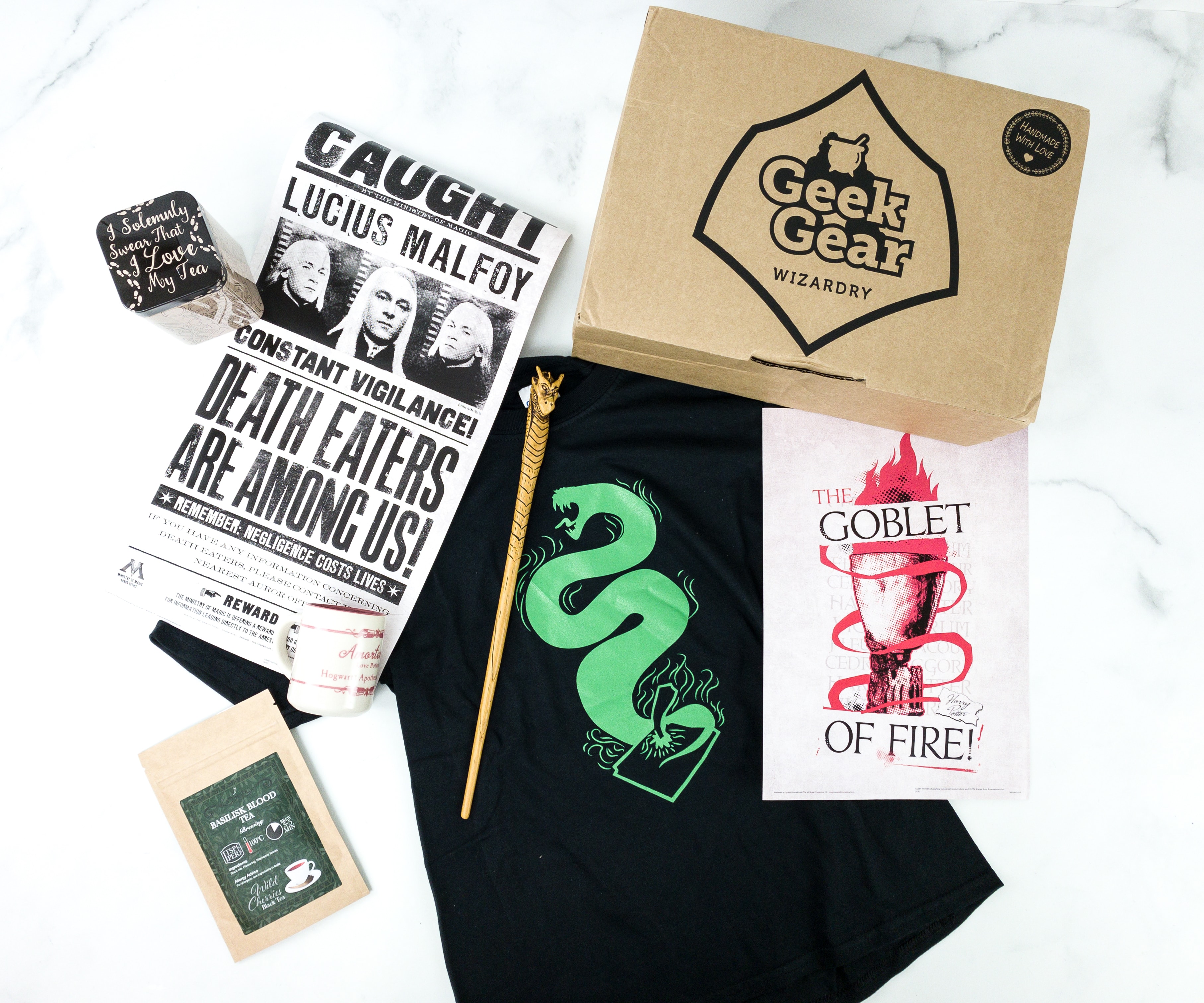 Everything in my box!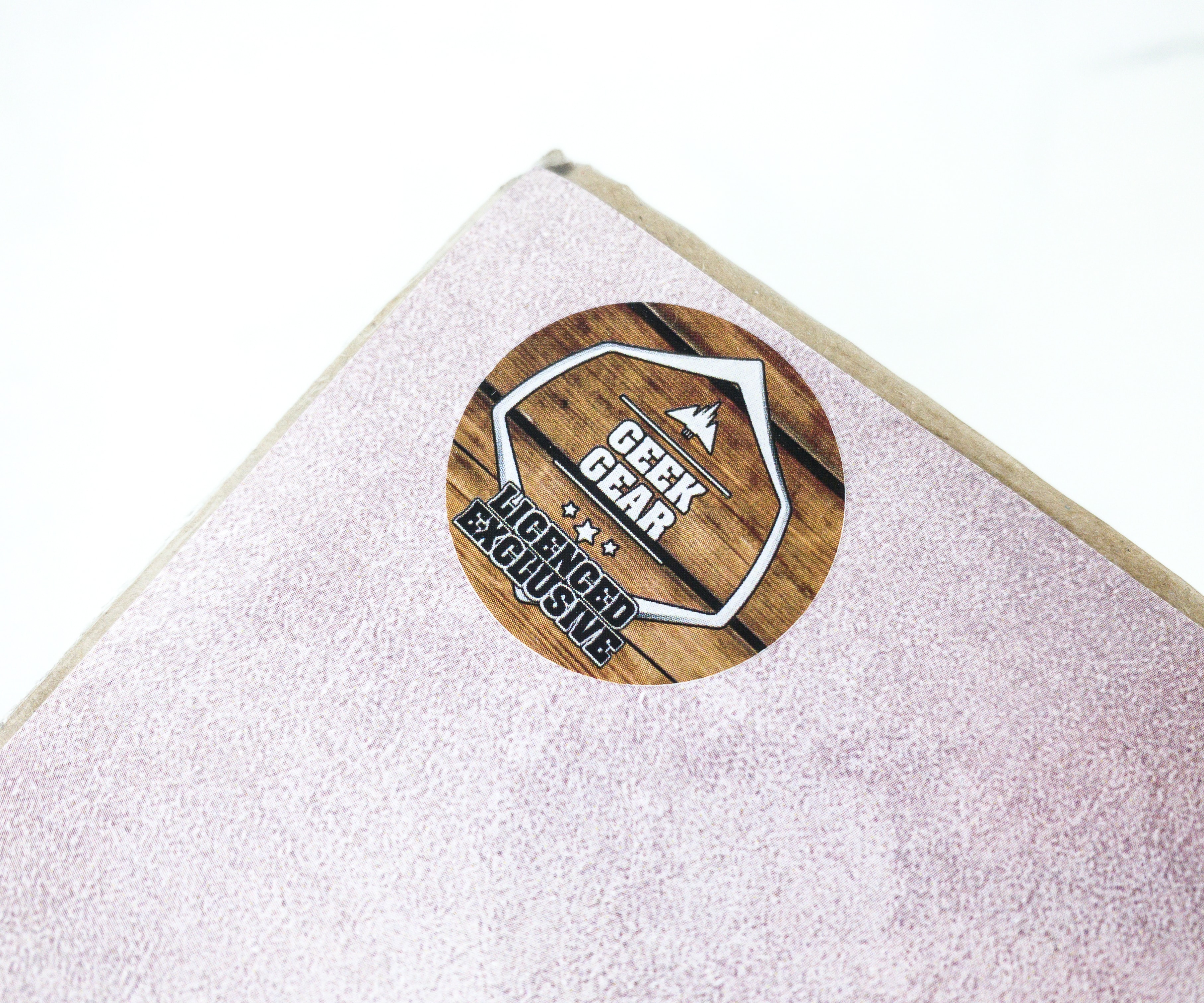 Licensed & Exclusive Goblet Of Fire Print. The licensed exclusive print this month features the Goblet of Fire itself!
Whenever I see this item, I remember how Professor Dumbledore asked Harry if he had put his name in the goblet for the Triwizard Tournament. The Goblet of Fire is an artifact that has blue flames when it's time to choose the champions for the Triwizard Tournament.
Licensed & Exclusive Lucius Malfoy Poster. Another exclusive item in this box is this poster! It was rolled and packaged nicely.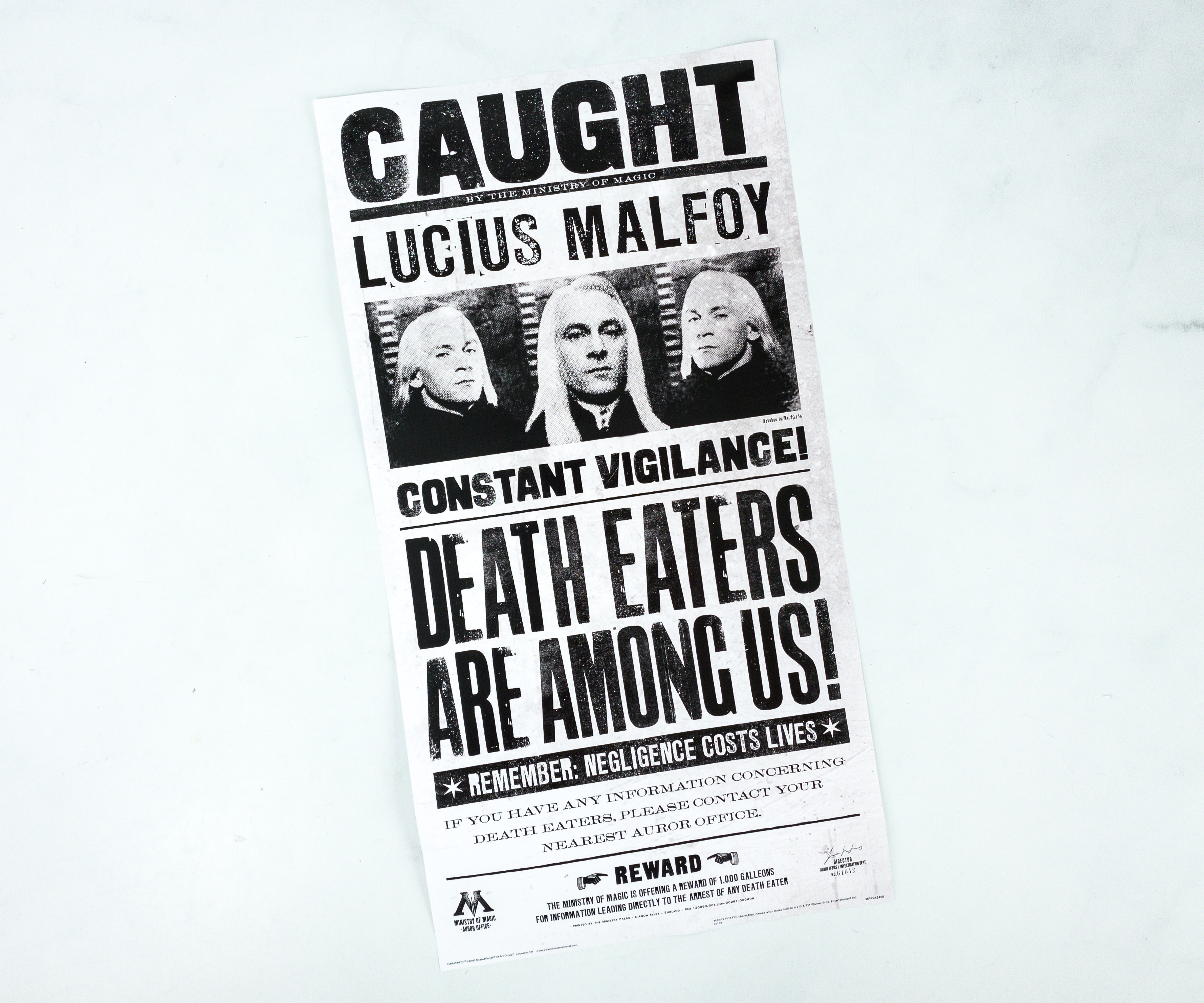 The poster features Lucius Malfoy. It's an ad announcing his capture due to being a Death Eater.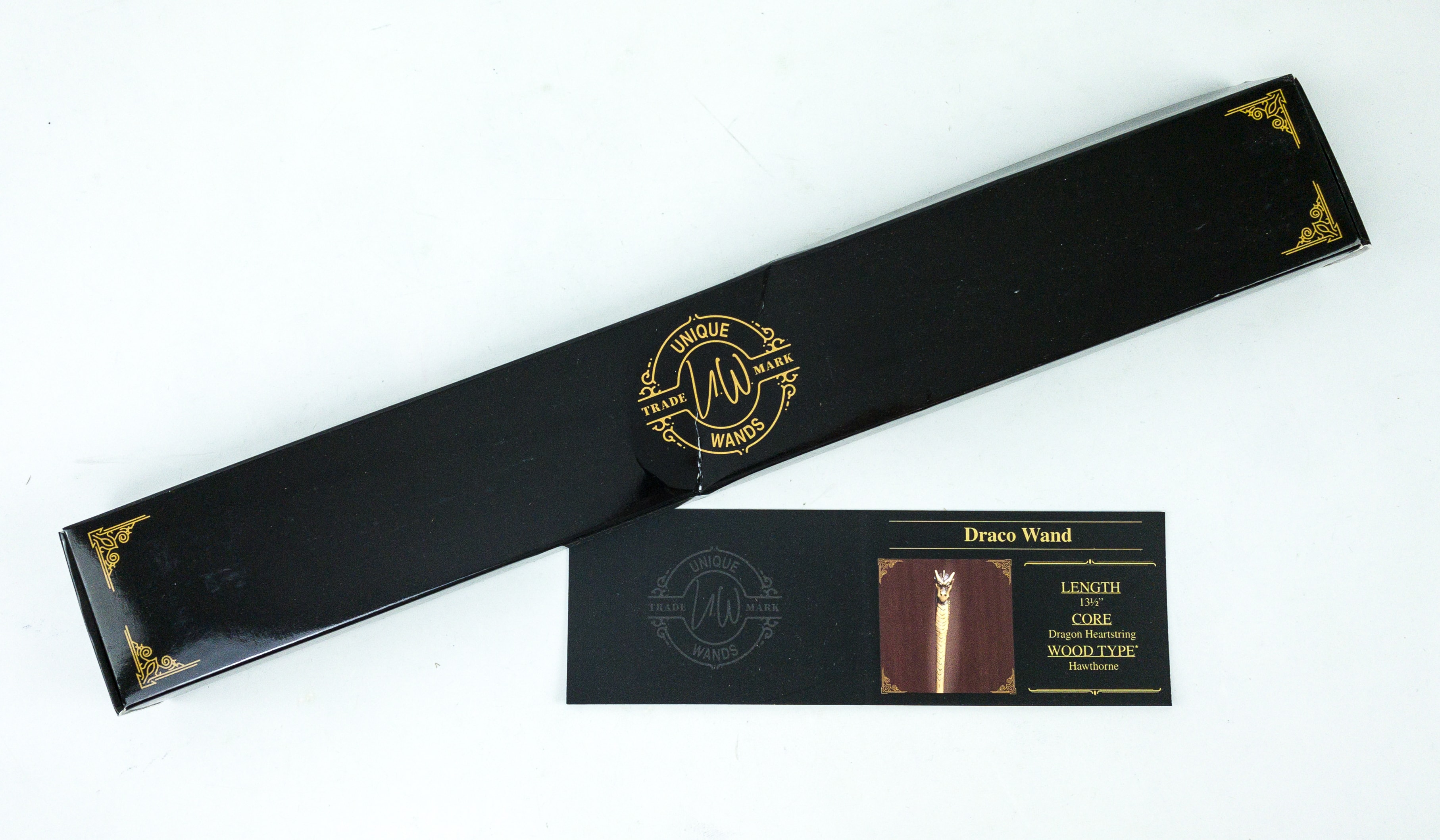 Unique Wands Exclusive – Draco. Here's the familiar elegant black box that contains a uniquely modeled wand from Unique Wands!
The Draco Wand is a 13 1/2″ long wand that is made of Hawthorne and has a dragon heartstring core.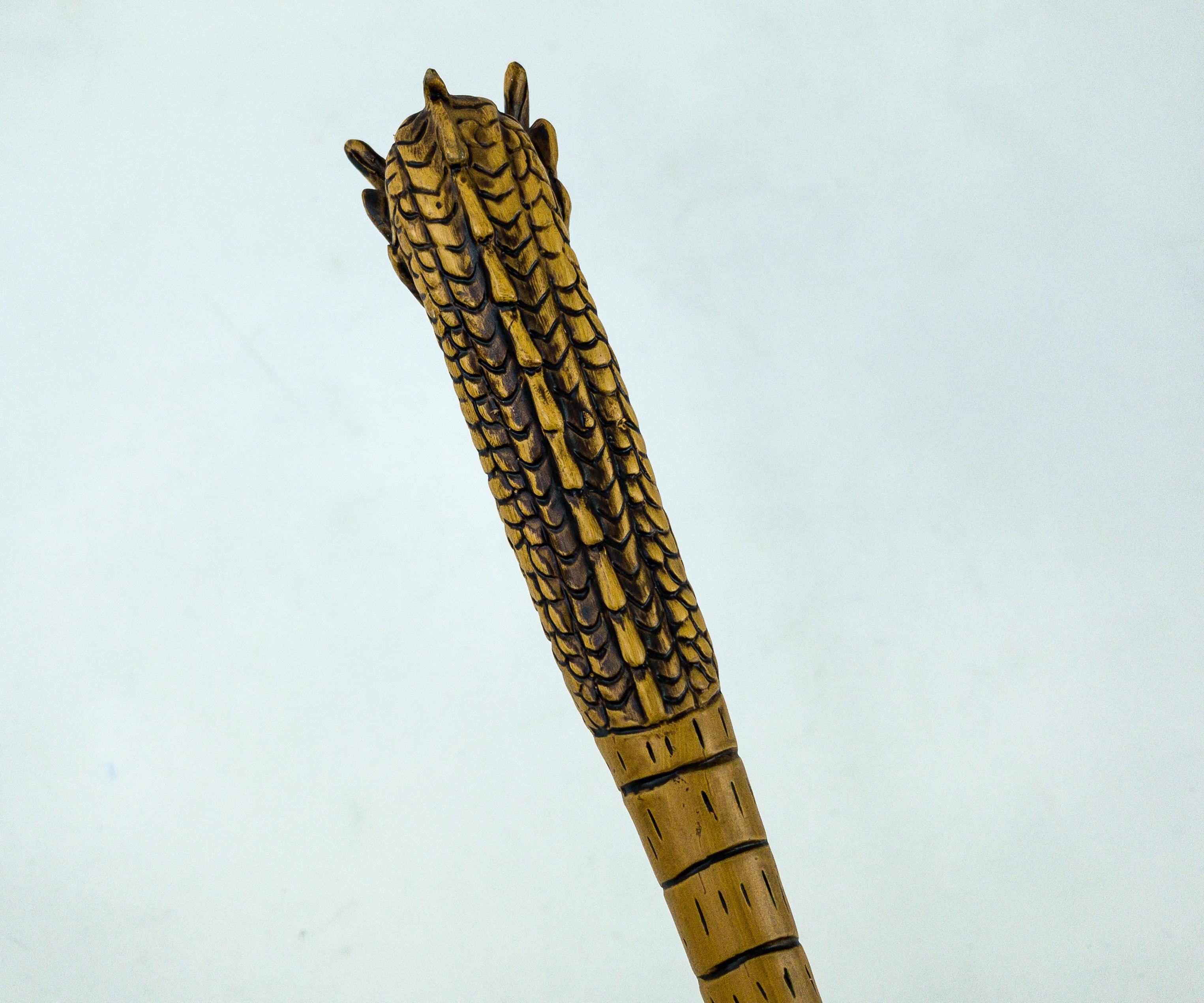 The handle features a dragon's head and its deck, complete with scale details.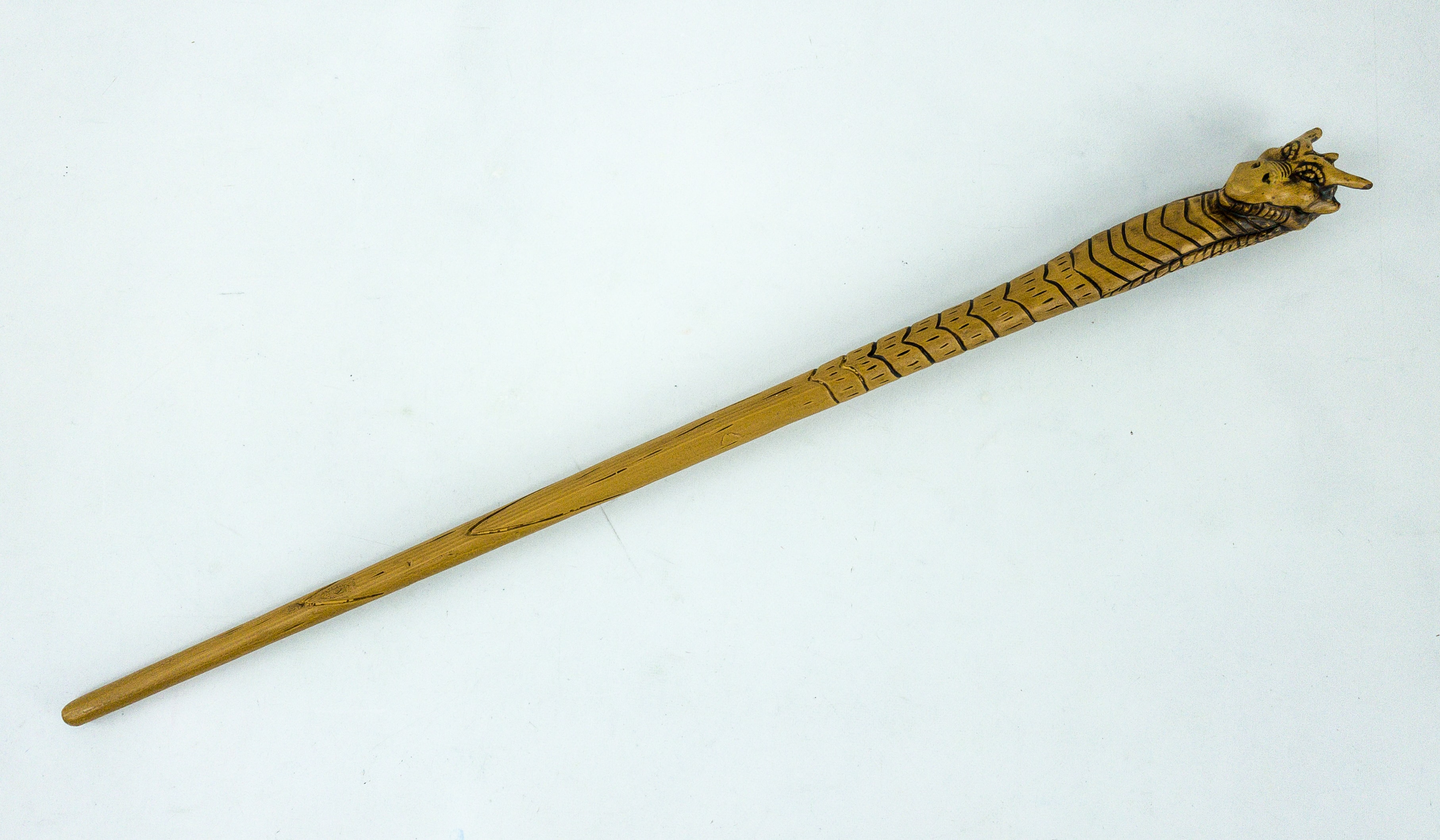 I really like the Dragon handle which made the wand look fierce and about to spout flames anytime!
Monthly Tea Collection Basilisk Blood – Wild Cherries. For this month, the featured tea contains black tea, flavourings, and blackberry leaves, fewer as compared to past teas that I got. To prepare the Wild Cherries Black tea, brew a teaspoon per cup for 3-5 minutes at 100°C.
Exclusive Basilisk T-Shirt. It's another amazing black shirt, and this time, the featured design is the creature hidden at the Chamber of Secrets!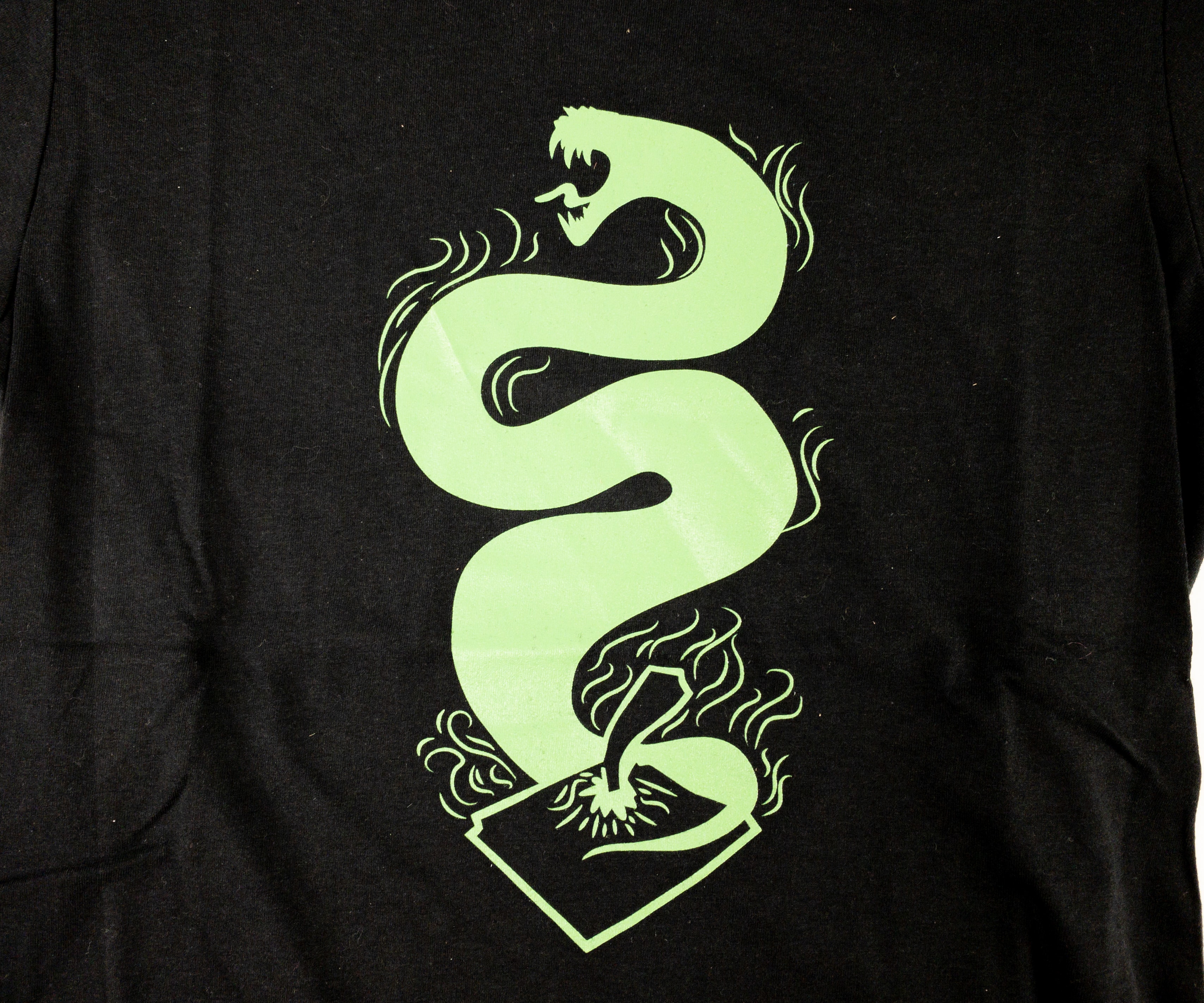 Aside from the neon-coloured Basilisk, there's also Tom Riddle's diary located on its tail, stabbed with its fang!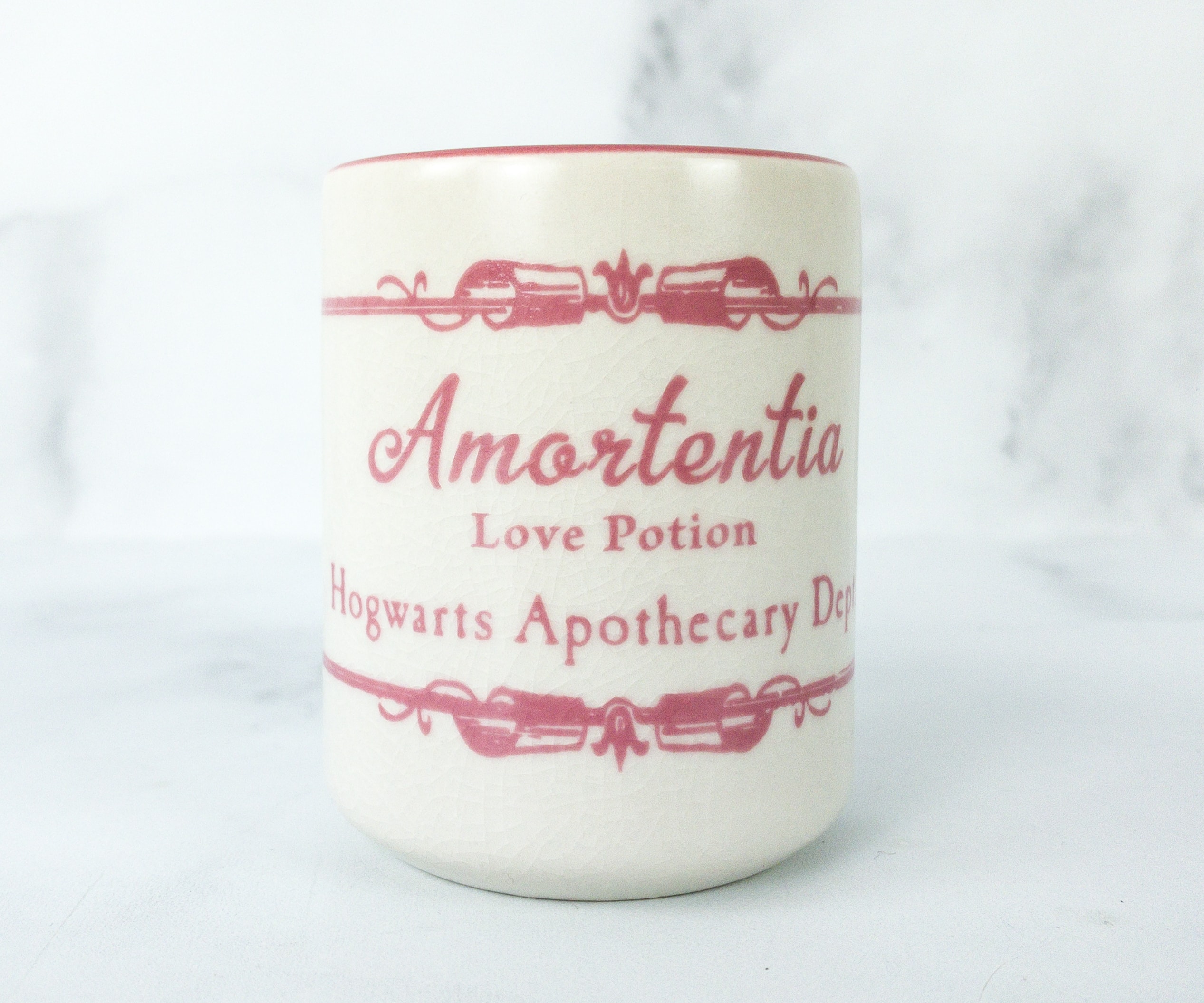 Licensed Amortentia Mini Mug. Amortentia is the most powerful love potion in the Wizarding World, and its power is felt through this lovely ceramic mug!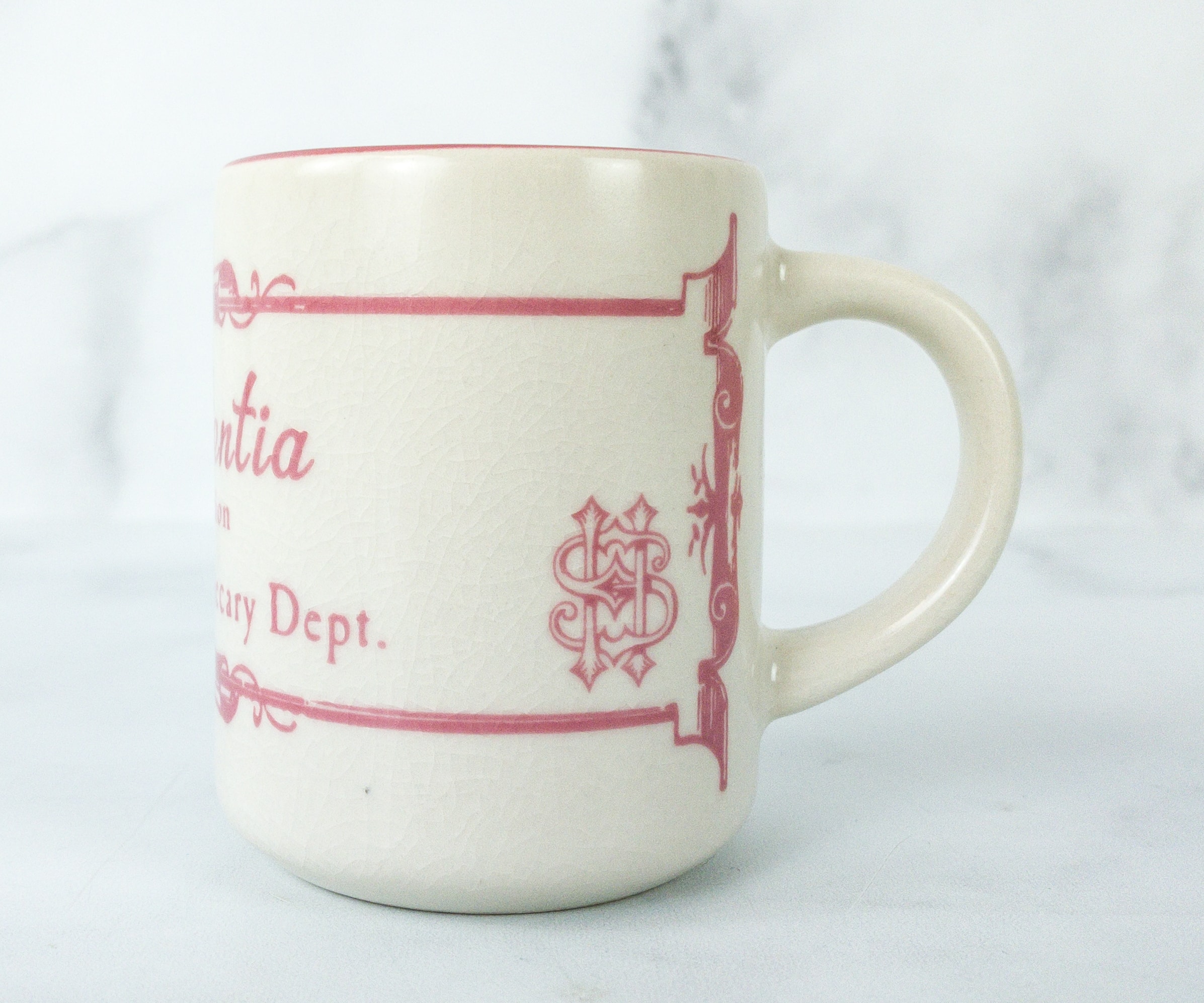 The mug features the potion's bottle label and its maker which is the Hogwarts Apothecary Dept.! I love how it looks vintage and classy!
Exclusive Tea Tin. The tin is placed inside a giftable box, and it's labeled as Wizardry Tea Tin.
The tin's design is actually based-off the Marauder's Map.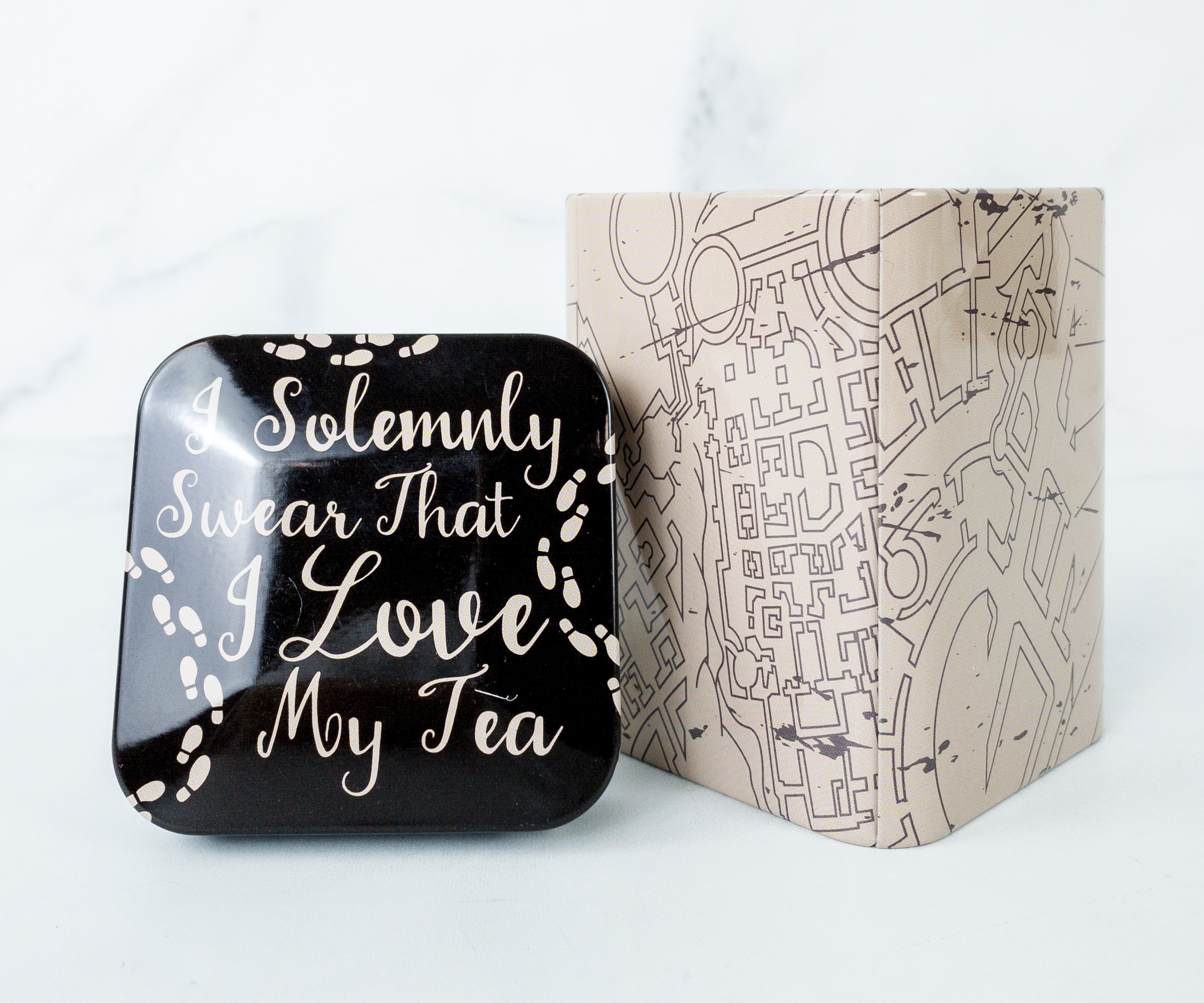 The lid says "I solemnly swear that I love my tea"! It's not just cute, storing tea using this also helps prolong the tea's freshness.
The Geek Gear World of Wizardry box contains such fun products from the Wizarding World! They never fail! I love the Draco wand as it has a dragon as the handle. It's complete with the scale details, except for the wings, but still, it's really an amazing wand replica. I also like the Basilisk shirt, and the tea tin is perfect as the box also included tea leaves. This is a box any Potterhead would be happy about! I'm looking forward to future boxes!
What did you think of this month's Harry Potter Geek Gear box?
Visit Geek Gear World of Wizardry to subscribe or find out more!