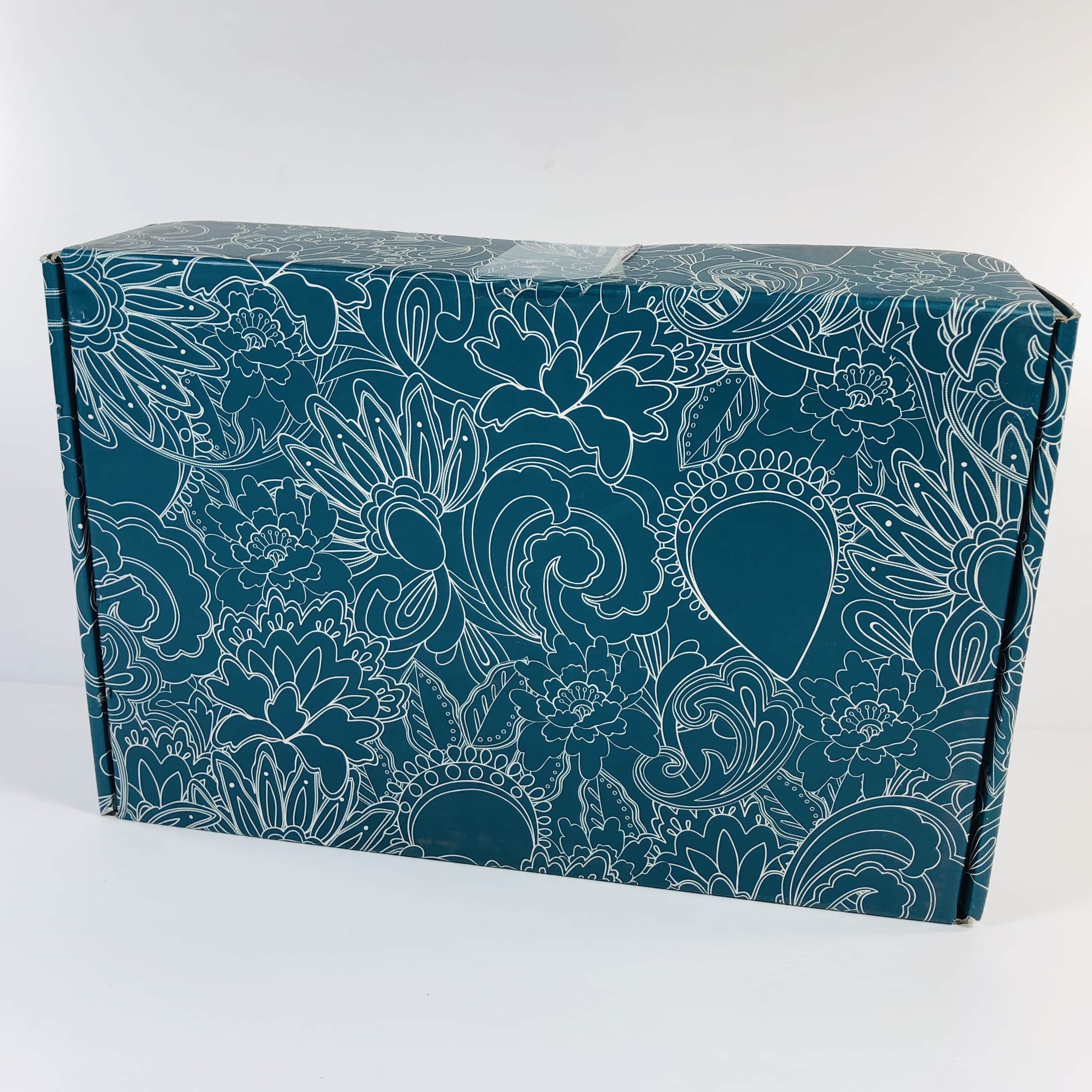 Erin Condren's Seasonal Surprise Box is a quarterly planner accessories and stationery box featuring early access items, popular accessories, and exclusive surprises from Erin Condren. This box isn't available by subscription; you must purchase each box individually. This box usually sells out quickly but click here and tap that blue bell to get notified when the next box becomes available! The box is $40 and includes free shipping to the US. This box is sold out! 
Get ready to usher in a WINTER full of surprises! From just-for-you exclusives to sure-to-be best-sellers, you won't want to miss this festive, seasonal surprise!

This ultra-GLAM box was designed to help you reflect on 2019 and set your intentions for a fabulous 2020!
DEAL: FYI – if you use this referral link to register for the site, you'll get a $10 coupon code emailed to you. It may not work on the box purchase. You can use it on pretty much anything on the site.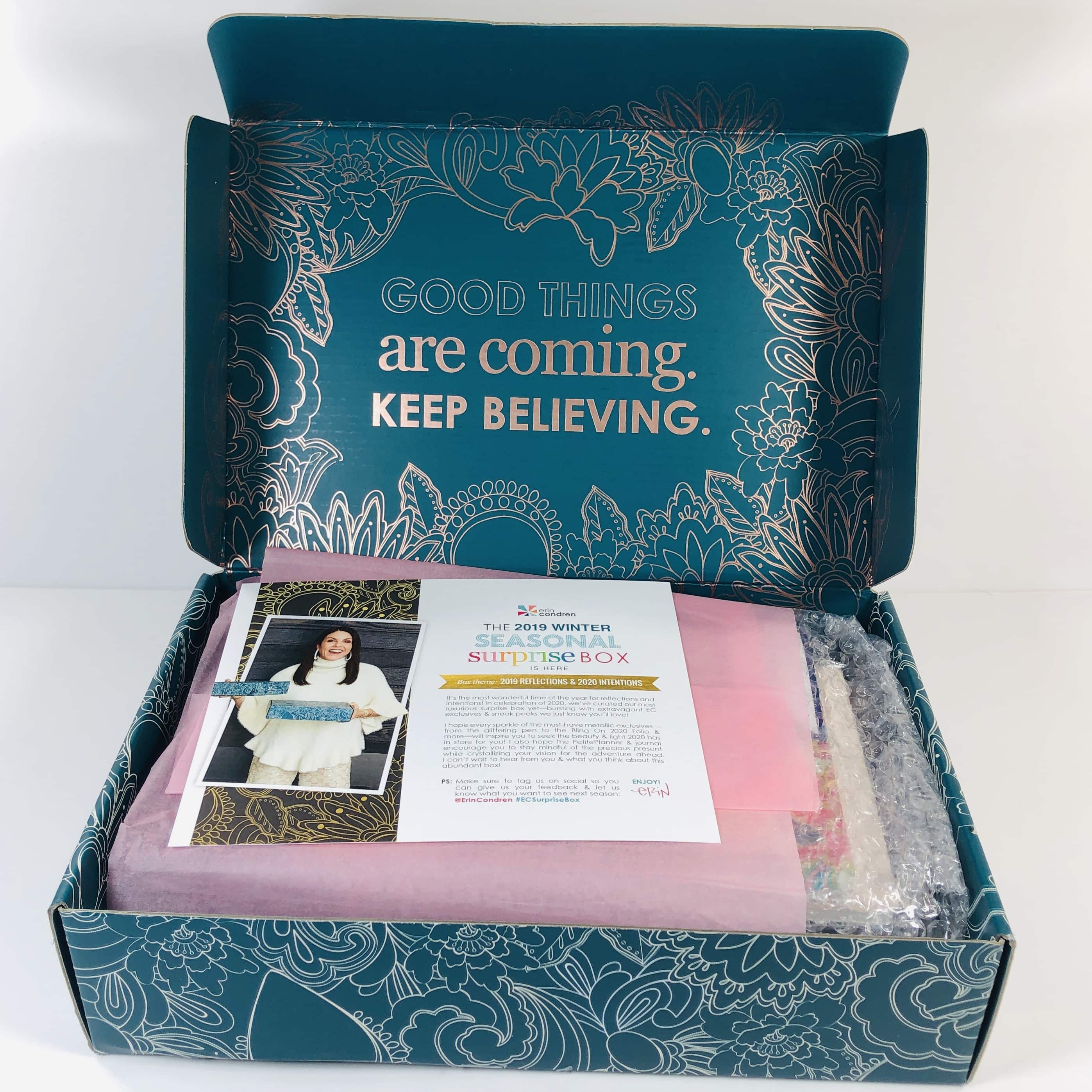 The inside of the box has an inspirational saying and you can even take the box apart and reassemble it with the outside facing in. I have done this to several boxes, which are now used to hold stationery and the like.
My items were wrapped in tissue paper that was sealed with a sticker.
Bubble wrap kept everything in place.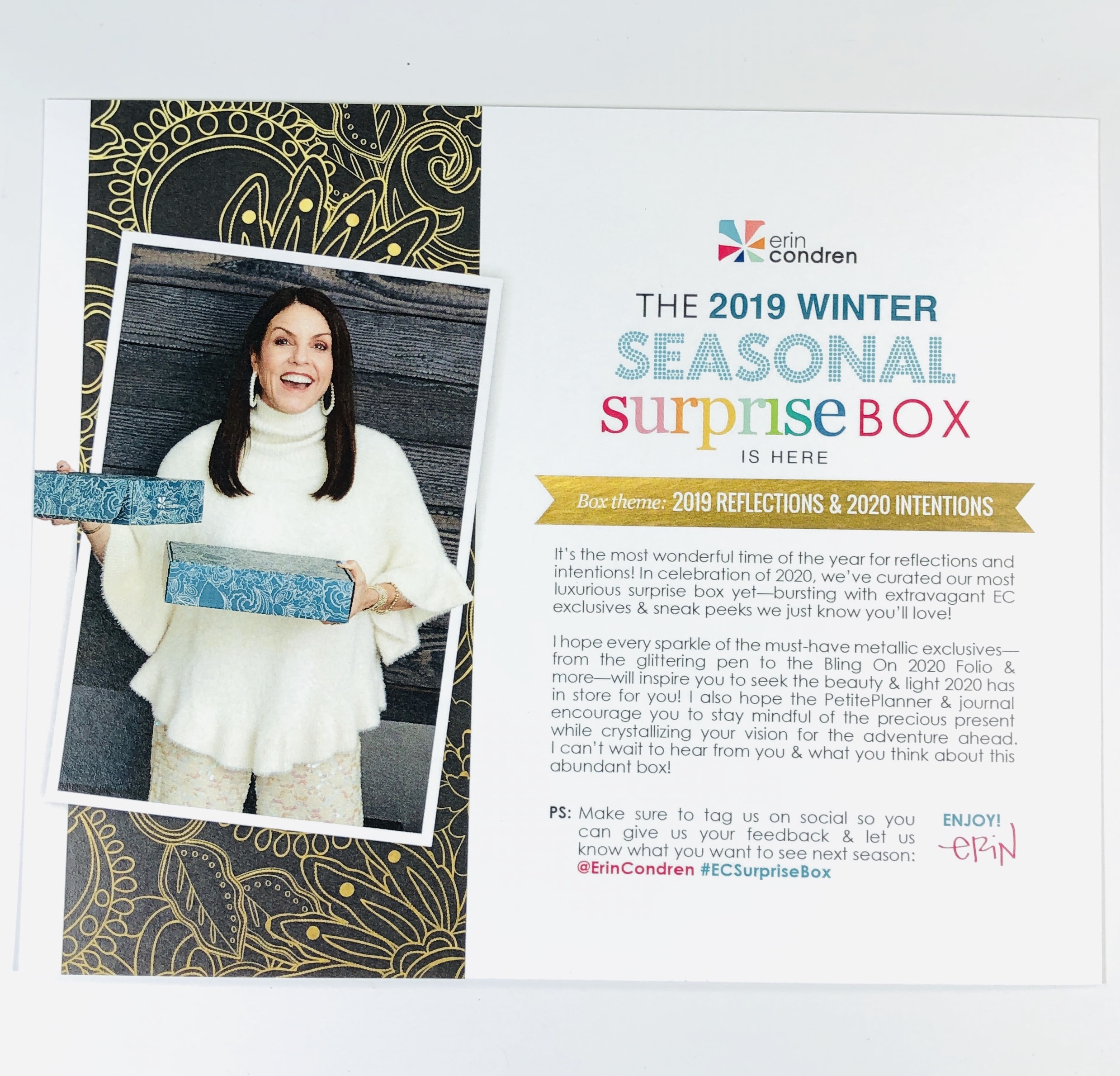 The theme for the Winter Box is 2019 Reflections & 2020 Intentions!
The information card gives you a picture list of all the items included and value. Some of the items may be available at Erin Condren retail locations, some may be coming soon, and others are exclusive to the box.
In addition to the main EC site, you can now shop a selection of non-personalized Erin Condren items on Amazon! Many, if not most, are discounted, and they all have free Prime shipping!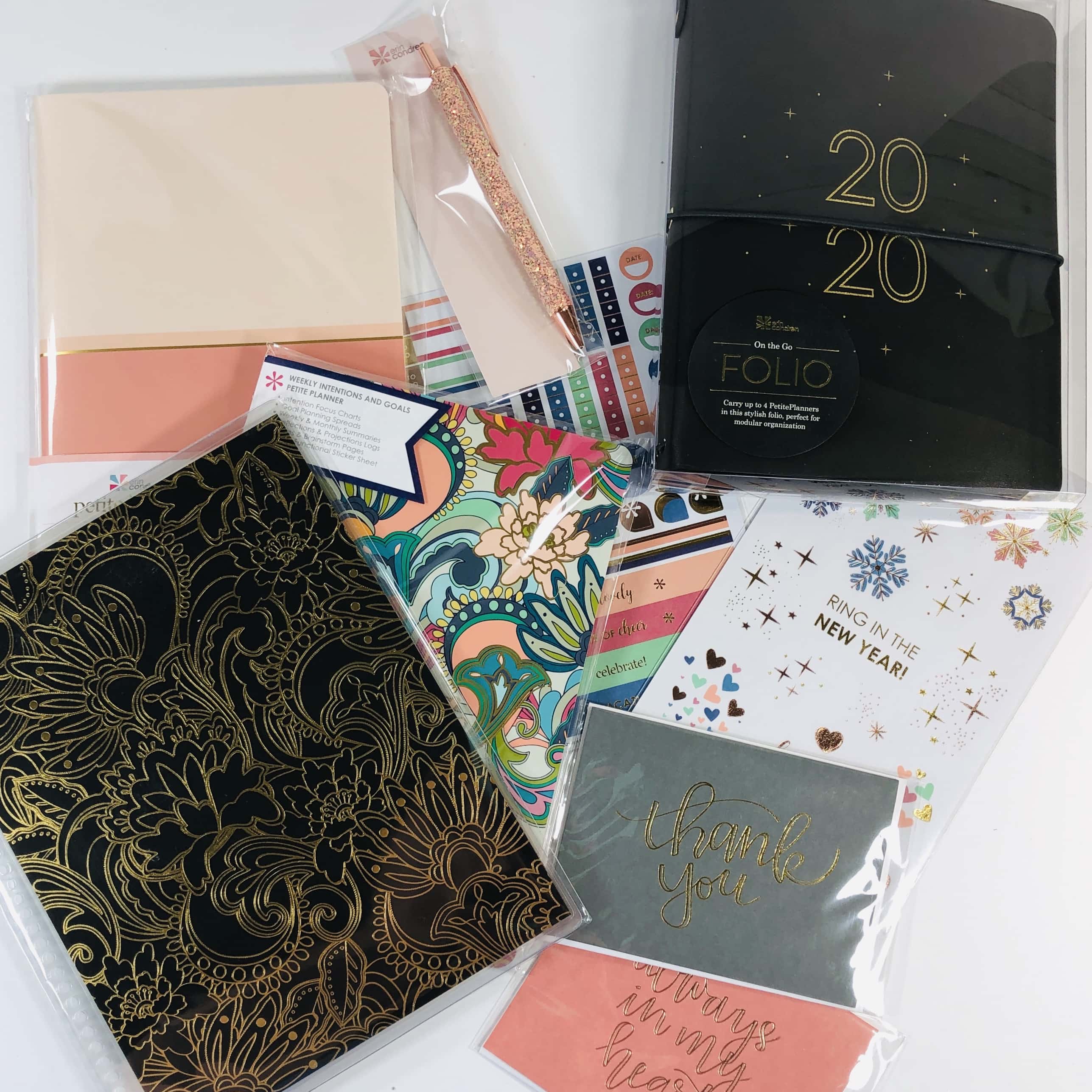 Everything in my box!
Bling On 2020 On The Go Folio ($20, find similar item here) I have a few mini notebooks and planners from Erin Condren and this folio is a great way to keep them organized.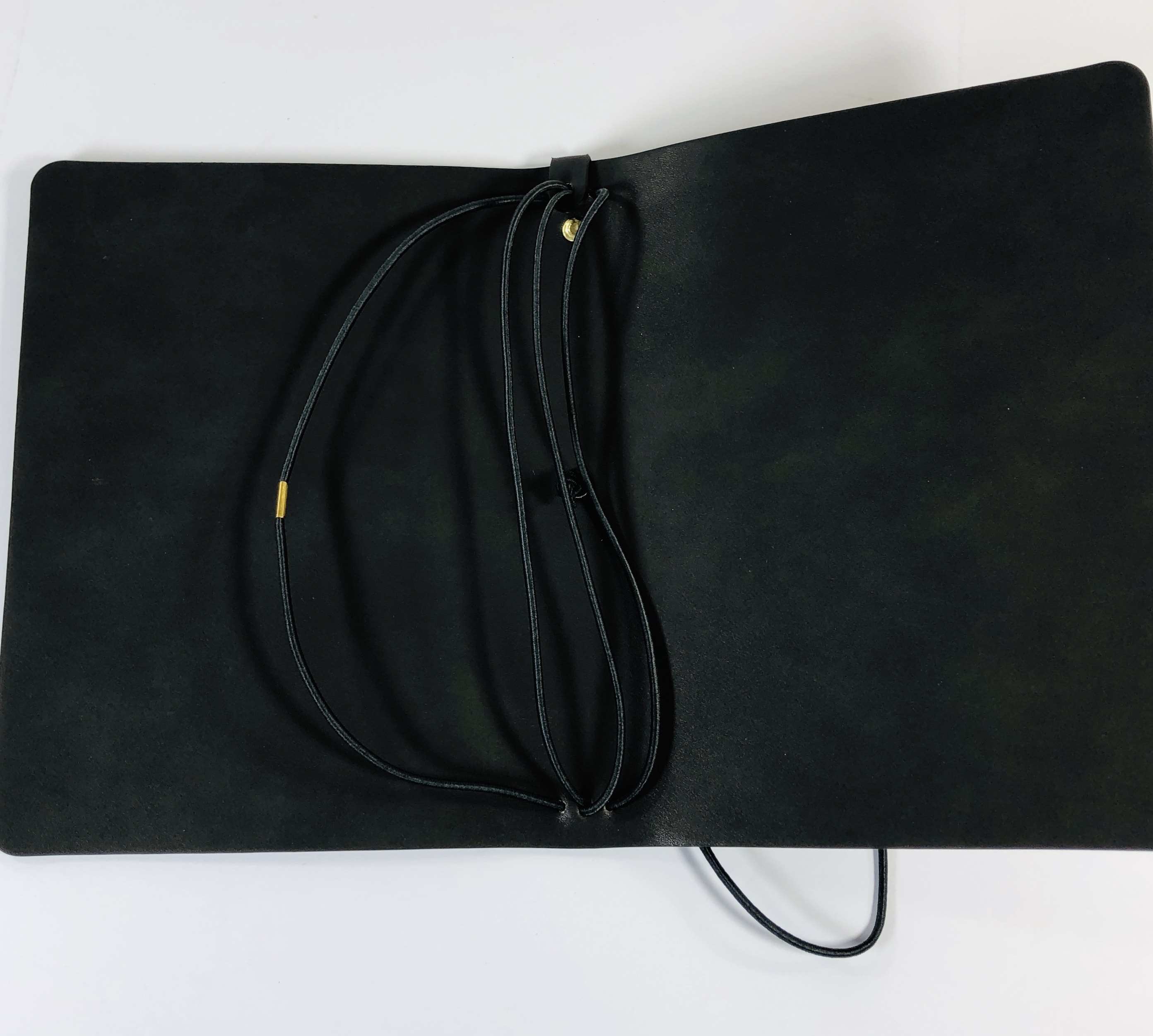 It's made of a vegan leather-like material and has four elastic loops so you can slip a notebook inside. Actually, you can slip 4 notebooks inside!
I received two notebooks in this box (shown later in the review) and here they are in the folio.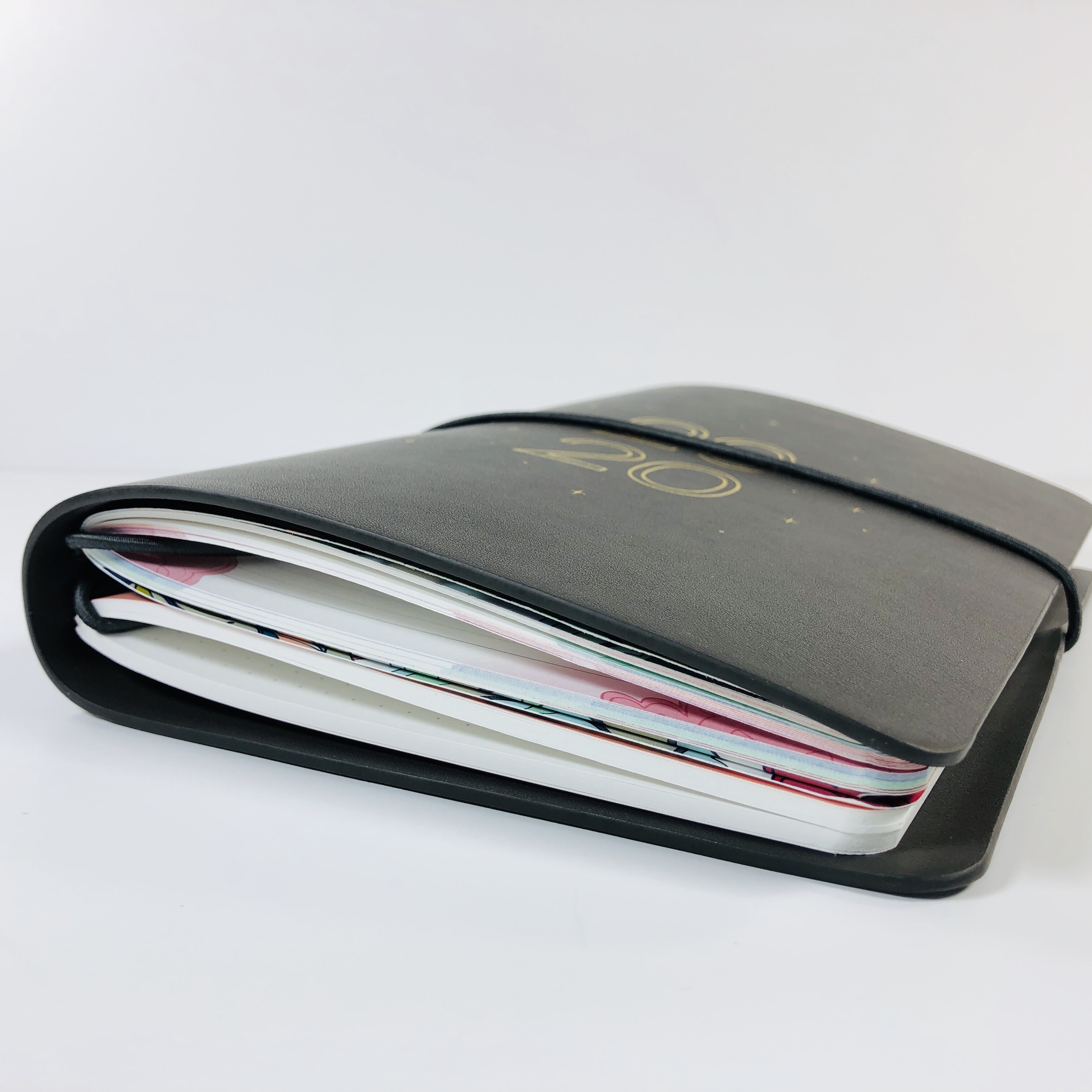 There is an elastic band that goes around the bundle to keep it securely closed.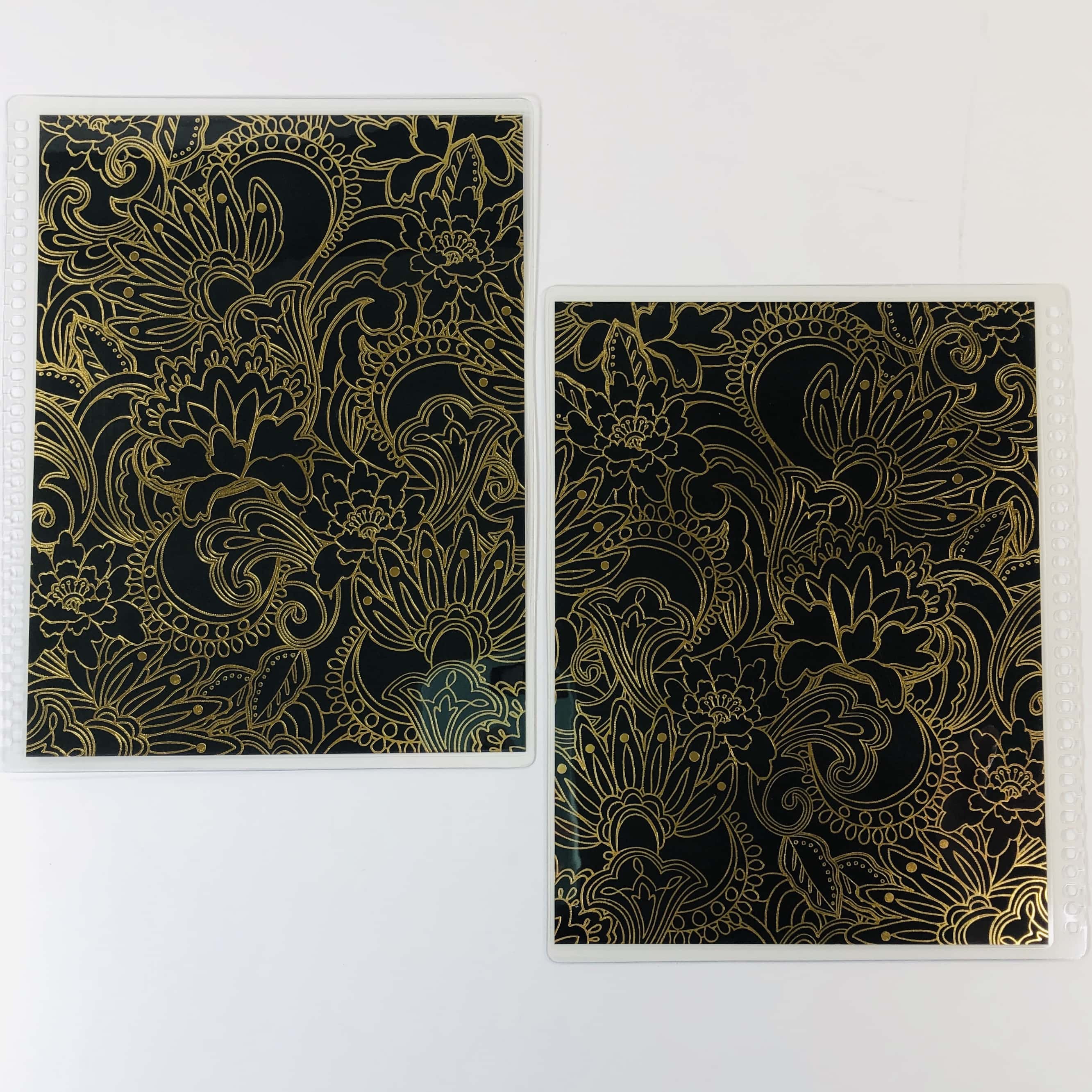 Interchangeable Metallic Cover ($13) We regularly receive exclusive covers that you can change out with whatever cover you are currently using. The front and backs are black with metallic gold accents.
The inside covers are mini wet erase boards!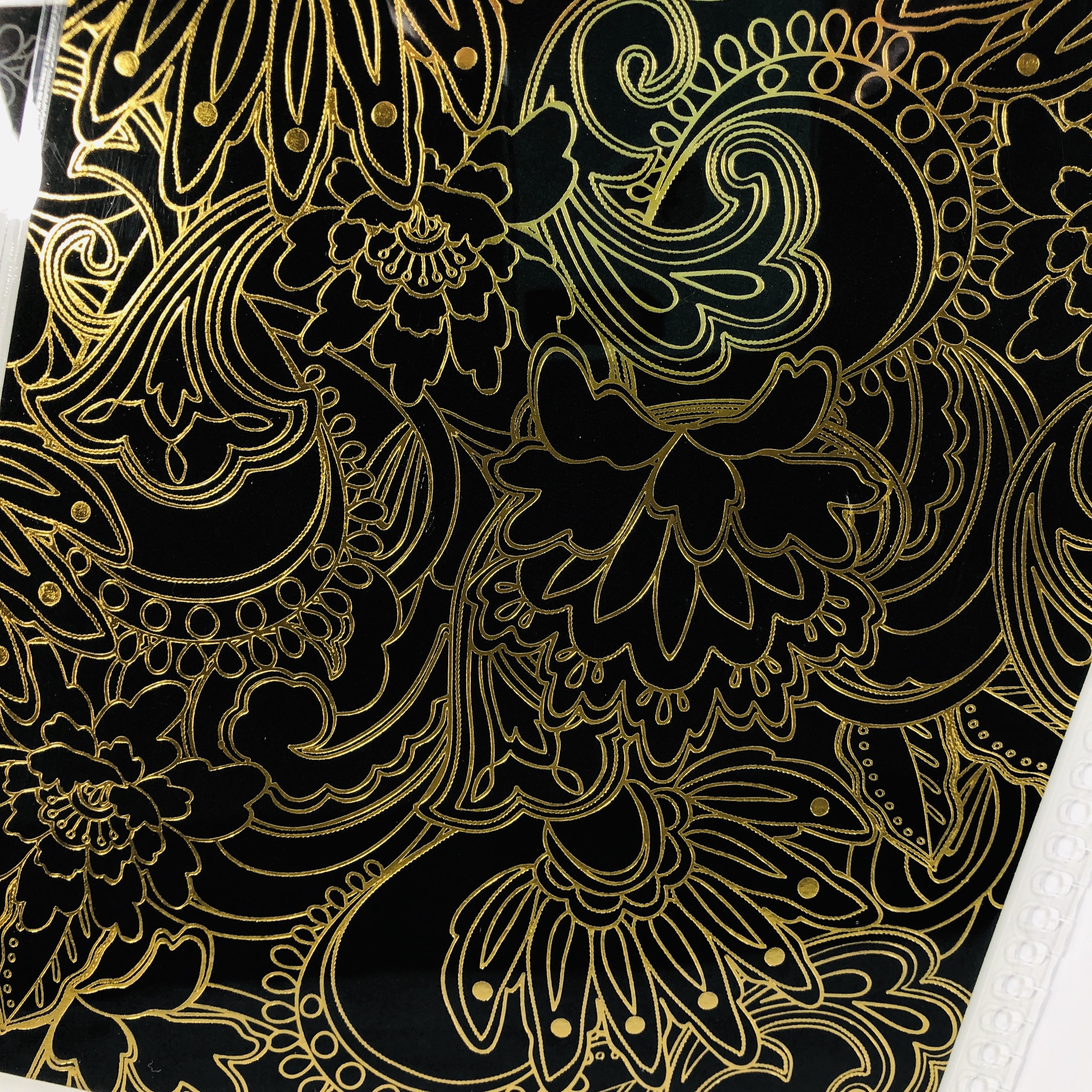 Here's a close up of the cover so you can see the detail.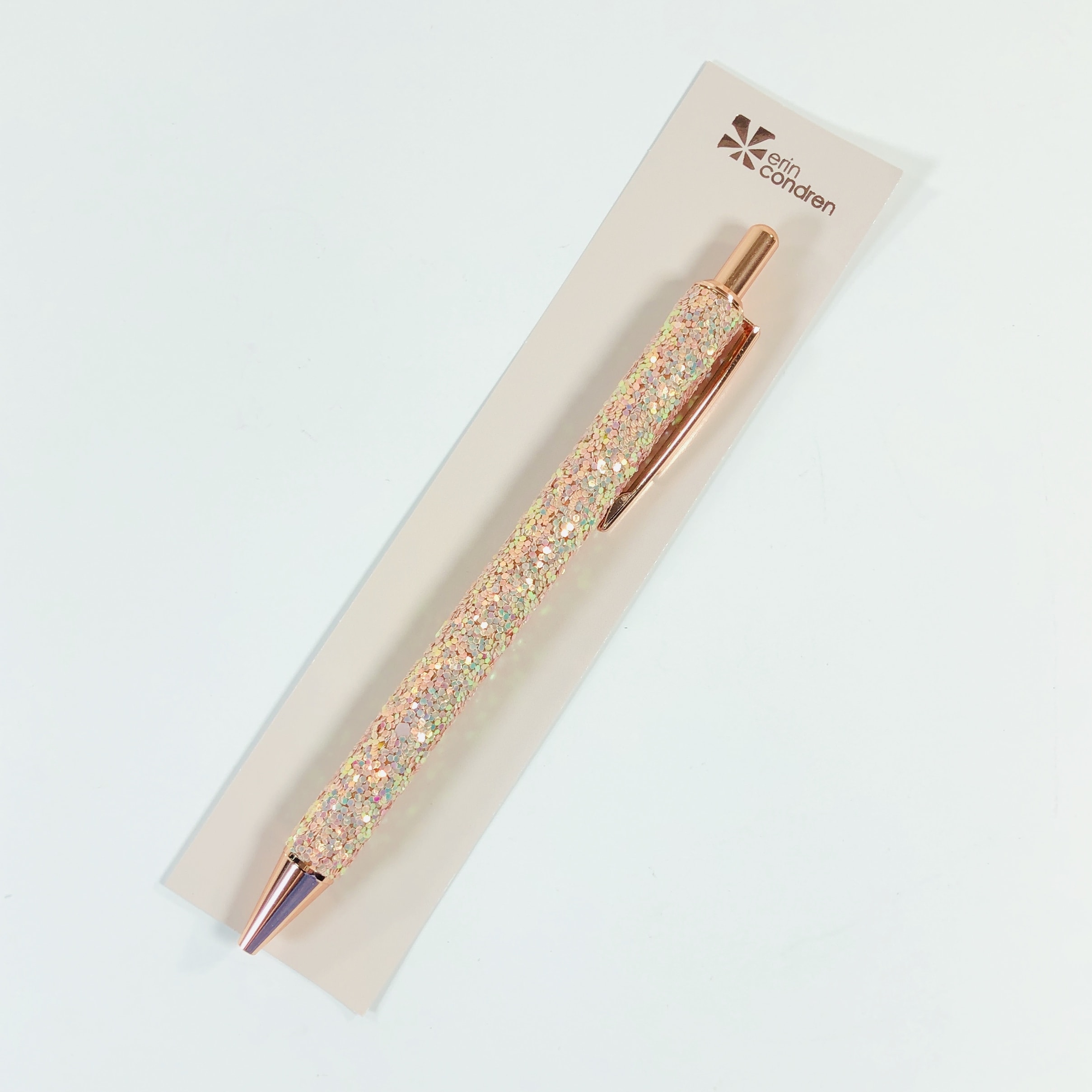 Sparkle Ball Point Pen ($14.50) I think I squealed when I saw this beauty!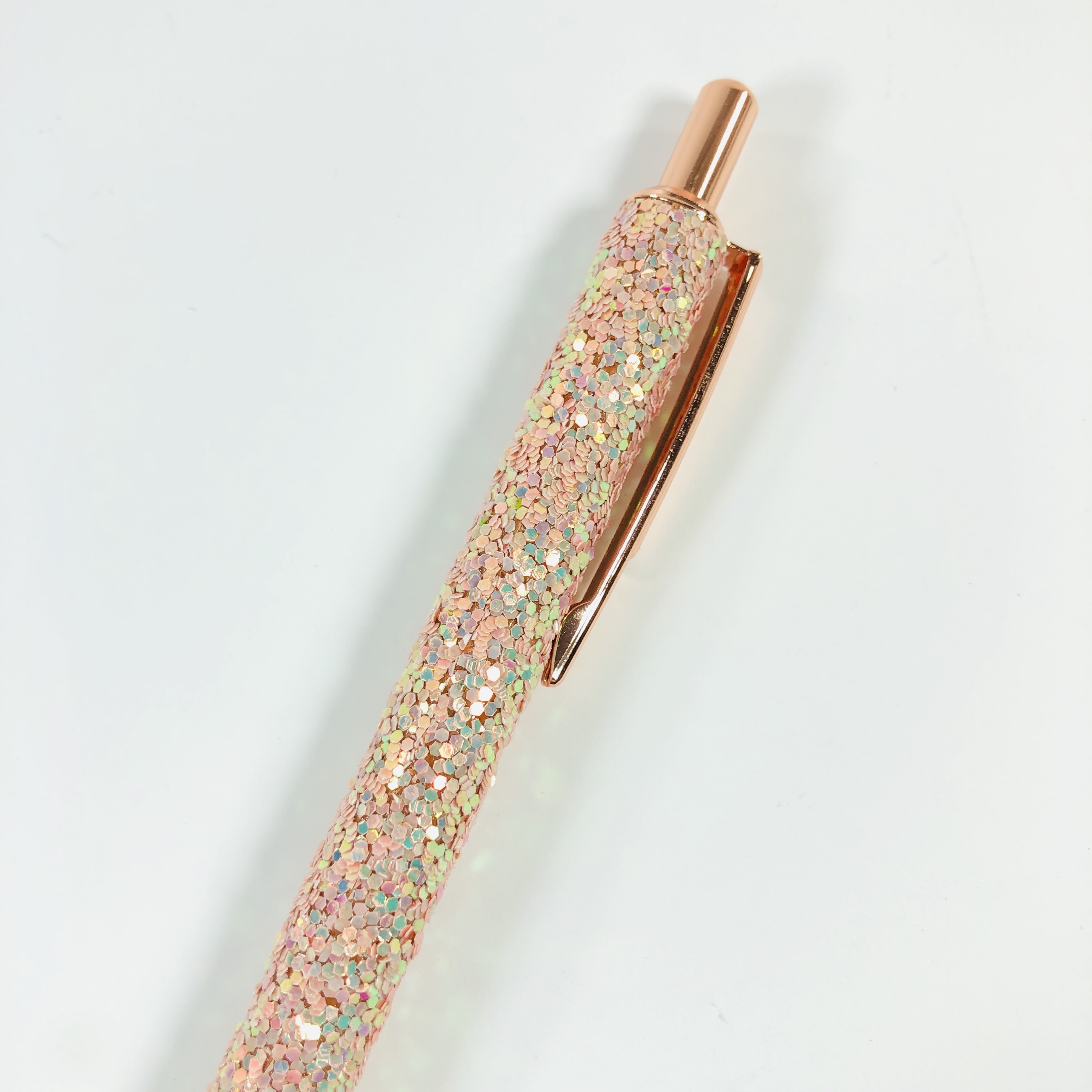 It's a sparkly covered pen with rose gold accents and I just love it.
I think it even writes but I don't care, I'm just stunned by it's bedazzling display of whatever these dazzling things are. I rubbed my fingers over it to make sure the pieces didn't drop off but they stayed on.
Folded Metallic Cards ($5) A set of two cards with envelopes and sticker closures were in this box. Keep them handy to send a quick note to a friend or coworker. Blank on the inside.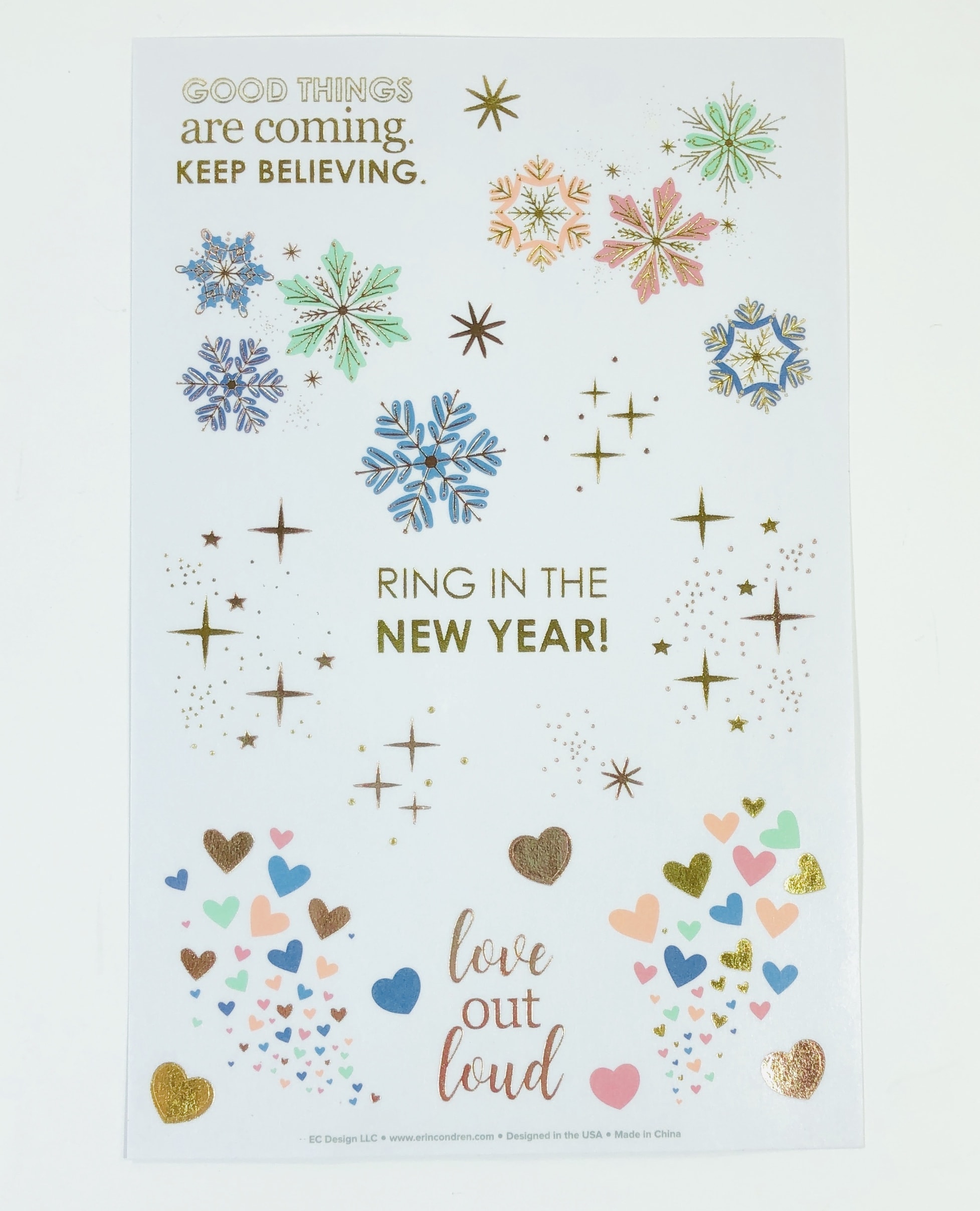 Sticker Sheet Duo ($5.50) Erin Condren has the best sticker sheets, they even have a subscription box just for stickers!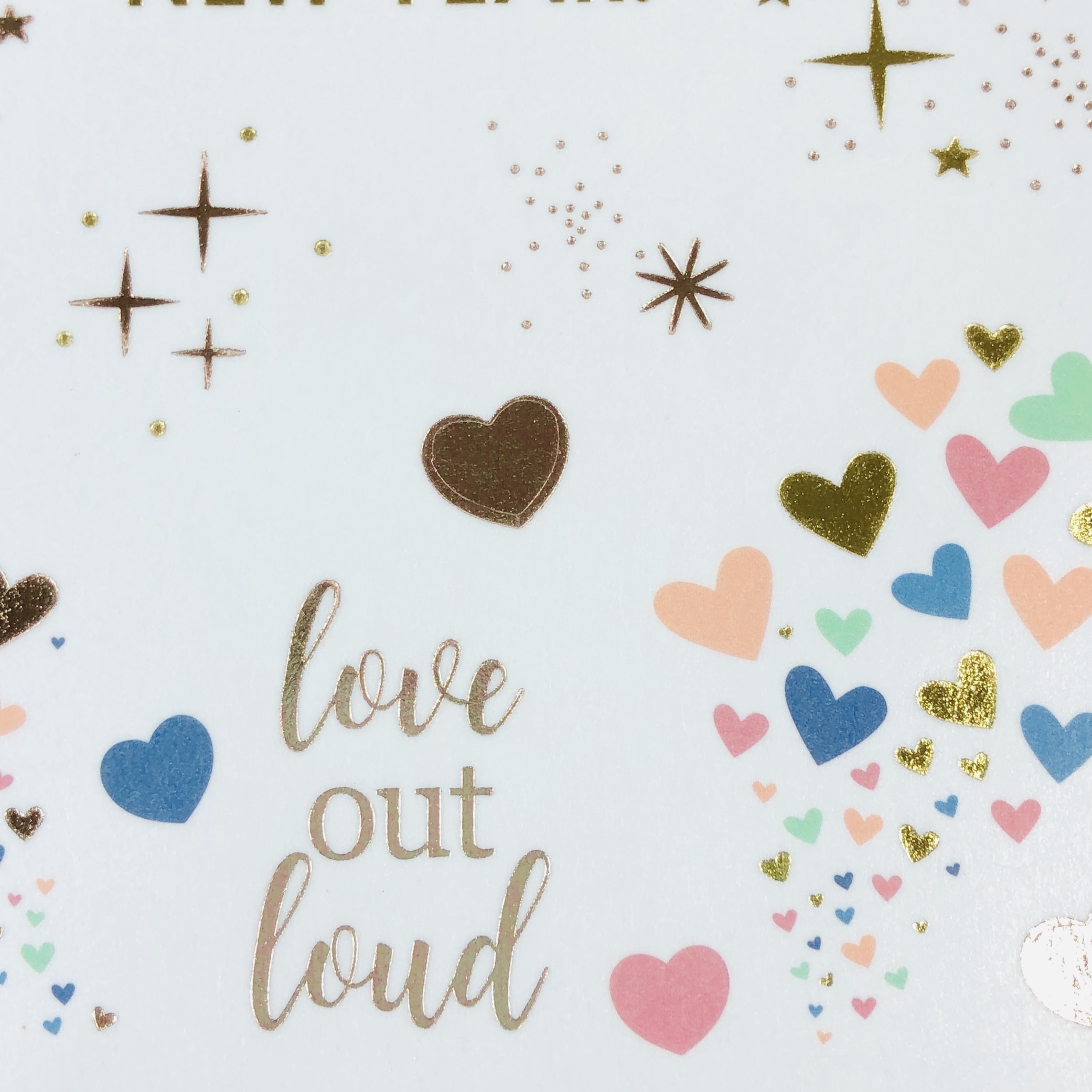 This sheet has gold metallic accents on washi paper stickers with lots of pretty colors.
The second sheet had paper stickers with metallic gold and rose gold accents.
They help my planner look pretty and keep me on task.
PetitePlanner Weekly Intentions + Goals ($14) is a sneak peek which means it should be in the Erin Condren store or website eventually.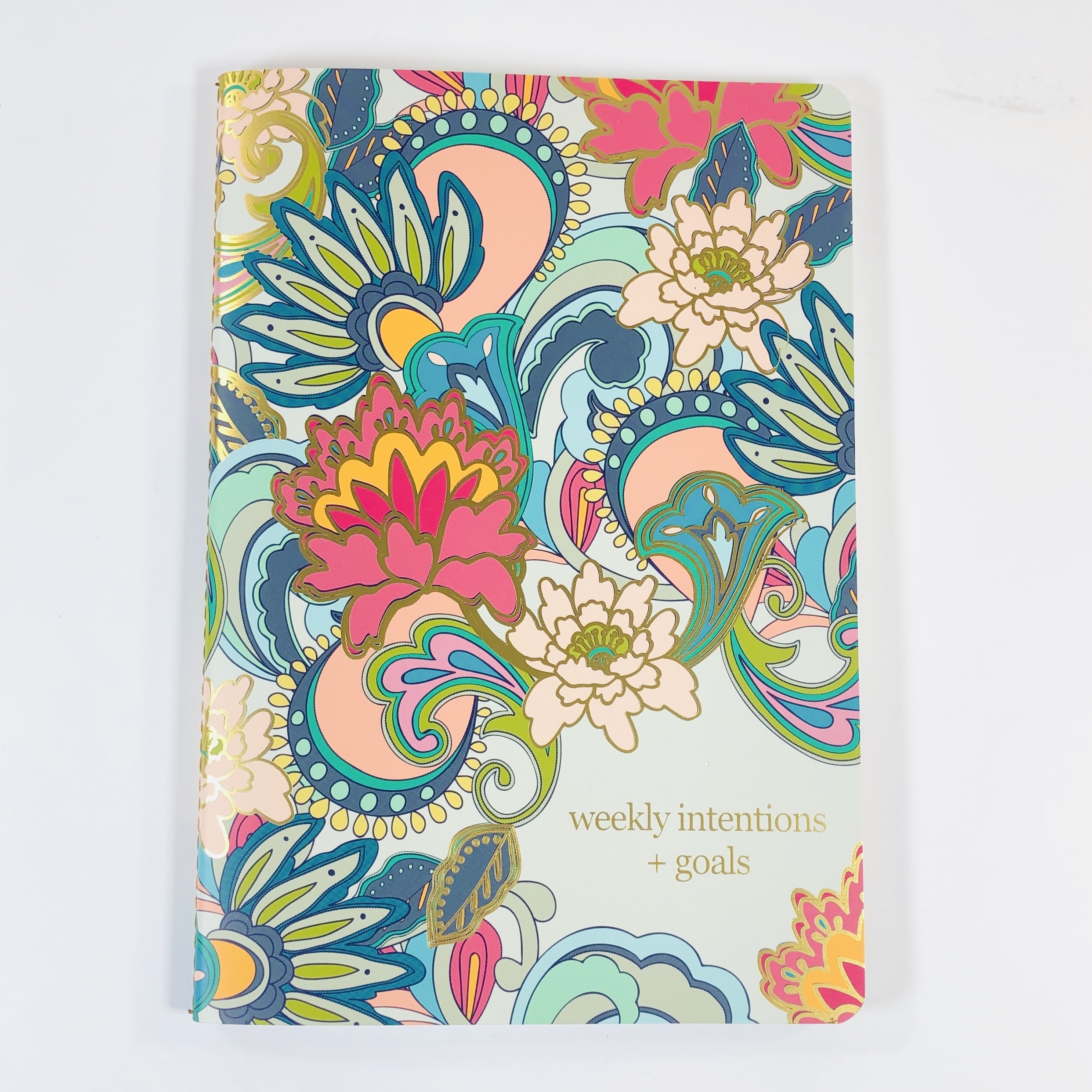 I love the Playful Paisley cover, which is also available as an interchangeable cover for a LifePlanner.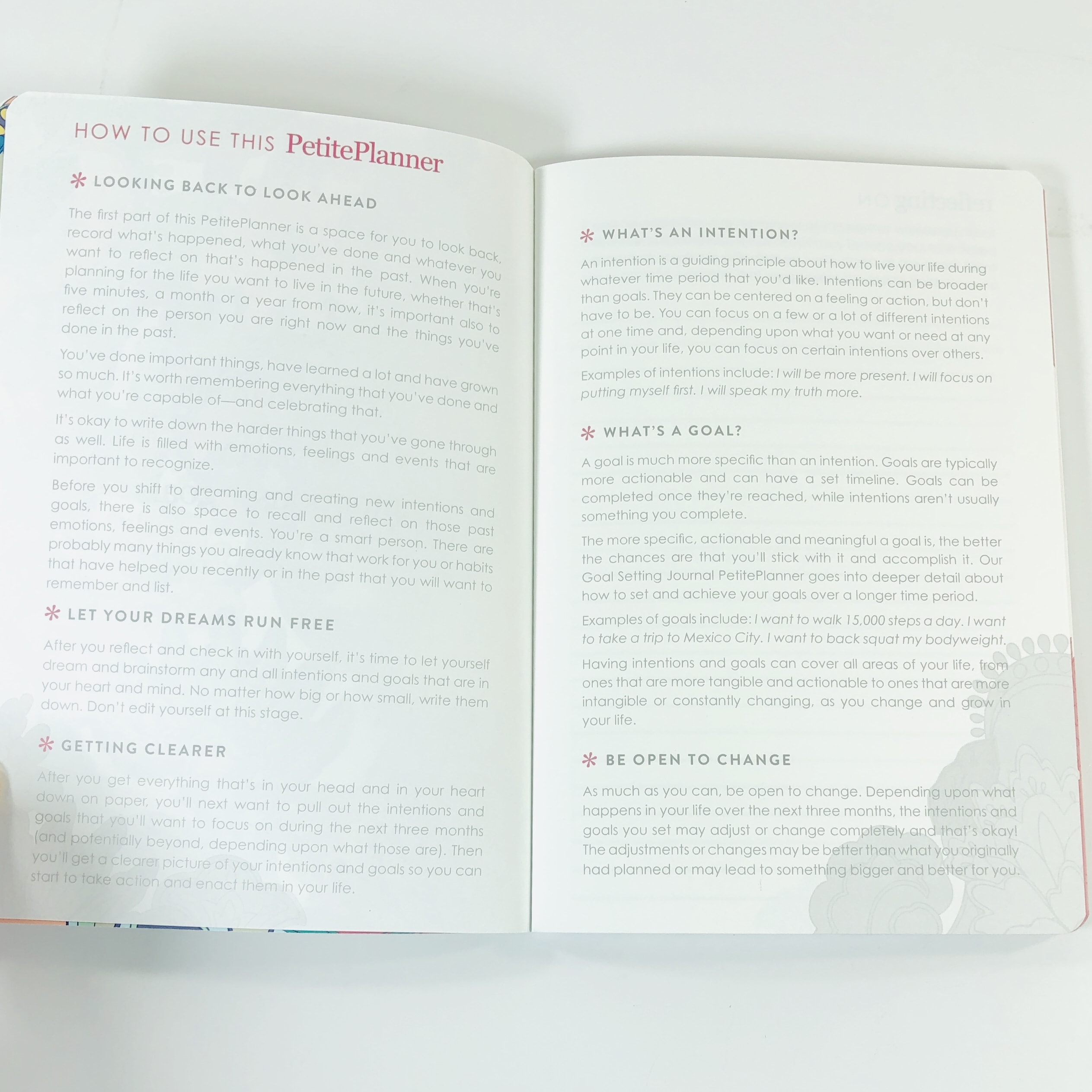 Some ideas for putting the planner to use were listed inside.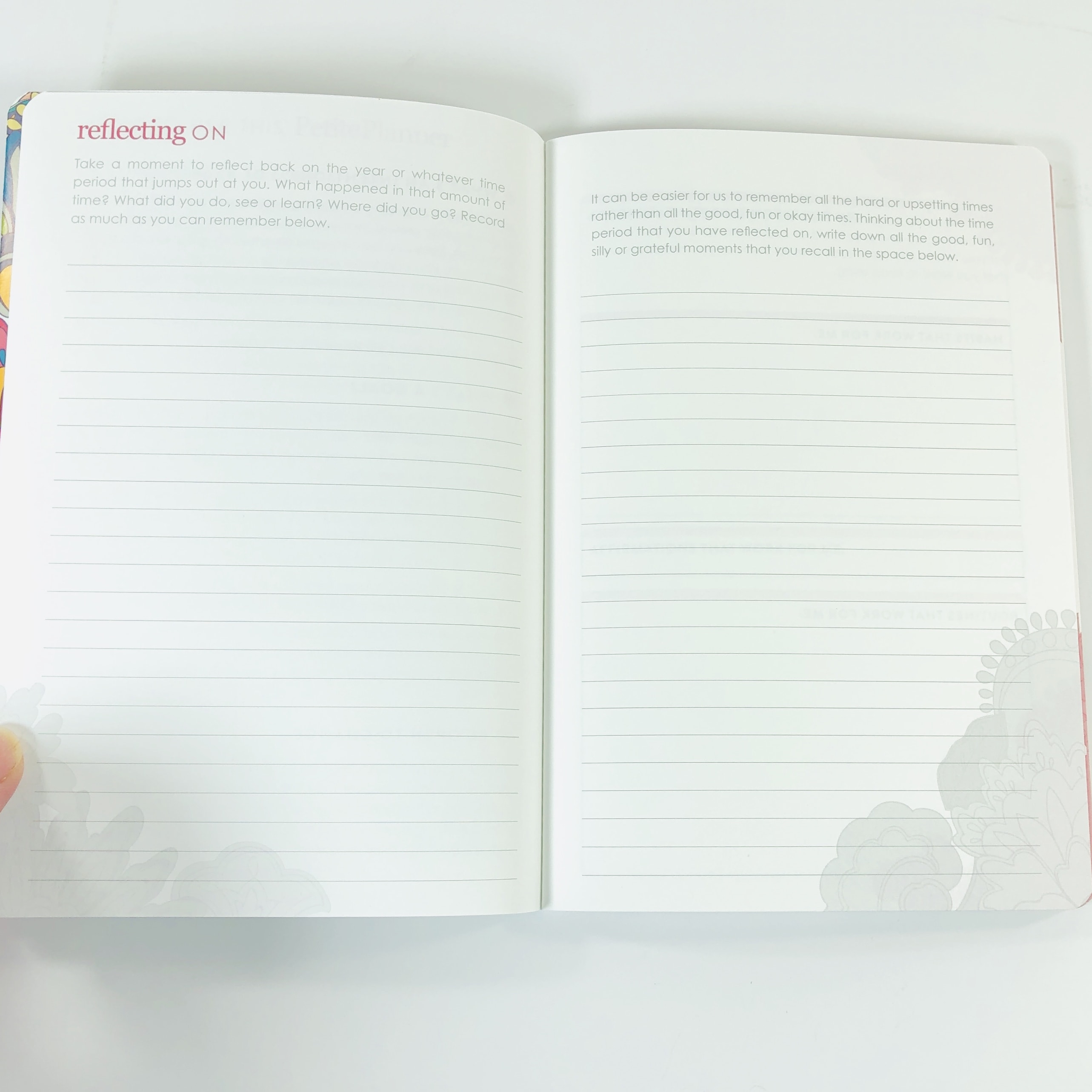 Sometimes it's good to jot down things you enjoyed or accomplished over the past year, so write down those achievements. Use that adorable pen you received in the box!
What motivates you and helps you reach your goals? Write it down!
Keep track of what you want to work on in the coming month. There were lots of pages to use to keep track. It has three monthly sections, each of which has five weeks worth of intention/goal journaling space. Measures 5.7″ x 8.25″ and has 80 pages total.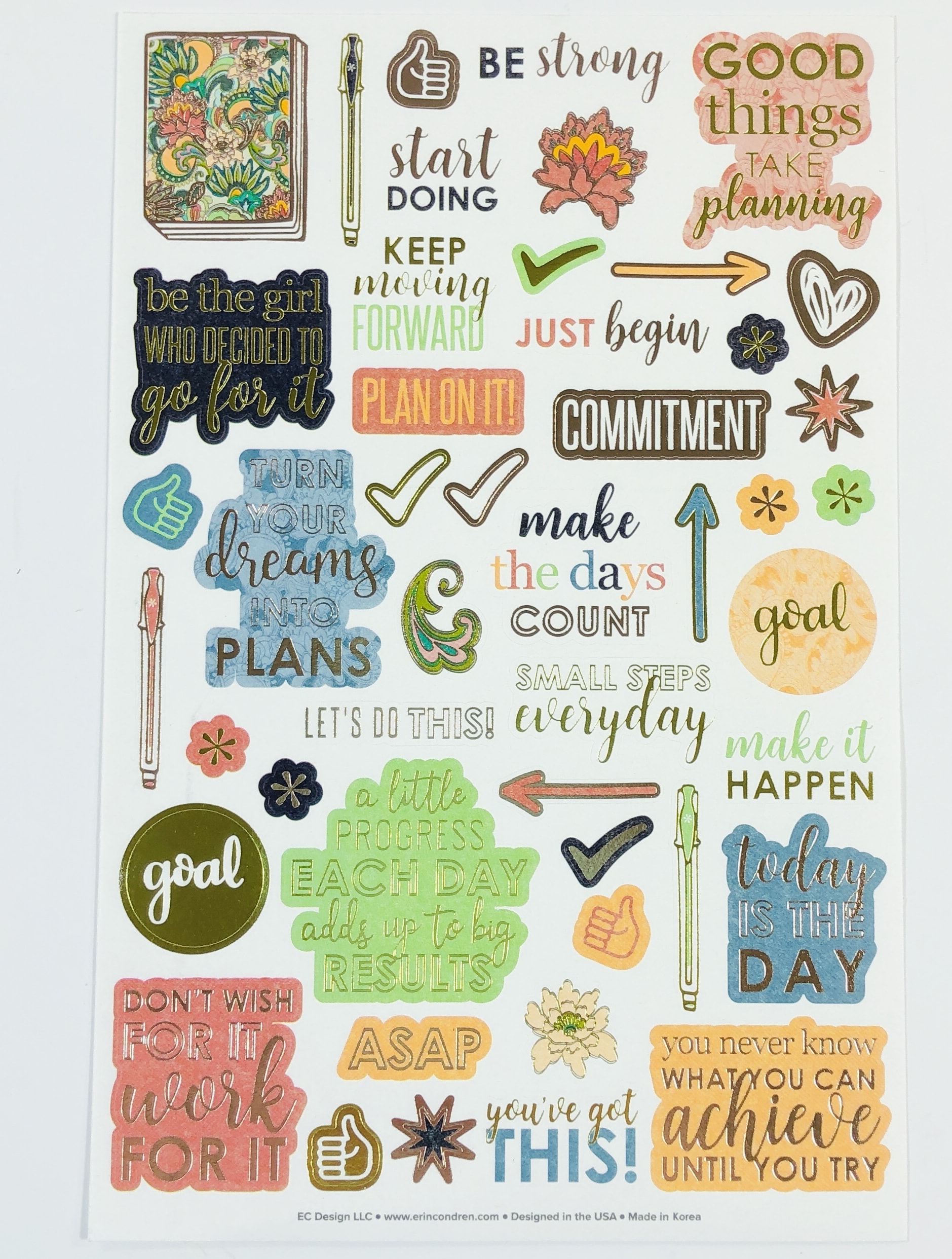 I found a bonus sheet of stickers in the back of this notebook.
Petite Journal ($9) is an exclusive item just for this box!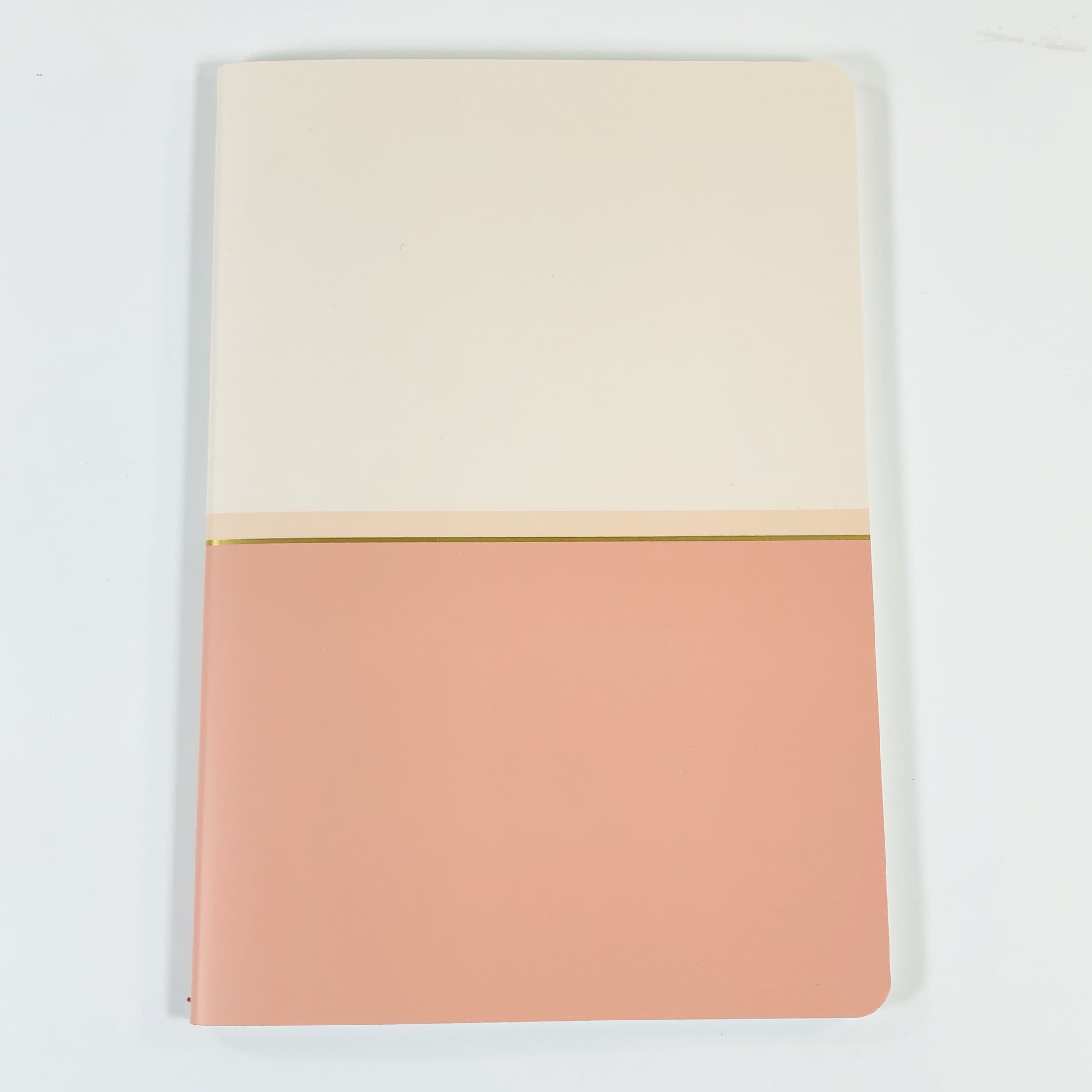 The cover has three different colors with a metallic gold line across the front.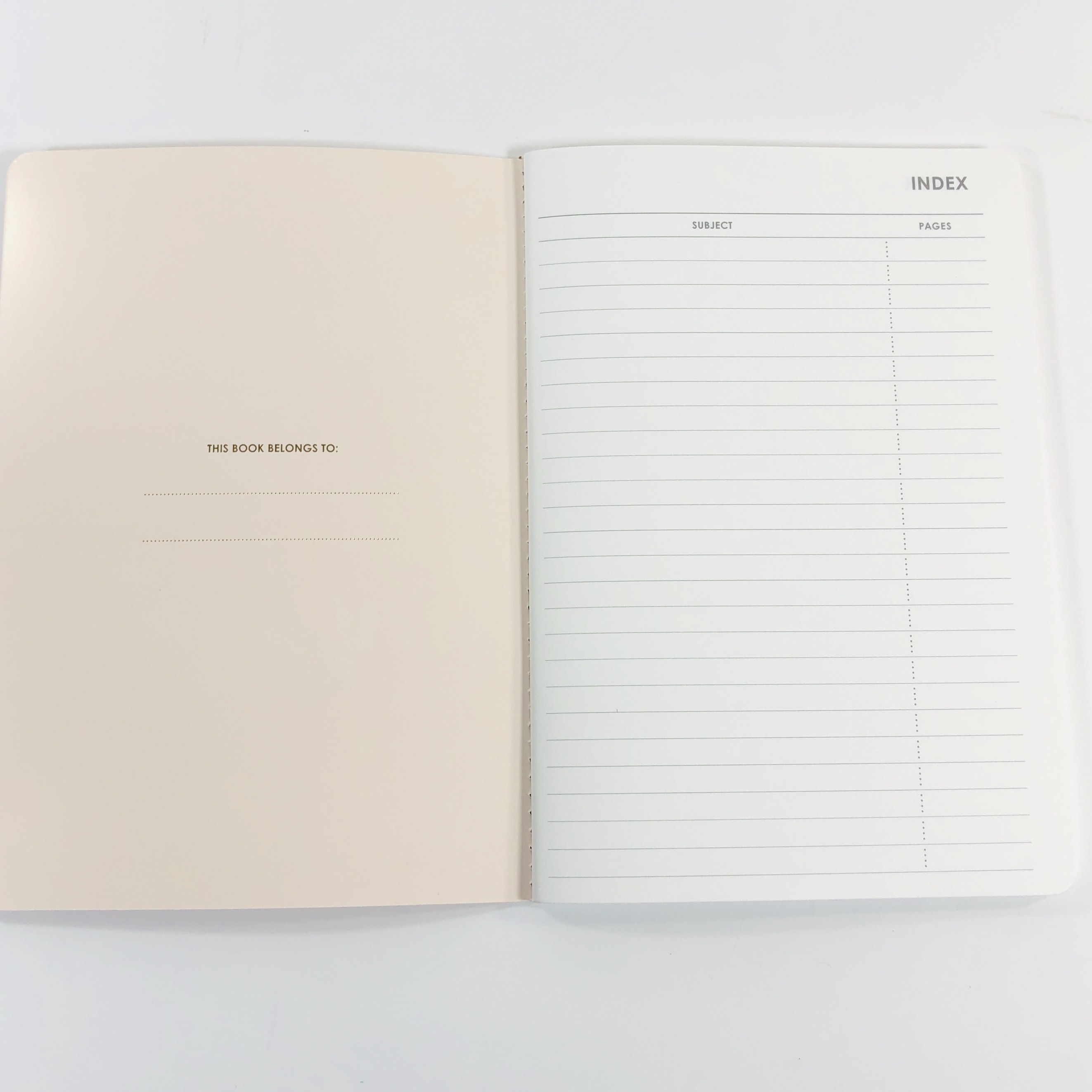 There was an index on the inside cover.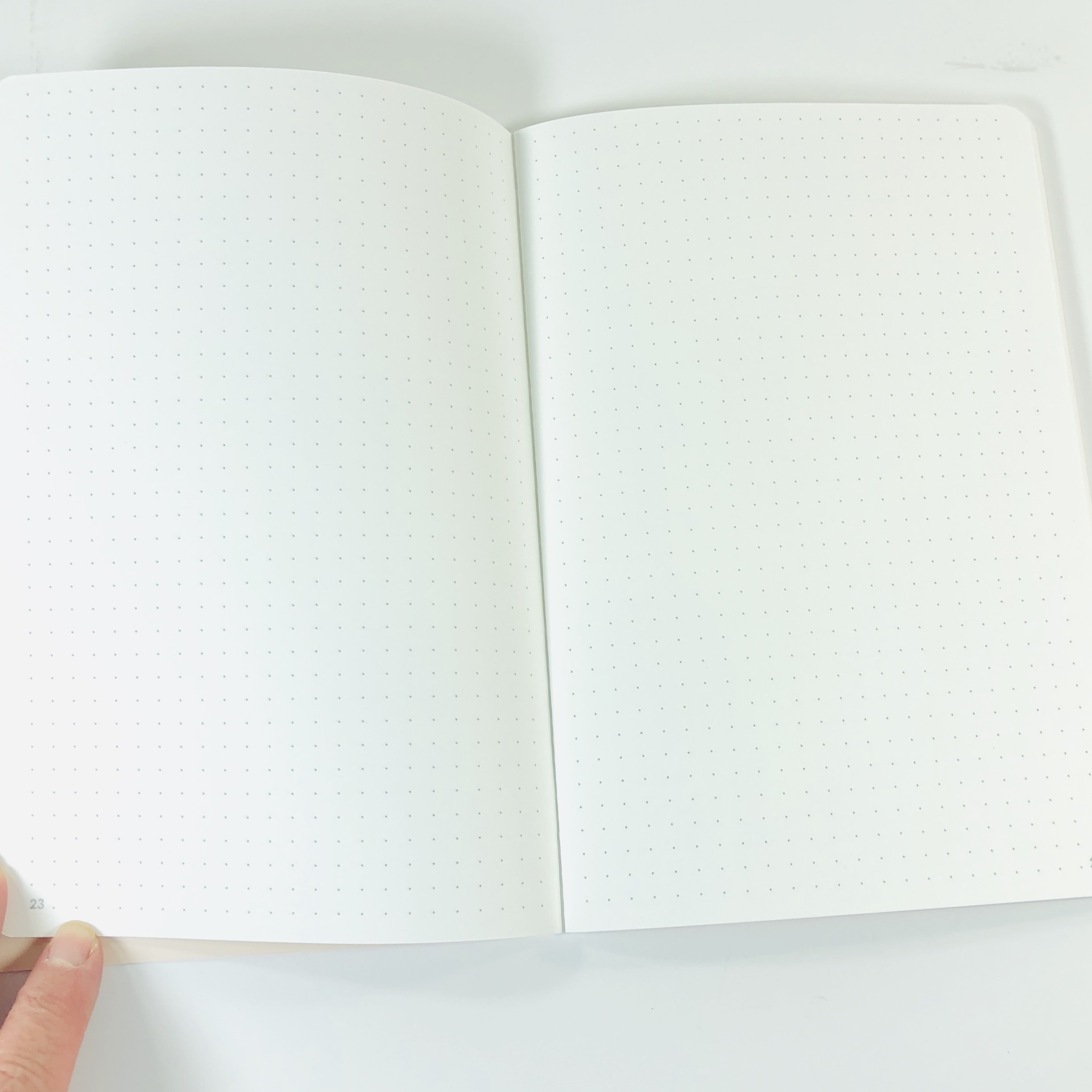 The rest of the pages were dot grid so you can fill this up however you like. Let your creative juices flow!
Here's a close up of the dotted pages. The notebook is 5.7″ x 8.25″ and has 80 dot grid pages.
Erin Condren Seasonal Surprise is filled with absolutely adorable accessories that are also functional and fun to use. We are looking forward to the year ahead with this box so let's get ready for 2020 and make it an awesome year! As always I love the stickers and that pen will make me smile whenever I use it. The weekly intentions and dot journal will go into my On The Go folio. I think the patterns are pretty and the colors and metallic touches set these items apart.
What did you think of the box?
Visit Erin Condren Seasonal Surprise Box to subscribe or find out more!