CatLadyBox sends monthly boxes for the cat ladies and their cats! There are two types of boxes: the Crazy CatLadyBox that contains cat-themed items for you and your cat, and the CatLadyBox which contains things just for you. Each curation might include cat-themed shirts, jewelry, home decor, accessories, art, and more – all delivered in a box your cat can keep.
TIP: Looking for a coupon code? Subscribe to notifications for CatLadyBox in the directory to get an email when the next one is released!
The items were wrapped in black tissue paper sealed with a Cat Lady sticker.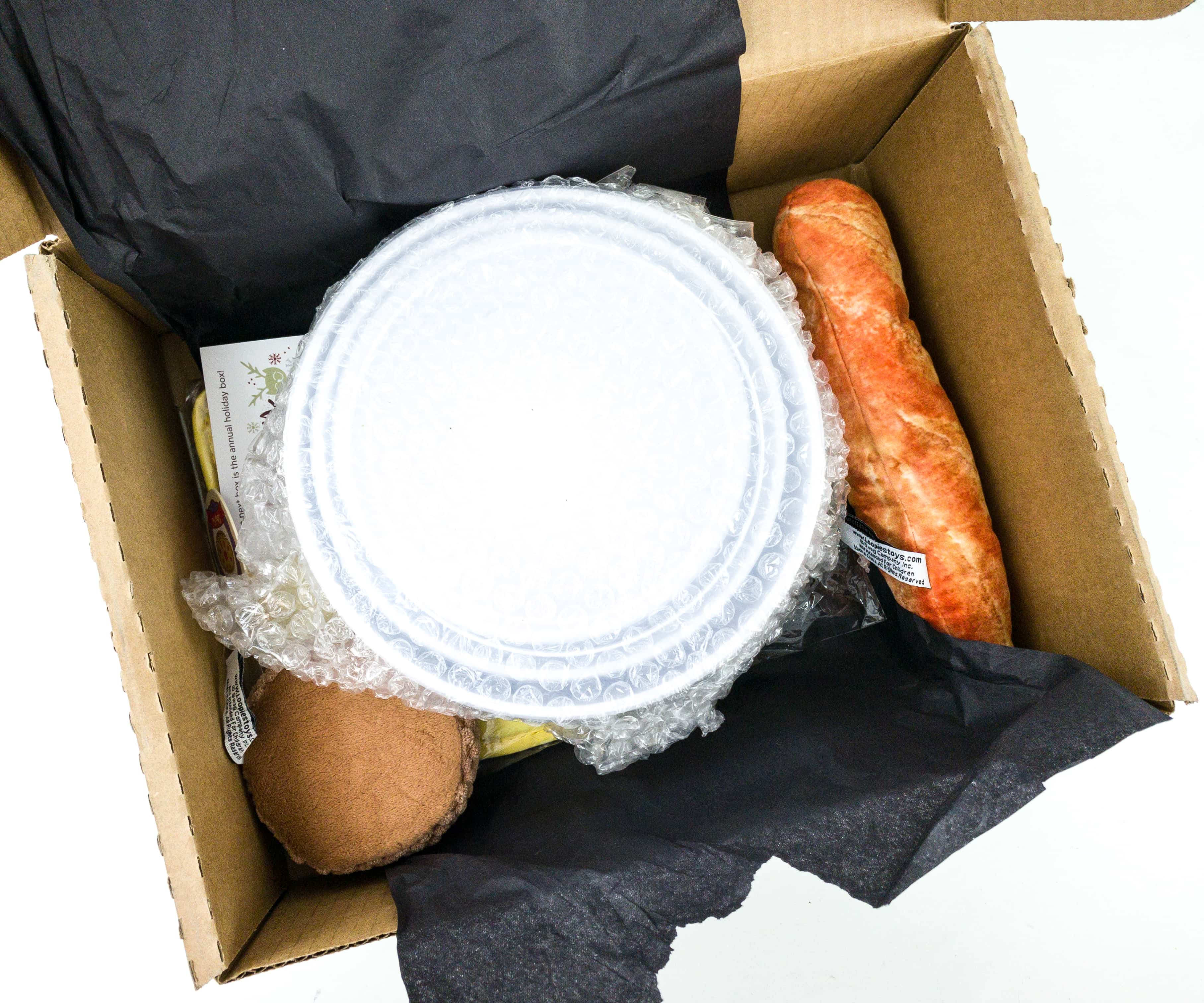 The box is full of cute stuff!
The information card features a cute cat artwork by featured CatLady artist Jamie Shelman.
At the back, there's a list of all the items in the box with their retail value and a brief description. The October 2019 theme is Black Cats Box!
Another card greets us Meowy Holidays!
It also informs us that the next box is the annual holiday box!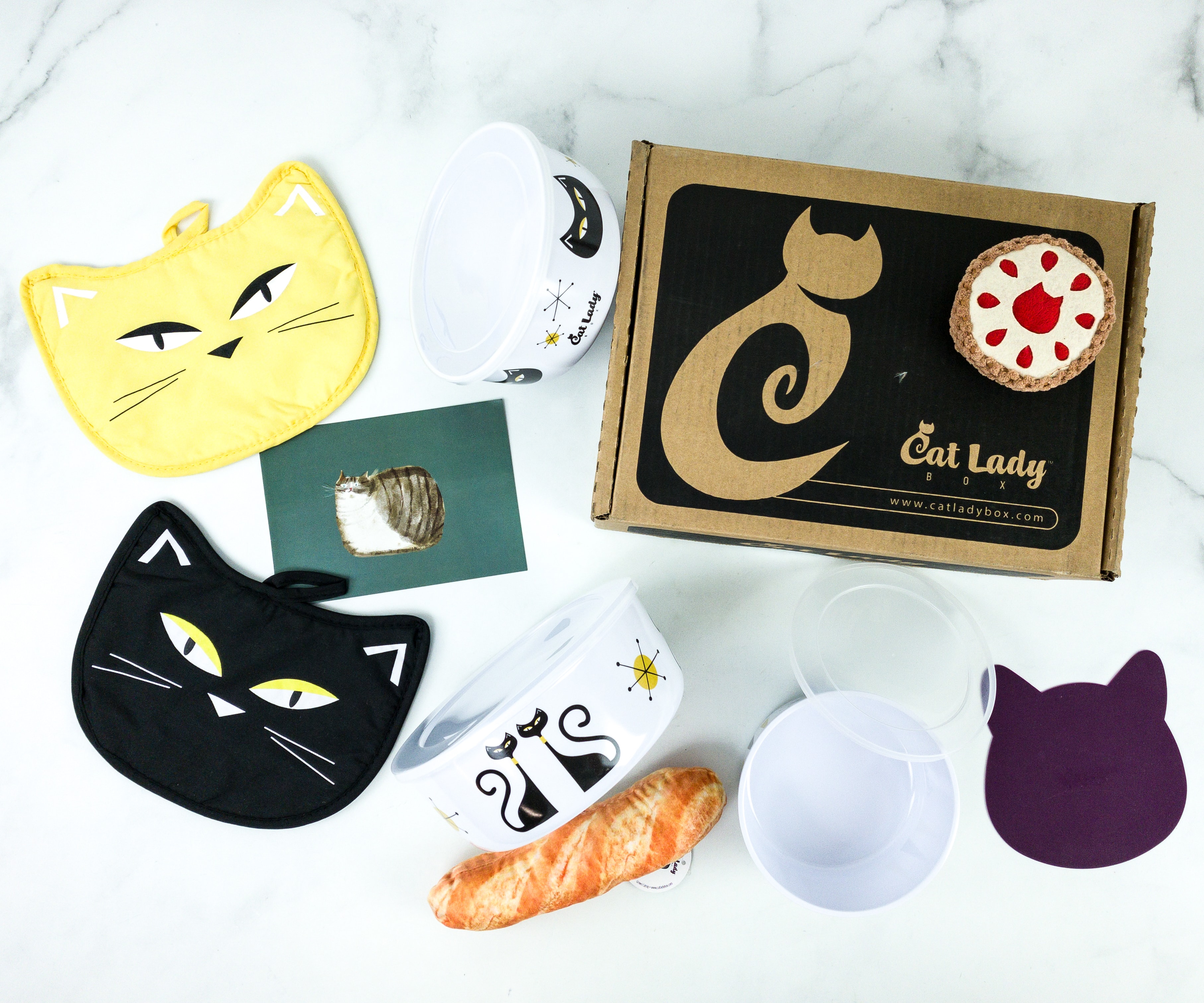 Everything in my CatLadyBox!
Cat Pot Holder Set ($16.99) We got 2 cat head-shaped potholders. One is yellow, the other is black, and both are adorable! One can never have too many potholders in their kitchen especially if they're as purrfect as these, right?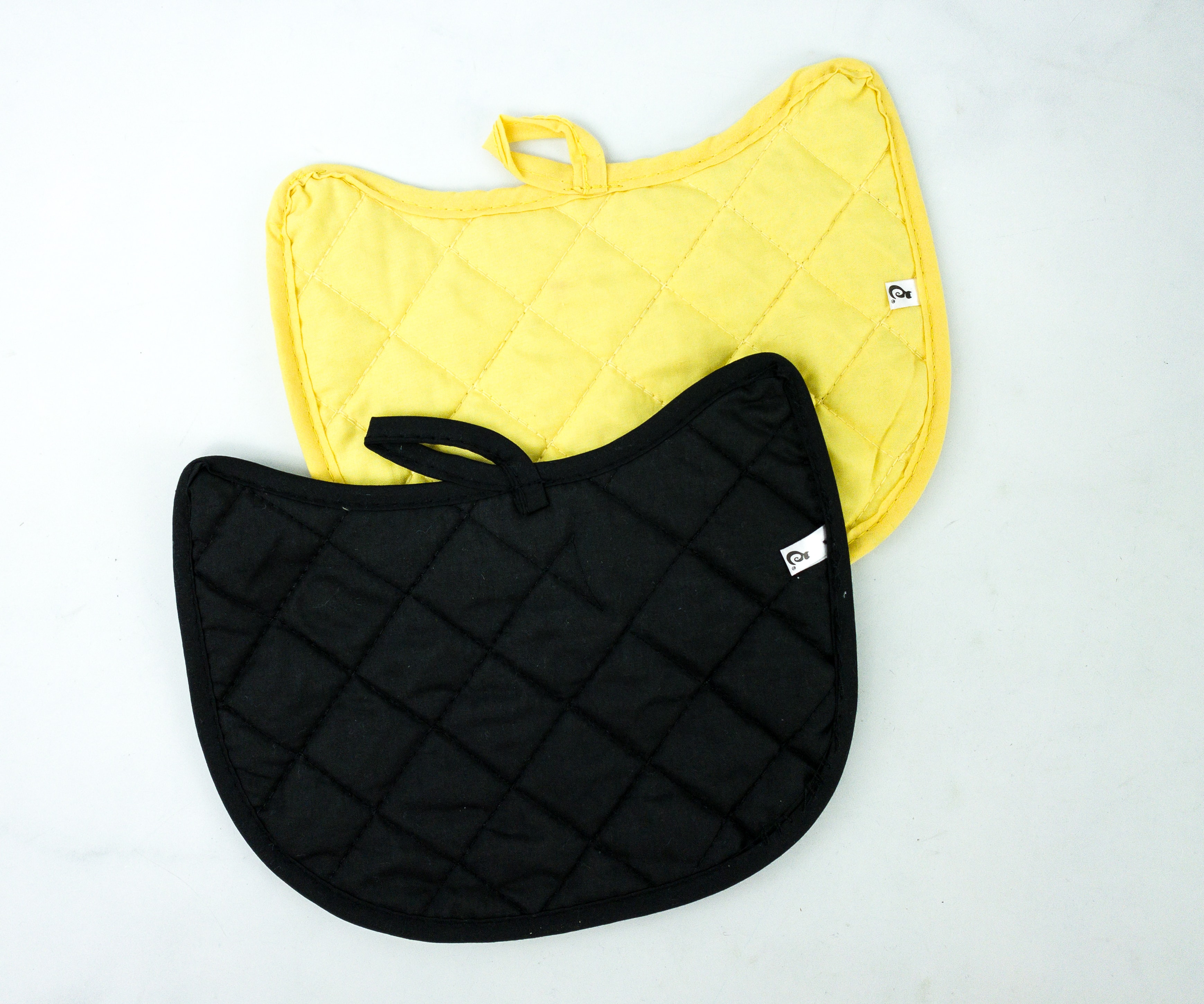 The back of the potholders is quilted for durability. Each of them has a loop so you can easily hang them when not in use.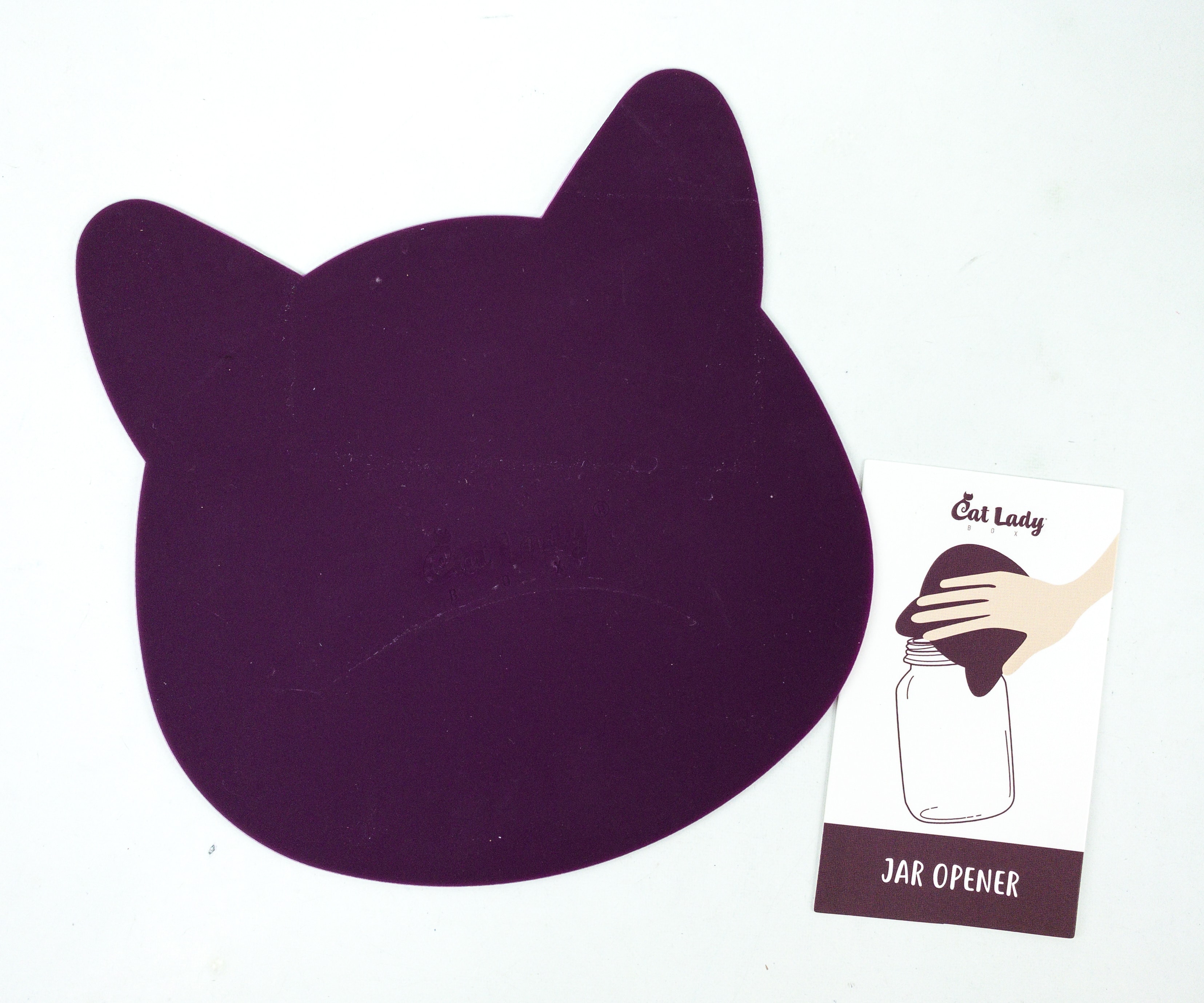 Cat Head Jar Gripper ($6.99) Here's another item for our kitchen, a cat head-shaped rubber gripper. Stubborn jar lids are inevitable, and sometimes all you need to deal with them is a good grip for leverage. This one gives us exactly that!
Catnip Pie Cat Toy ($5.99) Our CatLadyBox includes two cat toys! The first one is a pie-shaped toy with catnip. It's soft and textured, so it's really enjoyable for our feline friends.
Furrrench Bread Catnip Kicker Toy ($5.99) The next toy is shaped like a bread and it contains a catnip as well. The outer texture is smooth!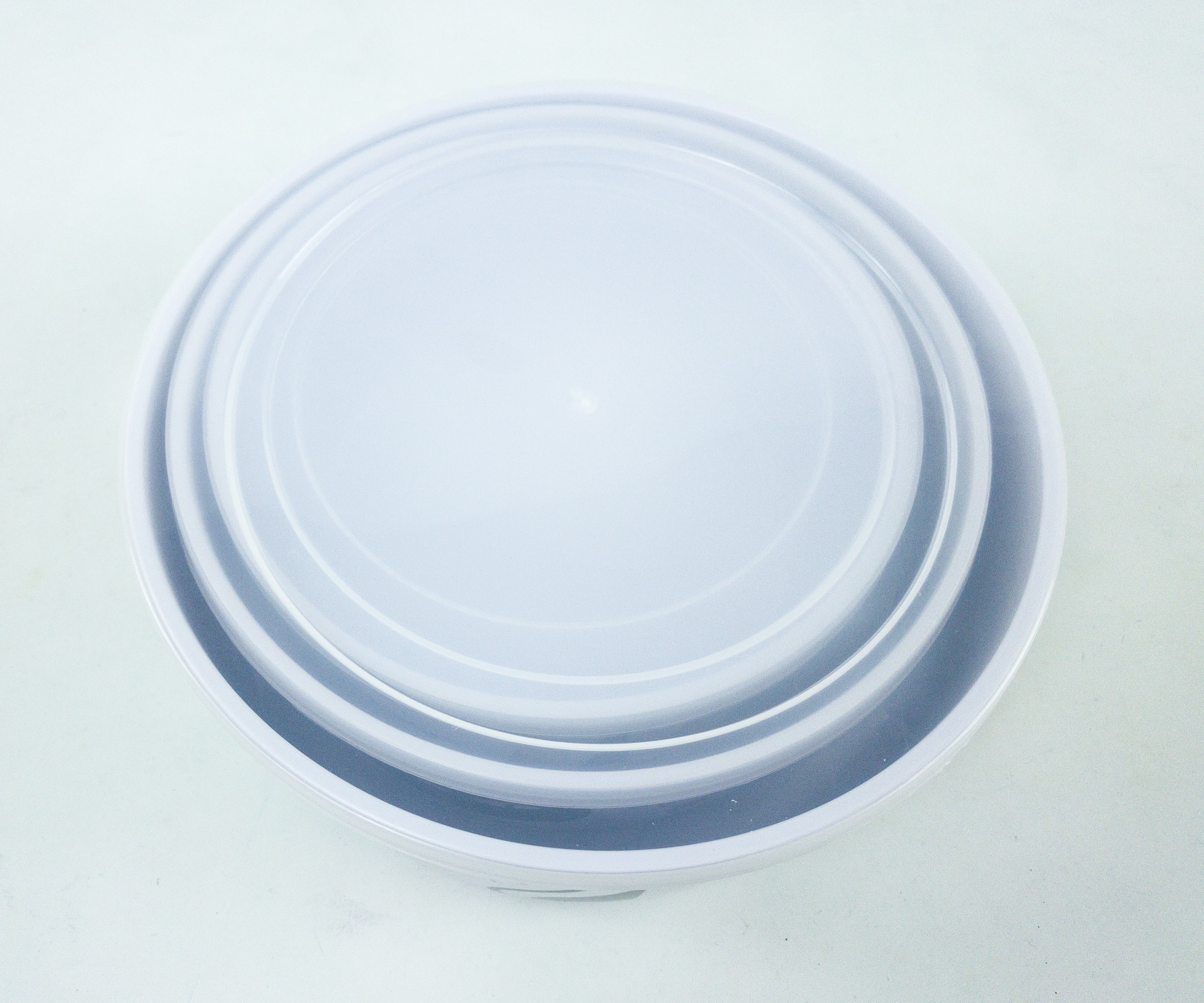 Mod Cats Melamine Bowl Set ($24.99) This bowl set is perfect for packing snacks for picnics!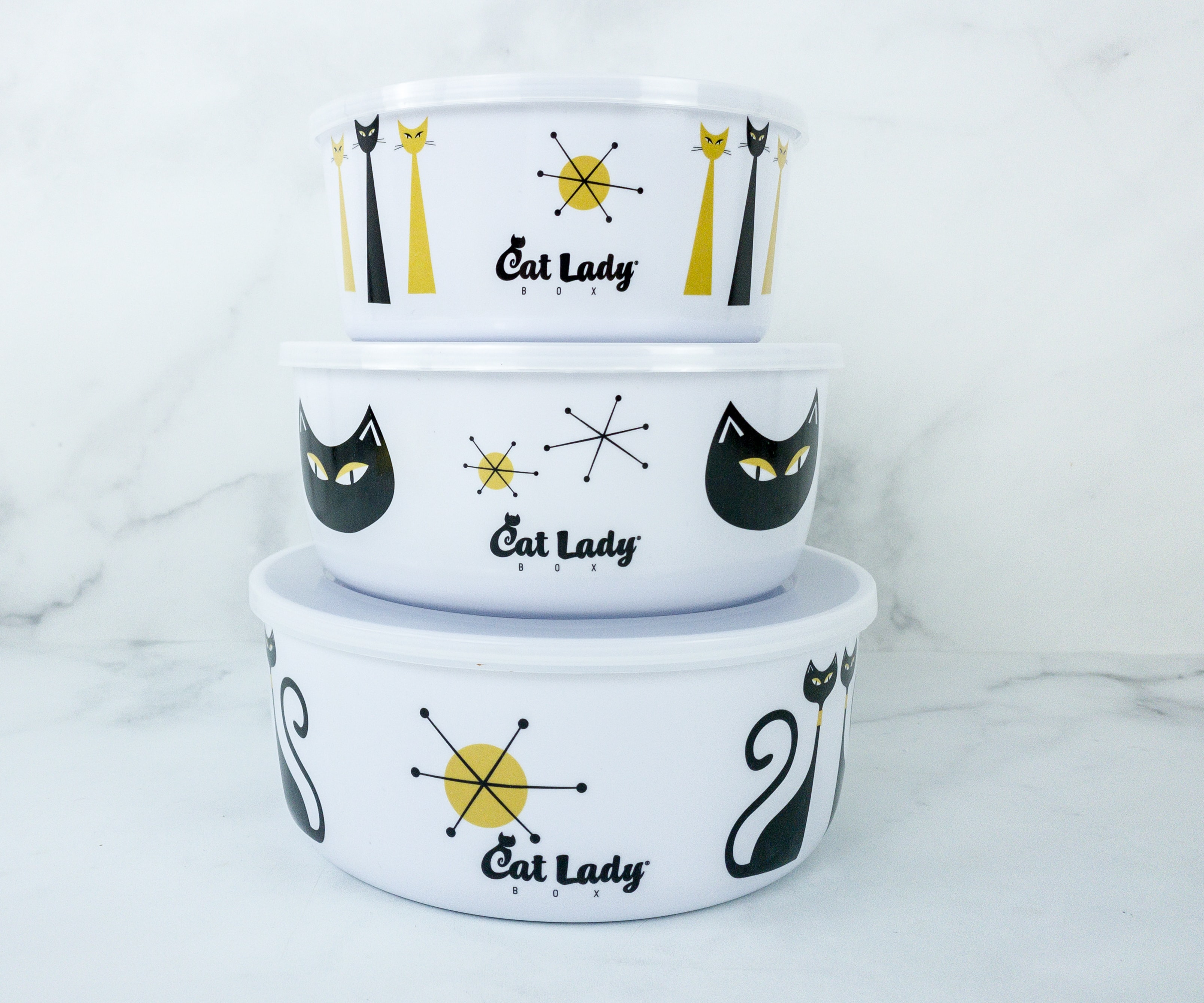 Three bowls in small, medium and large sizes are included in the set. They all have a CatLadyBox logo!
Of course, they also feature adorable cat prints!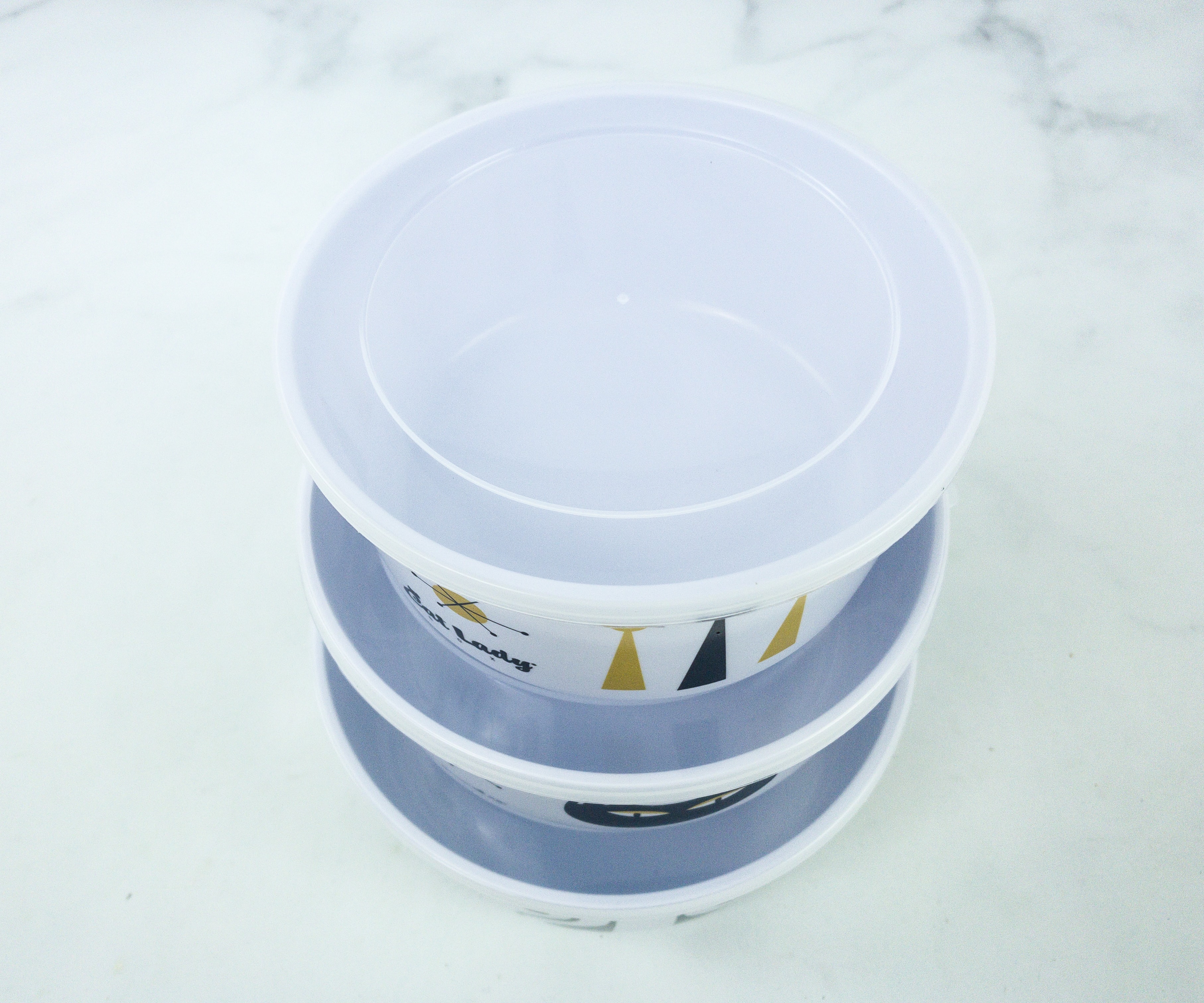 All bowls come with lids so you can secure the food inside.
CatLadyBox is the ultimate subscription for cat lovers! In this month's box, there are 3 cat-themed items for humans and 2 cat toys. Most of the items for humans are usable in the kitchen and they're high-quality as well. My favorite is the bowl set! There are three cutely designed bowls and I can't wait to fill them up with delicious fruits and sandwiches, or maybe even salads. The cat toys are also fun and appealing for our feline friends. All in all, this box is really a win for both humans and their cats. In case you want a box solely for you, they offer that as well, just don't tell your cat!
What do you think of this month's box? Does your cat give 2 paws up?