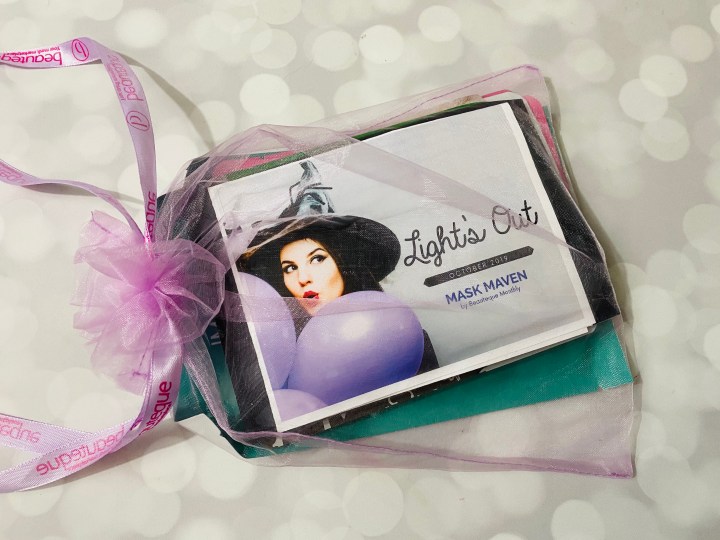 Beauteque offers two ways to get your fill of (mostly) Korean beauty products each month: BB Bag contains 6-8 full-sized products such as makeup, skin care, body care, and more for $24 per month; Mask Maven brings you 9 different masks for $15. Both subscriptions are offered in 1, 3, 6, or 12-month terms that will automatically renew until canceled. This month the masks came in a pretty holo rainbow mailer instead of the box.
DEAL: Save 10% on the BB bag or Mask Maven with coupon code CRATEJOY10.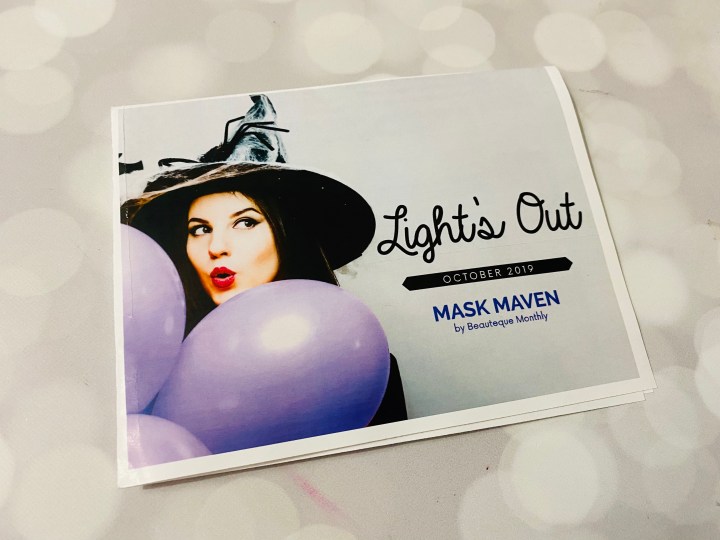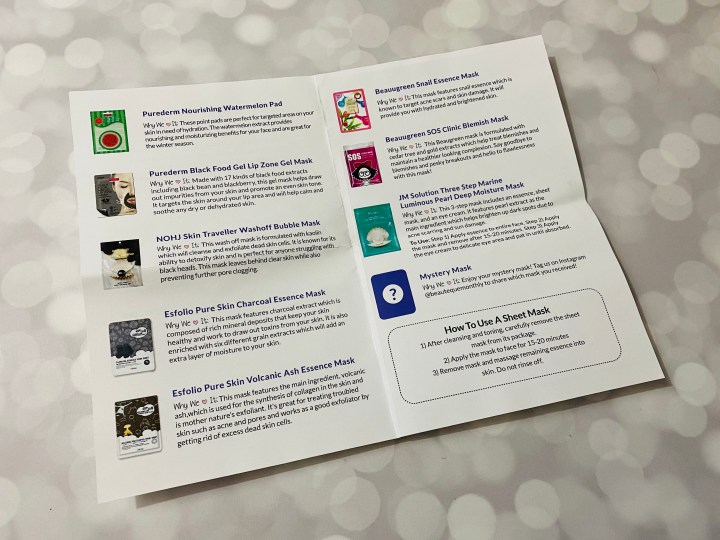 The information sheet has details about all of the masks included this month!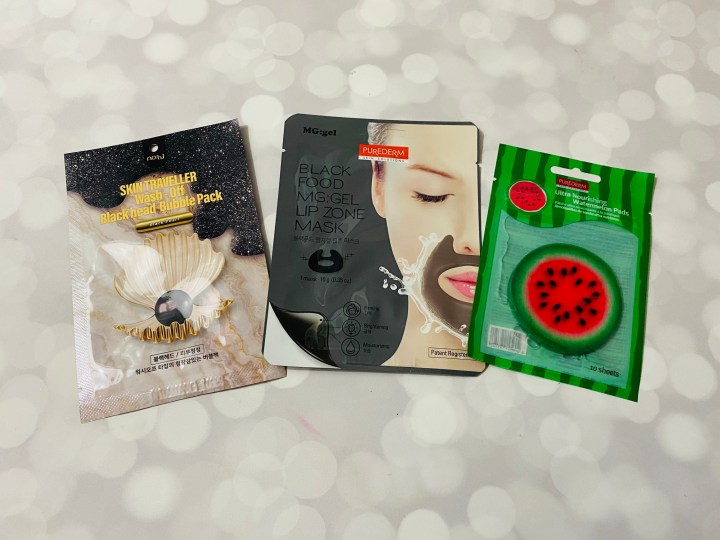 NOHJ Skin Traveller Bubble Mask — NOHJ is a brand that I hadn't heard of until I started receiving Mask Maven. They're a Korean brand with a huge catalog of masks. I haven't tried one of their bubble masks yet so I'm excited to try. Bubble masks begin to foam when exposed to air, which is meant to cleanse and exfoliate. This mask will help improve the appearance of blackheads and leave skin feeling refreshed and clear.
Purederm Black Gel Lip Mask — A unique sheet mask that fits around your nose and lips. It has black bean and blackberry to draw out impurities.
Watermelon Point Pads — A pack of ten mini masks you can use all over for targeted moisturizing. I love the cute watermelon design and the watermelon extract in the essence is very hydrating.
Esfolio Charcoal Essence Mask — I love Esfolio masks because there are so many kinds and they're cruelty free. Charcoal is an ingredient best suited for oily or combo types, as it absorbs the oil in your skin and helps balance it. This mask also includes six grain extracts so it's also hydrating and soothing.
Esfolio Volcanic Ash Essence Mask — Another Esgolio mask! Volcanic ash can help stimulate the production of collagen. Volcanic ash also helps acne-prone skin and is also exfoliating.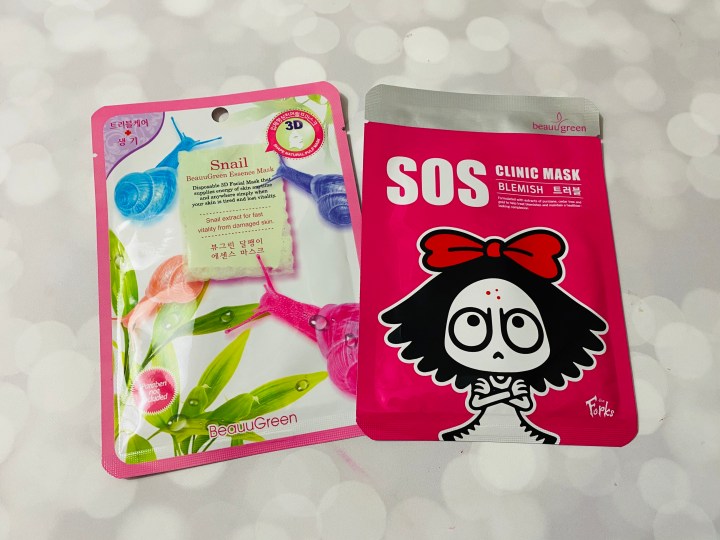 BeauuGreen Snail Essence Mask — I looove snail. It sounds gross, but it honestly has done so much for my skin. Snail mucin is an anti-inflammatory and it really helps my pimples and other irritation. It's kind of gross to think about putting snail goo on your face, but we do crazy things in the name of beauty!
SOS Clinic Mask — Sedar tree and gold extract can help treat acne blemishes and keep skin glowing and healthy. I'm excited to try this mask as I'm recovering from a few pimples.
MJCare Premium Black Mask — This month everyone was sent a Mystery Mask and I was sent an MJCare mask! I like MJCare and their masks suit my skin well. This is from their premium line of masks. It's infused with charcoal to absorb excess oil.
JMSolution Three Step Marine Luminous Pearl — This is actually a three product mask. There's an essence to apply before the mask, an eye cream, and the mask itself. Everything is infused with pearl extract which can help reduce the appearance of dark spots.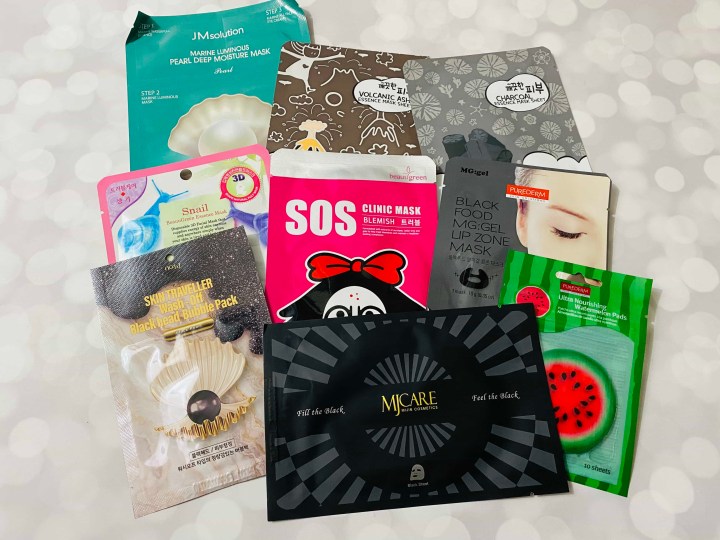 Mask Maven is a great subscription if you're a sheet mask fanatic who wants to try a bunch of different styles and brands. I love receiving a batch of new masks every month to pamper myself with!
What did you think about this month's Mask Maven?