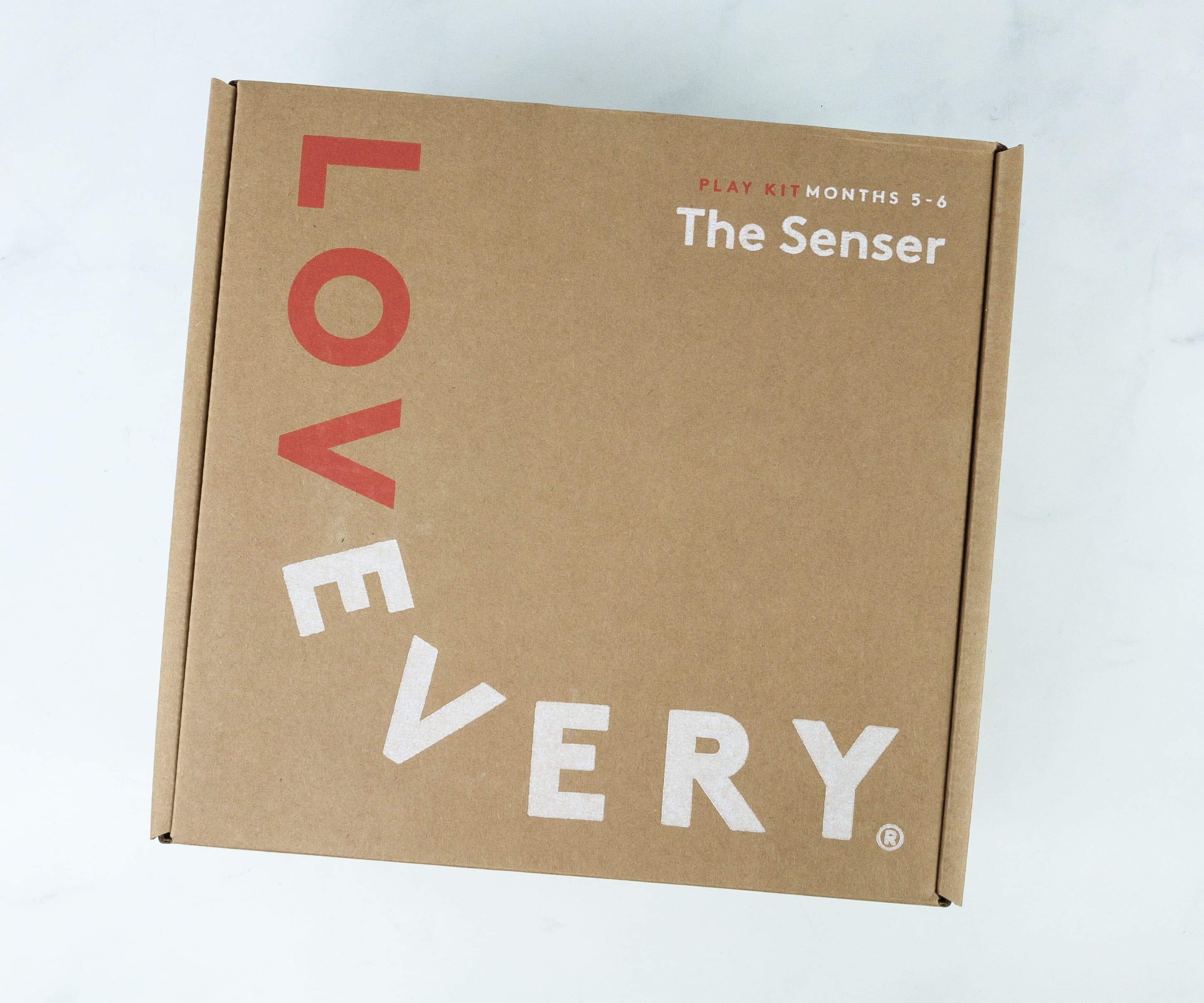 Baby Play Kits by Lovevery feature the best play products designed by child development experts. The toys are customized by stage and thoughtfully crafted using sustainably forested wood, organic cotton, and baby-safe plastics.
Head's up – this is a BIG box, with lots of photos! There is SO much in this box, along with guidance for parents, and just a ton of developmentally appropriate toys, that we couldn't really get rid of anything. We think this box is worth it, and this review will show you how the parent guide and all the items really work together. Every baby who has played with the toys in this box has found them absolutely fascinating, and we couldn't be happier with the Lovevery kits.
DEAL: Get 10% off on 3+ months prepaid subscriptions. Deal applies automatically, just use this link to subscribe.

The box is quite full and heavy!
The toys came neatly packaged.

This play kit is specially designed for babies 5 to 6 months old. They're called "The Senser!"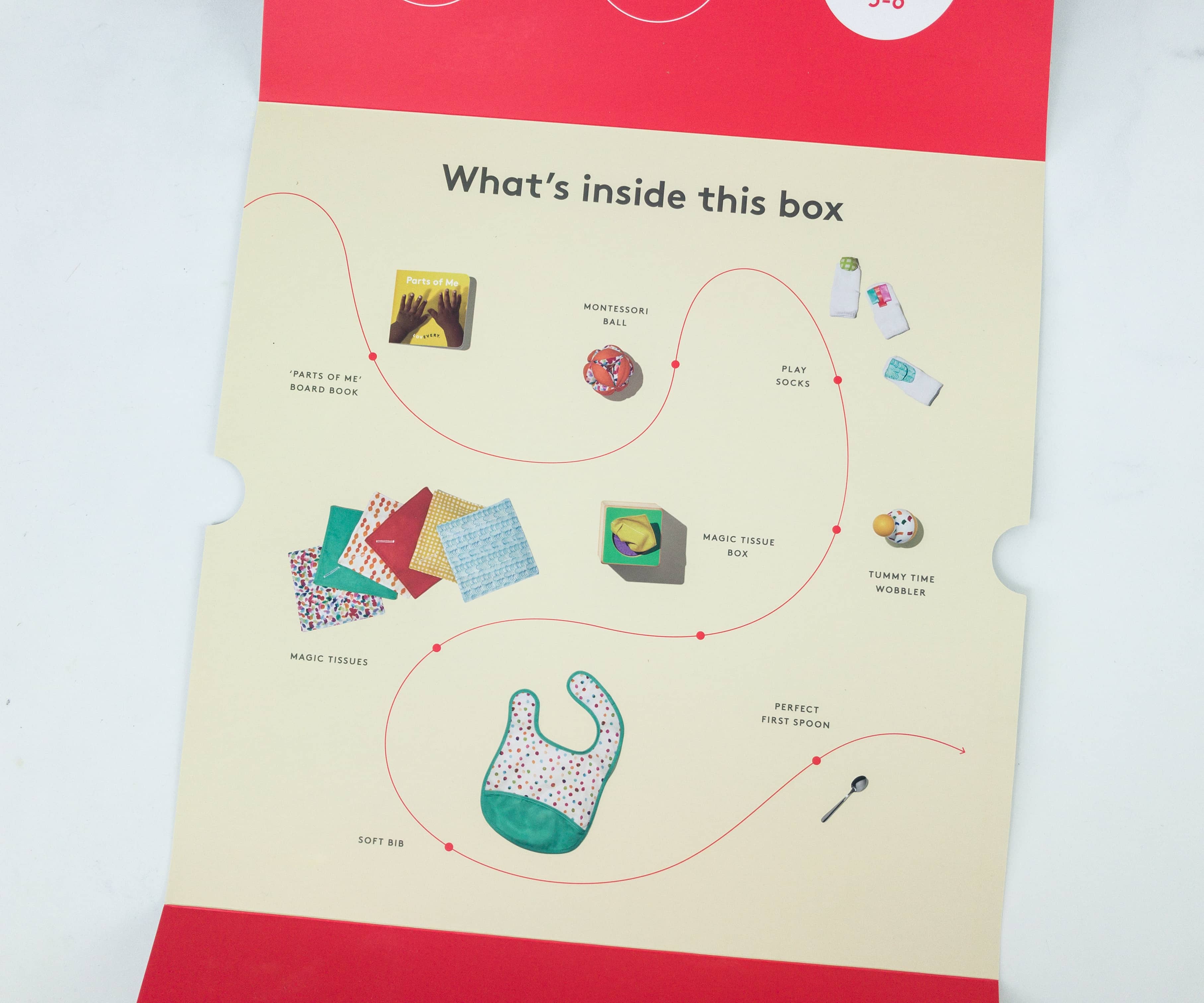 The information sheet gave us a rundown of all the items in the box!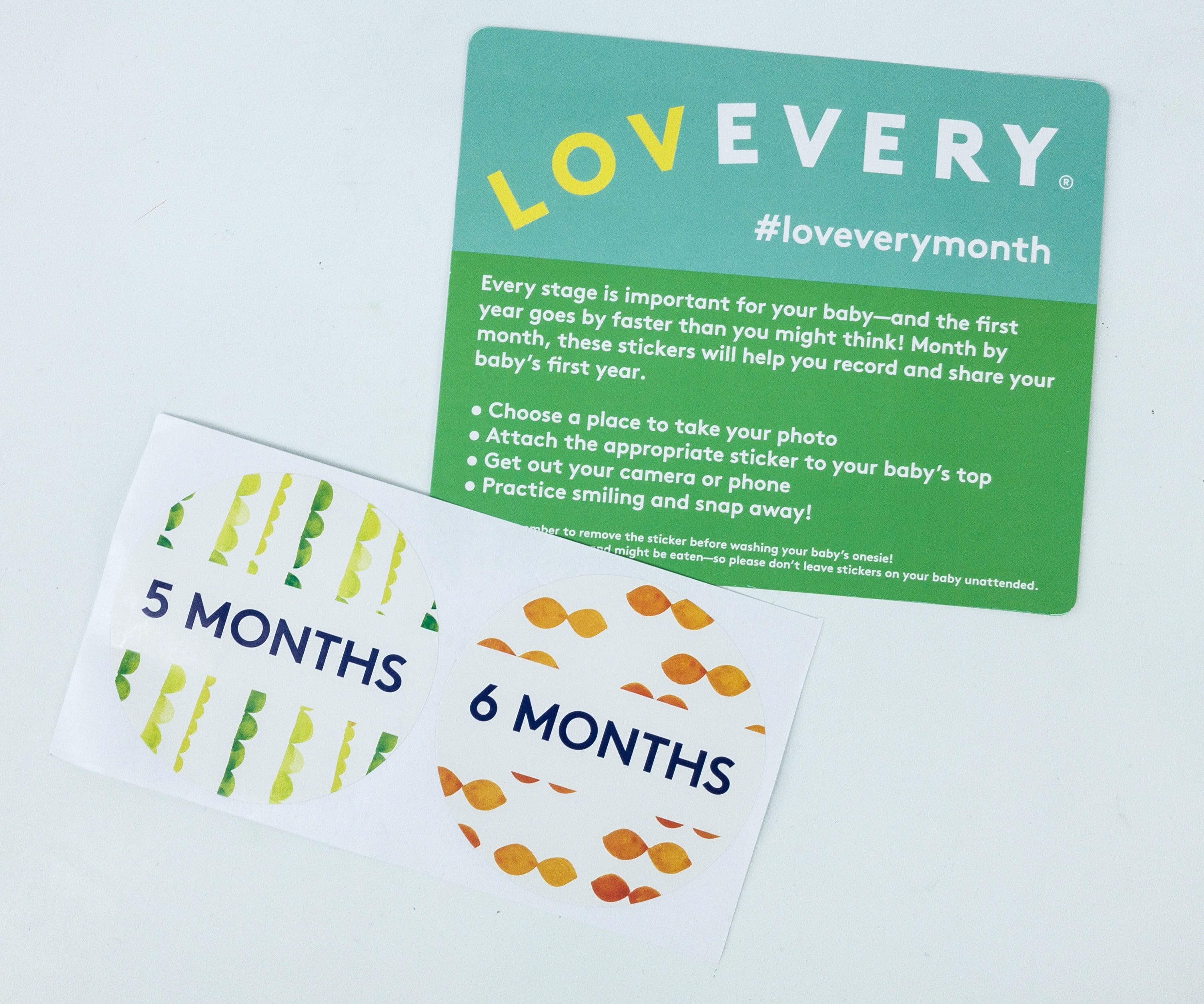 Baby Play Kits will include stickers to help you keep track of your baby's growth. Just attach the appropriate sticker to your baby's top and take their photo!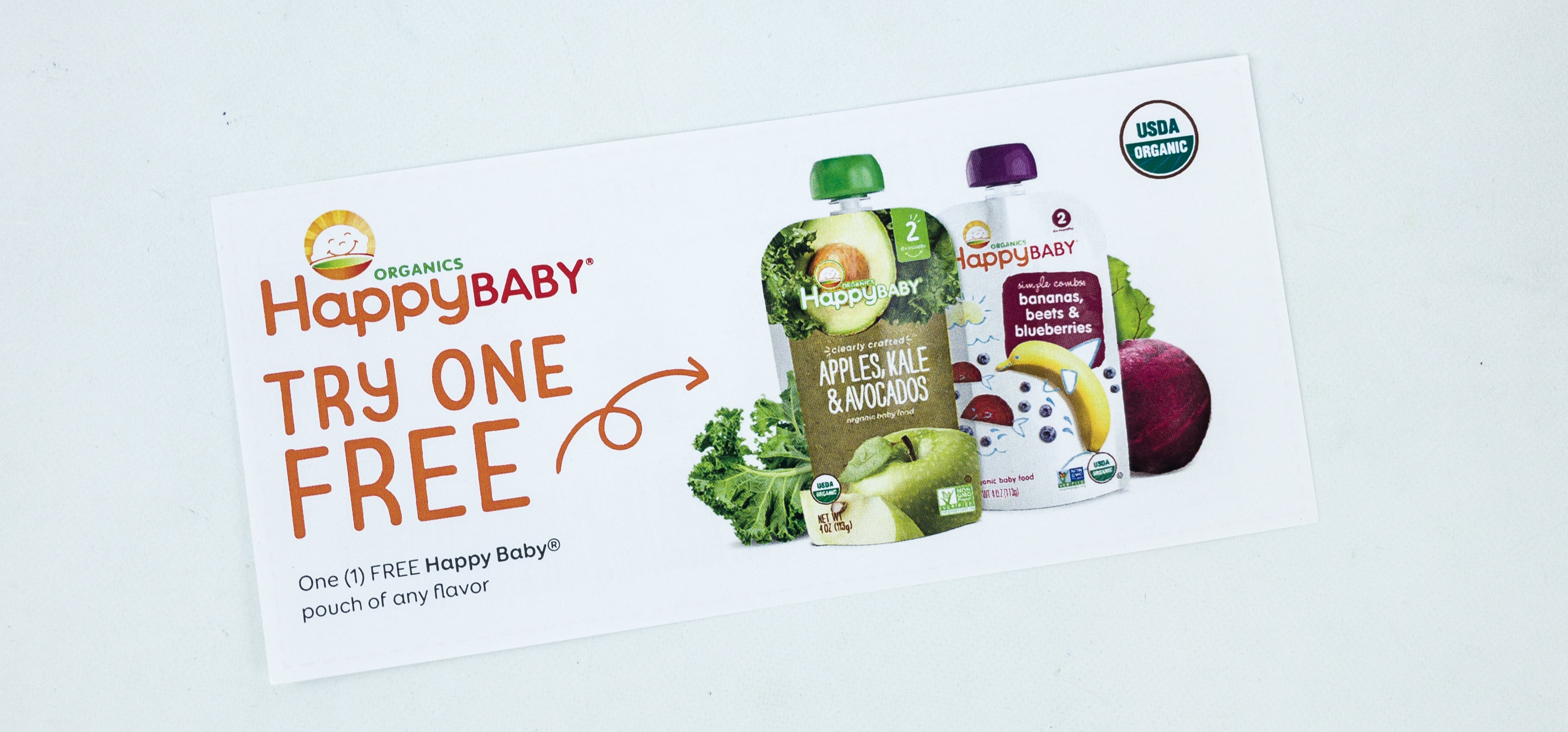 We also received a promotional card from Happy Baby!
To make this a fun and safe experience for all, they included a material and care manual.
There's a list of safety tips and warnings!

They even listed how to care for each item.
Some toys can be simply wiped clean using a cloth, while others are needed to be hand-washed.
There are corresponding photos for each number, so it's easier for you to determine which is which.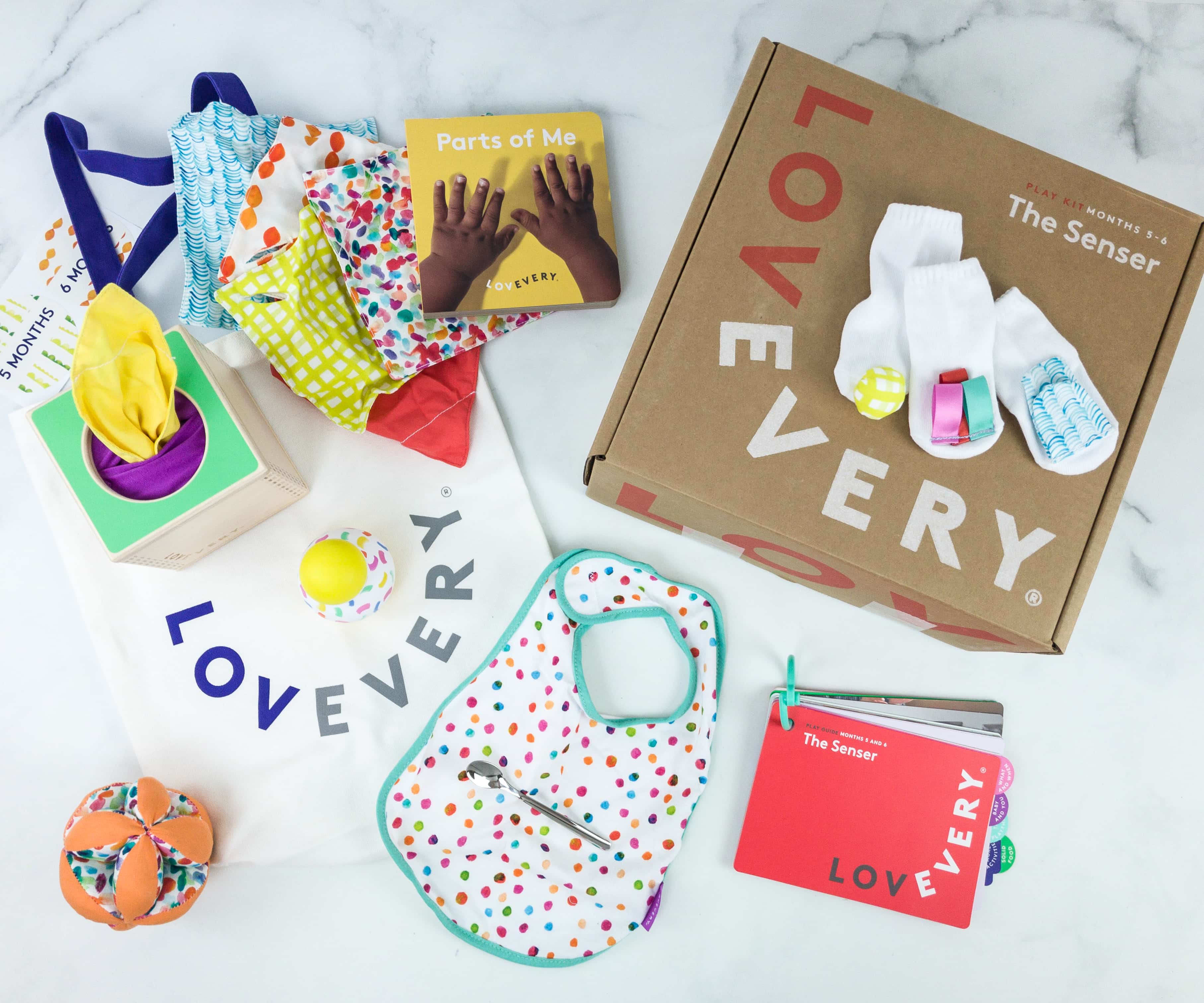 Everything in my box!
First up is the Play Guide!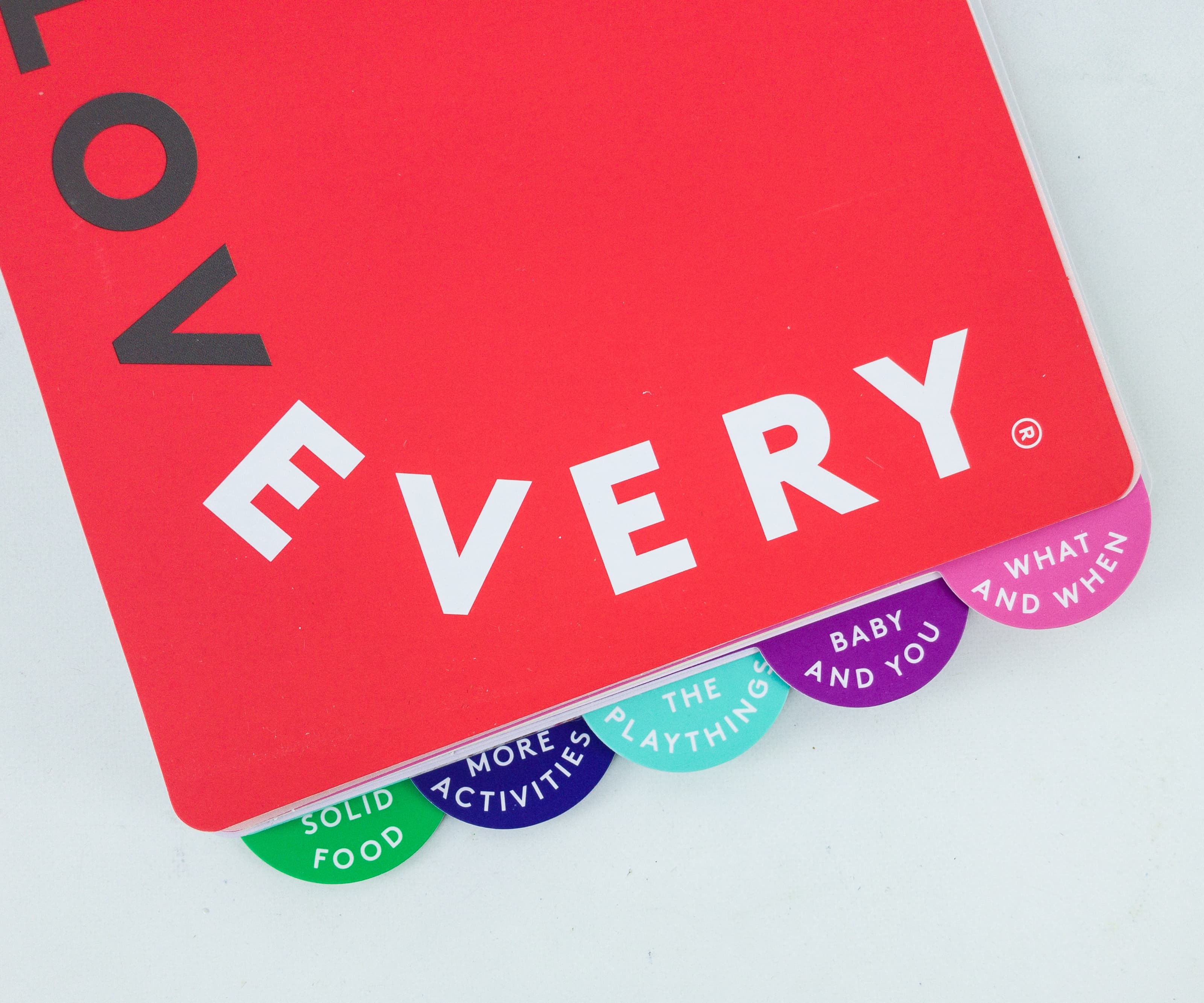 This guide is divided into different sections, so it's easier to flip through them and find what you're looking for.
There's a welcome note!
Like the information sheet, it gave us a rundown of all the toys in the box.
They also remind you that each baby's development path is unique and that it's okay if your baby isn't interested in playthings right away.
They listed what your baby is already capable of in their 5th month. It's also really helpful that they listed down what babies of this age like to do! Not everything would apply to your baby, but at least you'd get a general idea.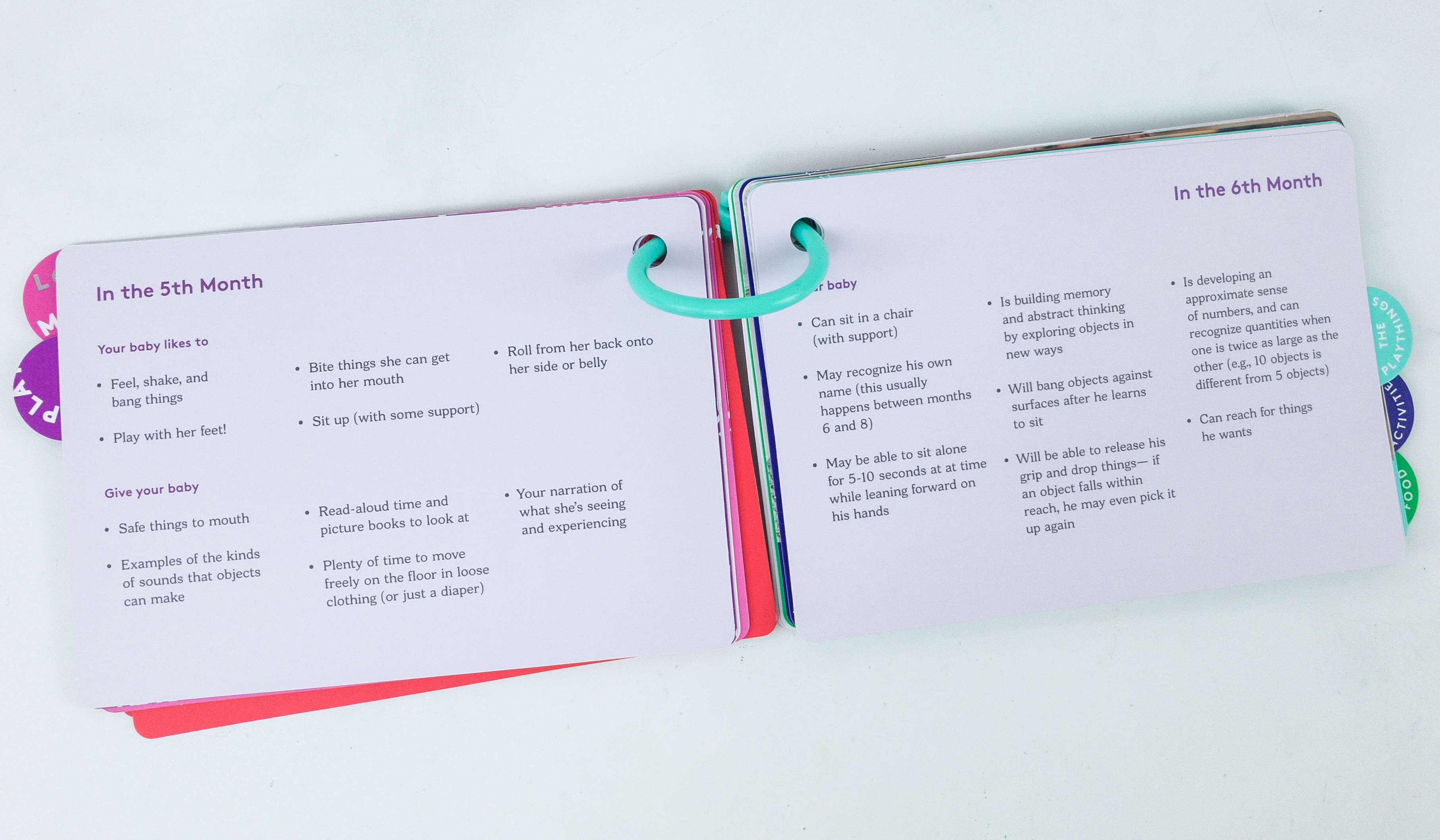 A separate page is dedicated to a list of things your baby can do and likes to do in their 6th month.
There's even a list of the appropriate things we should give our baby at this stage. Although quite long, it's a great read for parents.
Next section is The Playthings! We're getting on to the toys and activities!
Here's the first activity, Developing Language!
Your baby is beginning to recognize that people and faces are unique. You may remember her looking at your hairline in the first few months, searching for dark/light contrasts. Now, she looks at features — your eyes, nose, hands, lips teeth. She may also try to grab them. Since babies need repeated experiences to learn concepts, looking at faces of different people will help her practice facial recognition.
For this activity, they included a board book entitled Parts of Me.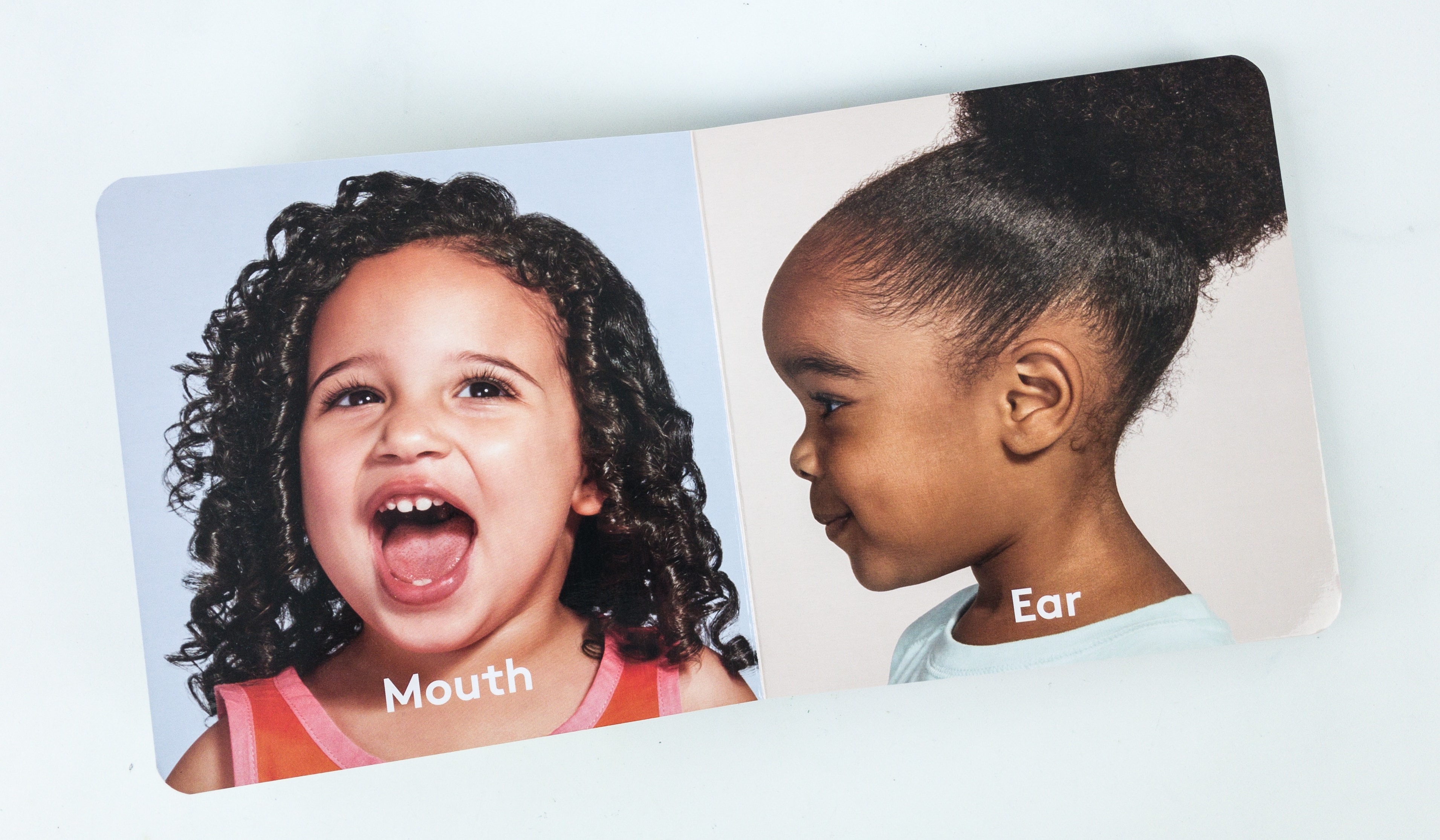 It teaches babies about different body parts using photos. Parents are encouraged to point to and describe the photo in the book and then point to their own corresponding body part.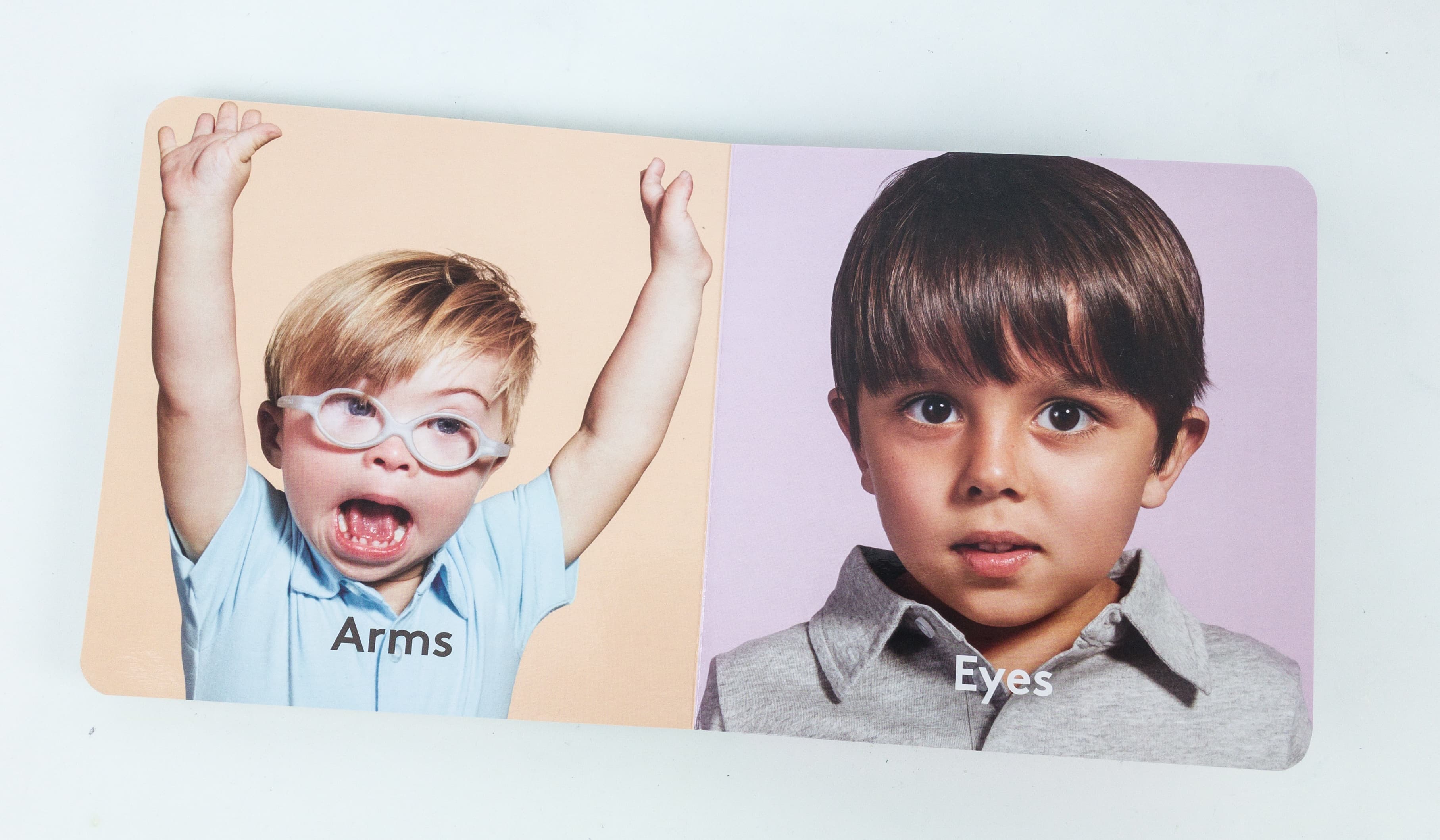 You're allowed to be silly! Kids at this age love to mimic so have fun with them!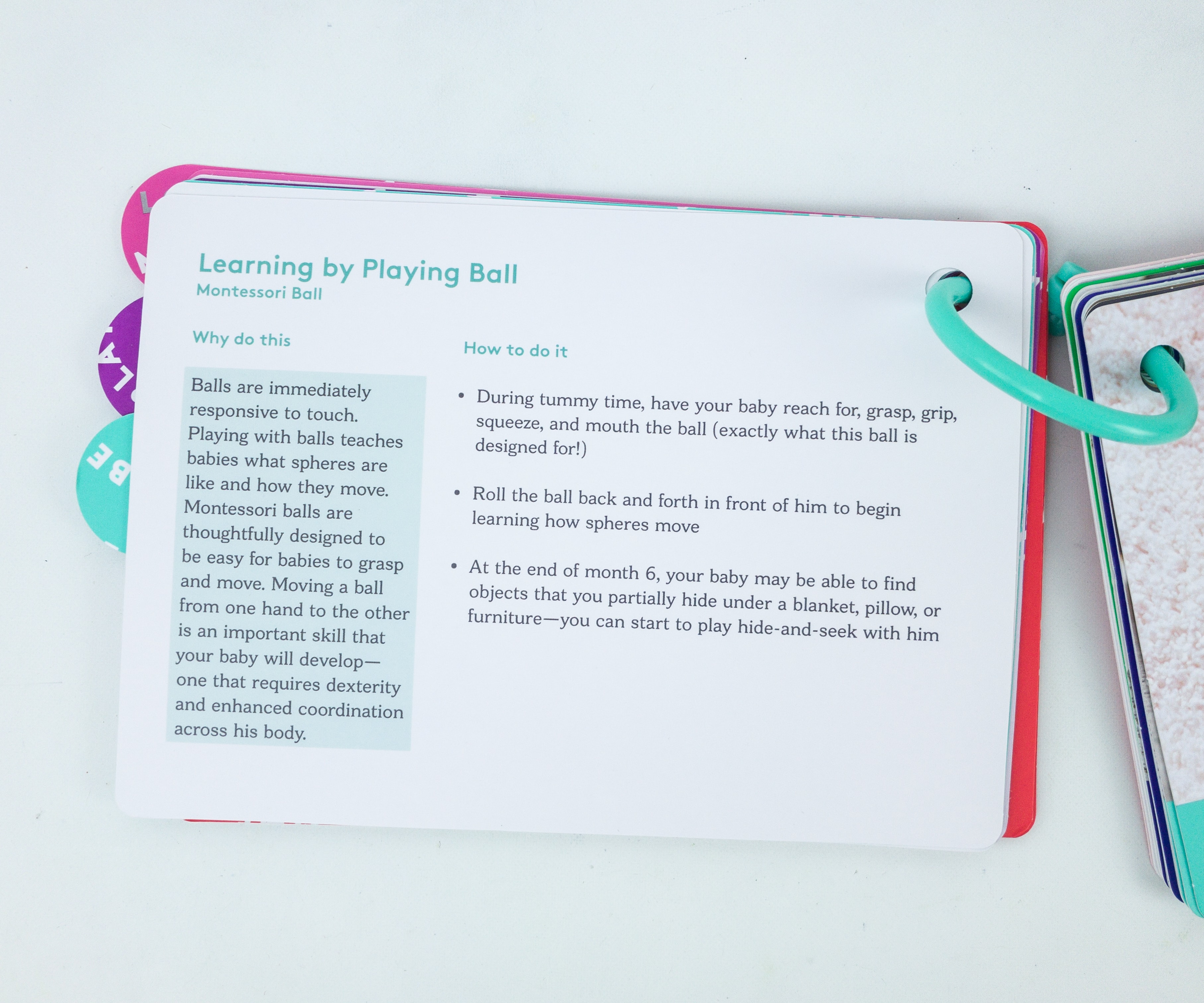 The next activity is Playing Ball!
Balls are immediately responsive to touch. Playing with balls teaches babies what spheres are like and how they move. Montessori balls are thoughtfully designed to be easy for babies to grasp and move. Moving a ball from one hand to the other is an important skill that your baby will develop — one the requires dexterity and enhanced coordination across his body.
This montessori ball is perfect for babies. It's safe for them to grasp, grip, squeeze, and mouth it!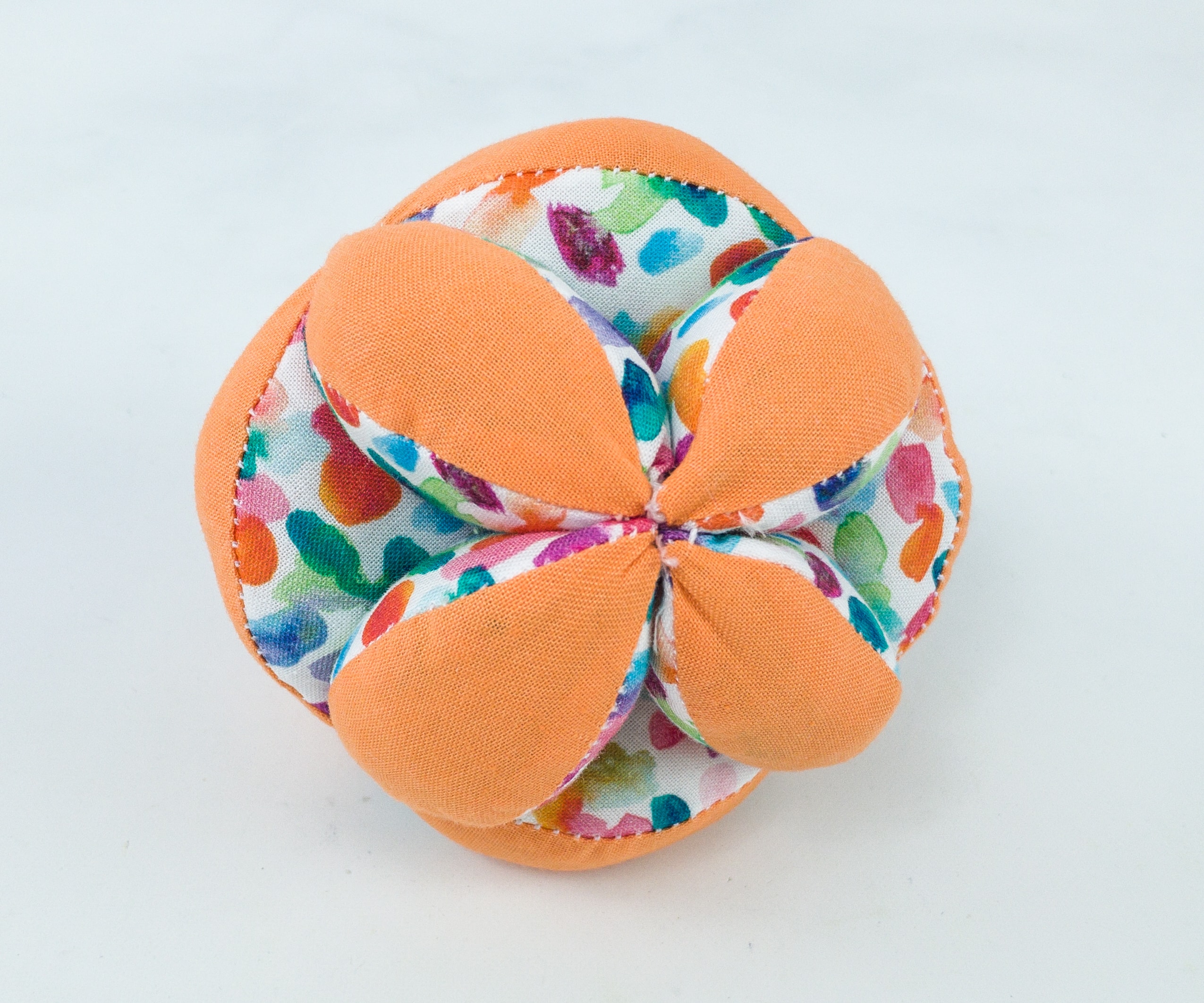 The ball is really soft, too. Around 6 months, your baby might even be able to play hide and seek with it!
Here's another fun activity: Finding My Feet!
Your baby is figuring out that her legs and feet are parts of her. She can do more and more with them as her legs get stronger and her level of body control improves. While wearing the play socks, she'll love discovering that when she kicks, she can make fun noises.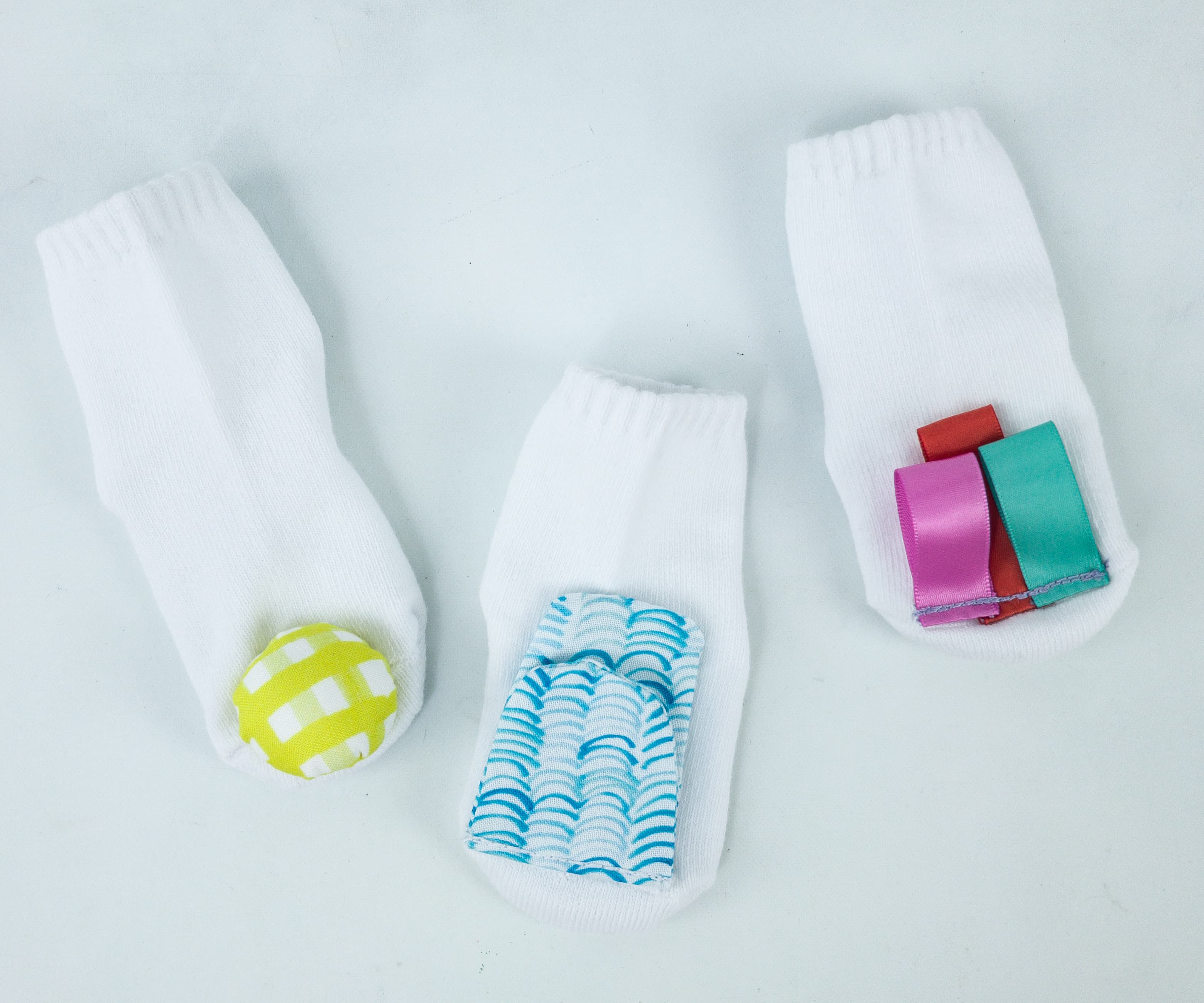 We got 3 socks for this activity. Just put it on your baby and show them how to shake their legs to make crinkles and rattle noises!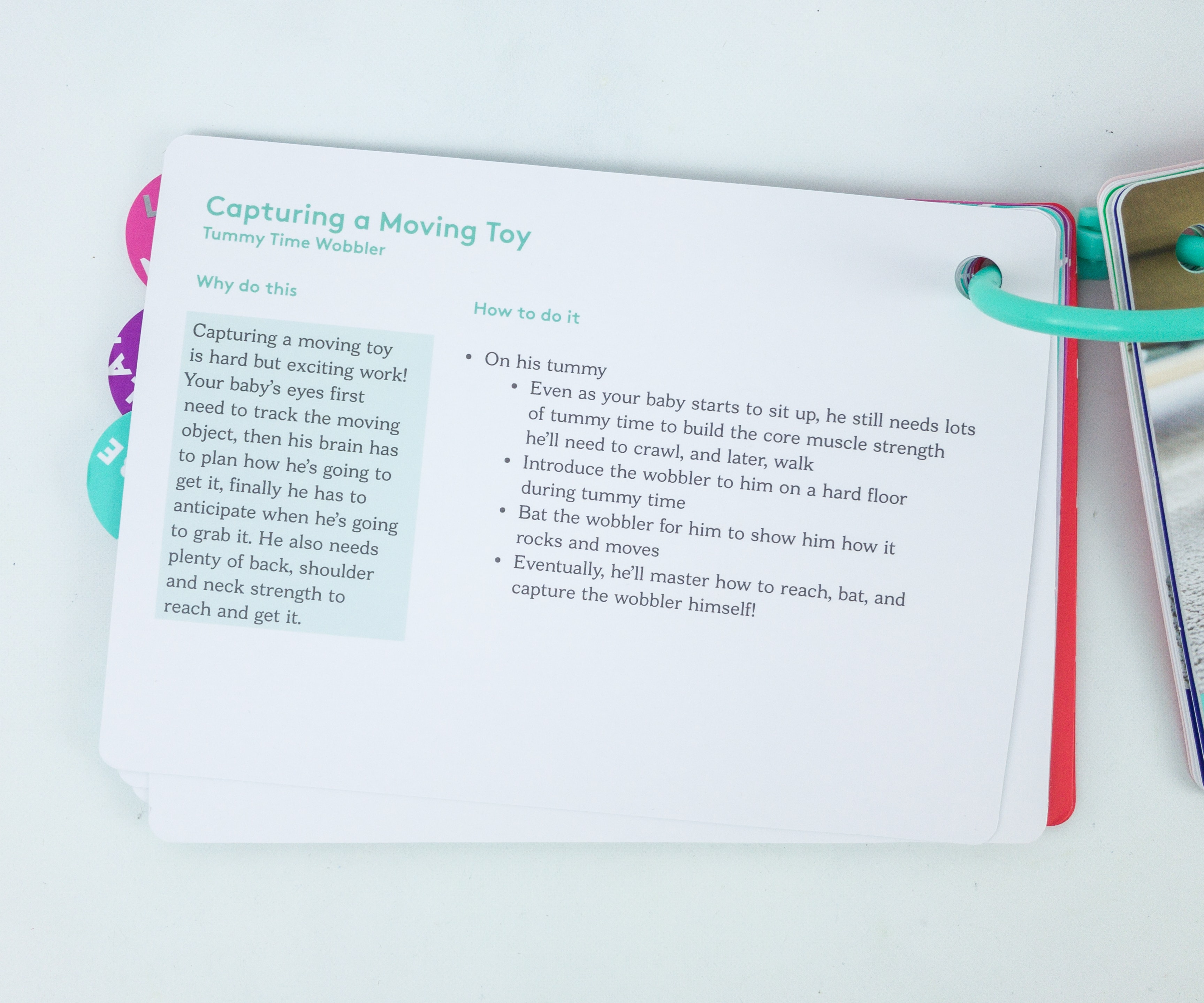 The next activity is Capturing a Moving Toy!
Capturing a moving toy is hard but exciting work! Your baby's eyes first need to track the moving object, then his brain has to plan how he's going to get it, finally he has to anticipate when he's going to grab it. He also needs plenty of back, shoulder and neck strength to reach and get it.
This toy is ideal for tummy time! You may start by showing your baby how the wobbler moves, until they learn how to reach and make the wobbler move on their own.
Next up is Pulling Things Out of Things!
The magic tissue box was inspired by babies' (and toddlers') love of tissue boxes! Babies love to pull tissues out and push them back in–but it can be stressful for grown-ups when babies try to eat them. Helping your baby play with the magic tissue box is a first step in learning about emptying and filling containers–a skill (and concept) that will take her years to master completely.

For this activity, we received Magic Tissue Box and Tissues. It can be used during tummy time and even when your baby is sitting.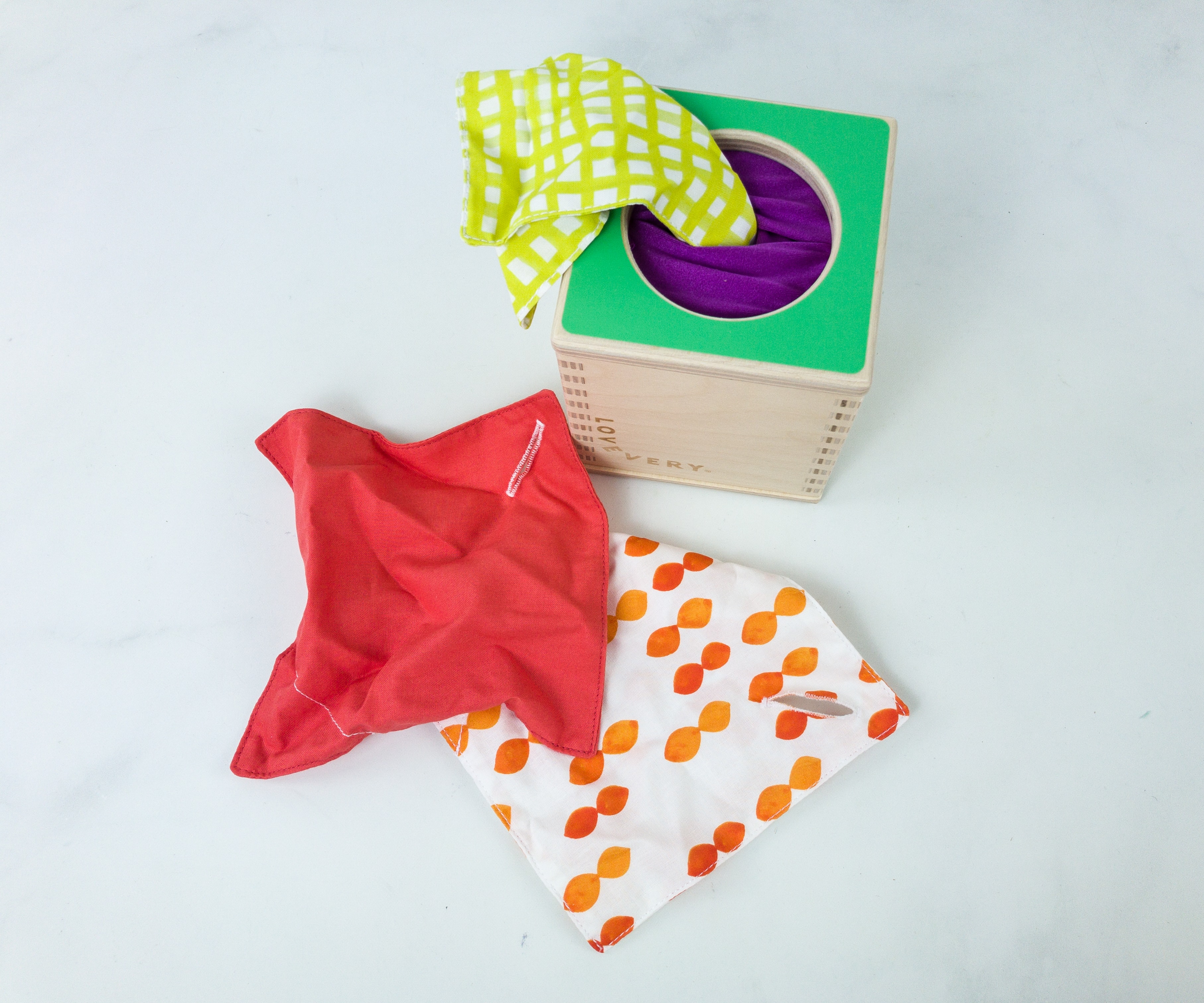 It's recommended to help babies practice grasping and pulling the fabric tissue towards them.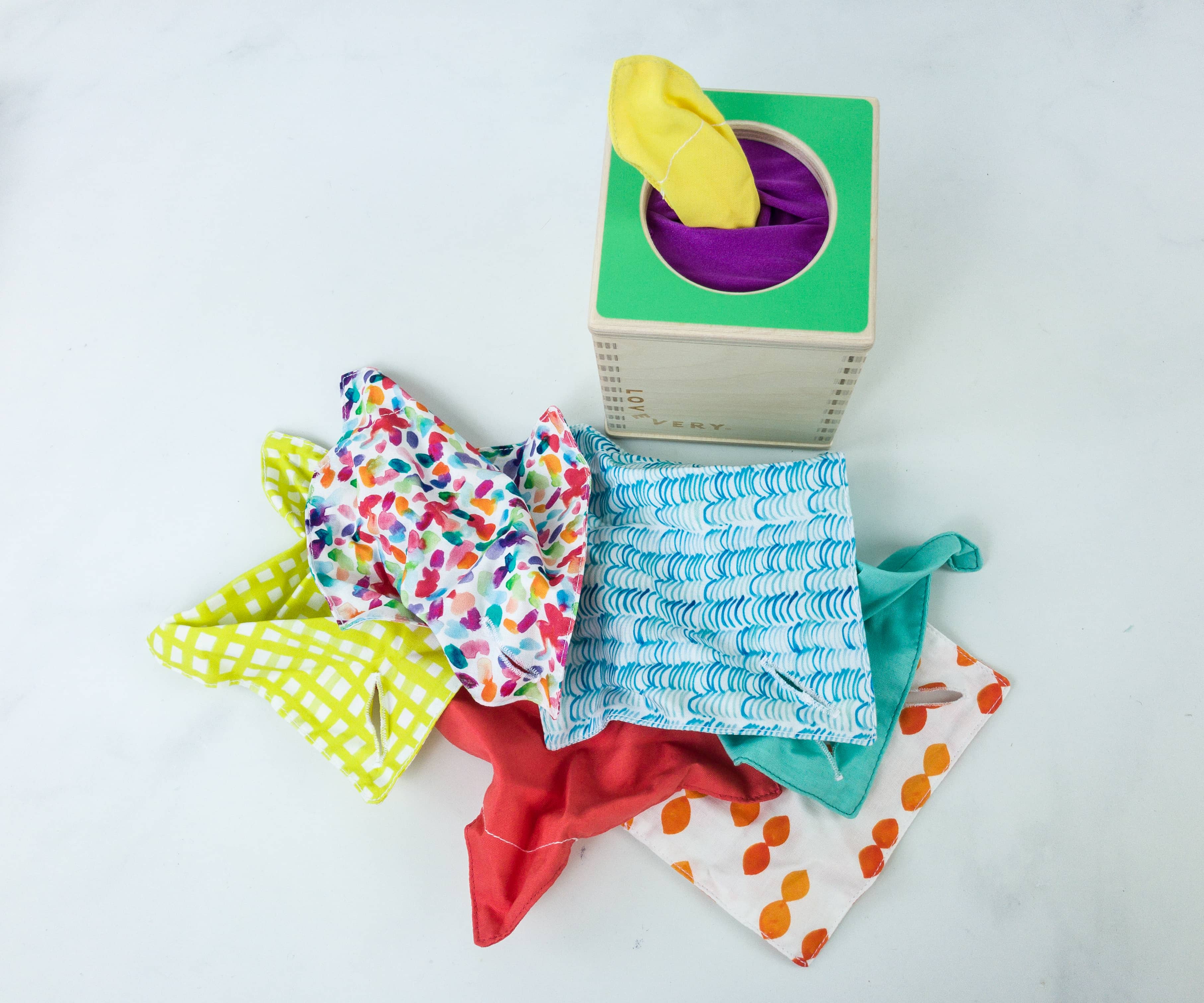 When they already know how to pull out the tissues on their own, you can also teach them how to put the tissues back. This will help them learn about the concept of inside and outside.

You may also open the box and let your baby explore it more.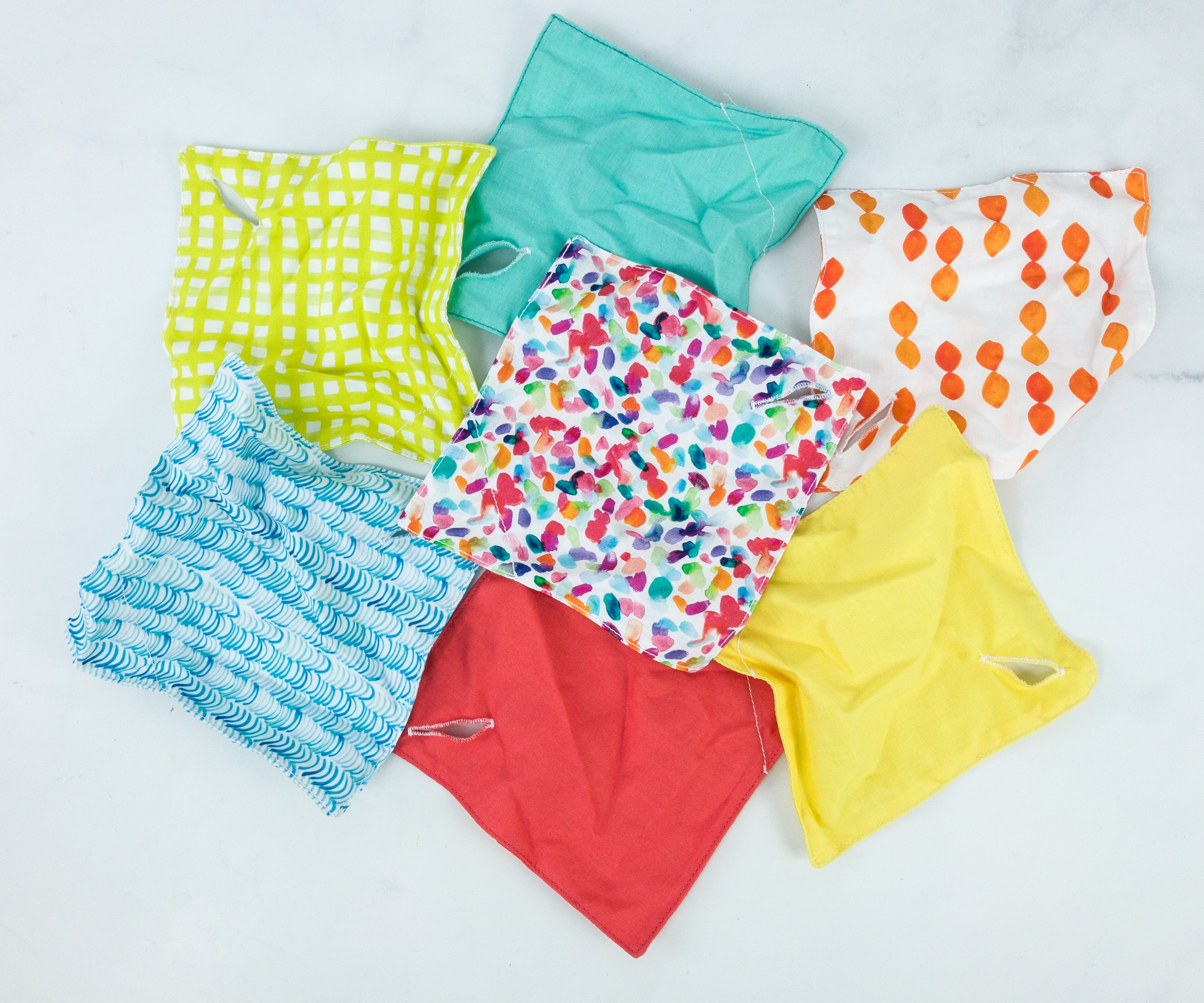 These fabric tissues are pretty awesome. They don't get ripped easily!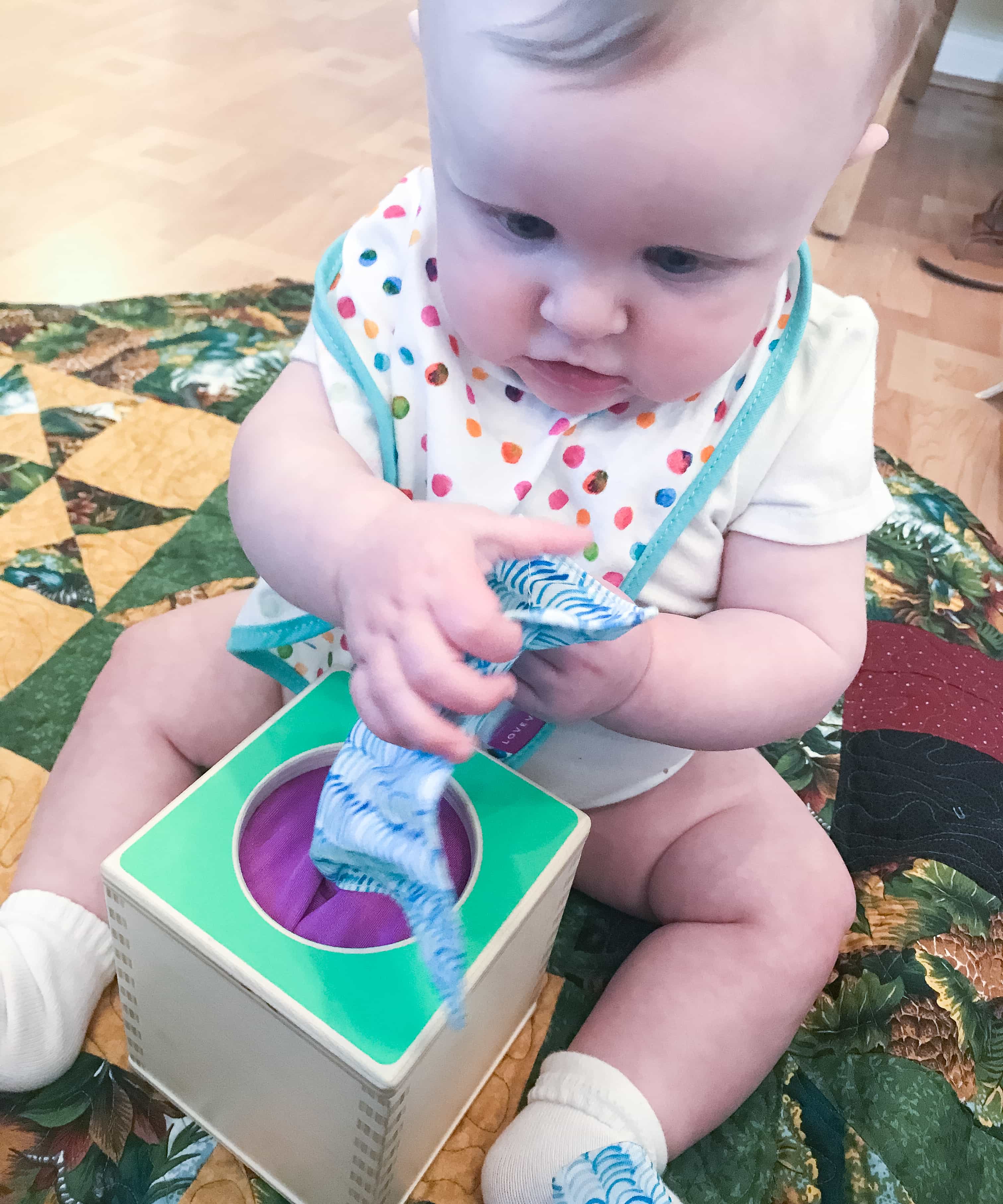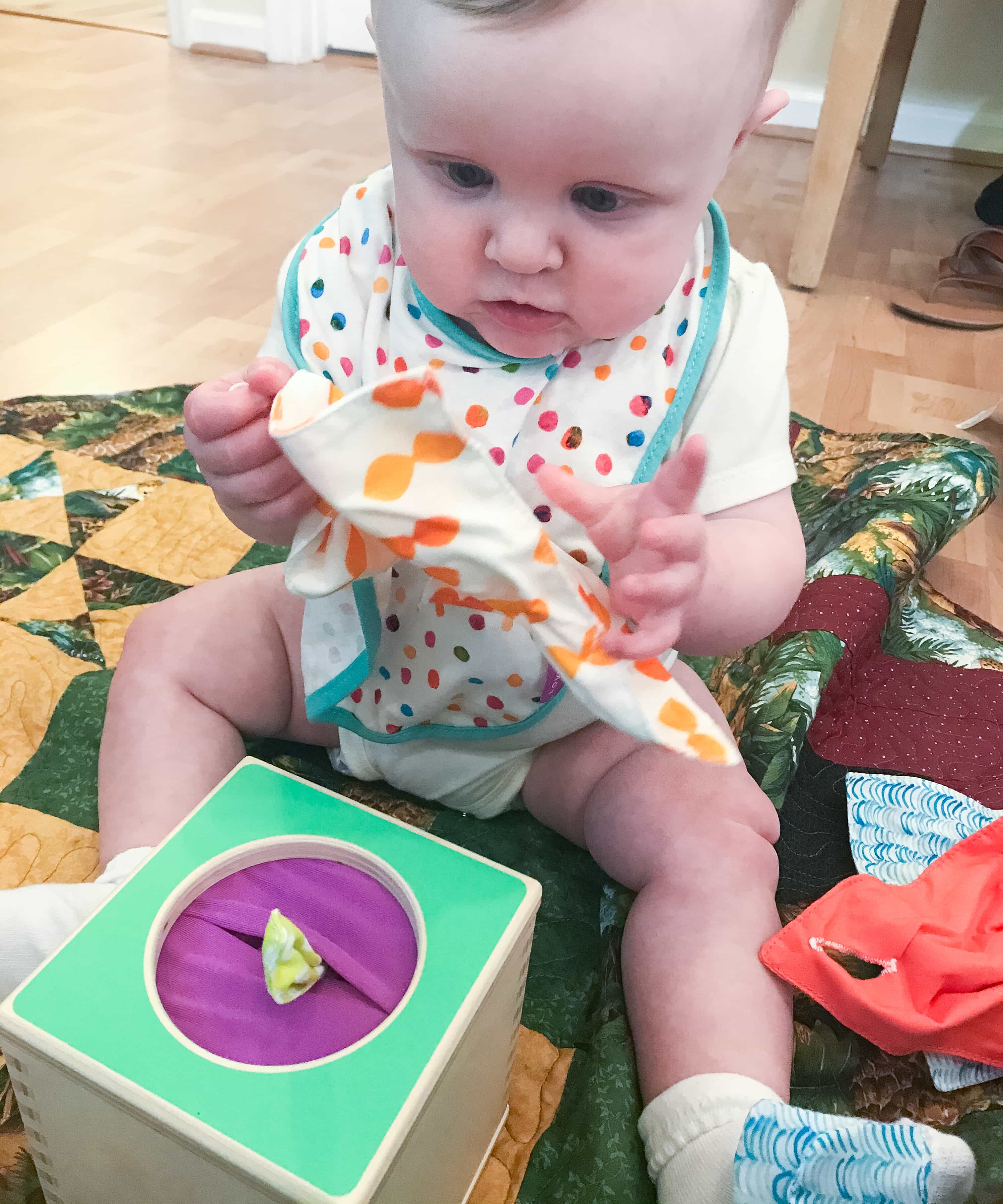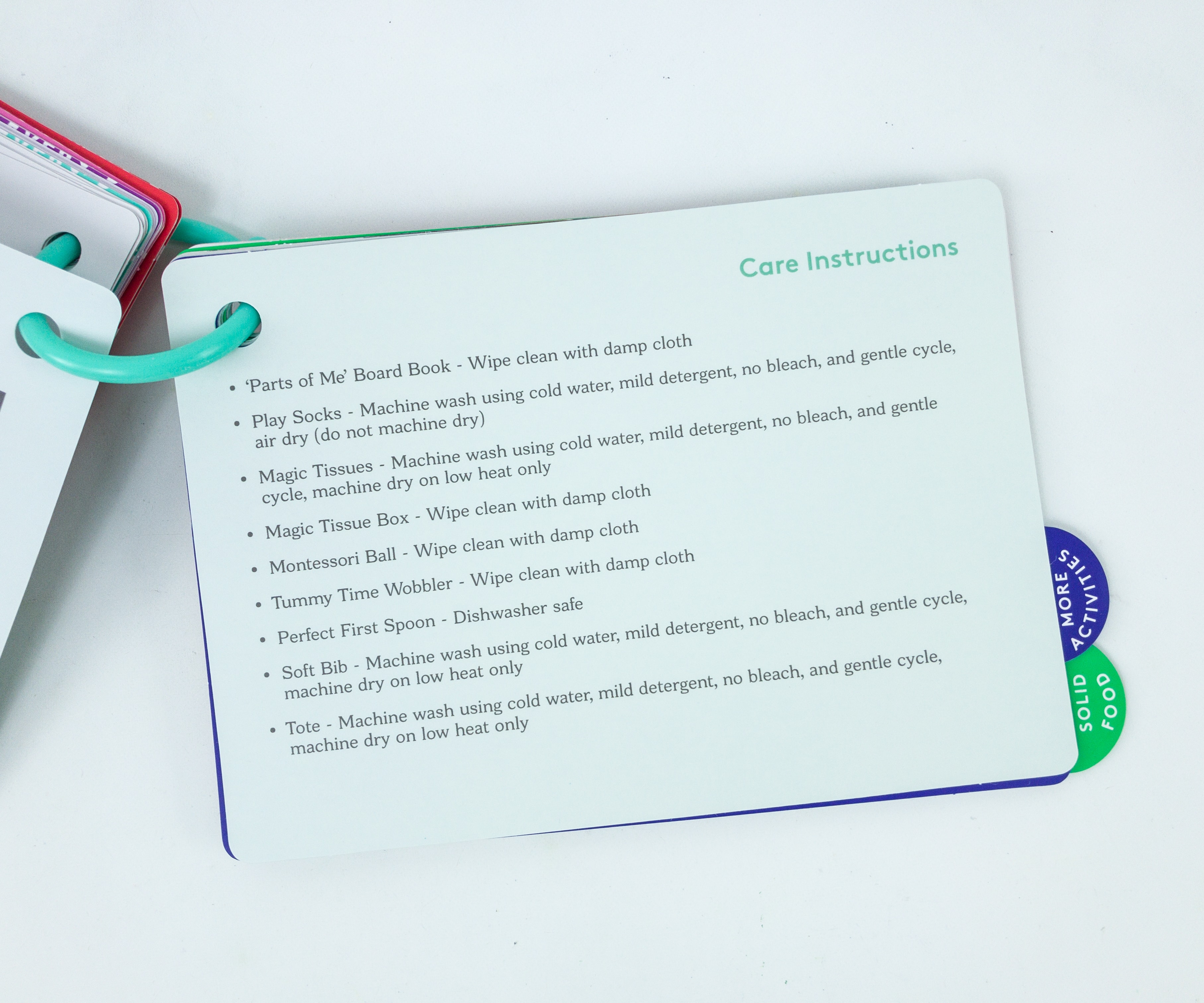 Additional care instructions are listed in the booklet.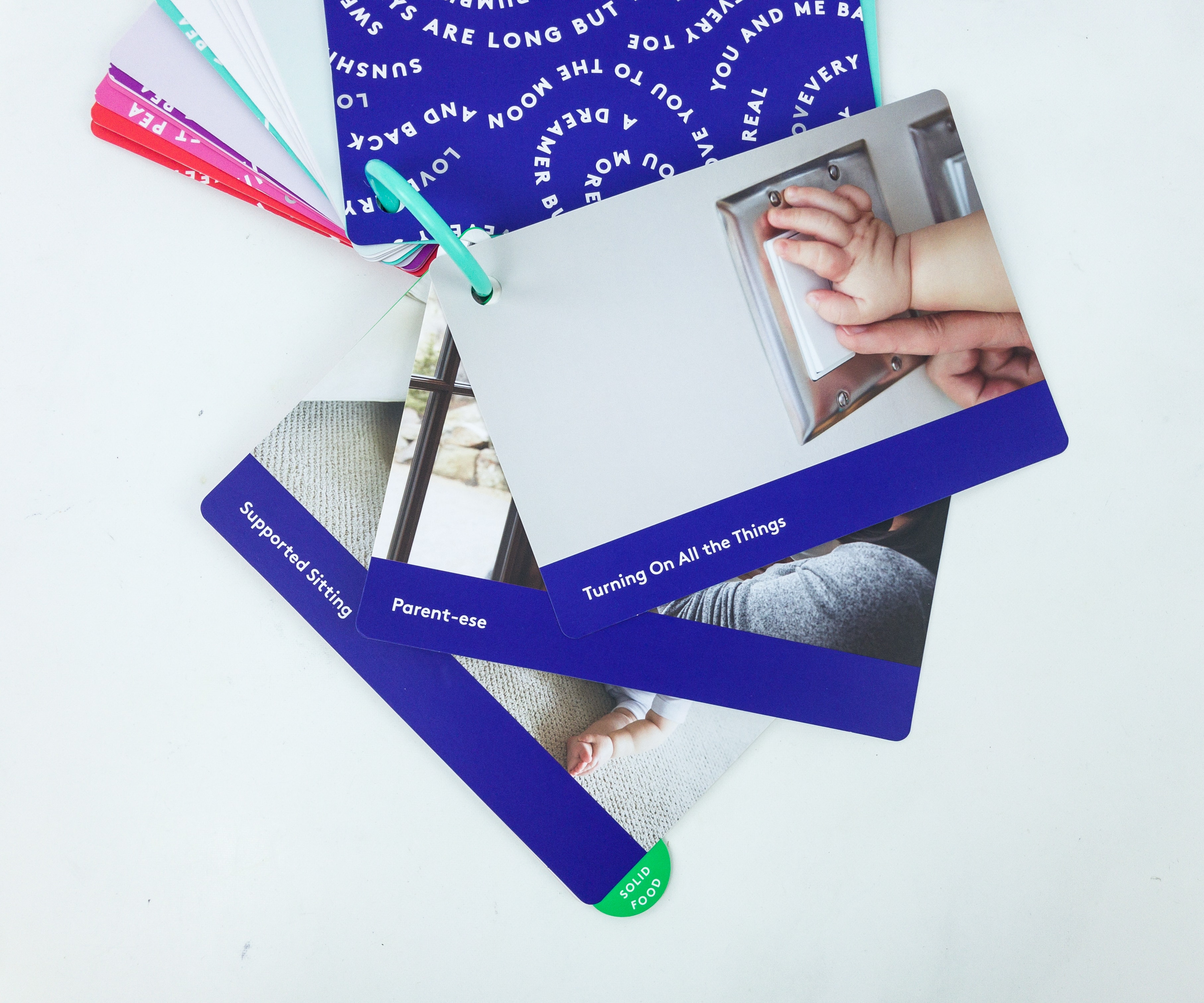 We're onto the last part of the booklet, which suggests more activities for parents and babies!
The first one is entitled Turning On All The Things! For this, you just have to find things you can turn on and off in your home, like the lights, microwave, blender, faces, and fan, and show your baby how it works.
Your baby now swipes, bats, bangs, and rattles different objects, creating his own lessons in cause and effect–but there's still so much more you can show him! Take him on a tour around your home with a focus on turning things on and off.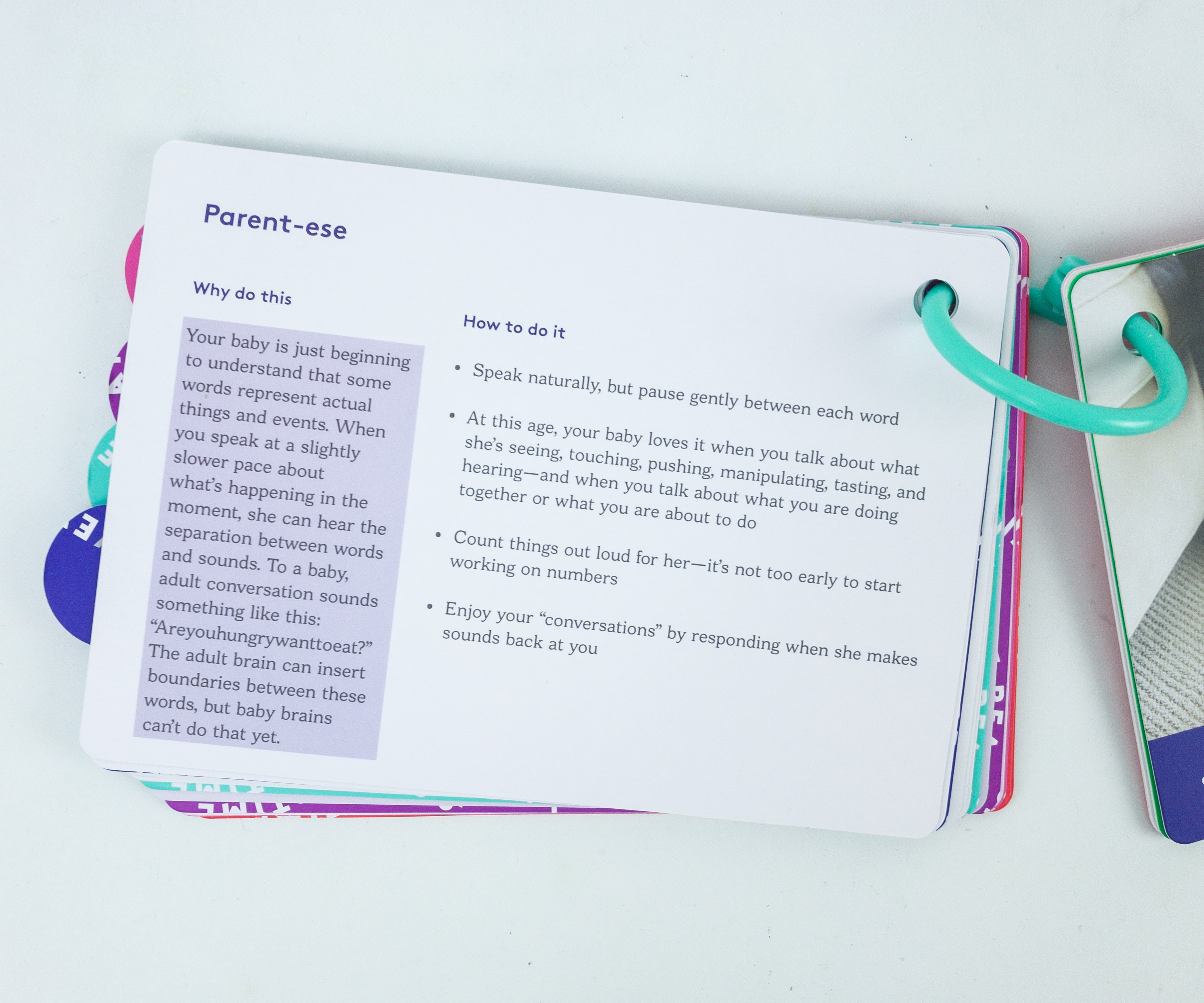 Next activity is Parent-ese! It's as simple as speaking naturally to your baby, pausing gently between each word.
Your baby is just beginning to understand that some words represent actual things and events. When you speak at a slightly slower pace about what's happening in the moment, she can hear the separation between words and sounds. To a baby, adult conversation sounds something like this: "Areyouhungrywanttoeat?" The adult brain can insert boundaries between these words, but baby brains can't do that yet.
Another interesting activity is Supported Sitting!
Experts say the best way for babies to practice sitting is to let them practice on a firm padded surface like as playmat or carpet. Baby seats are convenient, but they don't allow your baby to experience how body weight shifts when tipping over. Your baby is ready to start practicing sitting once you notice that he can hold his head up easily.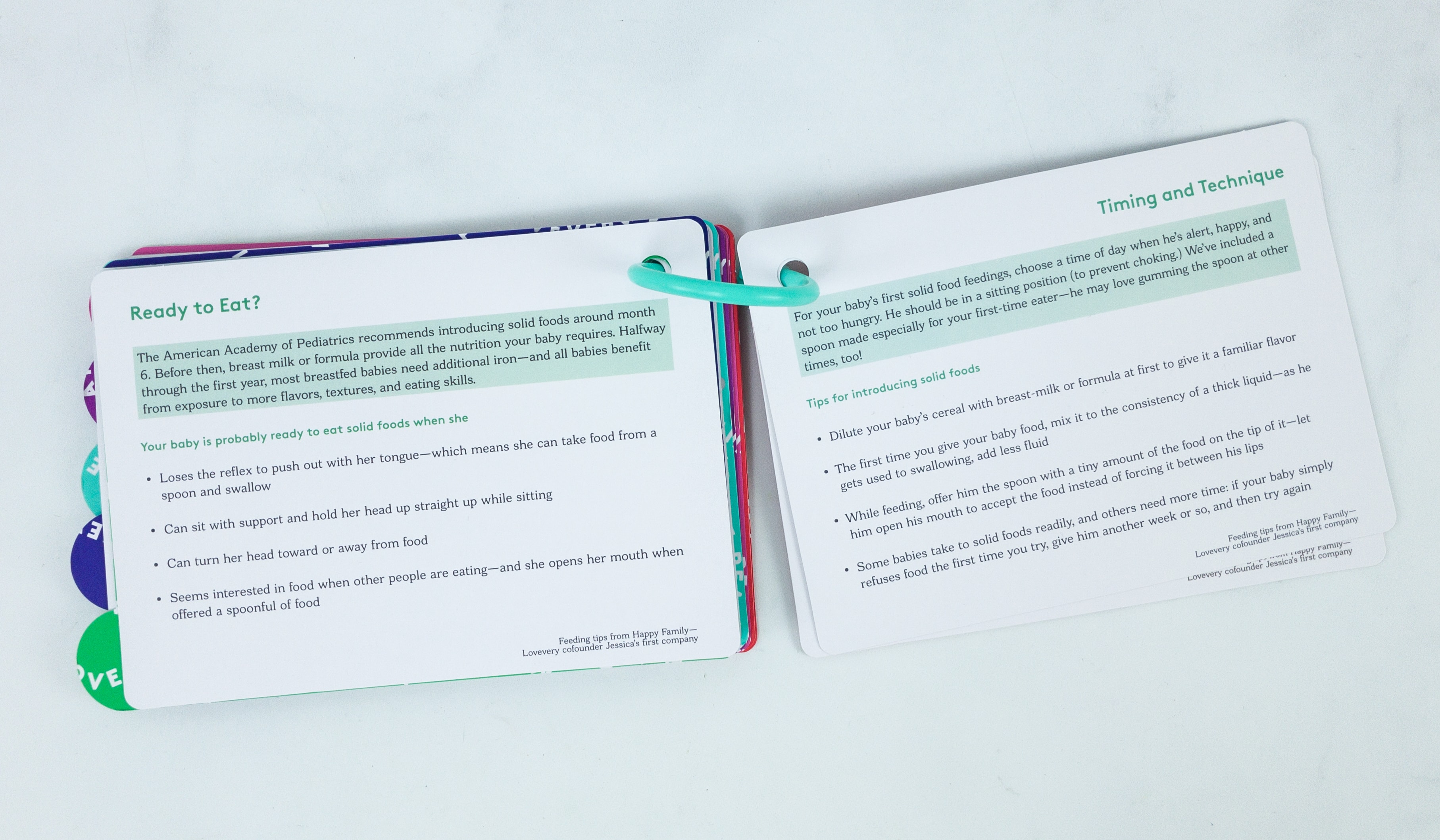 Here are feeding tips from Happy Family, Lovevery co-founder Jessica's first company! They talked about the right timing and technique in feeding babies, with lots of pointers to keep in mind.
They also tackled the right baby serving sizes and how to introduce solid foods to babies.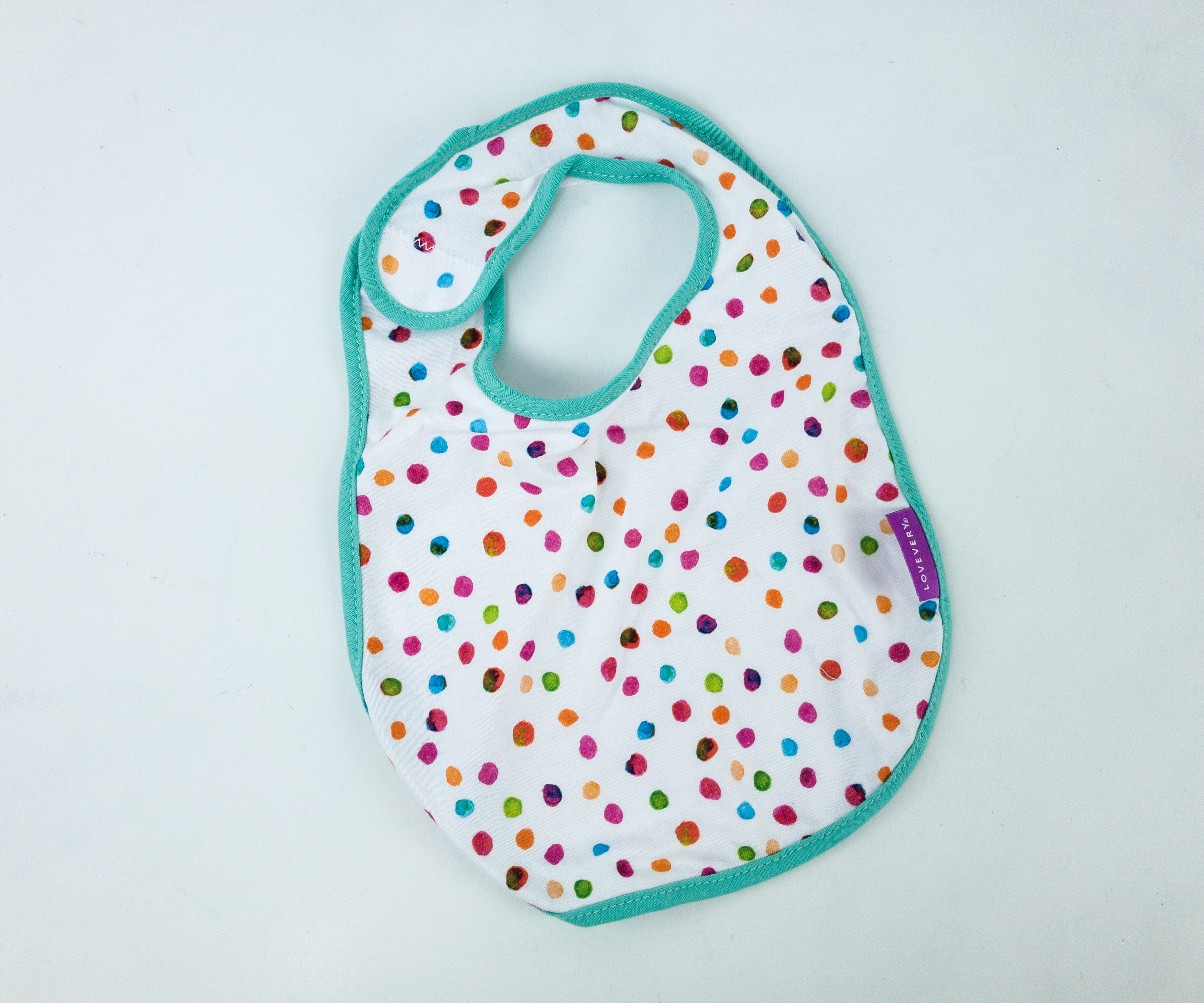 They included this cute and colorful bib to keep your baby less messy during feeding time!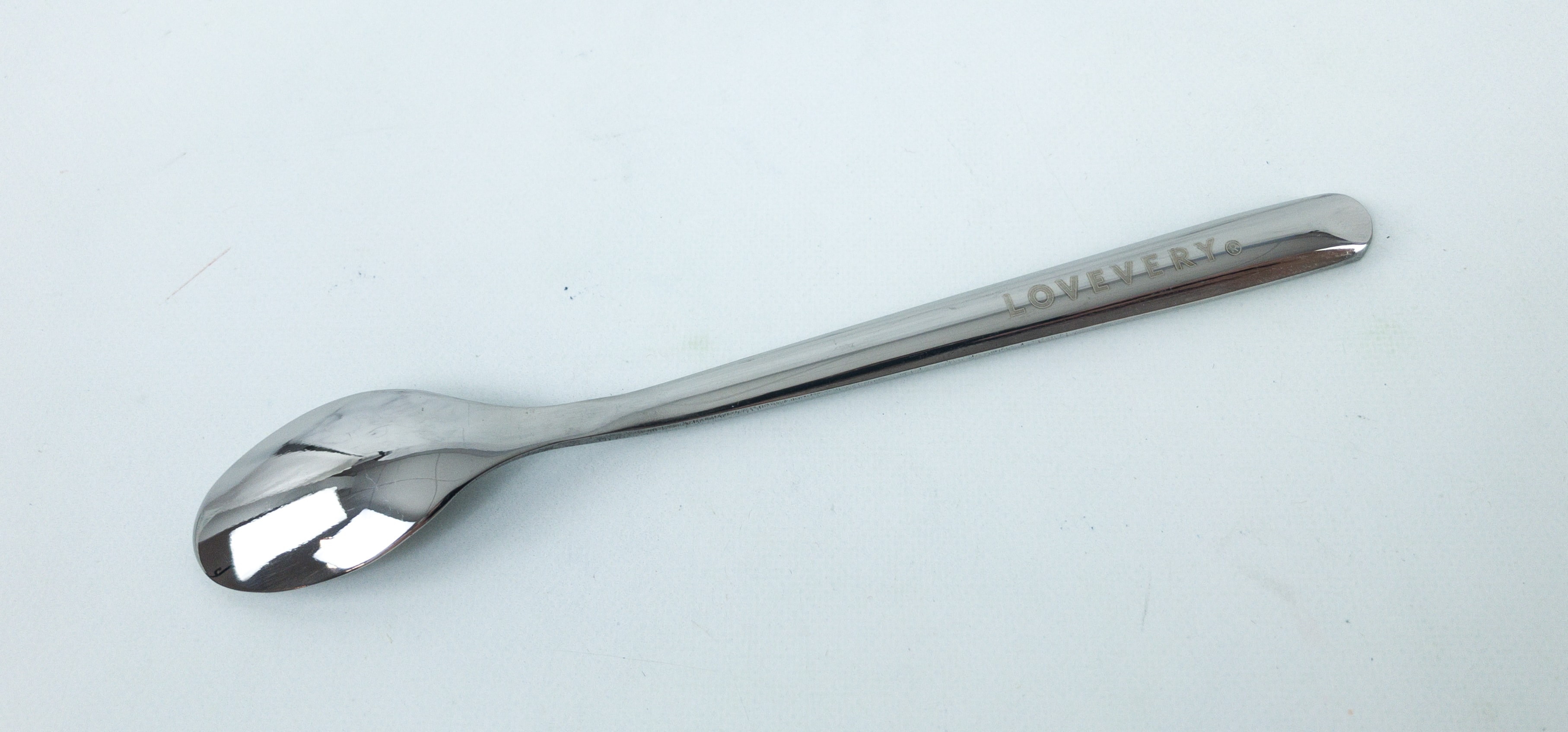 Another useful inclusion is this spoon!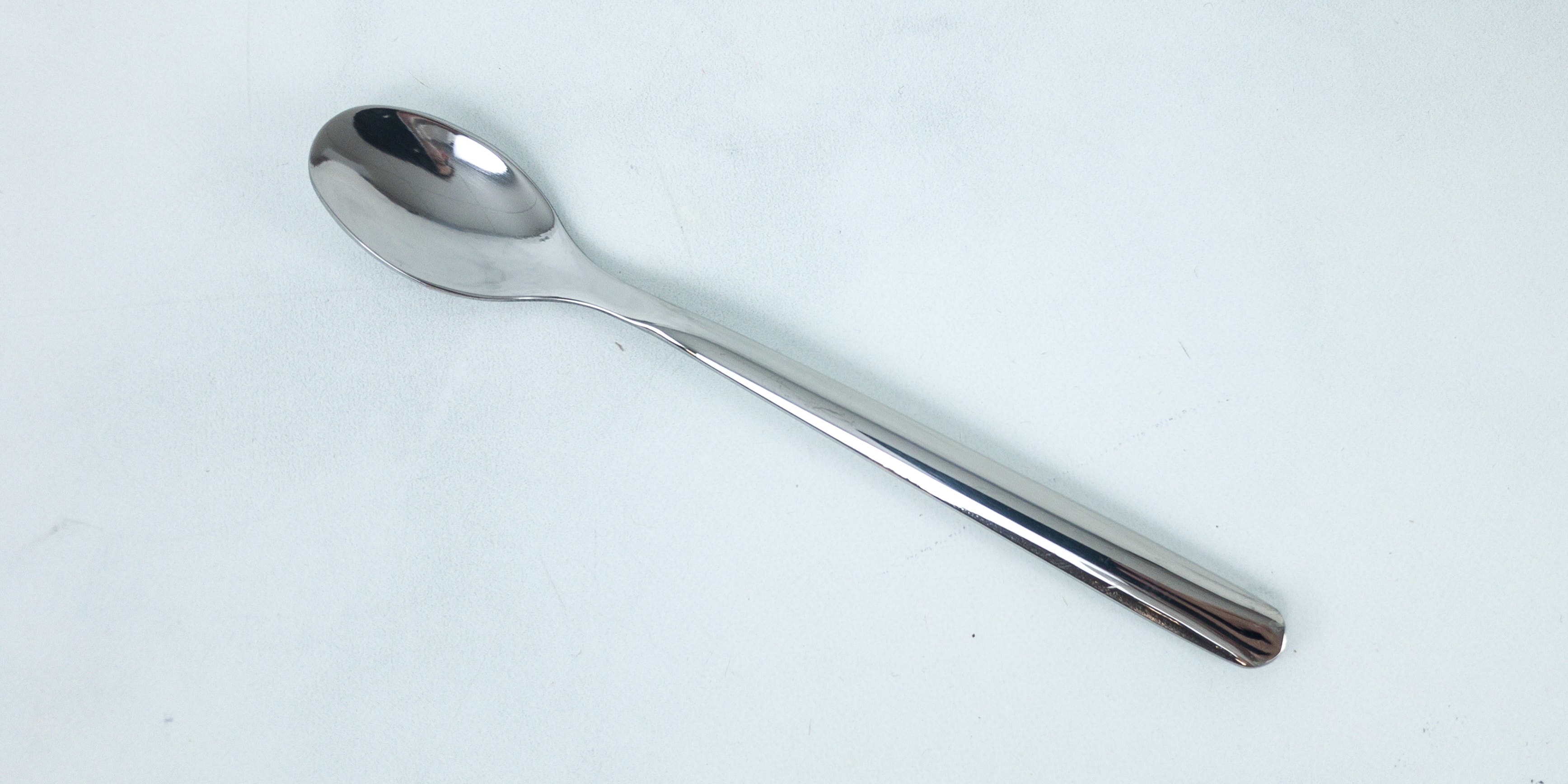 It's just the right size for babies!
Of course, they didn't forget to include a parent gift!

It's a spacious tote where you can pack your baby essentials and other things you need to bring when you're out and about!
It features the Lovevery logo.
It's another jampacked box from Baby Play Kits by Lovevery! Using well-researched materials and toys, they guide you as your baby grows and develops to make parenting a little less daunting and a lot more fun. We absolutely love the booklet, as it contains a lot of informative tips for parents, as well as activity and bonding ideas with their babies. The toys also live up to our expectations each and every time. They're high-quality, safe for babies, and age-appropriate! Without a doubt, this is one of the best and biggest baby boxes and we love it! We're looking forward to future boxes!
What do you think about the Baby Play Kits by Lovevery?
Visit Baby Play Kits by Lovevery to subscribe or find out more!