ZenPop Japanese Packs offers five different boxes from Japan — Sweets, Ramen, Sweets + Ramen, Beauty, and Stationery! You can do a one-time box to try it out, or subscribe and save some money. I've reviewed a couple of their boxes before and was so impressed with the curation!
DEAL: Get $3 off on your first box on any plan! Use the coupon code HELLOSUB2020 at checkout!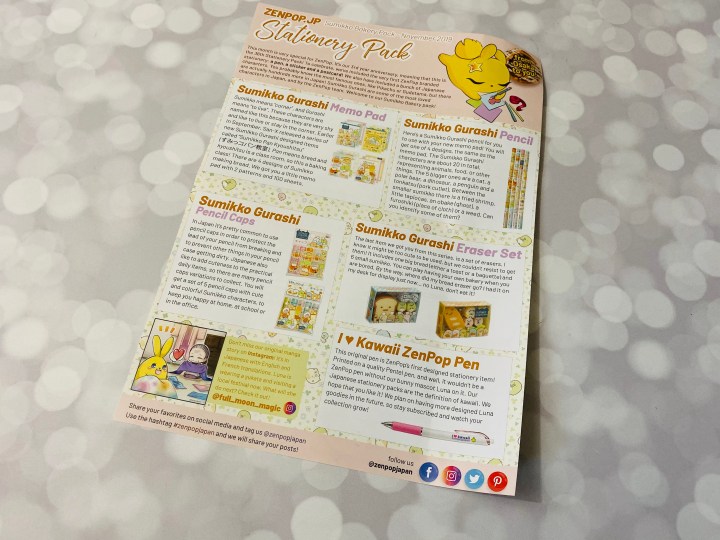 The information sheet is a standard size piece of paper; everything is described and it shows the variations that were sent as well! The info sheet is in full colour printed with photos and descriptions of each item. The November theme is Sumikko Bakery! I'm so excited! Sumikko Gurashi are my favourite characters from Japan!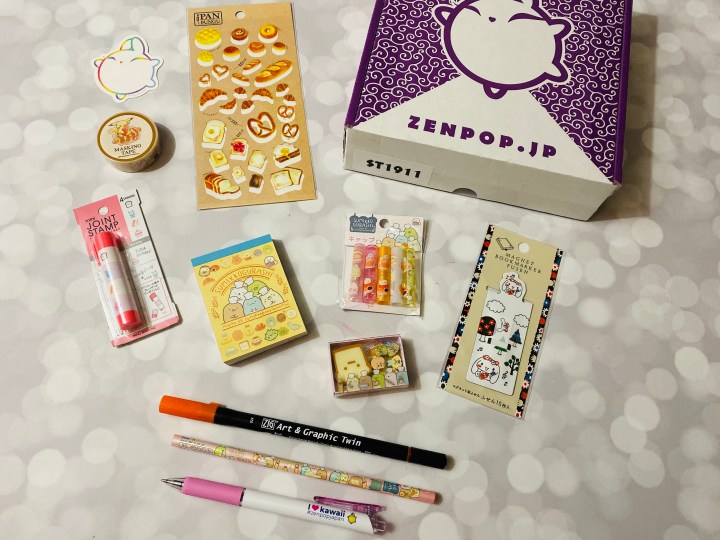 Here's everything in my box!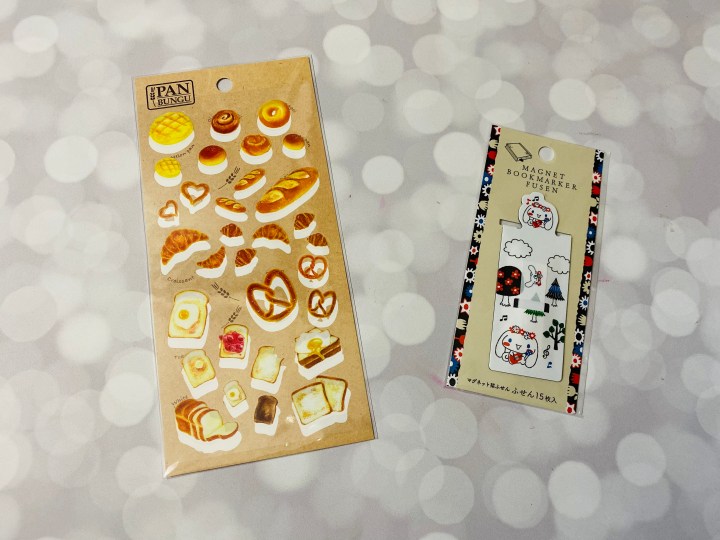 Bread Stickers — In a bakery you can find all kinds of delicious treats, like bread, pretzels, and pastries! These softly painted stickers are absolutely yummy looking!
Cinnamoroll Bookmark — Cinnamoroll is the kawaii puppy character from Sanrio. Her long ears are so cute!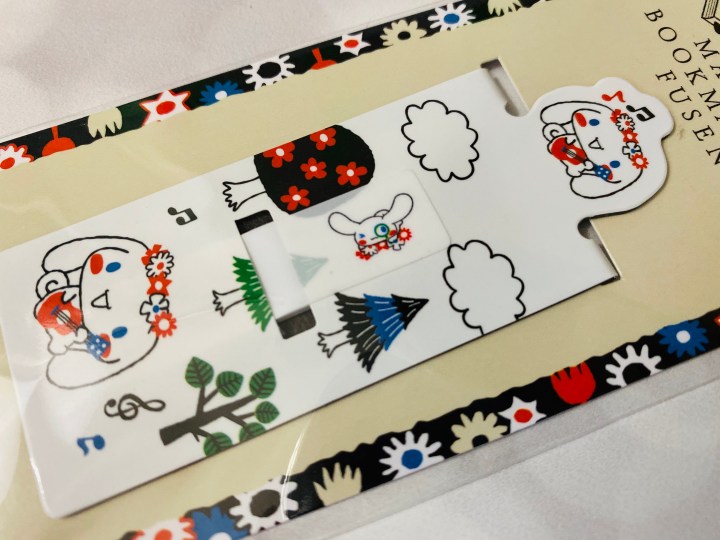 This bookmark has a hidden secret — there are sticky flags inside so you can mark more than one spot in your book! Cinnamoroll looks so cute with her flower lei and playing the ukelele!
Sumikko Gurashi Bakery Notepad — YAY! Sumikko Gurashi! This is their latest fall collection which has a bakery theme!
The main Sumikkos are wearing cute chefs hat while the other characters like Zassou, Yama, and Tapioca are along the border!
The other design is lined and features the newest character, the Bakery Manager, bottom right! He is a loaf of bread! Isn't he cute?
Sumikko Gurashi Pencil — Another new item from the bakery collection, this pencil features the chef Sumikkos.
Pencil Toppers — And to go with our new pencil is a set of five pencil caps. These help keep your lead from breaking. What a neat idea!
Art & Graphic Twin Pen — A double ended pen with a bright orange colour. One end is very thick and the other is thin.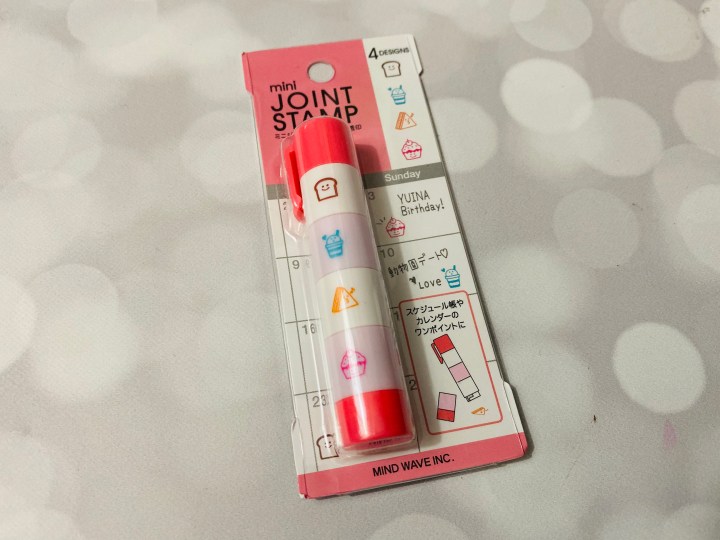 Bakery Stamp Tower — A cute tower of four bakery themed stamps. They connect together so you don't lose any!
Pikachu Washi Tape — Washi tape is such an easy way to decorate, and Zenpop sent us a super kawaii Pikachu roll!
Luna Sticker — Luna is the Zenpop mascot, and this is a cute rainbow sticker!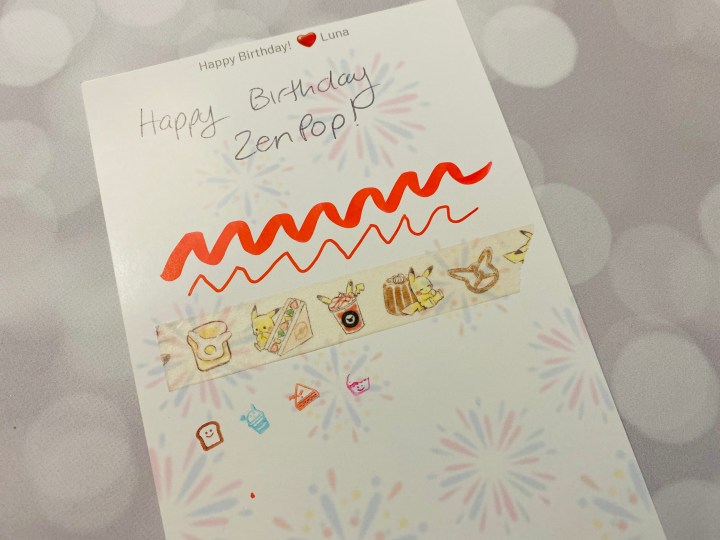 Here are some swatches of the included items, from the Zenpop pen, to both ends of the twin pen, and the kawaii Pikachu deco tape!
It's Zenpop's anniversary so they included a notecard and a SUPER CUTE and pink Zenpop pen
Sumikko Gurashi Erasers — KAWAIIIII!!! I'm losing my mind over these tiny cute erasers!
Along with a larger pan eraser, there are also tiny erasers of Tonkatsu and Ebi!
This month's Zenpop Stationery Box was AMAZING!!! It had so many items from my favourite Sumikko Gurashi characters, and the other items were super cute as well!