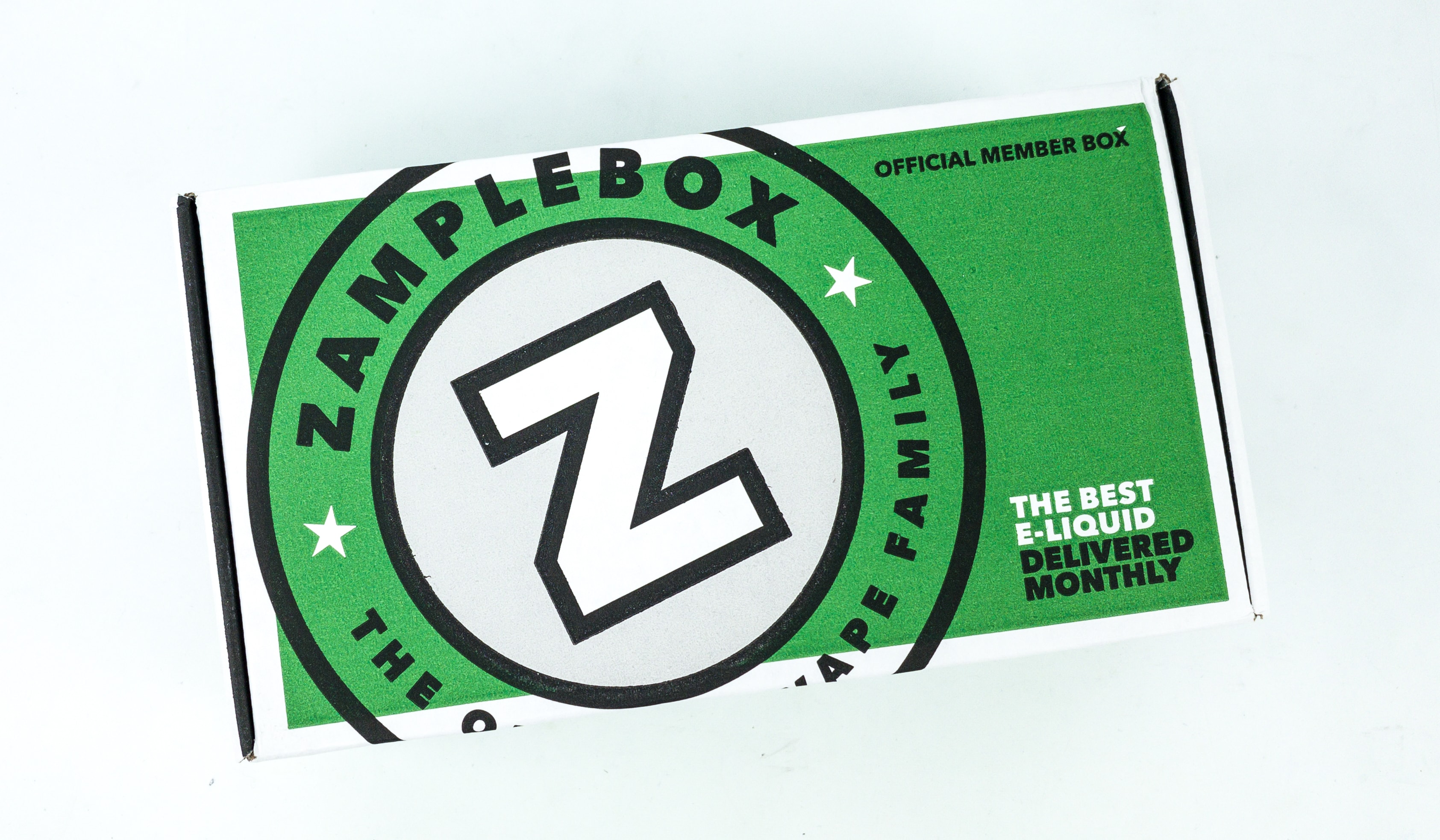 ZampleBox is a monthly e-juice/vaping subscription box. Every month you'll receive 3 ($23.99), 6 ($33.99), or 11 ($53.99) premium, American-made e-liquid bottles. Zamplebox has a ton of juice preference features that allow them to deliver a box that is customized to your taste preferences.
This is a review of the 11 bottles $53.99 per month box.
DEAL: Get 10% off your first box with coupon code ZBTEN!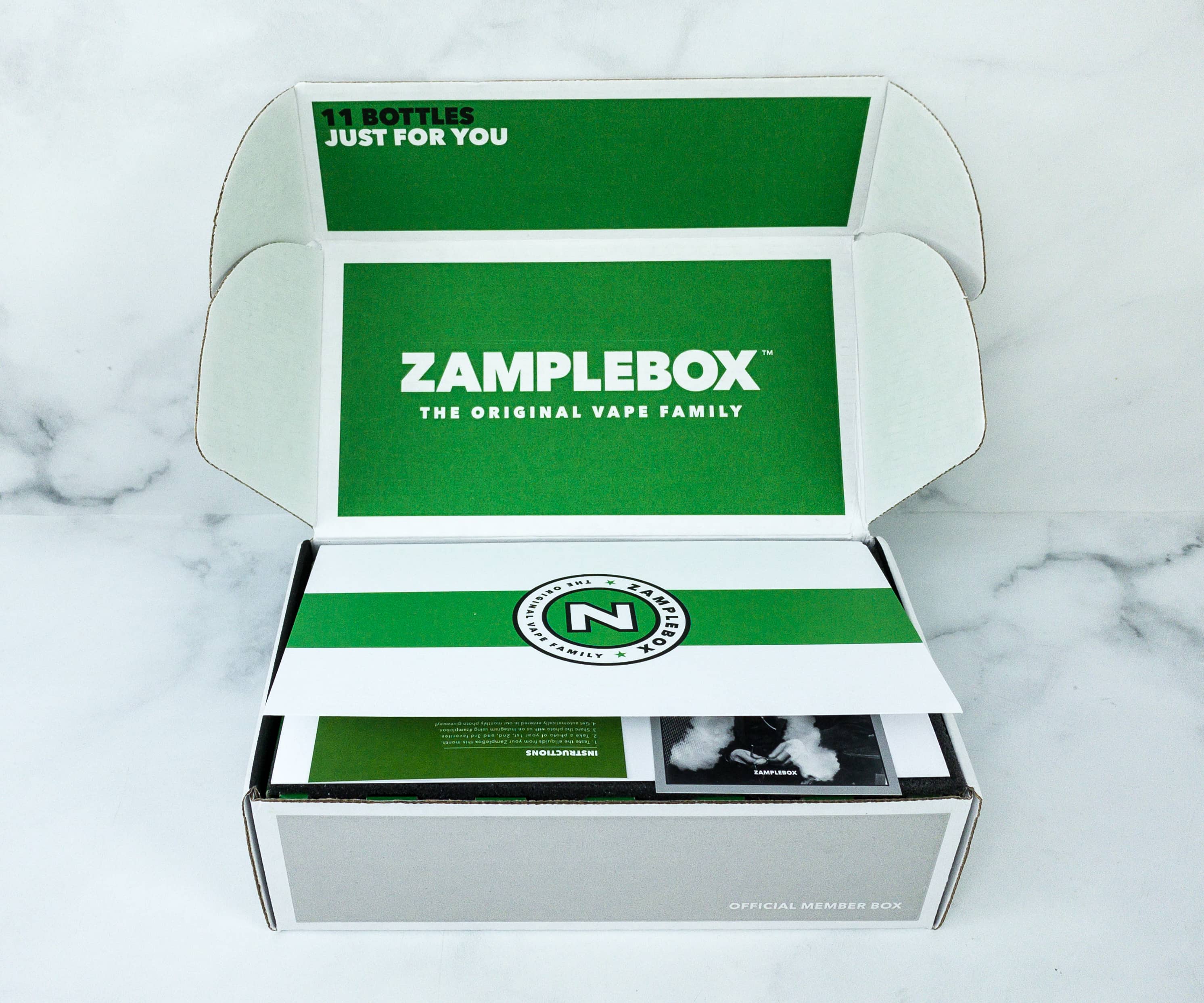 It's well packaged to ensure that there will be no leaks or damages during shipping.
All ZampleBox Memberships now include ZB Wholesale ($9.99/month value) for FREE! You'll get access to special member-only vape deals as well as the wholesale shop.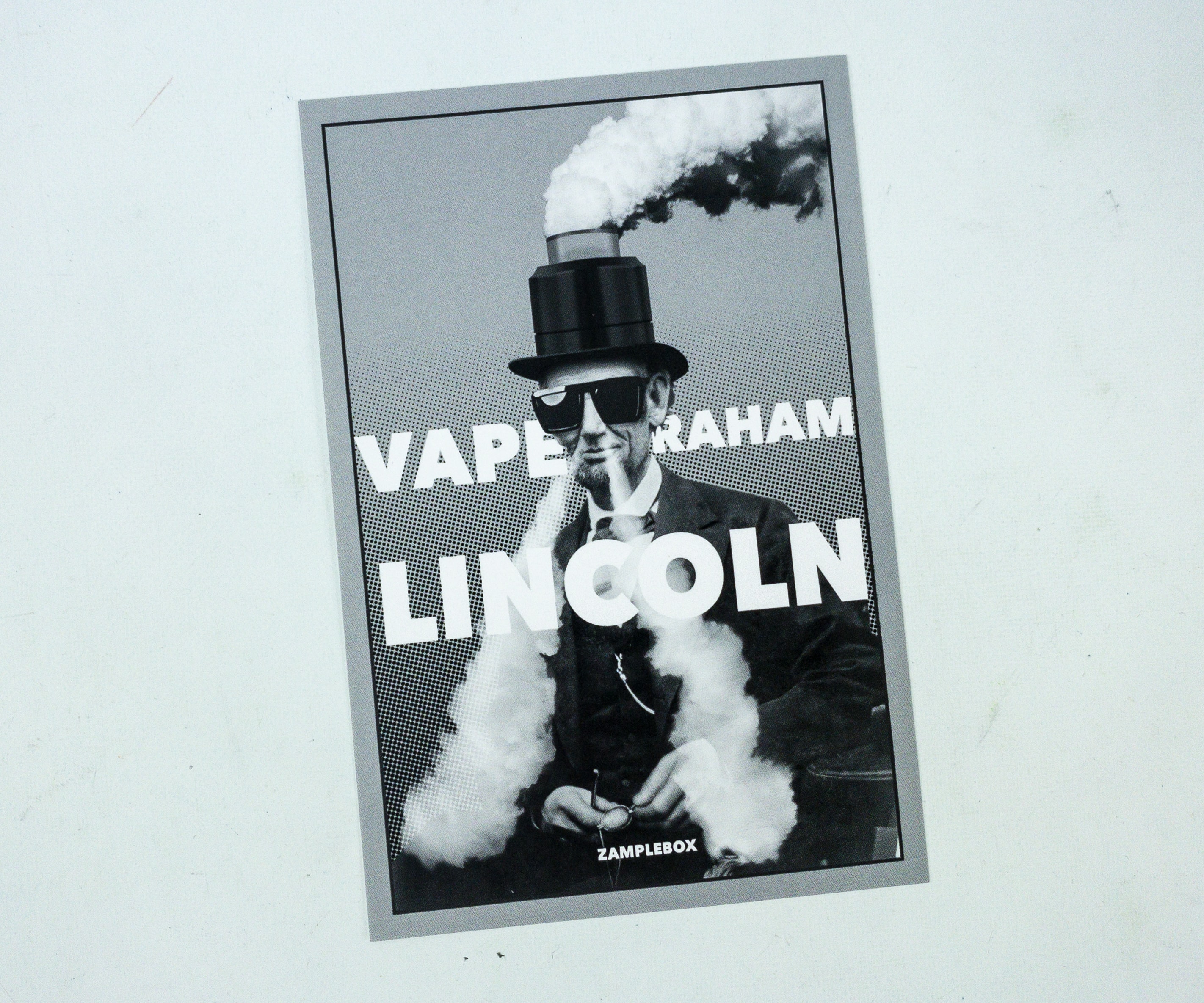 This month's box includes an exclusive ZampleBox card!
Here's the rating card!
You just have to pick your top 3 favorite e-juices, post it on social media, and tag ZampleBox for a chance to be featured!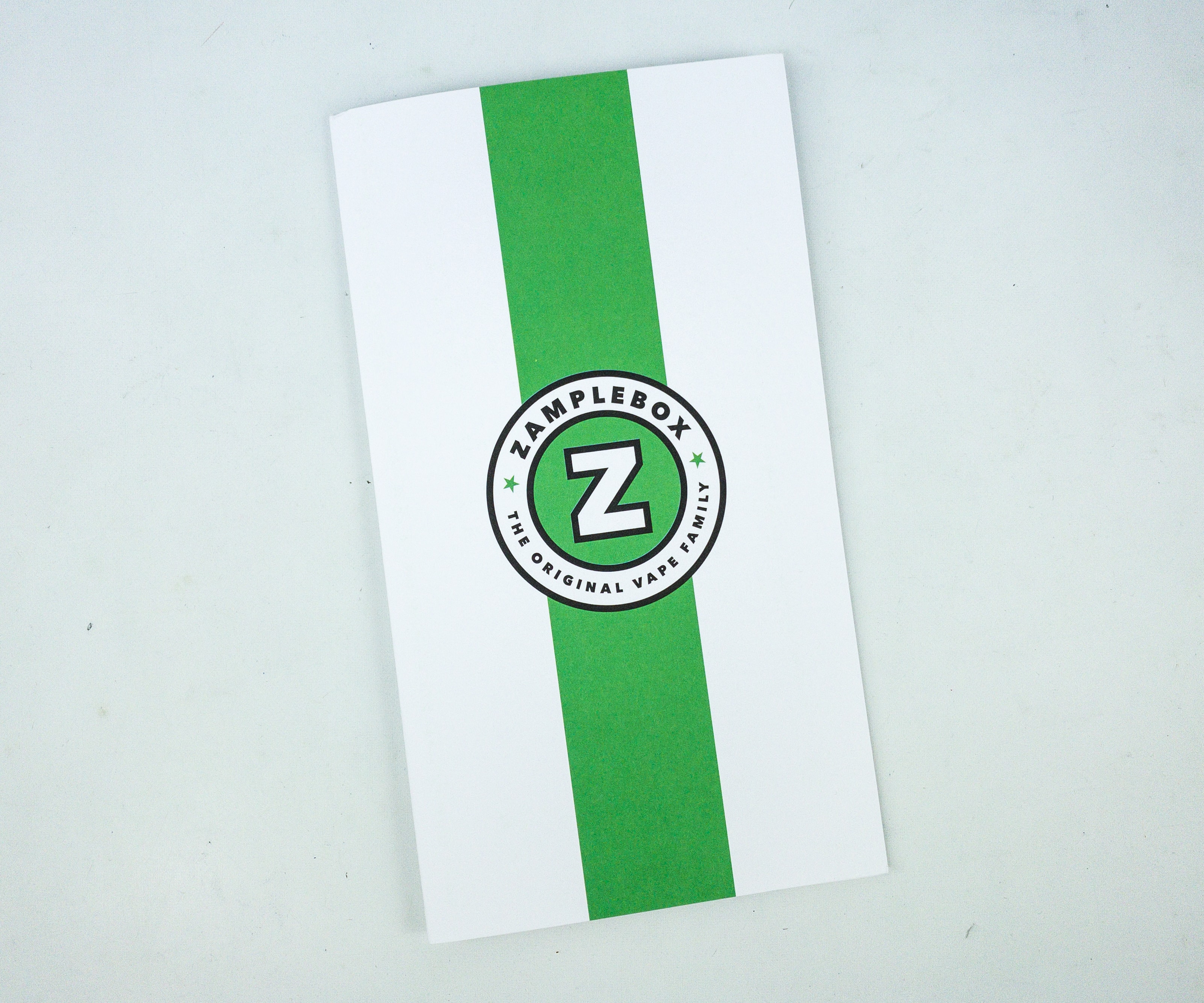 Also included in the box is an information sheet that lists all the e-juices in your box for the month.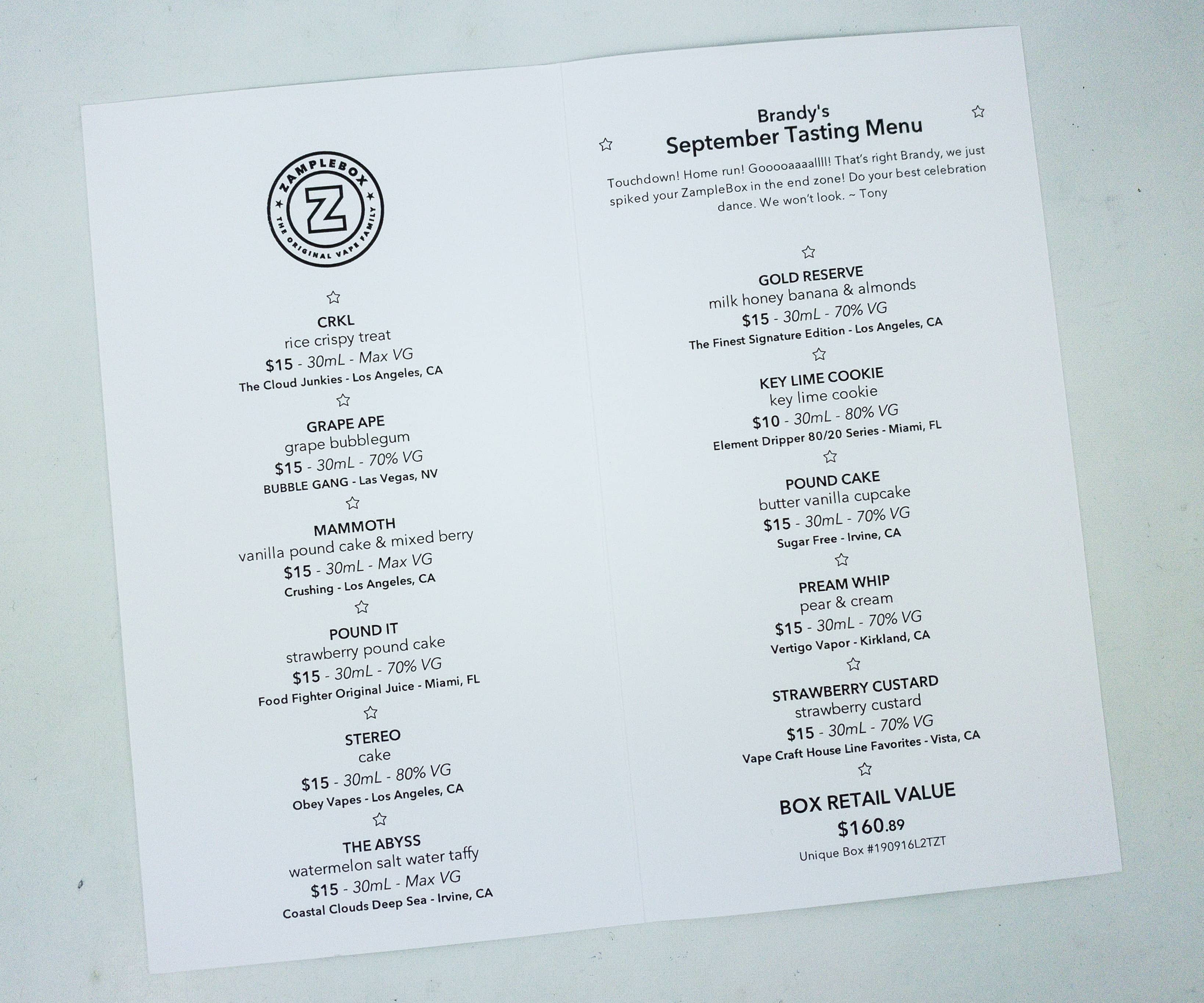 Brand labeling on e-juice is notoriously cryptic, so it's sometimes a bit of a challenge to match up the listings with the bottles.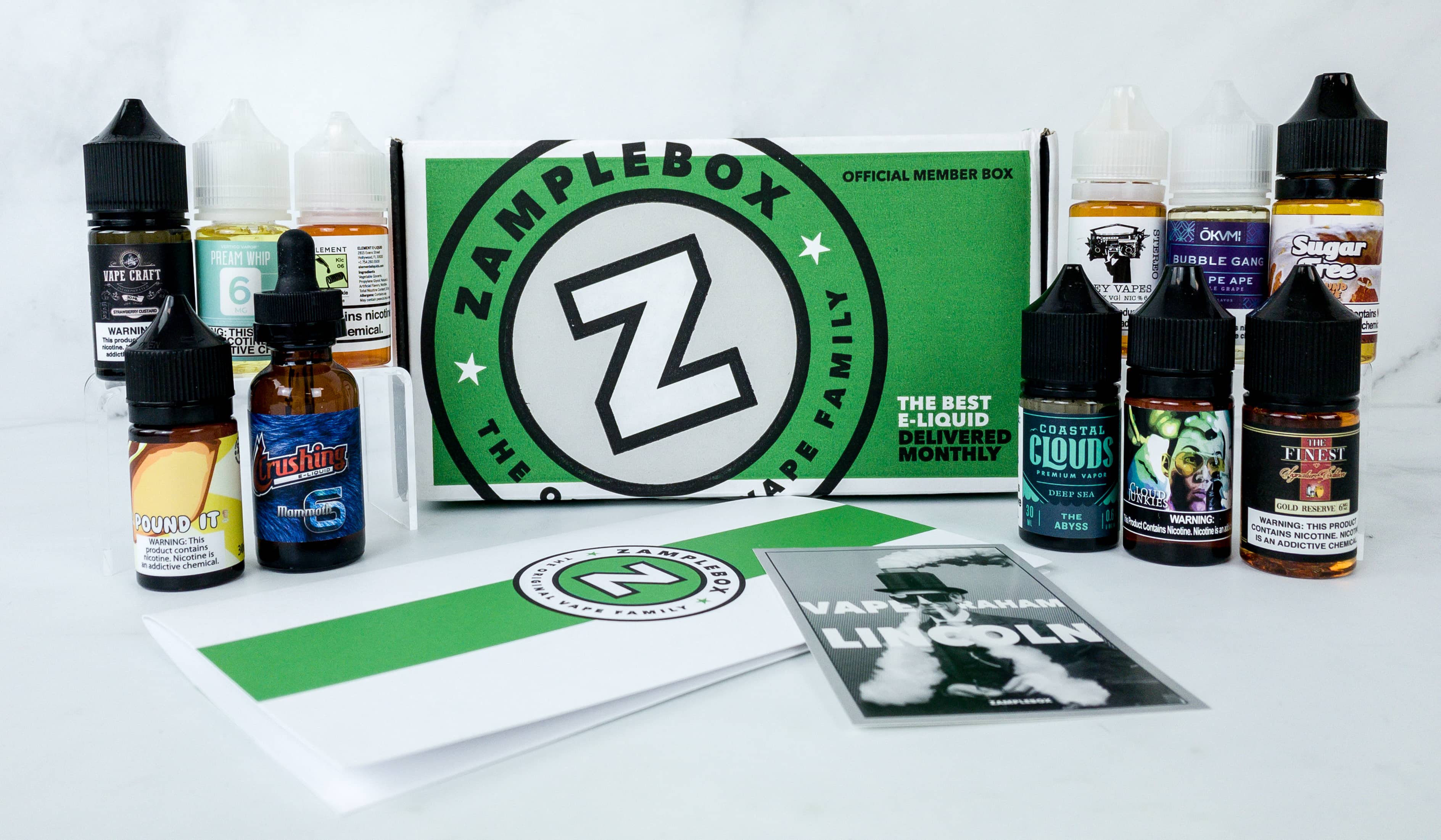 Everything in the box!
The Cloud Junkies CRKL ($15) Flavors: dessert, rice krispy, and marshmallow
With thick clouds and long-lasting sweet scent, this e-juice makes a great dessert vape. Every sip features strong marshmallow notes with a kick of sweet vanilla at the end. It's a light juice, perfect for newbie vapers.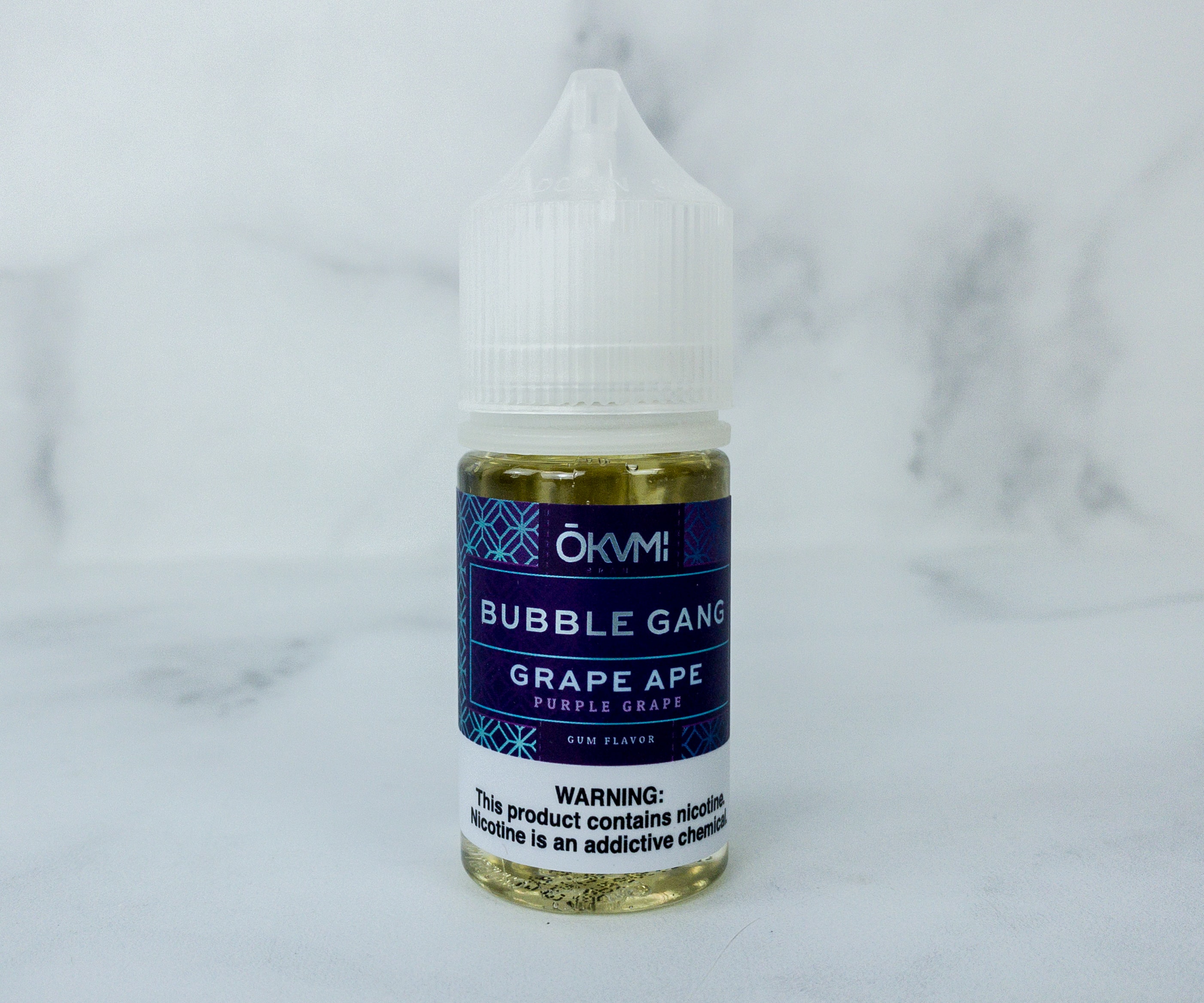 Bubble Gang Grape Ape ($15) Flavors: candy, grape, fruit, bubblegum, and tart
This vape juice has a beautifully layered grape and candy-like notes. It's a great balance between sweet and tart, just like a bubblegum!
Crushing Mammoth ($15) Flavors: berry, dessert, cream, vanilla, and cake
If you love sweet vape juices, this is for you. This e-juice is dominated by creamy vanilla notes on the inhale and berry notes on the exhale. It's also smooth, perfect for newbie vapers.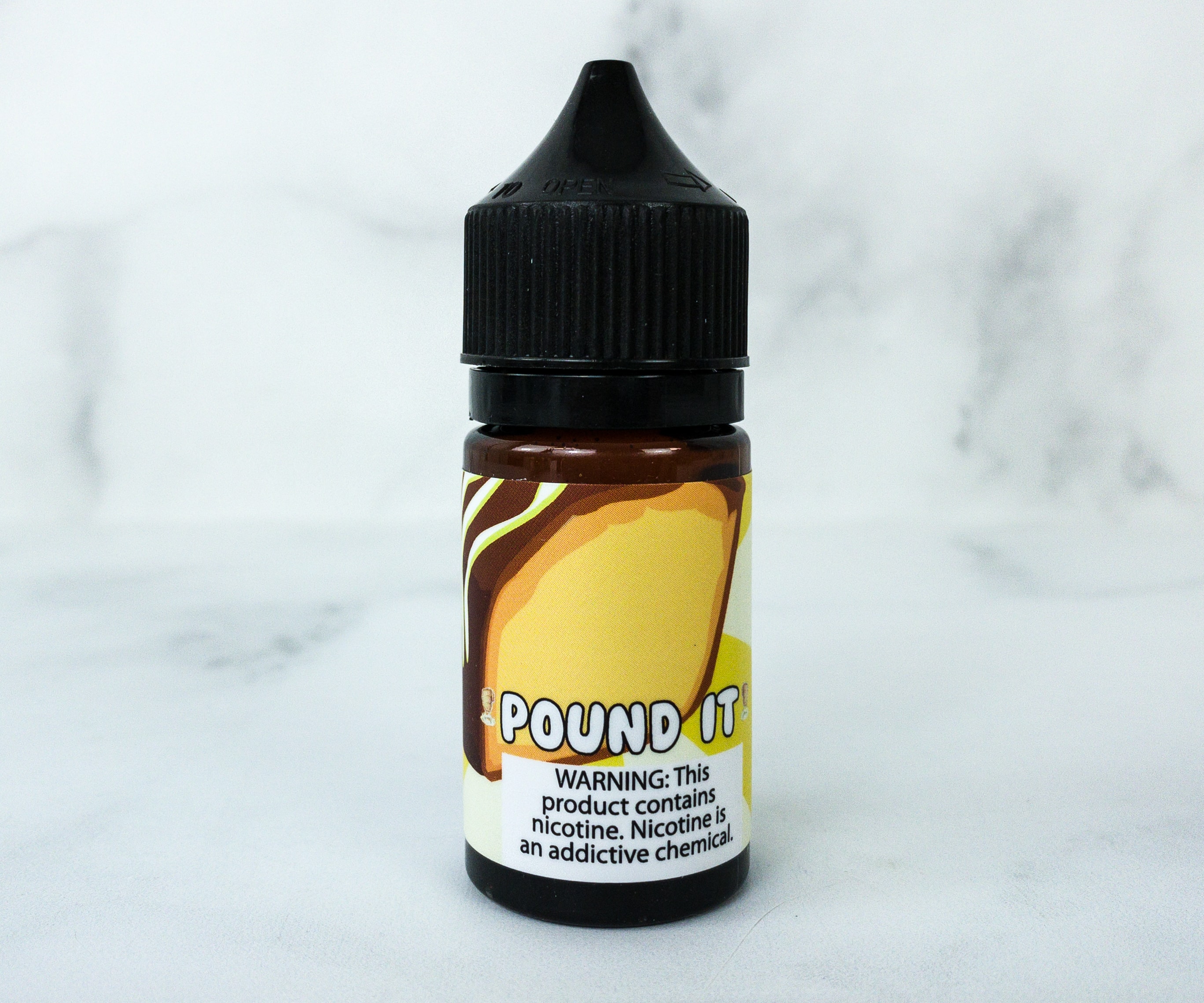 Food Fighter Original Juice Pound It ($15) Flavors: dessert, cream, cake, berry, strawberry, and lemon
This is an exquisite dessert vape that boasts of a delicious cake-like taste fused with fresh lemon and strawberry notes. It has just the right amount of creaminess, nothing overwhelming nor overpowering.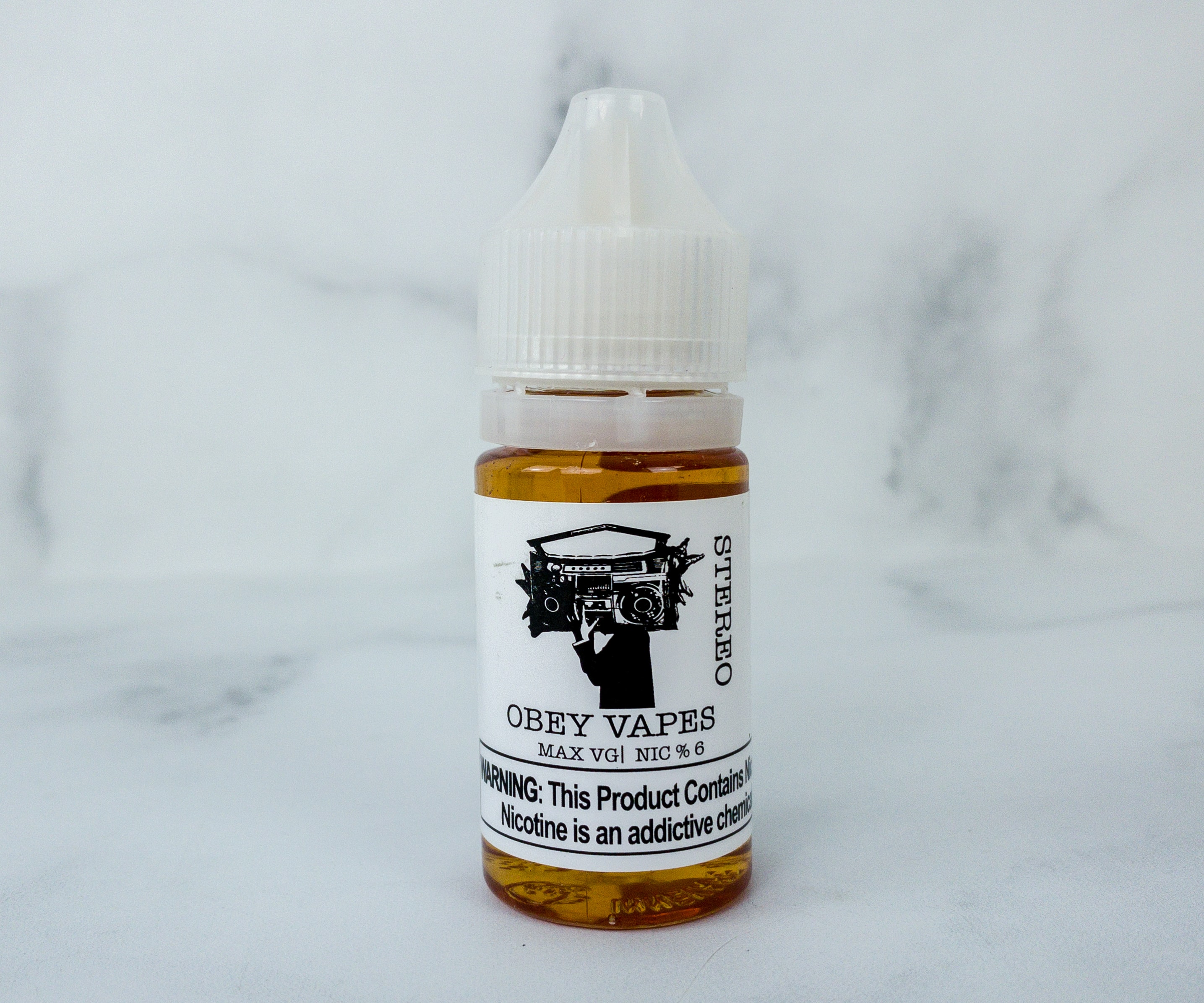 Obey Vapes Stereo ($15) Flavors: dessert, cake, doughnut
It's a nice dessert e-juice dominated by a delectable cake and sweet doughnut taste. It's so light and smooth, another ideal vape juice for newbies.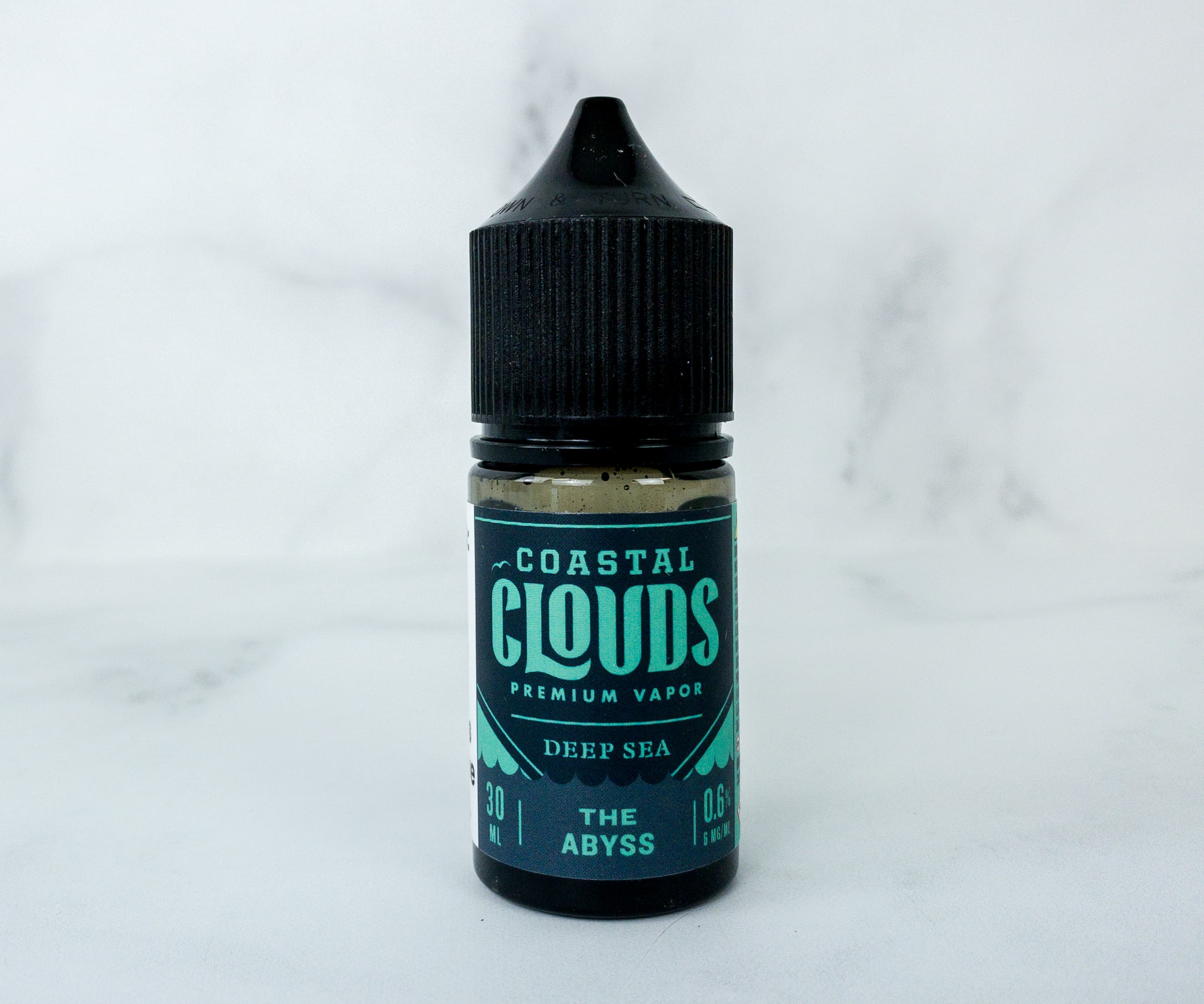 Coastal Clouds Deep Sea The Abyss ($15) Flavors: watermelon, fruit, candy, salt, and melon
Fruity and tasty! This e-juice features a fruity combination of melon and watermelon notes in every sip. It's so smooth to the throat with thick cloud production as well!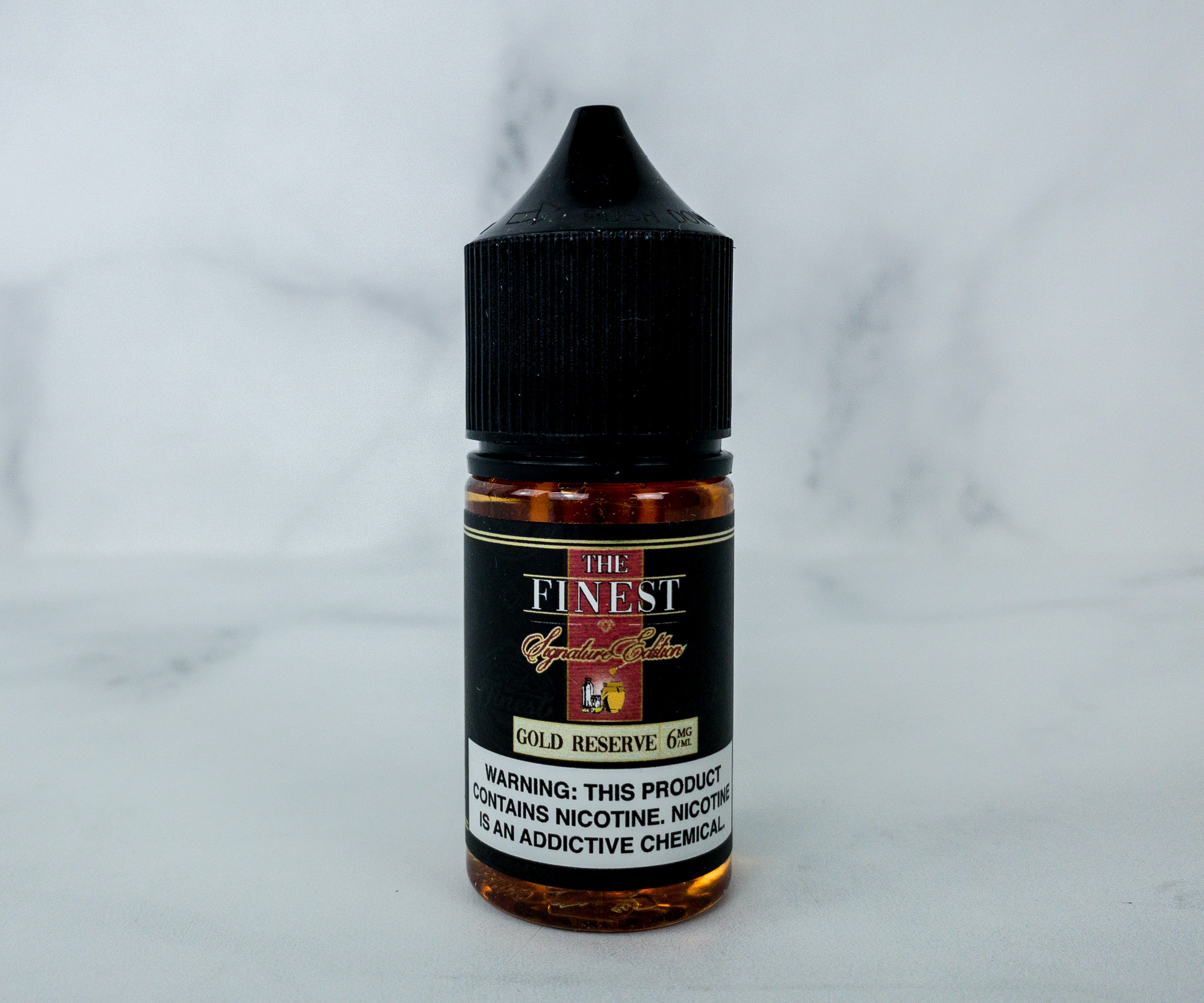 The Finest Signature Edition Gold Reserve ($15) Flavors: dessert, cream, almond, nutty, honey, milk, and banana
This is a limited edition e-juice that features a blend of almond, banana, milk, and honey. Such a top-grade juice that is surely made to please dessert vape fans!
Element Dripper 80/20 Series Key Lime Cookie ($10) Flavors: key lime pie, tangy, dessert, cookie, and citrus
Here's a zesty vape juice that hits the right spots with its lime and citrus notes, as well a bit of cookie sweetness. This also produces a high vapor production.
Sugar-Free Pound Cake ($15) Flavors: dessert, cream, vanilla, cake, and cupcake
Sweet and creamy, this vape juice produces a thick scented cloud of smoke with a little bit of hit to the throat. It also has a delicious taste of vanilla on every inhale and exhale!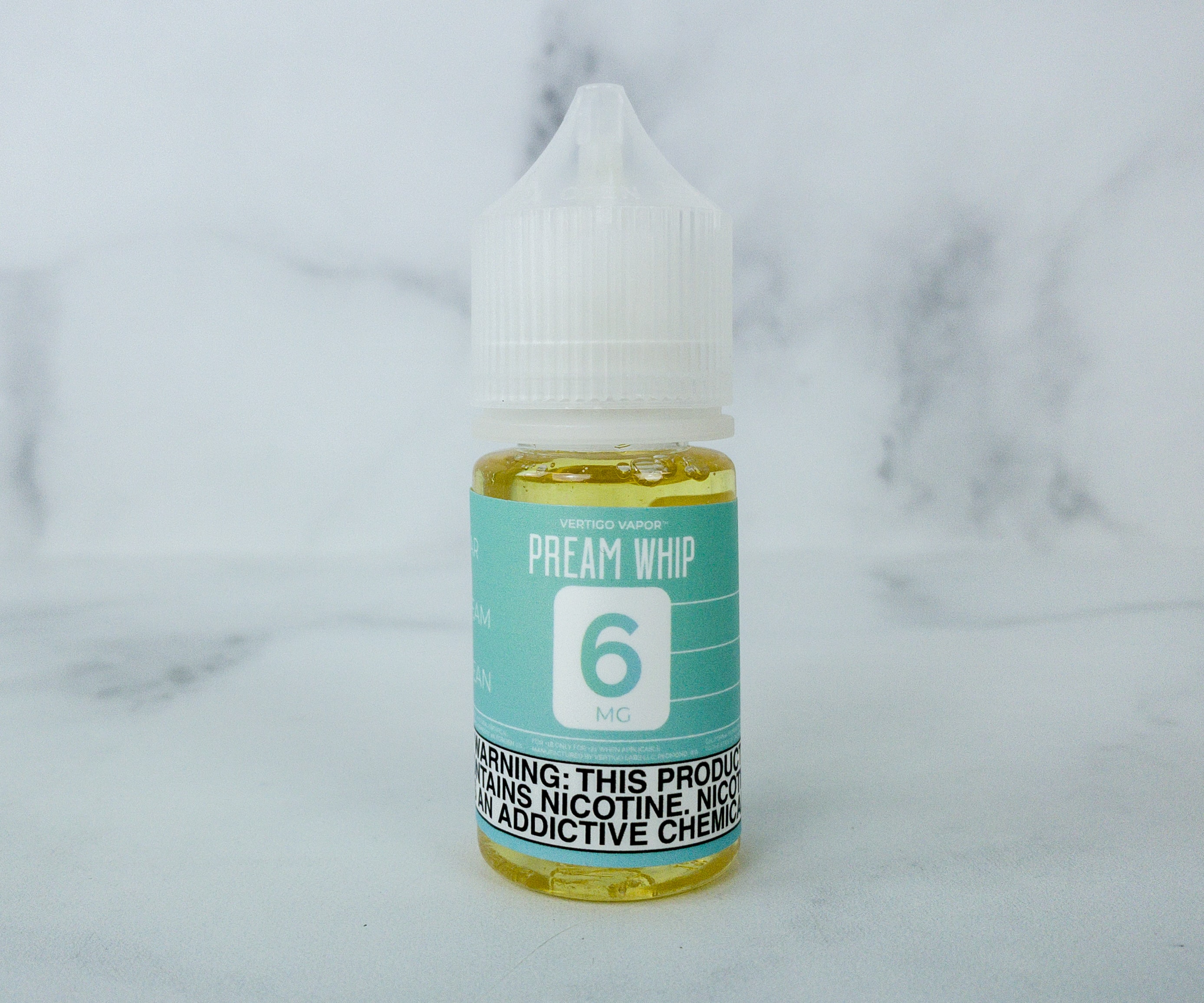 Vertigo Vapor Pream Whip ($15) Flavors: fruit, cream, pear
This e-juice is pretty good, especially if you're just looking for a light vape. It has creamy and pear notes that is not overwhelming, just simple, smooth vaping!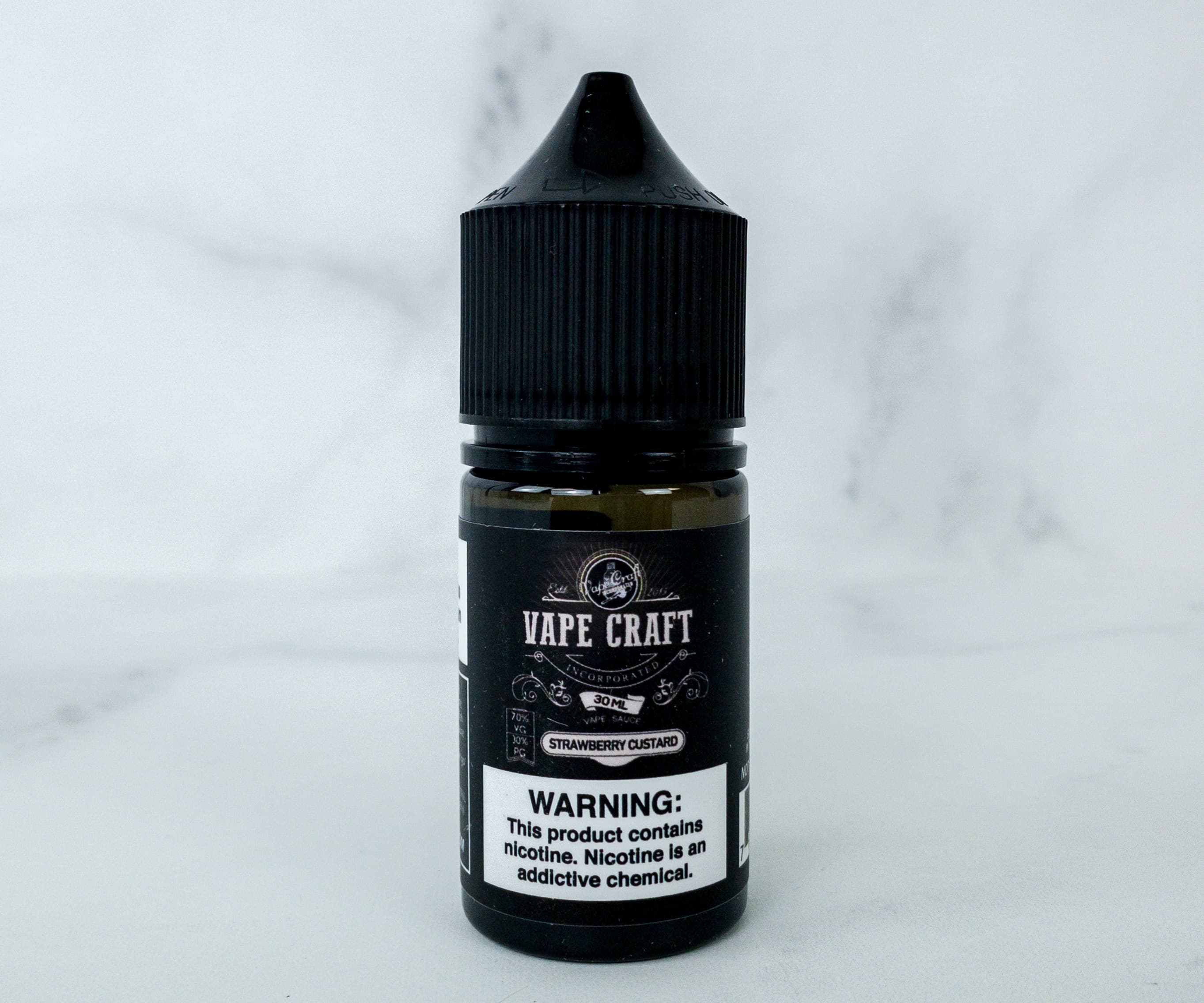 Vape Craft House Line Favorites Strawberry Custard ($15) Flavors: dessert, vanilla, custard, berry, strawberry
This e-juice is like a sweet and slightly sour strawberry candy. It also produces a thick cloud of sweet-scented smoke with almost zero hit to the throat.
ZampleBox brought another awesome curation of e-juices! This subscription makes it easy to discover new vape flavors and award-winning brands, which is useful for newbies and veteran vapers alike. The box is also customized depending on your taste preferences, so nothing will go to waste. Plus, it's way lot cheaper compared to buying e-juices separately from different sellers!
Are you getting this month's Zamplebox?