Wicked Good Perfume is a monthly subscription that sends a new travel-friendly perfume and 2-3 scented products for your bath, body, or home. The items are handcrafted, cruelty-free, and vegan. They are also curated to the season and follow a theme. Wicked Good Perfume is $25 a month and shipping is free to the U.S., $15 to Canada, and $25 worldwide.
We believe the ritual of applying fragrance is short, but significant. We hope that when you smell a Wicked Good creation, you experience a moment of joy that adds a skip to your step + a twinkle in your eye. This is what we simply refer to as: #SmellWickedGood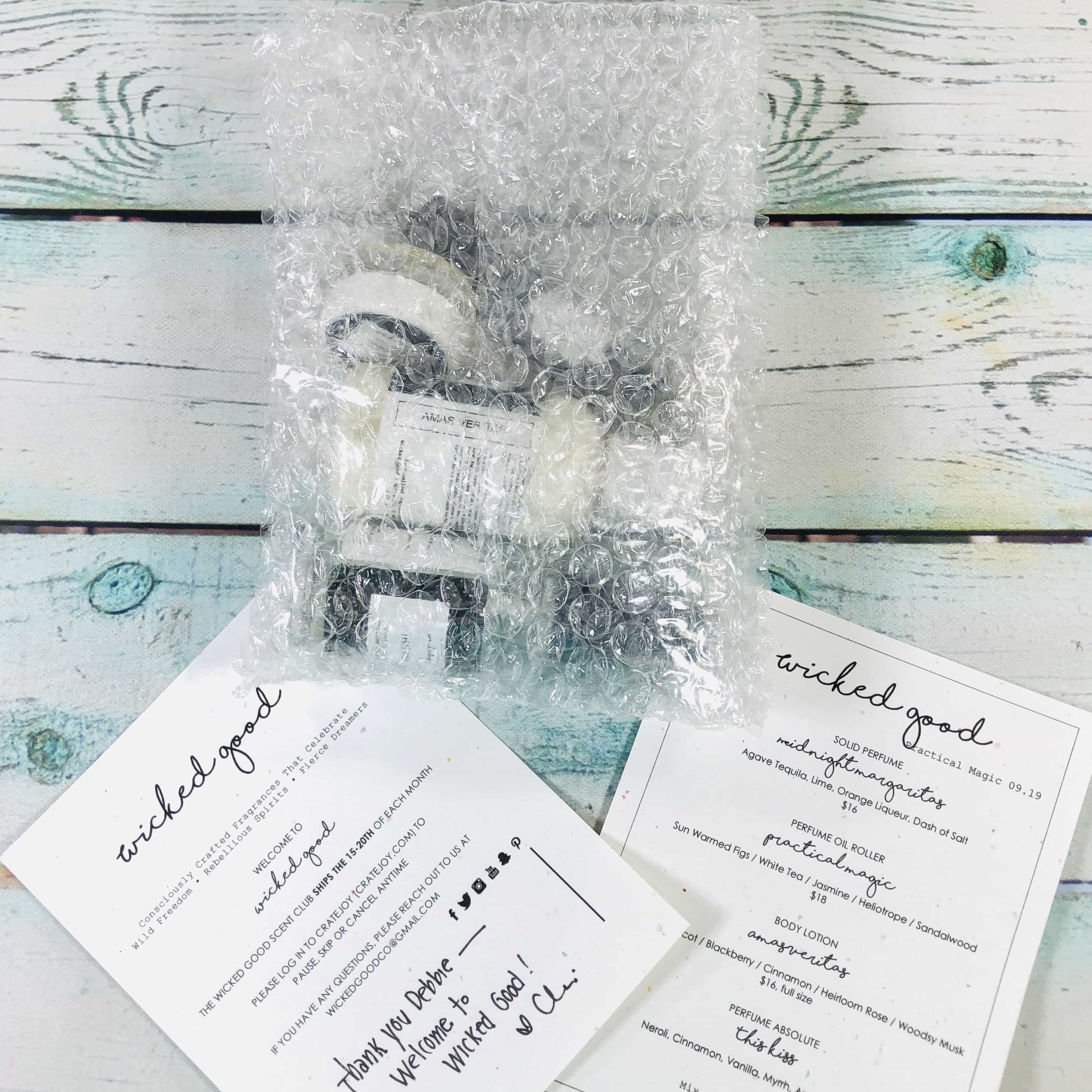 My items were shipped in a holographic mailer and were wrapped in bubble wrap to avoid breakage.
Everything in my box!
I received a card welcoming me to the club. This is my first Wicked Good Perfume shipment! I have tried a couple of their items before – they tend to make bookish and fandom items and have a large selection of products on their website inspired by Harry Potter, LUSH, Halloween, Christmas, and all kinds of other stuff.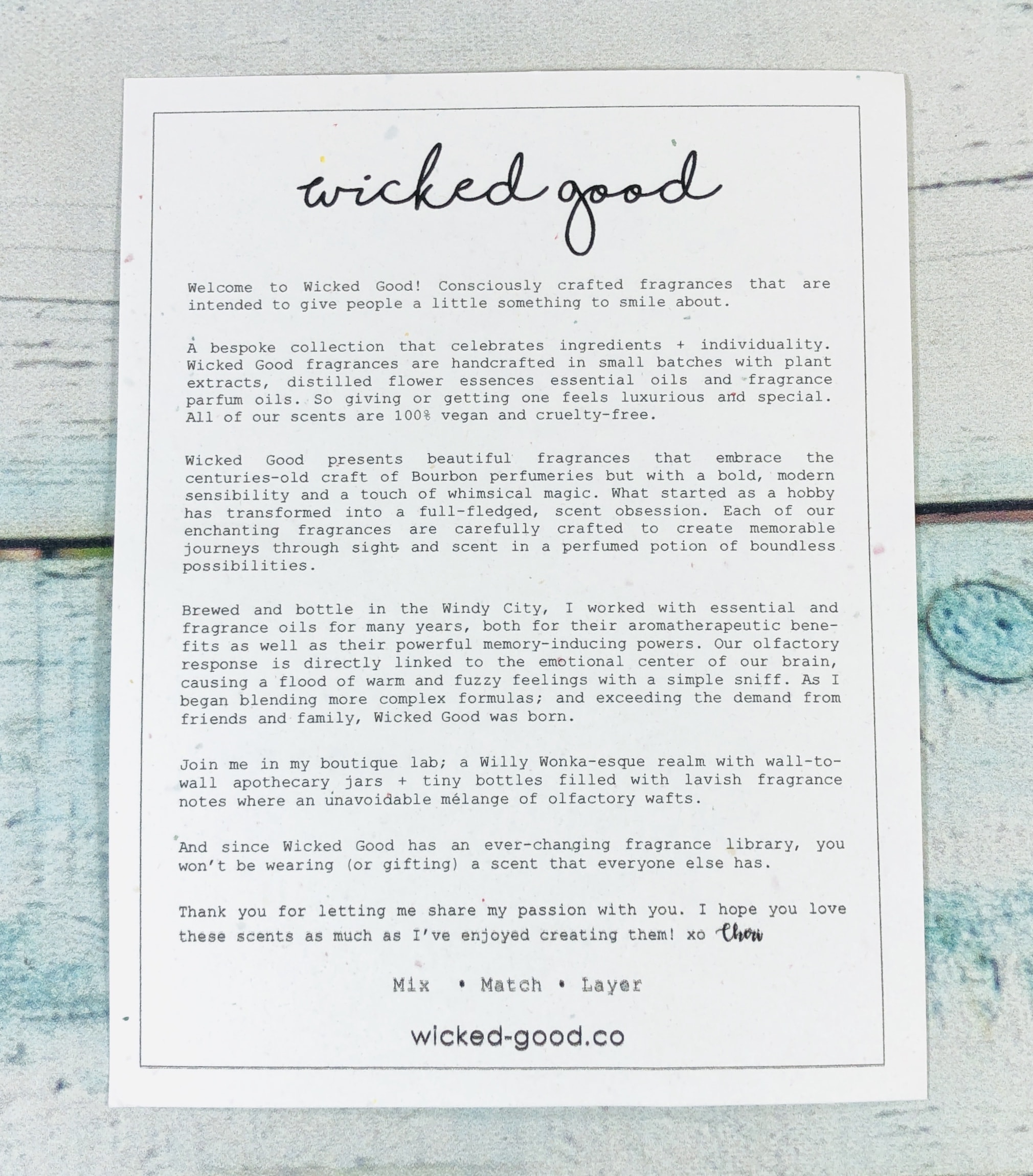 The back of the card had some background info on the Wicked Good Perfume company.
A second card announced the theme and listed each item and the retail value for some of the products. Scent notes were included. I like the suggestion to mix, match, and layer.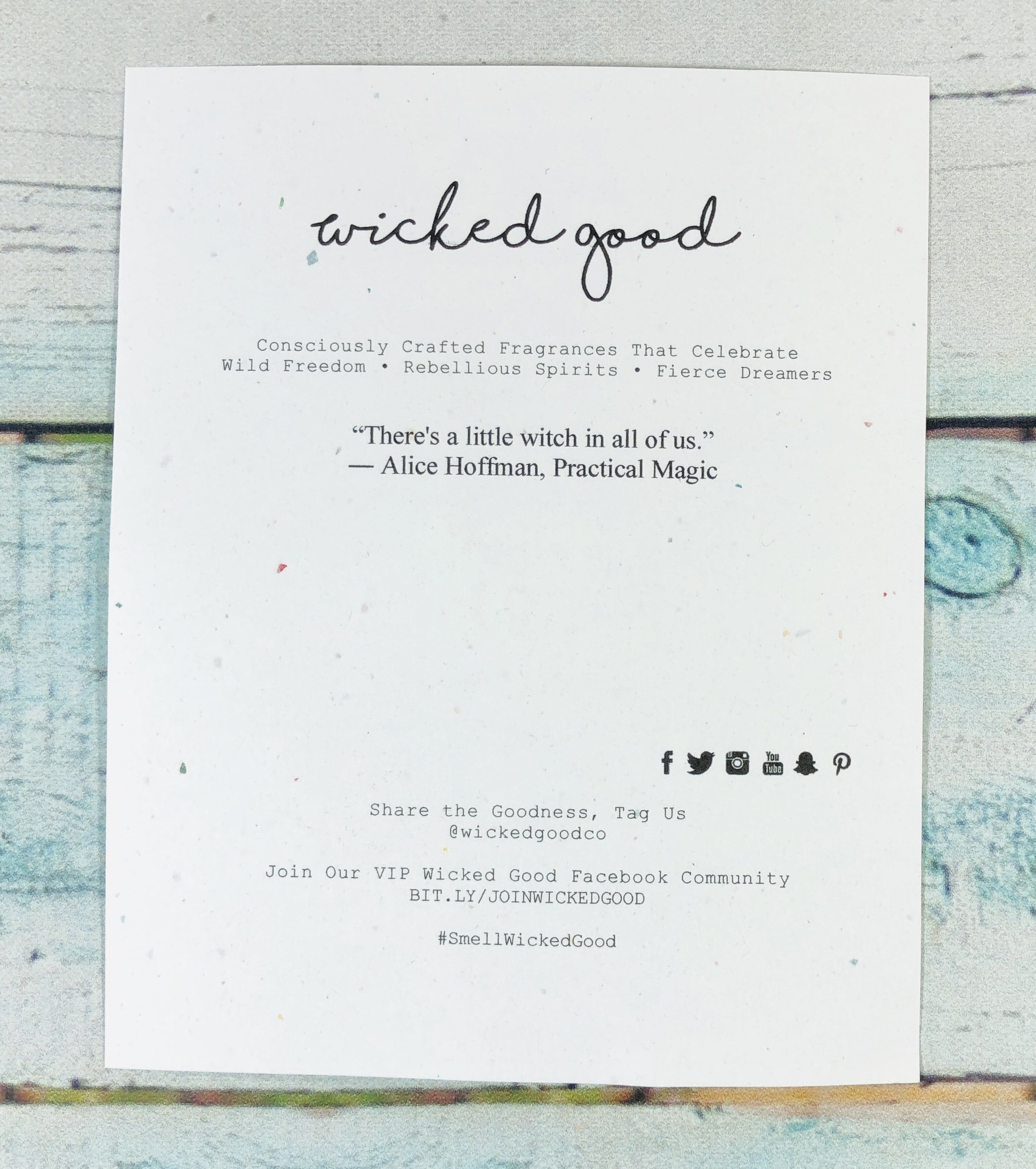 The back of that card had a little more info and some social media sites where you can discover more about this company.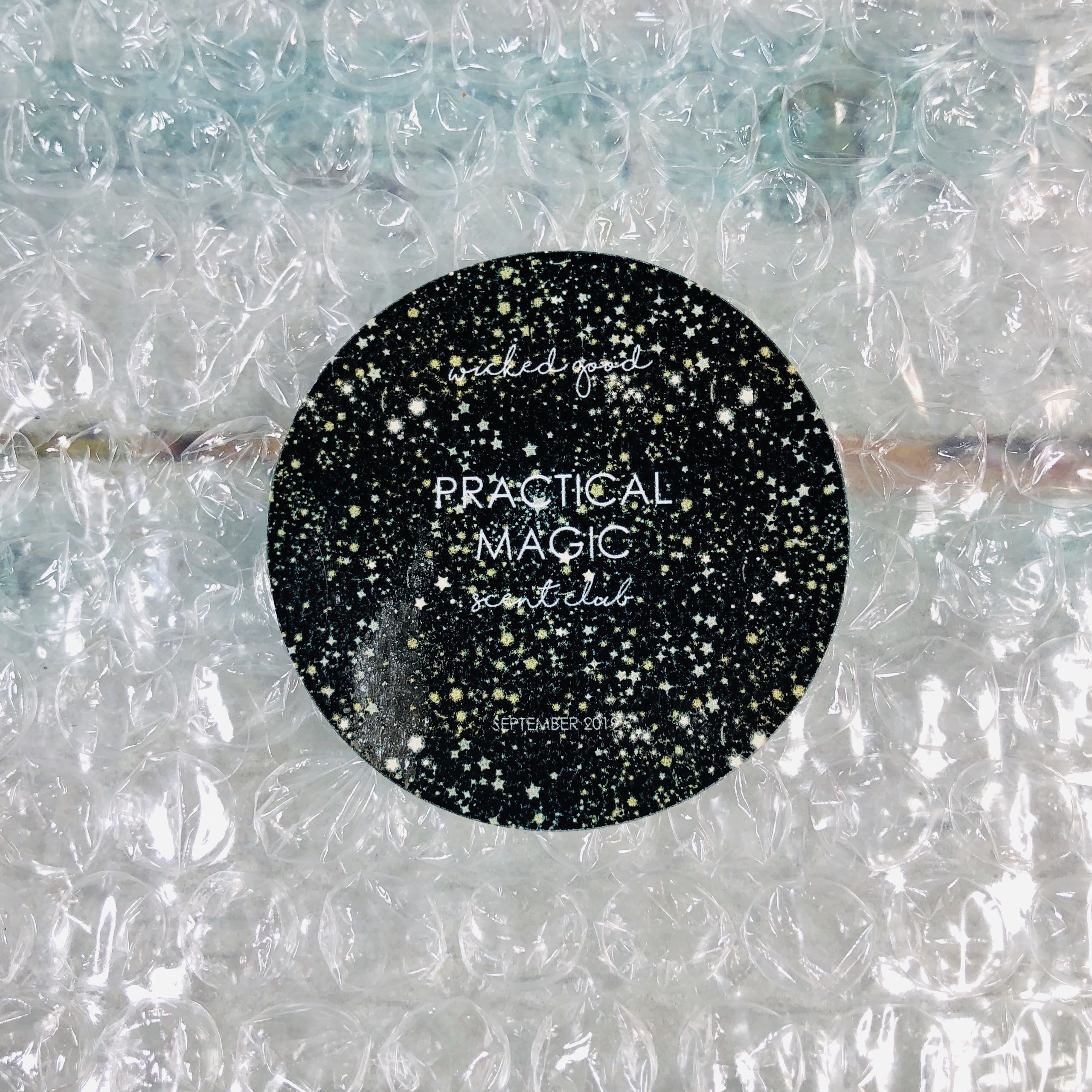 A sticker on the bag also listed the theme and month. Each product had a label with a coordinating print. Here's what Wicked Good was going for when they curated this box:
A bewitching collection of charming scents. The bonds these scents share will transport you into the book —almost as if by magic. Always throw spilled salt over your left shoulder. Keep rosemary by your garden gate. Add pepper to your mashed potatoes. Plant roses and lavender, for luck. Fall in love whenever you can. "There's a little witch in all of us." ― Alice Hoffman, Practical Magic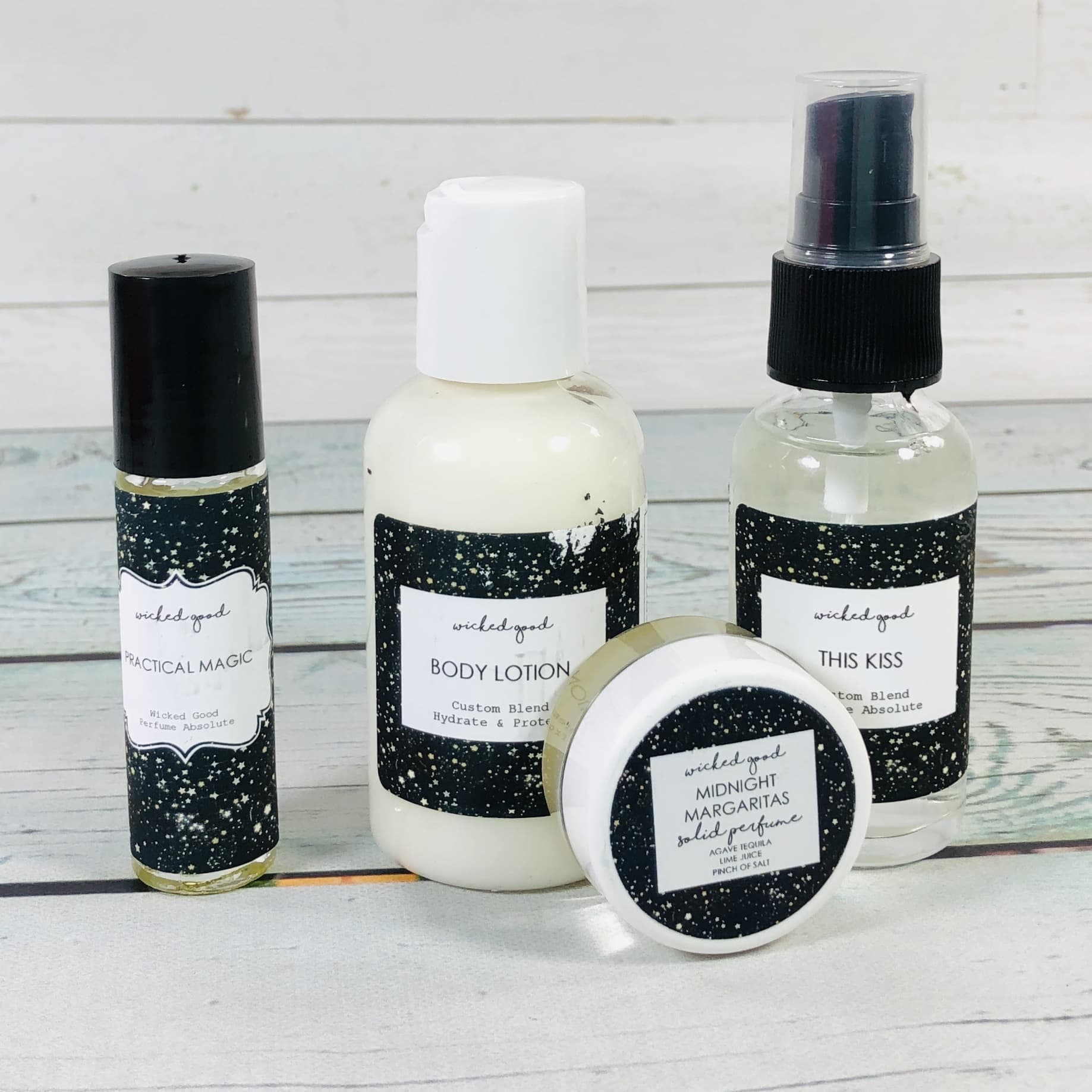 Let's try the items from the September 2019 Practical Magic collection!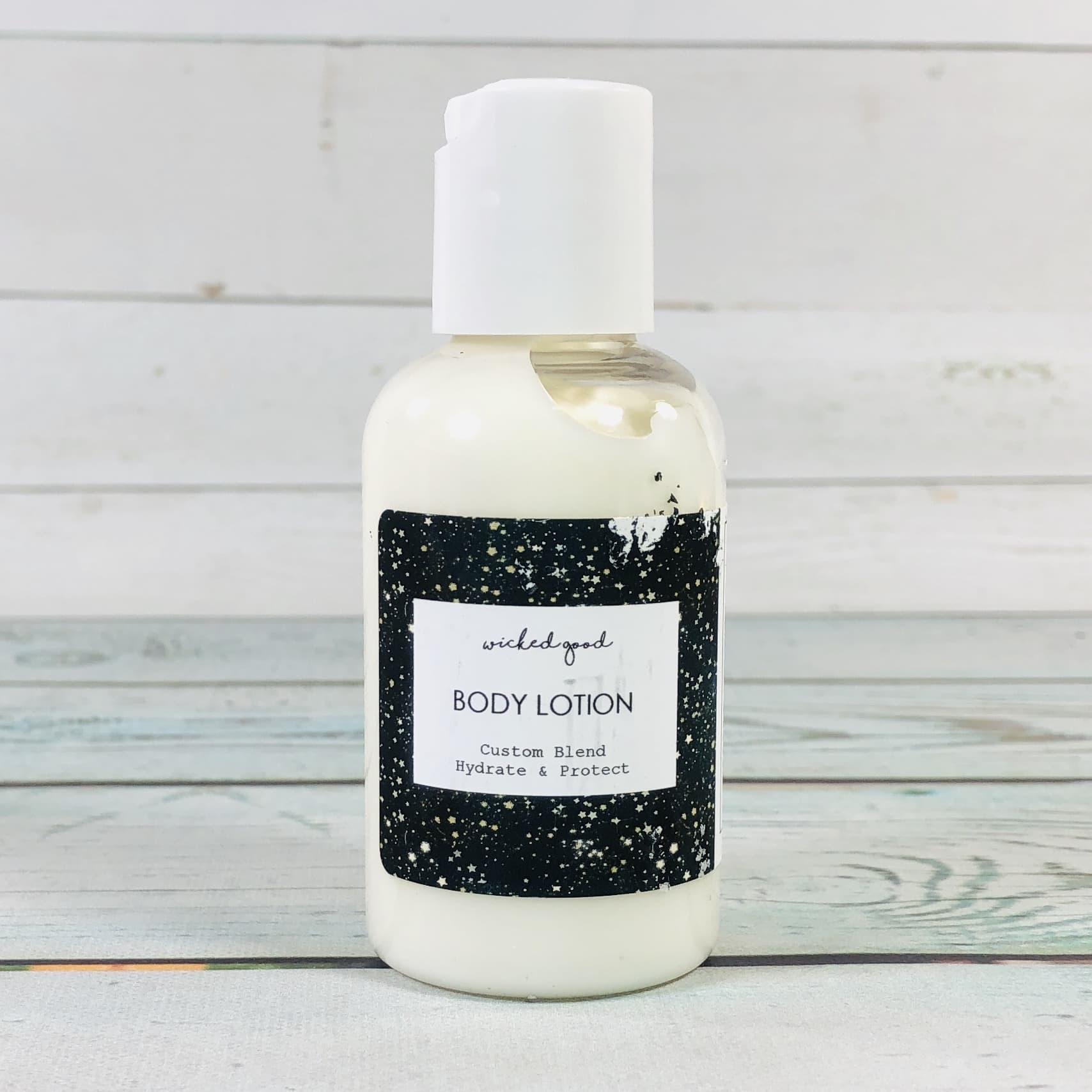 Body Lotion Amas Veritas One product I can't seem to get enough of in subscription boxes is body lotion, so I was so happy to see this travel-friendly bottle!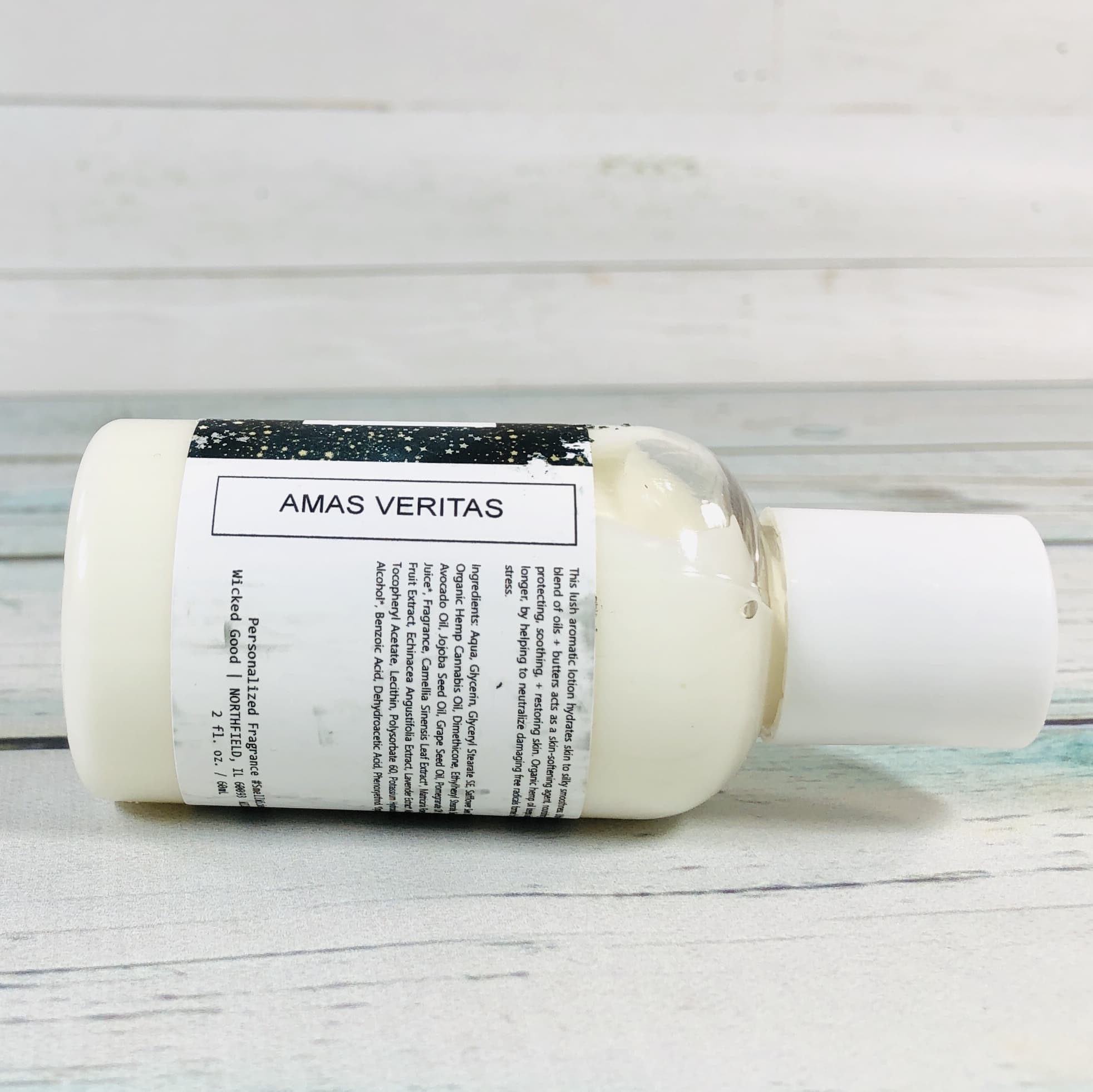 The scent is called Amas Veritas, which means "True Love" in Latin and was a love spell used in the movie "Practical Magic".
One of the items leaked a bit so the labels may look a little wonky. The ingredients were listed and include sesame and hemp oils, shea butter, and aloe. It went on easily and smelled fruity and sweet. There is perfume in here so the scent lasted for several hours afterwards. Scent notes include peach and musk but I thought it smelled liked very ripe pineapple, and changed to a red wine scent after a while. I really liked it!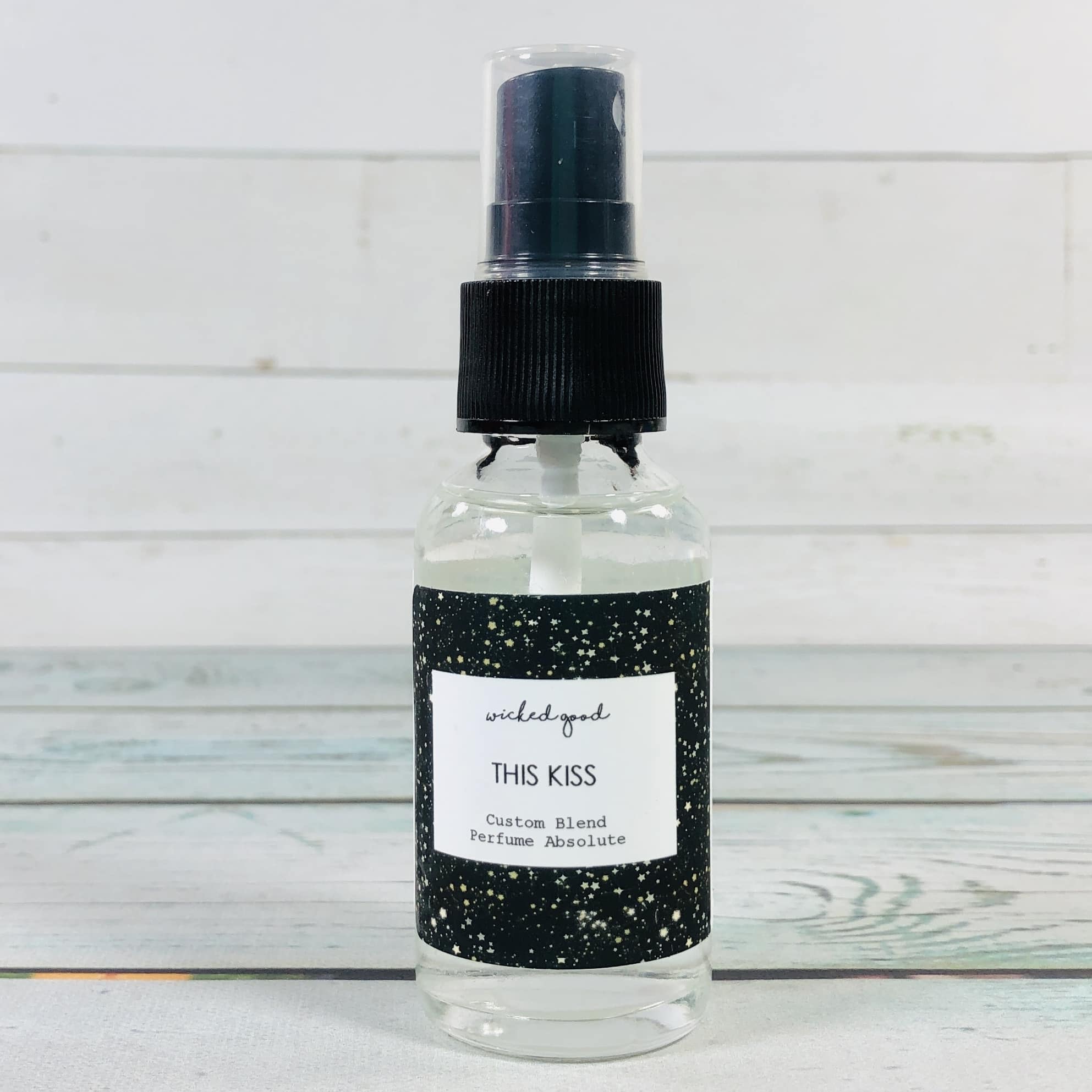 This Kiss Perfume Absolute has notes of neroli, amber, and patchouli but I couldn't detect any of those! Instead it smelled powdery and I'm not sure how else to explain it, maybe it is supposed to smell comforting? It was the strongest of this month's scents, and the longest lasting.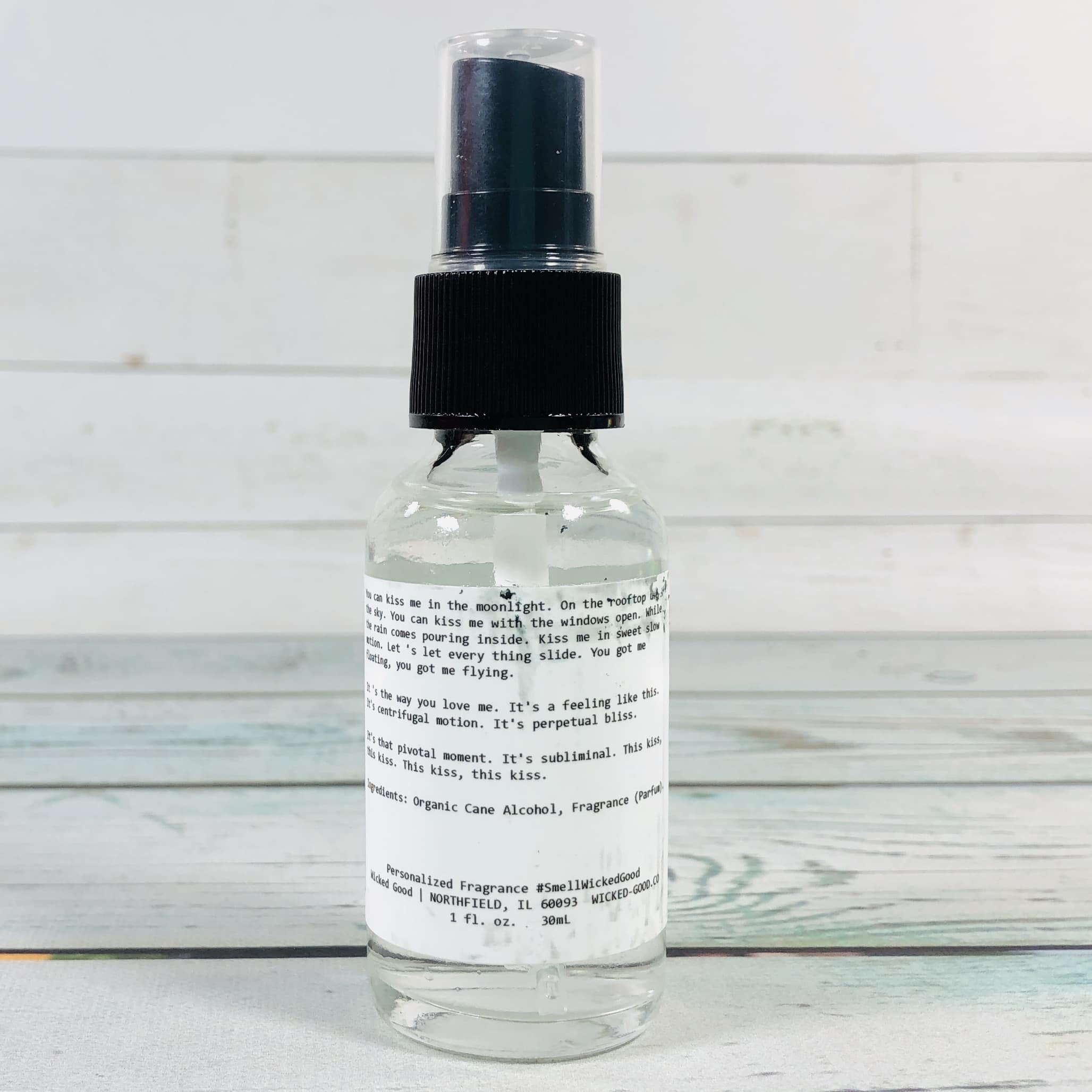 The words to the classic song by Faith Hill were on the bottle (along with the ingredients). This song played during the movie in a scene that featured, what else, a kiss! I'm going to try layering it with some of the other scents and see if I can get it to work for me.
Practical Magic Perfume Oil Roller I like the portability of roll-on perfumes, just stash in a bag and carry it with you.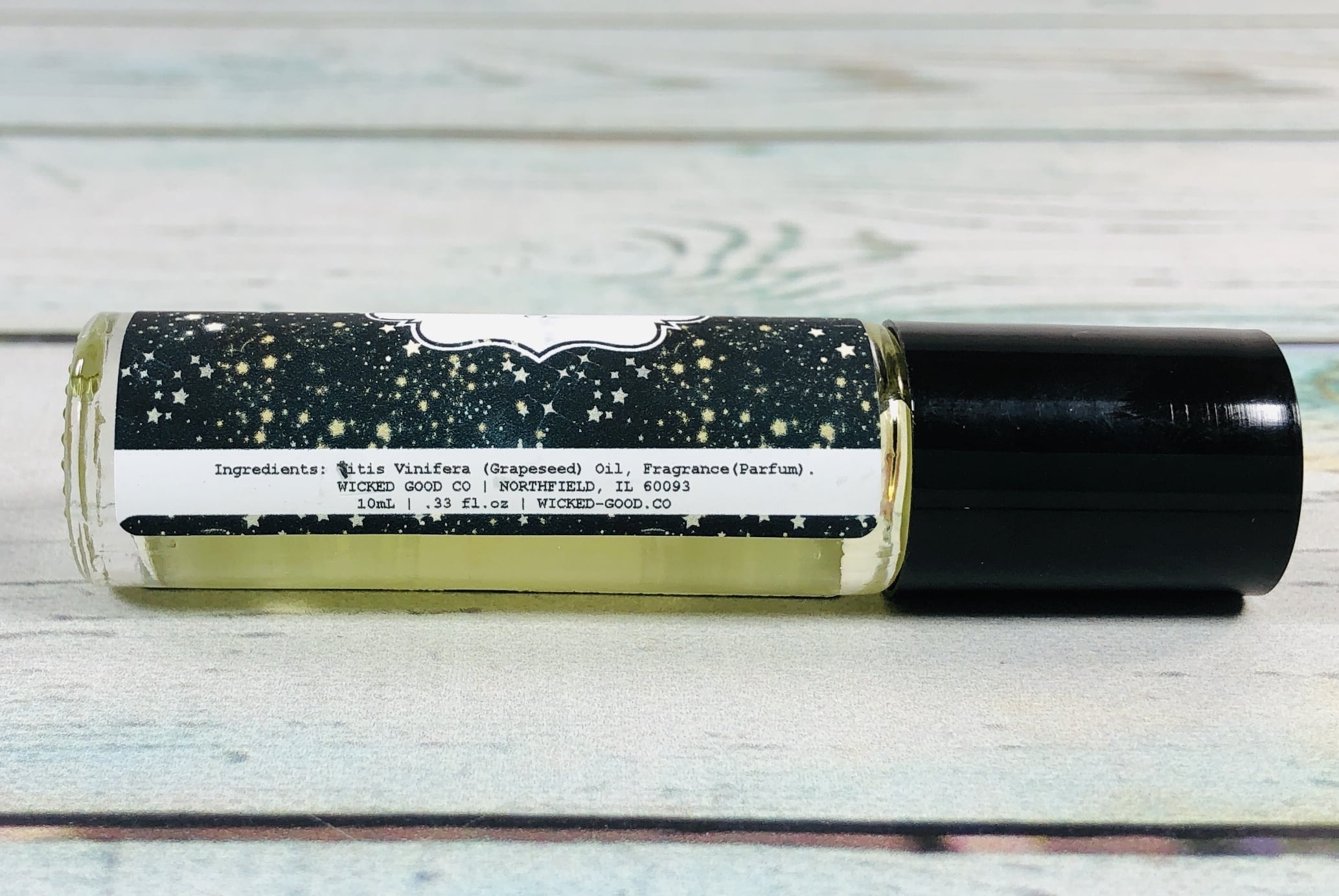 This one has parfum in a grapeseed oil base.
Scent notes include fig, white tea, and jasmine. It has a green note and smells fresh and floral.
Midnight Margaritas Perfume Oil gets its name from a scene in the movie this theme is based on. Scent notes include tequila, lime, and salt of course!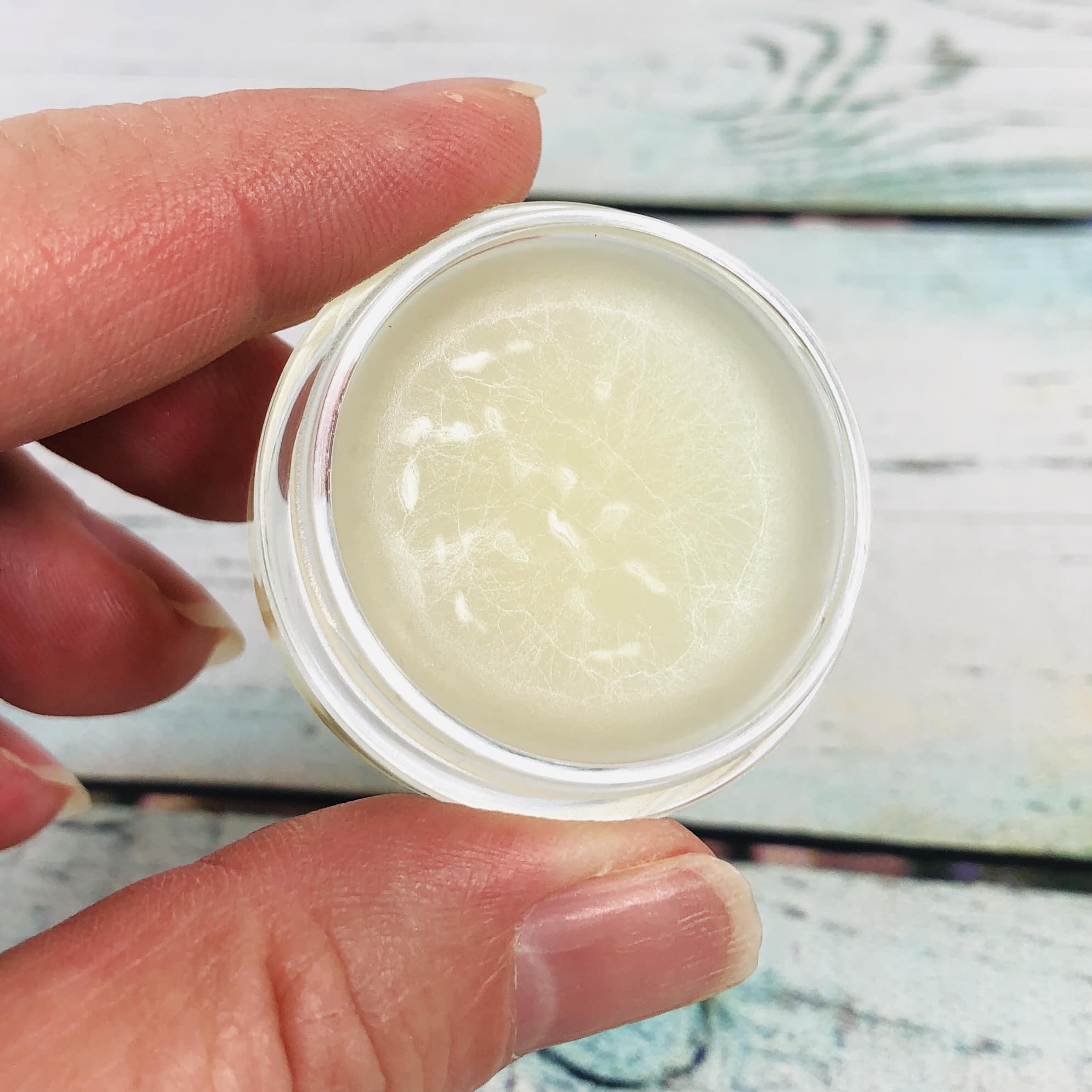 The solid melts as soon as you rub your finger in the pot, and it is very portable and convenient to use. I couldn't find a list of ingredients for this product. This was my favorite scent this month, and it smelled mostly of limes. Very bold and refreshing.
I enjoyed my first box from Wicked Perfume! I liked the selection of items and I appreciate that they sent a variety of scents, and not just one scent in several forms. Only one of the scents didn't cut it for me, but the other three were really enjoyable. The lotion felt great and the scent from that item lasted a long time. If you are adventurous in your scent choices then I think you will enjoy this subscription. I'm excited to see what theme they come up with for October and I bet the products will smell bewitchingly good, plus I'm all about fall! The theme will be Witches Brew!
Are you getting the Wicked Good Perfume too?