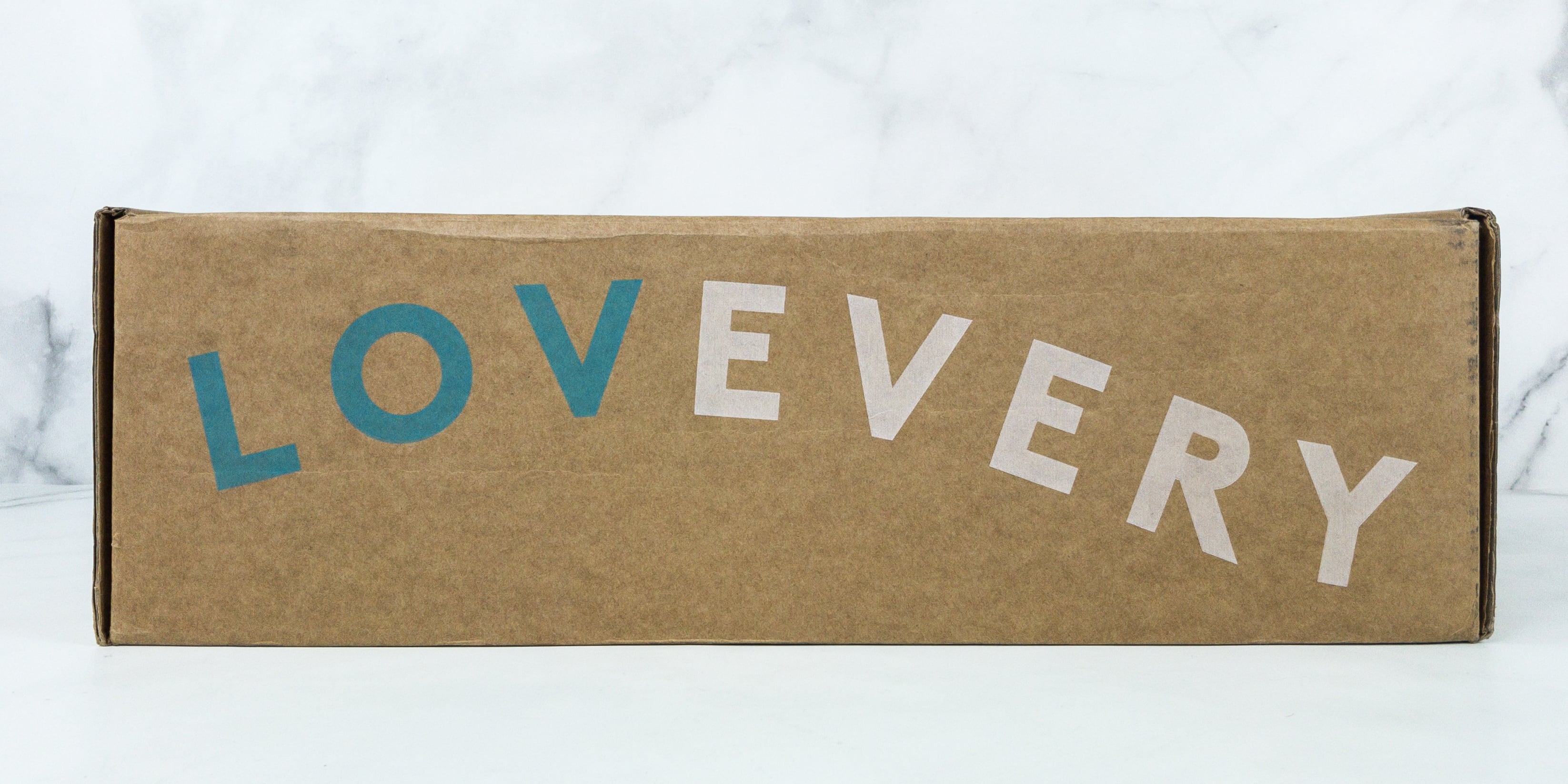 Toddler Play Kits by Lovevery feature the best play products designed by child development experts. The toys are customized by stage and thoughtfully crafted using sustainably forested wood, organic cotton, and baby-safe plastics.
Head's up – this is a BIG box, with lots of photos! There is SO much in this box, along with guidance for parents, and just a ton of developmentally appropriate toys, that we couldn't really get rid of anything. We think this box is worth it, and this review will show you how the parent guide and all the items really work together. Every toddler (and preschooler, and big kid!) who has played with the toys in this box has found them absolutely fascinating, and we couldn't be happier with the Lovevery kits.
DEAL: Save up to $48 when you pay upfront for longer length plans! No coupon code is needed – the deal applies automatically, just use this link to join!
The box is quite full and heavy!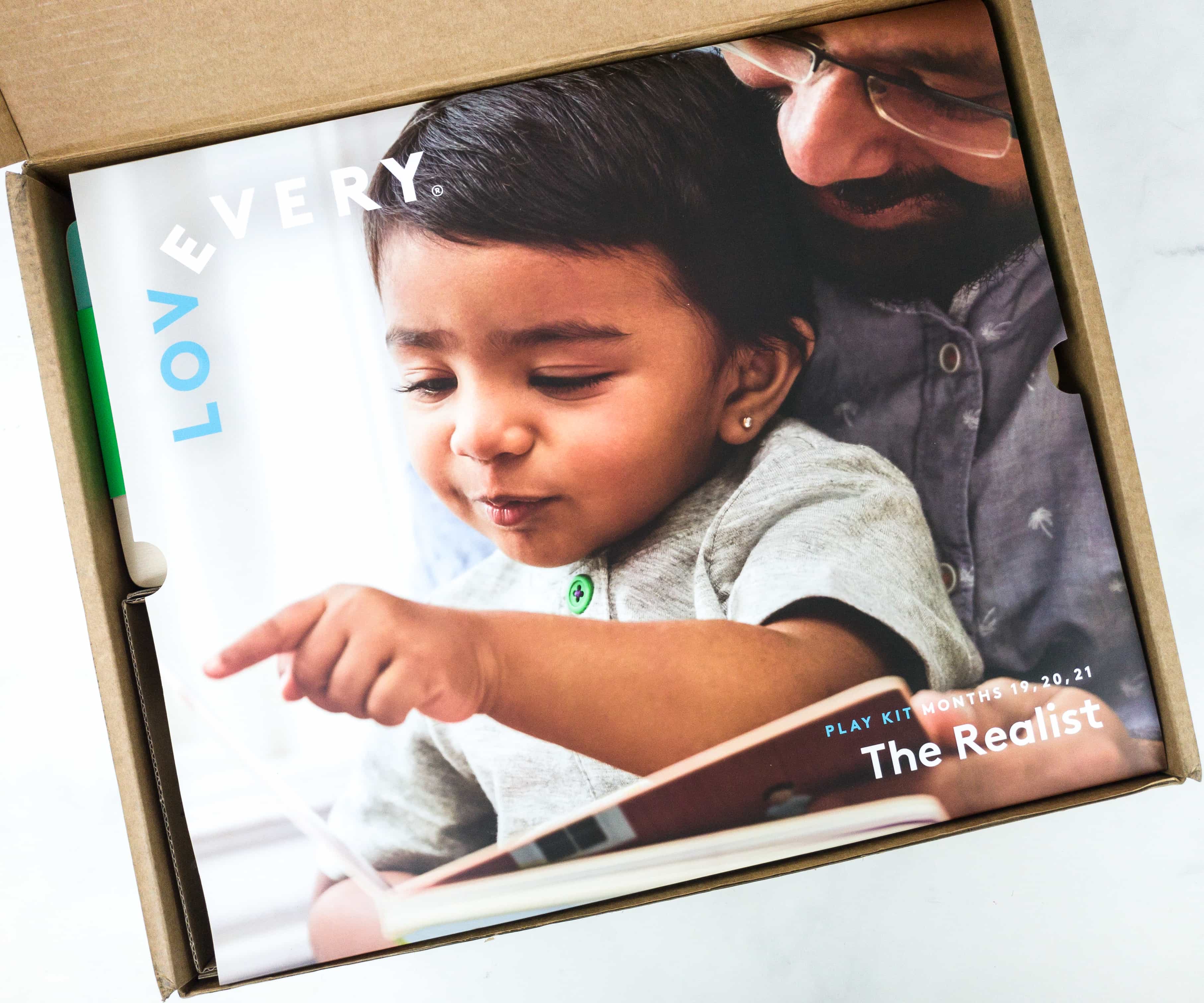 There is a card on top of all the items. This play kit is specially designed for babies 19 to 21 months old. They're called "The Realist"!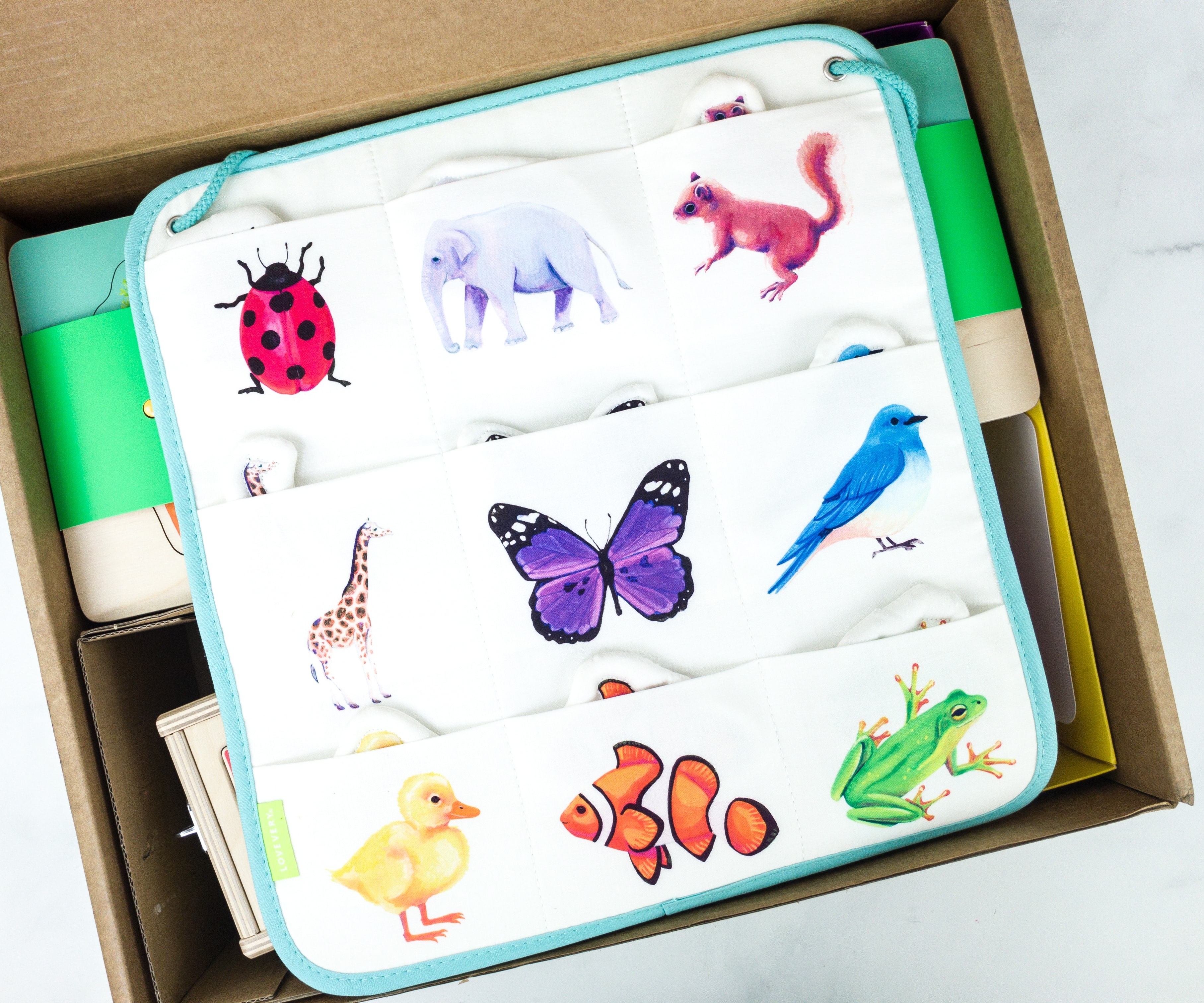 The toys came neatly packaged. They fit the box perfectly, so there's no chance they'll move around and get broken.
The information sheet gave us a rundown of all the items in the box! In case you missed it, we also reviewed The Babbler Box for babies 16 to 18 months old. You can read more about it here.
To make this a fun and safe experience for all, they included a material and care manual.
There's a list of safety tips and warnings!
They even listed how to care for each item.
Some toys can be simply wiped clean using a cloth, while others are needed to be hand-washed.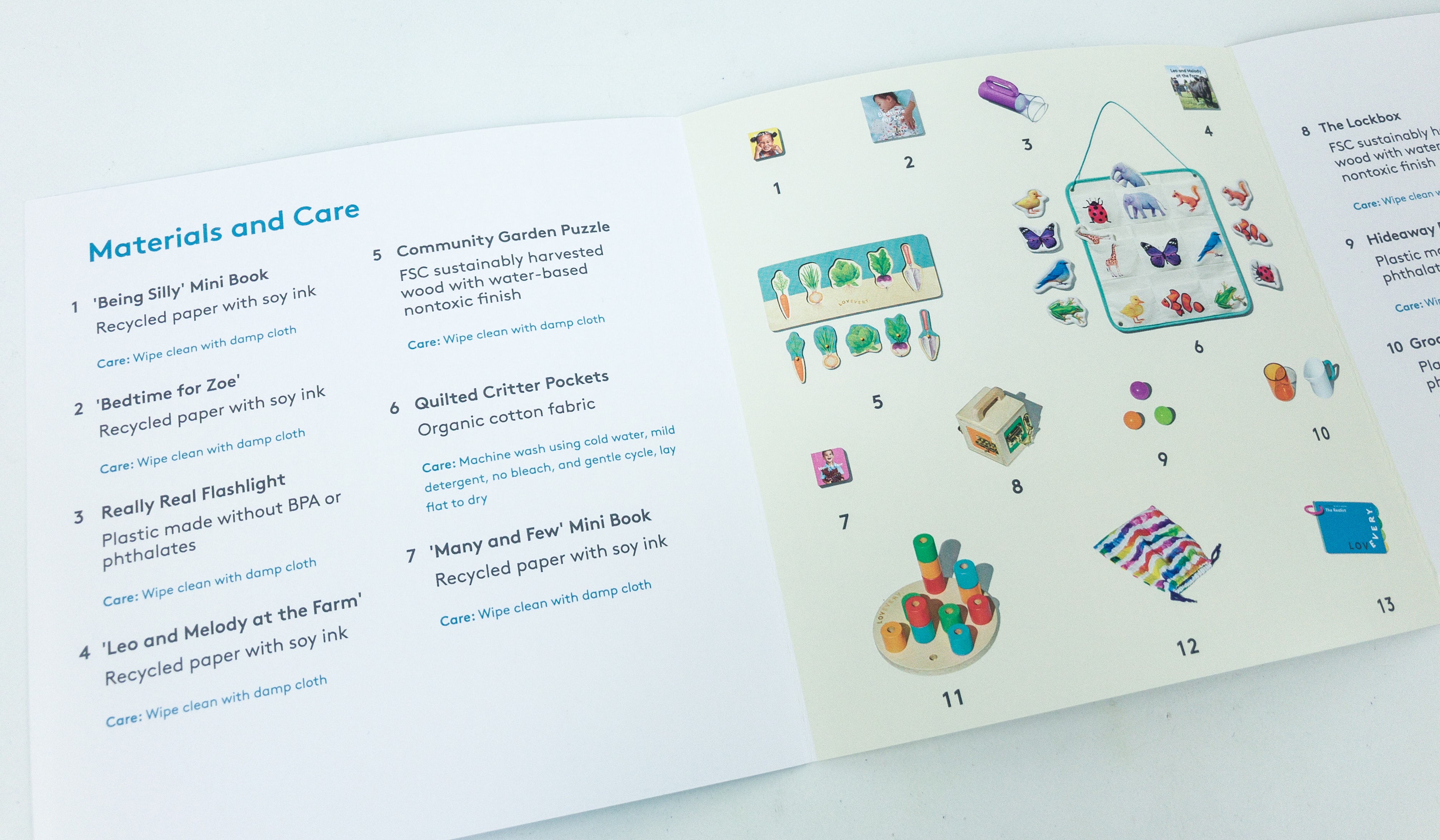 There are corresponding photos for each number, so it's easier for you to determine which is which.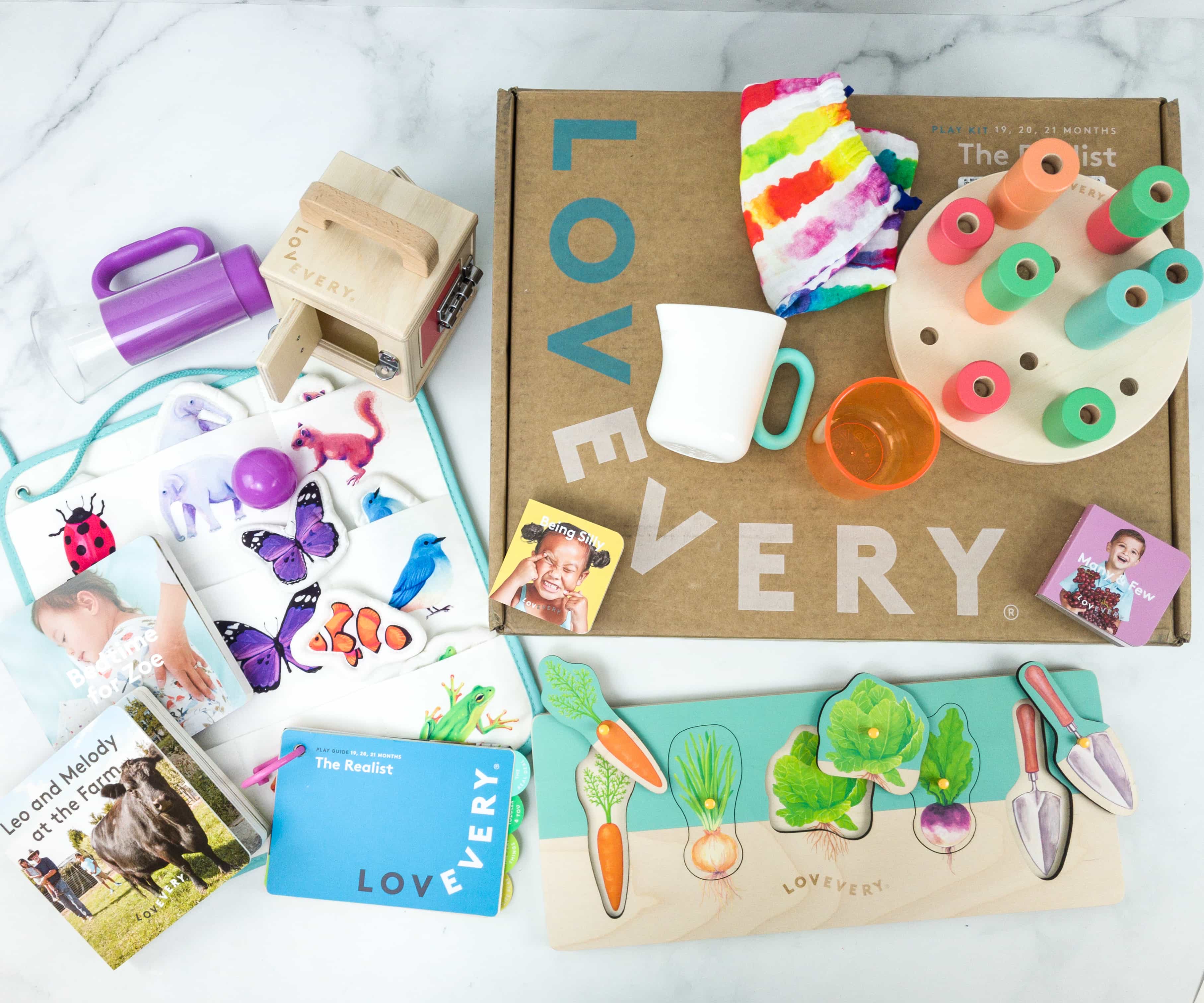 Everything in my box!
First up is the Play Guide!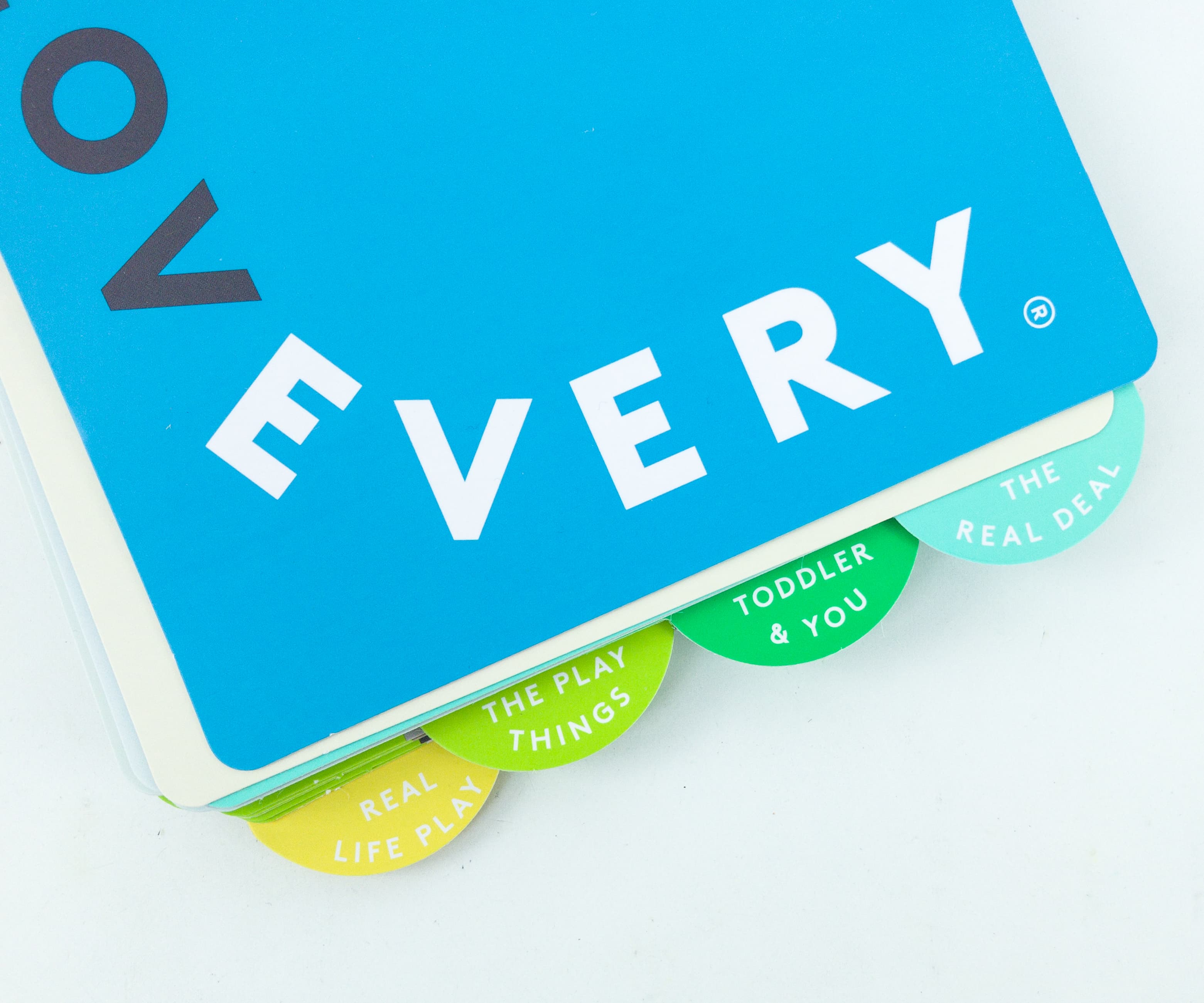 This guide is divided into different sections, so it's easier to flip through them and find what you're looking for.
Like the information sheet, it gave us a rundown of all the toys in the box.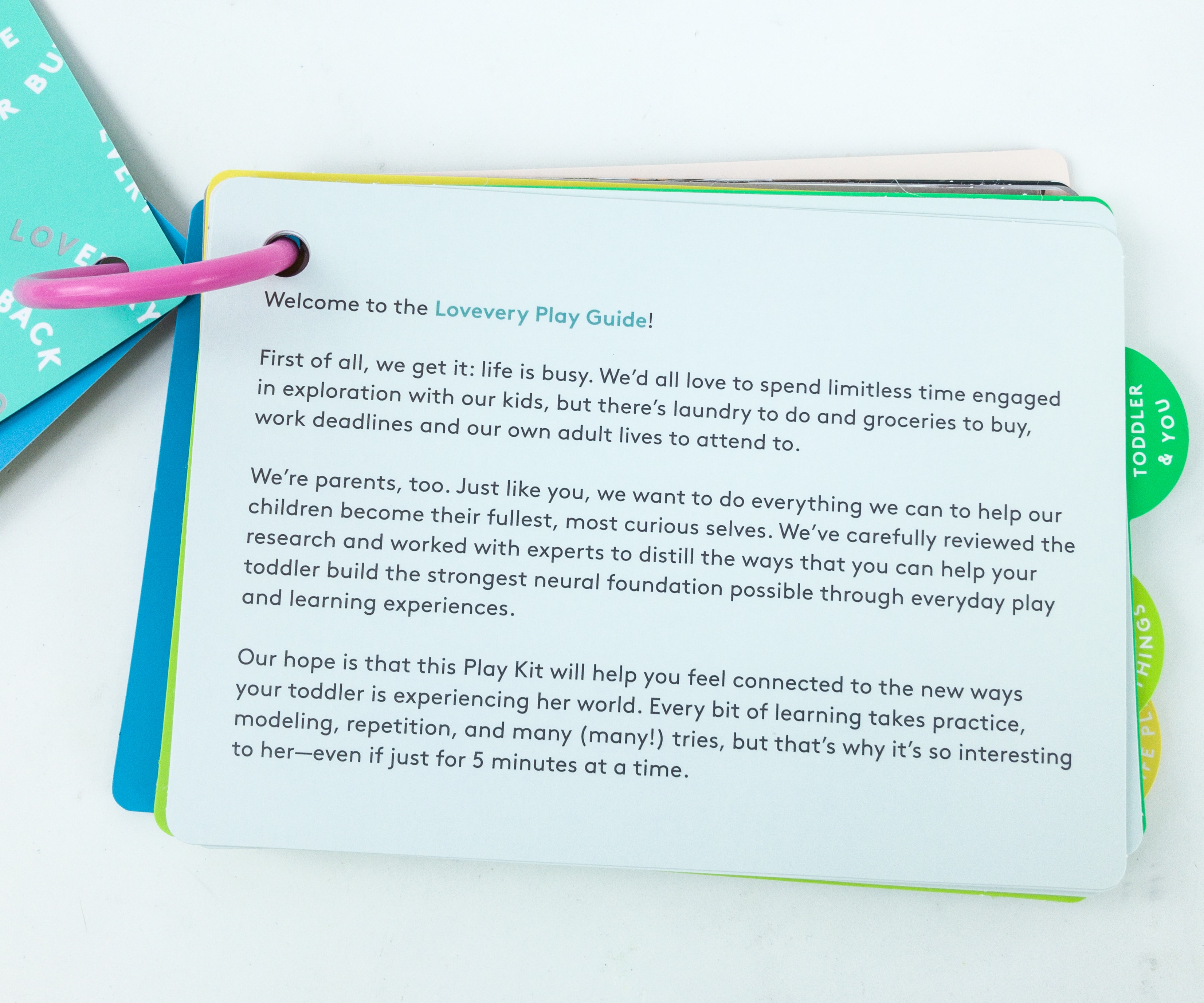 There's a welcome note!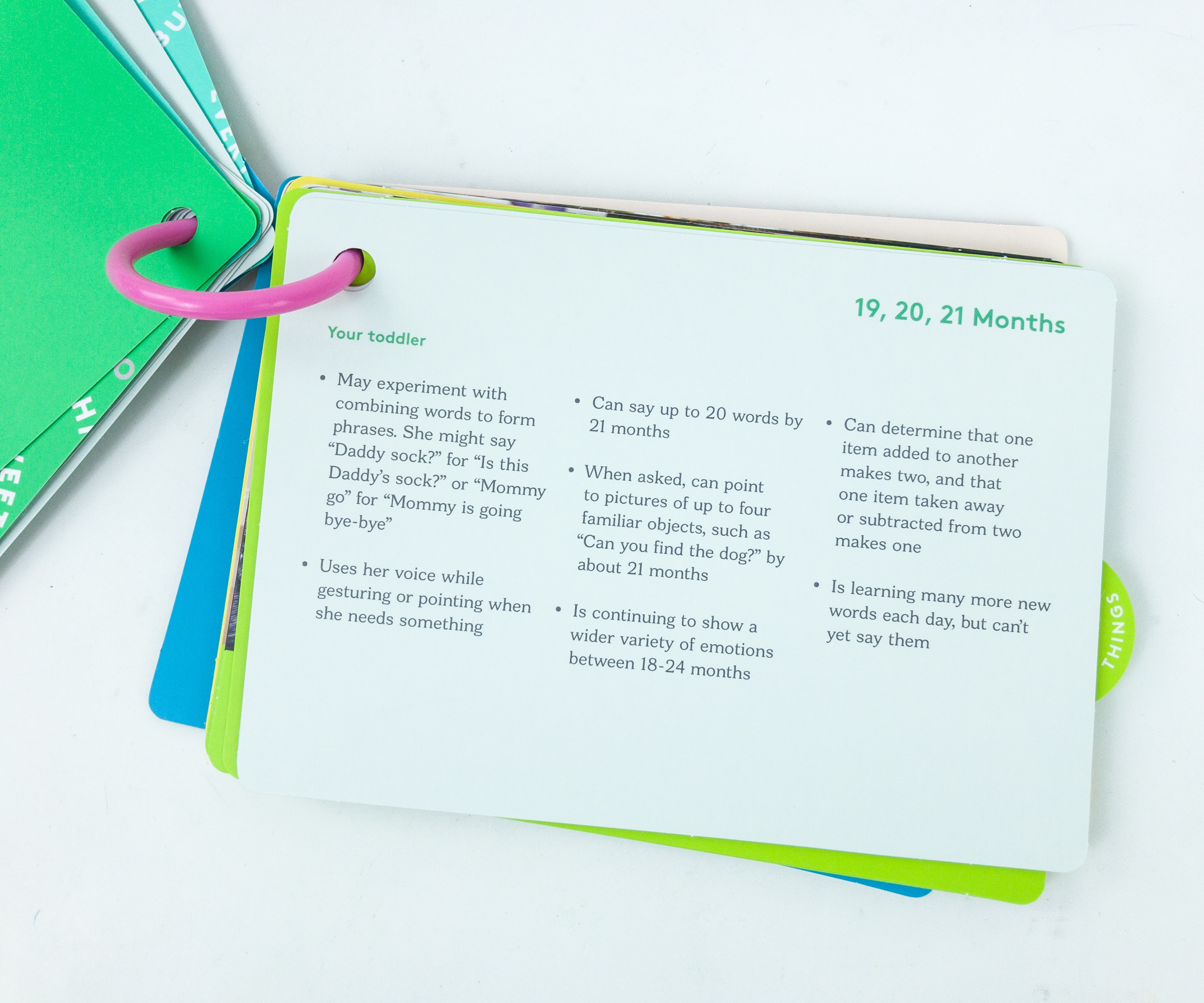 Here, they listed what 19 to 21-month-old kids are already capable of.
It's also really helpful that they listed down what babies of this age like to do! Not everything would apply to your baby, but at least you'd get a general idea.
Lastly, there's a list of the appropriate things we should give our baby at this stage. Although quite long, it's a great read for parents. There are lots of insights already!
Next section is The Playthings. We're getting on to the toys and activities!
The first activity is Everyone Loves to Laugh!
As your toddler gains the ability to understand what's expected of her, she'll notice that some things are unusual or strange. She has a budding sense of humor and is learning to be silly! Repeating funny situations and laughing with her in those moments helps her to develop a sense of humor and self-esteem.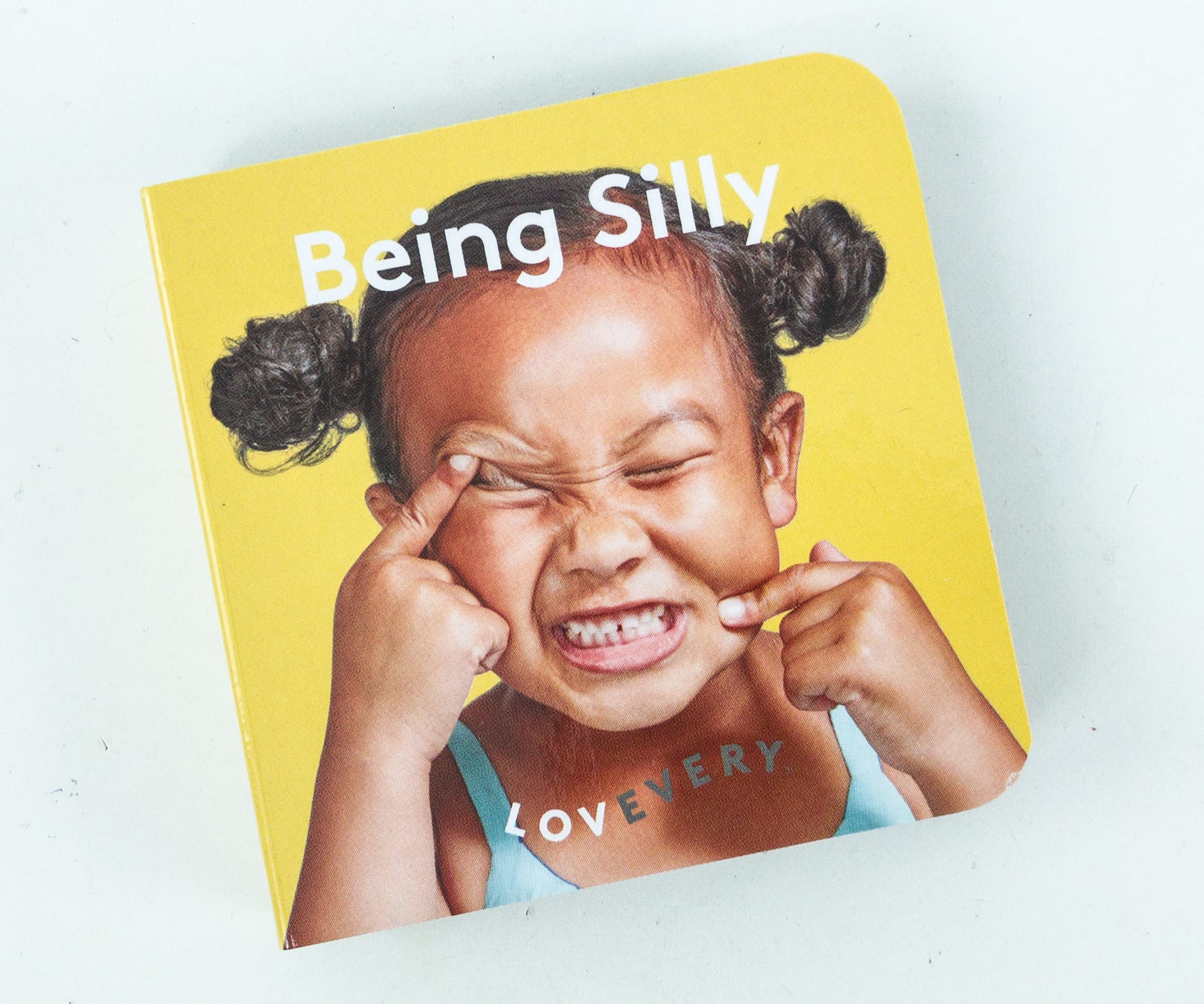 For this activity, we got a mini book! It's entitled "Being Silly"!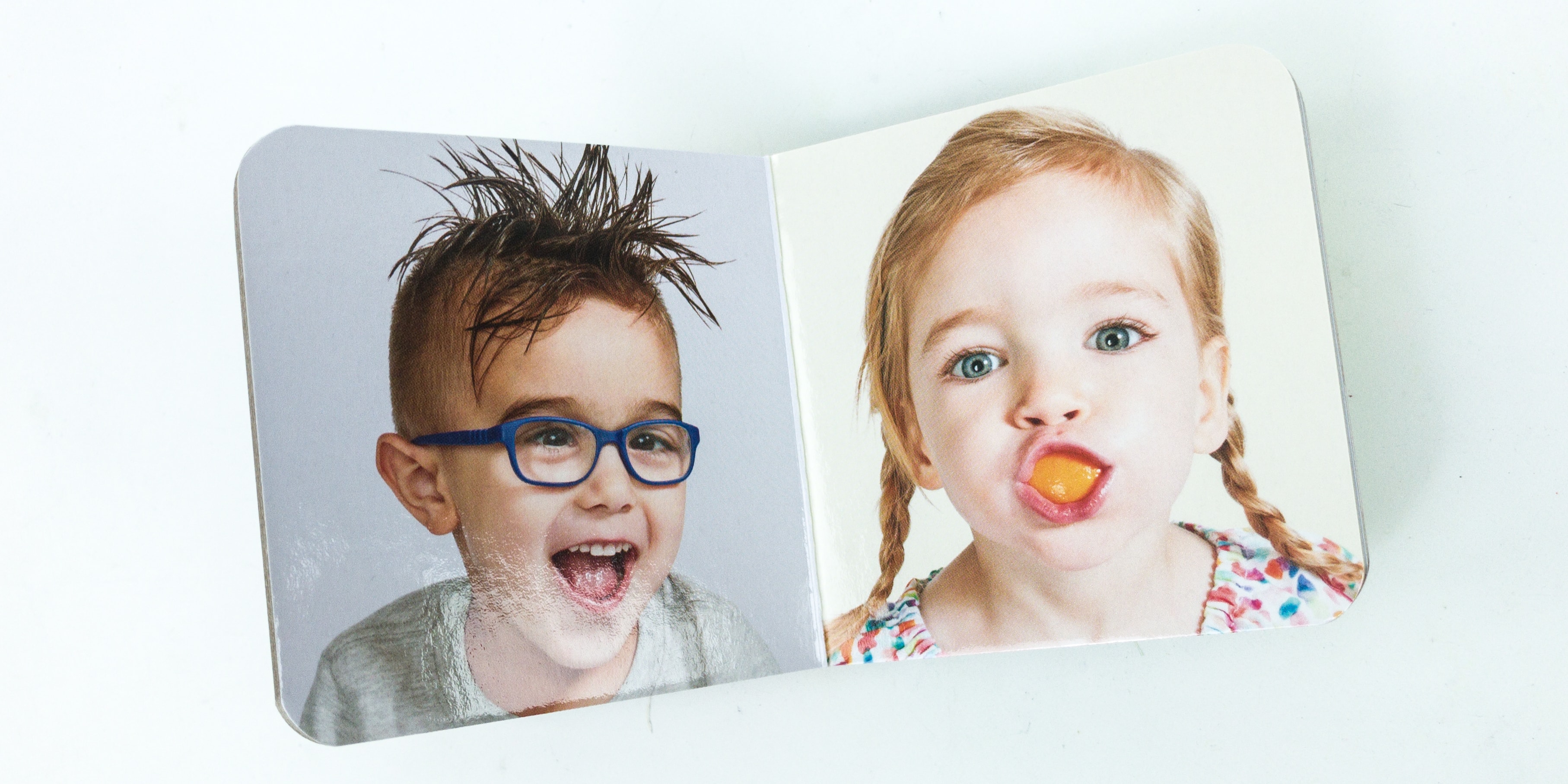 It's a picture book that shows different silly facial expressions and actions. This helps your child develop their sense of humor! They can start by copying what's on the photos and then make their own later on. At this stage, they can recognize our emotional reactions as well and tune in on it to see if it's okay to do something or not.
Next up is Everyday Routines Help Us Learn Time.
You have likely heard by now that toddlers crave routines. There are many benefits to routine–it establishes emotional security and helps ease the challenge of transitioning from one activity to another. Routines will also help your toddler's brain grow int higher-level thinking, such as understanding sequencing and the passage of time.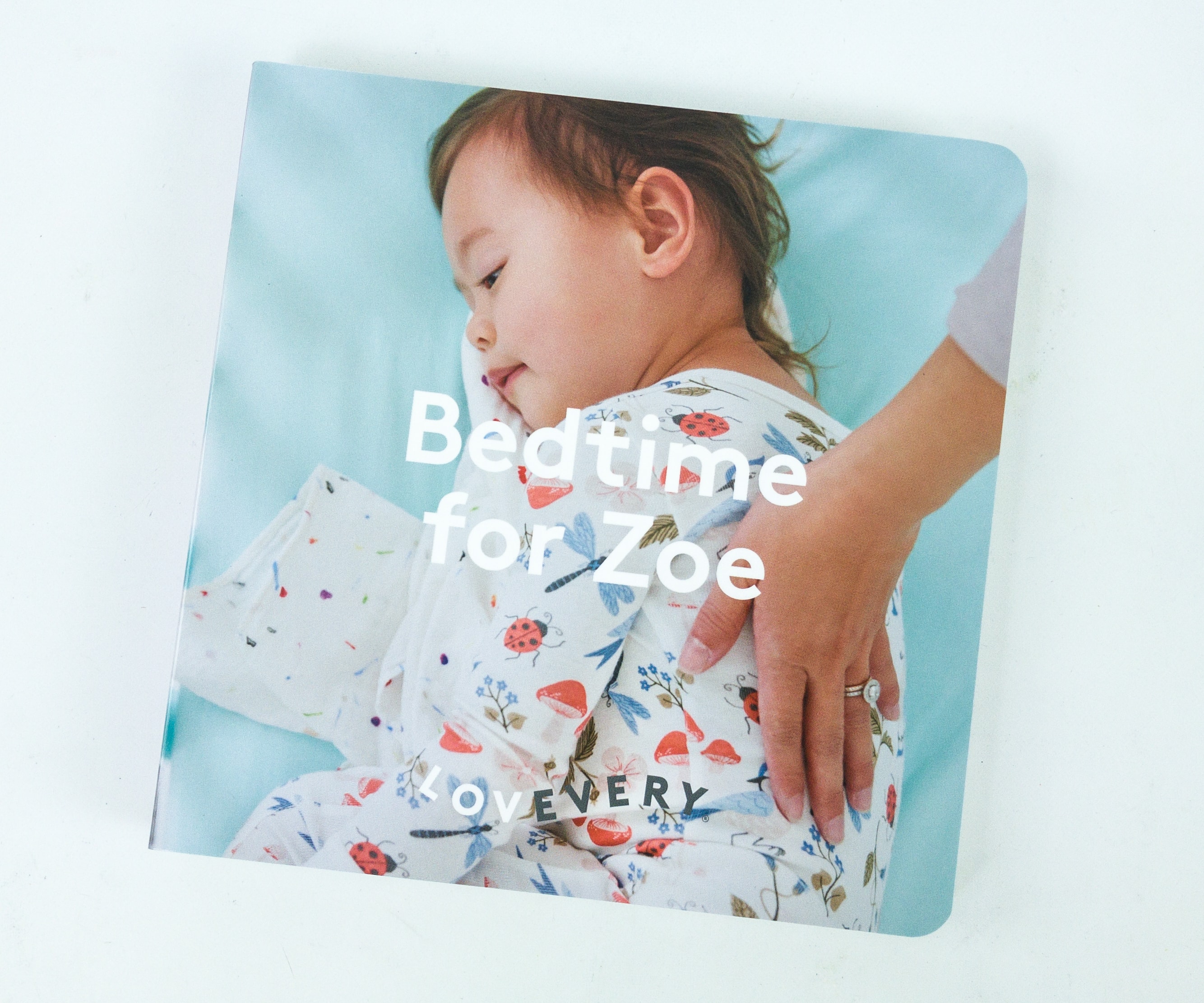 We got another book in line with this activity and it's called "Bedtime for Zoe"! It's all about familiarizing your toddler with the patterns in their daily life because it's important for their development.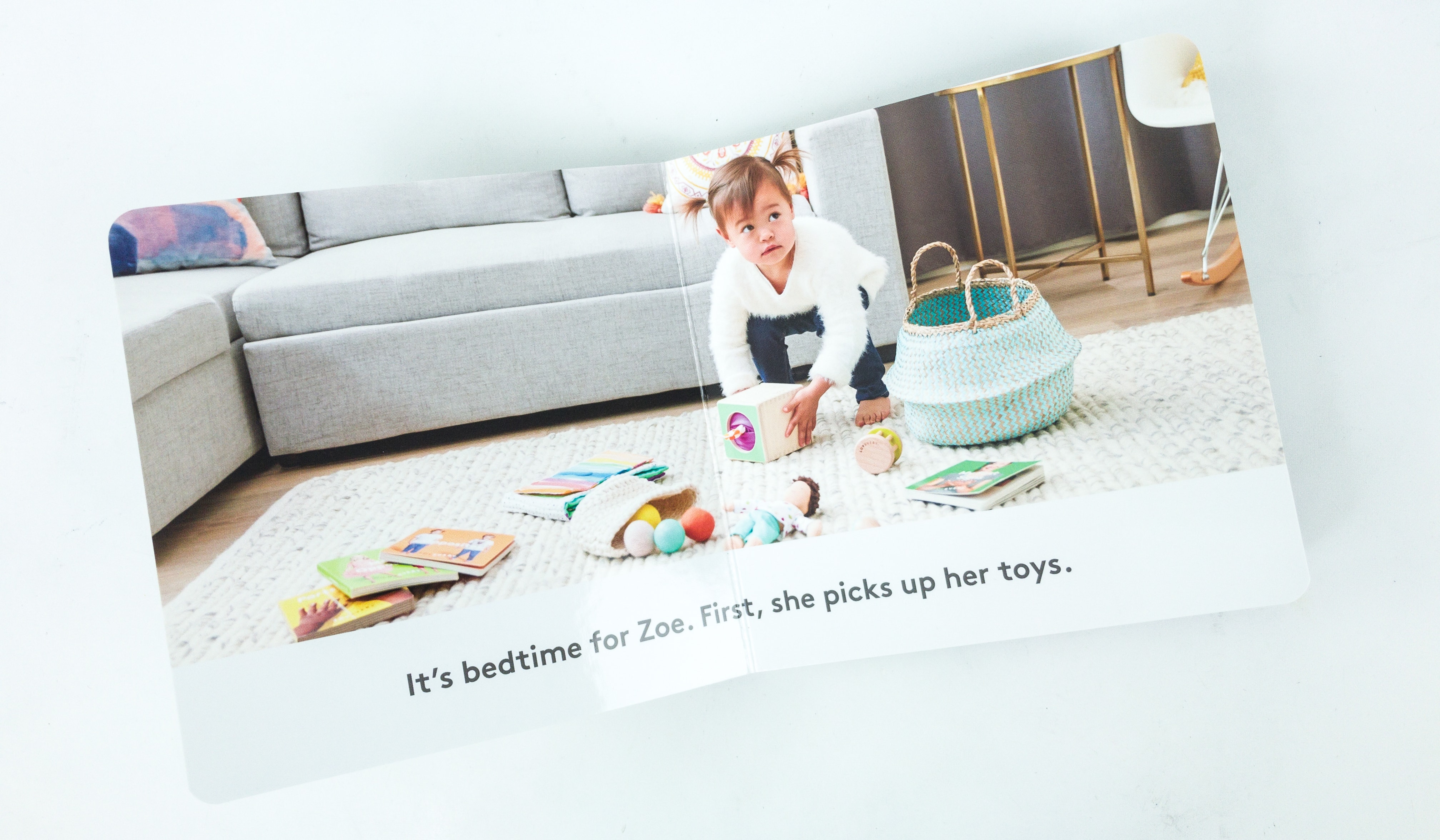 The book shows Zoe's bedtime routine, which is easily relatable for other kids as well.
There are nice photos accompanied by simple text. Reading this book to your toddler would be a nice start, followed by their participation in actual routines later on.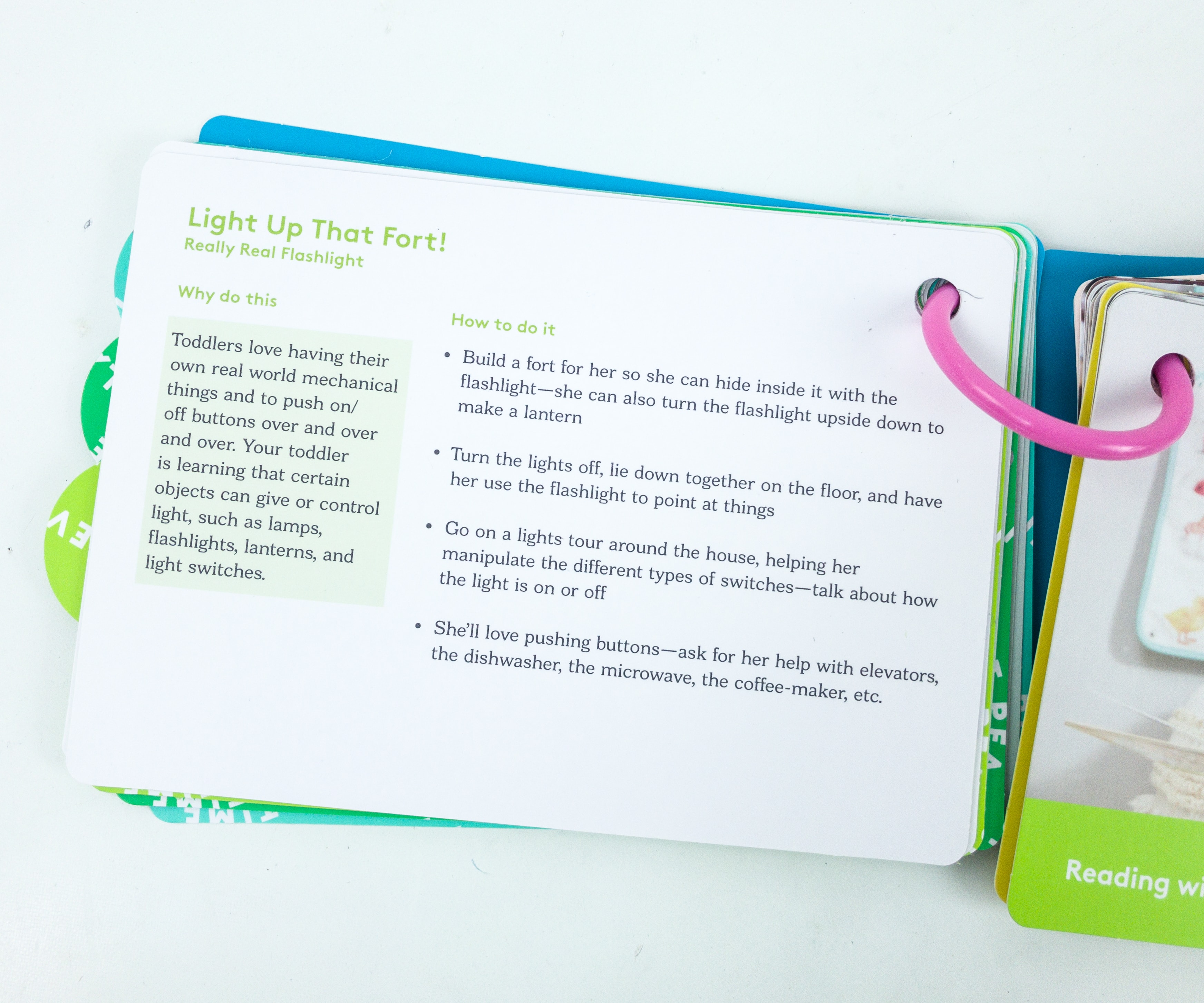 Moving forward, we're doing Light Up That Fort!
Toddlers love having their own real world mechanical things and to push on/off buttons over and over. Your toddler is learning that certain objects can give or control light, such as lamps, flashlights, lanterns, and light switches.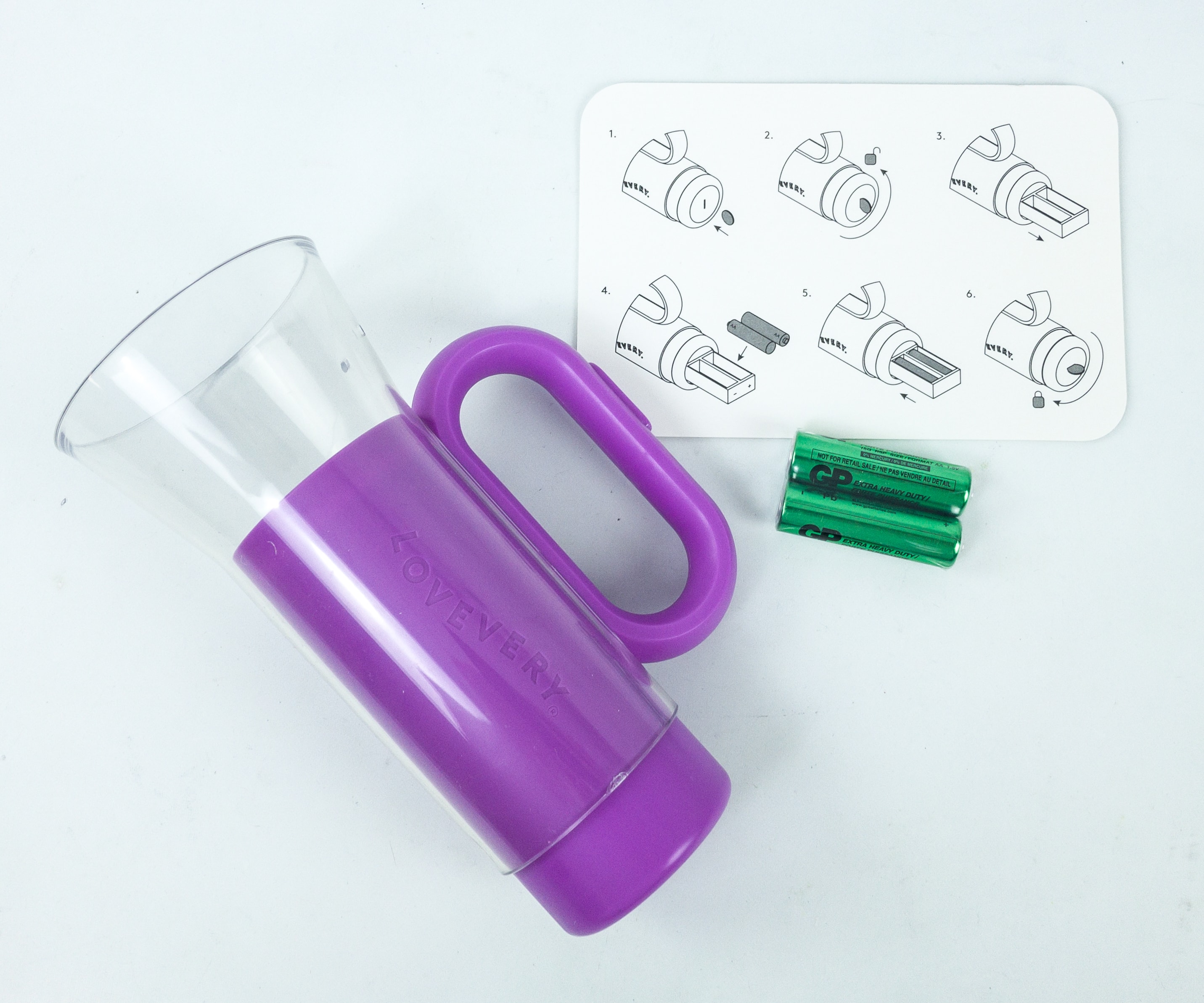 We got a kid-friendly flashlight to use in our fort! It came with an instruction card, as well as batteries.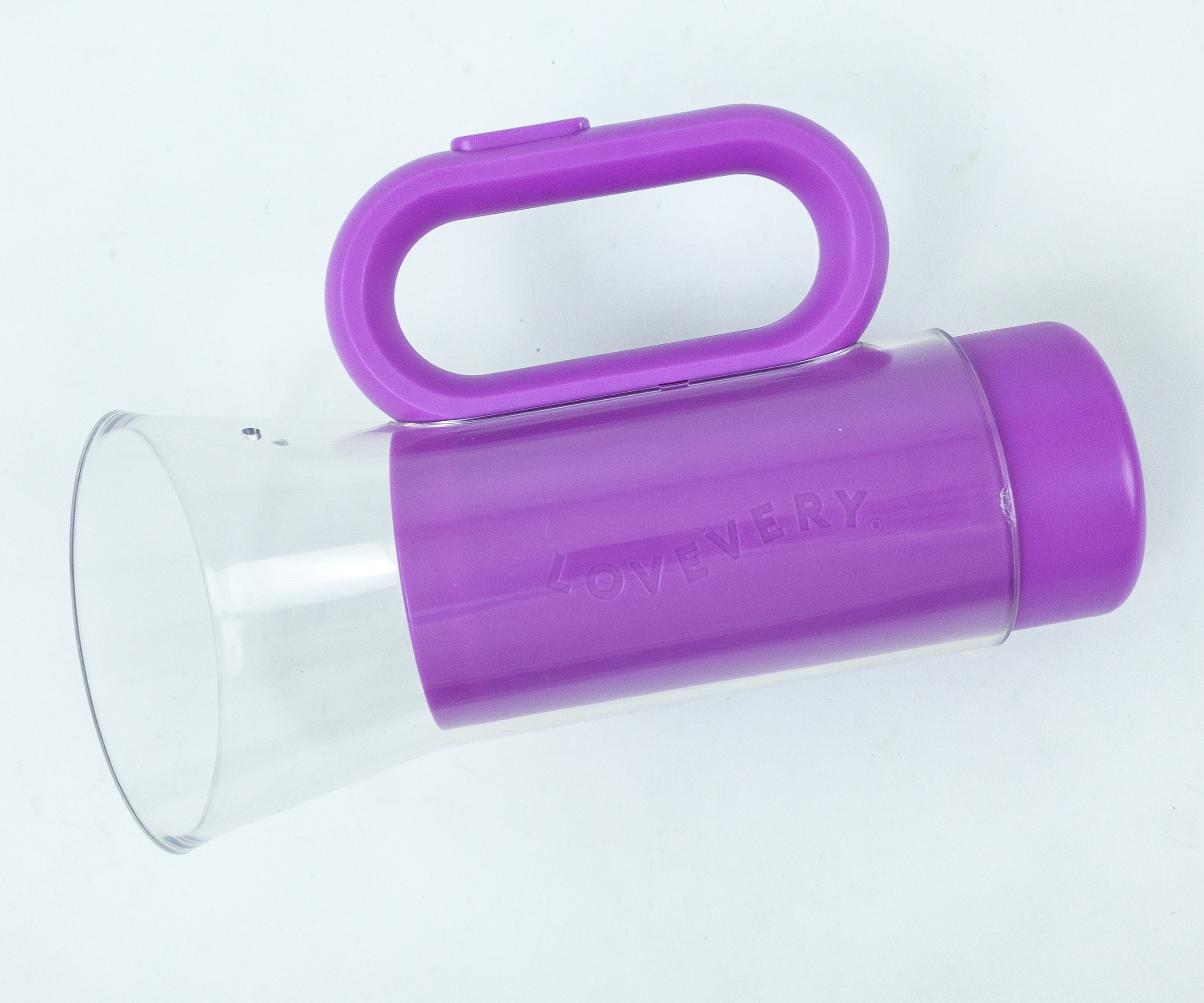 The flashlight is cute in purple!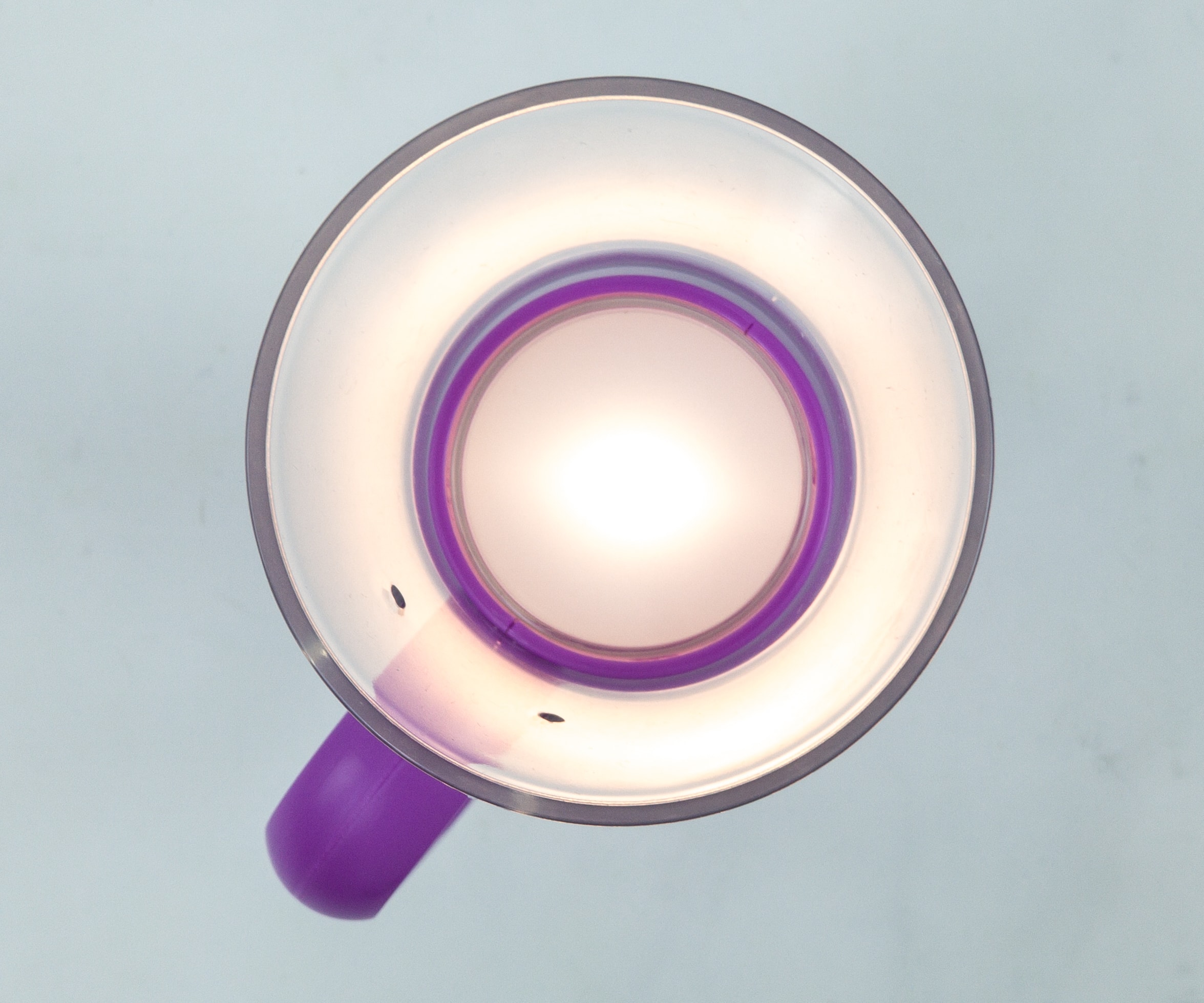 Also, it's easy enough to grasp even for toddlers.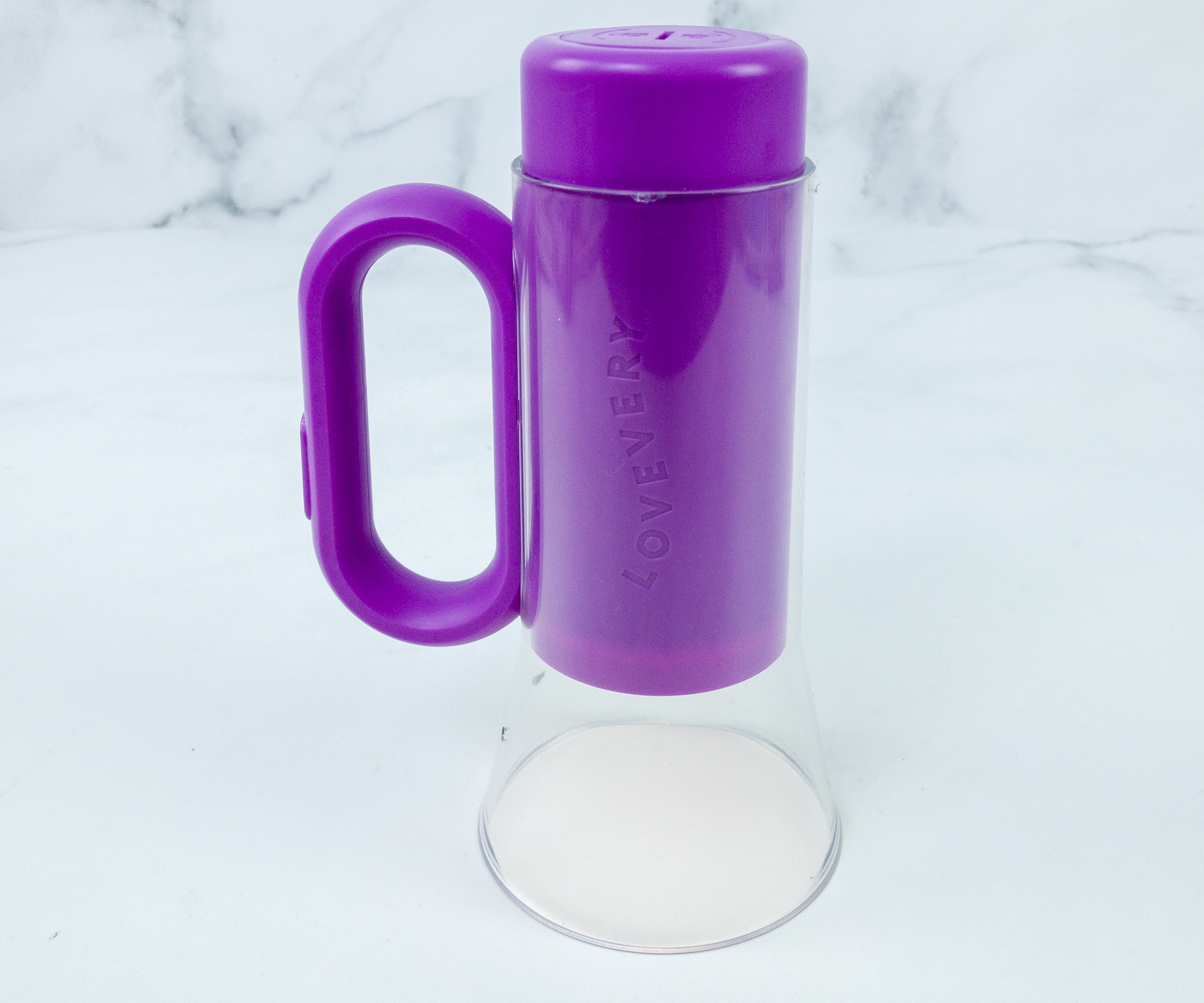 After we building a fort, you just have to go inside it with your baby and use the flashlight as a lantern by turning it upside down. Parents may also use this opportunity to teach kids about turning switches or lights on and off!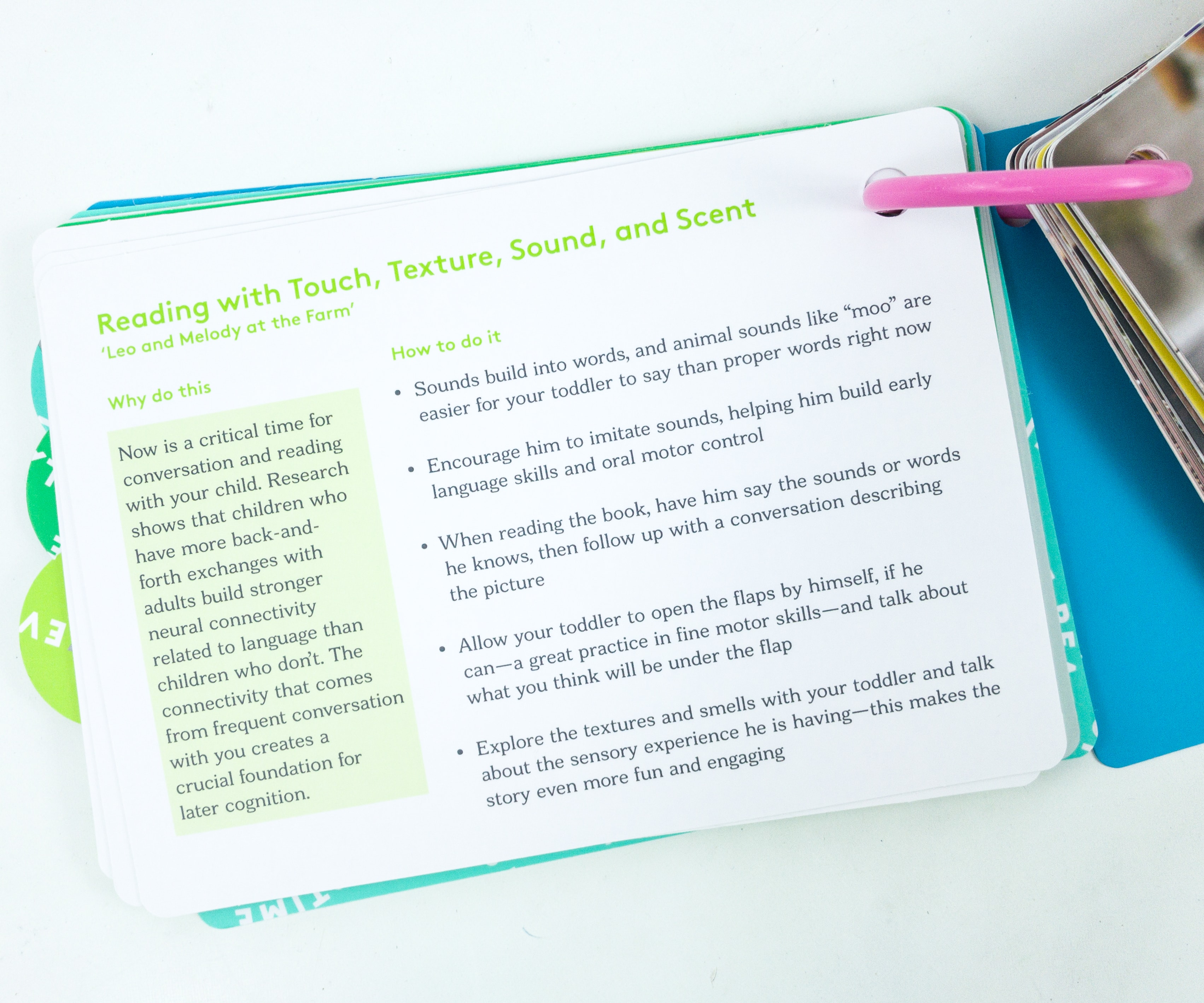 Here's another interesting activity, Reading with Touch, Texture, Sound, and Scent!
Now is a critical time for conversation and reading with your child. Research shows that choldren who have more back-and-forth exchanges with adulys build stronher neural connectivity related to language than children who don't. The connectivity that comes from frequent conversation with you creates a crucial foundation for later cognition.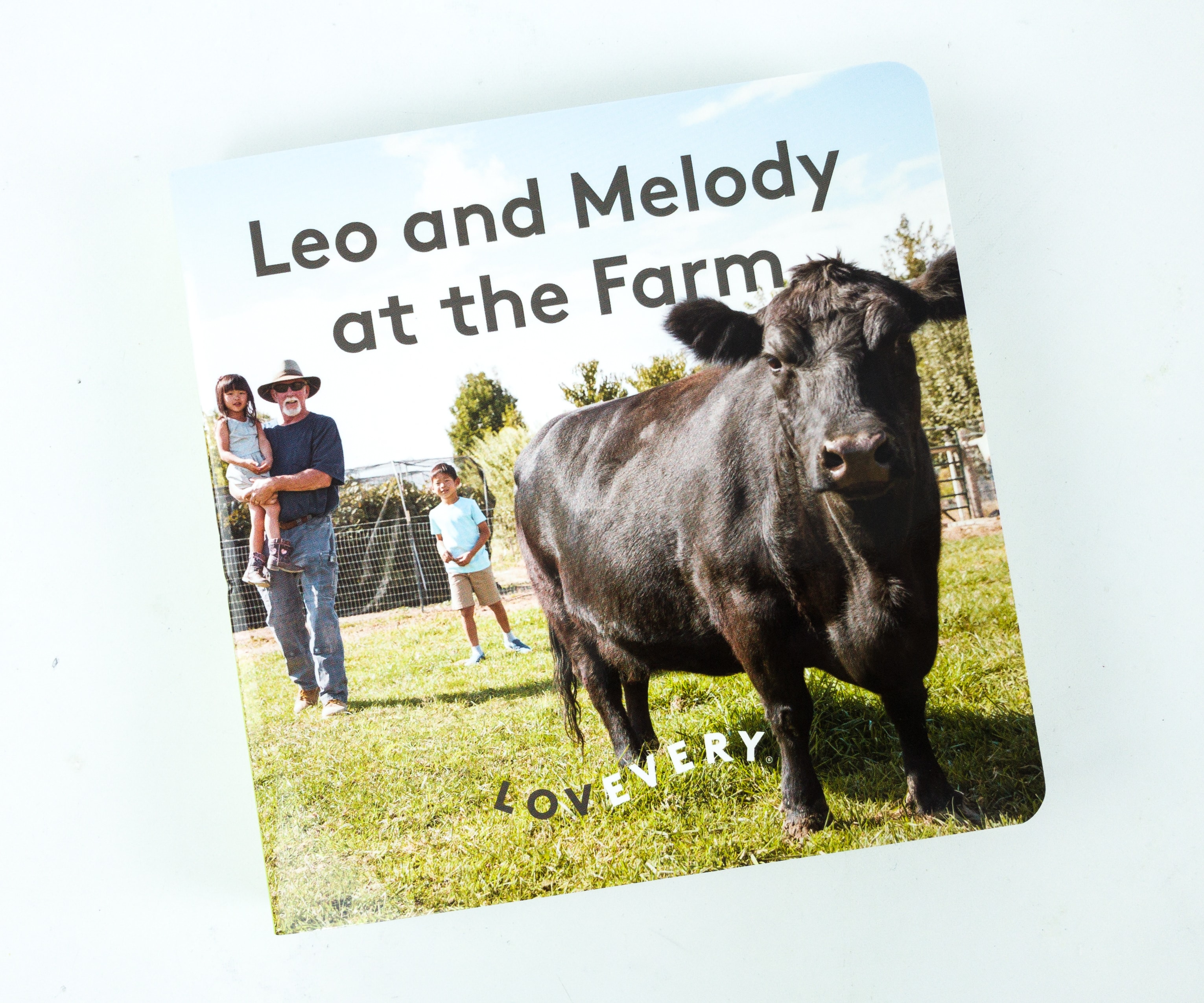 We got another book for this activity. The title is "Leo and Melody at the Farm"!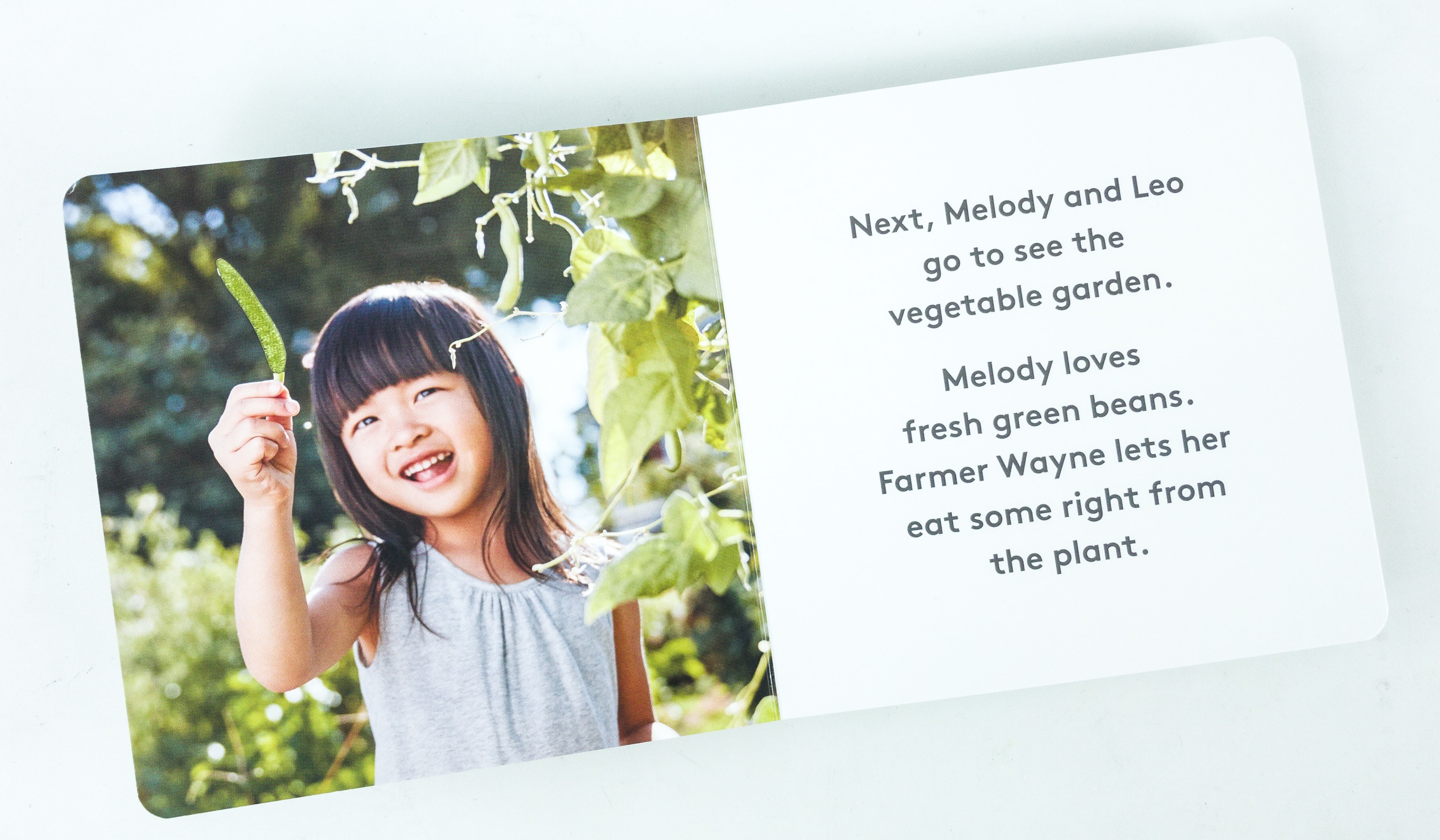 The story is set in the farm, and there are vivid descriptions of a farm's sights and sounds!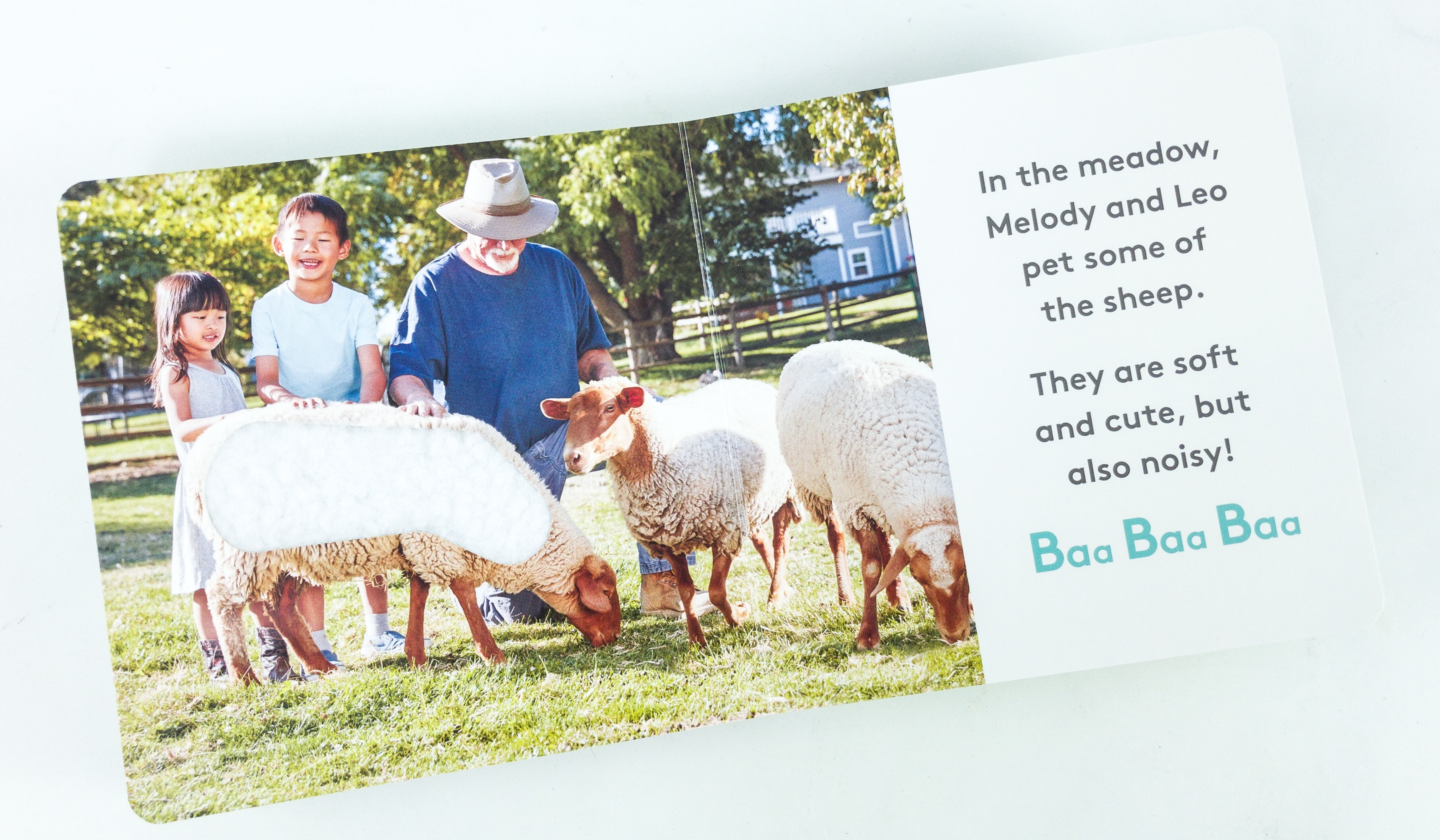 The book features various animal sounds! At this age, these animal sounds are easier for kids to say than actual words. Encouraging them to imitate sounds this early will also help in developing their language skills.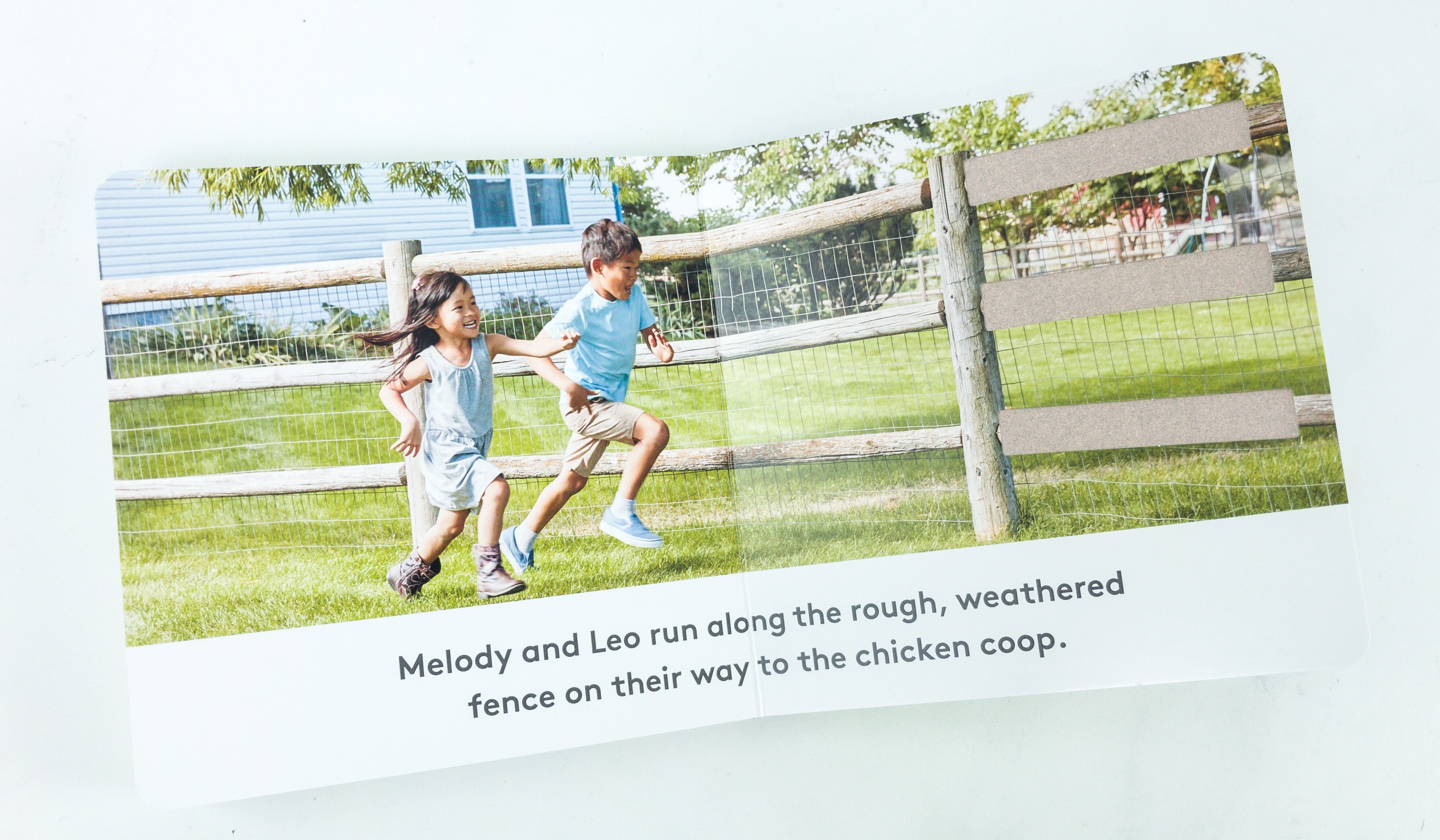 The story is easy to follow and explain even to a toddler. You can even use the featured situations to start a conversation with your kid.
My baby enjoyed lifting the pages of the book, which helps enhance her motor skills. She also imitated a few animal sounds, with the cow as her favorite!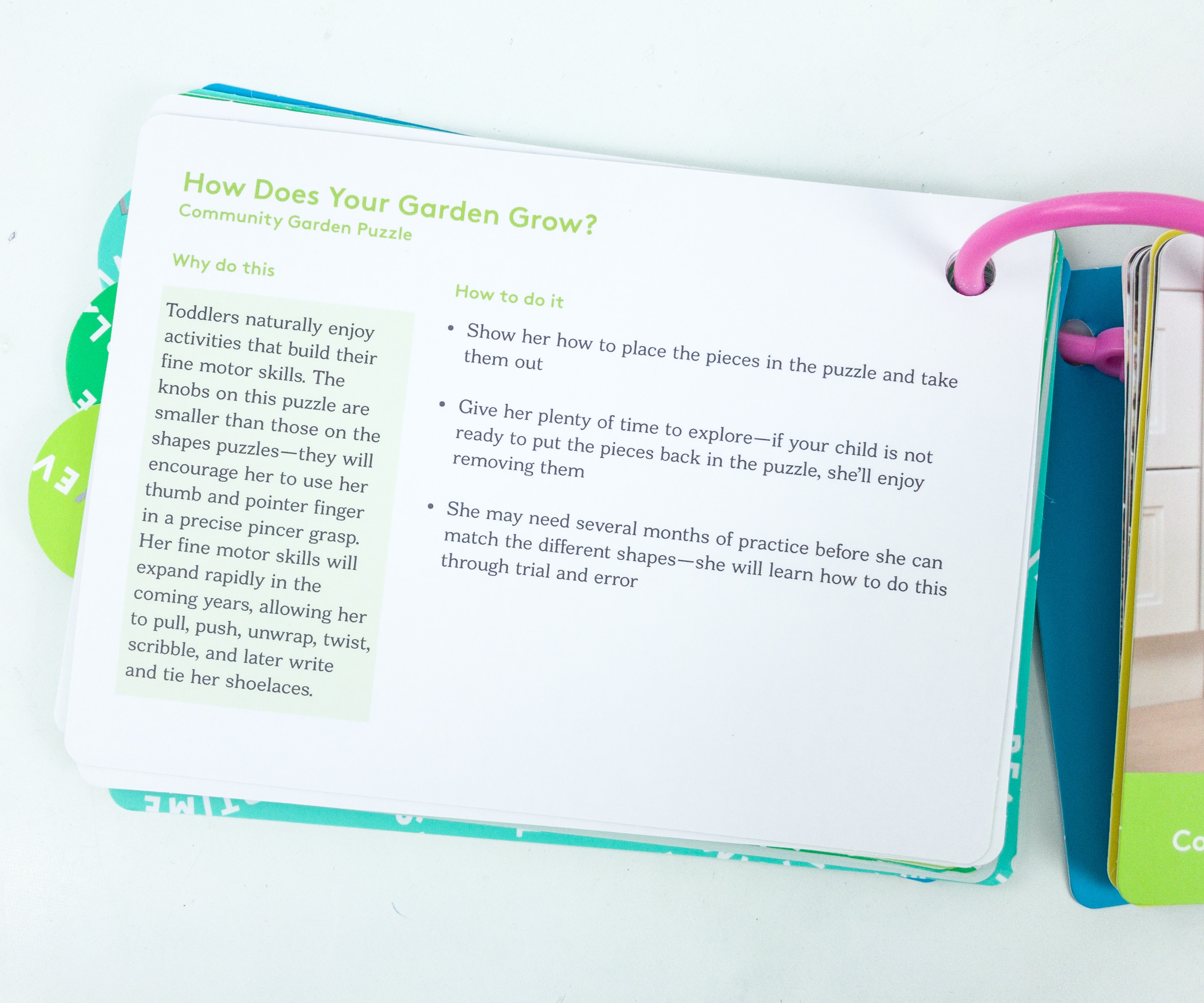 From the farm, we're now onto the garden! The next activity is entitled How Does Your Garden Grow.
Toddlers naturally enjoy activities that build their fine motor skills. The knobs on this puzzle are smaller than those on the shapes puzzle–they will encourage her to use her thumb and pointer finger in a precise pincer grasp. Her fine motor skills will expand rapidly in the coming years, allowing her to pull, push, unwrap, twist, scribble, and later write and tie her shoelaces.
We got a puzzle to use for this garden-themed activity! It's similar to the previous shape puzzles we've received from Lovevery, but this time they have smaller knobs. This is to help your toddler to enhance their fine motor skills.
This puzzle is a fun toy to explore! Take the pieces out, talk about these veggies, and encourage your kid to put them back to their proper places! If they can't do so yet, it's okay. They will learn it through trial and error!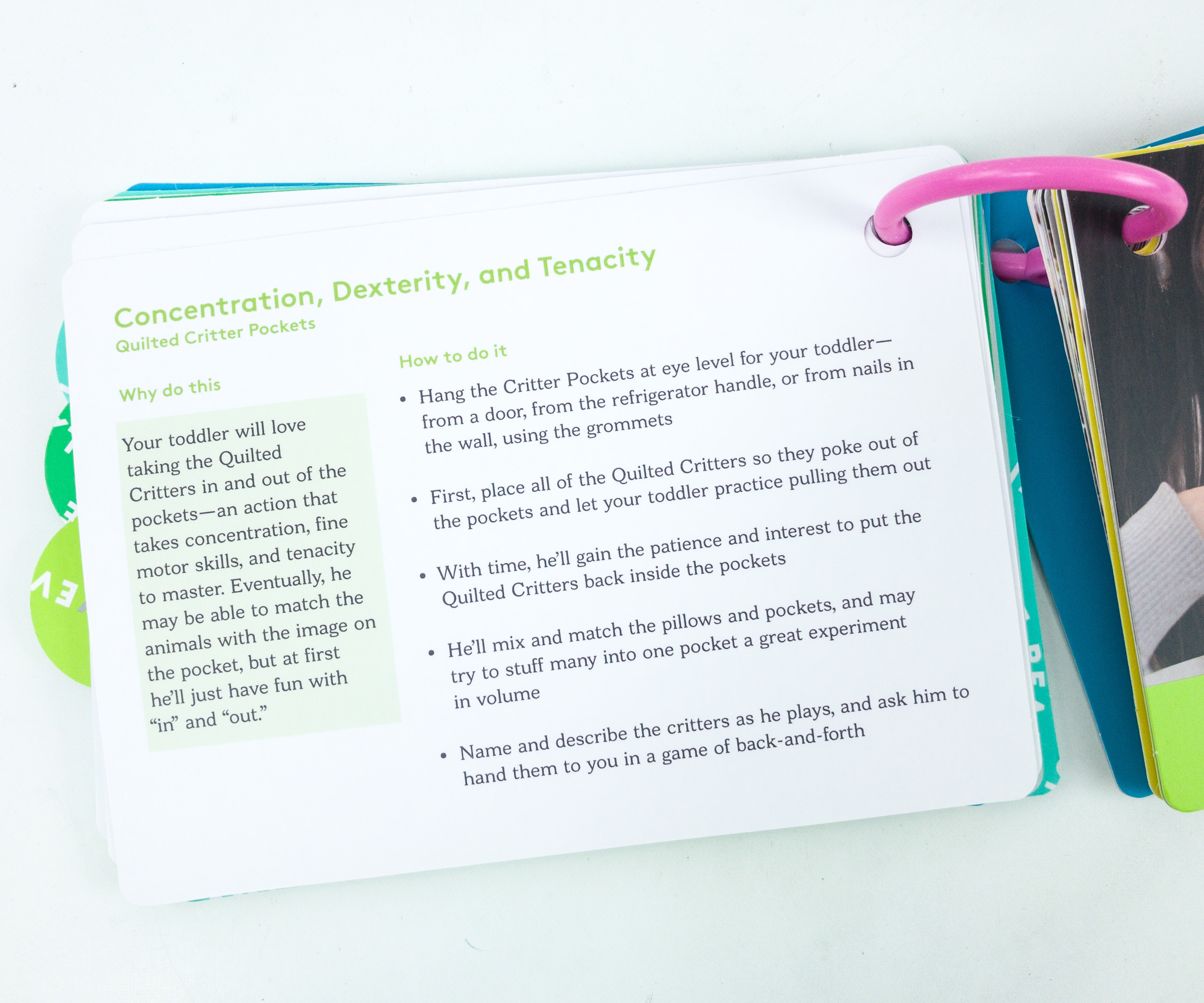 The next activity is all about Concentration, Dexterity, and Tenacity!
Your toddle will love taking the Quilted Critters in and out of the pockets–an action that takes concentration, fine motor skills, and tenacity to master. Eventually, he may be able to match the animals with the image on the pocket, but at first he'll just have fun with "in" and "out."
This toy is called "Quilted Critter Pockets," which will help improve your baby's tenacity, concentration, and fine motor skills. The pockets come with a string, so you can easily hang it on a place where your toddler can easily reach it.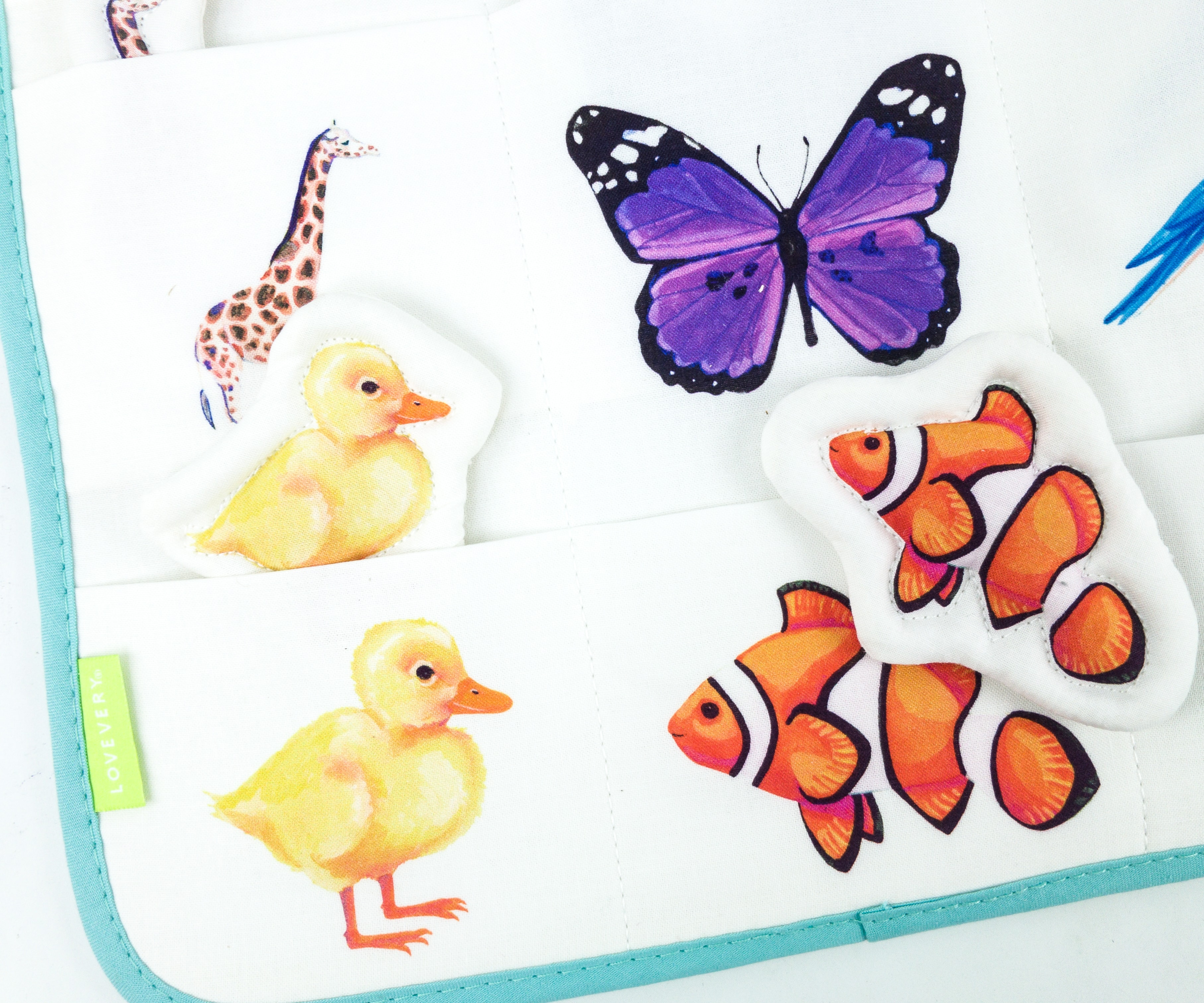 Featured on the pockets and as quilted toys are different kinds of animals. There's a giraffe, butterfly, duck, fish, and more! Pulling each piece out of the pocket is already a great practice for your toddler!
Each quilted toy is soft. It also makes a nice way of introducing kids to different animals!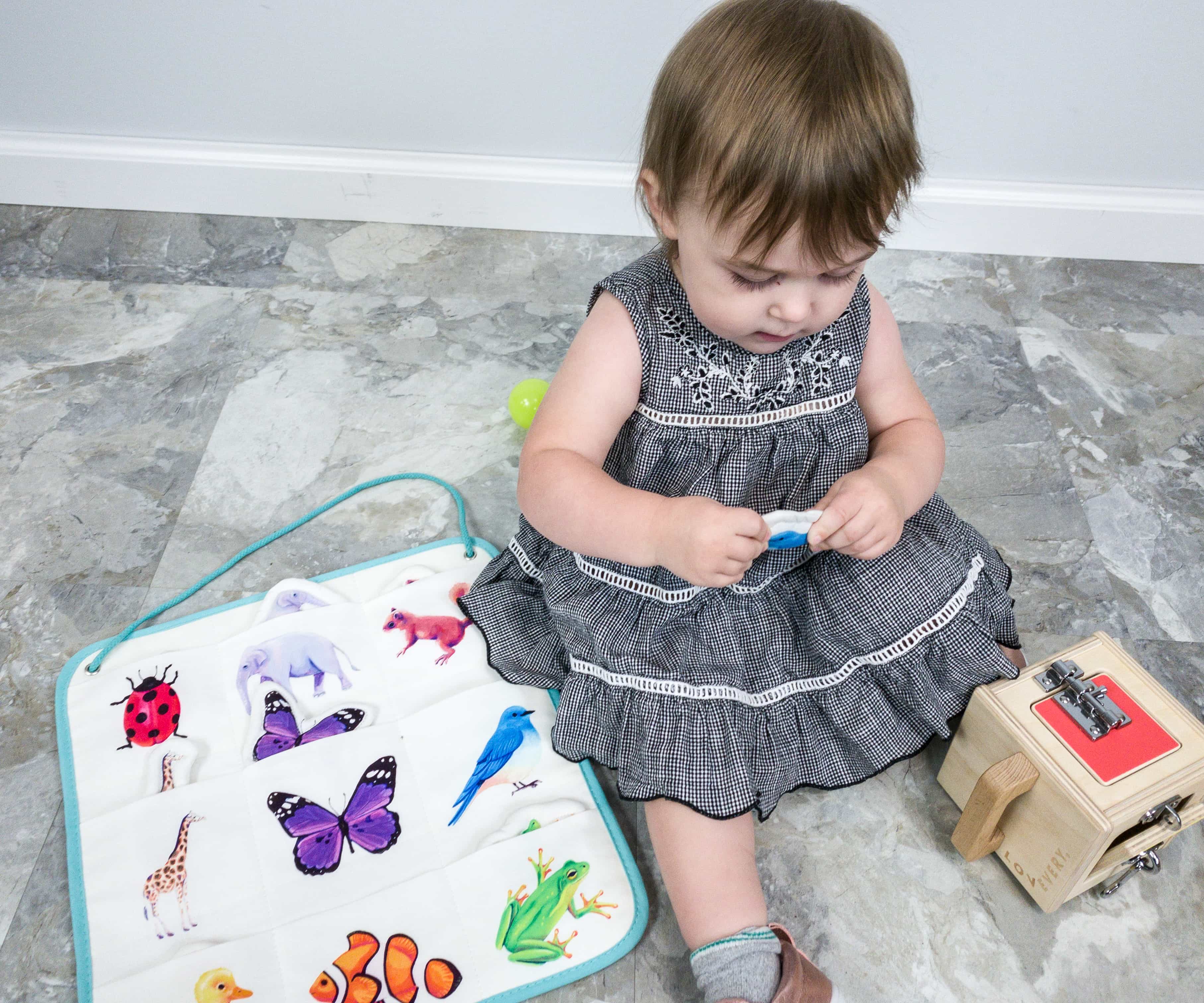 My baby brought out the bird quilt first! She squeezed the toy and got really curious about it!
She took out the butterfly next! Putting these quilted critters back to their corresponding pocket took a lot of patience, but she still did it!
These activities are getting better! Next up is Practice with Quantitative Reasoning.
Your toddler can recognize a difference between one and many. The more natural this comes to her, the better prepared she'll be to understand numbers and, later, math. Talking to her about amounts helps her learn to compare quantities.
We're going through this picture book to execute the activity! The book is entitled "Many & Few."
As suggested by the title, this picture book features photos depicting "many" and "few," so the toddlers can slowly understand the difference between the two. Parents may also reinforce this lesson by counting things you see together whether at home or outside. Using words related to quantity may help as well.
Here's the next activity, Figuring Out A Mechanism!
Your toddler is figuring out how to use a mechanism to make something open or stay closed. Before–when he couldn't yet figure out how to do things himself–he'd turn them over you for help. Now, he's ready to figure out how things work on his own.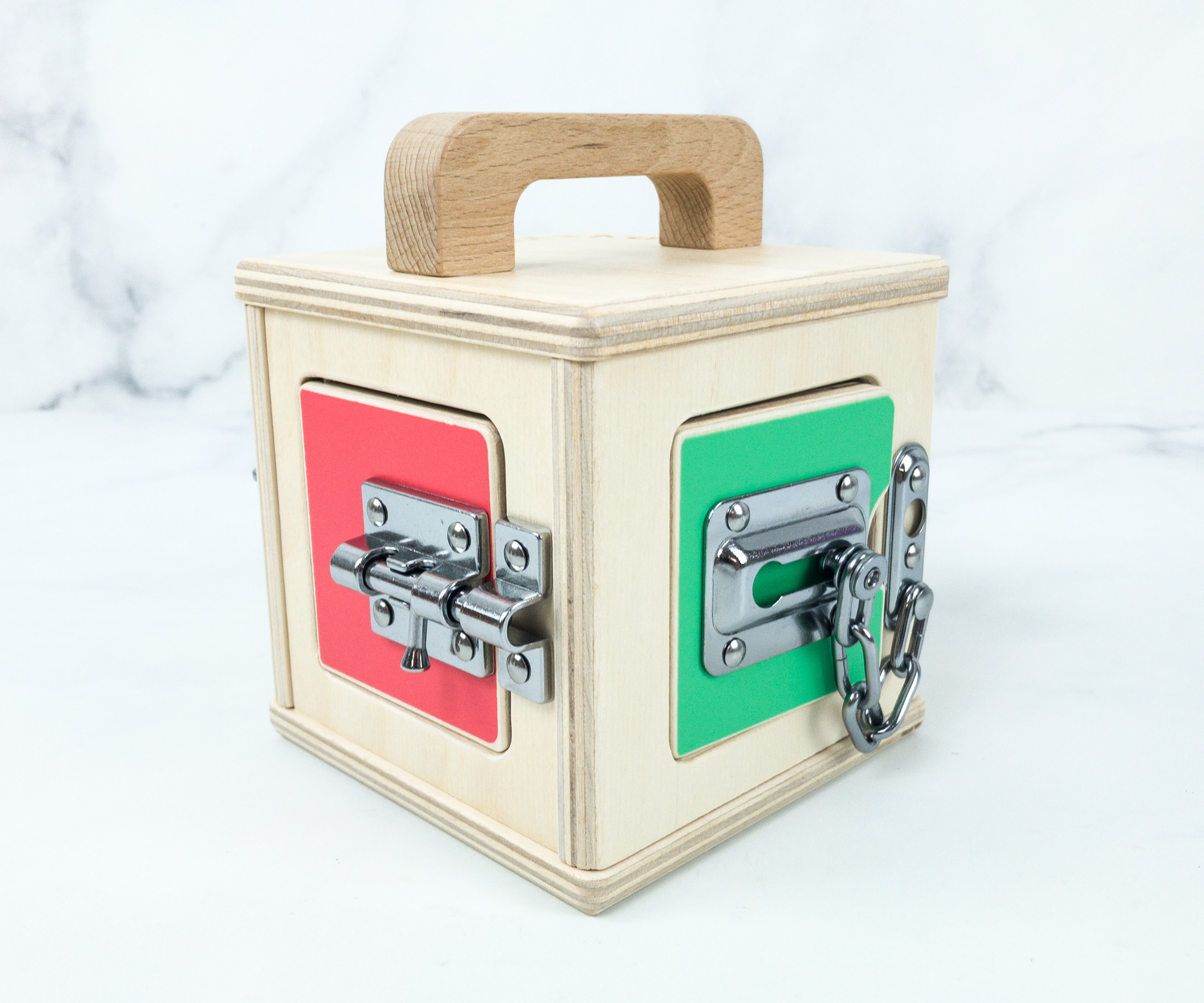 This lockbox is one of the best ways of teaching your toddler about how to use a mechanism.
Four sides of the box are secured with different kinds of locks. It may be challenging for your toddler at first, so feel free to demonstrate how to open the locks before they try it themselves.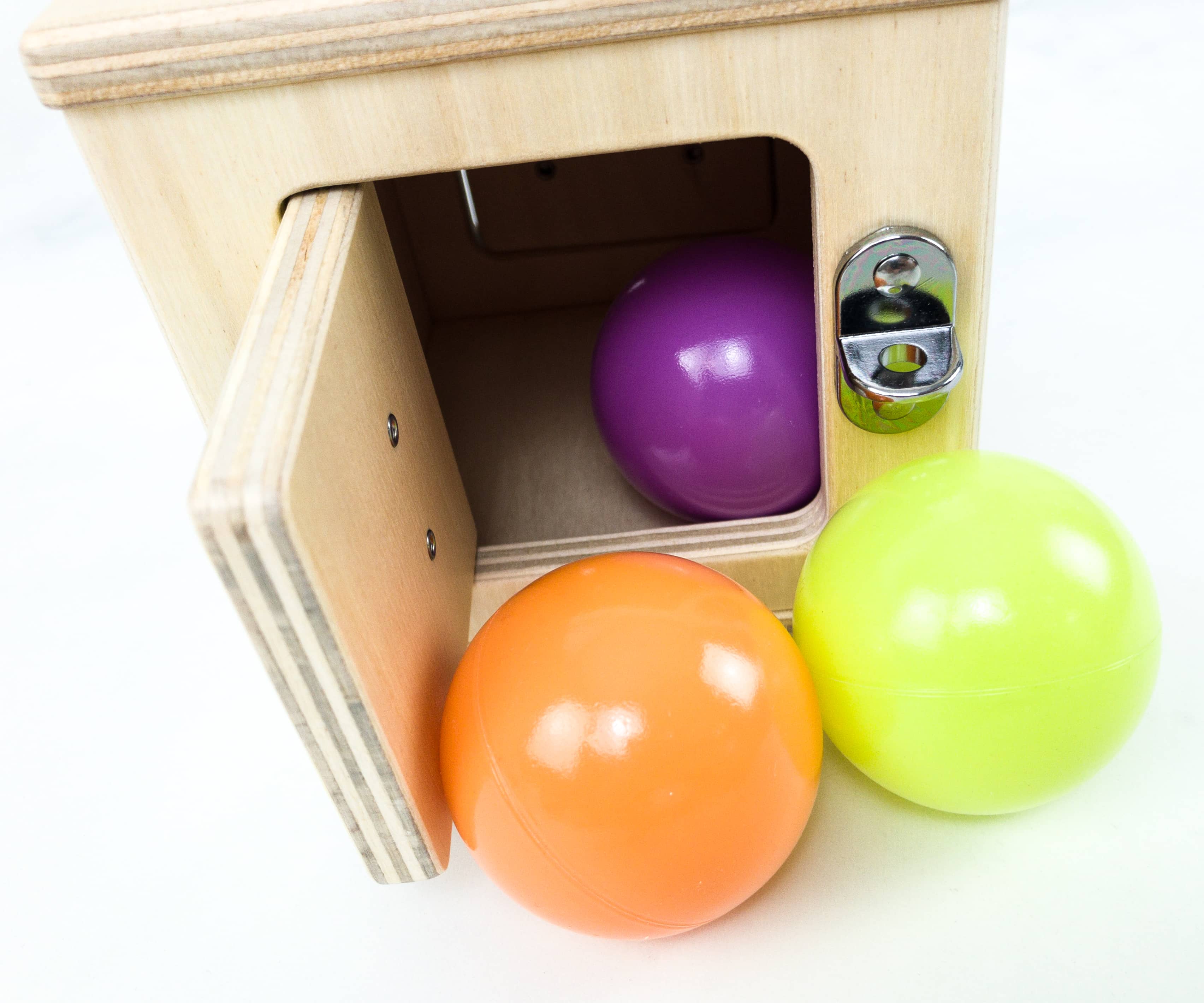 Inside the box, there are three colorful balls! It's a fun surprise for kids when they finally get to open the lock.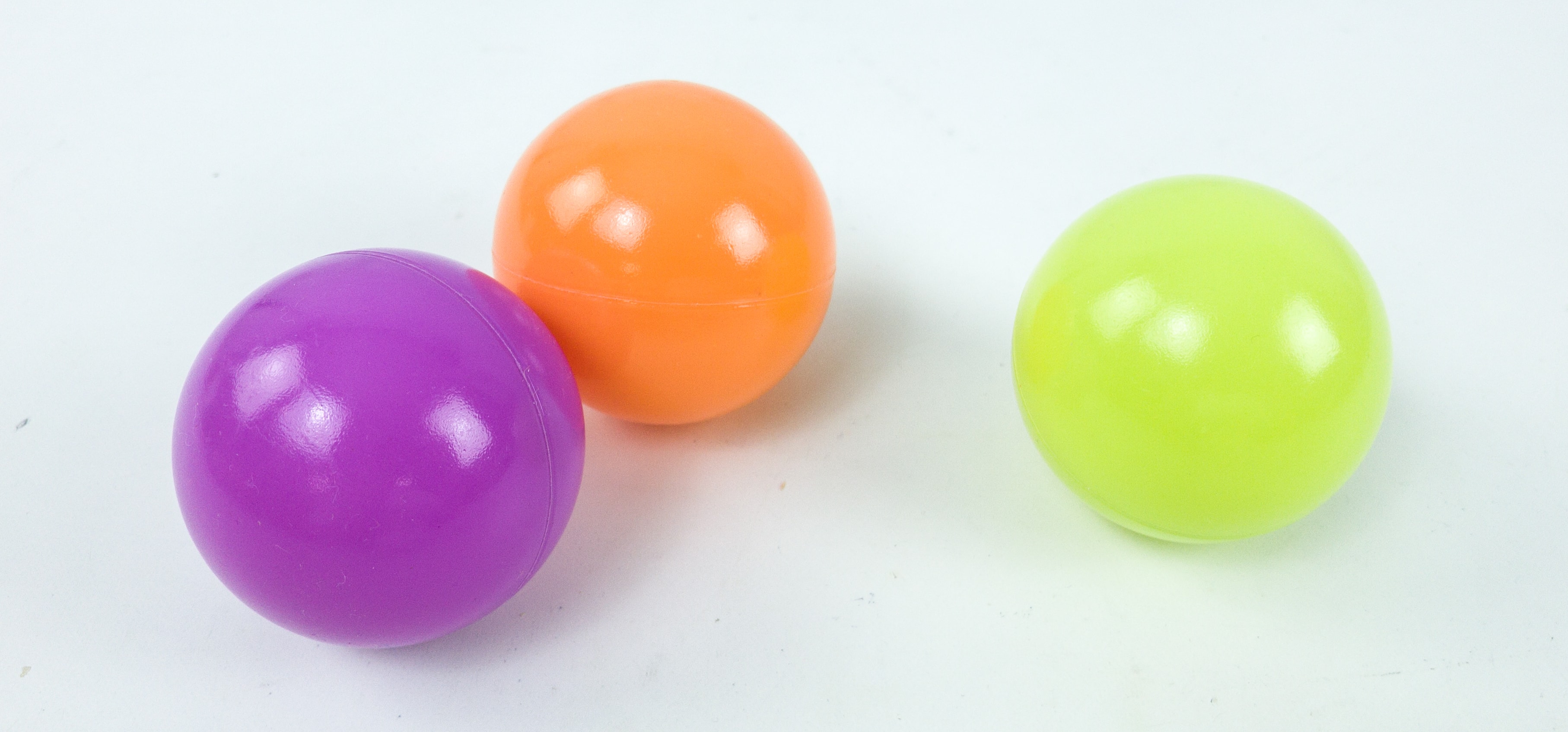 The balls are made with plastic. If you want to put other surprises in the box, like small toys and candies, you may also do so!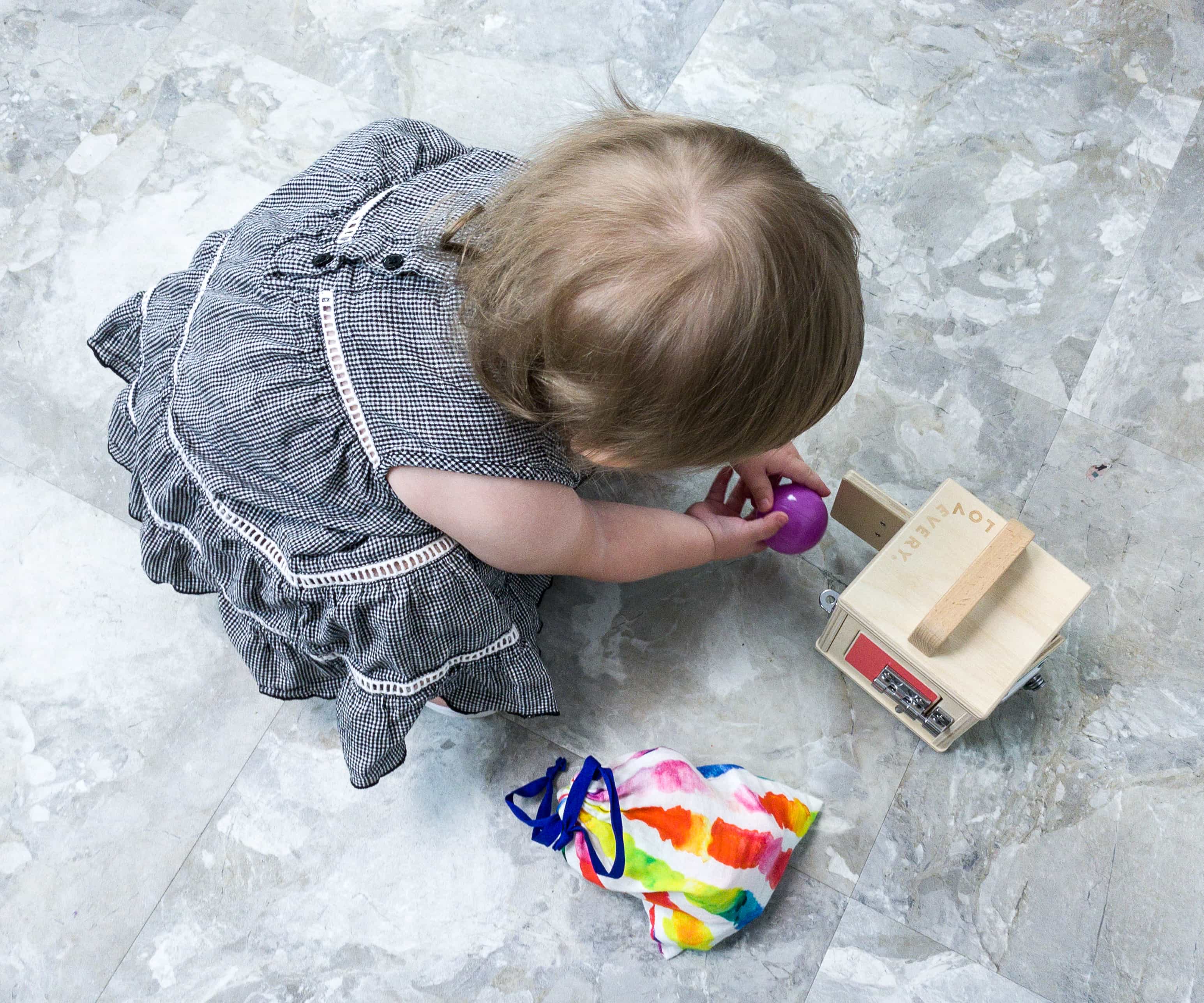 My baby here is retrieving the purple ball from the box. She loved this activity as well!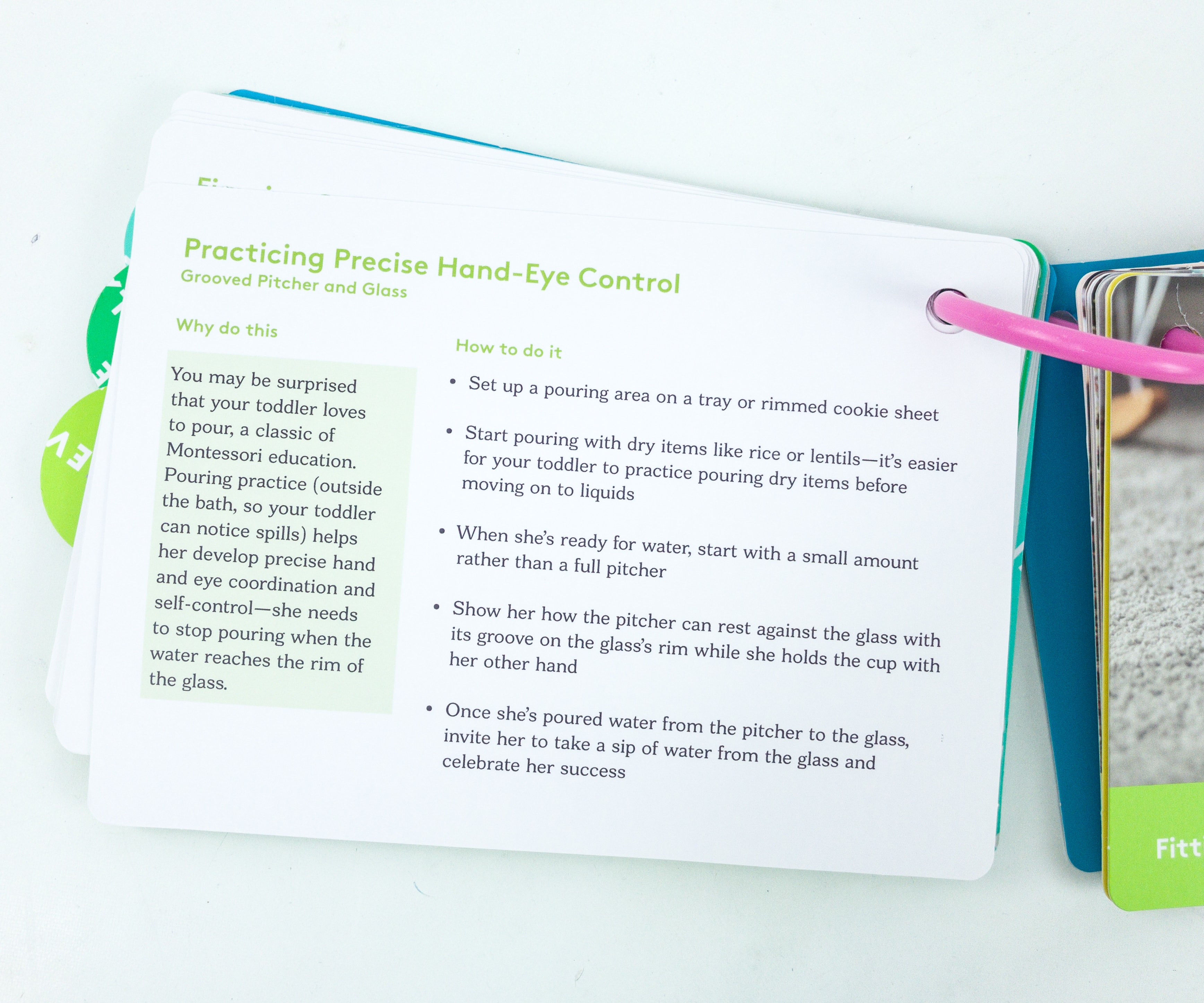 Now, we're onto Practicing Precise Hand-Eye Control!
You may be surprised that you toddler loves to pour, a classic of Montessori education. Pouring practice (outside the bath, so your toddler can notice spills) helps her develop precise hand and eye coordination and self-control–she needs to stop pouring when the water reaches the rim of the glass.
For this pouring activity, they provided a grooved pitcher and glass.
For toddlers, it's recommended to start with dry items first before moving on to liquids.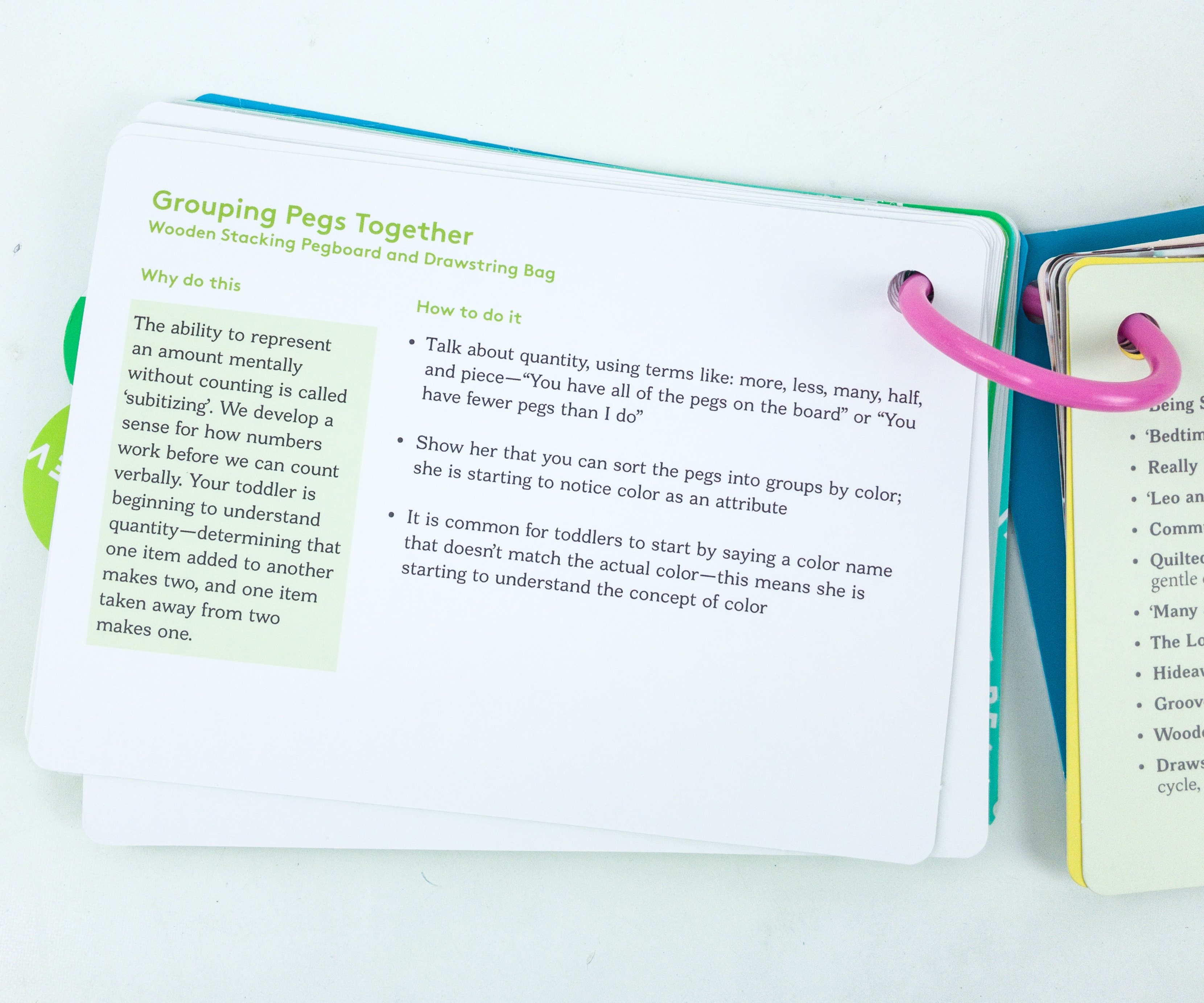 The next activity is Grouping Pegs Together!
The ability to represent an amount mentally without counting is called 'subitizing.' We develop a sense for how numbers work before we can count verbally. Your toddler is beginning to understand quantity–determining that one item added to another makes two, and one item taken away from two makes one.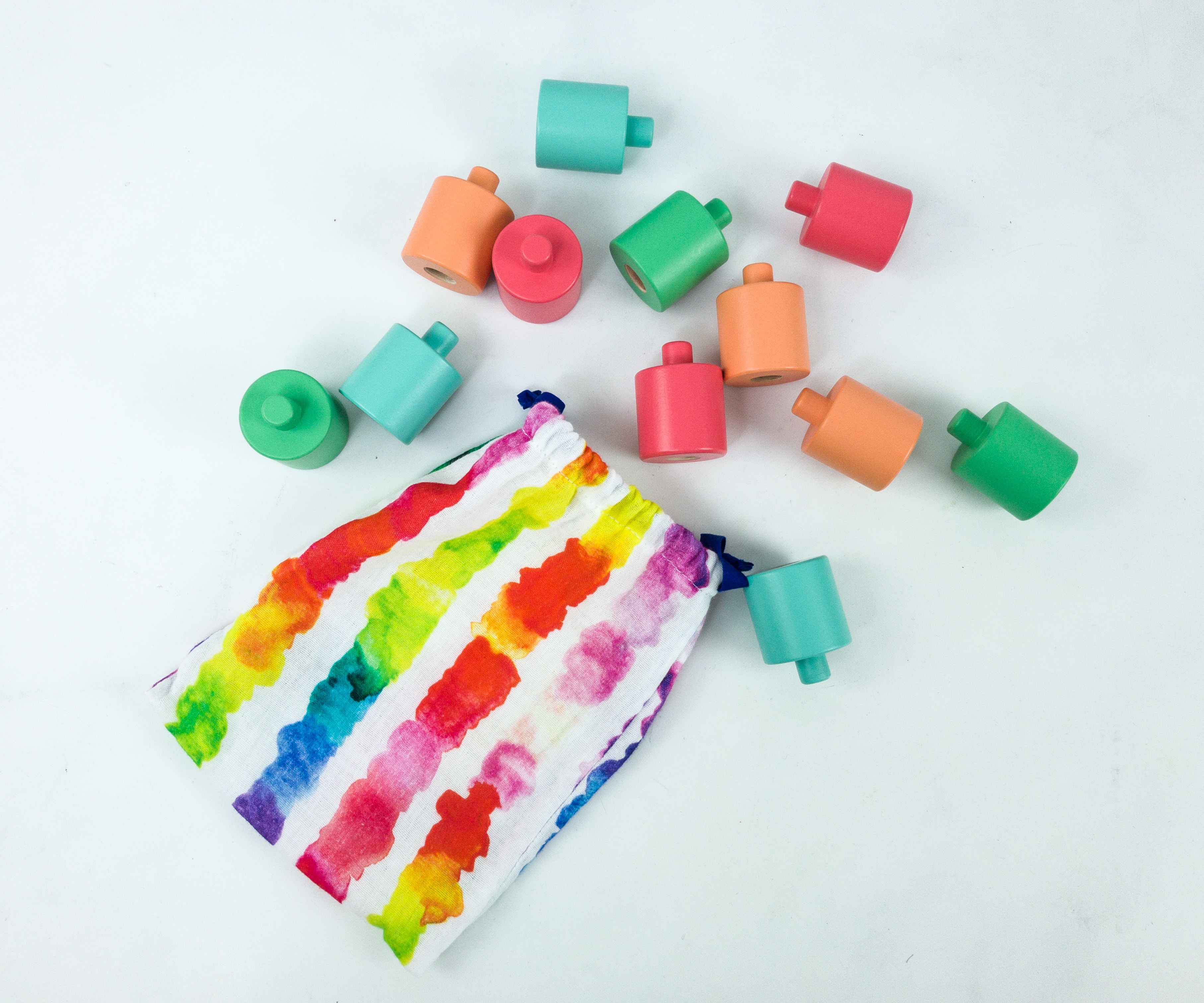 We got a wooden stacking pegboard and a drawstring bag for this activity!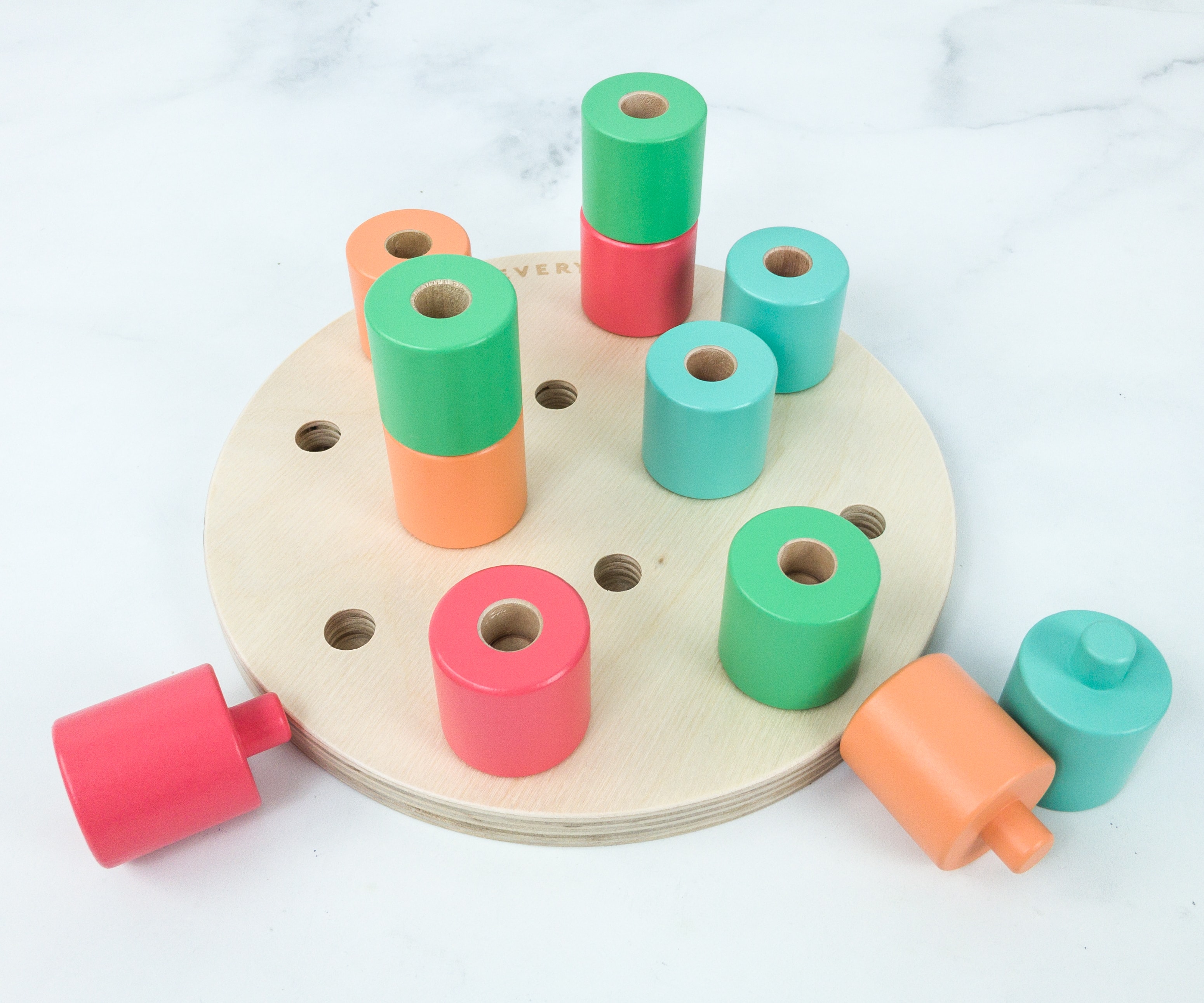 This stacking activity doesn't just enhance fine motor skills, it also provides a great opportunity for kids to learn more about the concept of quantity and even about colors since they can group the pieces depending on the color.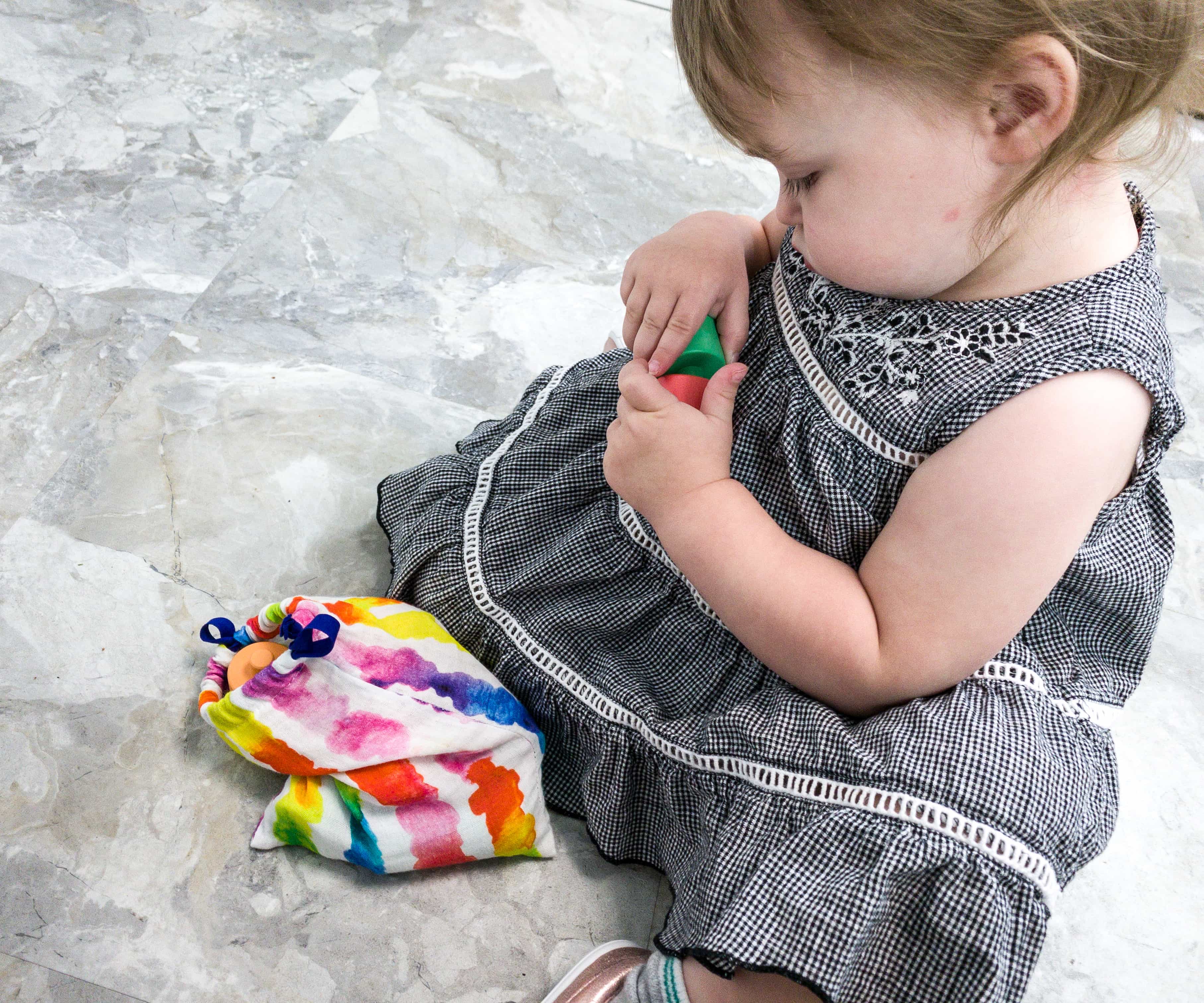 Here's my baby trying to figure out how she can put the pieces together.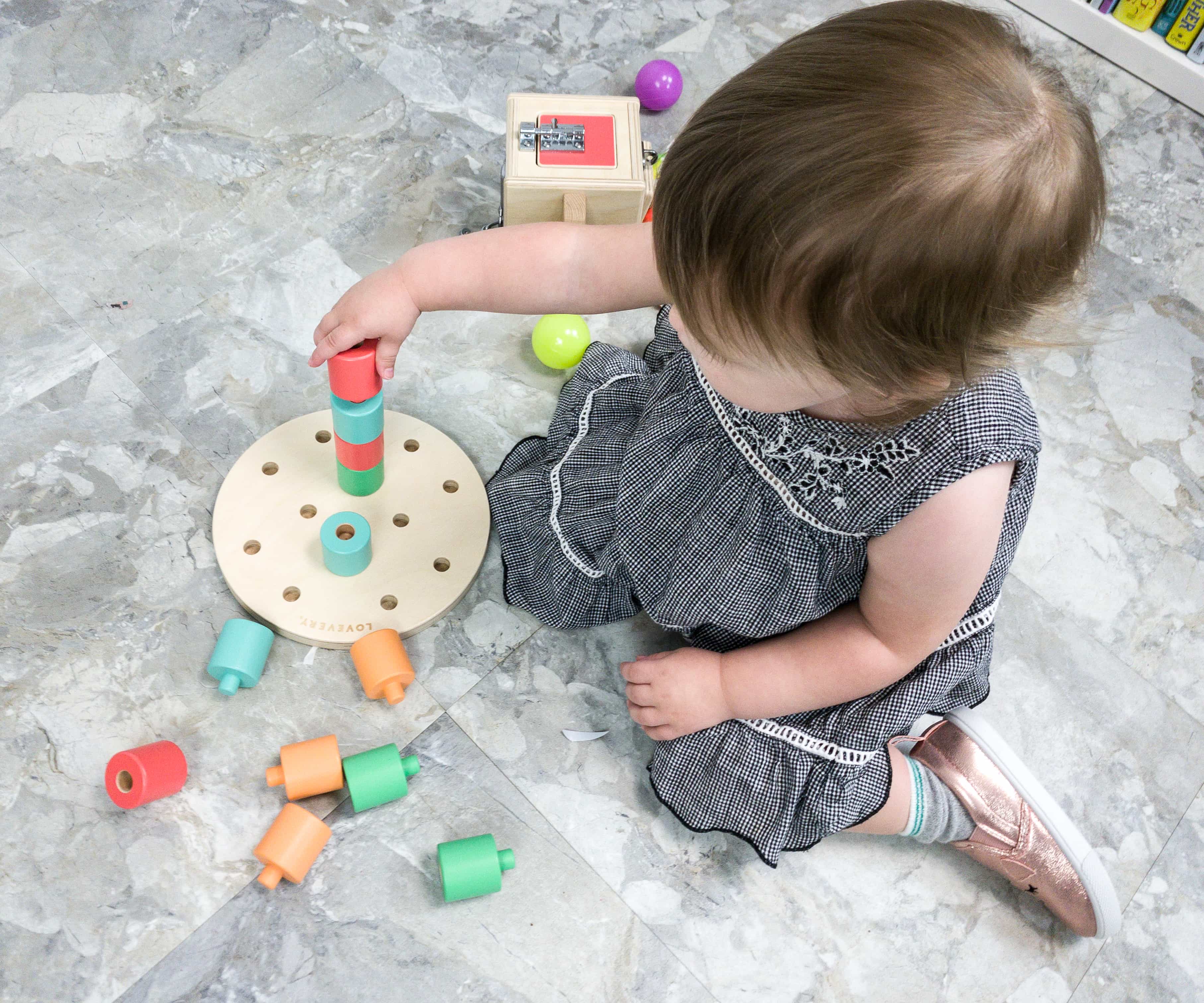 She eventually started to stack one piece after another on the board.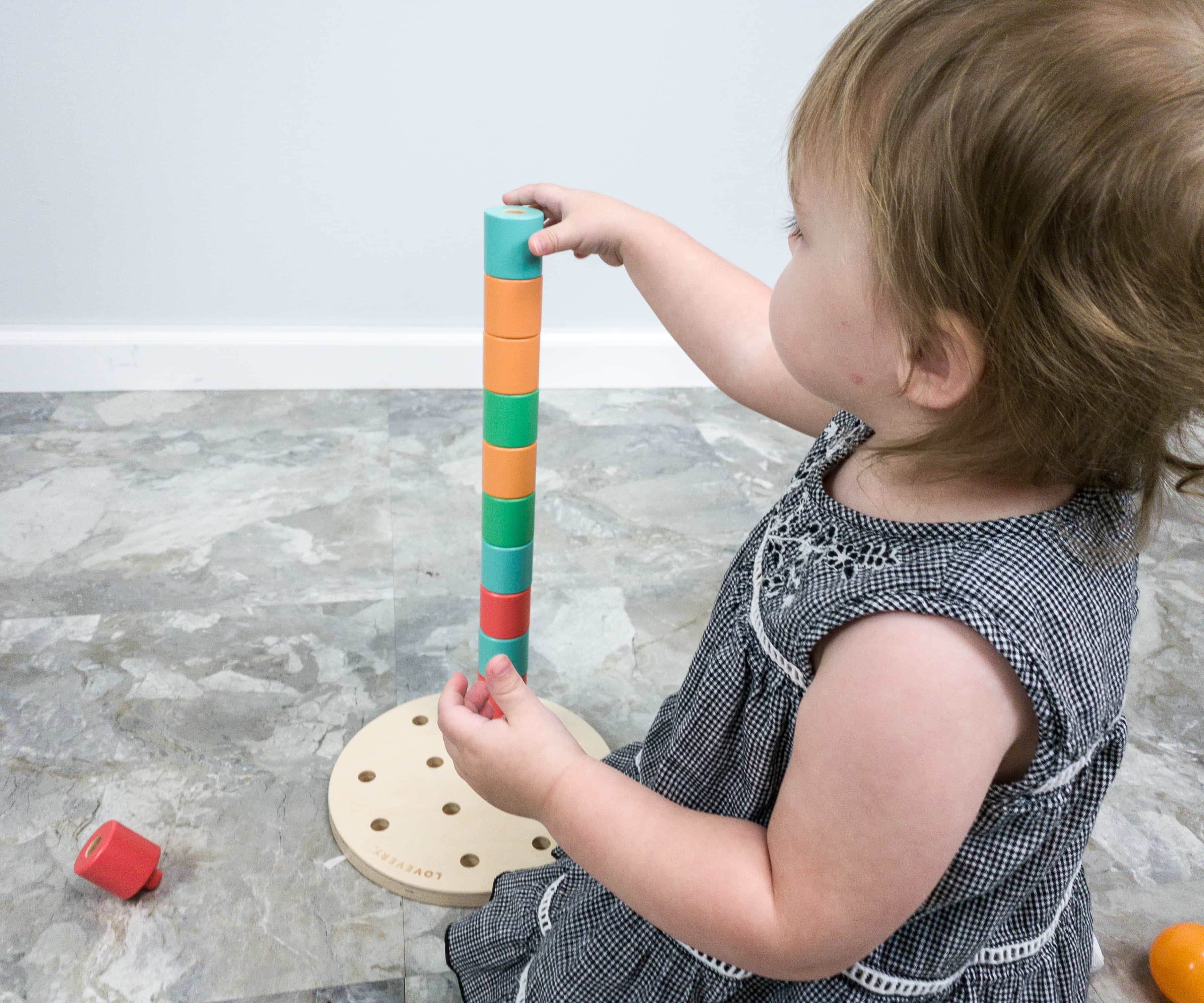 There you go! She made the stack really high!
She's proud of her stack!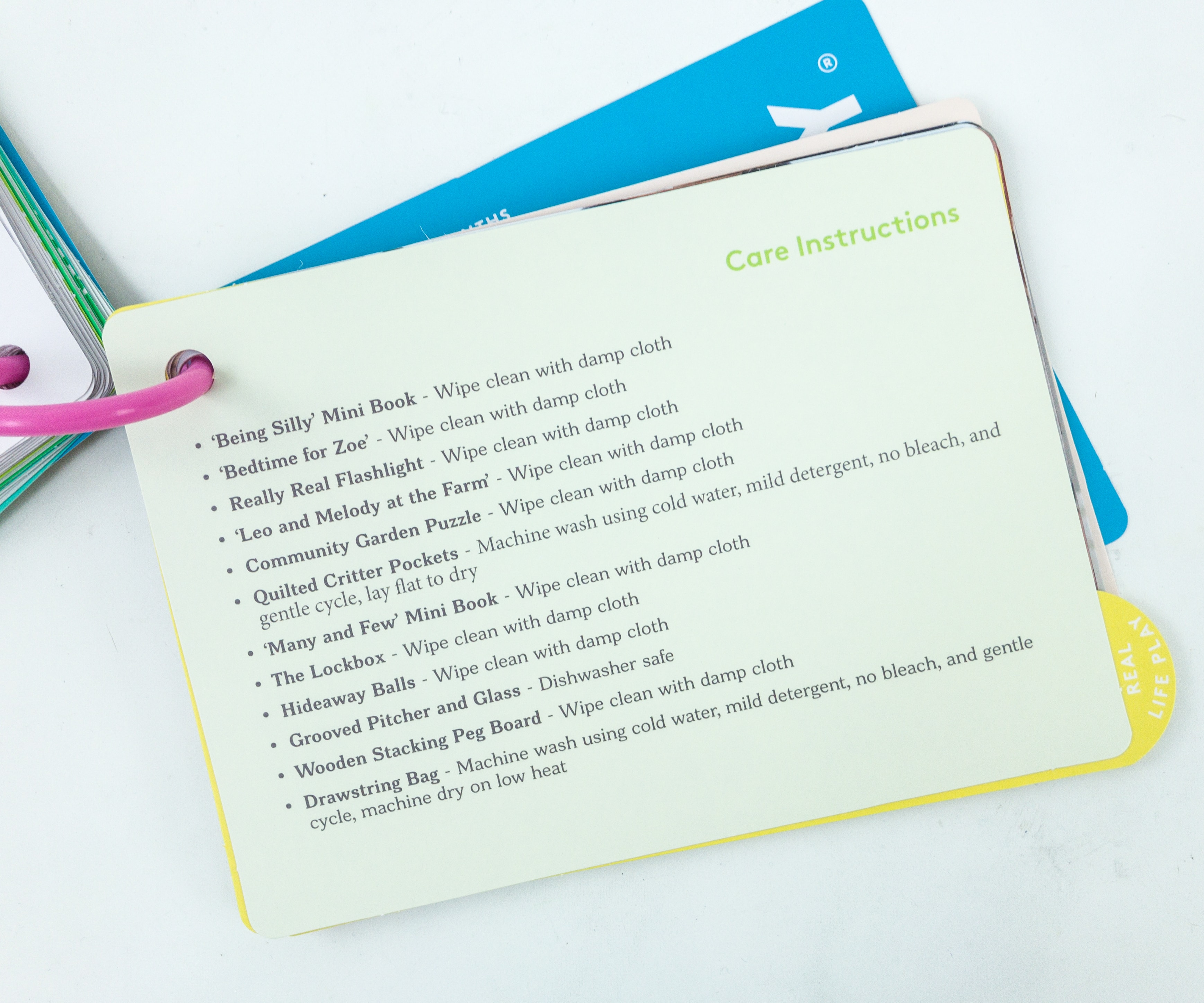 Additional care instructions are listed in the booklet.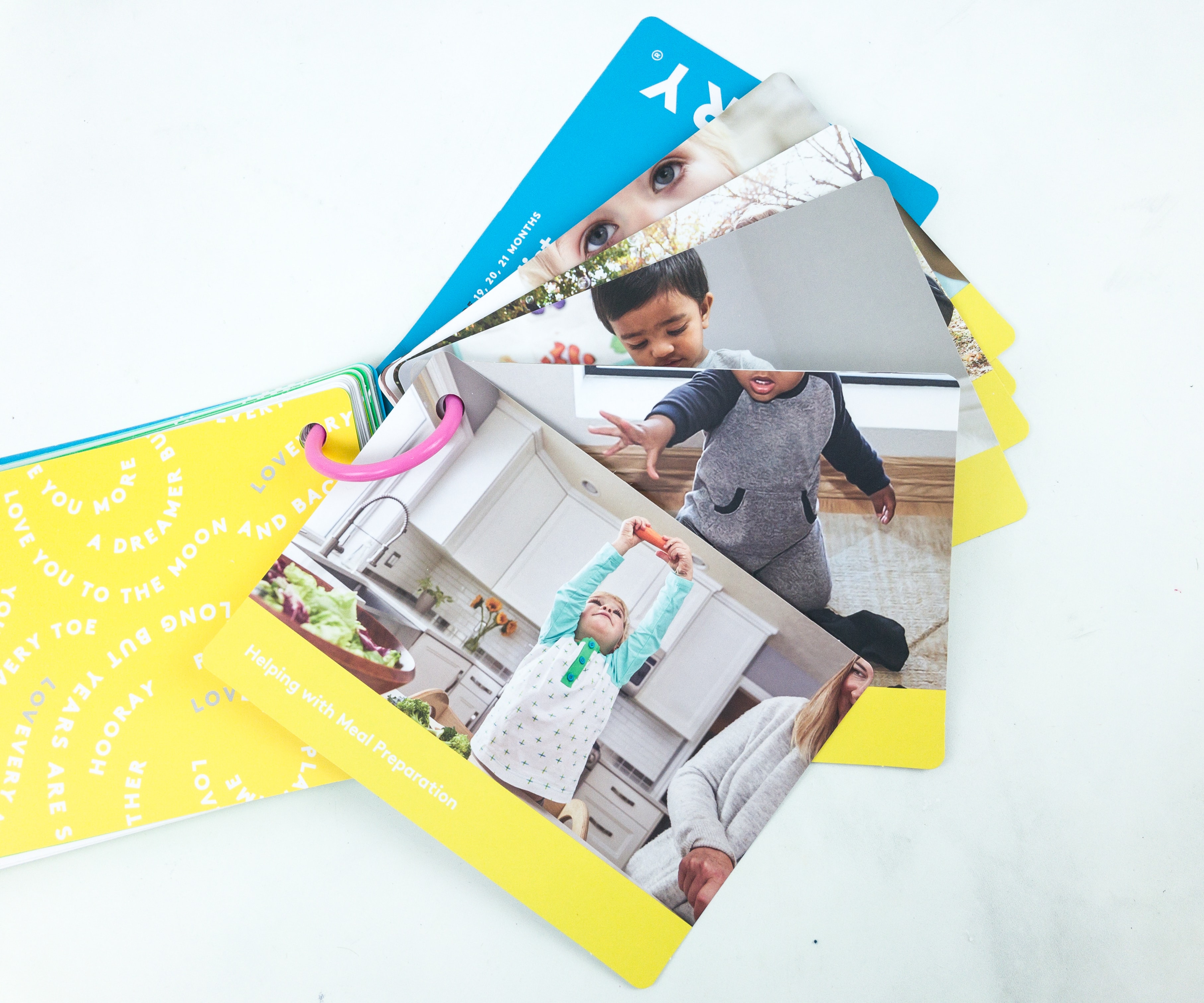 We're onto the last part of the booklet! It's called Real Life Play, which suggests more play ideas using materials we can find from home.
The first suggested activity is Helping with Meal Preparation! It doesn't have to be complicated, helping in the kitchen can be as simple as picking, tearing, stirring, mashing, or brushing.
Your child wants to be helpful. Participating in tasks he sees you doing around the house helps him build confidence. Meanwhile, your toddler may be getting pickier at meal time. Having him help with food preparation gives him a sense of pride in what he's making and may make certain foods more appealing.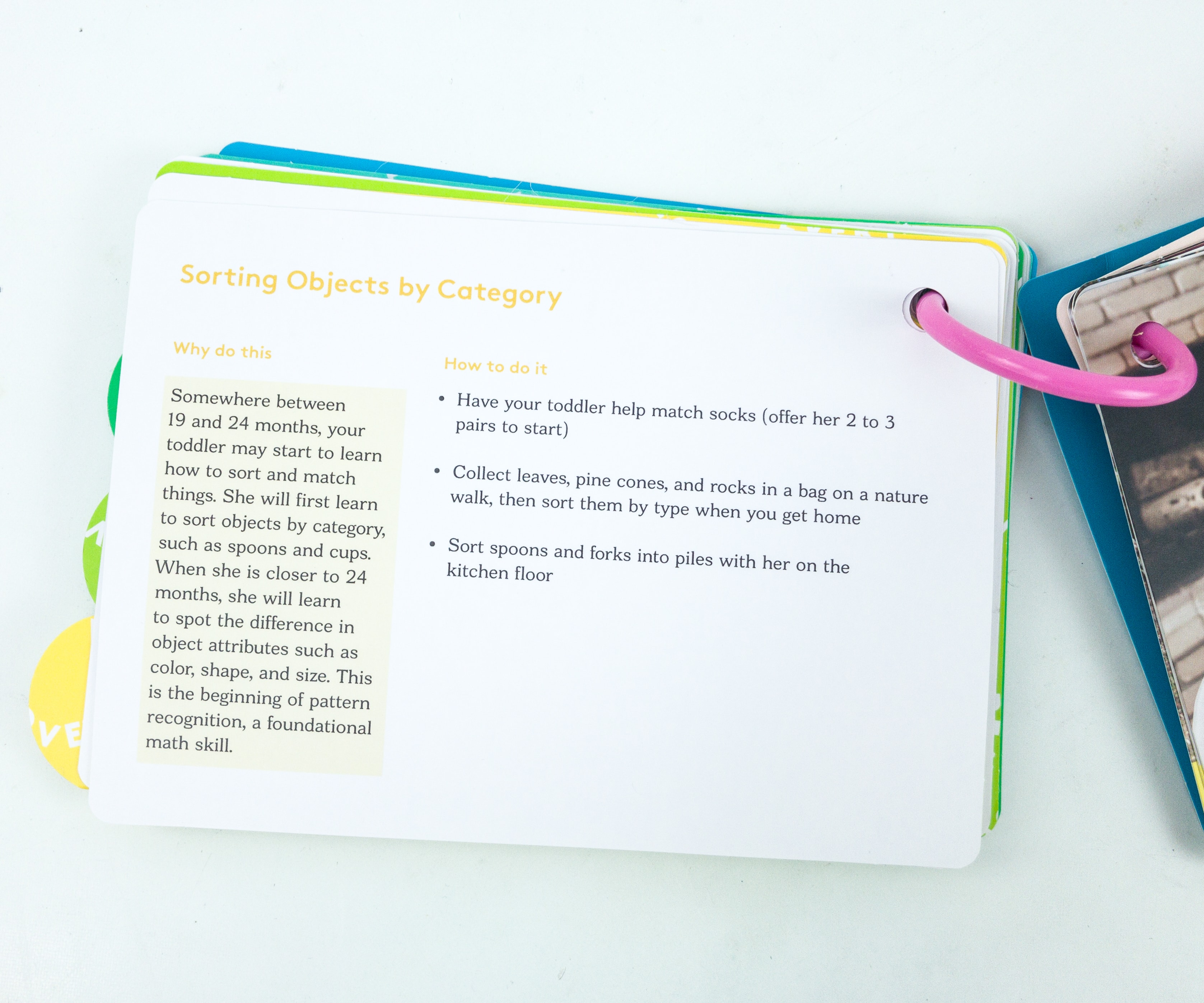 Next, we're Sorting Objects by Category! There are many ways to do this activity and the items can be easily found in your home, like socks, utensils, and even leaves and rocks.
Somewhere between 19 and 24 months, your toddler may start to learn how to sort and match things. She will first learn to sort objects by category, such as spoons and cups. When she is closer to 24 months, she will learn to spot the difference in object attributes such as color, shape, and size. This is the beginning of pattern recognition, a foundational math skill.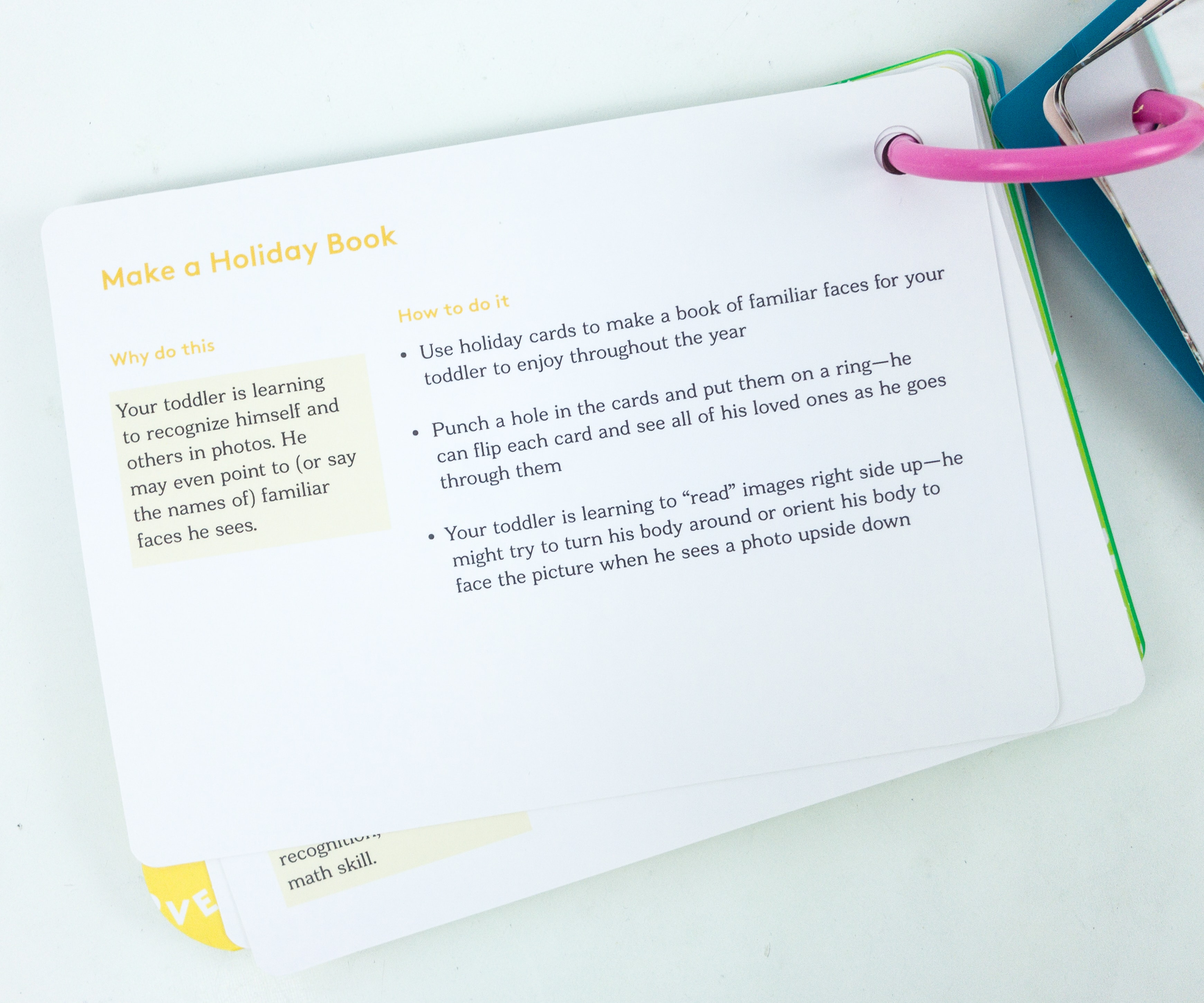 Another suggested activity is Make a Holiday Book! For this, we're making some sort of a scrapbook filled with photos of the family. You can use holiday cards, or other materials and photos available in your home.
Your toddler is learning to recognize himself and others in photos. He may even point to (or say the names of) familiar faces he sees.
The next activity is called Playing with Clothespins! A handful of clothespins is needed for this one. You may put them in a basket and let your kid take them out, or even clip the clothespins on a basket so they can remove it. For this, it's important to stay close to your toddler to prevent them from pinching themselves.
Using clothespins can be good for strengthening hand and finger muscles. Strengtheting hand muscles is in preparation for using scissors and writing later on.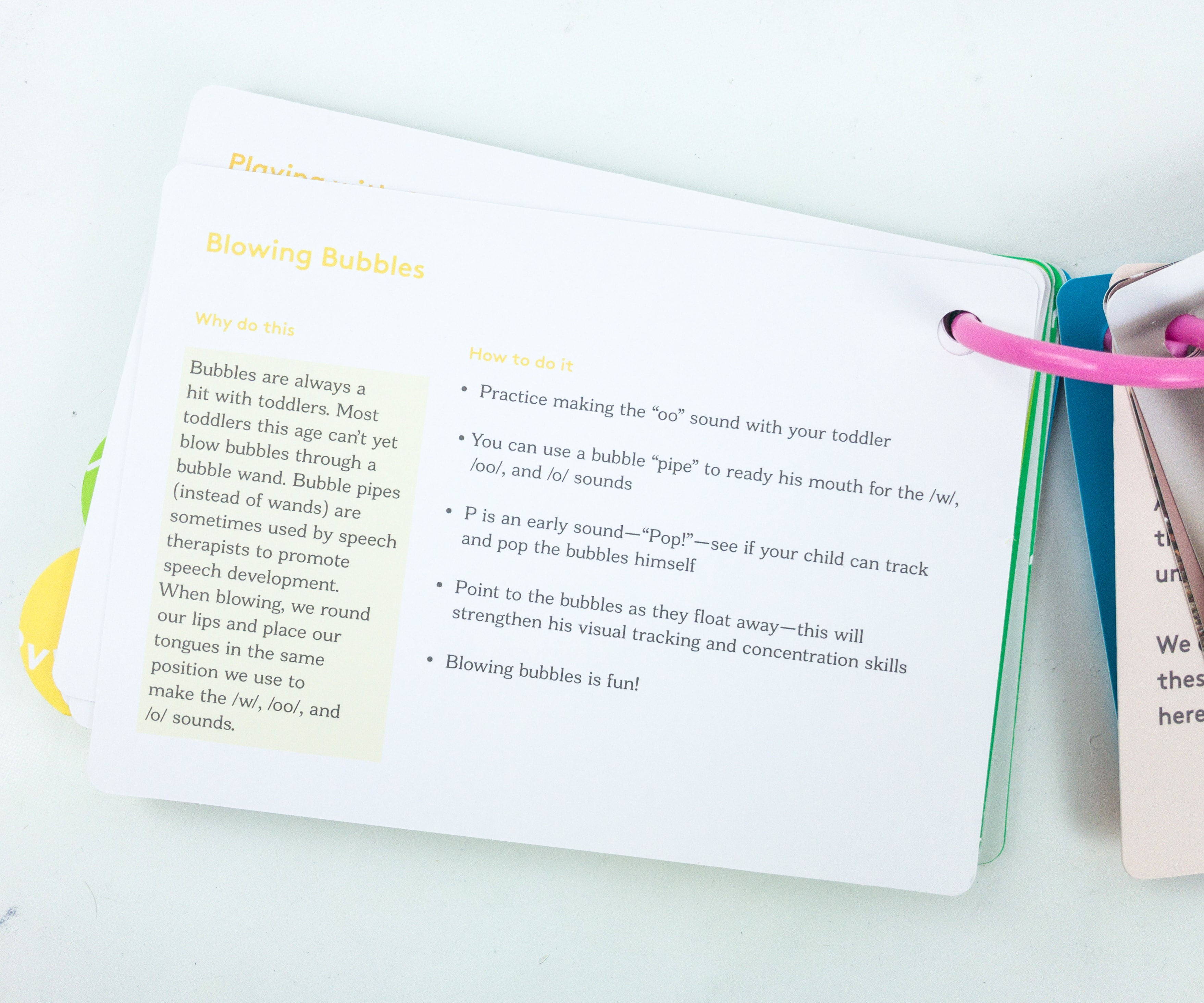 Here's a fun activity to try: Blowing Bubbles! Bubble pipes are suggested for this activity instead of wands. Even pointing to the bubbles as they float helps with a toddler's visual tracking and concentration skills.
Bubbles are always a hit with toddlers. Most toddlers this age can't yet blow bubbles through a bubble wand. Bubble pipes (instead of wands) are sometimes used by speech therapists to promite speech development. When blowing, we round our lips and place our tongues in the same position we use to make the /w/, /oo/, and /o/ sounds.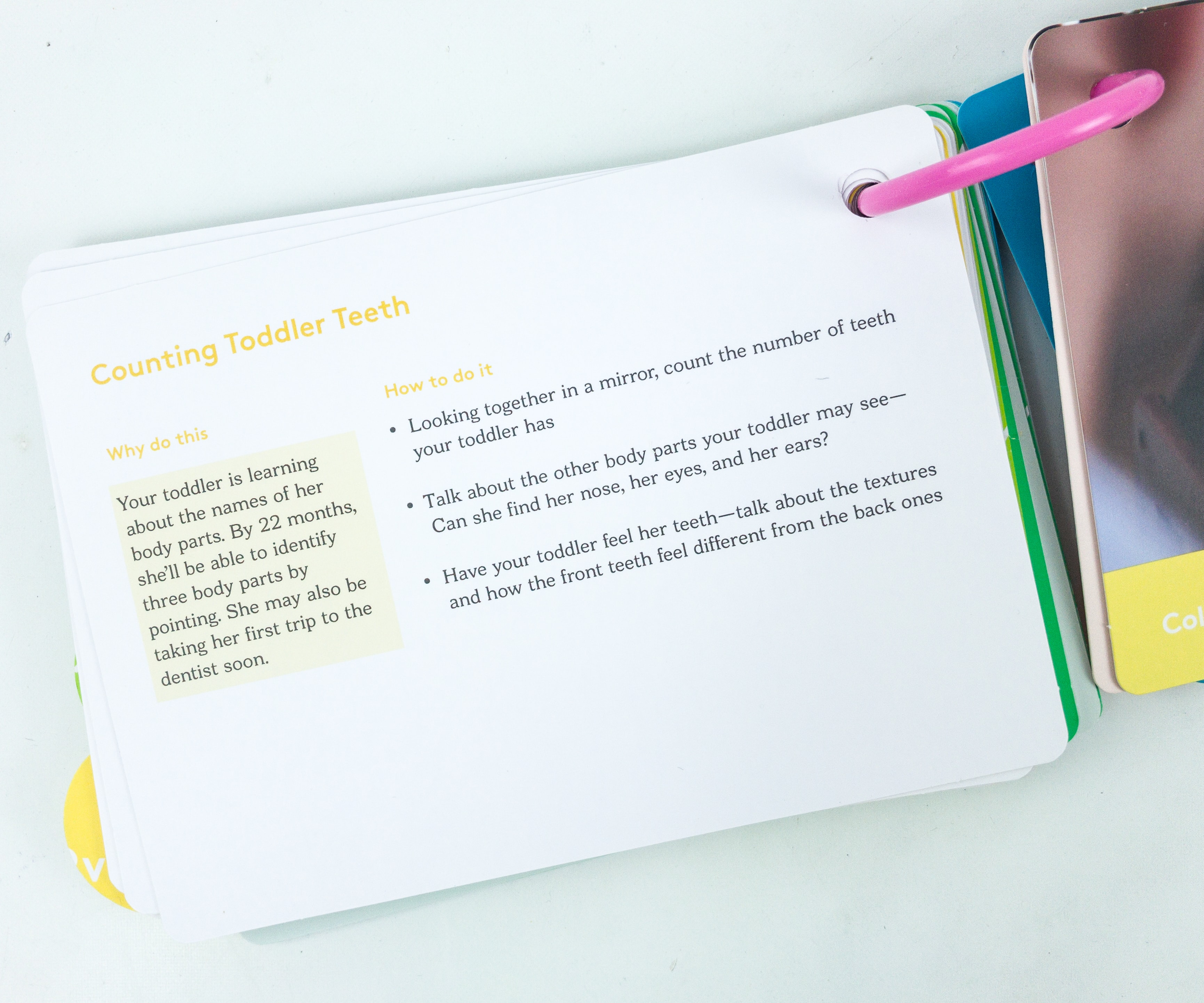 The next activity is all about Counting Toddler Teeth! This one is super easy, just look together with your toddler in a mirror and count their teeth.
Your toddler is learning about the names of body parts. By 22 months, she'll be able to identify three body parts by pointing. She may also be taking her first trip to the dentist soon.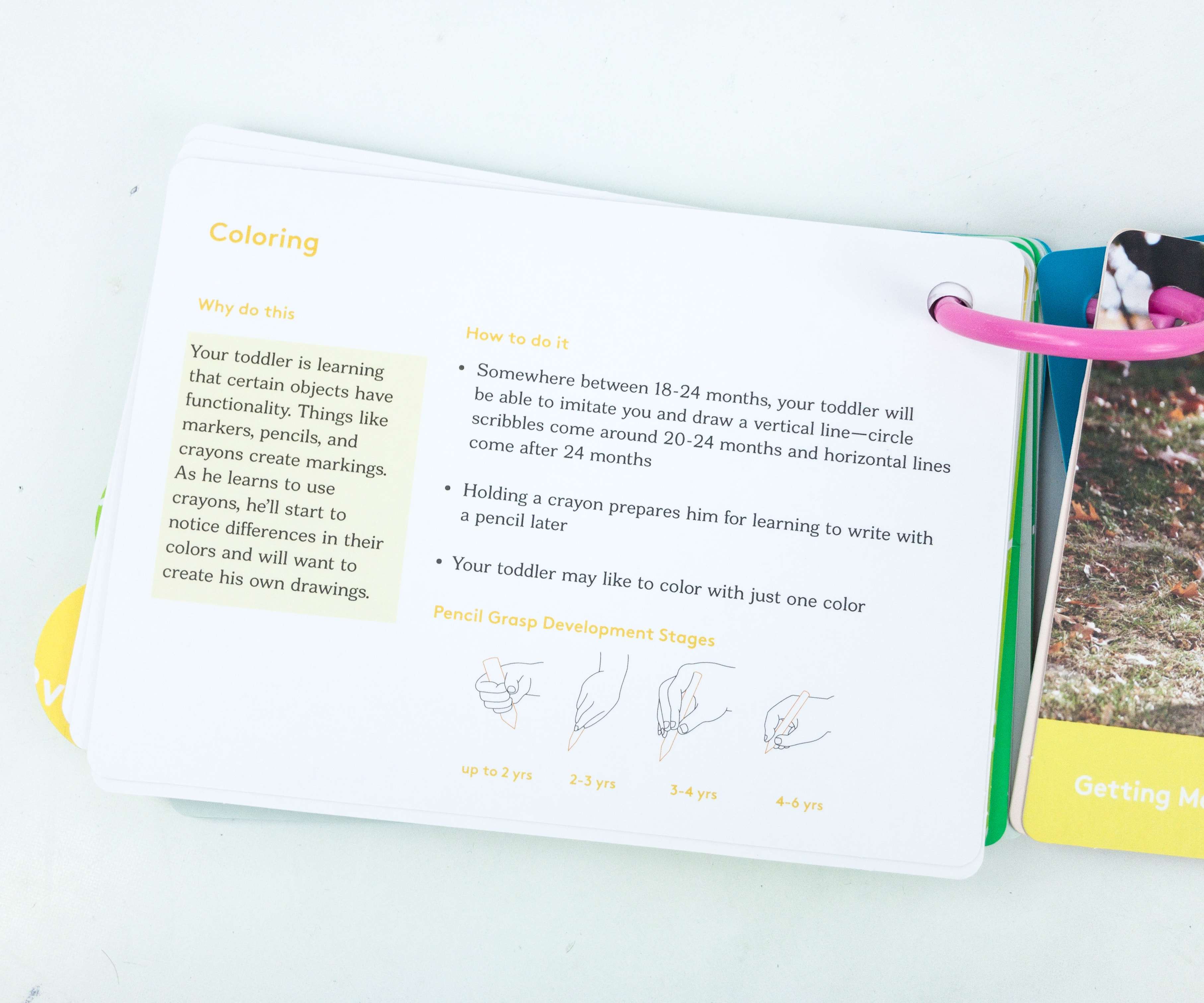 Another activity is all about Coloring! You may give your toddler one crayon to start, for them to be familiar on how to handle it and therefore prepare them from learning to write using a pencil later.
Your toddler is learning that certain objects have functionality. Things like markers, pencils, and crayons create markings. As he learns to use crayons, he'll start to notice differences in their colors and will want to create his own drawings.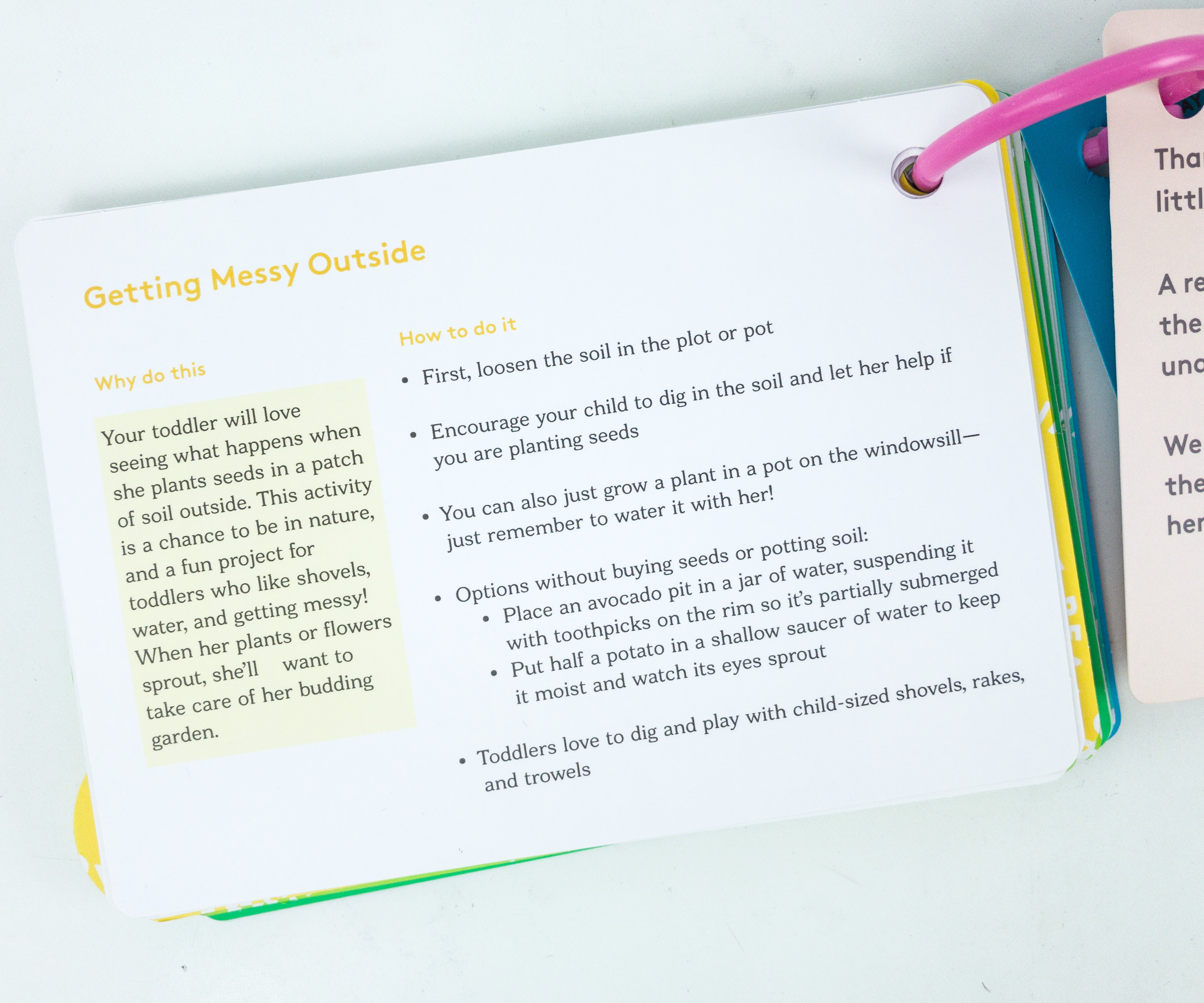 Lastly, here's Getting Messy Outside! This involves digging in the soil and planting seeds! If you don't have seeds and potting soil on hand, you may also use an avocado pit or a potato.
Your toddler will love seeing what happens when she plants seeds in a patch of soil outside. This activity is a chance to be in nature, and a fun project for toddlers who like shovels, water, and getting messy! When her plants or flowers sprout, she'll want to take care of her budding garden.
Everything we need for a fun and meaningful playtime is here! As always, the kit is jampacked with high-quality developmental materials, like books, puzzles, and more. The booklet is also amazing. It's one of the most comprehensive and most helpful booklets we've seen. It's even divided into sections, so it's easier to find the information you need. Each activity is explained thoroughly, with instructions on how to incorporate the toy or other household items with it. The contents of the kit are meant to be savored one at a time, so there's no need to rush in finishing them all. It's okay to take time, just like how we did it. We're absolutely impressed with this box, including my baby who couldn't let go of her new toys!
What do you think about the Toddler Play Kits by Lovevery?
Visit Toddler Play Kits by Lovevery to subscribe or find out more!