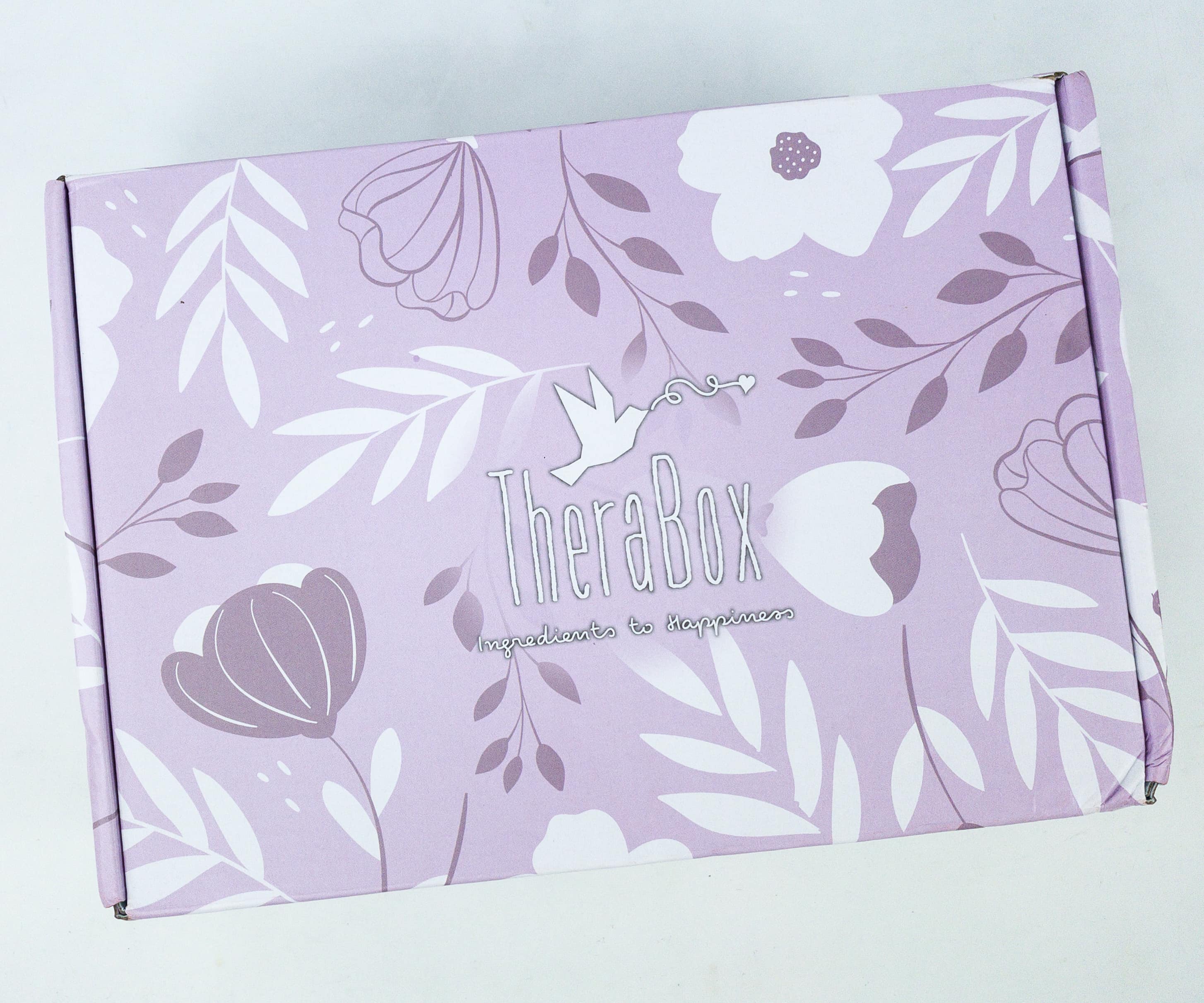 TheraBox is curated by practicing therapists with the aim to inspire happier lives. Each box includes 4-6 wellness products sourced from vendors that produce natural, organic, and feel-good items. They also incorporate at least 1 happiness boosting activity inspired by research in mindfulness, psychology, and neuroscience to rewire the brain for more joy and positivity.
DEAL: Get 10% off your first order! Use coupon code HELLO10.
There's a booklet on top of the items.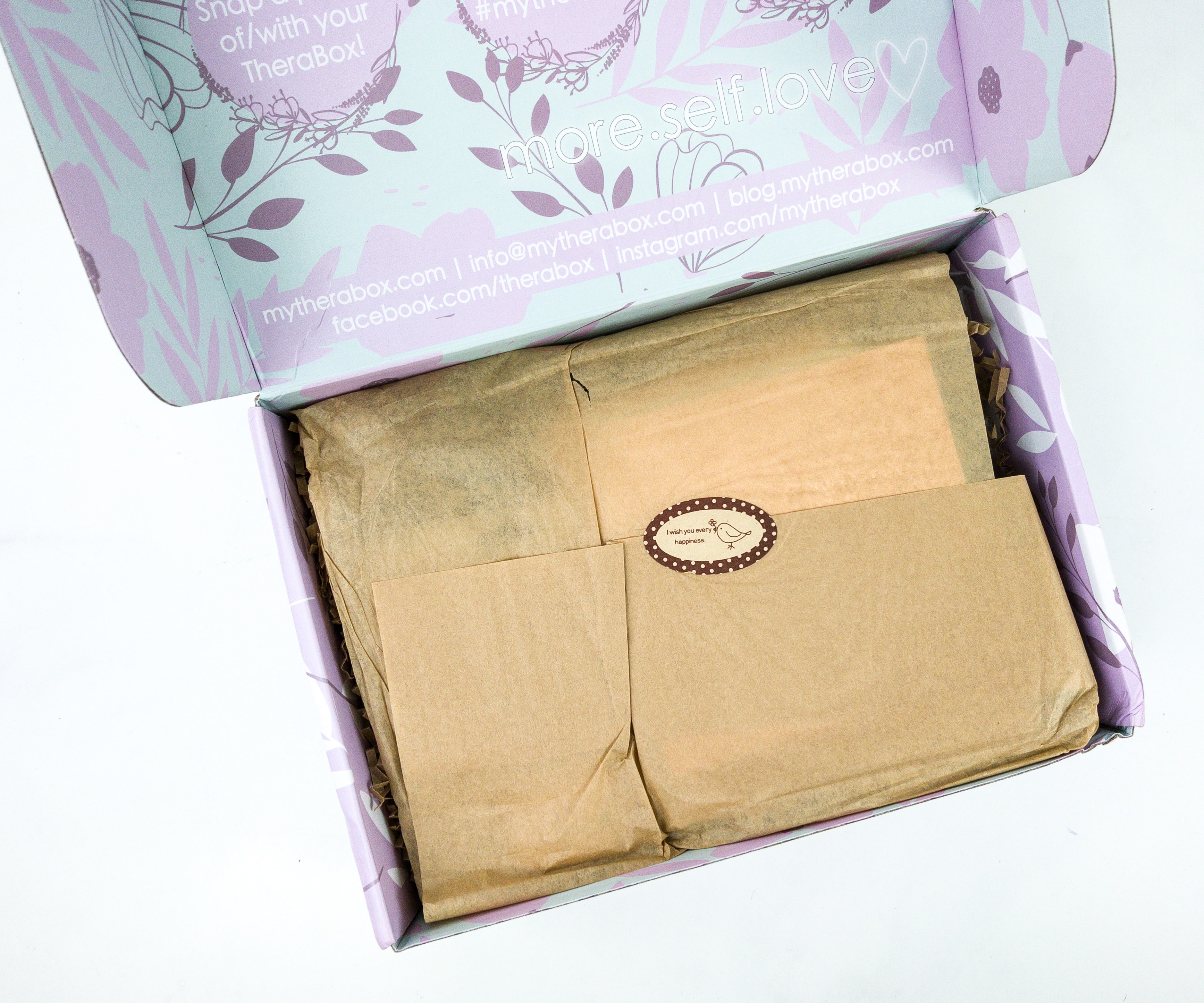 The items were wrapped in a brown tissue paper, sealed with a sticker.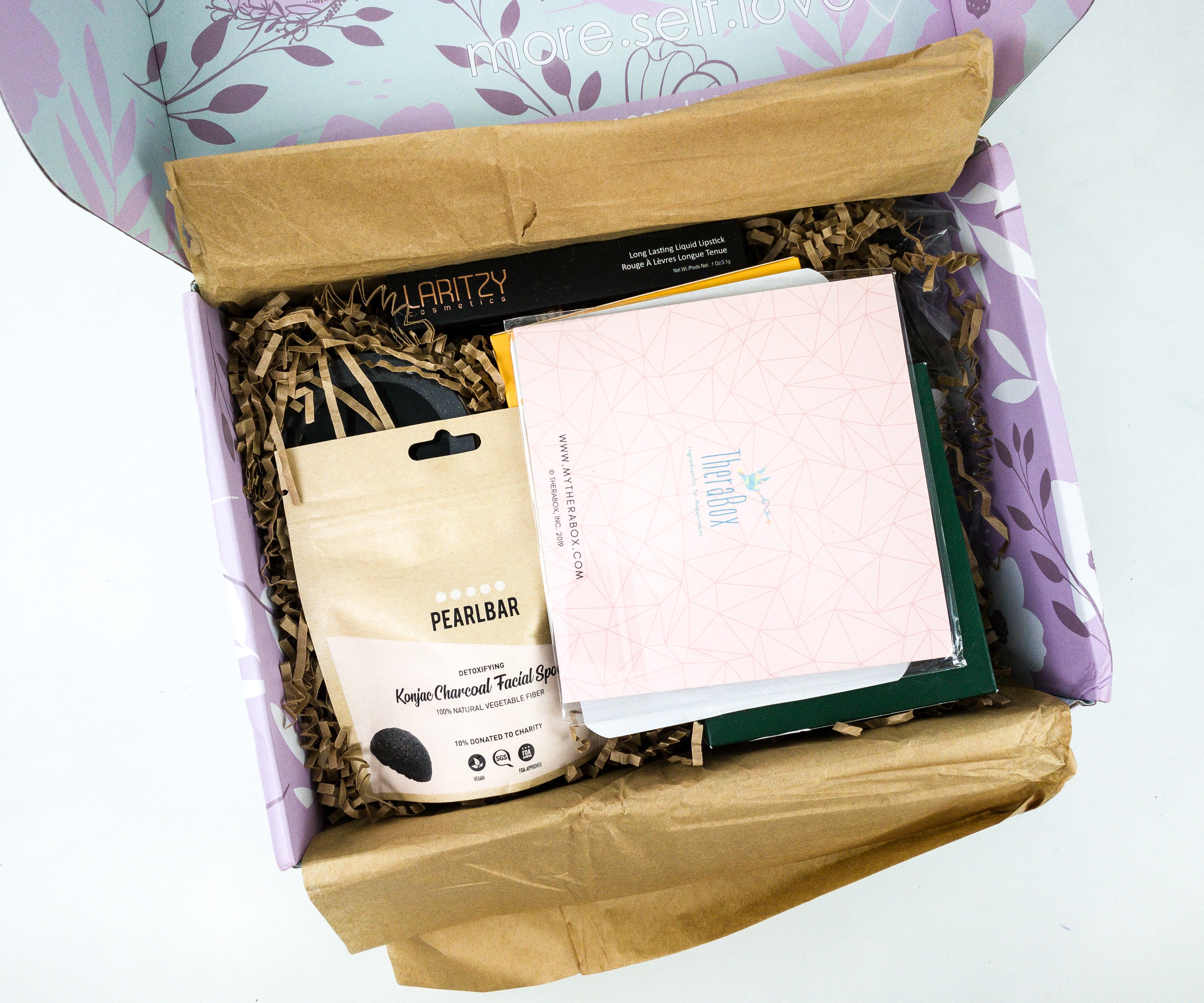 The items all arrived in great condition, as they were cushioned by the squiggles.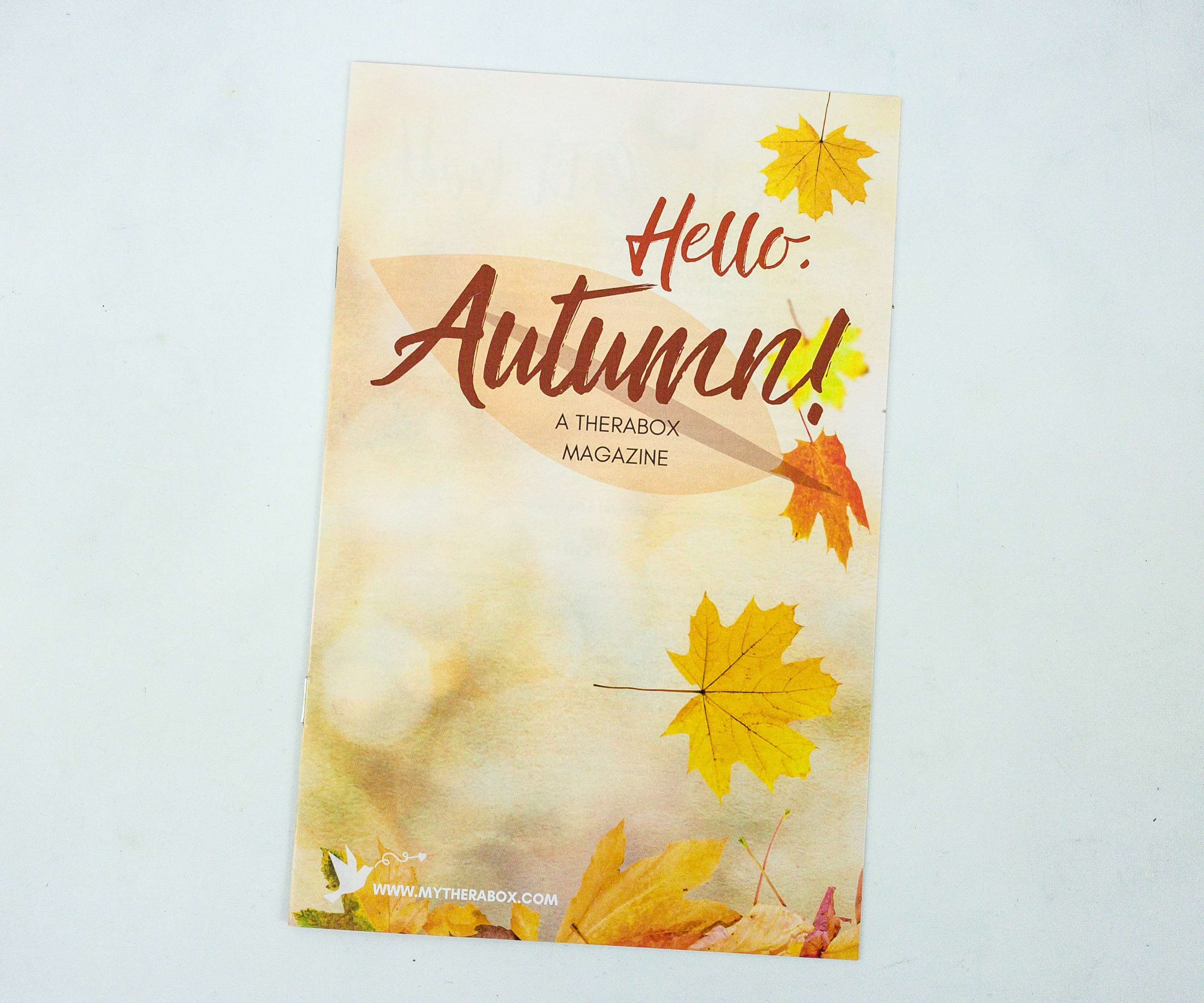 Every box comes with a mini-magazine!
This box's theme is HELLO AUTUMN!
There's a message from the Therabox Team!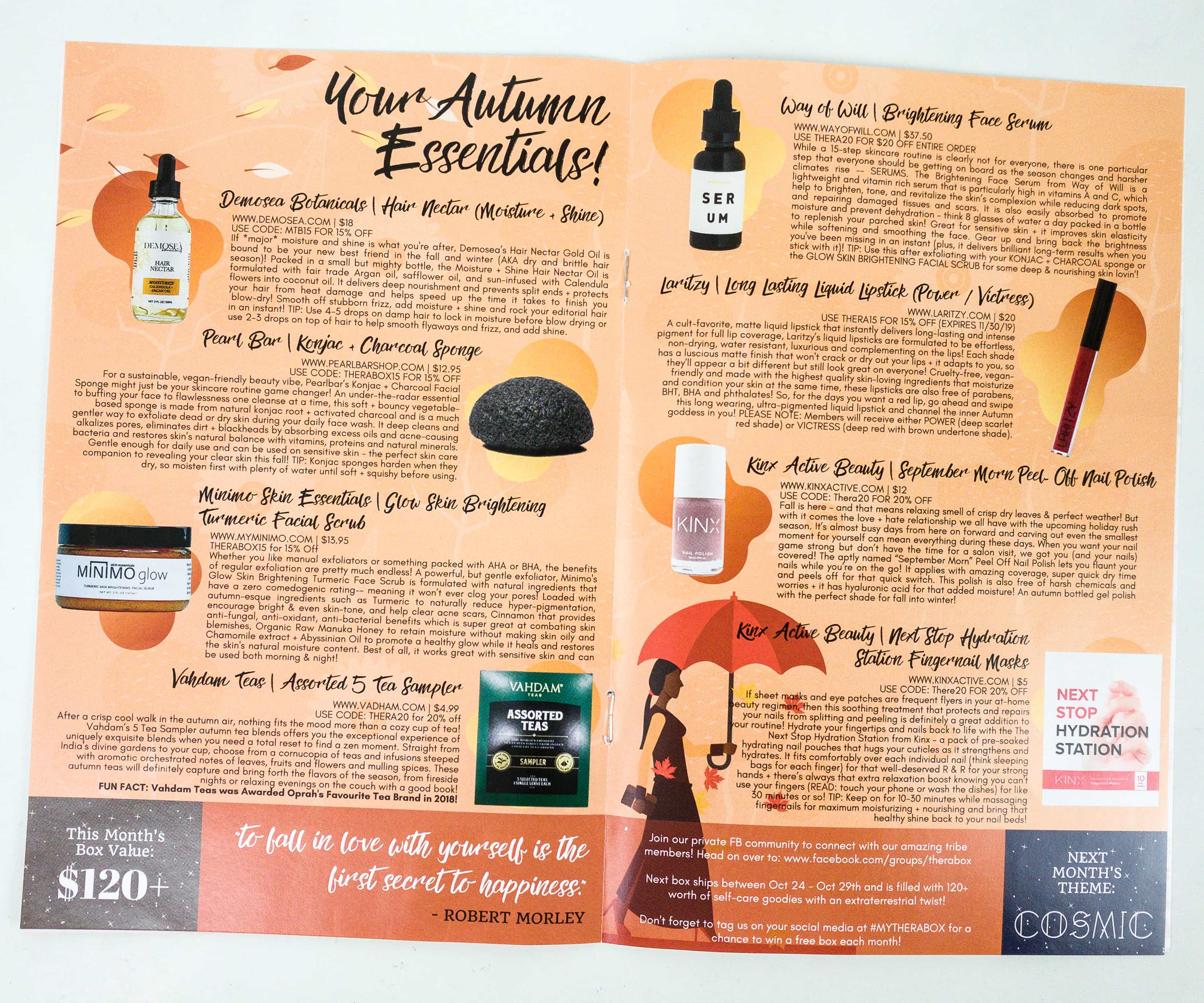 They included a photo of all the items in the box. The description for each item is lengthy and informative.
There's a feature about a happiness boosting activity, and they also answered FAQs regarding the subscription.
Everything in this month's box!
This Self-love Sticker Book is a bonus item!
It features different things you can do for self-care, grouped by how many minutes you need to do them. Some can be as short as 5 minutes, and some can be as long as 1 day or a whole weekend!
The stickers are cute and fun! You can peel them and add to your planner, journal, or notebook.
Just looking at it gives me good vibes.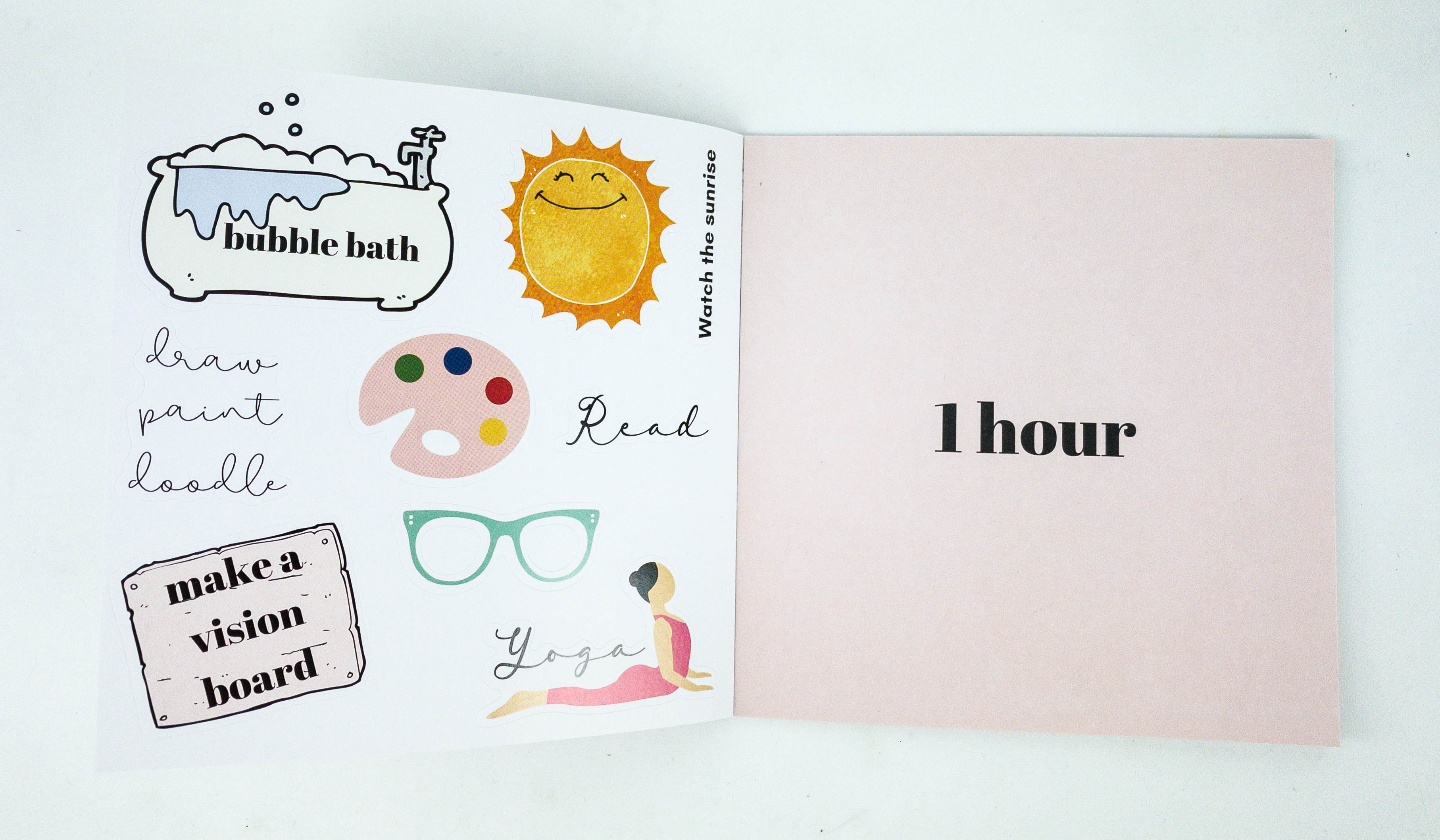 Of course, it also gives me ideas on what to do for my next me-time.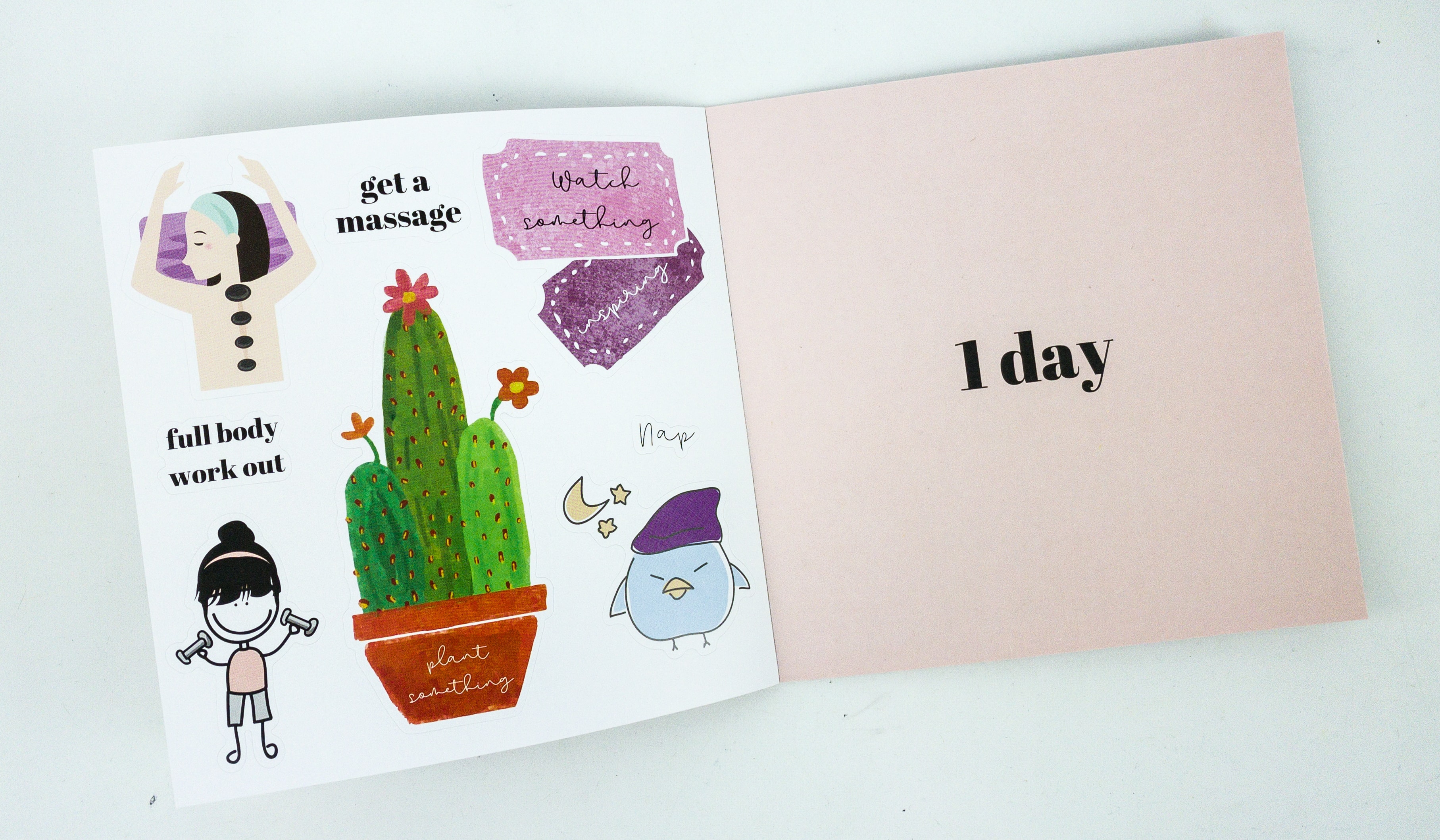 Getting a massage and having a nap sounds like a great idea!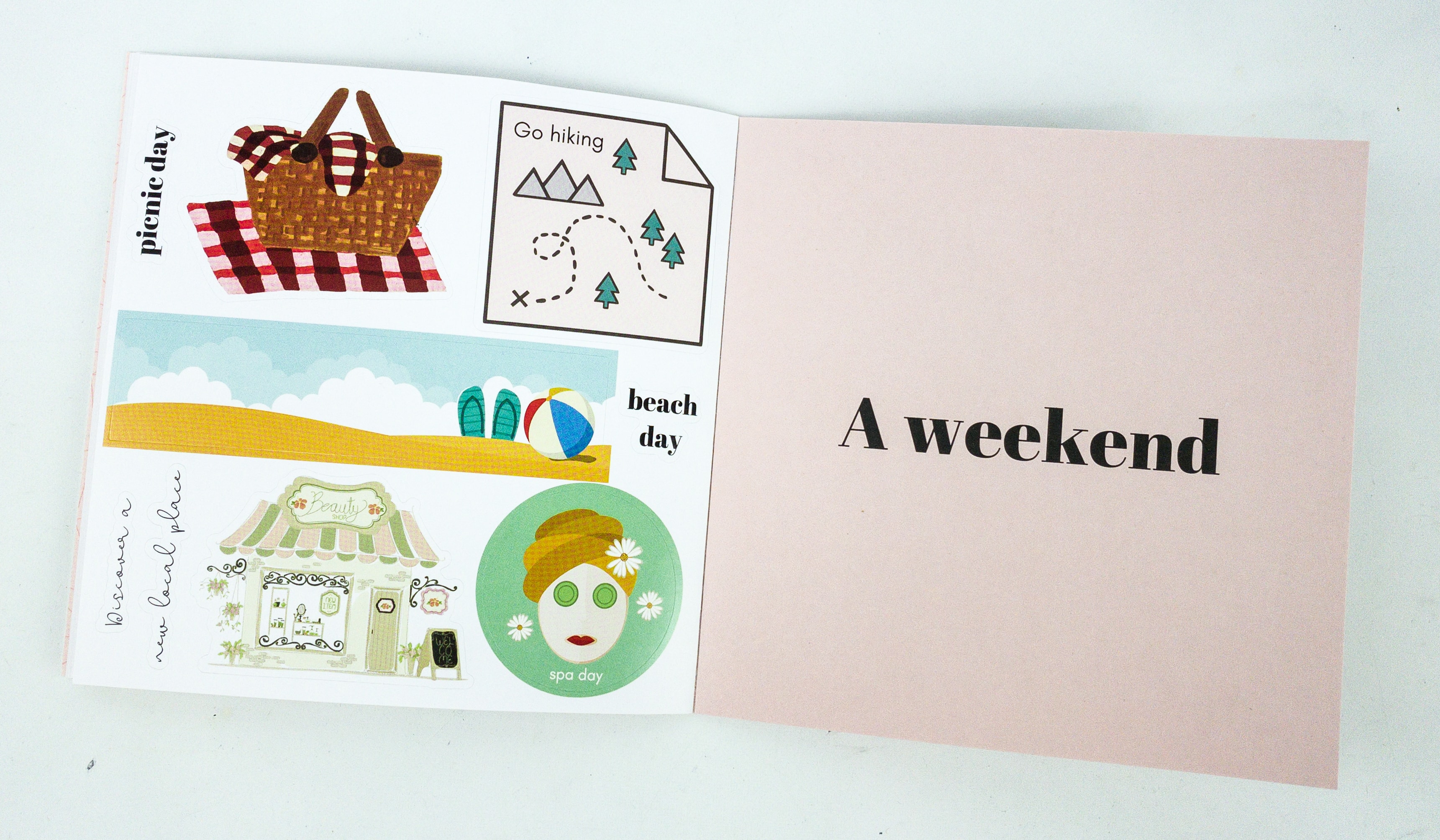 If you have more time to spare, you can also go hiking or visit the beach!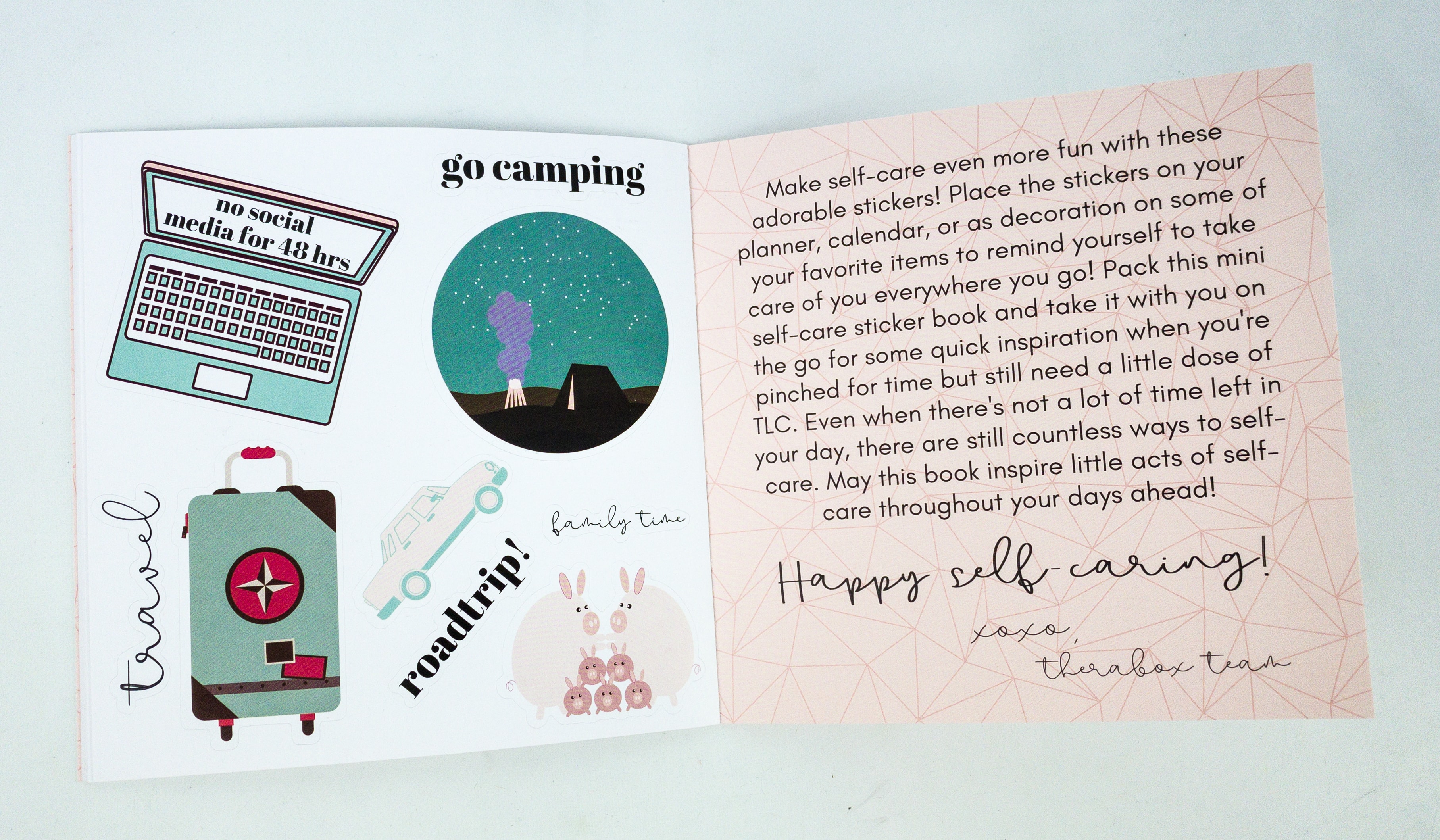 On the last page, there's a message from Therabox Team. The sticker book is slim and handy, so you can definitely bring it anywhere and take it with you in case you'd need a reminder to take a breather.
Kinx Active Beauty Next Stop Hydration Station Fingernail Masks ($5) Our nails deserve to be pampered from time to time as well. These fingernail masks are the perfect way to do give them just that! It's infused with sweet almond oil and jojoba seed oil, plus a blend of fruit extracts including tomato, orange, strawberry, and coconut, which work together to refresh and hydrate the cuticles.
There's a mask for each of your fingers. To use, just insert the mask on the corresponding finger and keep it on for 10 to 20 minutes. For optimum results, it's recommended that you massage your nails while the masks are on.
Laritzy Long Lasting Liquid Lipstick in Victress ($20) I got the liquid lipstick in Victress, a deep red with a brown undertone. It's perfect for a sultry look!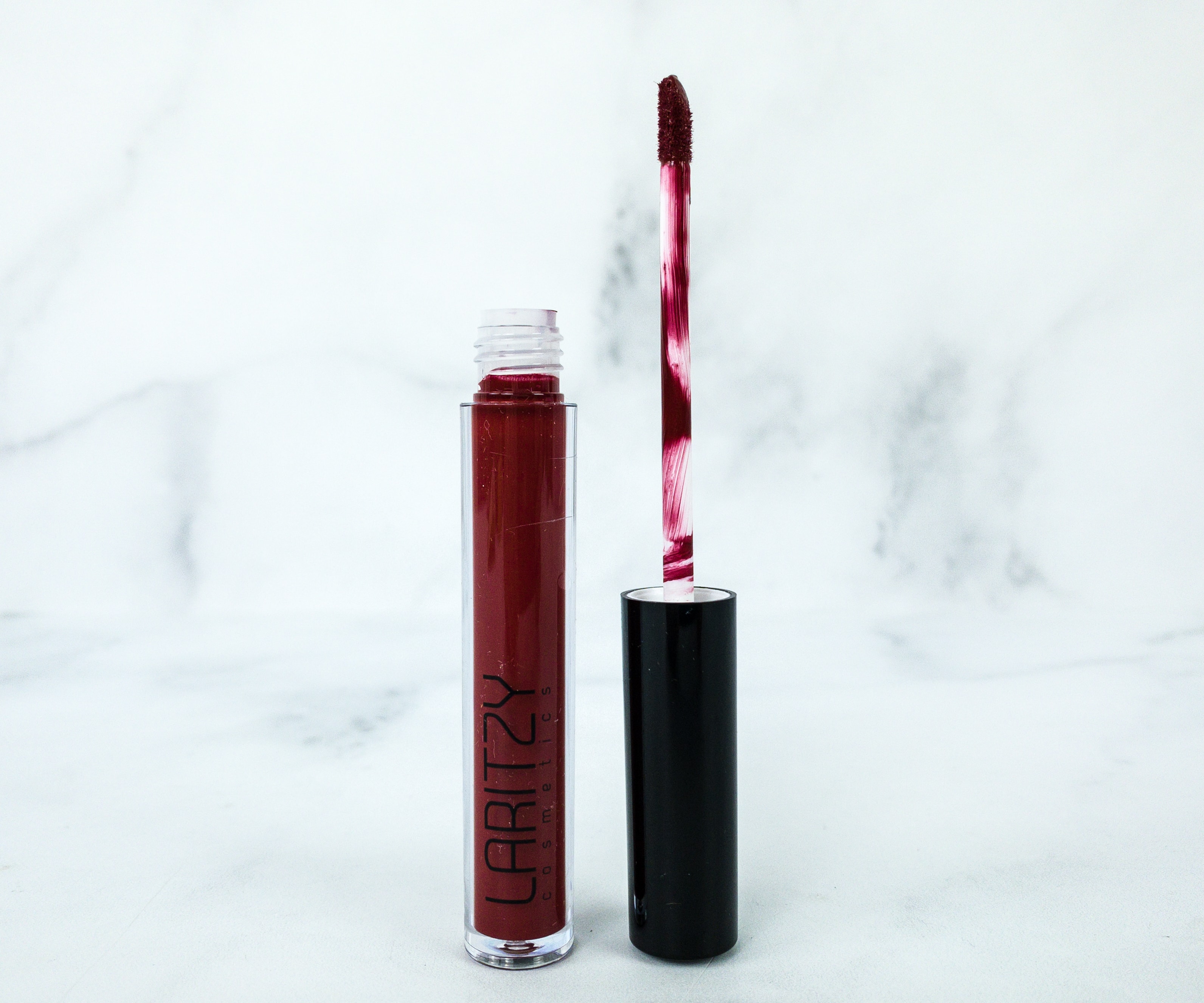 This liquid lipstick leaves a lasting matte finish. I love how effortlessly it glides on my lips, plus it doesn't dry up and the color stays intense until the end of the night.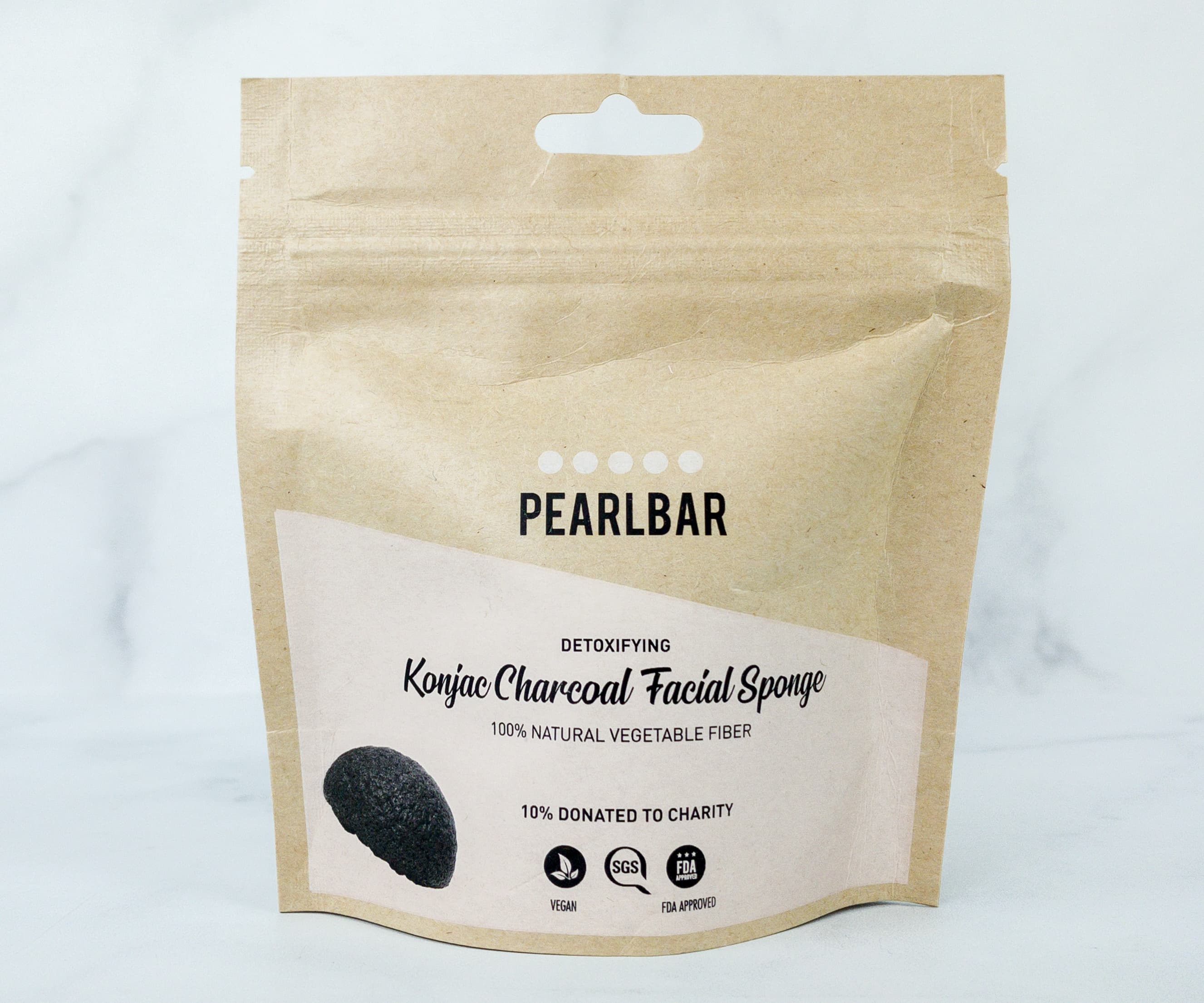 Pearl Bar Konjac + Charcoal Sponge ($12.95) It's a one-of-a-kind sponge that helps you cleanse and exfoliate with ease. From dirt and blackheads to excess oils and acne-causing bacteria, this sponge removes them all without stripping your skin of moisture. It even restores your skin's natural balance using a blend of vitamins, proteins, lipids, fatty acids and natural minerals.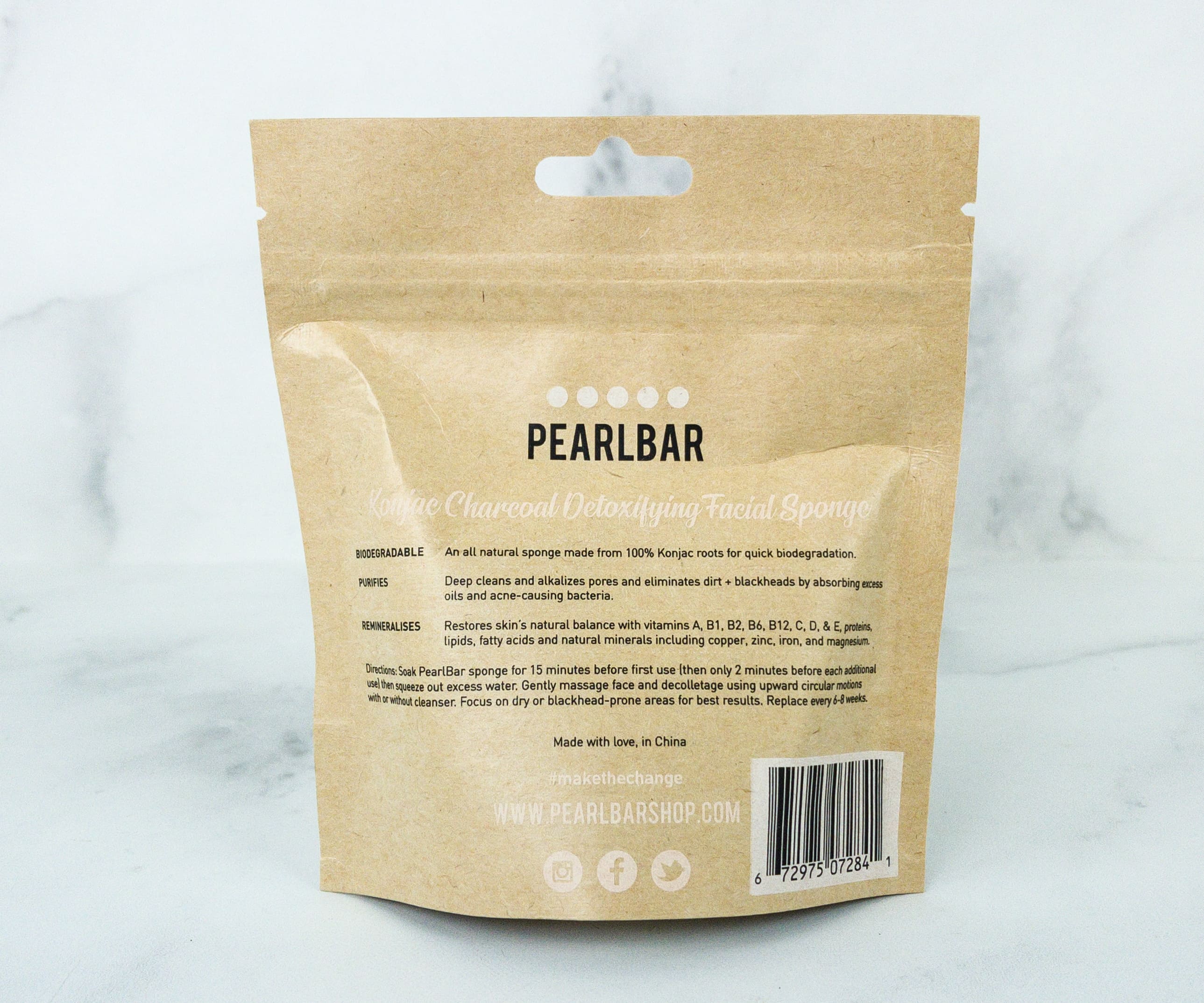 It comes in an eco-friendly packaging with a ziplock, so you can definitely reuse it. The sponge itself is toxic-free and biodegradable.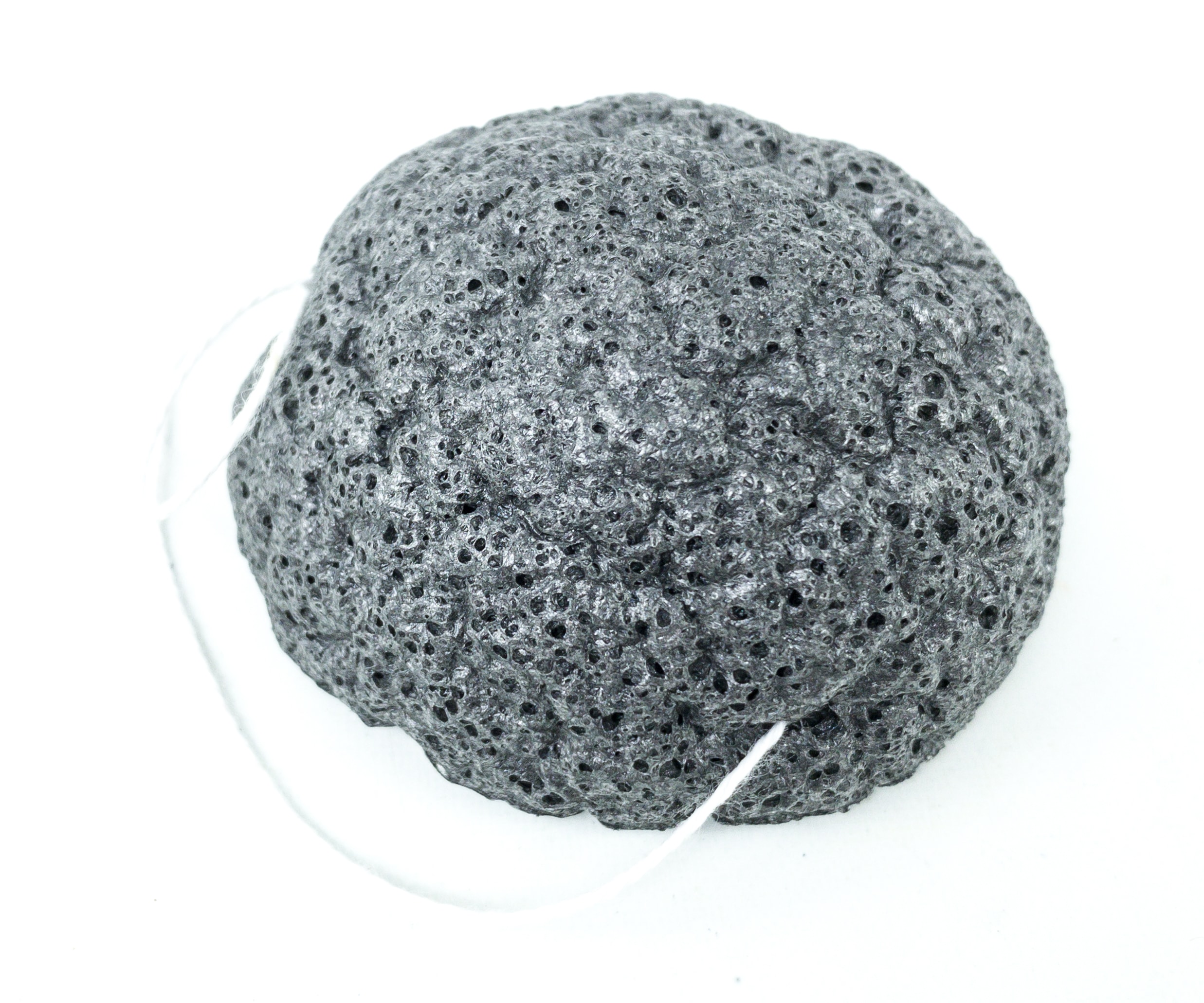 It's made with natural vegetable fiber, which is soft and gentle on the skin. You'll get the sponge dehydrated and all you have to do is to soak it in water before using it.
Demosea Botanicals Hair Nectar (Moisture + Shine) ($18) To bring our hair back to life, they also included a haircare item formulated to deliver moisture and shine. It's a potent blend of botanical based treatment oils, which is surprisingly light. It doesn't leave any greasy residue either.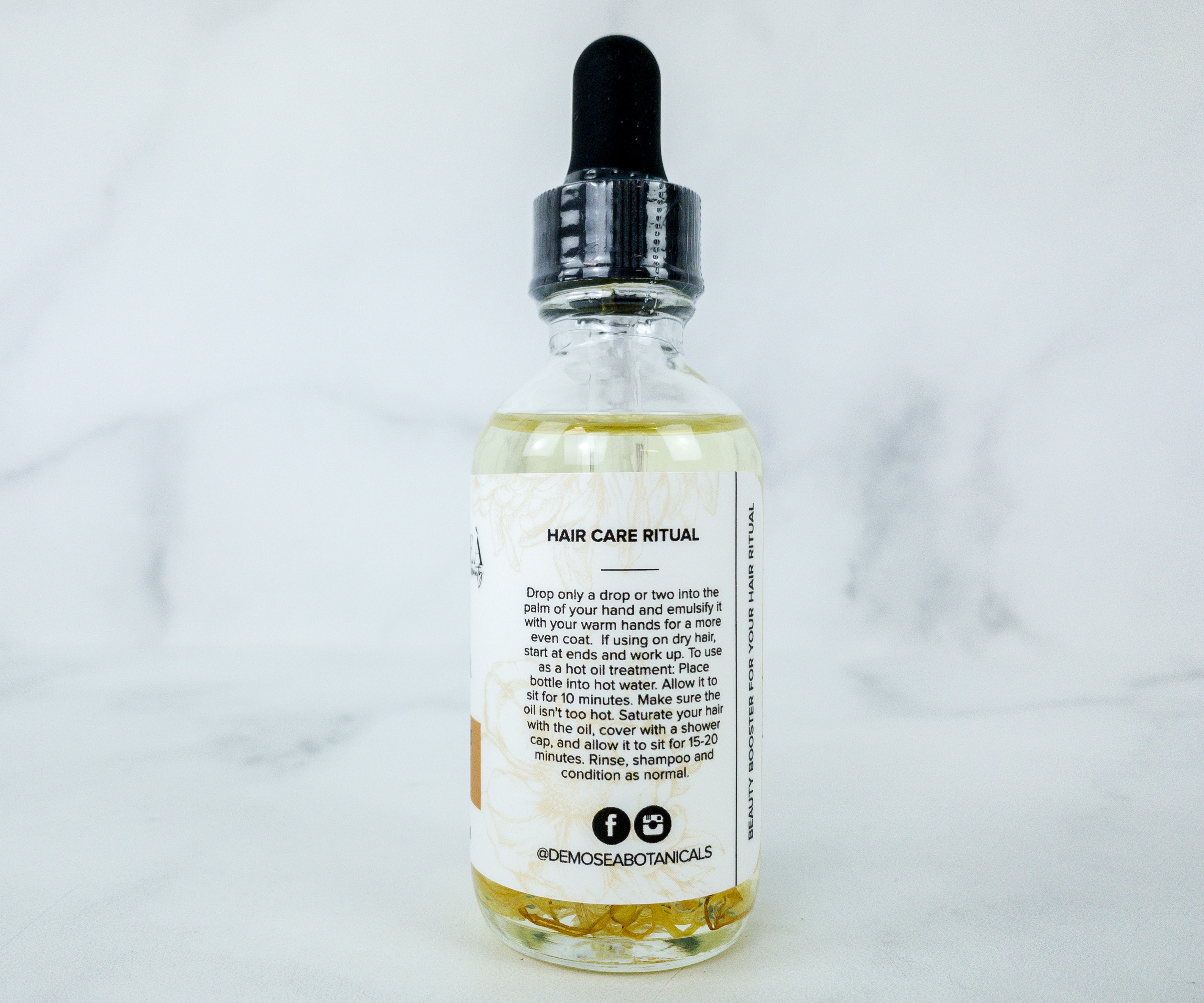 The hair oil is packaged in a bottle with a dropper, so you can use it without causing a mess. It can be added to other hair care products or used alone for hot oil or leave-in treatment.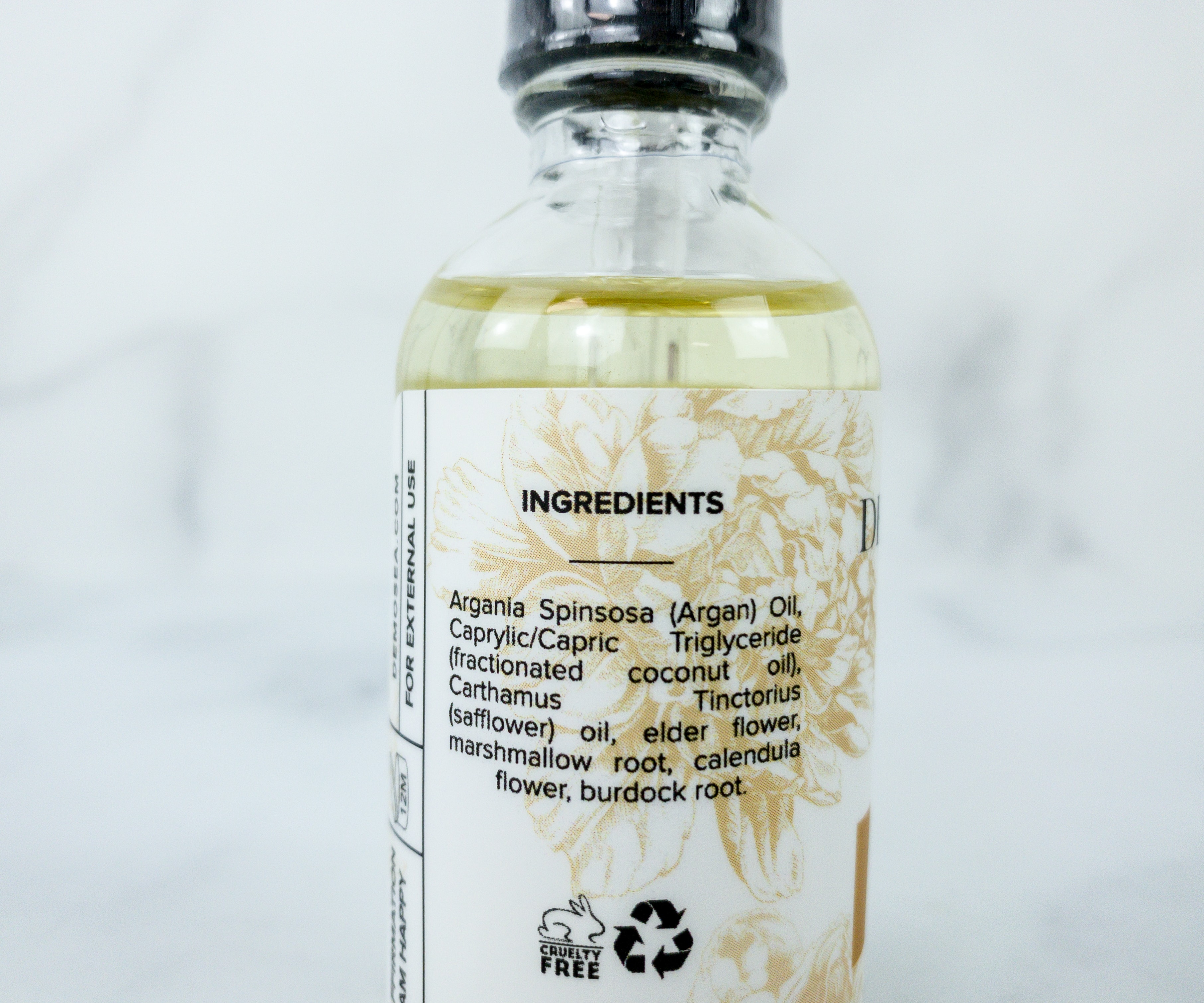 The label also lists the ingredients used in this hair oil. It includes antioxidant-rich argan oil, hair-strengthening safflower oil, and hair growth-enhancing elderflower.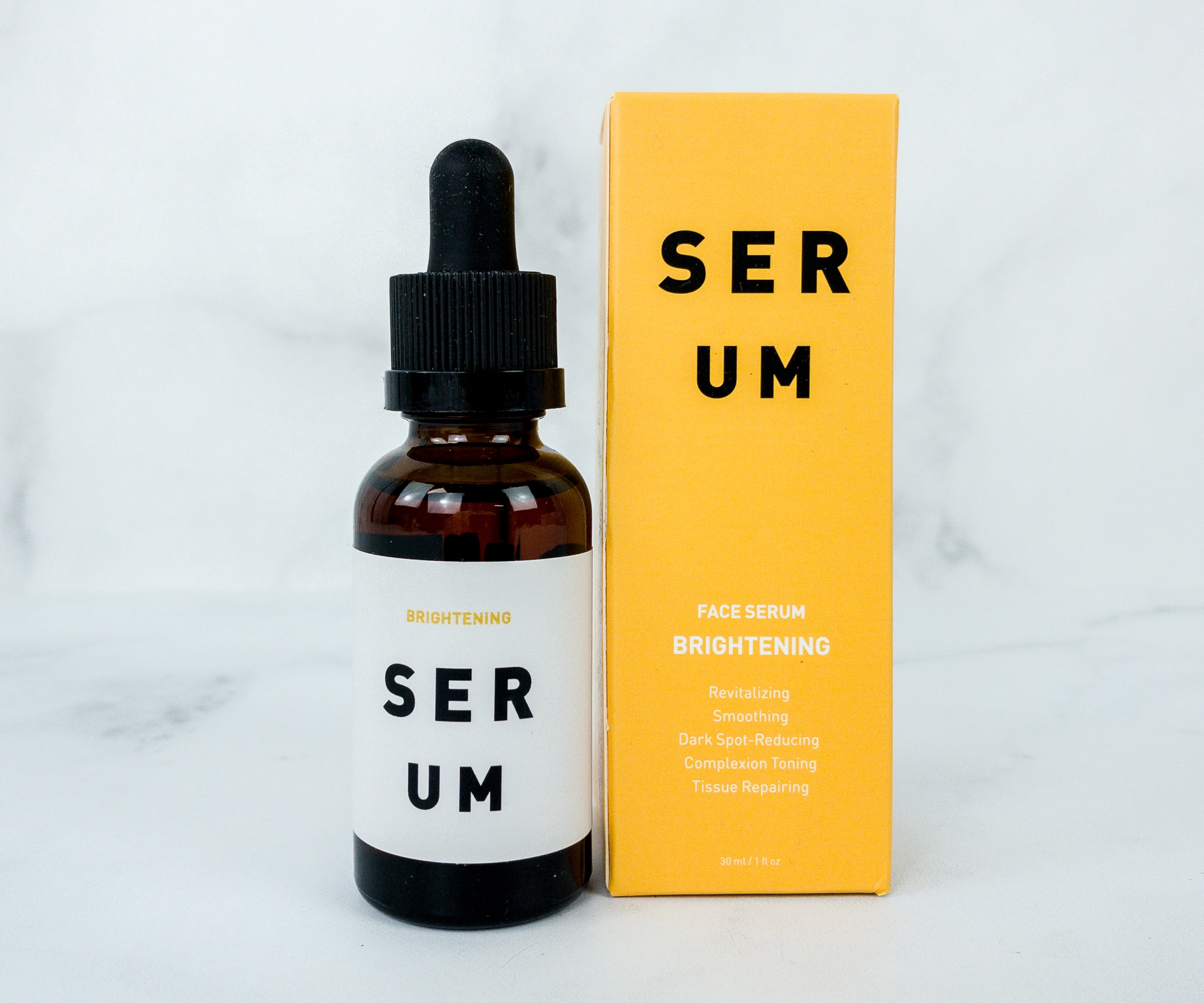 Way Of Will Brightening Face Serum ($37.50) This serum harnesses the moisturizing and toning properties of vitamins A and C to help brighten your skin and keep it glowing. The formula is not just vitamin-rich, it's also weightless so it gets easily absorbed by the skin. It penetrates deeply and even deals with reducing dark spots and repairing damaged skin.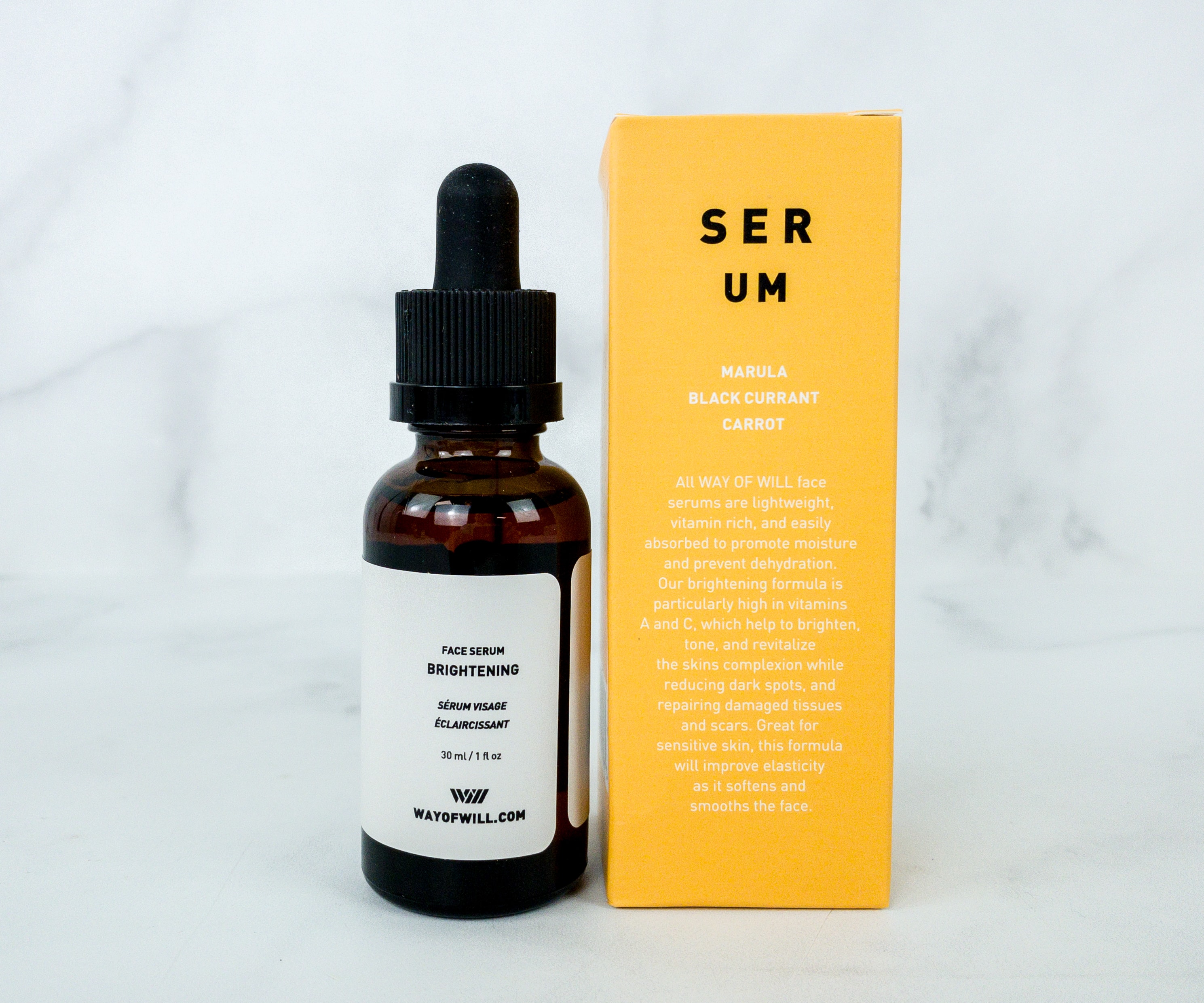 The serum comes in a bottle with a dropper for easier handling. To use, just put 2-4 drops on your palms, rub them together, and then pat on your face. It's soothing and it's gentle enough even for those who have sensitive skin!
Kinx Active Beauty  September Morn Peel-Off Nail Polish ($12) Here's a new nail polish perfect for fall! The shade name is September Morn, which is a dust pink. It has a nice color coverage, just a few swipes and you're good to go. Since it's a peel-off nail polish, it's way easier to remove than ordinary ones. You don't even need a nail polish remover, just peel starting from the edge and pull it gently.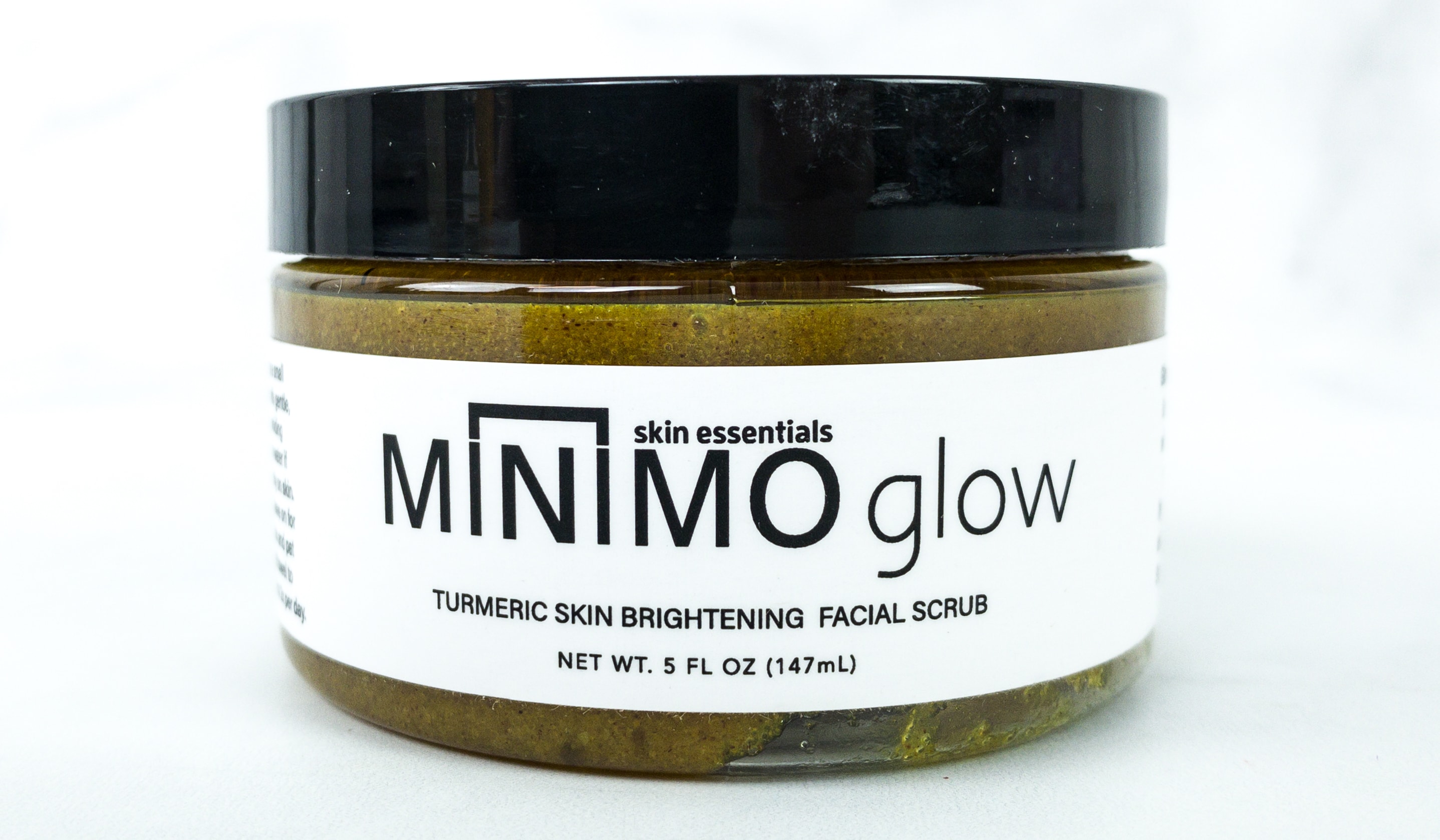 Minimo Skin Essentials Glow Skin Brightening Turmeric Facial Scrub ($16.95) Here's another skincare product formulated to reveal better and brighter skin! It's a facial scrub made with turmeric, which is known for its anti-inflammatory properties and cinnamon which fights acne-causing bacteria. Other key ingredients are manuka honey, chamomile extract, and lemon extract.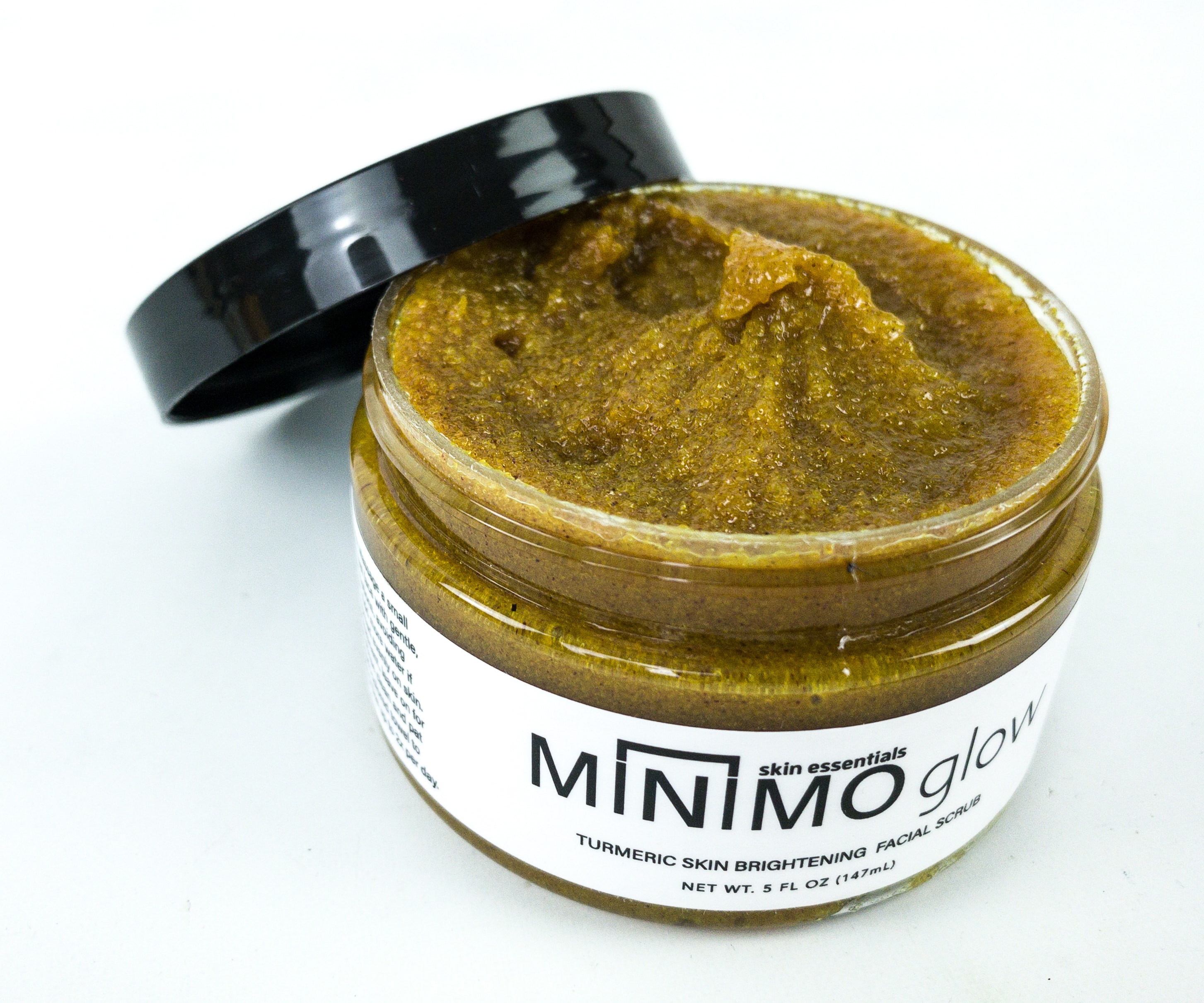 It exfoliates the skin without drying it up and it also reduces the appearance of dark spots caused by hyperpigmentation. A dime-sized amount is enough for each use. The scrub is gentle and it felt soothing too!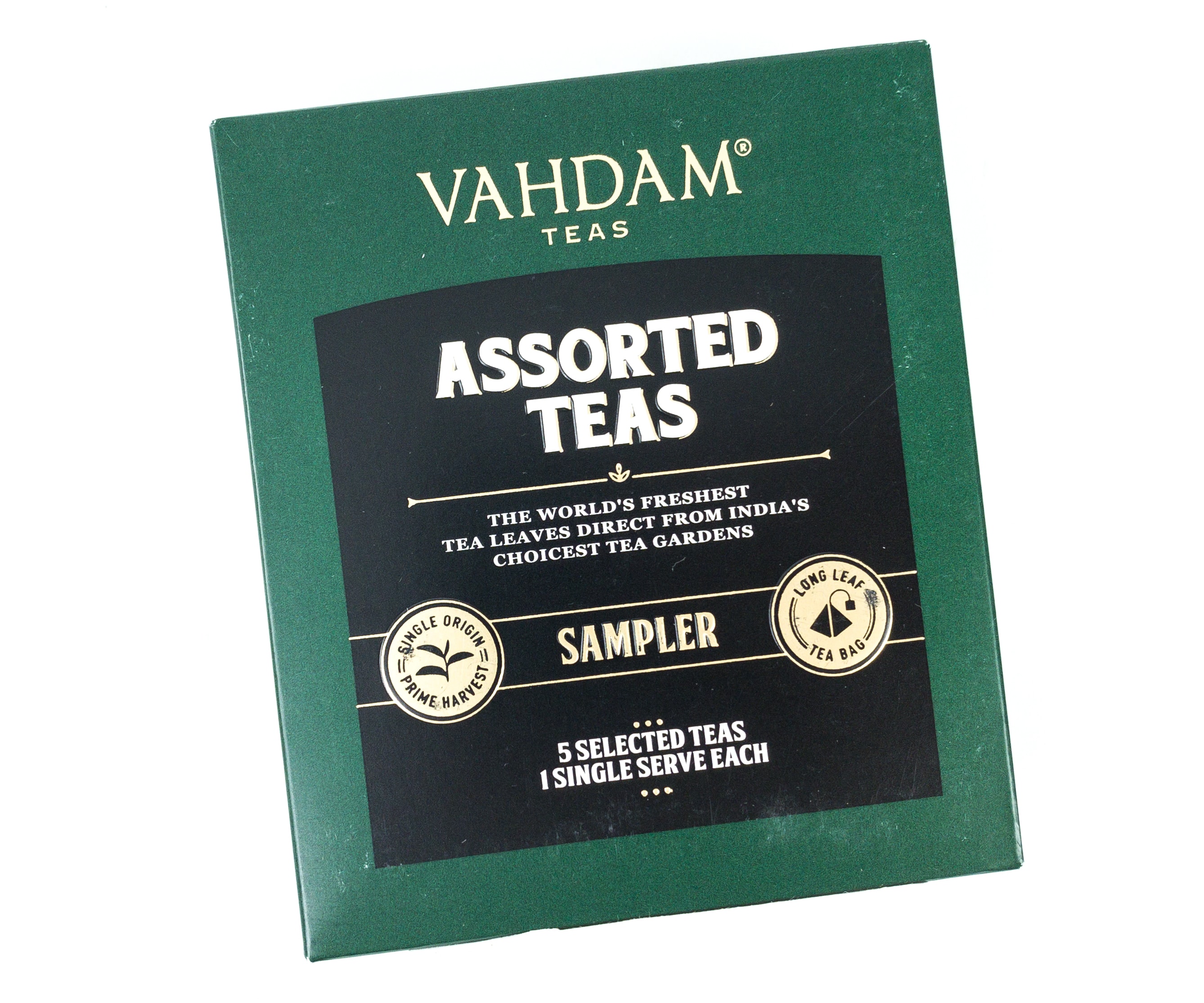 Vahdam Teas Assorted Teas Sampler ($4.99) This tea sampler box contains 5 single-serve teas from India. It's a great way to have a taste of everything, especially when you're still looking for your favorite tea.
It includes Turmeric Spiced Herbal, Chamomile Mint Citrus Green, India's Original Chai, Organic Himalayan Green, and Darjeeling Summer Black.
Each pack contains a longleaf tea bag.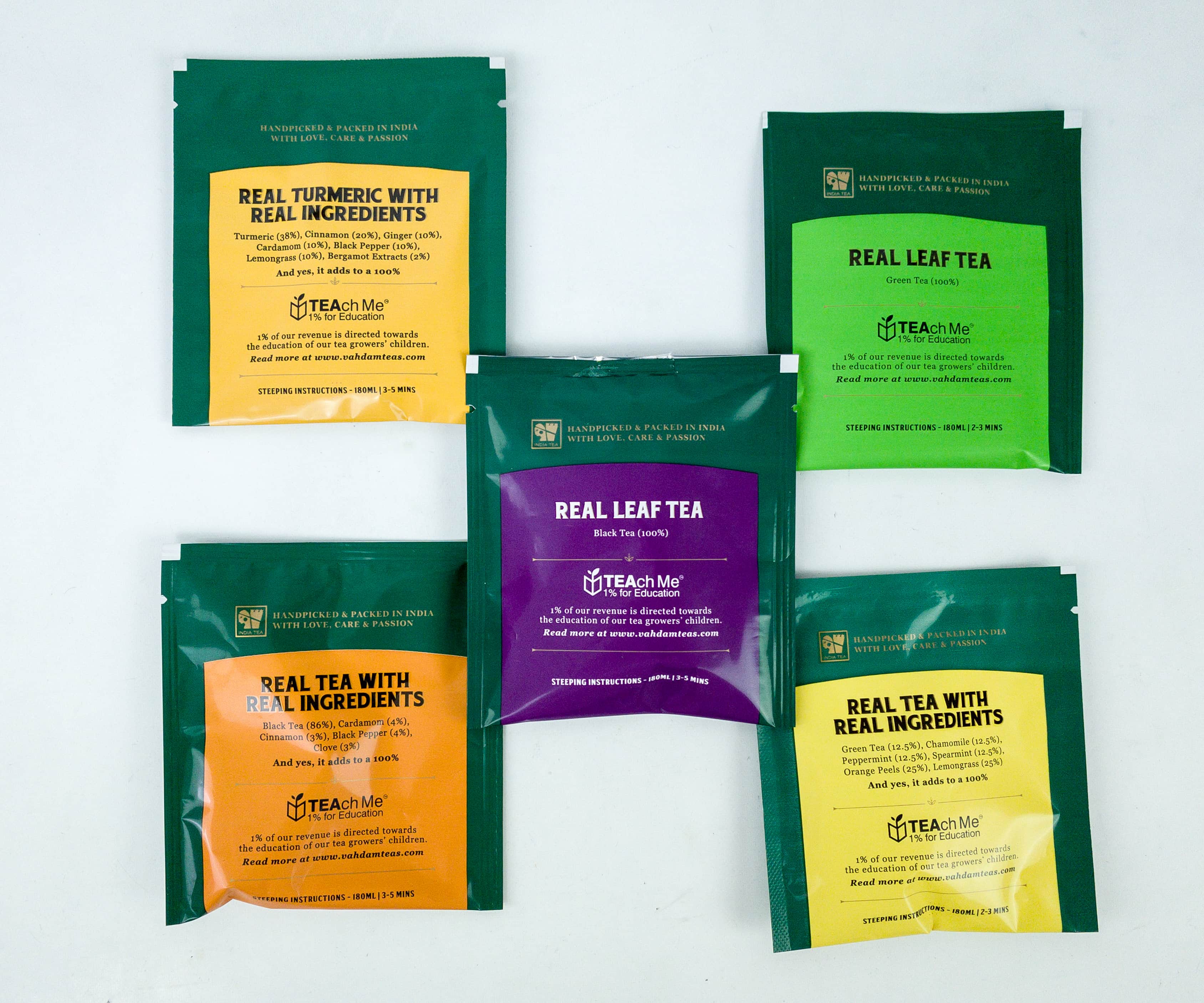 All of them are made with real tea ingredients. Also, as indicated on the back of each pack, 1% of their revenue is donated to the tea growers' children for their education.
As always, TheraBox contains goodies that remind us to relax and take a break from the daily grind. This month, there's a nice assortment of skin-loving products, as well as a hair care item and a couple of items for my nails. For the tea lovers, there's a tea sampler that you can use if you want to wind down, no matter what time of the day. I also love the liquid lipstick that they included because of the fierce color that fits fall and even winter. If you want a nice treat for yourself monthly, this subscription box makes a great way to do so!
What do you think of this month's box?