Skylar Scent Club sends an exclusive scent-of-the-month rollerball! They send only naturally scented perfumes that are paraben-free, hypoallergenic, and cruelty-free. This subscription is $20 per month ($29 value) and comes with free shipping to the US ($9.99 international) + member-exclusive deals.
Going clean doesn't have to mean limiting your options. Get a new scent each month and mix up your scent style with members-only perfumes perfect for your vibe of the month.

At Skylar, we are focused on your Body Beauty™. In our 6-Free Scents™, we use real flowers, fruits, and botanicals so they smell smooth, natural, and refined. Even better, they don't contain harmful chemicals so you can use them with 100% peace of mind.
DEAL: Get 50% off your first box with coupon code MY50
Look at how cute the shipping box is on the inside!
Everything in the box!
Skylar Fall Cashmere Eau De Toilette I am having a hard time picking a favorite scent from this subscription but I think this may be The One! According to the box this scent is *spiced*creamy*luscious* and I have to agree.
Inspired by spiced chai on a cozy day, Fall Cashmere envelopes you in warmth and comfort. This scent will have you settling into your favorite chair and enjoying the vibrant colors and crisp air of the season.
Each scent comes in a "book" box and you let the story unfold as you wear the fragrance. There are pairings suggested on the inside cover and even a haiku about the scent of the month.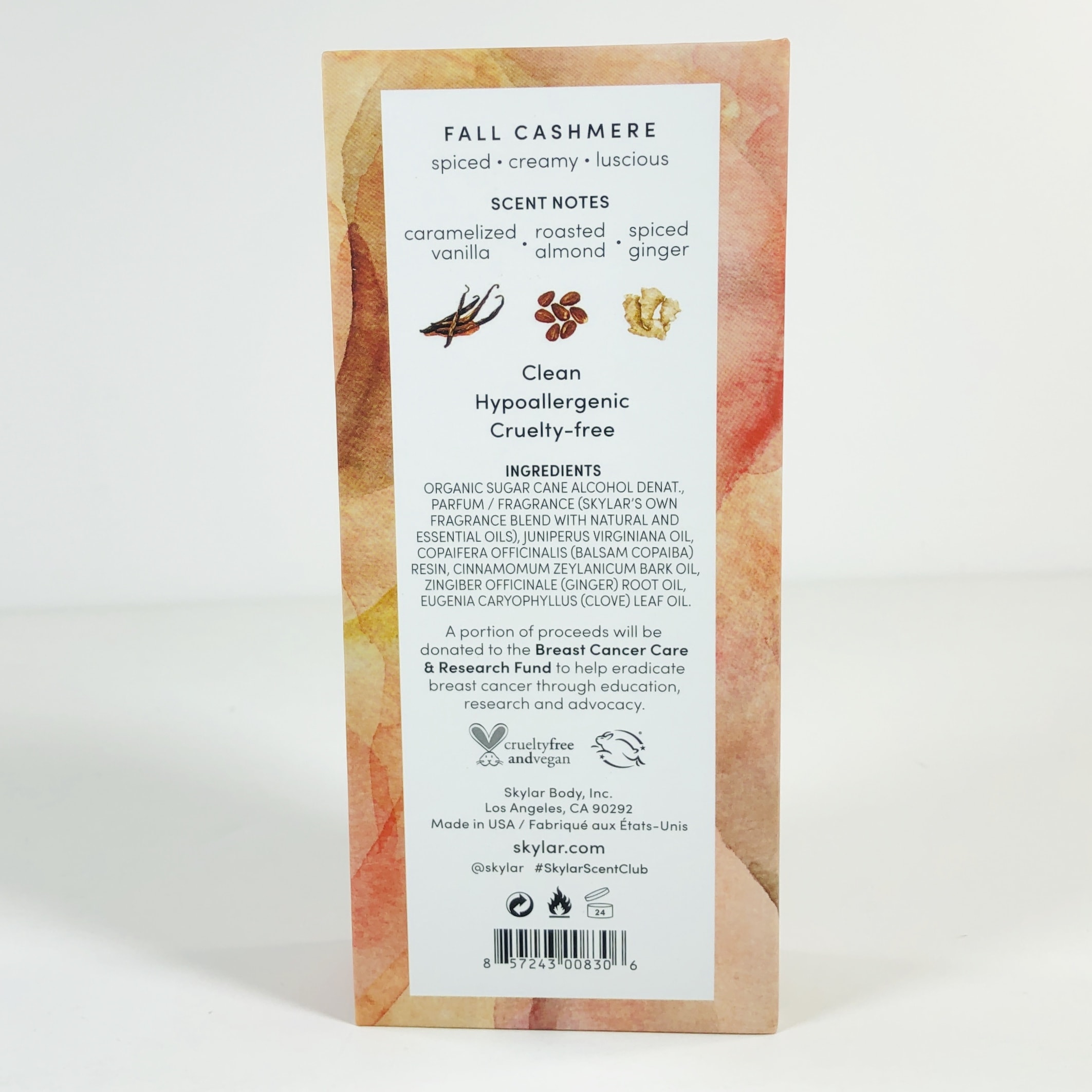 Scent notes include caramelized vanilla, roasted almond, and spiced ginger. The ingredients are listed on the box and include essential oils like copaiba and ginger. Skylar donates proceeds to a charity and for October that charity is the Breast Cancer Care & Research Fund.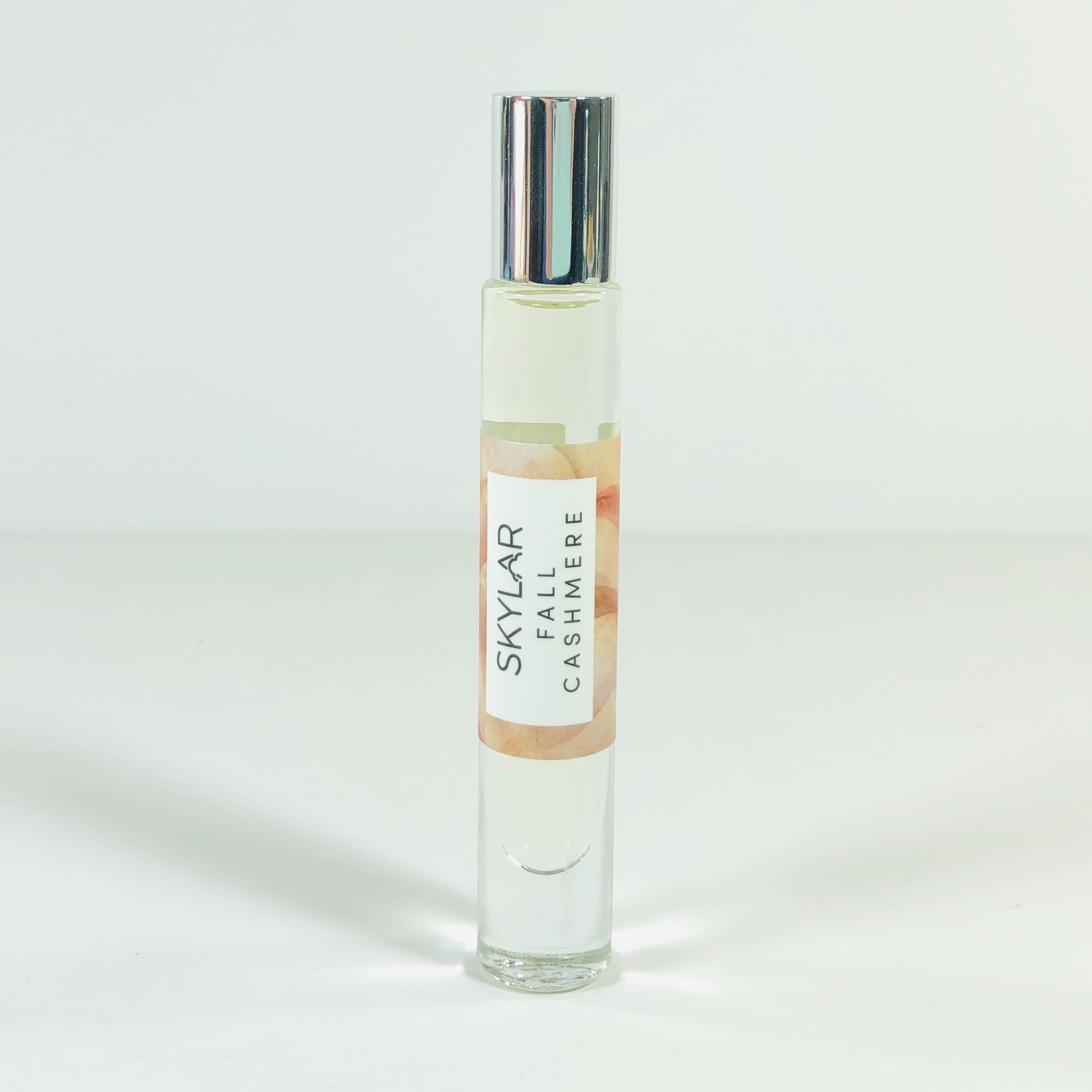 The magical potion is contained in a rollerball that holds 10ml, or .33 ounces. It is vegan, it is cruelty-free, and it is clean, with no parabens or toxic chemicals.
Just roll it on and take a deep breath, this is one amazing scent!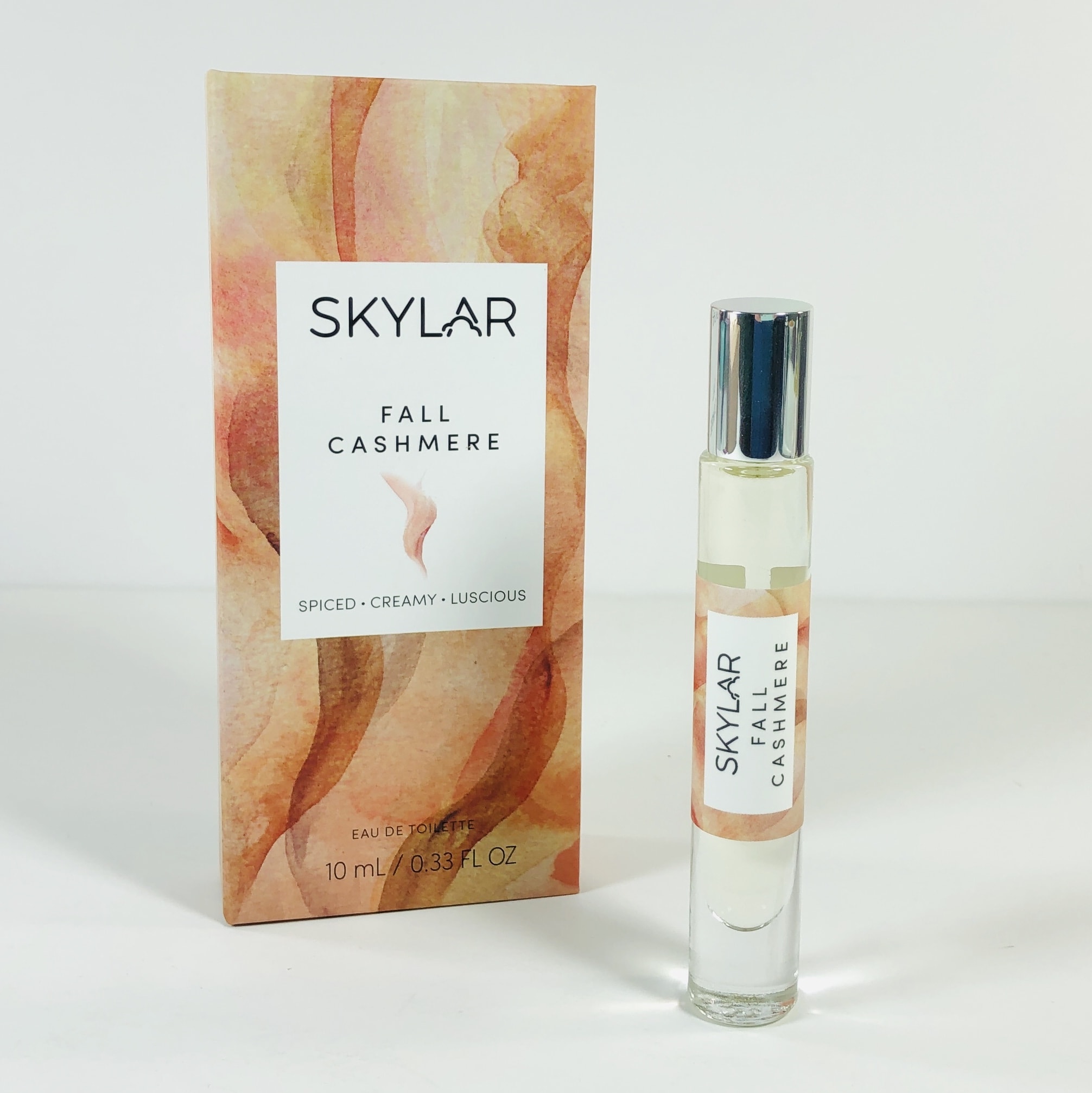 I am in love with my October Skylar Scent Club fragrance! I adore fall scents and this one was delicious, a warm and cozy gourmand that has me dreaming of breezy walks outside during the day and cuddling up on the couch at night. It is also the scent that has lasted longest on my body after applying and I can pick out a few of the spice notes every once in a while. It isn't overwhelming and can be worn any time of day. This will get a lot of use this month and I absolutely adore this scent!
Any thoughts about this month's Skylar Scent Club box?