Photo Joy Box is a monthly subscription box that helps you decorate your office (or bedroom, or wherever!) by delivering artistic, ready-to-frame, high-quality photography prints every month. You will also receive coordinating cards, postcards, stickers, magnets, and other items to match! The main product will be a matted photography print (either 5×7 matted to 8×10, or 8×10 matted to 11×14, depending on the level you choose) and shipping is free to the US. Subscriptions are $29.95 (for 5×7) or $39.95 (for 8×10). Prices drop for longer subscriptions!
CAN YOU IMAGINE…

… walking into a fresh, inspiring workspace each day, where updated colorful art boosts your mood, productivity and happiness? ………….. WE CAN MAKE THAT HAPPEN.
DEALS:
Get 20% off your first box! Use coupon code FIRSTMONTH20.
Get $5 off your subscription! Use coupon code PHOTOJOY5.
I found a card on the inside of my box. Make sure to remove it – there's more info on the back! My items were tucked into tissue paper and shredded paper squiggles. Some of the items were wrapped in plastic to keep them from getting marred during shipping.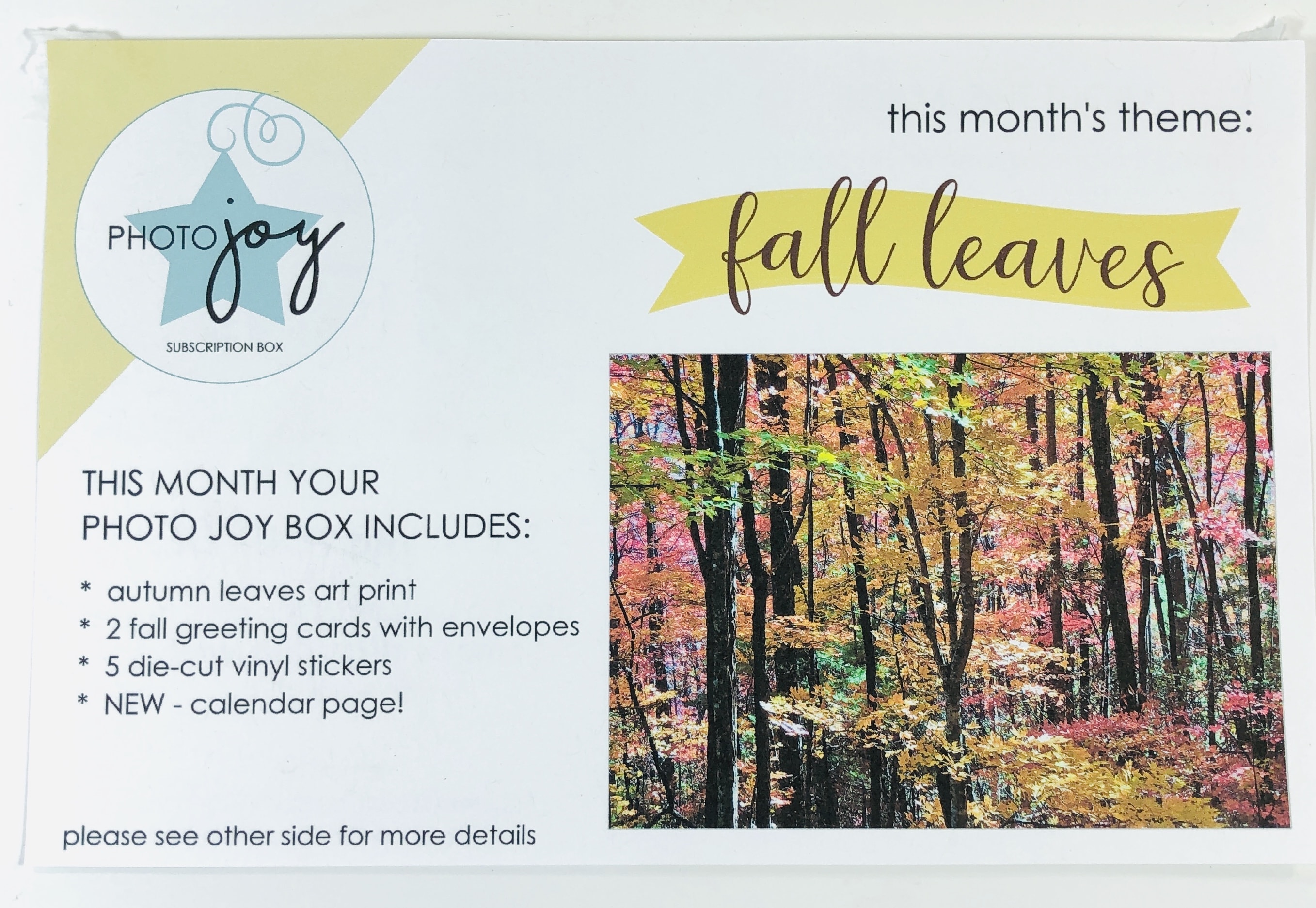 The card had info on the items in my box. The theme for October is Fall Leaves!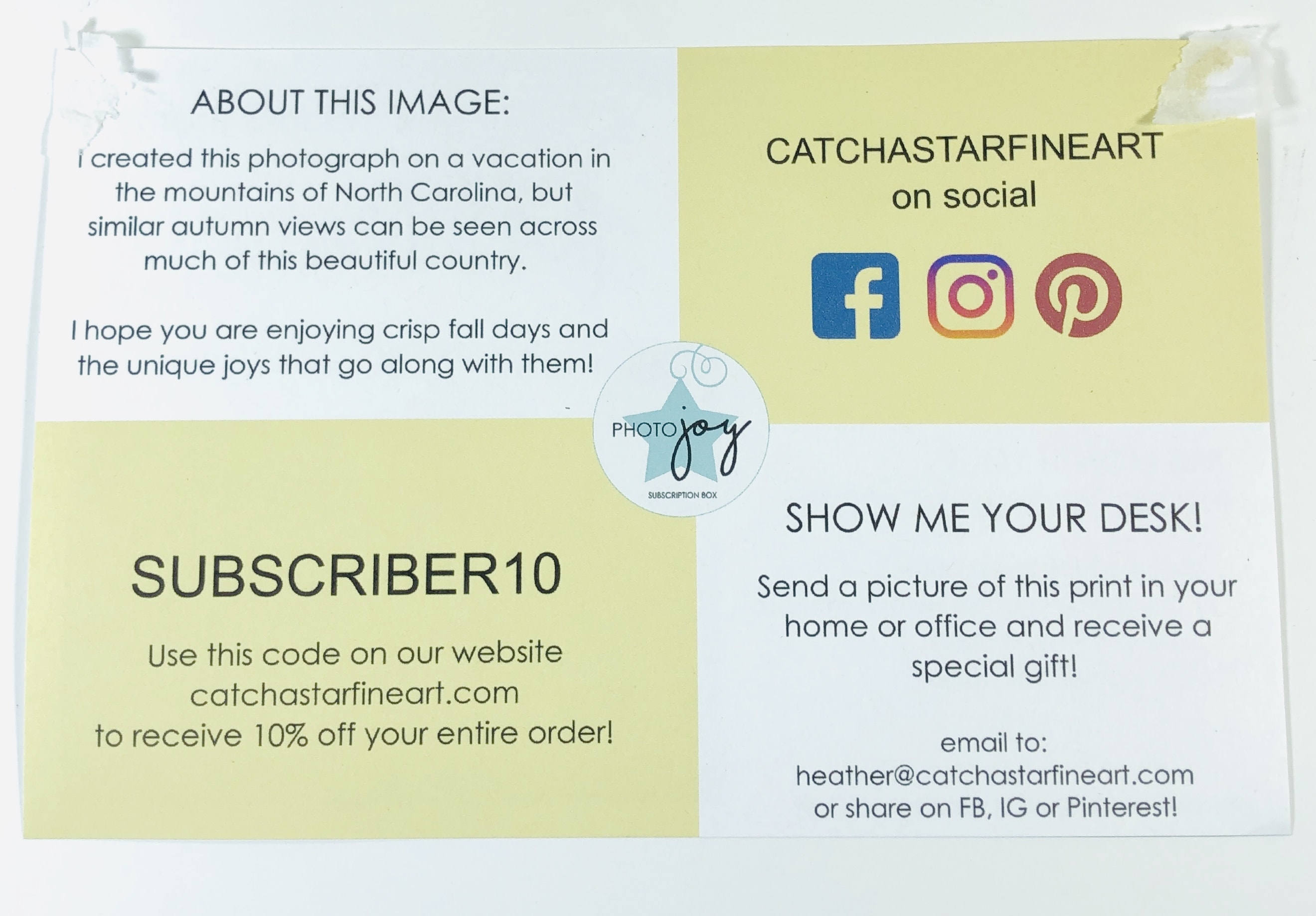 The back of the card had info on the included print. The owner is also the photographer!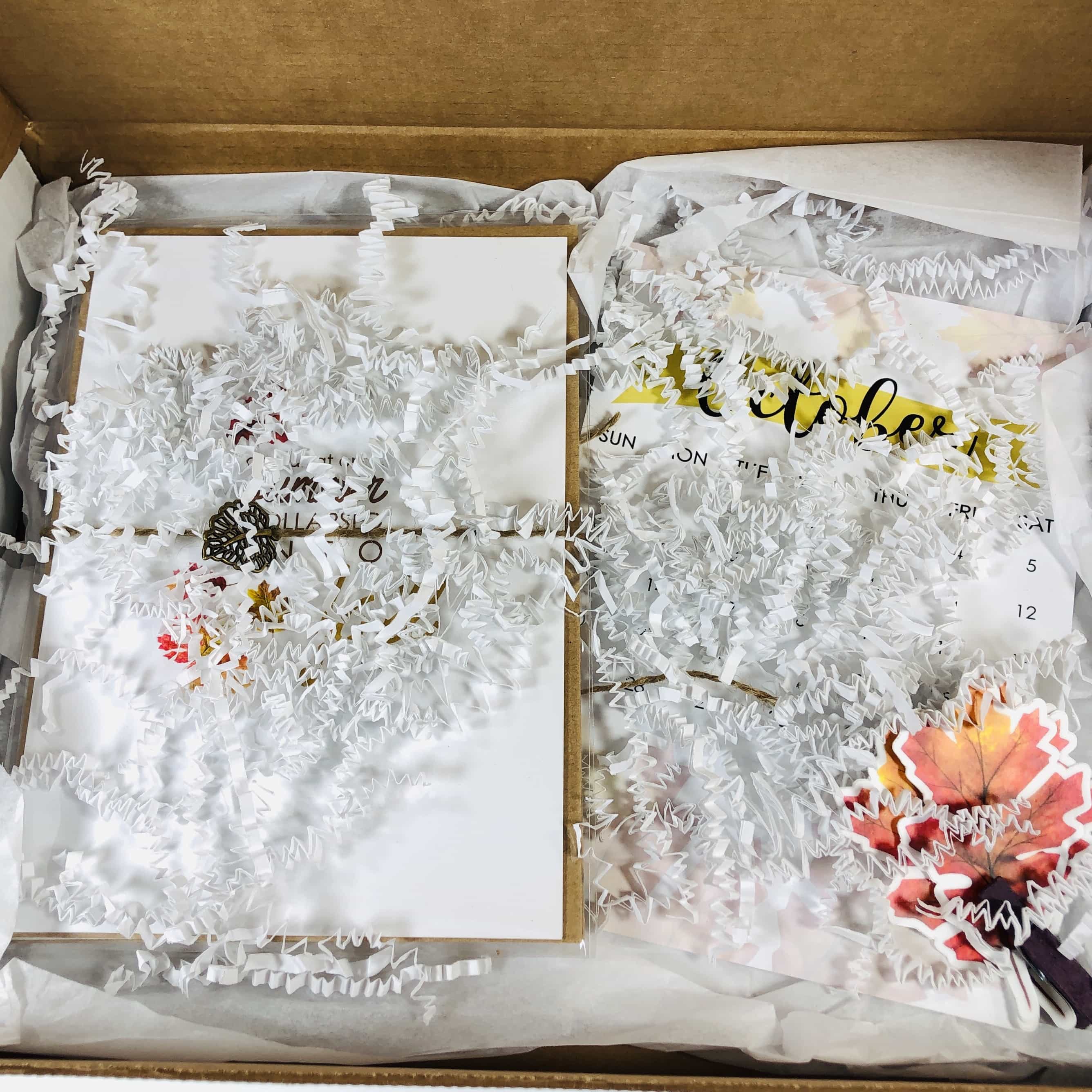 I love the pop of color I see here!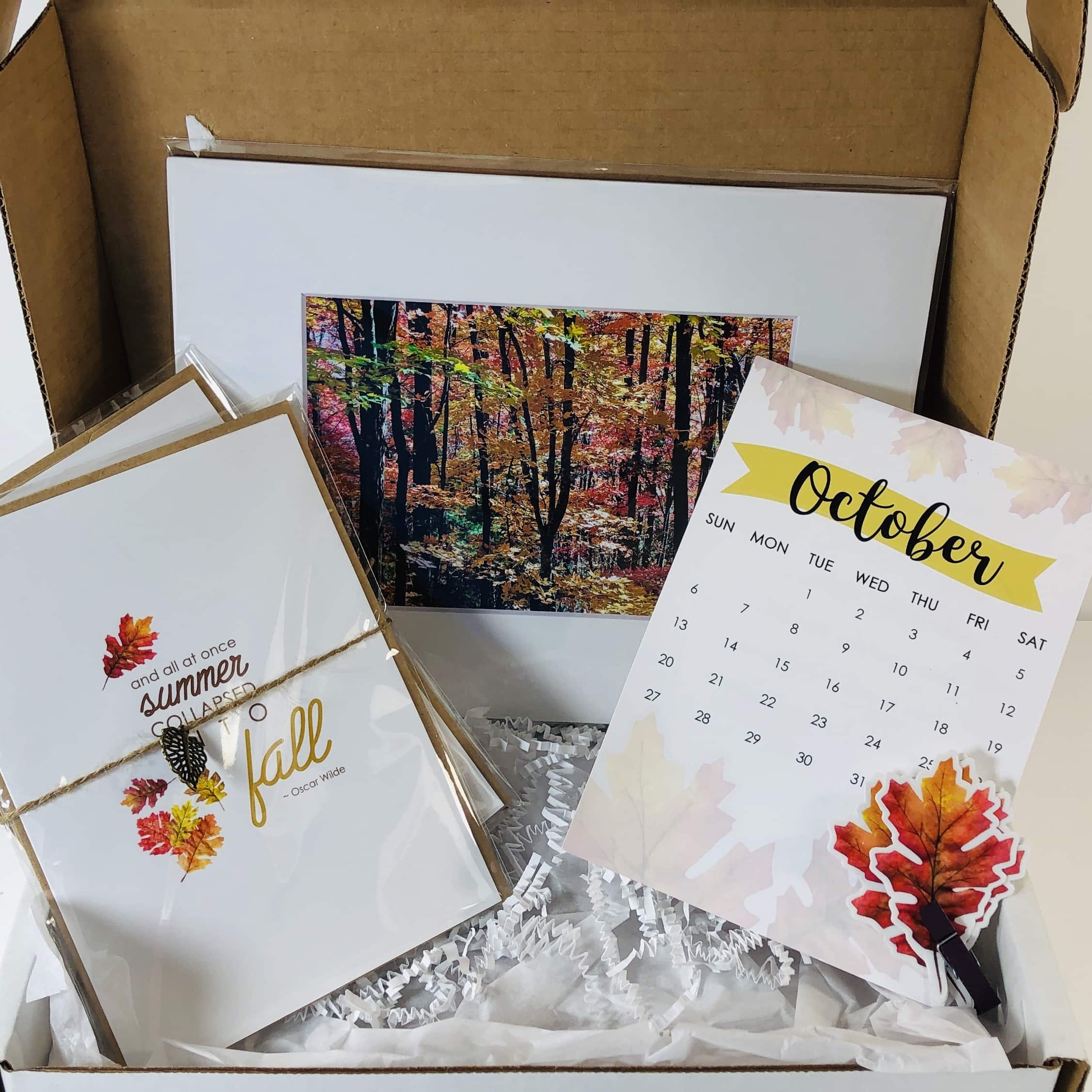 Looking good so far.
Everything in my box!
Autumn Leaves Art Print ($24 value) You can purchase prints in various sizes on the Catch A Star website, so I gave this exclusive item a value based on similar products.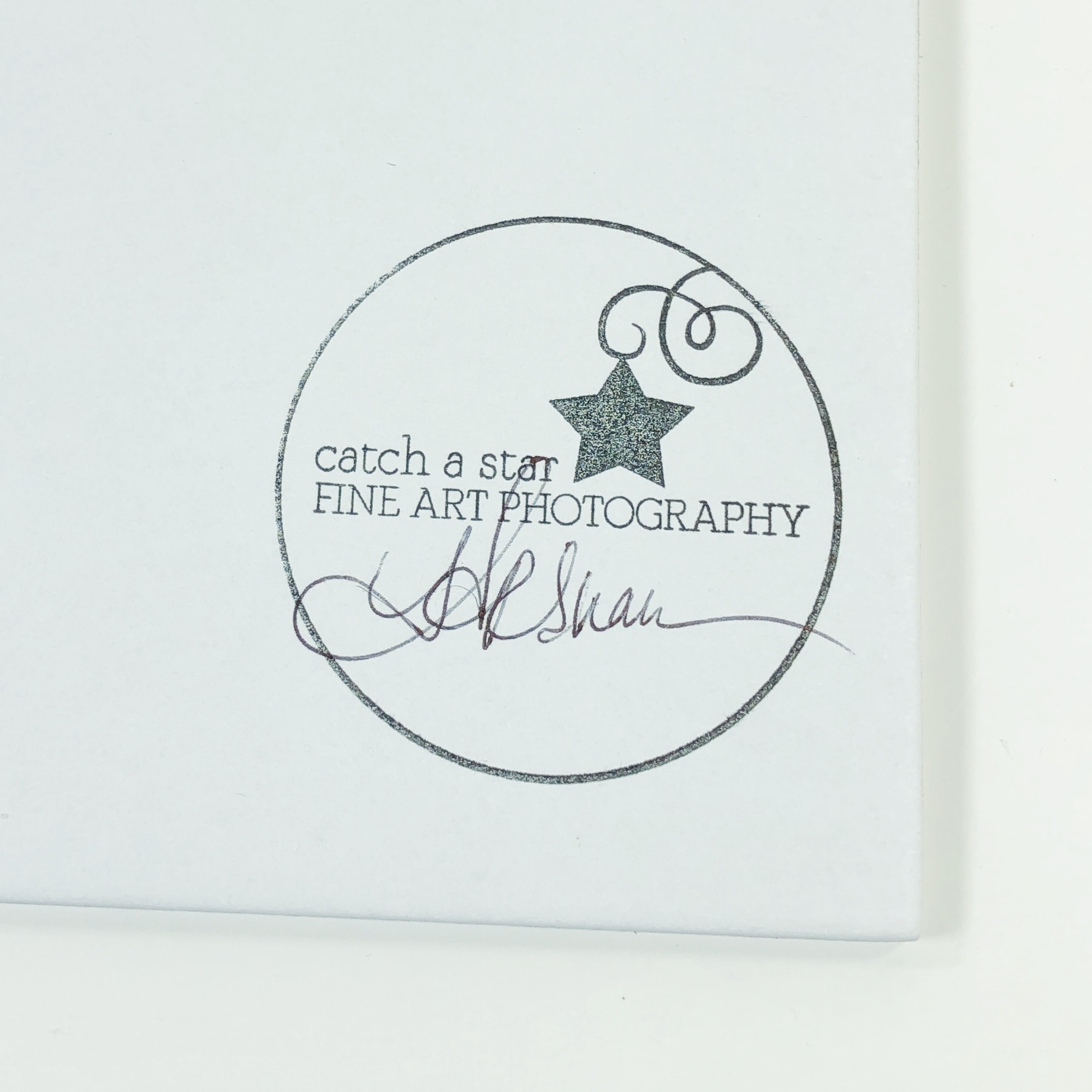 The back is even signed by the artist!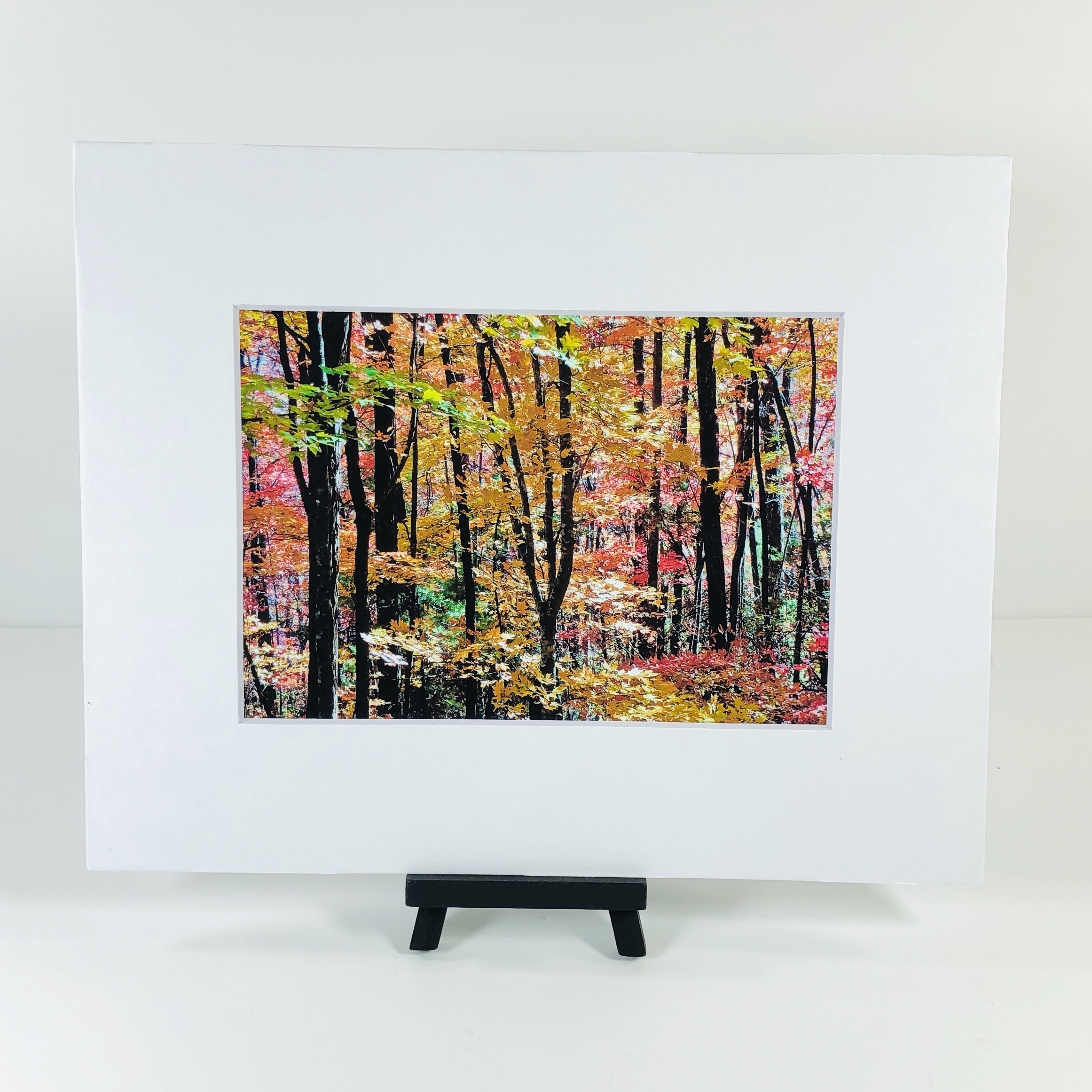 My print is 5 x 7 matted to 8 x 10 and is ready to frame or to prop up on a bookcase or mantle. My first box came with a mini easel so I just change out the print every month to keep my work space seasonal and vibrant. I can imagine strolling through the woods and discovering those lovely fall colors.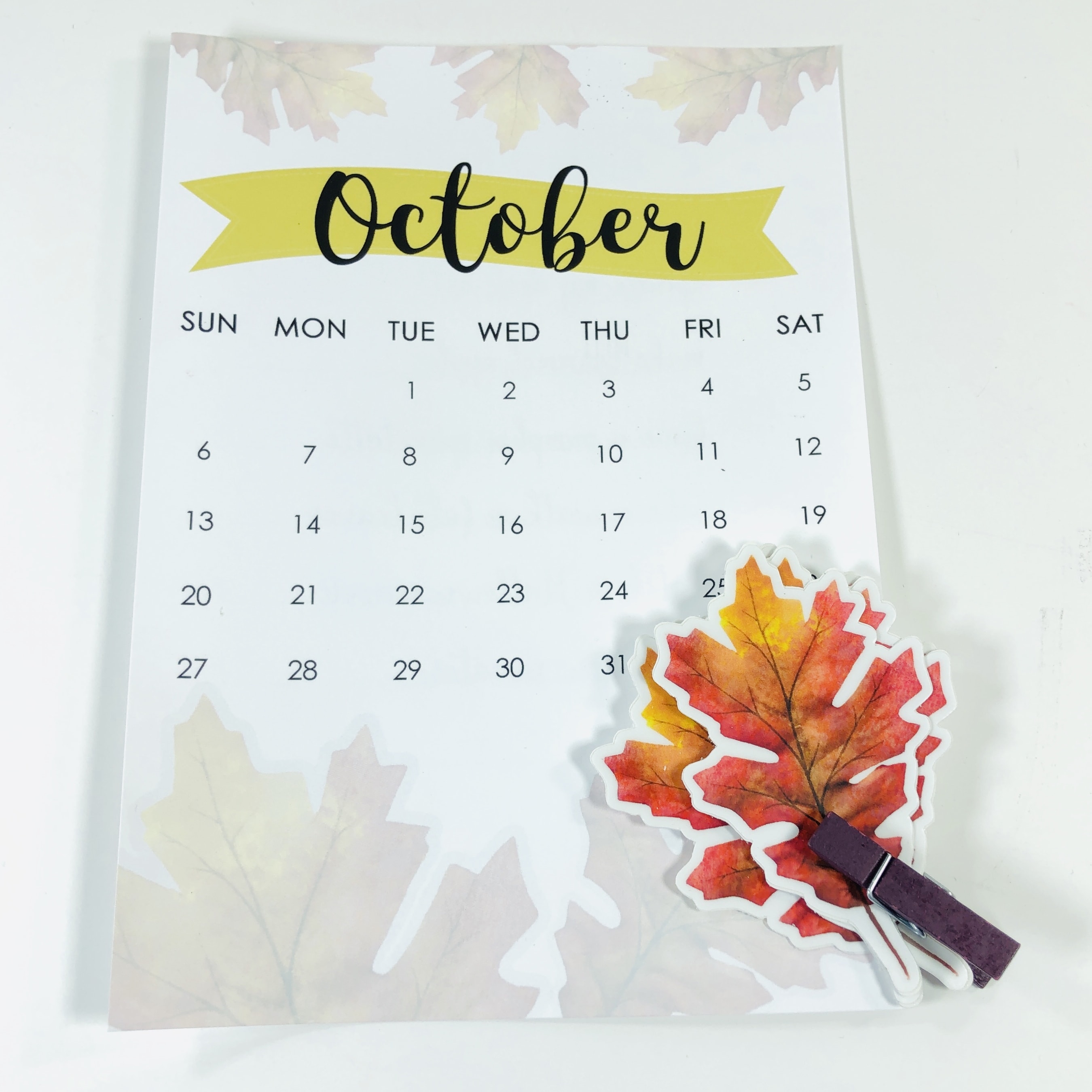 Calendar Page New this month was a calendar page and it had some extras clipped to the side.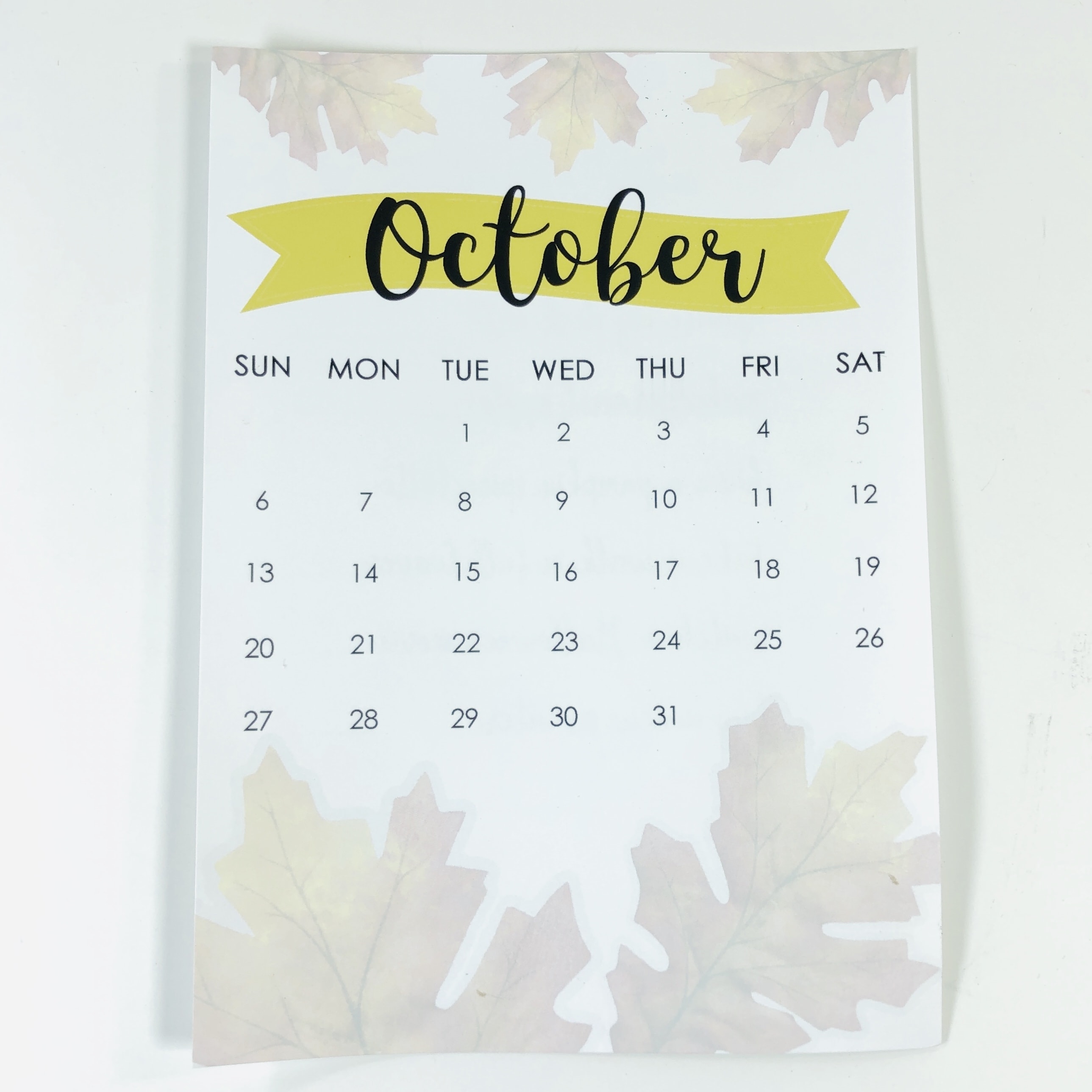 The calendar page can be propped up or kept nearby so I can take a quick glance at the days. Ah-ha, my birthday falls on a Monday this year!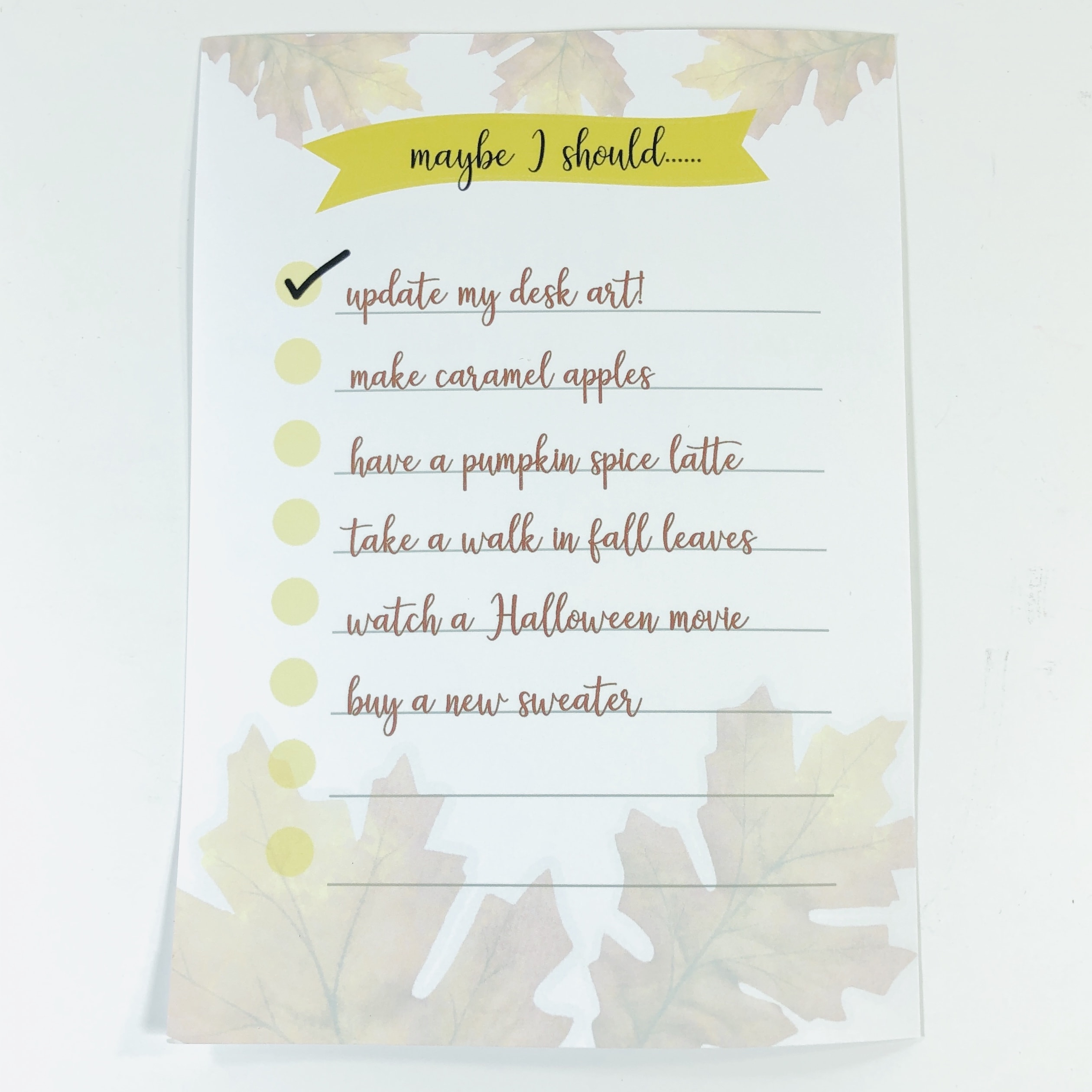 The back of the calendar listed some ideas for enjoying the cooler weather and had room to fill in a couple other activities.
Die-Cut Vinyl Stickers I also found a set of 5 die-cut vinyl stickers. The stickers are about 3″ long and can be placed in a planner or on a water bottle, or wherever you usually place stickers.
Greeting Cards Our final items are two greeting cards that came wrapped with a leaf charm.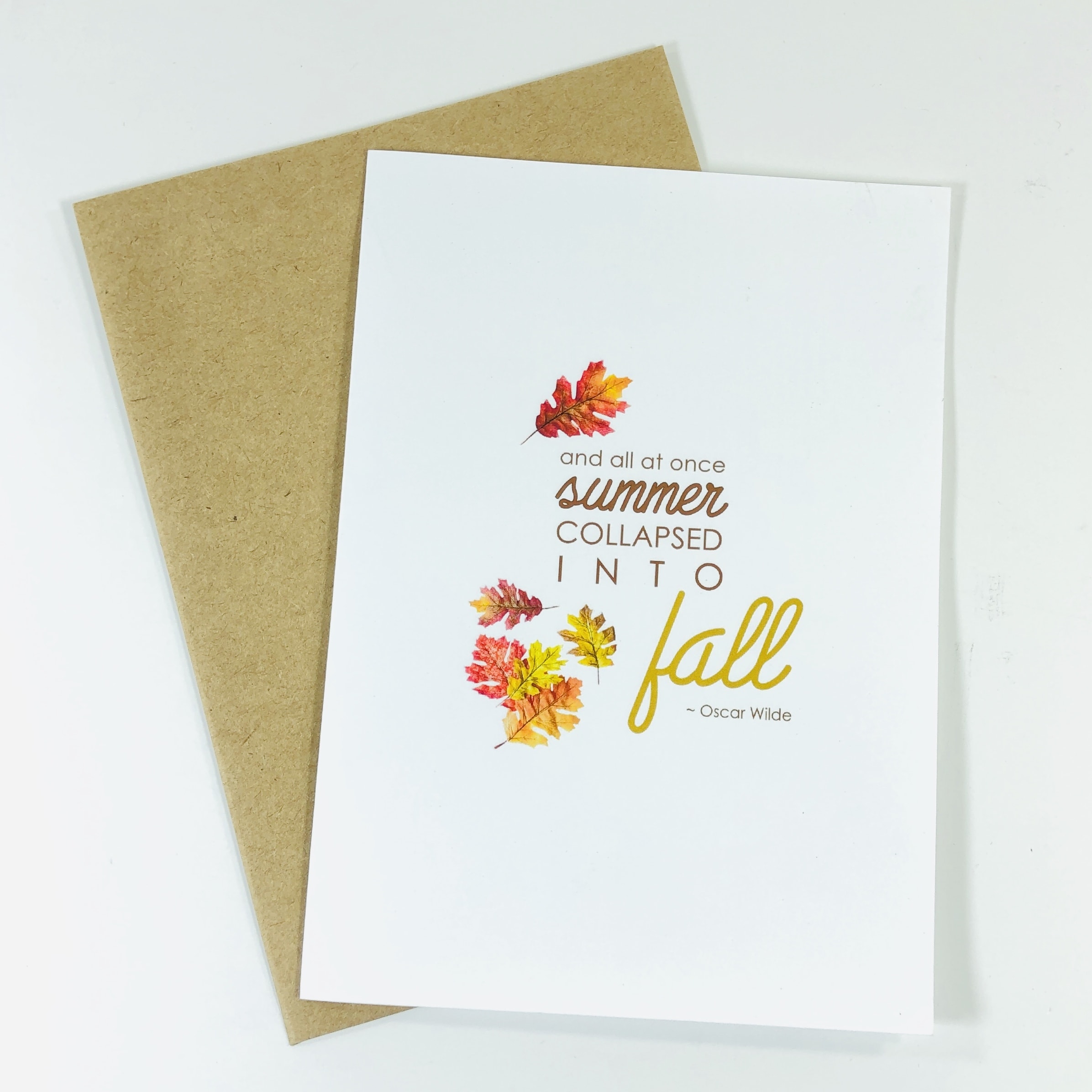 Fall Card #1 ($4.50) features a quote from Oscar Wilde and it happened quite literally in my area – 97 degrees one day, 50 the next. The card is 5 x 7 and printed on high quality paper and comes with a kraft paper envelope. Blank inside.
Fall Card #2 ($4.50) welcomes my favorite season with brightly colored leaves. It is also 5 x 7, blank inside, and with a kraft paper envelope. Both cards can also be placed on a mini easel like miniature art pieces to bring fall vibes to your desk.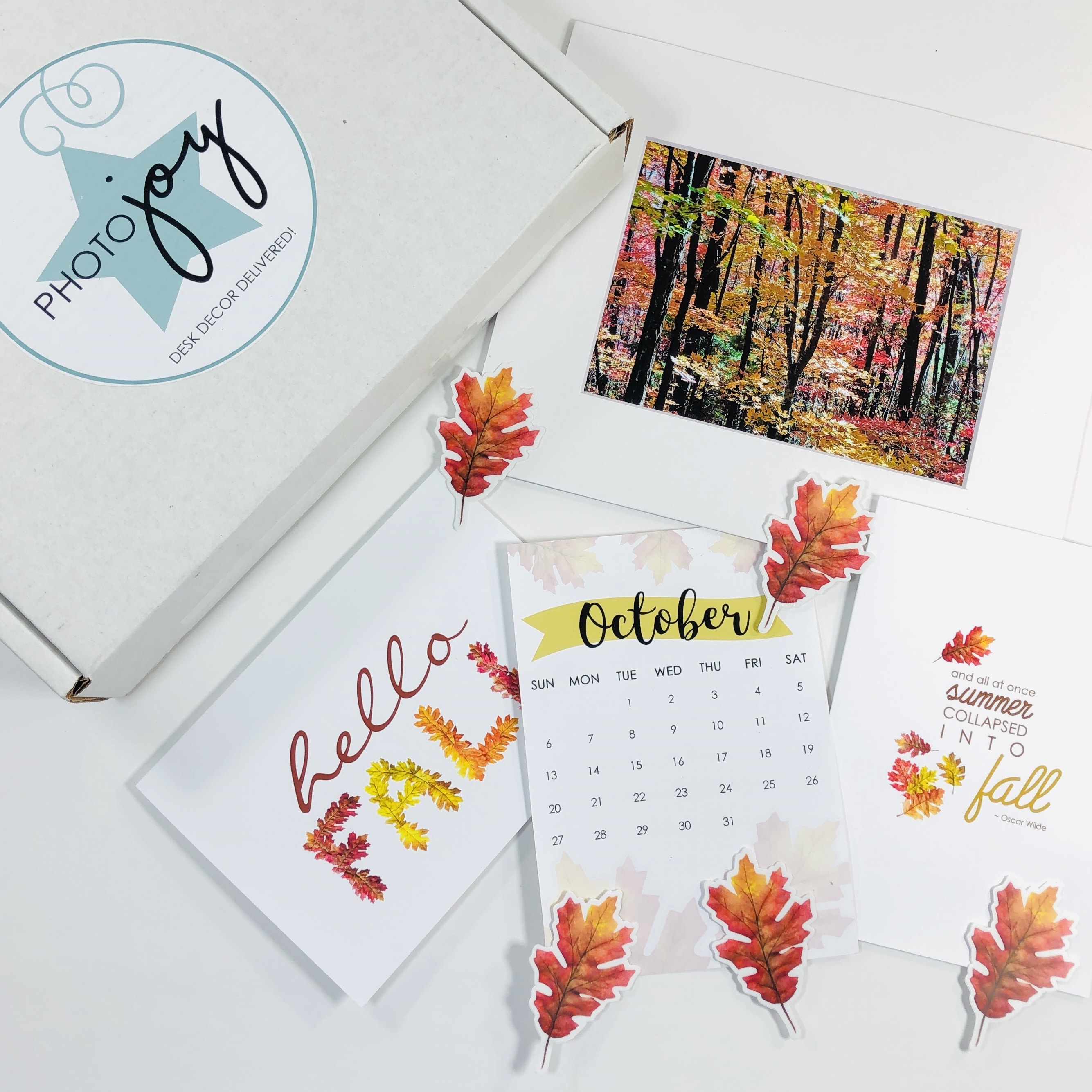 Photo Joy Box sends such lovely, high quality items and I look forward to seeing what is in the box every month! I think the owner does a great job at sending items that are perfect for the season. I have the prints propped all over my bookcase and the cards are just what I need to send autumnal greetings to a friend. Stickers are always popular at my house and these are some of the best!
What do you think of the Photo Joy Box?