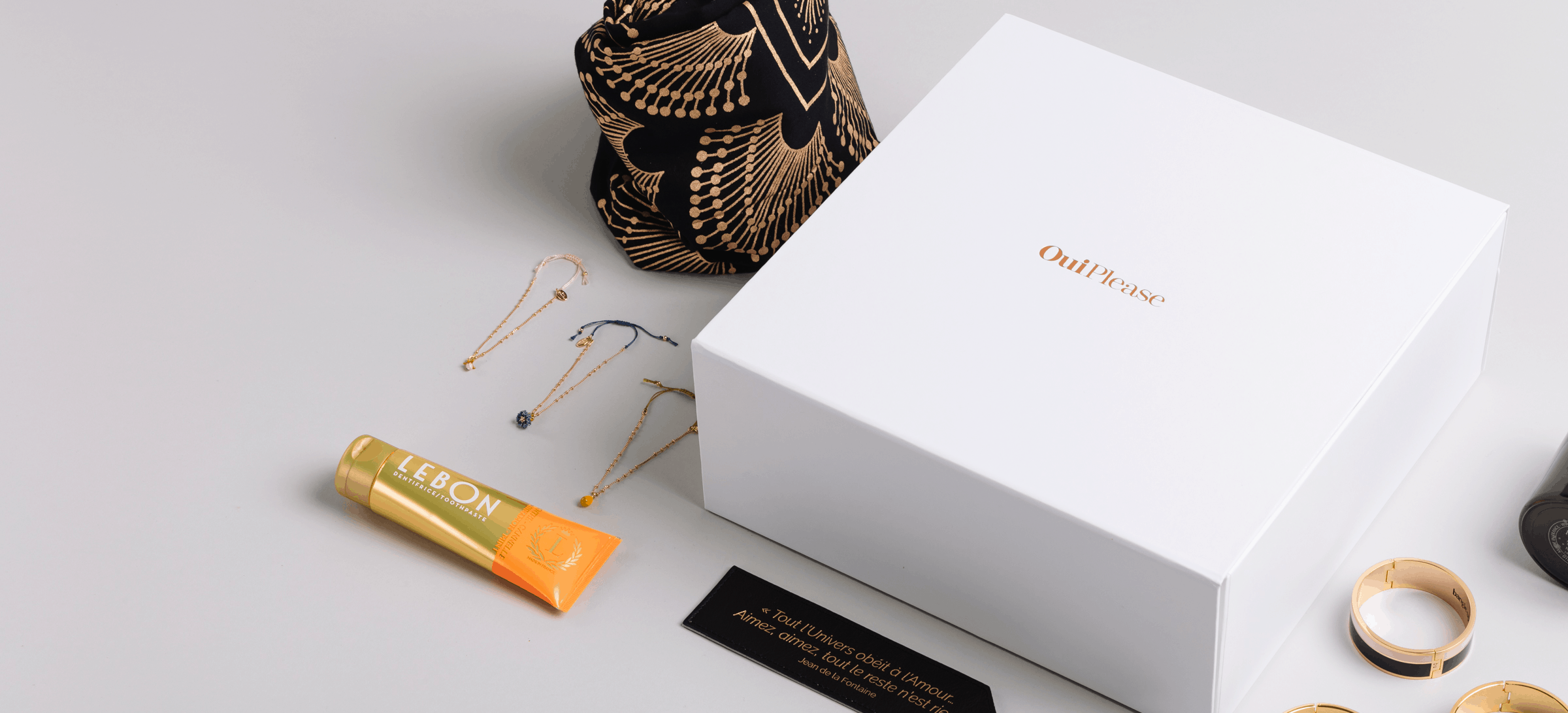 We have the fifth spoilers for the December 2019 Volume 4.6 Oui Please box!
DEAL: Get 20% off your first box with coupon code AUTUMN20.
Each box includes:
This Winter, indulge in a signature French treat! Crème de marrons is a sweet spread made from chestnuts, sugar, and a hint of vanilla. The French enjoy crème de marrons the same way you might use Nutella or peanut butter: spread onto pancakes or crêpes, stirred into yogurt and oatmeal, or dolloped on vanilla ice cream. Délicieux!

Maison Boissier's crème de marrons is a luxury version of the staple spread found in every French kitchen. The spread is made from only high quality ingredients with zero additives and poured into beautiful, high-end packaging. Maison Boissier will make you feel like you're dining in the finest French Château. Bon appétit!
Member favorite Les Néréides is back! These dainty bracelets are the perfect touch of femininity to any outfit! Choose from a variety of whimsical, nature-inspired charms, or go with one the beautiful La Diamantine bracelets for a more glam style.

Les Néréides is a beloved French brand known for its playful, feminine styles inspired by nature and fantasy. All the bracelets are finished in gold plated brass, and the charms are hand-enameled. Both styles are adjustable to accommodate different wrist sizes, and with eight customization options, you'll definitely find one that suits your style!

Retail Value: $60-$75
PLUS:
This Winter, treat yourself to delicious candies from Maison Boissier, one of France's most famous candy makers. These sweet treats were invented by Bélisaire Boissier over 150 years ago, and they've been enjoyed by Parisians, most famously Victor Hugo, ever since.

You will receive a tin of these sweet treats in Citrus, Floral, Fruit, or Strawberry flavor in your Winter box. Any of the delicious flavors are sure to delight your tastebuds, but they're almost too pretty to eat. The charming tins also make an adorable keepsake for tiny treasures once you've enjoyed your candies.
Here's a closer look:
This Winter, say Bonjour to French luxury brand, Fer à Cheval, from Marseille's oldest and largest soap factory. This Heritage brand has been making the Mediterranean city's iconic soaps since 1856: in giant cauldrons, using all-natural ingredients, overseen by a soap master with 30 years of experience.

These gentle, certified organic, hypoallergenic soaps are a lovely update to the classic, with the addition of enriching argan oil and nourishing shea butter for even the most sensitive skin. You'll find absolutely zero petrochemicals, parabens, colorants or animals fats in these soaps.
A Maradji Scarf!
Here are the colors to choose from: