Oceanista is a quarterly subscription box for all of the beach lovers out there, or even the landlocked who are all about that lifestyle. Oceanista sends 5-8 full-sized beach boutique products. Expect to receive jewelry, beauty, art, clothing, and more! Boxes start at $85 a season, with prices dropping for a prepaid annual subscription. Shipping is $4.95 to the US, $9.95 to Canada, and $16.95 international. You can also send this as a one-time or annual gift to the Oceanista of your choice.
A beach and boho lifestyle subscription box delivered seasonally to your door. If you love the beach, you'll love the Oceanista subscription box. Featuring skin-care, jewelry, home decor, beach apparel and accessories intricately curated for sophisticated beach lovers. Most items are made specifically for the Oceanista brand and won't be found in any other beach inspired subscription box. With a featured artisan each season, discover new brands and treasures from around the world. Unbox the beach experience.
DEAL: Get $10 off your first box or annual subscription! Use coupon code HELLO10.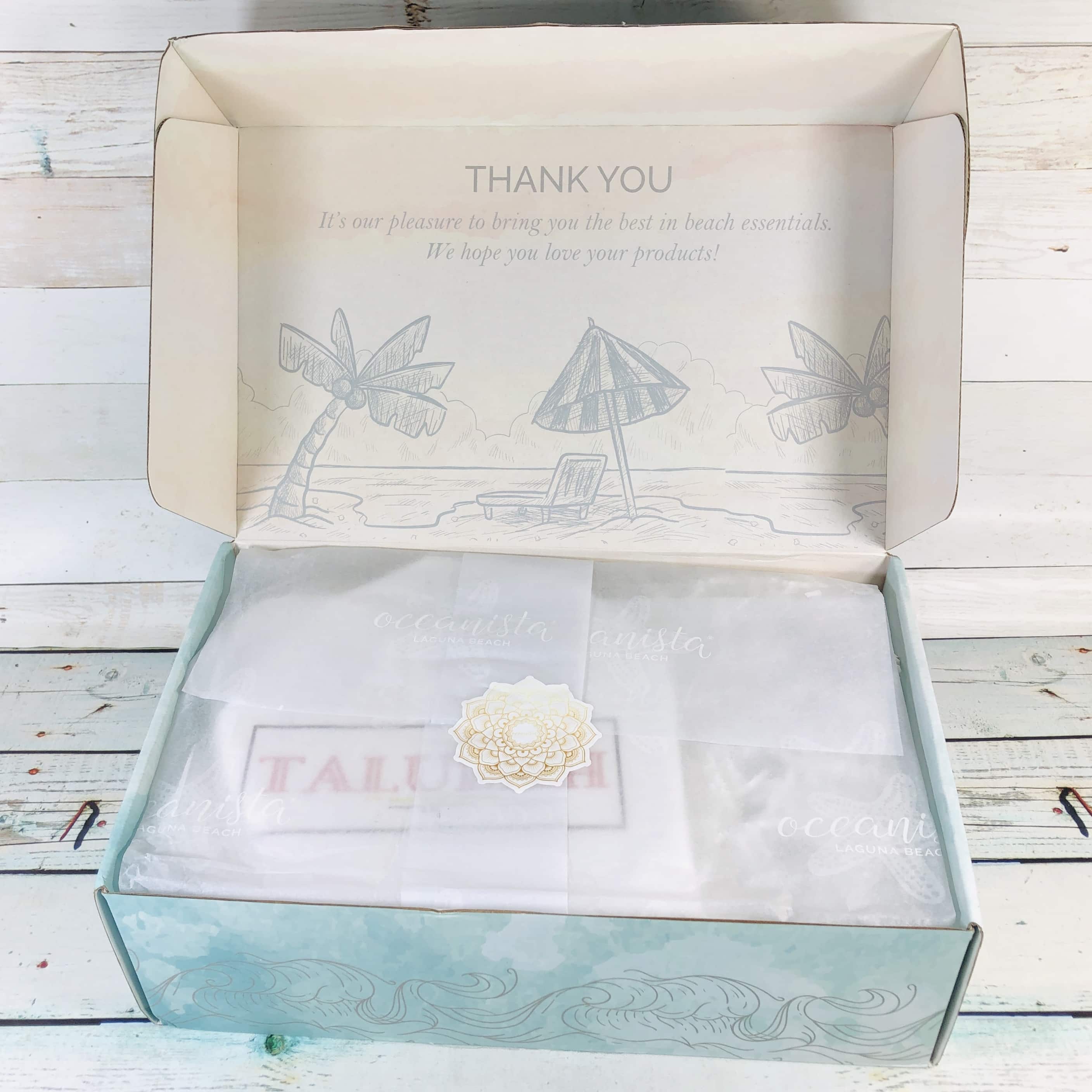 My items were wrapped in tissue paper and sealed with a sticker. They were all nestled into shredded paper squiggles.
When you sign up, you fill out your preferences such as skin tone, clothing + shoe size, and ring size. See the darker blue bars? You can toggle down to find more choices, such as "plus size" for clothing and "deep" for skin tone.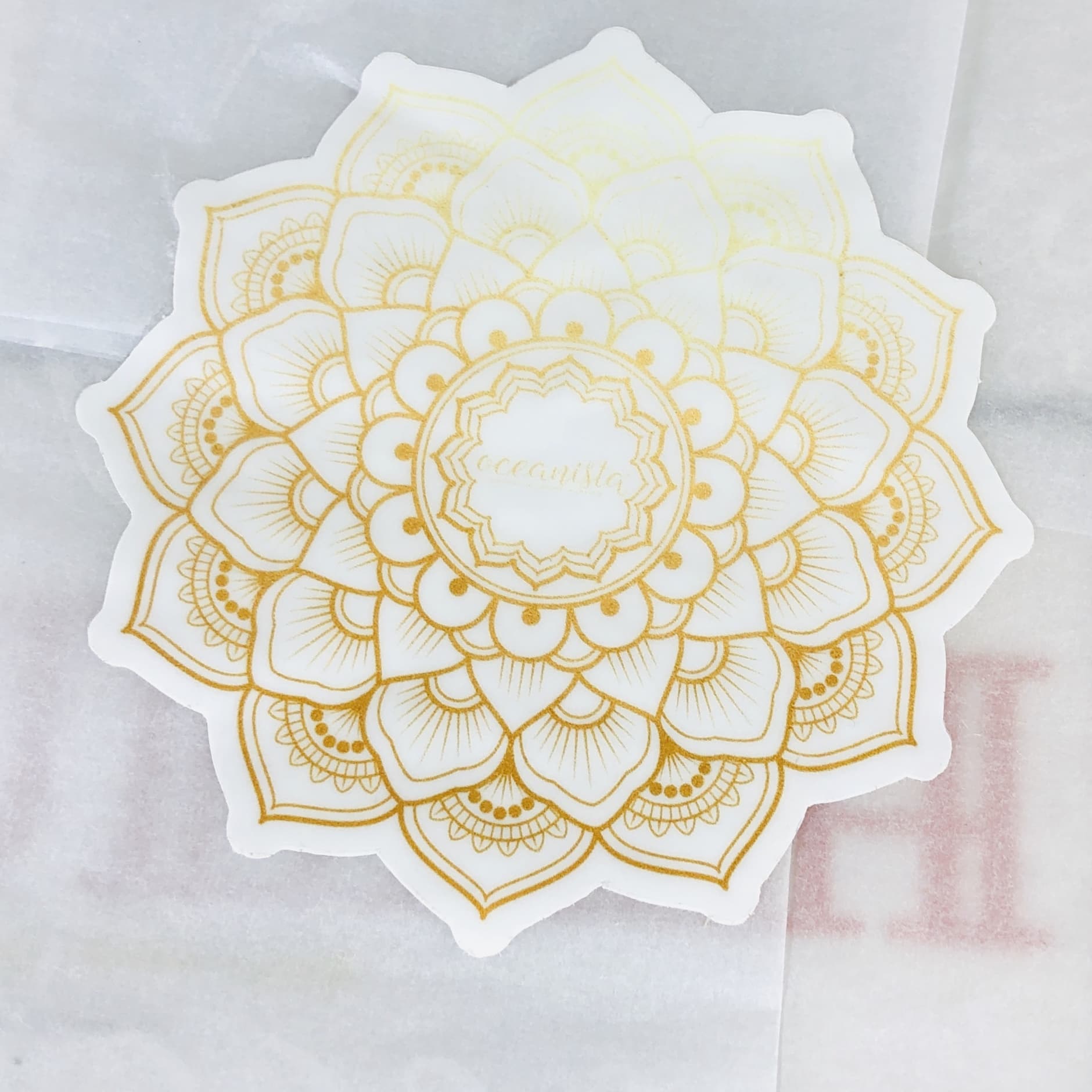 Isn't the sticker adorable? So many cute touches go into this box.
This season's box theme is Good Golly Miss Bali!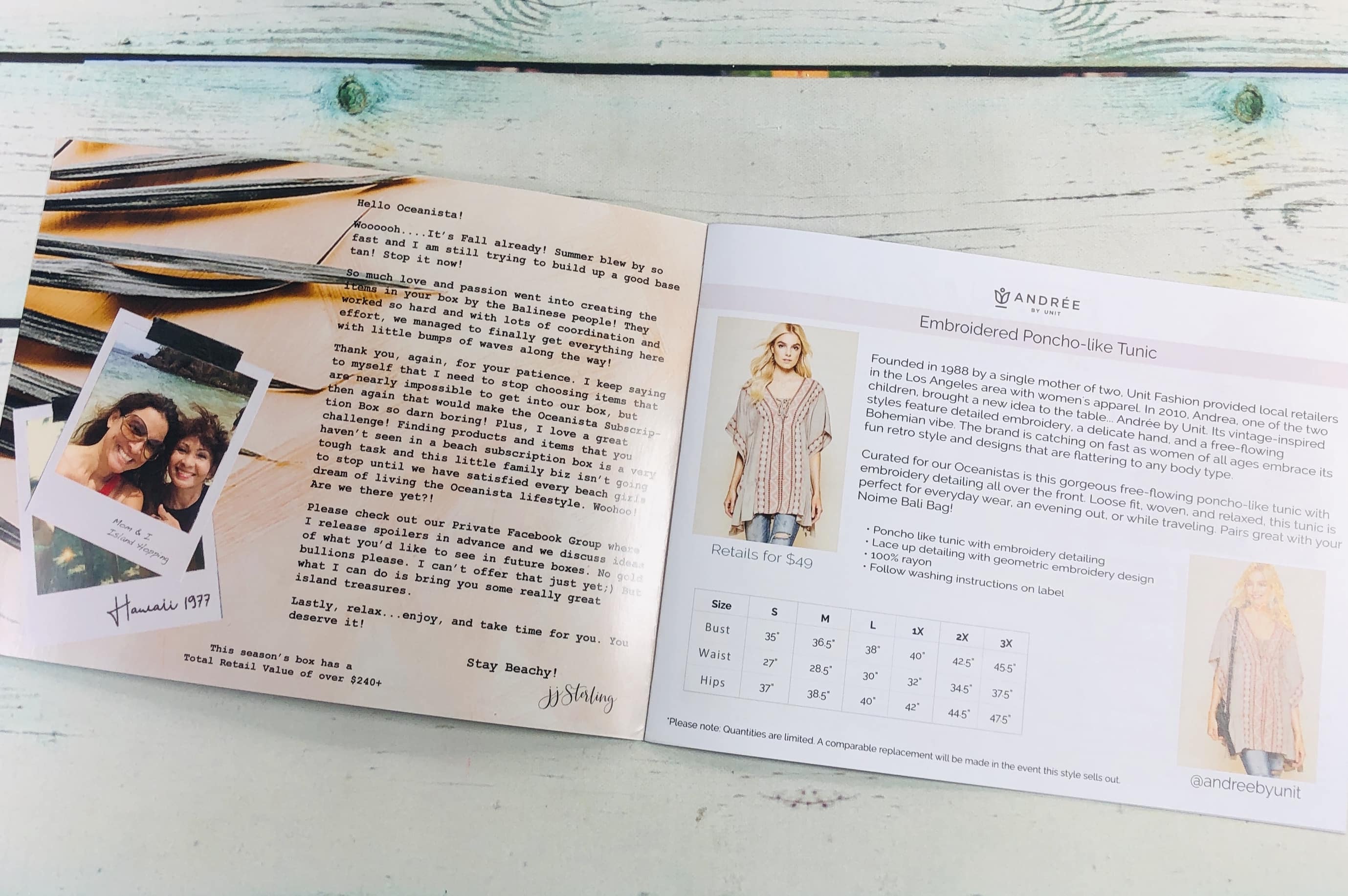 The booklet is very nice looking and I am just going to leave these pictures here for you to peruse if you like!
A list of each item, some item info, and retail price are noted.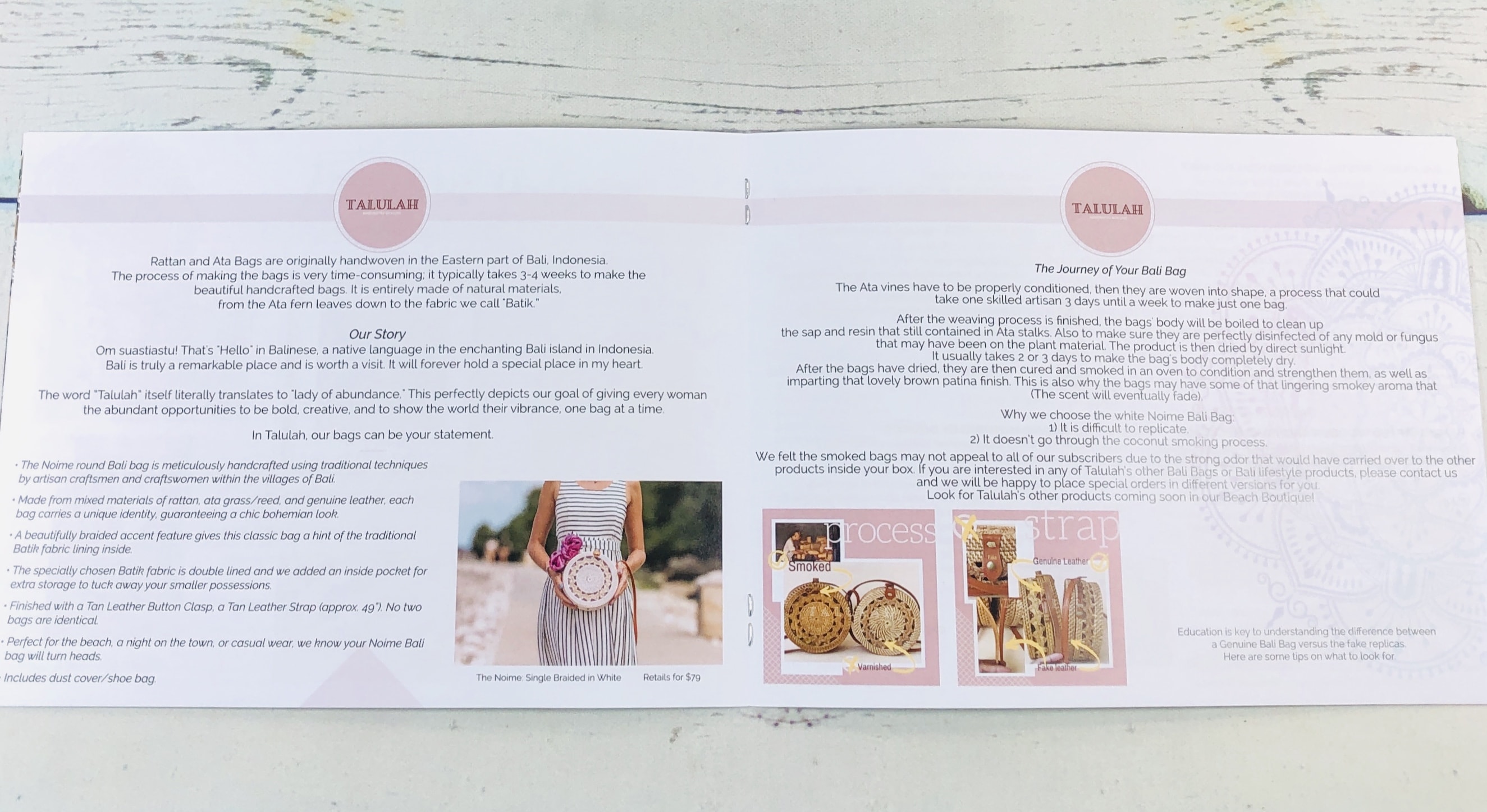 There was even a recipe!
Some info on the rewards program was mentioned.
Use your box to clean up a beach, post it on social media, and earn a free gift in your next box!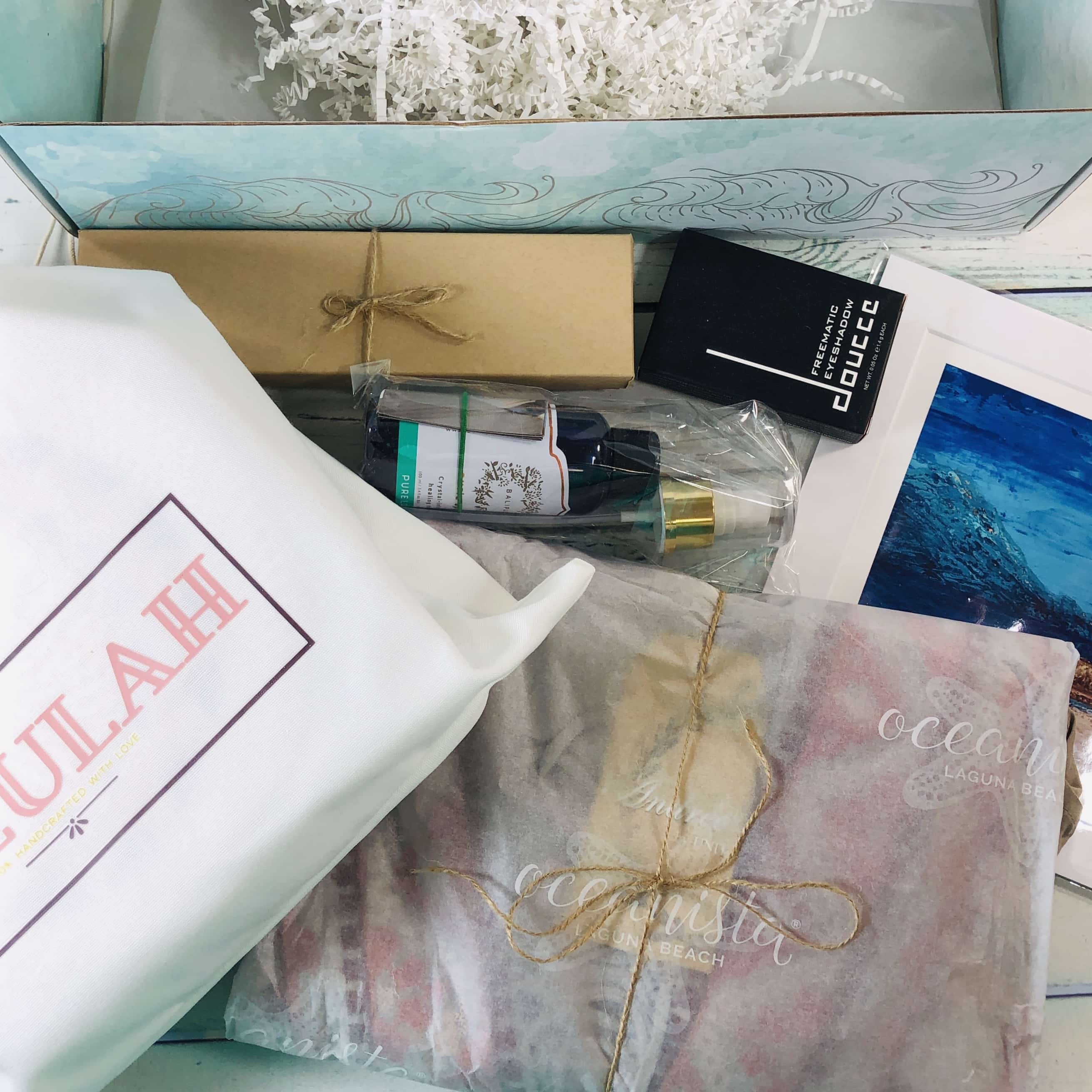 Some of the items were individually wrapped.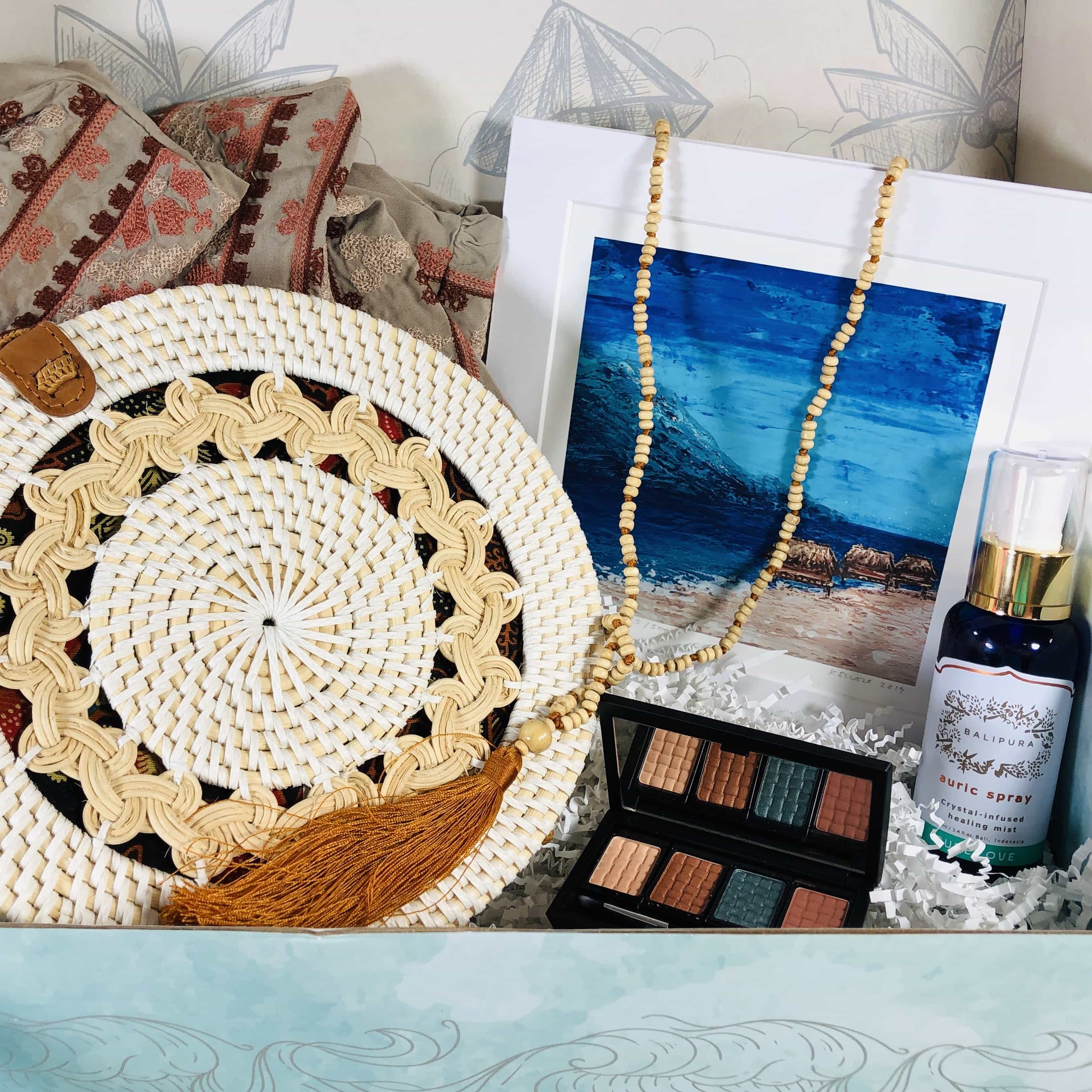 Everything in the Fall 2019 Oceanista Good Golly Miss Bali Box!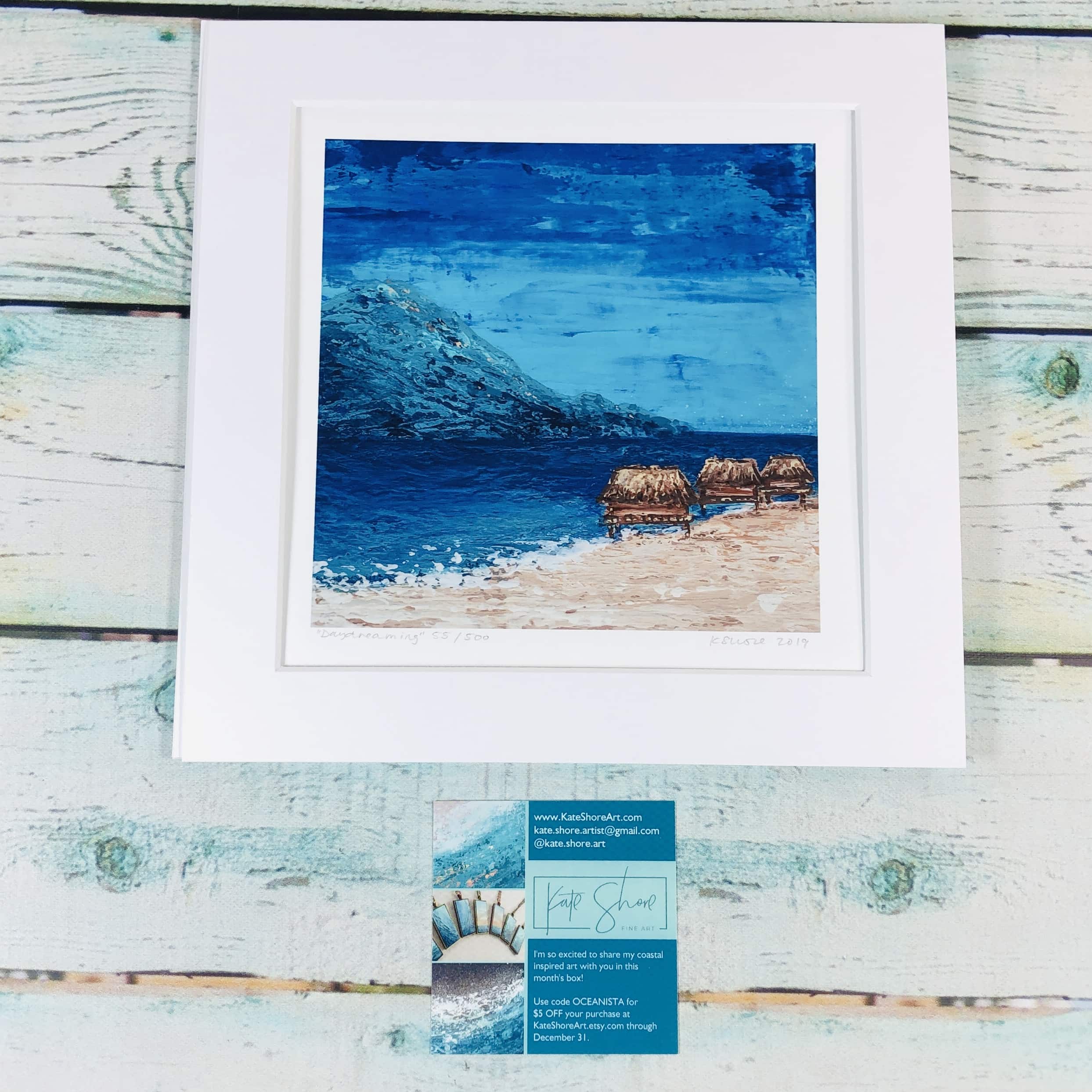 Kate Shore Fine Art Print ($28) Kate Shore (yes, that's her real name!) is the featured artist this quarter and we received one of her beach-inspired prints. It is 8″ x 8″, printed on archival paper, and came with mat backing and front, although they are not fixed in place. It is, however, ready to be framed.
There were 500 copies made and each one is numbered and signed. I love the colors and the huts on the beach. What a vibrant print!
Balipura Auric Spray in Pure Love ($25) is handmade in Bali, Indonesia! Supposedly they are blessed in a special ceremony and they are even infused with crystal energy.
The rest of the ingredients are water, alcohol, essential oils, and flower + homemade extracts.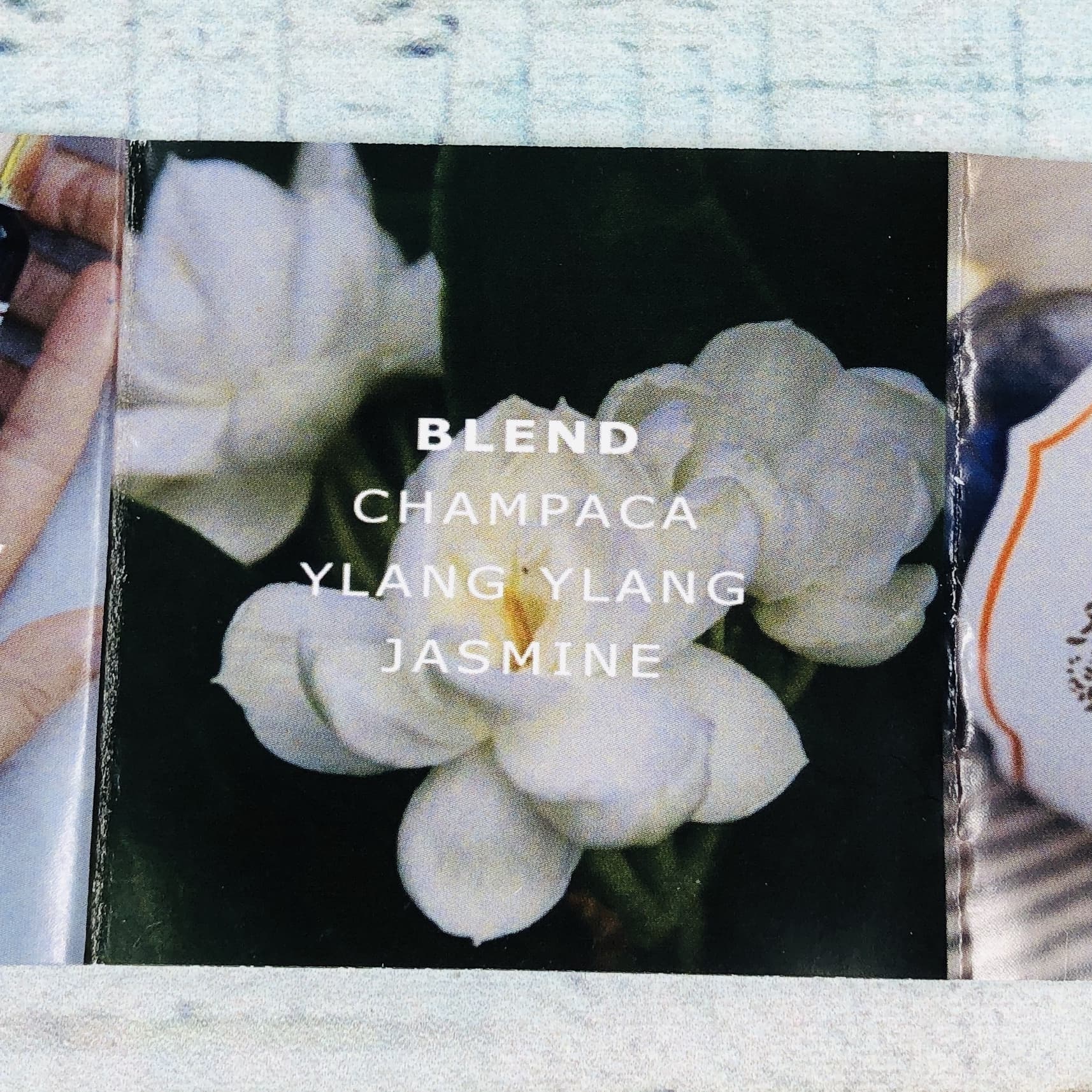 The scent is a blend of ylang ylang, champaca, and jasmine. You may spray it into the air and walk through it, or spray above your head, or even spray on your body or around your room. It has a tropical scent, but not fruity like pineapple, more floral, like a lei. I'll let you make up your own mind on whether or not it can cleanse your chakras, but it can definitely give you a feeling of happiness if you love the scent!
Handcrafted Wooden Bali Beaded Necklace ($24) Oceanista carries these necklaces in a variety of colors, and the one you receive in your box may be different from mine.
The necklaces are handmade by Balinese artisans and feature silk threads and wooden beads.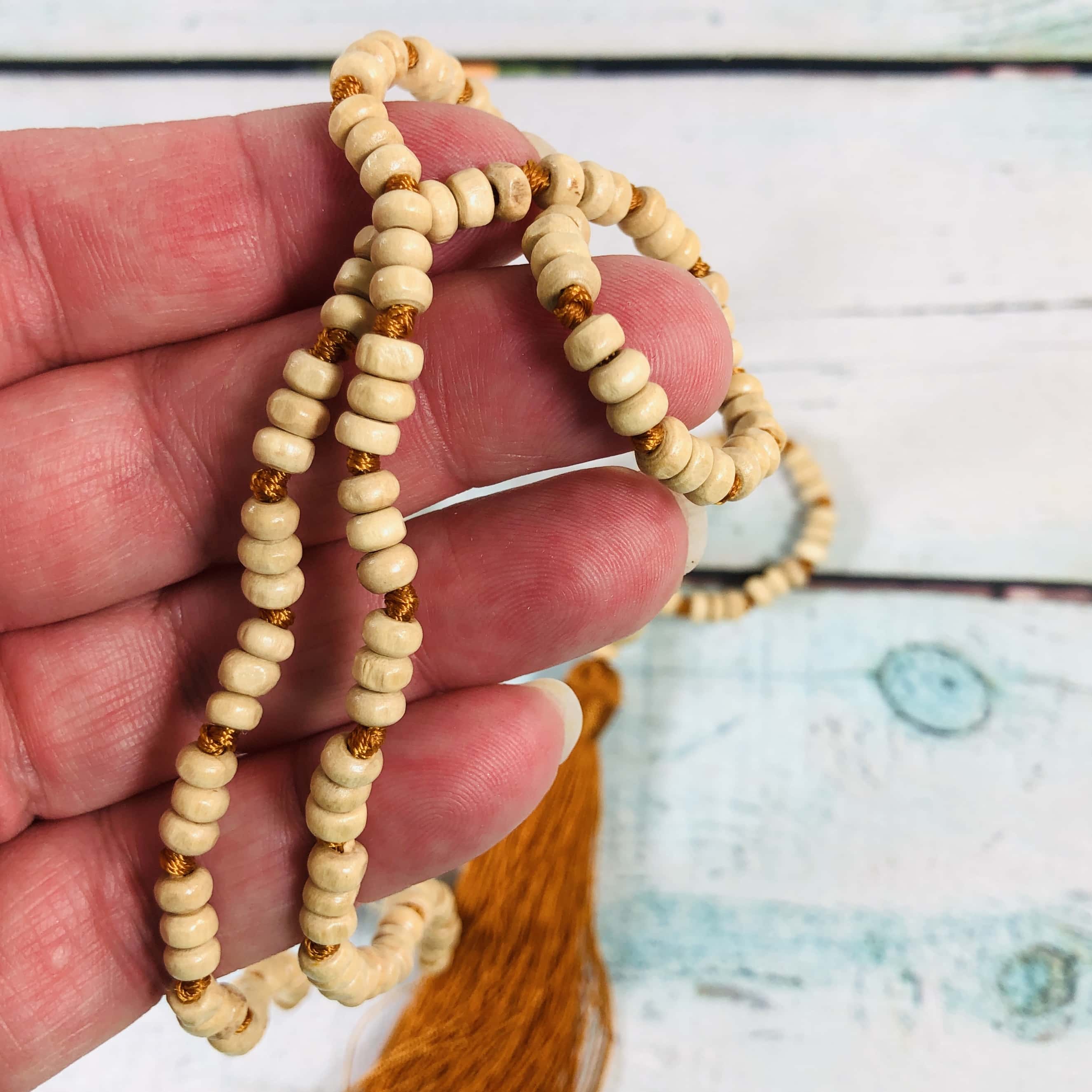 It hangs pretty low and you can see it modeled in some of the pictures below.
The Noime by Talulah: Single Braided Bag in White ($79) The minute my oldest daughter saw this bag she asked if she could have it, and it is just her style too!
The bags are hand woven in Bali of rattan and reeds and then finished with genuine leather clasp and strap.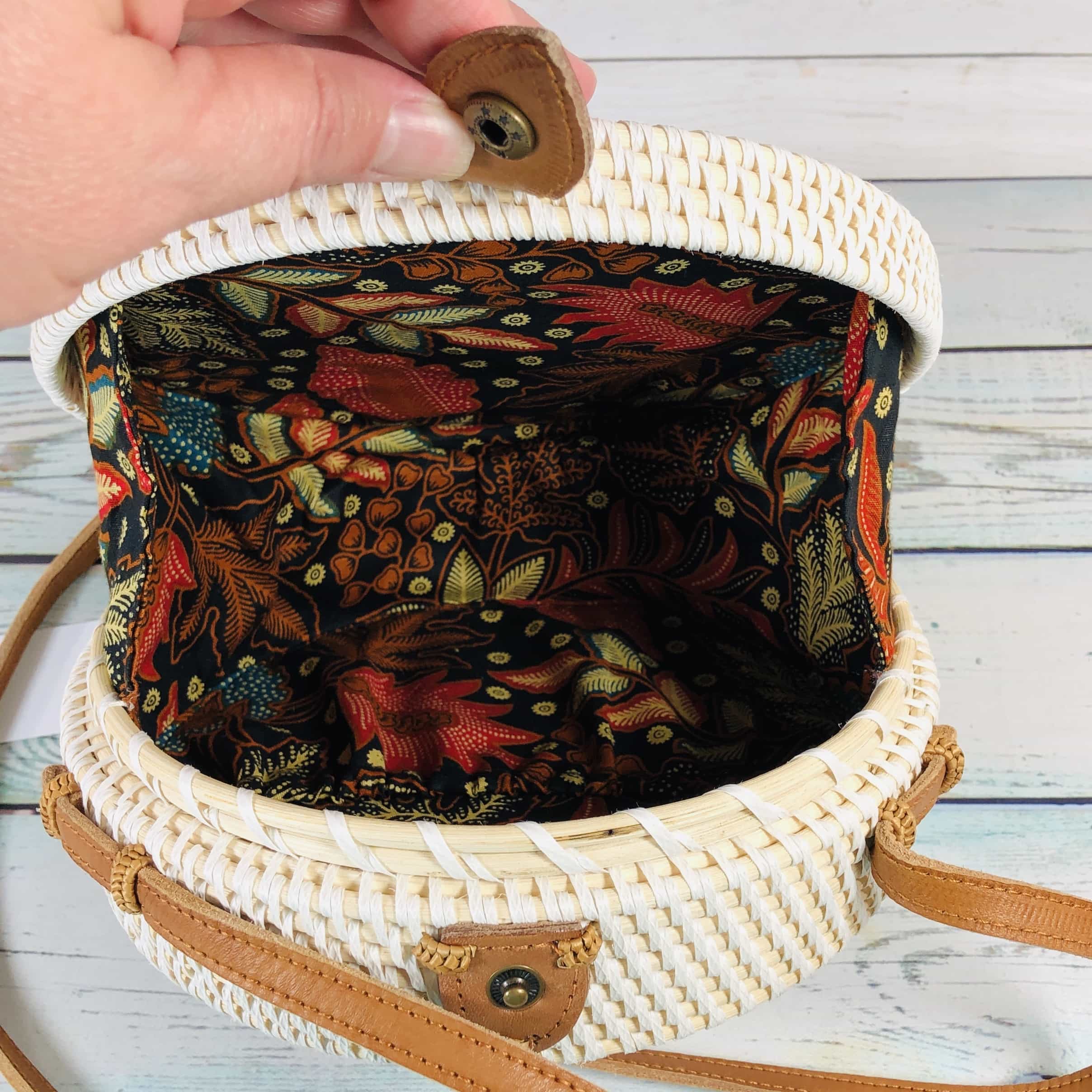 The inside is lined with beautiful fabric! It is about 8″ across and I am holding it in a picture shown below.
Andreé by Unit Embroidered Tunic ($49) We received a lovely tunic that is adjustable and that has beautiful embroidery on the front.
There is also a lace detail at the front.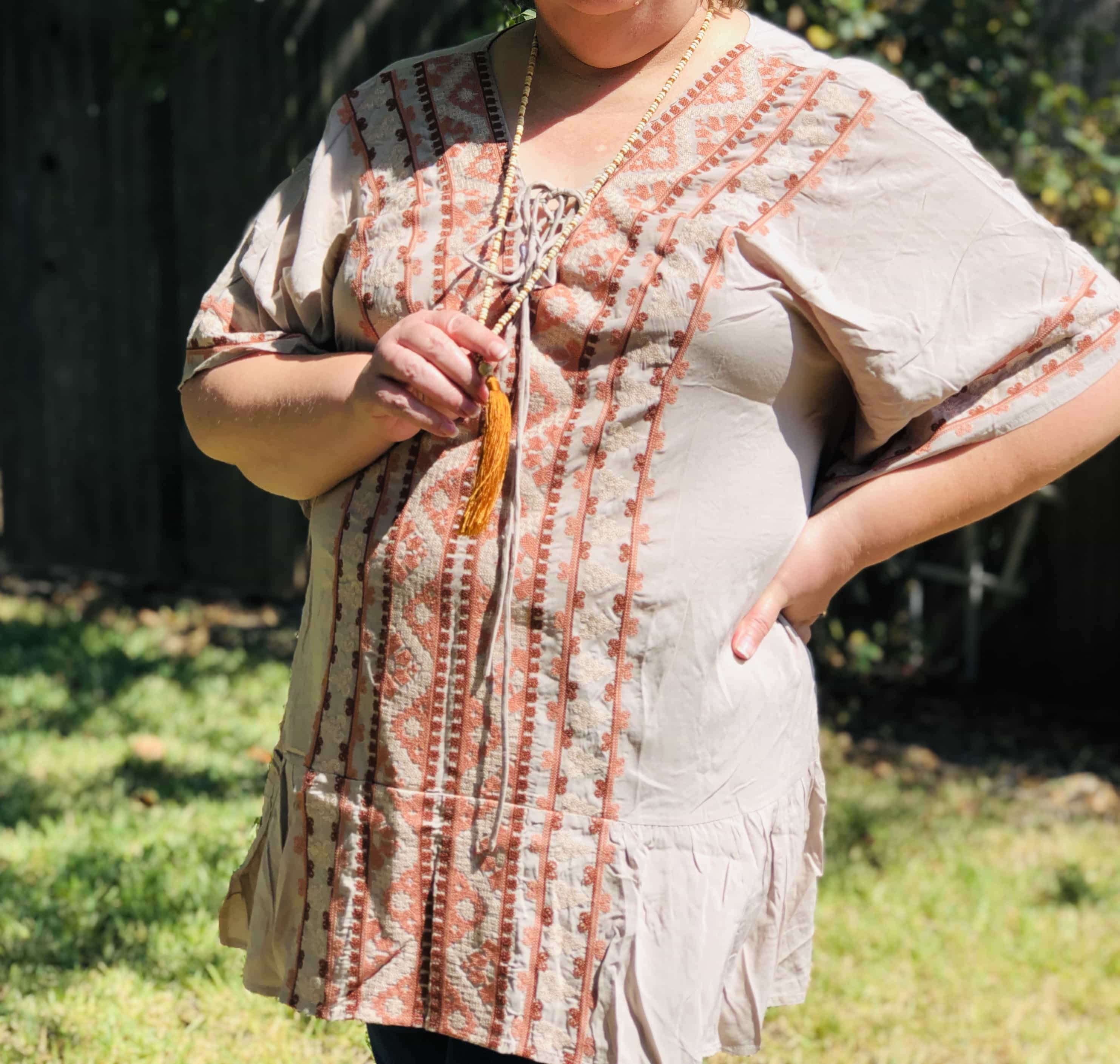 My tunic is size 2X, and it may be just a bit too large for me, since the lacing in the front shows my bra. A cami would fix that though. I'm wearing the tassel necklace in this pic.
My daughter tied it pretty tight in the back. I like the ruffle detail at the bottom. The piece looks really large before you adjust it.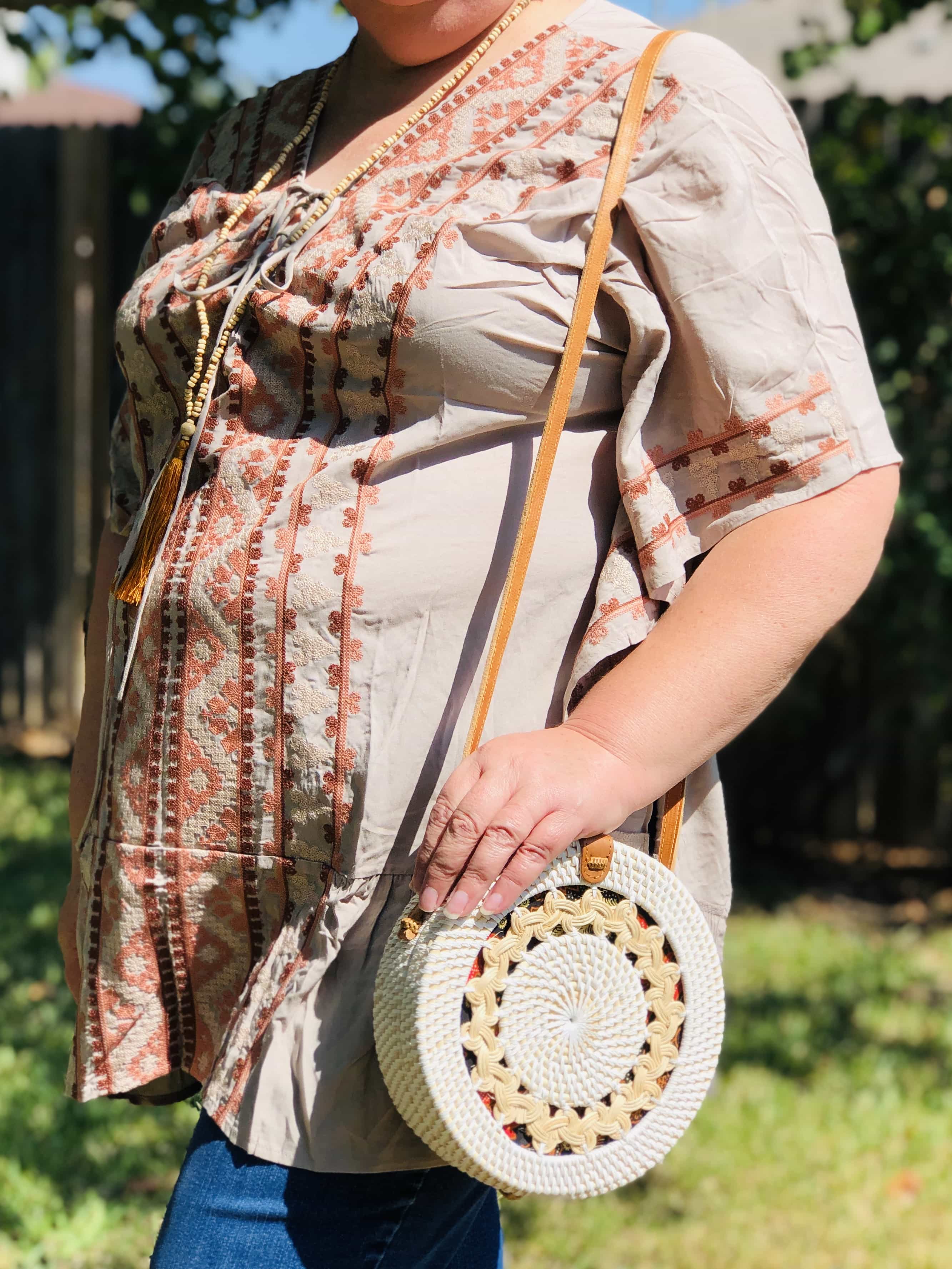 Here I am with the rattan bag so you can see how long it is.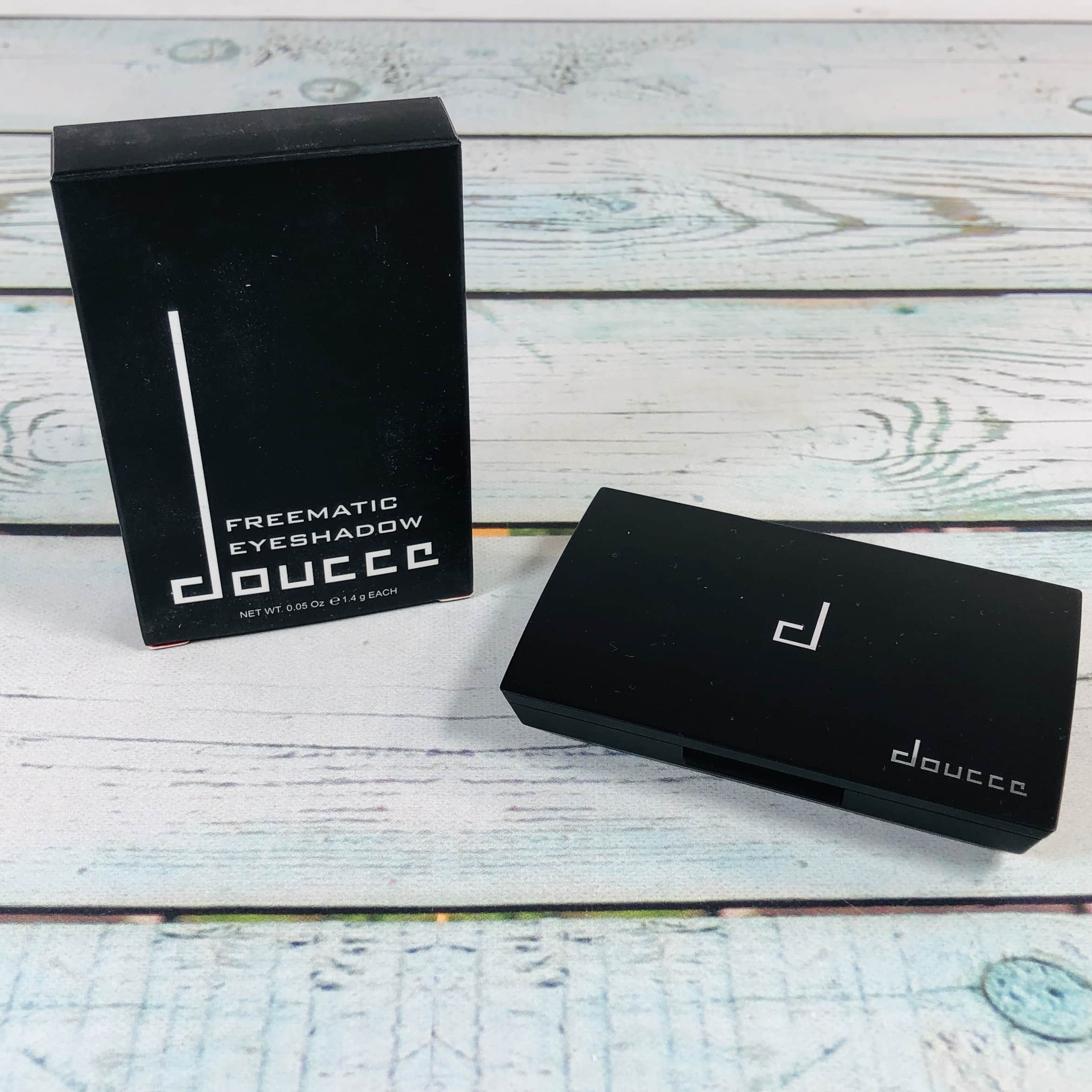 Doucce Freematic Eyeshadow Quad in Island Hopping ($35) I love it when boxes send out a cohesive box and this shadow palette goes great with the bag, necklace, and tunic that I received!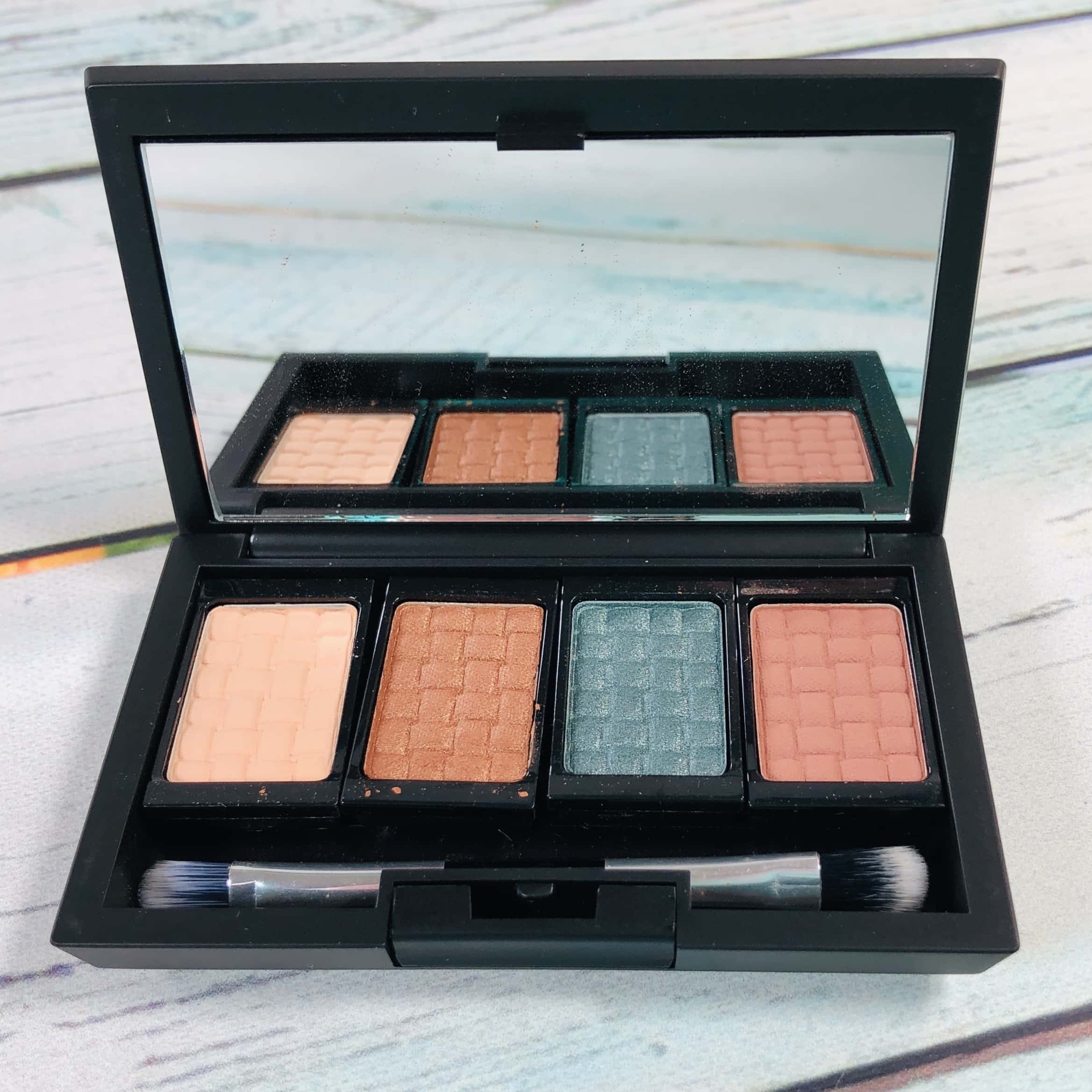 This warm palette should see me through the fall. There are mattes and shimmers and the color payoff was pretty good. I used my own brushes because the ones that come in palettes tend to be too small and/or soft. The shadow pans have magnets on the bottom so you can order shadow singles that you like from Doucce and place them in the pan to mix and match.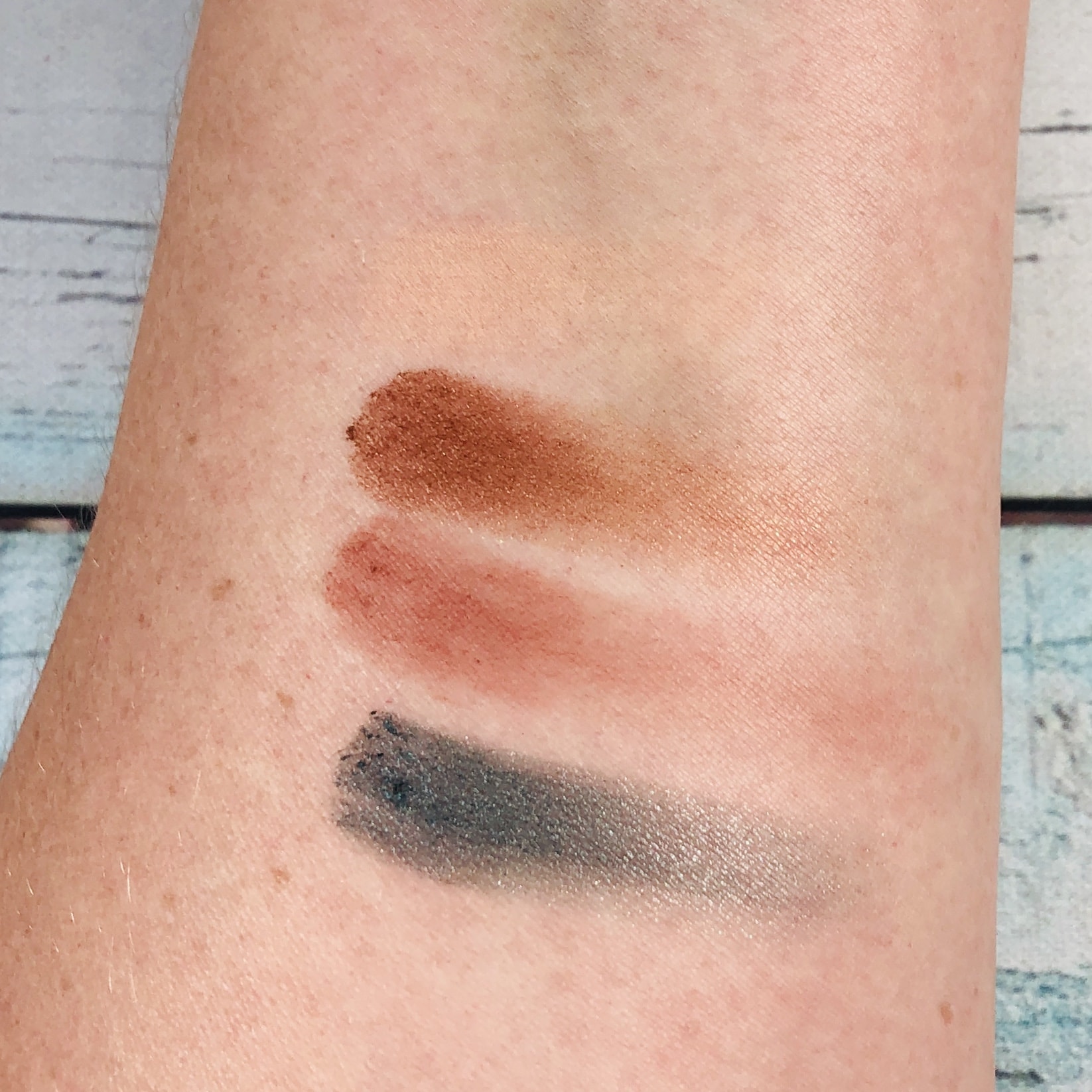 Here are the colors swatched. The lightest color is on the top but you can't see it very well, but it makes a great base for my lids. The bottom color is more of a green shade than what is showing in my swatch. The first and third colors are matte, the second and last are both shimmers.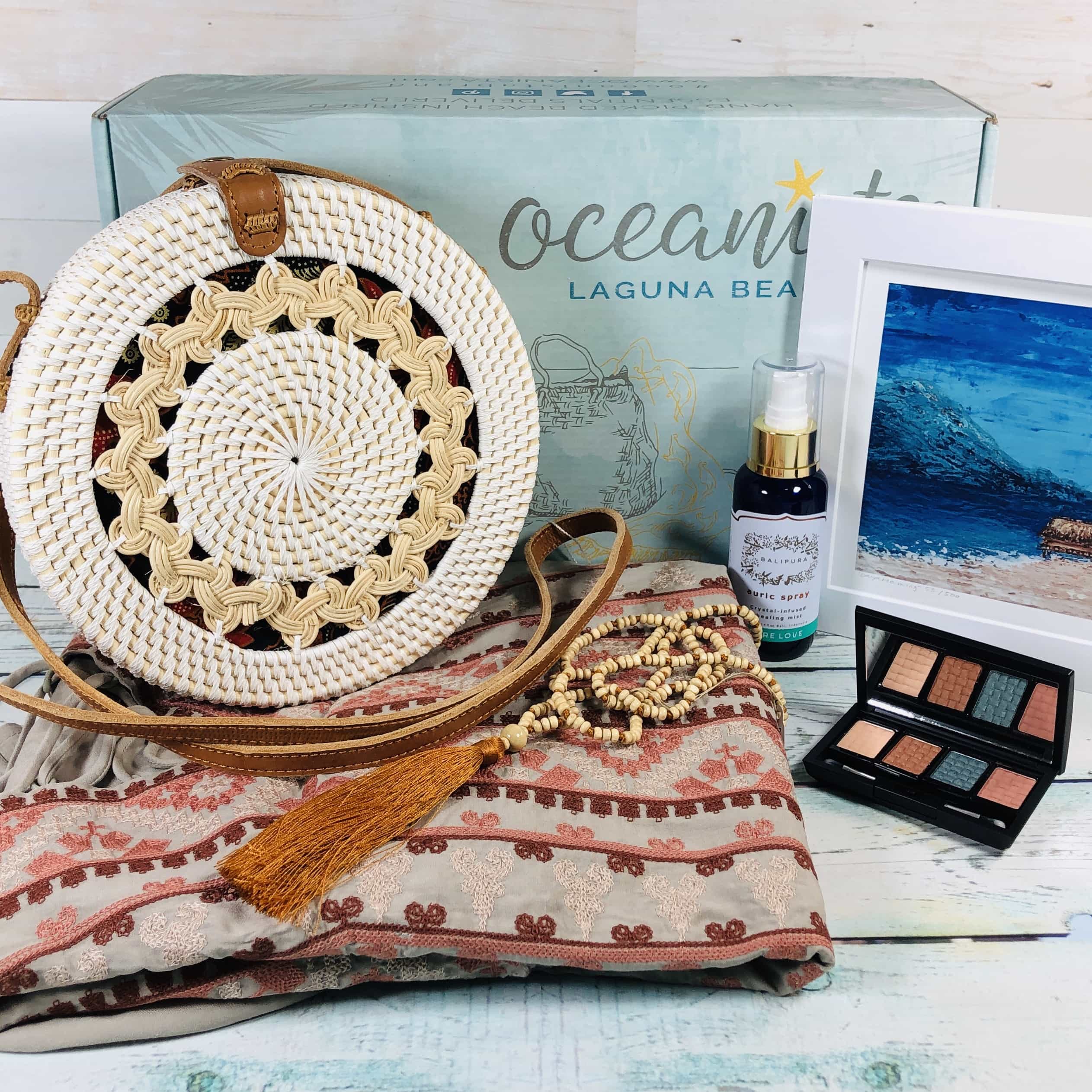 I thoroughly enjoyed the Fall 2019 Oceanista Good Golly Miss Bali box! I thought the curation was perfect for this theme and I was also happy to see the items coordinate so well together. The products will last for quite a while! I adore the ocean-inspired picture, it is breathtaking, and the spray encourages me to take a deep breath so they play together nicely. I am always excited to get this box, and I even have the theme spoiler for the next box: Mele Kalikimaka! I can't wait!!!
Any thoughts about the Oceanista Fall box? Let us know your comments!