Macy's Beauty Box is a monthly subscription that delivers five deluxe beauty samples, one bonus item, and a collectible cosmetics bag for $15 per month. Beauty Box subscribers also get an exclusive $5 beauty coupon that can be used online and in-store.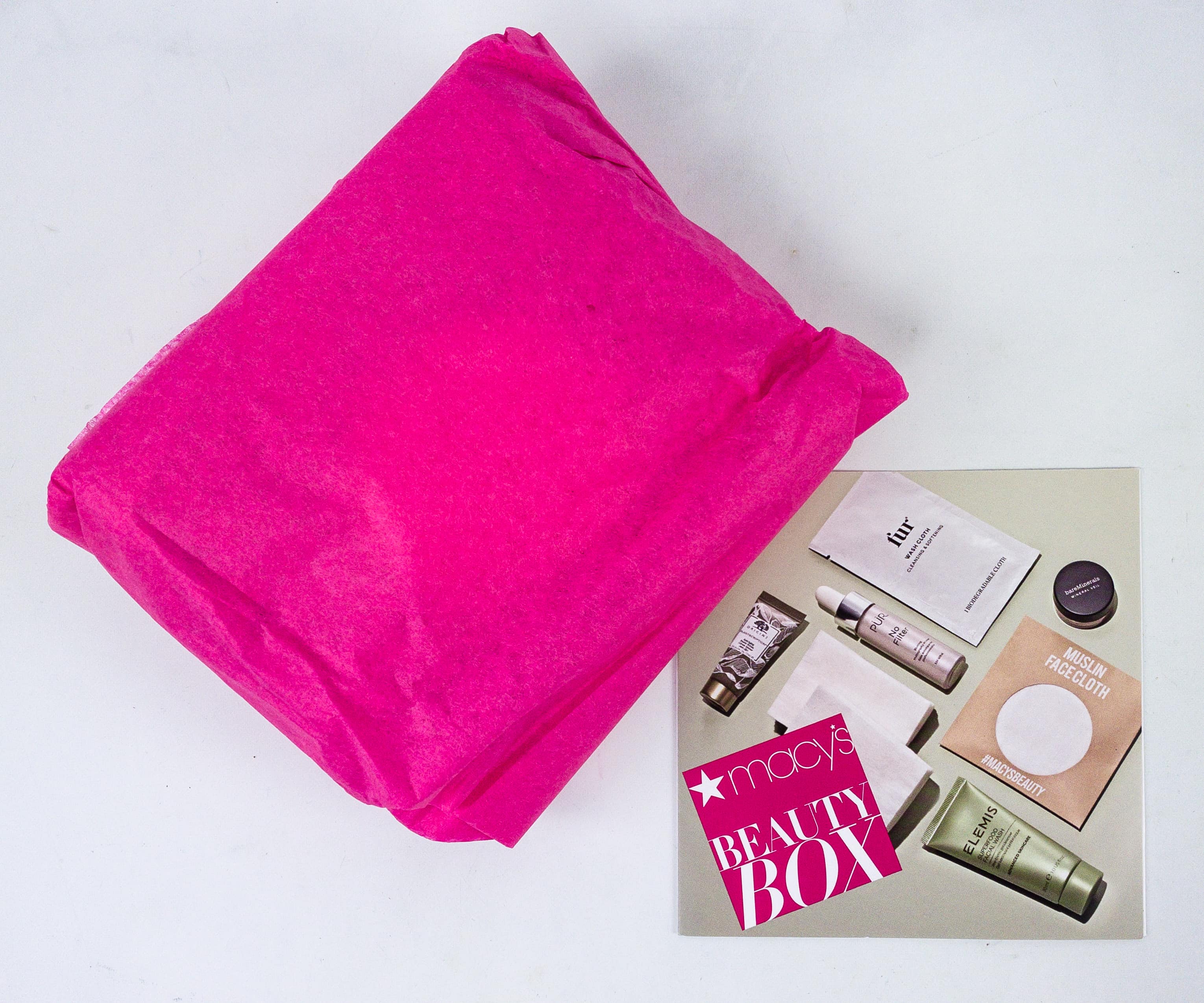 Loving the bright pink wrapping paper!
Each package comes with a Macy Beauty Box booklet.
We also got a $5 off coupon. The coupon is valid in-store or online from 9/27/19 until 11/29/19. Check out these categories sorted from low to high price: Bath & Body, Natural Beauty, Makeup, Skincare, and Travel-size.
Unfortunately, Macy's has totally decimated this benefit by starting to charge shipping on beauty orders. This benefit is basically nothing unless you are looking to buy a $49+ item or you can use it in-store.
The information booklet gives you a list of all the items included in the box.
NO TRICKS. JUST CLEAN BEAUTY TREATS.

Who needs candy when you're getting spoiled with makeup and skincare? Ethically sourced, each is made with a healthy you & the environment in mind.
Some items even included tips on how to use them.
Everything in the October 2019 Macy's Beauty Box!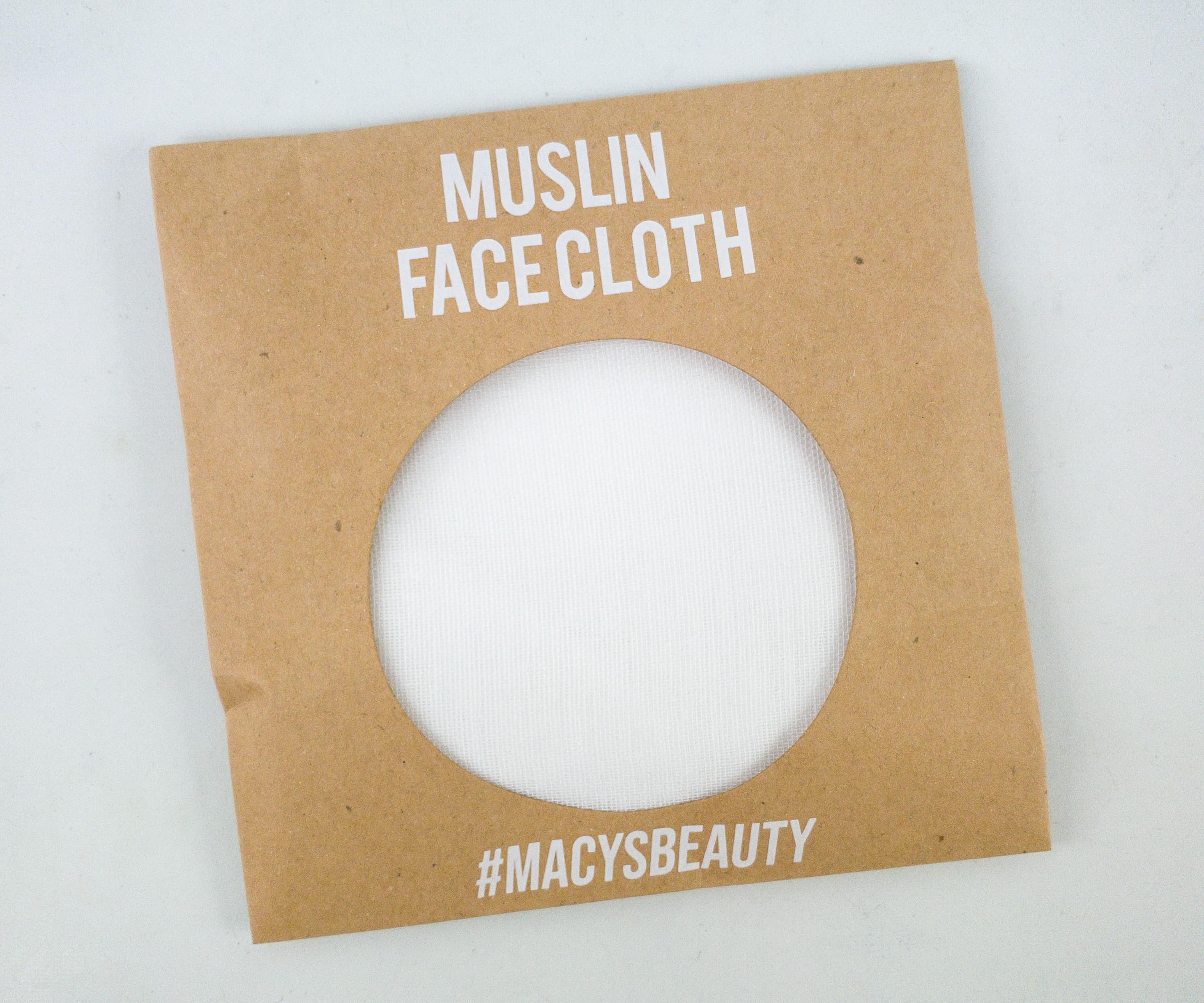 Muslin Face Cloth. This face cloth is a bonus item not listed on the card. It's packed in a brown recycled paper packaging.
Everything about this is eco-friendly. It promotes clean beauty because it's reusable.
The cloth is thin and lightweight. To use, just soak it in warm water, wring, add your cleanser, and massage on your face. It's great for exfoliating as well.
Koh Gen Do Pure Cotton ($3.16) Here's another skin-friendly beauty companion, cotton pads that didn't undergo chemical treatments! They weren't bleached or dyed either, so they're gentle even for those who have sensitive skin.
There are 10 pads in each pack. They are useful whether for applying or removing makeup products. Each of them is thick and soft, plus they don't easily tear.
Fur FurYou Wash Cloth ($1.22) After the muslin cloth and cotton pads, we got one more eco-friendly beauty companion from this subscription, a wash cloth! It's a single-use cloth but large enough to clean up your whole body and, most especially, it's biodegradable!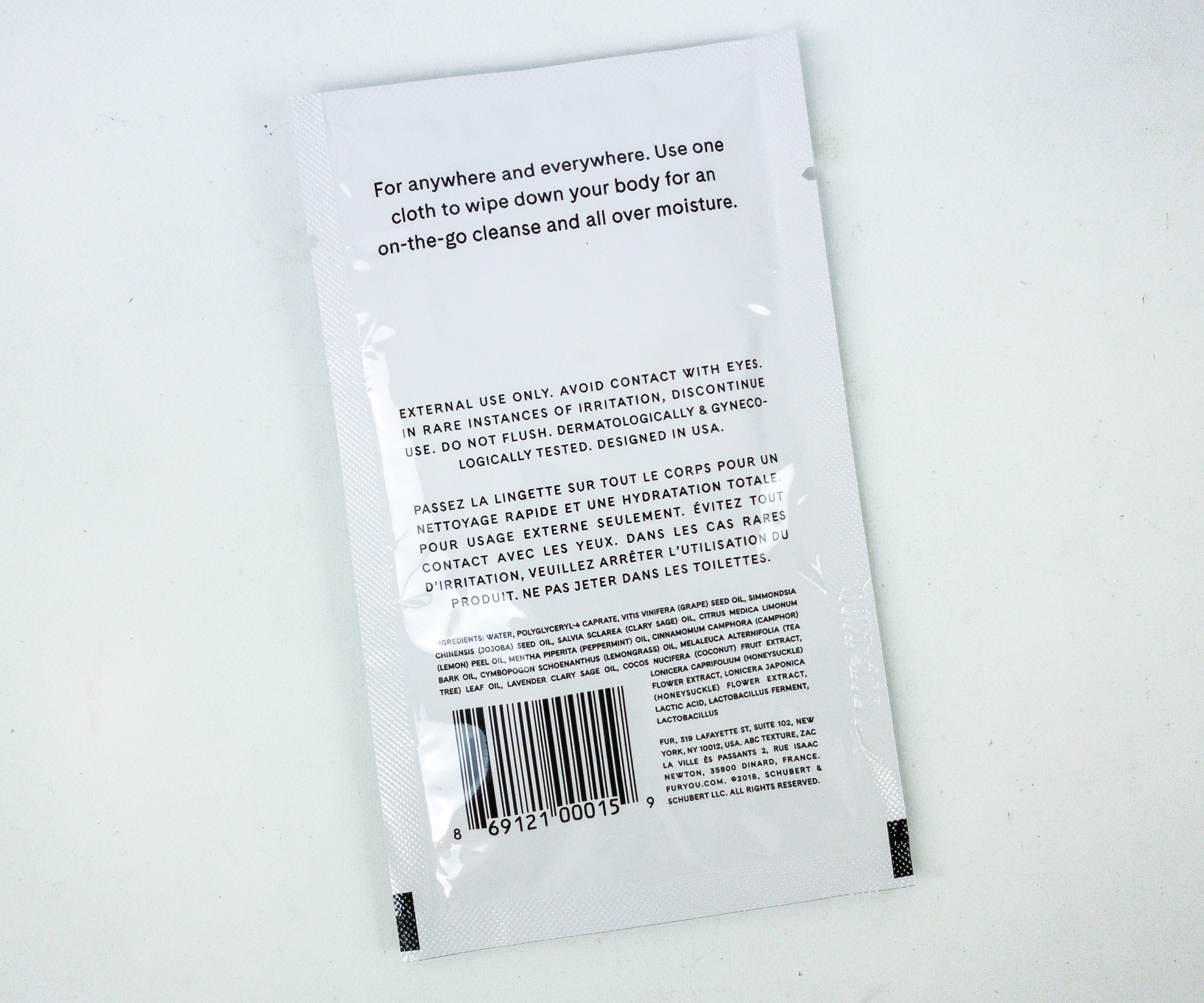 It's even infused with coconut extract, honeysuckle extract, grapeseed oil, and lemonpeel oil, to keep your skin soft and moisturized.
bareMinerals Deluxe Mineral Veil ($24) This translucent finishing powder is ideal for all skin types, keeping your makeup fresh for a long time no matter your skin tone or color.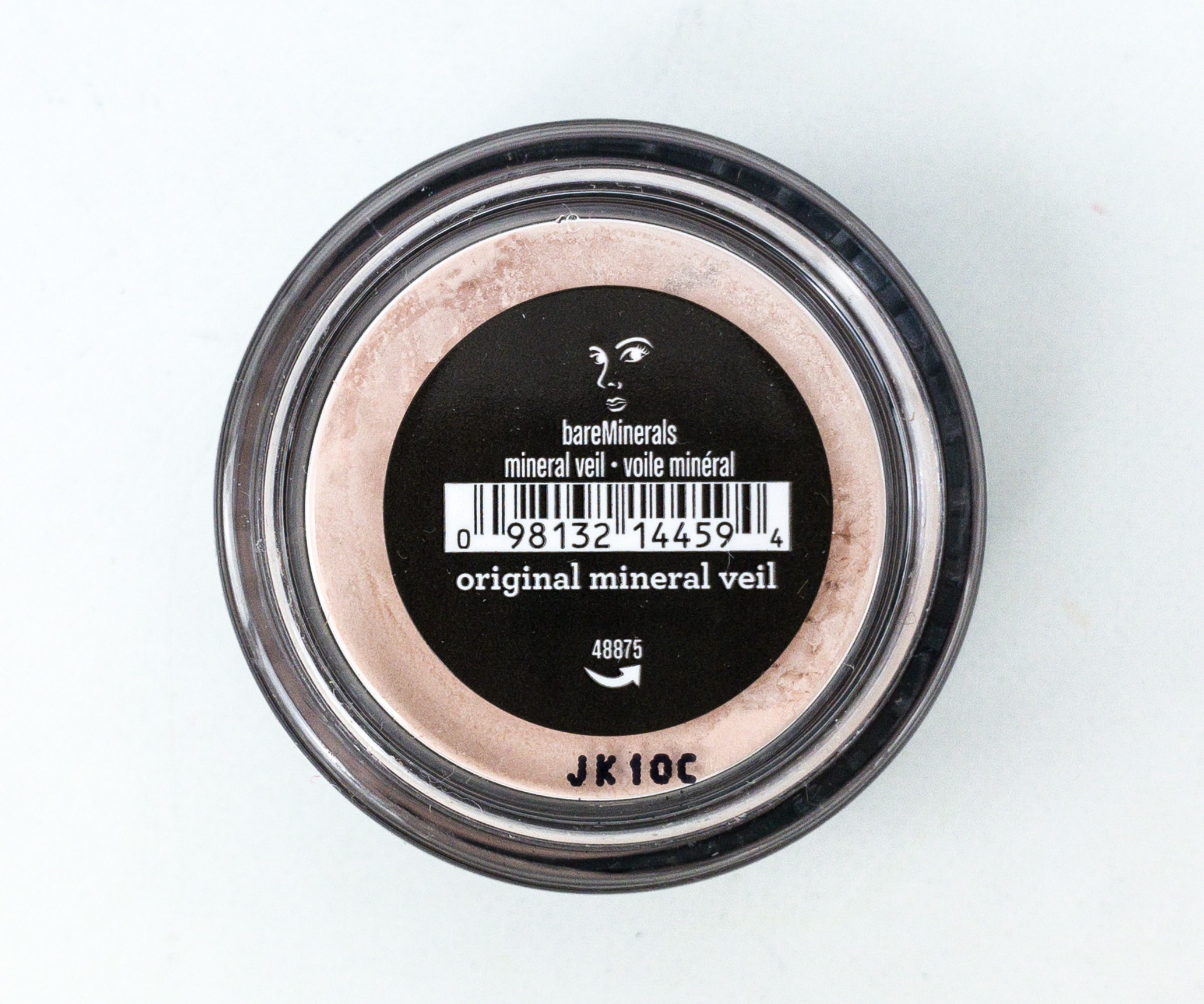 It's so light, you wouldn't even feel it on your skin but it actually works and even minimizes fine lines and absorbs oils.
To use, just pick up the product using a brush and apply it on your face. I love the soft and flawless finish it gives my skin!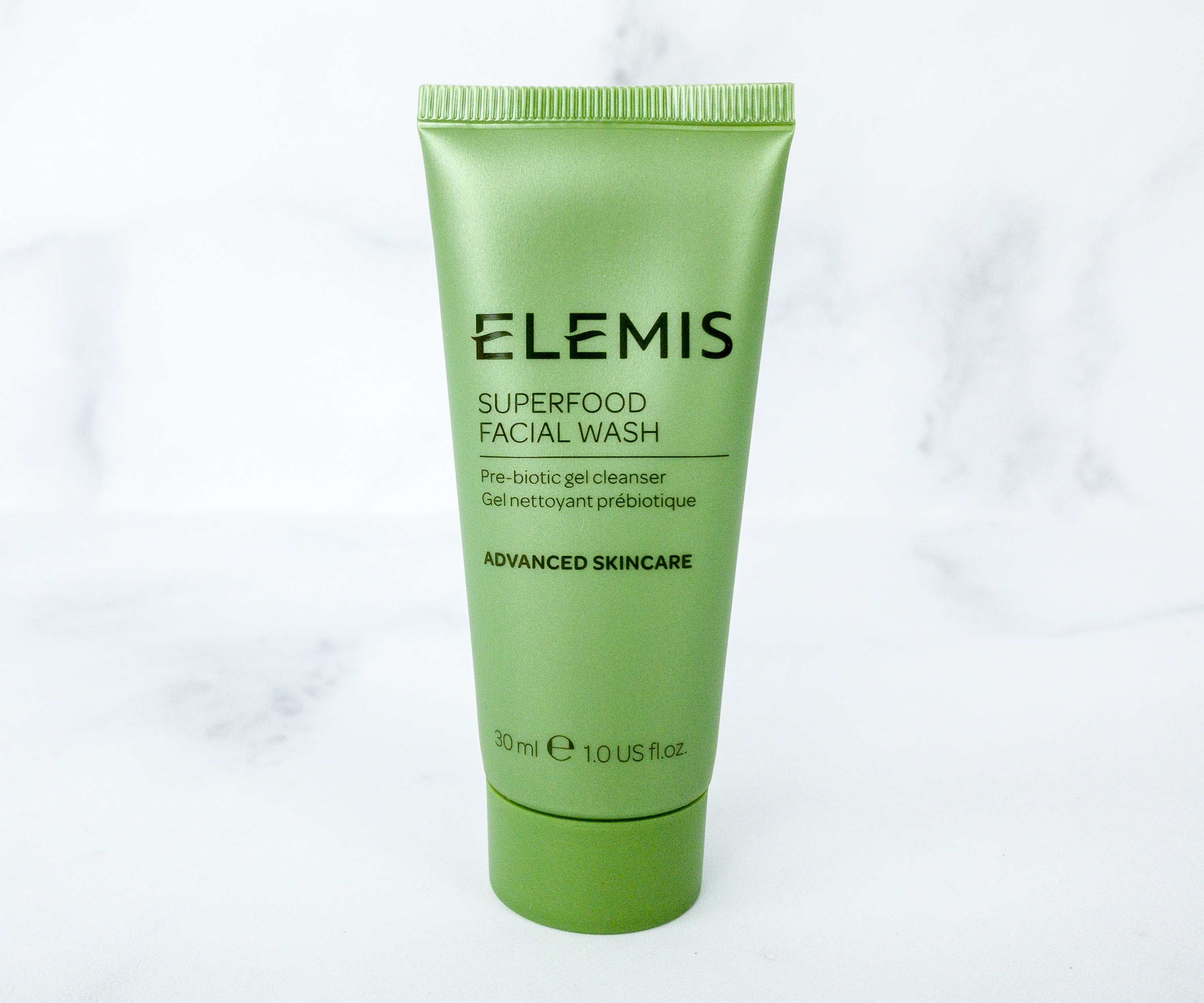 Elemis Superfood Facial Wash ($5) Loaded with superfood ingredients, this facial wash removes impurities and leaves your skin revitalized afterward. The formula is light yet rich and potent. It's ideally used day and night for best results. Key ingredients include vitamin-rich organic pumpkin seed oil, antioxidant-rich black seed oil, and anti-inflammatory nettle extract. It left my skin feeling fresh and glowing. The scent is just as amazing.
Origins Plantscription Anti-Aging Power Serum ($34) It's an anti-aging serum that deeply penetrates your skin to help replenish collagen and fibrillin responsible for keeping it firm. The formula works great even under makeup since it's light and it doesn't make me oily. It also contains a Bamboo Power Complex that helps reduce the appearance of visible pores and balances skin tone.
PÜR No Filter Blurring Photography Primer ($15.84) This primer does exactly what it promises: keeping your skin shine-free and blemish-free so you don't need any filters to look good on photos! It makes use of prismatic blurring micro-pearls for color correcting and agave and essential fatty acids for nourishing and locking in moisture. It makes the skin the perfect base for makeup, just make sure to apply it on clean skin prior to other makeup products.
This month's Macy's Beauty Box curation ensures that my skin is clean and smooth and my makeup goes on light and fresh! I'm loving all the skin-friendly and environment-friendly goodies like the cleaning cloths. They're all high-quality and receiving them reminded me to be conscious of my beauty choices as well. The facial wash and anti-aging serum make a nice combo for achieving youthful skin. The skin primer is impressive as well. I no longer have to worry about my makeup being too shiny or cakey because of it. The total retail value of this curation, excluding the bonus muslin cloth, is $83! What a steal! There's no cosmetic bag but the overall value makes me so satisfied!
What do you think of this month's Macy's Beauty Box?